This Dasnac home in Noida is stylish and bright.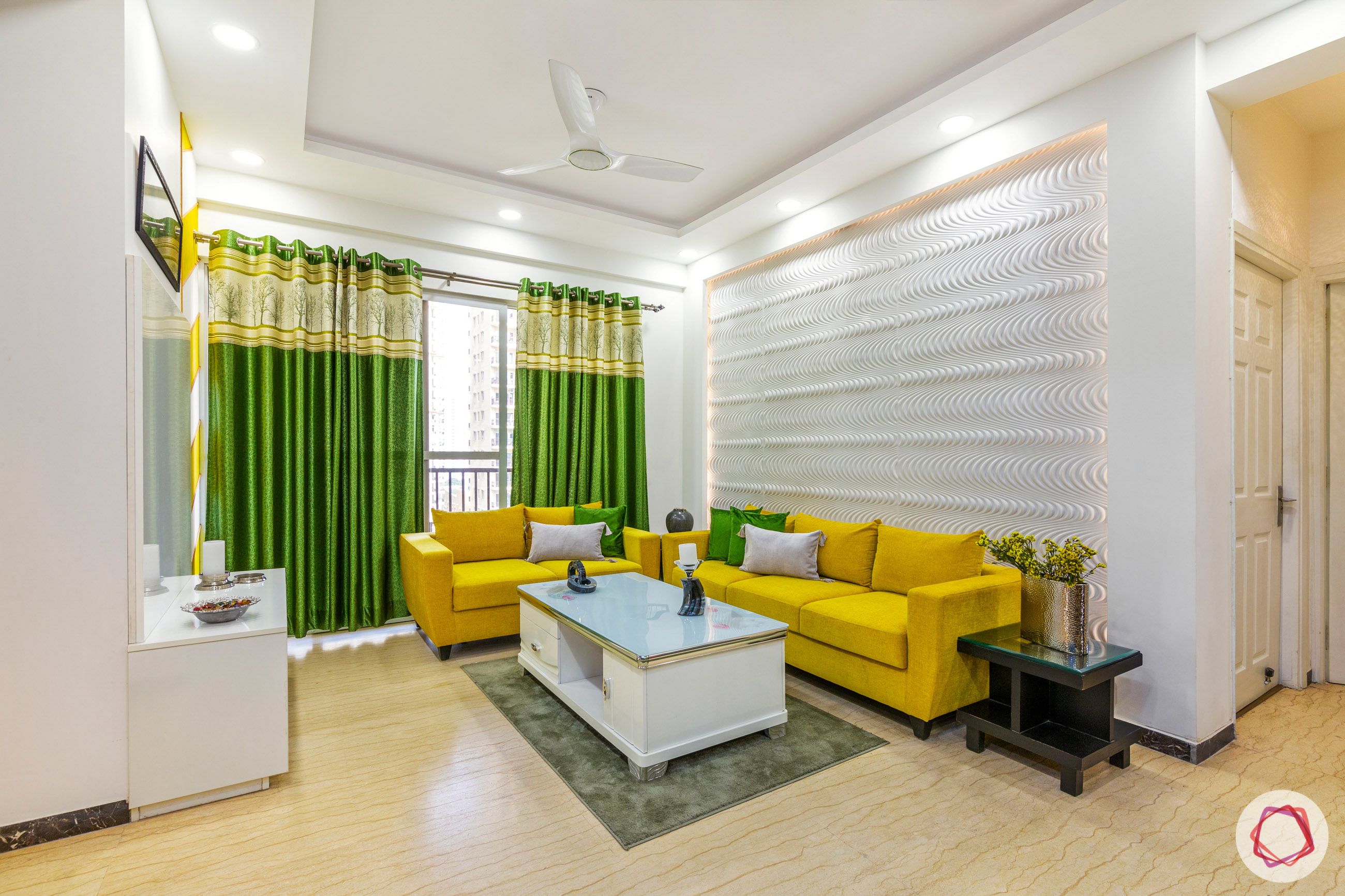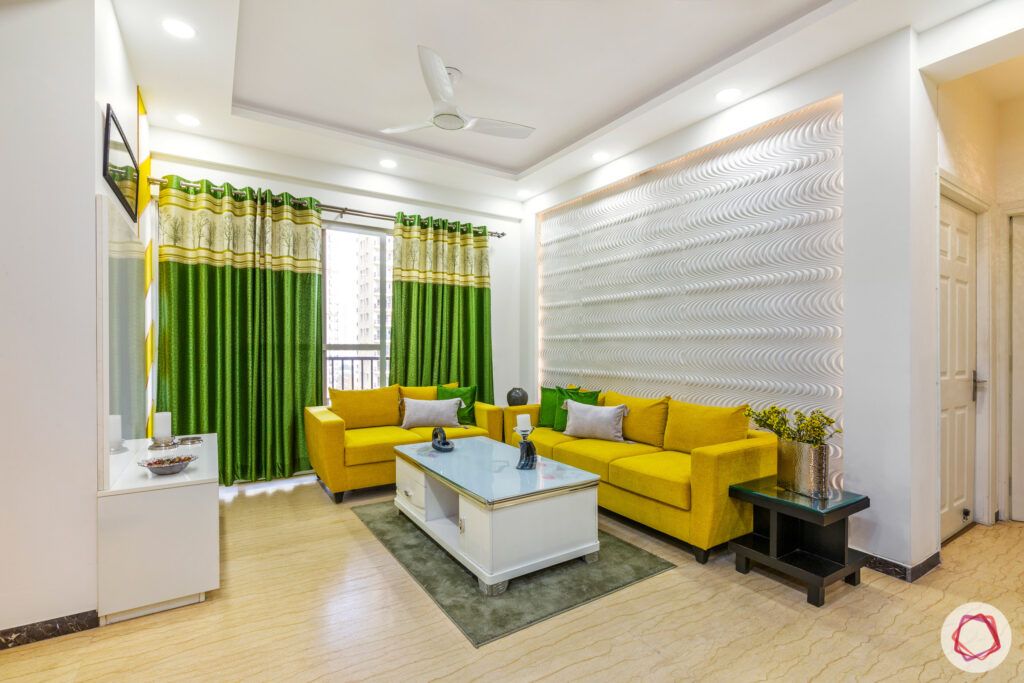 ---
Who livs here: Devendra Malhotra with his wife and two children
Location: Dasnac-The Jewel of Noida, Noida
Size of home: 3BHK spanning 1,650 sq ft approx.
Design team: Interior Designer Ranbeer Kaur
Livspace service: Full home design (excluding kitchen)
Budget: ₹₹₹₹₹
---
As it goes, an empty home is a story waiting to be written by its owners. This home tour narrates the story of the spirited Malhotra family and how they designed their vibrant home. As a result, Devendra Malhotra and his family found their new address at DASNAC- The Jewel of Noida. Situated in a well connected neighbourhood of Noida, this home is in the midst of the buzzing city. Hence, Devendra believes that cheerful vibes make a home warm and welcoming.
Our trusted Livspace designer, Ranbeer Kaur, met up with the family to make their dream home come to life. Consequently, the family and Ranbeer were in sync and almost immediately decided upon a design outline. They wanted a home that was colourful and contemporary with bedrooms custom-designed for each of the members.
Read on to see how Ranbeer has transformed an empty apartment into a stylish and colourful abode.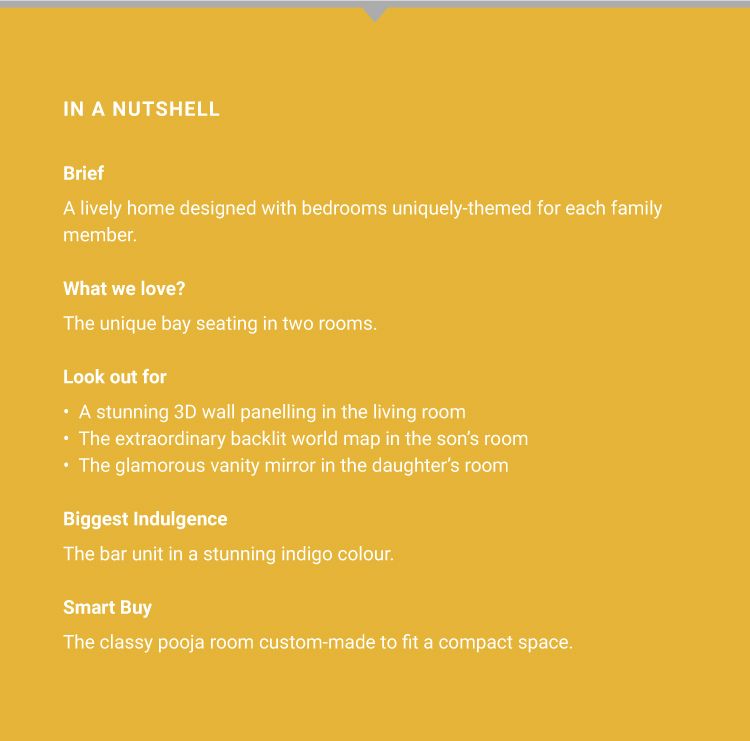 Lively Living Room in Dasnac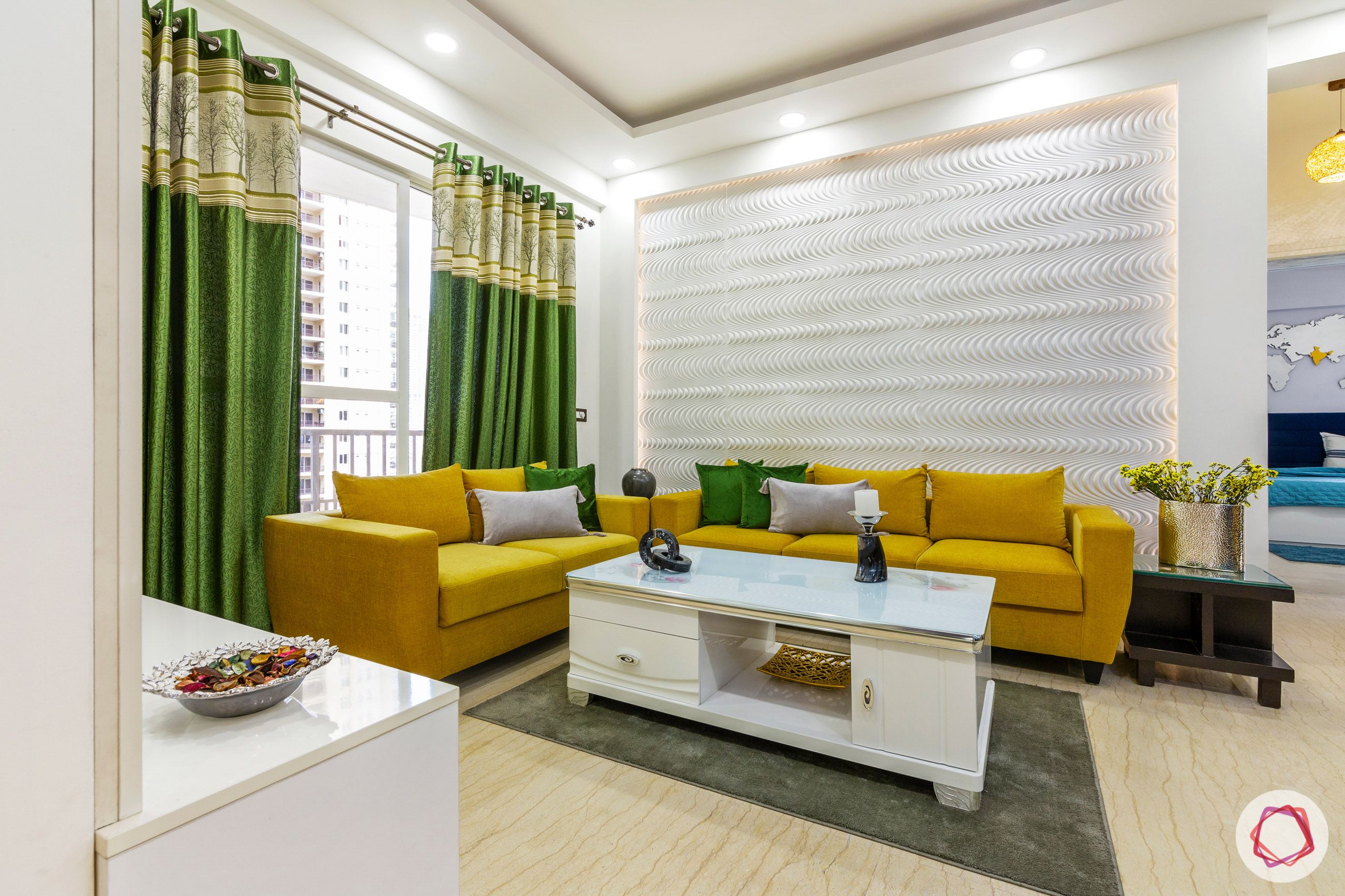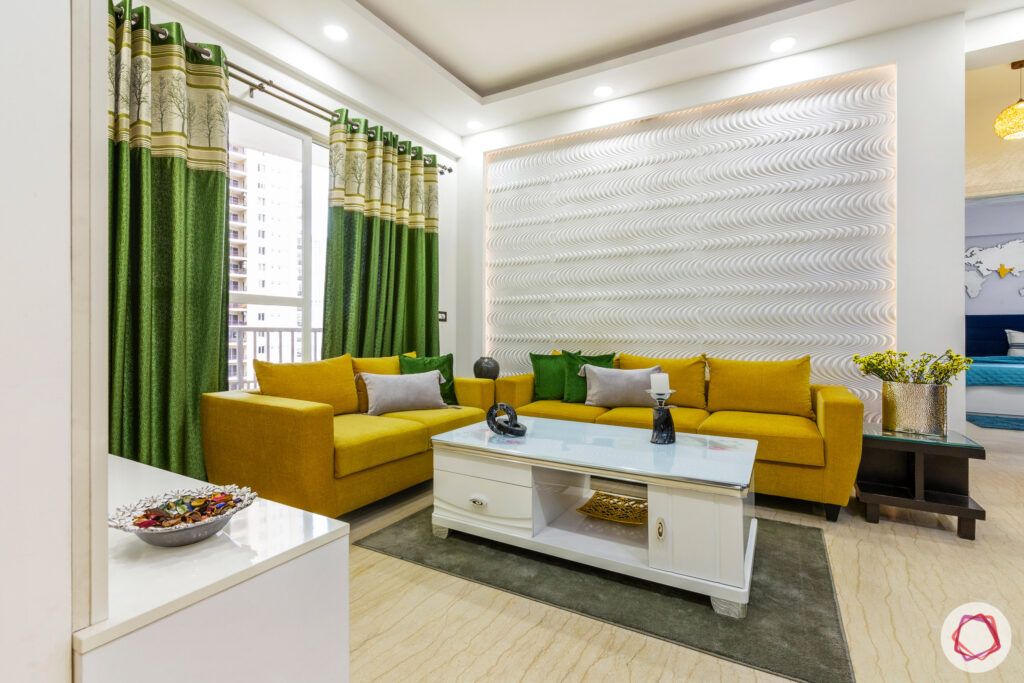 The main criteria while designing the foyer was to maximise storage, while making it aesthetically pleasing. Therefore, a walnut bronze shoe cabinet in laminate finish found its perfect place in the foyer. Moving on, the living room has bright pops of colour that can liven a home.
Striking furniture has set the zestful vibe of the Malhotras' living room. The eye-catching yellow sofa is a top-notch find from the Livspace catalogue. Besides, adding texture to this space is the wavy patterned 3D paneling installed on the wall; this element of visual interest catches our attention at once!
Grand Dining Room in Dasnac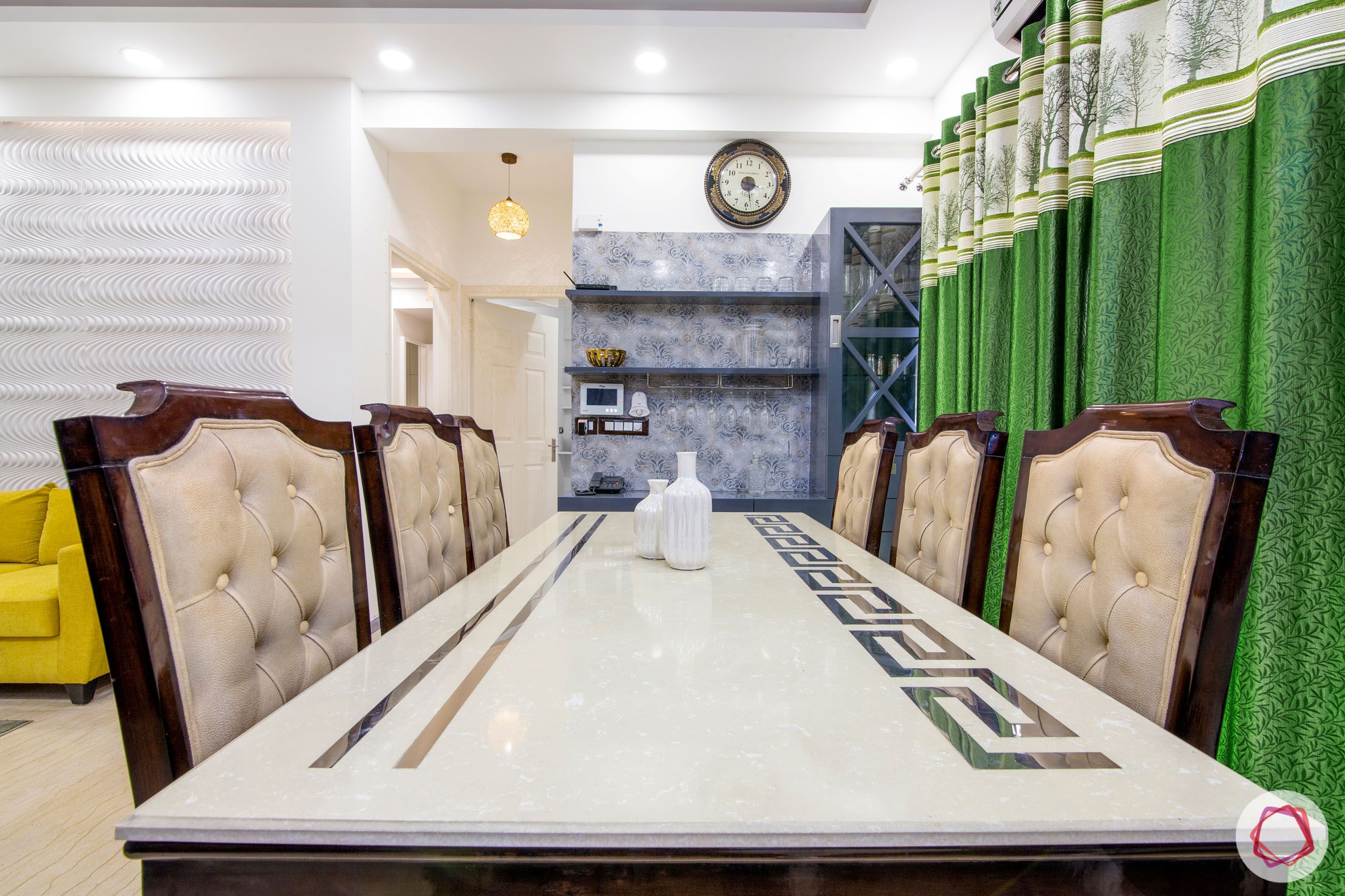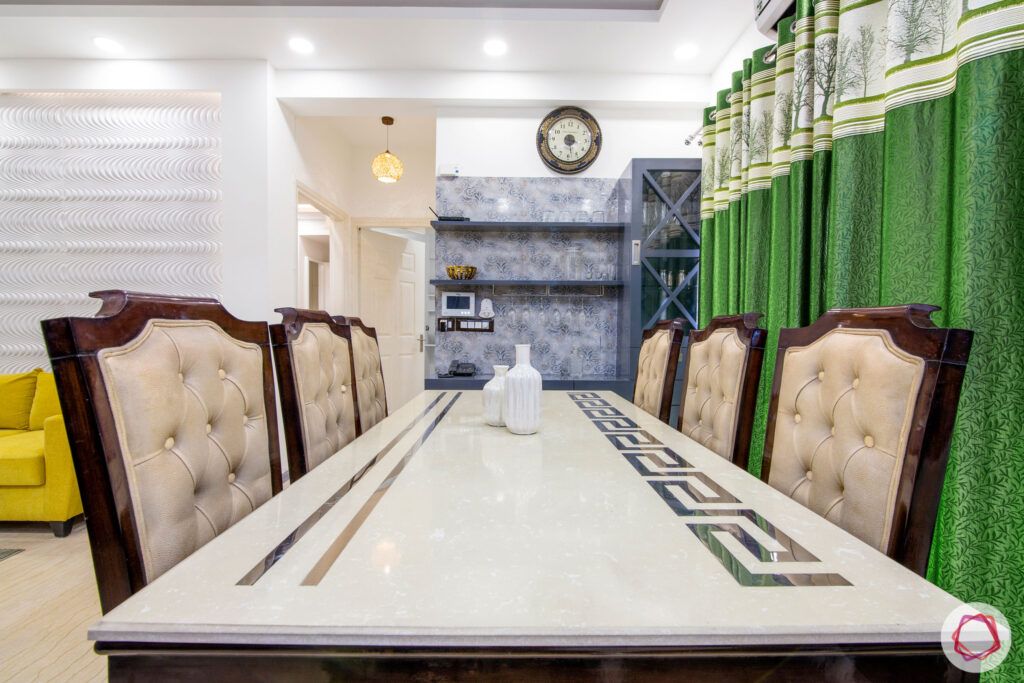 The dining room is a luxurious section of the house. Devendra retained their existing neutral toned six-seater dining table. Thus, Ranbeer's team installed a custom-made bar unit in a muted indigo shade to add a tad bit of colour.

Plush Master Bedroom in Dasnac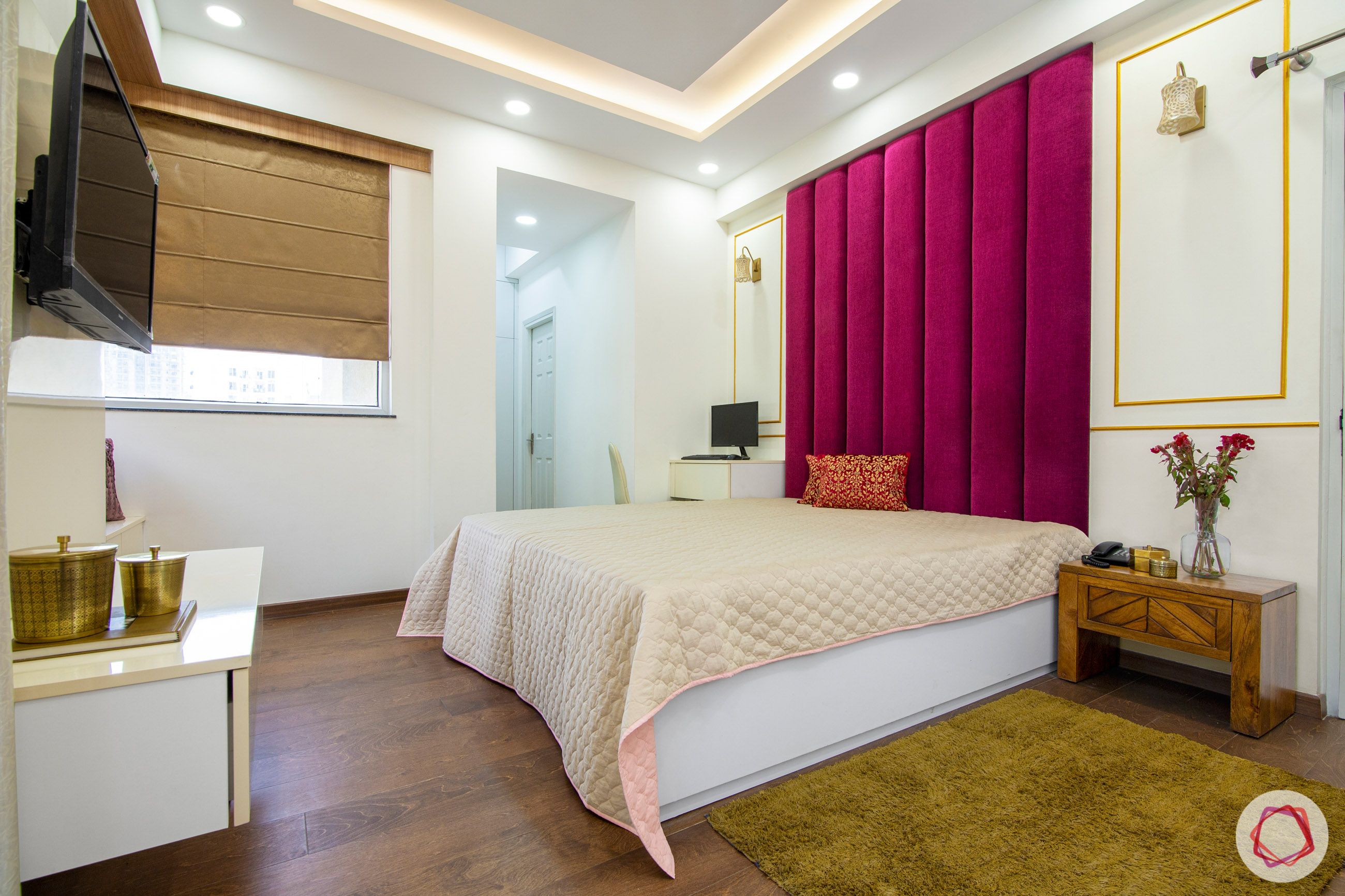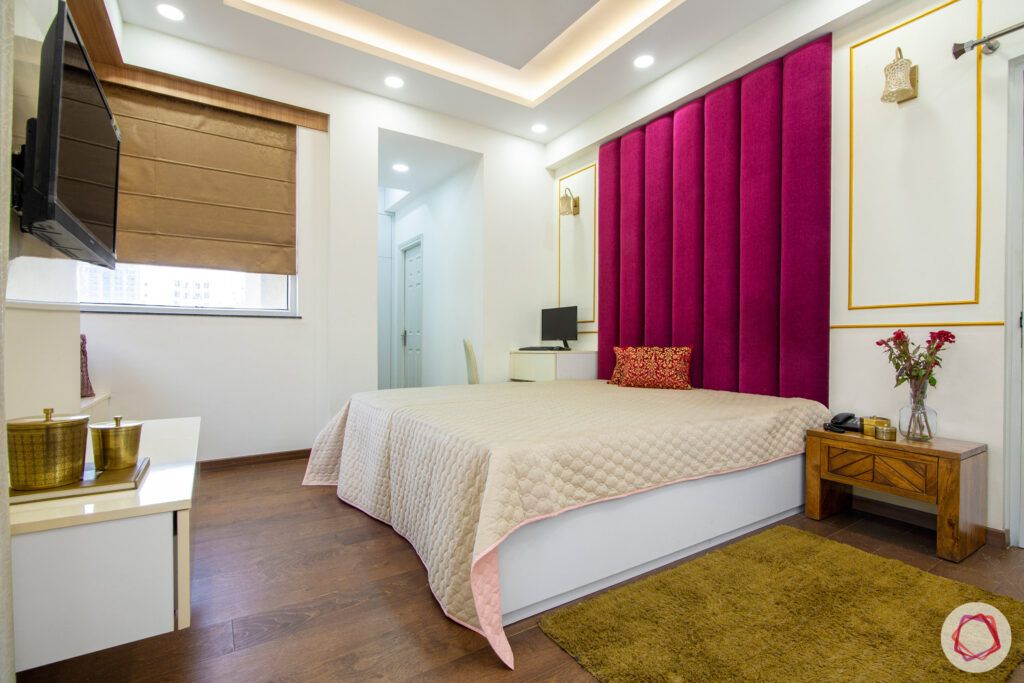 Devendra and his wife were sure that they wanted their bedroom to be really elegant. Therefore, this room is all things classy with a neutral walls and a shimmery wallpaper with motifs. Furthermore, the grand full-length headboard in a rich shade of magenta adds a dash of colour and a regal air to this space. Subsequently, giving the room a cosy feel is a bay seating was created by the window with additional storage on the side.
What's more? Ranbeer suggested installing a laminate finish walk-in wardrobe in champagne white and a minimalistic TV unit in the same shade for toned down but lavish look.
All Blue Bedroom in Dasnac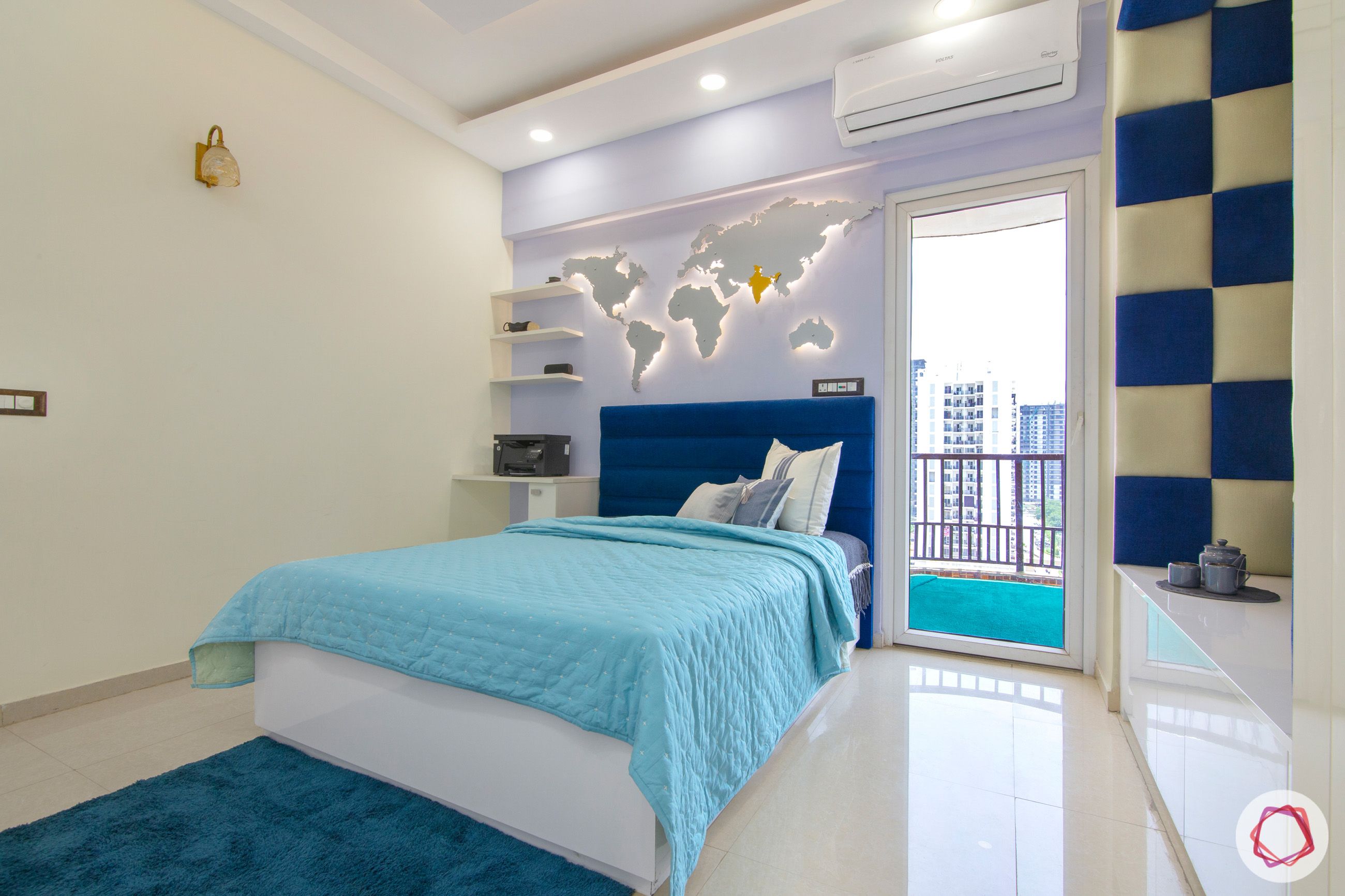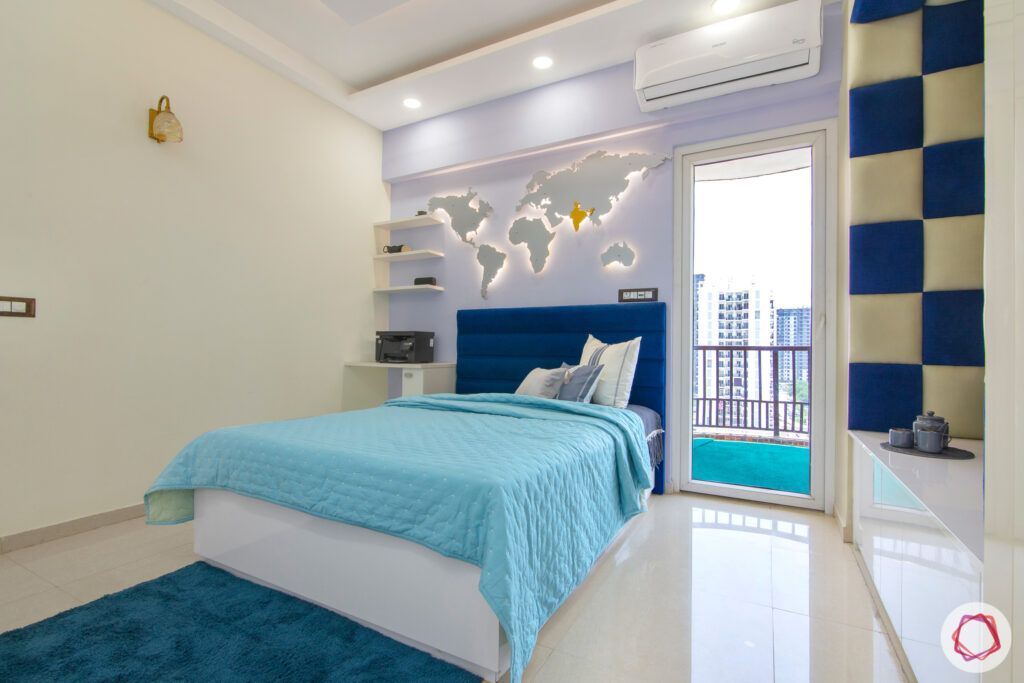 The Malhotras have a son and his room was designed to reflect his personality. Blue being his favourite colour was incorporated in as many elements as possible in the most subtle way. One of the most innovative features of the room is the bay seating created with a cushioned frame in blue and white. Apart from this, it also has additional storage in its base.
Moreover, there is a sizable world map wall stencil with backlighting on the wall. Besides, the rich blue headboard stands out as it is set on a sky blue wall background. Consequently, this room has plenty of unique features that come together as the ideal bedroom for a growing boy.
Perfectly Pink Bedroom in Dasnac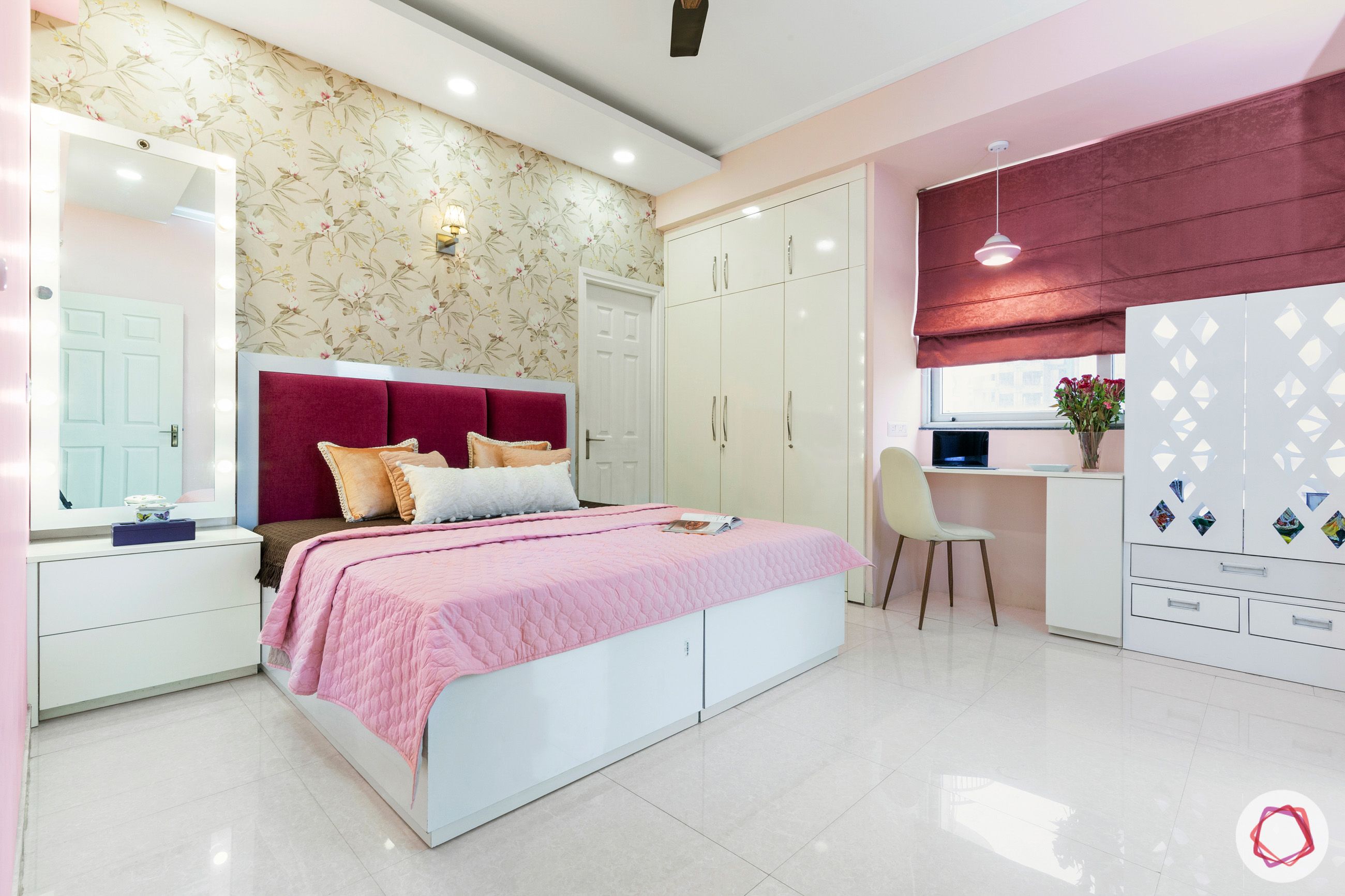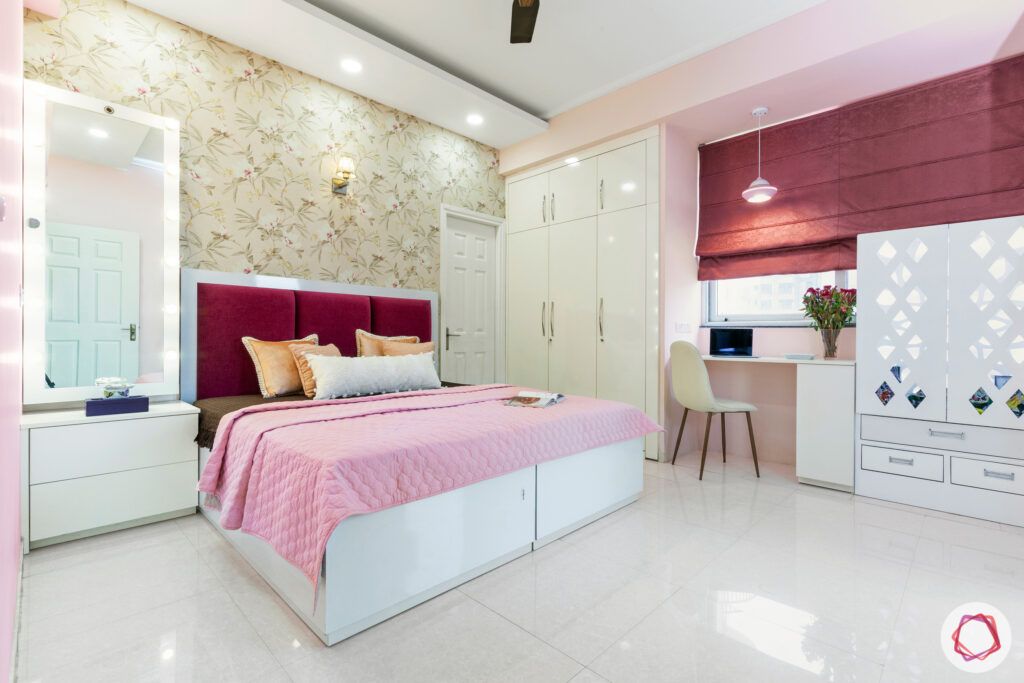 Wonder what's unique about the room? This bedroom is designed for Devendra's daughter and his mother. So it was important that this room have the best of both worlds. Subsequently, this bedroom has a pink-based colour palette with a fabulous vanity mirror and a minimalistic study unit for the daughter. One of the corners was fitted with a custom-made pooja unit for the mother.
In addition to this, neutral elements like, the stunning floral wallpaper and champagne coloured wardrobe, holds the room together with a common thread of design. As per Ranbeer, designing this room was the most challenging yet the most creatively satisfying task.
"Designing a home for Devendra was a swift process. They liked all the ideas and implemented them into their home. All the designs were carefully created for the family and finalised by Devendra. The final outcome is a byproduct of the team's hard work and creativity"
— Ranbeer Kaur, Interior Designer, Livspace
Take the tour of this colourful home here.
Did you enjoy reading about this Noida home? Then take a look at Modern & Budgeted 3BHK at Jal Vayu Vihar.
Send in your comments and suggestions.