A 4BHK plan that is sure to inspire your creative side!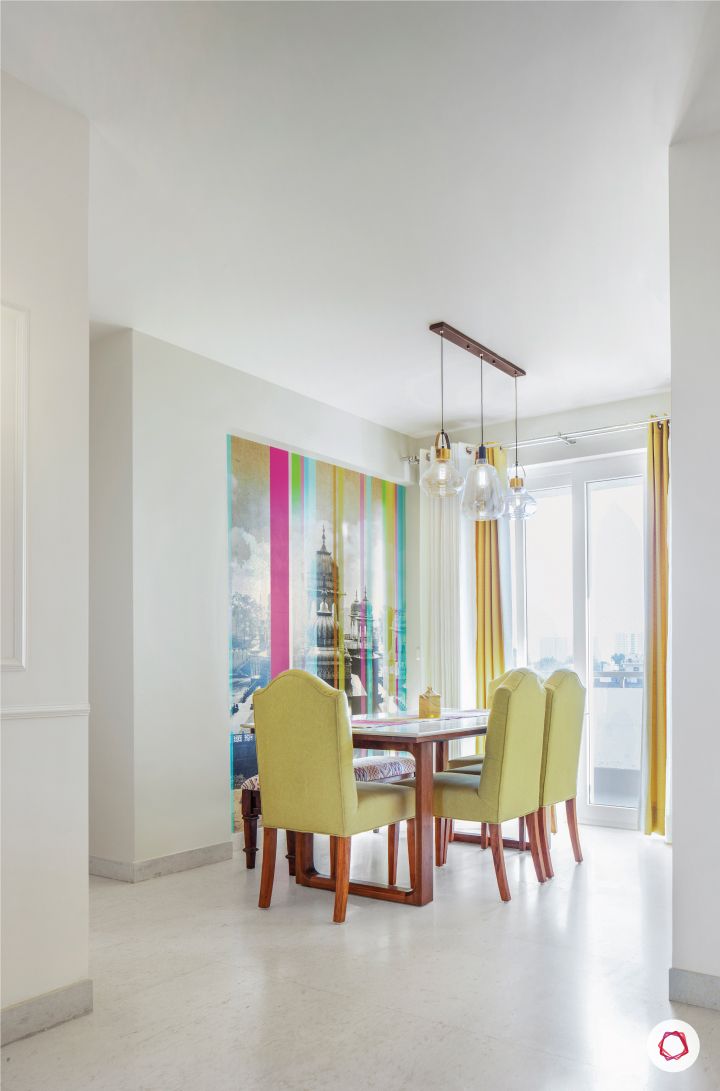 ---
Who livs here: Prateek Vasishta, his wife Ruchika, their son, and his parents
Location: Palm Terraces, Emaar, Palm Drive, Gurgaon
Size of home: 4 BHK spanning 2,400 sq ft
Design team: Interior Designer Priyanka Tandon, Design Manager Pulkit Manchanda and Project Managers Ronit Das & Richa Bhardwaj
Livspace service: Full home design
Budget: ₹₹₹₹₹
---
People say your home should be a reflection of your personality. This holds especially true for Prateek and Ruchika Vasishta's home. After living for 12 years in a high-rise building in the heart of Gurgaon, they decided to take a break from city life and moved into a cozy residential complex, the Palm Terraces. Being from South Delhi, they grew up with large balconies overlooking plush gardens – something they looked forward to in their new home as well. But that wasn't all. While both Prateek and Ruchika built a career in finance, they were also writers at heart. They wanted their home to be a reflection of their creative side.
After walking into our Experience Centre in Sector 29 and meeting with our design team, they knew they were a step closer to their dream home. With vibrant colours, lots of artistic elements and a distinct character for each room, this home has our vote for uniqueness! Take a look!
A cheerful living room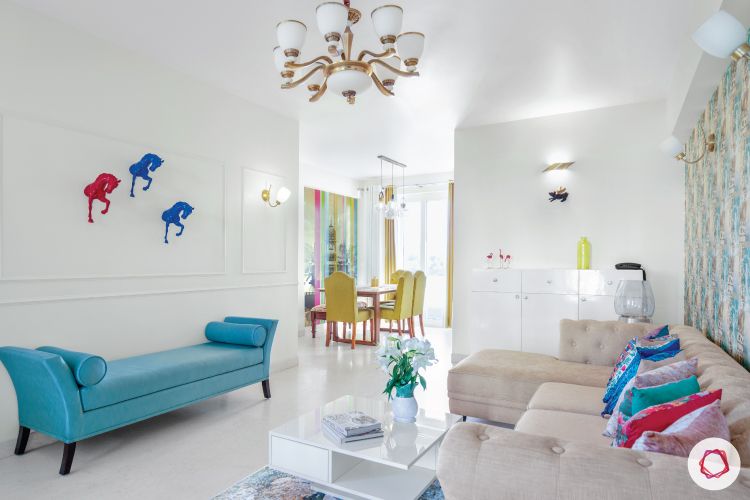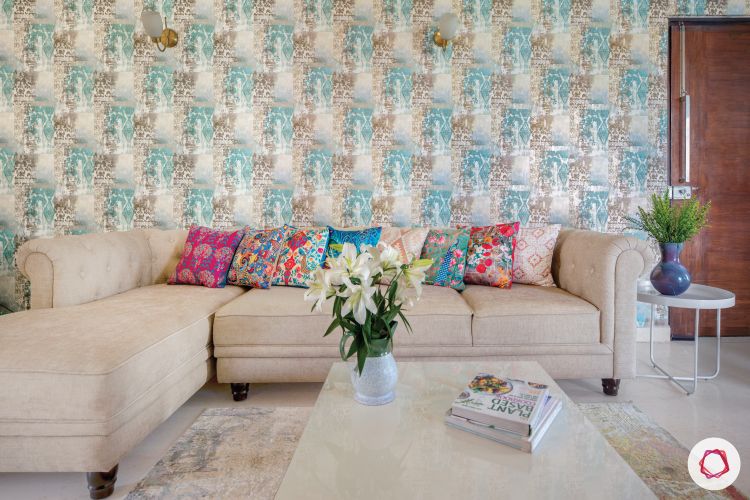 The living room is a burst of happy colours with lots of intriguing elements. A teal and grey floral wallpaper catches your attention almost immediately as you enter the room. A beige L-shaped sofa takes centrestage with colourful throw pillows. On the opposite side, sits a teal chaise lounge with artistic ornaments hung above it. This gives a peek into the vibrant personalities of the members of the house. The horse accent pieces certainly spruce up the white wall. The walls also feature white trims as a touch of elegance. Now that's a mesmerising experience!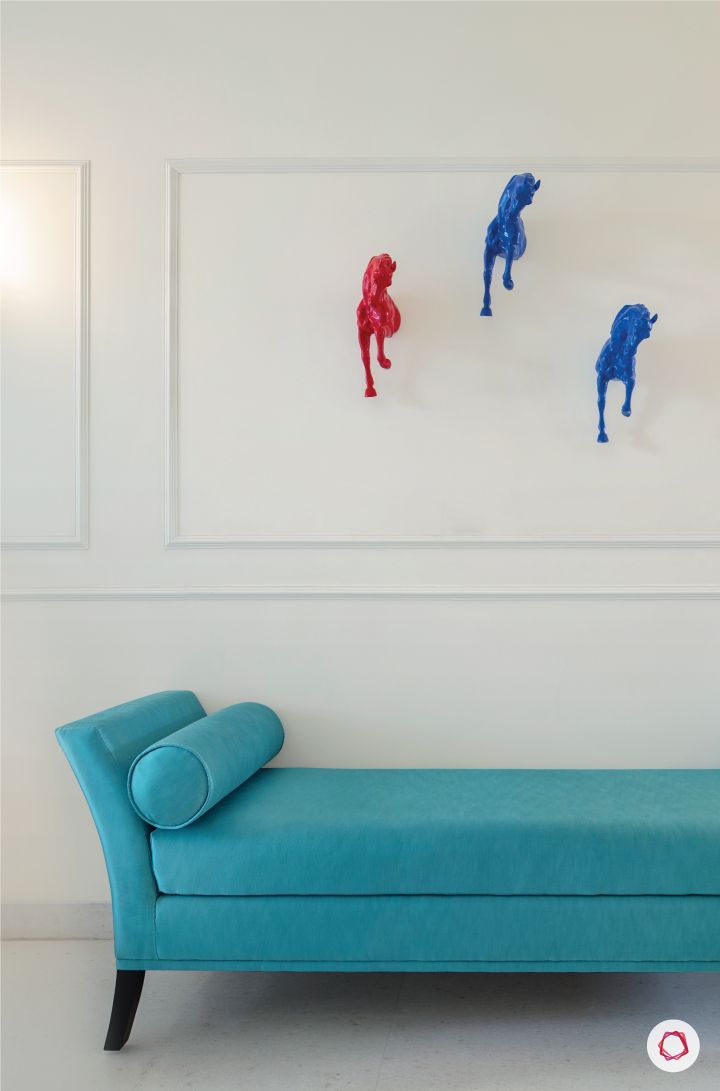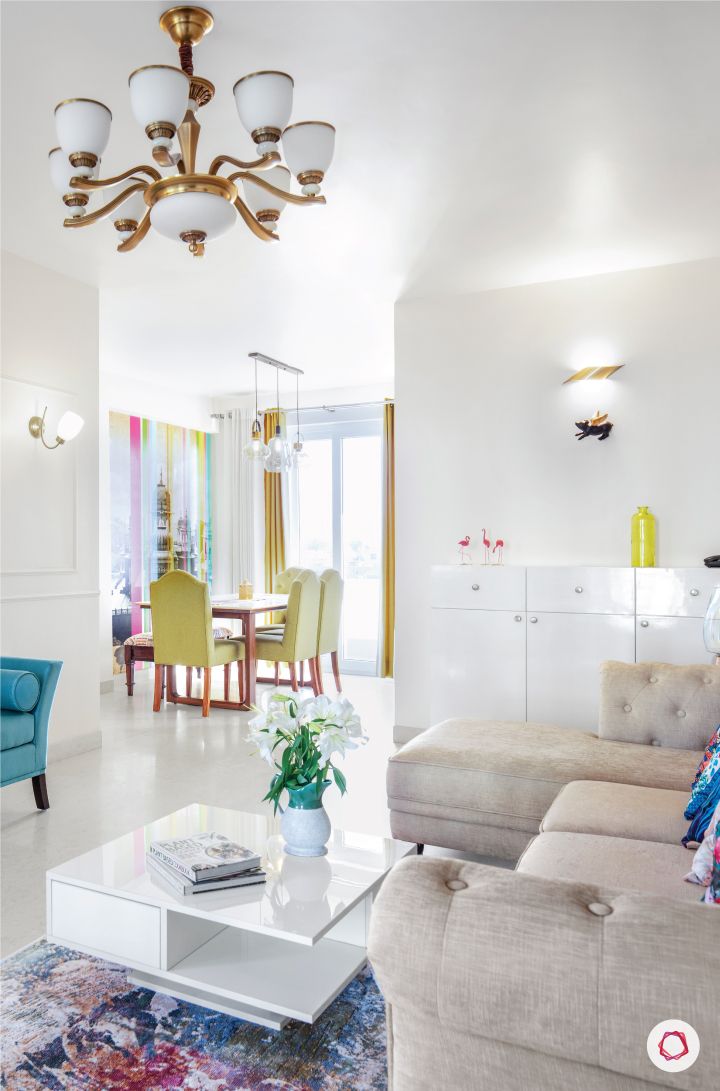 A pristine white coffee table on an accent rug holds the centre of the room. Its matching console storage is tucked into the corner of the room. You also can't miss the set of pink flamingos perched on its surface!

A unique dining experience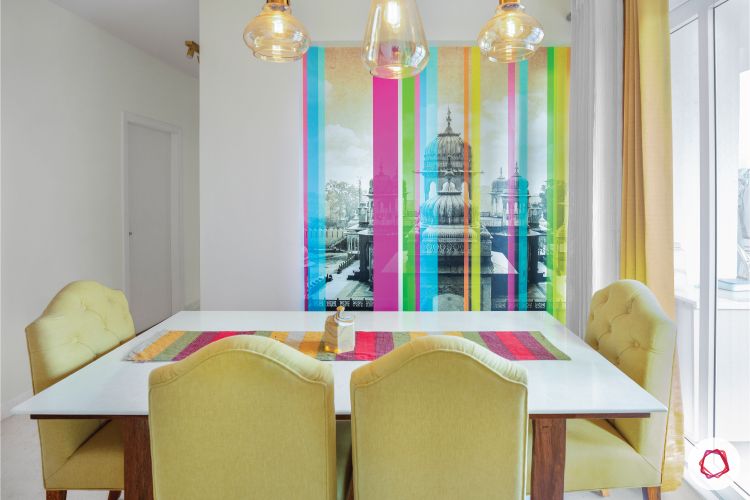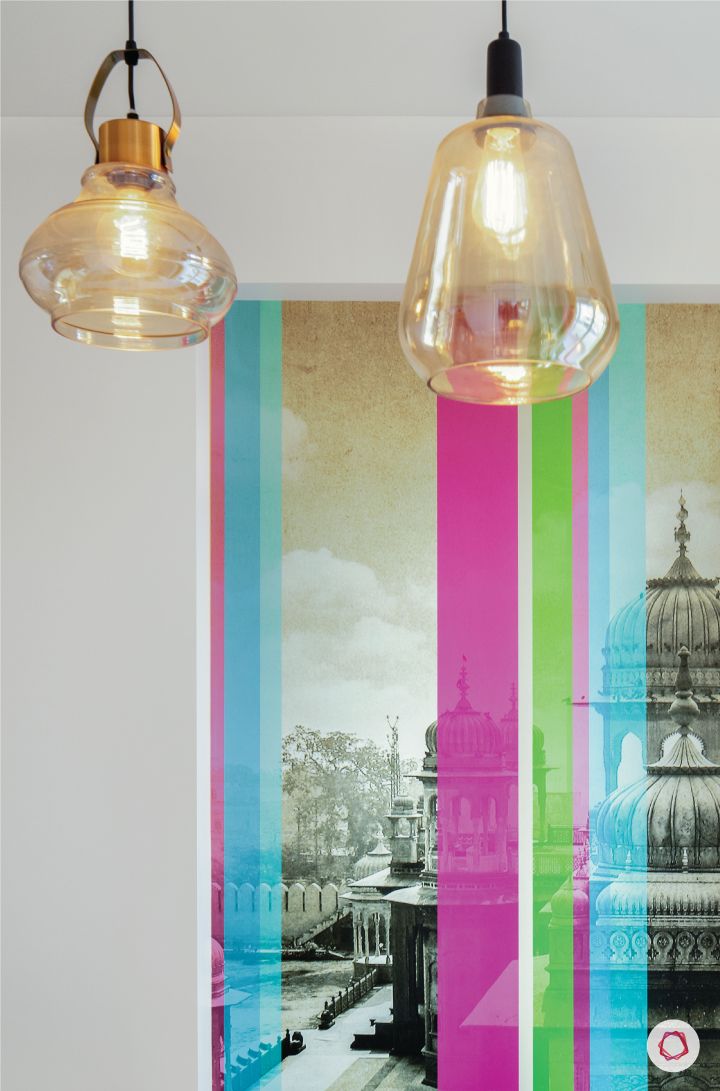 With a vibrant backdrop and striking industrial lights, the dining room is sure to stir your creative side too! The autumn-green upholstered chairs works well with the wooden table coupled with kalinga stone. Yellow curtains help to enhance the natural light that pours in abundantly into the space. To complete the look, industrial-inspired lights were put in above the table.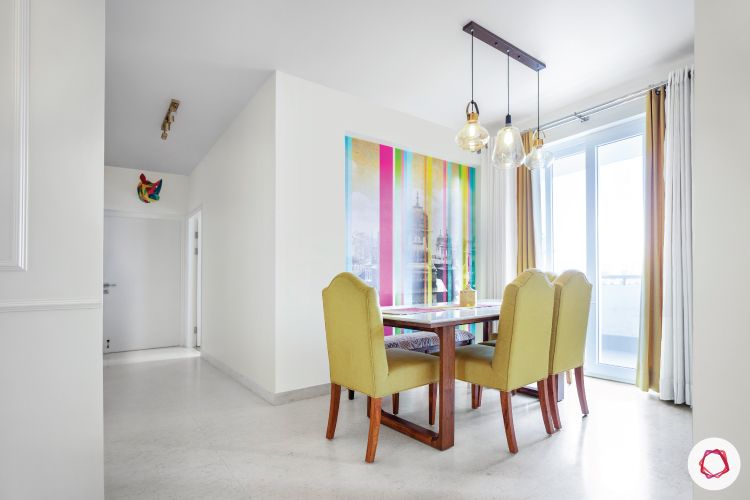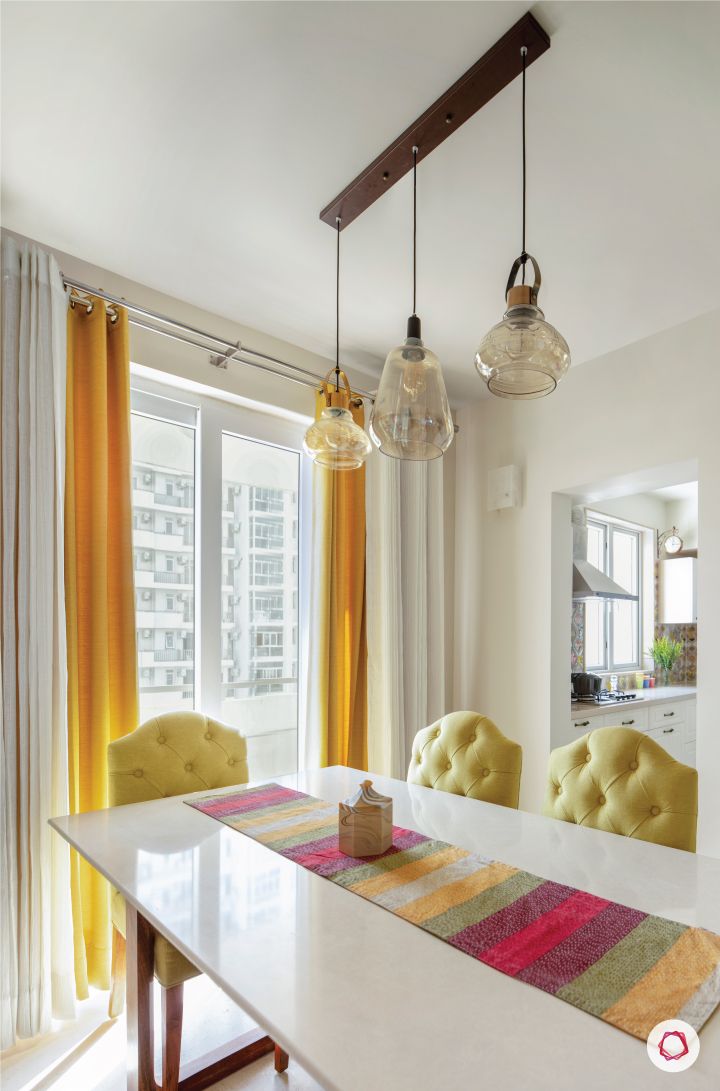 If you take a peek into the passage beside the table, you would be greeted by a colourful rhino accent piece. Even with this interesting mix of bright colours, there's no clash of elements.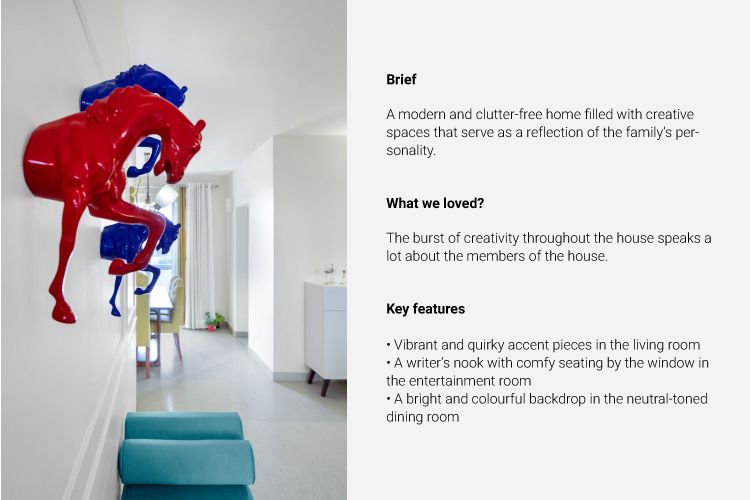 A cozy writer's room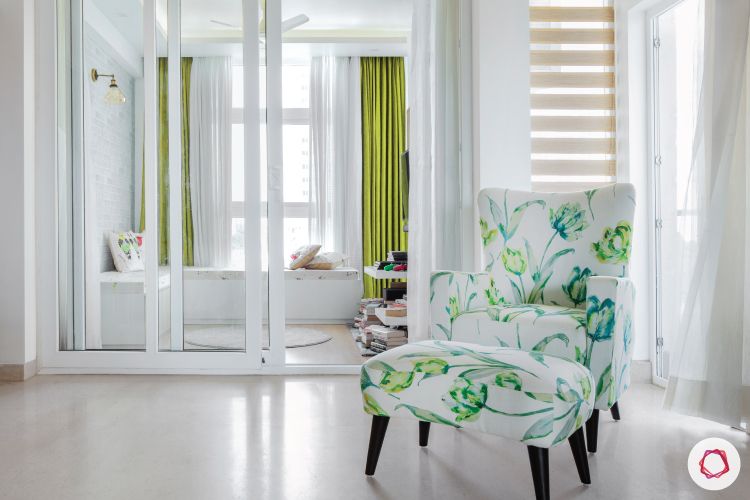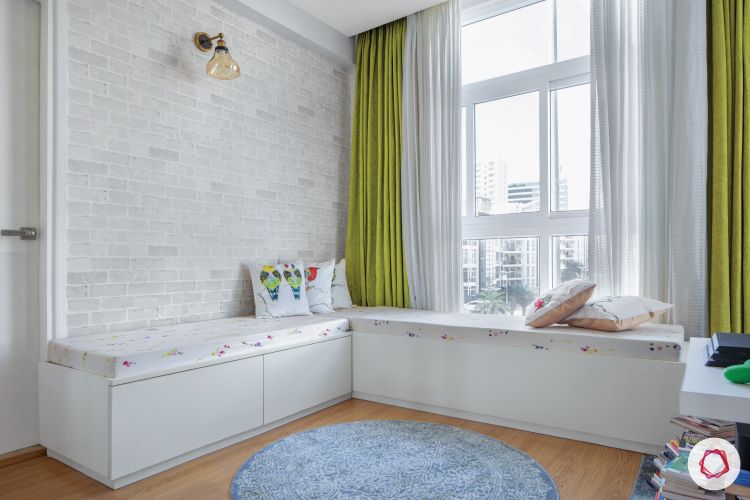 Nicknamed the "ideation room," this particular space holds a special place in the couple's heart. Being a published author, Ruchika wanted a segregated place from the rest of the house. She wanted a place that allowed her to unwind and think freely. Prateek, a writer himself, couldn't agree more! They wanted to write by the window and lean back comfortably as well. As a result, Priyanka added an L-shaped window seat with ample storage space fitted in. Don't you just love smart, cozy spaces?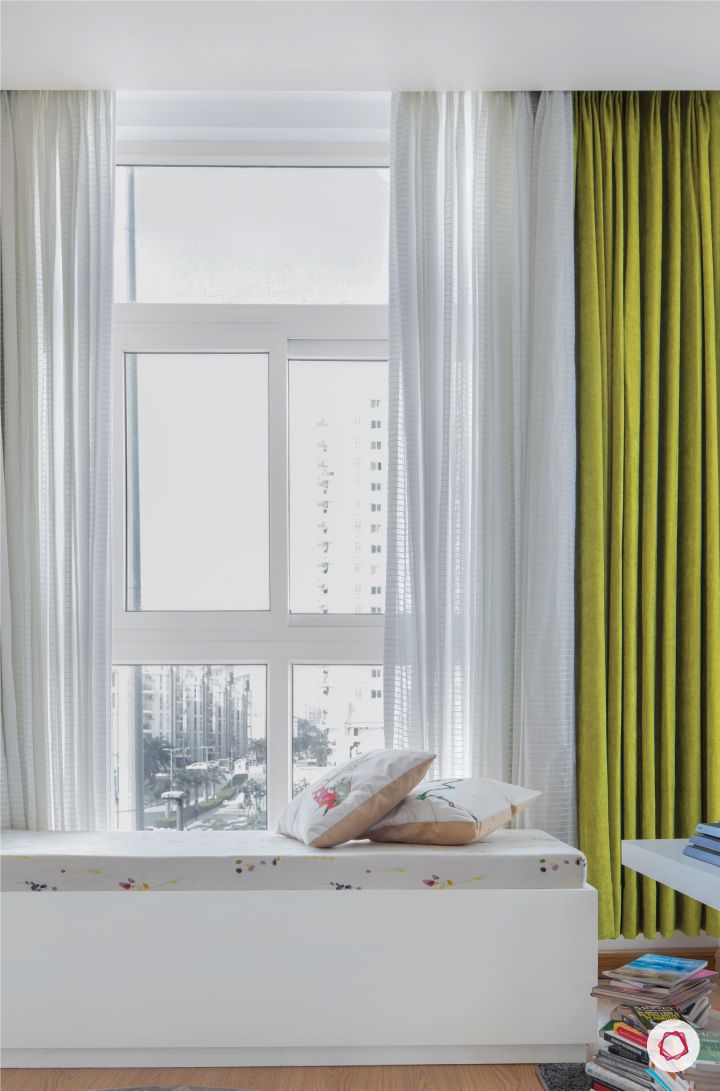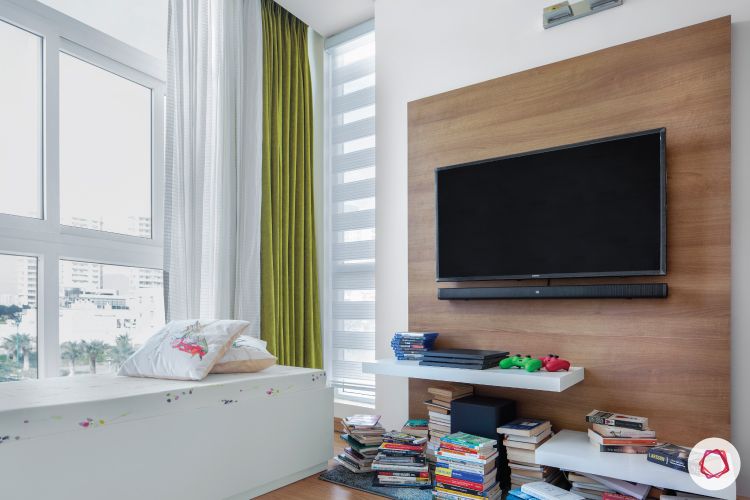 The olive green curtains and the grey round rug stand out as the only pops of colour in the room. The brick-patterned wallpaper adds an illusion of texture. "If you add colours to the wall, it would box in the room a lot more. A grey brick pattern wallpaper gives the illusion of an airy room," suggests Priyanka.
And it doesn't stop there! The room also doubles as an entertainment zone for their son and friends with a TV mounted on a sleek veneer panel in the other end of the room.
A crystal clean kitchen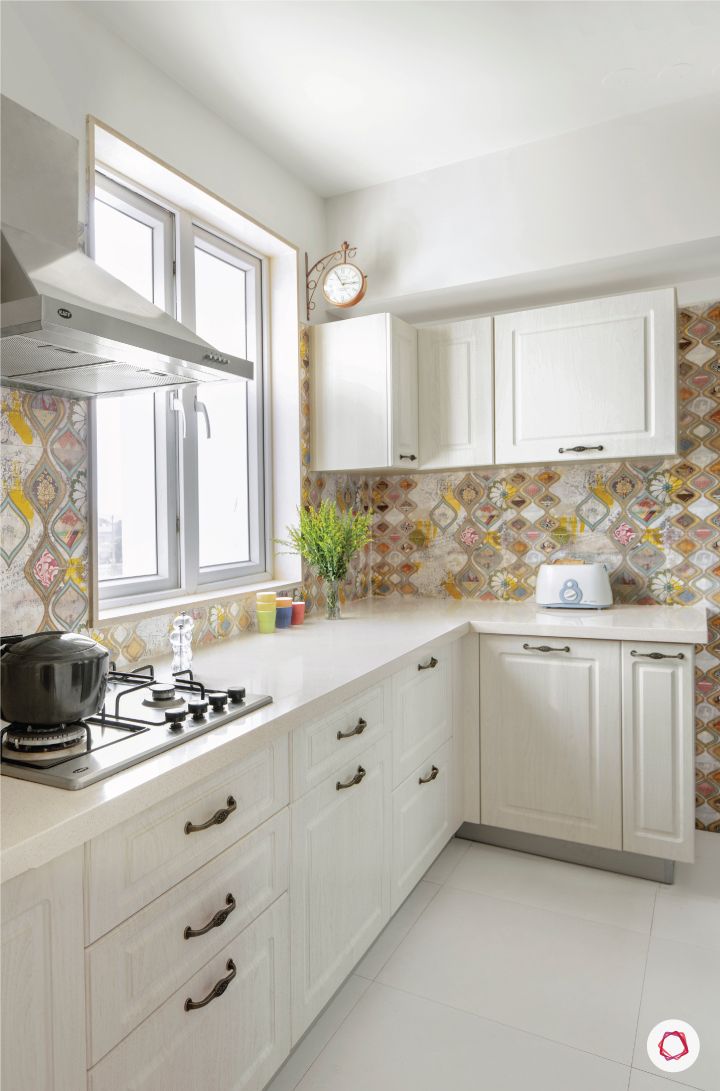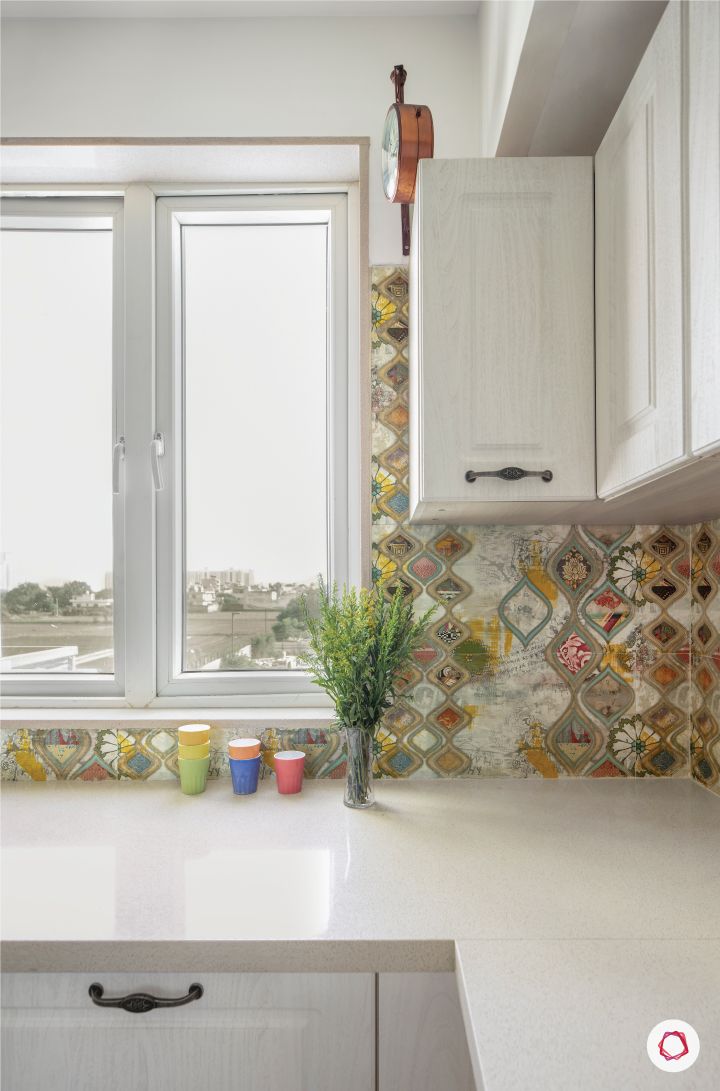 Keeping up with the theme of the house, the kitchen is unique in it's own way too. Flaunting artisan tiles, the off-white kitchen glows under the abundance of natural light. The upper and lower cabinets are in a membrane finish and its dark handles are kept traditional. A kalinga stone countertop enhances the glow from the off-white surfaces. If you look closely, you would also notice an antique clock above the cabinet.
A subtle bedroom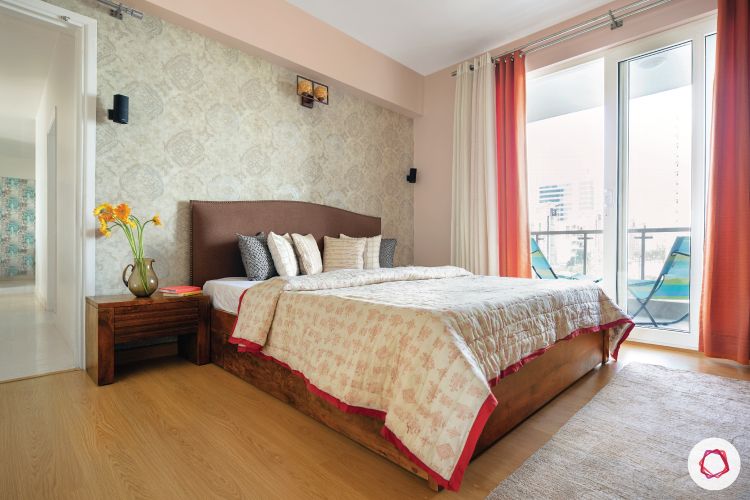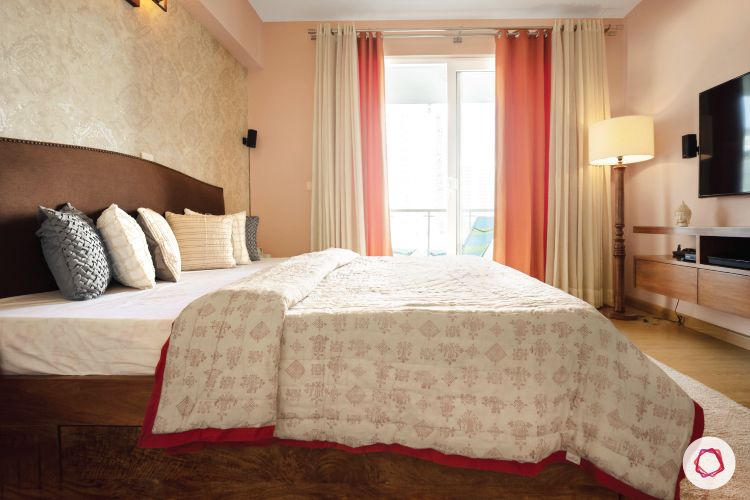 Basking in natural light, the elegant master bedroom is dipped in hues of brown. The cozy room features a subtle wallpaper for its centre wall, sand-coloured paint on the other walls and a chocolate headboard. To ensure natural light pours in, light coral curtains were added for the wide balcony. Wood plays a pivotal role in the room, with a TV unit, bed and traditional lamp stand crafted to perfection.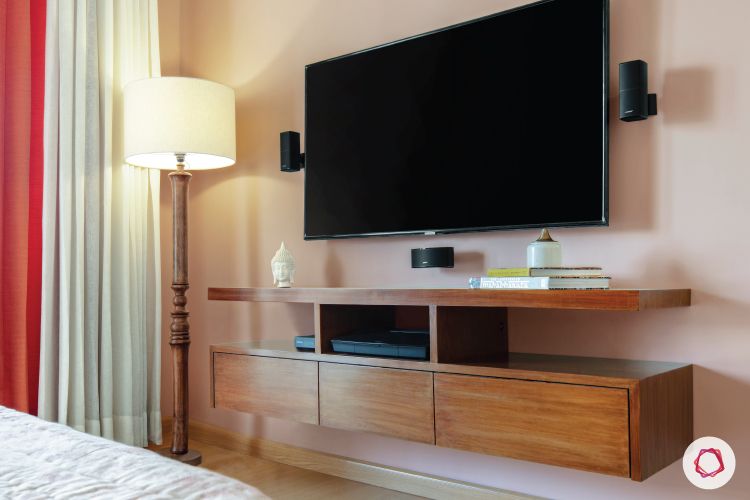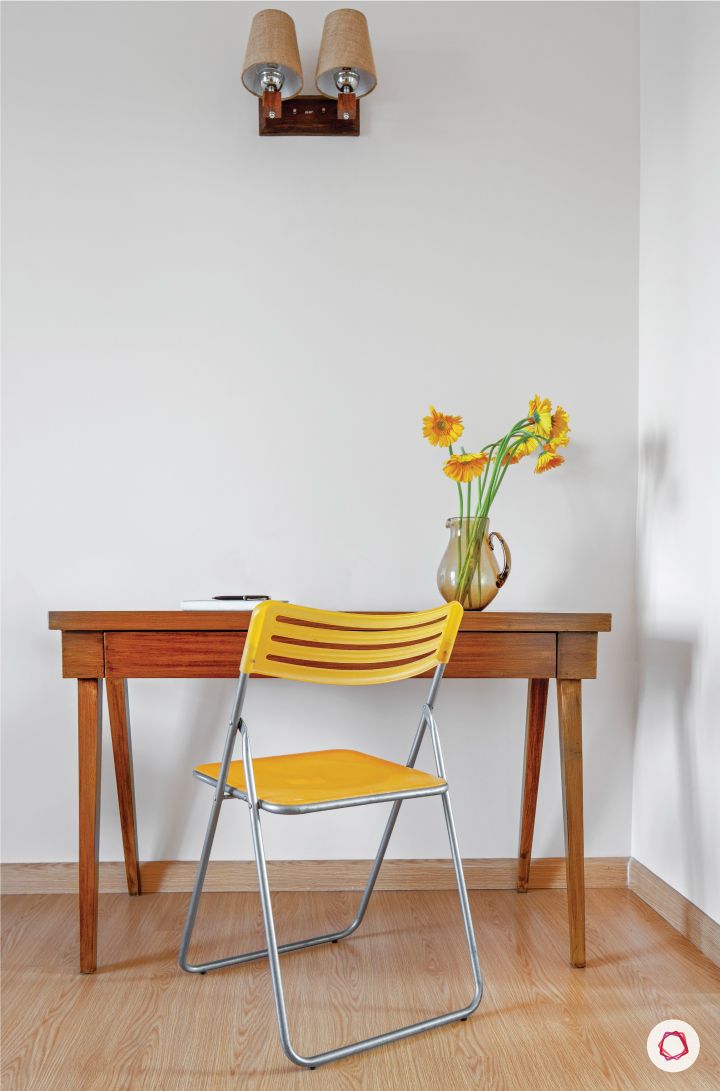 The no-nonsense study table that's tucked into the corner was put in especially for Prateek. The only pop of colour in this brown-toned room is the lemon yellow chair that sits with the study unit.
A colourful kid's room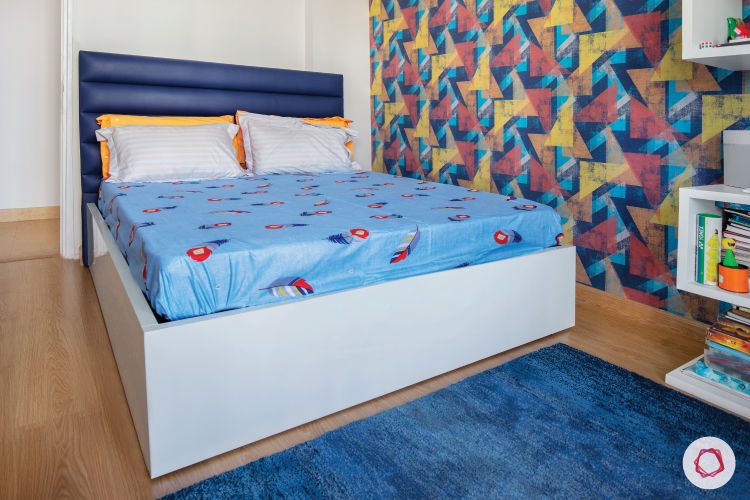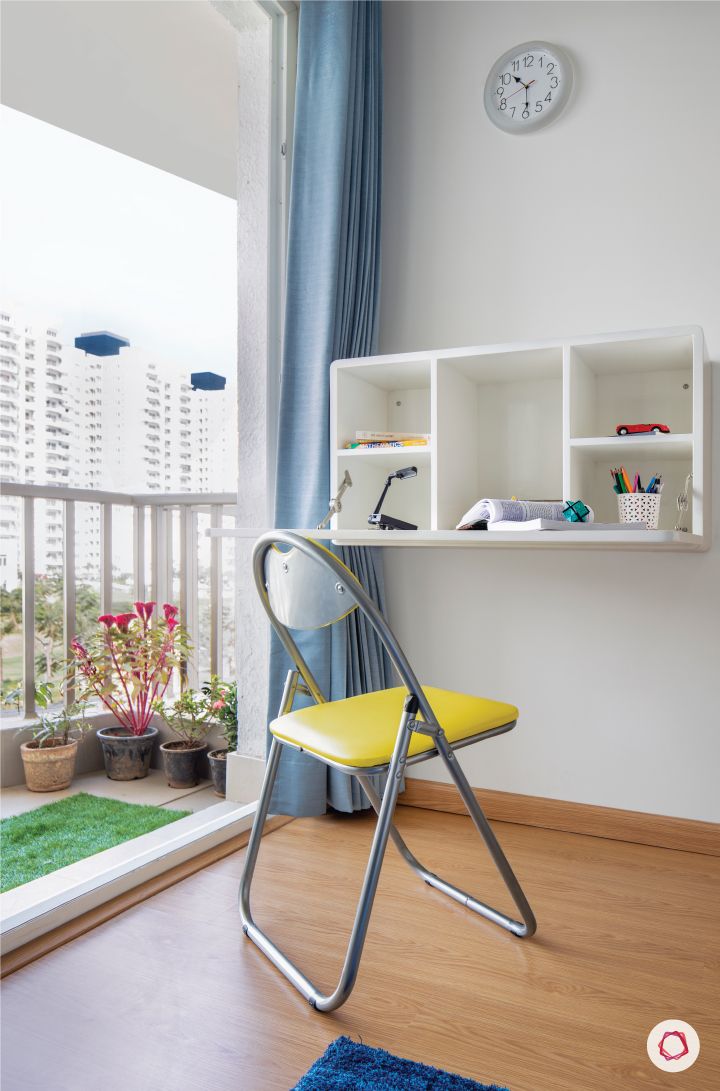 Their teenage son also had a few thoughts in his mind when it came to his room. He wanted a blend of his favourite colours: yellow, orange and blue. And Priyanka met the brief spot-on! With a colourful accent wallpaper and blue headboard, the room makes a striking statement. Besides the bed, stands a white zig zag shelf to stash books and toys. On the opposite side, a mounted shelf is sure to garner a second glance. This intriguing piece also doubles as a study table once the door of the shelf is pulled down. Now that's impressive!
A pastel night's sleep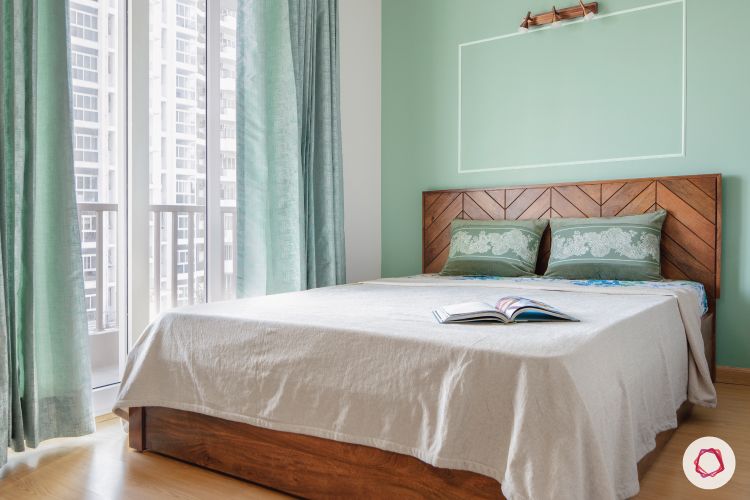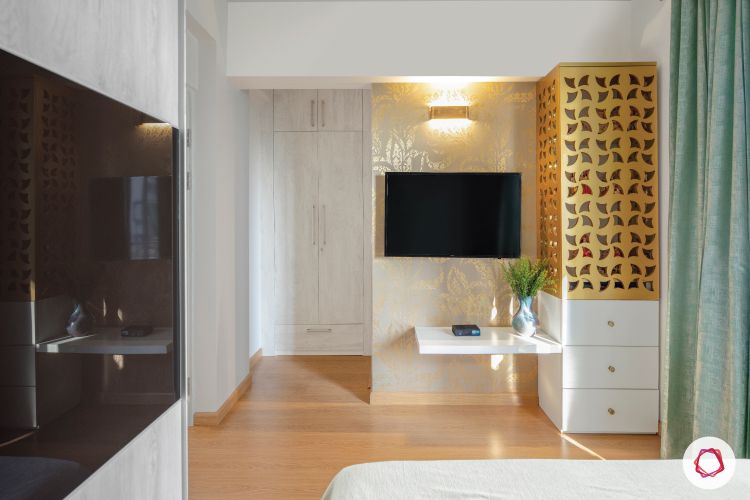 With a refreshing mint green coat of paint, Prateek's parents' bedroom is certainly soothing to the eye. The centre wall also features white trims as a touch of elegance. Beside the wooden bed, stands an oak and grey membrane wardrobe. It also features brown lacquered glass in the middle as an intriguing element. But the highlight of the room is the regal pooja space that can easily pass off as a gold-toned cabinet.
With the TV mounted on the wall and a sleek sliding shelf below it, Priyanka ensured the space was clean and clutter-free.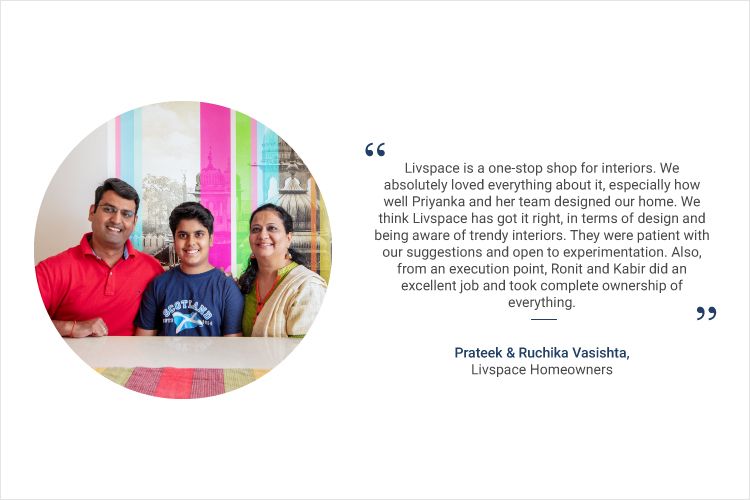 ---
"It was a pleasure designing Prateek and Ruchika's home. They were very clear about their requirements and how they would like their home to be. I am glad that I was able to visualise their ideologies and able to deliver their perfect dream home!"

– Priyanka Tandon, Interior Designer, Livspace

---
Loved this artistic home? Take a look at Gold Tones & Artistic Vibes For This Modern Home for a bit of inspiration as well.
Send in your comments & suggestions.