This 3BHK in Madhavaram Serenity has striking colour combinations.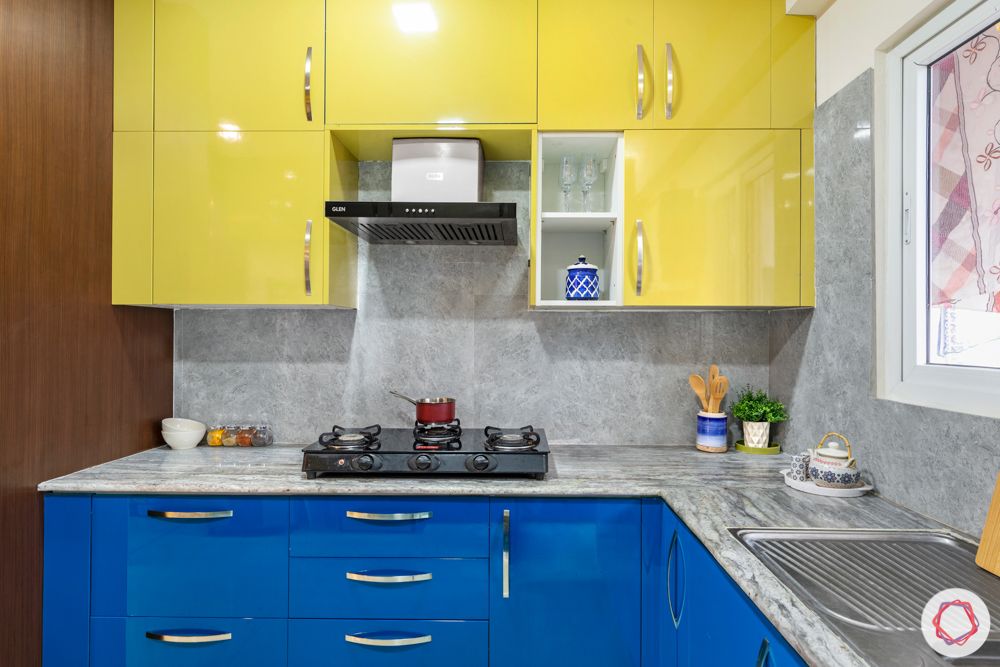 ---
Who livs here: Saritha & Satyanarayan with their two children
Location: Madhavaram Serenity, Hyderabad
Size of home: 3BHK spanning 1,800 sq ft
Design team: Interior designer Sneha Cheruvu & Project Manager Uday kumar
Livspace service: Kitchen, Wardrobes & Storage
Budget: ₹₹₹₹₹
---
This Madhavaram Serenity home is no exception to the lively tag carried by all Hyderabad homes. The colourful 3 bhk apartment interiors are characterised by vibrant colour palettes, unique materials and clever storage designs are always a feast for the eyes but moreover, a delight to design. Besides, you can precisely see how Livspace designer Sneha Cheruvu has played with colourful themes in every room.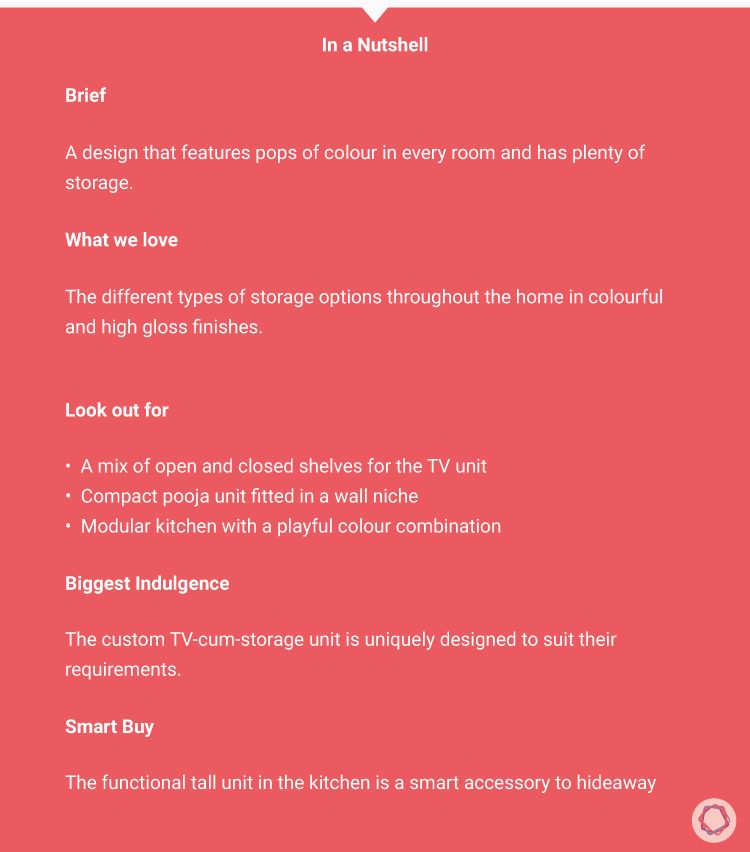 Madhavaram Serenity Property Overview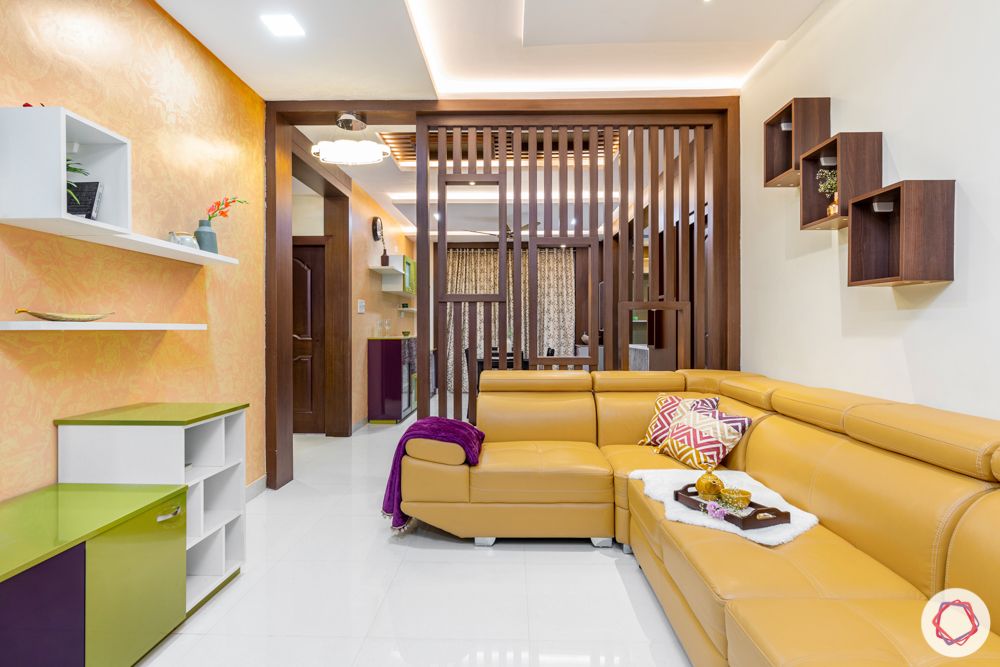 Set in Hyderabad's residential quarters with a neighbourly society, is this home in Madhavaram Serenity. Residing here are Saritha and her husband, Satyanarayan with their two children, Ishaan and Tarunika. Saritha and her family moved into their very own 1,800 sq feet home in Madhavaram Serenity, one that would be spacious enough for all of them as well as closer to her parents home.
"One of the best parts about this project is that we were given a blank canvas to paint on," says Sneha. Therefore, resulting in rooms doused in unique colour combinations. Subsequently, from lime green and blackcurrant purple to blazing red and classic white, this 3 bhk interior has got it all!
Madhavaram Serenity Living Room Design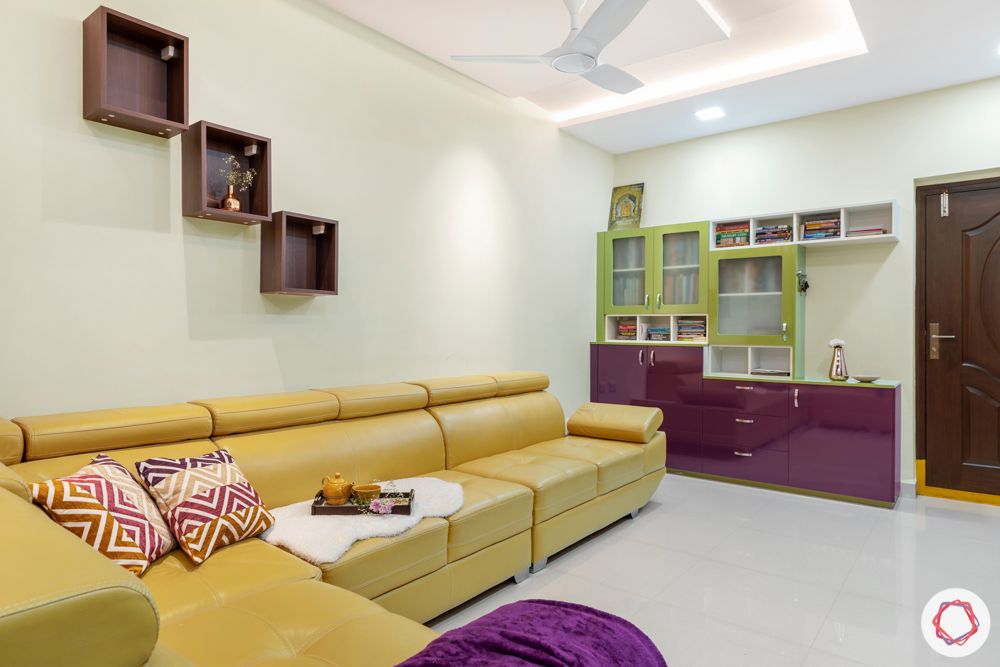 As you enter the home, you notice the living room is warm and well-lit. Subsequently, a sizable L-shaped sofa placed beside a tidy bookshelf and a quirky TV unit. These purple and green units are in high gloss while being high on storage with open and closed cabinets as well as floating shelves similar to the pooja room.
Madhavaram Serenity Dining Room Design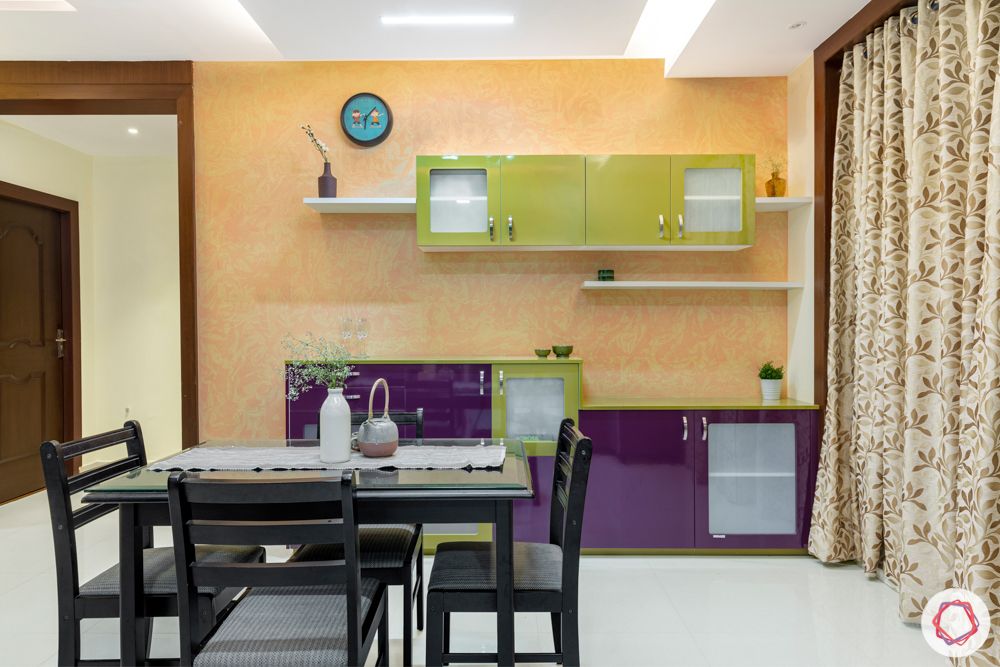 Following the same theme is the crockery unit in the dining room. Created in a step design, this unit can hide away clutter while being high on storage. Designed by Sneha, the wooden partition clearly separates the living room from the dining area.
Madhavaram Serenity Kitchen Design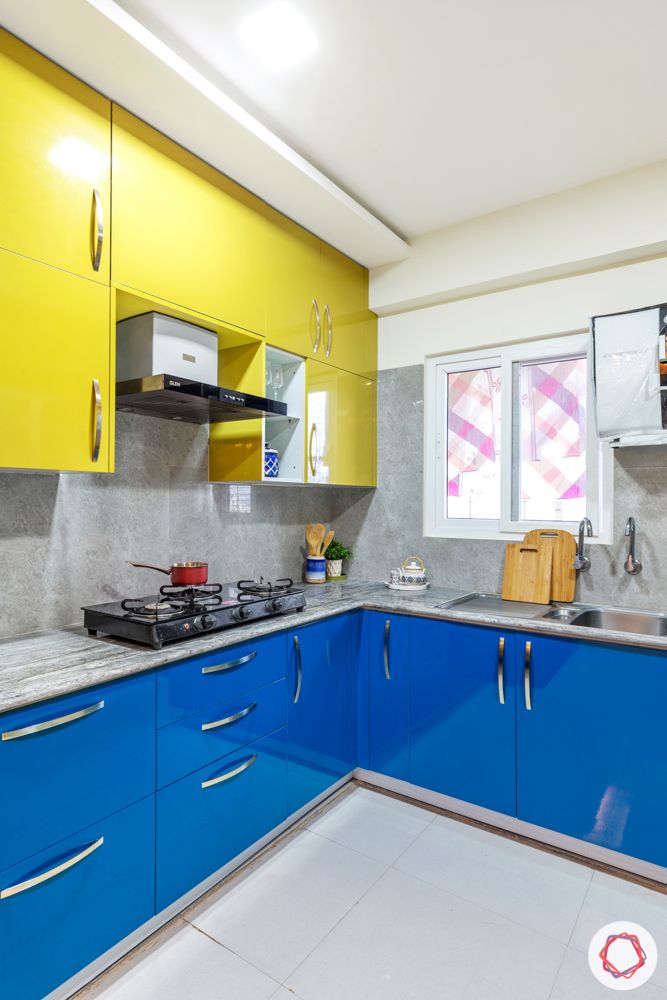 "Blue is my favourite colour and I had to incorporate it somewhere into the 3BHK apartment interior. So, what better place than the kitchen?" Saritha says. Furthermore, with yellow wall cabinets and blue base cabinets, this colour combination is eye-catching. Moreover, the sleek blue tall unit serves as a functional addition to this kitchen. Also, in high gloss finish, this modular kitchen is offbeat and we love it!
---
"Having searched various options online, we found Livspace and decided to get a consultation from a designer. Sneha and her team were very helpful and found ways to cater to all our needs. While focusing on functionality, she has made sure to add an aesthetic touch to the design."

– Saritha Kumari, Livspace Homeowner
---

Madhavaram Serenity Master Bedroom Design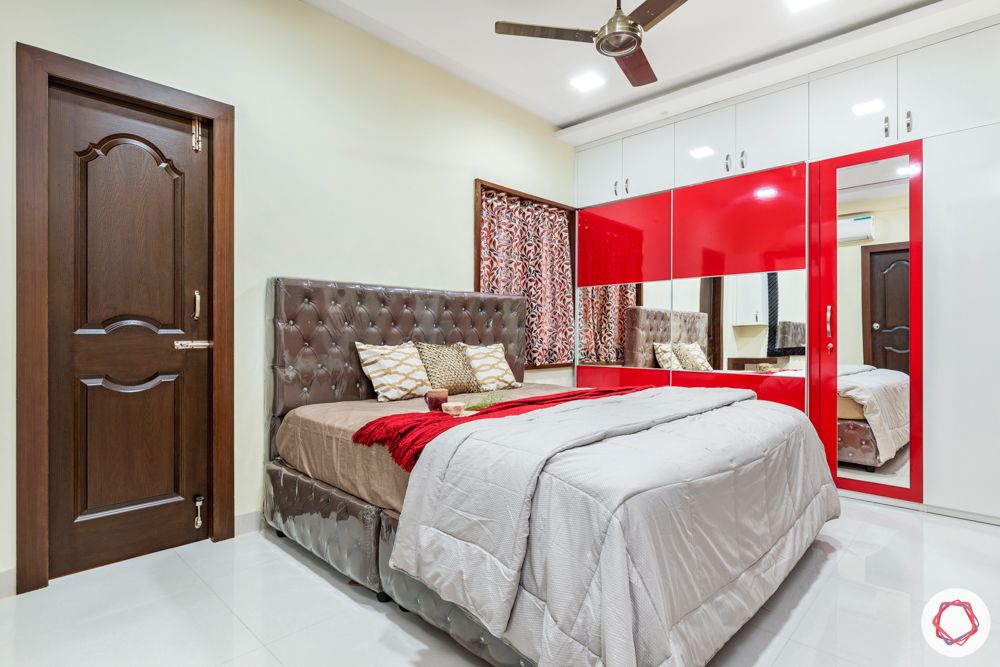 Sneha wanted the master bedroom interiors to be sleek and therefore, picked high gloss laminate for a seamless look. Furthermore, the wardrobes in this room have a mix of sliding and hinged doors. Therefore, the TV unit and vanity were designed in high gloss laminate in accordance to the theme.
Madhavaram Serenity Daughter's Bedroom Design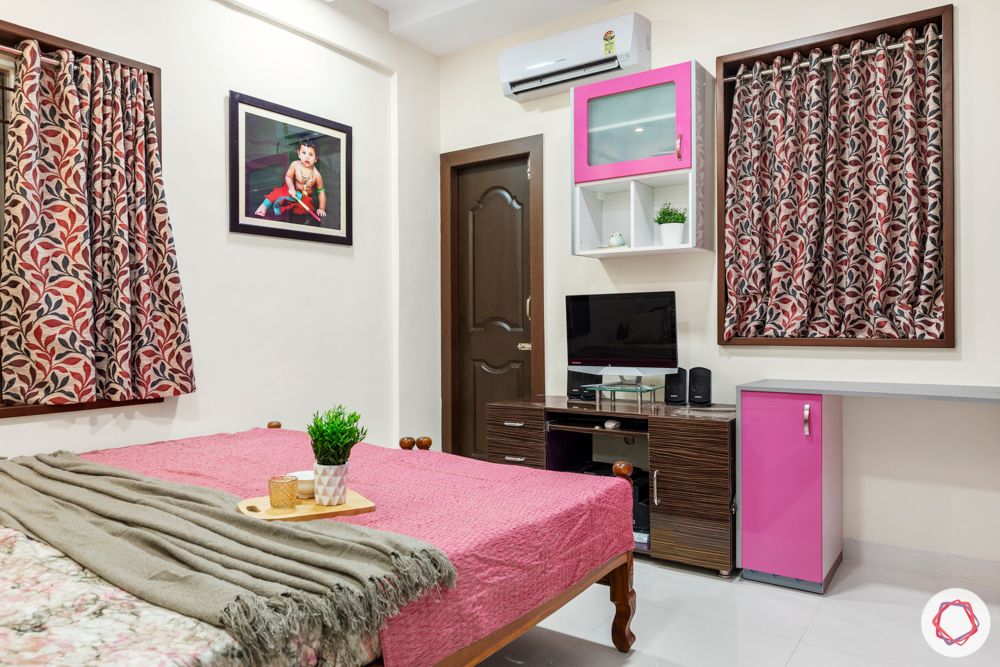 Subsequently, Tarunika's room resembles a princess' room with high gloss pink and silver storage units. Consequently, this room has plenty of wardrobe space as well as a study unit and some overhead shelves. Designed keeping in mind a teenage girl, this room is stylish and simple.
Madhavaram Serenity Son's Bedroom Design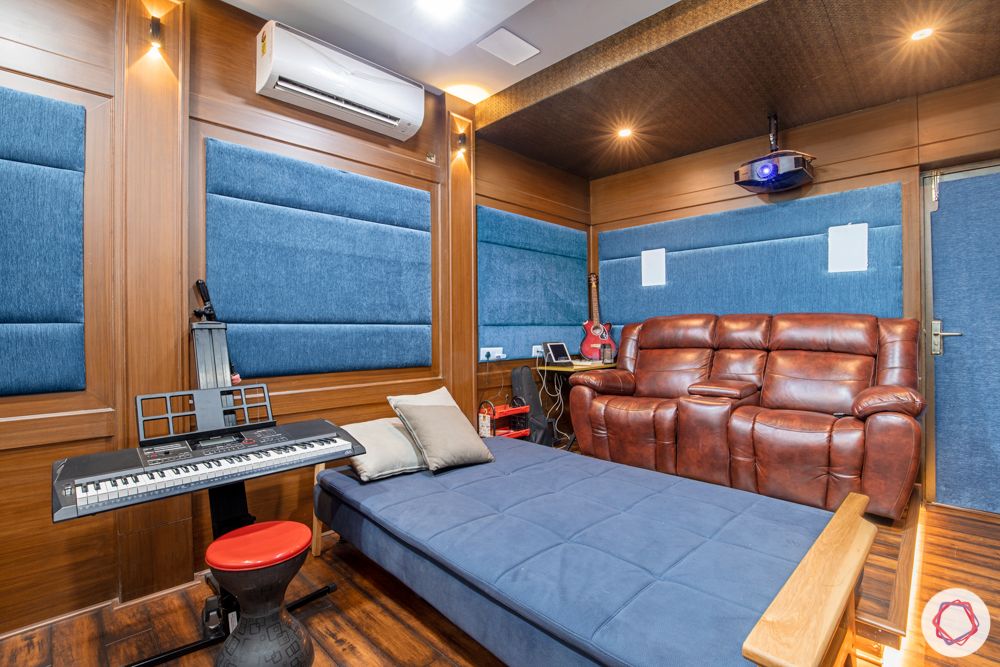 Furthermore, Ishaan's bedroom was transformed into a soundproof music studio for the avid musician in him. Consequently, with a sofa-cum-bed and home theatre system, this room looks cosy and warm.
"Saritha expressed her requirements and choices very clearly and that made the design process simple. Moreover, They took all my suggestions into consideration while letting me experiment with colours and unique designs."

– Sneha Cheruvu, Interior Designer, Livspace
Also, take a look at 4BHK Looks Fresh in Fuss-free Interiors.
Send in your comments and suggestions.