This spring, new age hues combine with textures and patterns to help set up the perfect retreat. Create personal spaces that are an extension of yourself with the most fresh, choicest color schemes of this year.
1. An ocean of blue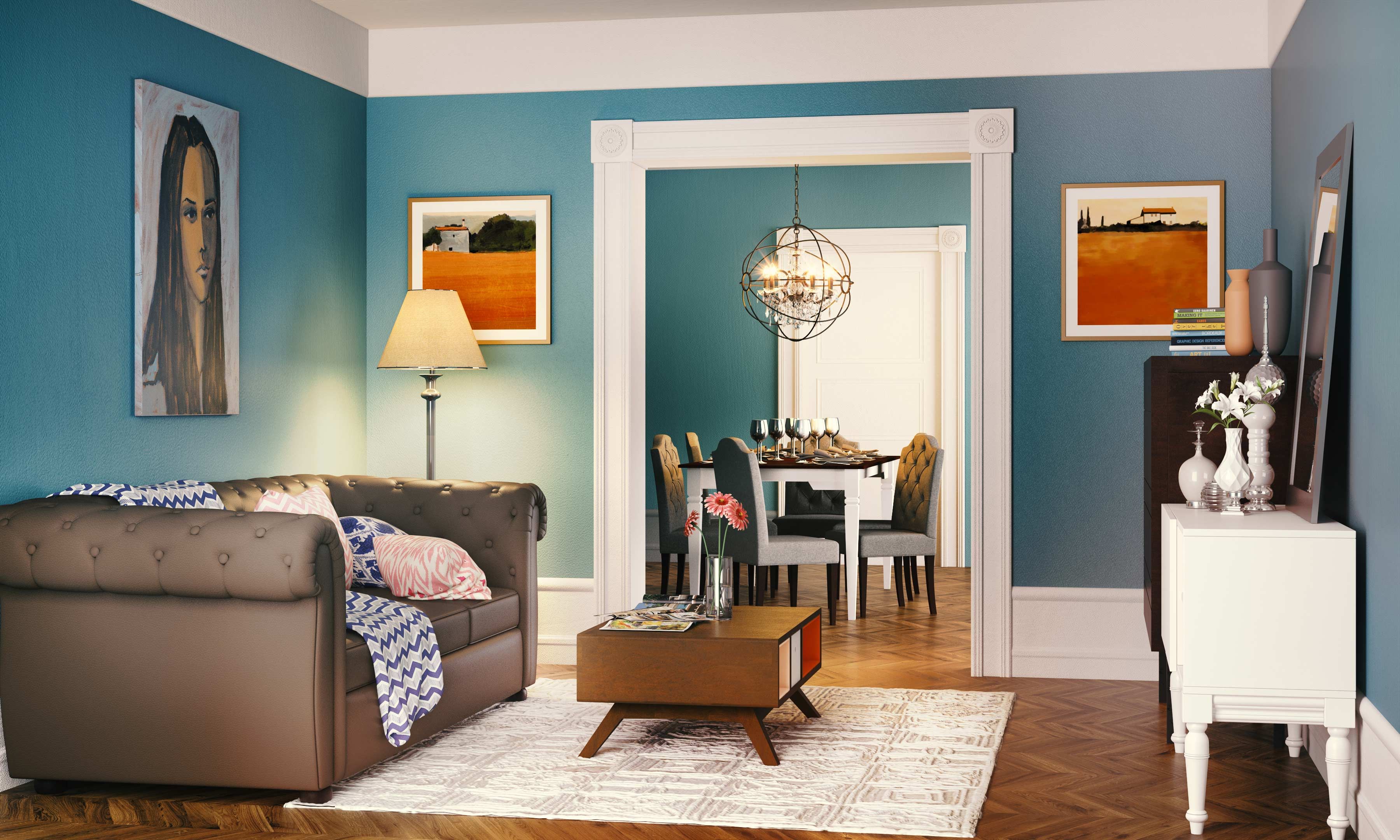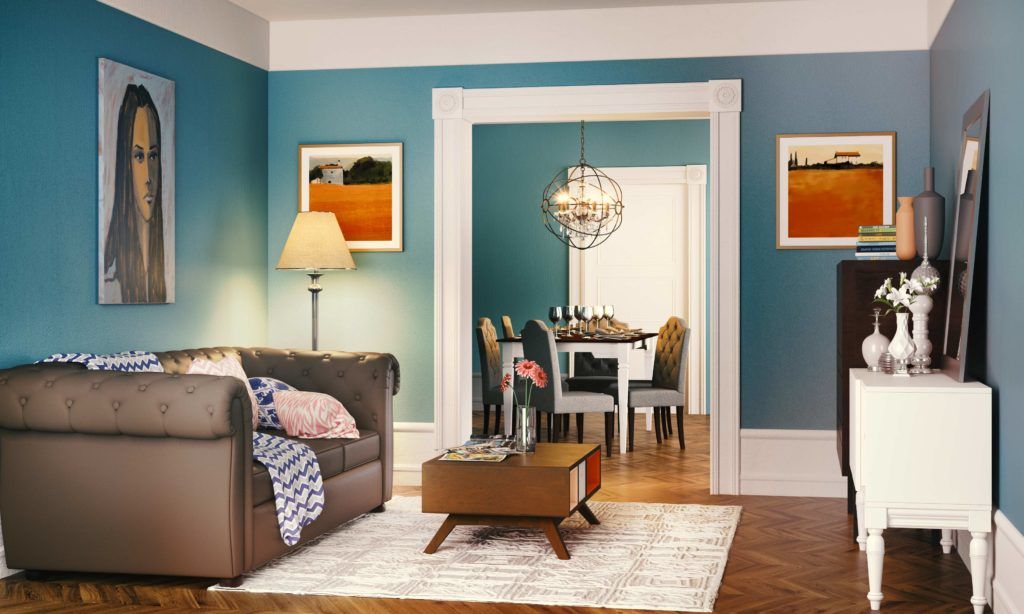 Bring home the soft, cleansing feel of water with this milky shade of blue. The serene color, often used in European homes, can be styled with both black and white accents equally well. When lamps are used in the room, it reflects the light and emits a soft glow.
In this small, cozy traditional set up, teal blue lends an airy and vast effect. Bands of white on the skirting, architrave and ceiling make the space look expansive as well. The brown upholstered chairs pair beautifully with the classy colour, adding warmth to the room. A luscious splash of tangerine on the paintings balances the scheme.
Color palette: Teal, Porcelain White, Walnut Brown, Pecan Brown, Tangerine
2. Hues of nature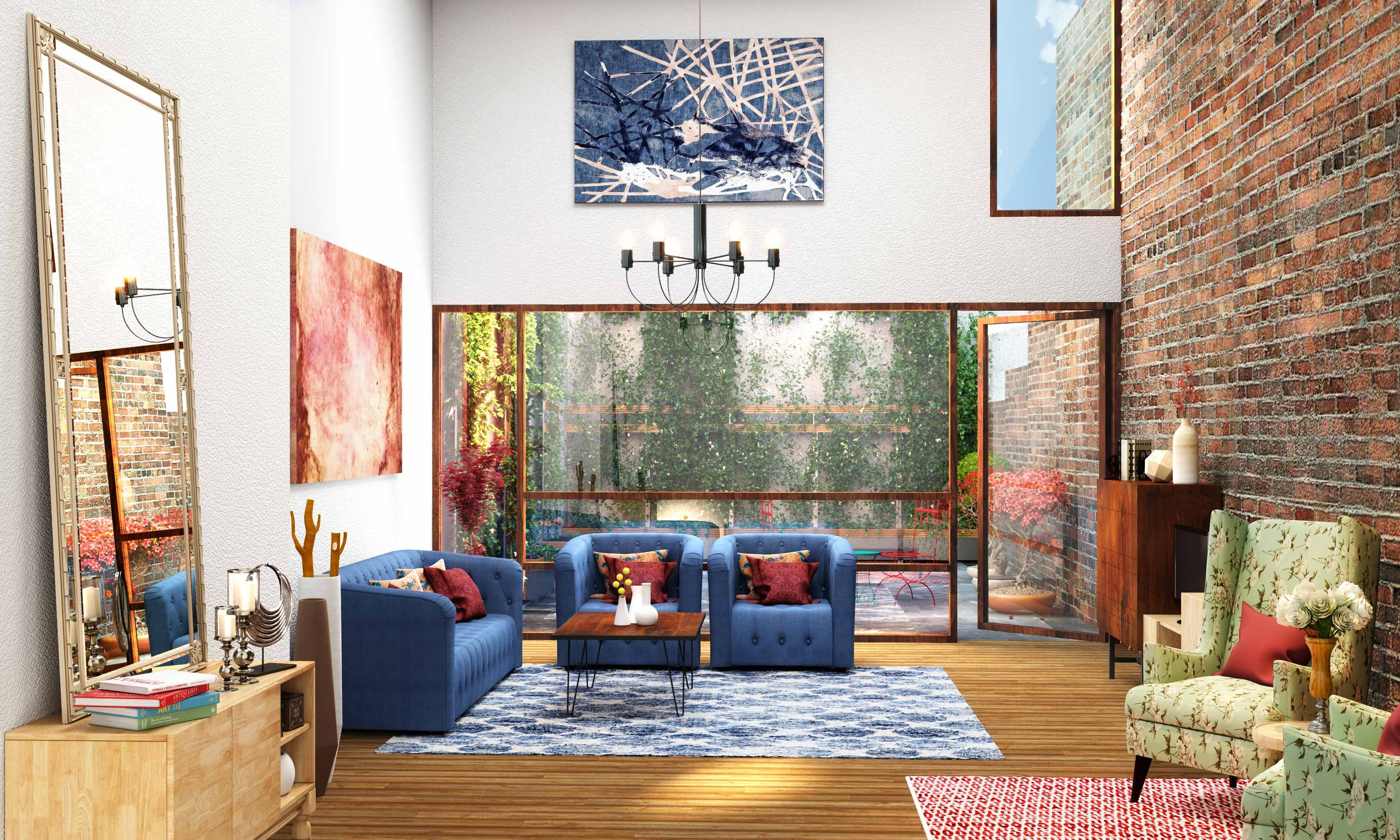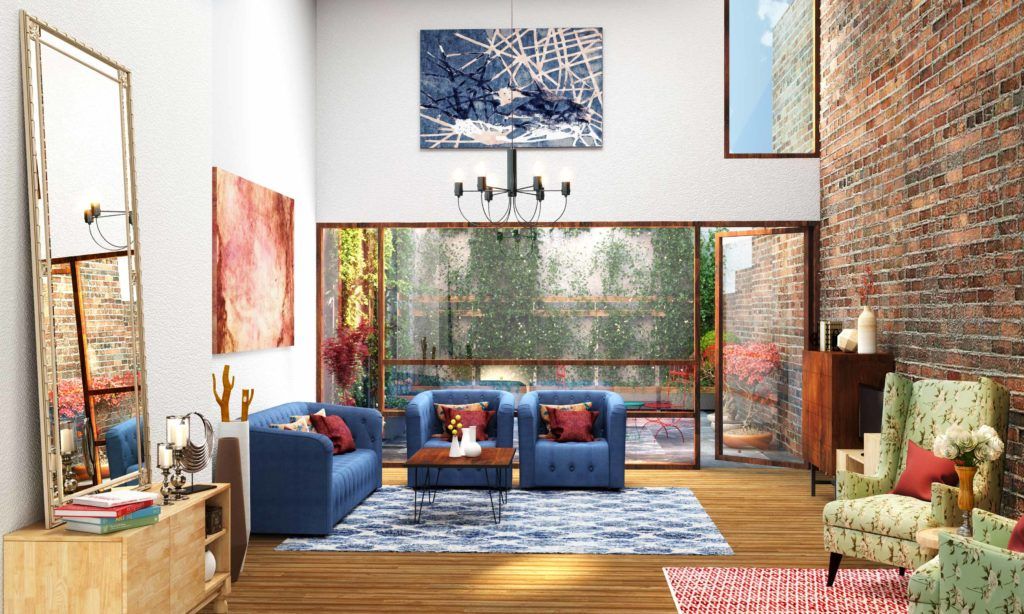 Nothing calms the mind and exudes optimism like raw, earthy tones. Burnt browns, oak accents, and a touch of rust blend together to make for the perfect organic backdrop on which colors close to nature thrive.
In this modern airy loft, the tall brick accent wall sports a weathered look and helps ground the space. Adding a summery feel is the striped yellow floor which is further brightened with pops of denim blue and beryl green coloured sofas. Marsala and pink accents used across the room in mats, cushions, plants and pictures bring to mind a flowery touch. The swathe of white on the opposite wall helps balance the flurry of colors.
Color palette: Tawny Brown, Rosewood Pink, Denim Blue, Beryl Green, White
3. Off-white makes a statement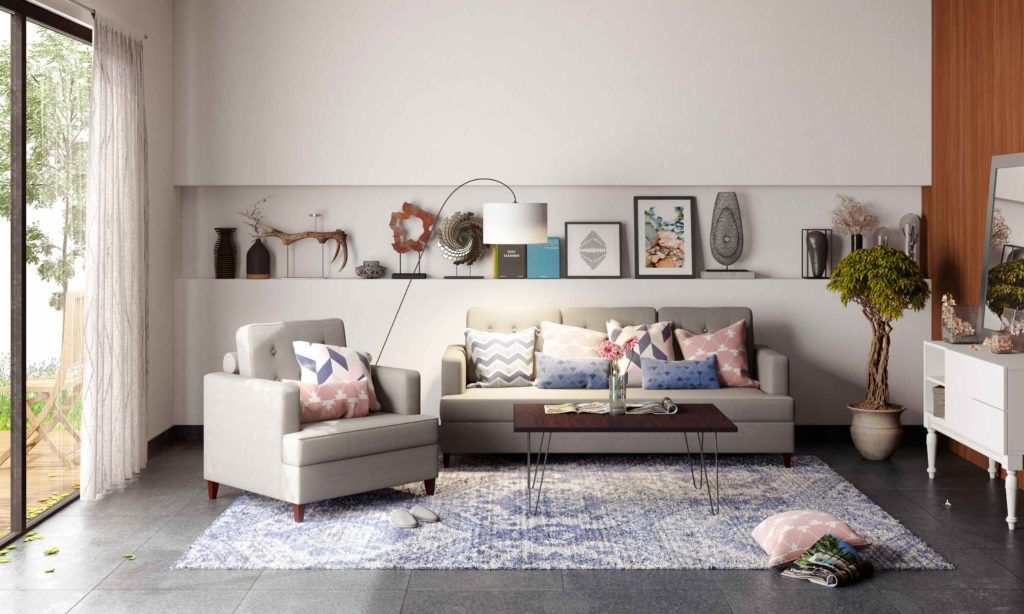 This spring, off-white replaces bright white to create calm, sophisticated spaces in traditional and contemporary settings alike. It doesn't reflect too much light, unlike bright white, which can sometimes dazzle the eye. Additionally, it acts as a blank canvas which can complement any color theme.
This chic, modern-day living room generously uses off-white on its wall, sofas, curtains and end table which is punctuated by an eclectic mix of showpieces at the back and soft winter tones of serenity blue and rose quartz on the cushions in the front. The floor mat on the lead grey floor helps define the sitting area and adds warmth to the space. The living room is spruced up with a potted plant that goes harmoniously with the warm-colored accent wall.
Color palette: Off-white, Lead Grey, Serenity Blue, Rose Quartz, Russet
4. Chocolate and berry indulgence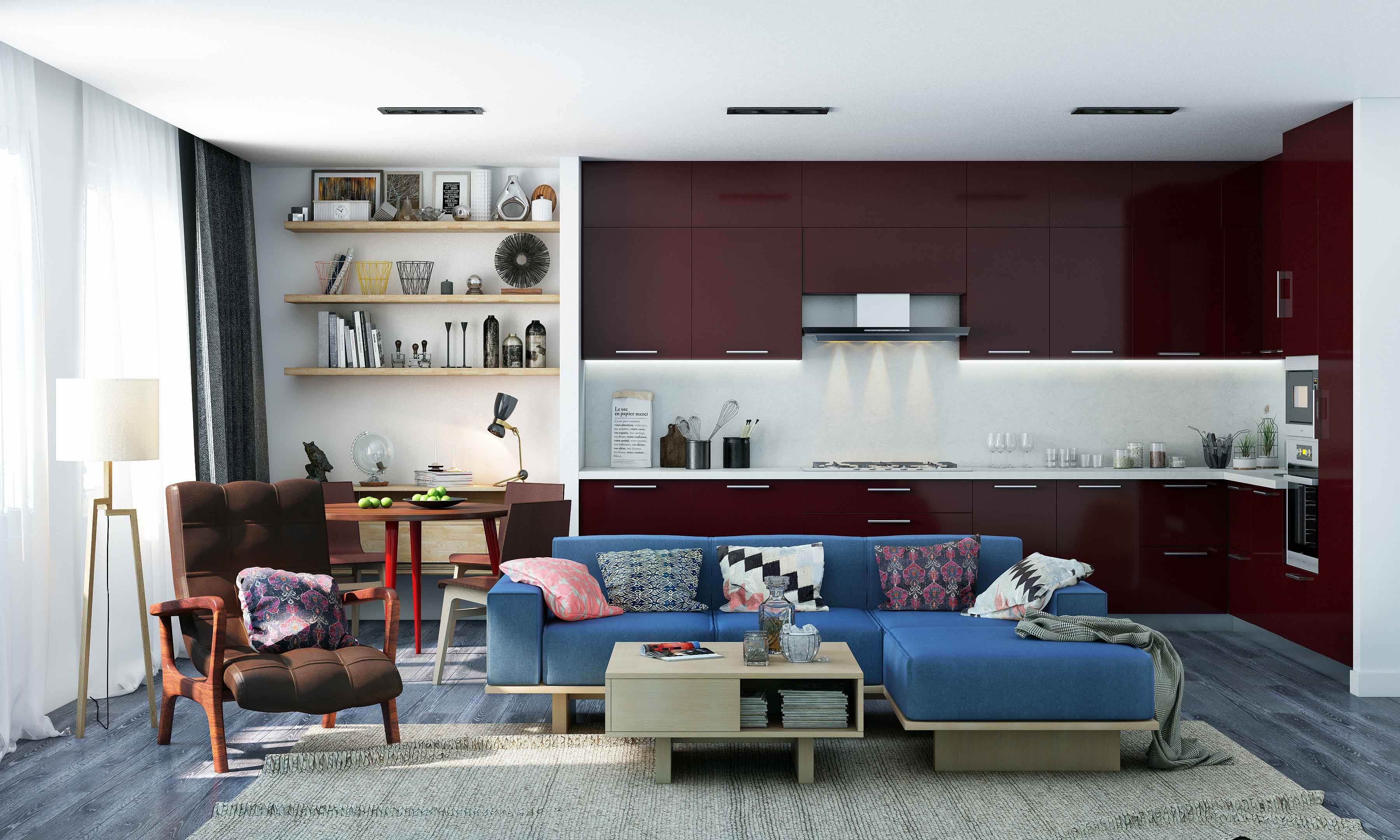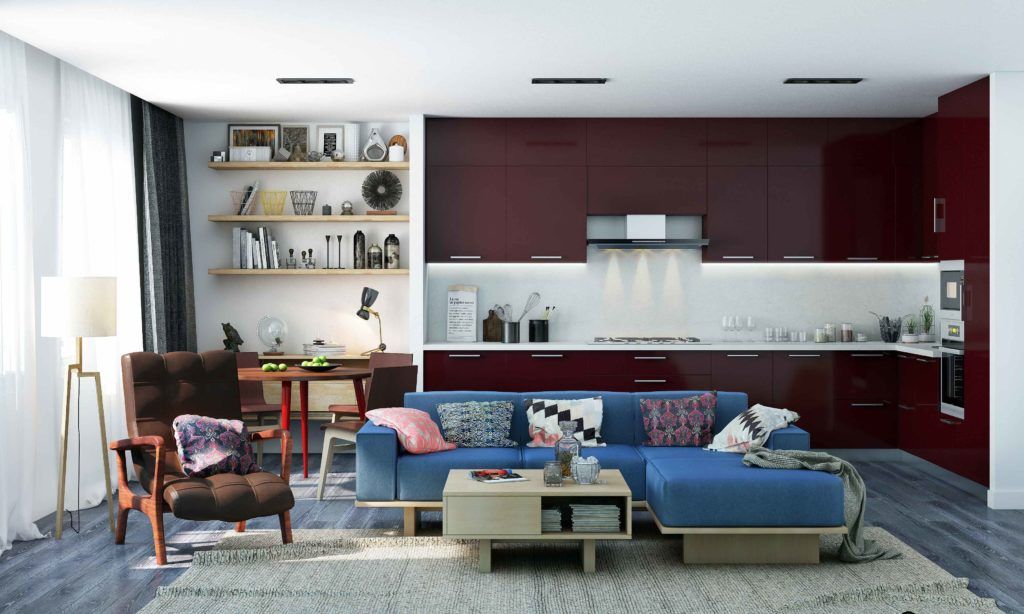 Maroon and chocolate brown are synonymous with luxury and extravagance, especially when used with glossy surfaces and plush textiles. These dramatic colors, whether they are used liberally or just as accents will make a bold, inviting statement in your home.
The focal point of this studio apartment is the swathe of walnut brown used on the cabinets, setting the kitchen area apart from the rest of the room. A luxurious armchair in chocolate brown complements the kitchen and adds to the richness. A striking cobalt blue sofa and greyish hardwood flooring act as cooler elements which help balance out the color scheme.
Color palette: Chocolate Brown, Maroon, Cobalt Blue, Blue-Grey, Stucco White
5. Sunny, comforting yellow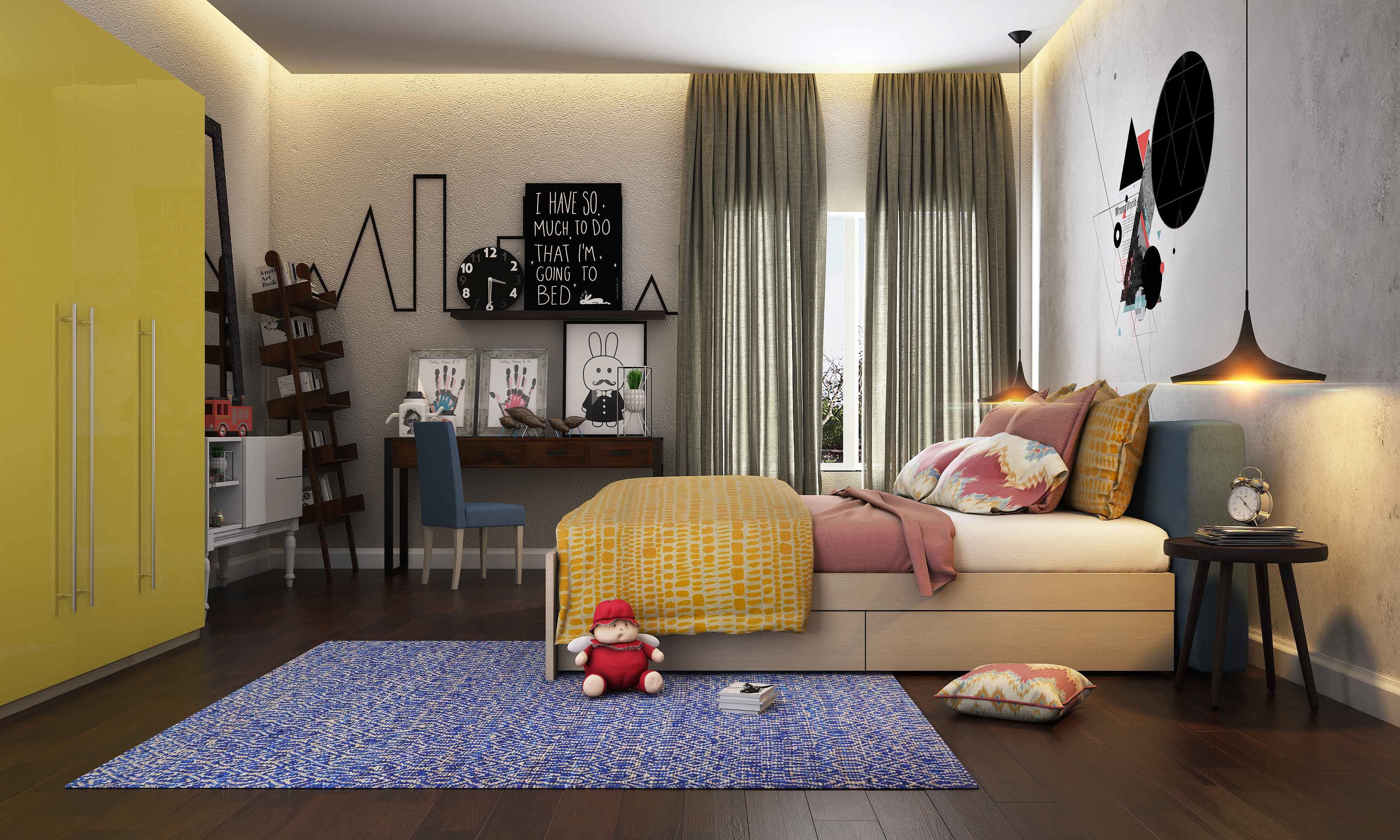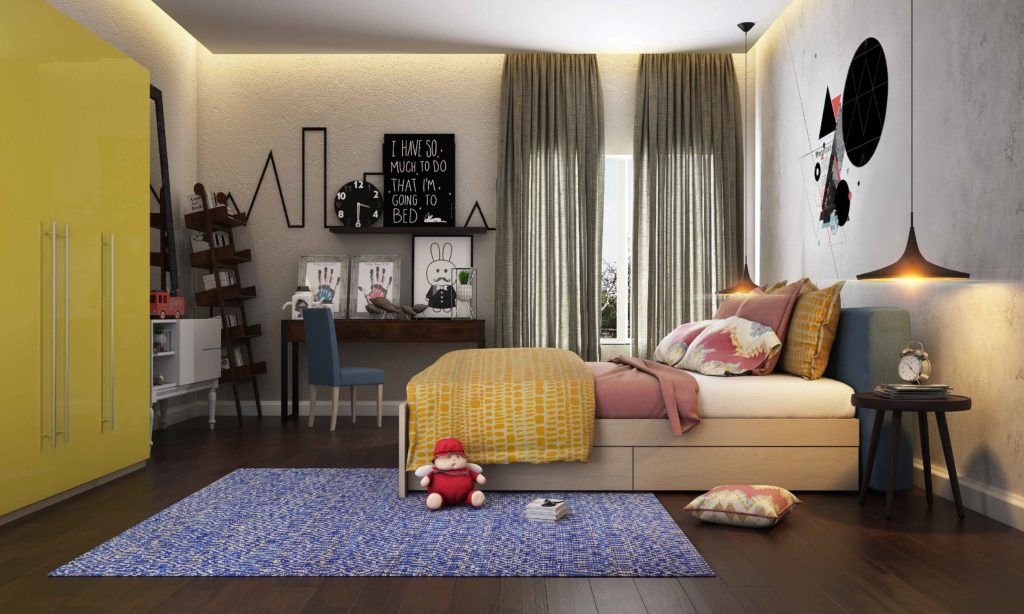 Add an eye-popping and uplifting dimension to your room with a block of yellow. A vibrant and cheery update to any space, it radiates a refreshing aura and blends well with earthy colours, dark grays and natural greens. The happy color also stands strong with solid black and white.
In this snug bedroom, canary yellow glows on the cupboard doors while cream gold used on the bed with lights on either side adds to the warmth. Pink and blue accents used in the room add a soft touch and help balance the solid black geometric wall art. Wooden flooring in a delicious shade of chocolate brown anchors this lively space.
Color palette: Cream Gold, Canary Yellow, Serenity Blue, Rose Quartz, Chocolate Brown
These gorgeous color schemes promise to soothe, excite, engage and delight your senses in every way possible. You can even apply these to different parts of your home such as your study or dining space to create the same effect.