Indians love wood finishes in their homes and that makes brown an instant hit in kitchens. Livspace's modular kitchens kick it up a notch by adding accent colors for brown kitchens that complement, contrast and promise to make a statement.
Check out our collection below.
Idea #1 for accent colours: Lap up the browns
Since we cannot get enough of this versatile color, we're starting our series with brown kitchens that use brown as one of the accent colors for brown kitchens.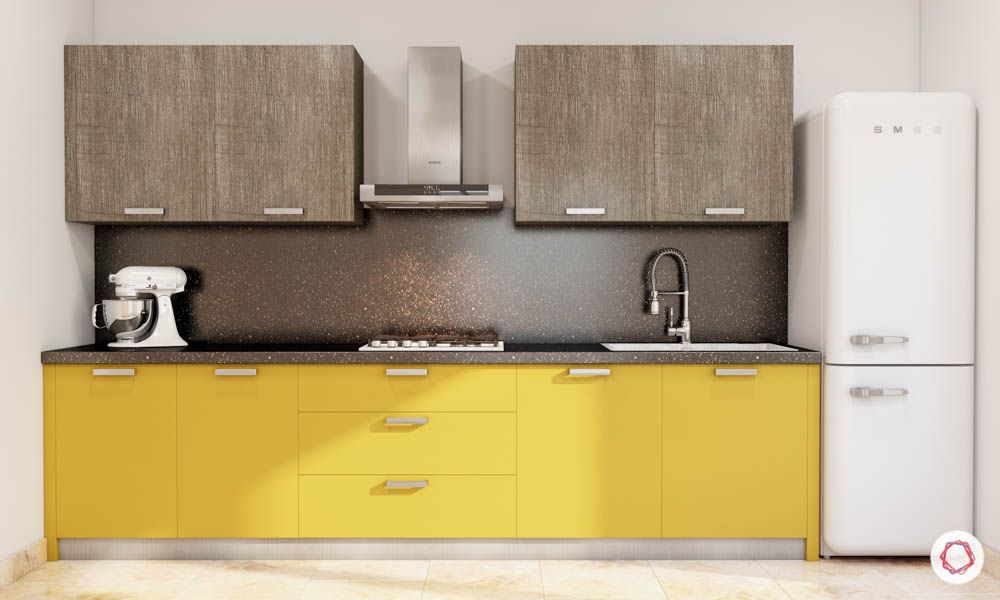 A textured accent wall adds character and depth to this modern kitchen finished with straight lines and solid colors. If you do not want to disturb your entire kitchen, then consider getting a textured wallpaper instead. But make sure it is heat-resistant.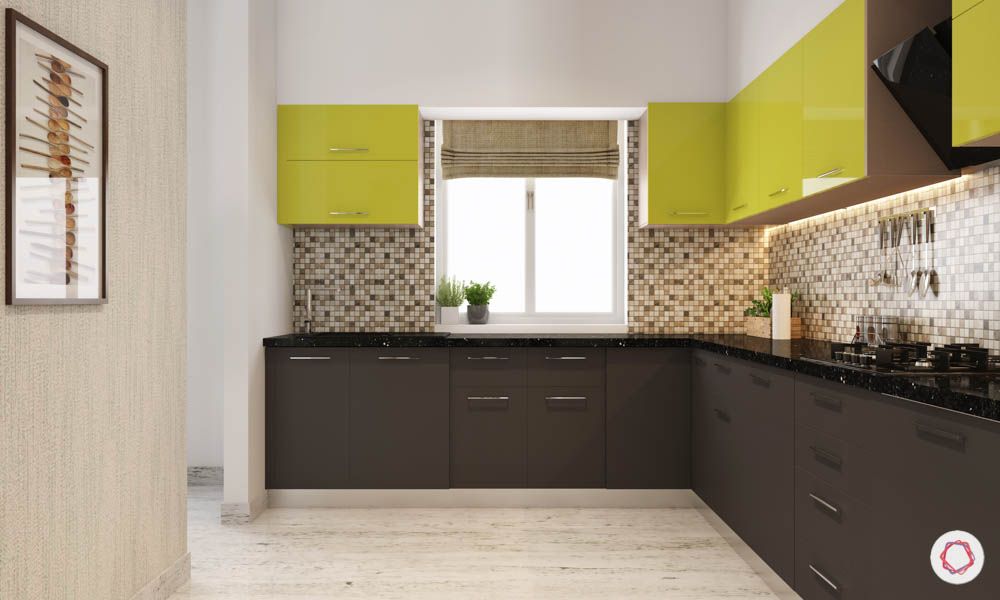 If you love mosaic, look no further than this inviting kitchen. Uniquely patterned tiles are paired with solid coloured ones to create a beautiful vignette. These complement the walnut brown cabinets beautifully. For existing kitchens, try getting a similar looking wallpaper if you do not want to spend a lot of money.
Idea #2 for accent colours: Grey sophistication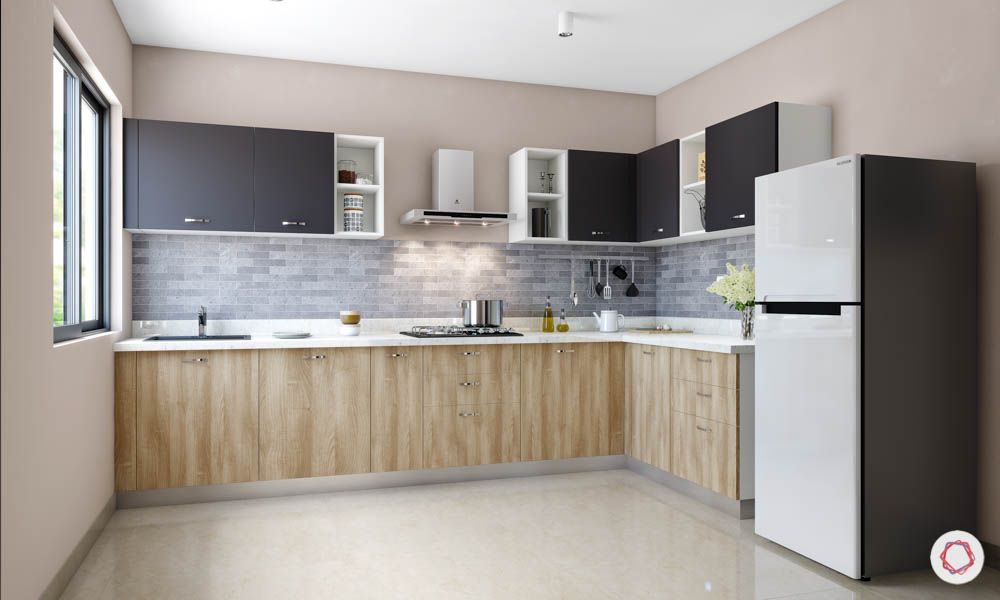 Sophistication is at its best in this transitional kitchen that deftly uses a mix of brown and grey colors and patterns. Cabinets with indents and stylish handles along with the chandelier make a classy statement.
This small, open kitchen uses two tones of greys and browns for a layered, flavoursome feel. Light moroccan pattern backsplash adds lightness and warmth to the scheme. To give your existing kitchen a makeover, you can opt for laminates and get them fixed.
Idea #3 for accent colours: Exhilarate with yellow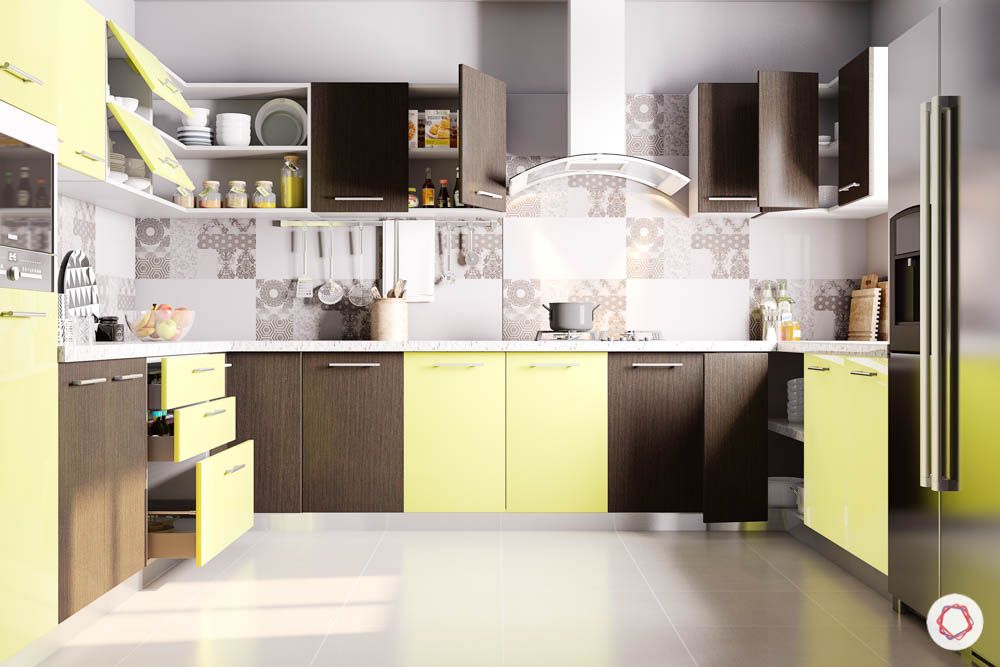 A quirky combination of lemon yellow and chocolate brown makes this kitchen a perfect mood-lifter and one of the great accent colors for brown kitchens. Keeping up with the kitchen's personality is an eclectic backsplash. Since this is such a trendy colour and your mood might change after some time, rather than getting complete new shutters you can get pasties. You can remove them when you get bored of the look.
Idea #4 for accent colours: Black beauty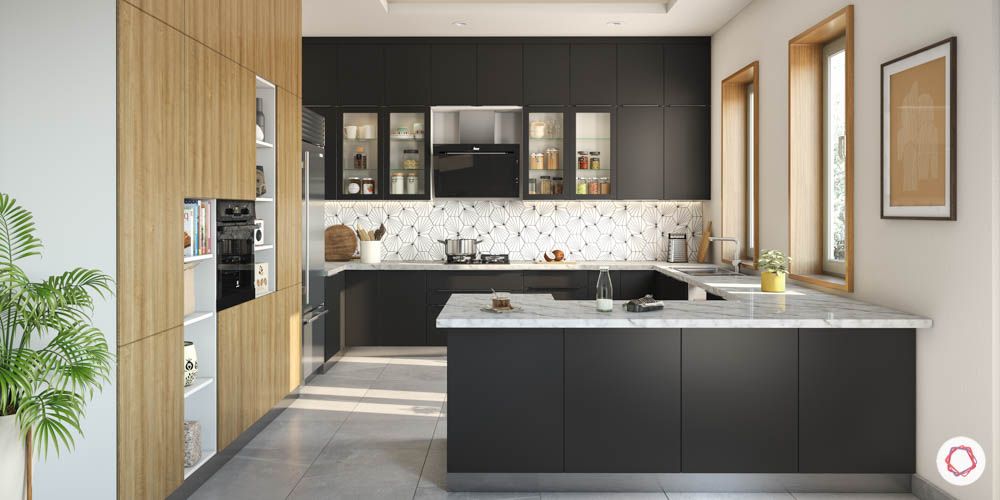 Analogous colors, black and brown, make a bold statement in this modern, industrial-inspired kitchen. Lightly distressed walls lend a time-honoured look while wood-finished cabinets beautifully contribute to the gravitas.

Idea #5 for accent colours: White's serene spell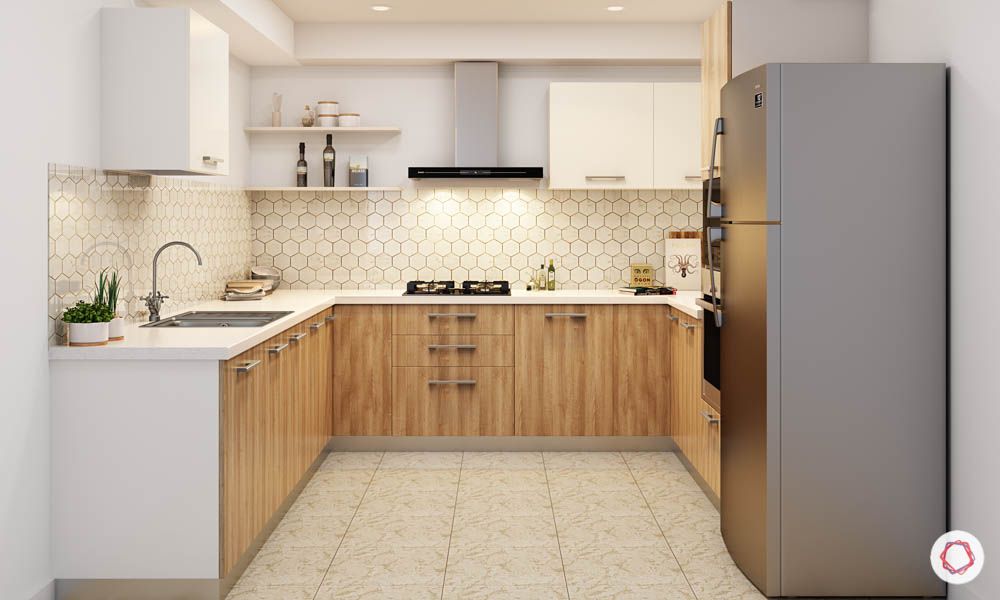 The swirling, expressive grains on the cabinets stand out in this resplendent, white space. Mosaics are stained brown to complement the woodwork.
Idea #6 for accent colours: A splash of blue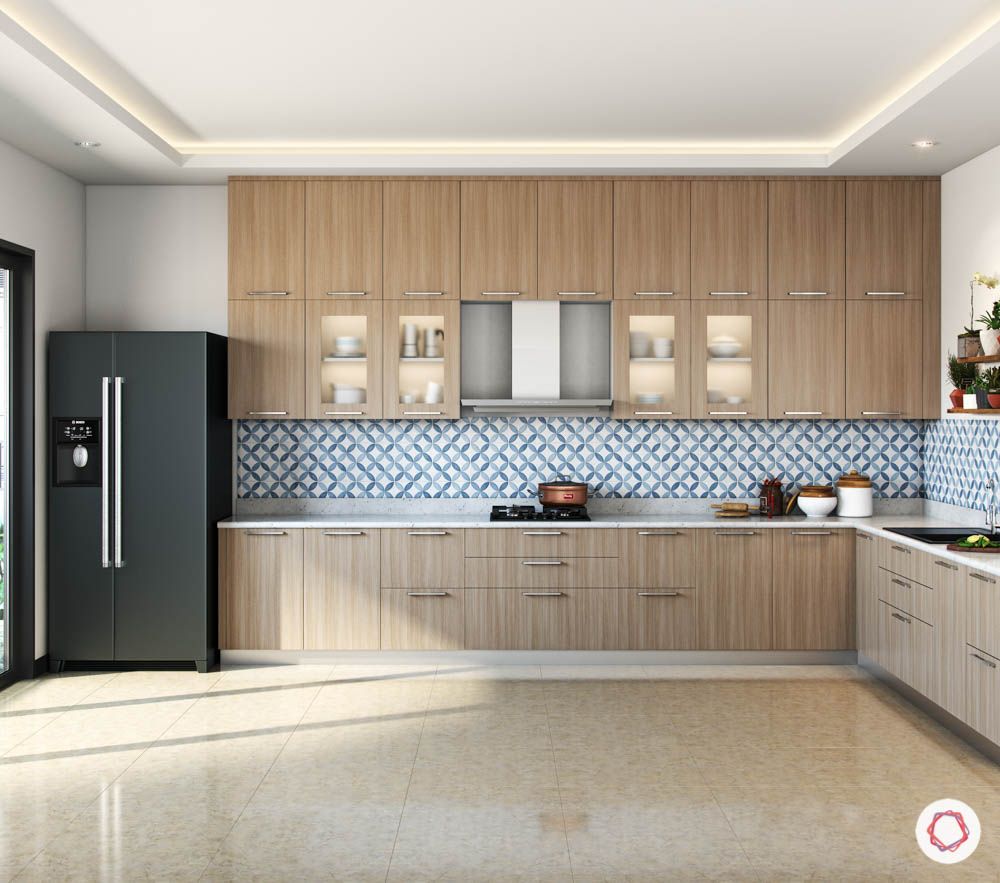 Simple patterned backsplash doused in blue gives a cool touch to this kitchen, styled entirely in light brown wood panels. The kitchen stays light and airy with an abundance of natural light.
Idea #7 for accent colours: Cheer up with orange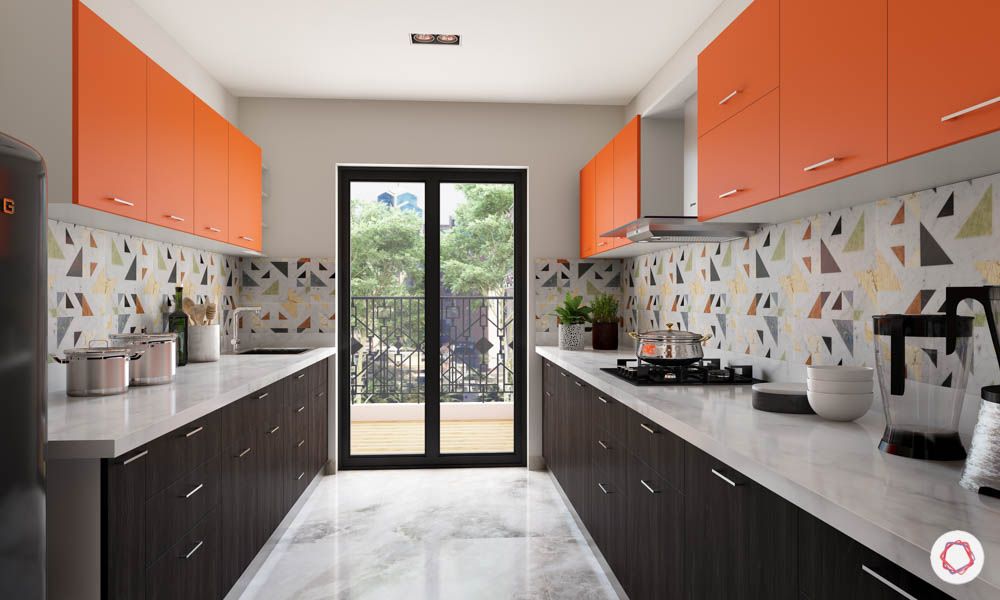 You can't go wrong with this savory combination of orange and brown in the kitchen. In this playful space, colors are used alternatively and can perhaps be used to segregate storage items. Make sure the brighter colour is used in the wall cabinets so that it does not weigh the space down.
Idea #8 for accent colours: Liven up with green
Give your kitchen a fresh, organic look with the colors of nature – green and brown. You could also add potted plants on your window sill or a countertop corner to emphasize the look. You can easily achieve this look by installing a couple of open shelves on the wall. It's really that simple!
Idea #9 for accent colours: Maroon indulgence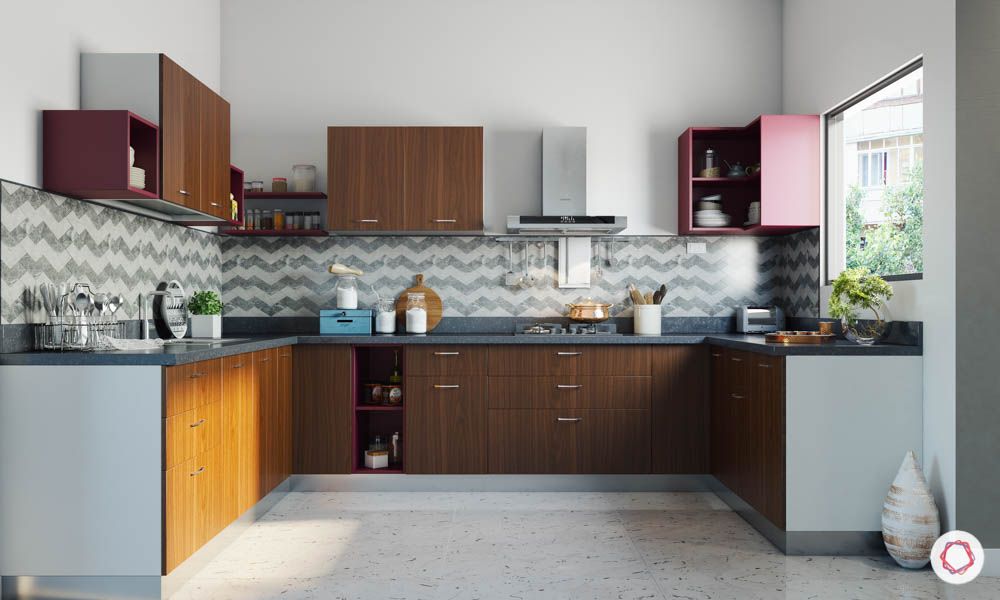 An unconventional combination of maroon and peanut brown makes a fashion-forward statement in this kitchen. Glossy surfaces further add a refined sheen. But, if you love matte finishes then you must consider getting shelves and placing them strategically.
Have your heart set on one of our lovely brown modular kitchens? Check this out for more inspiration: 15+ Modern Kitchens in Wood Finish
Send in your comments and suggestions.