Paint is a powerful design element. Moreover, it has the ability to create the illusion of a spacious room. When it comes to paint, a good wall colour combination can also make your décor items complement your furniture. Wall colour combinations for the living room can change the way you feel about your home. Moreover, there is no such thing as 'the perfect hall colour combination'. Your taste and emotions play a major role in how your home colour combination turns out.
To make this easier, Nippon Paint's expert-recommended mood boards can help you pick the ideal hall colour combination. What's even better is that Nippon Paint's Colour Vision is based on human emotions and thought processes, curated to each homeowner's design preferences. Curated by Nippon Paint India's President, Mahesh S. Anand, and colour researcher, Dr. Kaustav Sen Gupta, this list of 8 such palettes proves that a wall colour combination is all about life — and vice versa of course!
We have also recommended 7 bonus hall colour combinations so you never run out of options!
#1: Bright Orange and Blue Wall Colour Combination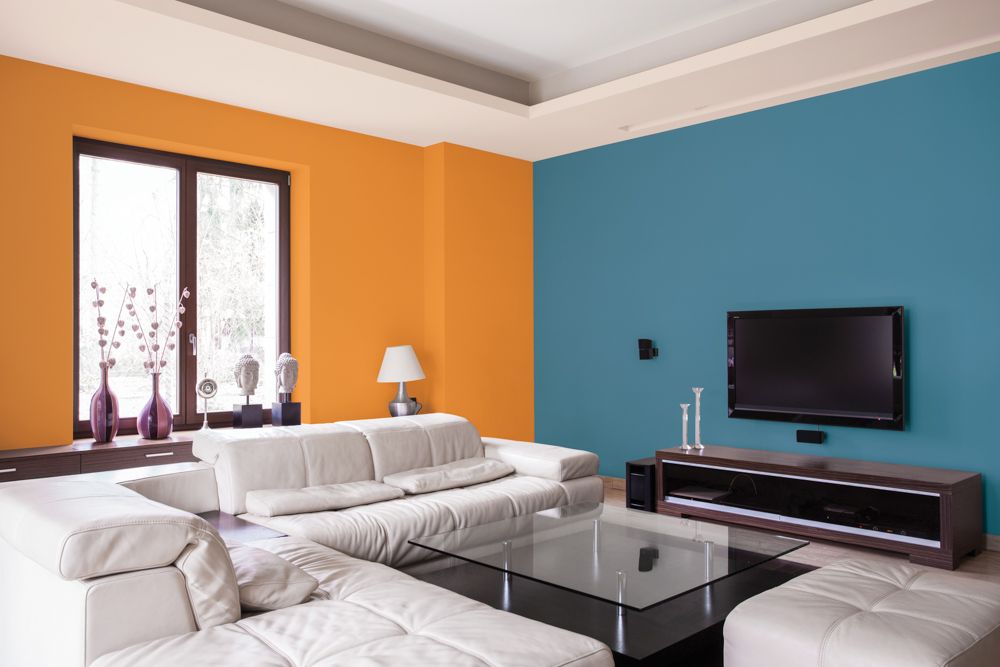 Colour expert Dr. Kaustav Sen Gupta says, "Colours are omnipresent in our daily lives as a fundamental aspect of human perception. Individual human cognition, experience and behaviour as social swarm influence the colour tendency." Therefore, bright colour combinations for walls that appeal to the youth, like orange and blue, represent mental force. Thus, Qur!ous (a Nippon colour palette), as the name suggests, celebrates the freedom to ask questions, get surprised and learn more.
Since interior design is all about individualising your homes for most people, the colour combination for walls that you pick will give character to your space. When you want to consider how a home colour combination can be a suitable reflection of your personality, this guide on wall colour combinations will come handy.
#2: Deep Blue with Neutrals for a Living Room Colour Combination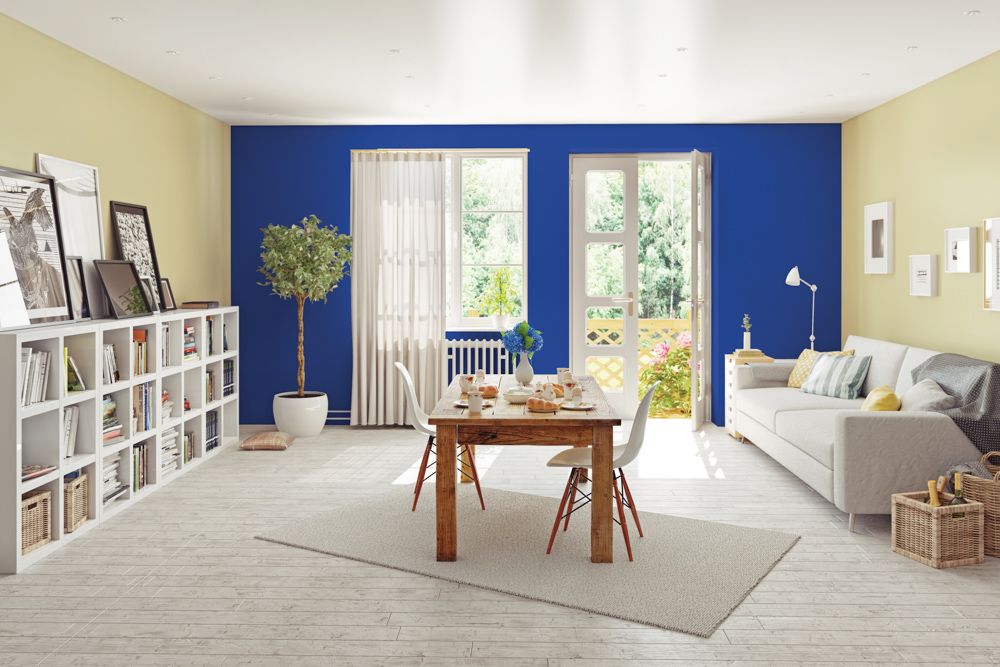 Celebrating the power of oneself is Flawsome (another Nippon colour palette) with this colour combination for walls. With shades ranging from deep purples and blues to pastel greens and yellows, this home colour combination encourages DIY experiments. Simultaneously, this colour combination for walls symbolises personal growth and also helps create a calming aura in the room. So, if this hall colour combination resonates with you, be sure to get as creative as possible.
Apart from the living rooms, we recommend you play with this wall colour combination even in your bedrooms and home offices. All the qualities of this wall paint colour combination that make it suitable for living rooms also make it well-suited for other rooms.
#3: Grey with Deep Blue Makes for a Sophisticated Colour Combination for Walls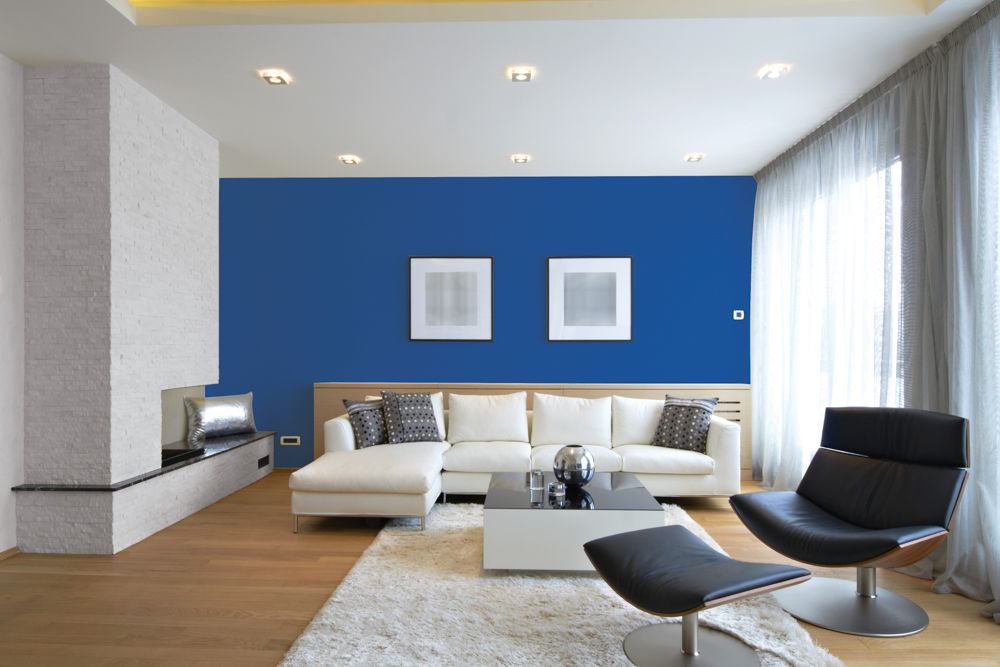 The focus of this home colour combination list is the celebration of all aspects of life, with heart-warming stories woven into each category. Purpassion (a Nippon colour palette) is ideal for those who like to end their day in a calm environment. So do opt for a cool-toned colour combination for walls like this one. A colour combination for room interiors with shades of blue and grey can signify passion for purpose as well as peace.
You can also read about 8 common mistakes to avoid when choosing your home colour combinations and how to choose a house paint as well as paint finishes.
#4: A Timeless Living Room Colour Combination with Trendy Pastel Shades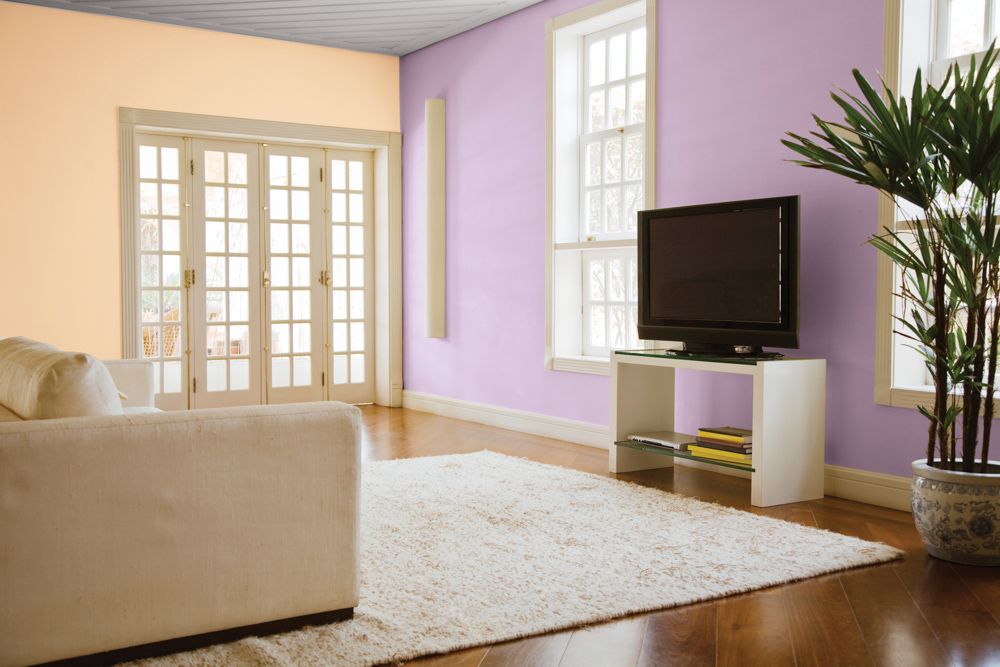 Inspired by creativity, this wall paint colour combination is for anyone who seeks inspiration from their surroundings. A home colour combination in pastels makes for an overall muted canvas while adding a bit of colour. There are so many arresting pastel shades in Nippon's collection to choose from. As seen above, pastel purple and orange make for a bold yet calm wall paint colour combination. There are other living room colour combinations in pastels that you can choose, if orange and purple are not really your colours.
---
"Color Vision is a well-researched and detailed indigenous colour forecast which celebrates the zonal and youth colour tendencies of this nation. The Nippon Paint Color Vision forecast website is free-to-access and explorative in nature. It is also well segmented so that the designers, architects, design students and design enthusiasts can refer to the stories for their colour inspirations and designing."

-Mahesh S. Anand, President, Nippon Paint India
---
#5: Whites for a Calming Living Room Colour Combination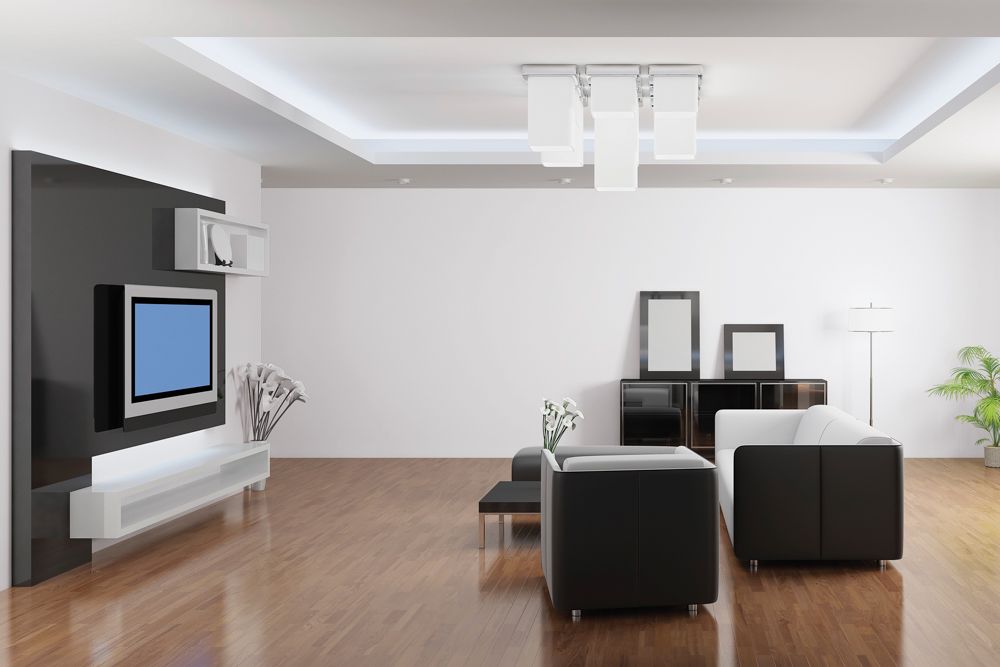 When you want to keep your home colour combination natural, keep it neutral. Neutrals from N.O.W (a Nippon colour palette) are always a timeless way to express oneself. A neutral wall colour combination can always stand the test of time with its elegance. Opt for white and beige tones for that good old classic colour combination for your hall. The combo has a touch of royal in it.
Moreover, nowadays, a lot of people are choosing boho-Scandinavian interiors and this velvety hall colour combination can supplement that look. Latest trends can easily become part of your existing walls if you choose such evergreen colour combinations for your hall or bedroom interiors.
Also Read: Colour Palette for Home: Single or Multiple Shades?
#6: A Bold Hall Colour Combination with Classic Blue and Yellow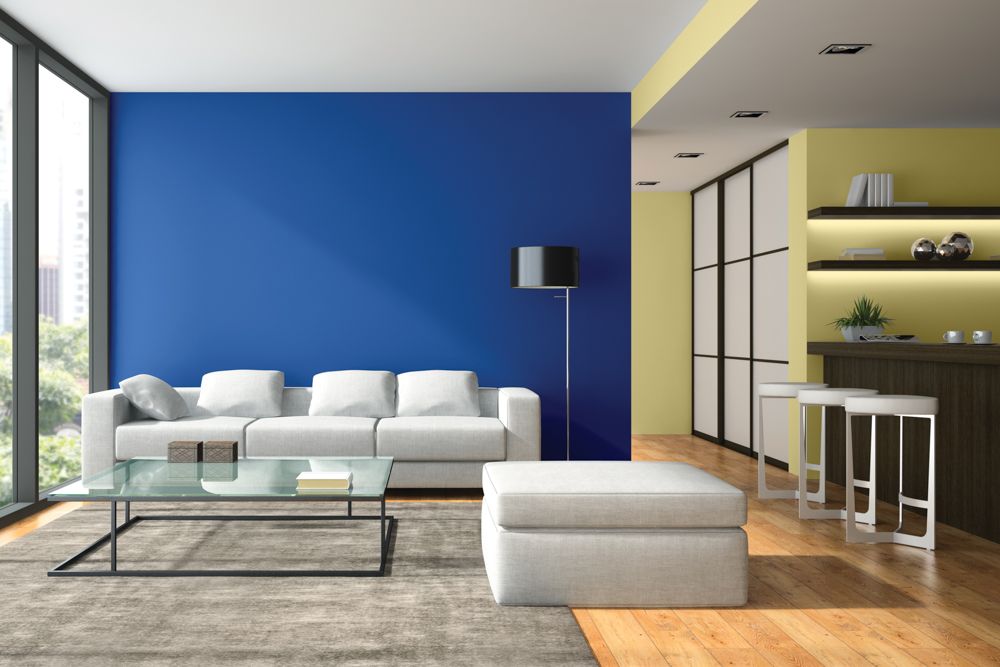 Celebrating love and positive interactions all around is LO+VE (a Nippon colour palette). It is a popularly chosen colour combination for room interiors by paint experts who say that the love of well-being will define homes. Promoting health, comfort and positive vibes is this colour combination for hall with blue and yellow. The yellow boldly brings out the pops of blue. Paired with a white sofa, this room with this colour combination for walls looks just right.
#7: Orange Plus Neutrals Has Been a Cult Classic Colour Combination for Walls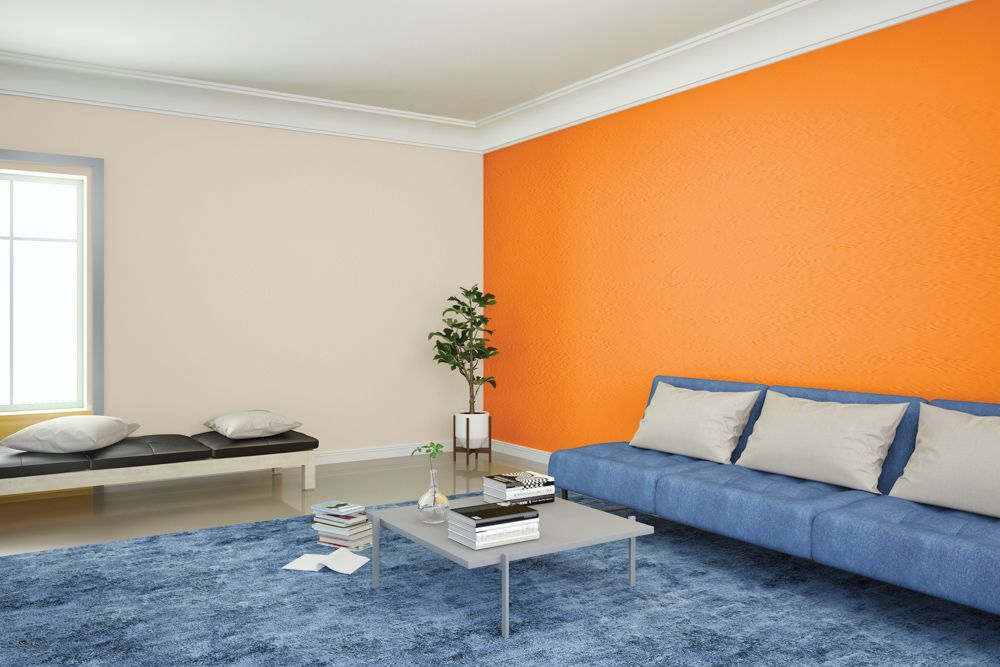 Inspired by Kolam, a south Indian tradition of drawing colourful designs with powder, this colour combination for room interiors has a zonal influence. It portrays rich reds and blazing oranges, staying true to its inspiration. Blendentity (a Nippon colour palette) is a theme conceived for those who respect individuality in a group and this colour combination of walls is a good example of it.
Need a colour combination for walls to bring a sense of calm to your interiors? You may want to read about these tips to bring peace into your space by using the right colour combinations for room design.
#8: Shades of Green for a Cool Wall Colour Combination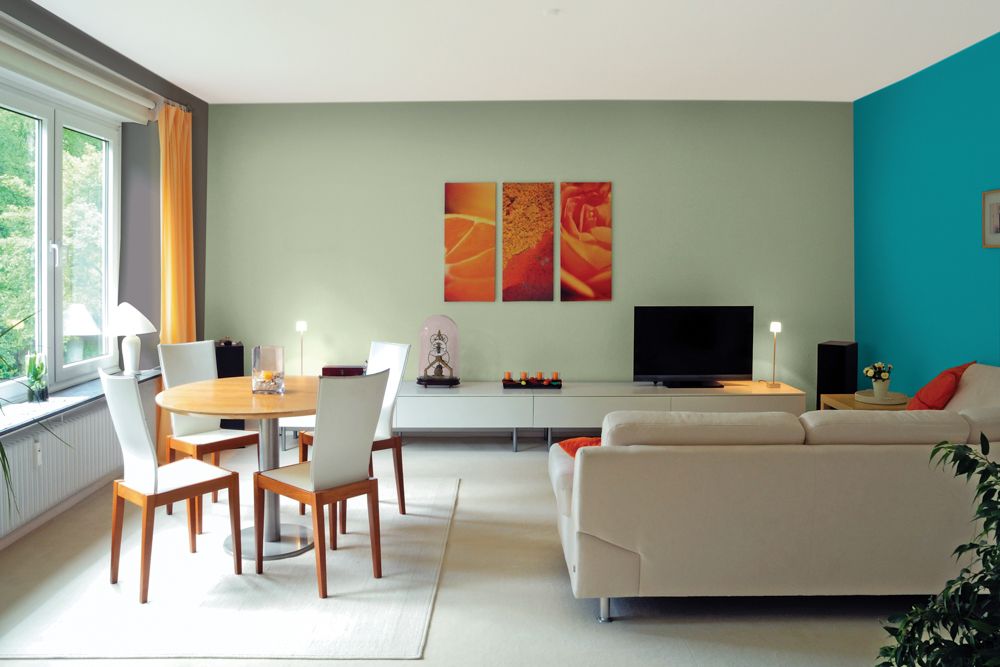 Soul Code (a Nippon colour palette) writes the journey of self-discovery. Comprising various shades of green, the home colour combinations in this palette are endless. The vital question, "Who am I?" serves as the first step to understanding roots and traditions. From turquoise to teal, colour combinations made up of shades of green can energise your room.
Nippon's paint experts have captured everyday life in their suggested colour combinations for walls by conducting workshops and hosting discussion groups with people belonging to various spheres, from musicians to entrepreneurs. If you are trying to stay on top of your home colour combination game, while being true to you, this colour combination list will help you to be a trendsetter in the design world.
---
"We sincerely hope that this open-to-access colour forecast will be widely used by architects, interior designers, product designers, visual artists and students for their inspiration and reference."

– Dr. Kaustav Sen Gupta, Colour Researcher, NIFT
---
7 Bonus Colour Combinations by Livspace
#1: Purple and Neutrals for a Royal Wall Colour Combination for Hall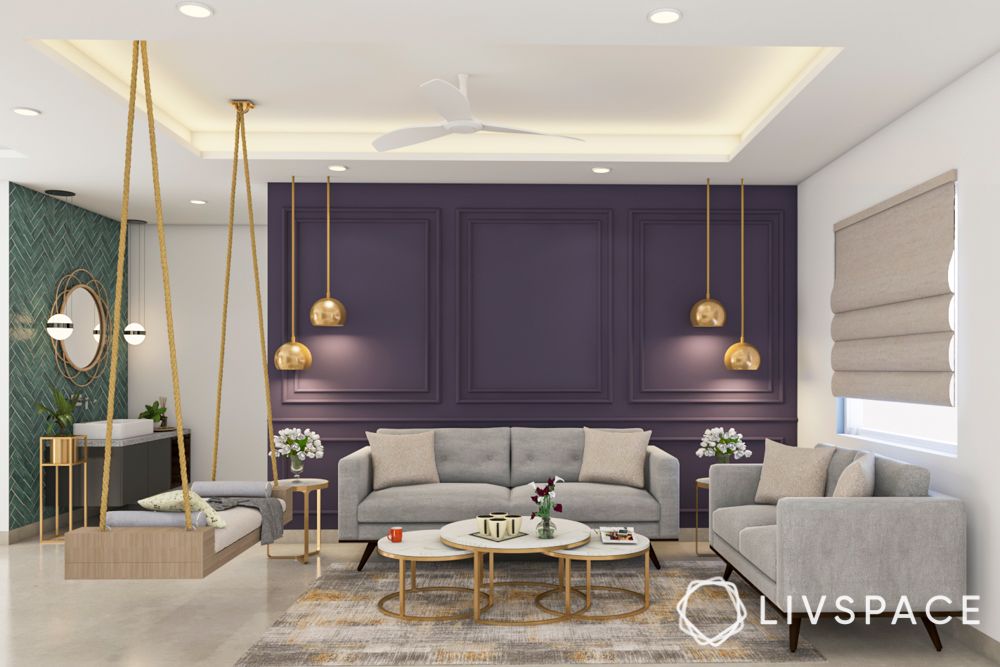 A recurring trend is to look back at our cultural roots and revive the rich and royal aspects from it. And when we look back, we find that our history had so much complex beauty, unlike today's simpler lifestyle. But it is never too late to fall back in love with these complex wall colours. And post the pandemic, if there's one thing most of us yearn to do, is to live more.
The deep purple colour exudes a plush, royal vibe that you can pair with other light colours to maintain the brightness in your living room. This wall colour combination for living room will make you buy some golden accents for your walls and complete the rich look.
Also Read: 15+ Stunning Two-Colour Combination for Living Room That Designers Swear By
#2: Green and Cream for a Welcoming Colour Combination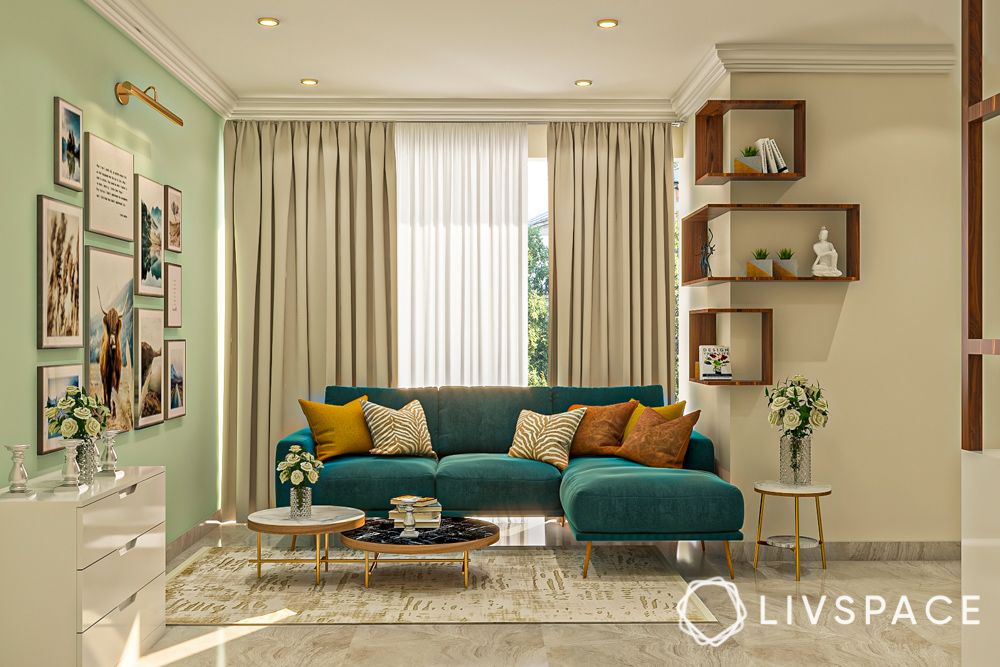 We don't need a forecast to tell us that most people are trying to make their houses feel more like home. The nostalgia is getting to us and we seem to have found relief in warm and soft colours that make us feel like we belong. This is the reason why most homeowners have been keen on using warm wall colour combinations for their living rooms.
#3: Aqua and White for a Perfectly Relaxing Living Room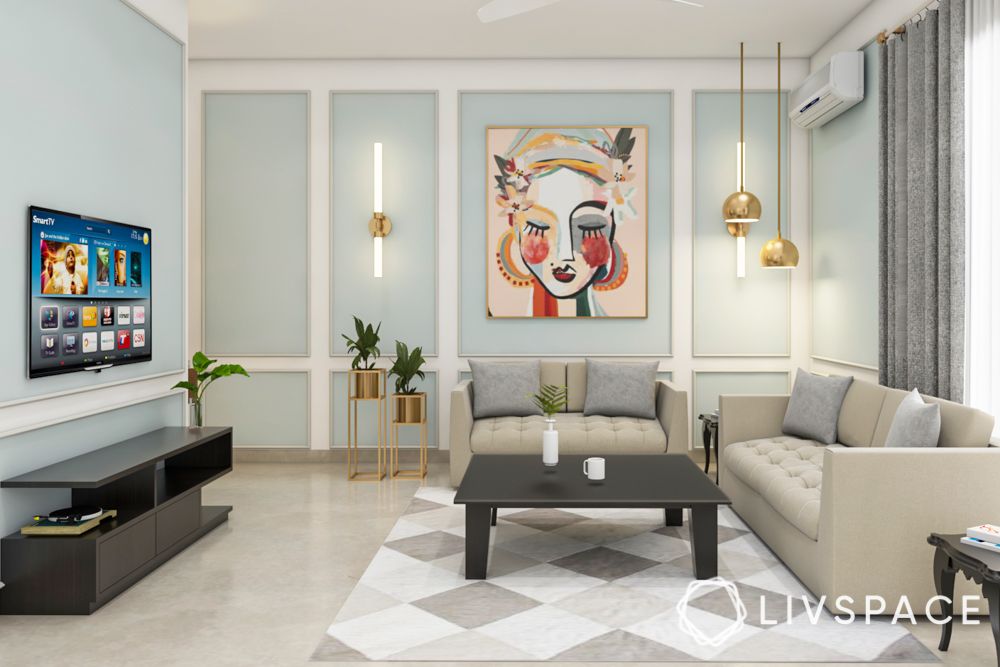 Aqua has a deep psychological impact — it can instantly make you feel relaxed, and also induce positivity in you. But that is not all there is to this colour. Its versatility lets you pair it with light as well as dark colours. You can also use it in a warm wall colour combination for your living room, and it will not look odd.
#4: Shades of Grey for a Neutral Hall Colour Combination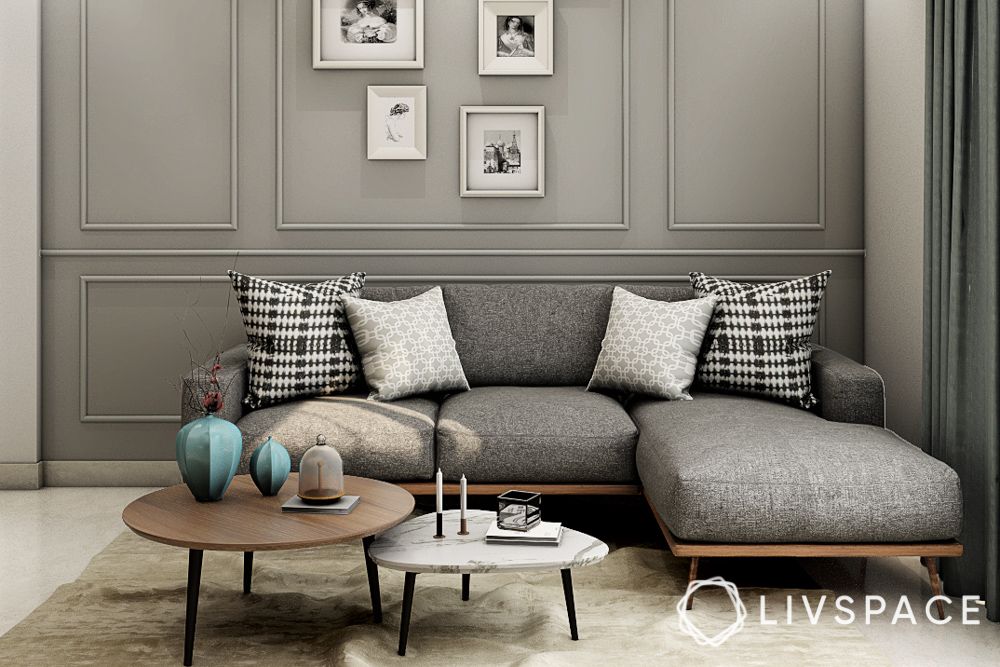 We have noticed that people who prefer grey to other colours usually have more reasons for choosing it than it simply being a neutral shade. It also represents a balance that people prefer to experience in their homes. This balanced wall colour combination for living room is evergreen because of its unique impression.
#5: Navy Blue With Light Colours for a Classy Hall Colour Combination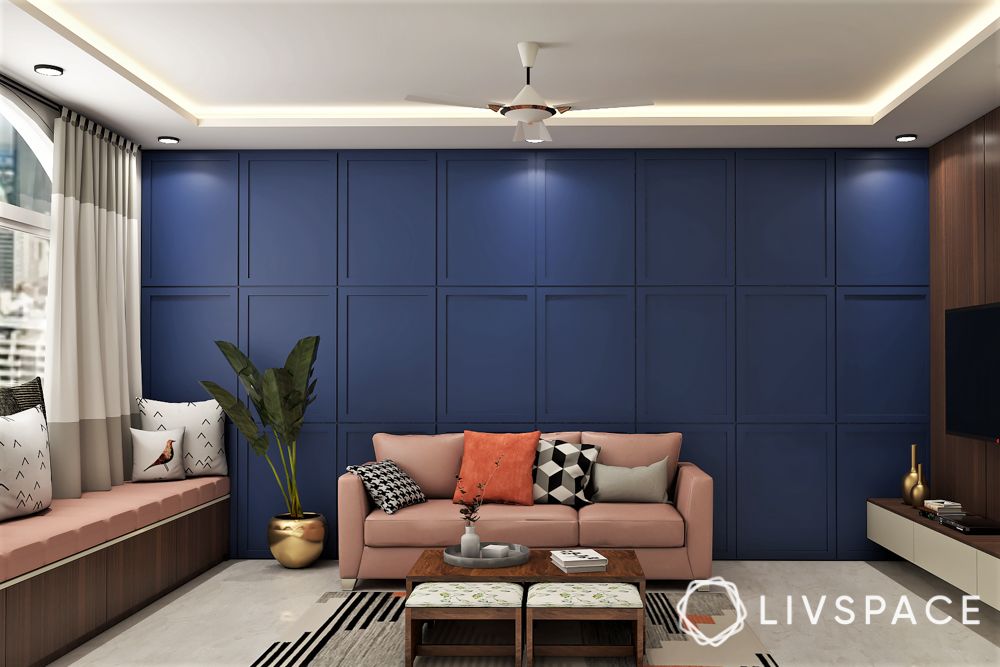 Among the various colours, blue can be the trickiest to work with as most of its darker tones bring about similar feelings. However, the timeless navy blue is a good choice for your hall colour combination. It is known to bring about a sense of awe and pairs well with lighter shades for a royal look.
#6: Brick Red and Muted Colours for a Rustic Living Room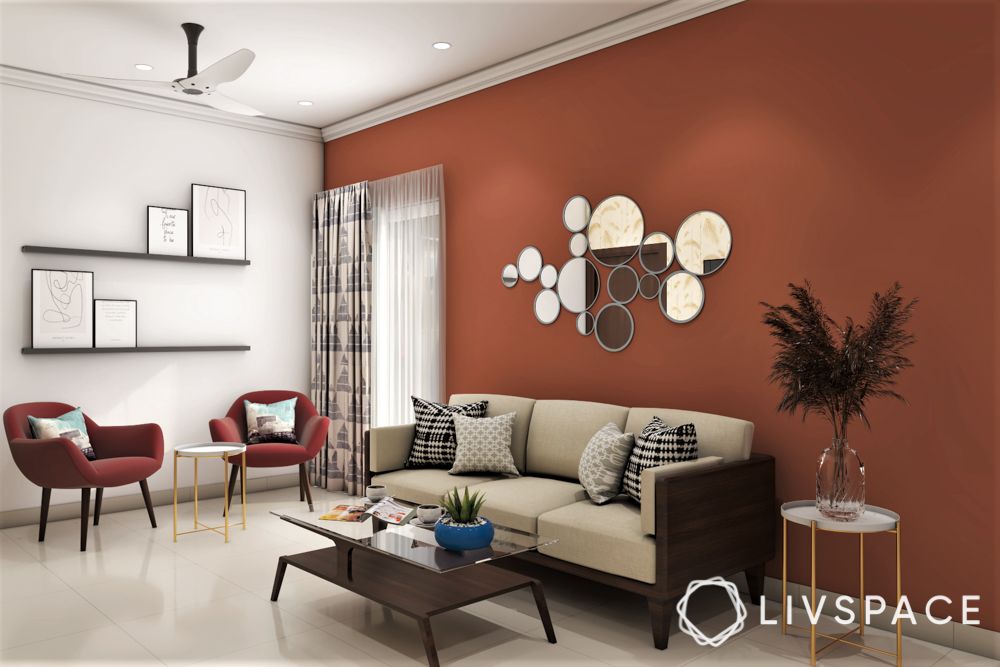 Red is considered a lucky colour in Feng Shui and Vastu Shastra. Most homeowners find the common red quite tacky to use in their living rooms and they usually prefer to use brick red. It is a muted shade that gels with other warm colours beautifully. This sort of wall colour combination for hall is also known to make people energetic. This is also why it is best for young homeowners.
#7: Turquoise and Grey for a Unique Combination of Colours for Wall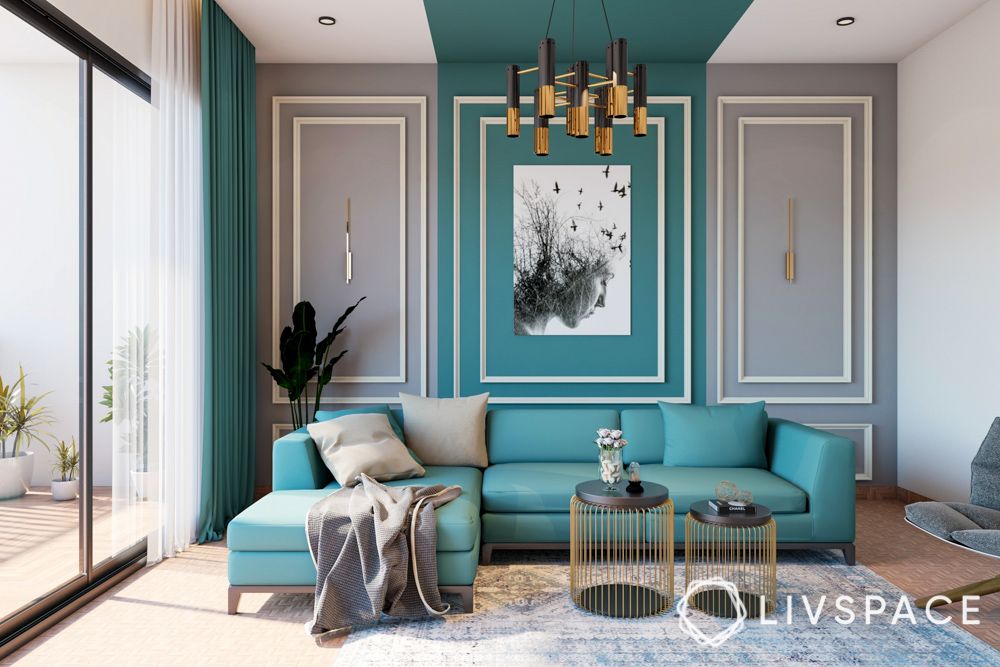 Another growing trend among homeowners is that they are willing to be bold and hence, open to unique wall colour combinations for their hall. You will see turquoise paired with white often, but the trend of using more than two colours has allowed us to experiment with more combinations. You will find grey used as a third colour in many hall colour combinations this year, and this is one of them.
Now that you know some of the best colour combinations for walls, take a look at: What is the Per sq. ft. Cost of Painting?
How Can Livspace Help You?
We hope you found our ideas useful! If you want interior design experts for your home to be just as beautiful, then look no further. Book an online consultation with Livspace today.
Wondering how our customers feel about working with Livspace? You can check out the Livspace reviews here! For any queries, reach out to editor@livspace.com
FAQs:
1. Which Colour is Lucky for Home?
It is said in Vastu Shastra that light colours are the best for walls in most homes. This is because dark colours may not suit everyone.
2. What Colour Is Good Luck for Money?
According to Feng Shui, colours like red, purple and green attract money.
3. Which Type of Colour Is Best for Painting?
Emulsion paints are best when it comes to your house walls as they can resist humidity and are very durable.
4. What Colours Brighten a Living Room?
Light colours like white or cream can help you brighten up your living rooms.