Entertainment units, like any other kind of furniture, come in a variety of styles. While each one has their individual preference when it comes to decor, sleek contemporary designs are ruling the roost at the moment. These trending modern TV unit design ideas are typically characterised by clean lines and uncluttered structure.
The following is a curated list of TV cabinet design ideas from Livspace homes. Some of these are bound to catch your fancy and fire your imagination.
#1: Keep It Cool with Wooden Laminate and White Cabinets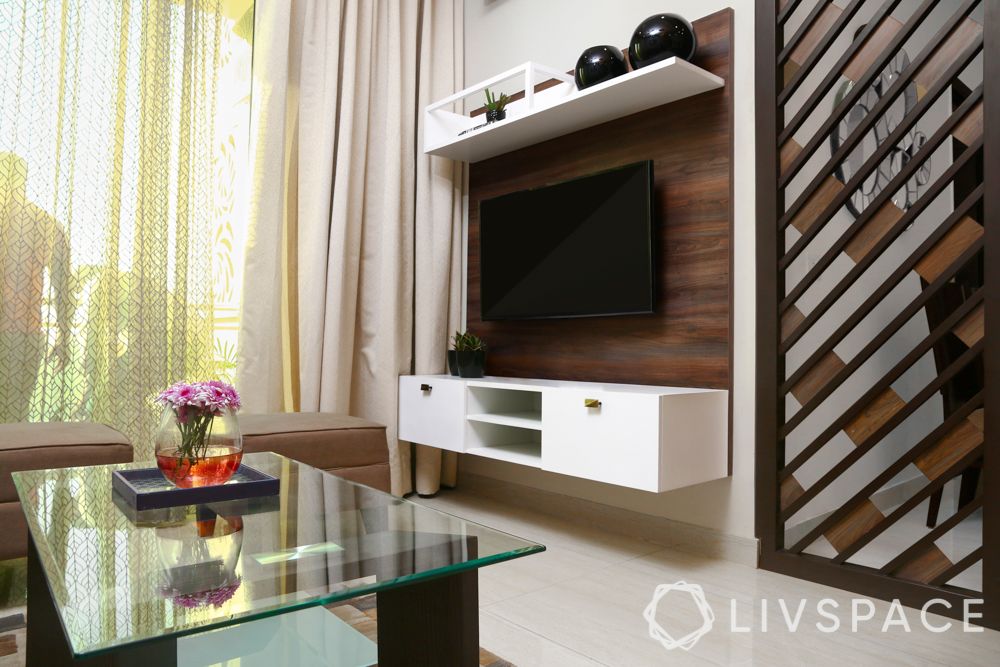 Sleek, classy and glamorous, this modern TV unit design has all the elements of a showstopper. The backlit panel in this TV cabinet design makes this minimal entertainment unit stand out.
#2: Partition the Room with Your Modern TV Design Unit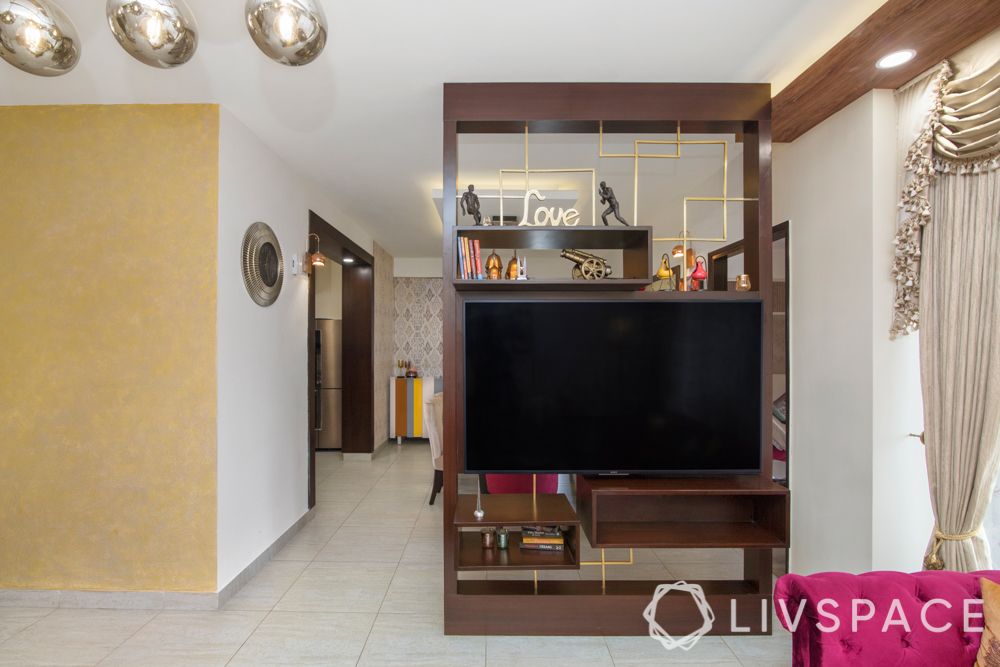 This TV panel design serves two purposes: the first is that of an entertainment unit, and the second is as a partition. Such TV units can be used to segregate the living and dining areas.
#3: Go for a Neutral Contemporary Design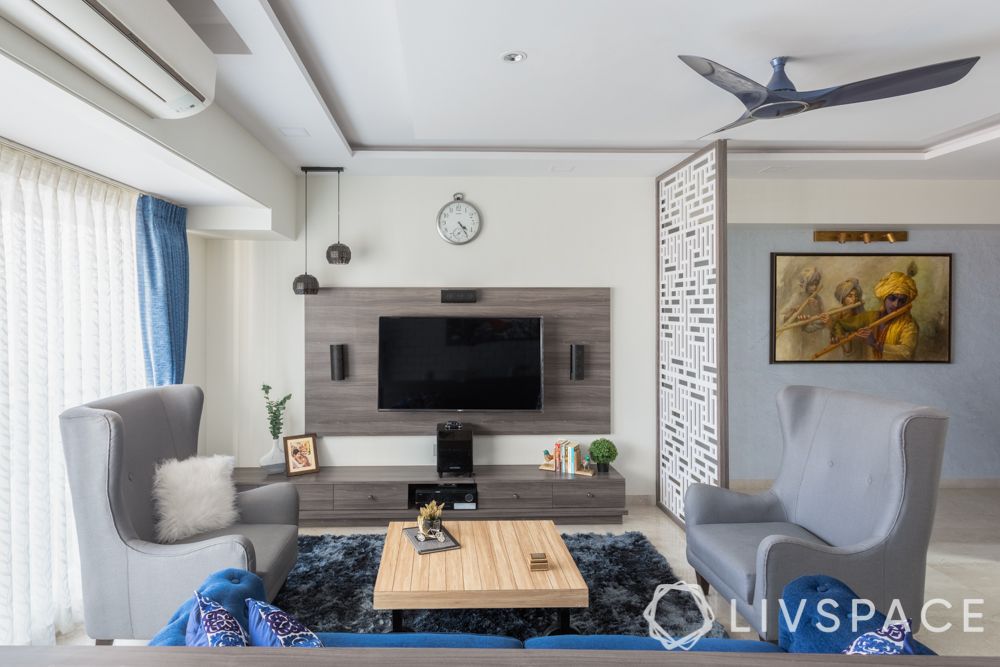 This TV cabinet design with crisp and clean lines is a textbook example of contemporary furniture. We are particularly impressed by how the speakers have been mounted on this unit for uniform sound distribution.
#4: Monochrome Colours for a Modern TV Cabinet Design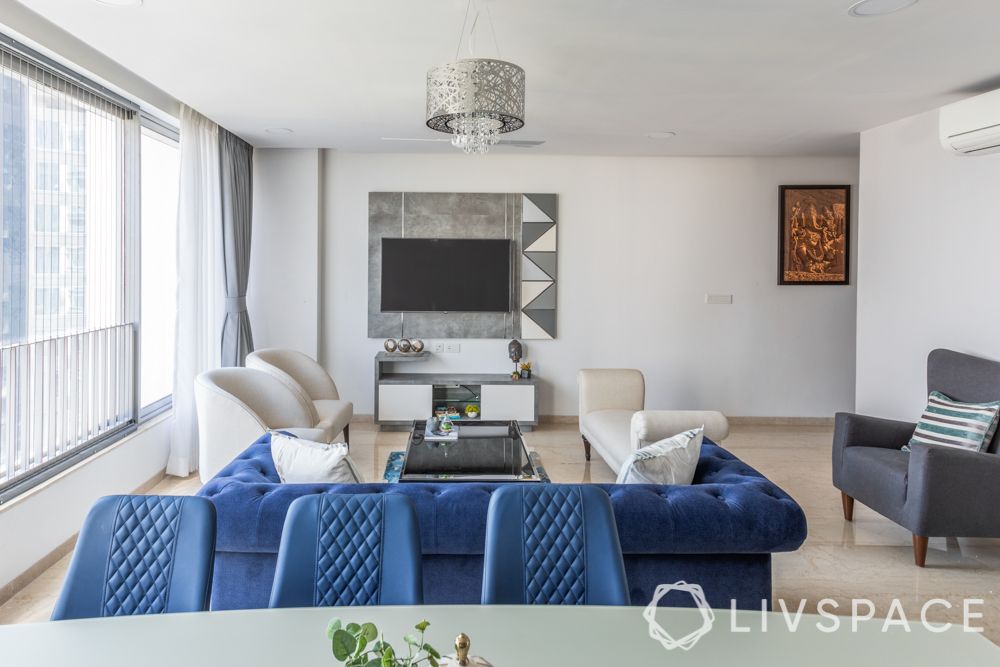 A back panel and a compact base unit comprise this sleek and utilitarian TV cabinet design. Moreover, the zig-zag-patterned tiles of the side panel highlight its monochrome magic.
#5: White TV Unit Design Ideas that Dazzle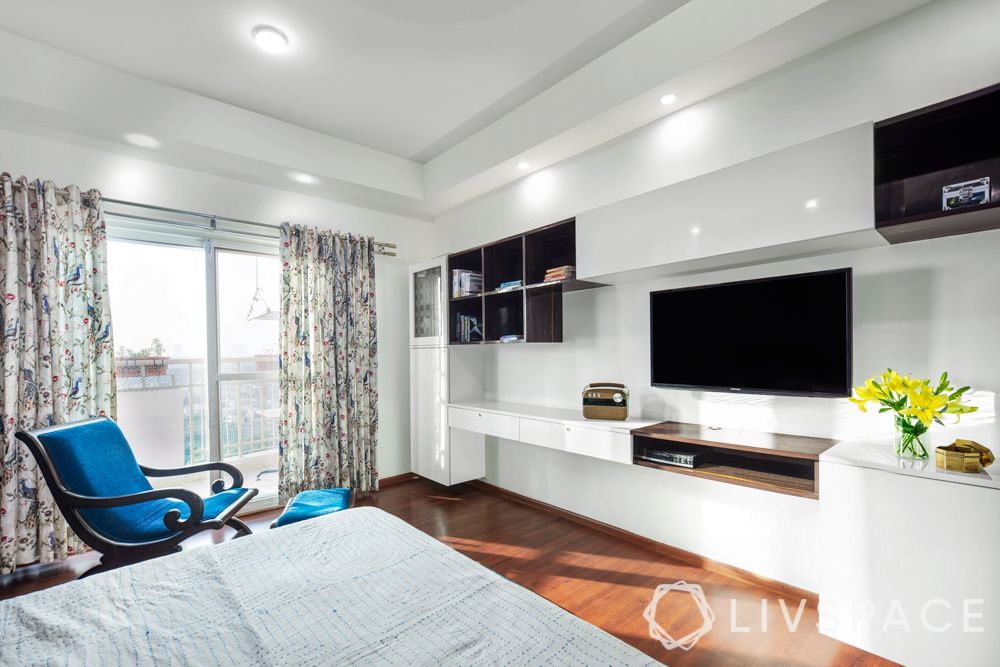 Love whites? Then go the whole hog with white furnishings. Modern TV unit designs in white may tend to look a little flat, so add some wooden tones to keep things interesting.
#6: Latest TV Unit Designs that are Compact Yet Interesting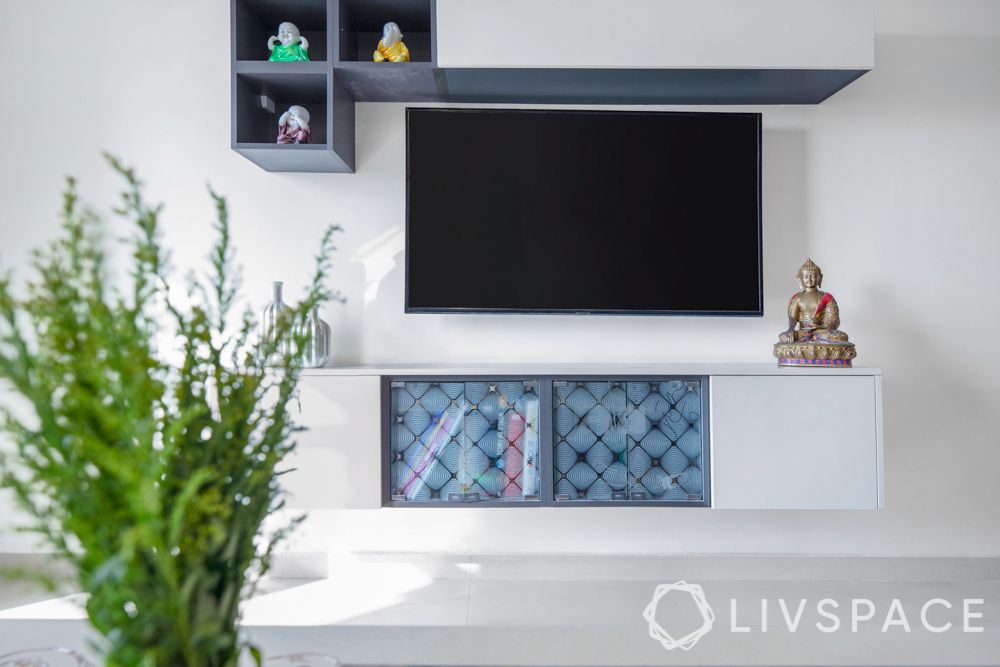 Bulky furniture often eats up floor space and makes the room look cramped. So a floating TV unit design for living room like this one is a godsend. You can add an interesting element like the blue cabinets here.
#7: Peachy TV Unit Design for Living Room for a Punch of Colour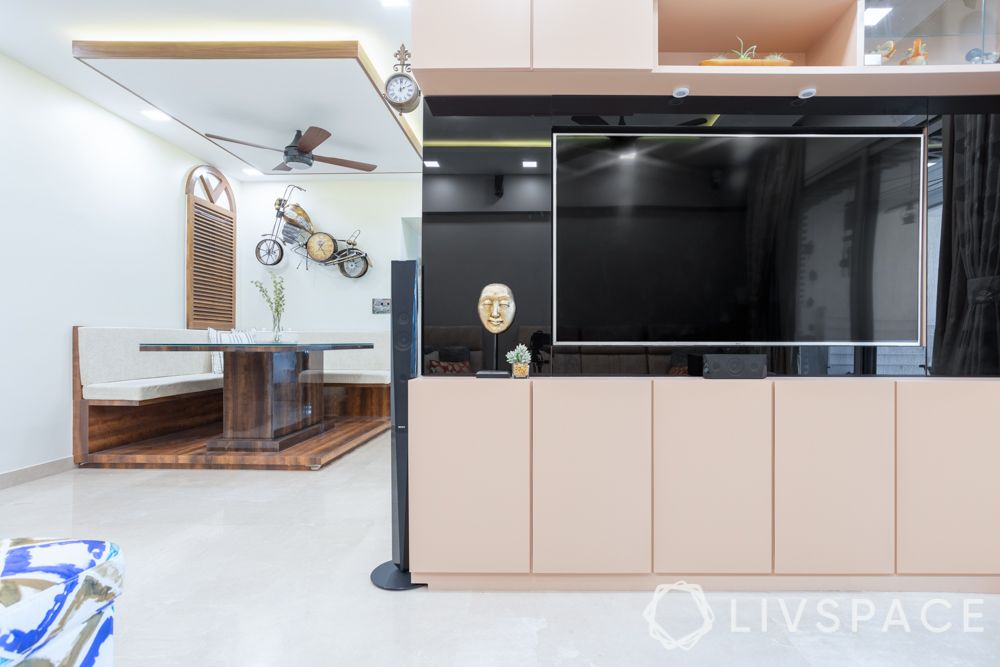 The peach-coloured pop of this TV cabinet design adds a vibrant dash to the living room. Moreover, black-lacquered glass complements the peach-coloured laminate shutters to perfection.
#8: Floating Entertainment Units are Space Effective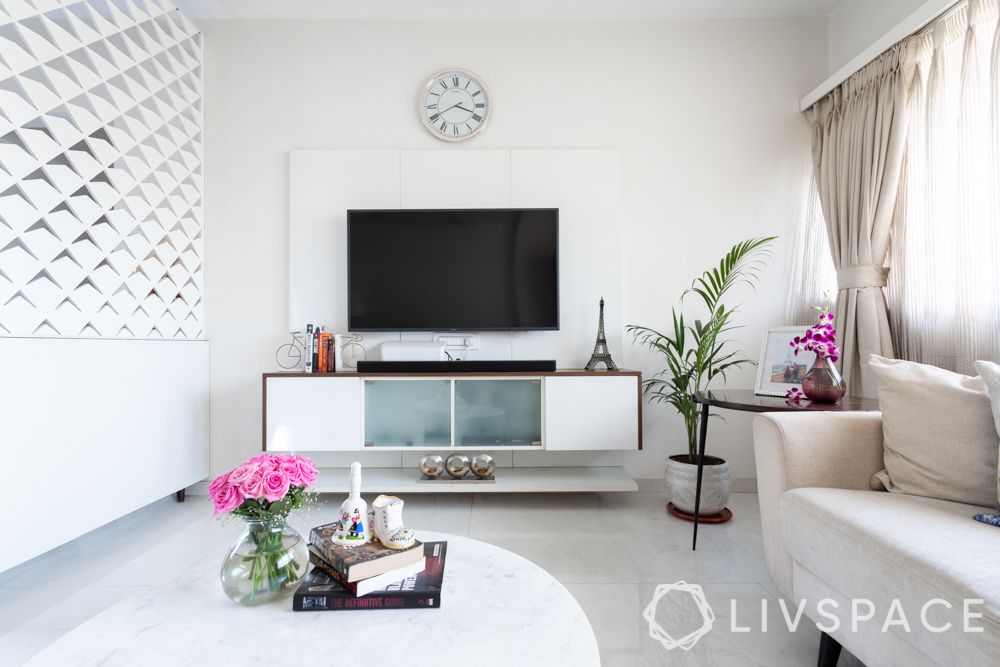 This floating TV panel design takes up minimum space due to its compact design. Moreover, the clear glass shutters help to accentuate space. Such uncluttered designs are ideal for small spaces.
#9: Symmetrical in Black and White, a Classic Combo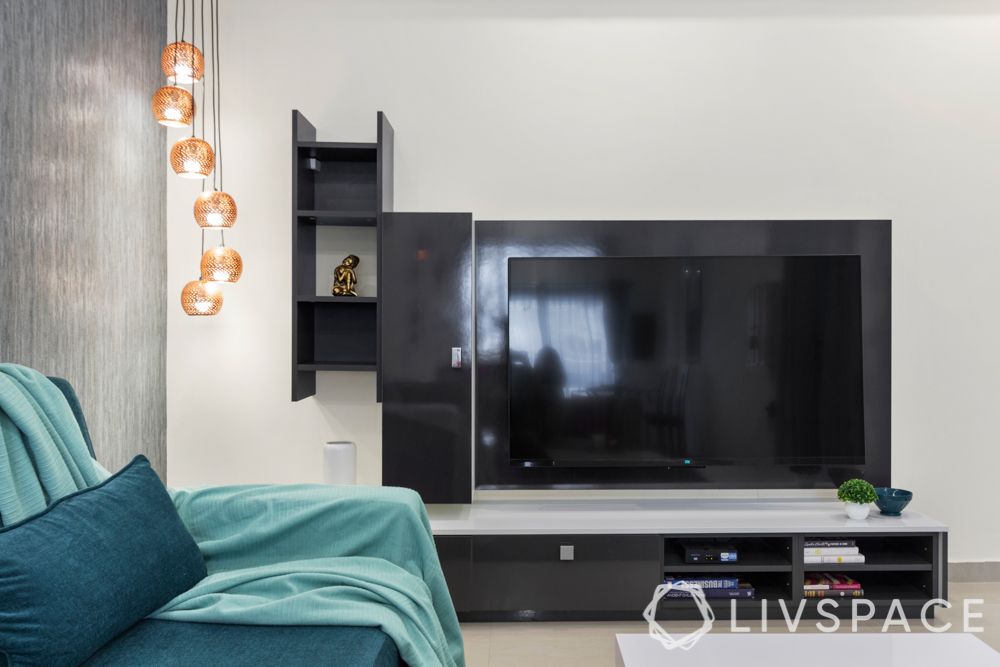 While white opens up space, black adds a sophisticated vibe to the decor. For instance, this TV cabinet design, with a combination of open and closed shelves, displays innate symmetry and looks classy by virtue of being black.
#10: Contemporary Aqua Blue Unit to Keep it Interesting
A soothing splash of aqua blue makes this TV panel design pop against the backdrop of white walls. The design is inherently contemporary with neat lines and a compact structure.
#11: Floating Shelves are for the Space-Constrained Rooms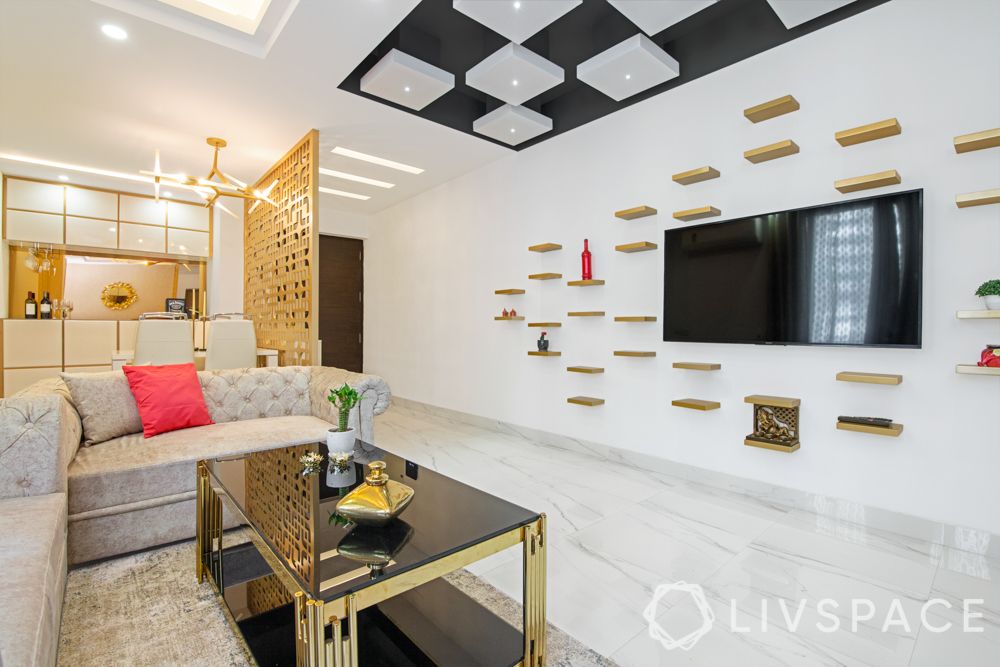 This TV stand design is a rather uncommon one and you can try it if you have a massive bare wall. The base unit is conspicuously absent. The unit per se comprises a wall-mounted TV cabinet design and a smattering of floating shelves around it.
#12: Show Off that Sleek and Stunning Design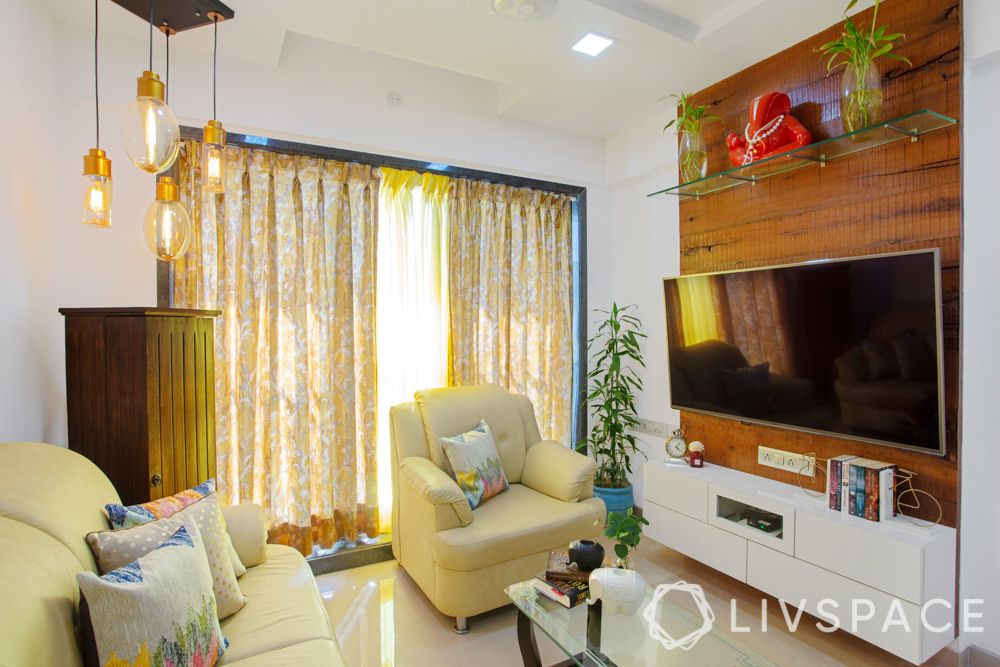 When space is scarce, a TV unit design like this one is a great pick. The wooden TV panel design adds texture to the space while the white base unit provides a sleek look. Moreover, the glass shelf above the TV is transparent and hence doesn't eat up space.
#13: Mounted Television Unit will Save You Space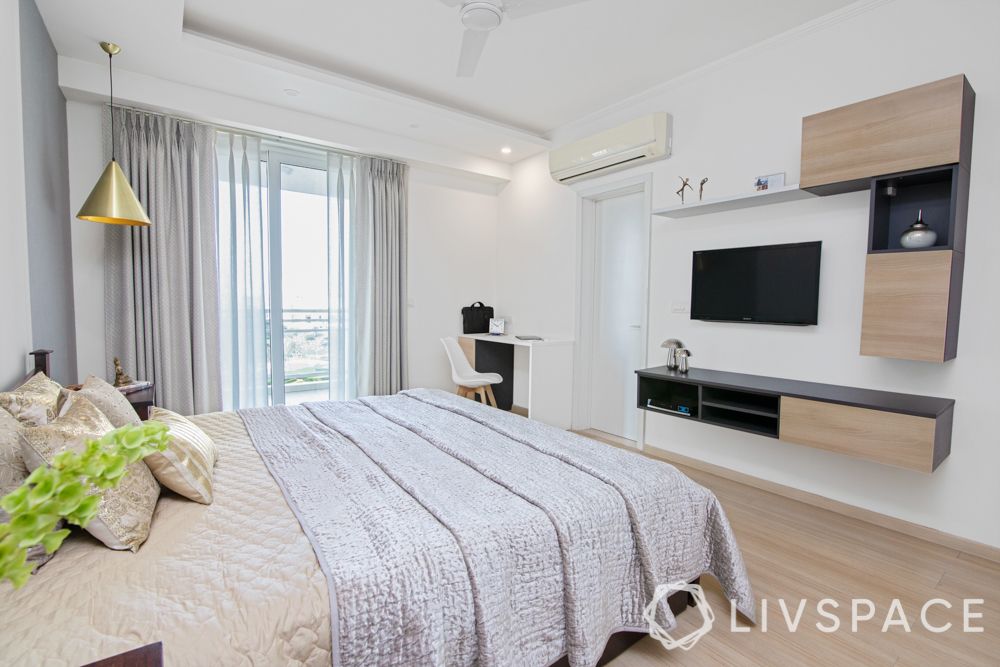 This wall-mounted modern TV cabinet design in white and brown brightens up the room. Lighter shades of wood help to create a well-lit look.
#14: Minimalism is the Key to Keep It Airy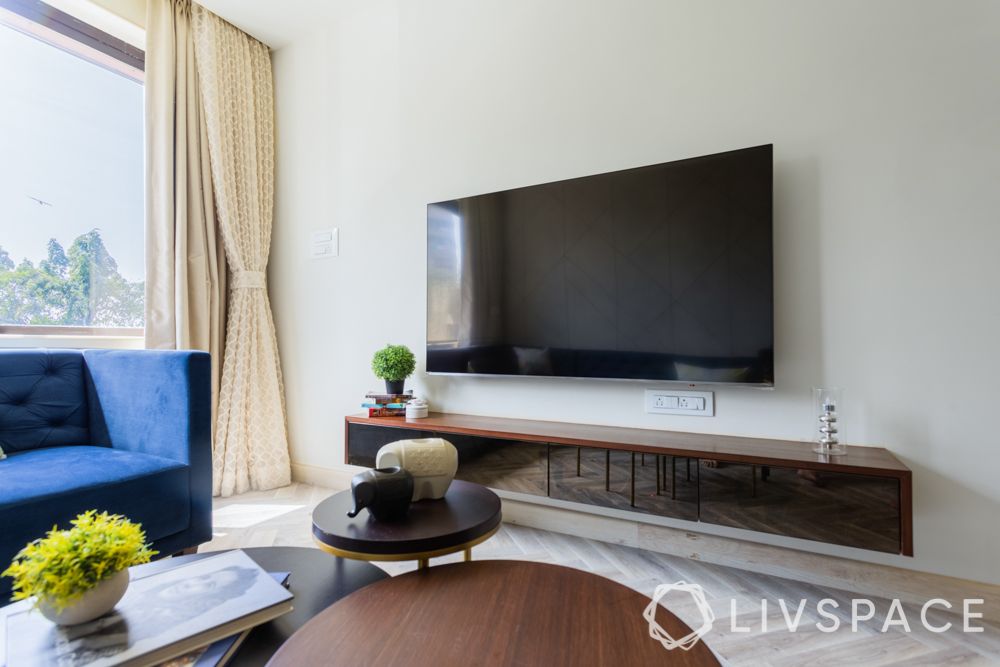 Is contemporary and sleek your kind of style? Take cues from this minimal back-painted glass TV cabinet design. It looks picture perfect mounted on the wall.
#15: Uncommon Taupe-Coloured Entertainment Unit for Elegance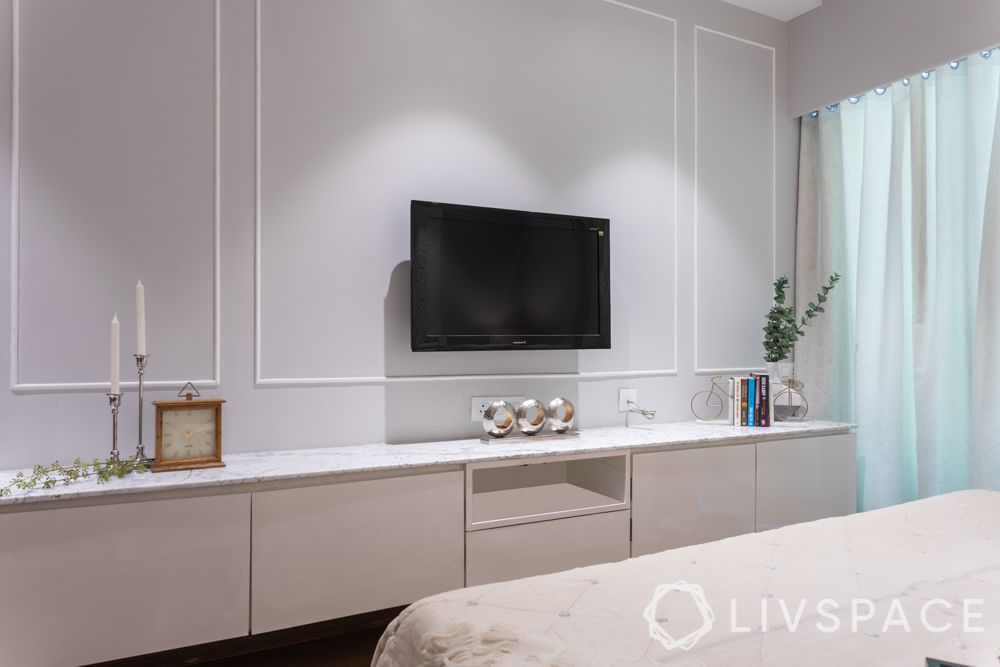 Prefer something regal and refined, maybe? How about a taupe TV panel design with a pristine white top? It makes for a perfect addition in a soft-toned bedroom.
#16: High Gloss will Keep the Entertainment Unit Looking Radiant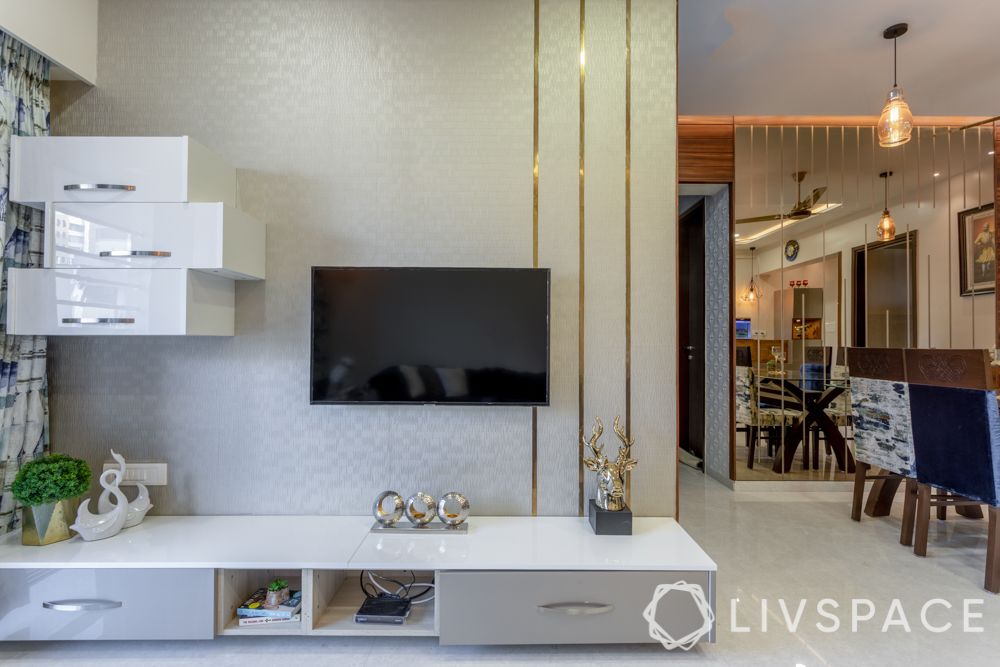 Up the glam quotient with this glossy modern TV unit design! The gloss of the unit goes perfectly with the neutral wall.
#17: Design a Snug Ash and Grey TV Feature Wall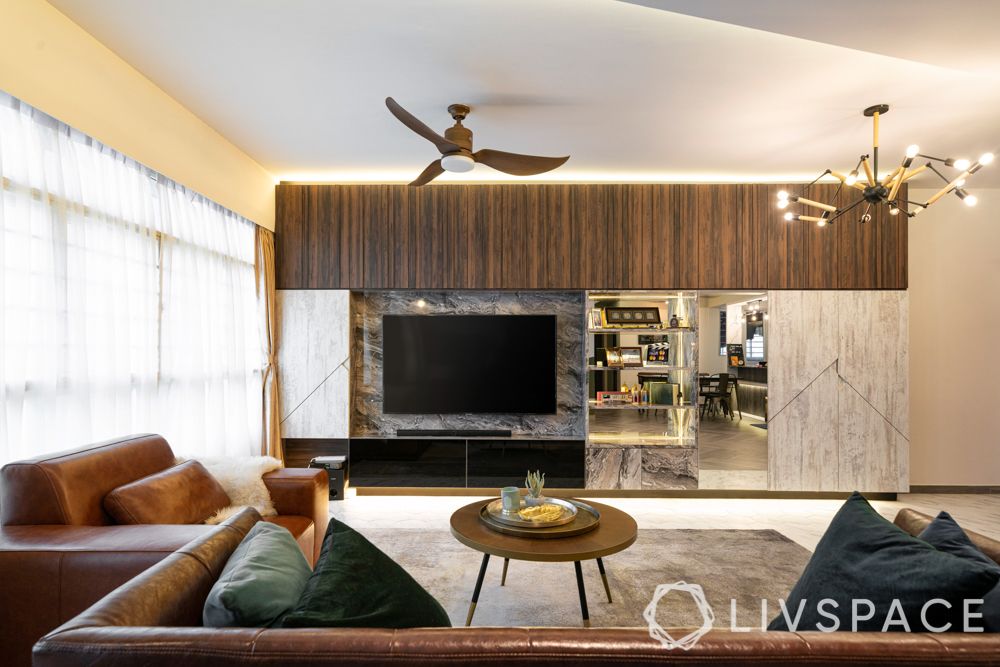 A TV stand design for hall can fit into snug nooks as well. Like this one in an ash-grey wooden panel coupled with a hollow white unit. We love the pop of chevron in one end!
#18: A Wooden Television Unit will Never go out of Style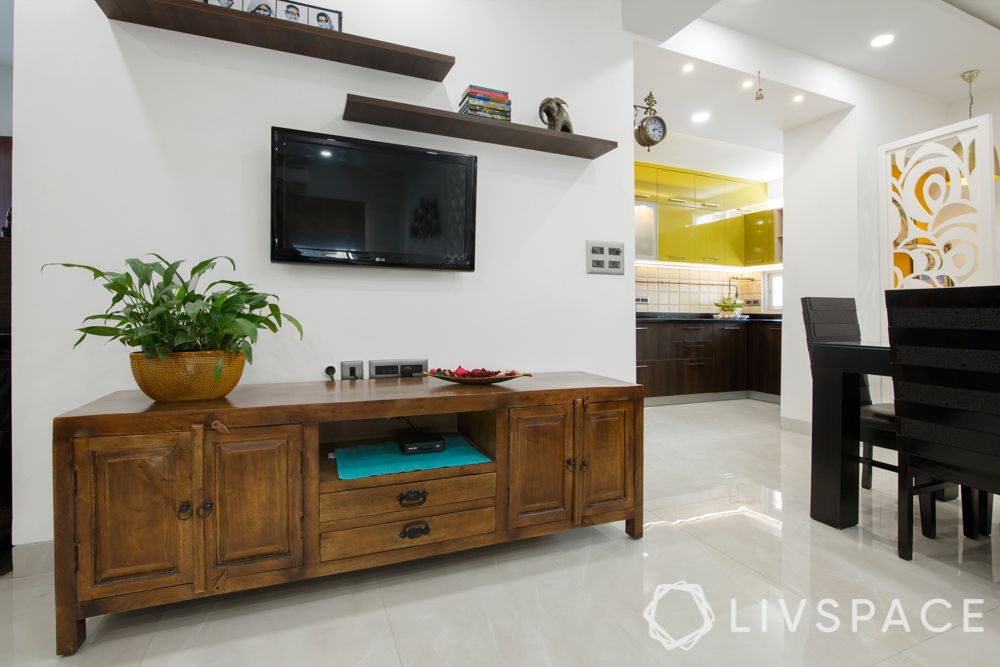 If traditional wooden furniture is all your all-time favourite, you will love this gorgeous chestnut unit. It's got ample storage as well!
#19: TV Unit-cum-Study Table is a Masterpiece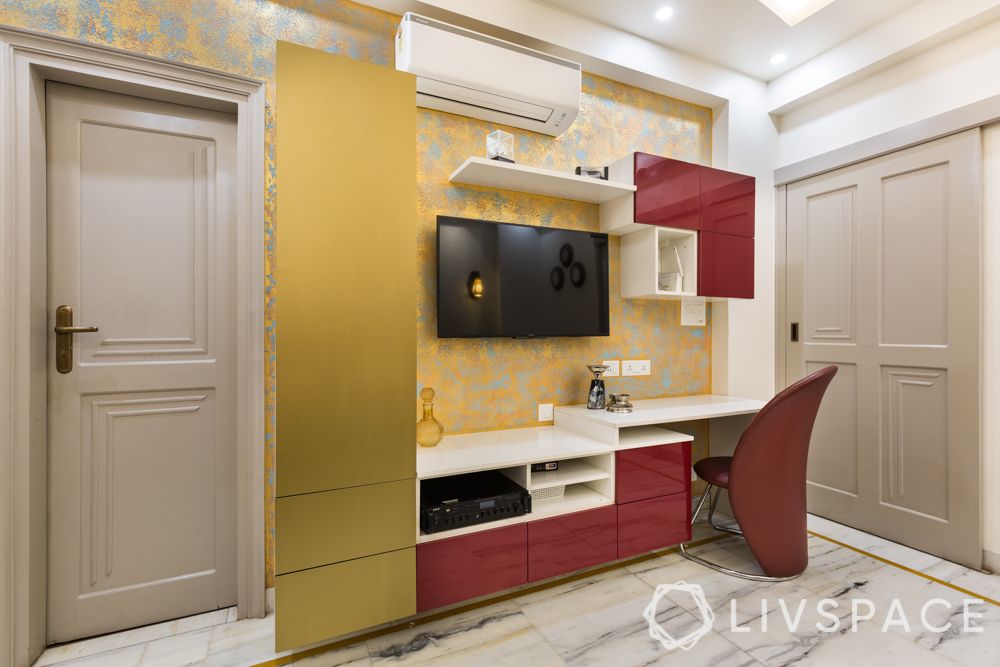 Entertainment units that double as work tops are ideal for the bedroom. Cherry red and a dazzling gold certainly liven up the room as well!
#20: A Comfortable Sand-coloured Entertainment Unit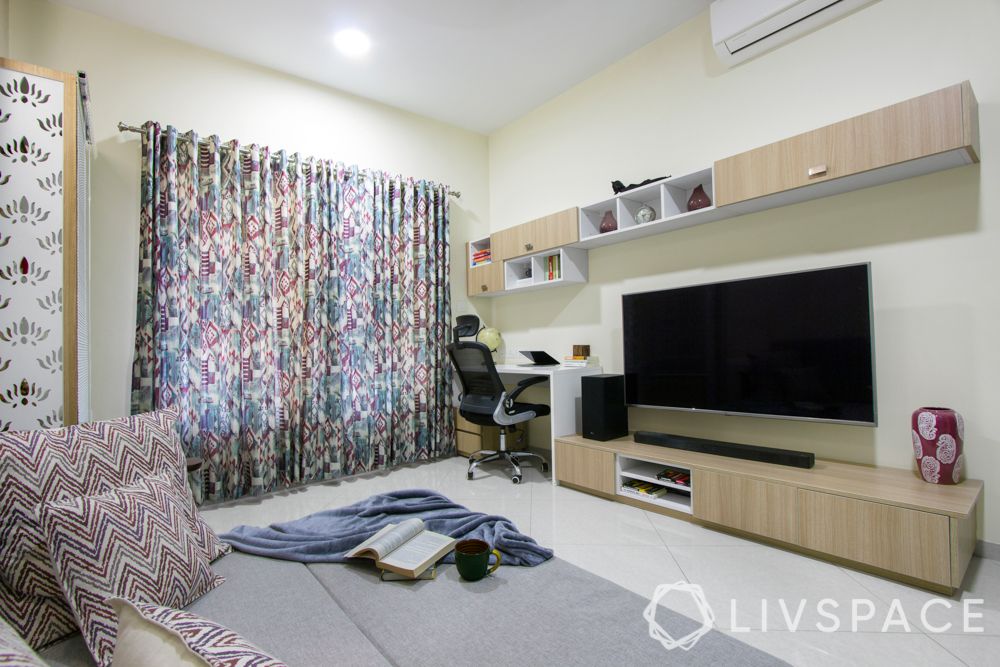 This bedroom appears well lit thanks to a sand-coloured TV unit. The wall-length unit comes with ample storage and open shelves to display pictures and artwork.
#21: Keep it Up with TV Units that Ensure Ample Hidden Storage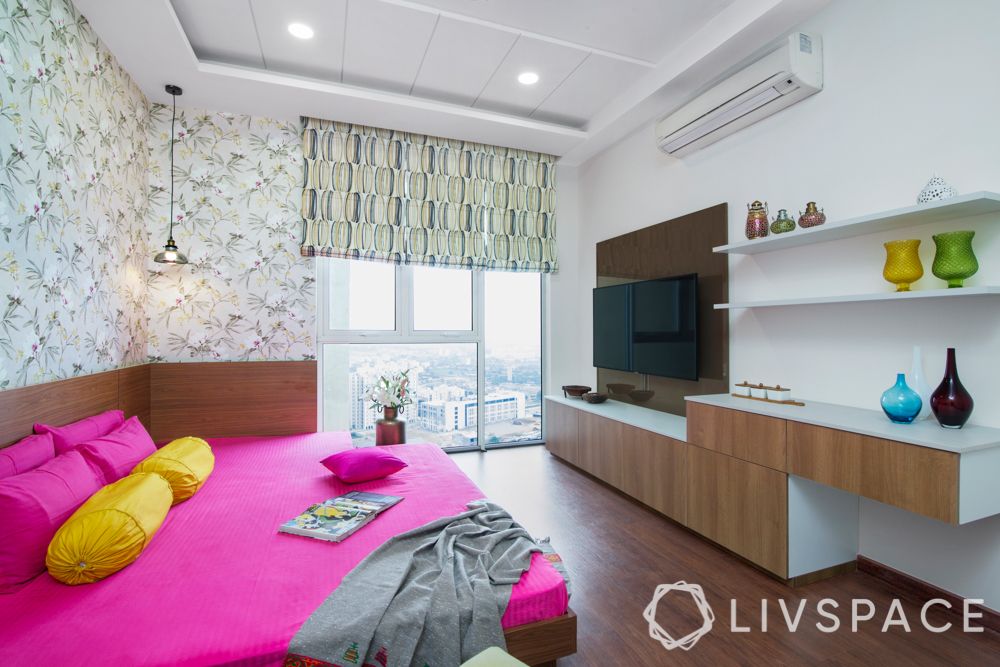 A completely functional TV unit is the star of this room and features ample storage, display and even space as a worktop.
#22: Glossy White Lends a Gleam to the Entertainment Unit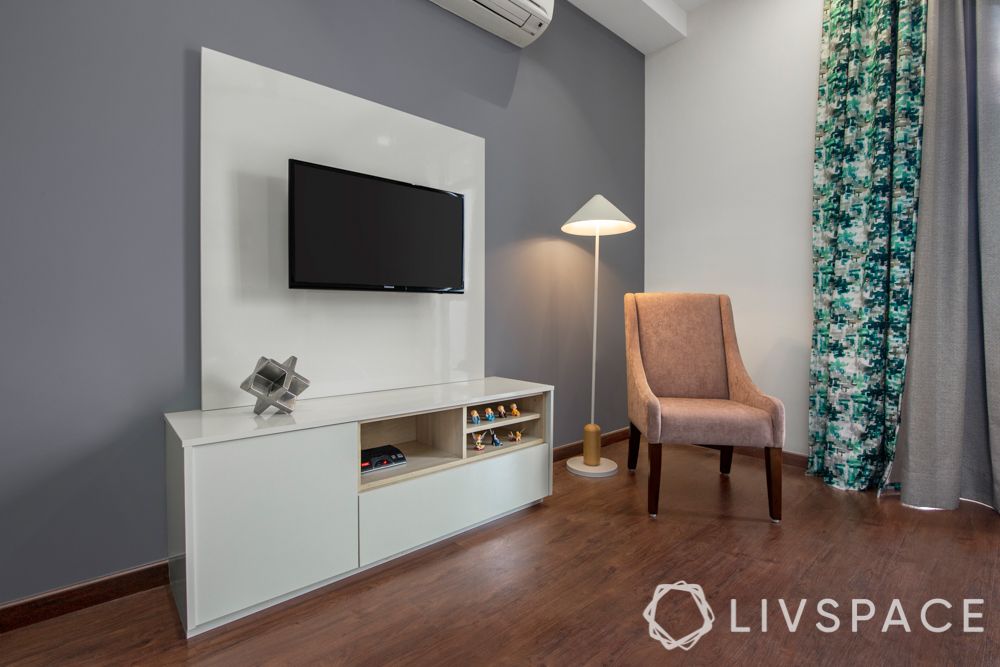 When it comes to something simple yet chic, it's tough to beat a completely white unit. Especially if it's glossy and compact!  
#23: Warm and Chocolatey TV Unit Design Ideas are a Charm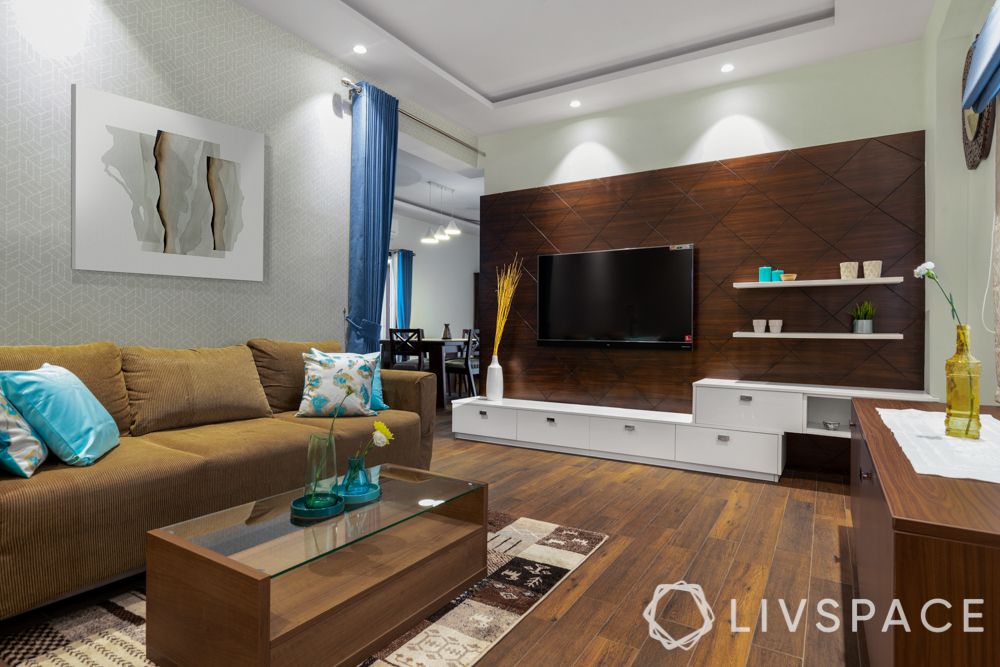 A rich chocolate modern TV unit design for hall is in the limelight here. We love how it's being highlighted under the spotlights from the false ceiling.
#24: Marsala and Wood Entertainment Units are Stunningly Compatible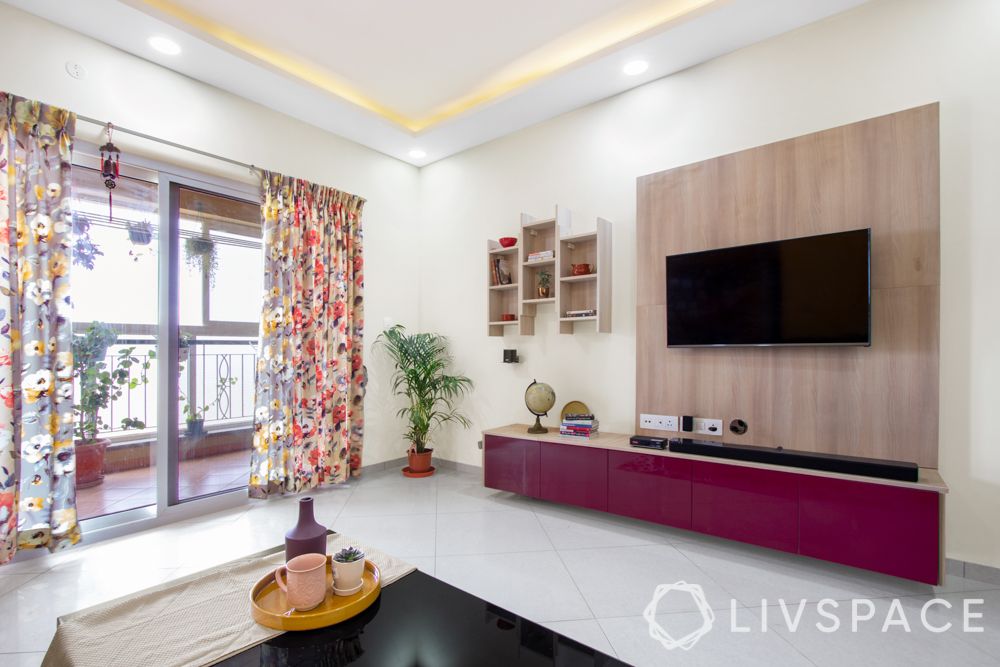 A sleek marsala unit paired with a light wooden panel takes the centre stage in this TV unit interior design for hall.
#25: TV Unit Interior Design With Shelves and Storage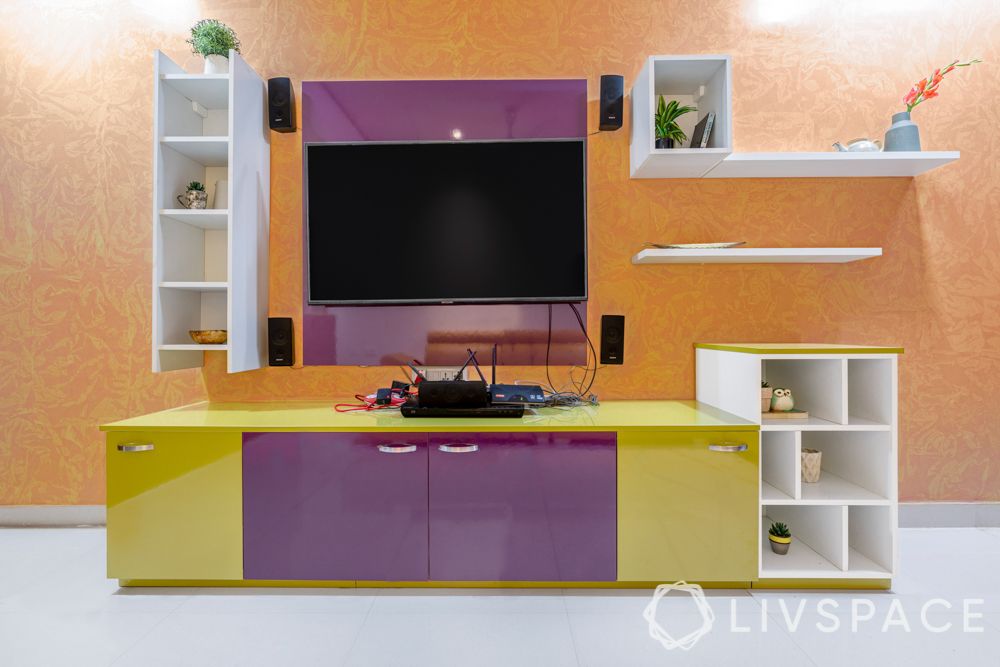 This is amongst our favourite TV cabinet designs for living room. Wall ledges paired with open and closed shelves make for the perfect display-cum-TV-unit.
#26: Combining Work and Play with Modern Built-in TV Wall Unit Designs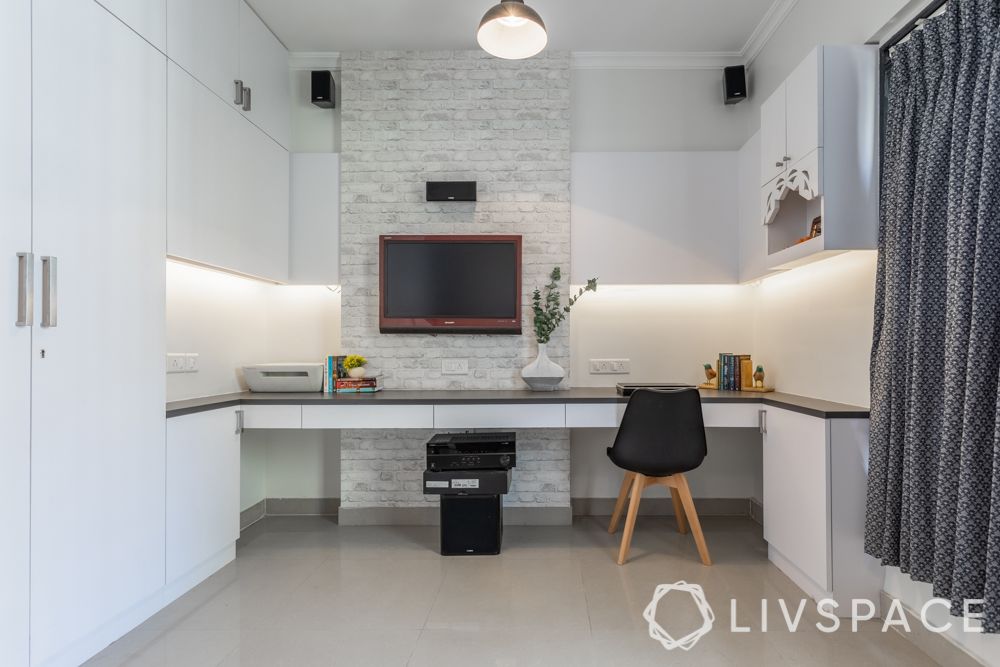 A television can be part of your work-cum-entertainment room. Just mount it on the wall and back it up with a statement wallpaper like this one.
#27: Revolving TV Unit Gives you Full Accessibility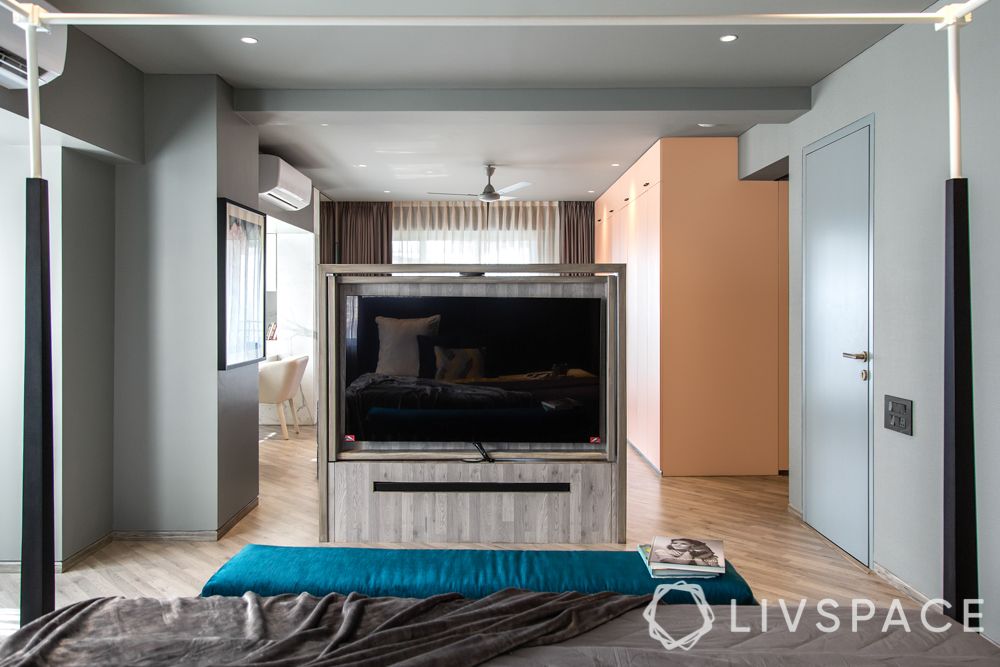 A revolving television anyone? This quirky TV unit has a provision for changing sides so that one can sleep while the other enjoys late night football games!
#28: Industrial-Style Unit is Highly Efficient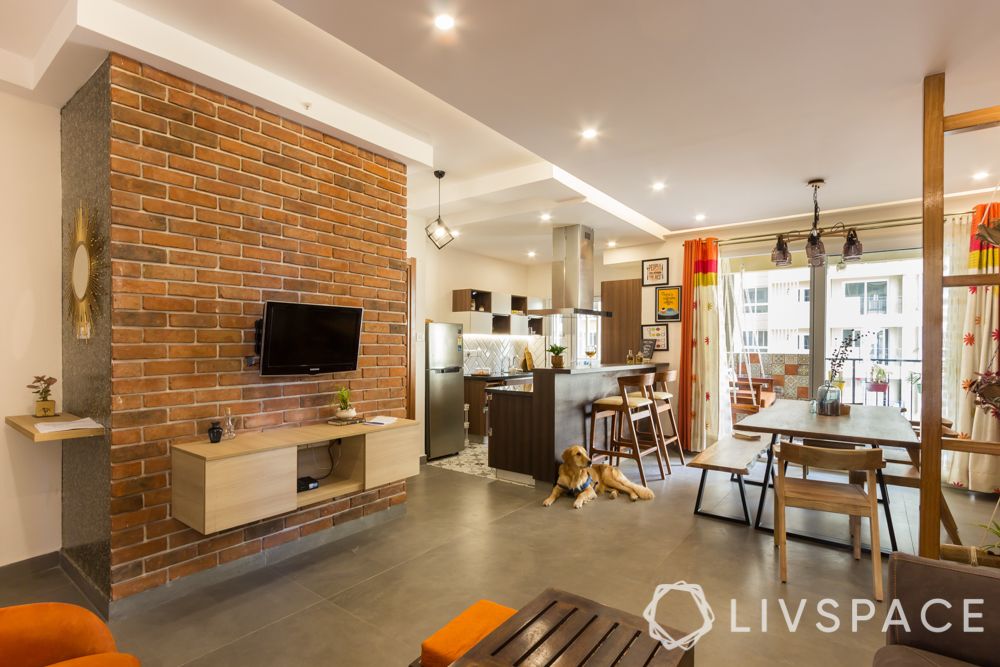 Go industrial with an exposed brick wall as the backdrop for your TV unit design for hall.
#29: Entertainment-Unit-Cum-Bookshelf Keeps it Functional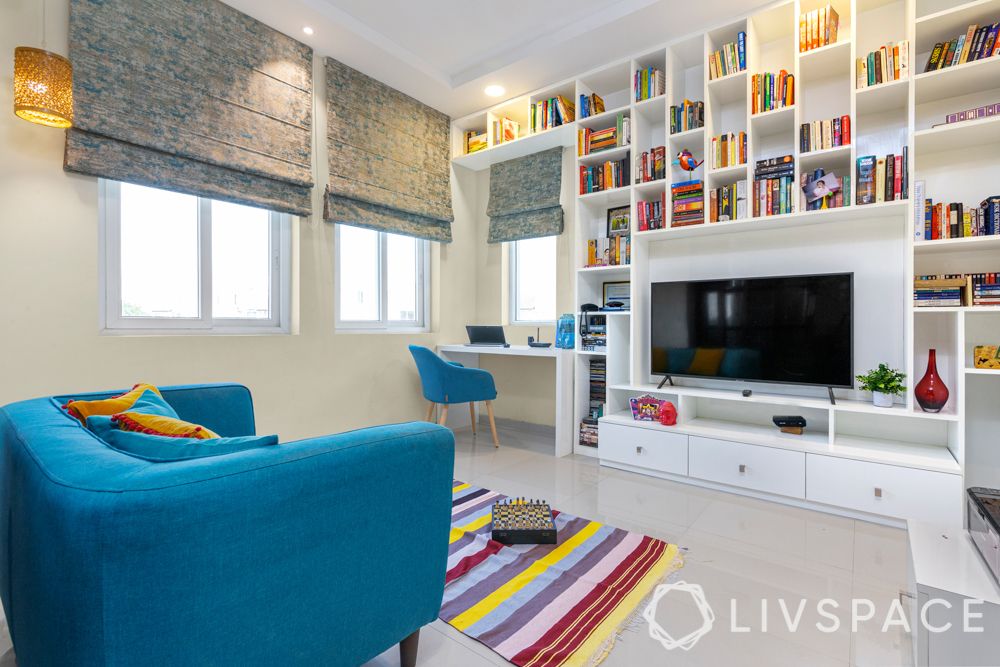 When you have a world of books and files to store and display, opt for a full-fledged modern built-in tv wall unit design like this.
#30: Traditional Entertainment Units Have Their Own Appeal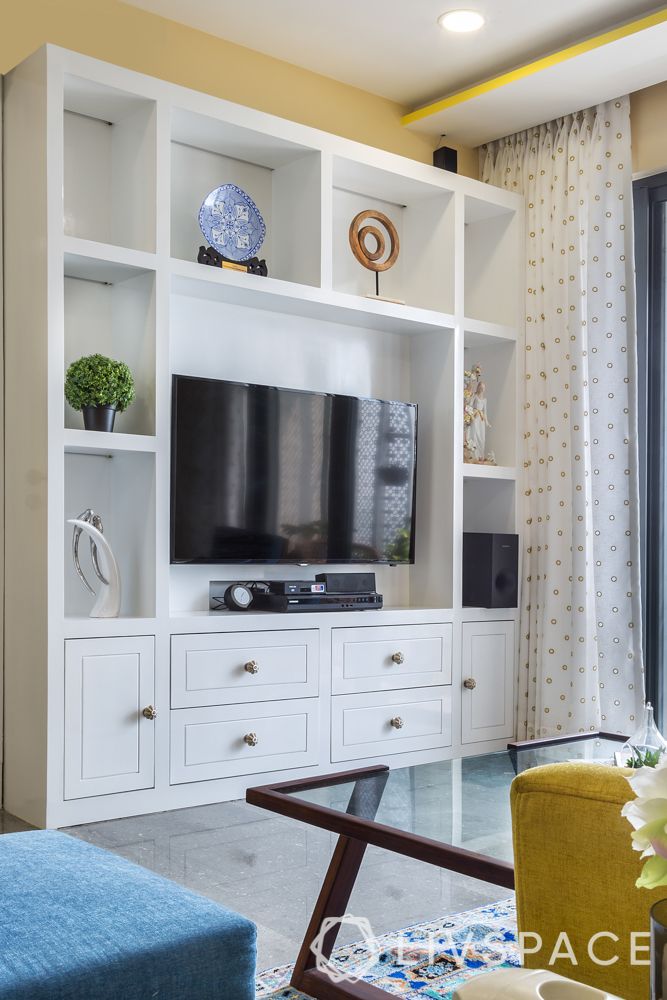 We love the concept of drawers with cute knobs and grid-style shelves for display on top, as this TV unit design for hall shows.
#31: Classic Wooden Unit with Additional Aesthetic Elements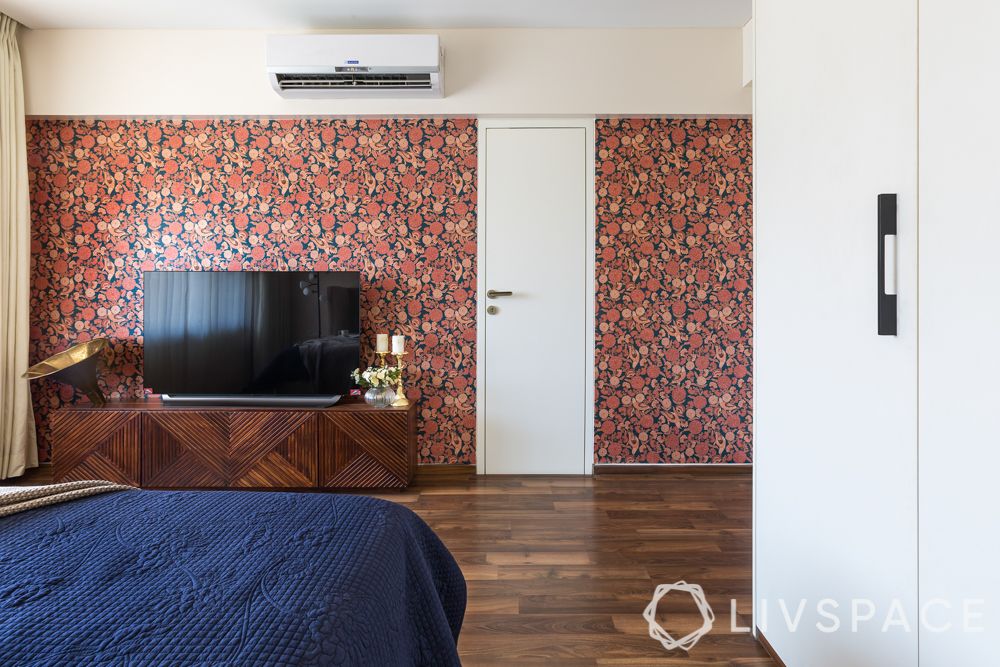 All you need sometimes, is a pretty printed wallpaper and a classic wooden TV unit to complete the look of a room. Before you ask, that's a Sabyasachi wallpaper!
#32: Grey and White Entertainment Units Are a Classic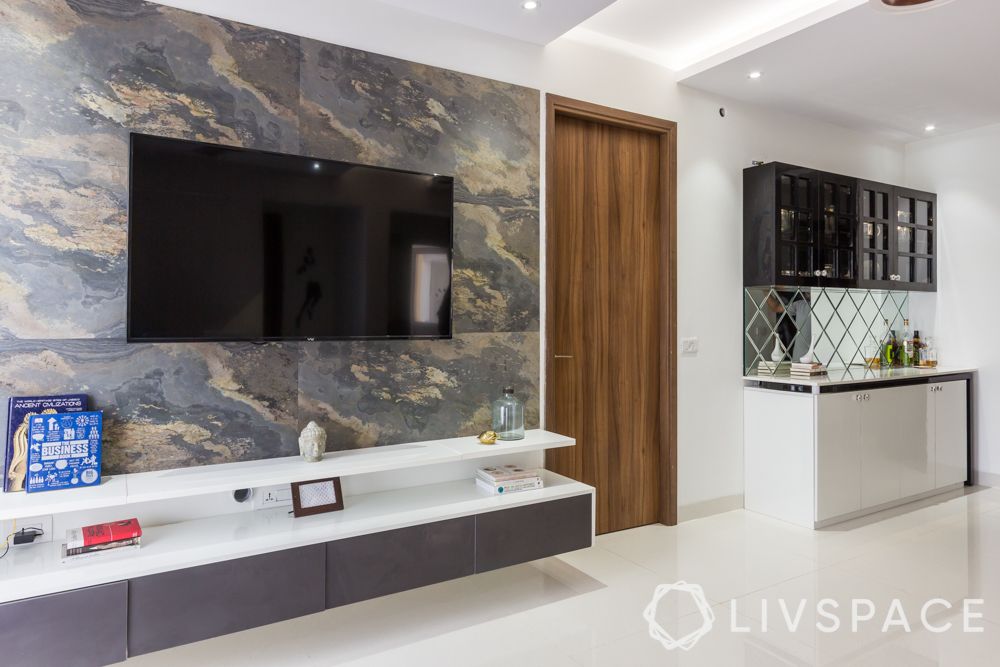 When it comes to main hall modern TV unit designs, this is a favourite! Stone-finish wall tiles paired with a grey-and-white TV unit look fetching in this living room.
#33: Sliding Door Entertainment Units are Modern and Efficient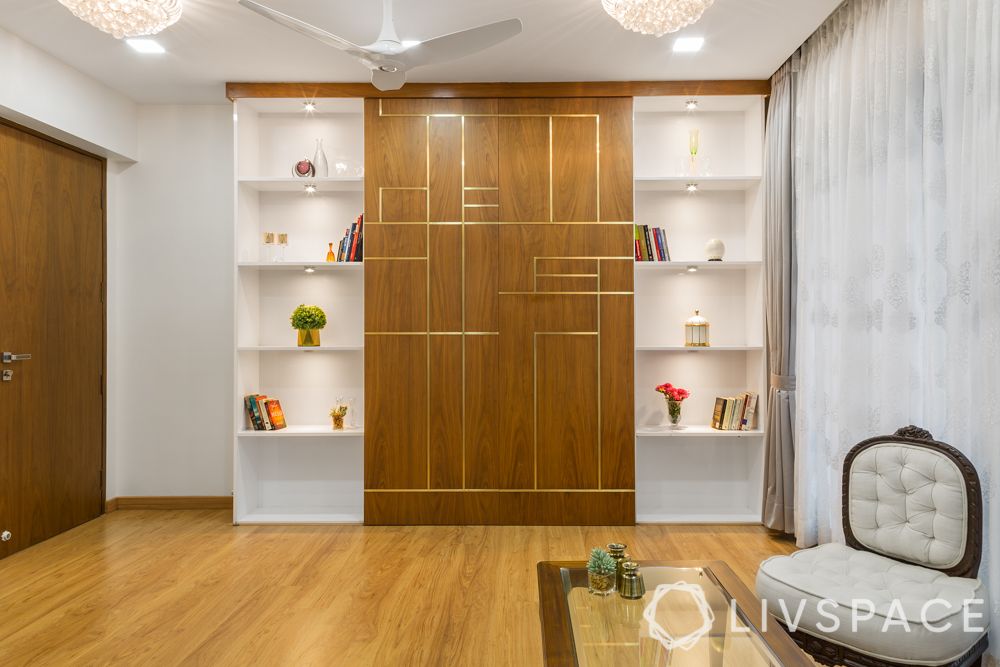 How cool is this TV unit? A sliding door that covers the television when you want to highlight your curios? We love it!
#34: Floor-Standing Unit Looks Good with Classic Colour Combos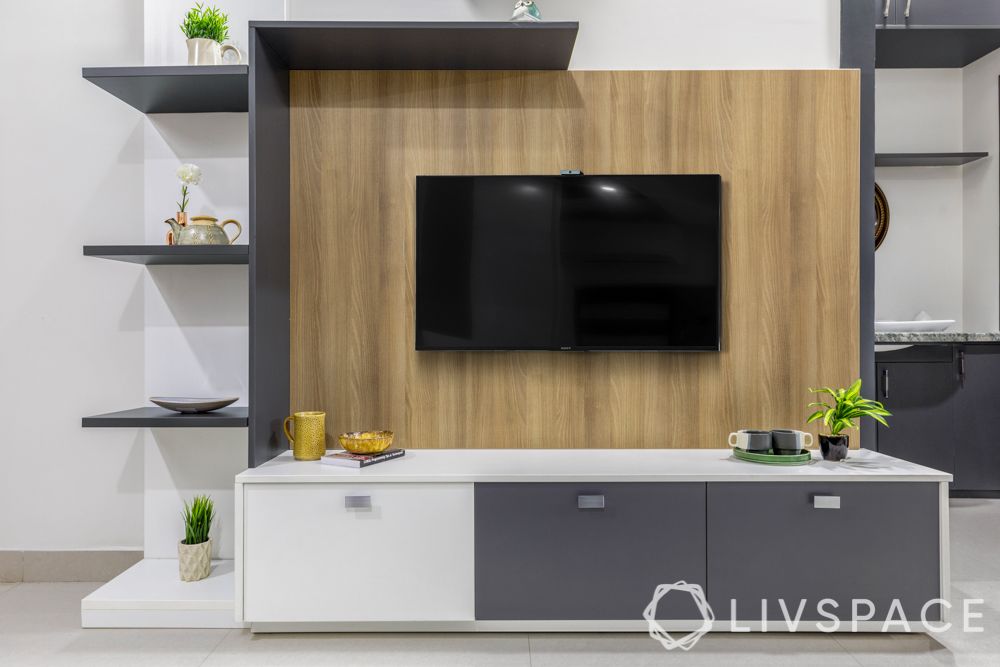 Keep it traditional with a floor-standing unit! The wooden background in combination with the grey-and-white colour combination gives a contemporary look.
#35: Blue and White Entertainment Unit for a Pop of Vibrancy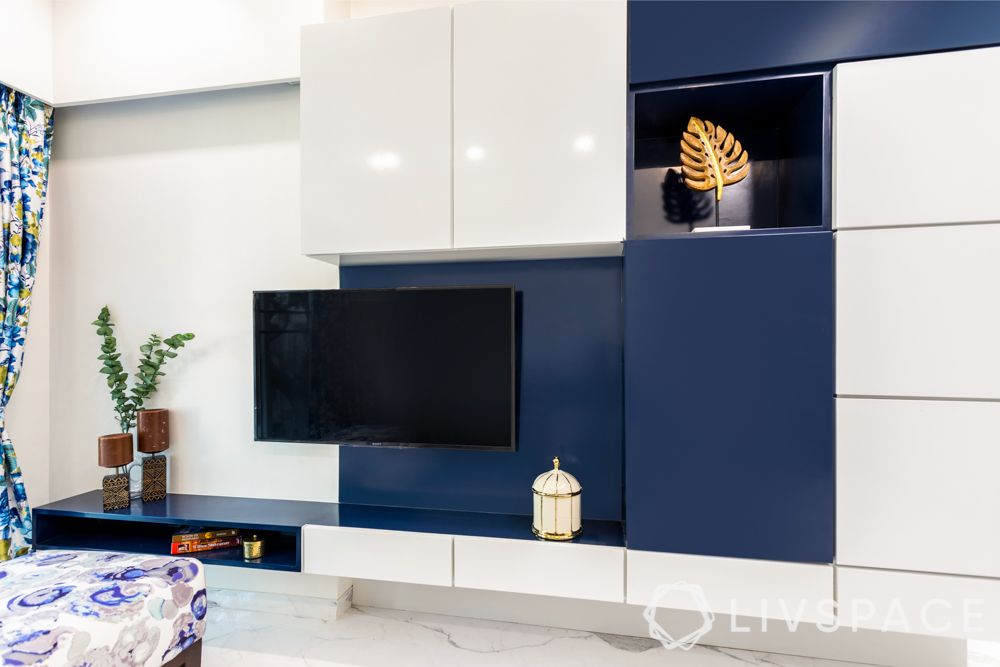 Work with the colour scheme at home and get your TV unit customised according to that. This one is equipped with all kinds of storage.
#36: Play with Light and Shade for Main Hall Modern TV Unit Design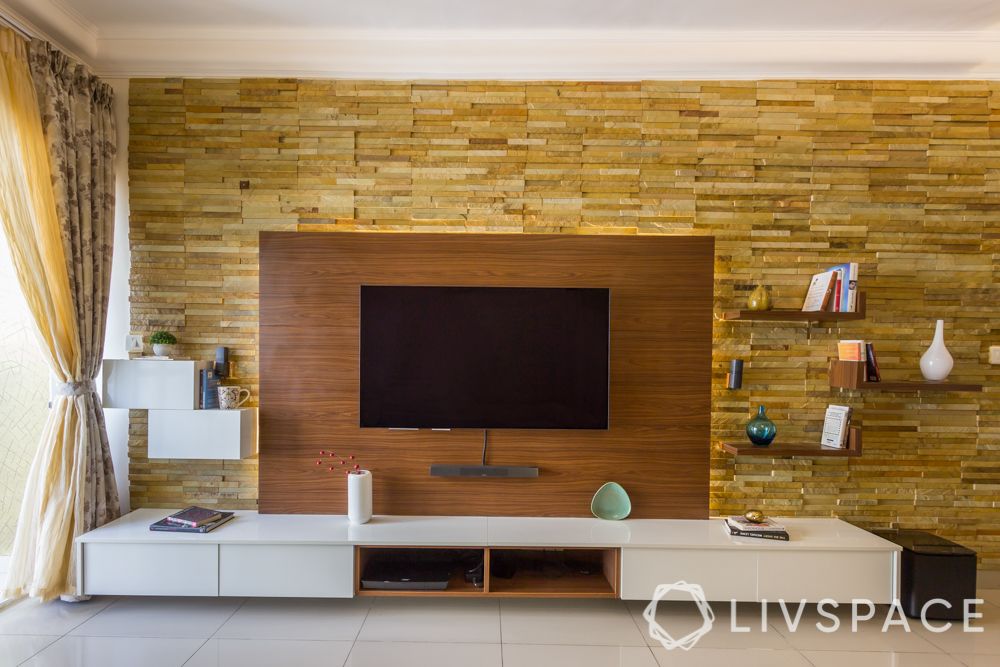 A stone-clad wall and a wooden panel with LED strip lights sounds like the perfect recipe for main hall modern TV unit designs for living room.
#37: Use Colourful Glossy Acryl for a Crafty TV Stand Design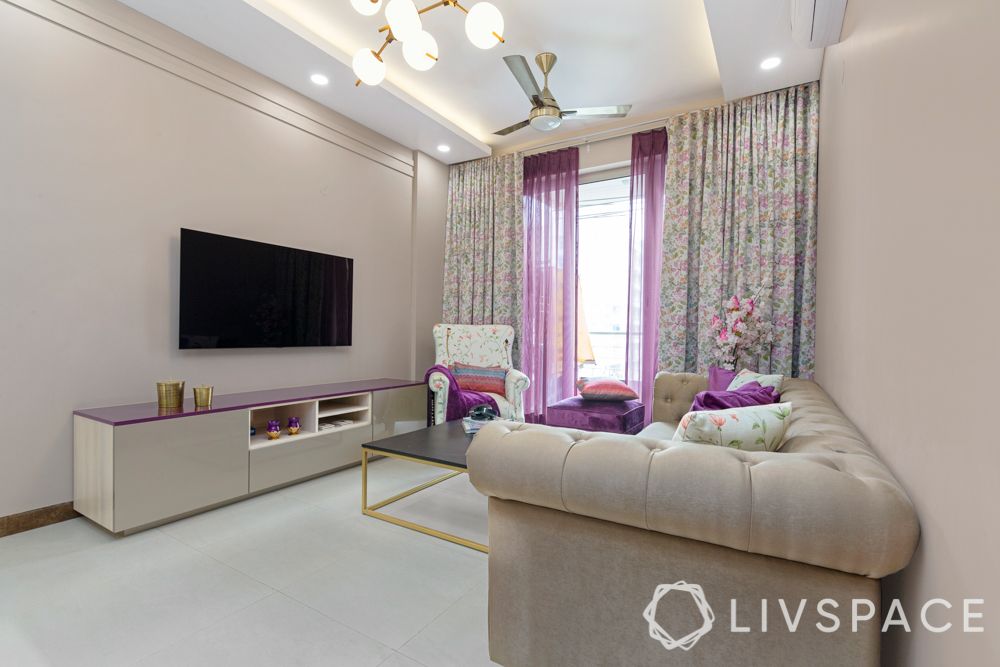 Play around with materials for your TV unit. This glossy acrylic-finish TV unit with hints of purple is the perfect addition to this room.
#38:  White and Gold TV Unit Design for Hall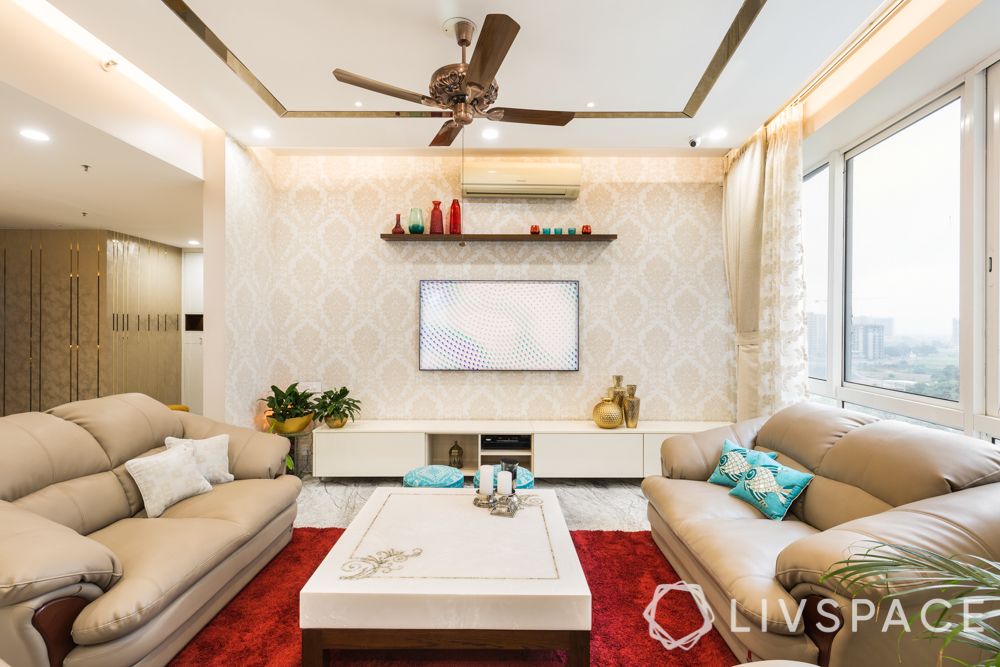 Add a hint of luxury to your living room with a simple TV unit set against an elegant white-and-gold background.
#39: Smooth Walnut-Finished Finesse TV Unit Design for Hall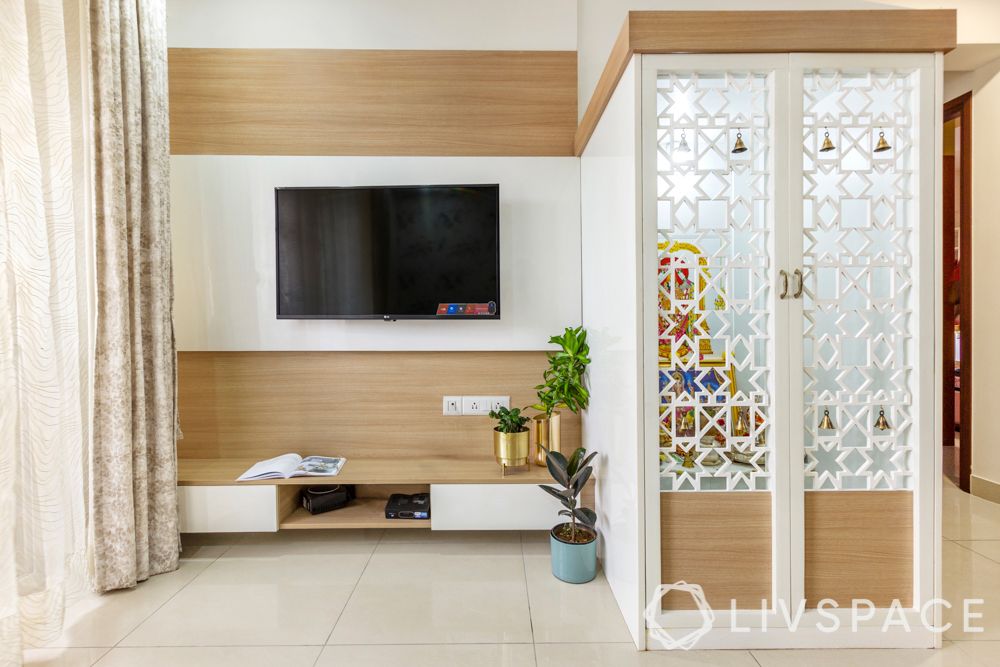 Why not opt for a smooth walnut-finish TV unit? Moreover, this TV unit is compact and can be fit into any nook and cranny.
#40: A TV Unit with Concealed Storage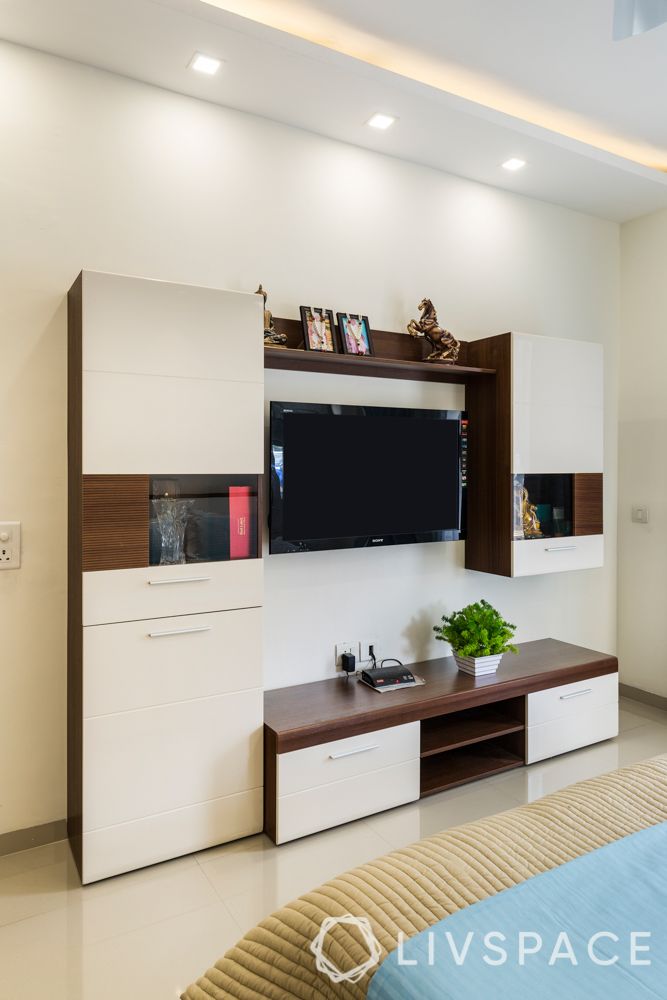 Pack in your knick-knacks into this modern TV unit design for hall with closed shelves for storage.
#41: Elegant Wooden Panelling for an Urban Touch to Your TV Unit Design for Hall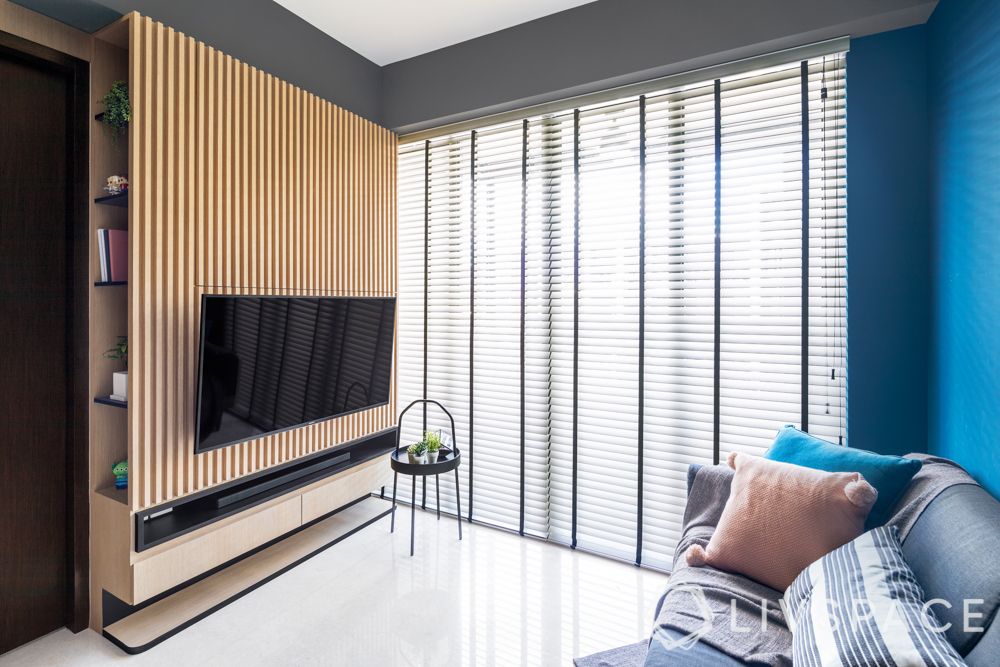 Get yourself something unique with this stunning TV unit that has vertical wooden panelling.
#42: Adorn your TV Unit Design with an Open Display Area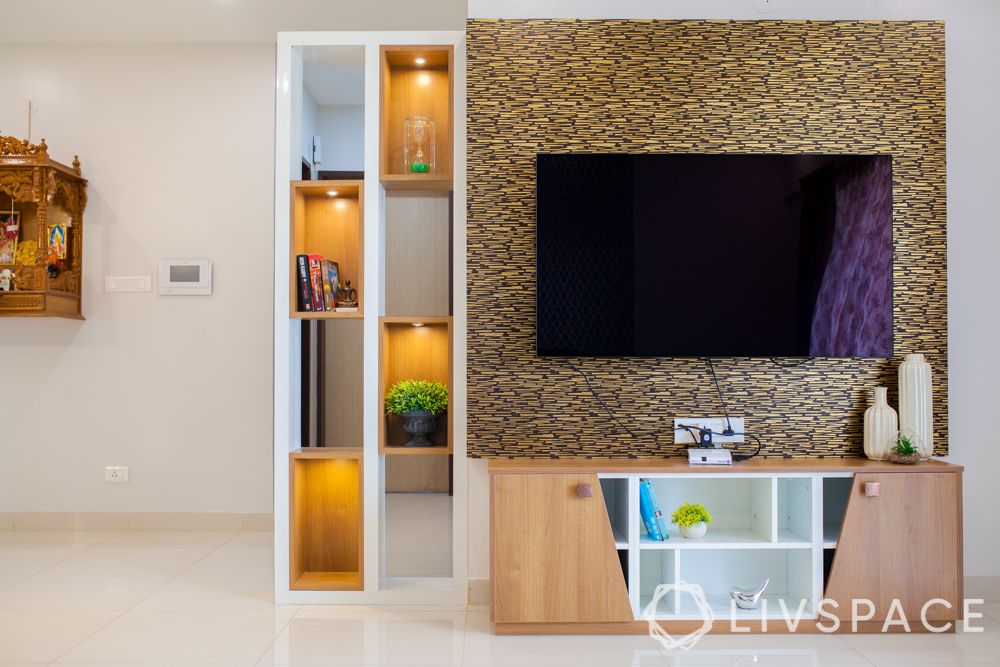 If you are a person who likes collecting curios and artefacts, display them with this stylish TV-cum-display unit.
#43: Upholstery to Glam your TV Unit Design for Hall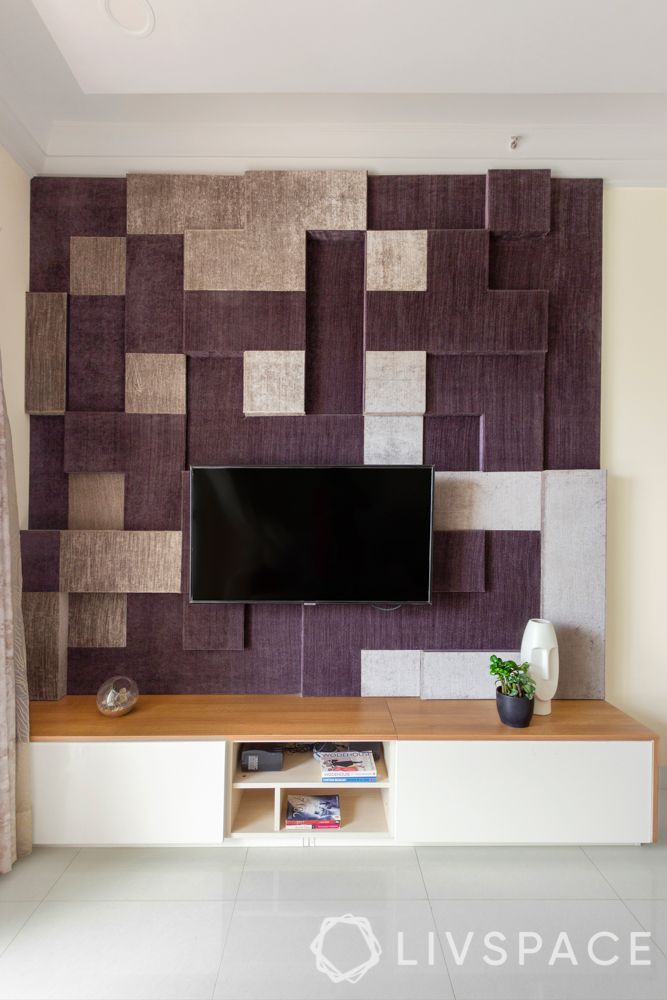 Looking for something different? This unique upholstered TV unit will keep the compliments flowing.
#44: Show Your Taste With an Entertainment Unit of Multiple Plywood Pieces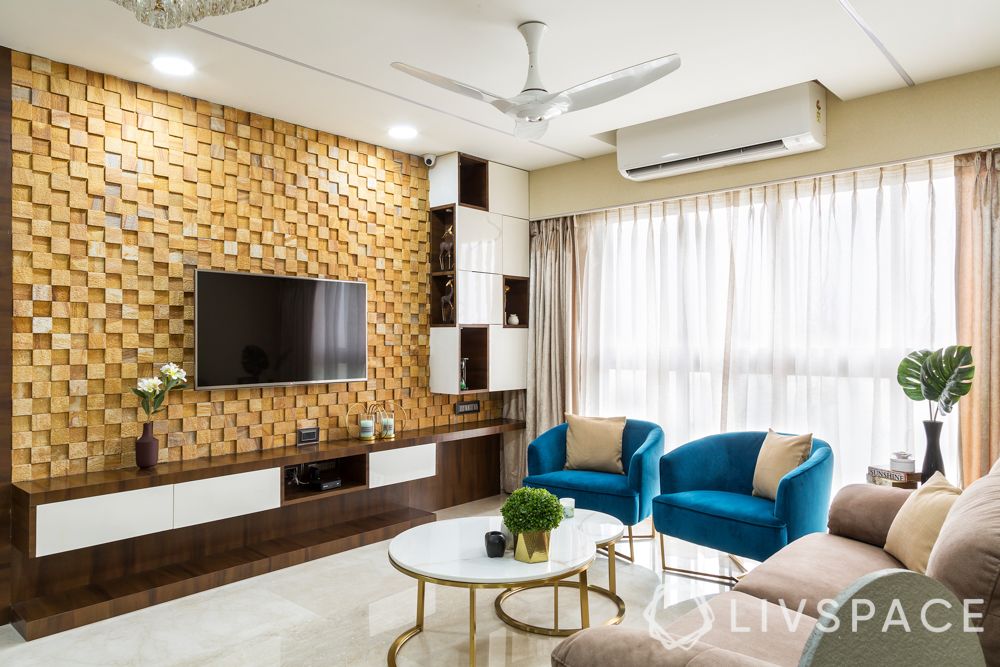 Why stick to a plywood finish when you can get a TV unit made up of multiple plywood pieces? This modern TV unit design is impressive and looks amazing in this living room.
#45: Marble-Finished Stone Panel for a Natural Gloss to the Entertainment Unit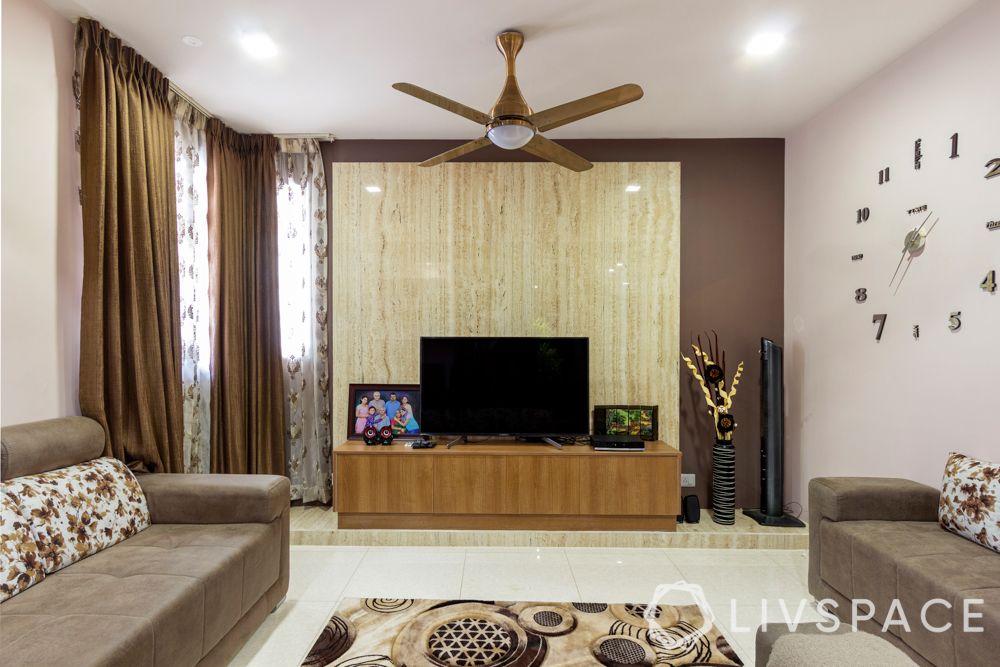 We love this gorgeous TV unit with an aesthetic marble-finished stone panel. The warm colours go perfectly with the living room decor.
#46: Consider Chevron Wall Trims for a Modern TV Unit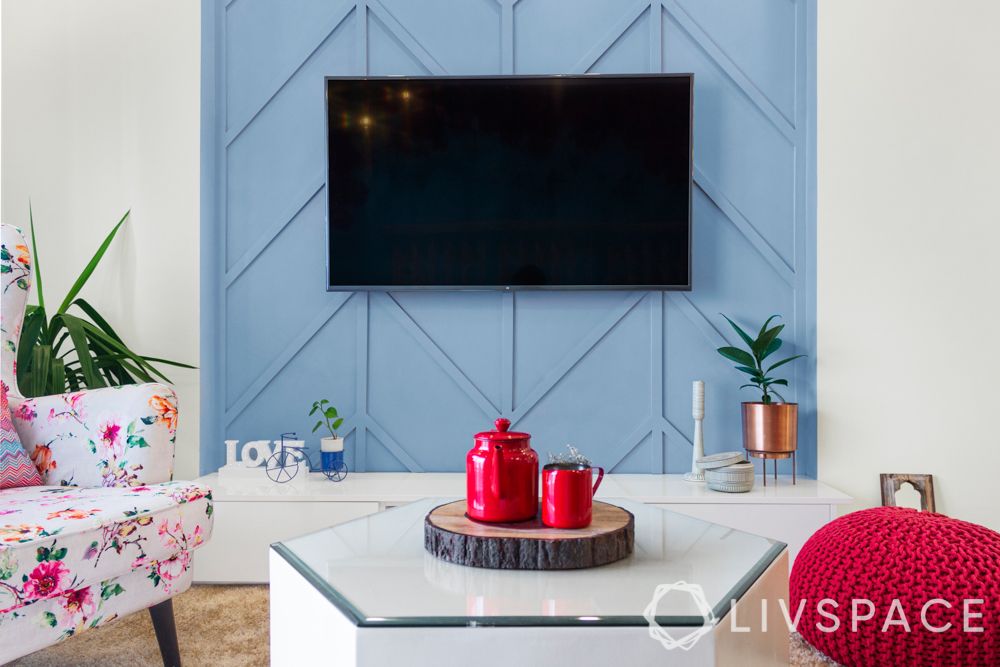 Love wall trims? Use a background with chevron-patterned wall trims to revamp your entertainment unit. We adore the pastel blue background!
#47: Wooden Rafters Add Character to Your Entertainment Unit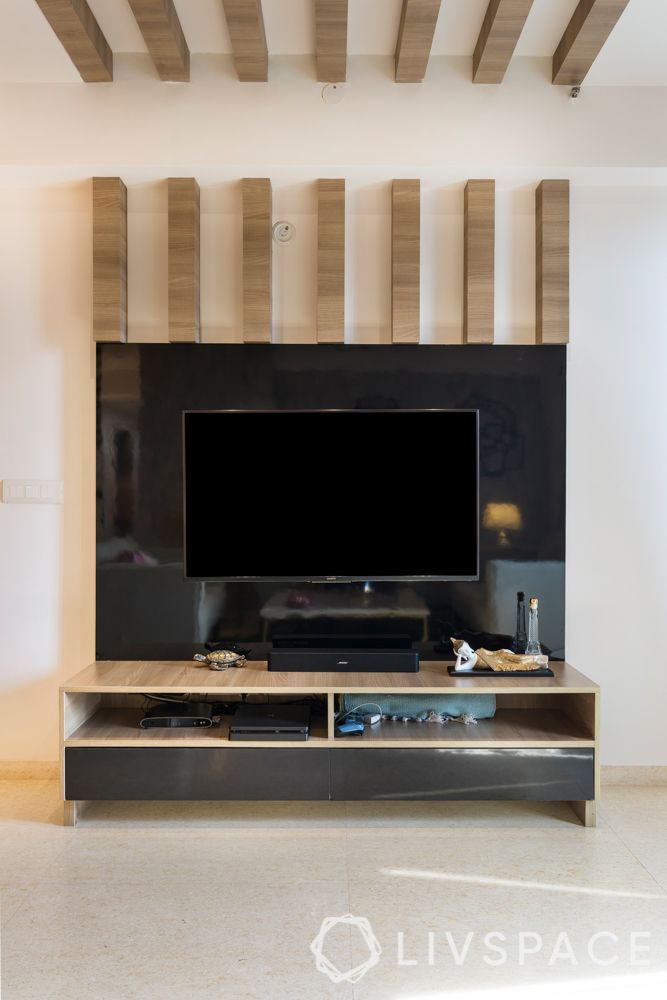 Wooden rafters are a great way to give your TV unit a warm but sophisticated look. Coupled with the glossy black finish, this entertainment unit is a must-have! See how it matches the wooden rafter arrangement on the ceiling?
#48: Add monochromatic Italian Marble to Your TV Unit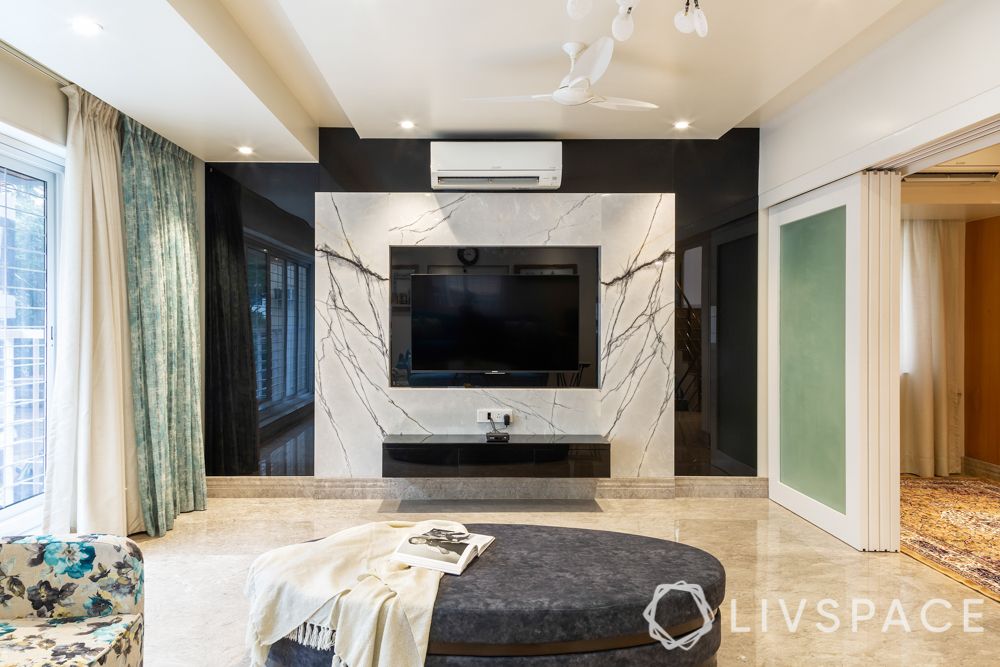 This TV unit design spells sheer opulence! If you want a high-end design, then Italian marble is the way to go. Choose monochromatic colour combinations for a subtle look.
#49: Enchant with Bold and Dark Latest TV Unit Designs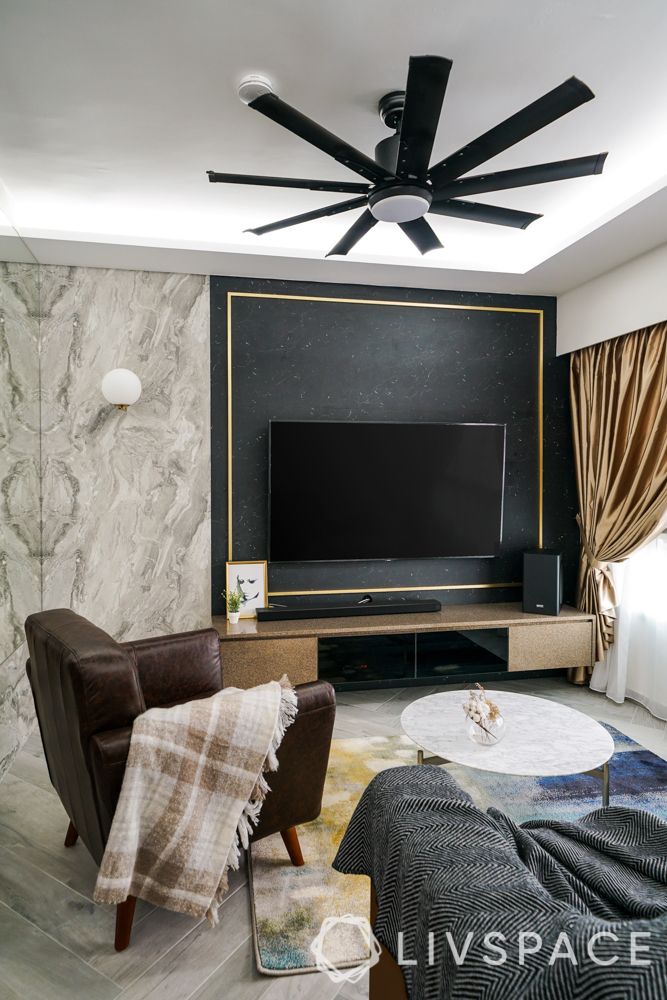 If black is your all-time favourite, then why not opt for a TV unit in  bold black colour? The gold borders add a hint of colour while keeping it elegant.
#50: Show off Your  TV Entertainment Units with Backlighting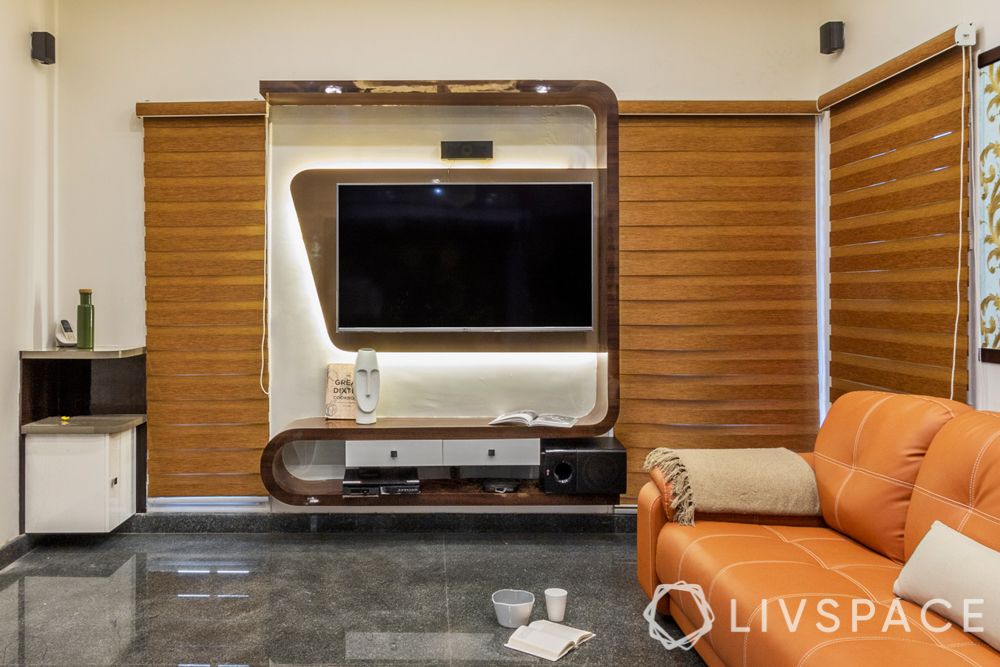 Jazz up any simple TV unit with some bright backlighting. 
#51: Stone-Clad Walls for TV Units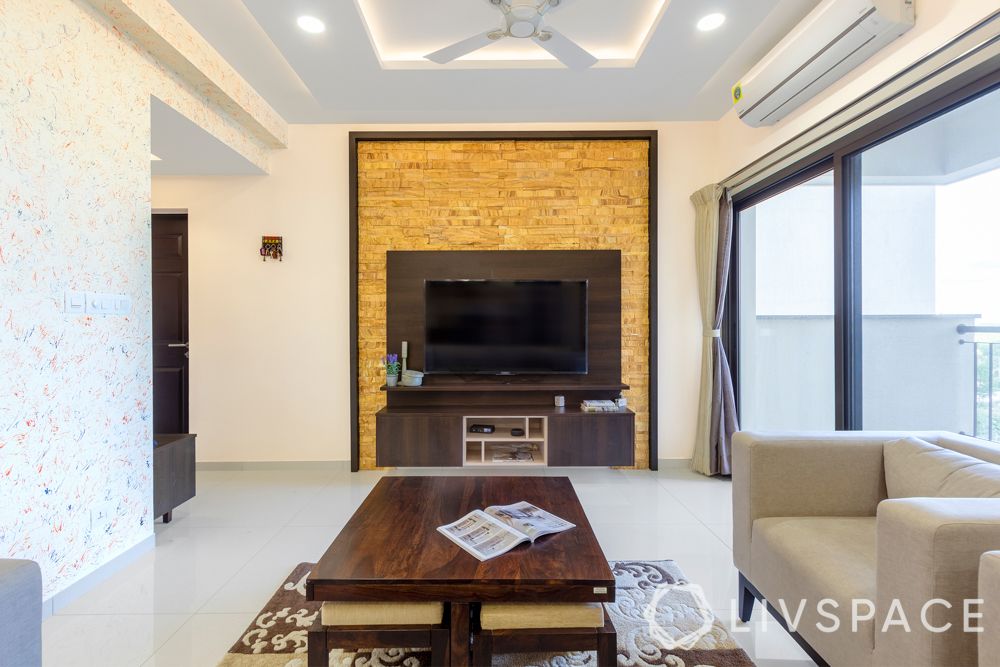 Add some rustic vibes to your home with this wooden TV unit and a gorgeous stone cladding wall.
#52: Ladder-Style Storage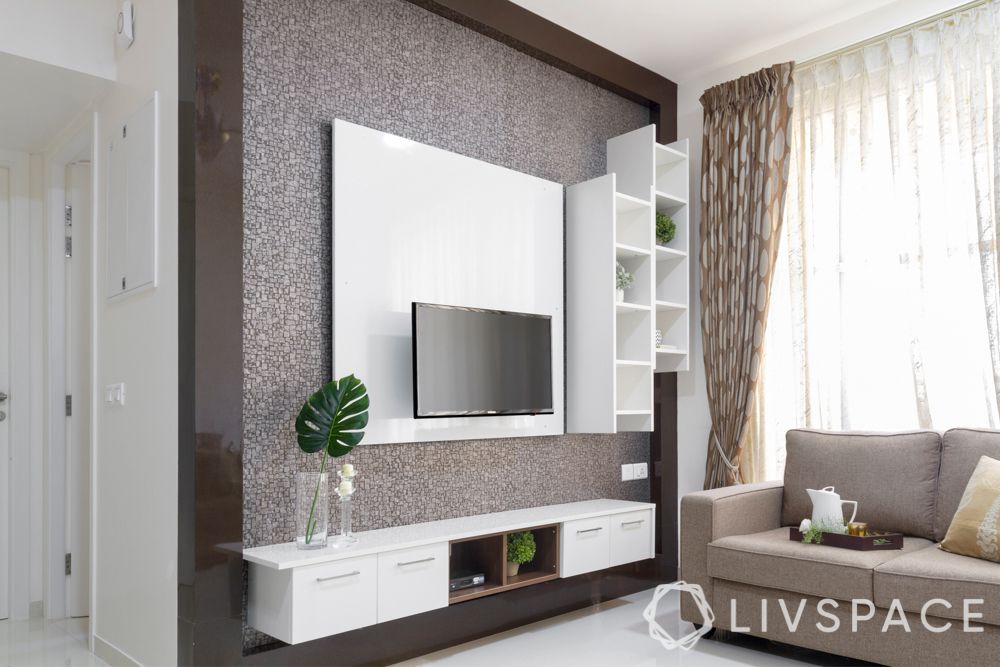 Looking for a TV unit with storage space? Go for a unit like this once, which comes with a creative ladder style storage that offers ample space.
#53: Style up Your Entertainment Unit with These Nested Stools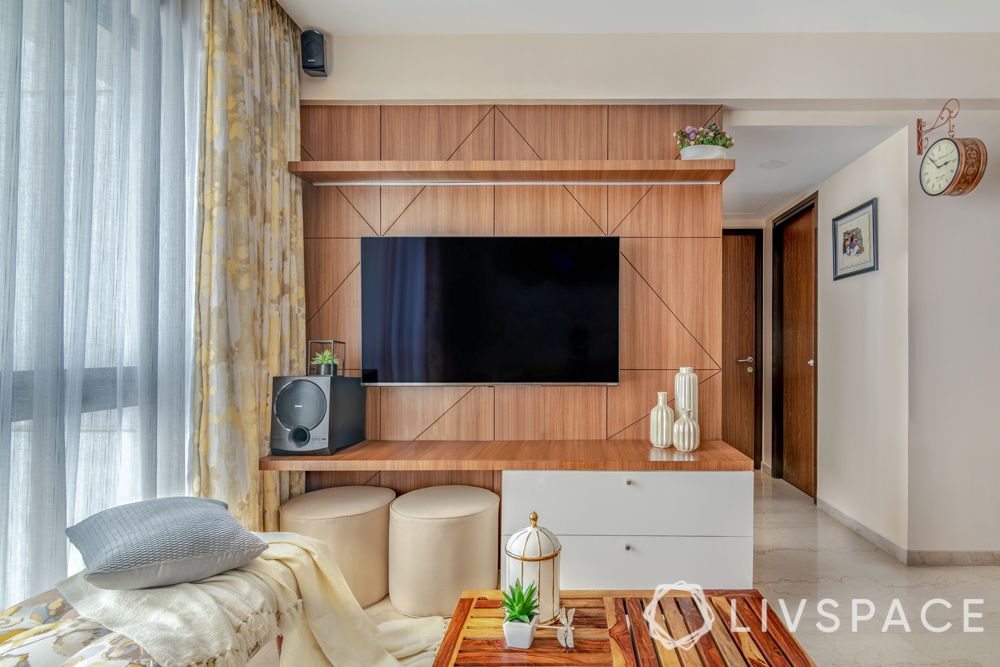 TV unit doubles as a study or work-station? Get some nested tools to ensure comfort.
#54: Mix Styles to Make your TV Unit Design Luxurious and Opulent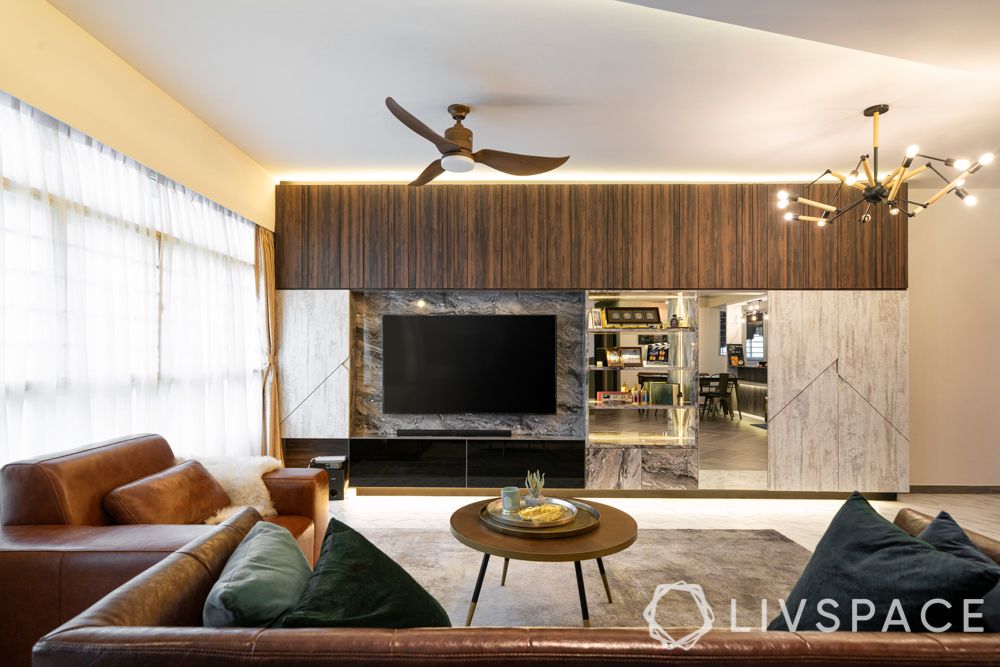 Who doesn't love luxury? If you want to add some glam elements to your living room, opt for a luxurious entertainment unit. The marble finish and mirror work is a treat for the eyes!
#55: Perch your TV Panel Design Against a Gold Accent Wall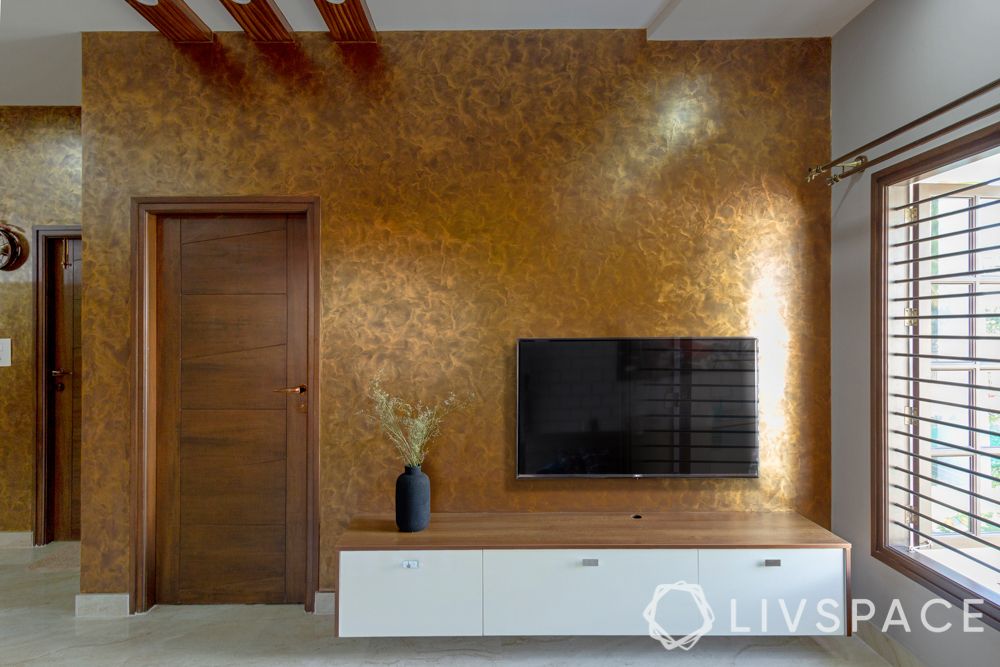 Have a simple TV unit? No problem! Just set it against a gold accent wall like this one and give your unit a stunning revamp!
#56: A Three-Panelled TV Unit Design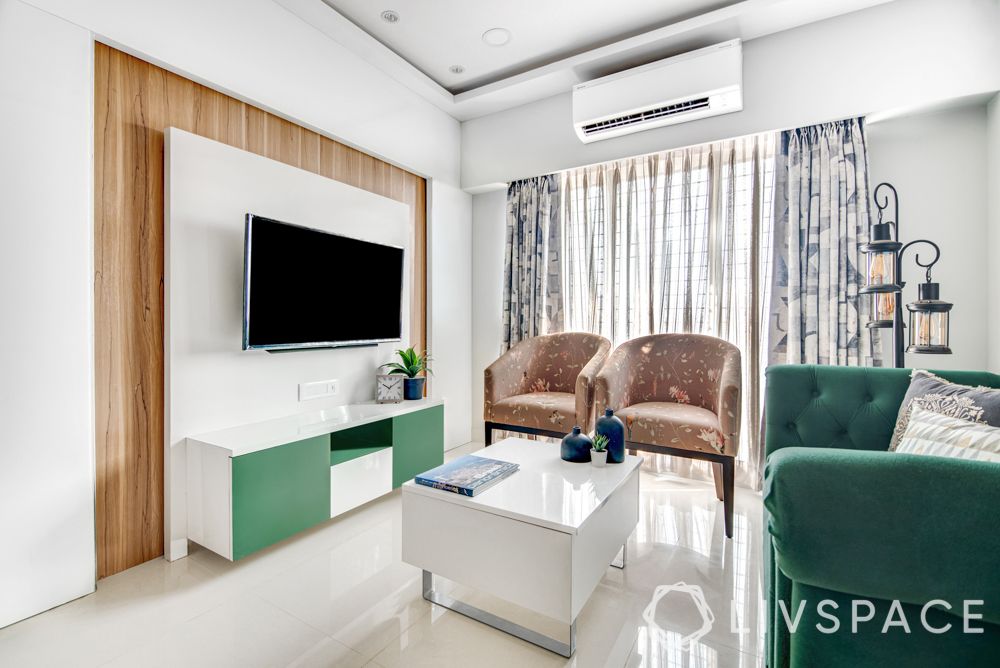 "What's so special about this TV unit?" you might ask. It has three panels! A white back painted glass panel, a centre panel and a wooden laminate one.
#57: Create Layered 3D Panels for Your Entertainment Unit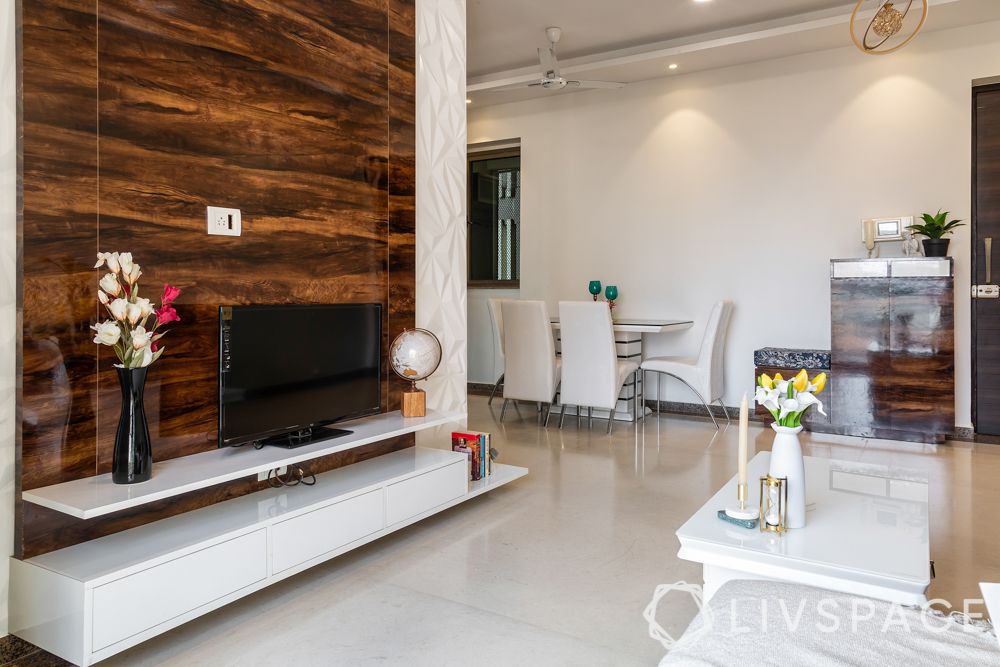 We love the glossy wooden back panel of this TV unit! But the most special part of this unit is the 3D panels on the sides.
#58: Delight Yourself with a Japanese-Style Wooden TV Unit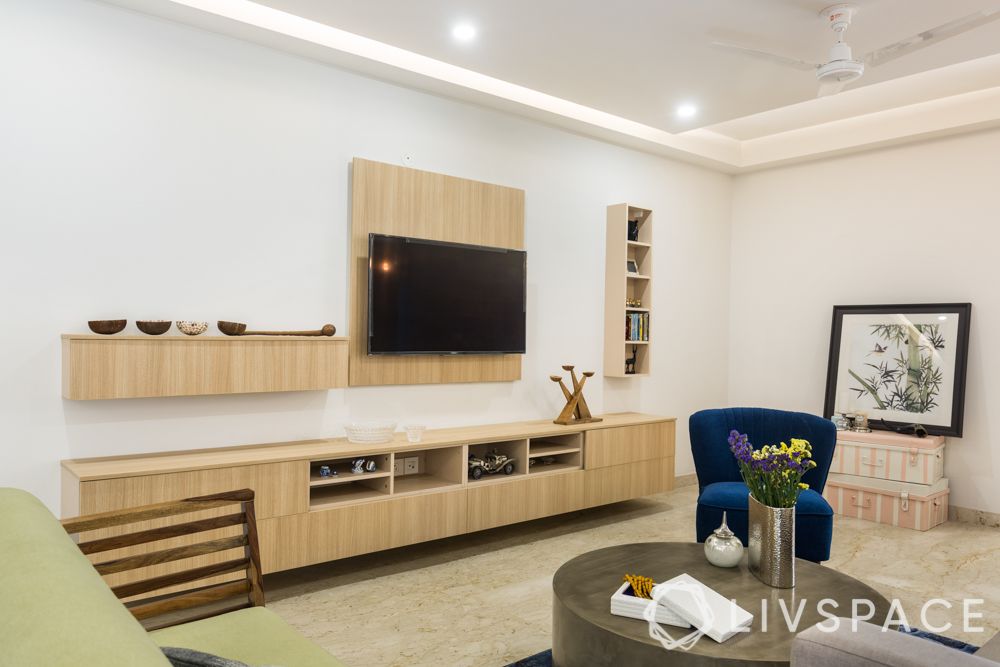 When in doubt, go traditional! There's something so timeless about this light wooden TV unit. 
#59: Keep Saving Space with Sleek Floating Shelves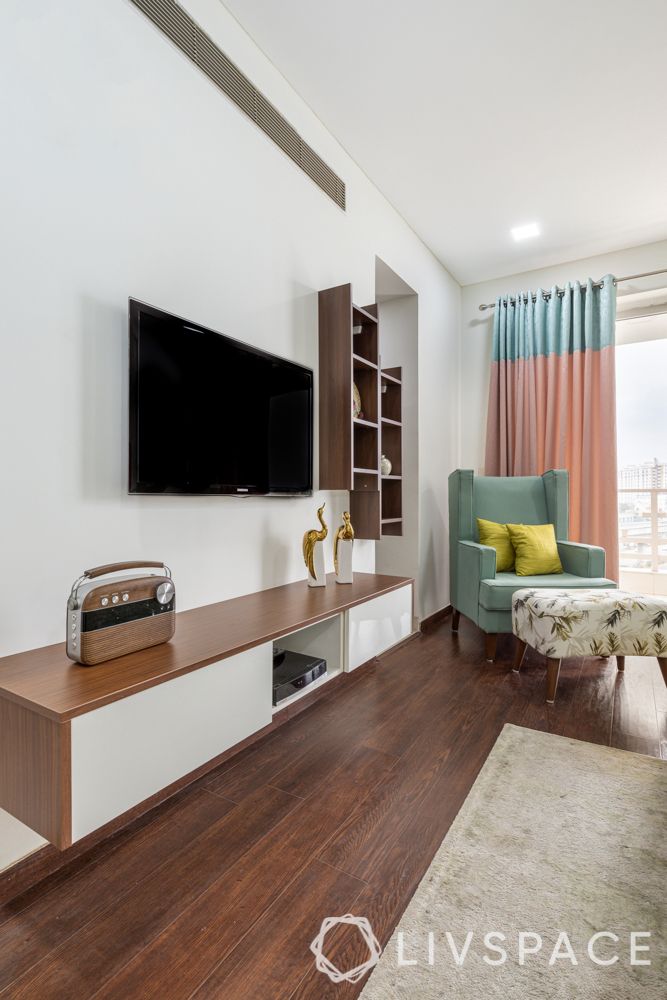 When you lack space in your home, opt for a sleek TV unit and combine it with wall-mounted shelves for storage and display.
#60: TV Design Unit that is Slim and Classy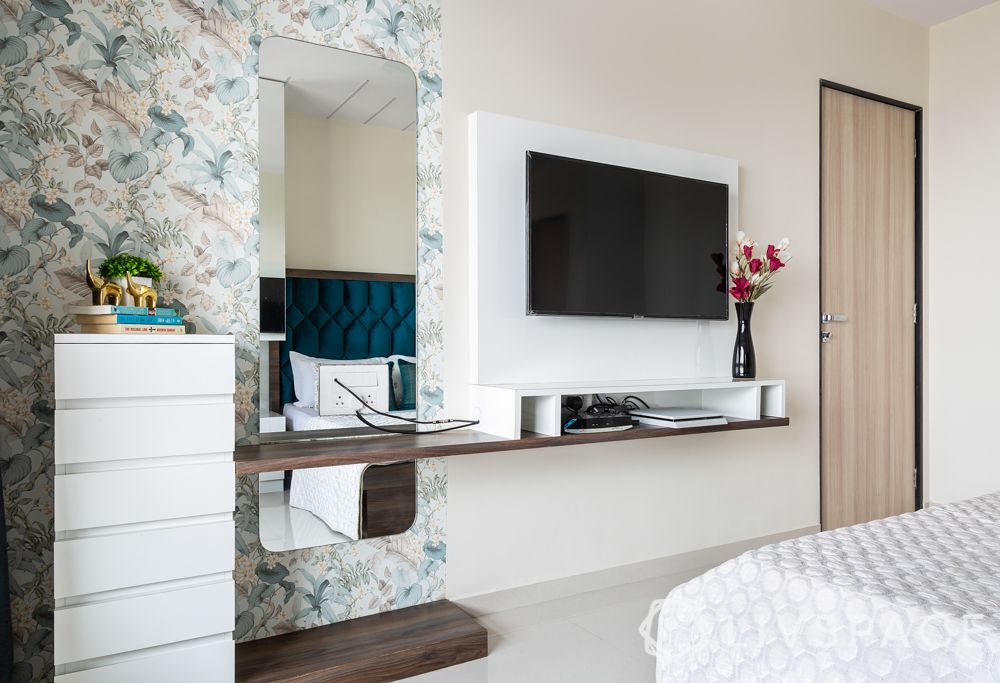 Our favourite thing about this TV unit is that it comes with a simple, sleek dresser unit and a mirror.
#61: A Pop of Yellow to Add Colour to the Living Room TV Unit Design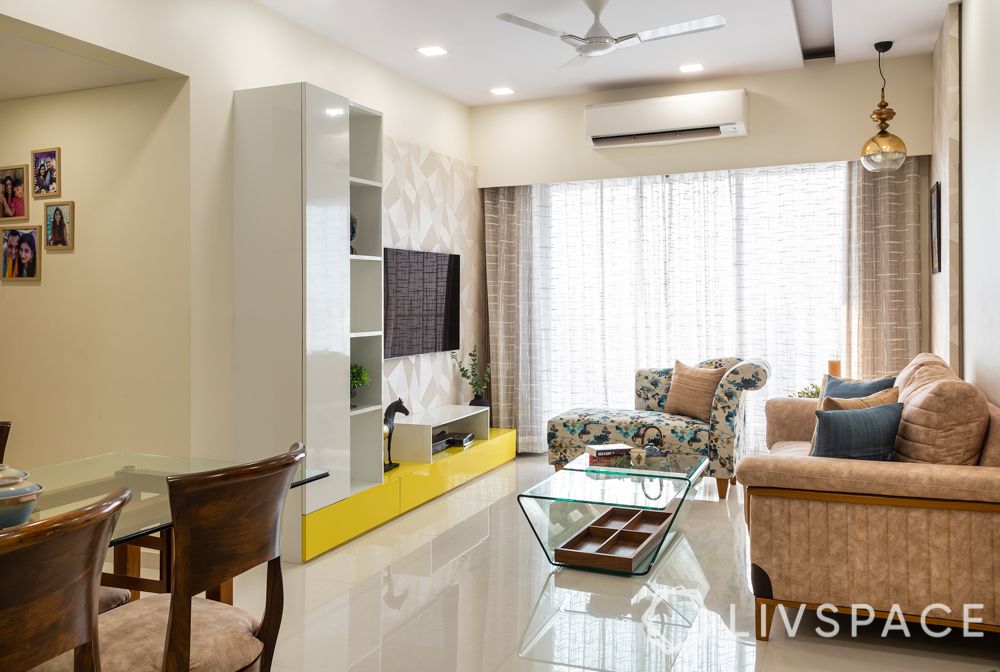 Who doesn't love a splash of vivid colours? The pop of yellow really enhances the look of the TV cabinet design.
#62: Try the Chevron-Patterned Suspended TV Unit for a Zen Vibe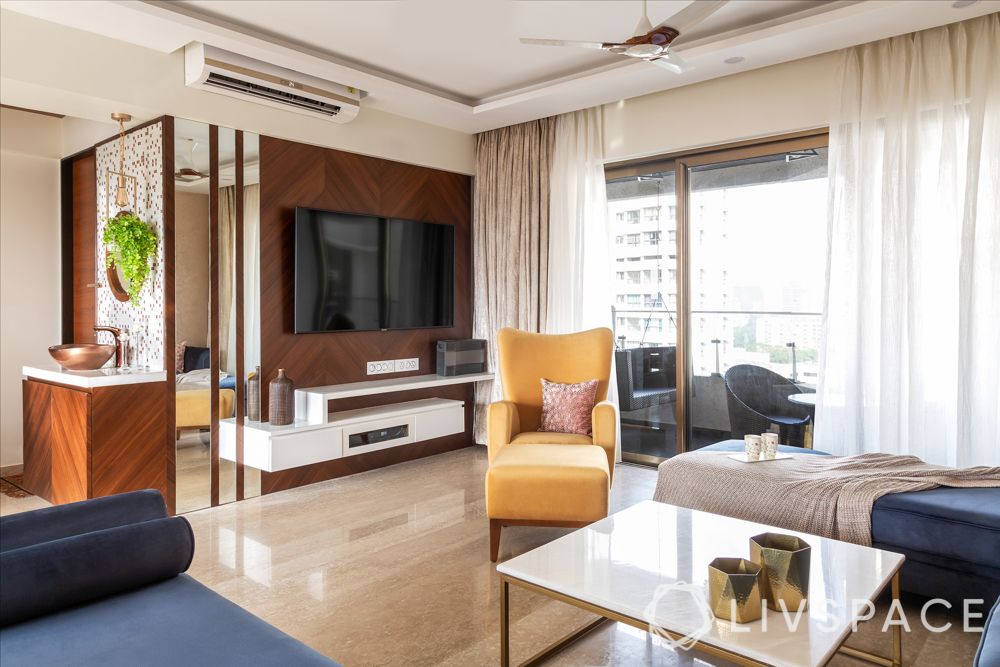 Chevron is so in, as proved by this TV unit with a chevron-patterned back panel! The suspended unit is also low-maintenance as it requires minimal cleaning.
#63: Make Sure of Your Display in a Box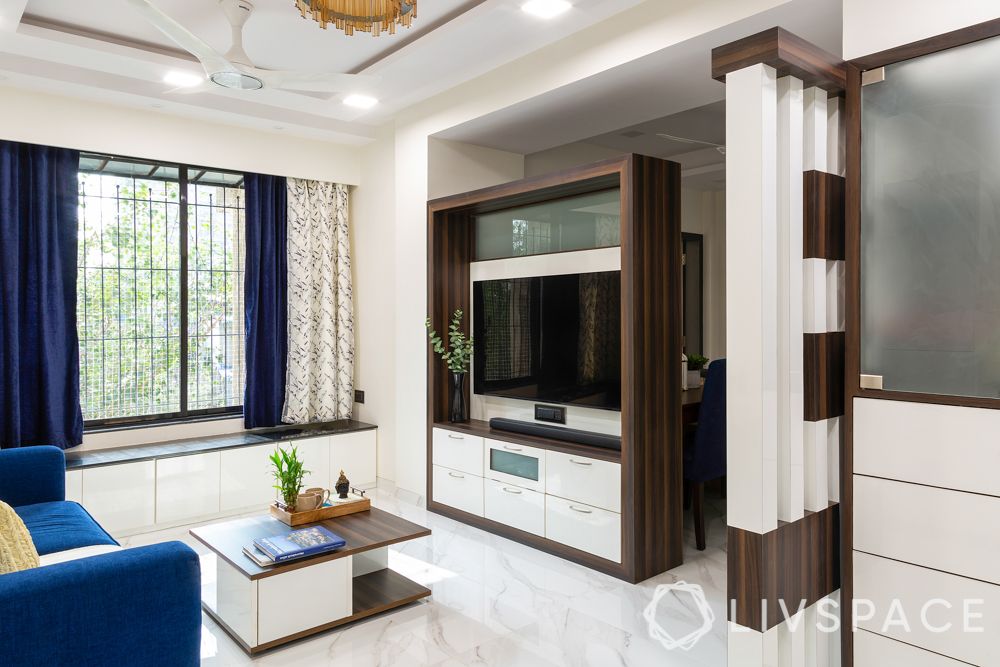 Want to enhance the look of your TV? Just get yourself a unit that looks like a box!
#64: Use a Textured Wall for a Homely Vibe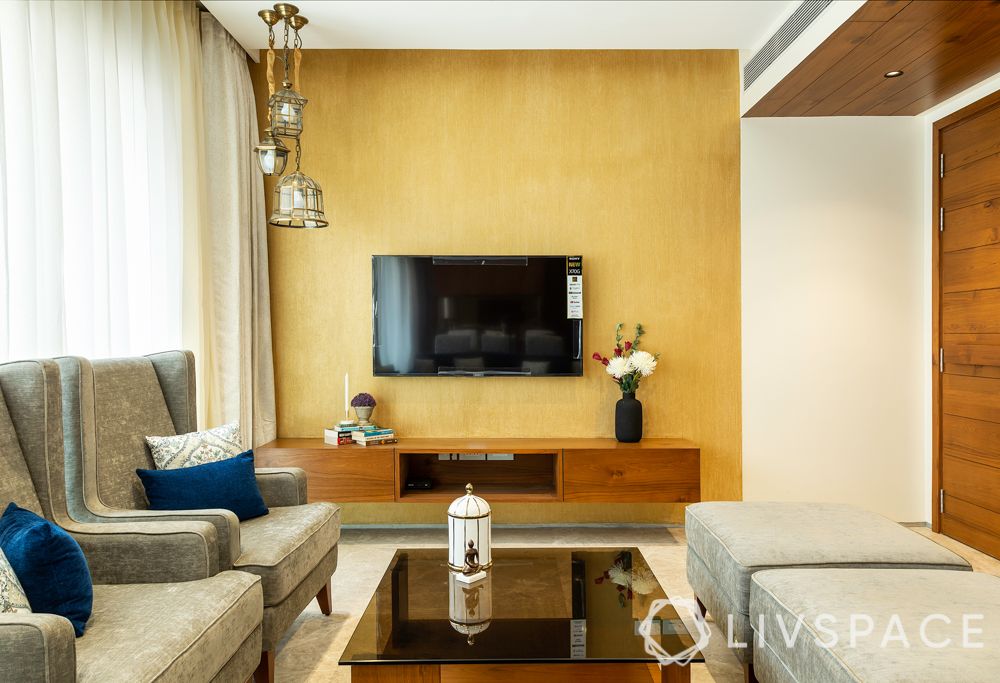 We can never get enough of accent walls! The minimal TV unit design is set off perfectly by the stunning accent wall behind it!
Sound Section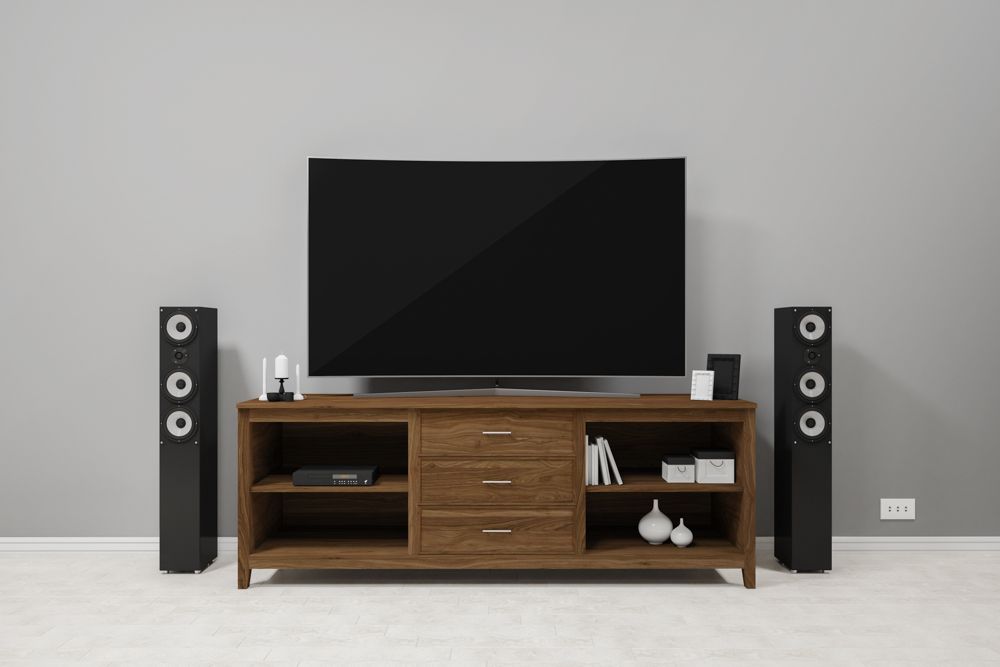 Gone are the days when a TV was just used for watching visual programs. Today, the audio is equally important. So how do you enhance the sound system of your TV unit? With the help of speakers. Depending on the experience that you want, you can choose from a variety of speakers like woofers, subwoofers, tweeters, full-range drivers and more. 
What Kind of Wood is Best for TV Units?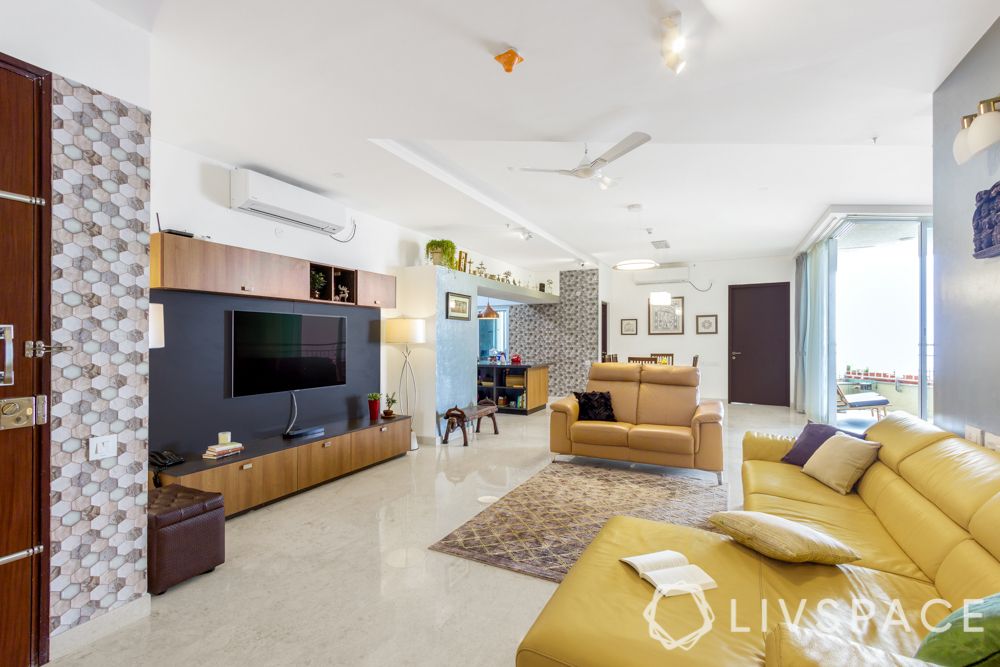 Generally speaking, most TV and entertainment units are made of wood. The reason is that wooden units look good with almost all types of interiors. Sheesham wood is considered to be the best type of wood for entertainment units as this type of wood is durable. 
Size Dimensions of a TV Unit
The above list has some amazing TV and entertainment unit options. But a TV unit will never look good if it doesn't fit the dimensions of your TV. The first step is to measure the size of your TV – the length, width and height. This will help you determine the size of your TV unit.
The next thing you need to consider is the height of the unit. While selecting the TV unit, ensure that it is at such a height that the TV is at eye level with you when you're sitting. Finally, determine the width of the unit. Always remember here that the TV cannot be wider than the TV unit. So either choose a unit that is exactly the same width or slightly wider than your TV. For instance, if you have a 55 inch TV, the width of your TV unit should at least be 70 inches.
How to Choose a TV Unit?
The TV unit can make or break the look of your room. As such, there are several factors that you need to take into consideration before you select your TV Cabinet Design.
Layout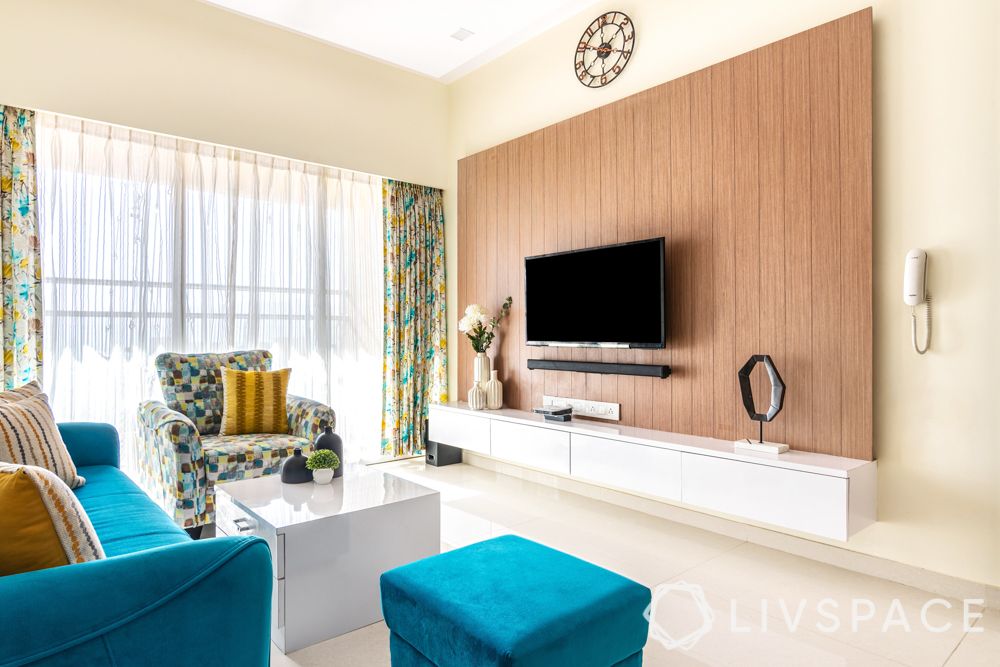 The first thing that you need to consider is the layout of the room. Your TV unit should be in sync with the room layout to ensure aesthetics. In addition, the layout also helps decide the size of the unit.
Size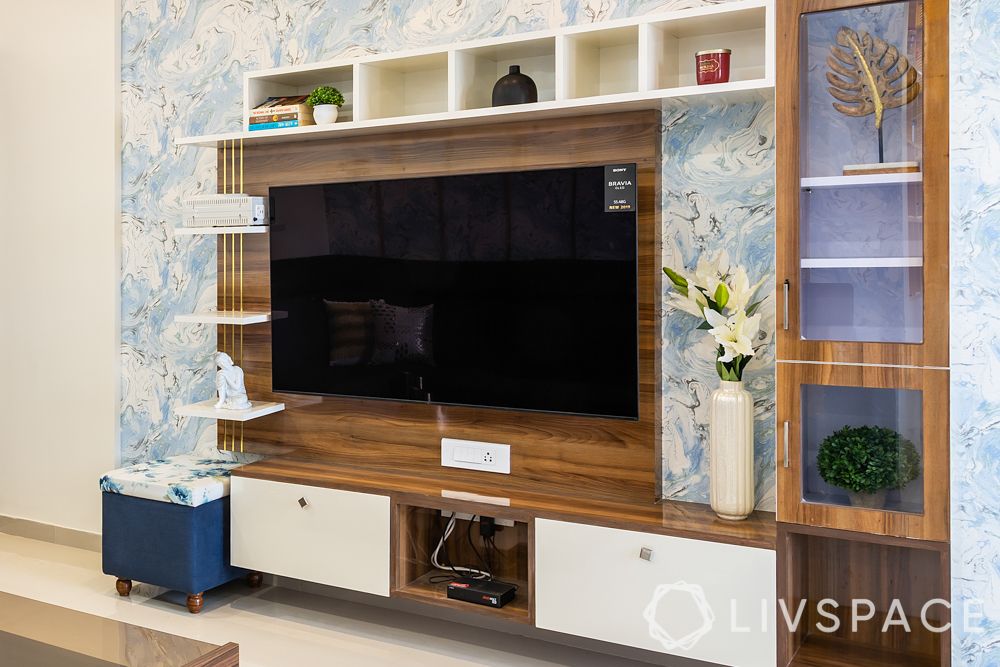 Ideally, the size of your TV unit should be larger than the size of your TV. Also, the size of the unit will depend upon the size of the room. If you have a small space, then opt for a wall-mounted entertainment unit to save space. 
Material and Colour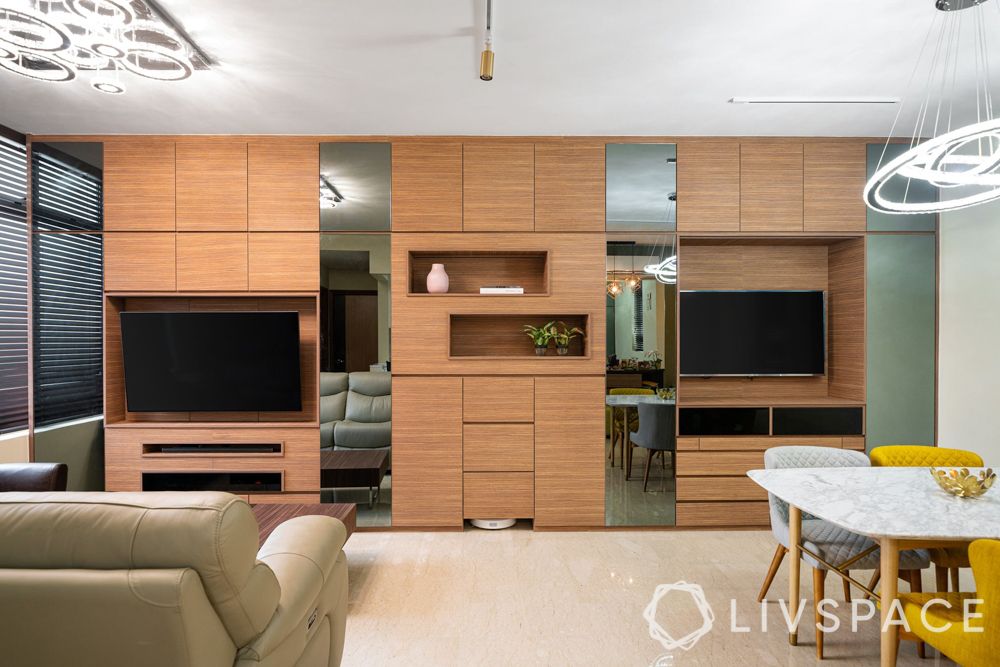 The finish and colour of your TV unit will depend on the room decor. If you want a warm, homely ambience, opt for a wooden finish and soft colours.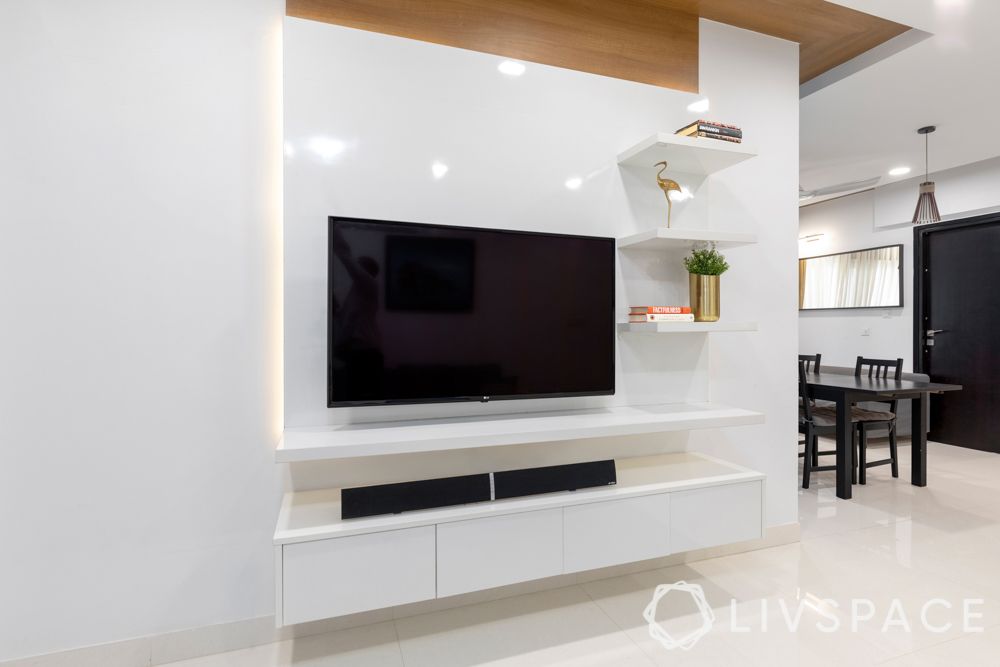 For a more modern and contemporary feel, high-end, glossy finishes and monochromatic colours will work well. 
Style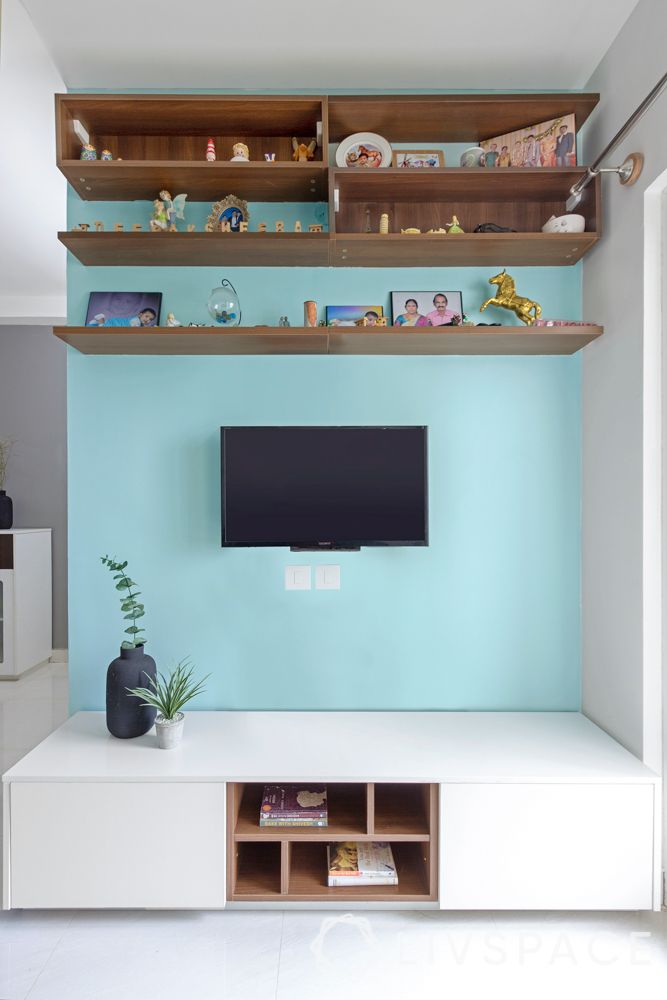 Your TV unit design should suit your lifestyle and personality. Whether you want something minimal, rustic or urban-chic – it should ultimately fit in well with the rest of your home interior design. 
With so many suggestions, we hope you loved these designs. If you need a deeper insight, we suggest you take a look at Modern Living Rooms: Design & Decor. Wondering how our customers feel about working with Livspace? You can check out the Livspace reviews here!
We love hearing from you! Write to us with your comments and suggestions at editor@livspace.com
How Can Livspace Help You?
We hope you found our ideas useful! If you want your home to be just as beautiful, then look no further. Book an online consultation with Livspace today. Delivering safe home interiors has been our No. 1 priority.
FAQs
What Is the Best Wood for a TV Unit Design?
Teak, Mahogany, Natural and Walnut finishes, among others, are available to match your TV unit furnishings. If you need modern TV design for your home, the understated aesthetic of wooden TV unit stands out the best.
What Is the Ideal Material for a TV Cabinet Design?
Metal is frequently used in contemporary TV unit designs. However, because they are available in a wide range of price points, stylish, and colour options, wooden TV unit furniture has grown extremely popular in the recent years.
What Size TV Unit Should You Have?
An ideal TV unit must be at least a few inches bigger and deeper than the TV itself. Your television set should be at least ten centimetres wider than the TV.
How Do You Dress Up a TV Stand Design That Is Empty?
On a TV stand, a collection of small decorative items like a tiny potted plant, photo frames, and framed signage looks good. You can also fill in any blank places and restore aesthetic equilibrium by accentuating it with a simple garland.