Entertainment units, like any other kind of furniture, come in a variety of styles. While each one has their individual preference when it comes to decor, sleek contemporary designs are ruling the roost at the moment. These trending modern TV unit design are typically characterised by clean lines and uncluttered structure.
The following is a curated list from Livspace homes. Some of these are bound to catch your fancy and fire your imagination.
Modern TV Unit Design #1: Wooden Laminate with White Cabinets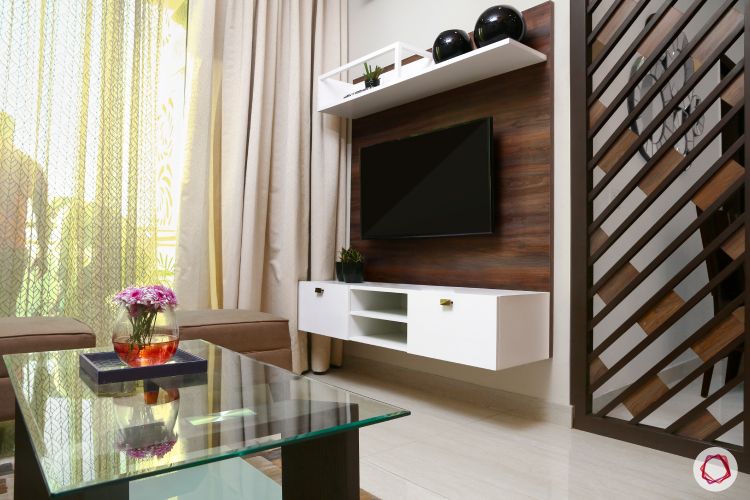 Sleek, classy and glamorous, this TV unit has all the elements of showstopper. The backlit panel makes this minimal entertainment unit stand out.
Modern TV Unit Design #2: Partitioning the Room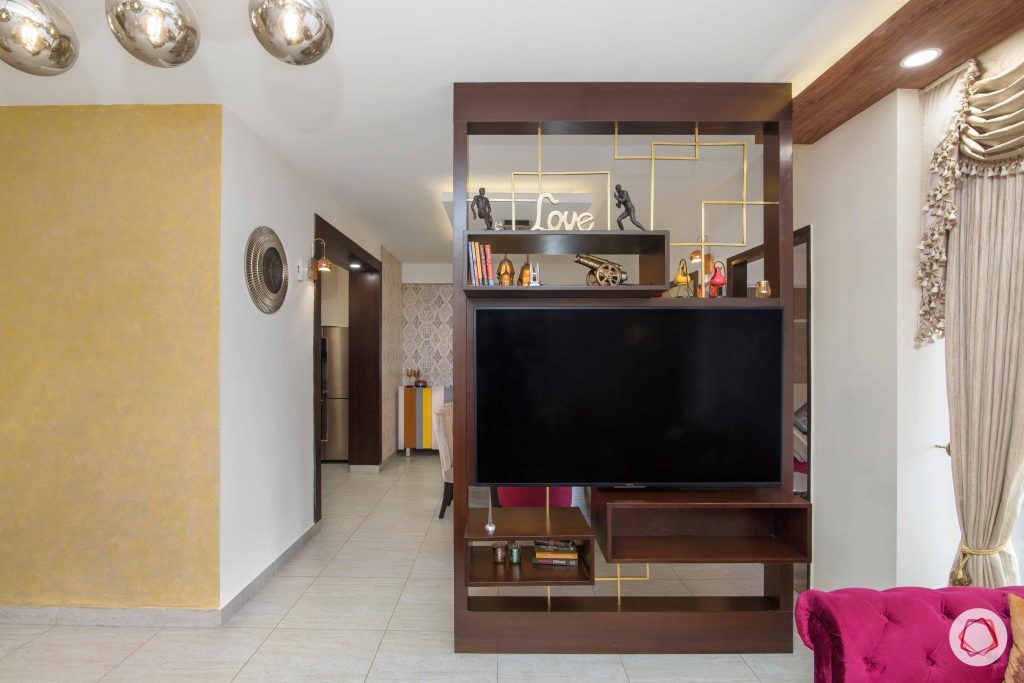 This TV unit serves two purposes: the first is that of an entertainment unit, and the second is as a partition. Such TV units can be used to segregate the living and dining areas.
Modern TV Unit Design #3: Contemporary Designs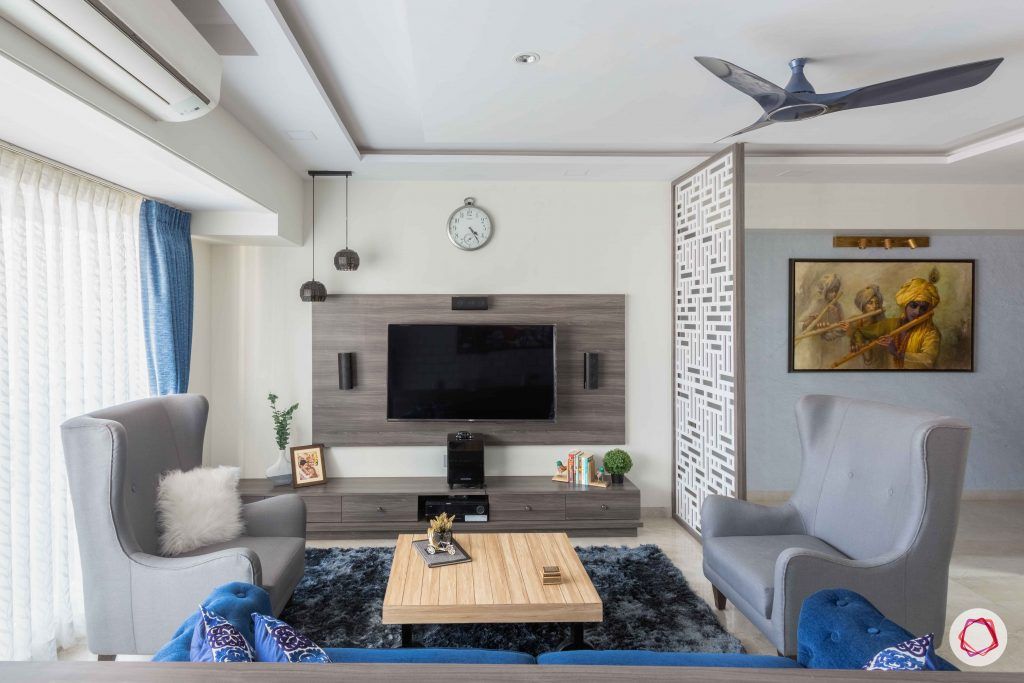 This TV unit with crisp and clean lines is a copybook example of contemporary furniture. We are particularly enthralled by the manner in which the speakers have been mounted on this unit for uniform sound distribution.
Modern TV Unit Design #4: Monochrome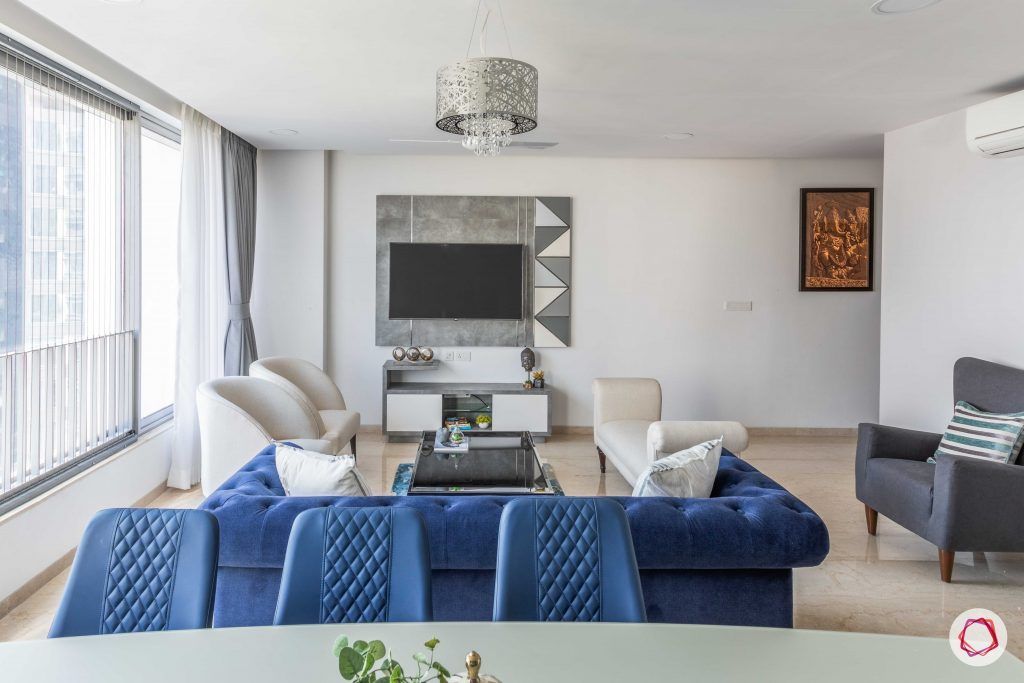 A back panel and a compact base unit comprise this sleek and utilitarian TV unit. Moreover, the zig-zag patterned tiles of the side panel highlight its monochrome magic.
Modern TV Unit Design #5: Brilliant White Entertainment Unit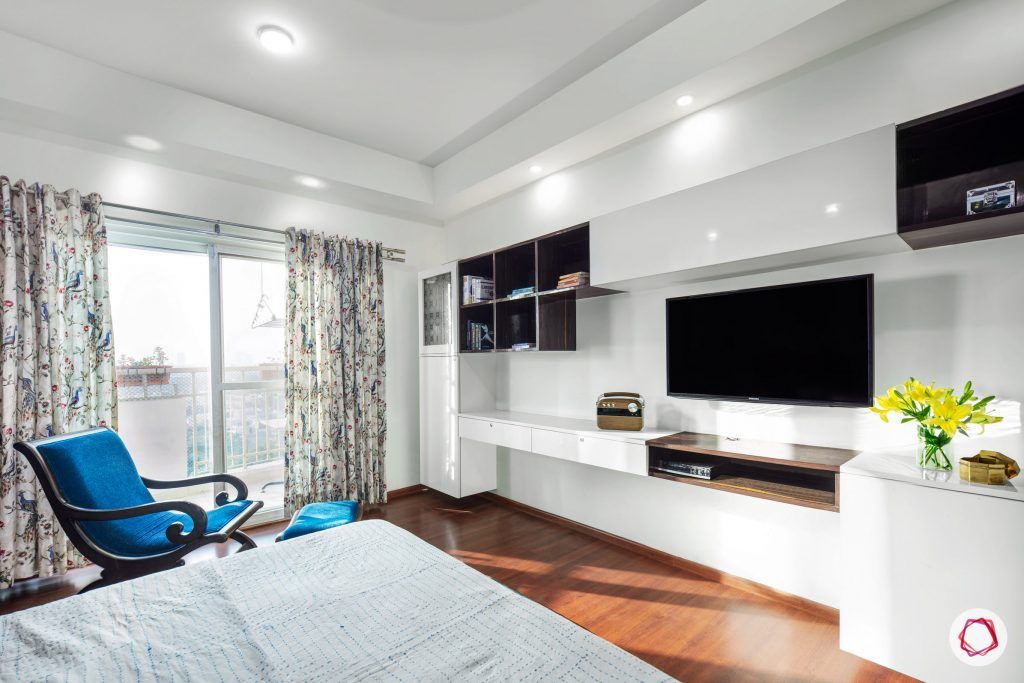 Love whites? Go for the whole hog with white furnishings. TV units in white may tend to look a little flat, so add some wooden tones to keep things interesting.
Modern TV Unit Design #6: Compact yet Interesting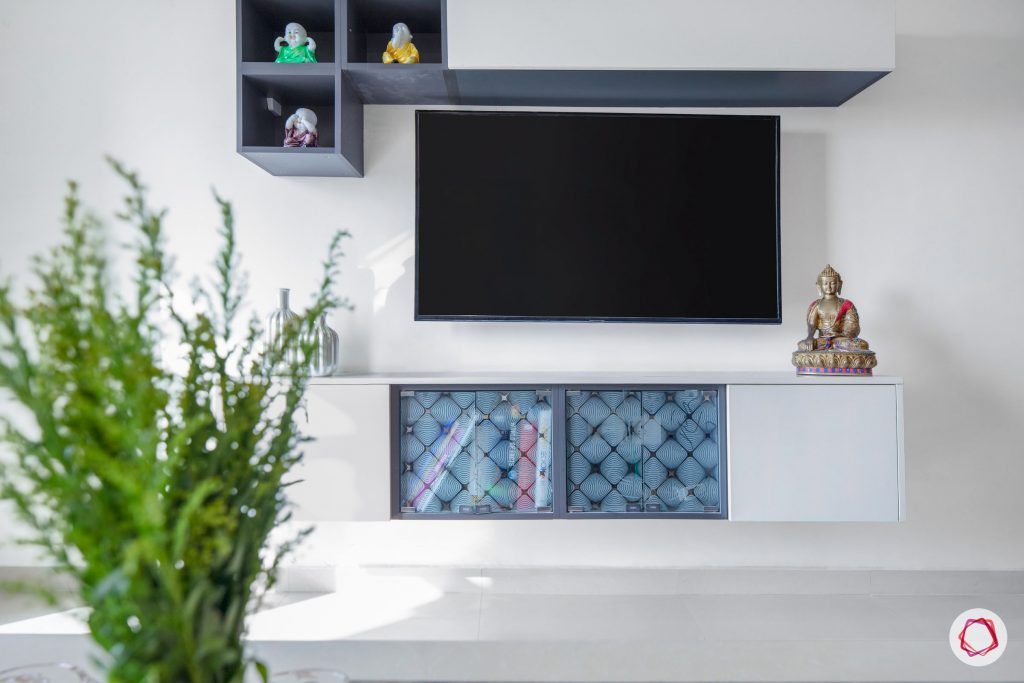 Bulky furniture often eats up floor space and makes the room look cramped. So floating TV units like this one are a godsend for small living rooms. You can add an interesting element like the blue cabinets here.
Modern TV Unit Design #7: Peachy Television Unit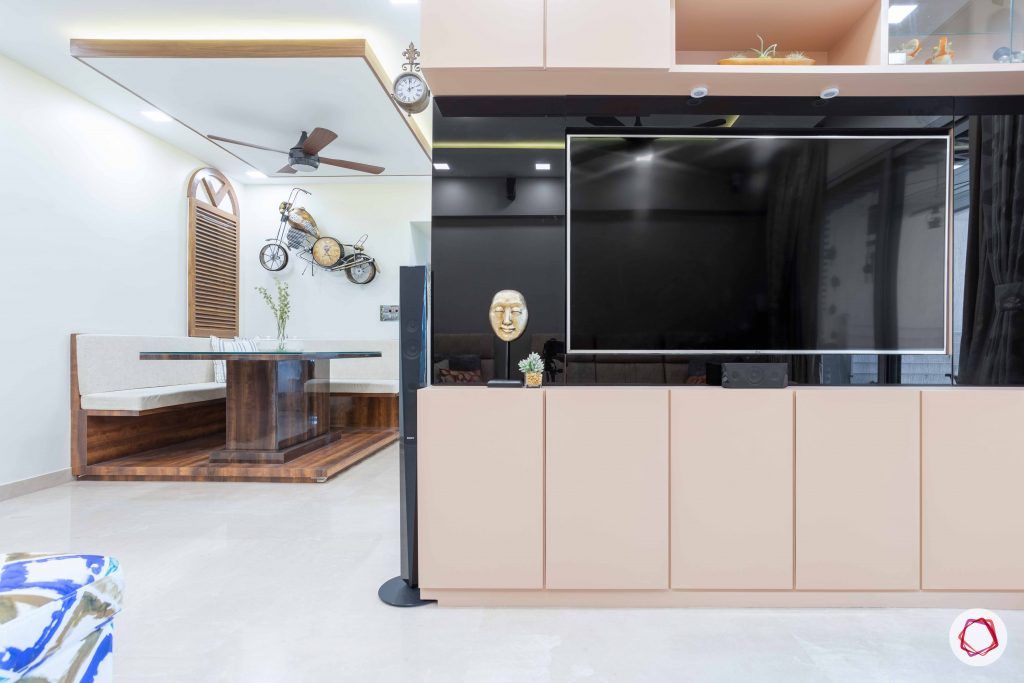 The peach pop of this TV unit is adding a dash of vibrance to the living room. Additionally, black lacquered glass complements the peach coloured laminate shutters to perfection.
Modern TV Unit Design #8: Floating Entertainment Unit
This floating TV unit takes up bare minimum space due to its compact design. Moreover, the clear glass shutters help to accentuate space. Such uncluttered designs are ideal for media walls in small spaces.
Modern TV Unit Design #9: Symmetrical in Black and White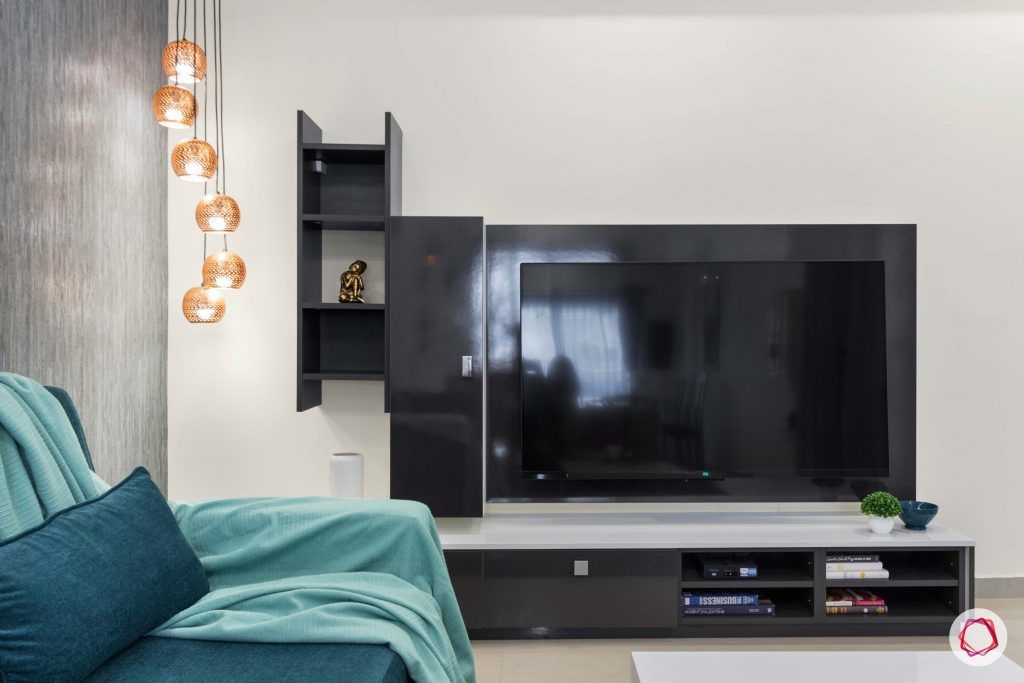 While white opens up space, black adds a sophisticated vibe to the decor. For instance, this TV unit with a combination of open and closed shelves, displays innate symmetry and looks classy by virtue of being black.
Modern TV Unit Design #10: Contemporary Aqua Blue Unit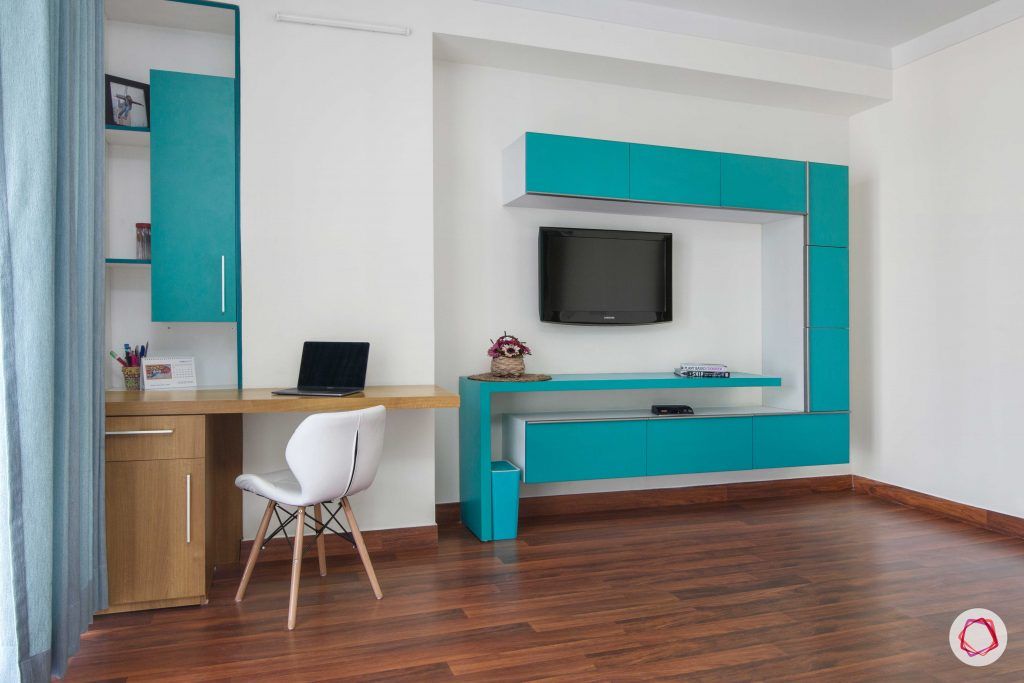 A soothing splash of aqua blue makes this TV unit pop against the backdrop of white walls. The design is inherently contemporary with neat lines and a compact structure.
Modern TV Unit Design #11: Entertainment Unit with Floating Shelves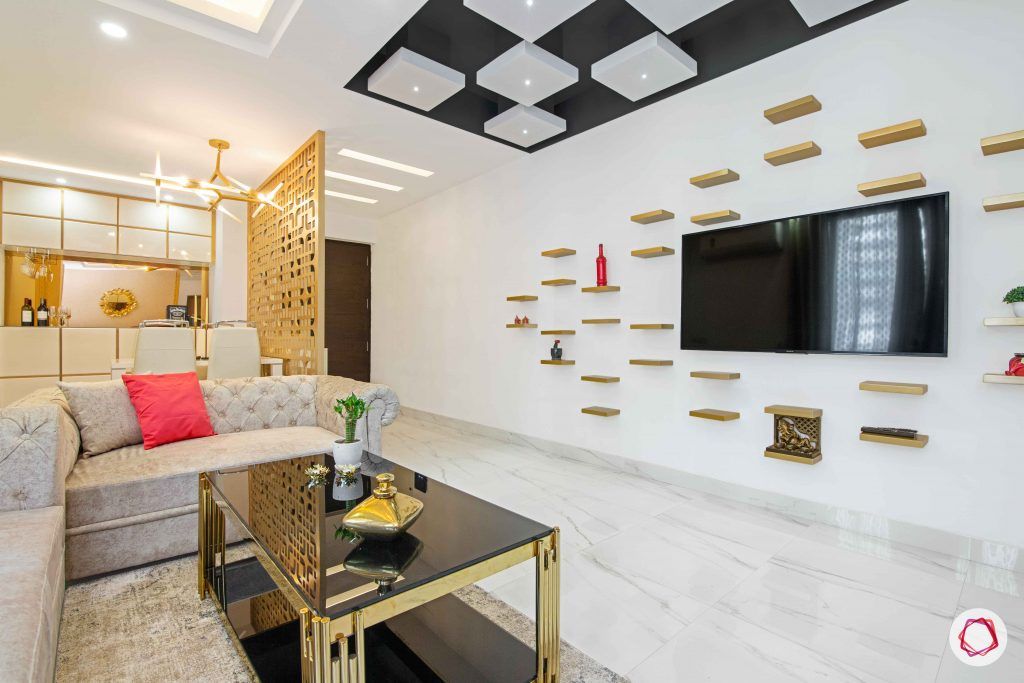 This TV unit design is a rather uncommon one and you can try it if you have a massive bare wall. The base unit is conspicuously absent. The unit per se comprises a wall-mounted TV and a smattering of floating shelves around it.
Modern TV Unit Design #12: Sleek and Stunning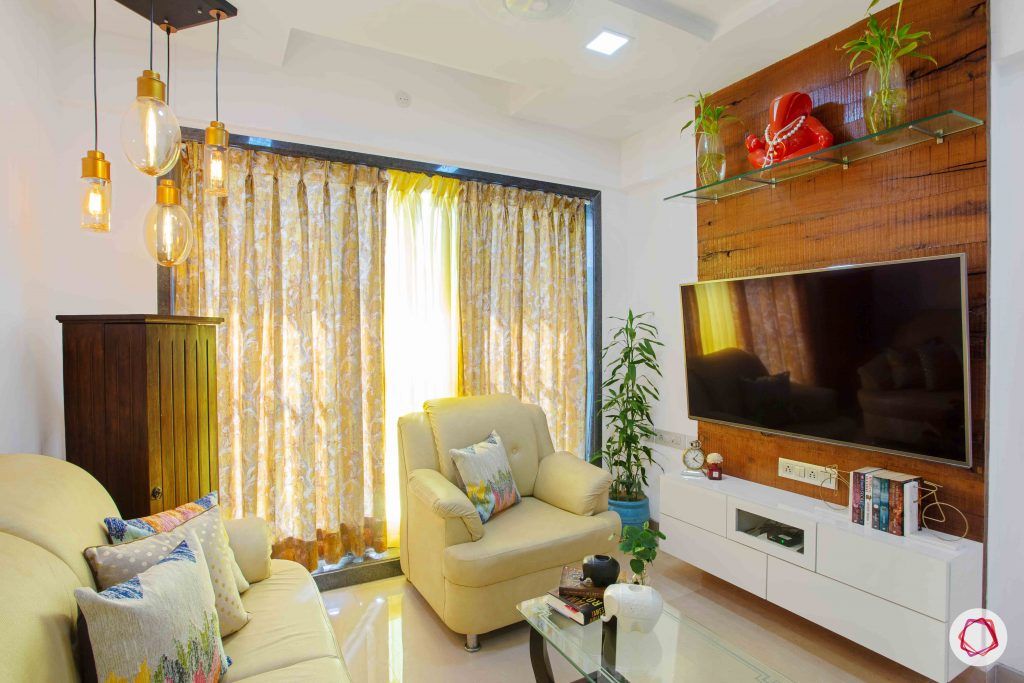 When space is scarce, a TV unit design like this one is a great pick. The wooden panel behind the TV adds texture to the space while the white base unit provides a sleek look. Moreover, the glass shelf above the TV is transparent and hence doesn't eat up space.
Modern TV Unit Design #13: Mounted Television Unit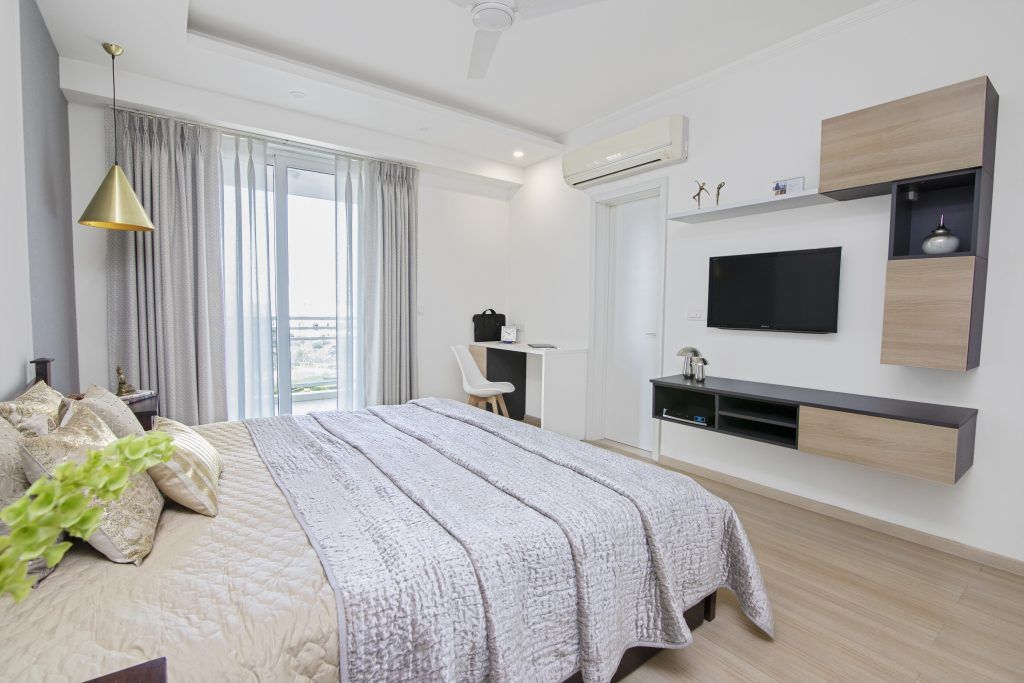 This wall-mounted TV unit stands in white and brown and brightens up the room. Lighter shades of wood helps to create a well-lit look.
Modern TV Unit Design #14: Minimalism is key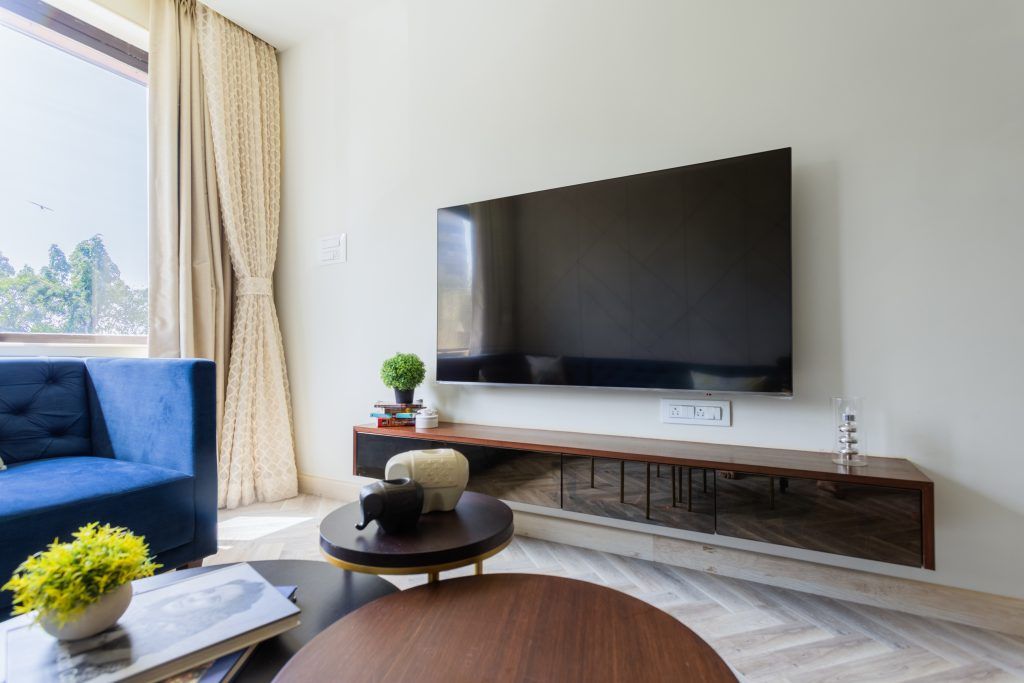 Contemporary and sleek your kind of style? Take cues from this minimal back painted glass TV unit. It looks picture-perfect mounted on the wall.

Modern TV Unit Design #15: Taupe Entertainment Unit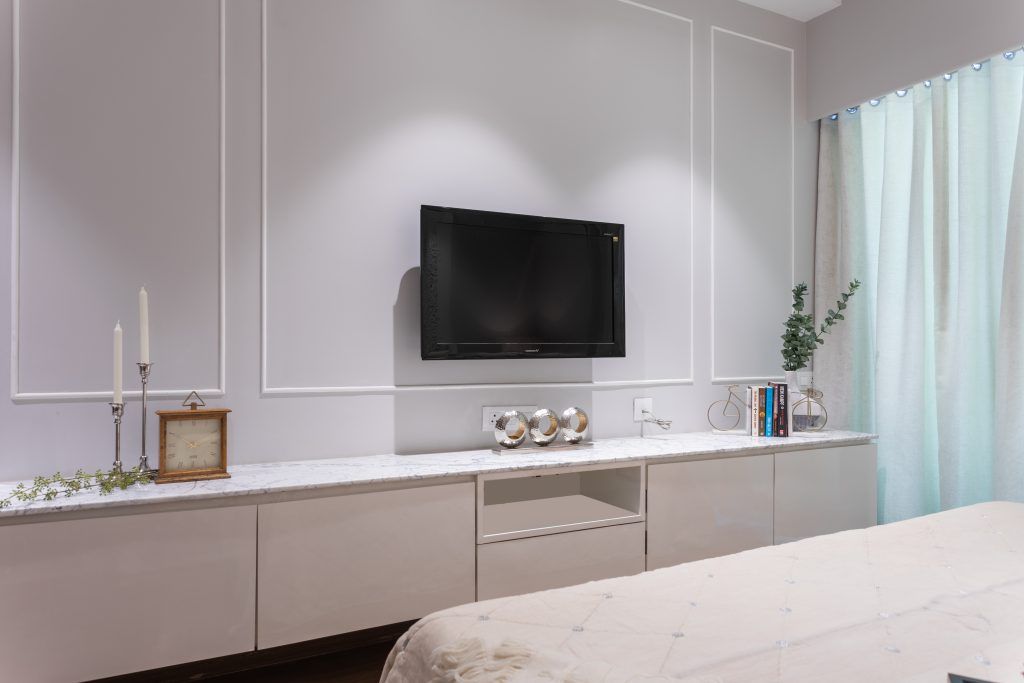 Something regal and refined, maybe? How about a taupe unit with a pristine white top? It makes for a perfect addition in a soft-toned bedroom.
Modern TV Unit Design #16: Glossy TV Unit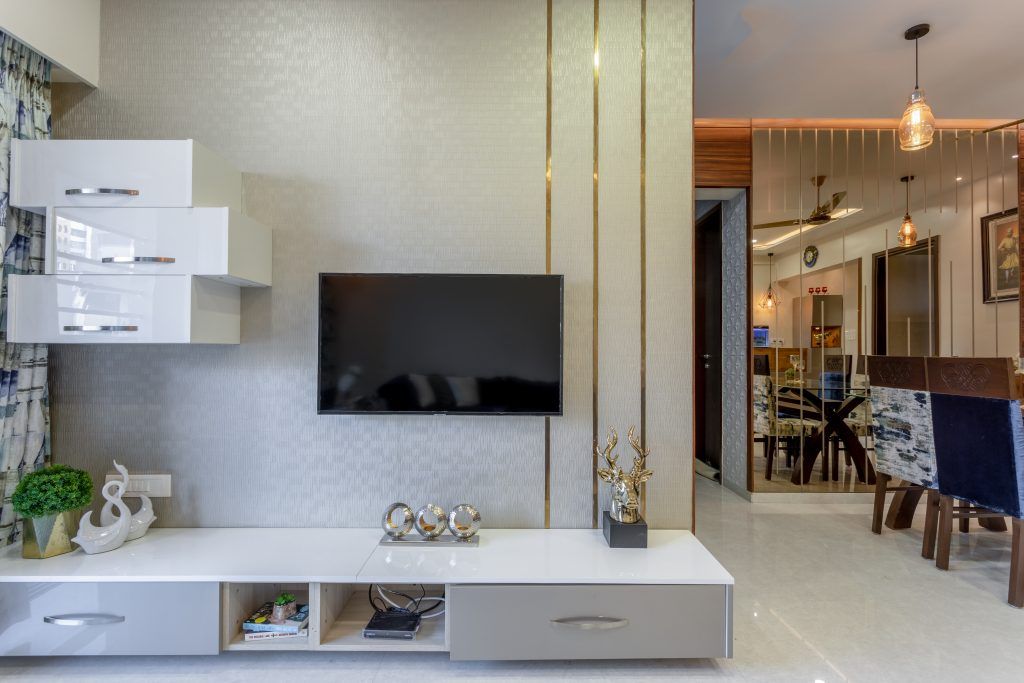 Something regal and refined, maybe? How about a taupe unit with a pristine white top? It makes for a perfect addition in a soft-toned bedroom.
Modern TV Unit Design #17: Wall-mounted TV Unit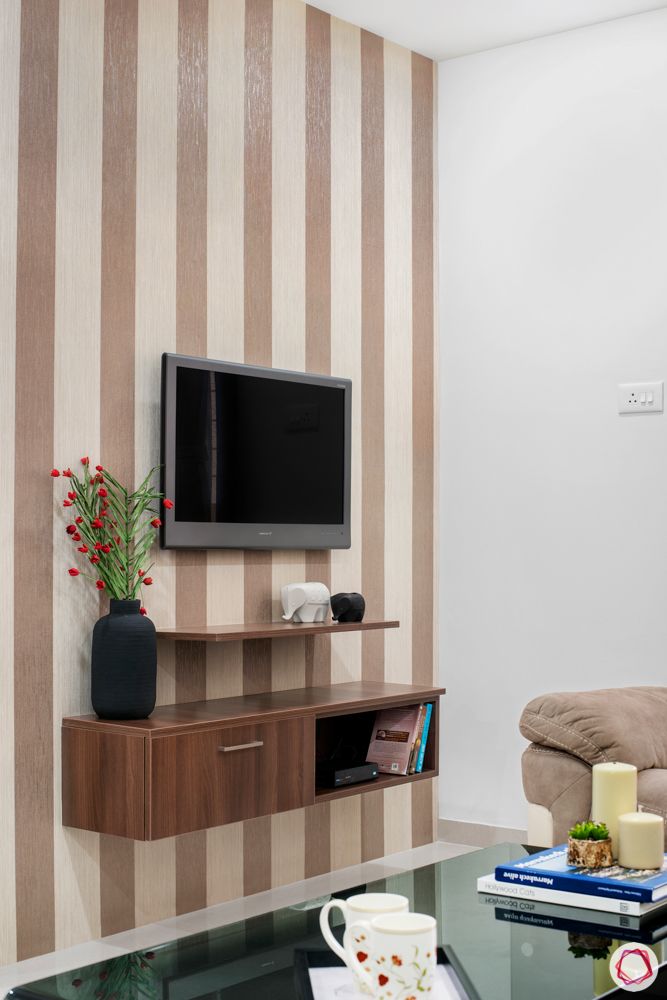 Entertainment units can fit in snug nooks as well. Like this one in an ash grey wooden panel coupled with a hollow white unit. We love the pop of chevron in one end!
Modern TV Unit Design #18: Wooden Television Unit
If traditional wooden furniture is all your all-time favourite, you will love this gorgeous chestnut unit. It's got ample storage as well!
Modern TV Unit Design #19: TV Unit cum Study Table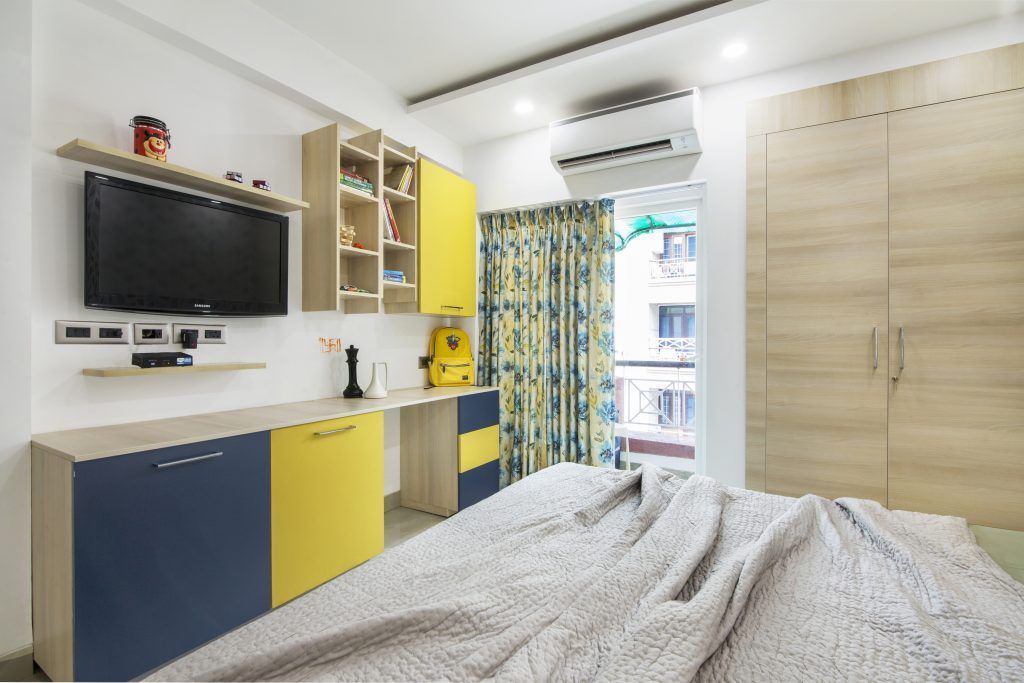 Entertainment units that double as work tops are ideal for the bedroom. Sunny yellow and Persian blue certainly liven up the room as well!
Modern TV Unit Design #20: Sand-coloured Entertainment Unit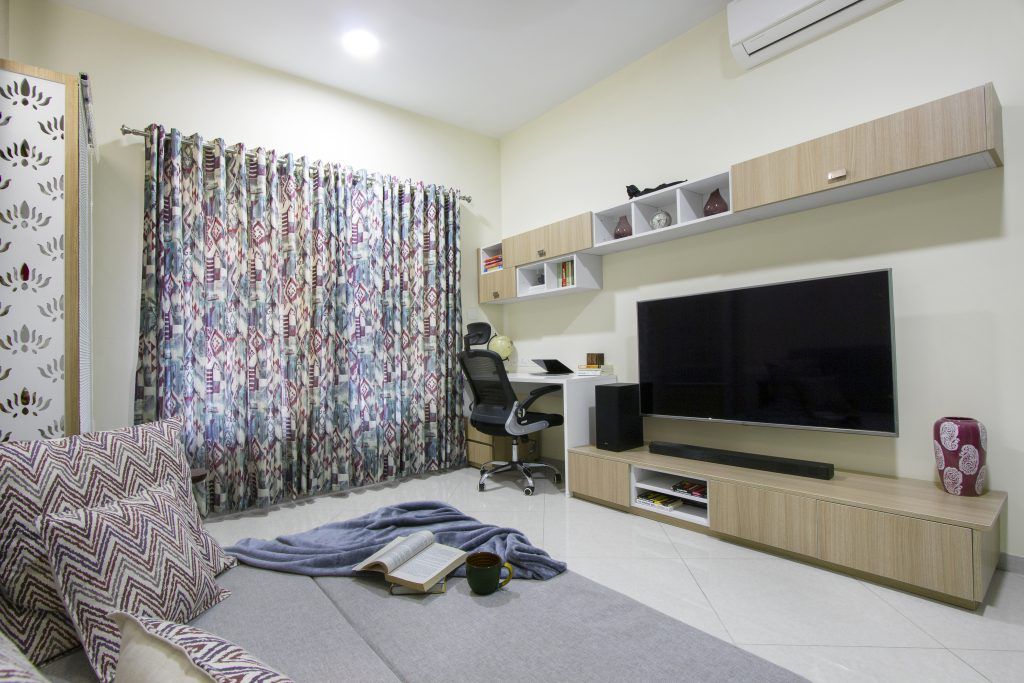 This bedroom appears well-lit thanks to a sand-coloured TV unit. The wall-length unit comes with ample storage and open shelves to display pictures and artwork.
Modern TV Unit #21: Ensure Ample Storage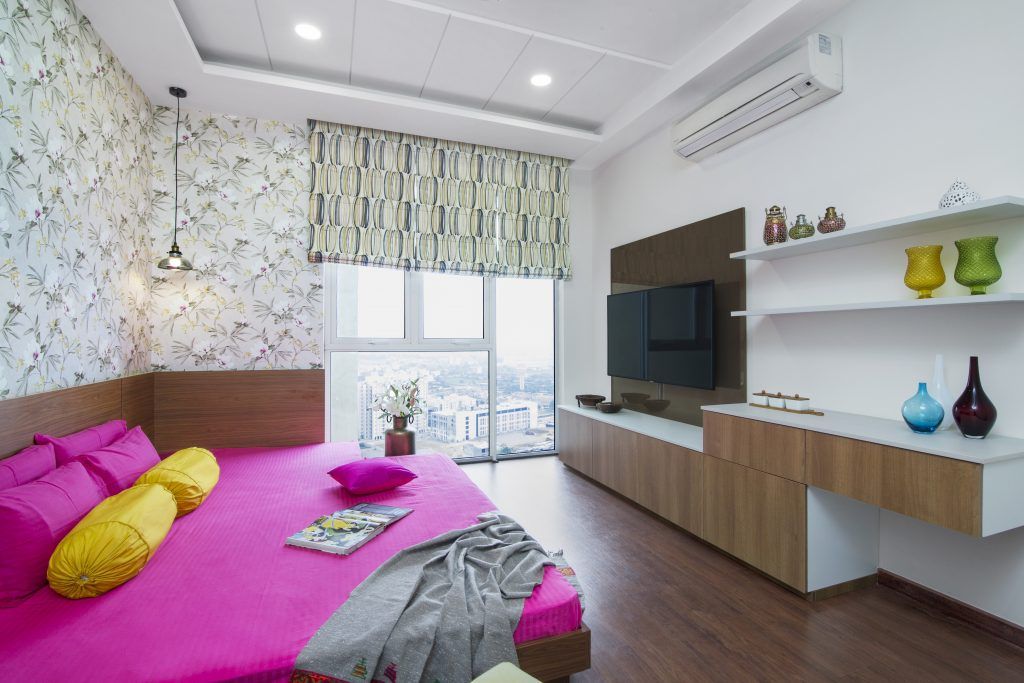 A completely functional TV unit is the star of this room. Featuring ample storage, display and even space as a worktop.
Modern TV Unit #22: Glossy White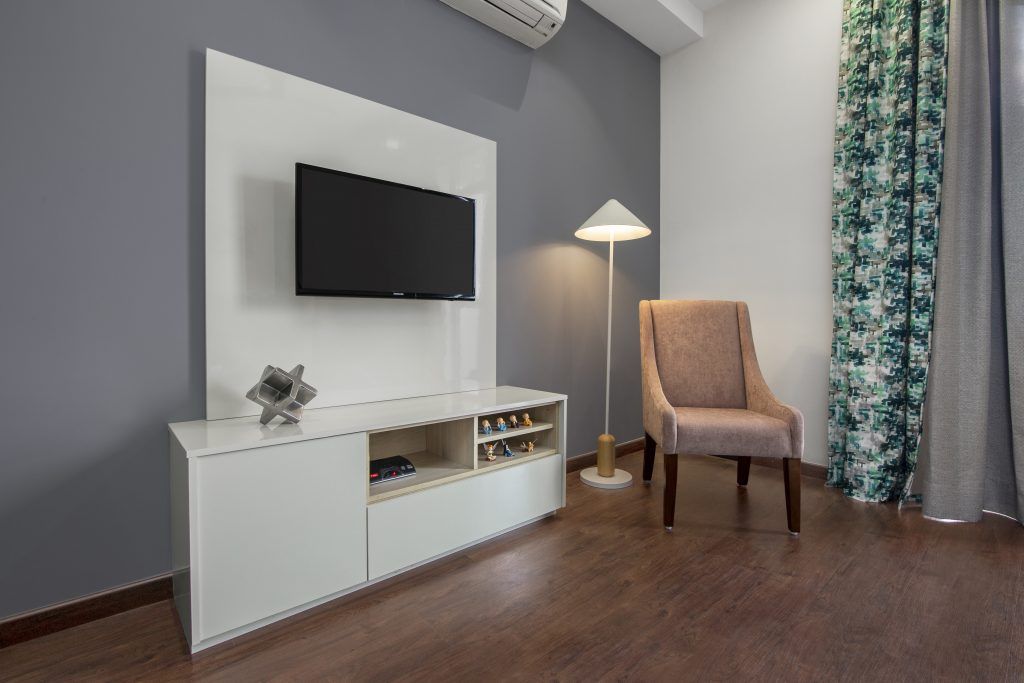 When it comes to something simple yet chic, it's tough to beat a completely white unit. Especially if it's glossy and compact!
Modern TV Unit #23: Warm and Chocolatey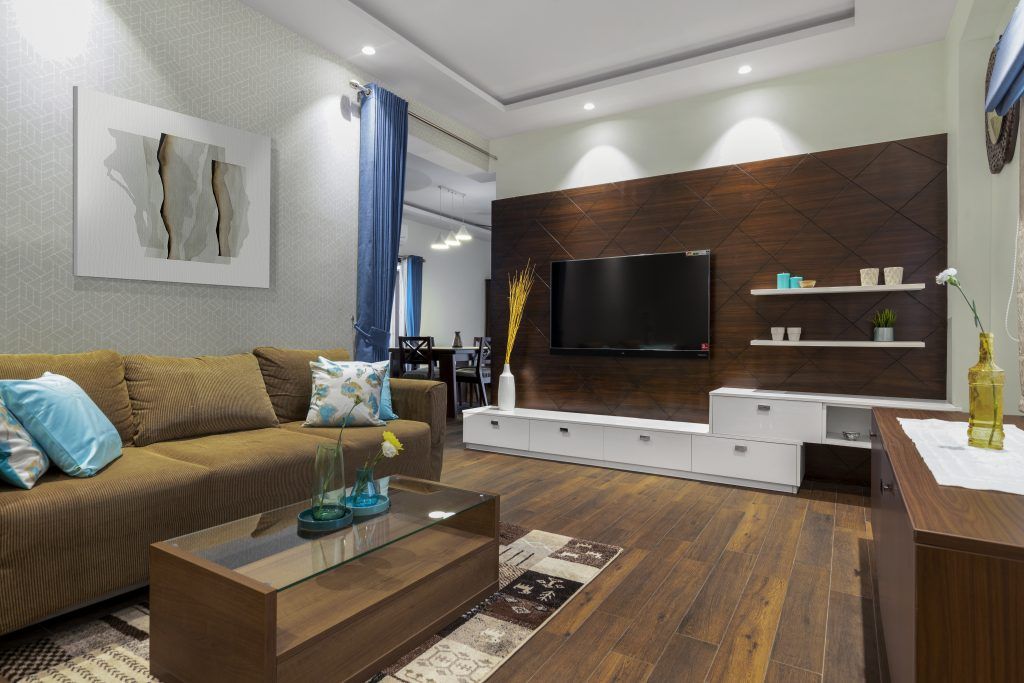 A rich chocolate TV panel takes the limelight of the living room. We love how it's being highlighted under the spotlights from the false ceiling.
Modern TV Unit #24: Marsala and Wood Entertainment Unit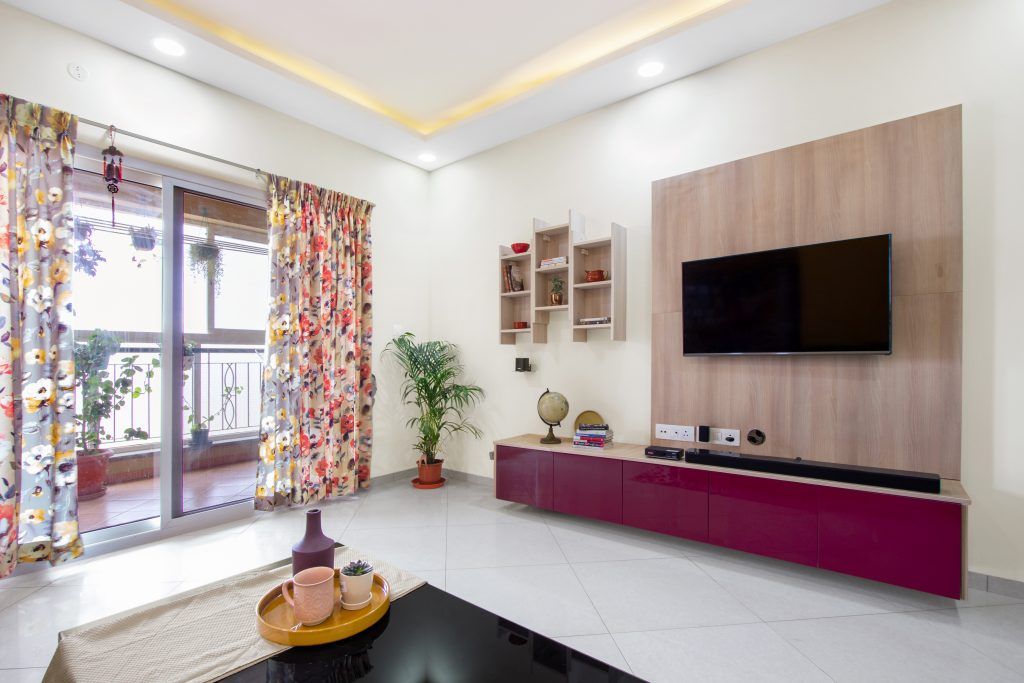 A sleek marsala unit paired with a light wooden panel takes the centrestage in this living room.
Modern TV Unit #25: Entertainment Unit with Shelves and Storage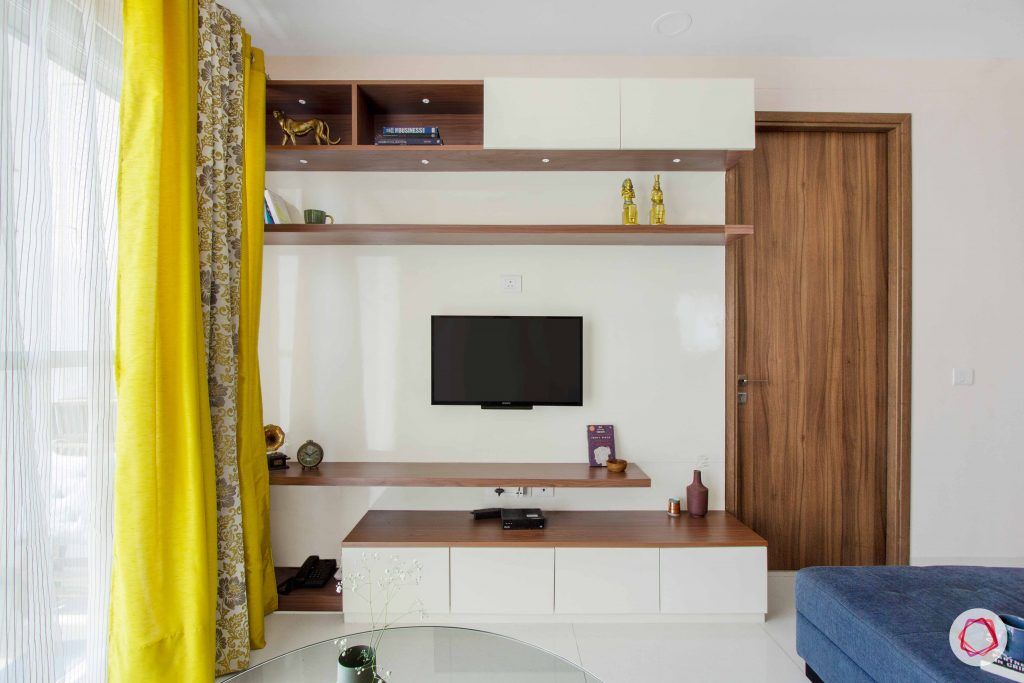 Wall ledges paired with open and closed shelves make for the perfect display-cum-TV unit.
Modern TV Unit #26: Combining work and play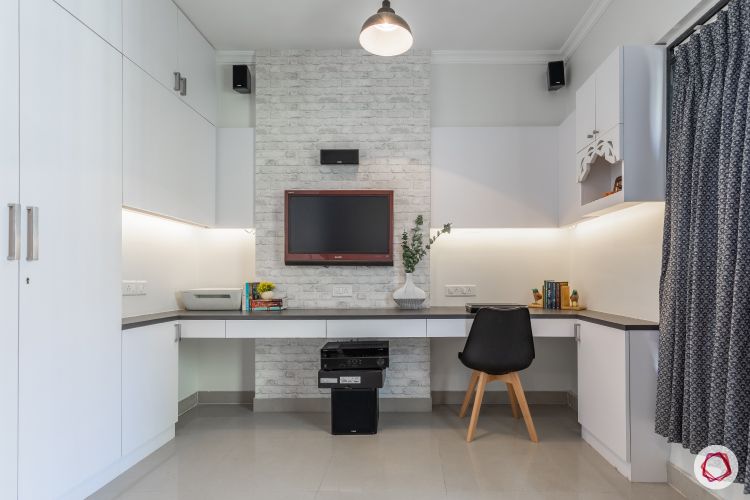 A television can be part of your work-cum-entertainment room. Just mount it on the wall and back it up with a statement wallpaper like this one.
Modern TV Unit #27: Revolving TV Unit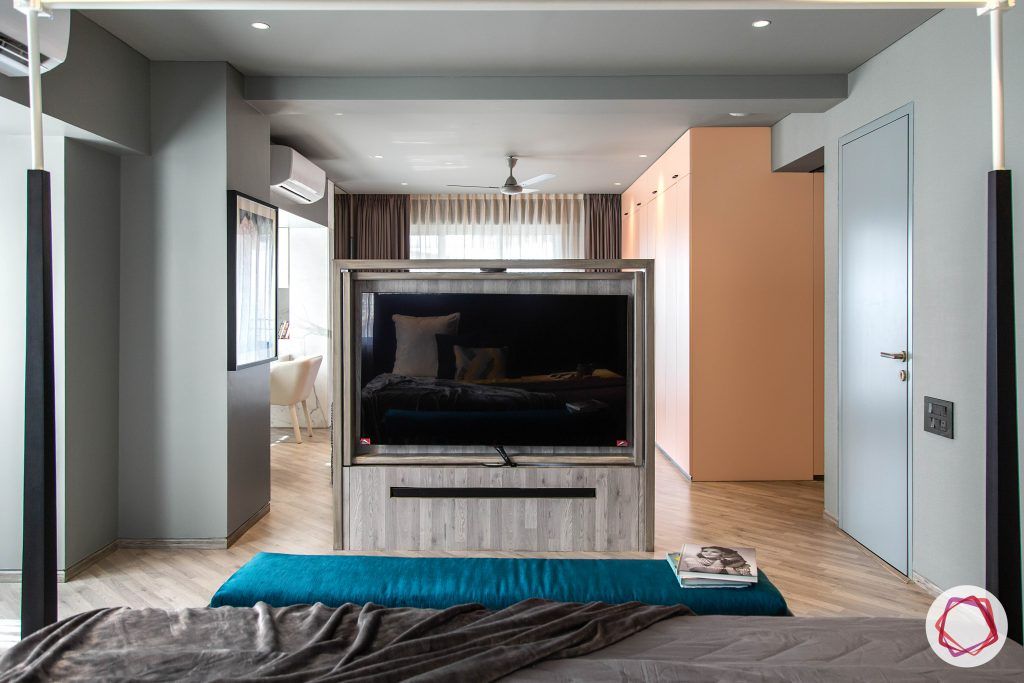 A revolving television anyone? This quirky TV unit has a provision for changing sides so that one can sleep while the other enjoys late night soccer games!
Modern TV Unit #28: Industrial-style Unit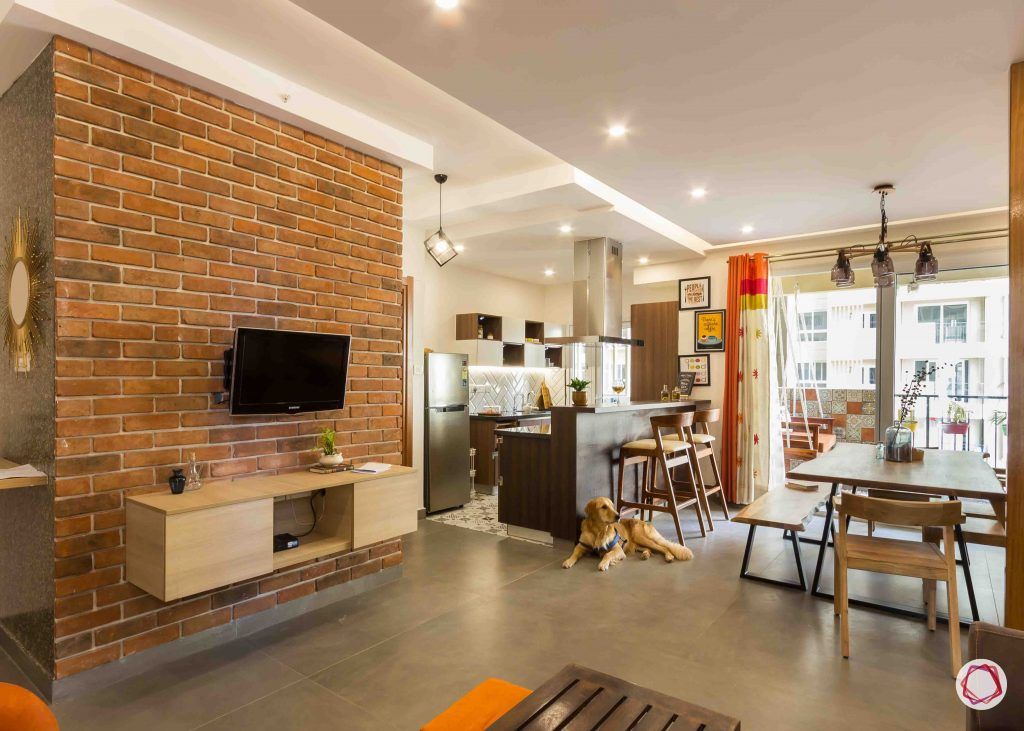 Go industrial with an exposed brick wall as the backdrop for your entertainment unit.
Modern TV Unit #29: Entertainment Unit cum Bookshelf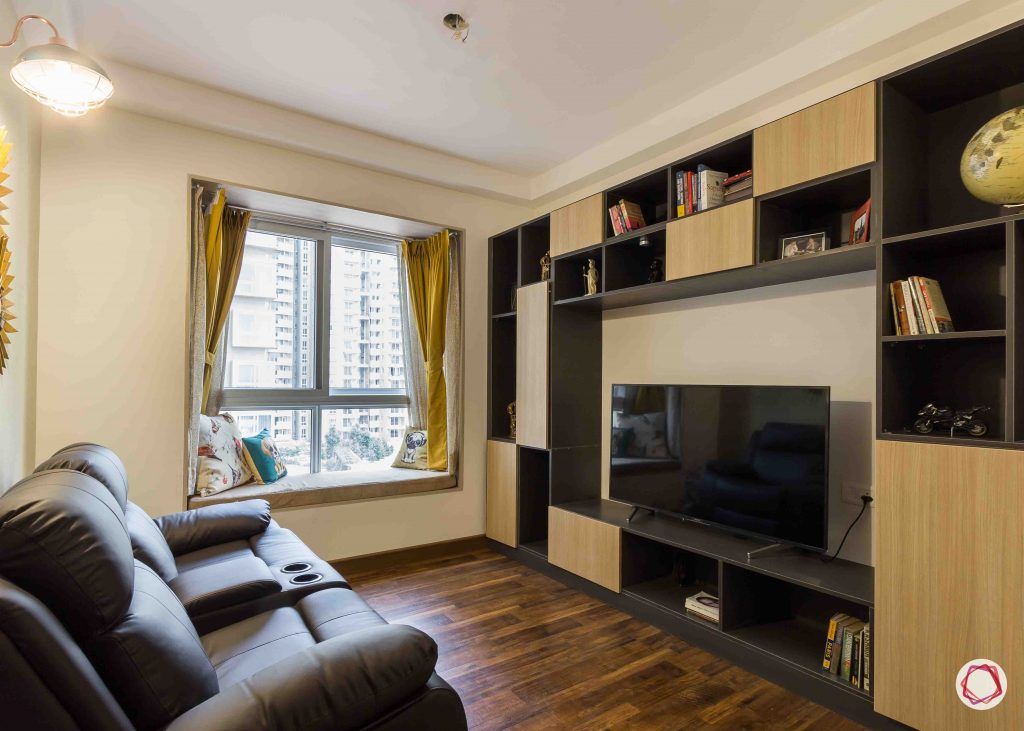 When you have a world of books and files to store and display, opt for a full-fledged wall unit like this.
Modern TV Unit #30: Traditional Entertainment Unit
We love the concept of drawers with cute knobs and grid-style shelves for display on top, for this TV unit.
Modern TV Unit #31: Classic Wooden Unit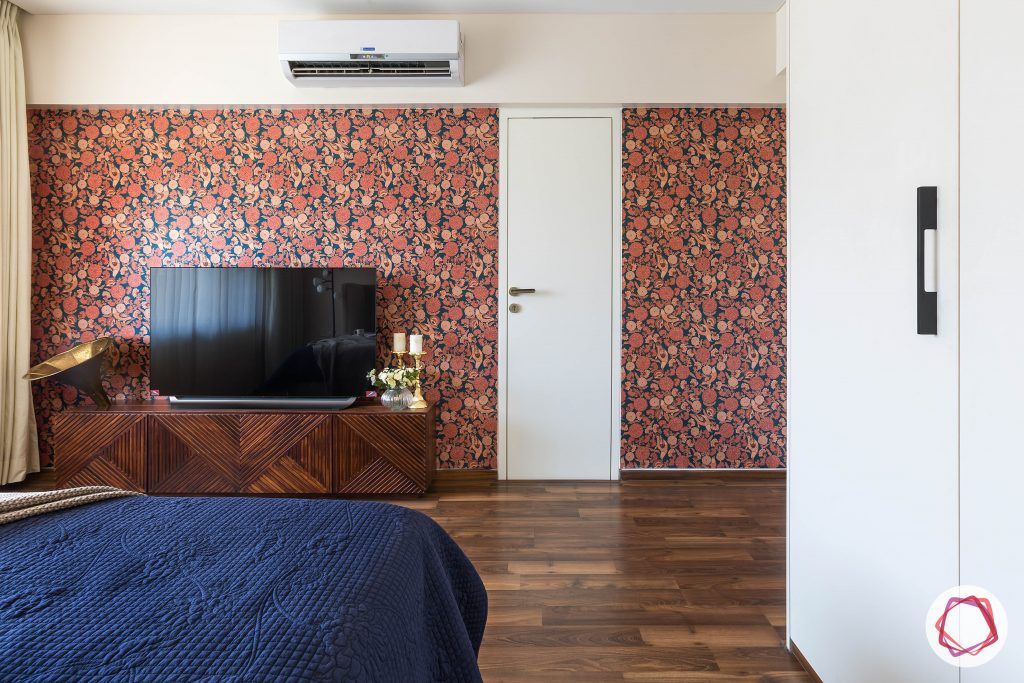 All you need sometimes, is a pretty printed wallpaper and a classic wooden TV unit to complete the look of a room. Before you ask, that's a Sabyasachi wallpaper!
Modern TV Unit #32: Grey and White Entertainment Unit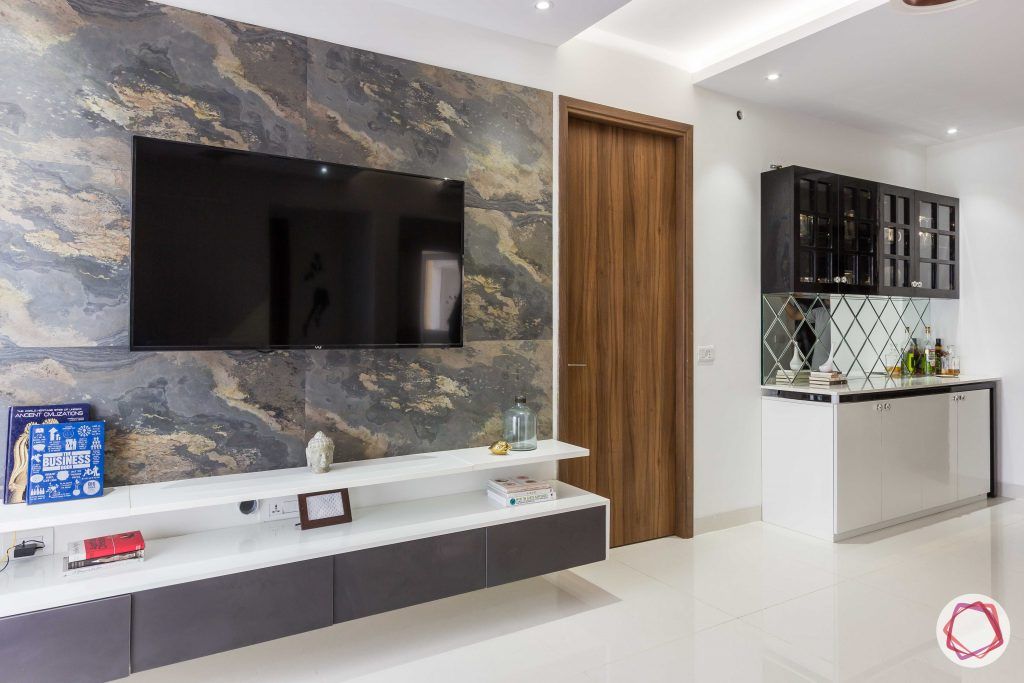 Stone-finish wall tiles paired with a grey and white TV unit look fetching in this living room.
Modern TV Unit #33: Sliding Doors on an Entertainment Unit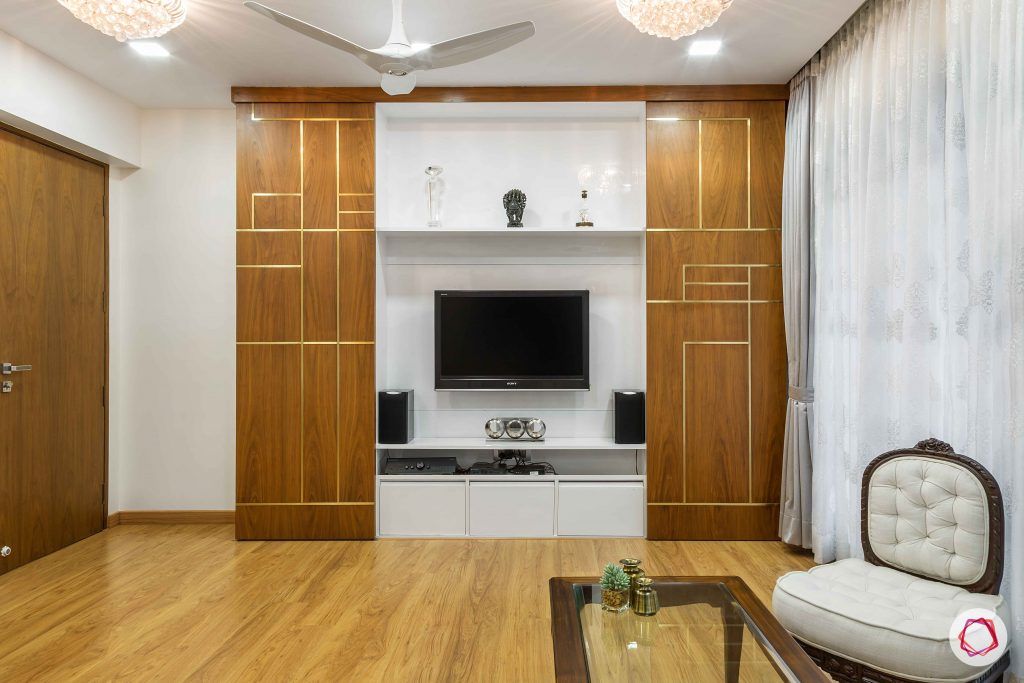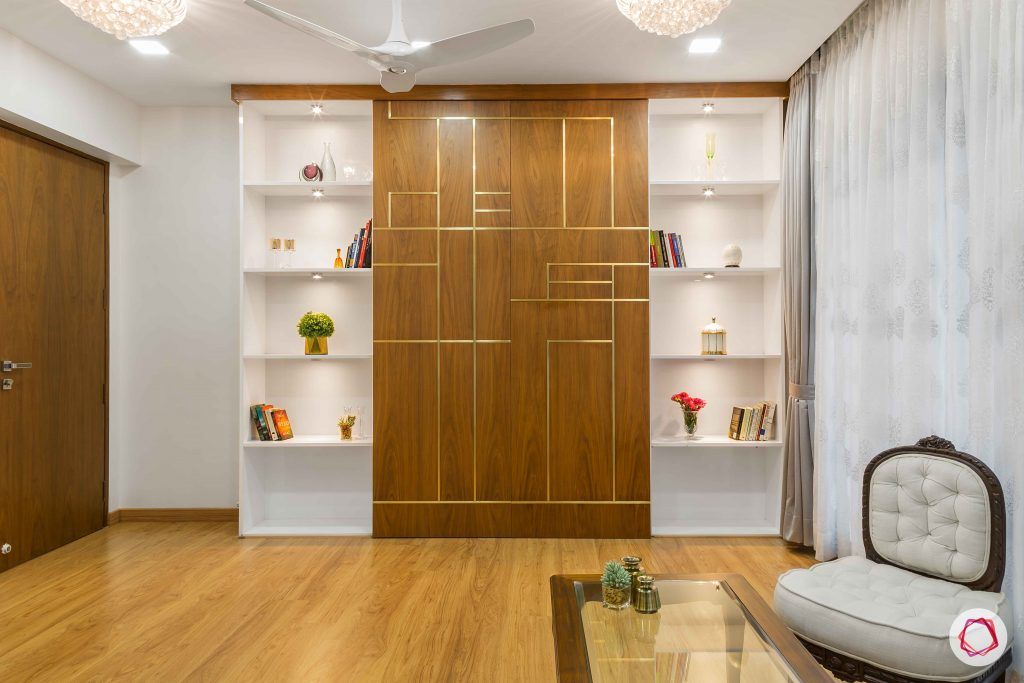 How cool is this TV unit? A sliding door that covers the television when you want to highlight your curios. We love it!
Modern TV Unit #34: Floor-standing Unit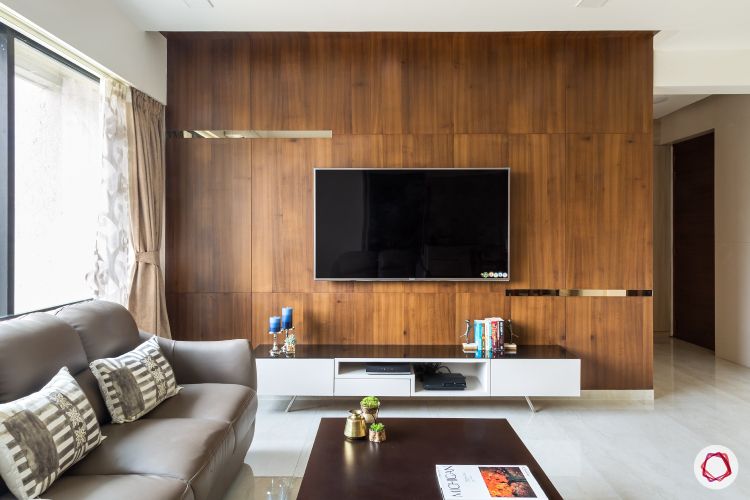 When you love accent walls, then the best wall to create one is the wall behind the television. A fully wooden finish wall sets the right background for your TV unit.
Modern TV Unit #35: Blue and White Entertainment Unit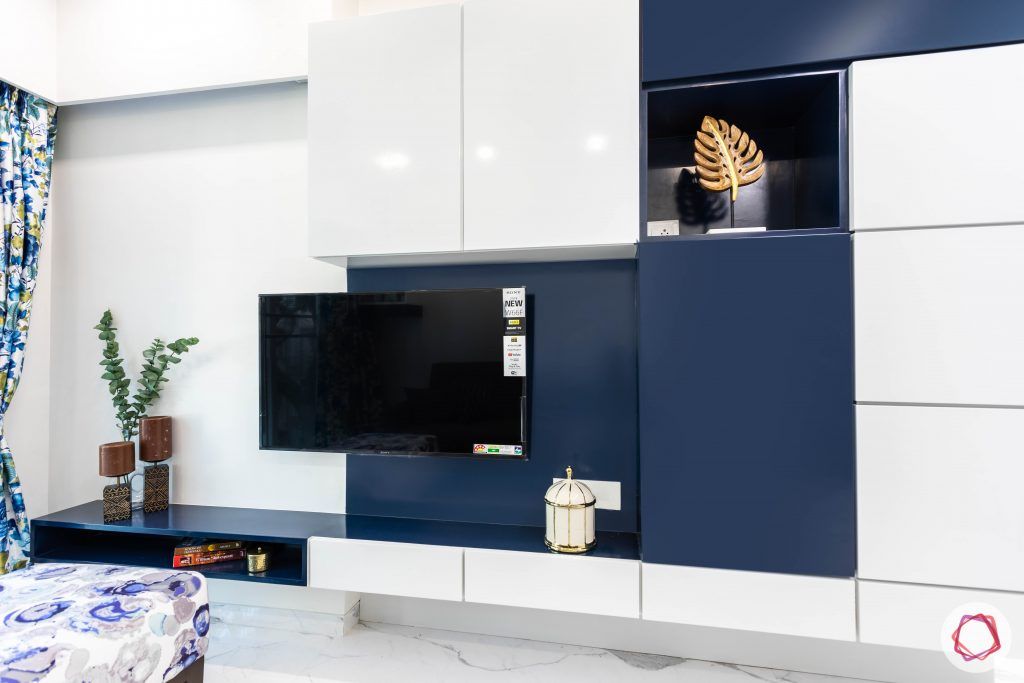 Work with the colour scheme at home and get your TV unit customised according to that. This one is equipped with all kinds of storage.
Modern TV Unit #36: Light and Shade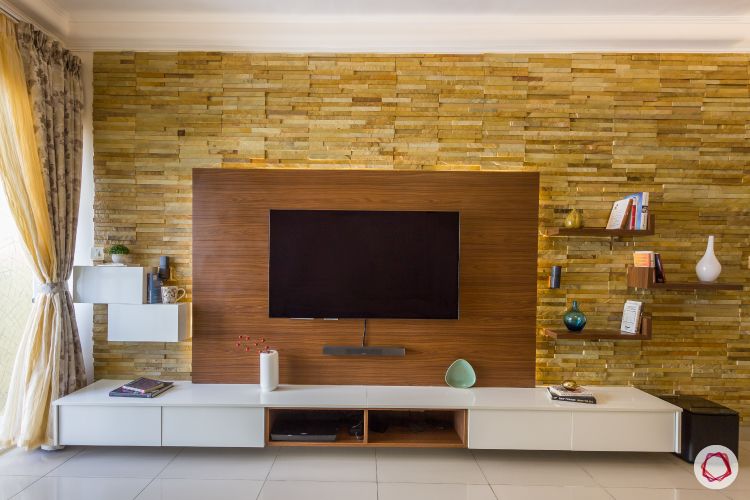 A stone-cladded wall and a wooden panel with LED strip lights. Sounds like the perfect recipe for a TV unit?
Loved these designs? We suggest Modern Living Rooms: Design & Decor.
Send in your comments and suggestions.