Living spaces set the tone of your entire home. This is especially relevant because your living room serves as a formal space to entertain guests. While some people prefer living rooms without any colour, some like a melange of different palettes. But if designers are to be believed, a two-colour combination for living rooms is said to work the best.
So let's take you through how to make the best of a two-colour combination for living room designs.
# 1: Going for a Minimal Look? Try Mesmerising Monochromes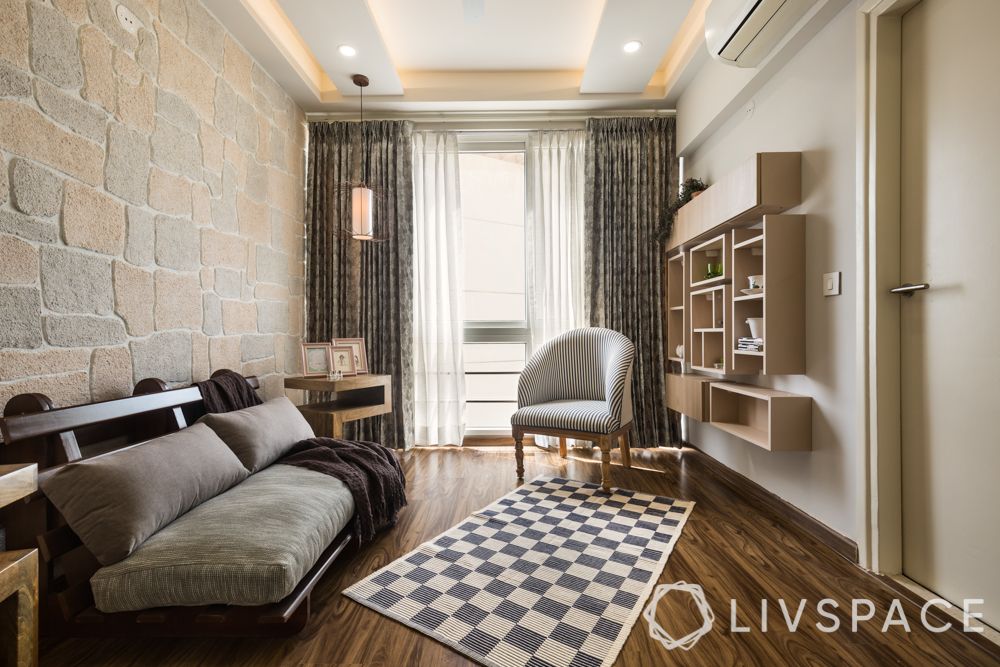 Never underestimate the power of monochromes. A monochrome palette is simply executed in black and white or different shades of one colour. As simple as that sounds, it is important to get this just right because they can transform the look of the entire room. You can use this type of two-colour combination for living room design in various shades to add texture to your walls and floors.
Notice the zebra-striped accent chair; the blend of black and white in addition to the chequered rug provides continuity and variety all at once. However, if you're using accent furniture to dress up your space, be sure to opt for a subtle two-colour combination for living room rather than bold walls.
#2:  For a Bold Highlight, Add an Accent Wall
Instead of going all out, pick one wall and turn it into a statement wall in your living room. An accent wall is especially a good idea if you want to try out a two-colour combination for living room walls. What's more, an accent wall is easy enough to create and also very affordable.
In fact, you can also do it yourself if you're into DIY projects! Not only do accent walls add a bit of drama to your space, but they also help you experiment with your interior colour combination. If you see the example here, the contrast of the white Chesterfield sofa with the royal blue backdrop is certainly the statement of the room.
#3: Spice Up Your Interiors With a Pop of Colour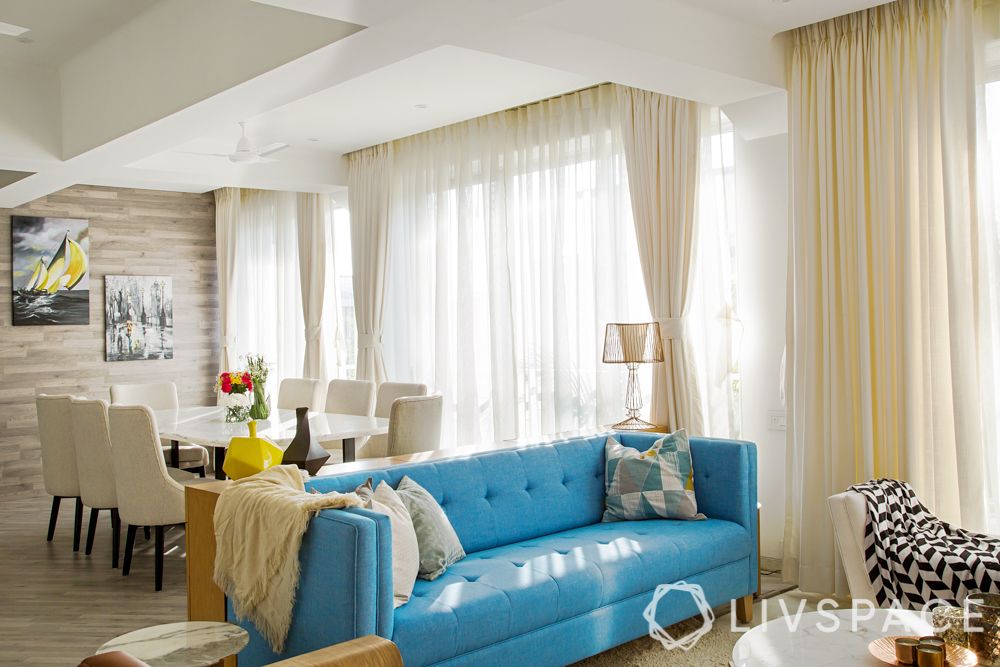 Well, a little drama never hurt anyone. And that's exactly what some colourful furniture can add to the room. The addition of a contrasting colour to an otherwise single-coloured room is the perfect way to enhance your space.
The blue sofa is a refreshing addition into this predominantly  white room. Add in some geometric-print cushions and your two-colour combination living room is ready to entertain.
#4: Try a Fun Two-Colour Combination for Hall Walls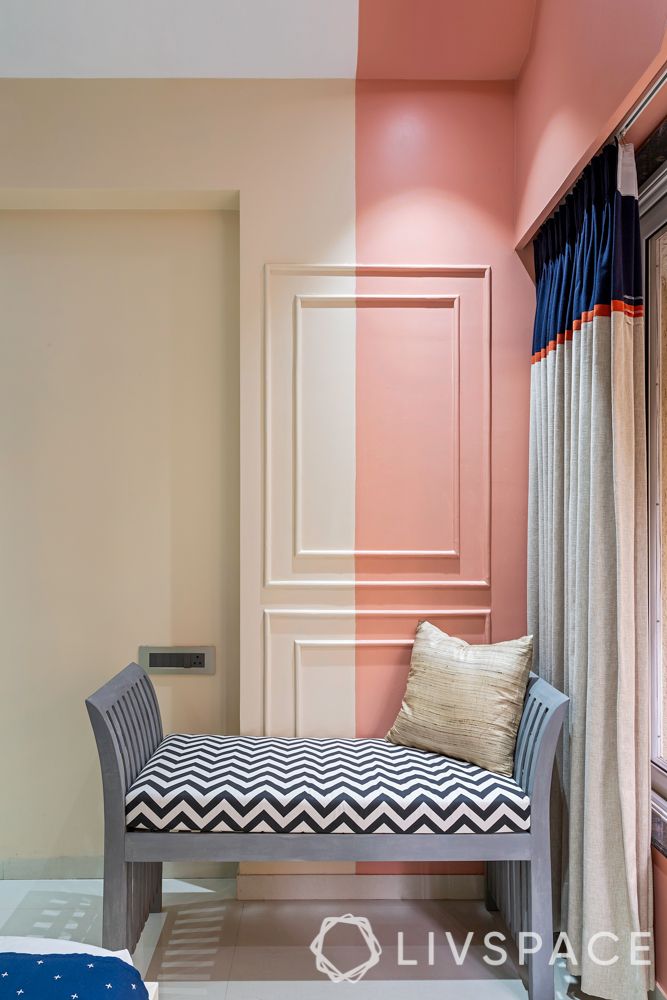 Liked two colours of paint but can't decide which one to pick? Well, why not pick them both! And voila, just like that you now have yet another way to get a unique statement wall in your two-colour combination living room. Keep in mind that you don't need to exactly split your room in half but try to bring character to your living room.
We suggest you use popular choices like earthy tones or fresh pastels as a two colour combination for hall walls as they complement each other nicely. You can also place a contrasting piece of furniture or a potted plant for the perfect Insta-worthy background.
#5: What You Cannot Achieve with Paint, Get with Wallpapers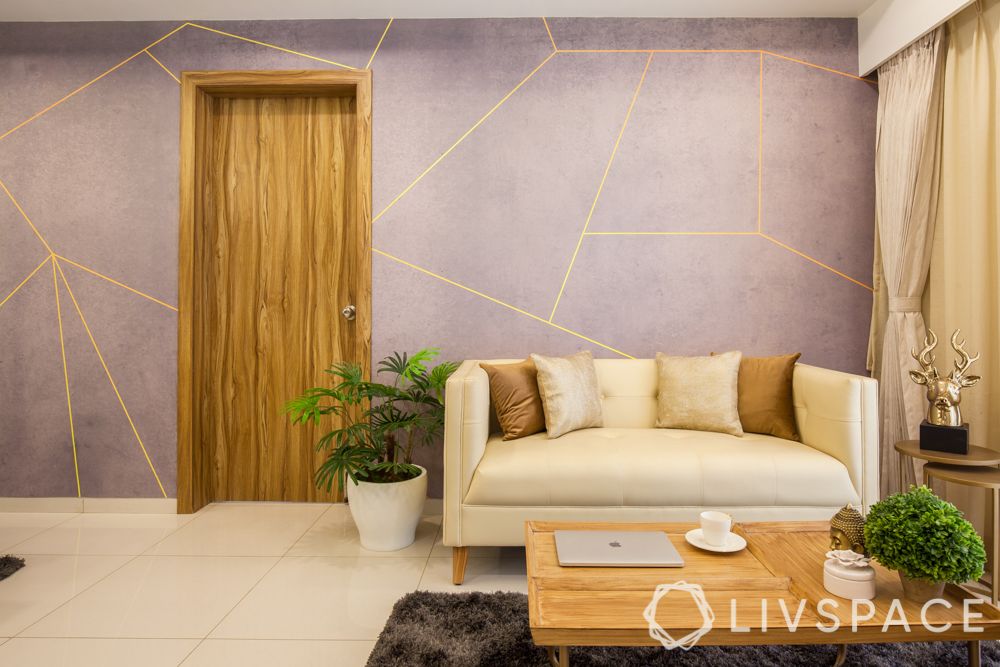 One of the best ways to inject personality into any living room is by adding wallpaper. Be as bold and artistic as you want to be by adding prints, colours and geometric patterns. They also come as the ideal backdrop for your living room setup, regardless of your aesthetic. 
In the above image, the metallic gold lines tastefully break the grey wall into irregular geometric blocks. Also notice how the white sofa (with a metallic base) pops against this wall. This is another simple way to achieve the look of two-tone living room walls at the cost of one customised wallpaper.
#6: Bring Some Warmth With Contrasting Soft Furnishings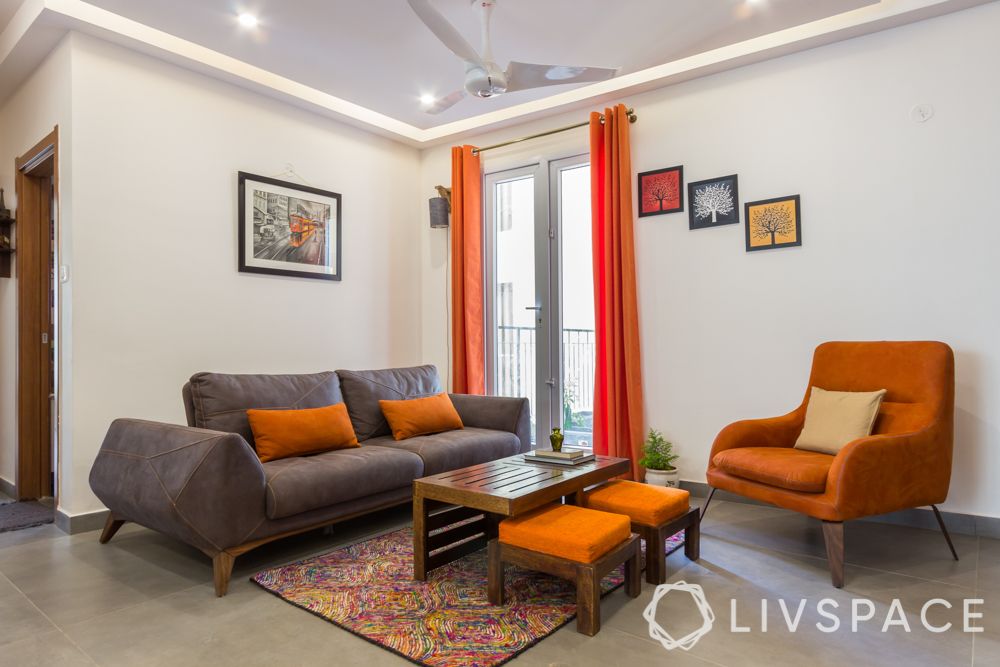 If you like the idea of a two-colour combination for living room walls but don't have the freedom to paint your interiors, we have just the solution for you! Insead, you can simply add splashes of colour with soft furnishings. From colourful curtains to cushions, you can be as innovative as you want to liven up your living room. 
This also gives you the option of periodically changing your interior colour combination. Also consider adding  more oomph to your two-colour combination living room. You can easily achieve this by throwing in a matching carpet, some paintings on the walls and some quirky curios on your coffee table. 
If you're looking for some inspiration for soft furnishings, here are some popular materials you can check out.
#7: Add a Pop of Colour Against Sombre Interiors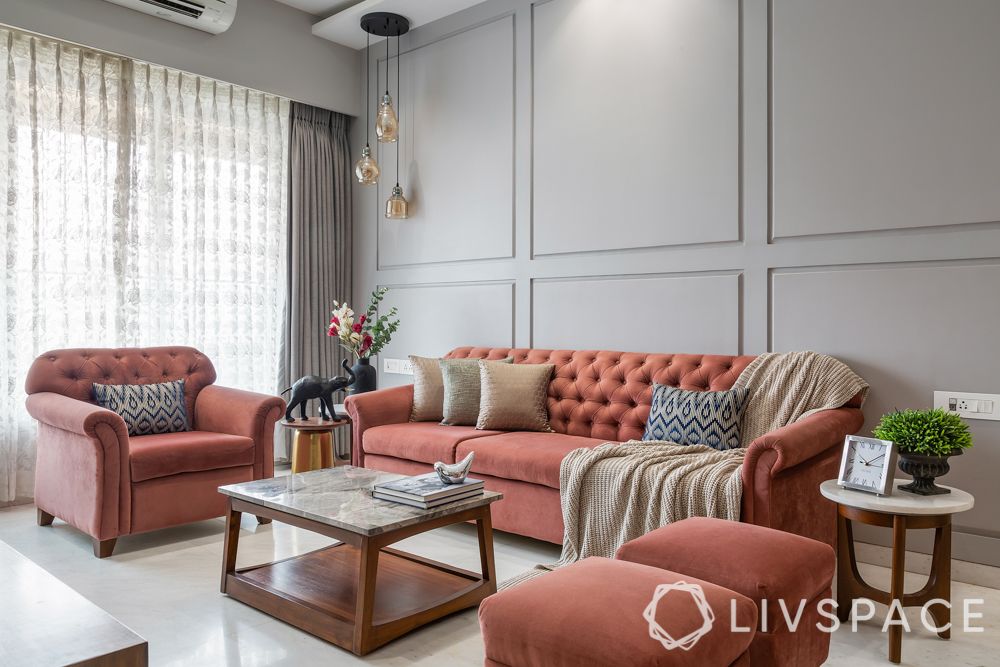 Bring life to sober shades with a pop of colour. To avoid a monotonous look and infuse some character, a subtle dash of colour is enough.
Here, the salmon-coloured Chesterfield couch is a bright spot against  the grey walls. If you like colour pops but subtle ones, this is the two-colour combination for the living room you should be using.
#8: Embrace Opulence with Jewel Tones and Metallic Tints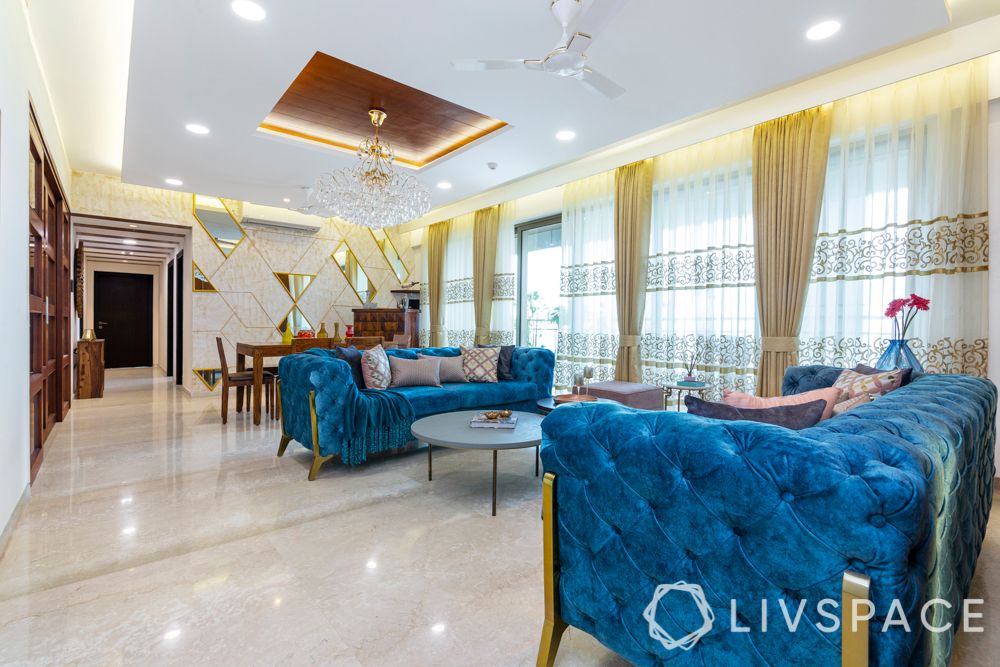 A clever way to introduce luxury into your home is by pairing jewel tones with metallic hues. Notice how the backgrounds have been muted to enhance the velvet topaz-hued sofas and gold accents in the picture above.
By using jewel tones, you can beautifully complement plush setups with the background colours in whites or off-whites.
#9: Experiment With Rustic Wooden Tones and Solid Colours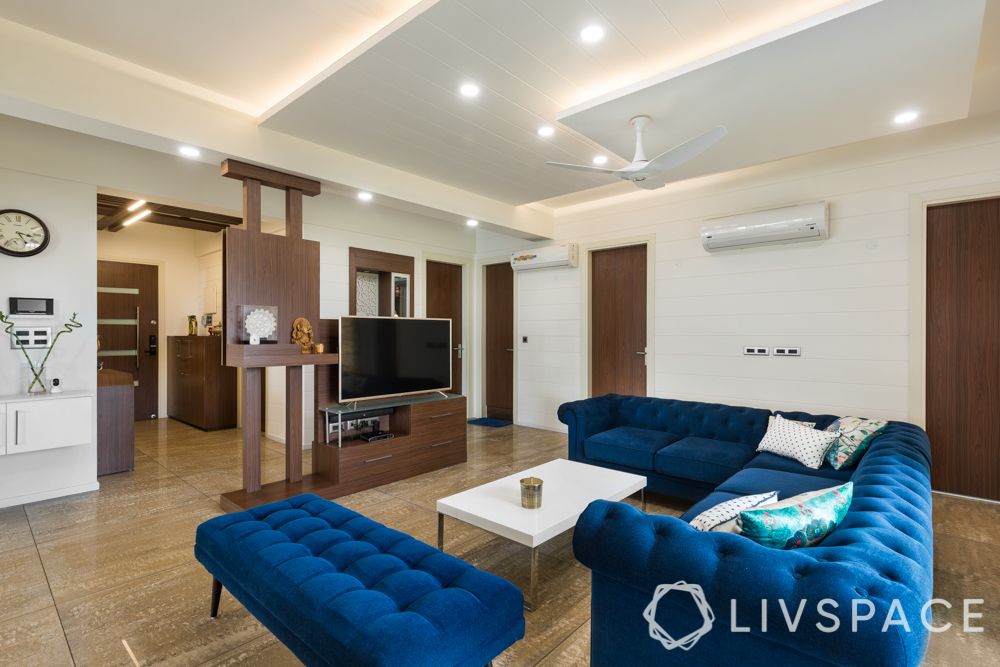 Anytime you want to add a tinge of warmth and comfort to your home, wooden and earthy finishes are the way to go. They add a sense of richness to your room. And what better way to contrast it than with solid colours? 
The imperial blue and walnut brown go hand in hand to give this room the ultimate modern touch. All contemporary homeowners in need of a subtle two-colour combination for the living room, take note.
#10: Colour Blocking — A Palette Choice for the Ages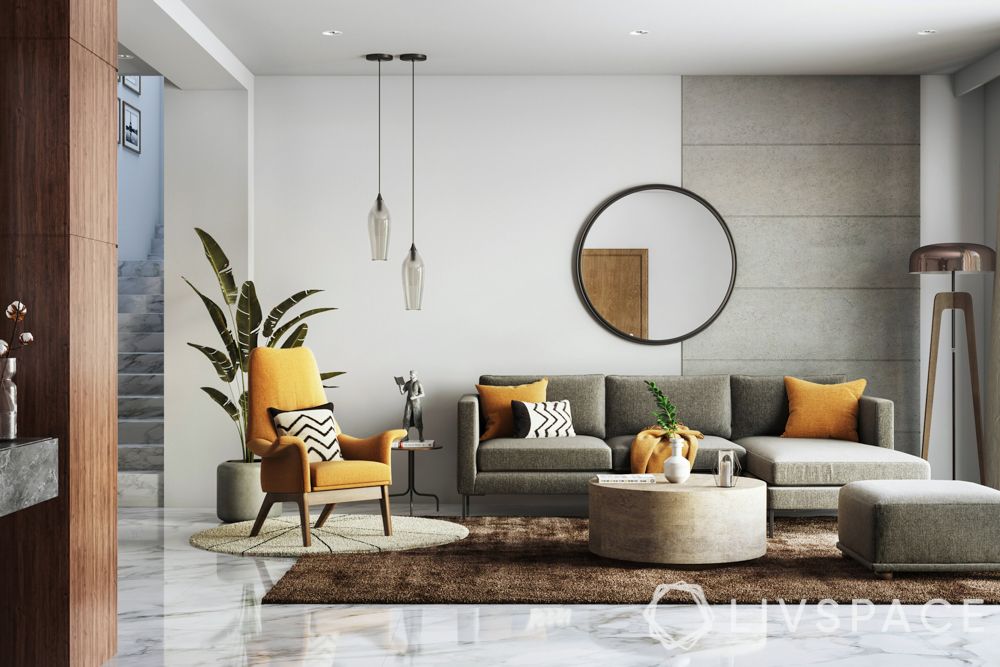 If you thought using contrasting colours might alter your living room drastically, you were right. The technique of using diametrically opposite colours for your living room walls and furniture is called colour blocking. This design concept is primarily used for walls to segregate them or even blend in your furniture to juxtapose this difference.
#11: Try Pastels in Two-Colour Combination for Living Room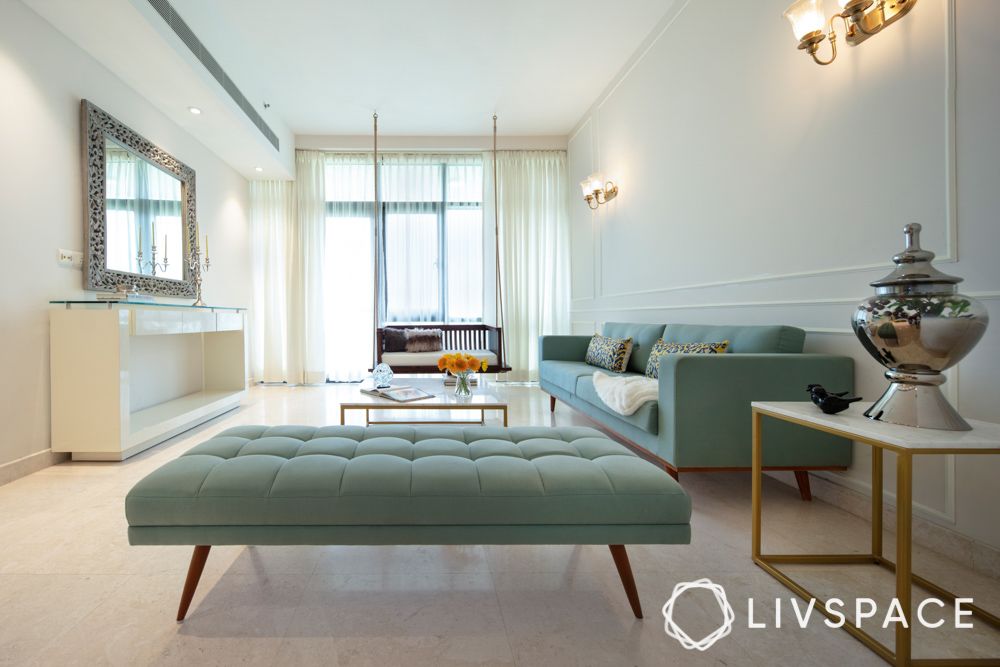 If you want to lighten the mood in your living room, embrace the design or introduce a contrast, pastel shades will aid you. Popular shades include blush, rose, mint and sage among many others. Pastel shades combined with white can make for a modern two-colour combination for your living room.
Here, the use of mint is  refreshing in the beige living room. Pair pastels with bright colour patterns in the form of rugs and floor pillows to bring in a contrasting, unique character to any two-colour combination living room.
#12: Black and White — The Classic Two-Colour Combination for Hall Walls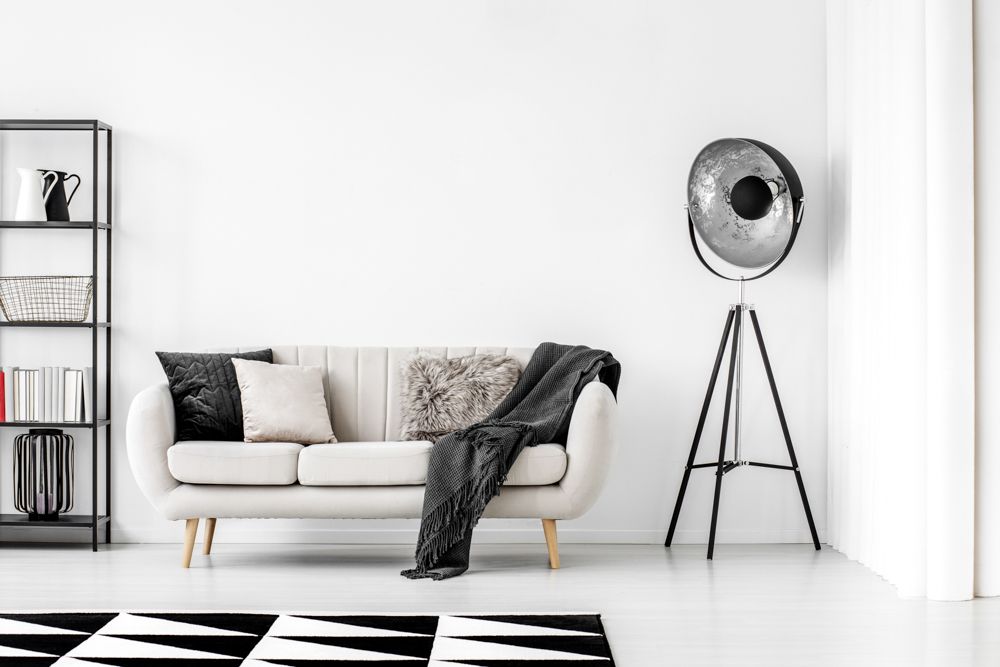 Black and white is a two-colour combination for the living room walls that can never go wrong. This is because this two-colour combination for living rooms can be moulded into any style. The trick is to decide the look and mood of the space to which you are applying this monochrome.
This versatile combination is also a popular pick because it can be easily imbued with patterns and accents. If you have an experimental streak and get bored with looks fast, this classically modern two-colour combination for living rooms allows you to introduce colours with ease.
#13: Let in Nature Through This Living Room Two-Colour Combination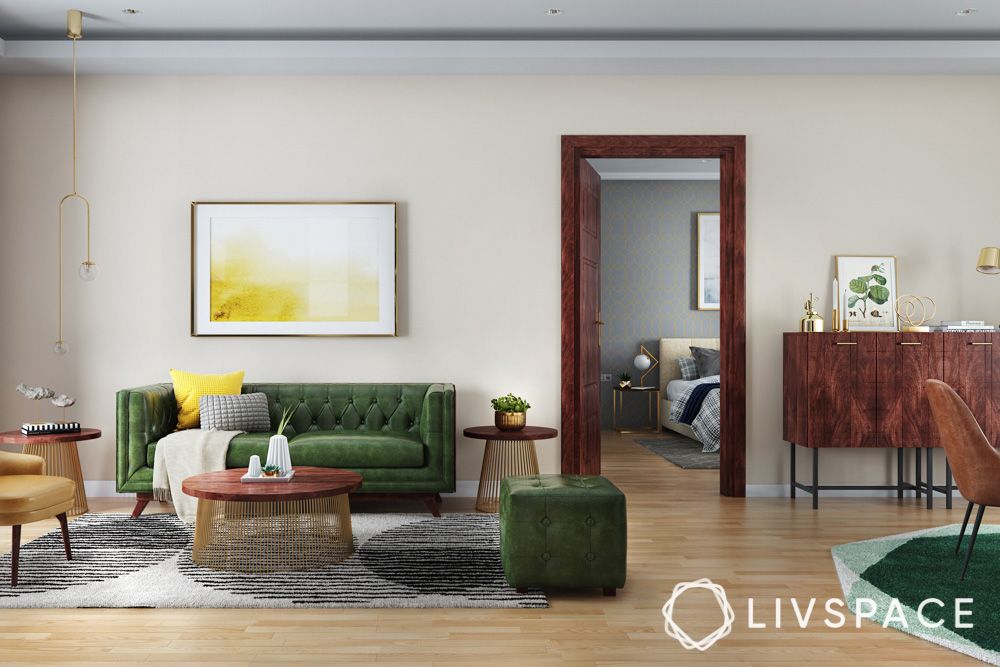 Channel the calm of the forest with a nature-inspired palette. As a design element, the idea is to infuse the colour of your surroundings and replicate it in your interiors.
Here, the wooden furniture and flooring is contrasted with the deep emerald tone of the plush couch. If you are looking to give your home a natural look, experiment with the design concept.
#14: Add Desi Glam With Accent Colours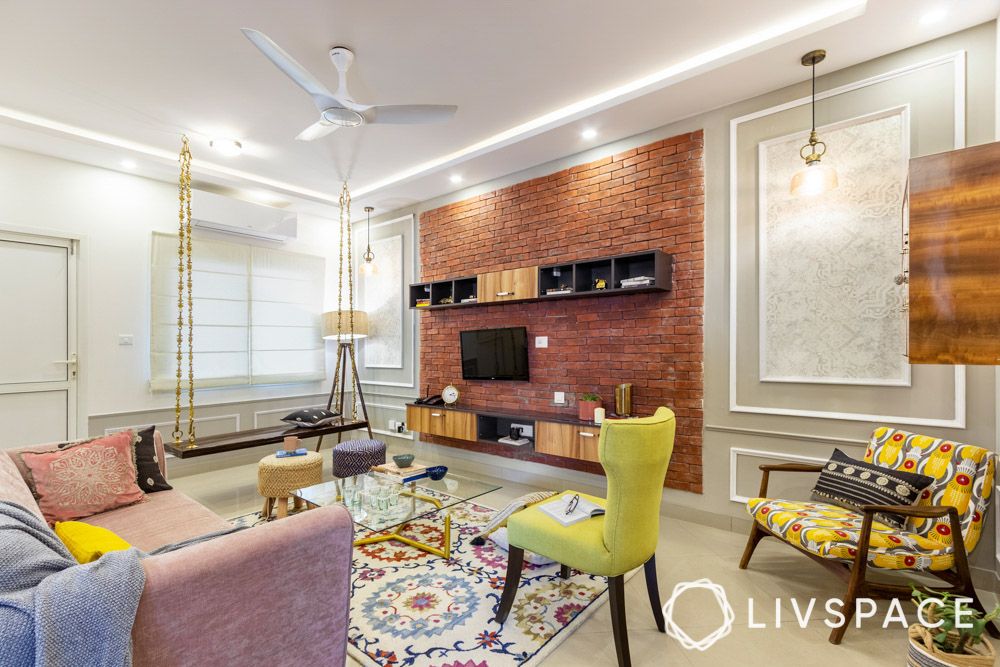 There is always a charm about the traditional roots. Indian homes may have contemporary concepts but it is fun to throw in a bit of desi glam. This makes the traditional elements the quirky features that are accentuated by patterns.
The indigenous patterns themselves stand against the modern elements. For example, this modern two-colour combination for the living room is reflected with yellow accents. They contrast easily against a muted pink sofa and an exposed brick wall.
#15: Bring in Metallic Accents in Your Two-Colour Combination for Living Room Walls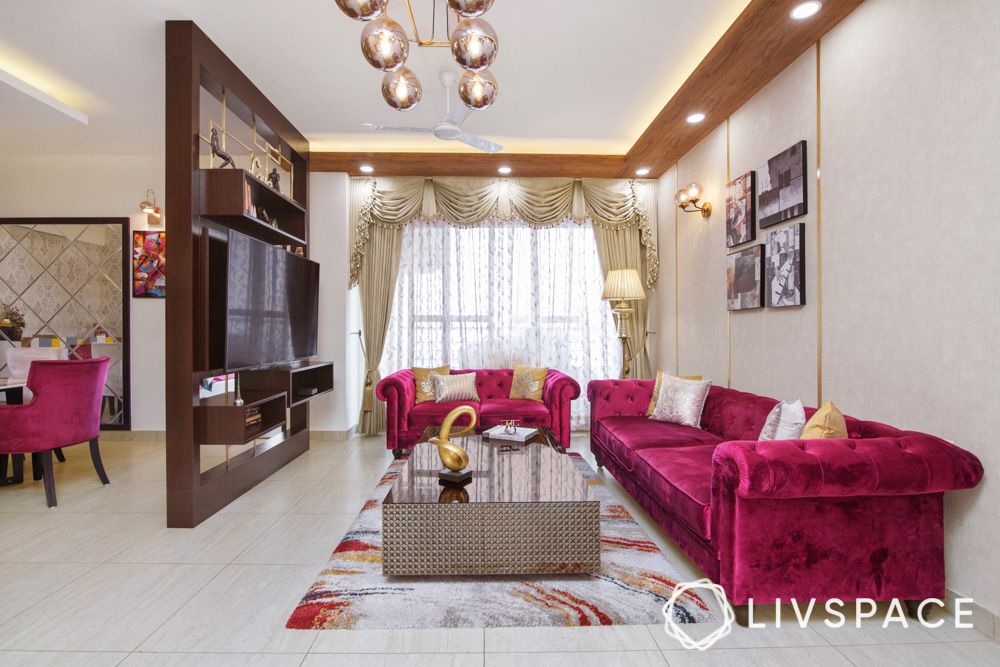 If you love the bling, infusing metallic accents in your living room may just do the job. This two-colour combination works for small living rooms too. If done correctly, your living room will exude a polished appearance.
The metallic accents need to be used with caution in a small space. Limit them to three elements when using in a small space.
#16: Choose Earthy Neutrals for an Inviting Space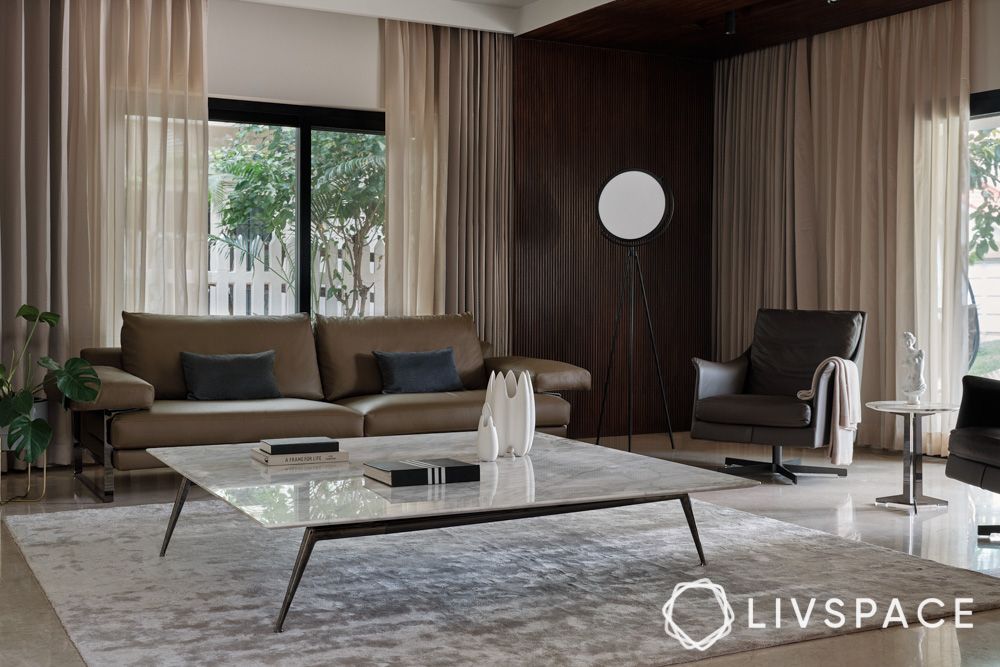 Most homeowners want their living space to be inviting. You can achieve just that with the use of warm, earthy neutrals. They bring a sense of cosiness with them, giving the space a welcoming appeal.
Use contrasting shades of deep greens and blues to further the complementary scheme of the room. If you are looking for a two-colour combination for living rooms that is cohesive, lead with earthy neutrals.
#17: Introduce Grey in Two-Colour Combination for Living Room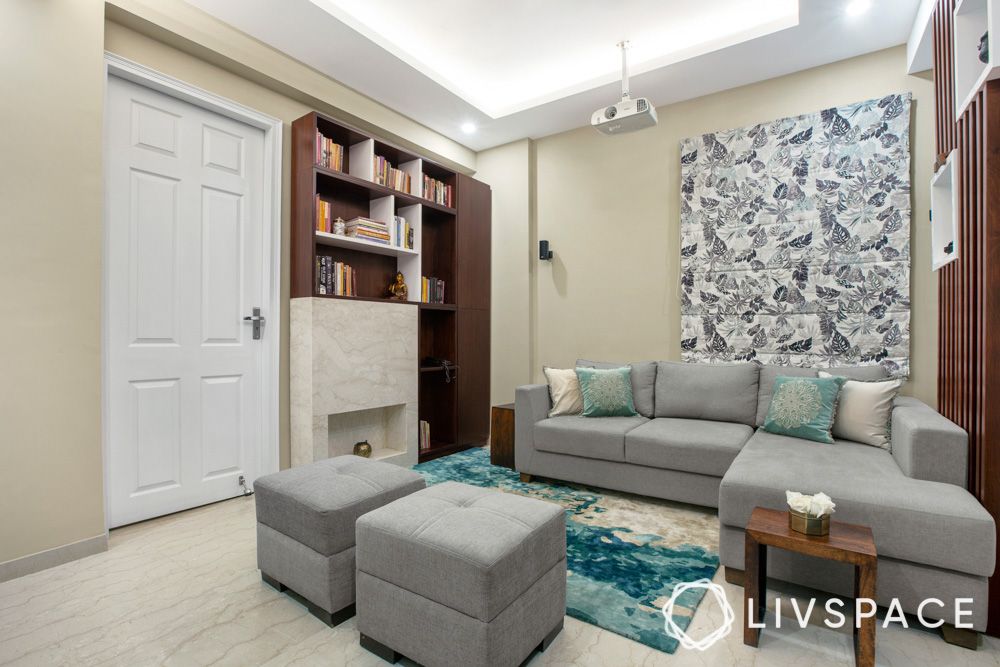 Grey is a popular transition colour. Pairing grey in a two-colour combination in living rooms allows the other colour to take the centre stage. This is because grey is compatible with both cool and warm tones.
For example, the teal is able to catch the eye while the grey helps to set in the warm wooden tones of the furniture. This two-colour combination for small living rooms imparts an edgy look to the space.
We hope you liked these simple suggestions on how to achieve a two-colour combination for living rooms. For more colour inspiration, also check out chic colours for a gorgeous living room.
How Can Livspace Help You?
We hope you found our ideas useful! If you want beautiful interiors for your home, then look no further. Book an online consultation with Livspace today. Delivering safe home interiors has been our No. 1 priority. Click here to find out how interiors are being delivered following all safety protocols.