A living room will see more people than any other room in your home. Gone are the days when a living room design meant setting up a simple sofa and an entertaining unit. Now is the time for more; now is the time for creativity. Since the living room is the backdrop for happy hours and a glimpse into the homeowner's unique aesthetic, it's important to design it right. To help you find the best living room decor ideas for 2022, we rummaged through Livspace's archives to highlight the 15 best living room designs for you.
Whether you're designing a 2BHK home or a plush villa, a 3BHK home or a duplex villa, this list will have a lot of great ideas for you regardless of the layout, the design style and the colour scheme you choose. Here's a look at the 15 best living room designs and decor ideas that show you the plus side of Livspacin' your space: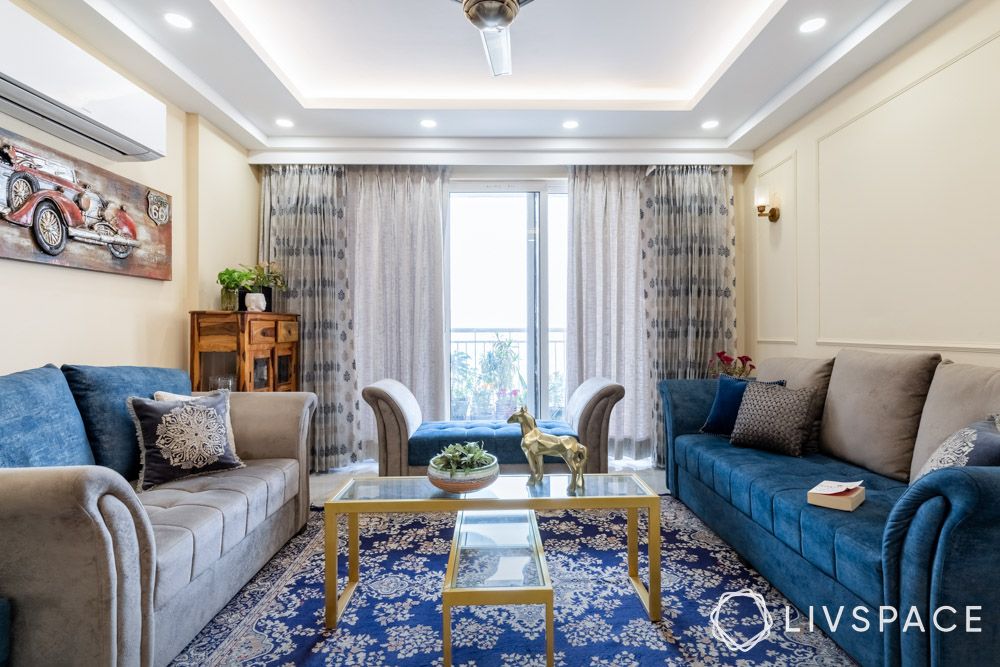 Location: Coralwood Apartments, Gurgaon
Size of home: 3BHK
Transform your living room into a zesty new functional space by playing with colours and patterns, as this Gurgaon home does! Dressed in muted shades of tan and blue, this living room uses the age-old interior design trick of layering your lights. While the recessed lights in the false ceiling help illuminate the entire room, the wall pendant lights help create pools of light to impart a beautiful atmosphere.
If we were to discuss the best living room designs and decor ideas of 2022 from this beautiful living room, we wouldn't miss how the wall trims add a sense of depth whereas the artwork gives it a vintage edge. The blue patterned rug completes the look by tying all the different design elements together.
Location: Adarsh Palm Retreat, Bengaluru
Size of home: A 6000 sq.ft. villa
You don't have to turn to black and blues to create a moody living room in 2022. You can achieve the same look with browns, beige and greys (or, should we say, greige?)
Featuring natural Italian leather for the furnishings, this rich luxury living room easily qualifies as the top living room design in 2022 (in the dark and moody category). However, to keep the room from feeling too heavy or depressing, you must allow ample natural light to bathe the place once in a while. That's precisely why we've opted for large windows in this luxury living room. Made to perfection for executive meetings and formal get-togethers, it has ample seating and a large centre table.
This Bangalore luxury living room also has a bar unit and, if you ask us, you can consider having one if you want to be the perfect host. The walls have fluted panelling to give the room some depth and edge. A plain grey rug tones down the ambience, and also breaks the monotony of brown and black, thus giving the living room a cool vibe. A similar effect is achieved with the placement of white decor items that you can see!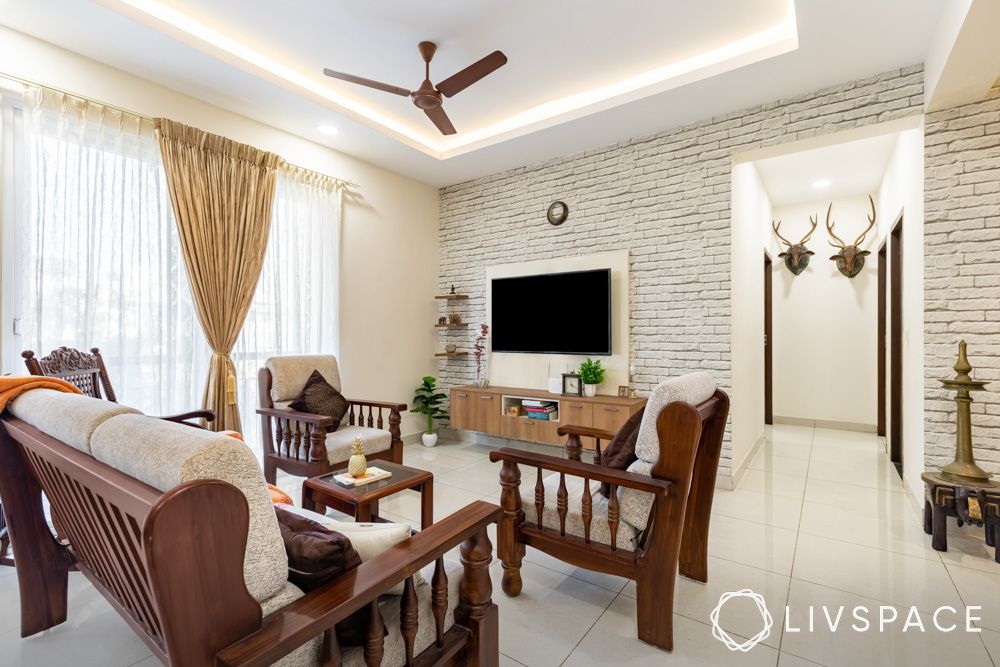 Location: Olympia Jayanthi Residences, Adyar, Chennai
Size of home: A 3BHK
This Indian-decor-inspired luxury living room has us falling head-over-heels in love with the traditional-meets-contemporary look. With a dash of rustic, it features a neutral colour palette that goes beautifully with the wooden furniture.
With ample seating options, it also features the classic rocking chair and a contemporary TV unit with storage. The decor pieces are strictly Indian – brass antiques statues and wall-mounted brass deer head collector items. There's also a bit of green to infuse some freshness into the living room, which uses no more than three colours in the entire space.
If you thought Indian-style living room interior designs in 2022 were so passé, this rich luxury living room is sure to change your mind!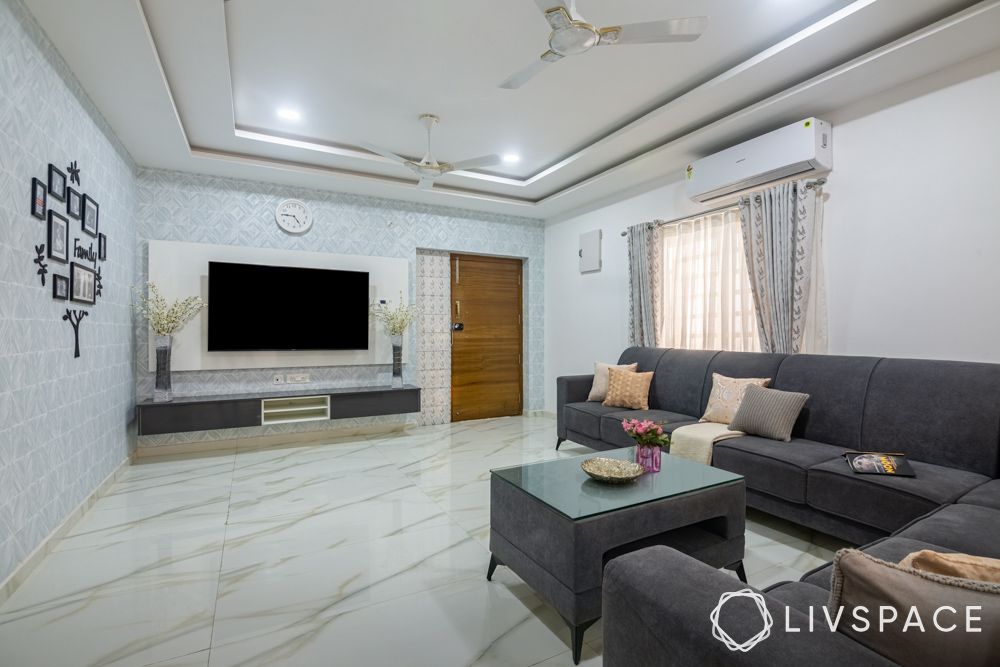 Location: Nizampet, Hyderabad
Size of home: A 3BHK villa
Clean, calm, simple and sophisticated are the four words we'd use to define modern living room ideas in 2022. And coincidentally, the living room we're talking about has all four!
If you think white can be an underwhelming colour palette, you've not seen the magic white can make when paired with the right furniture pieces and decor items in a living room. We kept this living room white and grey for the most part. While the flooring and walls celebrate the calmness of white, the furnishings and TV unit pop up in a subtle yet befitting contrast of grey. In fact, if you're looking for a colour palette that accentuates the spaciousness of your living room, take the white road!
The TV unit accent wall has a calm blue wallpaper (which is pretty minimalist) and gives you a sense of tranquillity when you step into the place. One of the best living room decor ideas for 2022 can be to not break the monotony but embrace it, like this Hyderabad home does. The false ceiling is ideal for this living room, as it adds depth and definition to the look.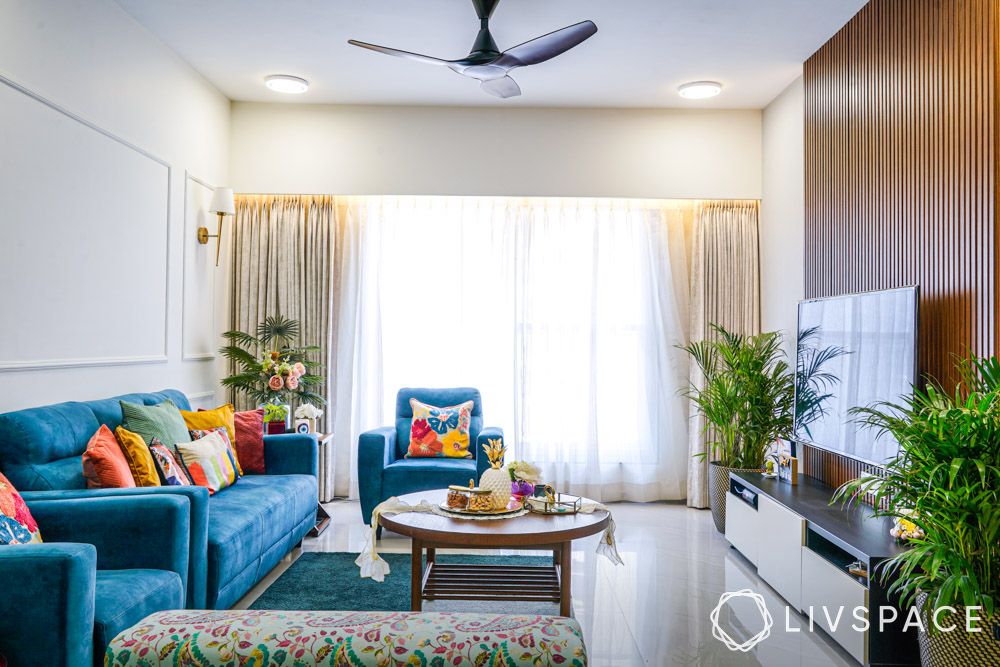 Location: Sunrise Orlem, Malad West, Mumbai
Size of home: A 3BHK Home
If you're looking for the best living room design of 2022, you cannot skim past this list without taking a good look at this Malad West living room. Sometimes, all we want to do is create a place of comfort, a place that evokes joy and a personal sanctuary that lets us relax after a hard day.
One of the most important tasks our interior designers have is to blend new styles with the family's existing furniture to create a space that's better, in terms of aesthetic and functionality. For this living room, the need was similar. The living room features a blue sofa set and a patterned diwan with a classic wooden centre table – all personal favourites of the family. However, the reason this living room makes it to the top living room design of 2022 for Mumbai homes is mainly for its cosy vibe.
The TV unit amplifies storage, while the plants bring in a dose of freshness. Plants are natural stress busters that can go a long way in helping you unwind in a city that never sleeps. That's why adding plants to your design is ideal for your living room. The TV unit accent wall makes good use of fluted wall panelling (that we at Livspace did), while the opposite one uses subtle wall trims to add a sense of sophistication. We have also played with layered lights (take a look at the ceiling and the walls), so that this home can help you set the tone of your evening right.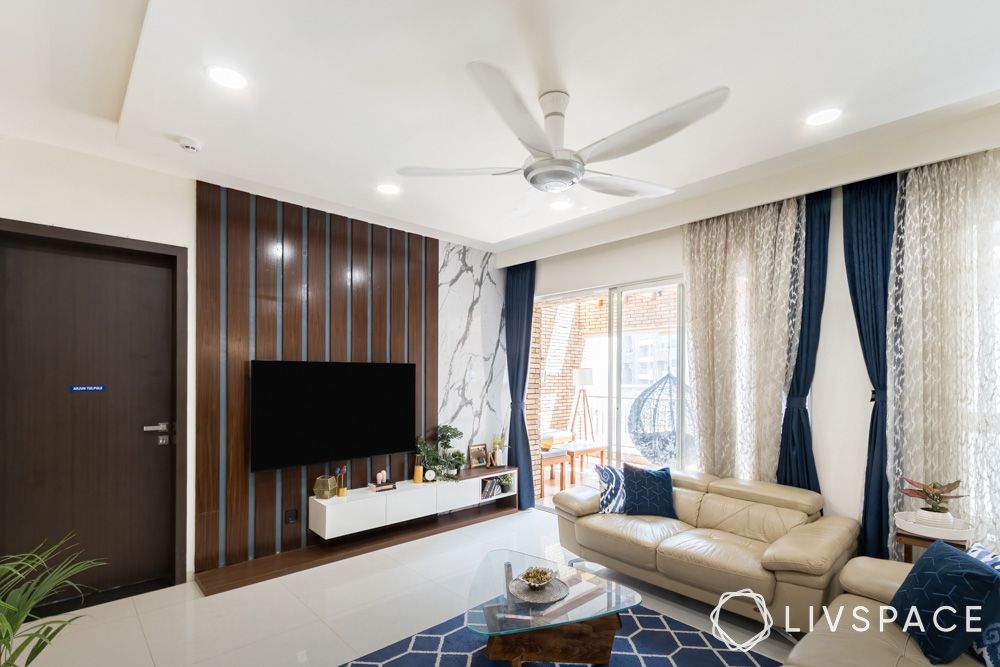 Location: Kunal Aspiree, Pune
Size of home: A 3BHK Home
Did you say elegance? Because, that's what the latest living room ideas in 2022 are all about – especially this Pune one that we're going to take a tour of. The blue and beige colour palette is an extension of the foyer colour palette. With an elaborate TV unit that packs in storage, has an accent wall of marble and also sees some wood panelling magic, this rich luxury living room is contemporary through and through.
If you want to take more notes for the best living room decor ideas of 2022, you might want to steal a glance at the geometric rug, the pillows, the mix-and-match curtains and the patterns they create.
Also impressive is the glass centre table finished in wood and the symmetrical symphony it creates with the sofa sets. A vibe of modern elegance runs through the place. In fact, when you see the living room open up to a beautiful balcony, you get a rare chance to bring the outdoors in and create a relaxing ambience.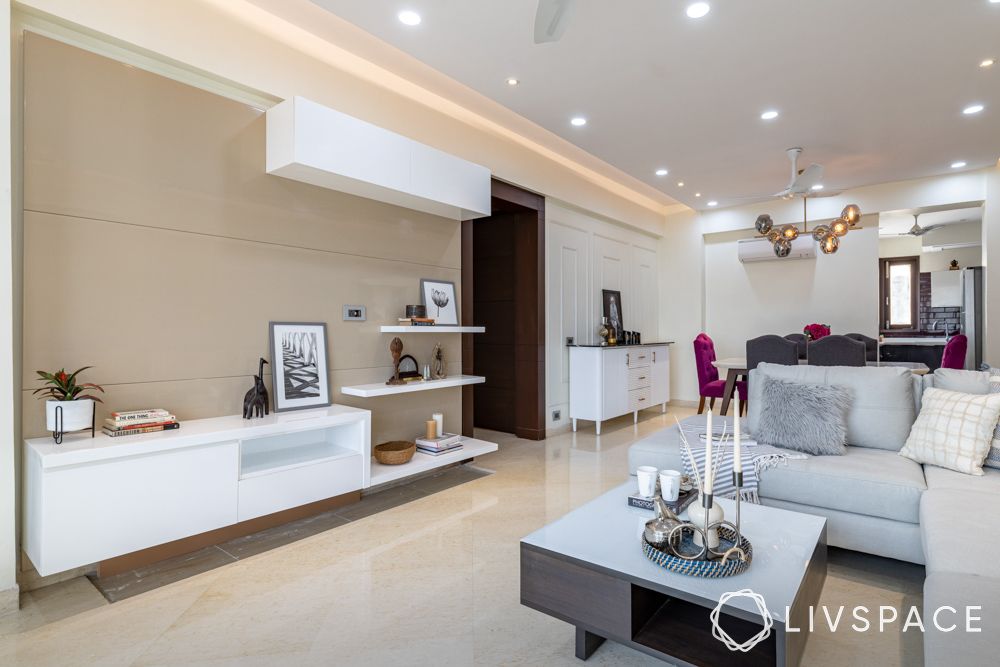 Location: Eros Kenwood, Faridabad
Size of home: A 4BHK Home
Renovations are no easy business. They involve civil changes, layout alterations and the need to come up with unique creative hacks. Thriving on an open layout plan, this living room design follows a neutral colour palette (a mix of beige and grey to create a stylish greige) for its decor and uses luxurious finishes to give it a premium look.
The false ceiling is a long island one that allows the room to play with layered lighting – a must for contemporary homes of 2022. This living room can seat a-plenty and if you take a look at the centre table, you'll see it has a unique storage shelf to it as well.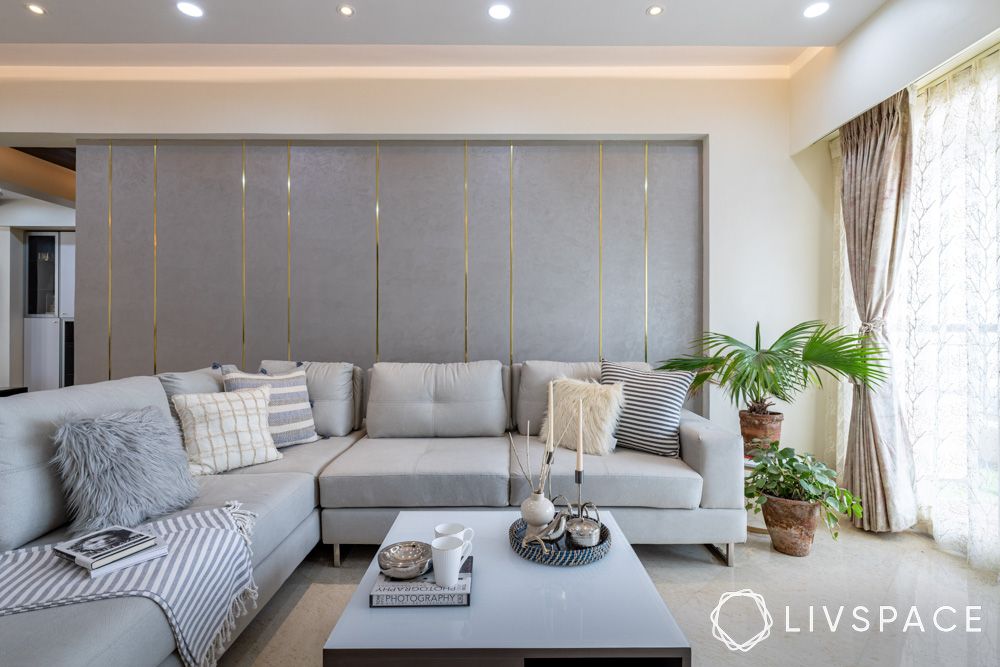 However, the real focal point of this top living room of 2022 is the accent wall behind the sofa set. It features a stucco concrete finish with brass trims that can instantly take your breath away.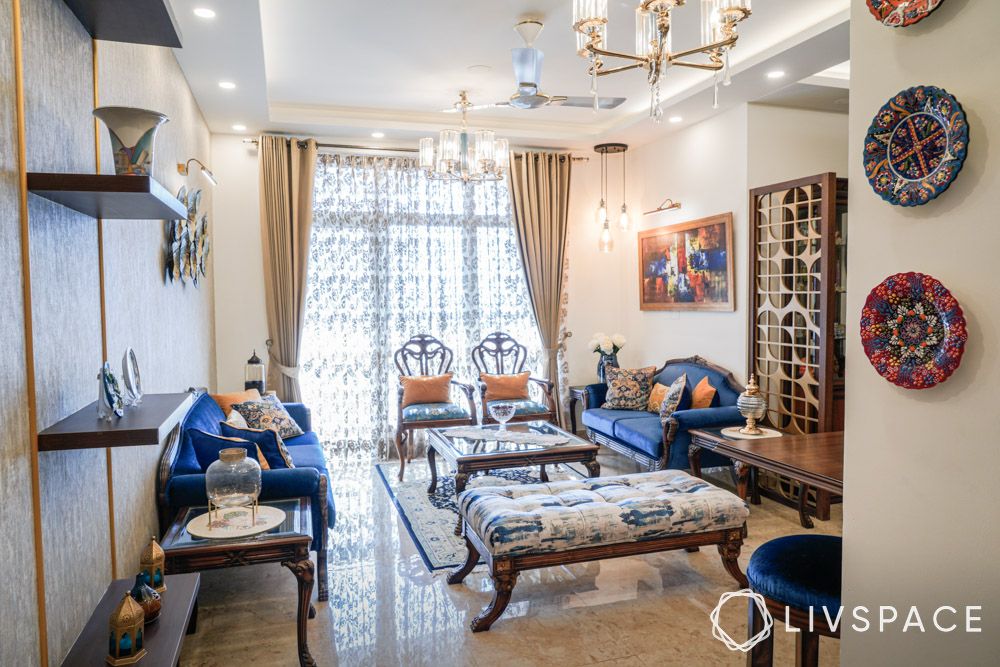 Location: Raheja Atharva, Gurgaon, Delhi NCR
Size of home: A 3BHK Home
Can't decide on one focal point for your living room? Have many! That's what this living room from Delhi NCR does, and it gives luxury living room ideas in 2022 a new definition. Wondering how?
Featuring antique furniture that's finished in wood and bold blues, this luxury living room is a maximalist's dream come true. With a patterned accent wall behind the sofa, there's an artsy piece of decor, whereas the opposite wall plays with colour theory and has a framed artwork. There's also a golden partition to divide spaces and give the open floor plan an edge that's ideal for this living room.
In addition to the centre table, it has four side tables to accommodate different pieces of decor and flower vases. The sheer curtains help add texture to the space, while the chandeliers and pendant lights add to the vintage luxe-aesthetic this home is well-versed in.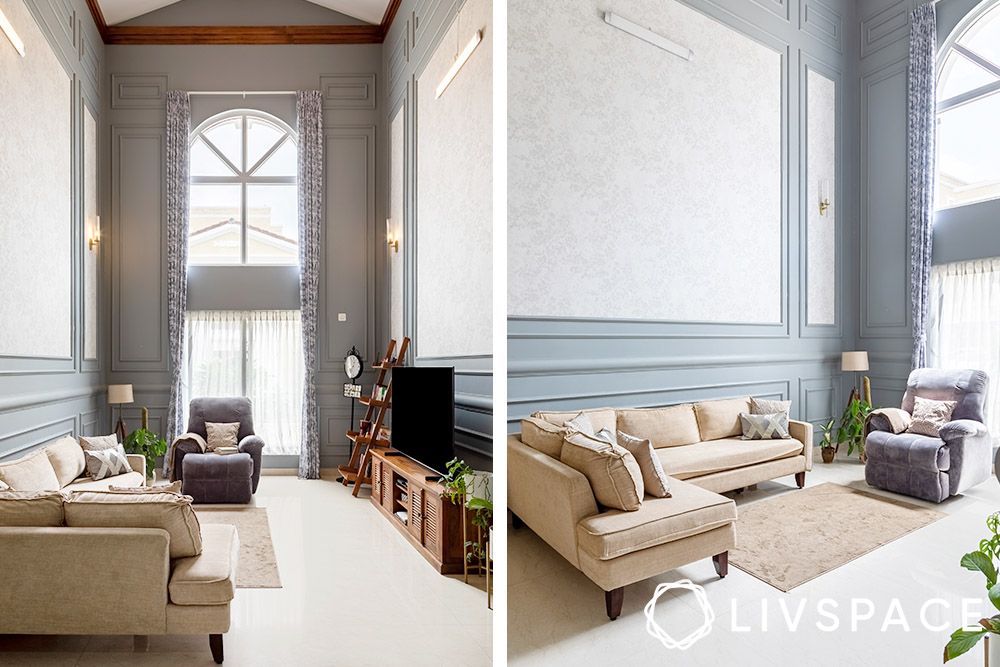 Location: JRC Palladio, Bengaluru
Size of home: A 4BHK Villa
No! We're not bluffing. As you can see, this rich, luxury living room design is indeed European, and it looks straight out of a film. If you ask us, it also has a hint of Downtown Abbey. Anyway, let's lay bare the design details of this almost-Parisian home.
With Parisian walls that are high and panelled, this luxury living room features wooden furniture in clean lines. That's natively European, but that's not all! The bright wooden furniture adds a dosage of warmth to the rooms. And, this is a design trick that you mostly see in Scandinavian aesthetic.
Bathed in a light blue colour palette, what makes it one of the best living room designs is the dreamy high ceilings it features. Did you see the large windows? Straight out of a fairytale, isn't it? With ample seating options, some biophilic natural elements, and a set of pendant lights, this room is made beautiful with its eclectic European style.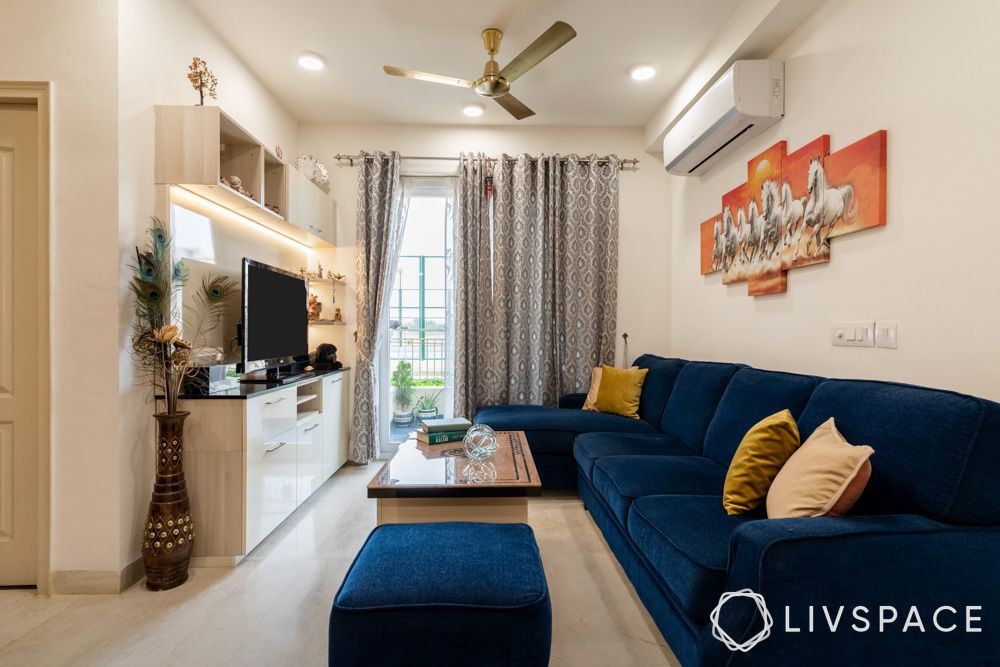 Location: Supertech Araville, Noida
Size of home: A 2BHK
At first glance, this living room might appear simple and straightforward. But a closer look will tell you that it packs in a punch. Compact in size, this can seat a total of 12-15 guests if the dining table chairs are roped in for an impromptu party scenario.
Not only that, the TV unit has a mix of open and closed storage options that can simplify your modern storage needs without having to Marie-Kondo your home every once in a while.
However, the highlight of this living room interior design of 2022 is the multipurpose storage unit that functions as a bar unit, a shoe rack and a knick-knack holder for almost anything.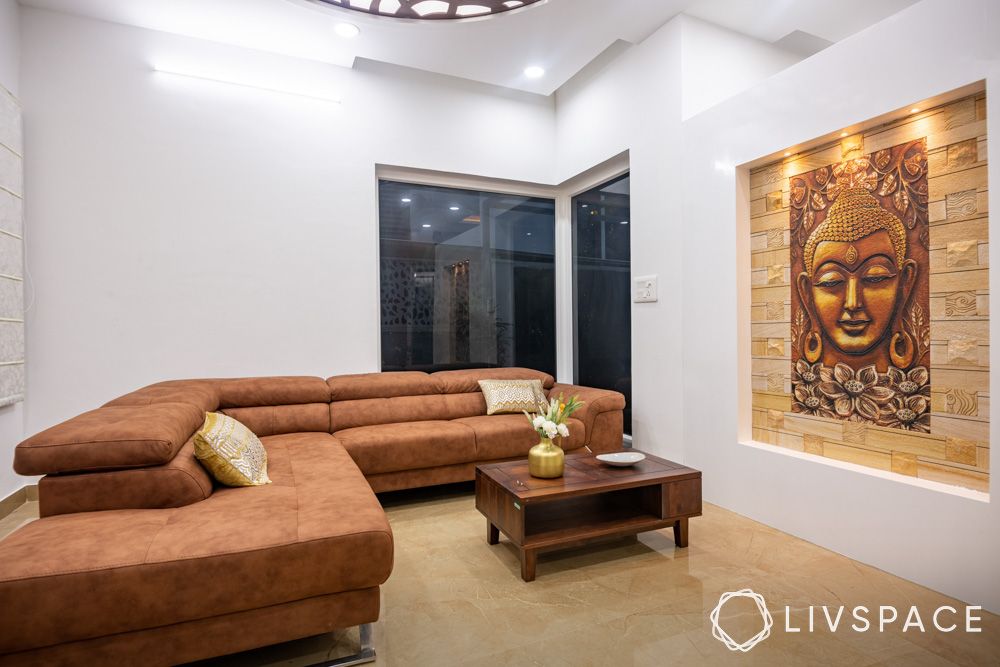 Location: Om Sree Malabar Greens, Hyderabad
Size of home: A 4BHK villa
When we're talking of the best living room decor ideas of 2022, you might as well go ahead and give your living room a 3D design installation that would match your personality or lend the living room its main theme. With a similar idea in mind, this Hyderabad home used a 3D feature wall (featuring: Buddha) to give character to their best living room design.
Once you step into their place and take a look at the Buddha installation, you'd know the family is peace-loving. See what we mean by sticking to a theme, or creating one?
Overall, the luxury living room has a luxe aesthetic vibe with warm tones and wooden finishes. There's a thrifty TV unit that matches the wooden dynamic of the furniture or the fluted wall panels. The rest of the wall uses a wallpaper to give it a textured wall cladding look. You can also see the thoughtful use of a jaali design to add visual interest and depth to the windows!
Location: SJR Blue Waters, Bengaluru
Size of home: A 3BHK
If you're looking for the latest living room designs of 2022, how can we skip past the living room bathed in the colour of the year? So, every year, Pantone releases a colour of the year and this year, it's Very Peri – a shade that defines soothing, calming, and relaxing.
Taking a page out from the famous luxury living room ideas of 2022, the Bengaluru home started with a modern-contemporary look that's high on utility and style. Dressed in beige and brass, the furnishings, the furniture pieces and the decor items paint a picture of opulence.
The modern TV unit mixes with the theme and yet stands out with its black-trimmed accent wall. The pendant lights on the false ceiling help you create an ambience; whereas the vintage decor items on the wall (the ship and the flowery mirror) keep things brass and beautiful!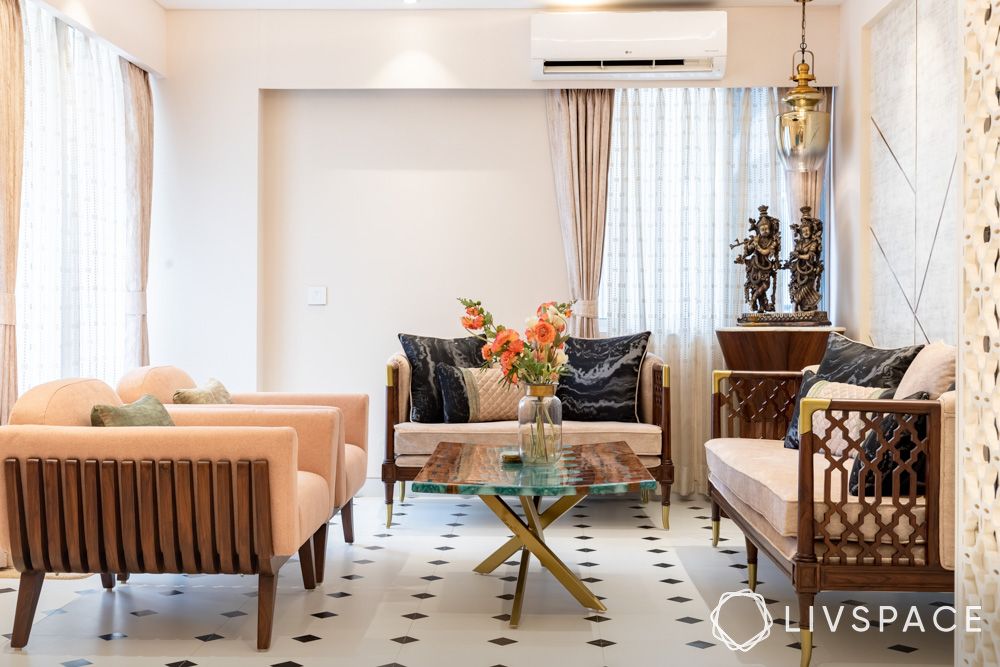 Location: Godrej 101, Gurgaon
Size of home: A 3BHK
If we're talking about the best living room interior designs of 2022, we can't leave out the home where north weds south and creates the best of both the worlds. Let's start with the floor tiles. Did you think that these floor tile designs were out of fashion? But this latest living room design of 2022 is here to prove you wrong!
This rich, luxury living room features wooden furniture with scattered brass accents, and the coffee table is a rare slab of granite with embellished metal inlay.
With a Radhe Krishna statue and lantern-shaped pendant lights, this living room incorporates a Southern flair in its decor, which is balanced beautifully by the intricate metal inlays and contemporary wallpaper design of the accent wall.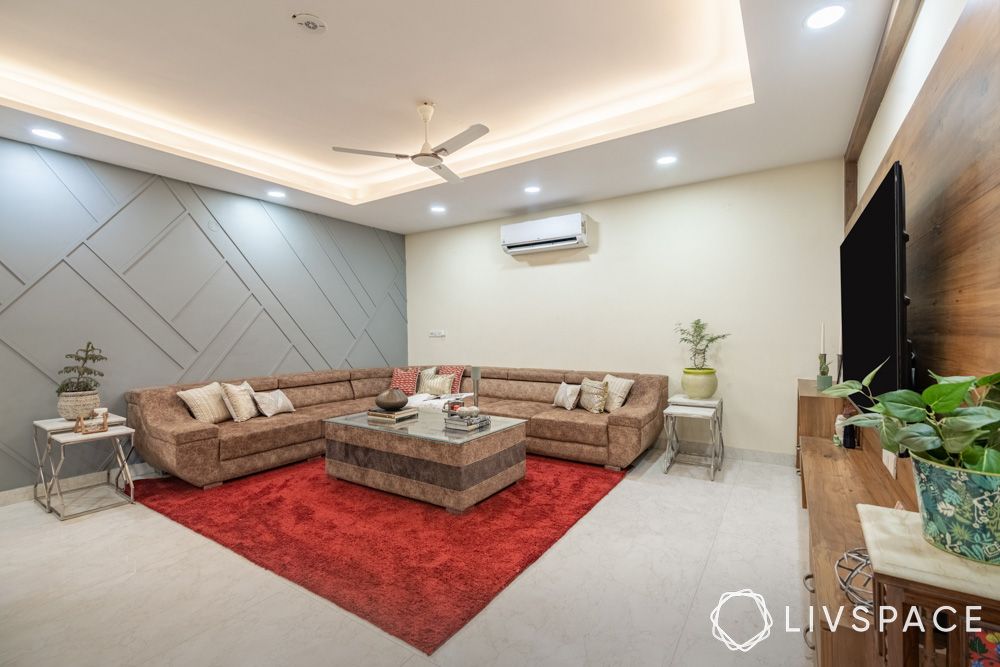 Location: Faridabad, Hyderabad
Size of home: A 3BHK
It's very common for Haryana homes to have a traditional aesthetic, but what sets this Haryana home renovation apart is the modern transitional designs it also features.
With a grey accent wall that has MDF trims, this drawing-cum-dining room has an elaborate TV unit that packs in a punch. If you're wondering what's the best living room decor idea from this space, you might want to take a look at the airy vibe this space has.
The large sofa set keeps up the spacious look of the room. However, look at the centre table. We're delighted to tell you it was custom-made by Livspace to help maintain design continuity in this living room. The red rug ties it all together and gives the neutral and grey room a touch of vibrancy.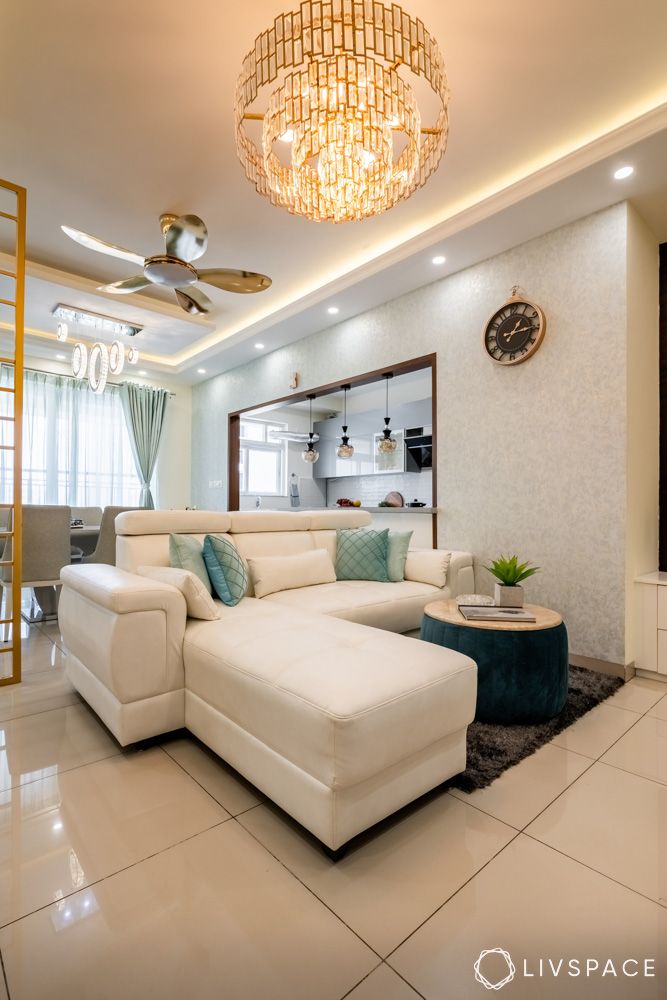 Location: Prestige Royal Gardens, Bengaluru
Size of home: A 2.5BHK
When you talk about luxury, what do you envision? A chandelier, opulent finishes and gold accents. We're asking because those are the most searched for luxury living room ideas of 2022. That's why we're showing you this rich, luxurious open layout living room with its defining features.
With distinct chandelier designs in both the living room and the dining space, the designer created a luxe ambience while anchoring each space effortlessly. Moreover, this living room also features a white sofa and a circular centre table.
The TV unit has a marble texture wallpaper for a sophisticated and plum look. Also interesting to note is the niche pooja unit that has been accommodated in the living room. Quite a smart use of space, wouldn't you say?
How to Upgrade Your Decor With the Best Living Room Design Ideas?
Now that we've come to the end of our list of the top living room interior designs of 2022, you can say with confidence that you've taken a look at the best living room decor ideas of 2022. If you still want us to list the 3 best living room decor ideas of 2022, we would mention layered lighting, wall panelling and 3D feature designs.
Luxury living room ideas of 2022 would incorporate a few more decorative items, from decor pieces that are exclusive to vintage artworks and antique furniture with intricate detailing. For a more modern look, you can opt for leather furnishings and club it with a pair of studio lights and a trendy bar unit that can serve as a statement piece.
How Can Livspace Help You?
We hope you found our ideas useful! If you want beautiful interiors for your home, then look no further. Book an online consultation with Livspace today. Have any thoughts or suggestions you'd like to share with us? We're all ears! Drop us a line at editor@livspace.com.