Who doesn't love incorporating trends into their lives—be it fashion or interior design? However, when it comes to interior design elements and trends, some have a short life while others are evergreen. So, you must be careful while choosing trends to make sure your home looks flawless even five years later. This is where an interior designer can help you. Something like this happened with Asis Patra and his wife Suchi, who found the right designer who could understand their ideas and translate them into reality. Hear it from the couple on how Livspace helped them with their interior design journey:
All it took was thirty minutes for Asis and Suchi to know that Livspace was their right partner. While this 3BHK Blue Waters apartment interior design stands out for its spacious design, it also has several striking and trending elements. Here are the five main ones.
Tip #1: Interior Design Elements in a Modern-Contemporary Living Room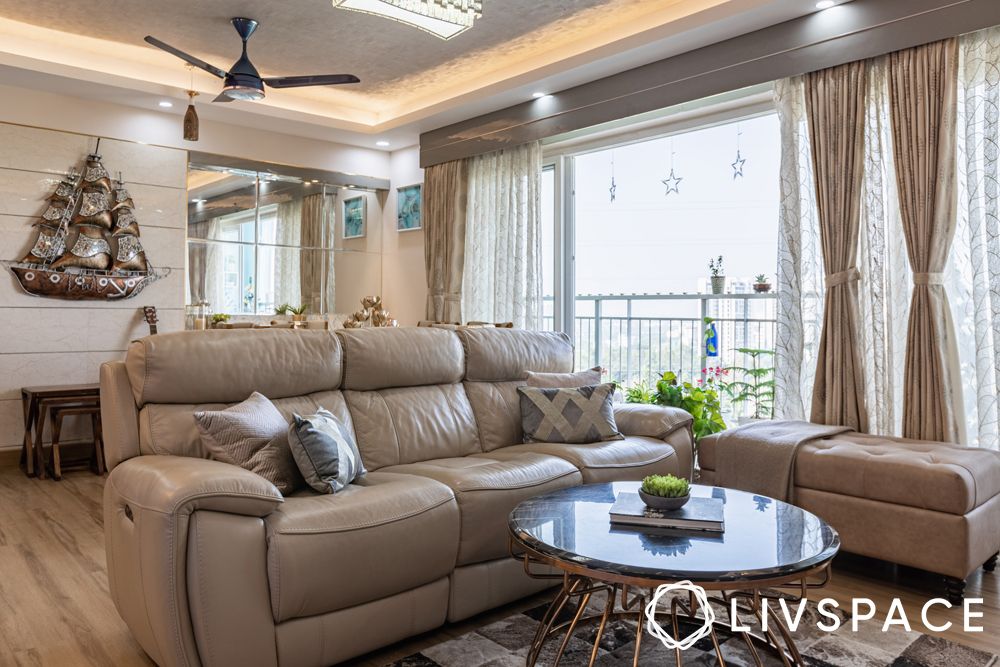 You've heard of modern homes and you must have come across the term – contemporary interior design. But have you heard of the modern-contemporary style? The modern interior design style refers to the Mid-Century design style of the 1920s-50s. It also has traces of Art Deco along with features of the post-modernist styles of the 1980s and 90s. Contemporary interior design style, on the other hand, refers to anything that is trending now. Modern-contemporary interior design is a mix of both these styles.
Also Read: Modern vs Contemporary Interior Design: What's the Difference and Which One is Better?
The Patras' living room features interior design elements that are both modern and contemporary. For instance, the warm colour palette and wooden flooring symbolise modern interior design. On the other hand, the tiled wall and coffee table are contemporary in style.
Tip #2: Pantone Colour as an Element of Interior Design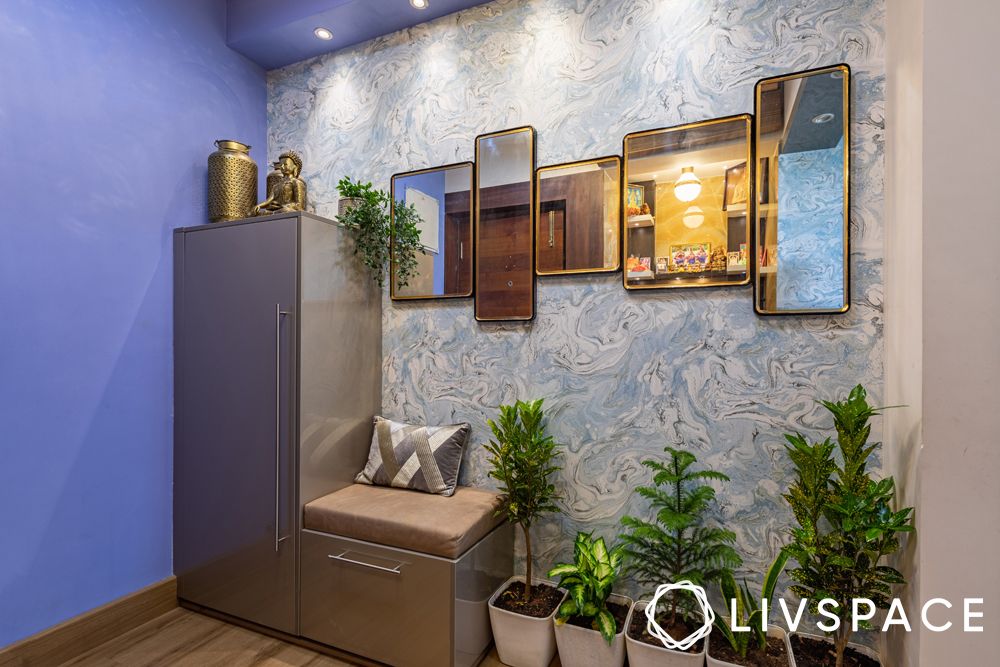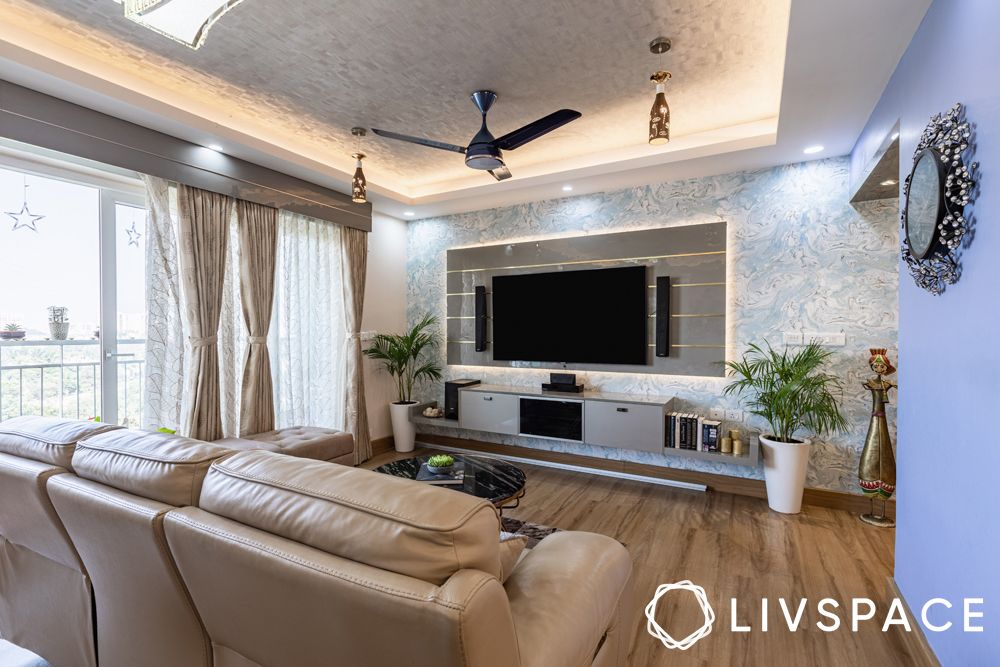 Every year, Pantone releases a 'colour of the year'. This year, it was Very Peri, a vivid periwinkle blue with violet-red undertones, symbolising personal inventiveness and creativity. And as soon as you enter the Patras' 3BHK house interior design in HSR Layout, you can see this gorgeous and calming colour. This makes their foyer look welcoming, especially combined with the light wallpaper. Additionally, the mirrors make this space vastu-compliant, as it is believed that mirrors at your entrance attract positive energies.
Tip #3: Interior Design Elements in a Unique G-Shaped Kitchen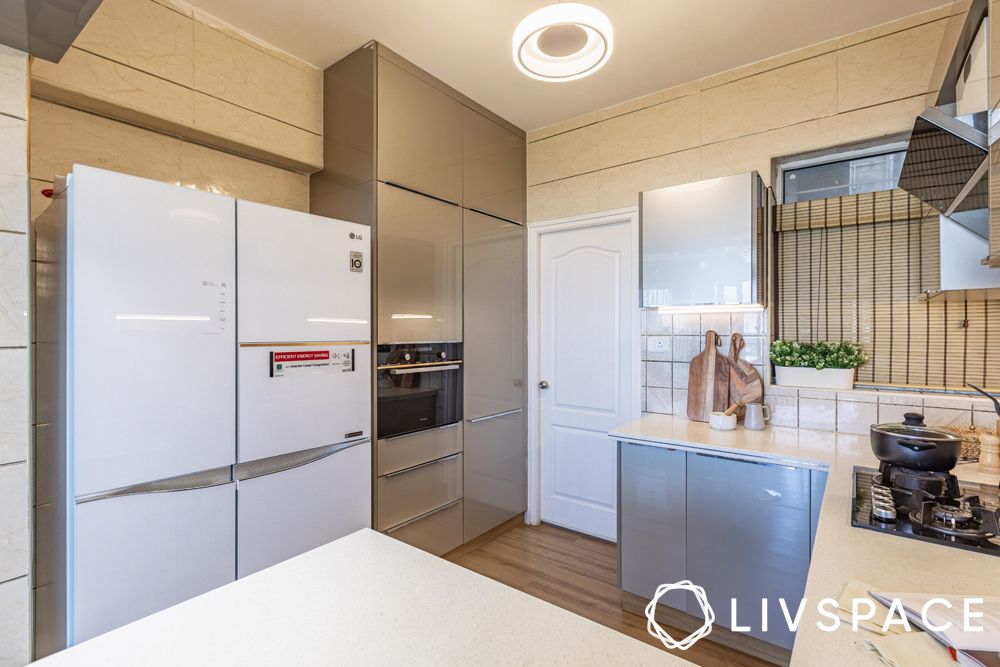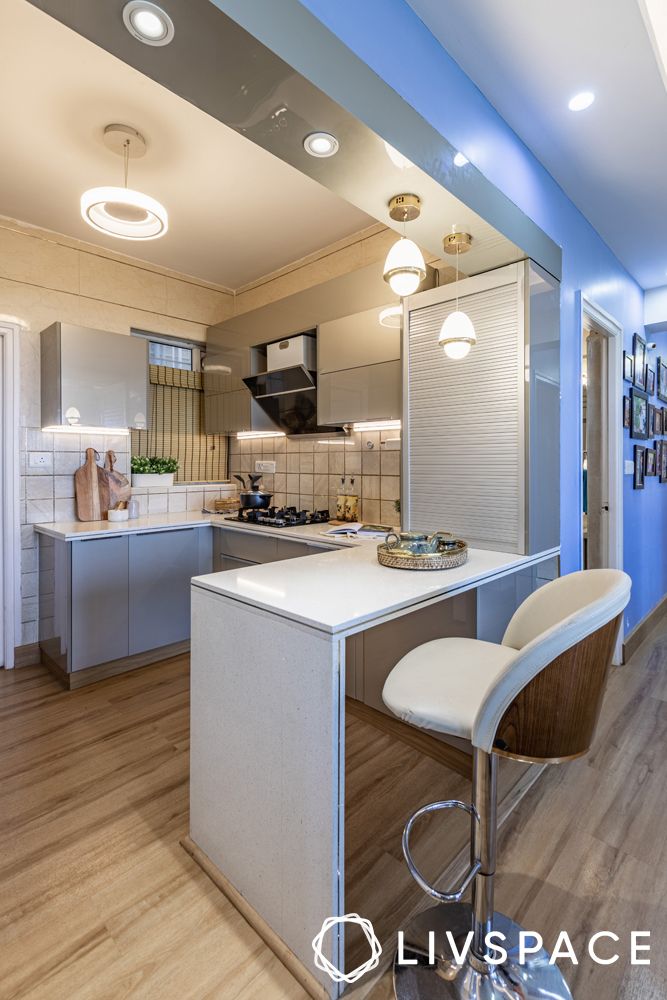 You must have heard of the six main types of kitchen layouts – straight, parallel, L-shaped, U-shaped, island and peninsula. But have you ever heard of a G-shaped kitchen? One of the most interesting interior design elements in this 3BHK house interior design in HSR Layout is the unique layout of the kitchen. The four sides of this kitchen layout provide extra countertop and storage space. Moreover, the Patras' kitchen follows the golden triangle rule, with segregated hot, wet and dry areas.
Tip #4: Wallpapers in Every Room as Design Elements in Interior Design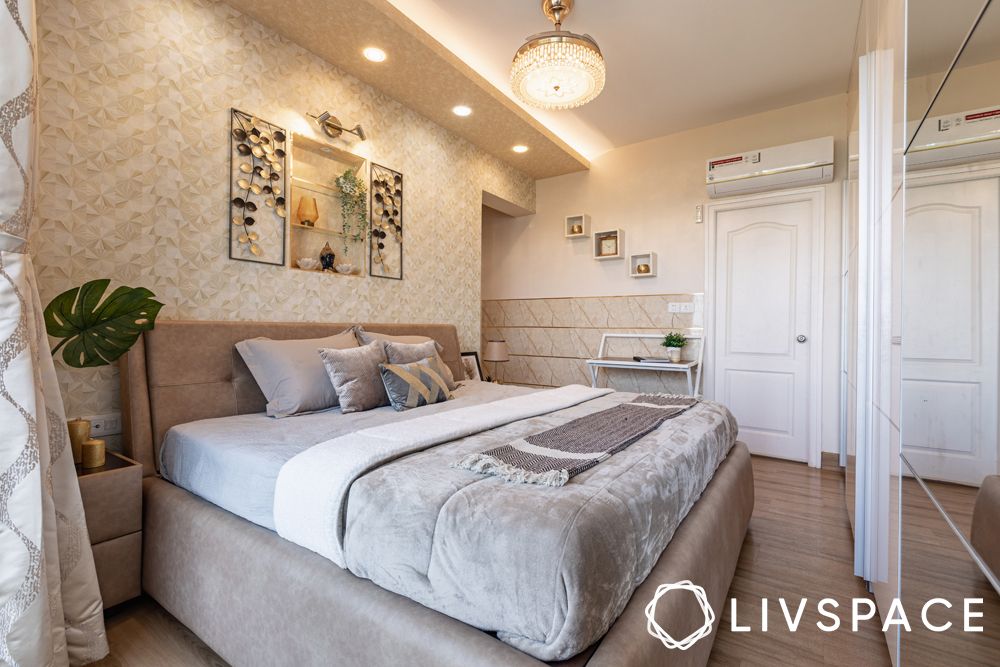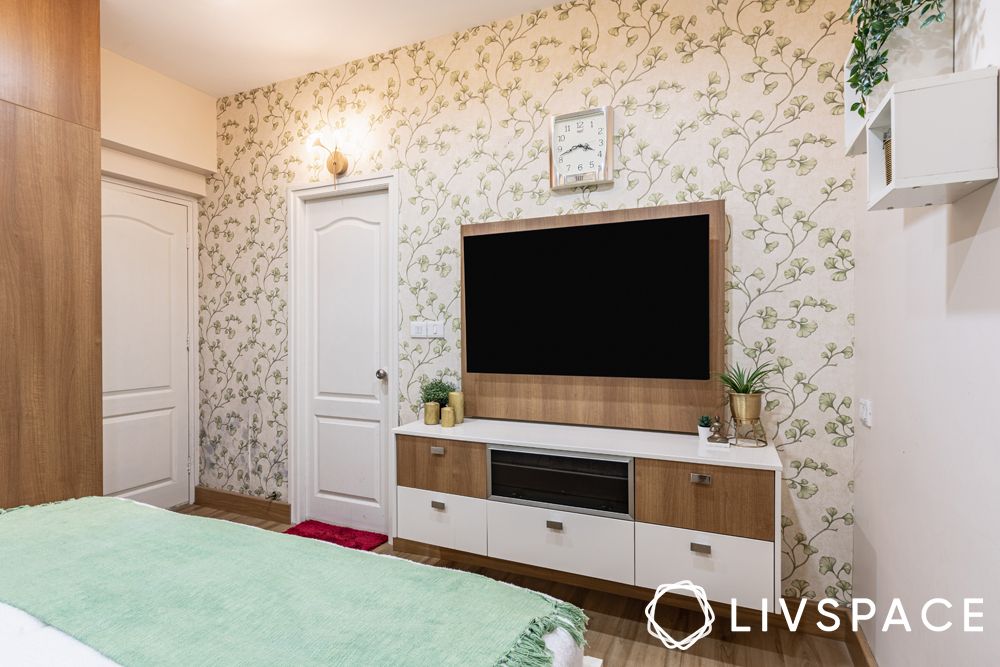 When it comes to the basic elements of interior design, wallpapers are a simple and effective way to make your home look stunning, without going overboard with the cost. Therefore, our designer has made ample use of wallpapers throughout the Patras' home. From a warm, neutral wallpaper in the master bedroom to a refreshing, nature-inspired wallpaper in the parents' bedroom, each room has a different theme.
Tip #5: Interior Design Elements in a Pooja Room Built Into a Niche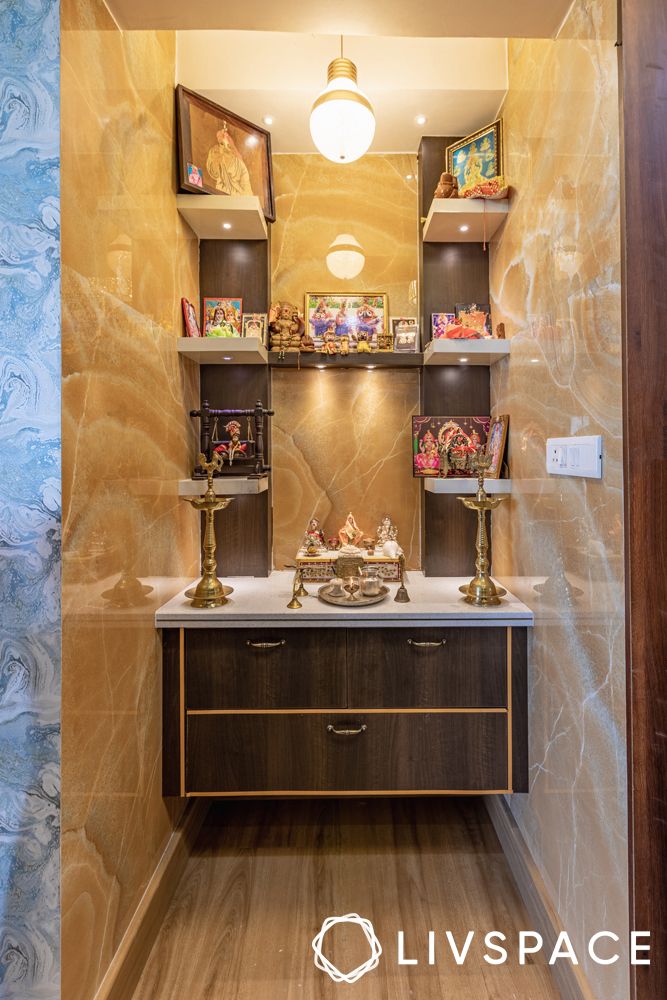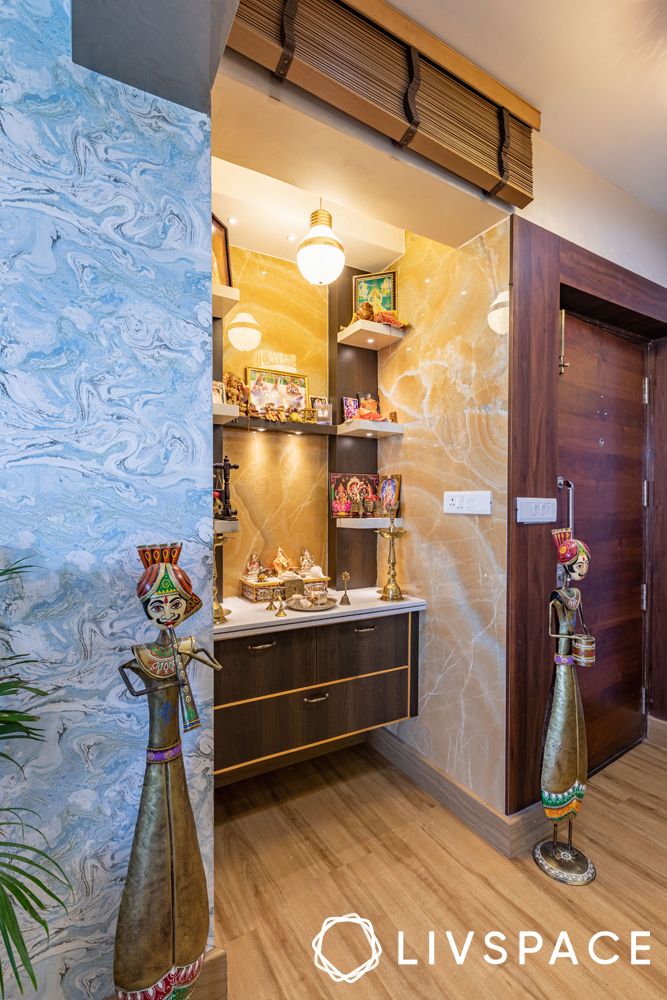 While the Patras' home is quite spacious at 1,575 sq. ft. approx., not everyone has the luxury of a large home. When space is scarce, make use of the niches in your flat. Pooja rooms built into niches is one of the most popular interior design trends today. This SJR Blue Waters apartment interior design had a niche next to the main door which was also vastu-compliant. As a result, our designer converted it into a compact pooja room with backlighting and a retractable bamboo screen for privacy.
Incorporating these interior design elements into your home will ensure you have a trendy, stunning and functional design. If you enjoyed reading this article, also check out this vastu-friendly 3BHK in Hyderabad.
How Can Livspace Help You?
We hope you found our ideas useful! If you want your home to be just as beautiful, then look no further. Book an online consultation with Livspace today.
Wondering how our customers feel about working with Livspace? You can check out the Livspace reviews here!
Have any thoughts or suggestions you'd like to share with us? We'd love to hear you out. Write to us at editor@livspace.com.