"I want to grow old with you" stands out in its effectiveness as a proposal to your beloved. But did you know that it can also be a design statement for your home? Well it certainly was for Neha and Omkar who wanted 3 BHK home decoration for their home that would grow with time, just as they would! Why not hear it from the couple itself!
So we caught up with our designer Ritika to fathom what the couple meant when they said "a home that grows with us". And she said, it had to be a home that would not go out of trend very quickly or have no space to bring in new things. And she had to plan the decor keeping this in mind.
If this is your design statement like Neha and Omkar, here's what you can do to ensure that you and your home grow together at a similar pace.
#1: Pick Timeless Design Elements That Don't Go Out of Fashion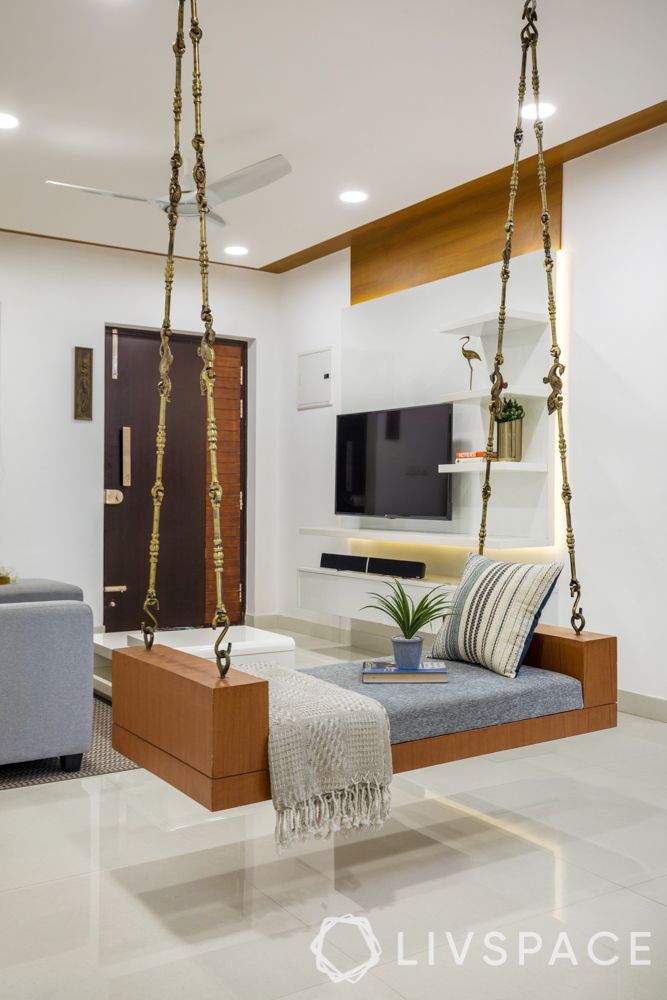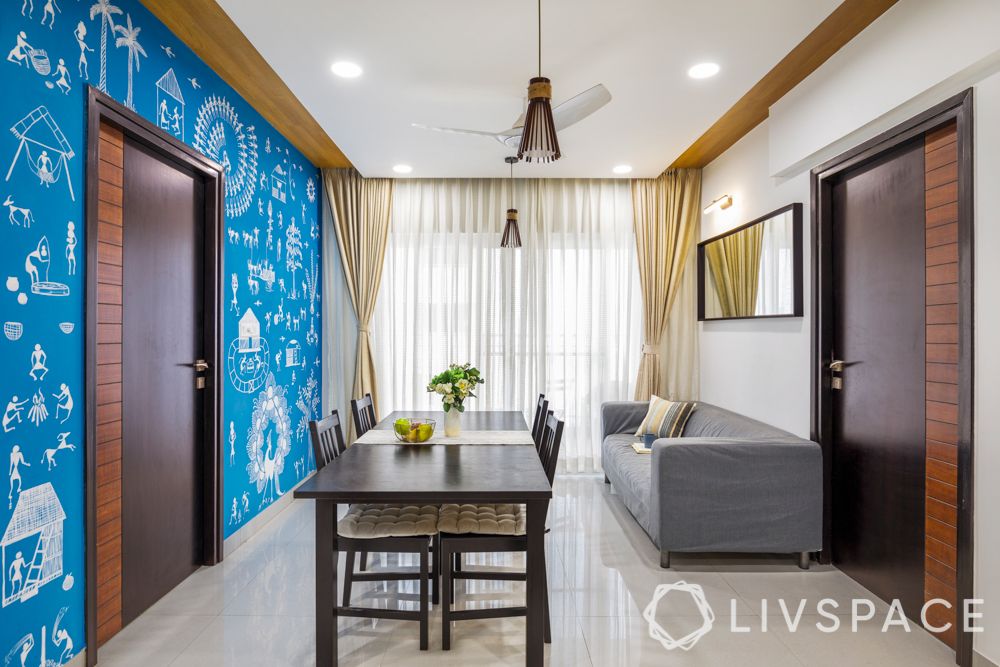 Have you ever wondered what is the difference between a trend and a style? Trends are fleeting but an innate sense of style is timeless. So Neha and Omkar filled their forever home with timeless elements of style that will never go out of vogue. For instance, a wall painted in the warli style by a local artist or the swing they have installed in the middle of the living room.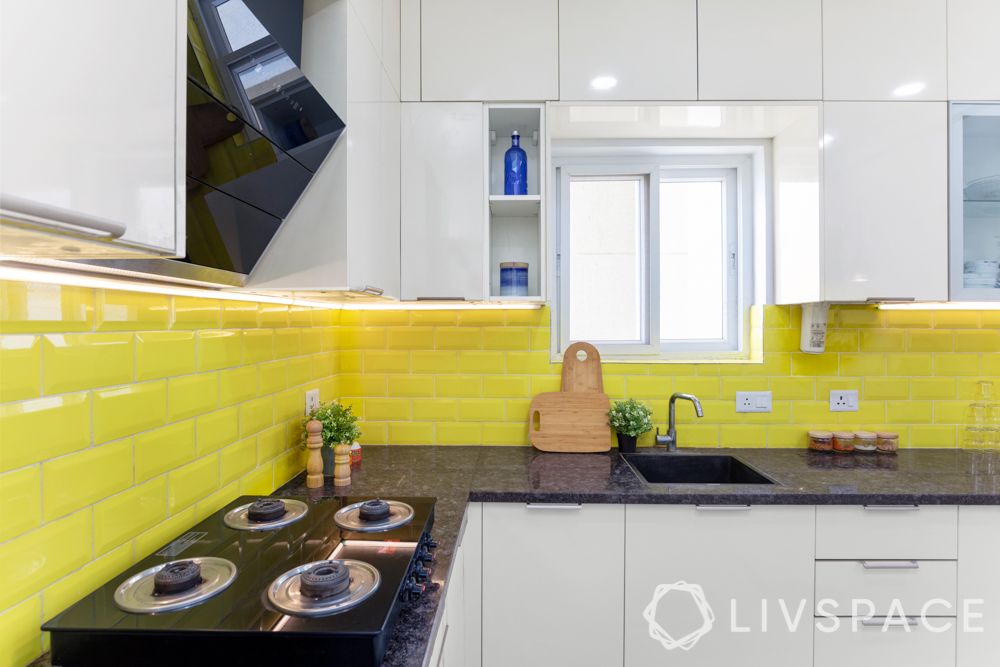 Moreover, their kitchen, pristine in white, is also something that will not go out of fashion in a hurry. White kitchens have always and will continue to be 'high fashion' for interiors. What also stuck as ingenious was the Himalayan themed wallpaper in their study. The couple loves to trek so it represents a deeply personal aspect of their lifestyle, Meanwhile, something as constant as the Himalayas will never get stale like last season's prints!
#2: Collect, Don't Hoard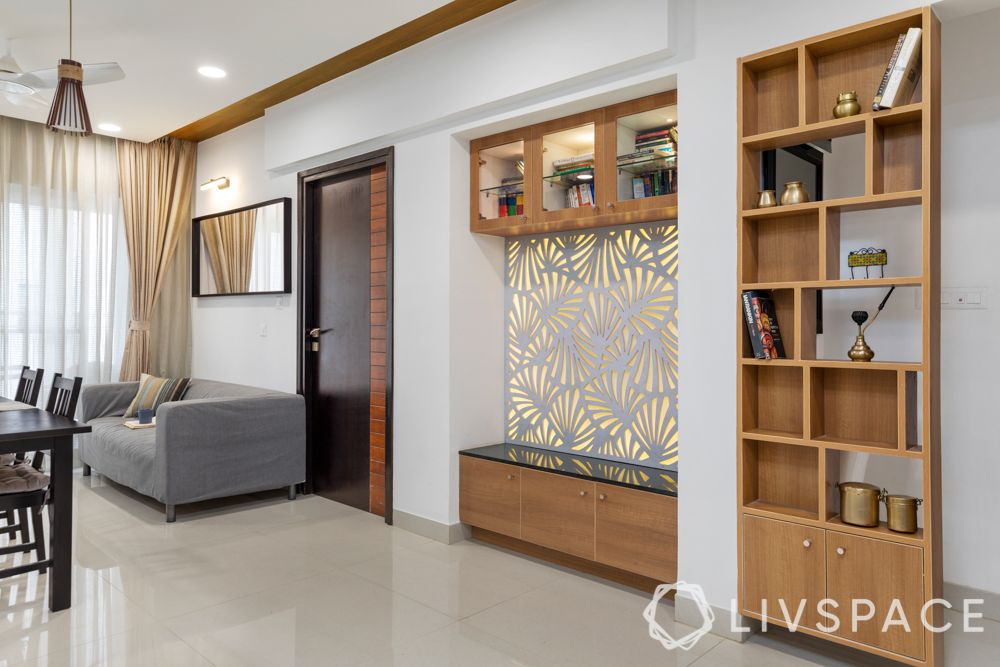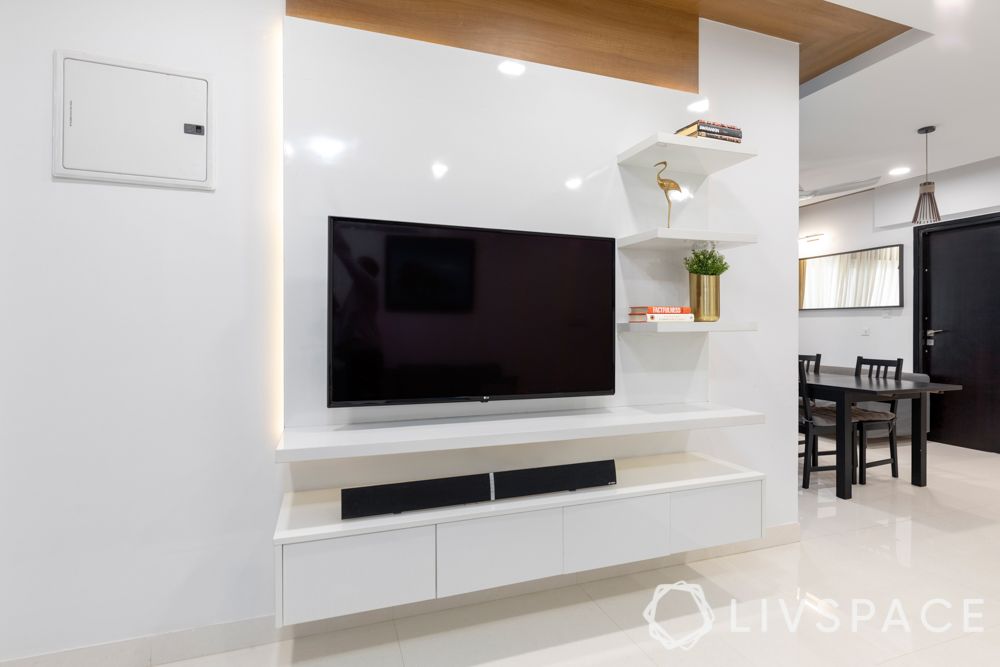 The most note-worthy element about this 3BHK is that it has wide open spaces. There is something about the display shelves and racks that says 'work in progress'. Omkar and Neha love to travel and bring back collectibles from their journeys. So Ritika has left room for them to fill in the future as they go on many more voyages together. Whether it is the display shelf or the TV unit, no part of this home looks like there is no scope to add anything to it.

#3: Just Because You Have Enough Space Doesn't Mean You Don't Have to Optimise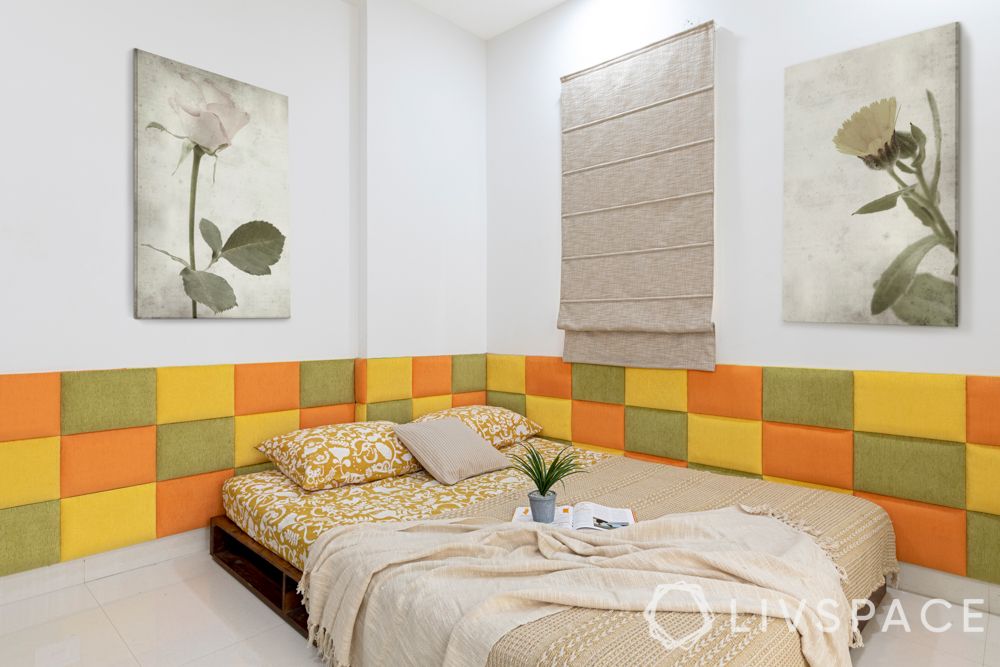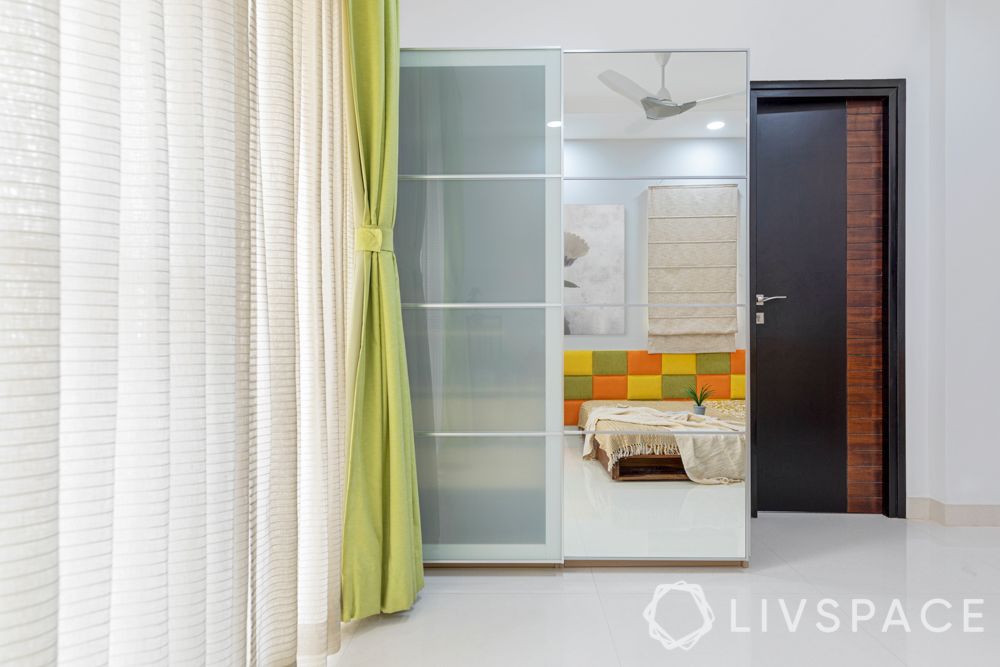 At over 1,800 sq ft, this 3BHK is by no means compact. But just because you have an abundance of space does not mean that you do not have to optimise that space to get more out of it. So with an eye on the future, Ritika asked the couple to hold on to their low bed and refurbished it with a quilted headboard. The trick here is that low-height furniture typically makes a room look larger. The mirror shutter on the sliding wardrobe too is placed in the same vein. They can always choose to do more with the free space in this room in the years to come.
#4: Form Follows Function, So Let Function Lead the Way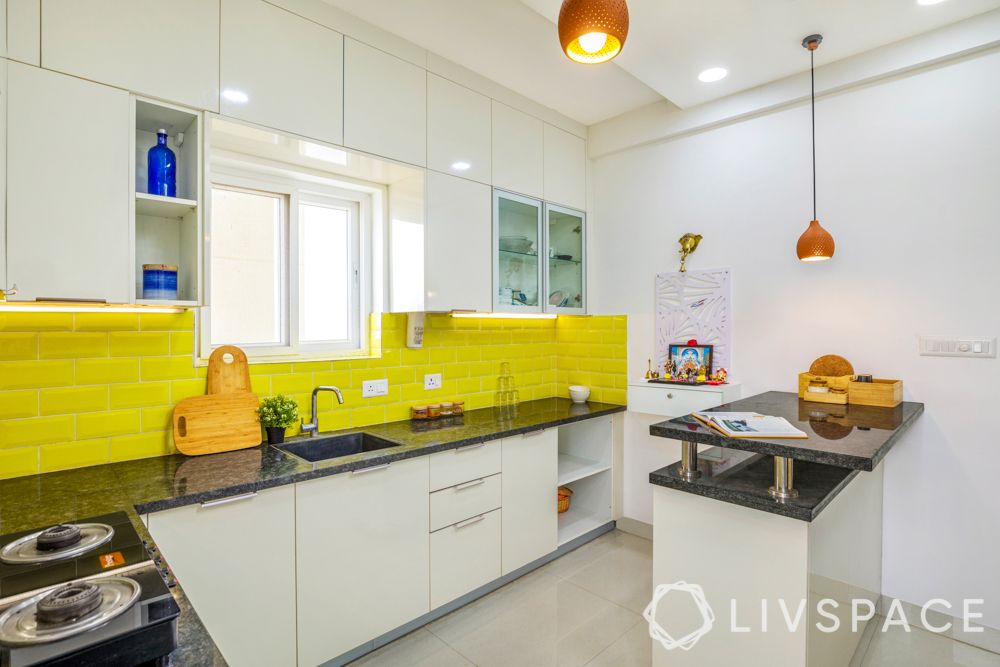 There is a famous saying in designer circles that form must follow function. What it means is that a piece of furniture or layout should be shaped in a way that is suitable for its purpose. For instance, the kitchen island stands out in this 3 BHK home decoration as the place the couple uses to work when they are cooking. The study table in their guest bedroom is simple, almost monastic, as that is just how much it is used.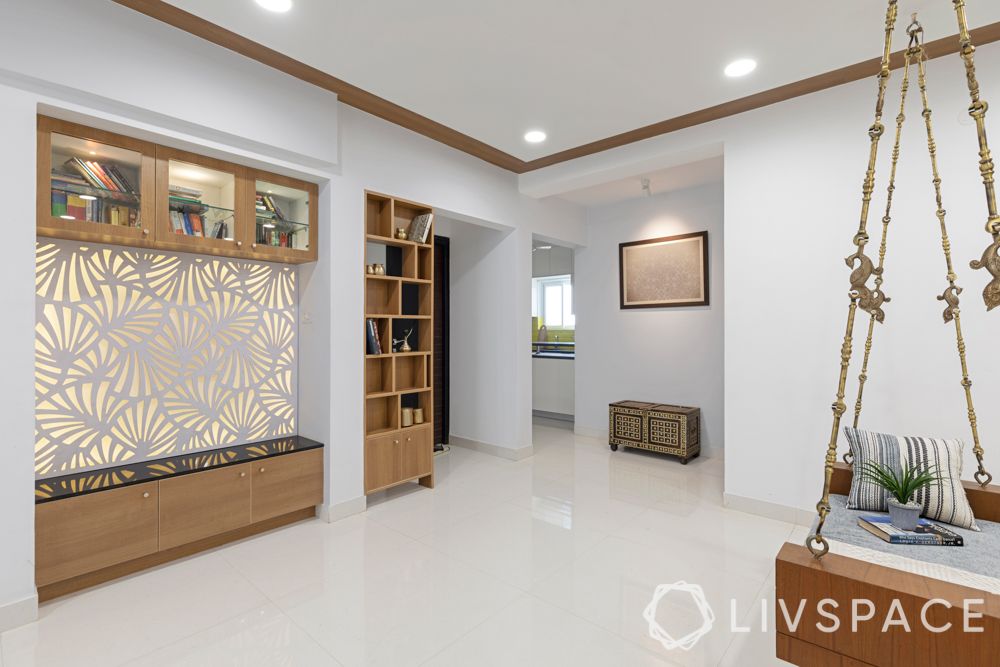 And if you were wondering what is the purpose of the backlit nook with a bench and the bookshelves, it is a sanctuary for Neha. She loves to read and this is her own personal spot in the house. Every little thing you see as part of this 3 BHK home decoration has been put there because it was needed.
If you enjoyed touring this brilliantly crafted home, also explore how to design a stunning home that is also practical.
Send in your comments & suggestions.