This home in Adani Western Heights is teeming with child-friendly ideas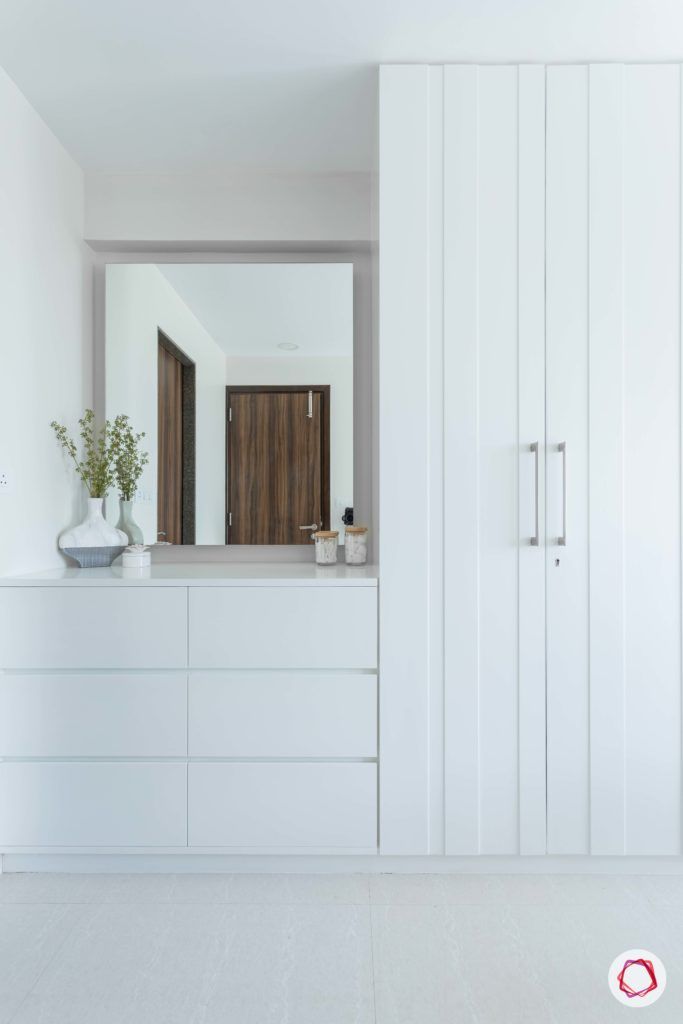 ---
Who livs here: Srikanth Rao & Pavana Shetty with their twins
Location: Adani Western Heights, Mumbai
Size of home: 3BHK spanning 1,200 sq ft
Design team: Interior Designer Pallavi Goel and Junior Designer Hamza Pinwala
Livspace service: Full home design
Budget: ₹₹₹₹₹
---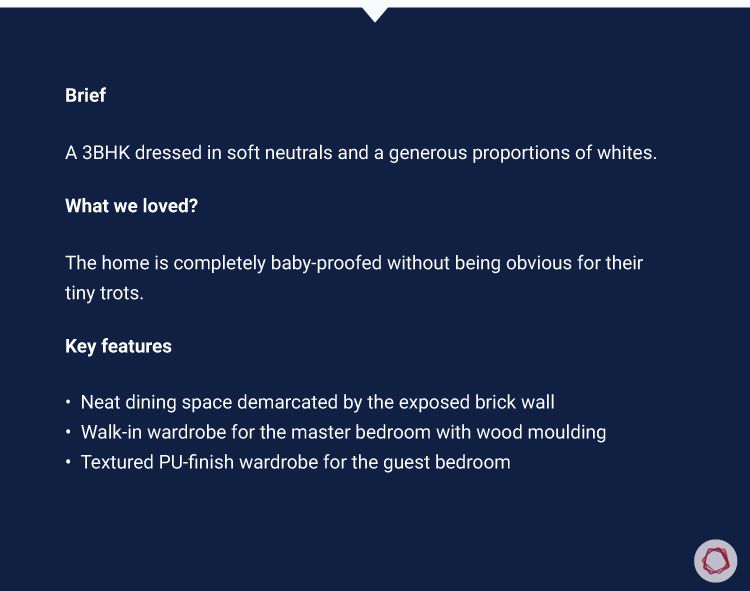 Moving into a new home with young children is quite a task. So Srikanth and Pavani had their hands full with their toddling twin boys. But with interior designer Pallavi Goel and Livspace to help them, they managed to achieve this feat without any hiccups! The couple had very clear requirements for their 3BHK apartment at Adani Western Heights; they wanted their home to be simple yet sophisticated with a smattering of subtle colours. However, more than the aesthetics, they were particular about the safety of their boys. Thus, they wanted their home to be child-proofed in terms of design without using any of the obvious baby-proofing techniques.
Do you need some ingenious baby-proofing ideas for your home? This home at Adani Western Heights will definitely inspire you.
Adani Western Heights: Opulent Foyer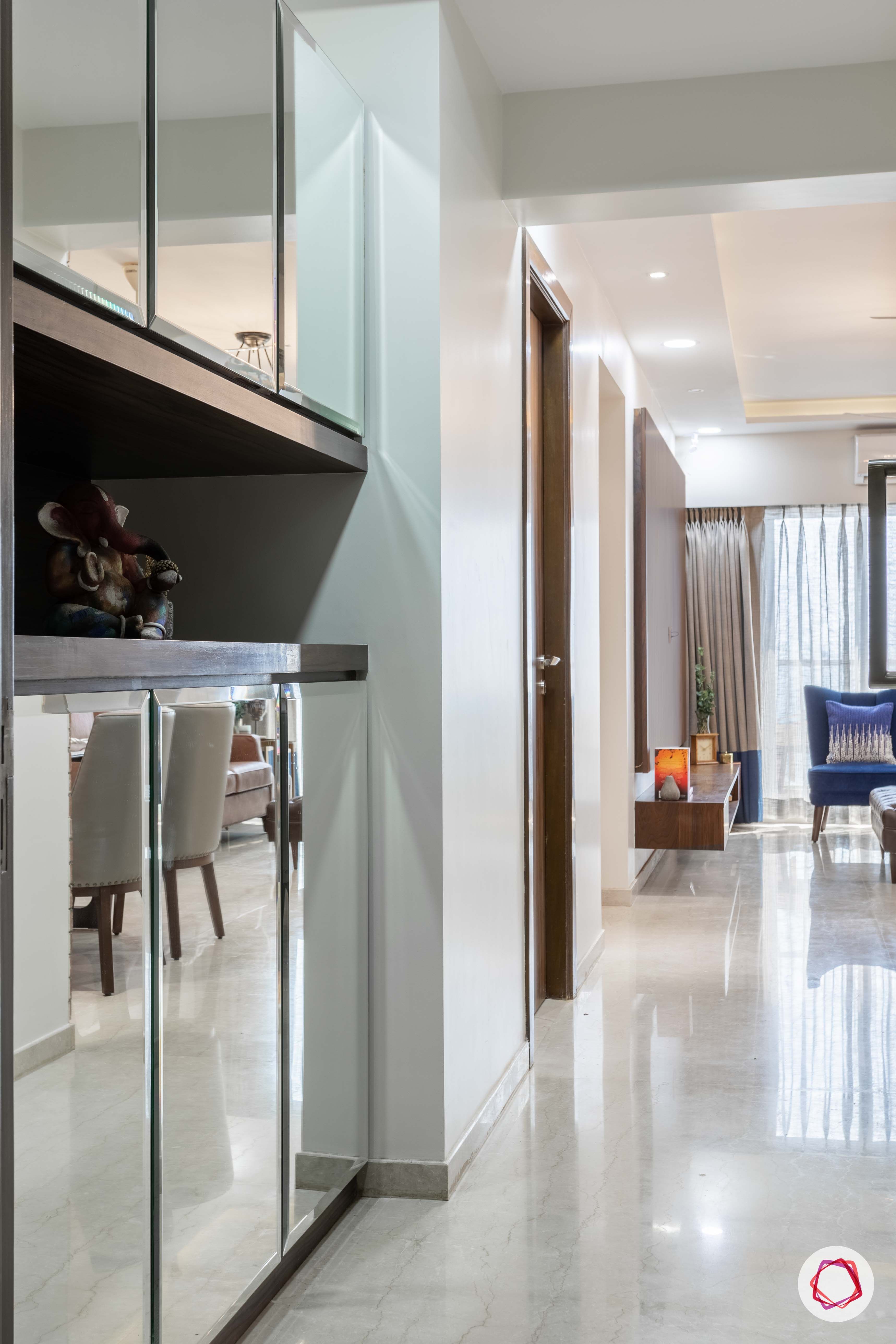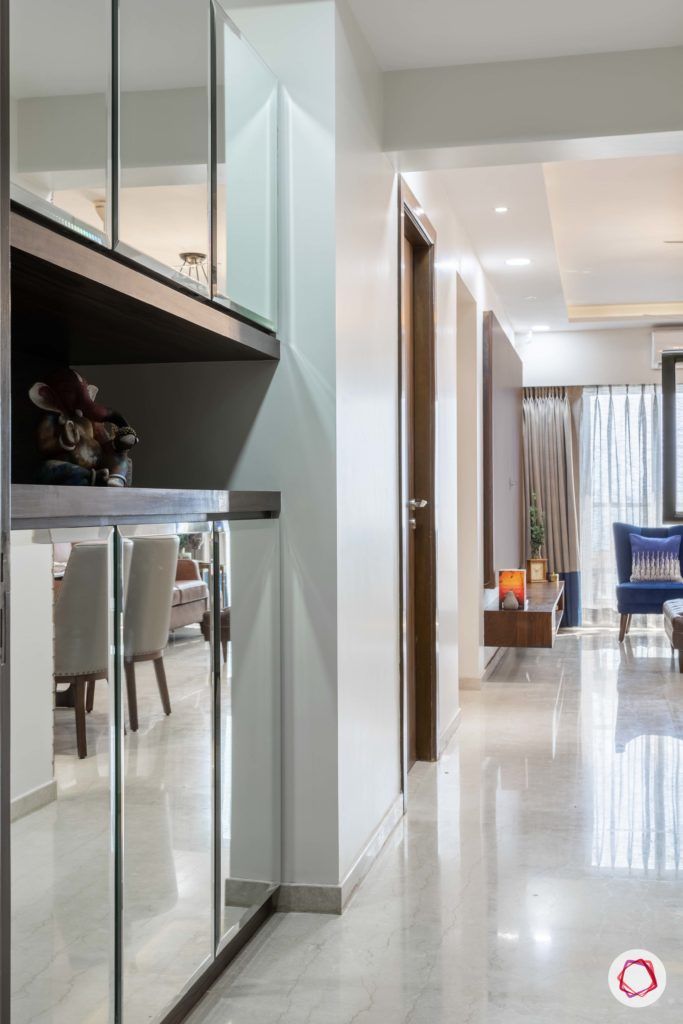 This apartment had a narrow foyer so Pallavi used mirror shutters for the cabinet to make it look wider. Moreover, the base cabinets function as shoe storage and the top cabinets are used to stash knick-knacks. Despite being completely functional, this space cuts a posh image as an entryway for the home.
Adani Western Heights: Baby-proofed Living Room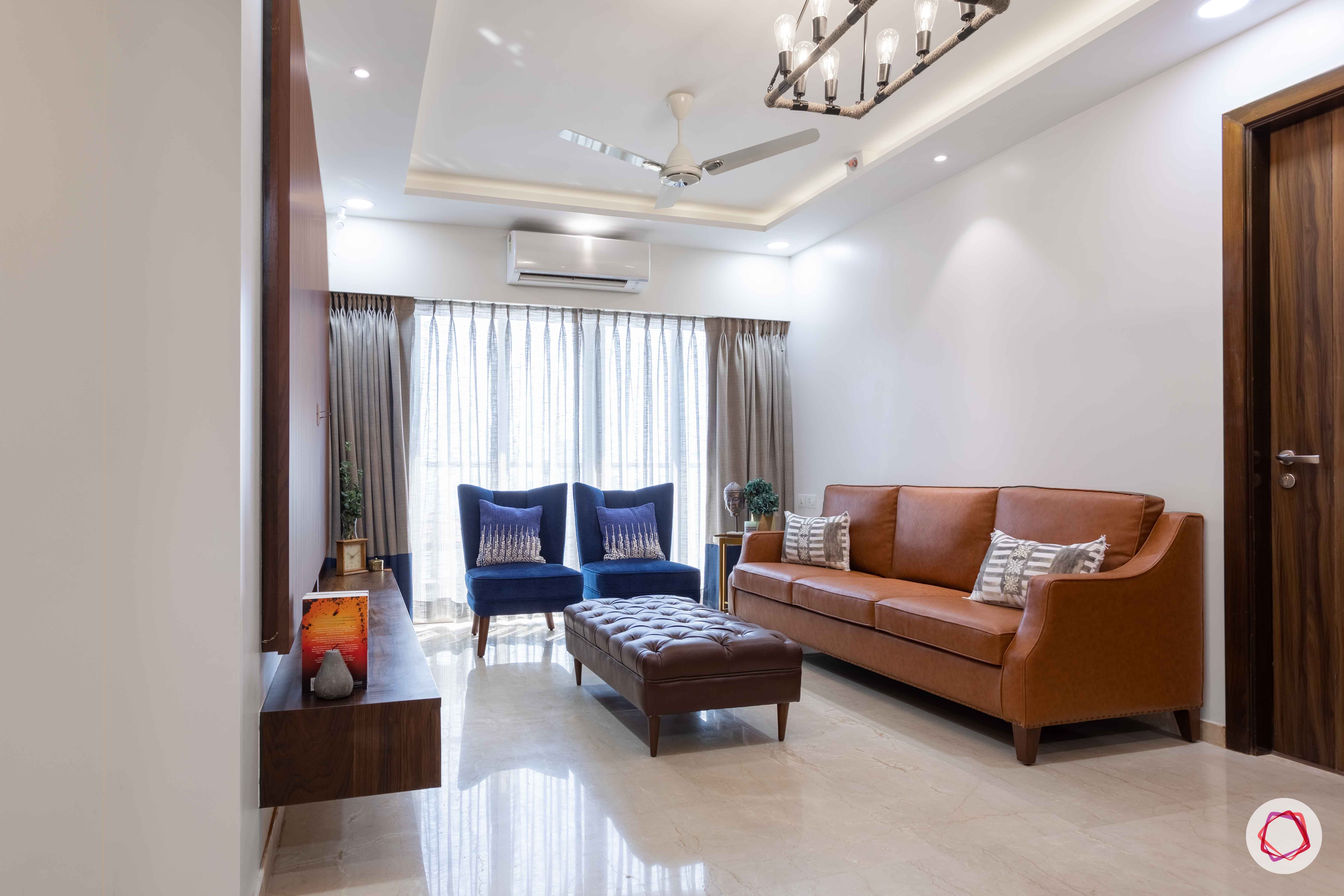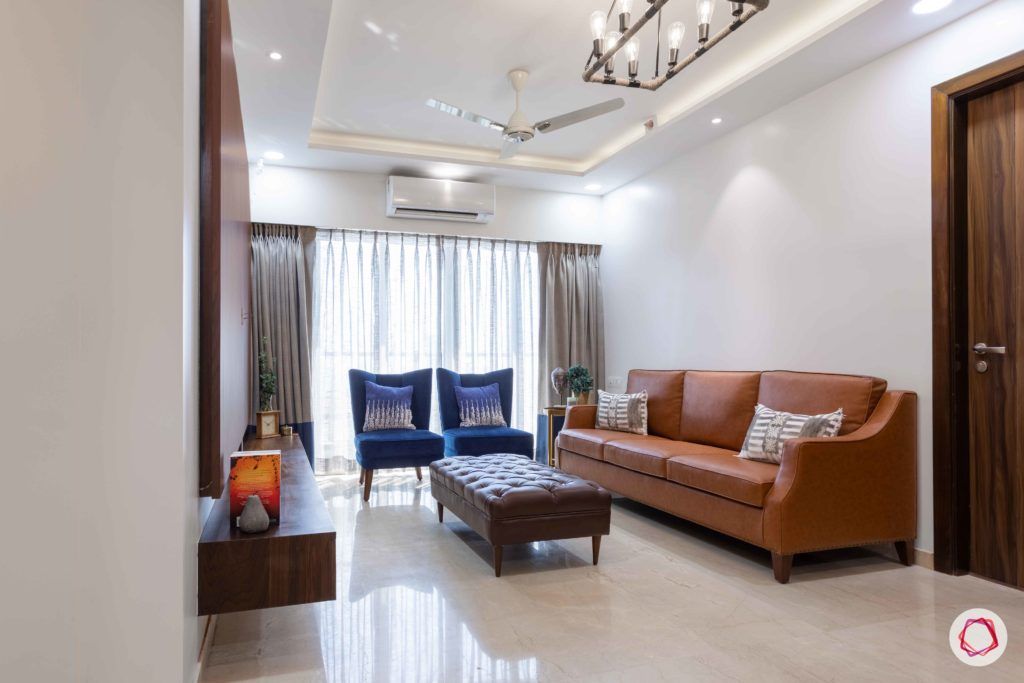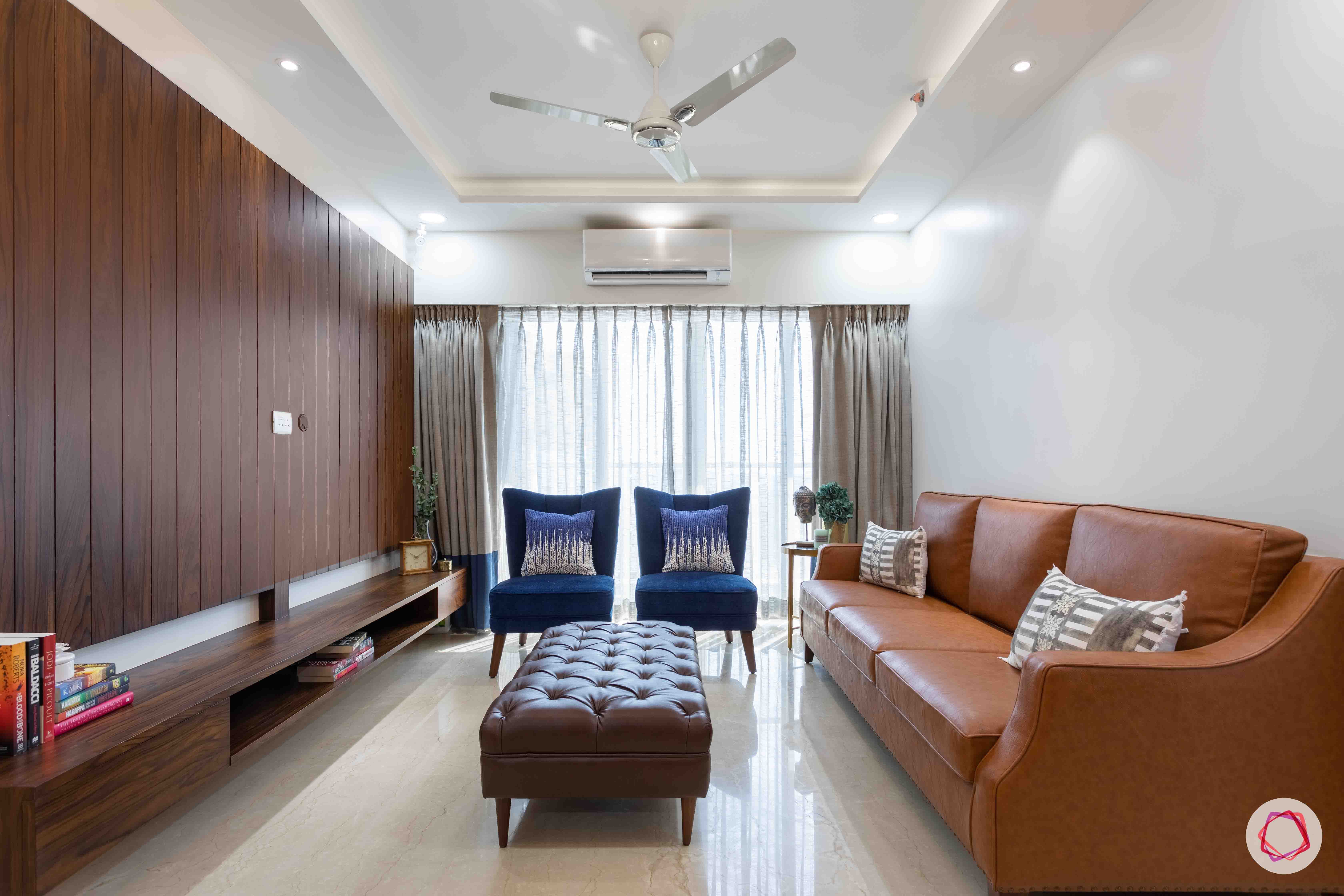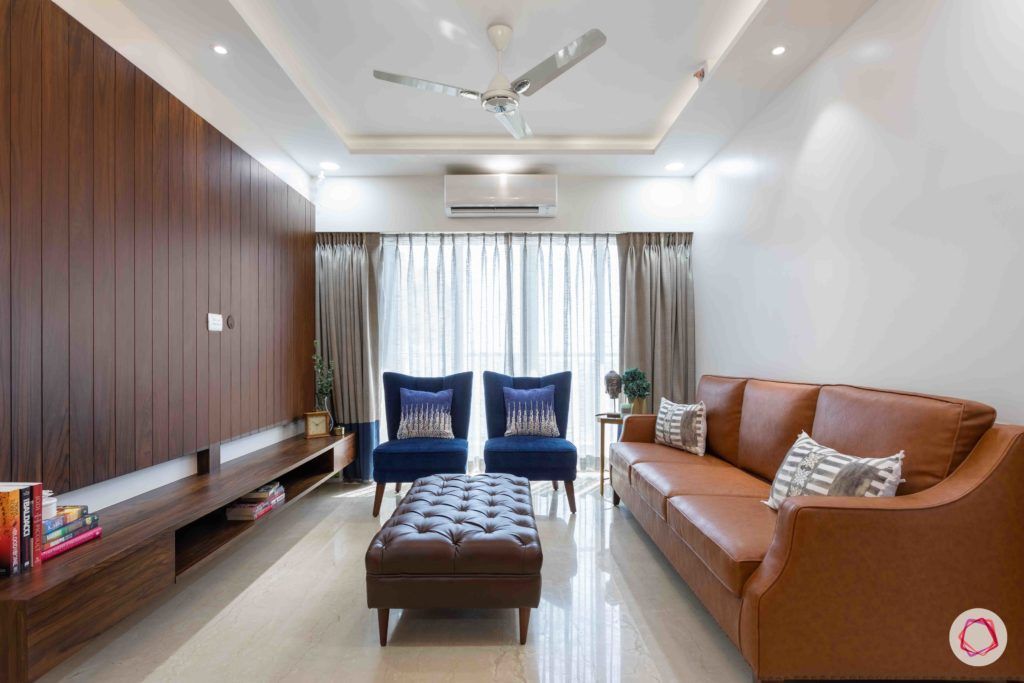 The living area is rather unique because it has a tufted rexine ottoman instead of a centre table, which serves two purposes. Firstly, unlike a centre table, the ottoman lacks sharp edges so the kids are less likely to hurt themselves while playing around. Secondly, the two adults in the home can also put their feet up on this comfy ottoman while they watch TV sitting on the three-seater leatherette couch. The two blue chairs add a pop of colour to this space and also serve as additional seating.
The panelling on the wall is veneer that has a textured finish. Further, the entertainment cabinet is kept floating to optimise space. Essentially, the chandelier has industrial overtones as it is made of rope and naked bulbs. In summation, the living area is dressed in various shades of brown with a pop of blue. It also makes a comfortable setting to sit back and relax after a long day.
Adani Western Heights: Industrial Dining Area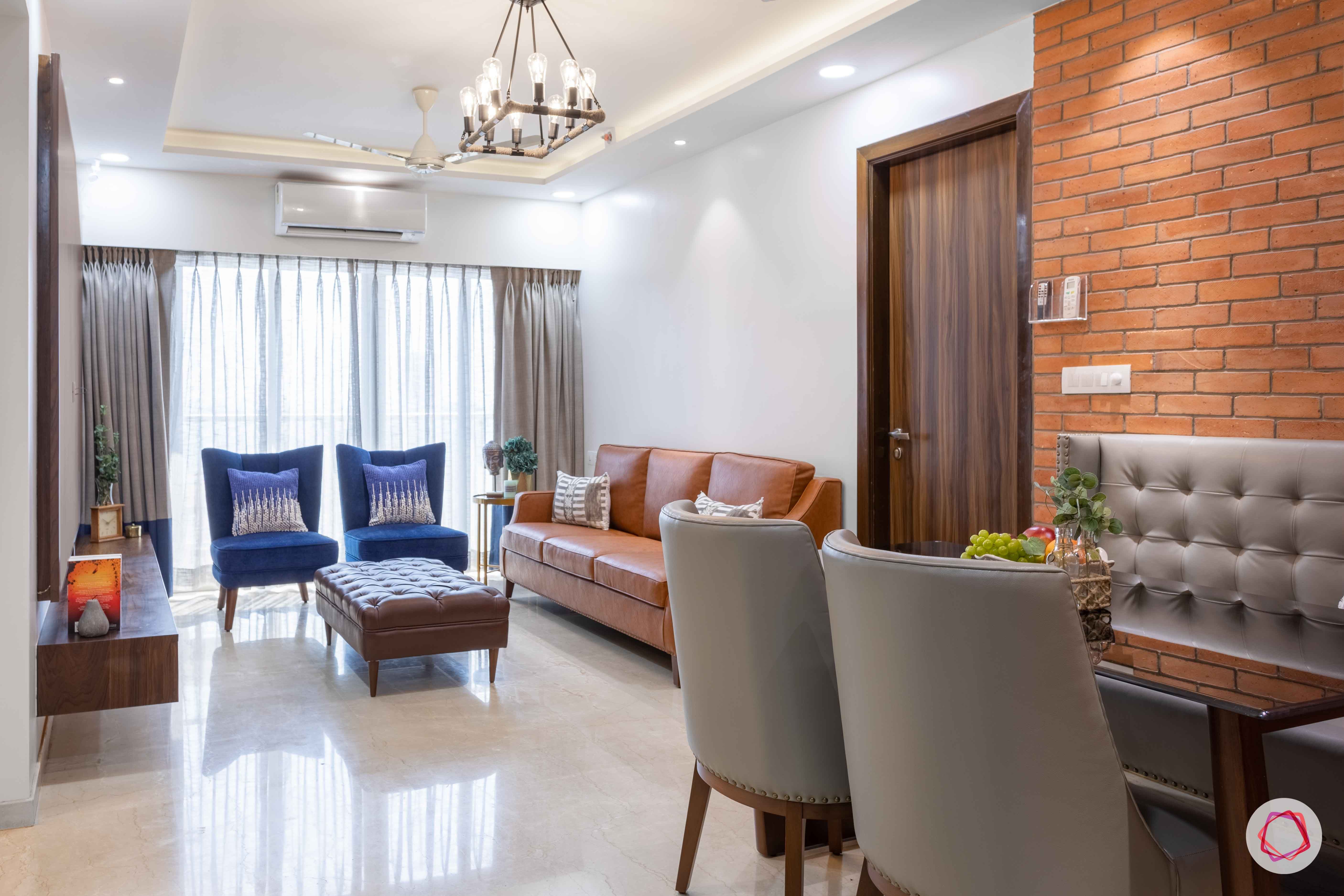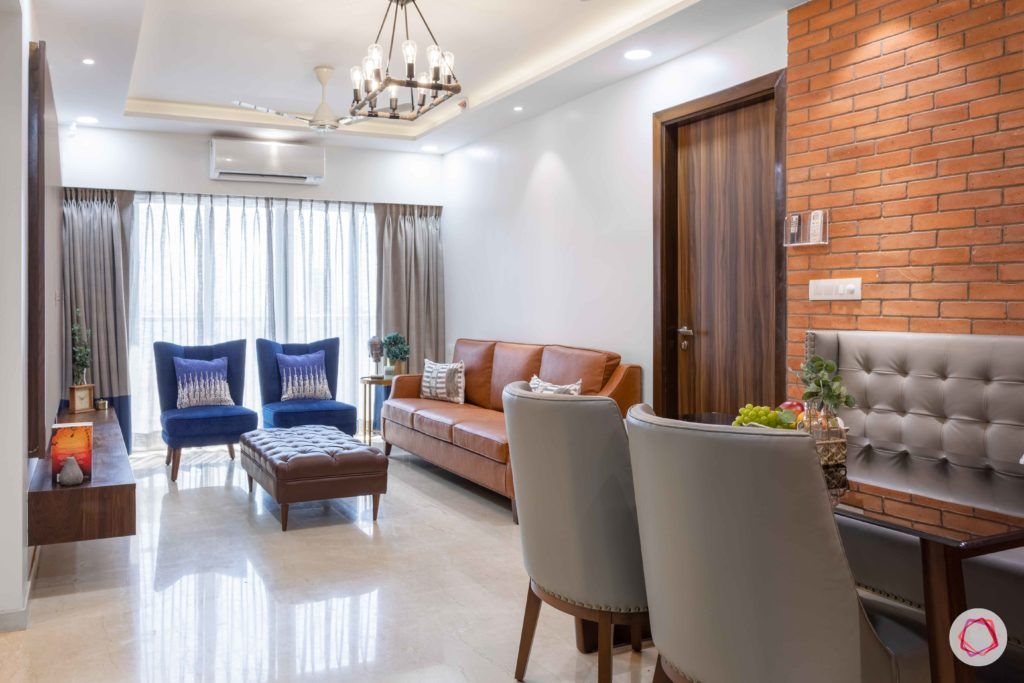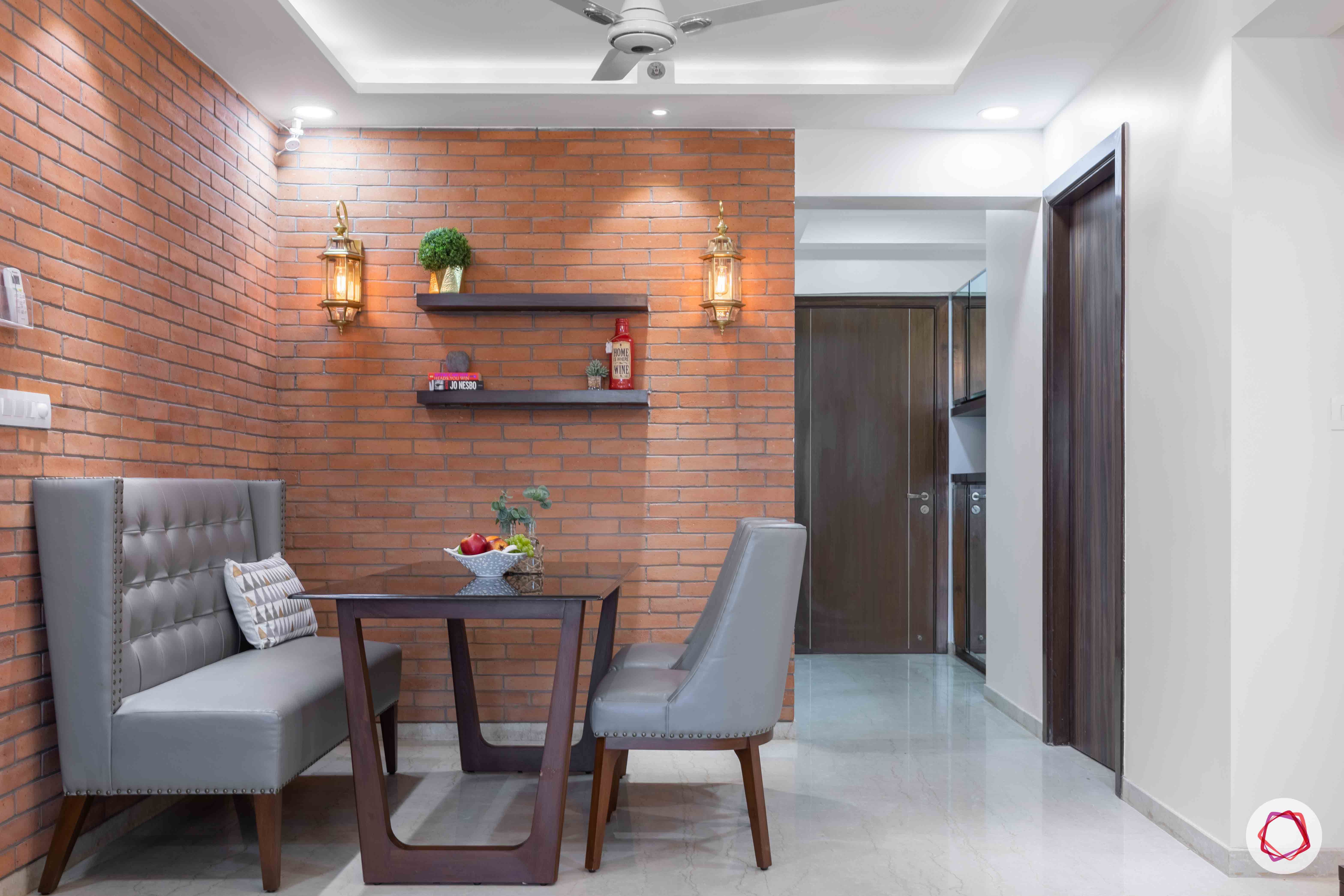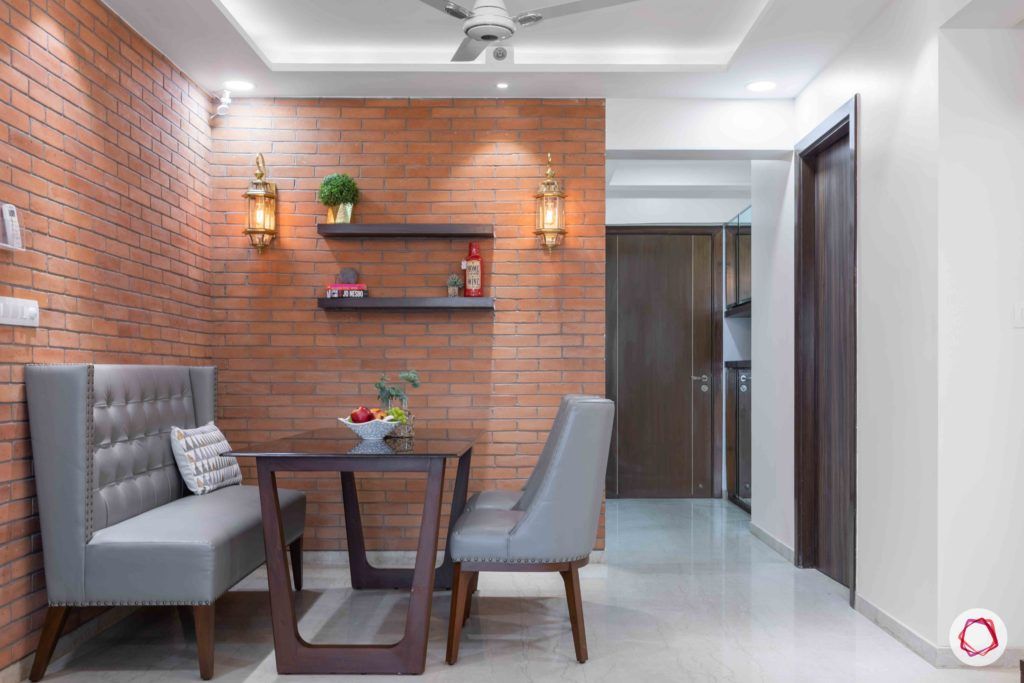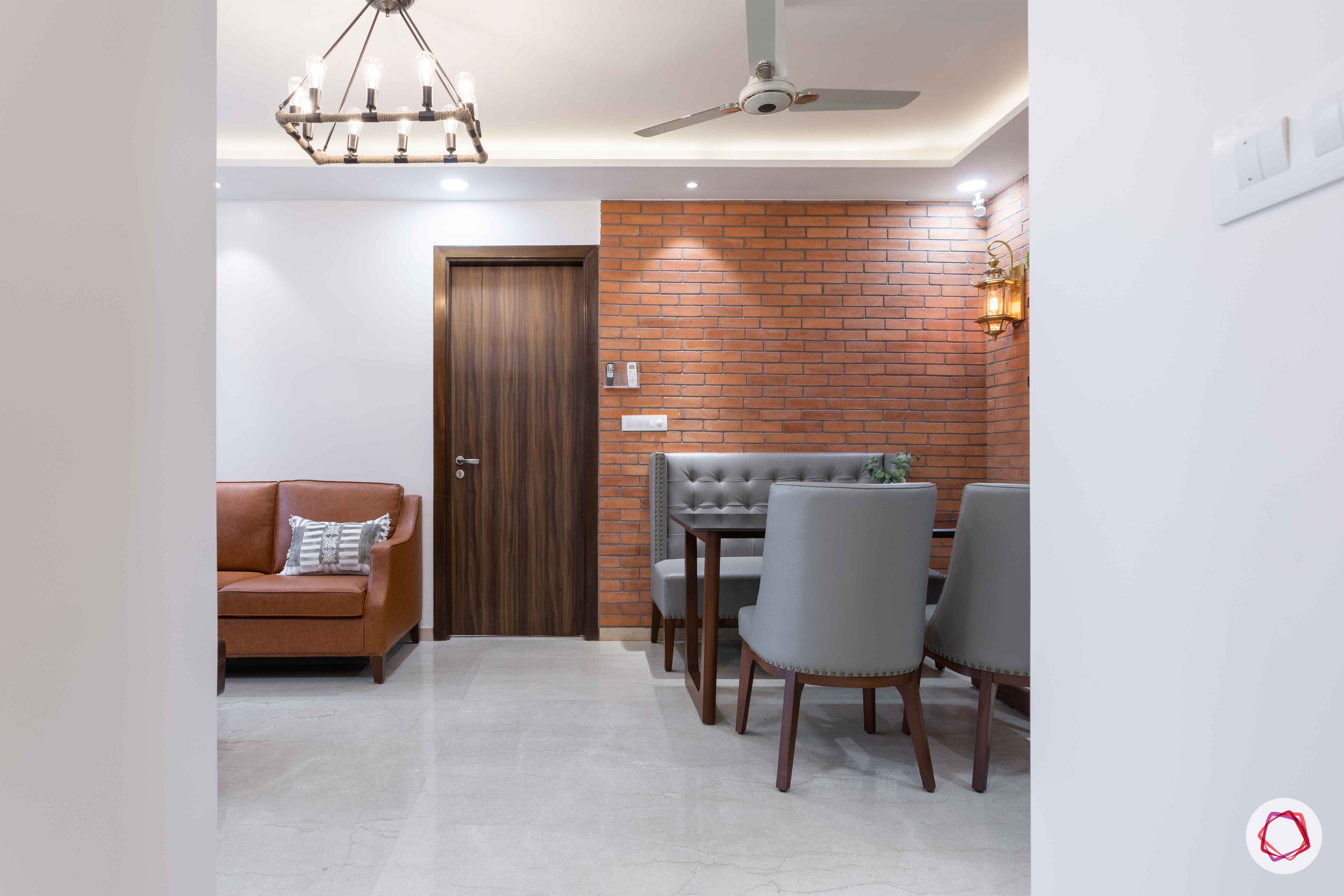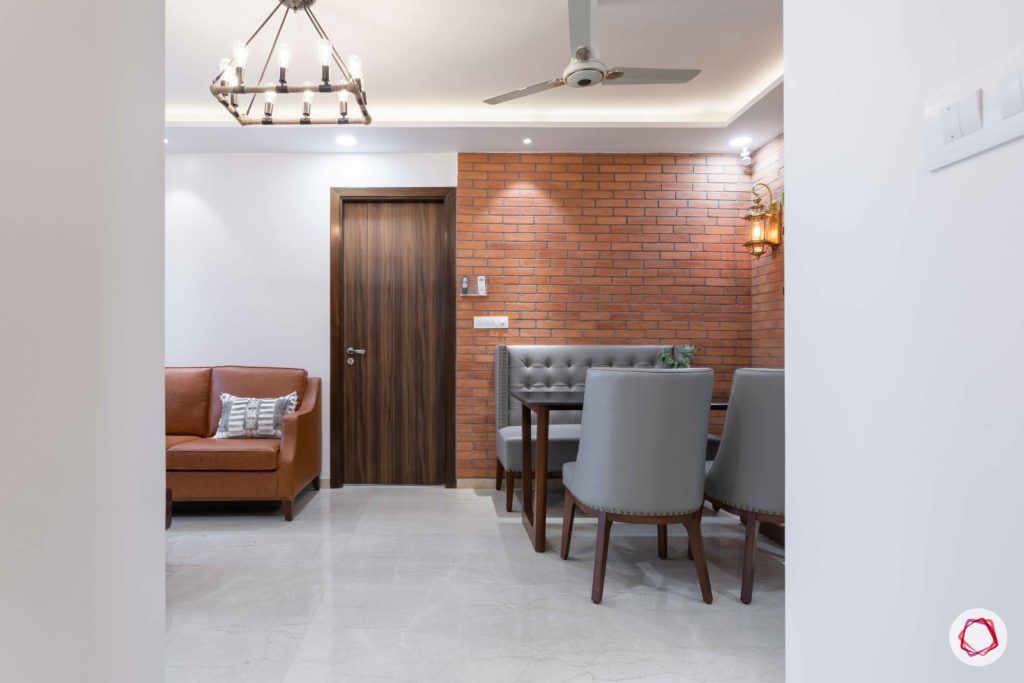 A rustic exposed brick wall that sports vintage wall lights demarcates the dining area. Essentially, it is accompanied by a sofa on one side and chair on another is custom-made. In fact, it is upholstered in grey leatherette and sports the same tufted design as the living area furniture.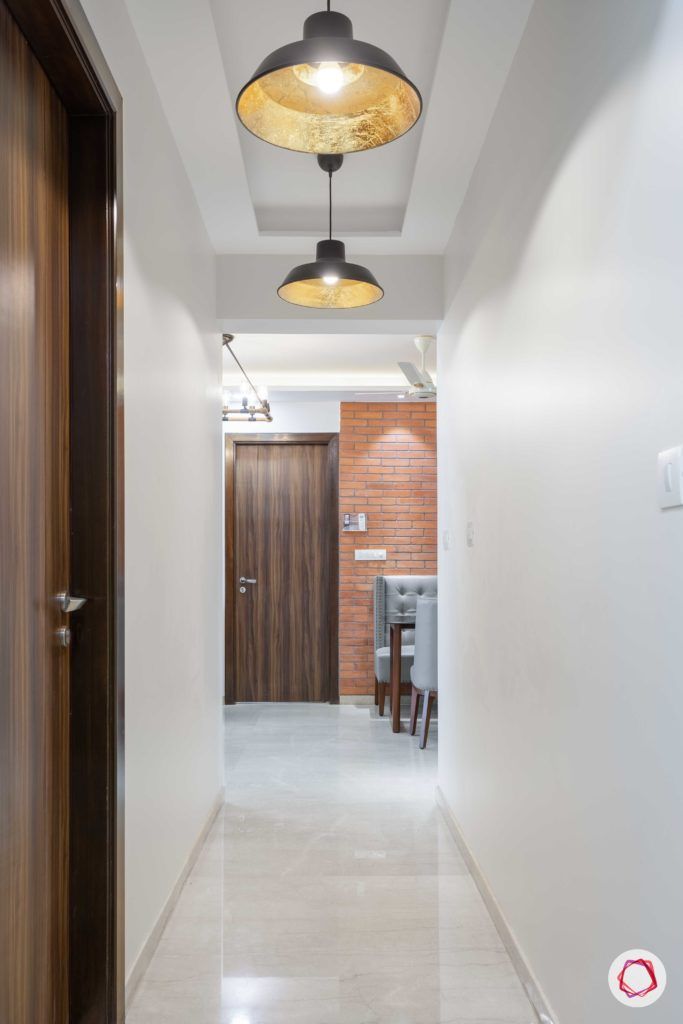 Black lampshades light up the passage leading up to the bedroom lending a contemporary vibe to this area.
Adani Western Heights: Gorgeously Grey Master Bedroom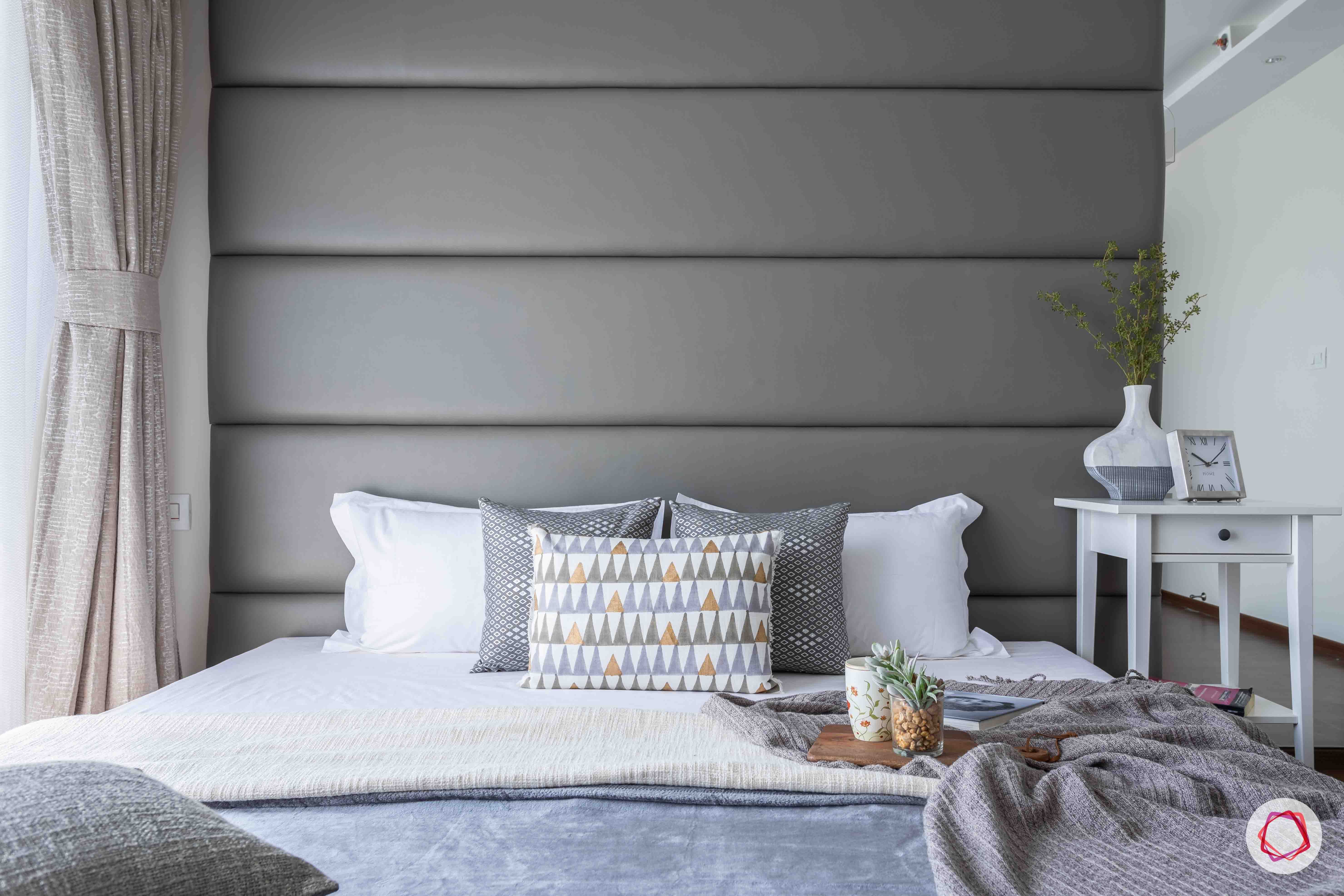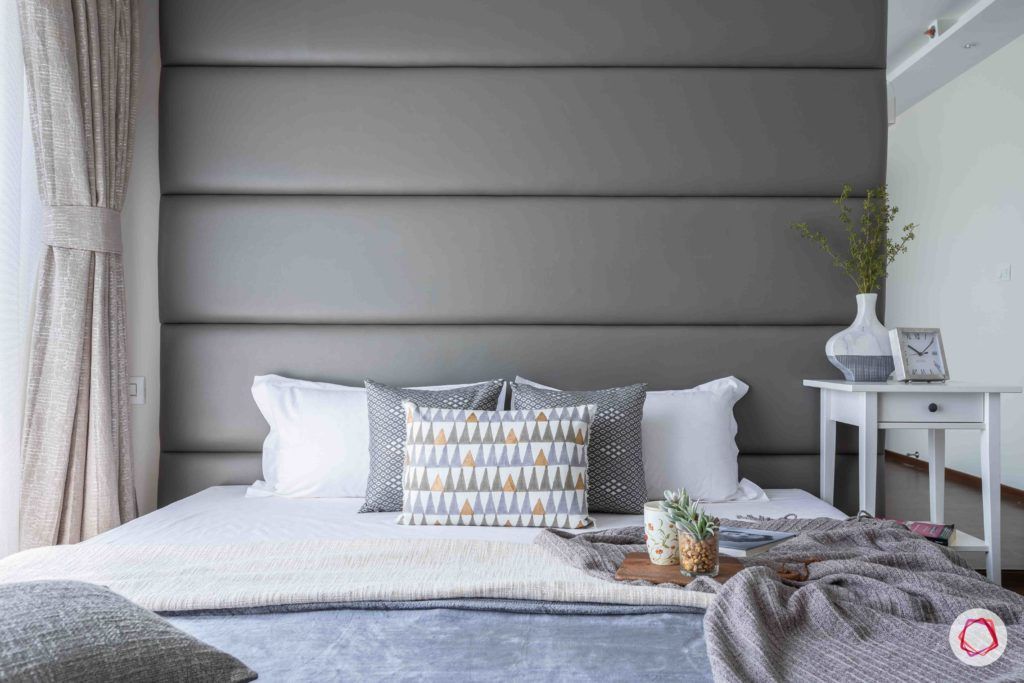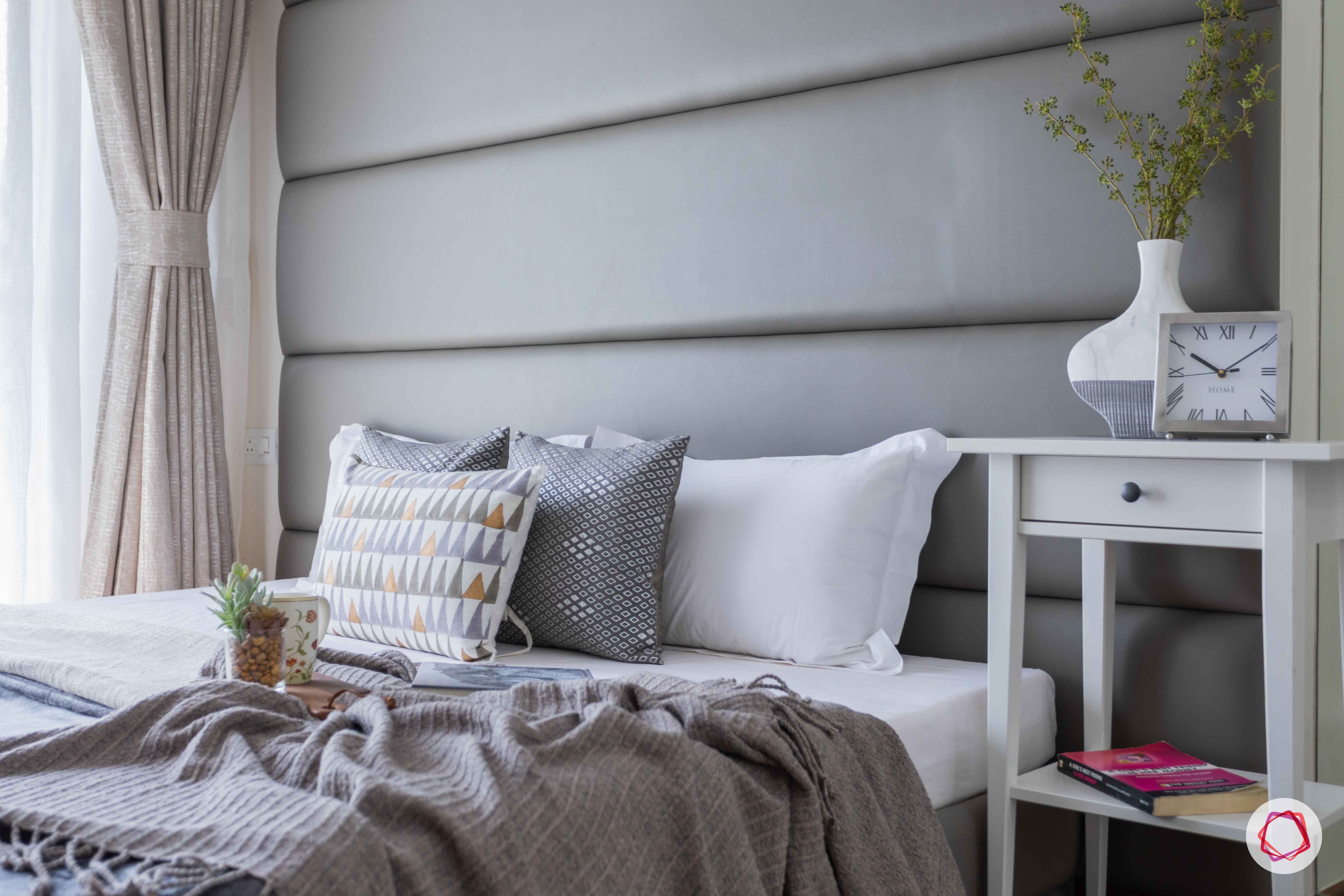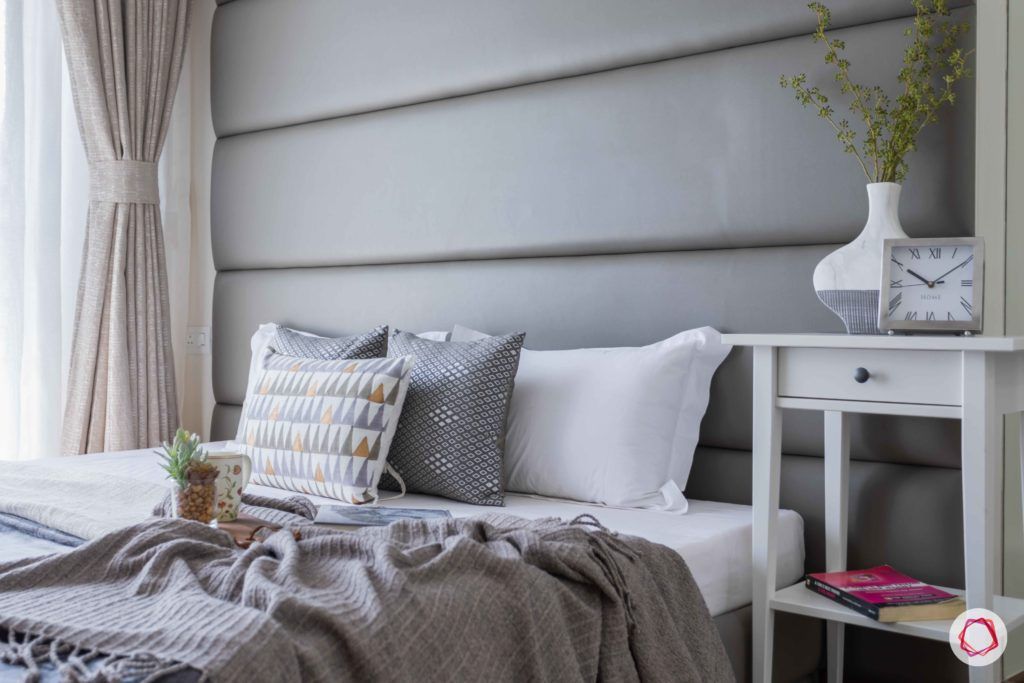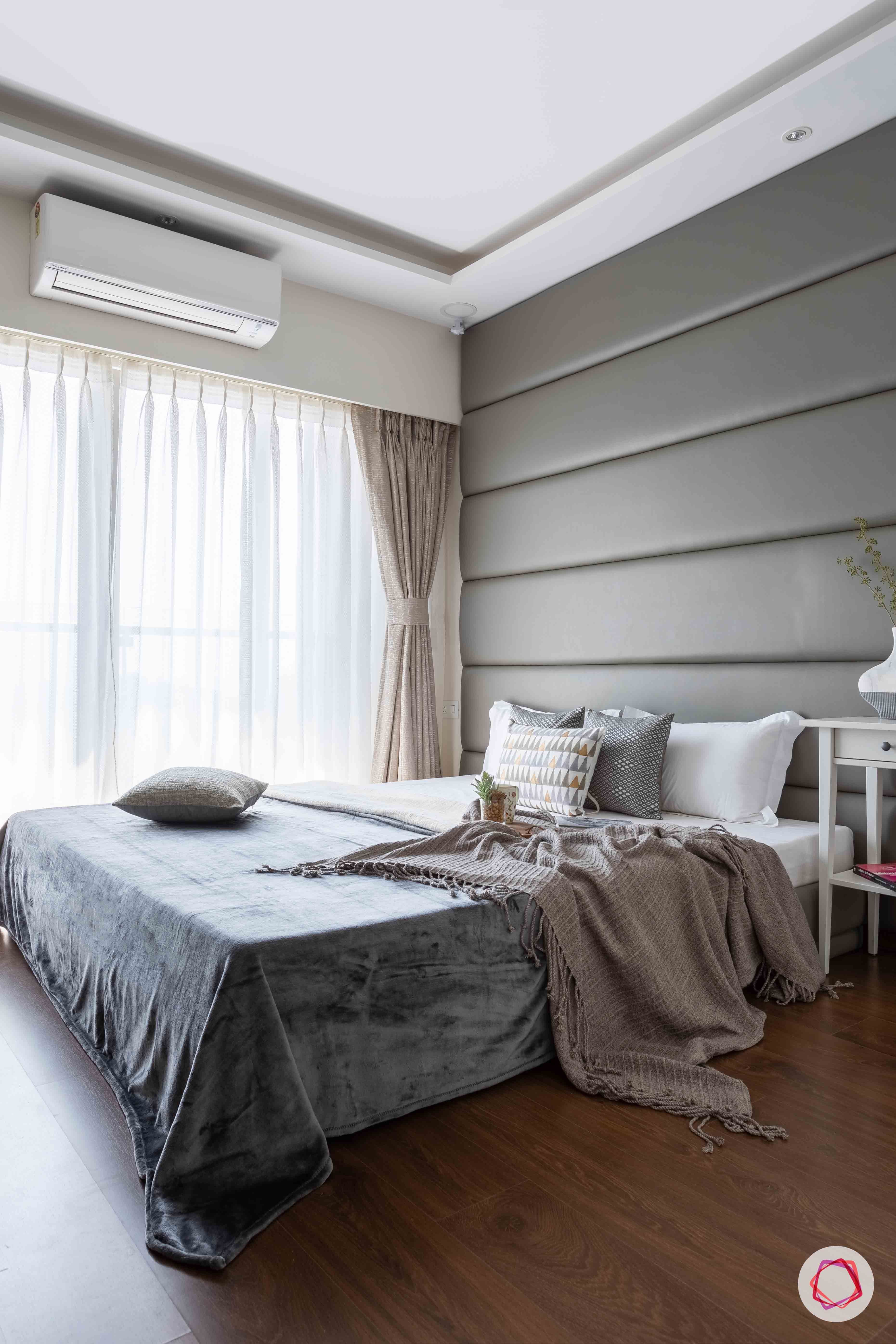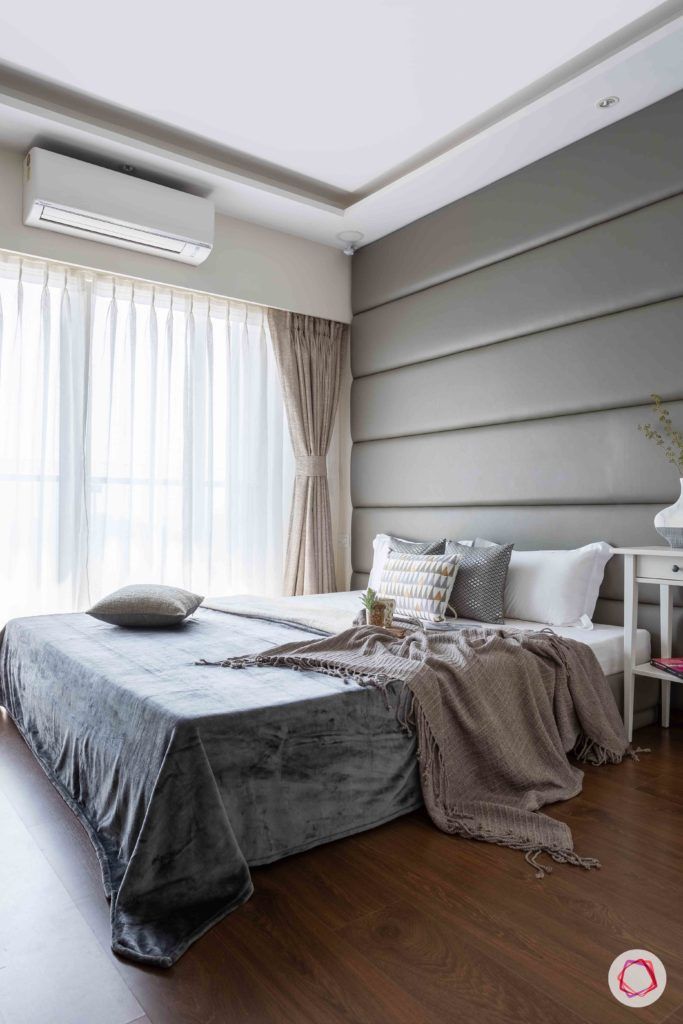 The master bedroom is a mix of warm wood tones of the flooring and the cool texture of grey and white furnishings. Moreover, the custom-made bed has low height to ensure that kids do not fall off and hurt themselves. The full-length headboard is the focal point of the room but it also ensures that the bed doesn't have any sharp edges.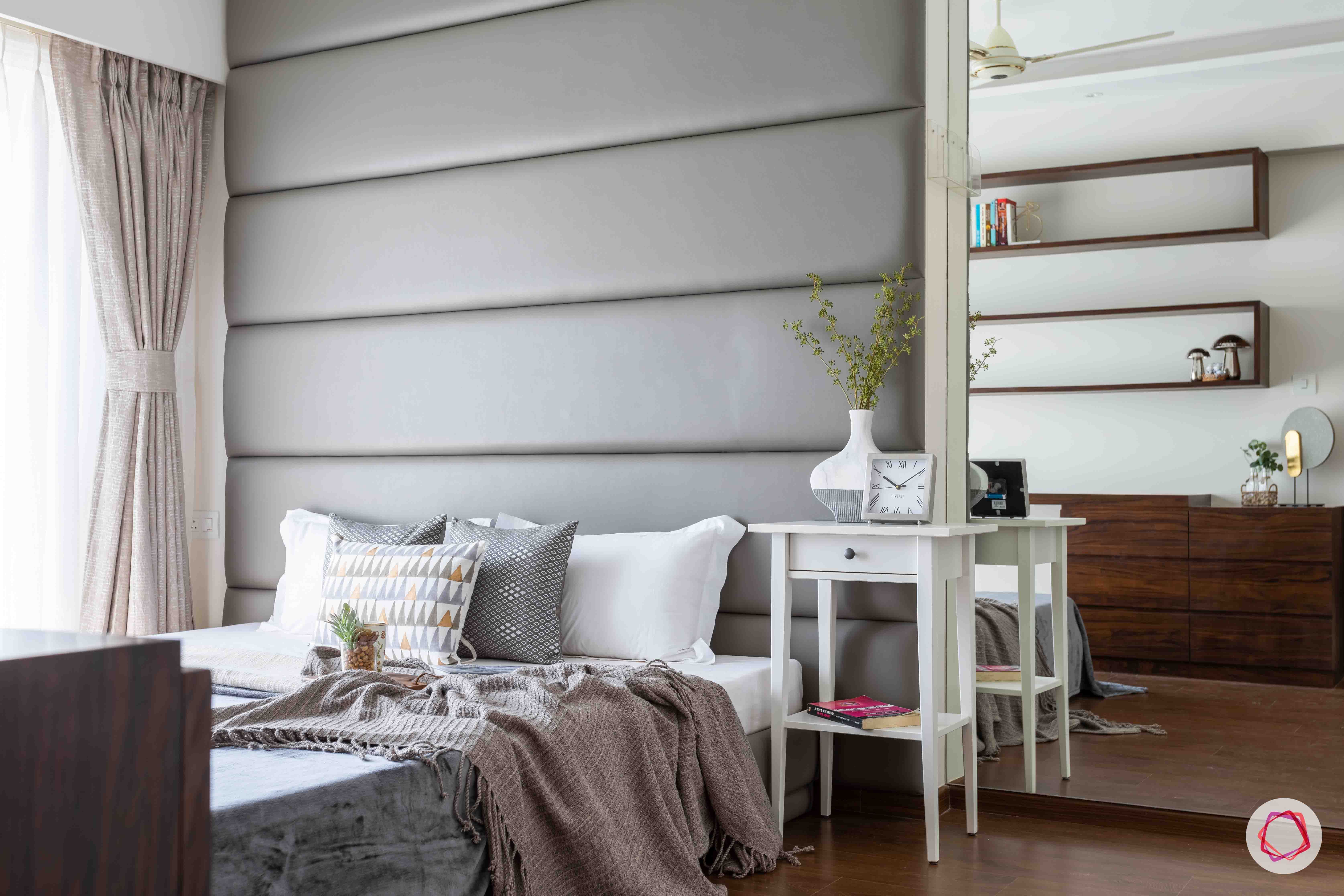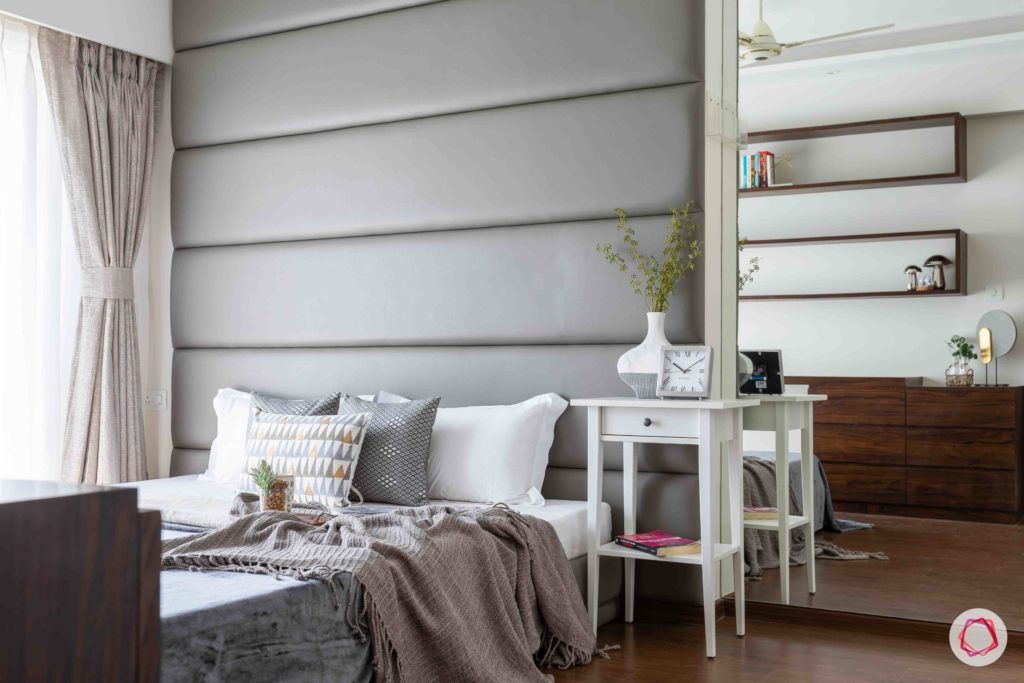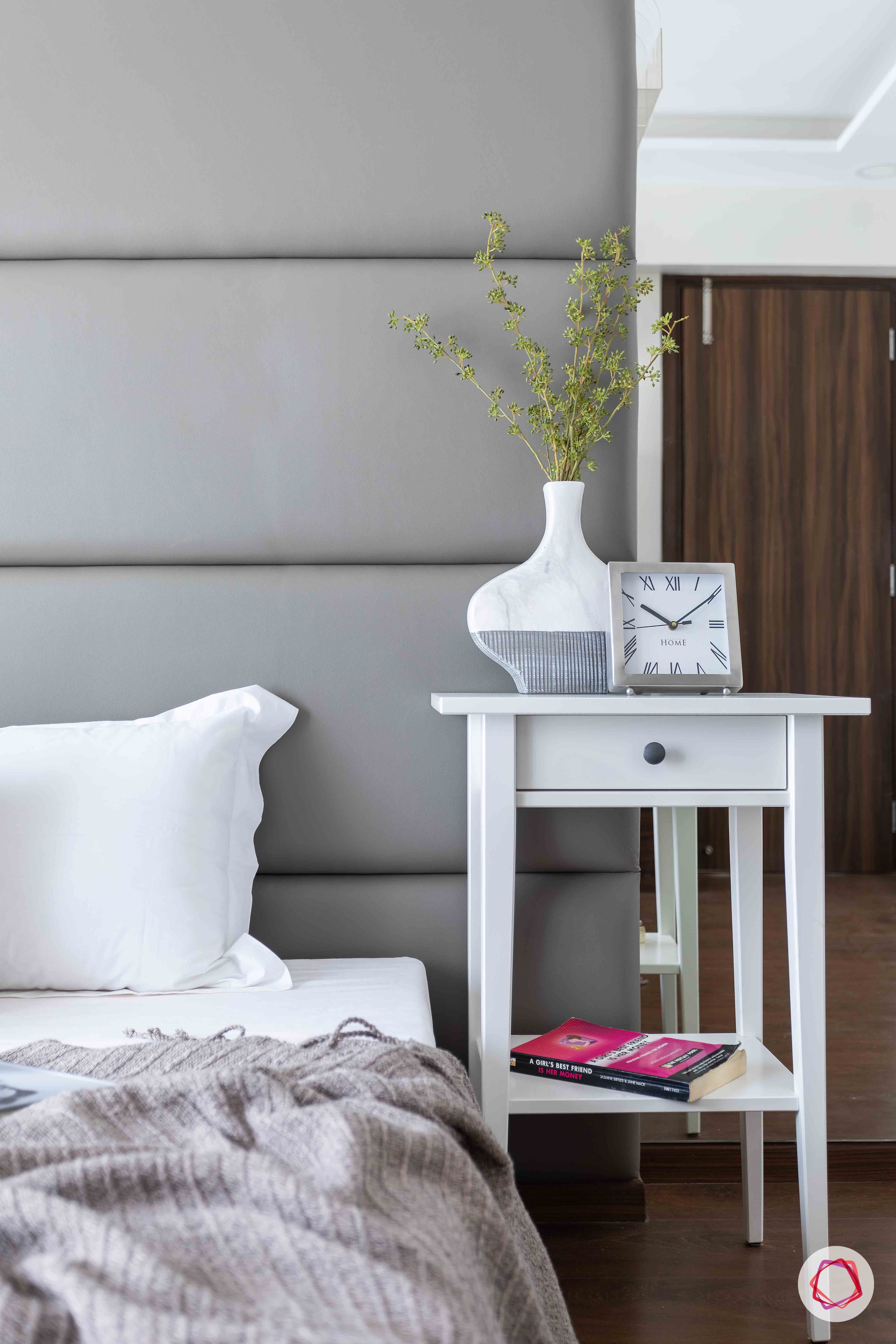 The side table is a country style white piece that fits into the scope of this room seamlessly. There is also a full length mirror next to the bed that serves as a dresser.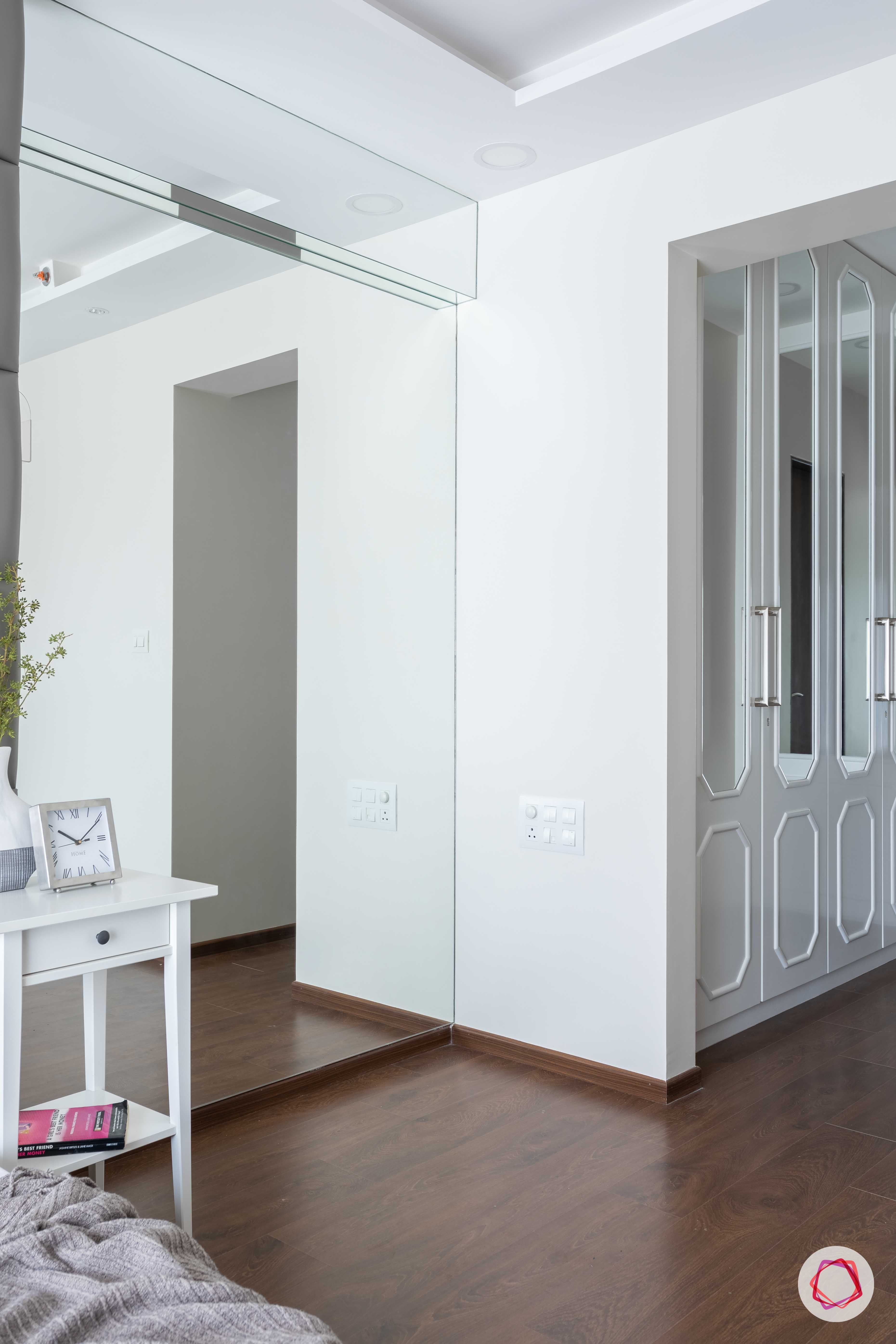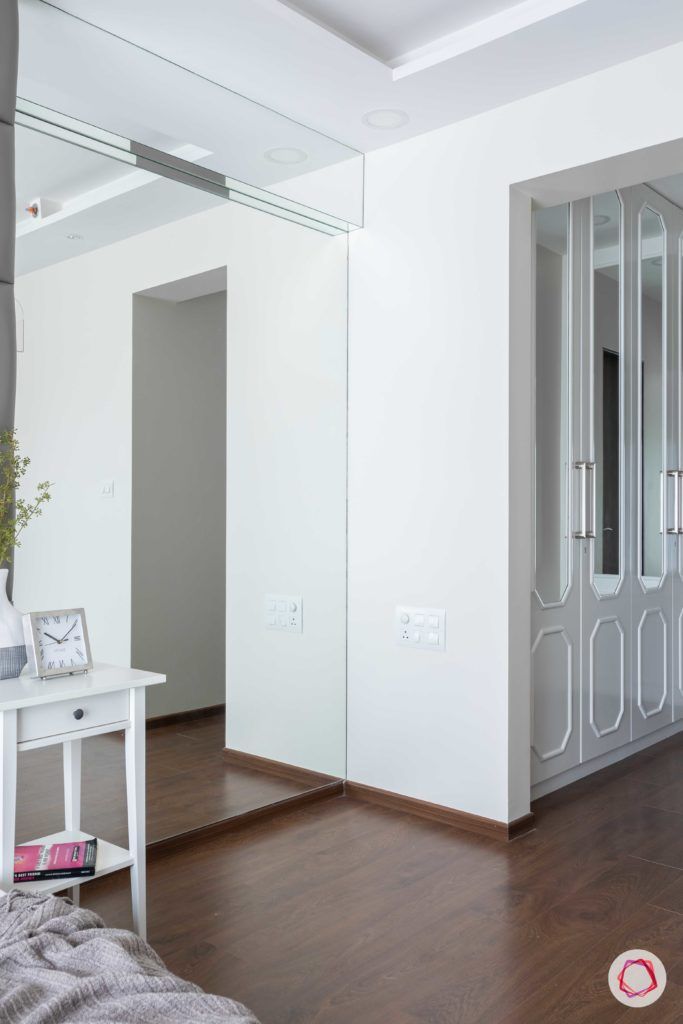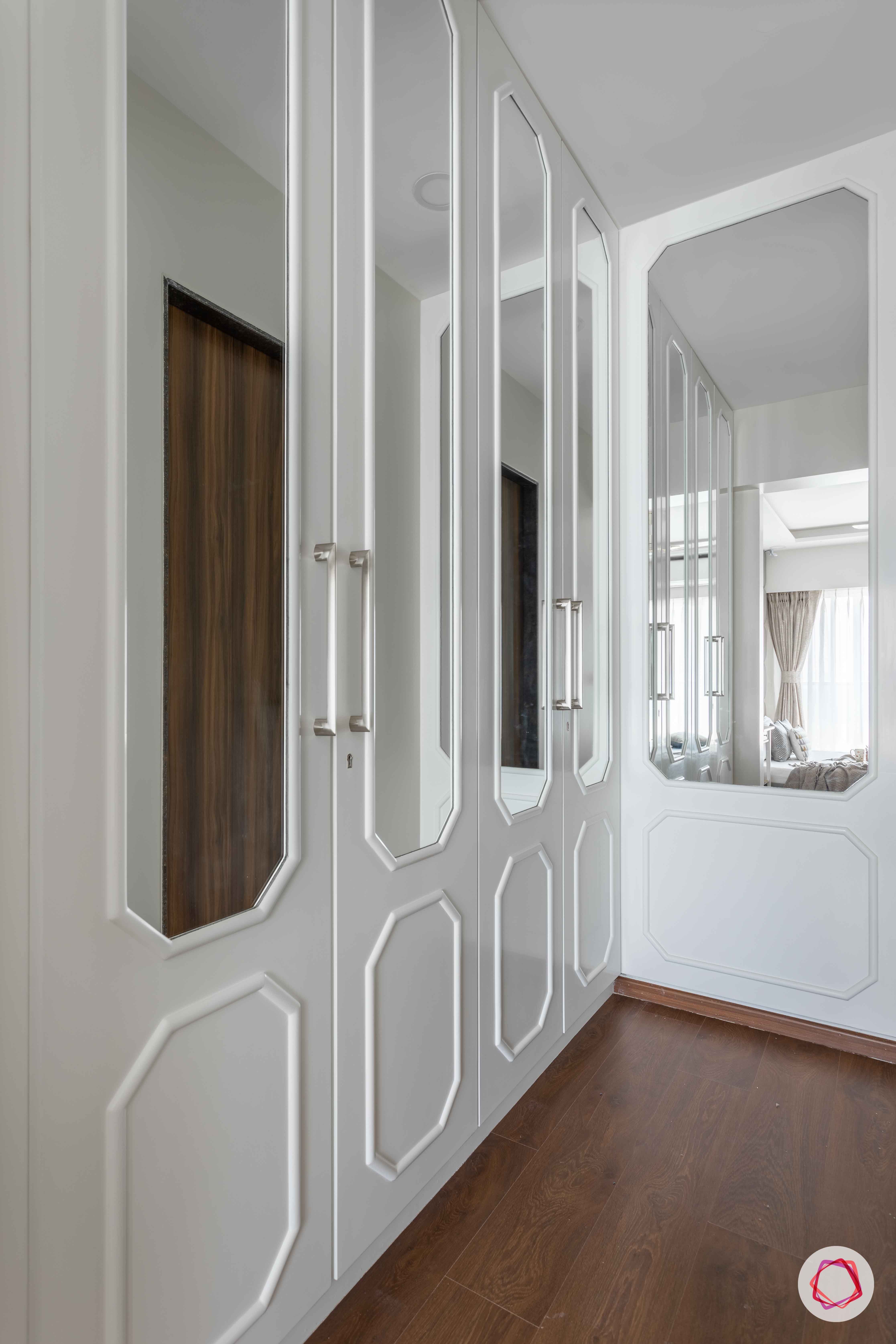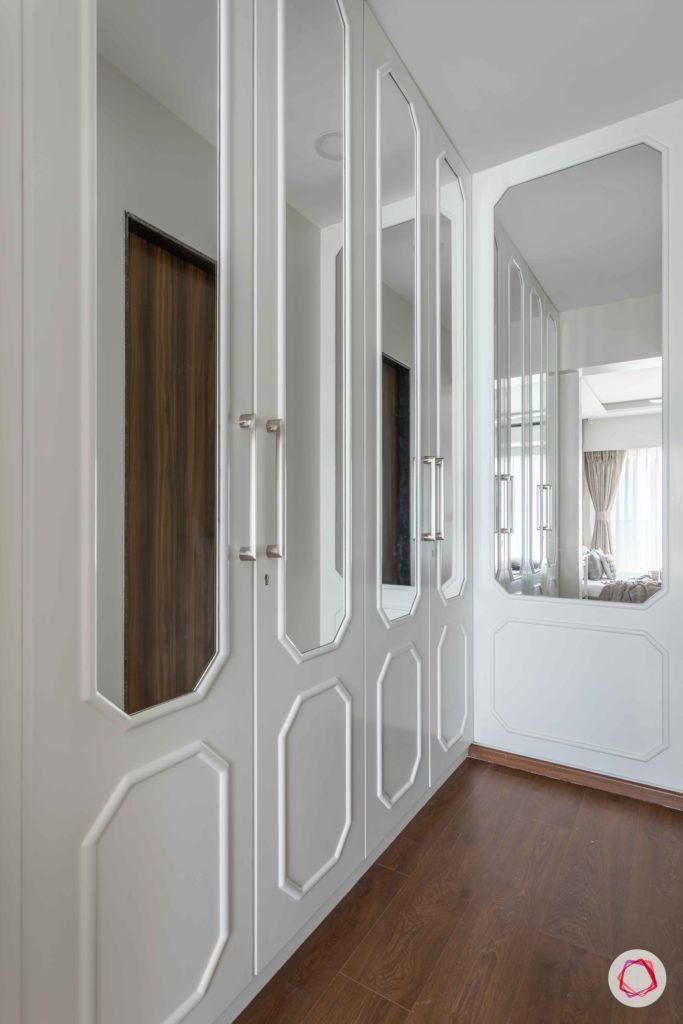 We were particularly taken in by the walk-in wardrobe created in this room within a small space. Essentially, the wardrobe shutters are made of PU with moulding and mirrors. The moulding adds texture and also gives a cheerful country vibe to the dressing area.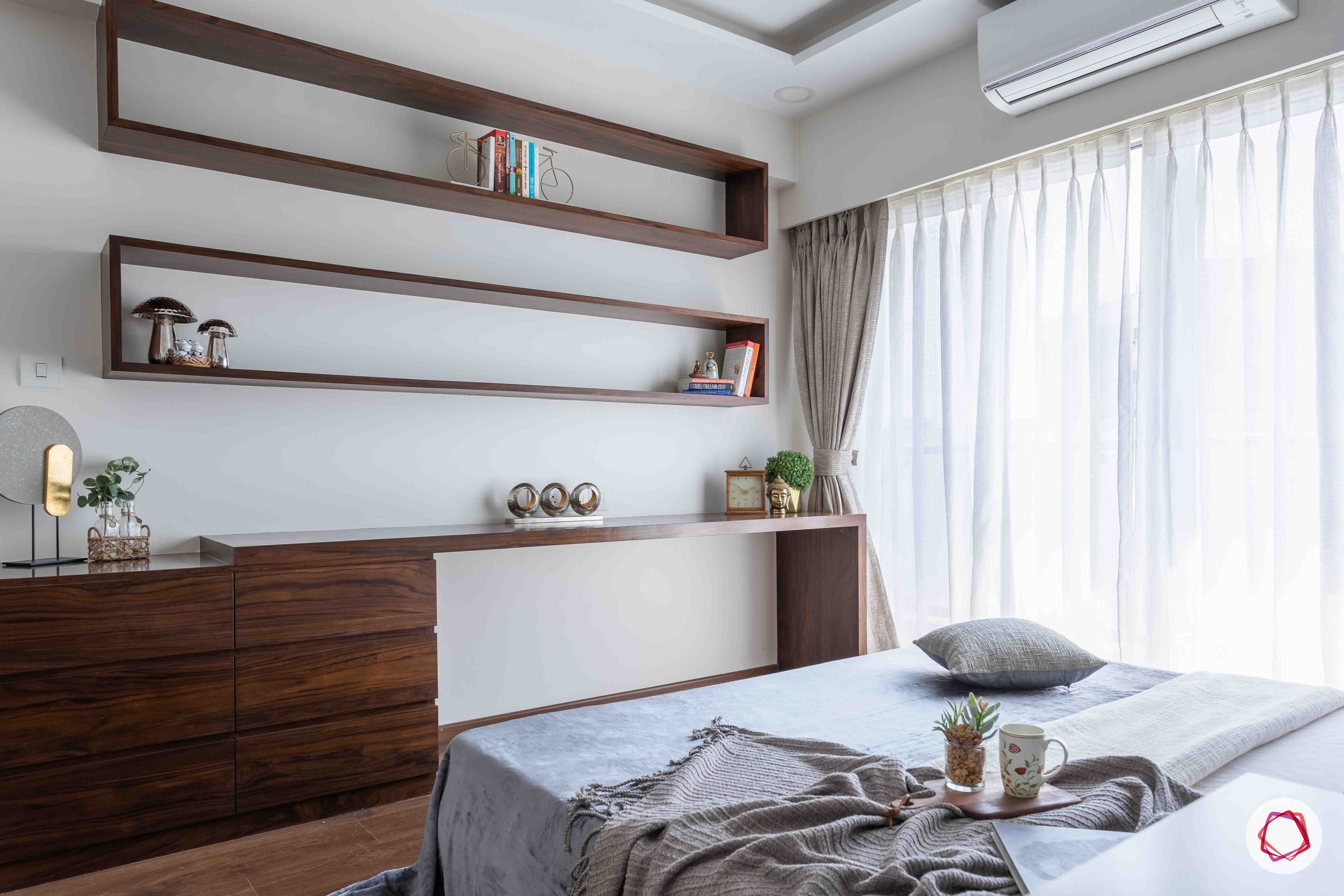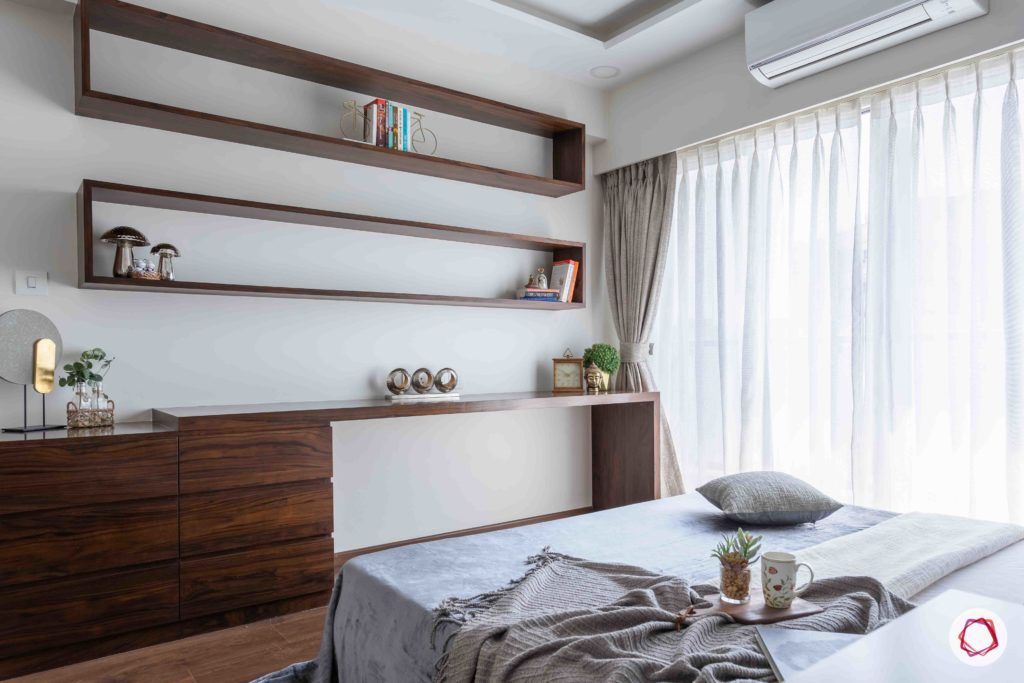 As Srikanth works from home for long hours, there is a veneer ledge complete with drawers and shelves in this bedroom. Needless to say, this unit serves as his work station at home.
Adani Western Heights: Shades of White in Guest Bedroom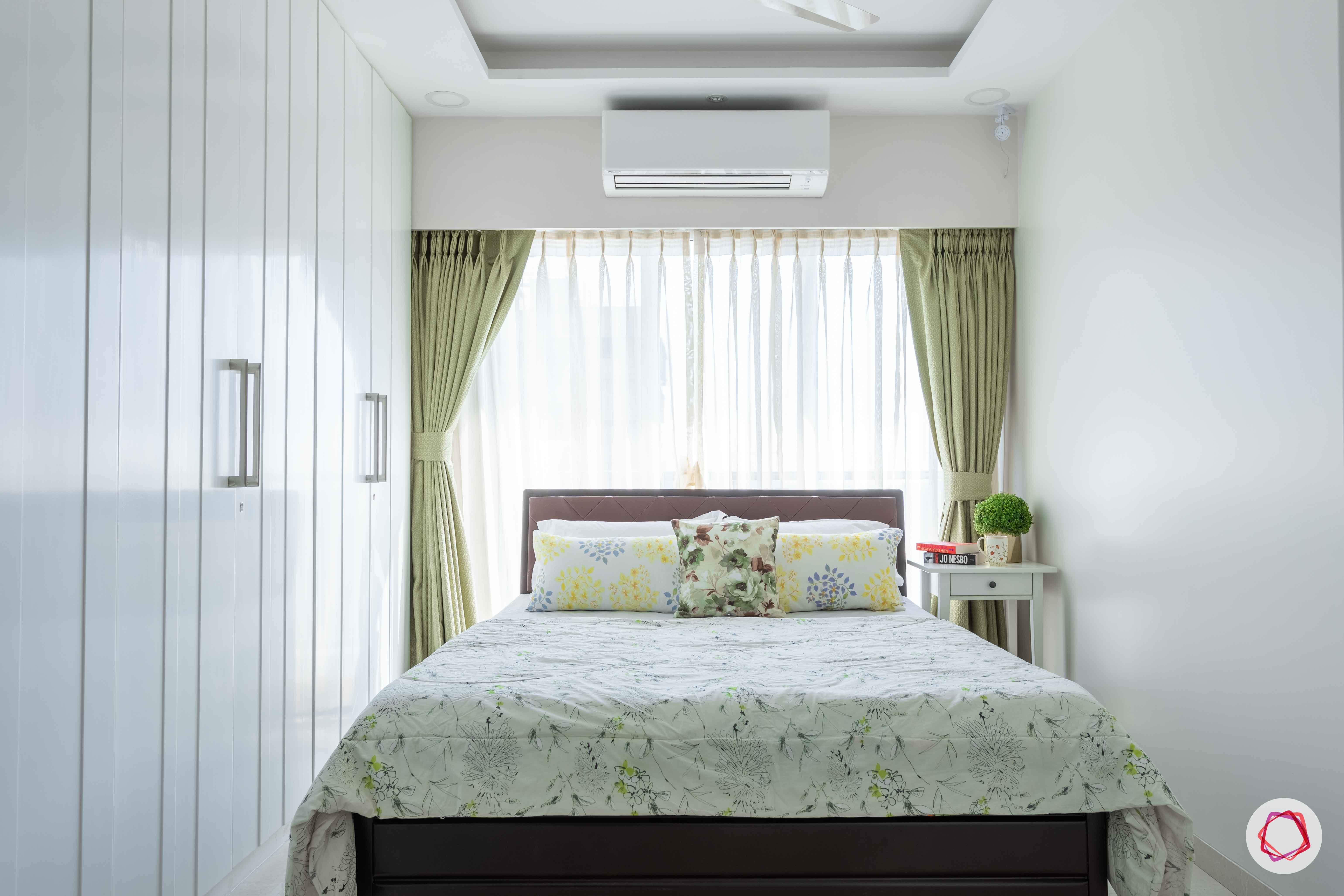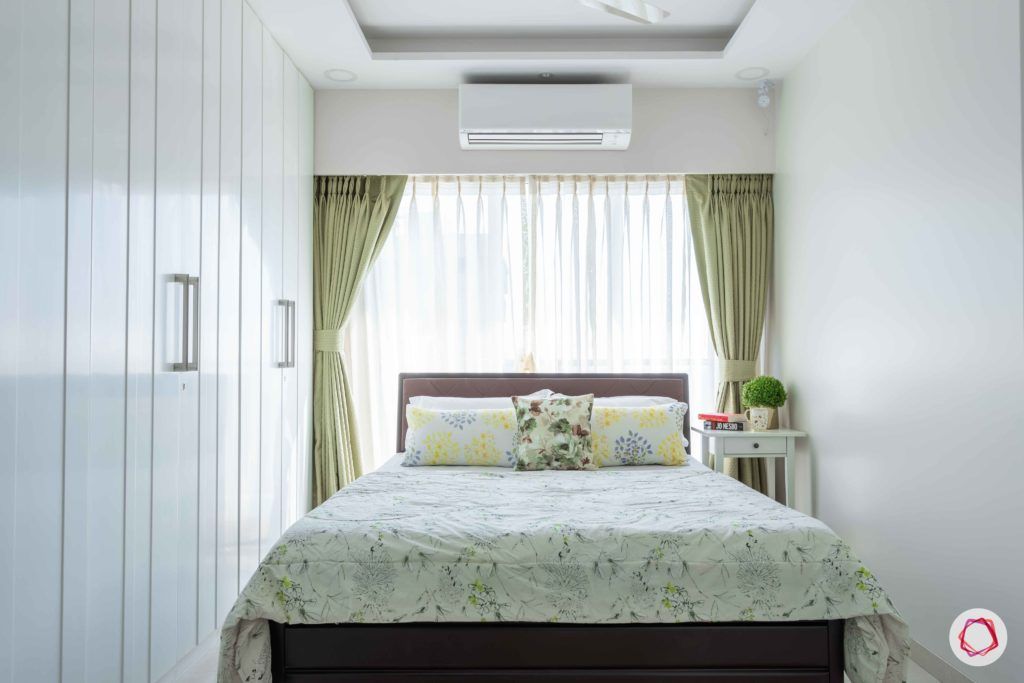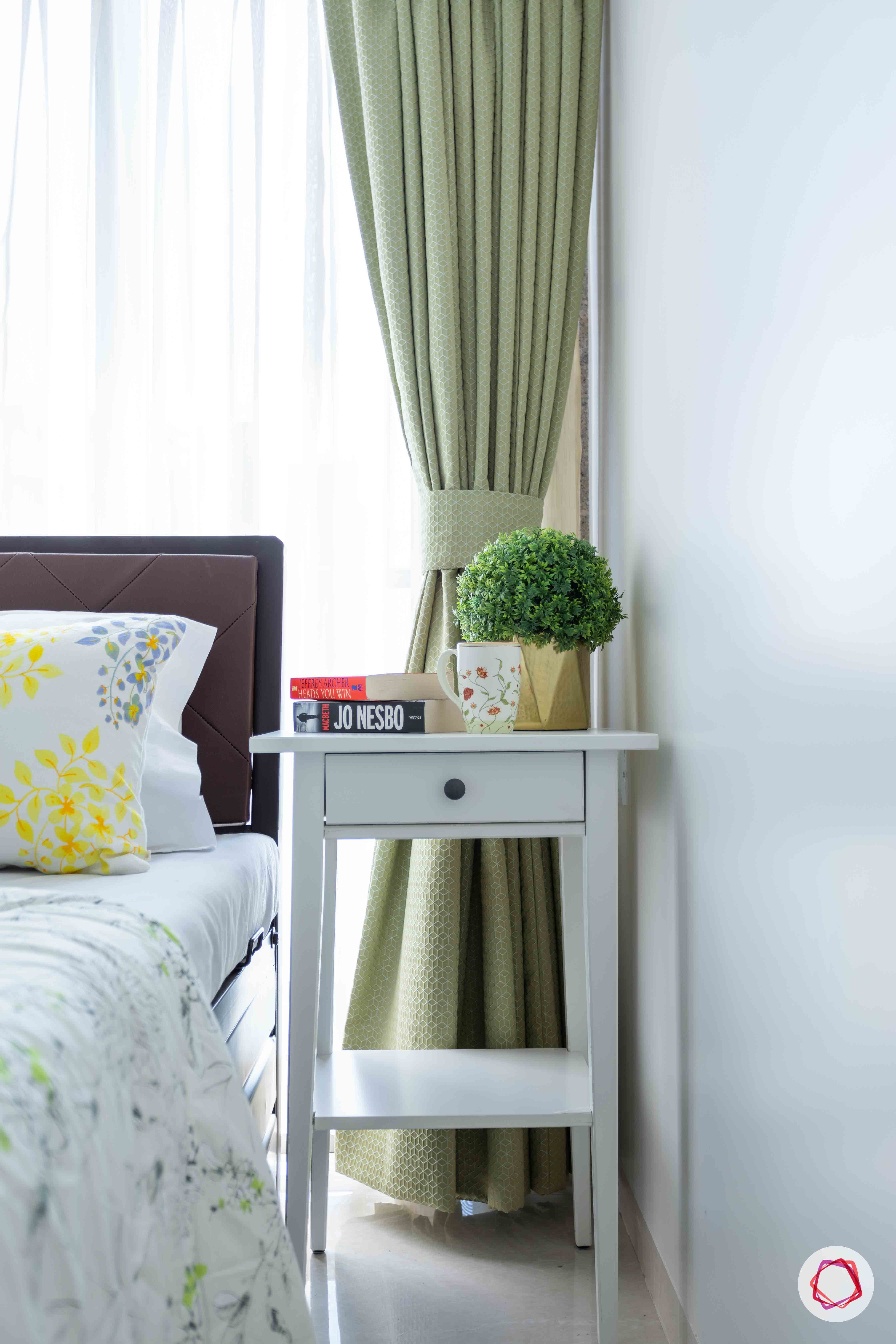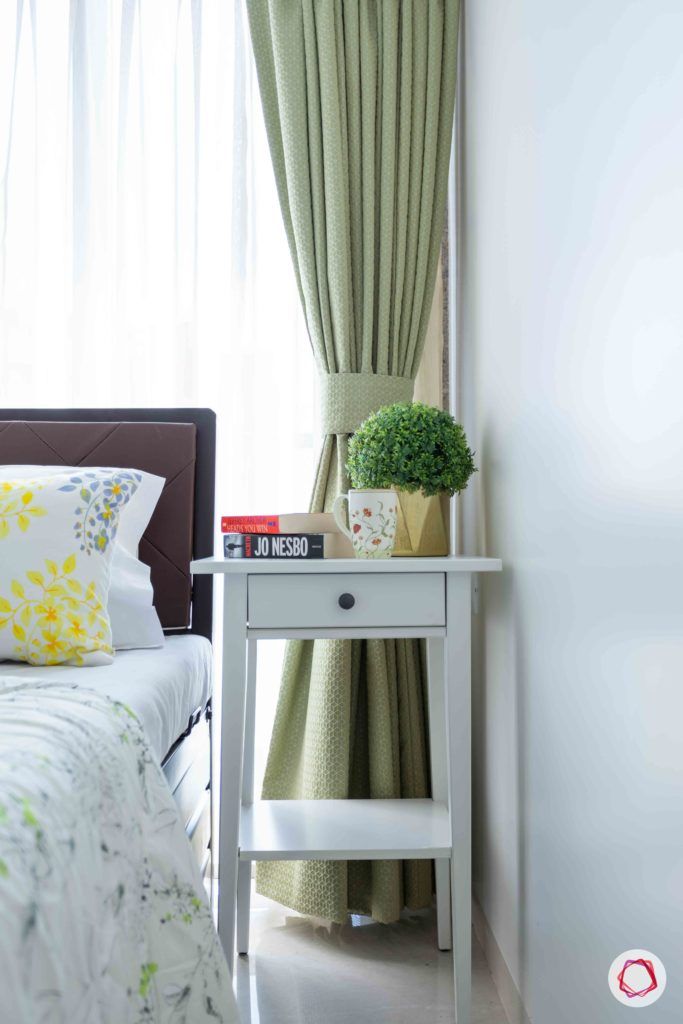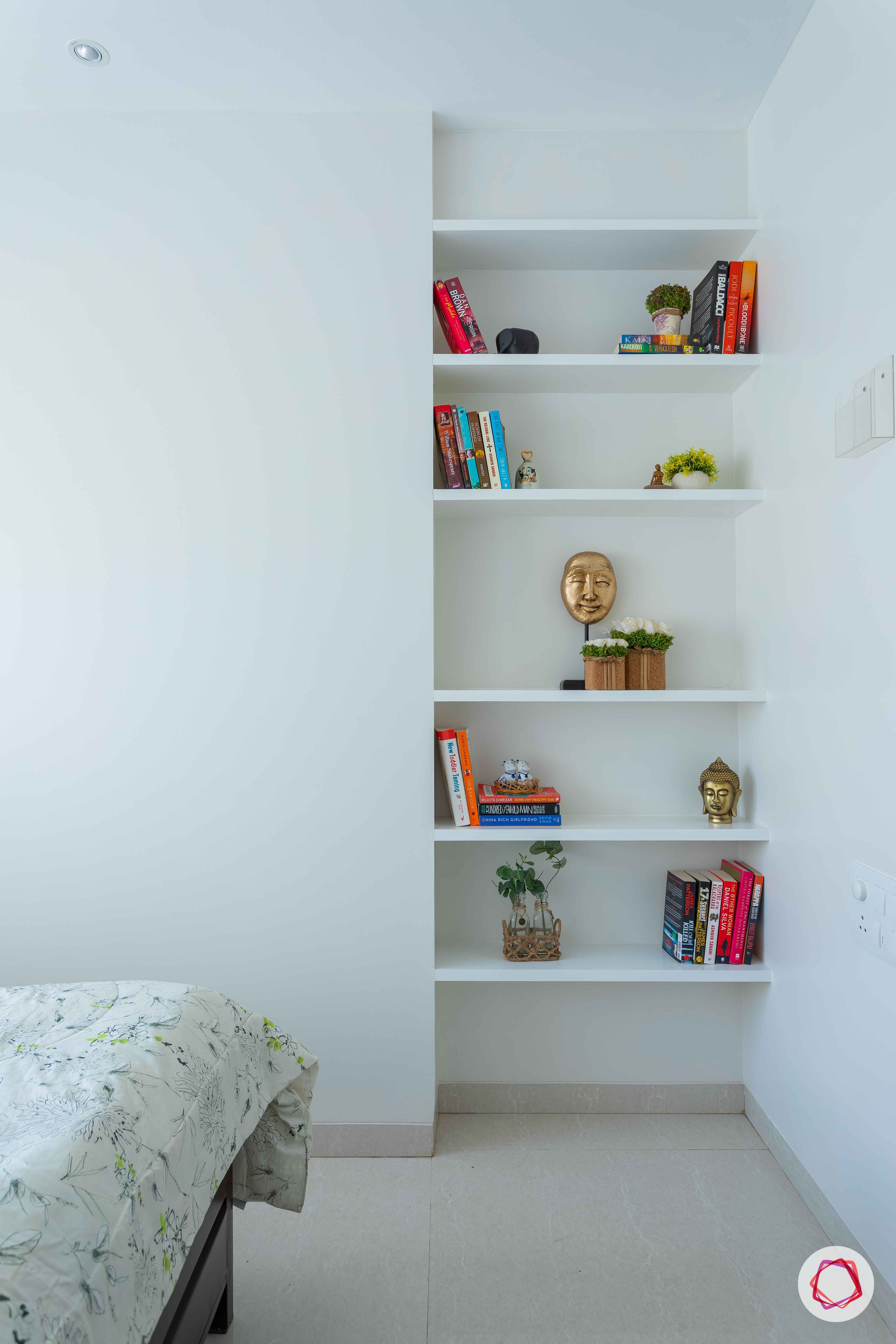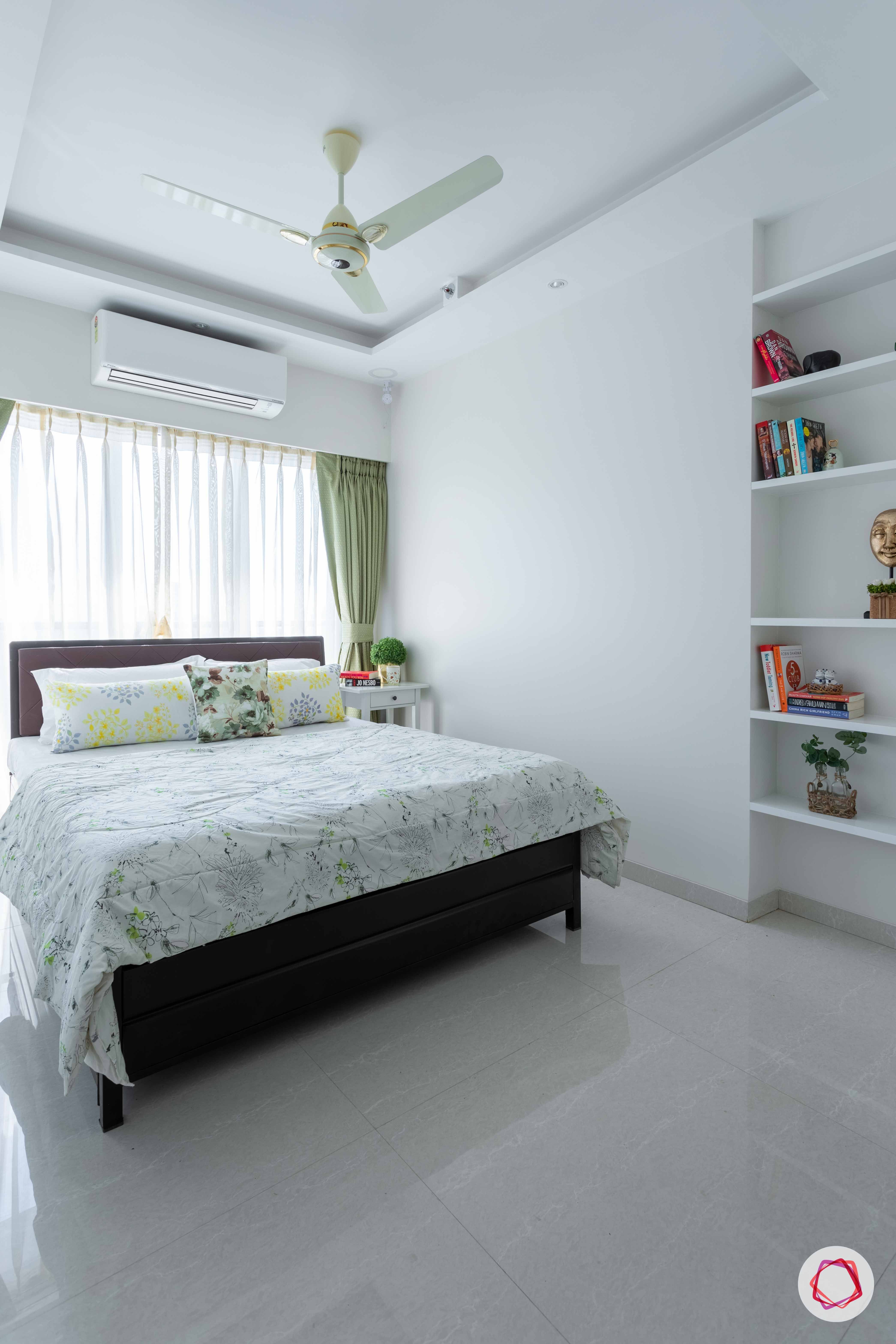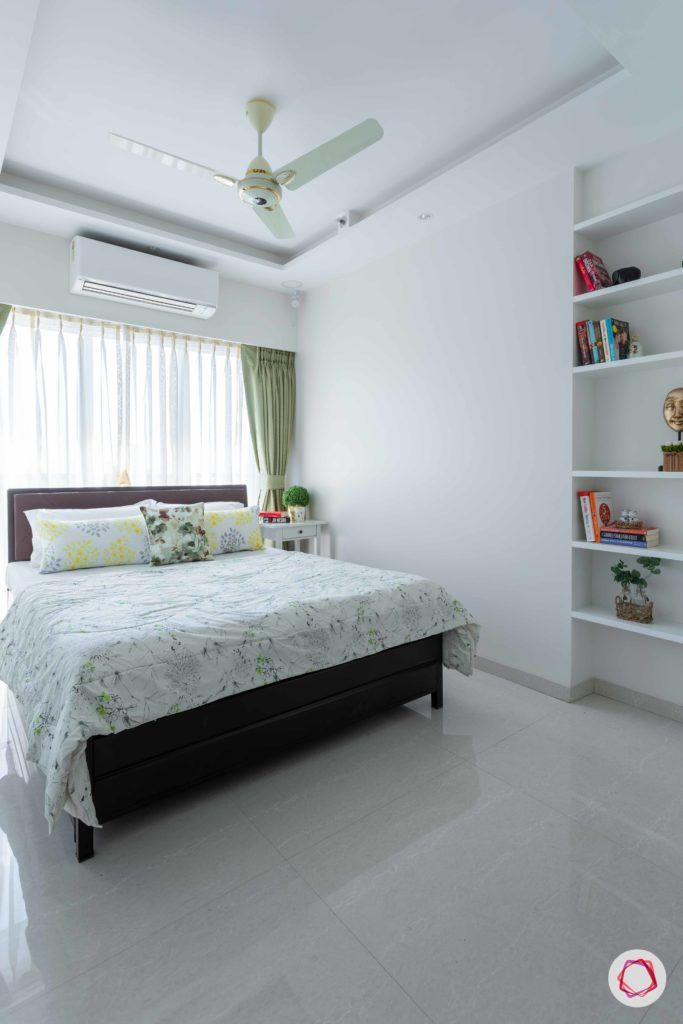 The solid wood bed that we see in the guest bedroom was an existing piece of furniture. The same white side table we saw in the master bedroom stands by the side of this bed. Further, the shelves in this room are cast into a niche to save space.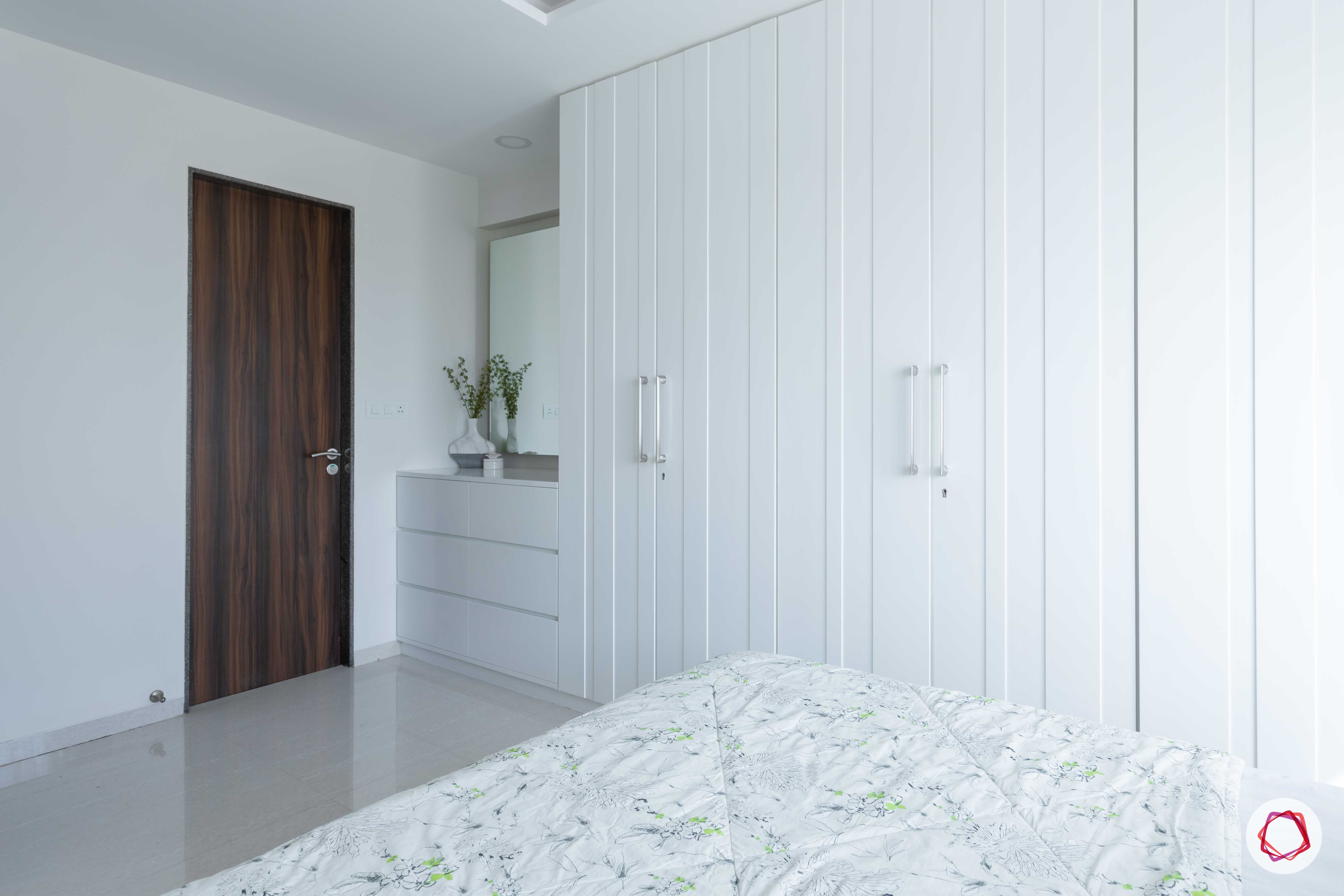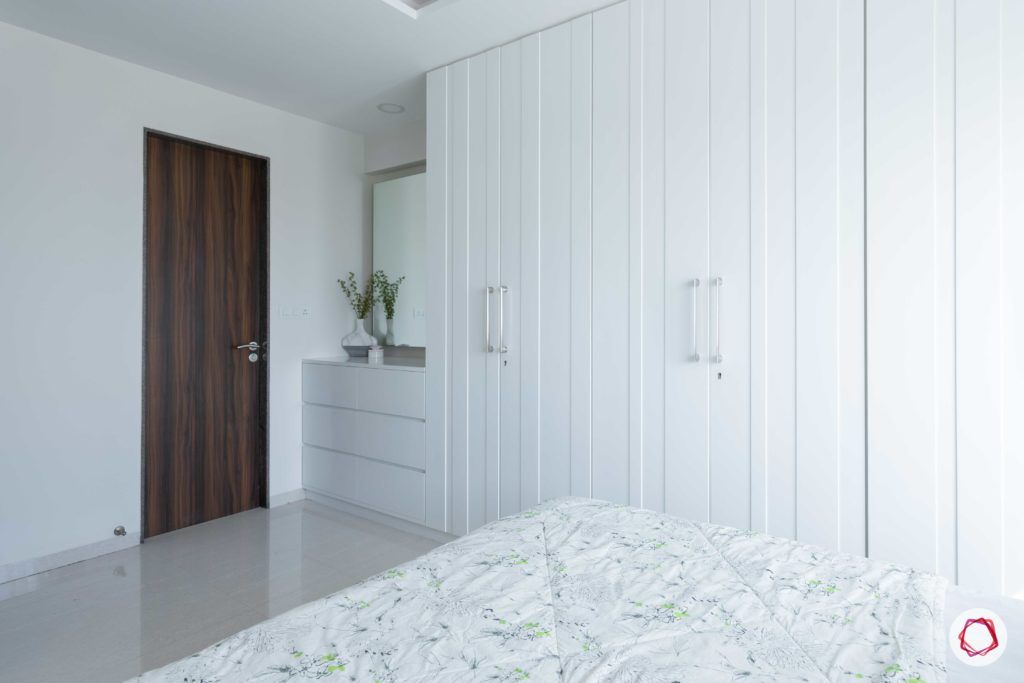 The most interesting aspect of this room is the wall-to-wall wardrobe that stands out for its pristine white PU finish. Consequently, it has an interesting textured detail for the shutters that give it a quirky uneven finish.
Adani Western Heights: Neat & Tidy Kids' Room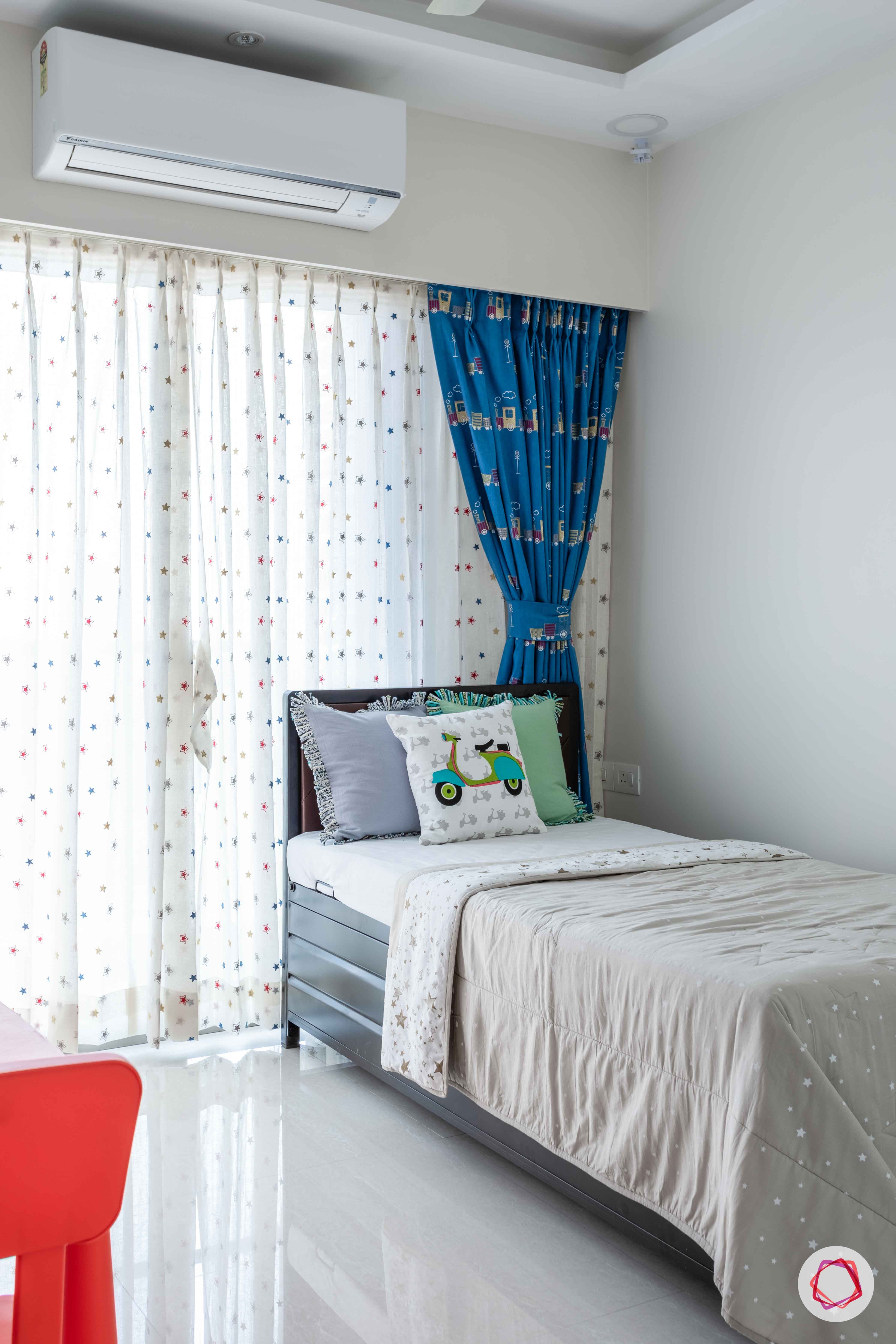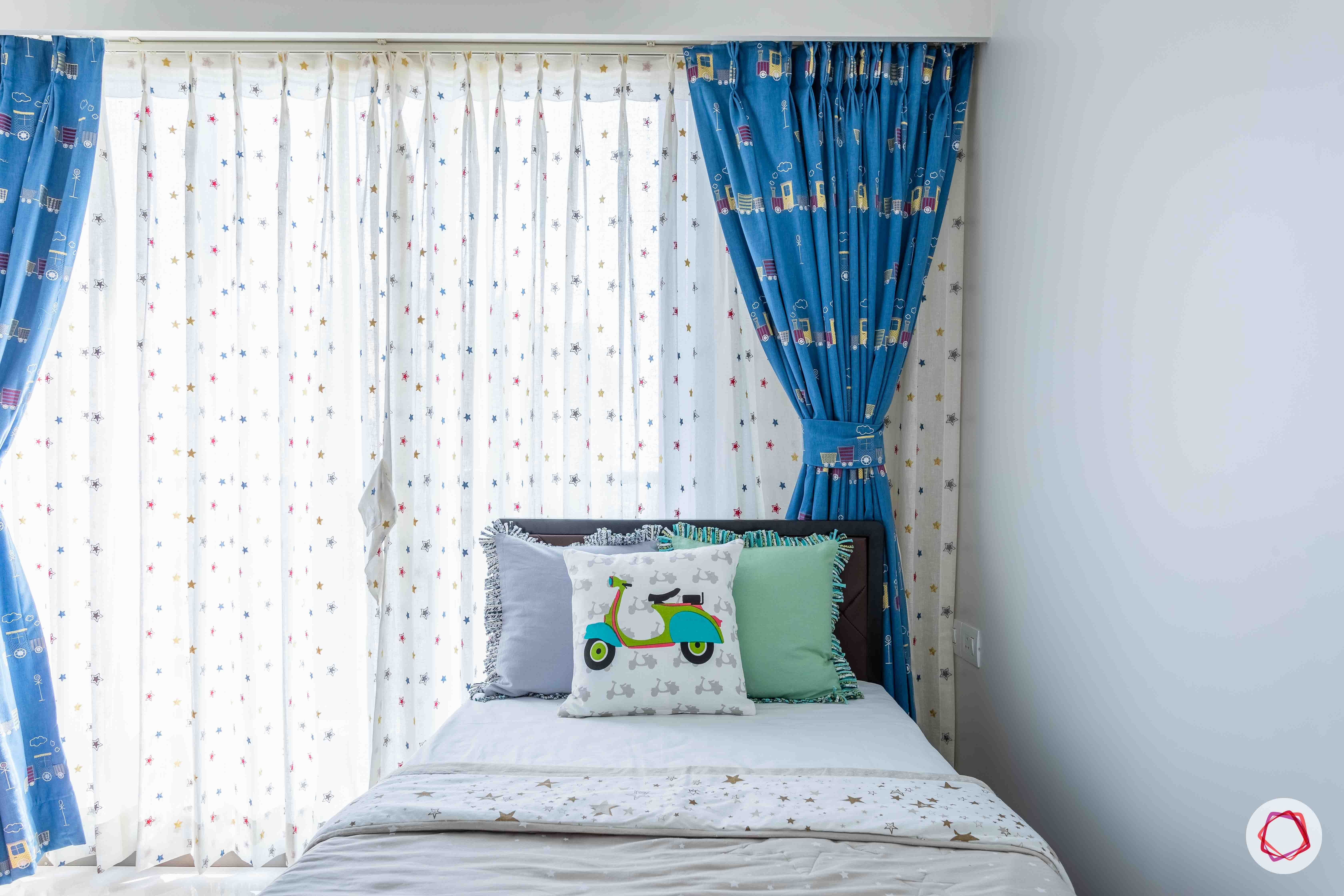 You must be wondering why a room for twins has a single bed. The family believes in co-sleeping so the kids' bedroom is mainly used as a play area. Furthermore, the sky blue curtains paired with the blue colour of the walls adds a touch of playfulness to this room.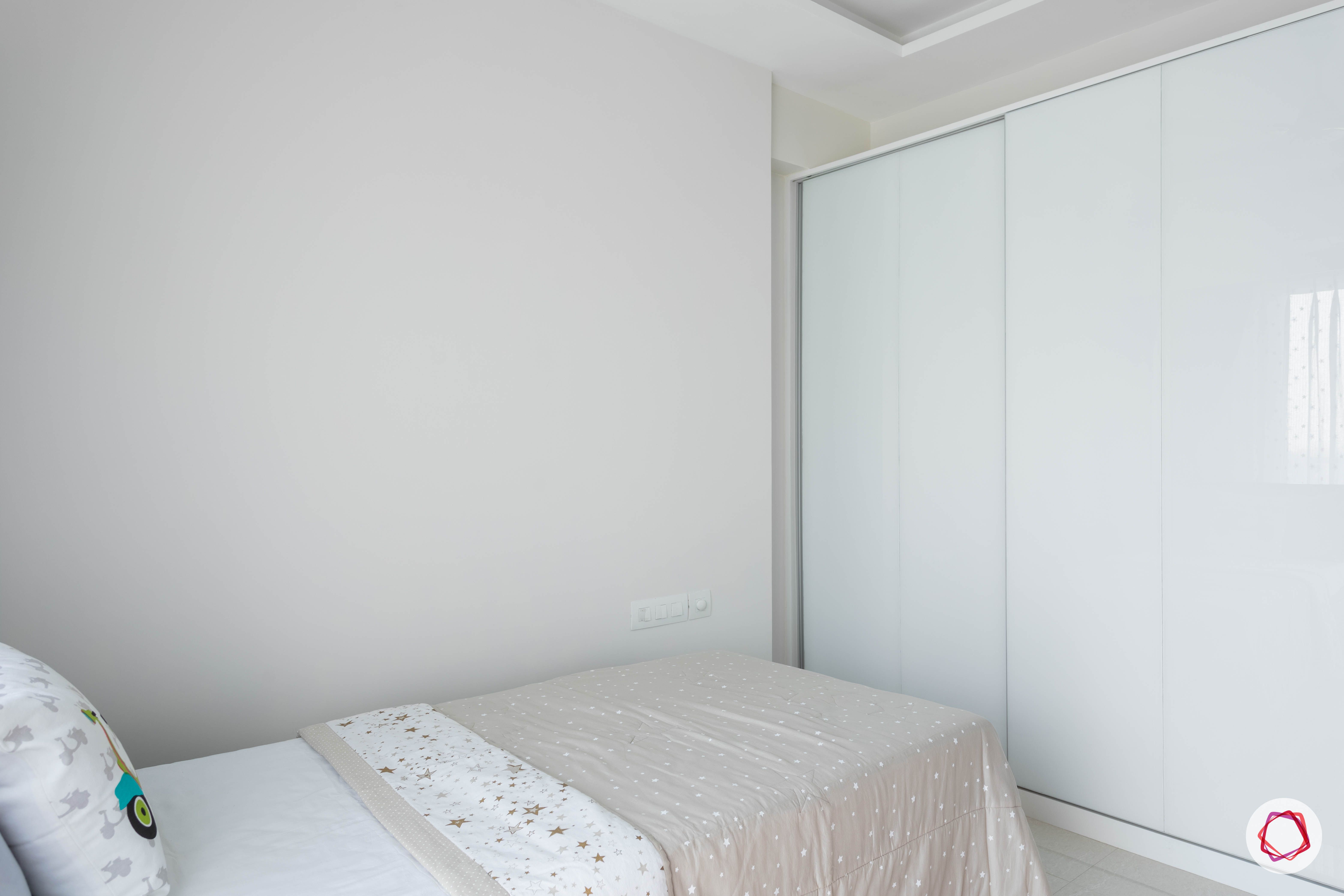 As this bedroom is compact, Pallavi has optimised space by installing a custom sliding wardrobe. In addition, the shutters for this wardrobe are made of white backpainted glass that has a clean and tidy effect on the room.
"Srikanth and Pavana wanted a simple yet sophisticated home that would have a subtle dash of colours. They were very impressed by my past work and wanted something on similar lines. Hence, we had a very good connect from the beginning and the project was a smooth sail for me."
– Pallavi Goel, Interior Designer, Livspace
If you were inspired by the kid-friendly ideas in this room, also read It's Raining Blues In This Childproof Noida Home.
We would love to know what you did to your home with this inspiration. Let us know in comments!