Located in the heart of Mumbai's hustle and bustle is this quaint Adani Western Heights Andheri home. However, behind its calm facade you will find a weave of design surprises. Chalked out by Livspace designer Pooja Shah, her designs have given this home an ulta-modern look. You don't want to miss out on any room.
Take a look at the Shahs cheery story along with a video tour of their home here:
---
Who livs here: Apurva Shah with his family
Location: Adani Western Heights, Andheri West, Mumbai
Size of home: A 3BHK spanning 1,400 sq ft
Design team: Interior designer Pooja Shah
Livspace service: Full Home Design
Budget: ₹₹₹₹₹
---
In terms of style, as Apurva says, "Home for me defines space, safety and comfort." This 3BHK designed by Pooja Shah is centered around those specific factors. The travel-enthusiast couple have gathered their design inspiration from the comfort and style of luxury hotels around the world and incorporated it into their home.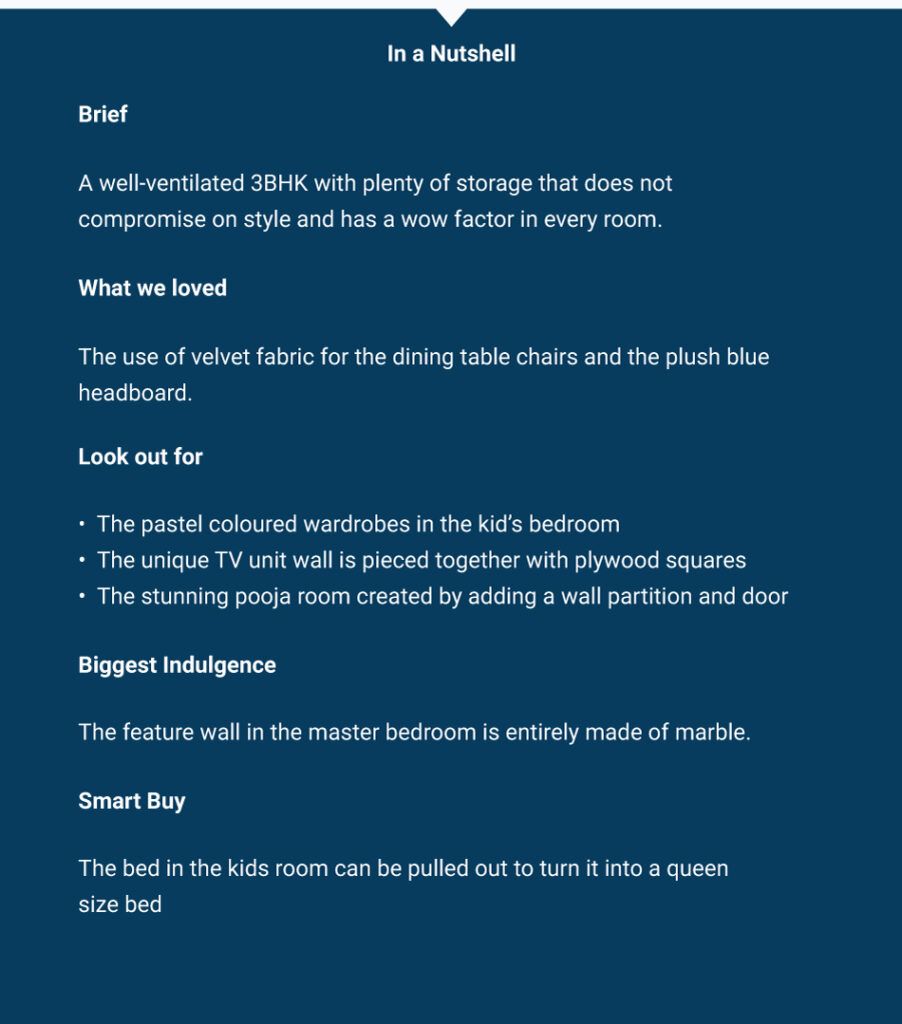 A living room with stunning elements to focus on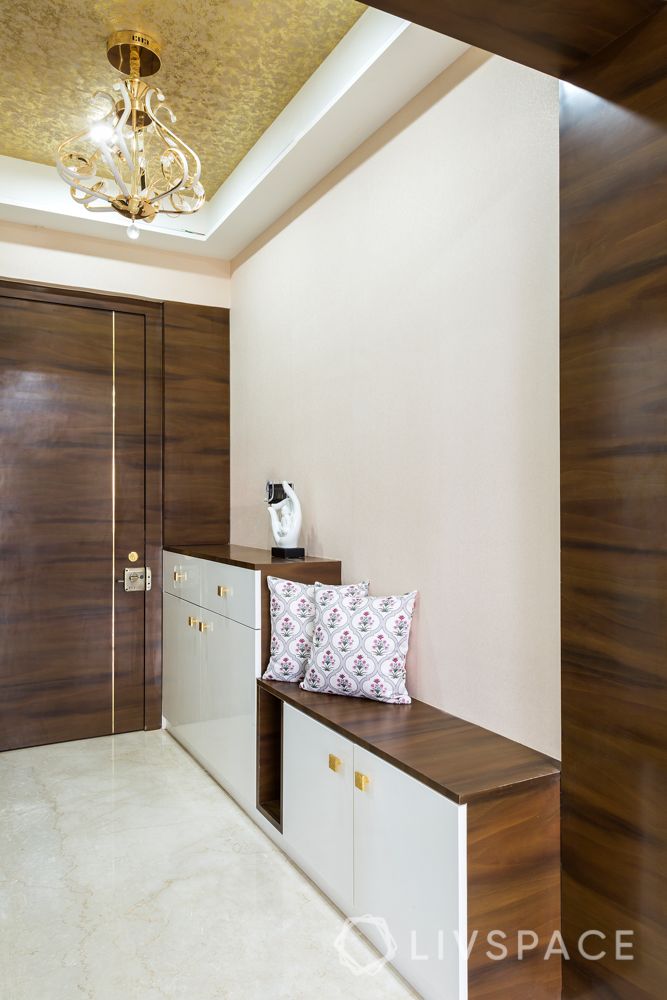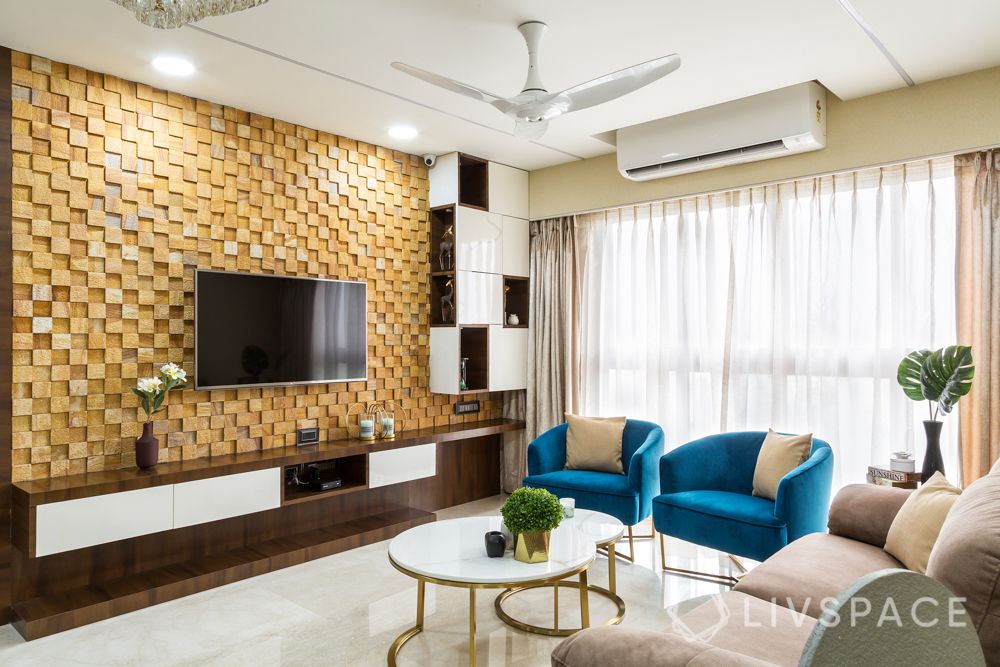 Every corner of the home is embellished with grand elements including the foyer. The ceiling is covered with golden textured wallpaper and a transitional chandelier.
The foyer then opens up into a bright and airy living room. Before you notice anything else in this stunning living room, your eyes are drawn to the intricate detailing on the TV unit wall. If you run your hands over this wall, you can feel each plywood cube that has been pieced together one by one. In addition to this, there is a floating laminate finish display unit with a unique box-like design.
Dining in comfort and Style in Adani Western Heights Andheri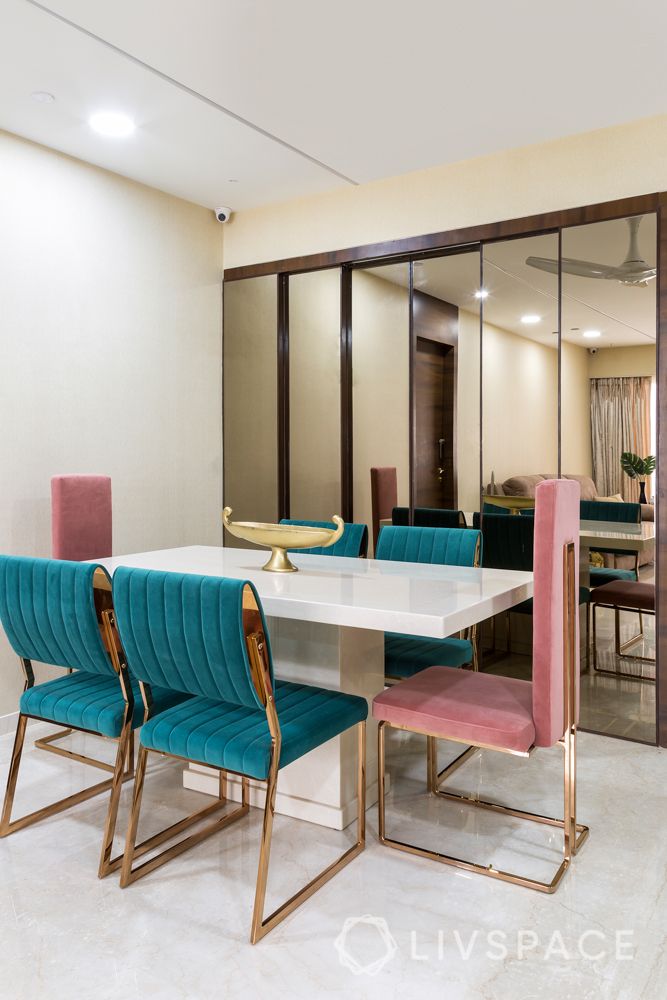 While the dining room has a simple and uncomplicated design, the gold framed chairs with dark cyan and pink velvet upholstery add a great deal of opulence to the room. The tinted mirrors are another noticeable wall treatment design to take notes from. While it gives the illusion of a bigger room, the center portion of it opens up as a pass-through window from the kitchen.
A glossy and sophisticated kitchen design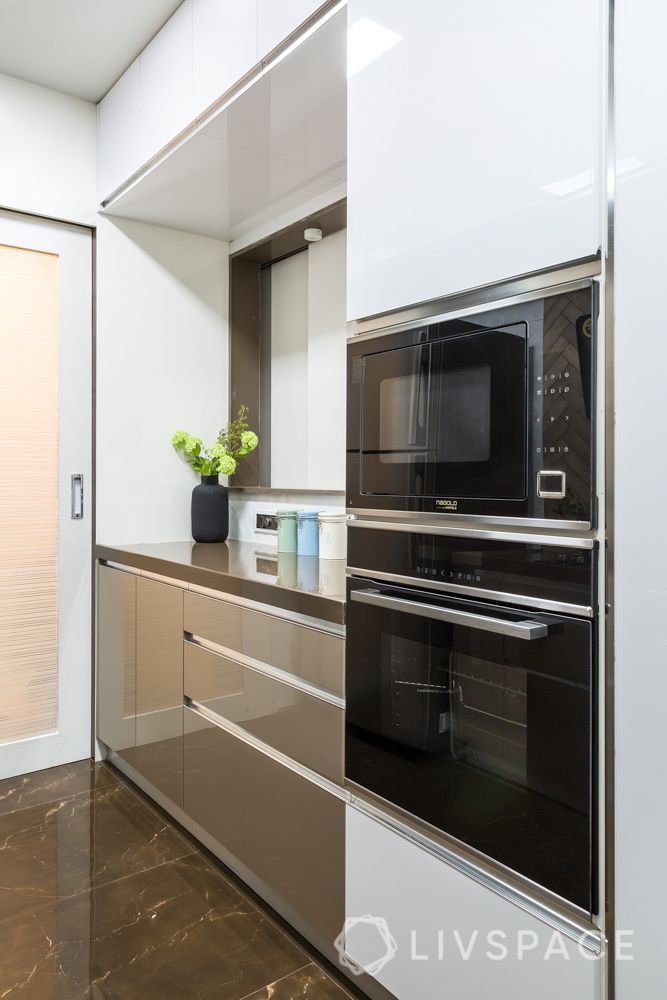 The family wanted a kitchen that was durable and had plenty of cabinets and storage. Pooja picked out beige and white cabinets in acrylic finish. This glossy finish is long lasting and scratch-free, keeping the kitchen looking new even after years.

A mix of his & hers designs for the master bedroom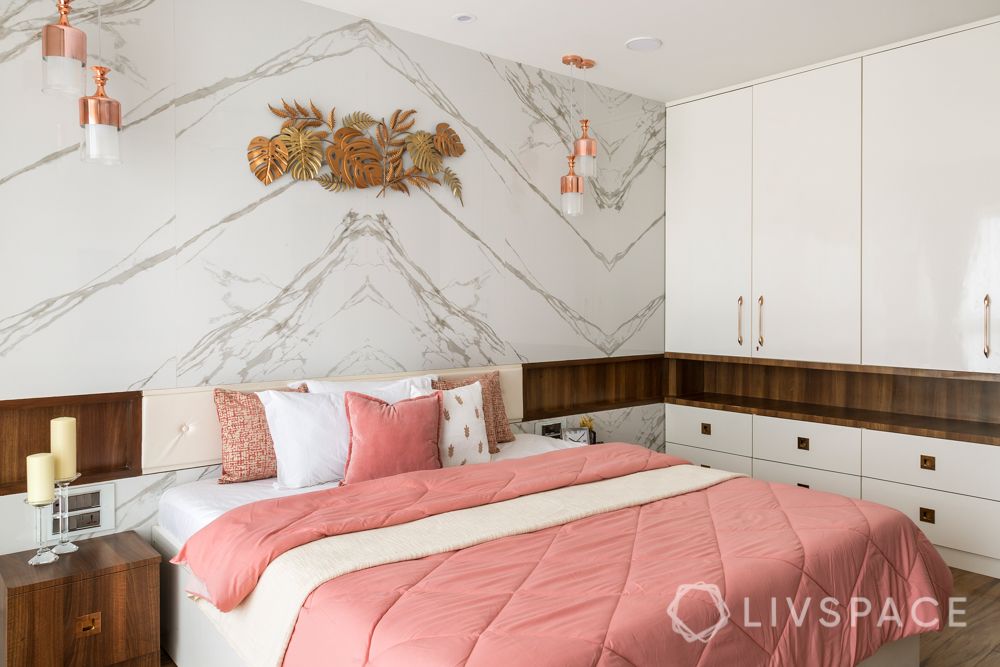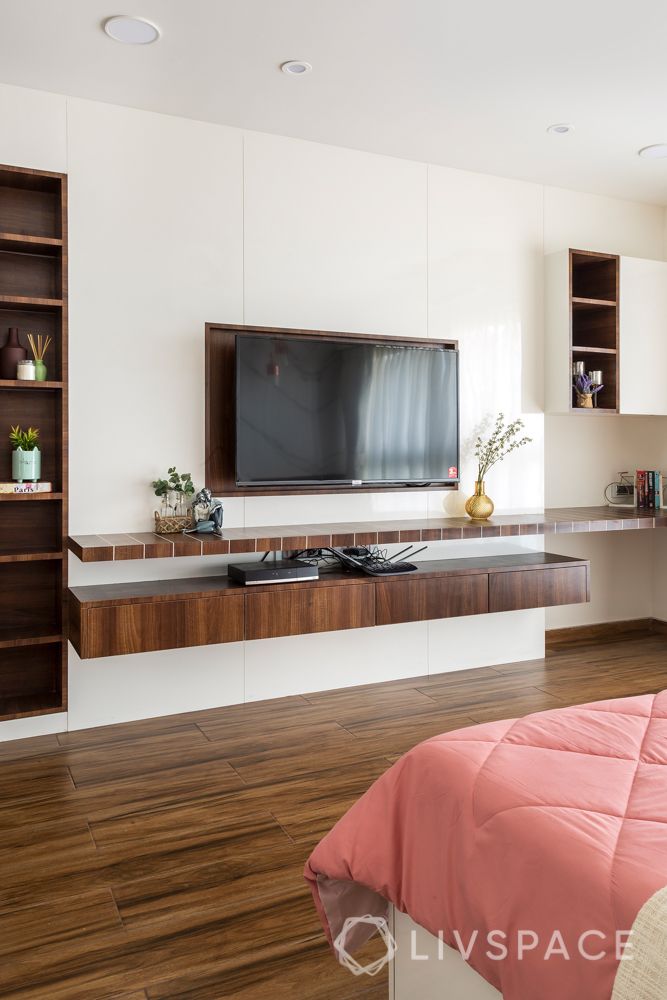 Since Apurva and his wife had contrasting ideas for their bedroom, Pooja found a way to blend the two together. The end result, a room that looks like a page out of a chic design magazine. However, the room is more than its marble and wood design, it has sleek white wardrobes and a toasty TV unit in laminate finish.
Finest Designs for the Parents Bedroom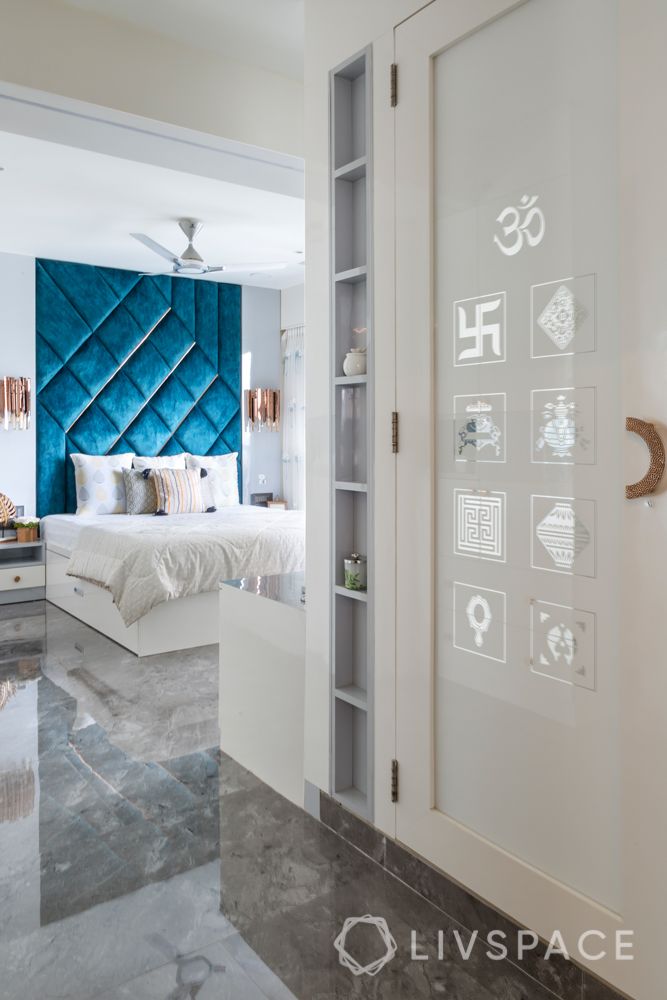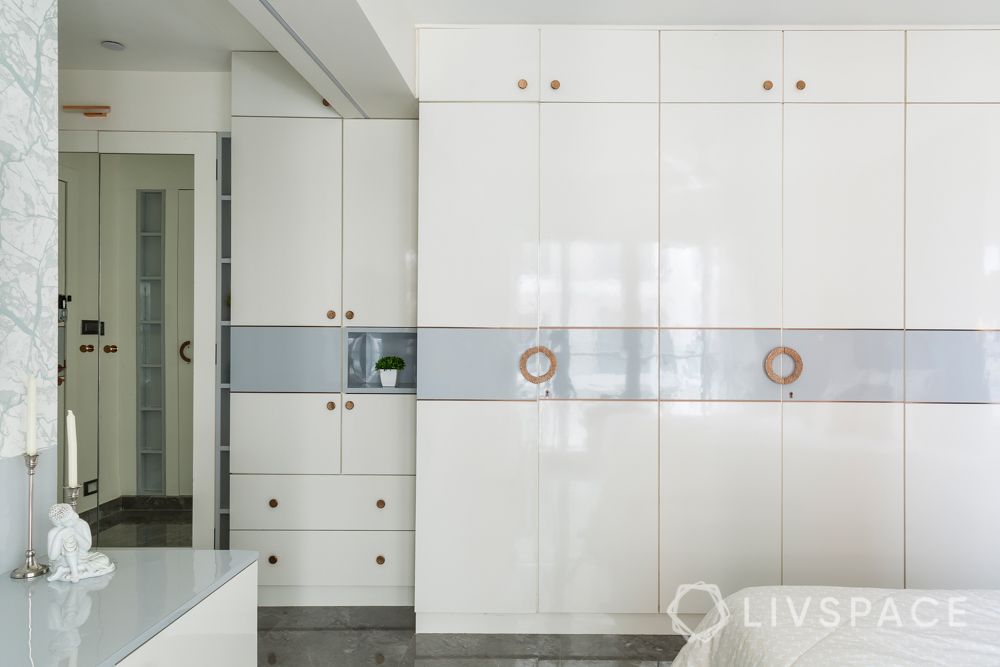 The full length velvet headboard is grand and the only colour in this all-white bedroom needs. However, this bedroom has a full-fledged pooja room within it. The pooja room is designed for the family to start their day in a tranquil and peaceful space. The door is made of etched glass and as you step in you can notice the marble flooring, false ceiling and patterned wallpaper.
A playful kids bedroom dressed in pastels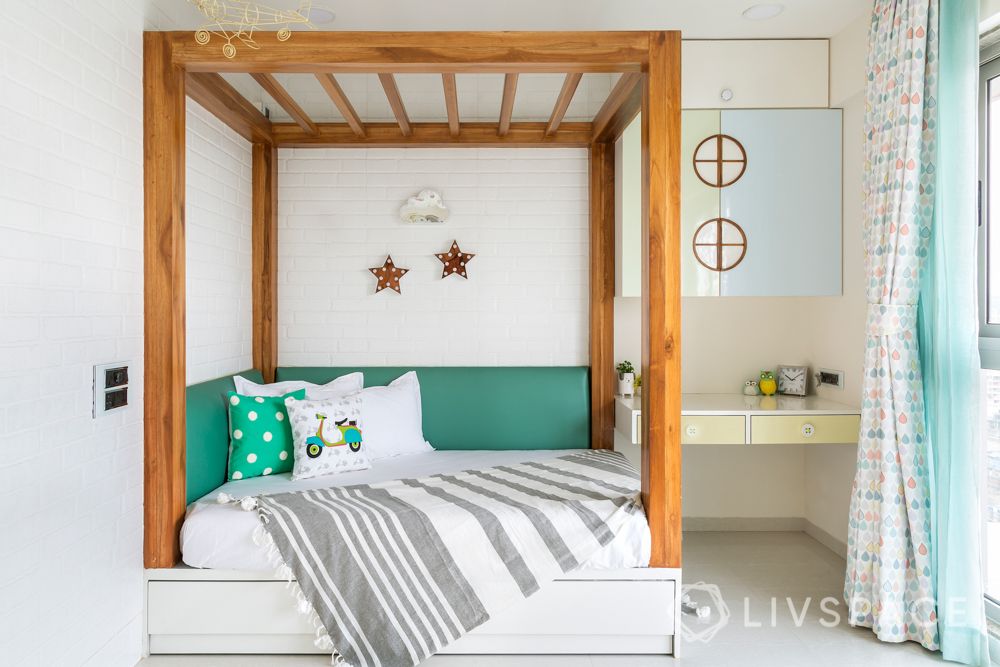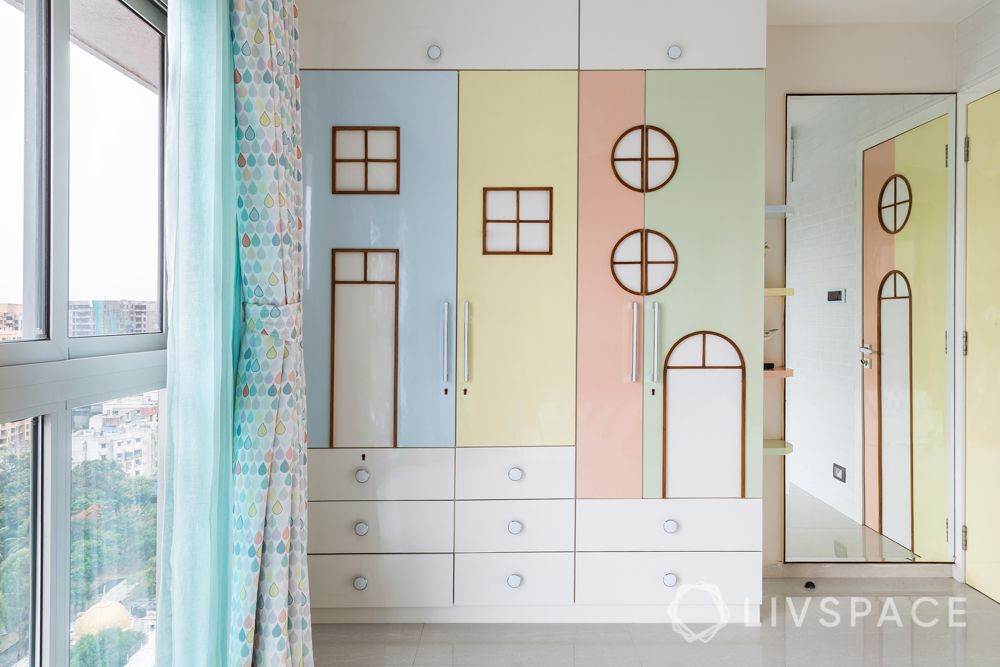 The niftiest bedroom in this Adani Western Heights Andheri house belongs to 7-year old Riyan. Wondering why? Here are multiple reasons for its smart design. The theme is in colours that are fun yet classy and timeless. The bed has an L-shaped headboard increasing the safety for him to play around. However, the bed has an interesting feature, the base of it can be pulled out that turns it into a queen bed.
If you enjoyed this home tour, take a look at Italian Marble, Custom-made Furniture & Gold Trimmings Add Luxury to This Villa
Send in your comments and suggestions.