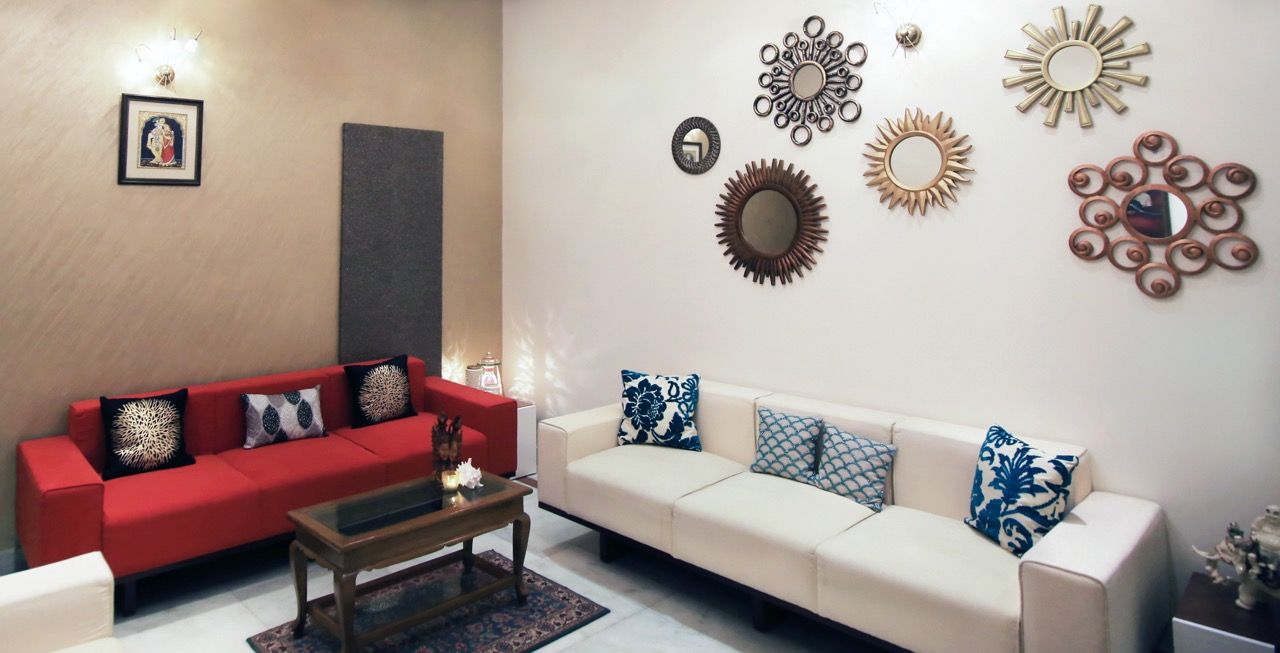 A home is a reflection of its people and the Juneja's revamped living room is a perfect testament to that; an inviting space, it's a blend of contemporary style, art and curated souvenirs from around the world. Sunil Juneja and his daughter Aarushi sat down to talk with us about their experience of renovating a part of their decades-old home.
---
Who livs here: Sunil Juneja and his family of six members
Location: Delhi
Livspace Service: Living room
Living room size: 208 sq.ft
Budget: ₹₹₹₹₹
Livspace Team: Interior designer Kirtikka Chhetrri with project manager Sudhansh Daga and relationship manager Varun Chopra
---
A well-appointed living room is indispensable when it comes to hosting guests or spending quality time with family and friends. That being said, remodeling an existing living space can be challenging thanks to layout constraints and a plethora of existing objects and furniture that one may not wish to part with.
After living for over three decades in their home in Naraina Vihar, Delhi, Sunil Juneja and his family decided to hire Livspace to give their living room a stylish makeover while taking into consideration the opinions of all six family members as well as the architectural challenges presented by the room. In addition, the family wanted to display certain pieces from their collection of souvenirs and handicrafts. Each souvenir had a story to tell, and the designer, inspired to provide these pieces with a vivid stage to narrate their tales of far-away lands, chose interiors that complemented them well, yet followed contemporary trends.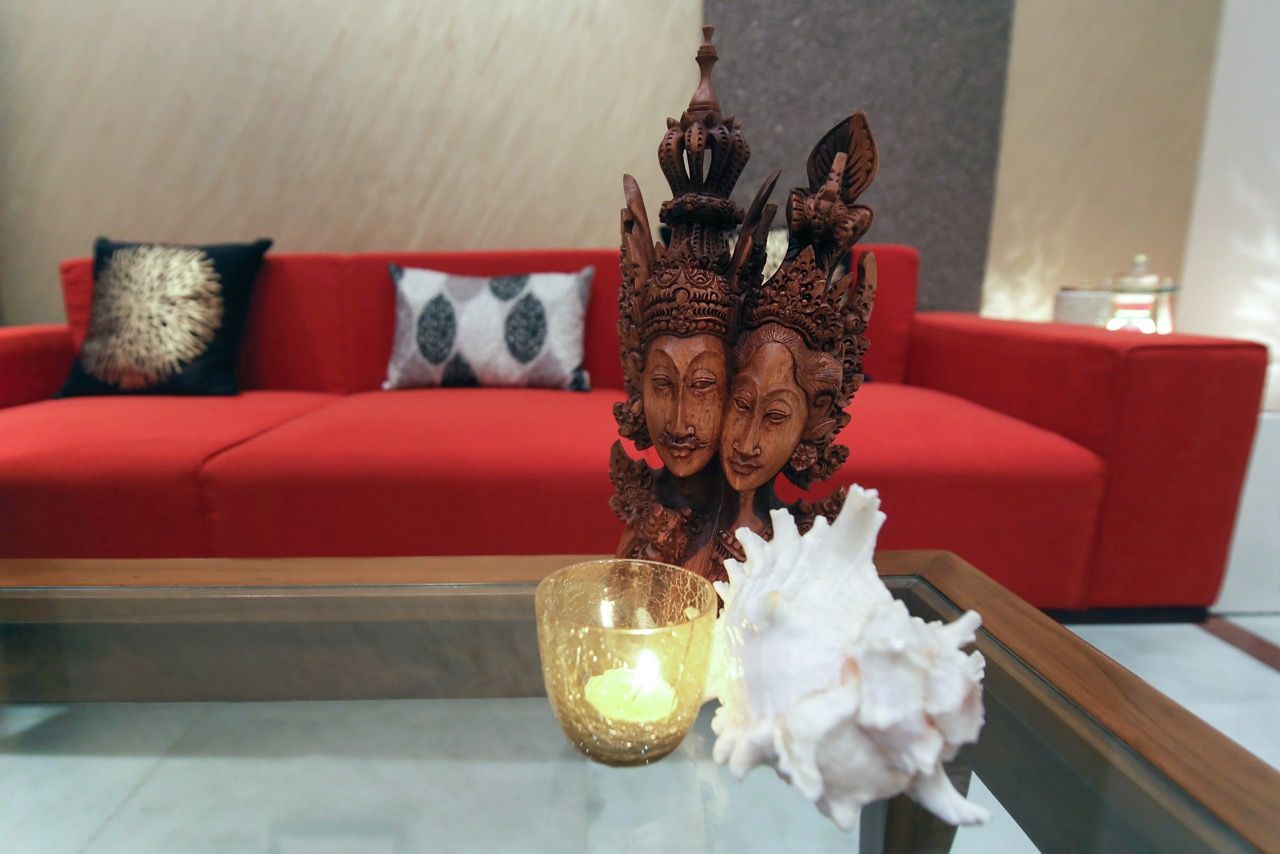 The warm palette selected for the room adds a polished, formal touch, all the while maintaining an affable vibe. The vibrant red couch, which is cleverly placed in front of an accent wall, perks up the room without overwhelming it. Mirrors, known to create an illusion of larger space, find a prime role in this redesigned space. The six decorative mirrors, from their personal collection, create a second accent wall that not only makes the living room look spacious but delivers a visual treat for visitors. A pair of coffee tables and a prized Persian rug, preserved from their previous living room, are reused for their emotional value, resulting in an eclectic coming together of the old and the new.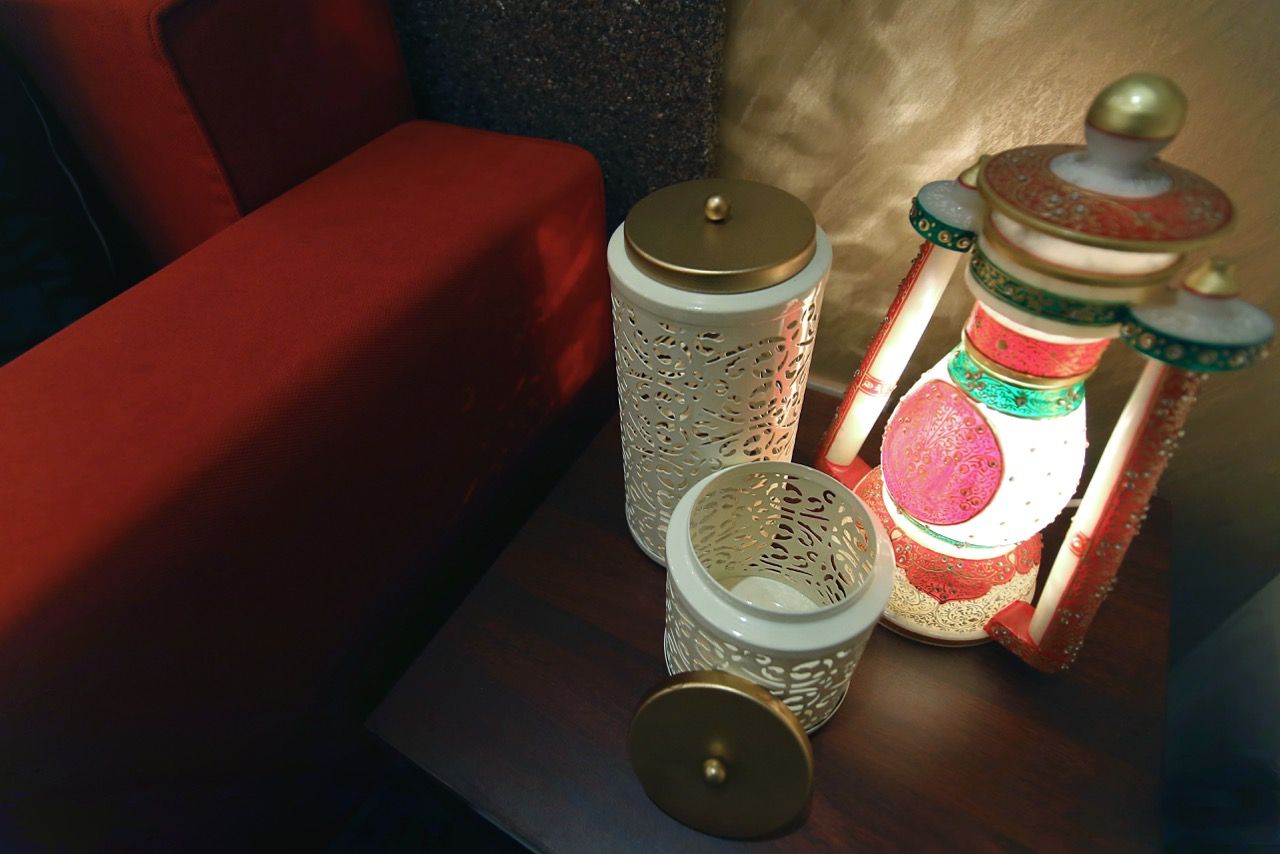 What were you looking for when you thought about renovating the living room?
Aarushi: The formal living room is the first thing that our guests see when they walk into our house, it's really the first impression. So, we wanted to get this part of the house restyled first and foremost. On the first floor, we have an additional family room where we gather for quality family time and watch movies together. We're planning to renovate it next and dedicate its interiors to our love for Bollywood and Hollywood since we're all movie buffs.
Sunil: Moreover, the living room felt very cramped earlier, as it had the seating capacity of ten. Going forward, we wanted to accommodate a larger number of people without the room feeling congested. This was another issue for which we were seeking professional help.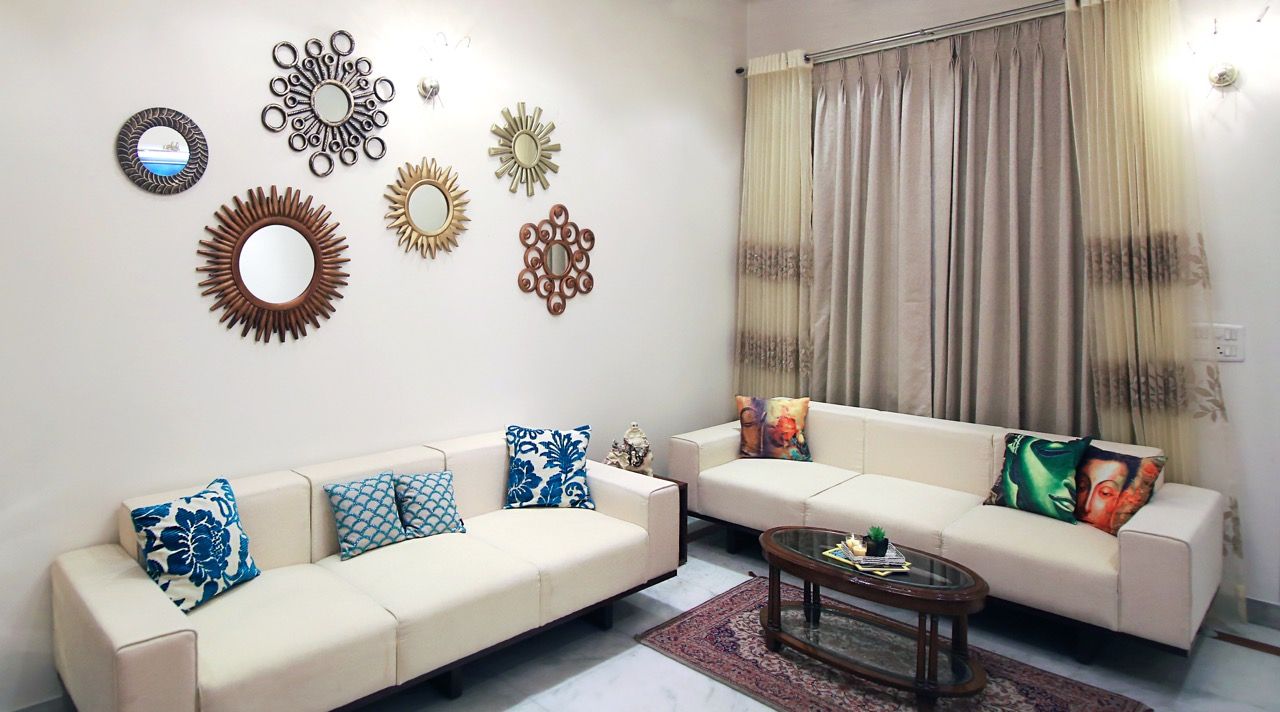 How was your living room styled over the years?
Sunil: We have been living here since 1969 and over the years, the interiors of this house have remained more or less the same. However, every now and then, I've made it a point to update the upholstery of the sofa. To that end, I used to personally visit the market and choose the fabric.
What led you to seek services of Livspace?
Aarushi: This is the first time we decided to hire an interior design service since we all had differing opinions about the possible new look of our living room. It was difficult to reach a conclusion that pleased all. That's when my sister-in-law suggested Livspace to provide us with the much needed expert intervention. Moreover, we realized that heading out to purchase every element of the room could get very tedious.
Since there was a difference of opinion in the family, did everyone agree to a common design, eventually?
Sunil: Yes, we did. Everyone was equally involved and in spite of our individual ideas, Kirtikka, our designer, got us to the point where all of us agreed wholeheartedly.
Aarushi: Kirtikka designed several concepts for us and the options helped us choose the best one. We also had a curious problem for her to solve — concealing an abrupt shaft door on the north wall of the living room. It was a huge task and yet, she managed to pull it off really well by covering it with a bold panel. Infact she transformed the most hideous of our living room walls into an accent wall.
---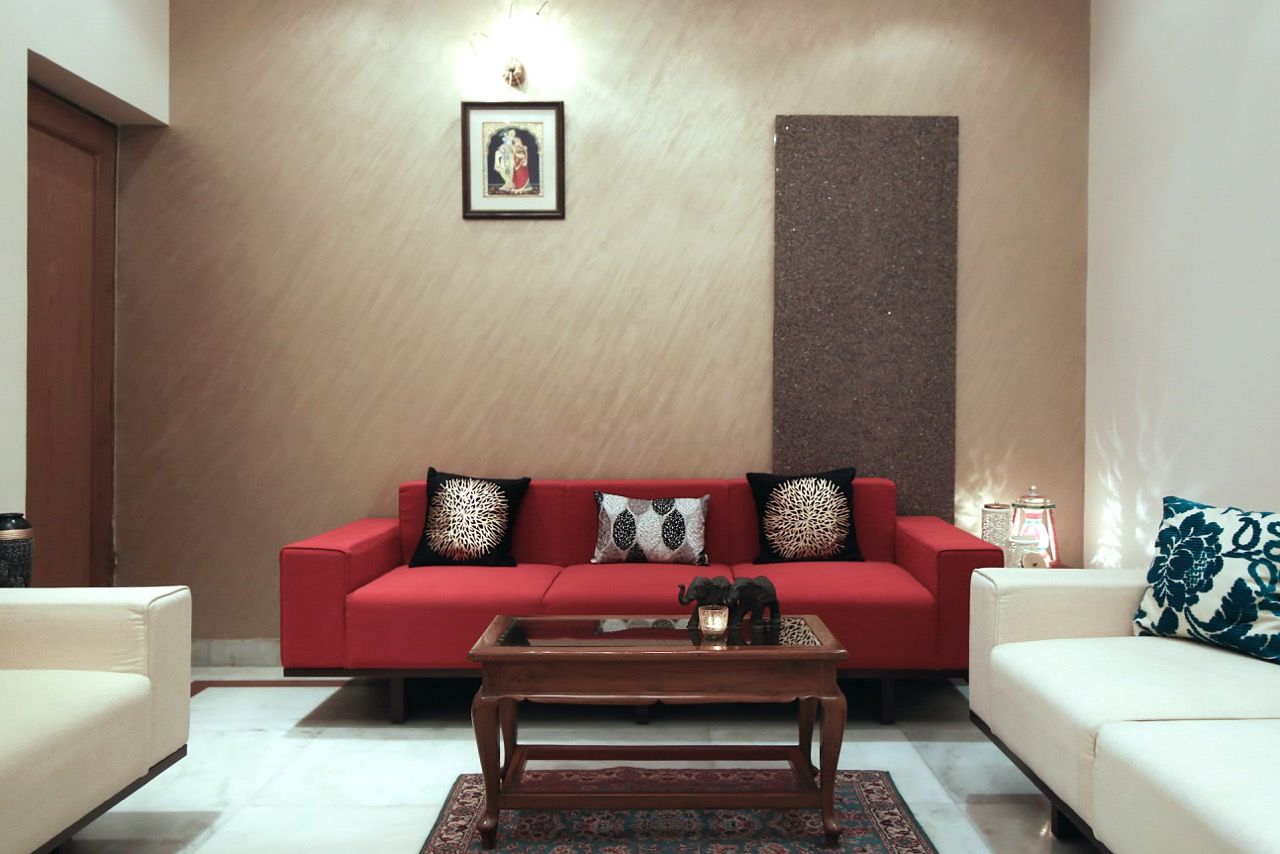 ---

"The Junejas knew what they were looking for and that really helped me structure the designs better. We created two accent walls — one of which is adorned with six decorative mirrors to create an illusion of a larger space. The other wall had an abrupt shaft door, a common feature in old constructions in this area, and to solve that problem we concealed it with a wallpaper panel. Not only does it disguise the door well, it also does justice to the decorative pieces and complements the warm tones."

–Kirtikka Chhetrri, Interior Designer, Livspace
---
What was your favorite part in the complete Livspace experience?
Sunil: We really appreciate the effort and patience put in by Kirtikka. Our new room, though it reflects contemporary trends, has become the perfect stage for our souvenirs, each of which has a story to tell. Also, oddly enough, the room feels much more spacious now, at a seating capacity of twelve, compared to what it was earlier. It's very satisfying to see our guests appreciate the room. We've ordered a couple of other products from Livspace and we can't wait to see them. Overall, we're very happy.