We filled this 3 BHK home design with bright colours and furnishings that are easy to maintain. Packed with storage, this home is easy on the eyes, yet designed to be safe for their children, exactly as it was supposed to be!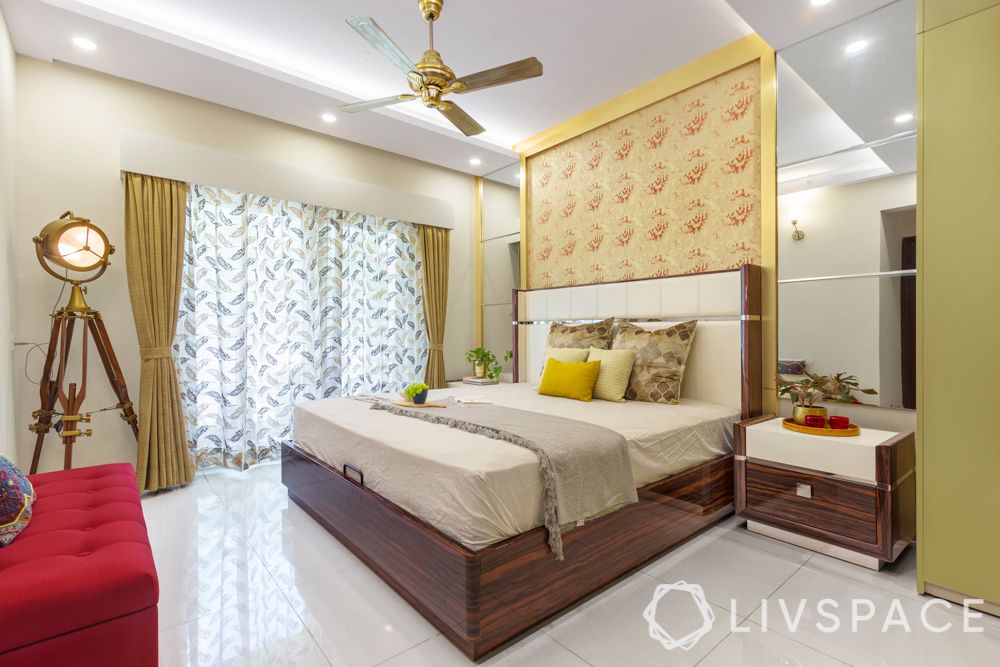 ---
Who livs here: Gajendra Vikram and his wife Shalini, with their children Aditya and Aarav
Location: Bhurj Tower, Sarjapura Main Road, Bangalore
Size of home: A 3BHK spanning 1,550 sq ft approx.
Design team: Interior Designer Niyama Ram and Project Manager Anil Kumar
Livspace service: Full home design
Budget: ₹₹₹₹₹
---
We at Livspace are invested in breathing life into your dream home. And nothing excites us more than a homeowner who knows exactly what they want for their home. Meet Shalini and Gajendra, who came to us with their ideas for the interiors of their home. And we did what we do best – make their dream come true!
Shalini tells us that she wanted the interiors of her home to be unique – so she scoured social media until she found designs she liked. This family wanted something that would look beautiful, without making the process of cleaning up a nightmare. An excellent decision, we'd say, especially when there are growing children in the house. So how did this home turn out?
Livspace designer Niyama Ram and her team focused on creating a clutter-free space to cut down on the chances of accidents, but also provided ample storage space. At the same time, we made no compromises on the aesthetic appeal of the home! If you're wondering how we did all this, take the tour with us!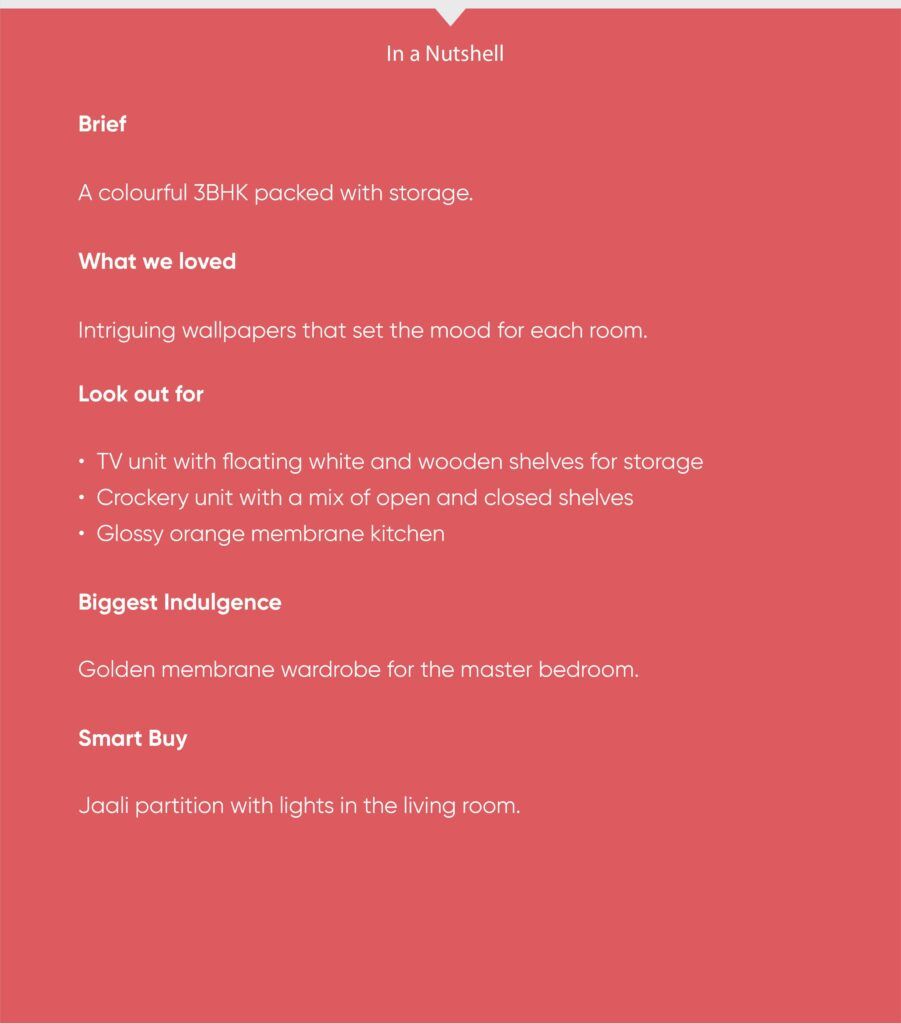 A Vibrant Living Room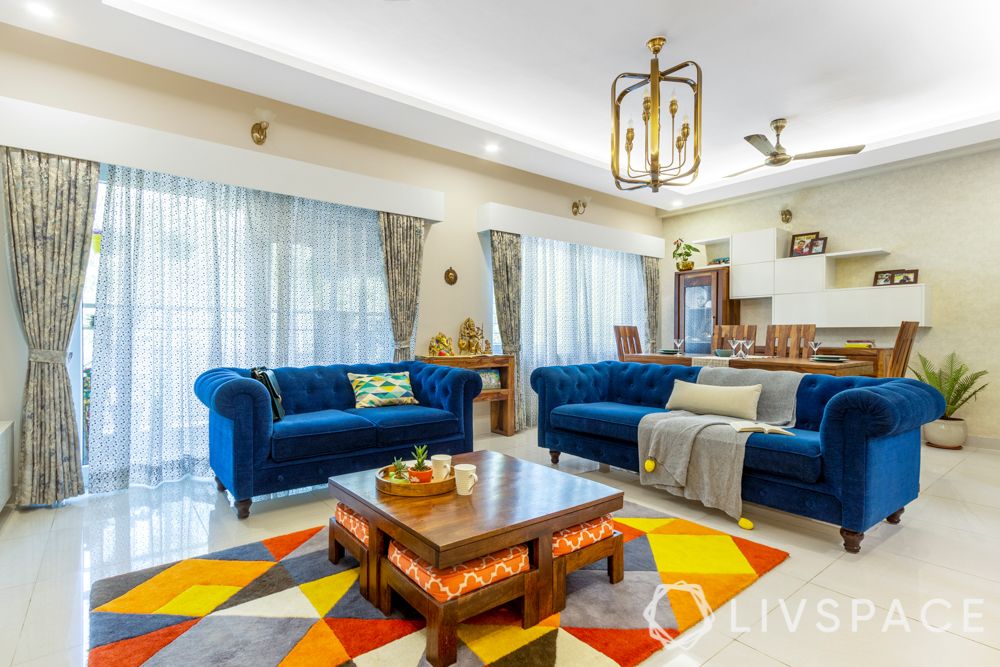 In this 3 BHK home design, the living room comes filled with a variety of colours that tie together beautifully to cheer you up on the gloomiest of days. Against a neutral background, Shalini and Gajendra's living room comes with bright blue tufted sofas, a low wooden coffee table with nested ottomans and colourful carpet with geometric patterns.
Watch out for the blue and white wallpaper on the accent wall that ties in with the blue sofas. Shalini had scoured Pinterest for a unique TV unit, and finally came up with this. The Livspace design team brought to life her dream TV unit. We especially love how it tucks loose wires out of sight, as well as the floating shelves in white and wooden laminate for storage. So, Shalini and Gajendra can store their belongings safely, without cutting down on floor space!
Dining Space Filled With Wooden Elements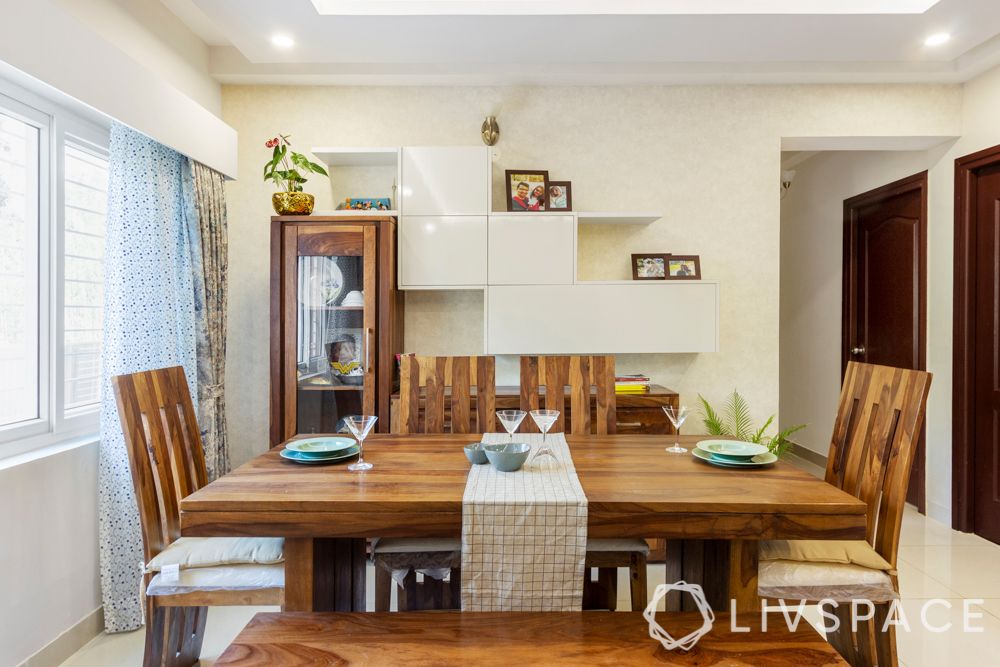 The dining room in this 3 BHK in Bangalore comes with a wooden furniture. Complementing this is a wooden crockery unit. Beside this, we have push-to-open cabinets and open shelves for additional storage. Shalini and Gajendra can also use the open shelves to show off their family photos!
Jaali Dividers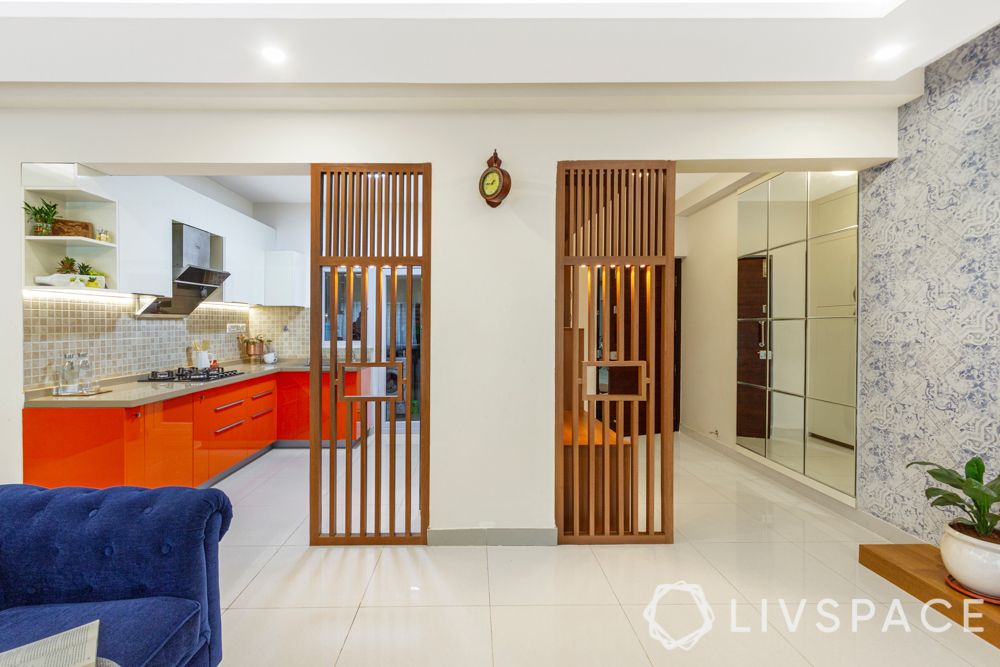 How do we demarcate spaces in an open layout? With a jaali partition, of course! Since this home had no doors from the entryway, through the living-cum-dining to the kitchen, Shalini looked wanted the perfect partition. With its straight lines and minimal detailing, this walnut brown laminate partition is safe for Shalini and Gajendra's children. Also, it comes with in-built lights to make it look prettier. And cleaning it up is a breeze!

Blazing Colours in the Kitchen
Designed around the existing backsplash of mosaic tiles, the membrane kitchen in this 3 BHK home design comes in blazing orange hues. This membrane kitchen comes with edge profiles that make it look seamless. This kitchen comes packed with storage, just as Shalini and Gajendra wanted. So we have white wall units and orange base units, tied together with a kalinga stone countertop. We also love the backlighting!
Golden Hues in the Master Bedroom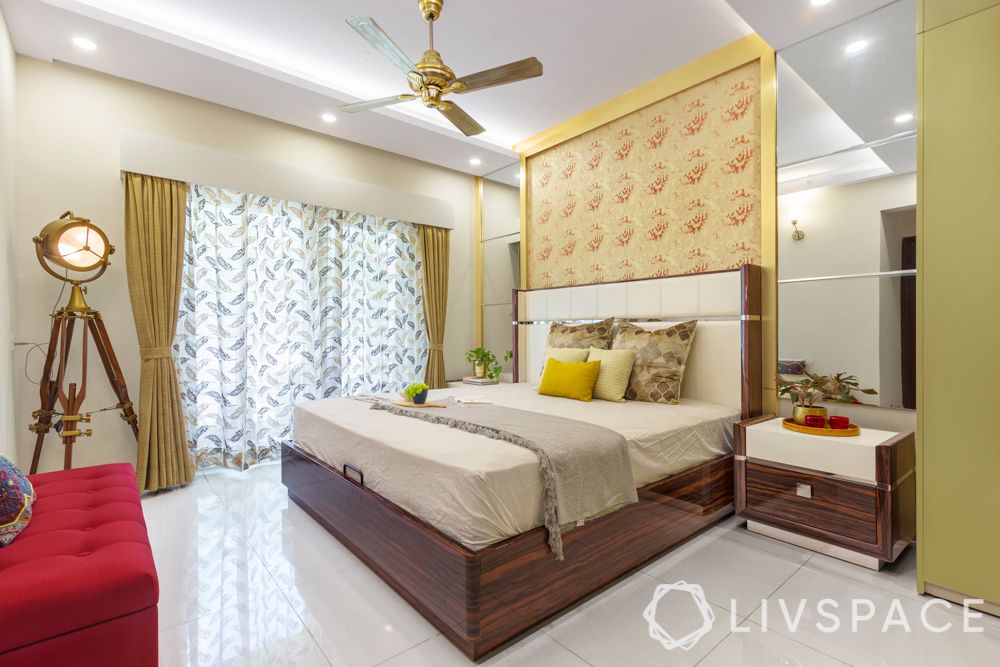 Gold takes over this master bedroom in this 3 BHK in Bangalore. Shalini tells us that she had fallen in love with a similar wardrobe in the Livspace magazine, so that's what we gave her. The golden wallpaper and mirrors fit right in with the membrane wardrobe in the master bedroom, making it a space fit for royalty!
A Rustic Bedroom for the Children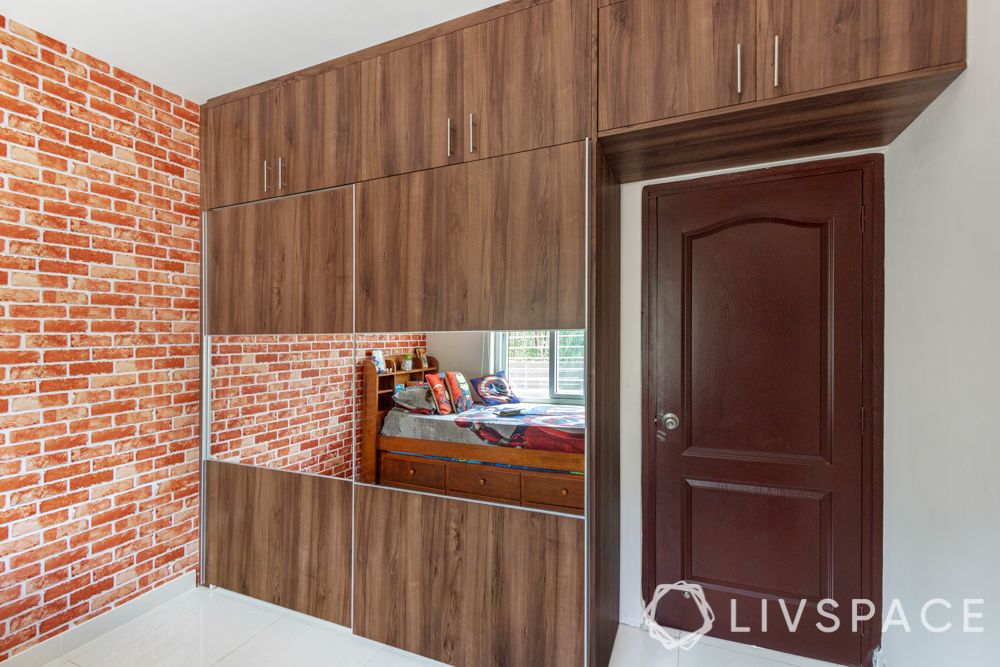 Designed for Aditya, this bedroom covers all the essentials for a school-going child's room. With an exposed brick wallpaper and a wooden wardrobe from the Livspace catalogue, this room is delightfully rustic. Throw in a superhero-themed bed sheet and cushion covers, and you couldn't have a better room for a growing boy!
A Desi Bedroom for the Mother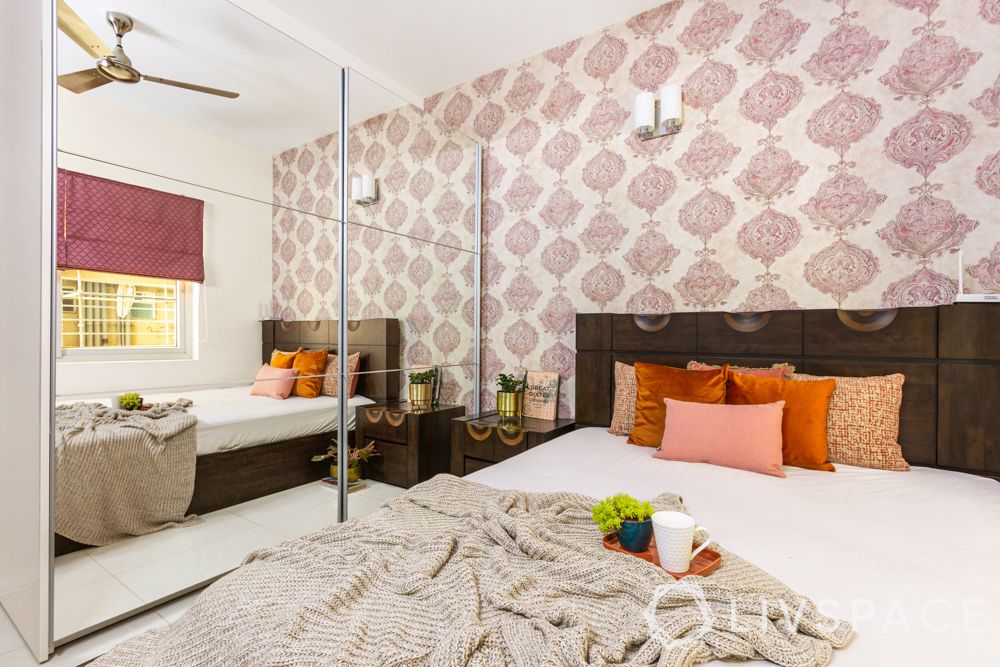 For his mother's bedroom, Gajendra and Shalini decided upon a wallpaper with desi motifs. A mirror-panelled sliding wardrobe from the Livspace catalogue finds its home here, as does a pooja unit in sheesham wood. This free-standing unit comes with carved doors and bells. Doesn't that make it feel more sacred, if possible?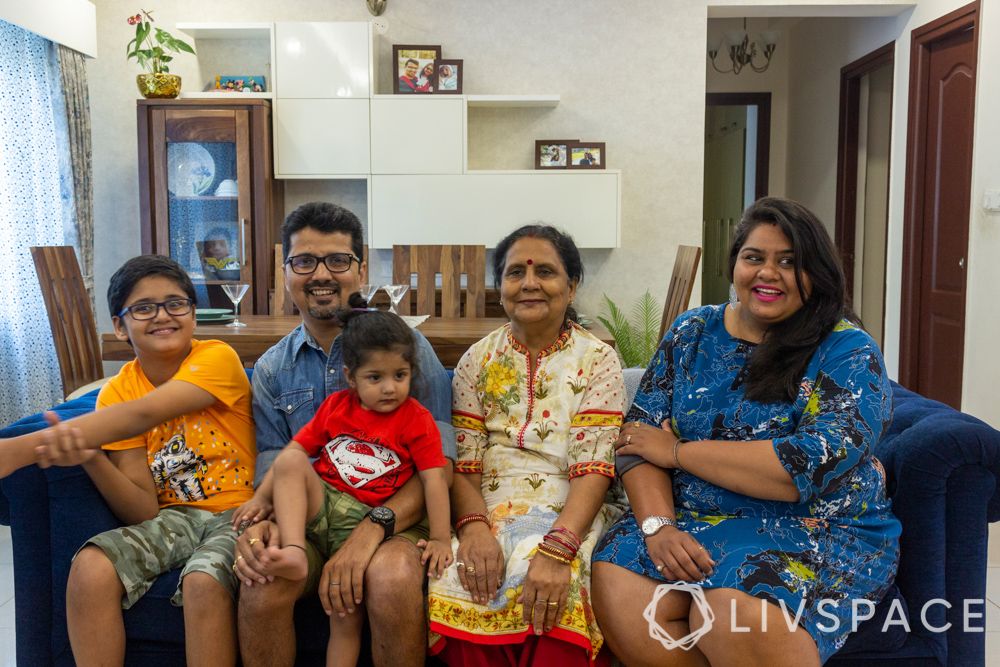 "I had planned the interiors of our home even before approaching Livspace, and it has come out exactly the way we wanted it to be. We're absolutely thrilled with it!"

– Shalini Gajendra, Livspace Homeowner
If you enjoyed reading about this home, also check out Getting Modern Design on a Budget.
Send in your comments & suggestions.