When we say minimal, what comes to your mind? Bare walls, plenty of empty space and an absence of colours? All these very typical features of minimal design are most conspicuously absent from Indian homes. Which is why Mansi's home at Rustomjee Seasons, Mumbai is so very special! Not only is this home designed in the minimal style but also pays tribute to its Indian origin. This is one of the 3 BHK flats in Mumbai that look spacious, thanks to its interiors! But, that's not all!
ALSO READ: How to Design a Minimal Home That Indians Will Love?
---
Who livs here: Mansi Khatiwala with her parents Pramod and Aruna
Location: Rustomjee Seasons, BKC, Mumbai
Size of home: A 3BHK spanning 1300 sq ft. approx.
Design team: Interior Designer Kanchi Khetan and Project Manager Harsh Sheth
Livspace service: Full home design Budget: ₹₹₹₹₹
---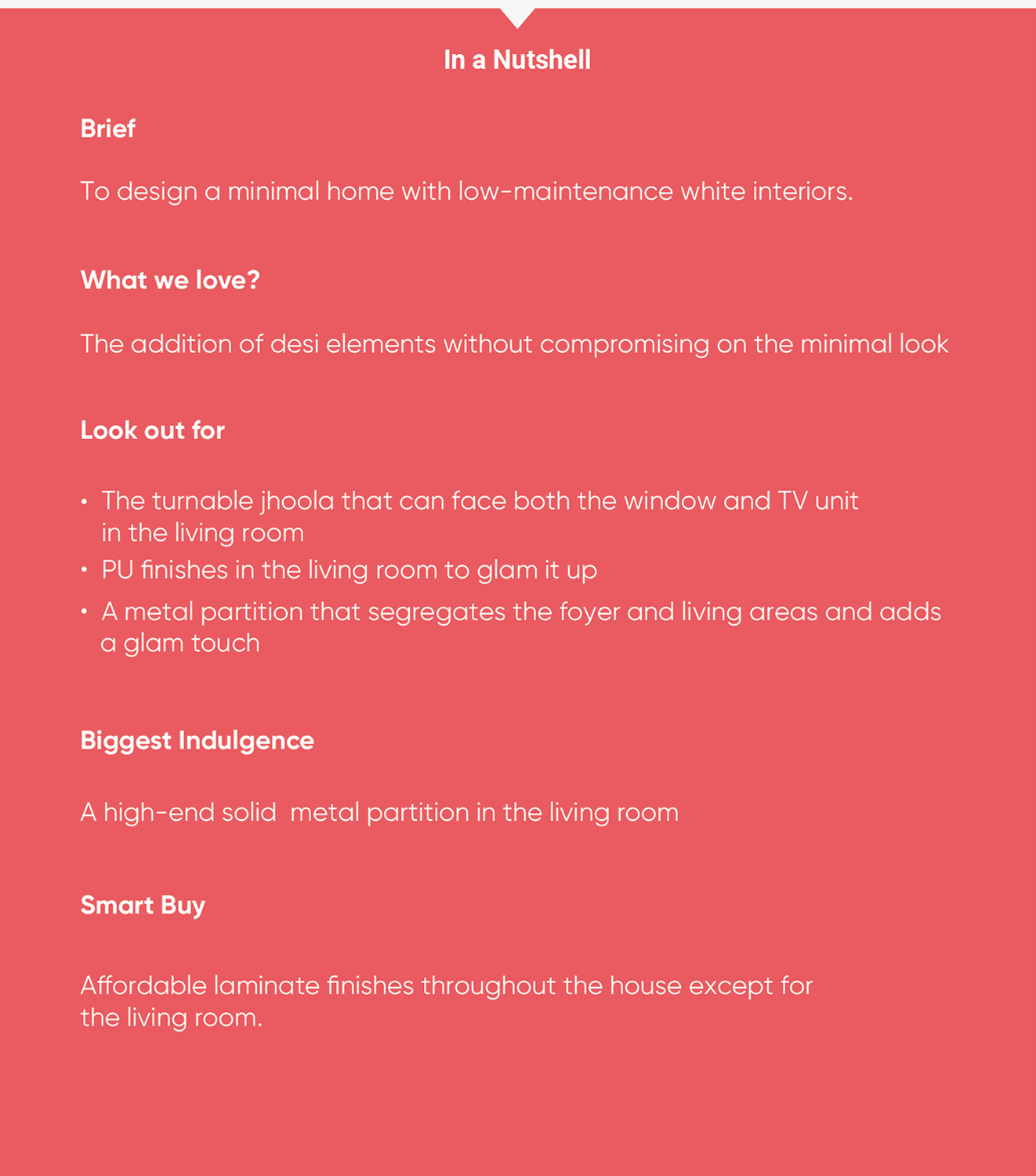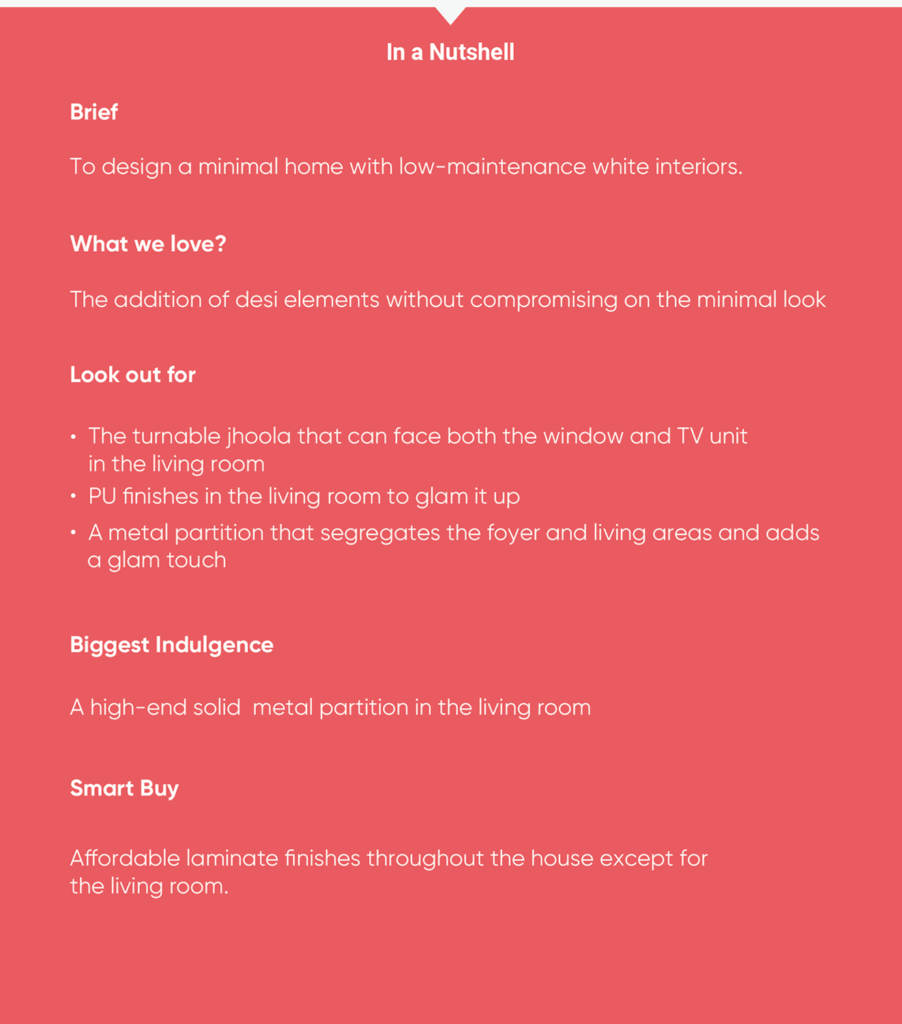 Some homes teach us how to be storage-efficient. Other homes showcase how to implement a particular design style beautifully. But, very rarely do we come across a home that has multiple design lessons for you! Mansi's 3 BHK is one such home that shows you how to design a home that is elder-friendly, has fuss-free white interiors and is minimal but also matches Indian sensibilities. Take the tour.
#1: How to design a minimal home?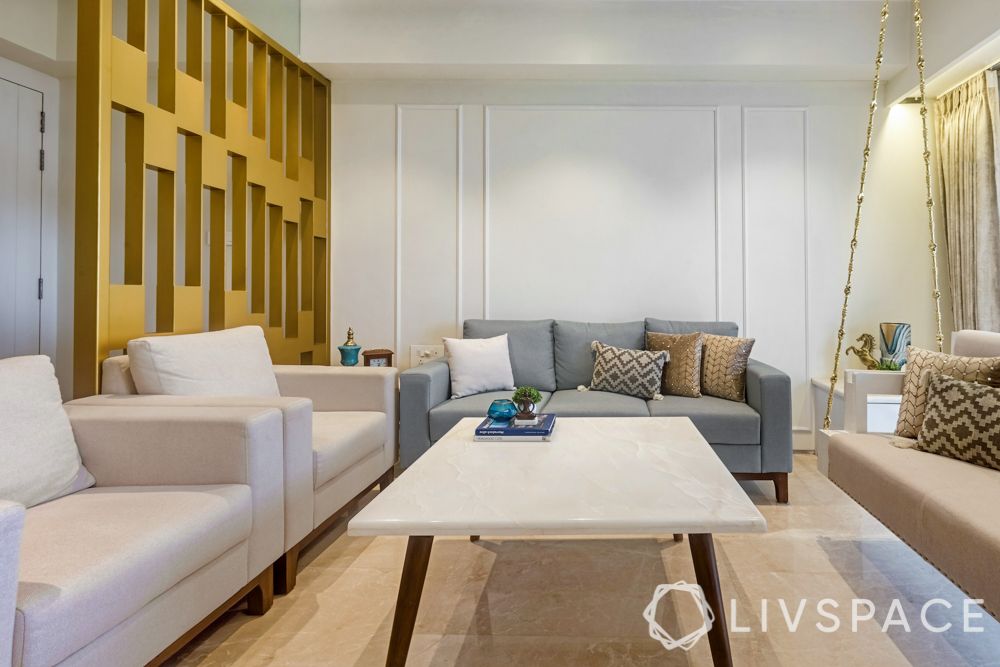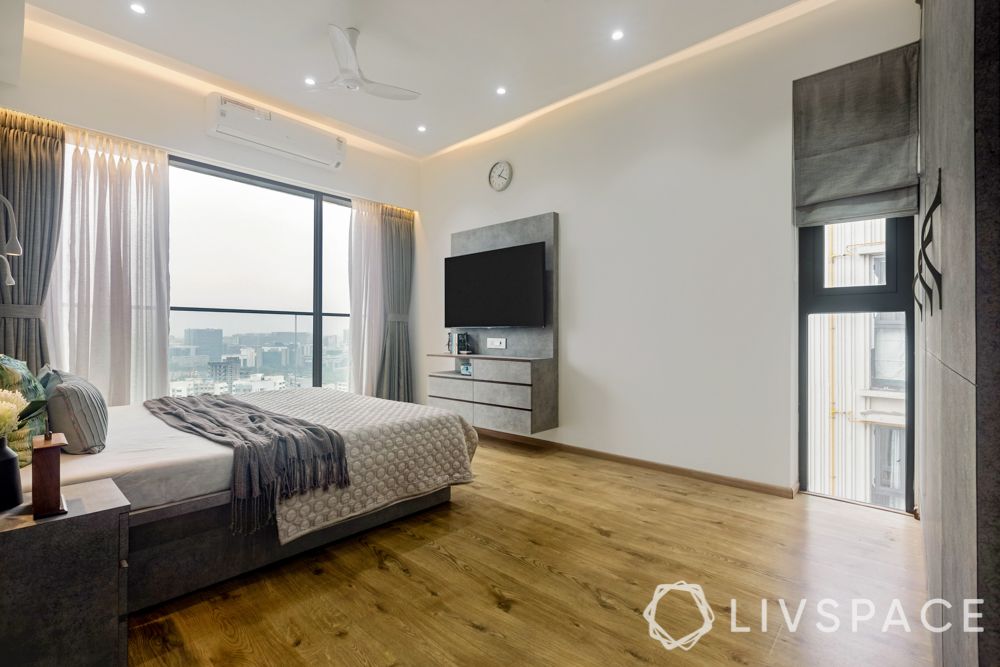 Indian millennials are increasingly jumping on the minimalism bandwagon — be it for their home designs or their lifestyles. But, why is the minimal design style so popular? Mainly because it is as low-maintenance as it gets! Mansi leads a busy lifestyle and lives with her elderly parents — so a low-maintenance home was definitely a primary requirement for her! Our designer, Kanchi Khetan, followed two main principles of minimalism — clutter-free design and neutral colours — to design this white but low-maintenance home. This 3BHK in Mumbai features a mix of white, grey and beige throughout the home. Subtle wall mouldings and spotlights add drama without making the space look cramped. Similarly, Kanchi avoided clutter by sticking to the basics in each room and opting for wall-mounted storage and display units.
#2: How can white interiors be low-maintenance?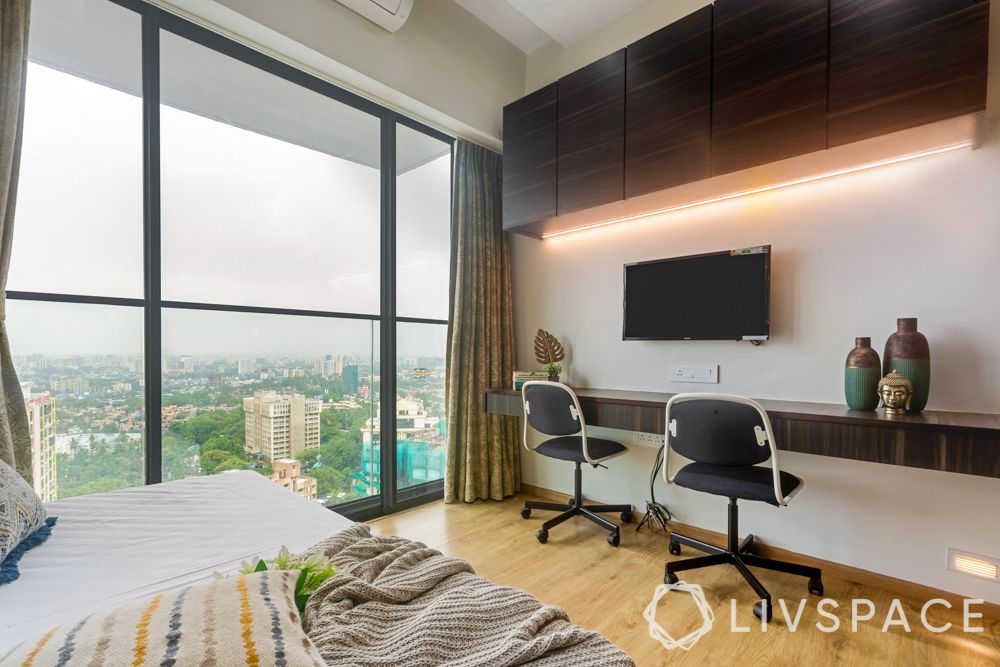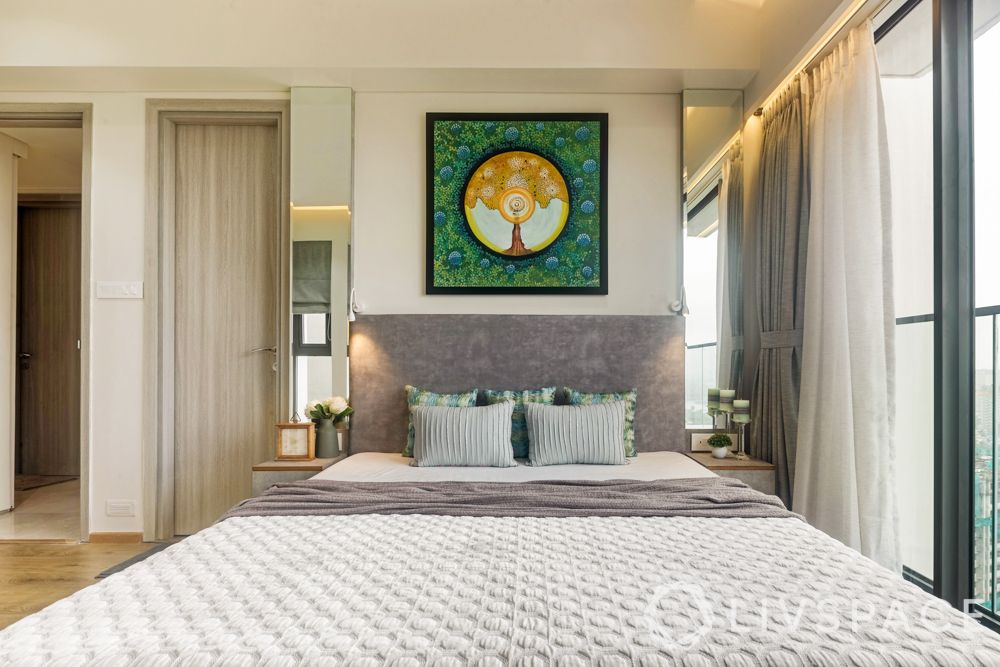 "Mansi wanted a white on white theme for her home without making it look clinical and also keeping it easy-to-maintain", Kanchi says about the elegant white interiors. But white 3 BHK flats in Mumbai are so tough to maintain, right? However, Mansi was very clear that she wanted both pristine white interiors that are also easy-to-maintain. So, we asked Kanchi how she did it.
In her own words,
In Mansi's home, the walls and ceilings — elements that don't need regular cleaning — are white. On the other hand, fabrics used for upholstering the sofas and headboards are grey or beige as these get dirty very quickly and need washing. Similarly, for the furniture, Kanchi used PU and laminate finishes that are easy to clean and maintain.
#3: How to make a home elder-friendly?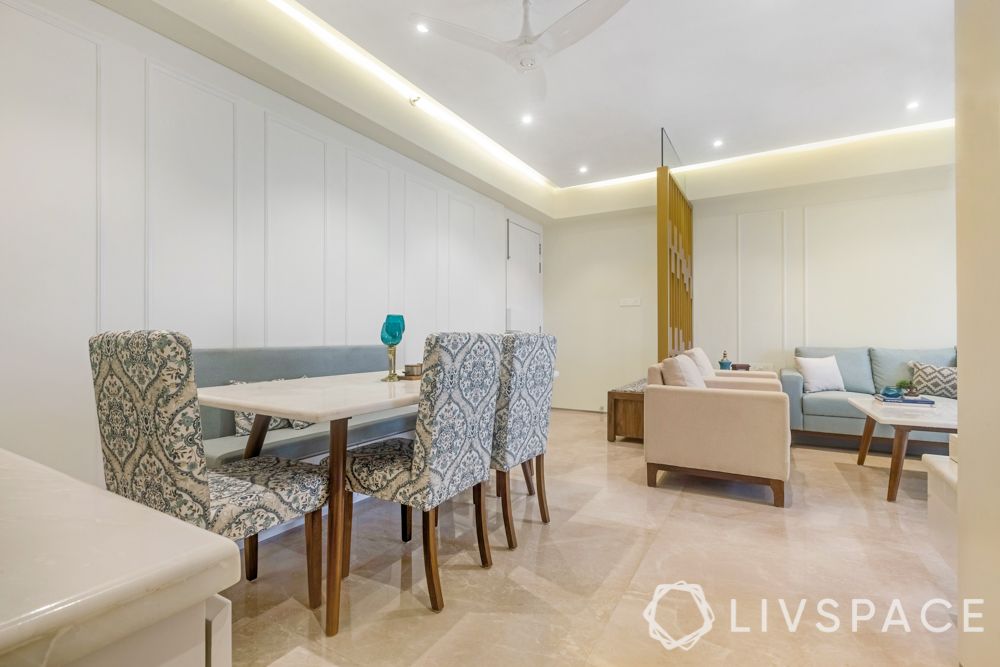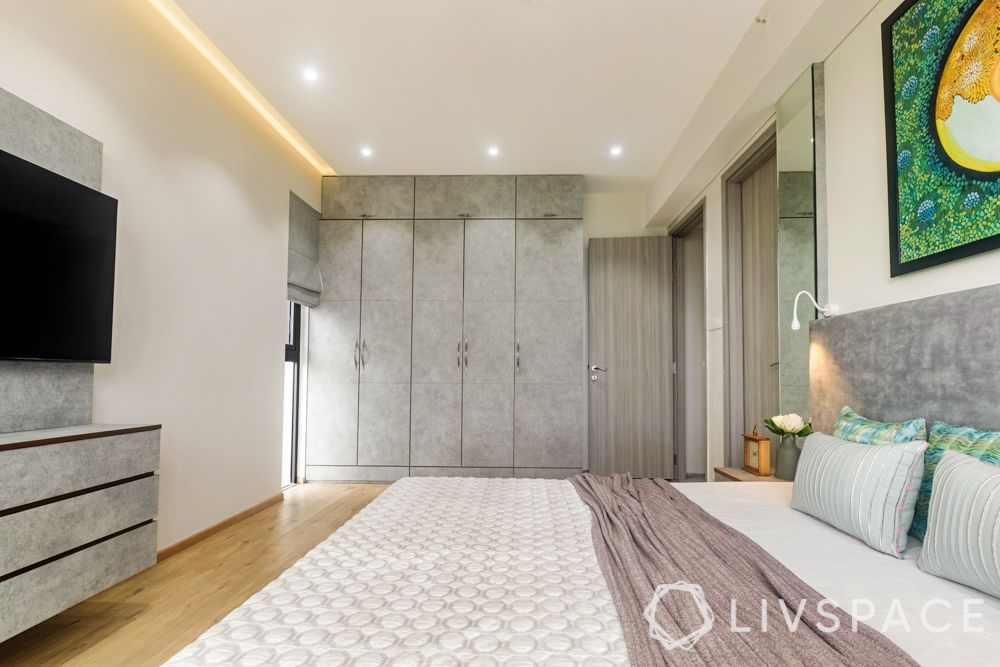 Mansi lives with her elderly parents in her 3BHK in Mumbai. So, a safe and elder-friendly home design was a must for her! The first thing that a home with senior citizens needs is ample lighting. From the living room to the bedrooms, Kanchi ensured that each room had adequate lights. The false ceilings, especially in Mansi's parents' bedroom, are fitted with both spotlights and profile lights. In addition, their room also has lighting on both sides of the bed.
#4: How to add desi elements to a minimal home?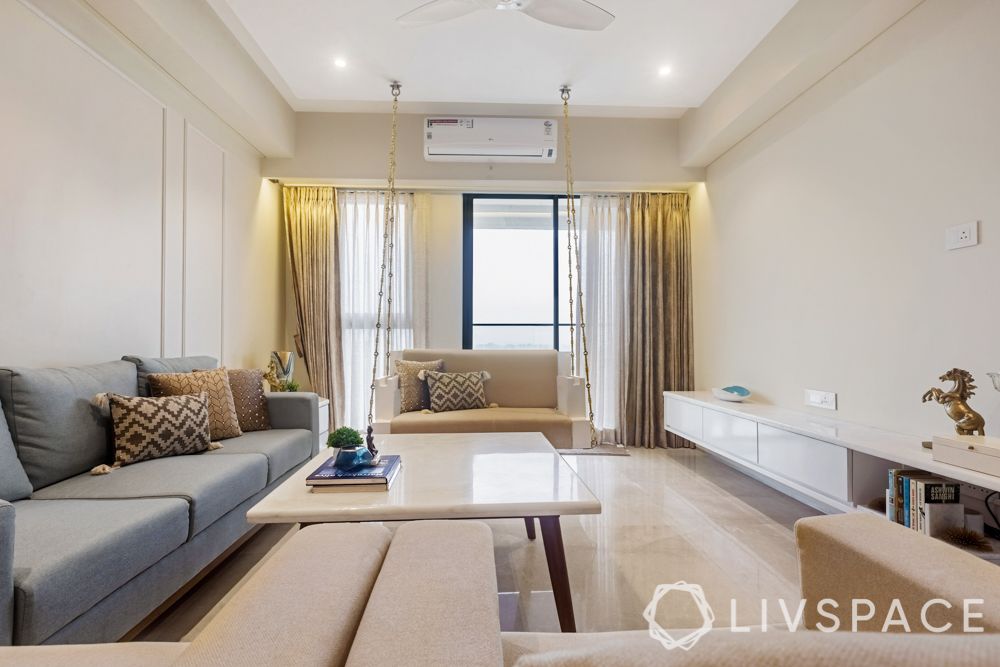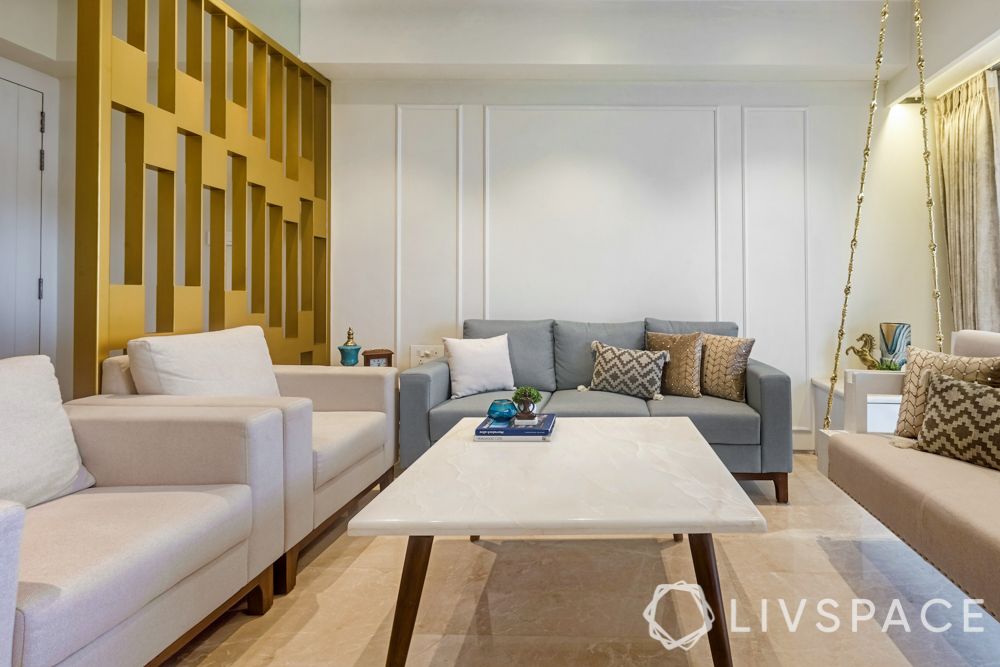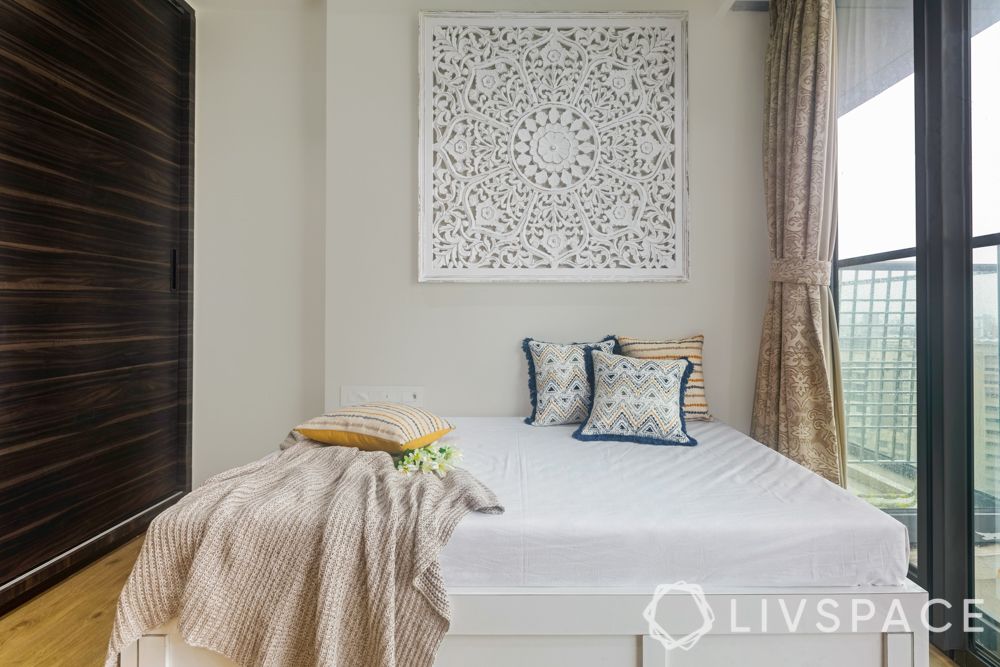 "They were a traditional family. Even though Mansi wanted to go modern, her family had traditional roots which had to be part of the home design," says Kanchi. Very rarely do you see 3 BHK flats in Mumbai that are a perfect balance of Indian and Western. But Mansi's home, despite being minimal, has some stunning desi elements that have our hearts! The jhoola in the living room is a quintessential Indian home decor element.
And to match the jhoola rods, Kanchi added a luxurious solid metal gold partition for the Indians in us who love bling! Don't miss the jaali artwork on the wall — so desi!
#5: How to design a plush yet understated home?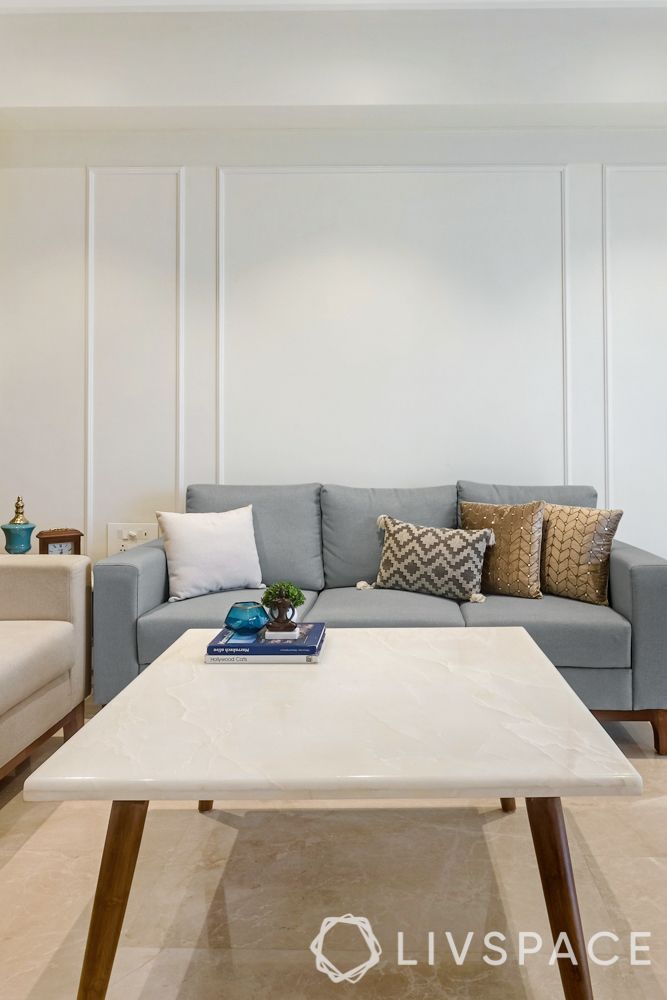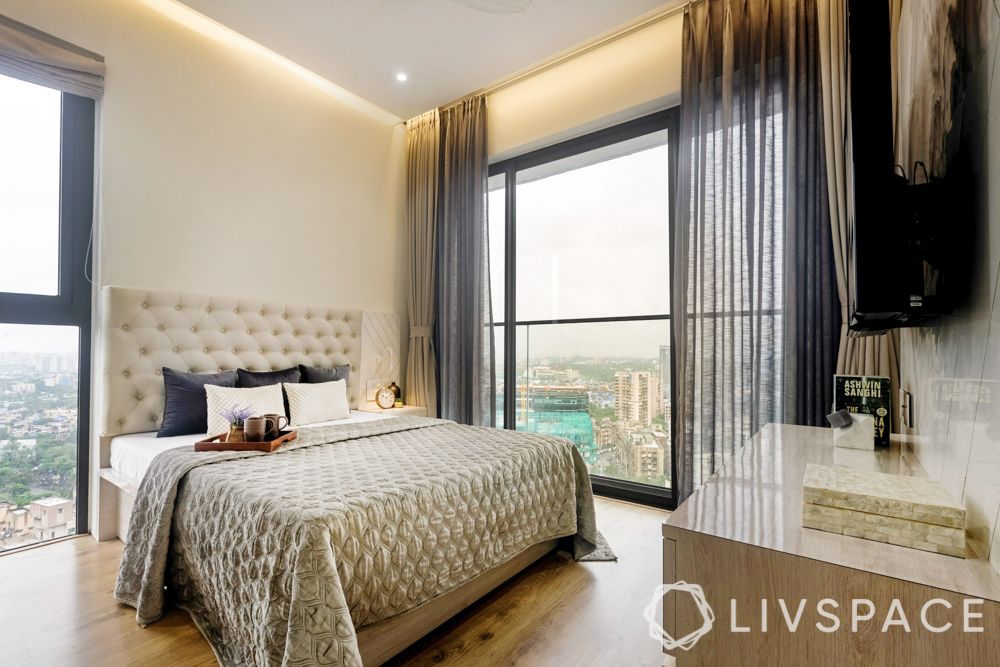 It's very easy to go from plush and elegant to loud and OTT! Only an experienced designer can ensure the right balance. Mansi's 3BHK in Mumbai is a luxurious haven — and oh so refined! To achieve this look, Kanchi chose white onyx, which resembled marble, for all the tabletops in the living and dining areas. "It had a really nice shine and depth to it," answered Kanchi on why she chose onyx marble. Mansi also wanted a very light theme for her bedroom, so the use of light wood laminate for the furniture was justified. But, to make the look plush, Kanchi kept it glossy and added a Chesterfield headboard to the bed.
#6: How to add storage to your home?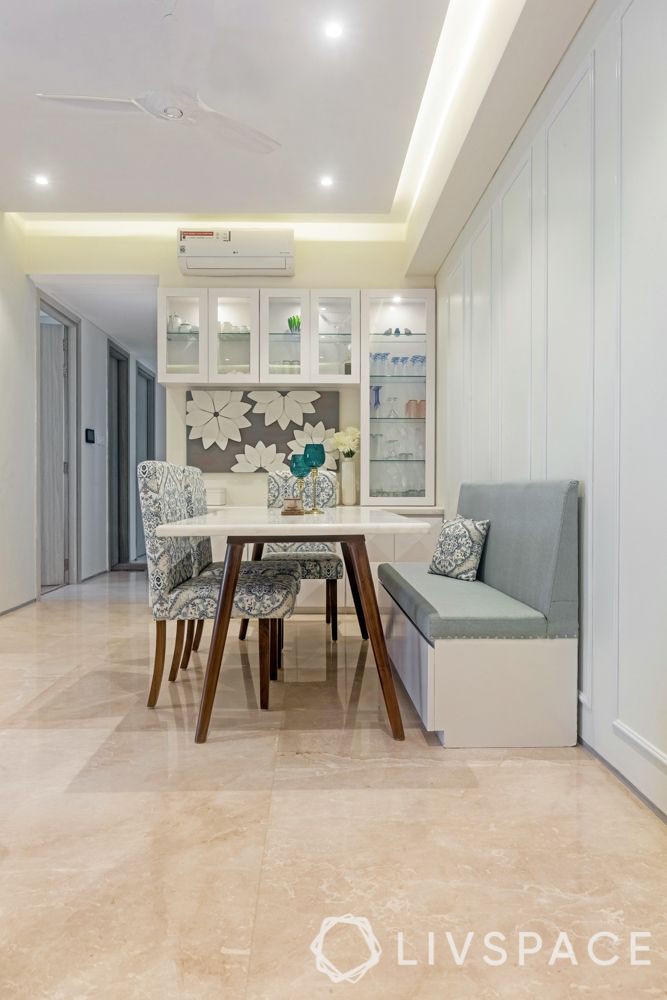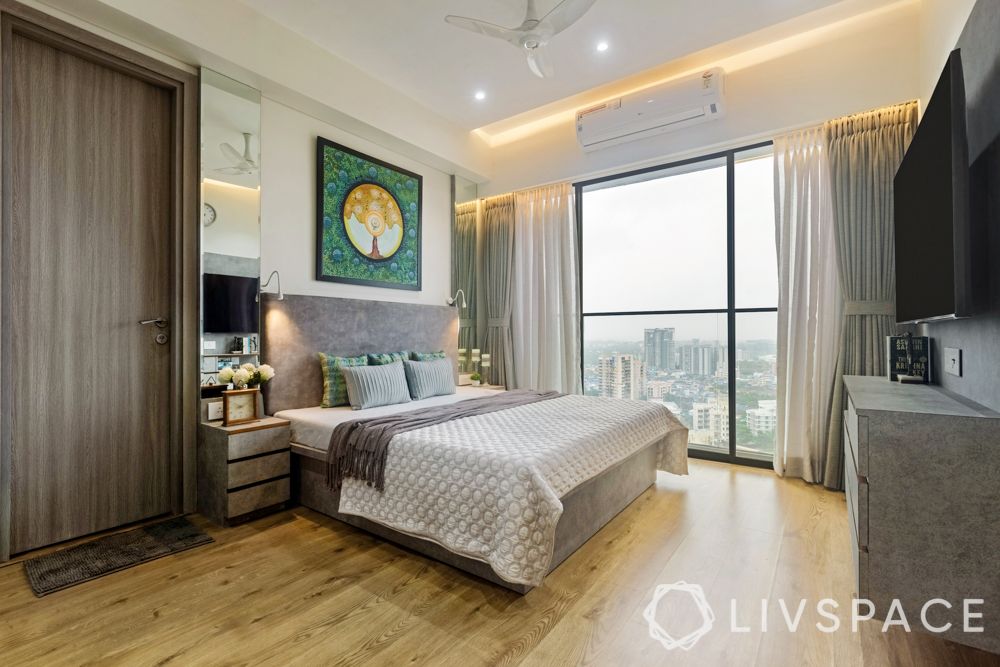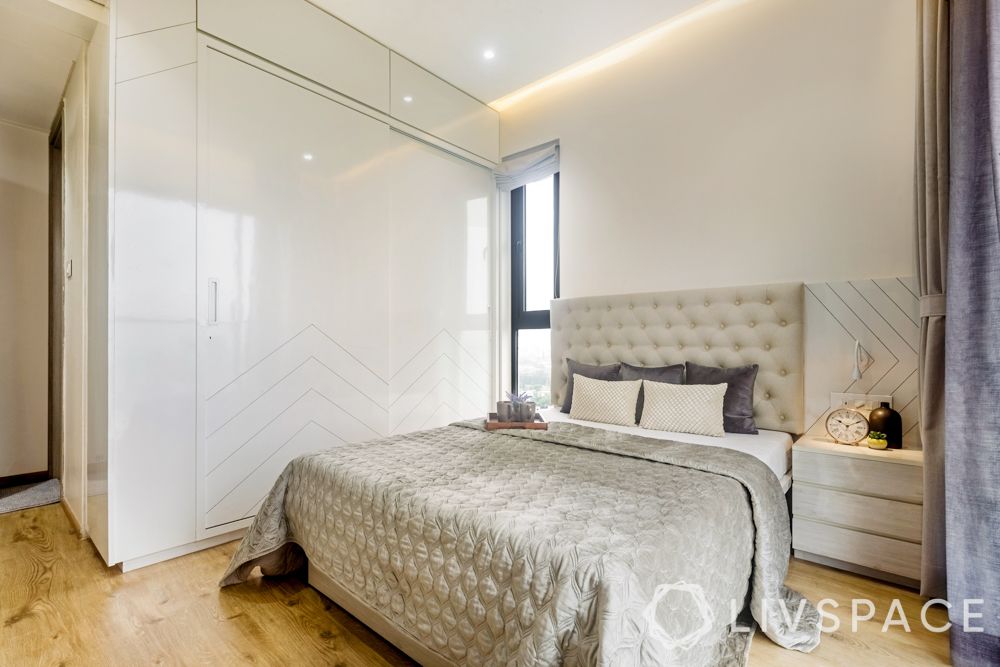 Indians are traditionally inclined to need more storage. We crave it almost as much as we do our food! 3 BHK flats in Mumbai are usually very compact and lack adequate space for storage. However, Mansi's home was quite spacious considering Mumbai standards! So, Kanchi did not hold back on adding as much storage as possible without compromising on the overall look. Notice the sofa that's part of the dining set? It comes with storage! The wardrobes in the bedrooms all had lofts to make maximum use of vertical space. Kanchi also added storage units beside the beds because who doesn't love some extra storage!
While there are many stunning 3 BHK flats in Mumbai, Mansi's home is a cut above the rest! With multiple design lessons, her house is the ideal example of a perfect home!
Have you just bought a 3BHK apartment? Steal some ideas for how to design it from these 3BHK Livspace homes.
Have any comments or suggestions? Write to editor@livspace.com