A 3BHK home in Mumbai that has a classy minimal style with industrial edges.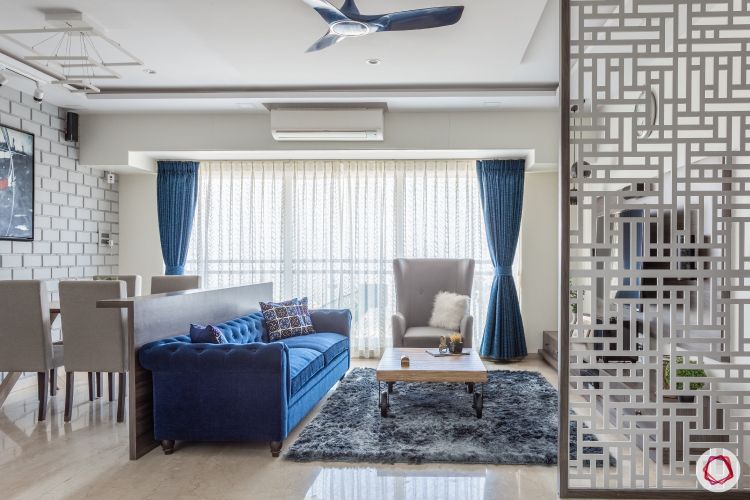 ---
Who livs here: Abhinav Kumar and his wife Ruchira
Location: Parel, Mumbai
Size of home: A 3BHK spanning 1,200 sq ft approx.
Design team: Interior Designer Sonal Jalan and Project Manager Ravinder Panchal
Livspace service: Full home design (kitchen not included)
Budget: ₹₹₹₹₹
---
A rough edge here and some raw finishes there define what we broadly describe as industrial in terms of design. This kind of design started in underground clubs with typically exposed ducts and made its way into studios. It is also making a mark in homes now. So when Abhinav and Ruchira came to us for designing a home in Mumbai with industrial touches, we were just as enthusiastic as them!
The couple, who are lawyers by profession, provided our interior designer Sonal Jalan with informed design inputs. This helped her design their dream home that is contemporary in style and imbibes design elements that are industrial, minimal and Scandinavian in origin. This home in Mumbai with a confluence of styles is just what you need to be inspired.
Home in Mumbai: Falling for the Foyer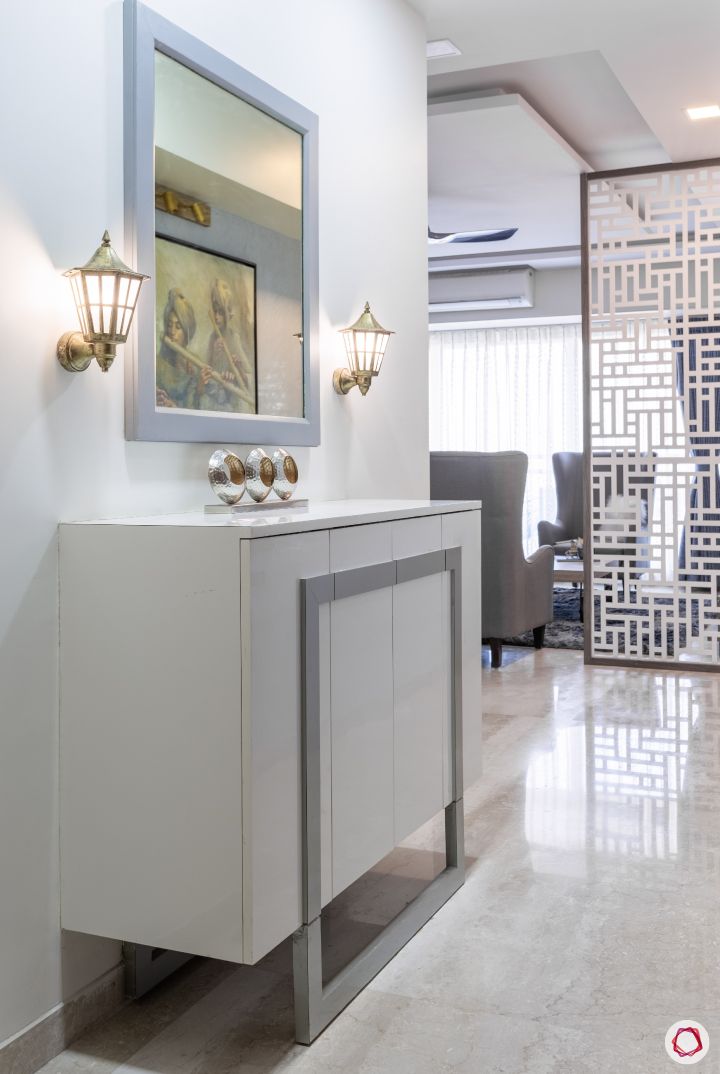 The foyer has a shoe cabinet that looks like a console. White laminate and a metallic frame make this a contemporary piece both functional and decorative. The mirror has a very basic grey frame that goes with the overall simplicity of the home in Mumbai. The wall lights look like the heads of lamp posts bring a vintage vibe to the settings.
Home in Mumbai: Living the Industrial way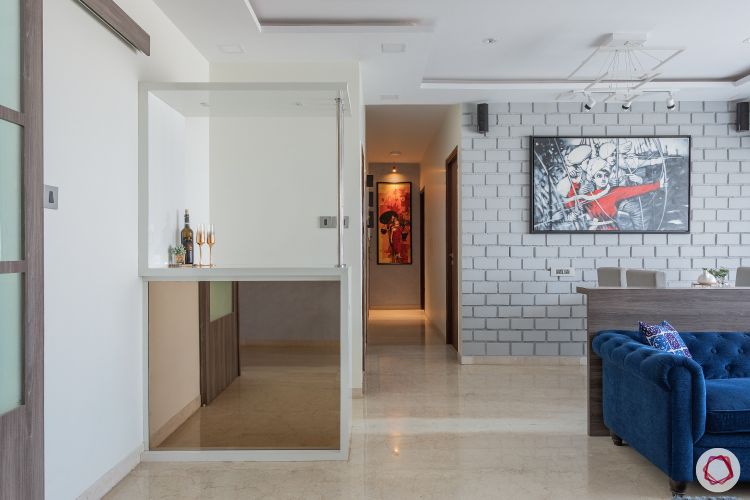 The living area begins with a bar unit that is quite unlike anything we have seen. There is a distinct deck-like feel associated with this piece. The glamour here comes from the tinted mirror base of the unit.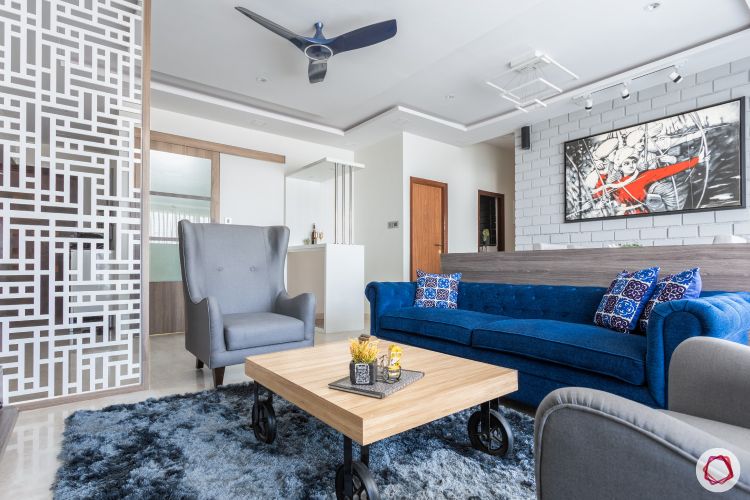 The sitting area is marked by the white MDF jaali partition, which is not opaque so it doesn't eat up space. The tufted blue sofa is a Cassandra from our catalogue. It is paired with two winged-back arm chairs, also from our catalogue. The centre table is a custom-made piece with a walnut coloured table top and metallic base culminating in wheels. The media wall is a simple affair with greyish laminate finish and two pendant lights to glam up things.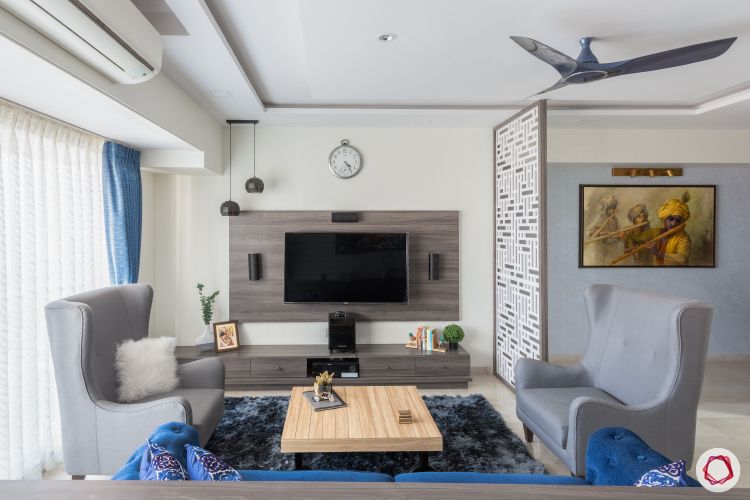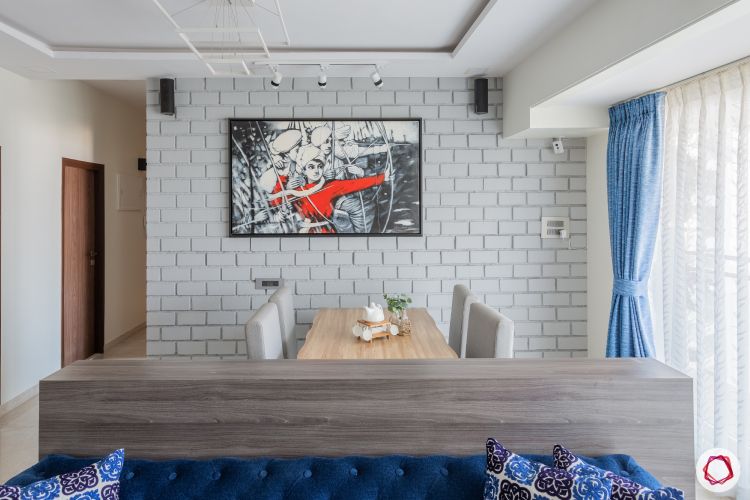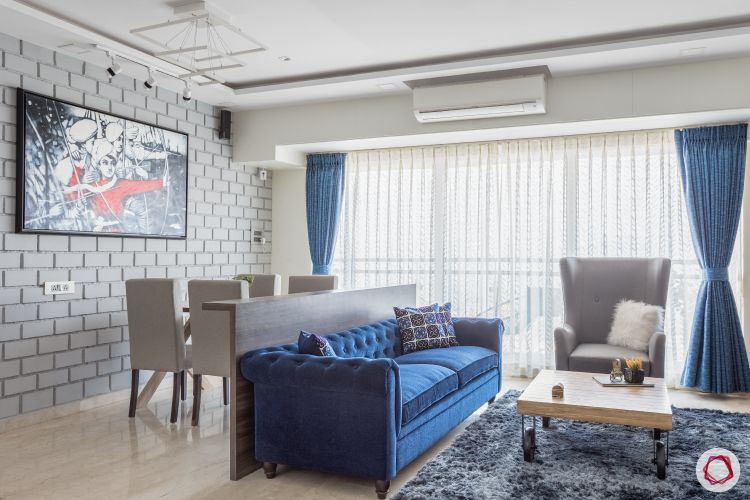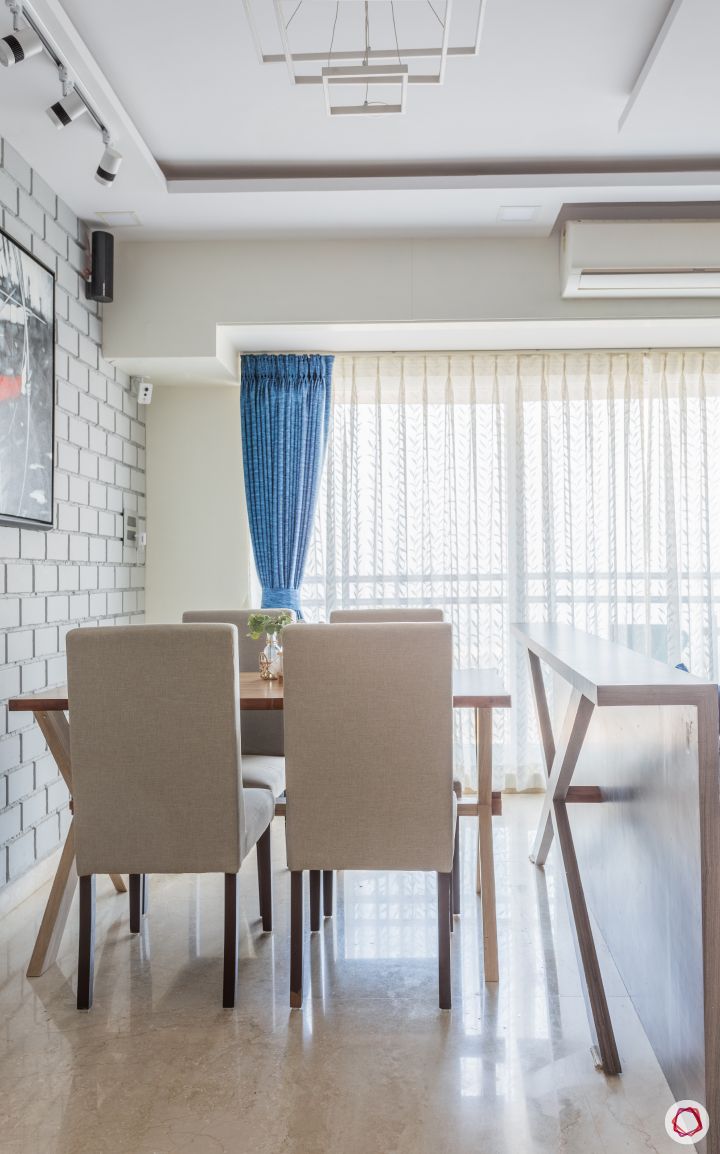 The dining area is a narrow space, which presented a design challenge for Sonal. She decided to have a slim four-seater picnic table here with chairs from the Livspace catalogue. An edgy chandelier with distinct industrial overtones sums up the dining area neatly.
The white brick wall was created using wall cladding; it was a special request from Abhinav and Ruchira. What we found most interesting was the low console-cum-partition between the sitting and dining areas. This grey laminate piece does not obstruct our view but provides a break in the room. It can also be used as a serving space when the couple entertains guests. Smart piece of furniture, isn't it?
Home in Mumbai: Breezy Blues & Gorgeous Greys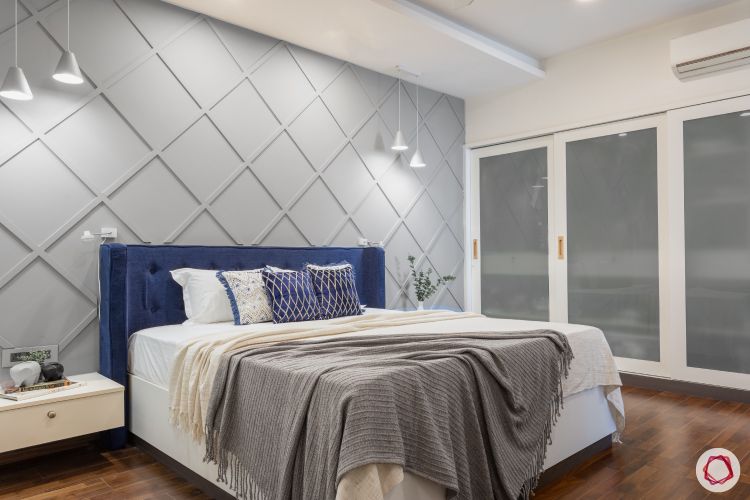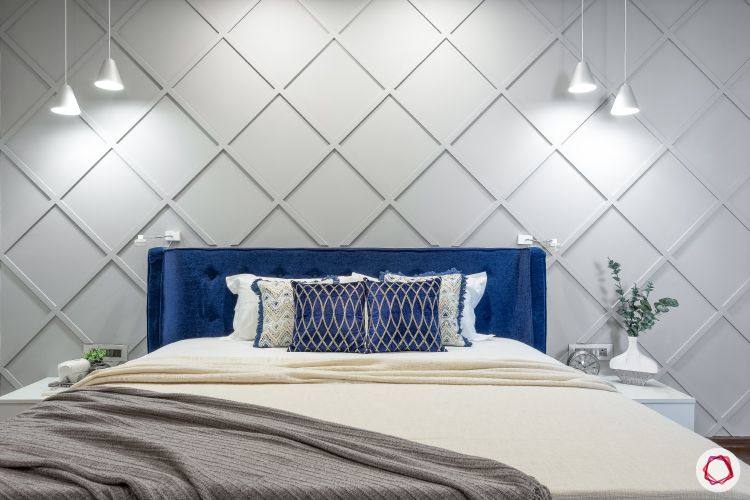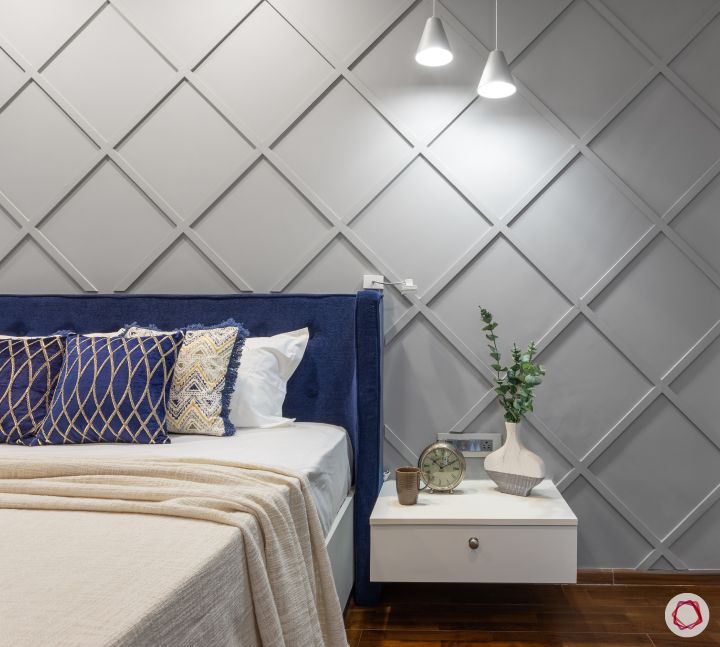 The master bedroom is a glorious blend of royal blue and grey tones. Its clean and crisp lines combined with minimal furniture displays a whiff of Scandinavian influences. This is particularly true for the wooden trims behind the bed that acts as an accent piece in this room. The bed has a blue Carmen headboard from our catalogue that aches with a lilting note. The pendant lights are simple but effective as are the floating side tables.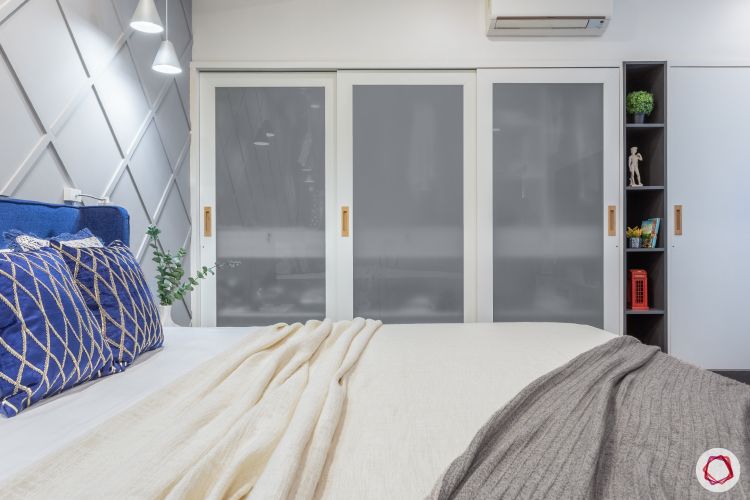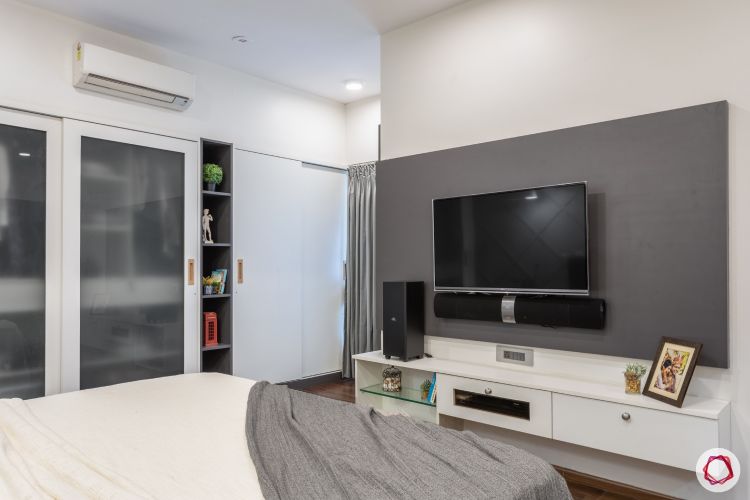 The wardrobe has frosted glass shutters to maintain the openness of the design. The wall-to-wall wardrobes have sliding doors and a decorative column of open shelves. The TV unit is a minimal affair with a grey wall panel and white base cabinets.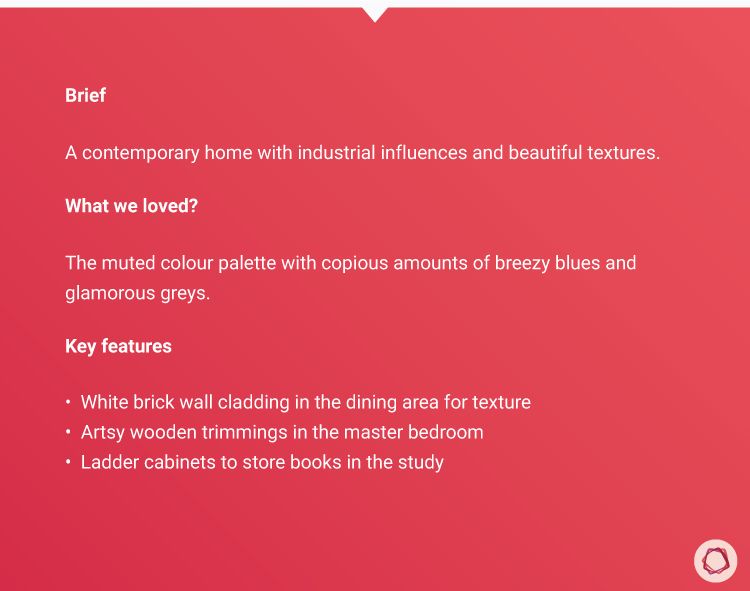 Home in Mumbai: Walnut Warmth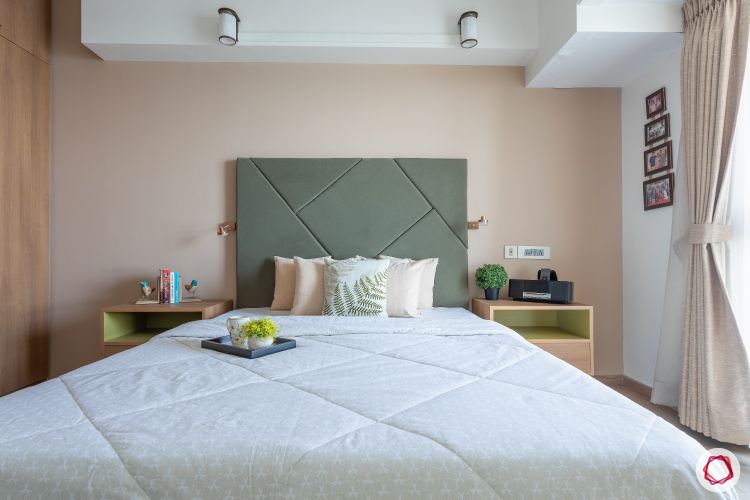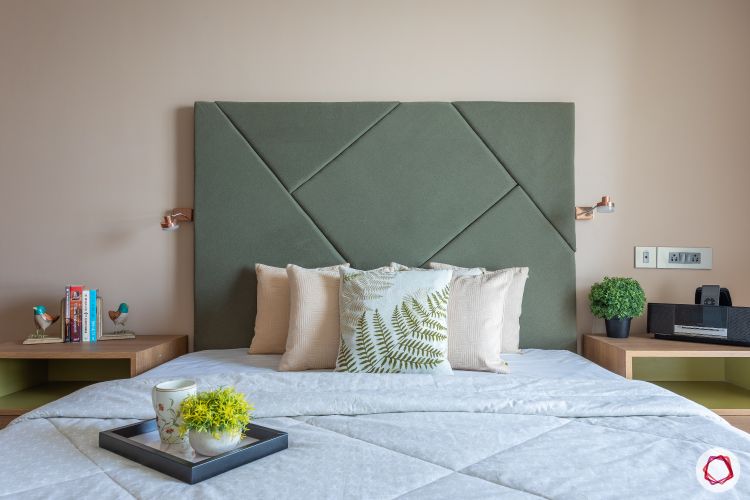 This home in Mumbai has stuck with cool colours throughout. However, Sonal choose a warm shade of walnut brown for the guest bedroom. The olive green sectioned headboard compliments this lush brown shade to perfection.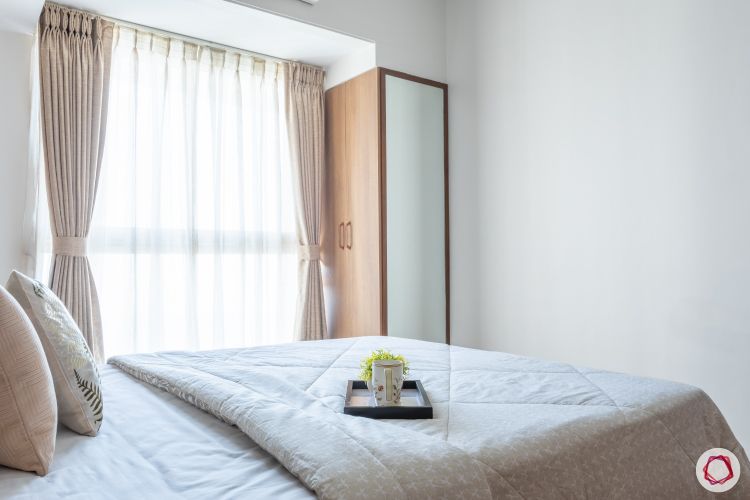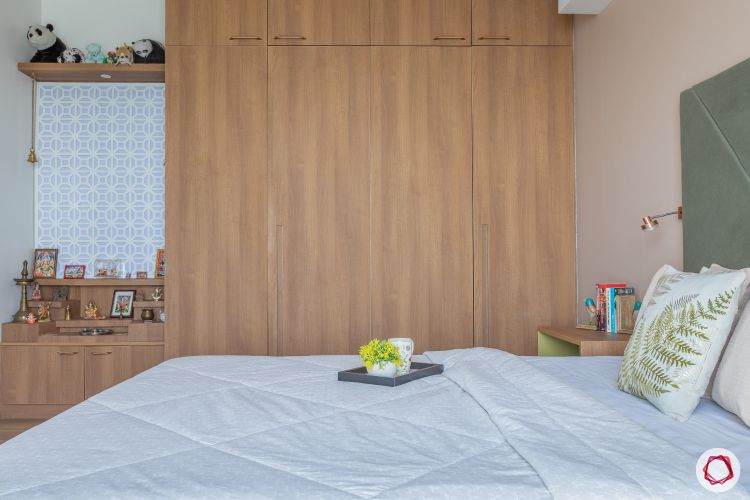 There is a dresser in this room with a full-length mirror and storage. On the other side, laminate finish wardrobe without handles offer ample storage. The room is not crowded with any unnecessary furniture.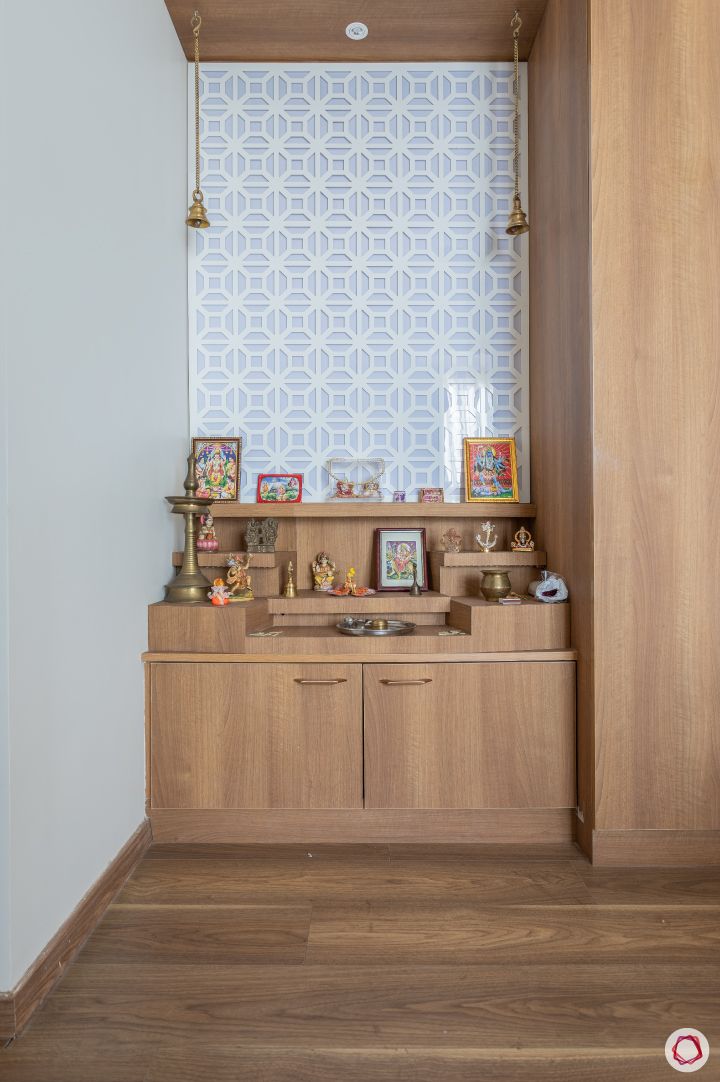 A pooja unit with storage and a glass panel is integrated with the wardrobe in this room. It has a mandir is a contemporary piece with hanging bells and sleek lines.
Home in Mumbai: The Study with Scandi Influences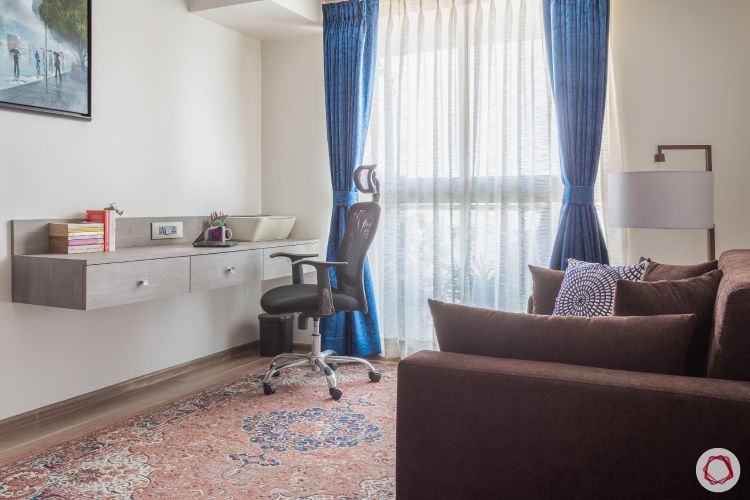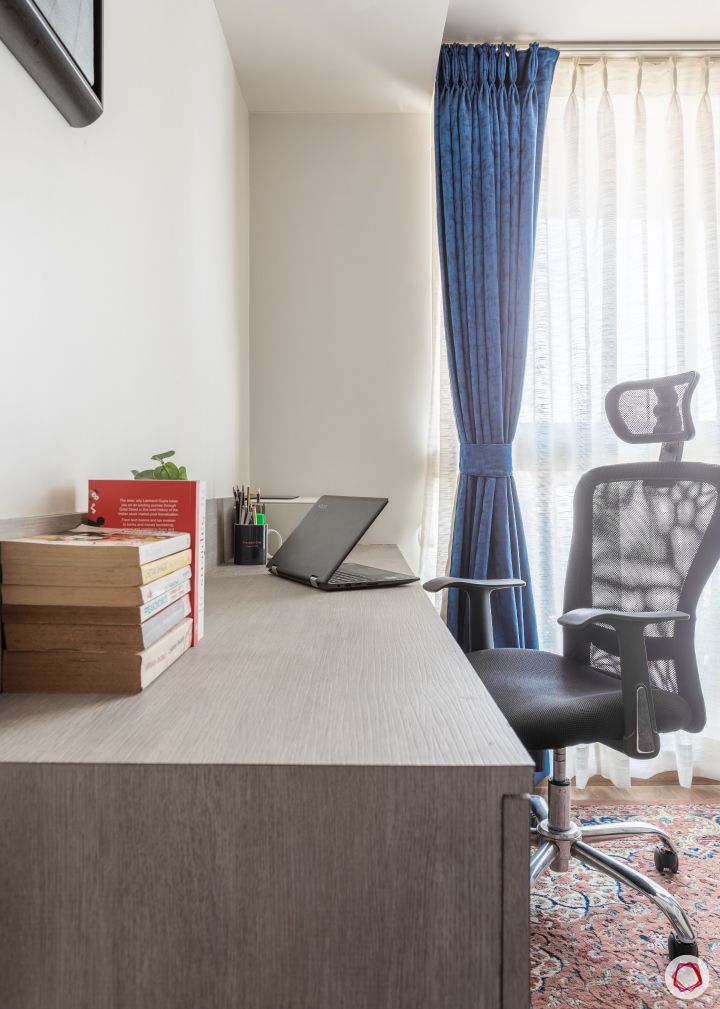 The third room in this home in Mumbai is used as a working space and study. Naturally, it has a cosy sofa-cum-bed that can rolled out when they have guests. Further, the room also has a floating desk as well as a high back office chair.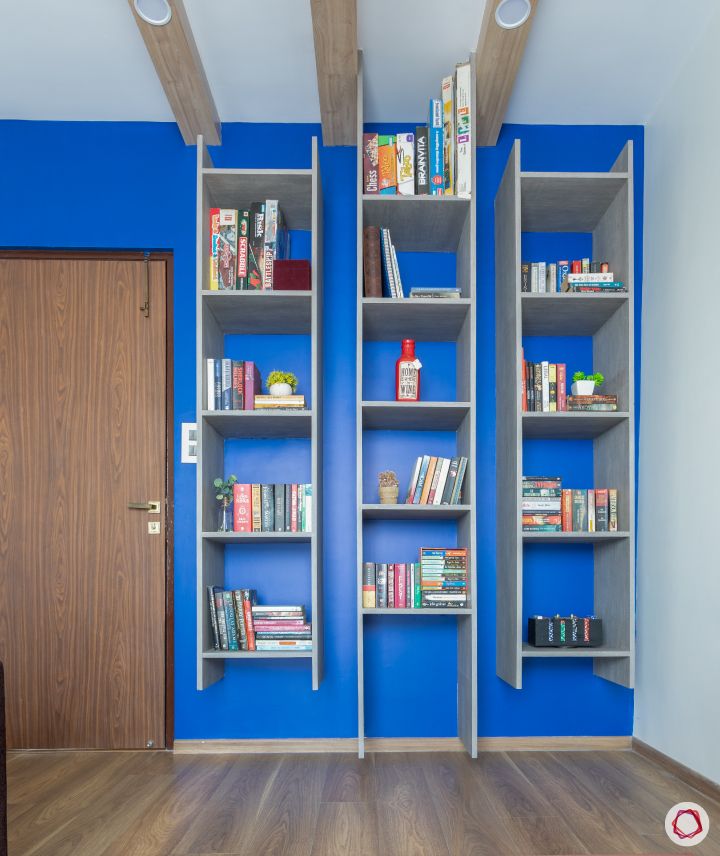 The main attraction of this room is a cool electric blue accent wall. This wall is fitted with ladder cabinets to store books. Being lawyers, the couple has no dearth of books to store!
"Abhinav and Ruchira were helpful and accommodating while we were designing their home and doing the installations. They allowed us plenty of breathing time. Over and above that, it was a genuine pleasure to work with them because they understood and appreciated good design."
– Sonal Jalan, Interior Designer, Livspace
If you fell in love with the industrial finishes in this home in Mumbai, also explore This 3BHK is Earthy with Industrial Elements.
Send in your comments and suggestions.