Every city is different and so are the homes in these cities. While Bangalore apartments boast functionality, Delhi homes define all things glam and beautiful! But what about Mumbai homes? In general, you will mainly find compact flats in Mumbai due to the space crunch. But interior designers in the maximum city love a challenge and have mastered the art of designing small interiors, as you can see from this small modern house.
---
Who livs here: Arun Jaiswal with his family
Location: Mumbai
Size of home: A 2BHK spanning 620 sq. ft.
Design team: Interior Designer Kaushal Dujari and Project Manager Mandar
Livspace service: Full home design
Budget: ₹₹₹₹₹
---
Home to Arun Jaiswal and his family, this 2BHK spans just about 620 sq. ft., something that might seem unbelievable to homeowners living outside Mumbai. But in the maximum city, this is quite a regular affair. Designing such a compact space is no easy feat! Here are some design hacks from this home that will help you to make the most of a compact apartment.
#1: Use Mirrors to Create the Illusion of Space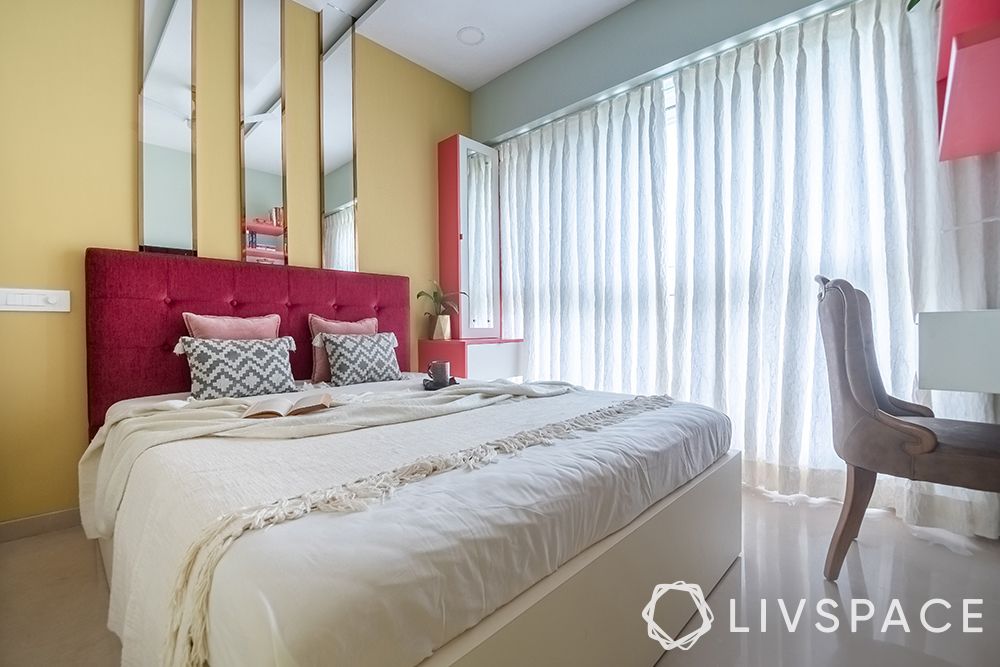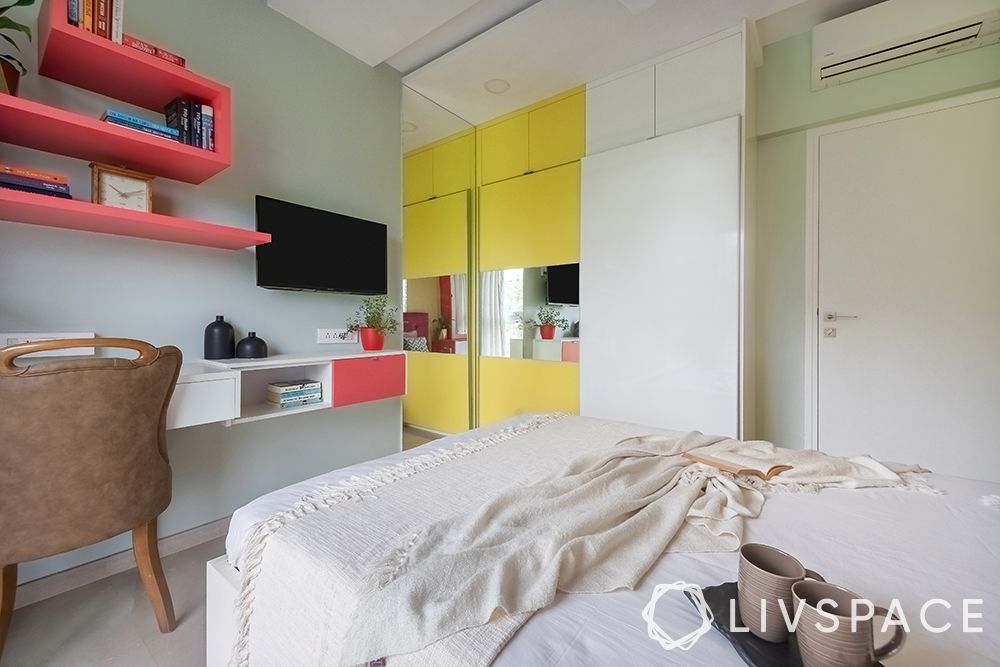 So, you probably think there's not much that you can do if your home is small, is there? Wrong! Our expert designers tell us that there are multiple smart tricks and hacks that you can implement to make your small modern house design look bigger. One of these is the use of mirrors. Mirrors and other reflective surfaces create the illusion of space and make a room look bigger than it actually is. This hack has been smartly used in this bedroom. Be it the wardrobe with the mirrored shutter, the full-length mirror beside the closet or the strips of mirrors behind the headboard, every element has a role to play in making this room look spacious.
#2: Vertical Storage to the Rescue!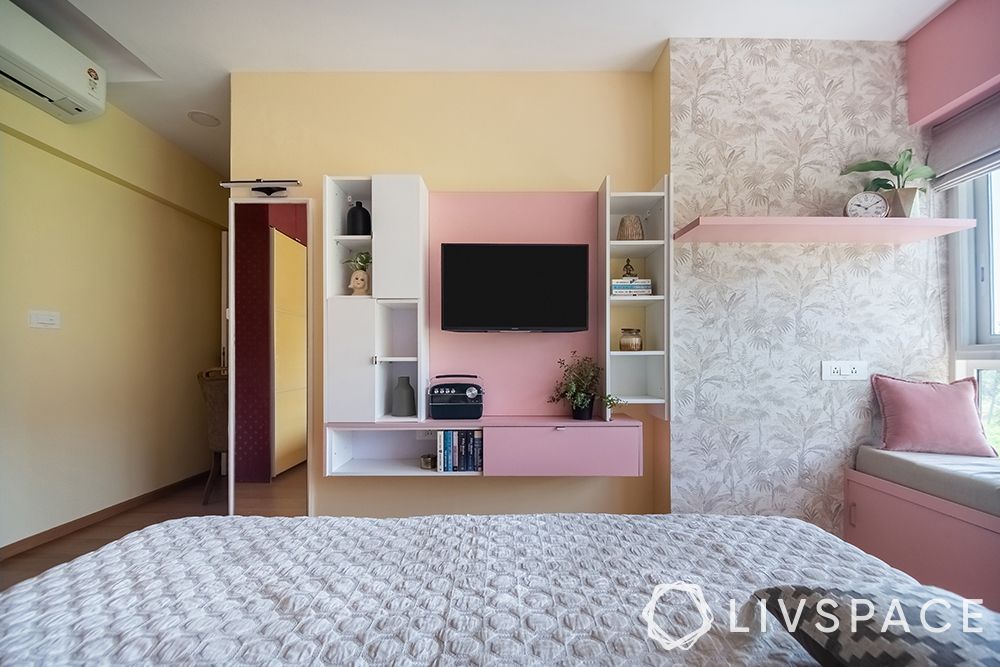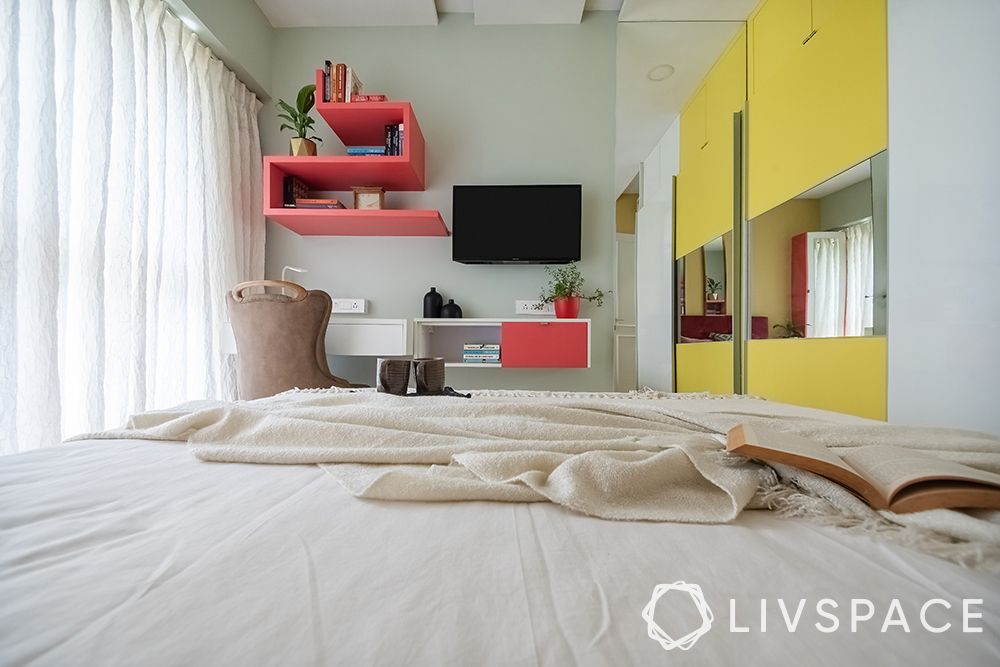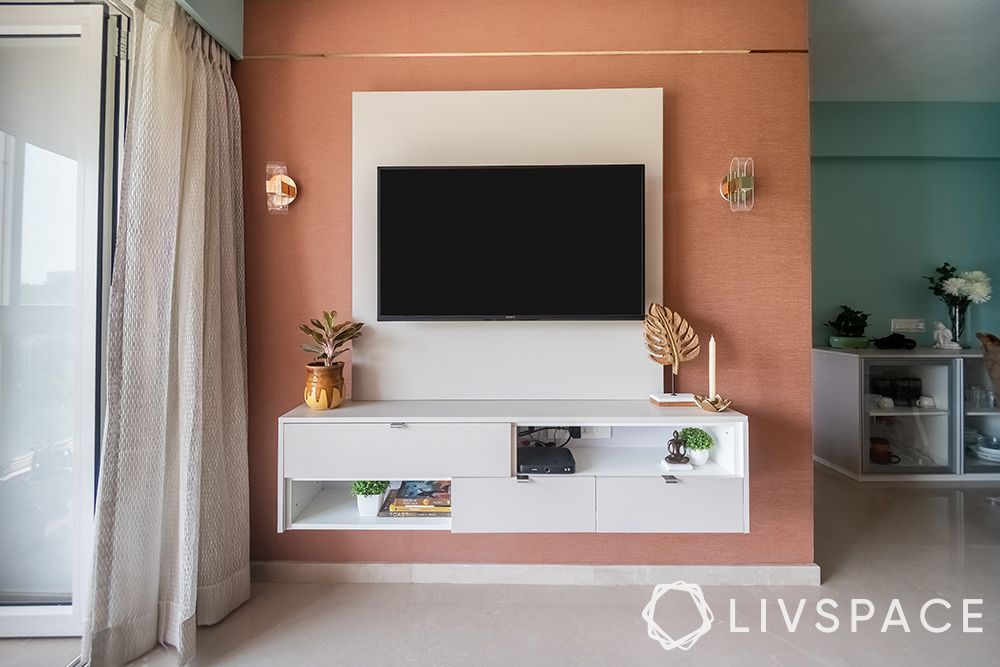 There is no such thing as too much storage! But placing bulky storage units can take up much-needed space in a small modern house. The solution? Look towards the walls! Instead of letting your walls go waste, utilise that space to add storage shelves and racks. This not only serves as an innovative storage solution but is a great way to decorate your walls without having to splurge on expensive wall art. Also, opt for floating units as these are low maintenance and require less cleaning time.
#3: A Soft Colour Palette to Make the Space Light and Airy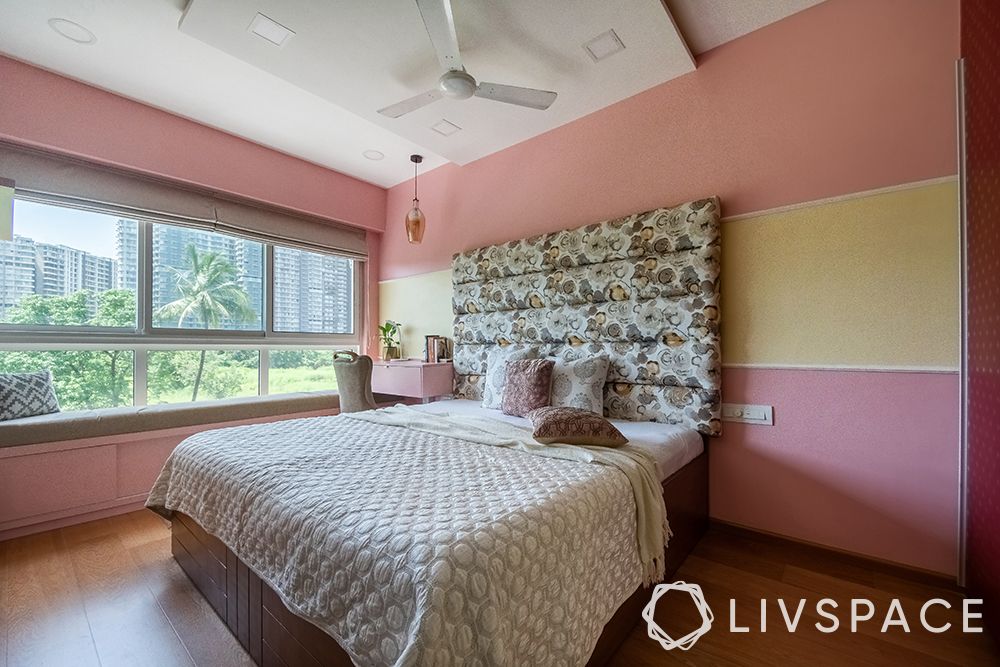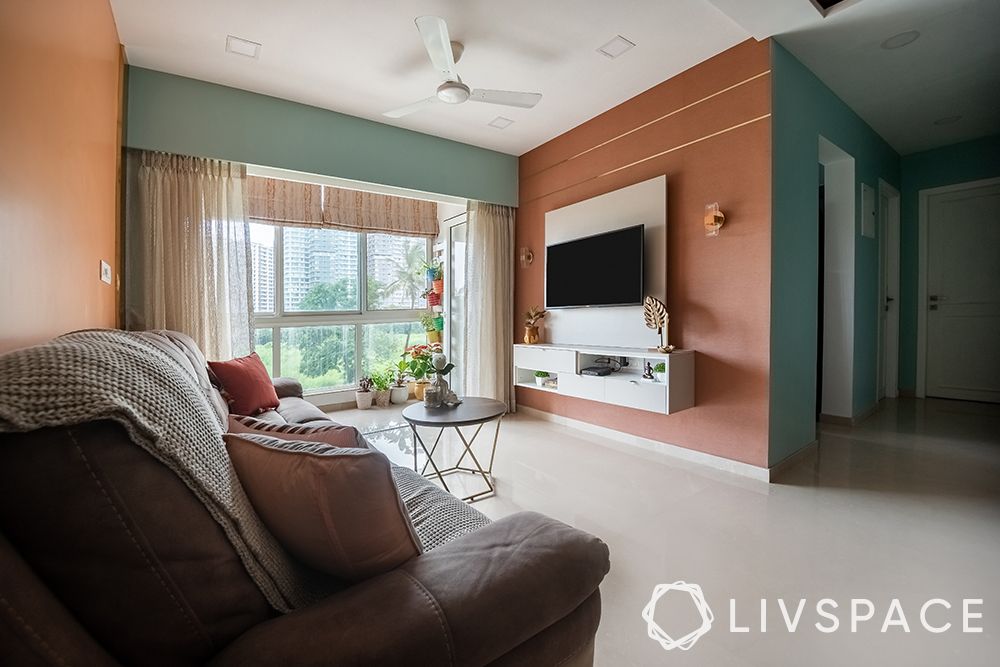 Sometimes, your problems can have the simplest solutions! Colours play a vital role in the ultimate look of a room. Dark colours can make a small modern house design look even more cramped. On the other hand, light shades capitalise on the natural light flowing in and make the rooms look big and airy. In keeping with this, Arun's home features soft, pastel shades like peach, pink, yellow and mint green. Coupled with the large windows, this otherwise compact home looks much larger than it actually is.
#4: Don't Forget to Add Seating!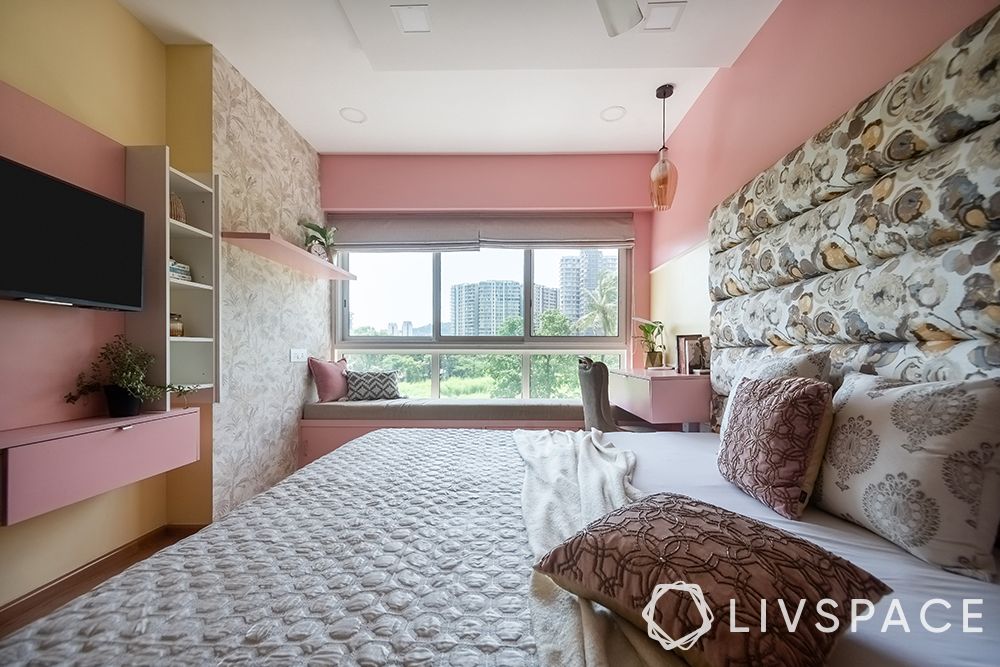 Even if you have a nuclear family, you will require ample seating for when you have friends and family over. But in a small modern house, adding enough seats can be a challenge. A good idea here would be to convert certain available spaces into seating. For instance, in this compact apartment, the bay window in the bedroom comes with seating, making it a perfect space to sit and enjoy a cuppa! You can also make use of dead corners by placing a chair or an ottoman. Make sure that all your seating matches your decor for a seamless look!
This small modern house proves that compact is not necessarily bad. Also, check out how we designed this 500 sq. ft. Mumbai home with ample seating and storage.
How Can Livspace Help You?
We hope you found our ideas useful! If you want your home to be just as beautiful, then look no further. Book an online consultation with Livspace today. Delivering safe home interiors has been our No. 1 priority. Click here to find out how interiors are being delivered following all safety protocols.
Visit us at our experience centre in Mumbai to get your dream home designed.
Wondering how our customers feel about working with Livspace? You can check out the Livspace reviews here!
We love hearing from you! Write to us with your comments and suggestions at editor@livspace.com