Every city in India has a soul, spirit and personality of it's own. Delhi is known for all things glam and gorgeous. From delicious butter chicken to some of the most LIT clubs in India, the national capital has so much to offer! But the best thing about Delhi is its stunning homes! Unlike the space crunch in Mumbai, homes in Delhi are larger and more spacious. In addition, Delhi homes are rarely, if ever, plain — understated glam is the staple look. And if you are looking for interior designers Delhi, you have come to the right place! For we have many favourite homes in the capital.
And to help you understand what a typical Delhi home looks like, we have 10 picked the 10 best Livspace homes from the city. Here they are: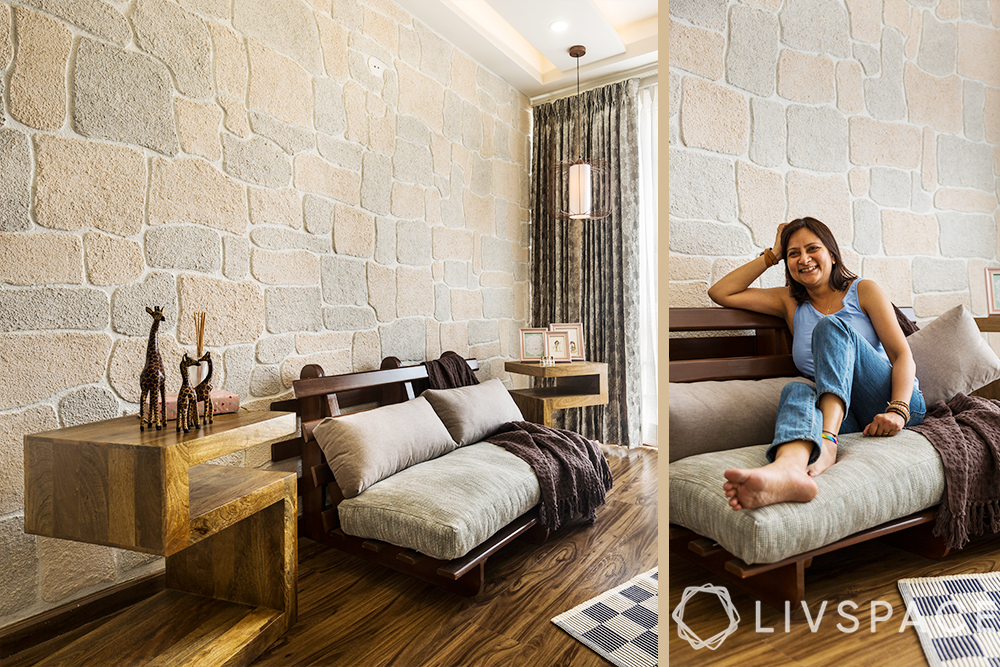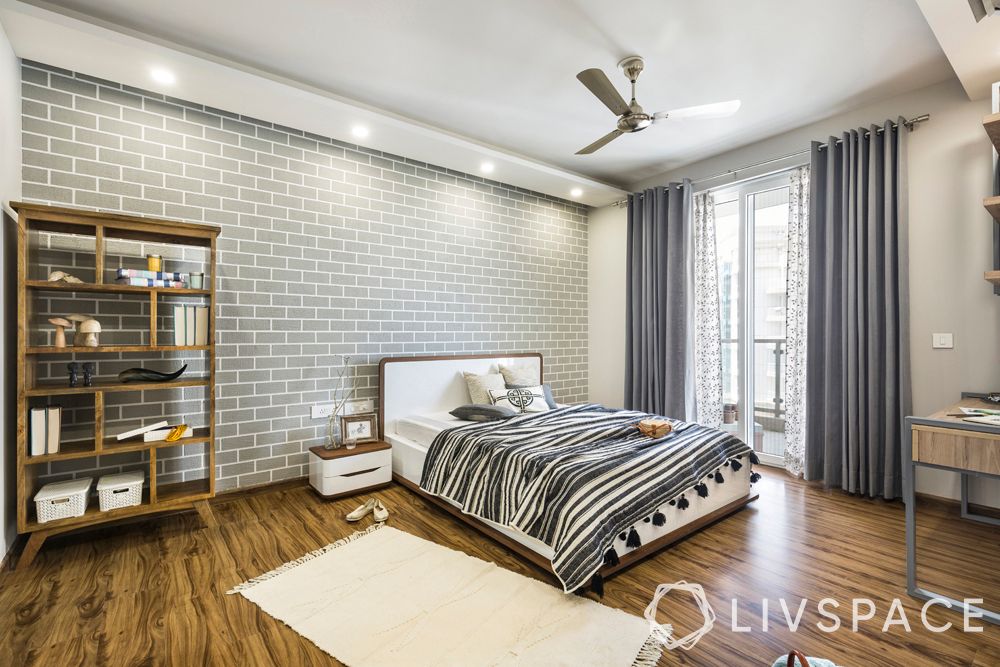 Budget: ₹₹₹₹₹
Scandinavian interiors are a rage amongst millennials these days. Originating in the cold Nordic countries, a characteristic bareness and warm textures symbolise this design style. But, can you imagine such a design in a hot city like Delhi? We couldn't until we stepped into Puja Fully Scandi home! A creative retreat, Puja's 3BHK is cosy, simple and clutter-free.
Key Design Takeaways
Use neutral palettes and natural textures on walls
Combine wooden and metal furniture for a modern Scandi look
The layout should be clean and clutter-free
Use fabrics that exude warmth or have woven textures for soft furnishings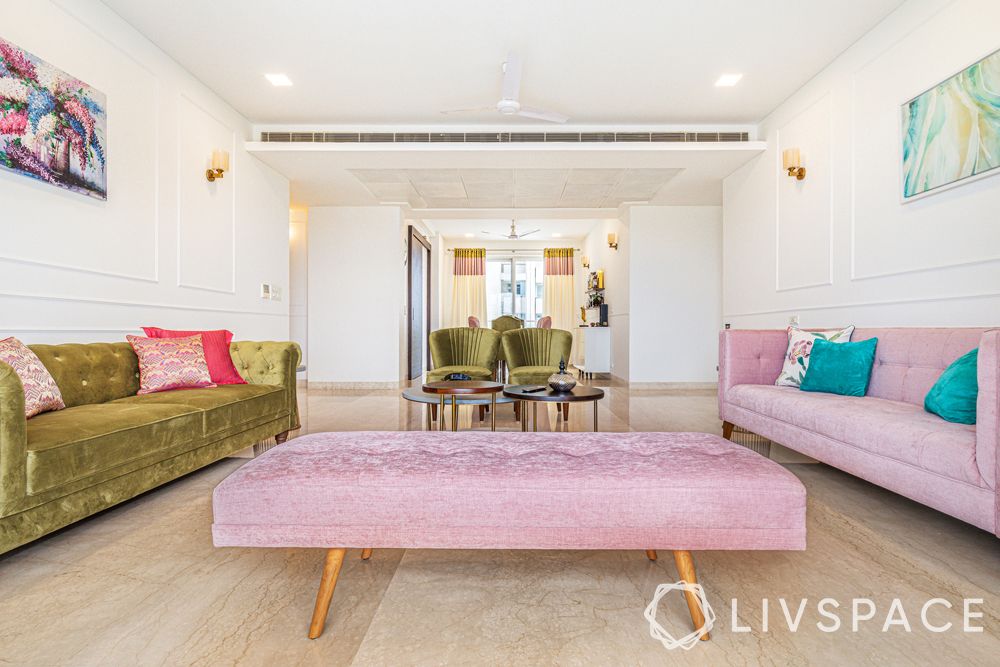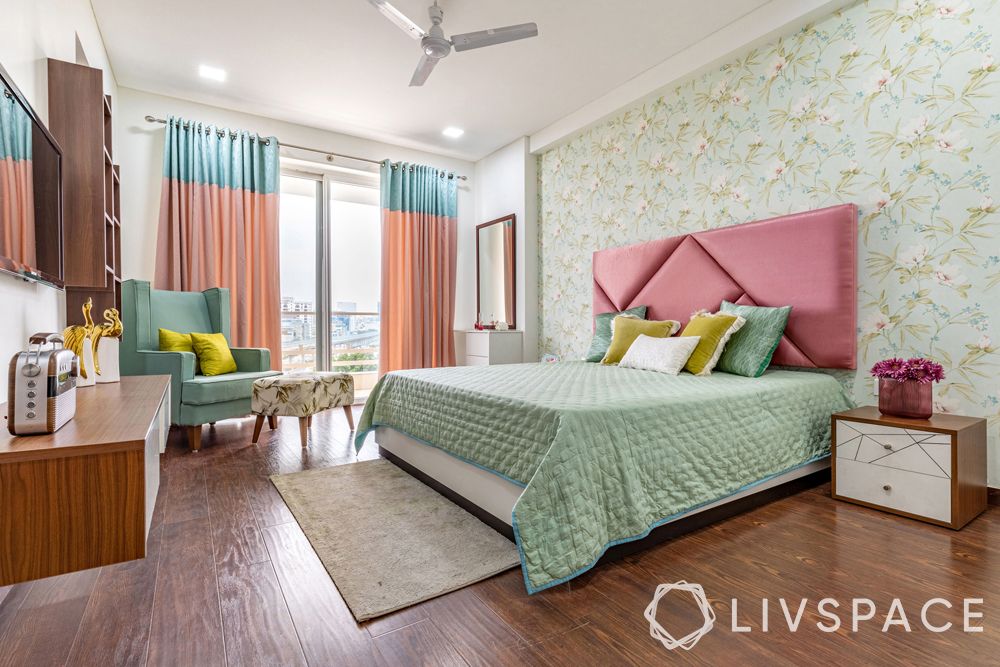 Budget: ₹₹₹₹₹
Pretty and soothing, pastels are a favourite among the top interior designers in Delhi. And Delhiites are known for their love for all things glam! Varun and Nidhi Anand own a sprawling 3,000 sq. ft. 4BHK. They wanted an elegant interior design plan that was within their budget. In keeping with the vibe they wanted we used plush upholstery and soft furnishing — to give them the perfect glam Delhi home, in just 8 weeks!
Key Design Takeaways
Light pastel shades like dusty pink highlight the natural brightness of a home
Wall trims made the walls look vintage without going overboard
Floral wallpaper and a mix of soft colours like mint, powder blue and dusty pink can create a dreamy vibe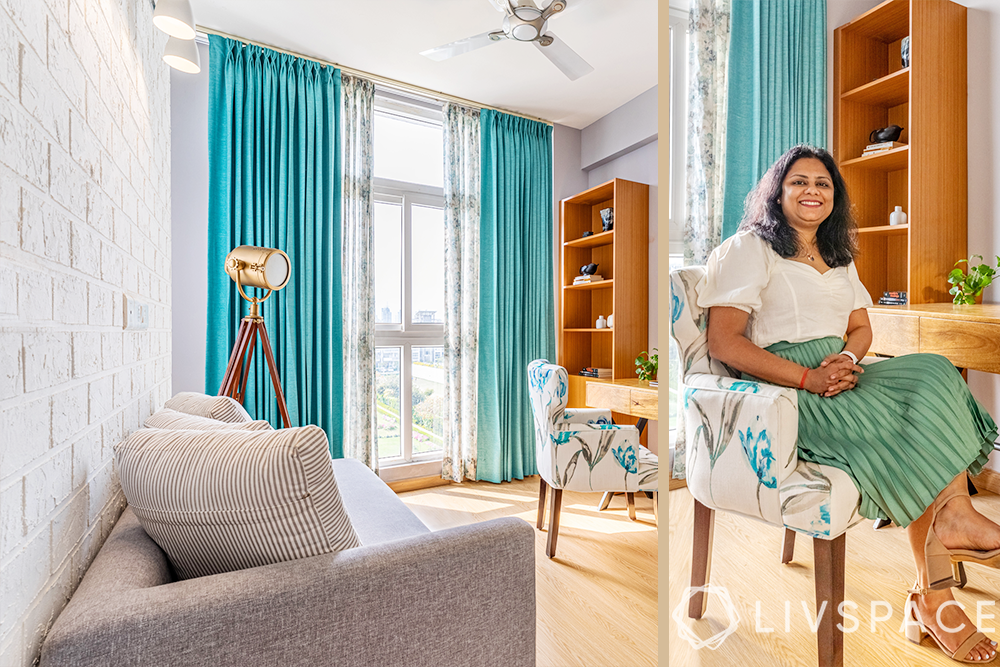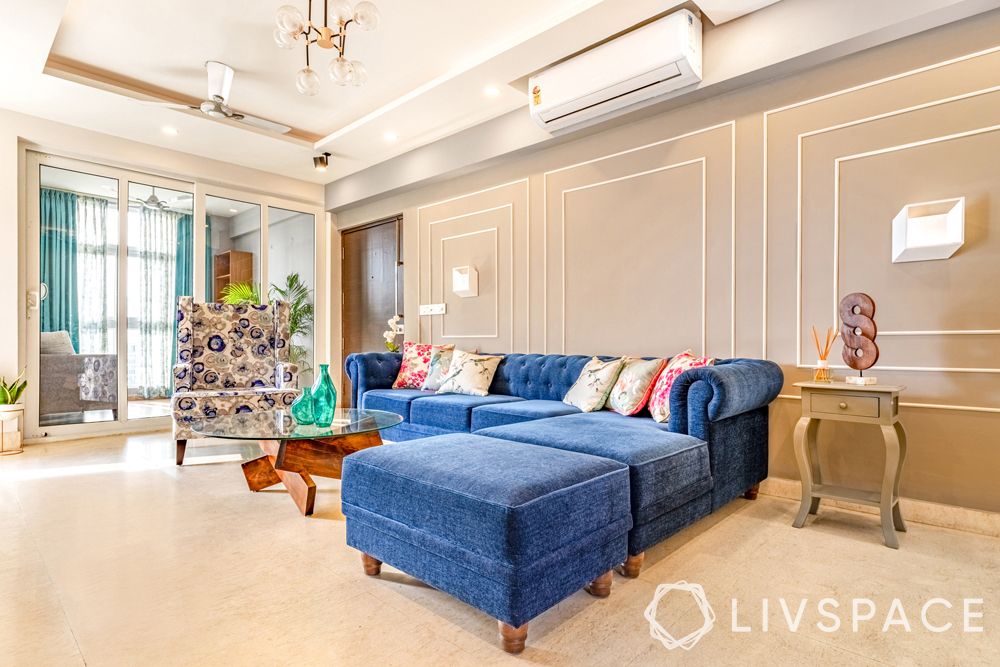 Budget: ₹₹₹₹₹
When you are a busy doctor, a low-maintenance home is a must! Dr Priyanka Sharma wanted a home that was both elegant and easy-to-maintain. And we being the best interior designers Delhi, we gave her a home she can be proud of!
Key Design Takeaways
Wall trims are long-lasting and also easy to maintain
L-shaped sofas offer ample seating space to host people and it's one piece of furniture you have to buy
Buy furniture in dark colours if you don't wanna clean very often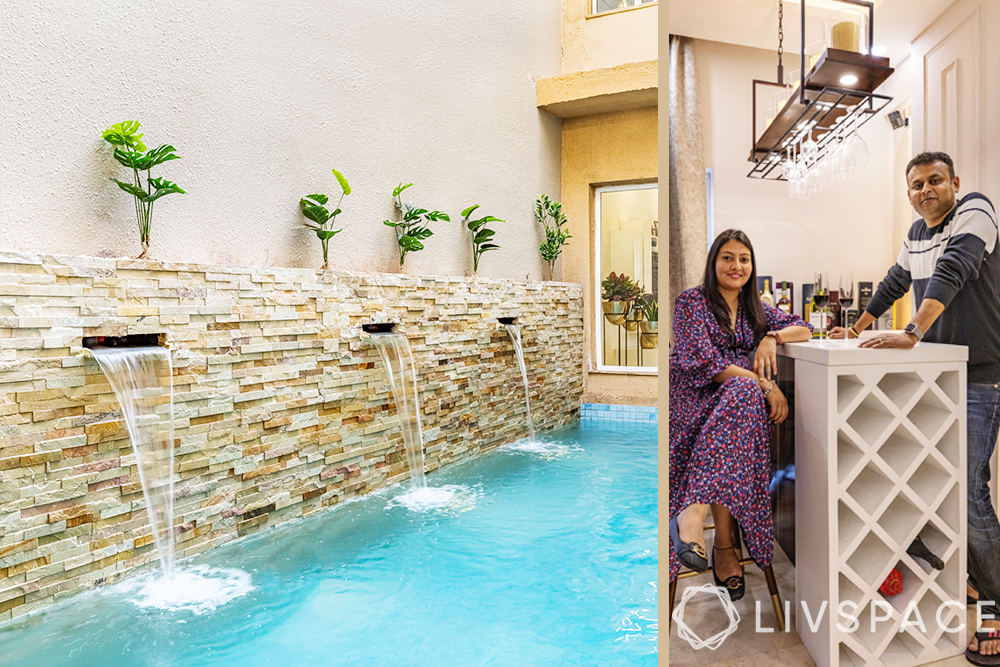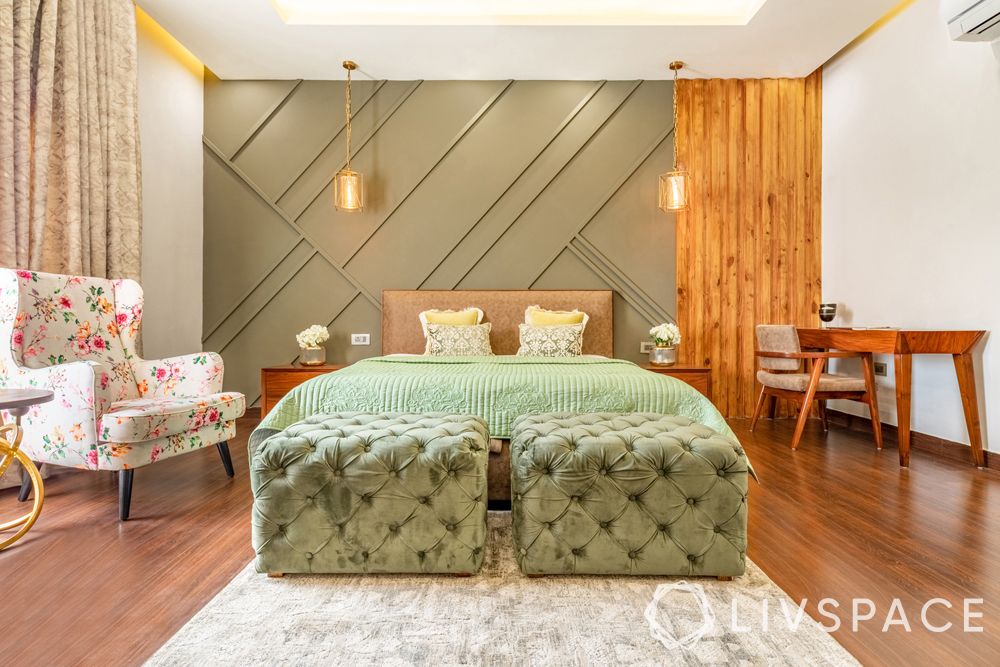 Budget: ₹₹₹₹₹
Due to the pandemic, most of us are stuck in our homes, unable to travel. But, what if your home was WOW enough to be a luxury resort? Anand Shankar's 6 BHK villa in Noida is as cosy as it is glamorous. It is a duplex that is designed for comfort; the kind of comfort you get in a high-end spa! With a home like this one, we would totally choose a staycation over a vacation.
Key Design Takeaways
The pool is the highlight of the villa — stone cladding and fountains were added to give some texture.
Having a tub in your bathroom helps you relax and might be worth the investment
Variety is the spice of life and your home. And you can choose from an assortment of wall treatments — wood cladding, Duco paint, raw timber, wallpaper and texture paint—used in this home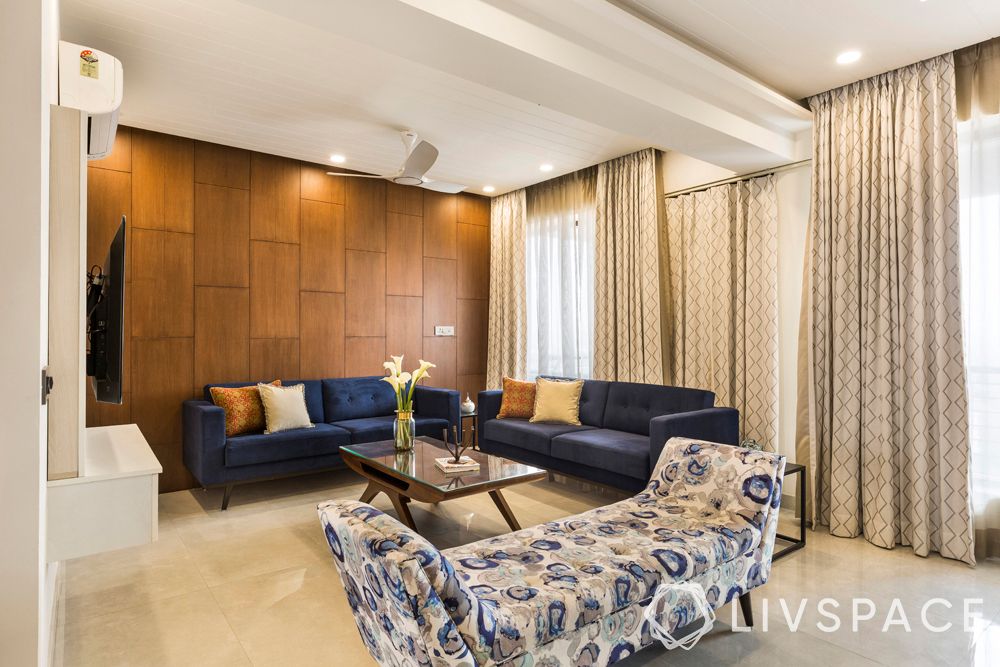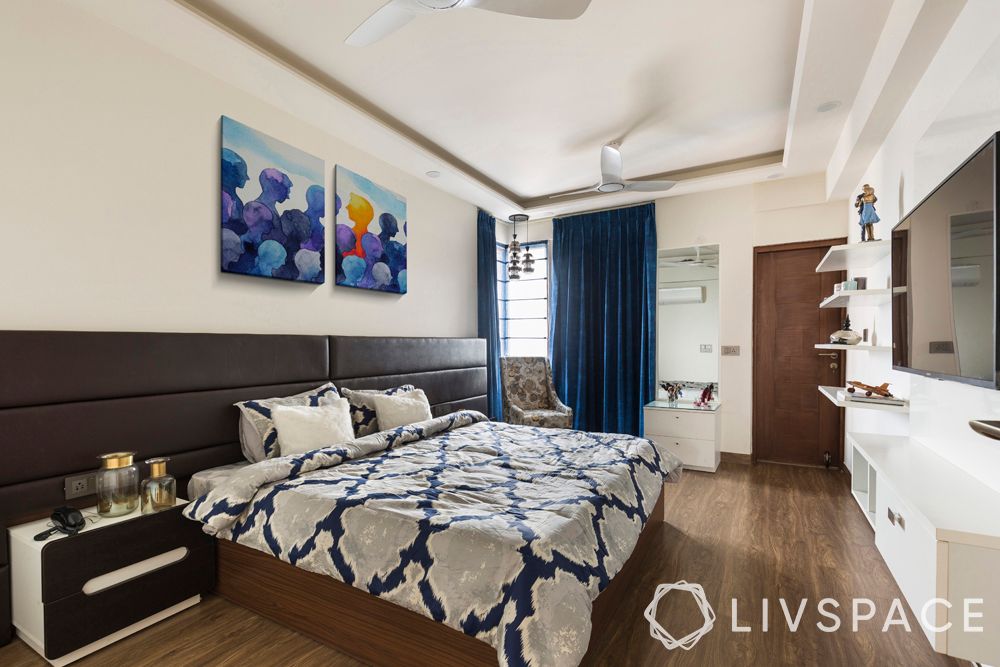 Budget: ₹₹₹₹₹
Ever wondered what a pilot duo's home would look like? Pilots Anshul Malhotra and Megha Gupta wanted a modern downtime pad that had a hotel-like vibe and was perfect for entertaining friends. While looking for the top interior designers in Delhi, they came across Livspace and we gave them the home of their dreams!
Key Design Takeaways
Veneer is the closest finish to solid wood, so use it for depth in your interiors
Velvet upholstery matches the plushness of veneer finishes
Use pull-out options in the kitchen cabinets for a hassle-free space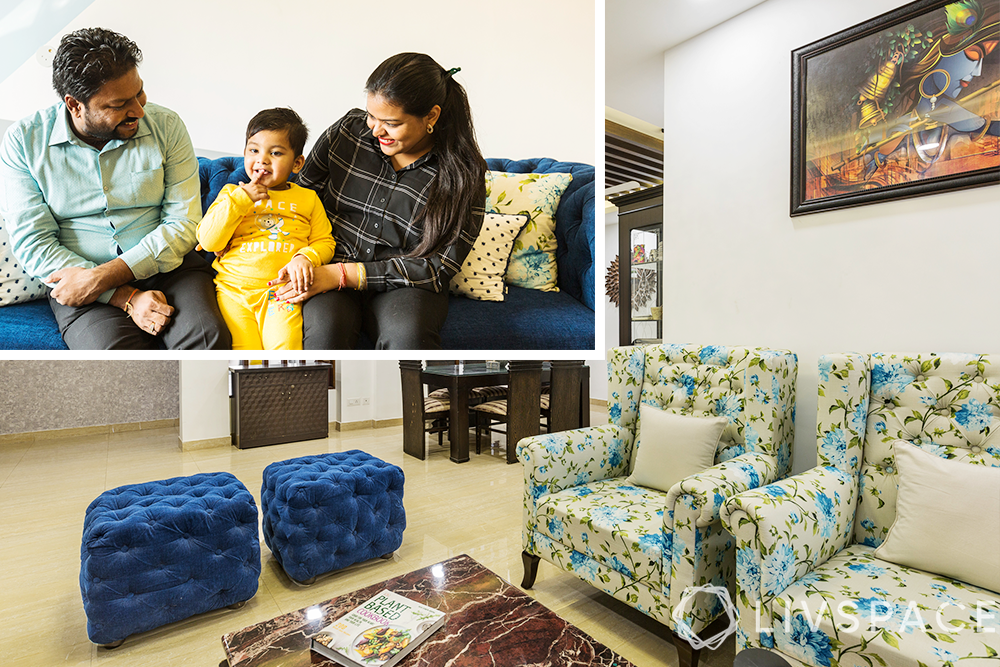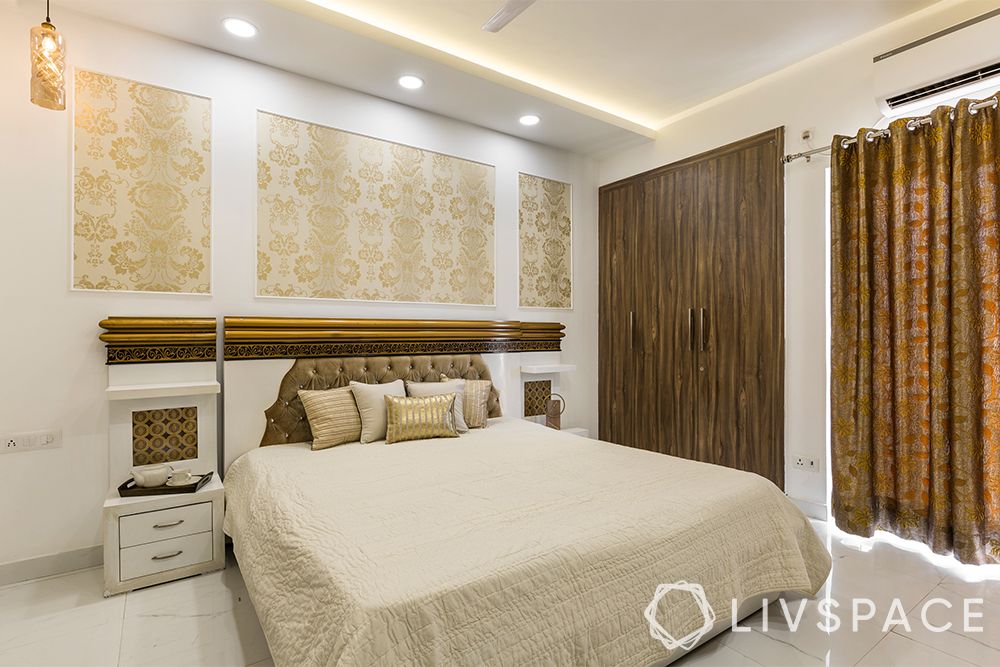 Budget: ₹₹₹₹₹
After investing in a new home, it may be difficult to empty your pockets on expensive interiors. But who said stunning interior design has to be expensive? The Gargs wanted a unique look for their home without burning a hole in their pocket. And we, the top interior designers Delhi gave them their own little slice of heaven!
Key Design Takeaways
Wall paint, which is much more cost-effective than wallpaper, has been used to create geometric patterns on the living room wall
Always provide ample seating options in the form of a sofa, accent chairs, a bench and ottomans
Modular wooden rafters and a wooden finish partition add the warmth but are not as expensive as solid wood
Bits of wallpaper cost less than a whole roll of wallpaper but give a similar look to the room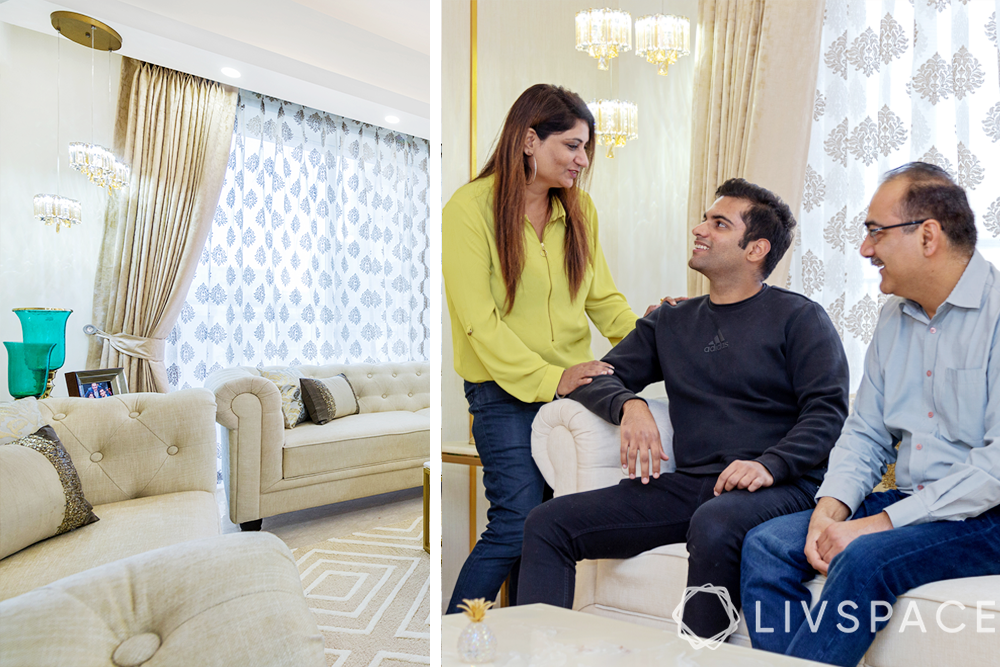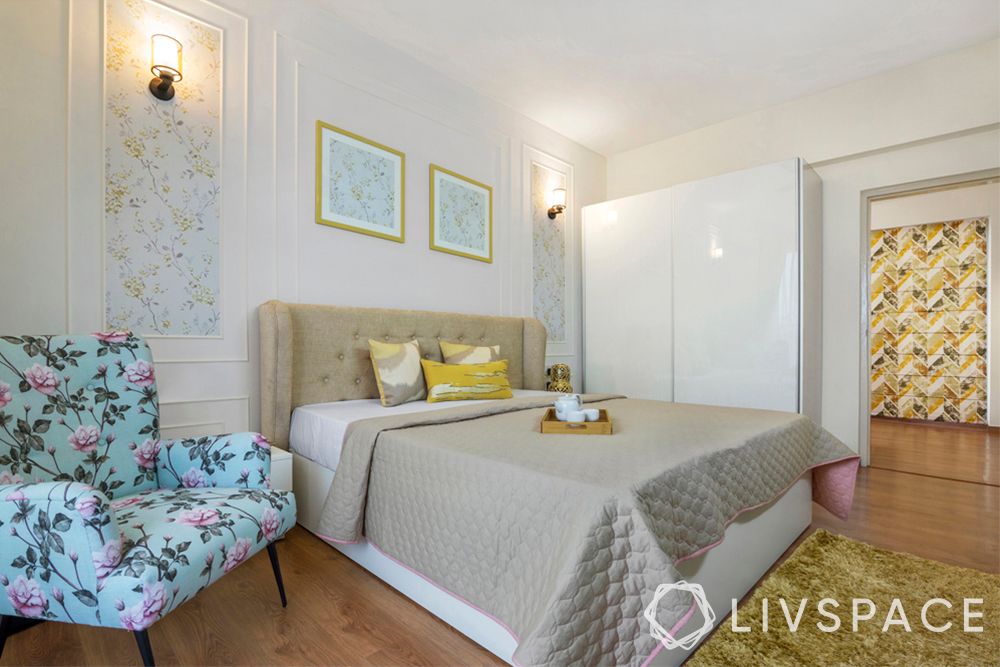 Budget: ₹₹₹₹₹
Mala and her family were looking for the best interior design firms in Delhi to design their home in Gurgaon. The look that they were going for was classy and homely with stylish decor pieces and neutral shades. From the use of textured and floral wallpapers to the stunning ambient lighting — everything in this home has our heart!
Key Design Takeaways
Jaali panels on the ceiling are a great way to create visual interest
Accents like the coral reef wingback chair in this home can add some much needed pop to your interiors
When you follow a theme for a room, like the Parisian bedroom in this home, stick to the aesthetic language of the style you are using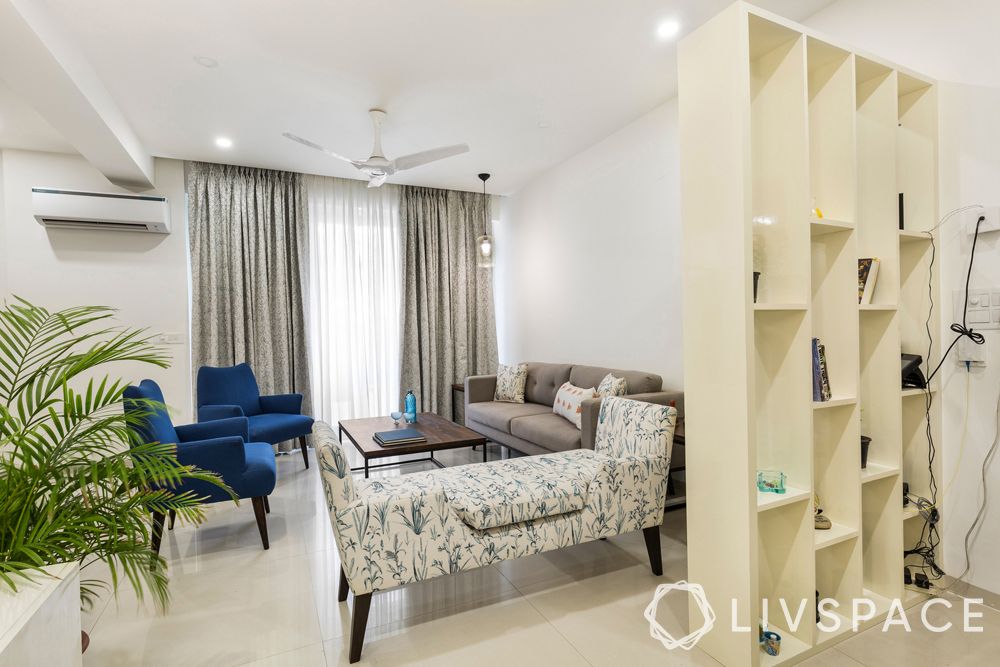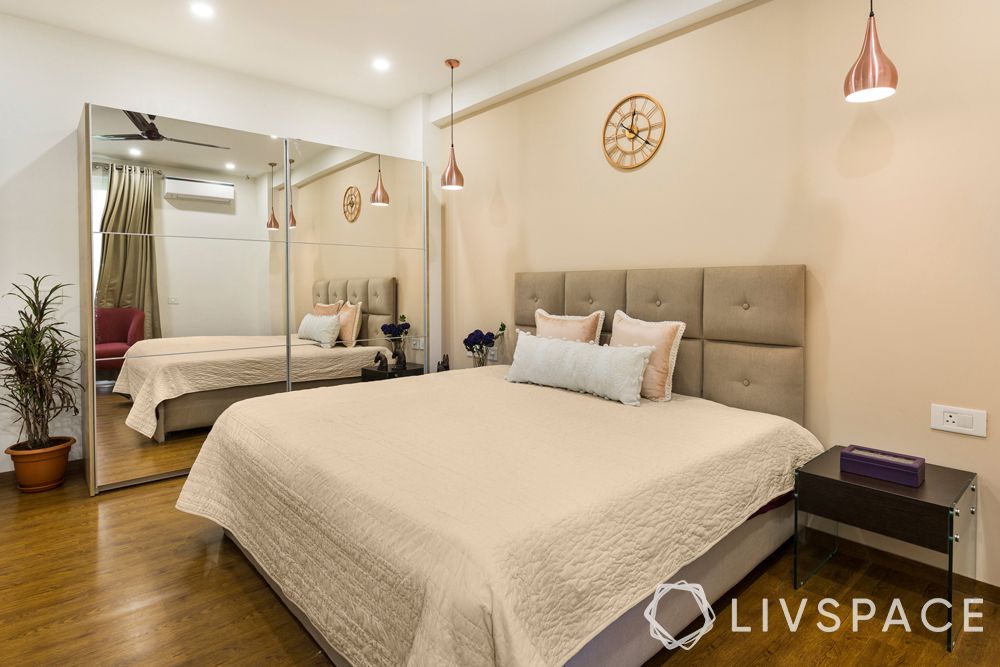 Budget: ₹₹₹₹₹
Som Prakash Malhotra and his wife Suman, a retired couple, wanted a serene home that was fuss-free, soothing and senior-friendly. By maximising the oodles of natural light flowing in, we ensured that they got a home that was bright and comfortable.
Key Design Takeaways
4″ flat false ceiling with embedded lights enhances the lighting, which is essential in an elder-friendly home
Mirrors create the illusion of space and elders like their homes to be roomy
A tufted headboard cushions your head while sleeping and prevents injuries
Laminate finishes all across the home are easy to maintain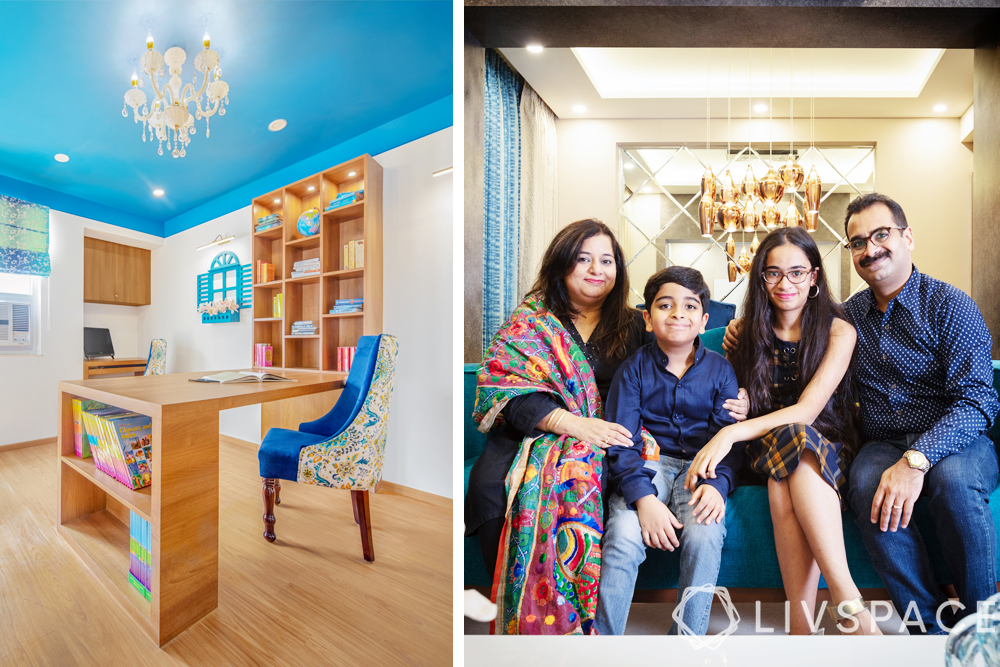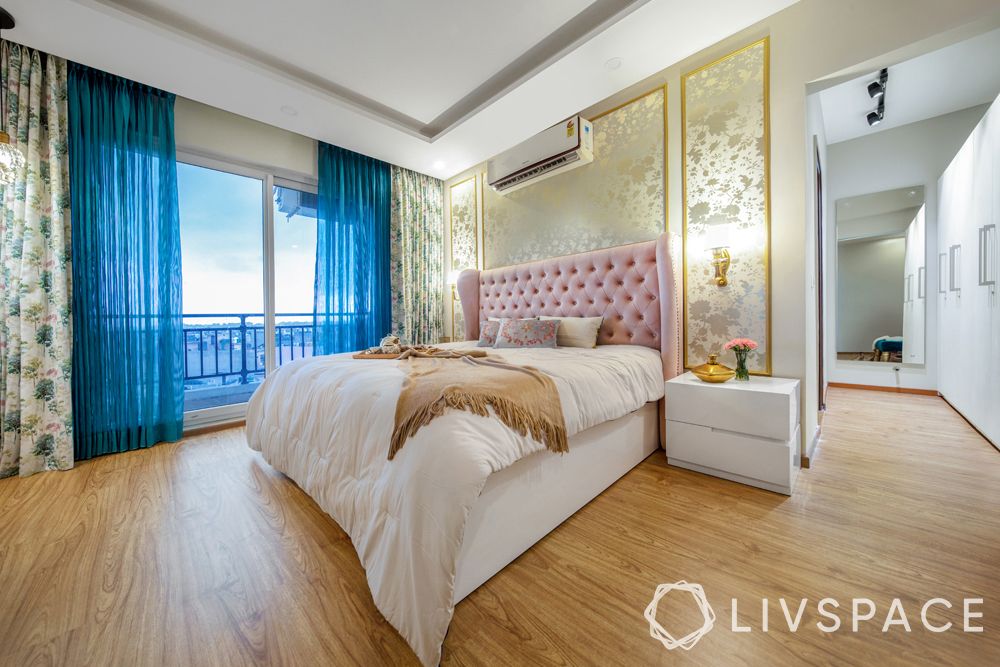 Budget: ₹₹₹₹₹
The Sachdevs were a family of globetrotters, who wanted their home to be vibrant and remind them of their favourite travel destinations. They had purchased two apartments and wanted the best interior designers in Delhi to combine both into a single duplex. The final result was a dream home that is sure to impress!
Key Design Takeaways
Use the eclectic style well like the living room here with hints of industrial design and cosy elements too
A Santorini-themed study room done up in vibrant blues and pristine whites is textbook example of how to recreate spaces from memory
A Middle-Eastern themed lounge area with low seating in sunny colours shows us how to mimic the design language of a region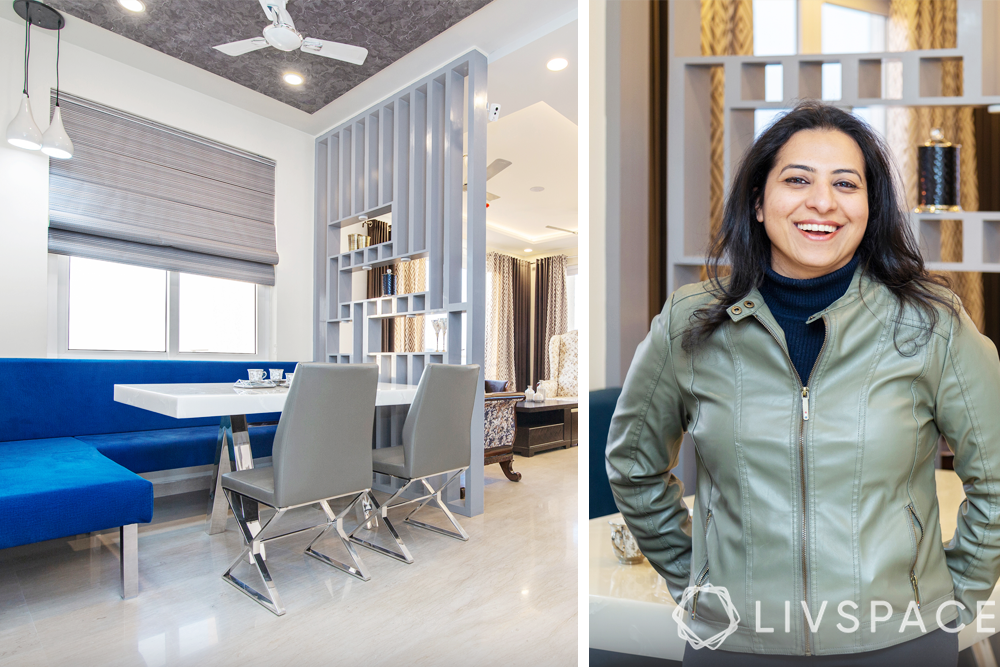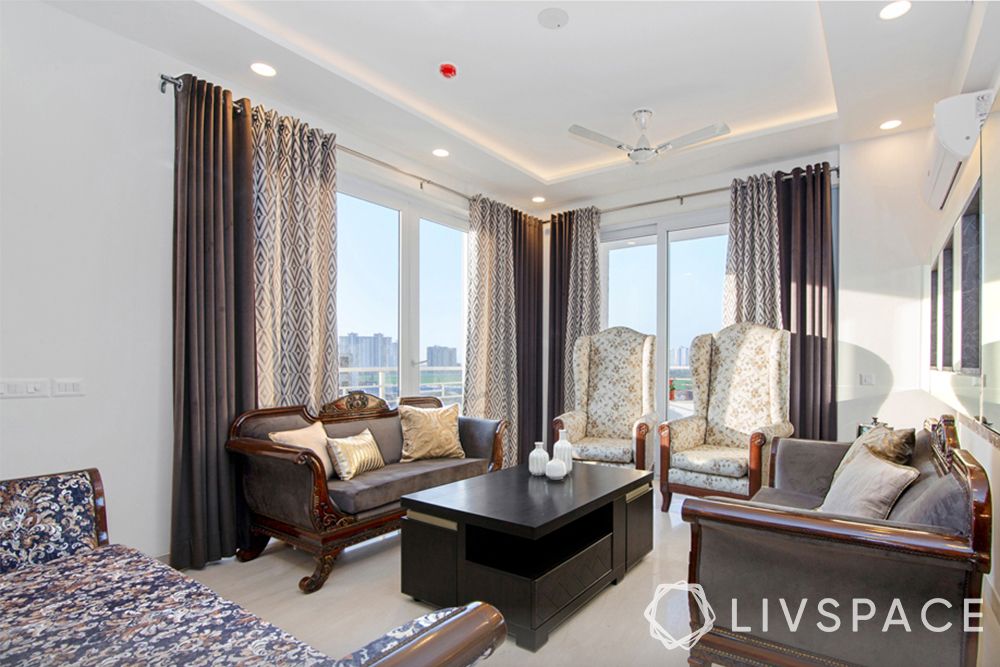 Budget: ₹₹₹₹₹
Dr Sanjay and Dr Jyotsna's home is proof of this adage: old is gold. While the design may be contemporary, existing furniture has been used to create a rustic look. Their home is not only unique but also child-friendly!
Key Design Takeaways
For a vintage look, use carved, wooden furniture. Refurbishing existing furniture is the best way to get this look.
With refurbished furniture, follow a modern colour palette. Blues and greys are contemporary colours and will stop your home from looking too old-school.
A carved wooden bed accompanied with a gold and white colour theme is the perfect combination of vintage and desi.
These are the homes from Delhi that we and our readers adore! As the top interior designers in Delhi, we have designed several stunning homes in the national capital. Check out these gorgeous homes in Gurgaon.
We love hearing from you! Write to us with your comments and suggestions at editor@livspace.com