If you are looking for an interior designer in Greater Noida, then you should take a look at this low budget and ultra-stylish home that we designed for the Garg family.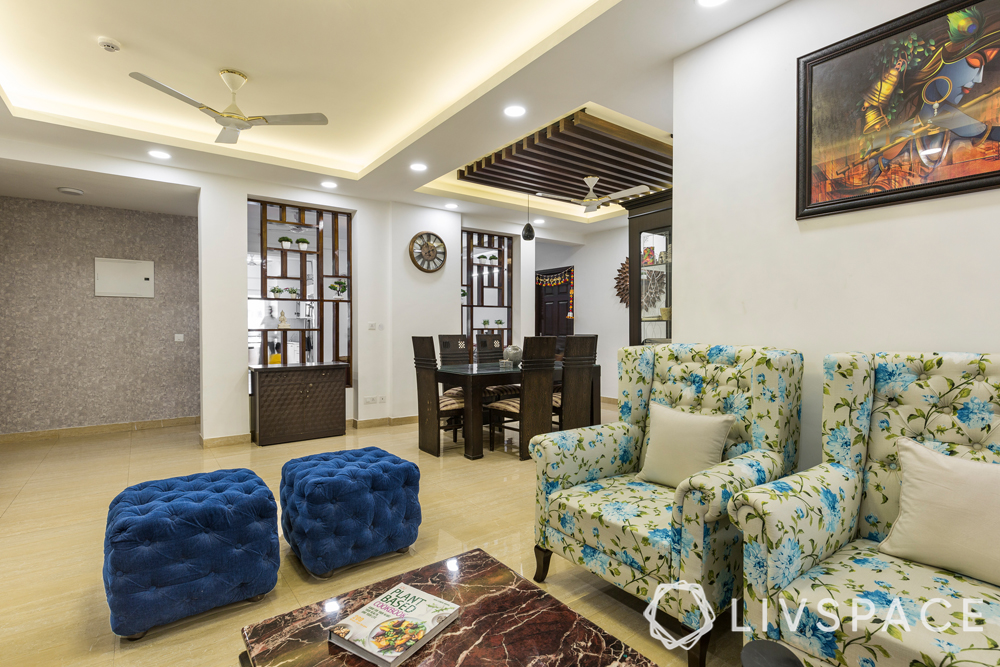 ---
Who livs here: Vipul Garg with his wife Aditi, their son and his parents
Location: Purvanchal Royal City, Greater Noida
Size of home: 4BHK spanning 3,210 sq ft
Design team: Interior designer Payal Khetan Gupta with Project Manager Firoz Ahmed
Livspace service: Full home design (excluding kitchen)
Budget: ₹₹₹₹₹
---
Marked by a distinctive style and uniquely designed spaces, Purvanchal Royal City is an upscale apartment in Greater Noida. So when Vipul and Aditi Garg found their dream home, they did not want to leave any stone unturned when it came to making it their own little slice of heaven on earth.
But of course, we understand that when you have already invested in a new home, you might not want to spend another fortune on interiors, hence we stepped in to take care of that part for them. When this couple met Payal, their designer, they were very frank and expressed their desire to get a unique look for their home without burning a hole in their pocket. So, she picked up the cues and they started this design journey together.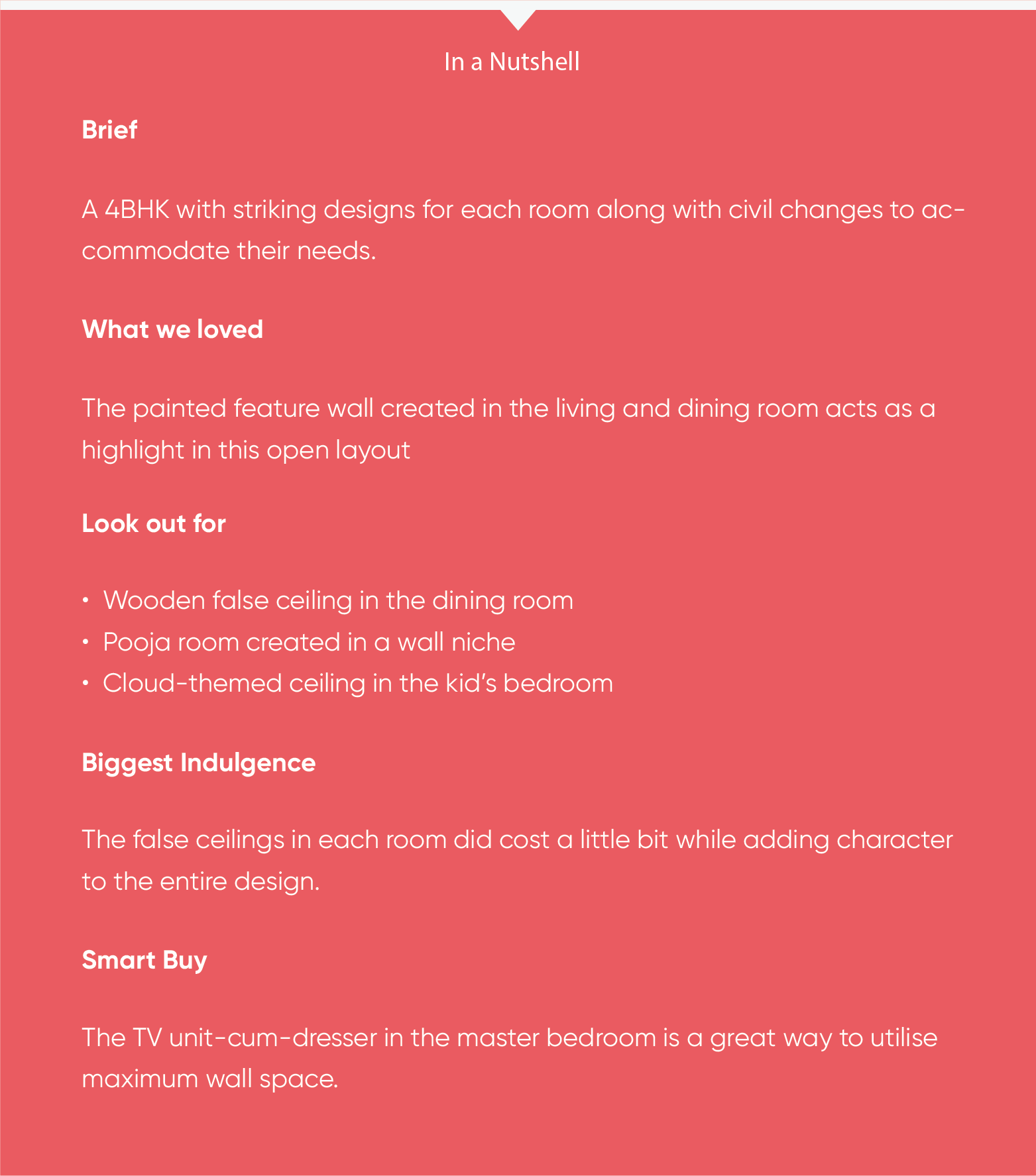 First, we designed 3D looks for them to see how their home would look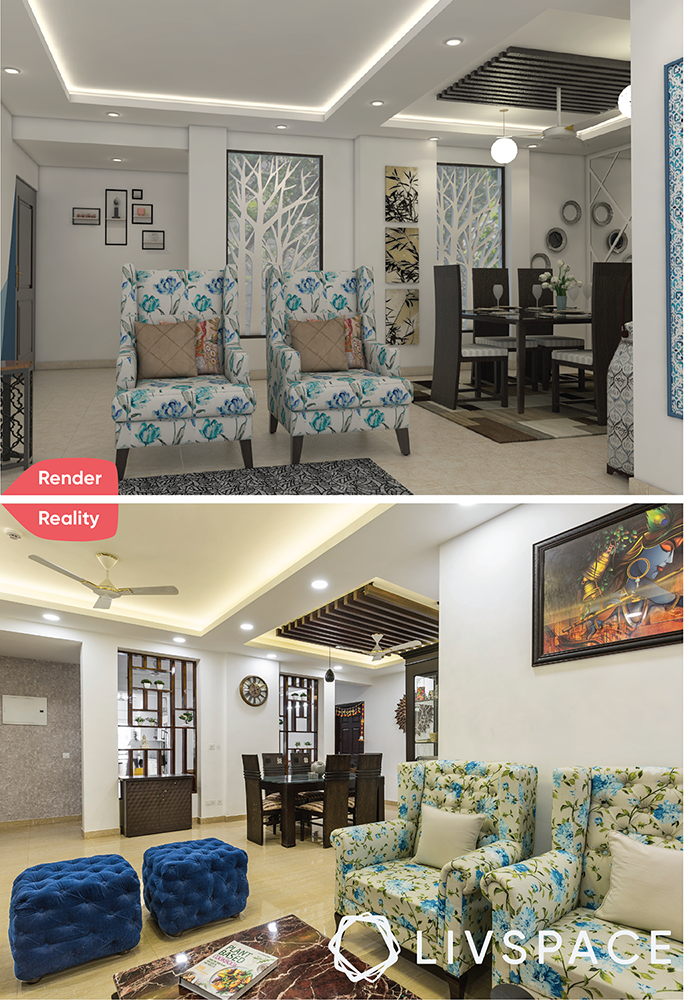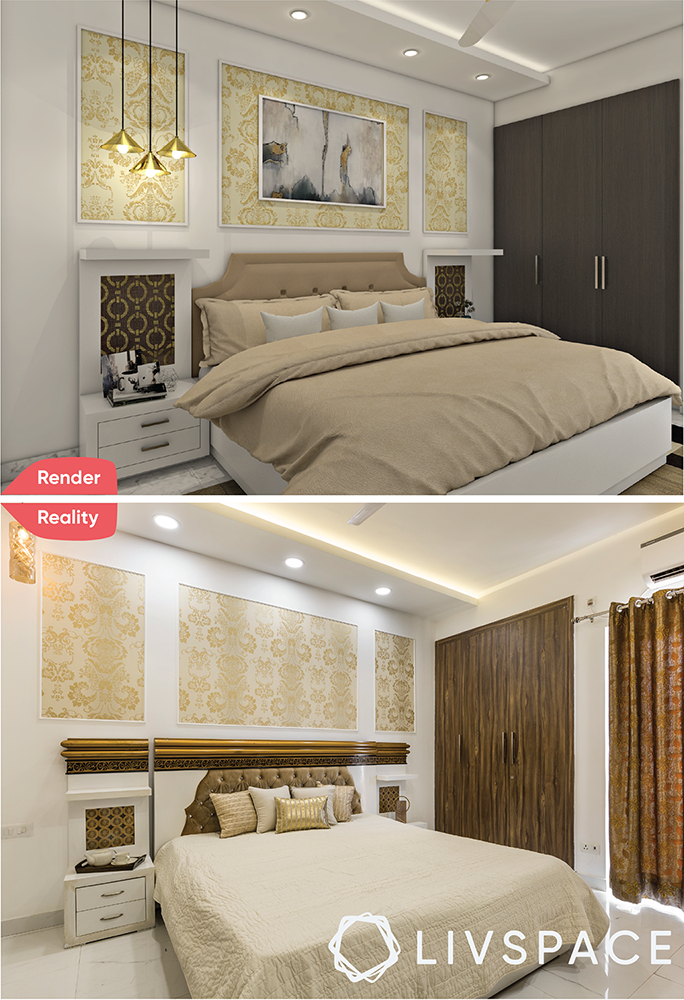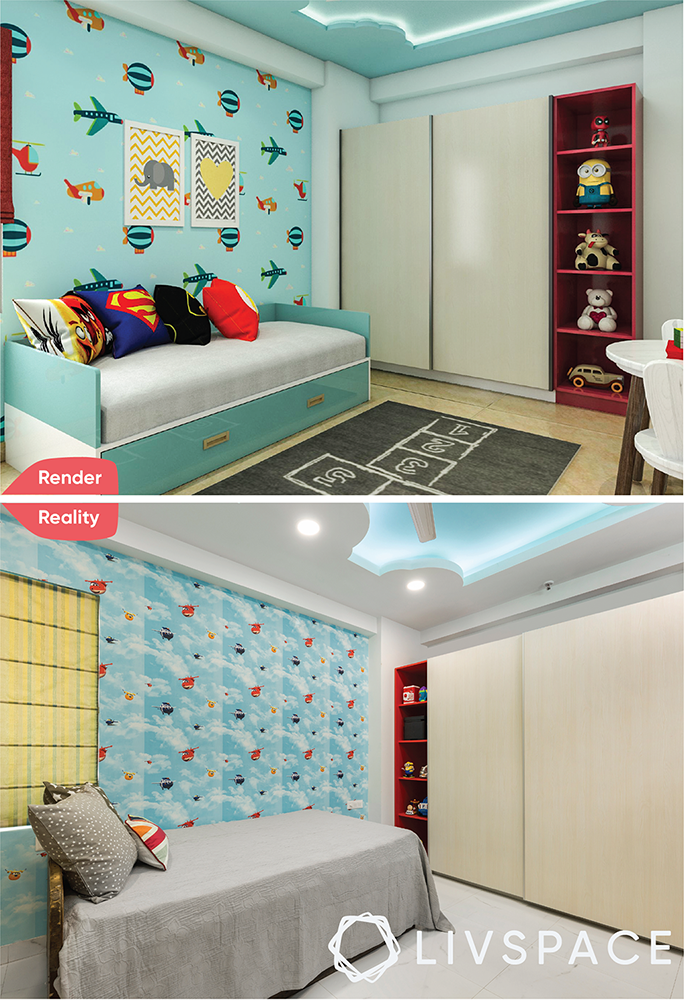 One living room, many stunning features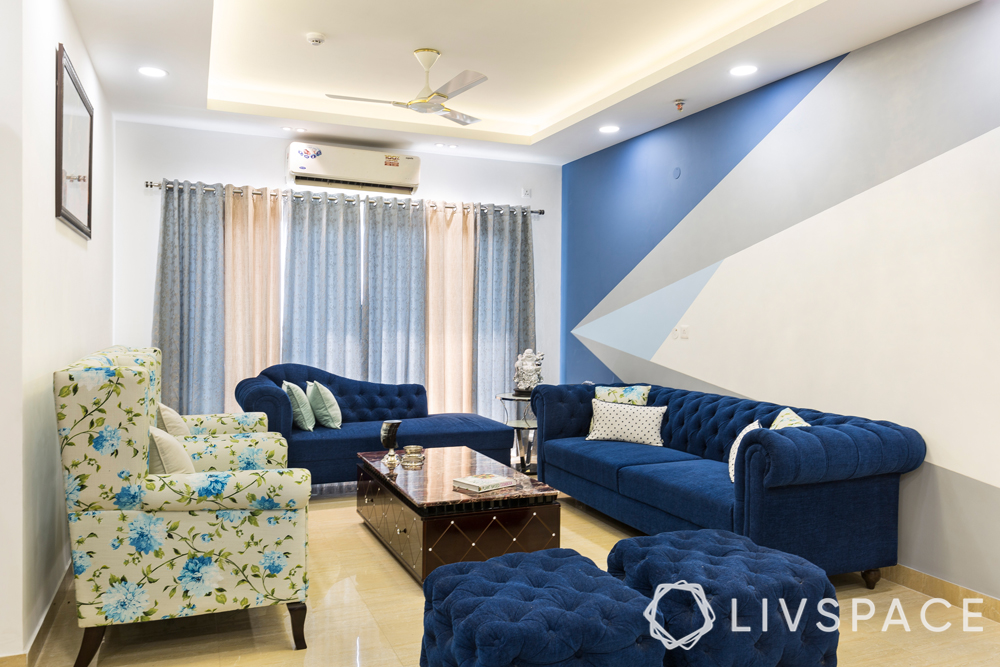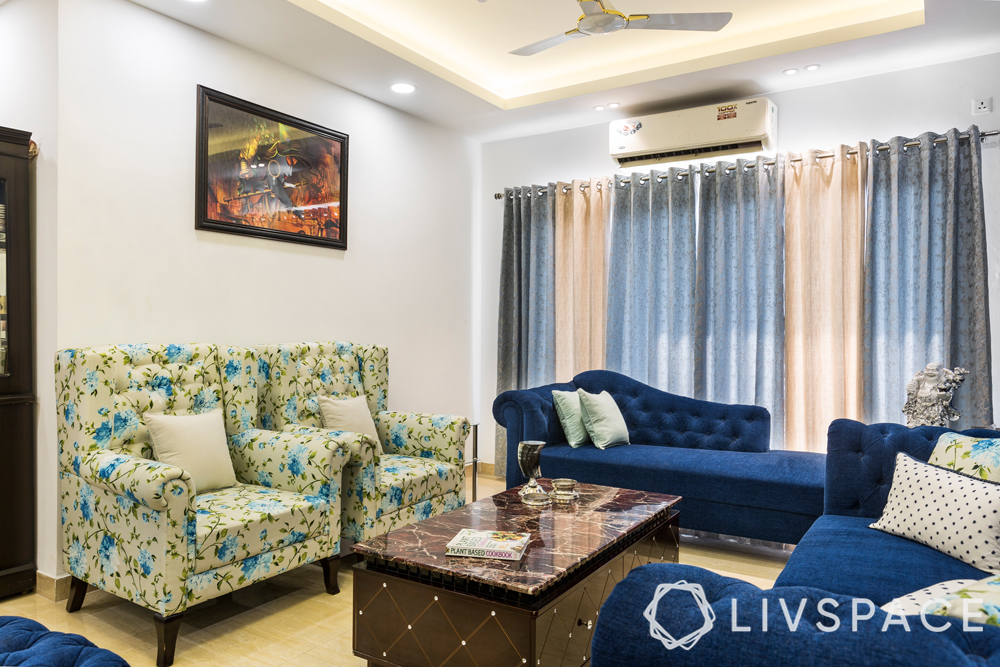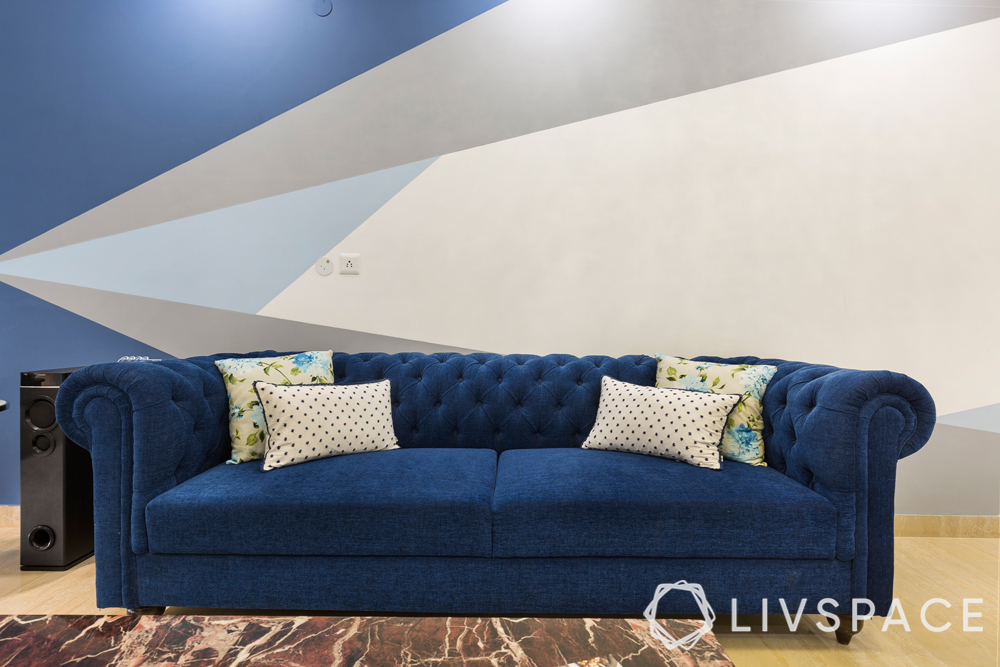 Can you spot the designer elements in this living room? Let us help you. First and foremost, the one long wall that extends upto the dining room, done up in geometric patterns. We think this is the most clever one wall makeover idea! Payal knew that putting a wallpaper on such a huge wall will definitely pinch a little on the pocket and she had the best idea in her mind. Therefore, she used wall paint to create this pattern on the wall and we think it looks absolutely stunning.
Another design feature is the border false ceiling that runs throughout the living room. With cove and recessed lights, this area looks very illuminated when all the lights are switched on. We also love the choice of furniture here that is so versatile. A sofa, a bench, two accent chairs and two ottomans—this mish-mash of seating options is ideal when you need to move things around.
Moving on to the warm and welcoming dining space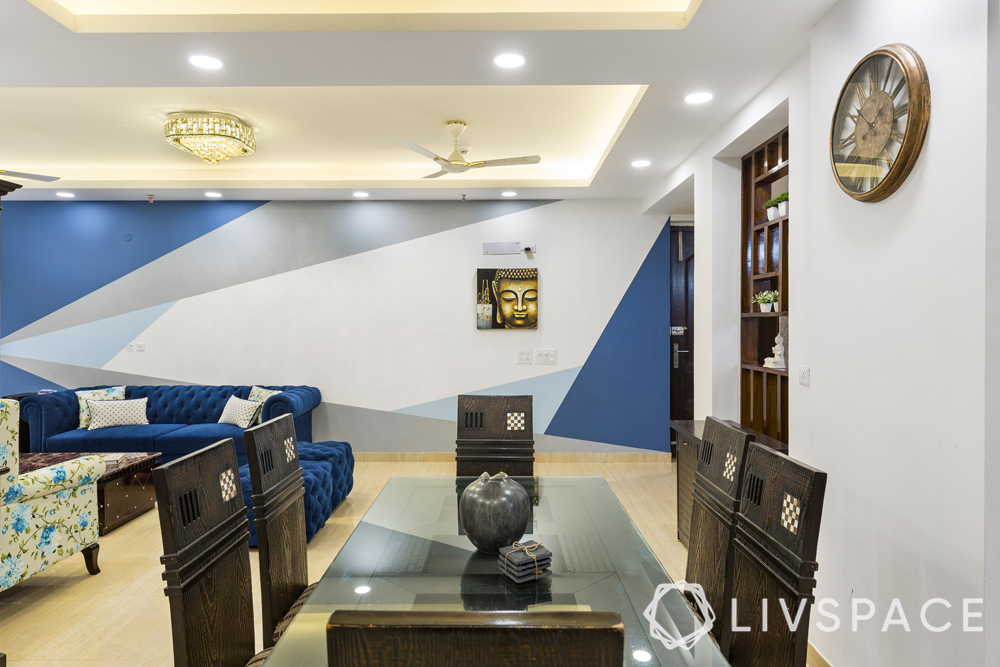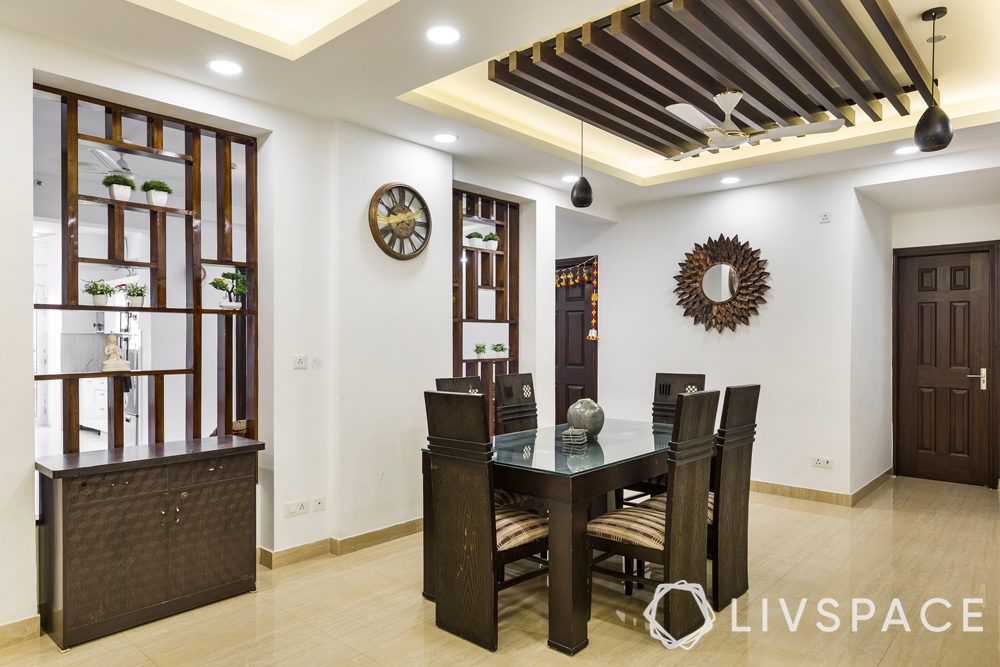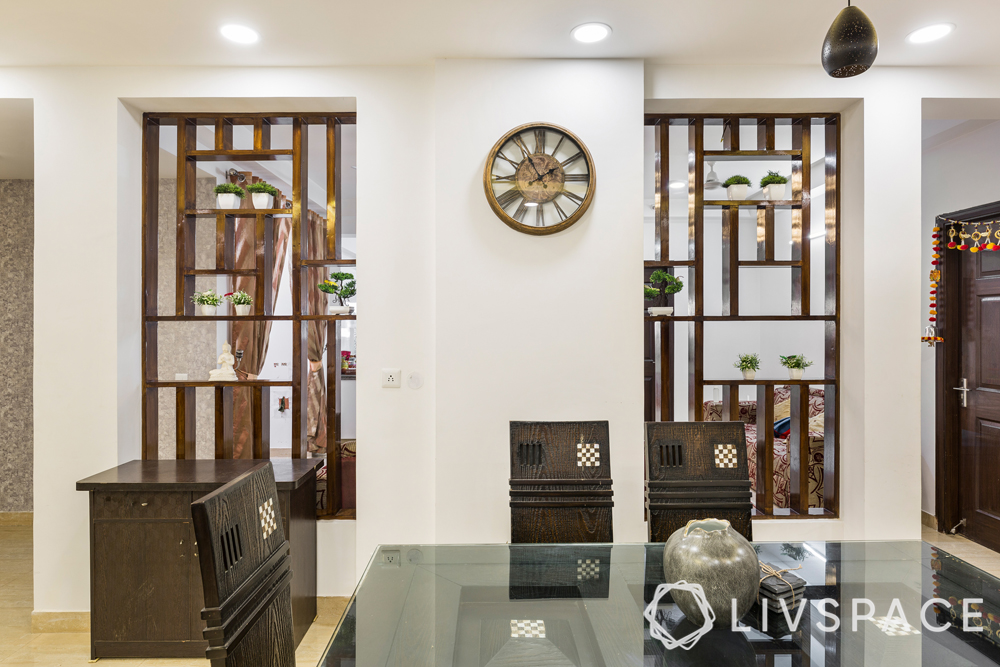 If there's one material that has the power to impart warmth and character to any space, it has to be wood. Look at the inviting wooden finishes in the dining room by Payal, interior designer in Greater Noida. Also, she has added rafters on the ceiling that match perfectly well with the wooden dining table set under it.
Also, do not miss the wooden finish partitions on either side of the wall next to the table. These panels ensure that the area does not get blocked off while making some space for display as well. A sleek console table with storage also finds its place here.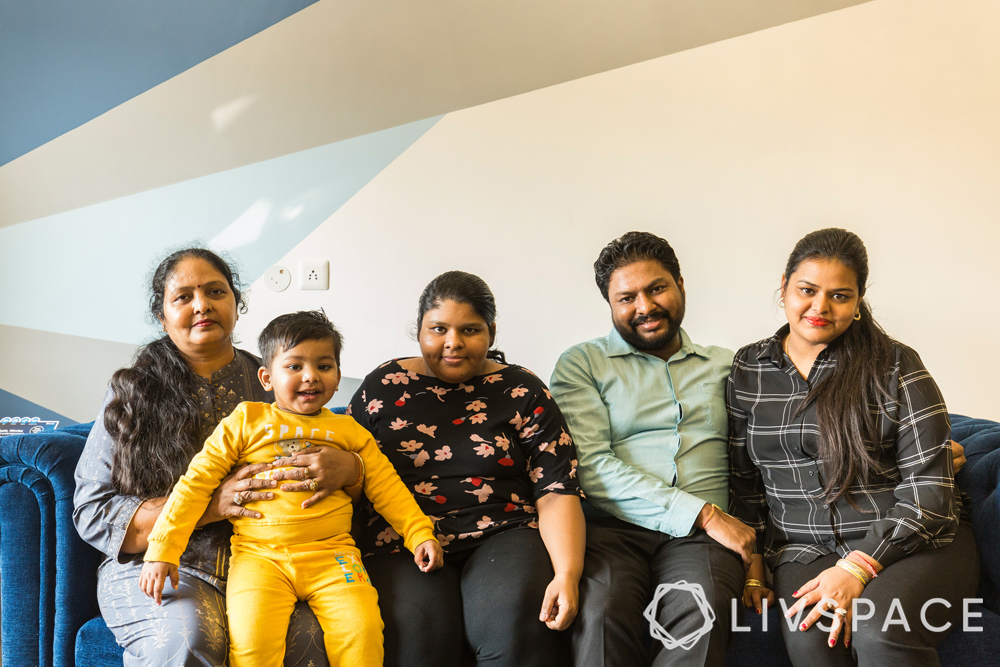 And onto the private pooja room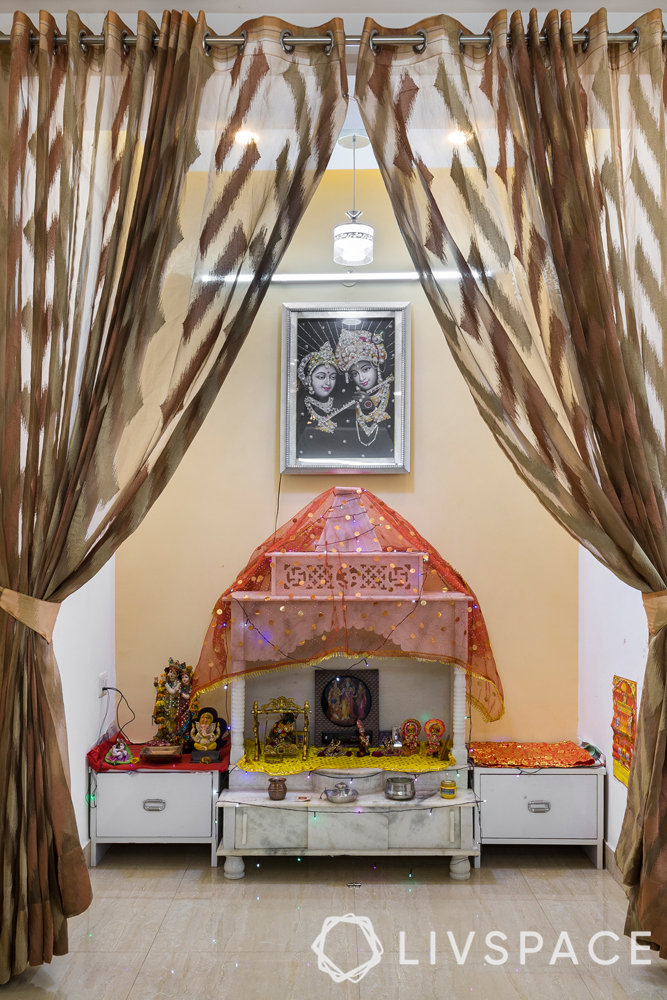 If we could confess, we love the idea of utilising niches for pooja rooms. Especially if you do not have a dedicated space at home to build your pooja room, then hunt for such corners. Here, we have kept it simple. A traditional pooja unit with drawers on either side making way for some storage.
Would you believe we could add several features to this master bedroom?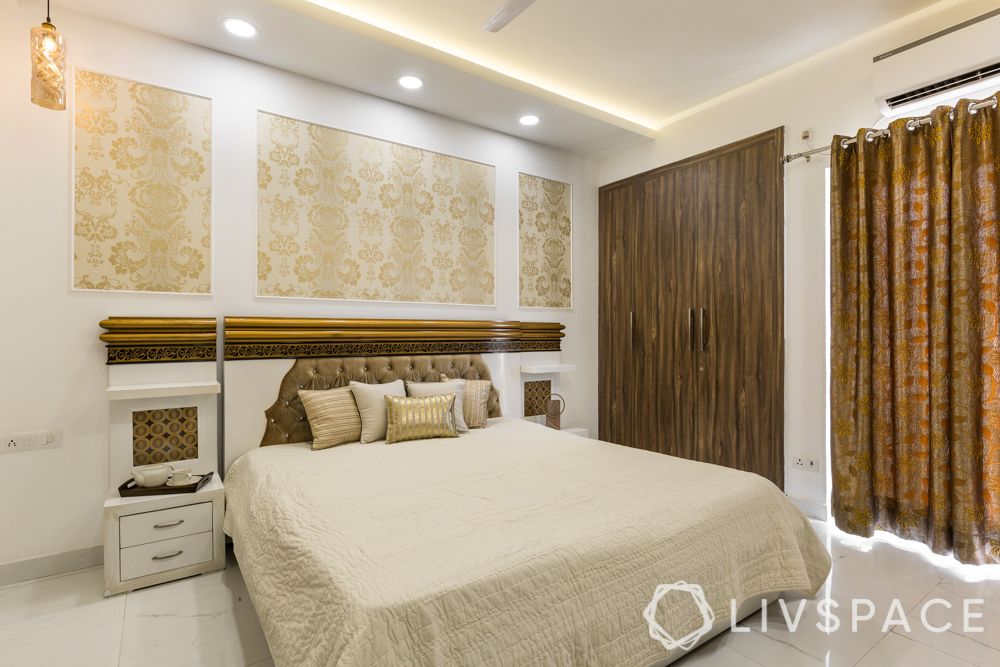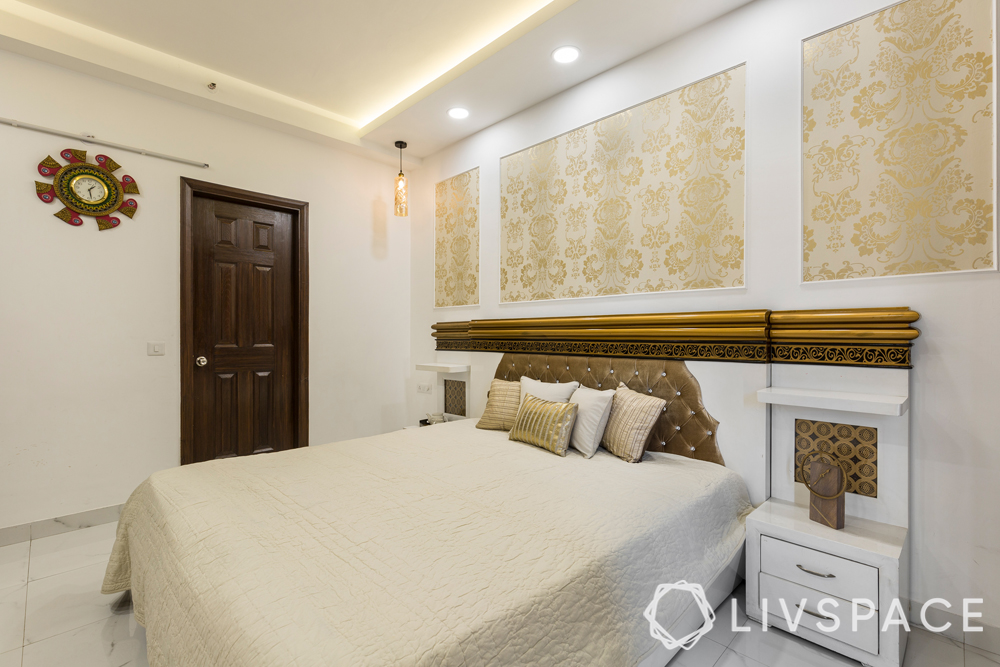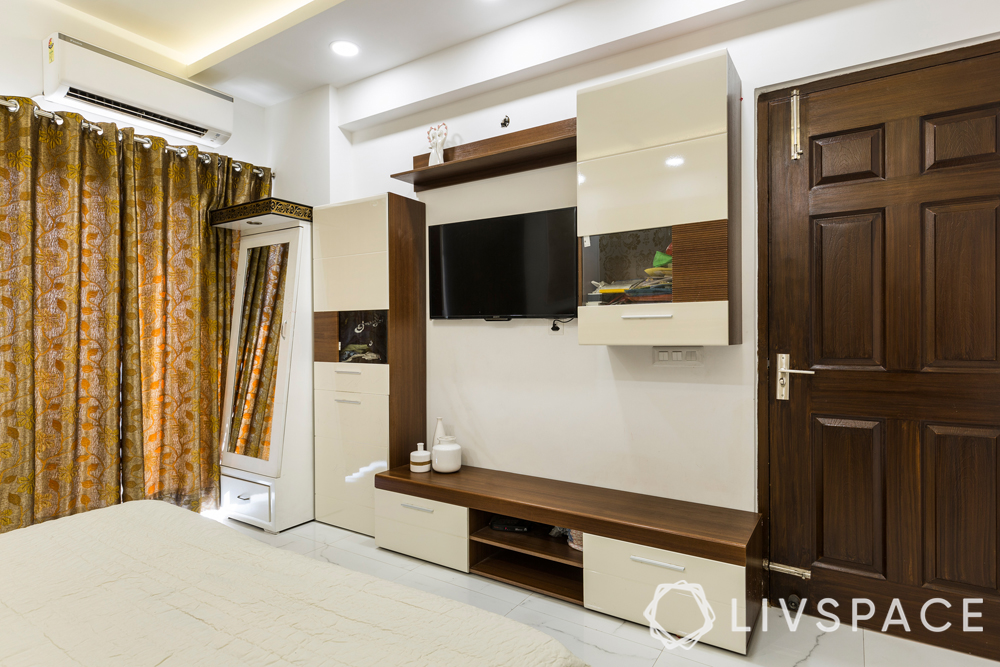 While chatting with Payal, I found out that Vipul and Aditi left the completely onus of selecting colours for their home on her. And our designers know that a bedroom needs to be that space where one retires after a long day. So loud colours were a complete no. She picked up warm beiges and browns for the master bedroom here.
Since the couple had their old bed and wanted to keep it, Payal matched up the bed back with the design on the existing bed. This is something that really impressed the couple. It flaunts a slight traditional element with the metallic beading. And keeping up with this theme, Payal has also given them bits of metallic wallpaper. Also, these are set inside sections of wall trims. Also, a built-in laminate finish wardrobe is all that they needed to keep their belongings.
Look straight across from the bed and you can spot this functional TV unit and dresser. Also, it occupies the entire wall. Equipped with ample storage in the form of cabinets and drawers, this TV unit is a boon for compact spaces alike. The dresser also fits in like a sleeve in one corner.
Ending things on a fun and sweet note with this bright kid's bedroom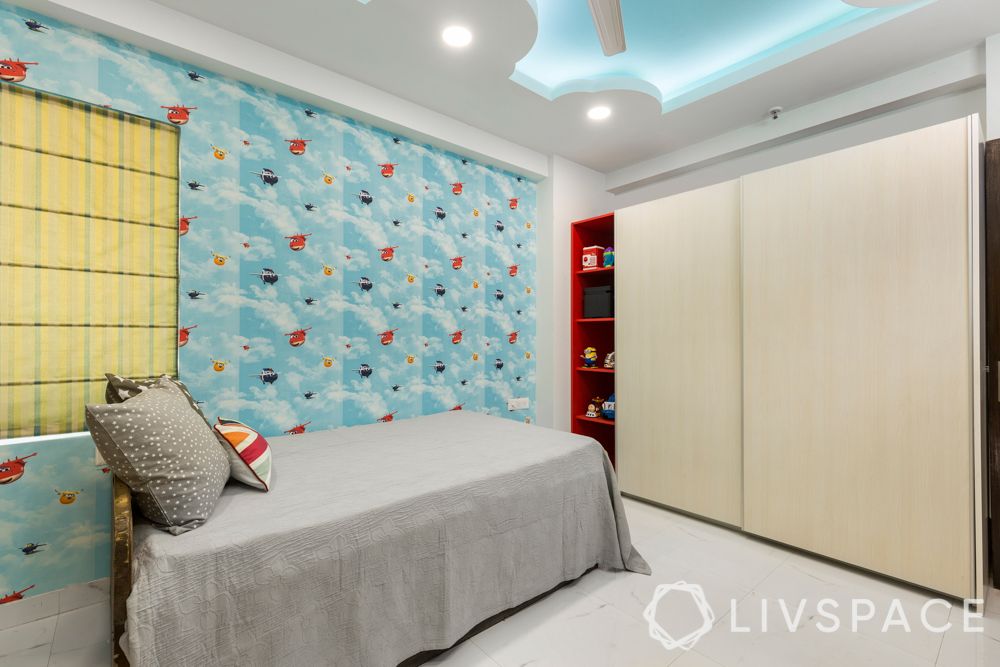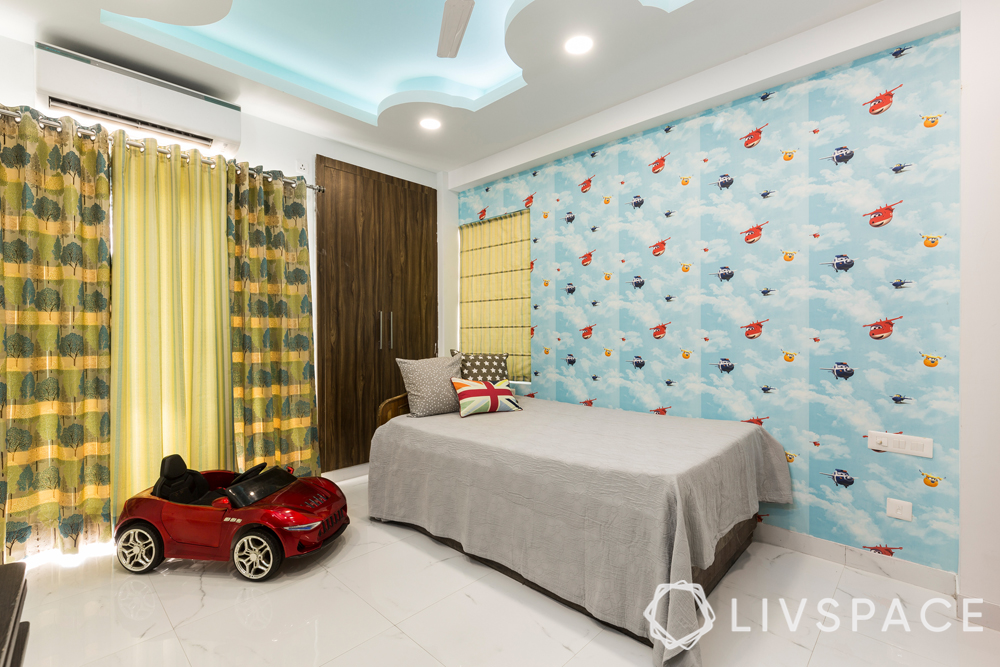 We know how creative kids are these days and parents do their best to give them their share of the sky. But we literally built a personal cloud bubble for this little one right in his room and he loves it! So every time he looks up, he can see the clouds without having to crane his neck outside his window.
Also, for fulfilling his storage needs, Payal has given a huge sliding wardrobe in a laminate finish with an open shelf on the side. We also love the hints of colour in the shelf and the wallpaper next to the bed. Not too much, not too less—just perfect!
---
" Both Vipul and Aditi are extremely soft-spoken and it is always a pleasure to design for such clients. They came to us with a specific budget in mind and we finished it in an amount even lesser than that. We also completed the entire design and execution along with civil changes within 40 days. I love how the home looks right now and I would love to work on such projects even in the future!"

– Payal Khetan Gupta, Interior Designer, Livspace
---
If you are looking for another budgeted home design by interior designer in Greater Noida, check this out: Trendy 3BHK Designed on a Budget.
Tour this gorgeous Noida home:
Send in your comments and suggestions to editor@livspace.com.
Visit us at our experience centre in Noida to get your dream home designed.