When it comes to storage and vastu-compliant homes, the client requirements are quite straightforward. But the task to meet these requirements can be challenging. Nevertheless, our design partners Amit Malhotra, Shwetha Singaravelu and Kaushal Modi are always up for a good challenge. They executed the interior design for Sumadhura Nandanam flat beautifully. And thanks to the remarkable cooperation by the homeowners, Rahul Verma and his family, this project was finished within 45 days!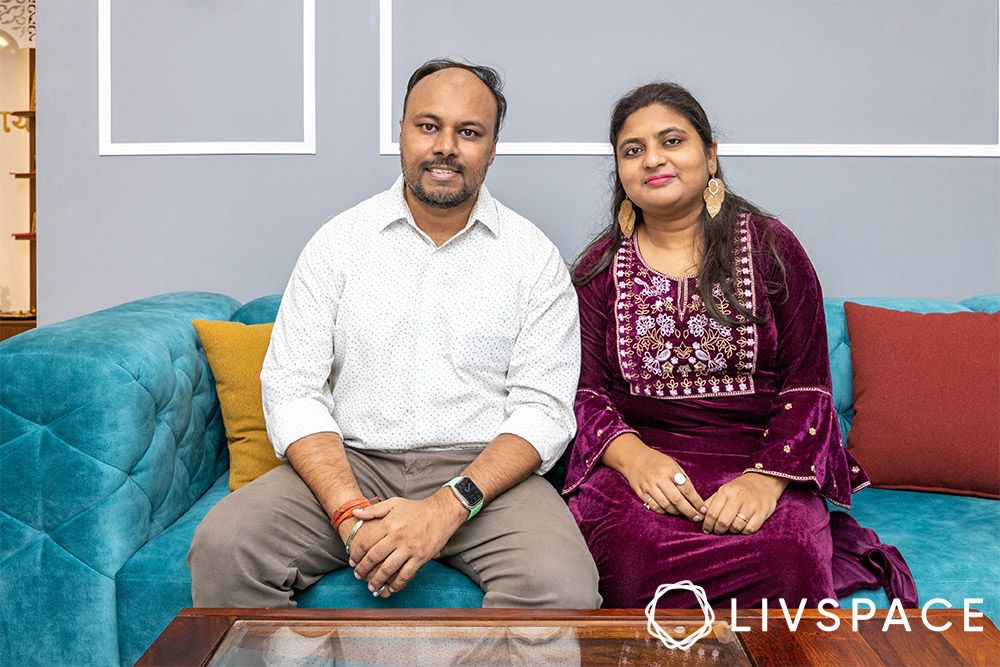 One thing that stands out in our experience with Livspace, is the time duration in which the promised work was completed. Quality-wise also, the work is good and the designer was quite accommodating of all the small ad hoc changes we requested on the fly.
—Rahul Verma, Livspace Homeowner
---
Who Livs here: Rahul Verma with his wife and their parents
Location: Sumadhura Nandanam, Hoodi Circle, Bengaluru
Size of home: A 3BHK spanning 1565 sq. ft. approx.
Design team: Interior designers Amit Malhotra, Kaushal Modi and Shwetha Singaravelu
Livspace service: Full home design
Budget: ₹₹₹
---
IN A NUTSHELL


Design Brief
A storage and vastu-compliant home for a growing family of four

What We Loved
The rich foyer design with hexagonal wall panels and fluted wooden panels

Look Out for
– The faux-marble laminates on the TV accent wall with lean metallic details
– The wooden false ceiling in the passage that leads from the main entrance to the kitchen
– The abstract false ceiling designs that are customised to match prime elements in every room.
– The variety in wall treatments around the house

Biggest Indulgence
The modular kitchen design with vastu-compliant colours

Smart Buy
The economical faux-marble laminates for the TV panel


So, what's the interesting story behind the short yet exciting process of this interior design for Sumadhura Nandanam flat in Bengaluru?
A Luxurious Foyer Design for Sumadhura Nandanam, Bengaluru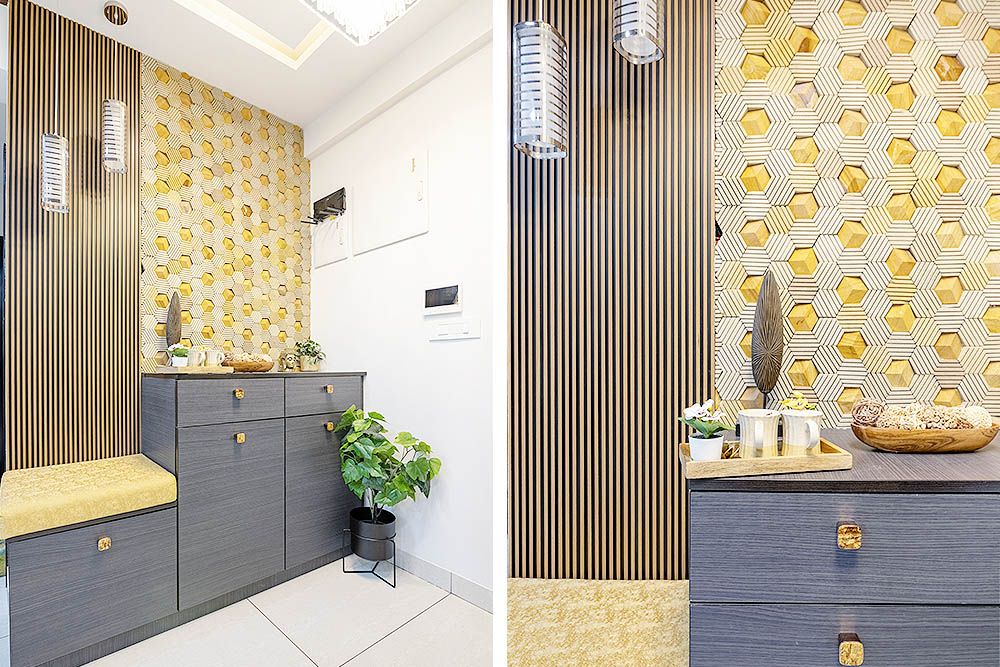 What to keep in mind when it comes to vastu for home entrance? For best and easy vastu-compliant ideas, you can take notes from this foyer. Primarily, it has soft welcoming colours, a green plant and wooden furniture to make it vastu-compliant. And the cherry on the cake—the warm colours of the wooden wall panels give this entrance a luxurious look, leading to a remarkable first impression.
This foyer also has a noteworthy false ceiling design that adds to its overall appeal. It has a layered design—a periphery false ceiling with an island in the middle to support a chandelier—with a cove light to accentuate the difference in the two layers.
A Stunning Living Room Interior Design for Sumadhura Nandanam Flat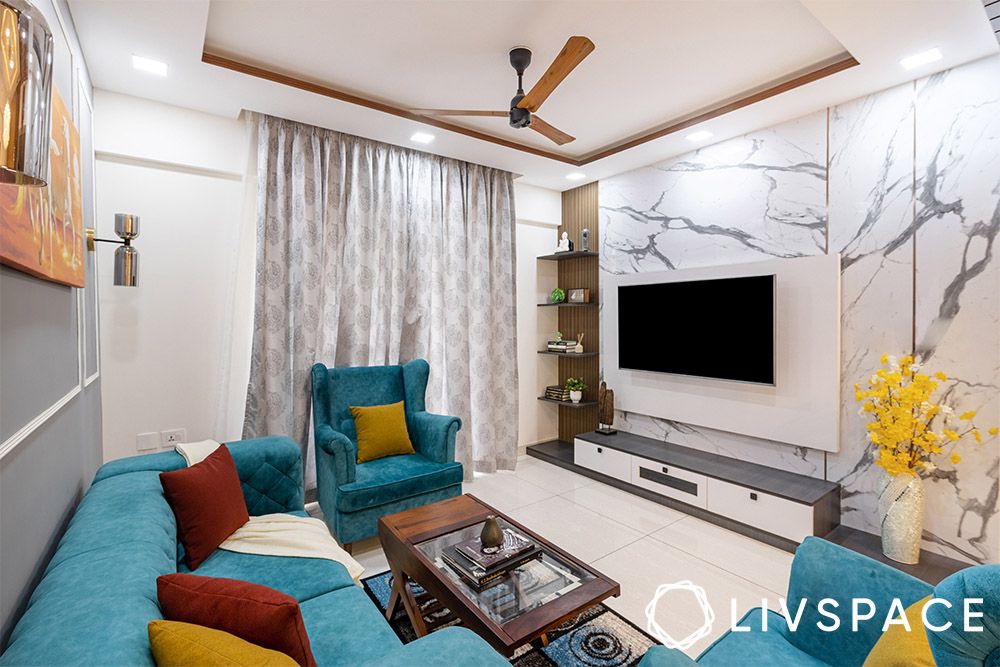 How to add a durable stone texture to your walls on a budget? Good question! Our designers have a straightforward answer for you—laminates. Laminate is an inexpensive yet durable material with a wide range of variety and utility. This interior design for Sumadhura Nandanam flat, for instance, has used faux-marble laminate sheets on its TV wall in the living room. By doing this, our designers have help cut down costs and yet made this living room look lavish and luxurious.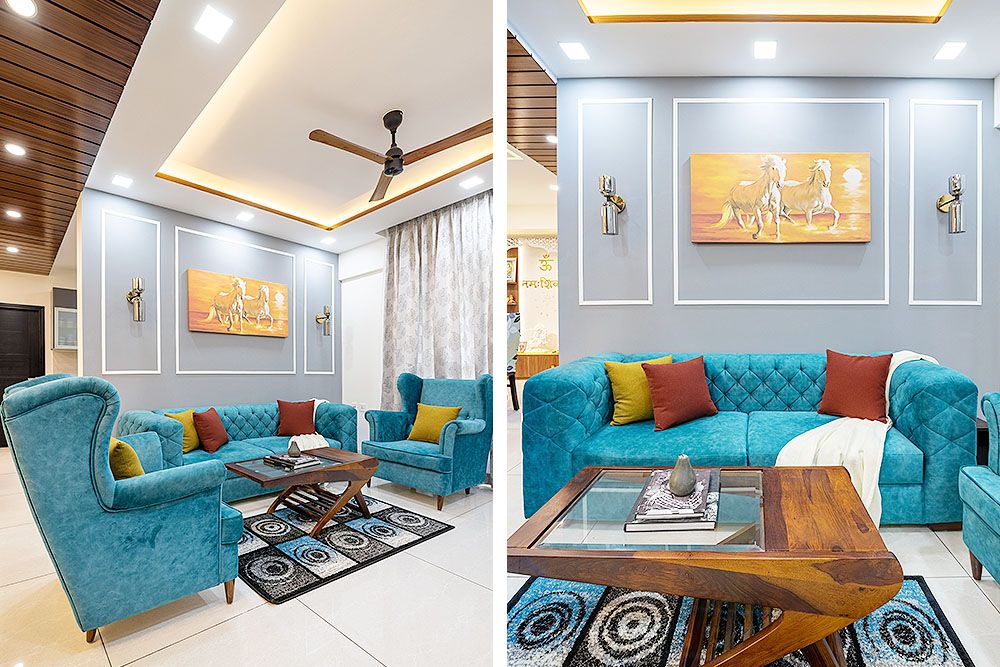 Besides the TV wall design, what are the other compelling elements that make this living room intriguing? Although the rest of the room is fairly simple, the white wooden trims on the grey wall and the wooden false ceiling turn the tables for this interior design for Sumadhura Nandanam flat. Each of them highlights a different aspect of the space. For example, the trims bring your focus to the accessories on the wall and the false ceiling guides your eyes to the rest of the house.
Vastu-Compliant Kitchen Interior Decor Ideas for Sumadhura Nandanam Flat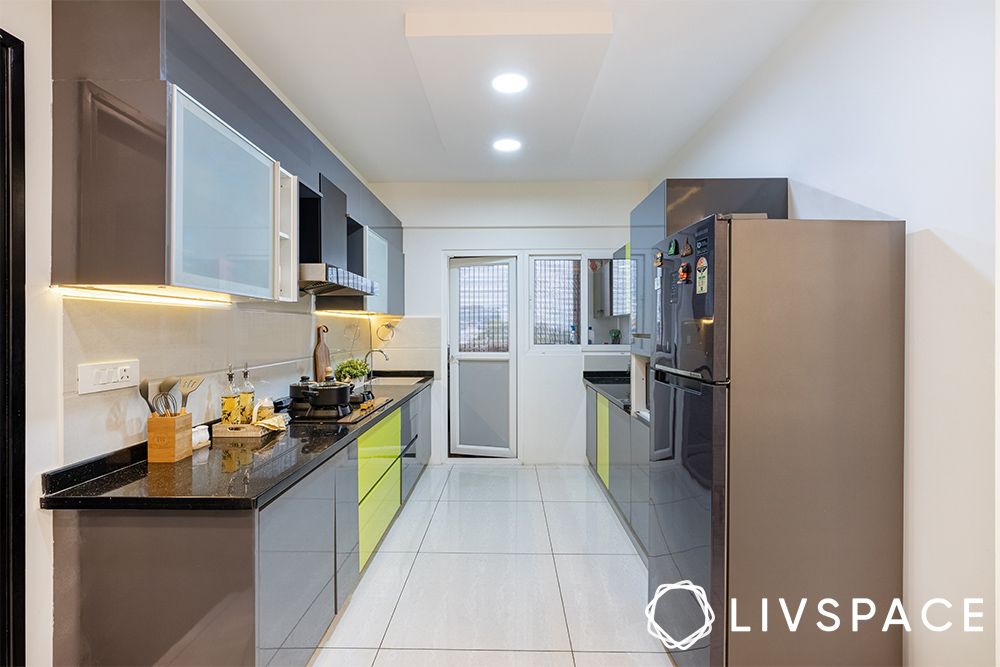 Which kitchen layout is the most efficient in flats these days? Since most kitchens have an elongated shape in flats these days, a galley or parallel layout is the most efficient for them. It manages to provide more space and storage while also having an efficient work triangle.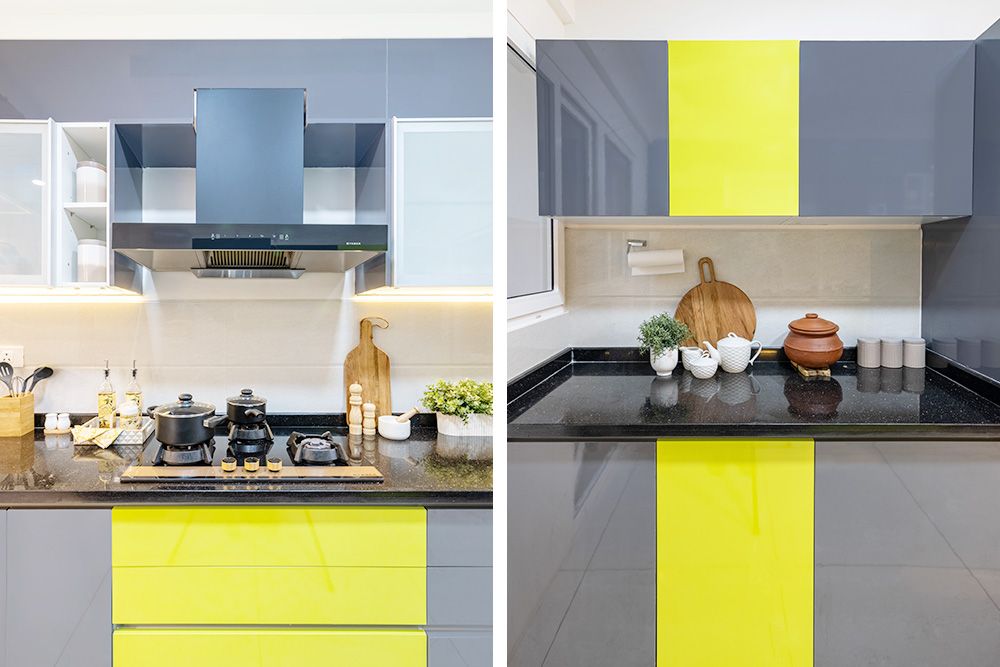 What colours are best for kitchen according to Vastu Shastra? There are many colours and materials that benefit the vastu of your kitchen, and a bright lemon-yellow is one of them. But sometimes, these colours can be too bright for your taste, and hence you can choose to dilute their appearance in many ways. One of those ways would be to use a second muted colour that contradicts the look of the brighter vastu colour you chose.
You can take the example of this kitchen interior of Sumadhura Nandanam flat in Hoodi, Bengaluru, for the same. The bright lemon-yellow used for cabinets in here, is diluted using muted grey laminates with it. In addition to these two, there are basic colours like black and white used for the countertop and backsplash tiles to keep the colour palette simple and sophisticated.
A Pooja and Dining Room Interior Design for Sumadhura Nandanam Flat
What can you do to make the bare wall in your dining room interesting? A simple and cost-effective way would be to apply a wallpaper on your bare wall. This is one of the space-saving interior design ideas for Sumadhura Nandanam flat that you can also use to enhance your compact spaces.
In this interior, since the dining chairs had a tropical print upholstery already, a bright wallpaper with subtle print is used on the wall next to them. This is a good approach to take when you want to use two prints in the same room.
There is one more fascinating aspect in this dining hall interior design for Sumadhura Nandanam flat—the abstract plus-minus false ceiling design. It has cove lights to highlight its design along with the chandelier.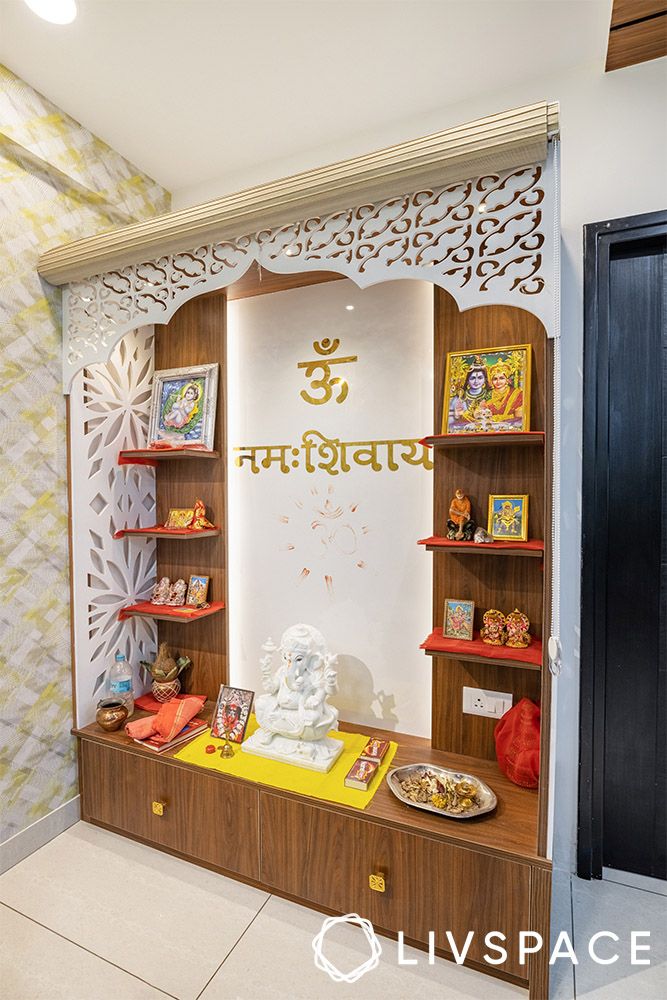 What is the most common material used in modern pooja unit designs? It is wood. Most homeowners opt for CNC-cut wooden pooja mandir designs that have storage and are easy to maintain.
What's different about this mandir in this interior design for Sumadhura Nandanam flat, is the layered lighting used in it. As you can see, there are three ambient lights on the ceiling of this unit and two cove lights in its back panel to accentuate its looks. Furthermore, there is a spotlight installed on the wall next to it to highlight the Ganesh idol in the centre. You can see this light in the dining room image above.
Some White Bedroom Interior Decor Ideas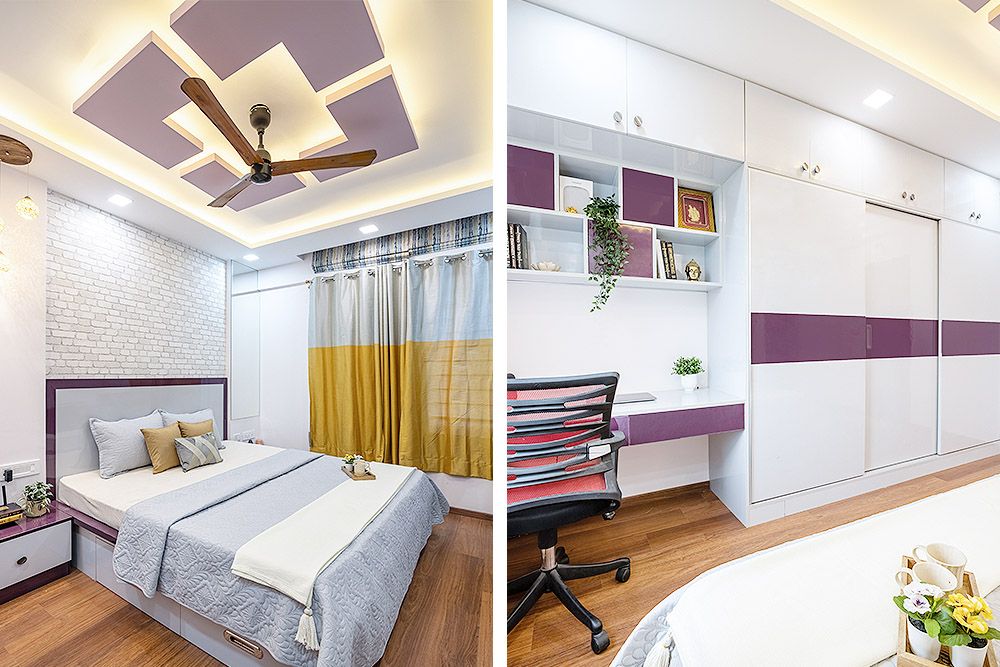 How do you add colour to your all-white bedrooms? All-white bedrooms are not for everyone, and you might feel the need to add a little colour in them. In such situations, you can choose one or two contrasting colours to enhance the impression of your rooms.
For instance, this bedroom, in the picture above, has pops of purple and yellow to go along with its all-white scheme. Even the false ceiling is tinted purple to match the colour palette, but it is subtle so that it doesn't steal the focus from the bed and the accent wall in the room.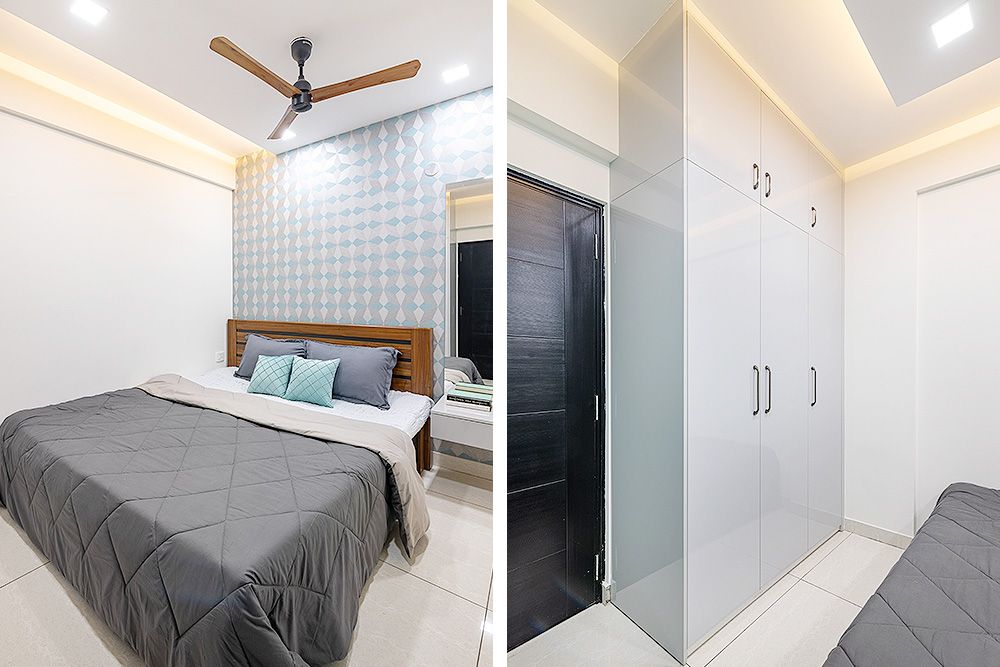 What kind of laminates can you use in your compact bedrooms? Compact bedrooms generally face the common problem of insufficient lighting. Our designers offer a cost and energy-saving solution in such cases by using glossy surface finishes on your furniture. This increases the amount of light that is reflected or regulated in your bedrooms, thereby making them brighter.
In this room in the picture above, there is an off-white glossy laminate used on the wardrobe and a matching reflective wallpaper to brighten the room.
If you like what we have done for this vastu-compliant home in terms of space, storage and design appeal, you might enjoy reading about other Livspace homes that are not only impressive but also budget-friendly.
How Can Livspace Help You?
We hope you found our ideas useful! If you want beautiful interiors for your home, then look no further. Book an online consultation with Livspace today.
Send in your comments and suggestions to editor@livspace.com