Designing a home involves weaving together the dreams and aspirations of its owners to create something special and precious. This in itself can be a daunting task – transforming dreams into reality. But it gets all the more challenging when there are major time and space constraints. But we at Livspace are connoisseurs when it comes to delivering gorgeous homes, despite all constraints. And this is how we designed and delivered these stunning 2 bhk interior designs in Mumbai in just 10 weeks!
---
Who livs here: Dipti and Parag Shah with their son Hetansh 
Location: Mumbai
Size of home: A 2BHK spanning 800 sq. ft.
Design team: Interior Designer Neha Desai and Design Manager Nausheen Javeri
Livspace service: Full home design 
Budget: ₹₹₹₹₹
---
When the Shahs approached us for their interior work, they were completely sorted about their requirements. All they wanted were modern, elegant and clutter-free interiors. However, considering the compact size of the flat, our designer Neha Desai had her work cut out for her. Also, Dipti and Parag Shah had a clear timeline, within which they wanted to move into their new home. Take the tour to know how Neha overcame these space and time constraints to deliver the Shahs' dream home!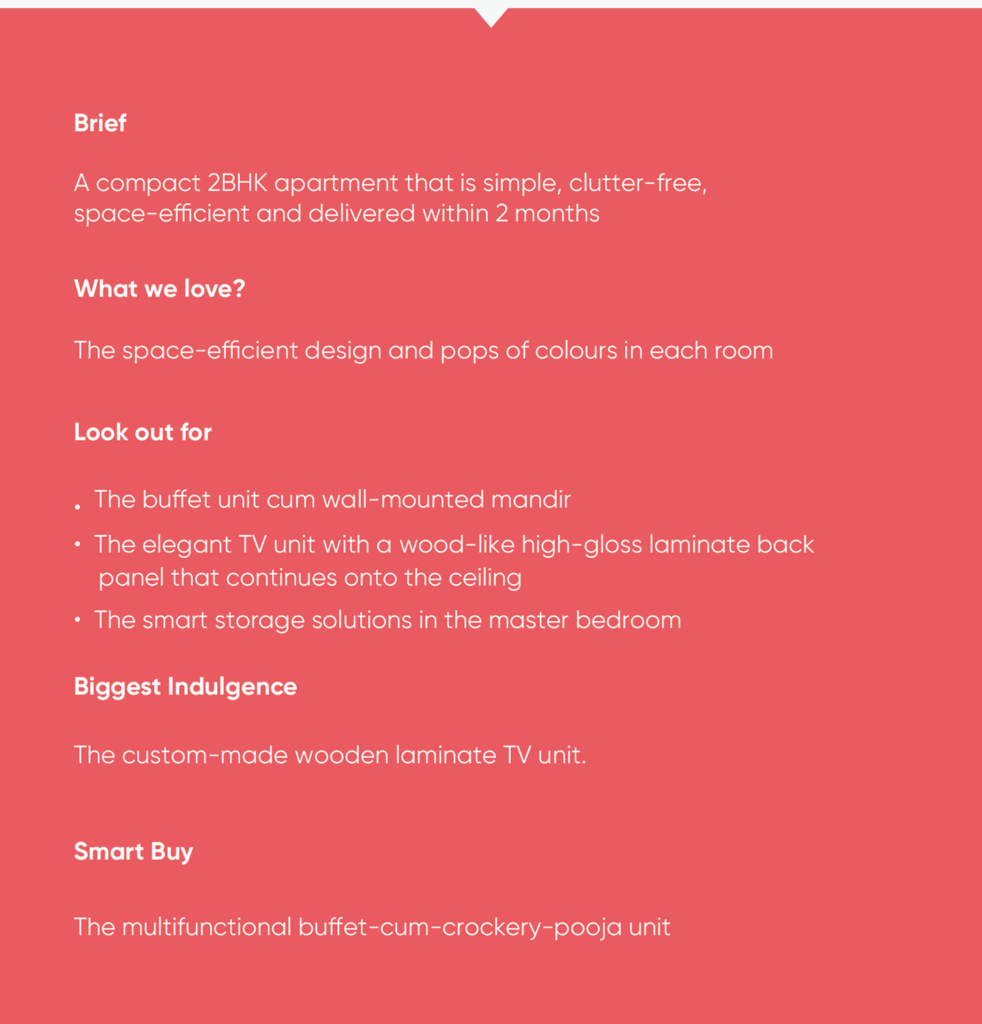 #1: Neutral Colours in the Living Room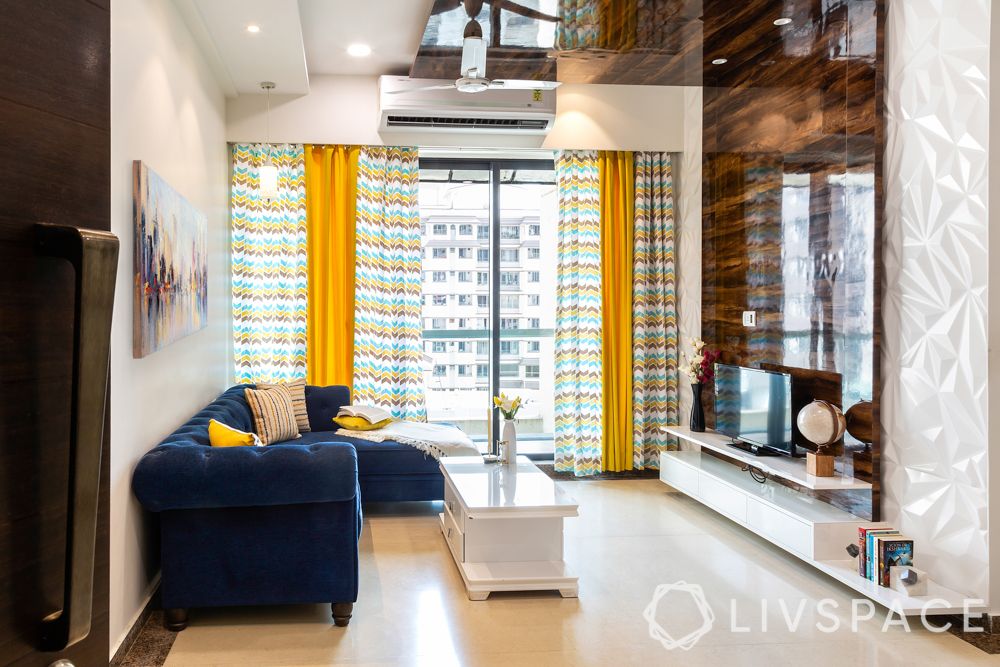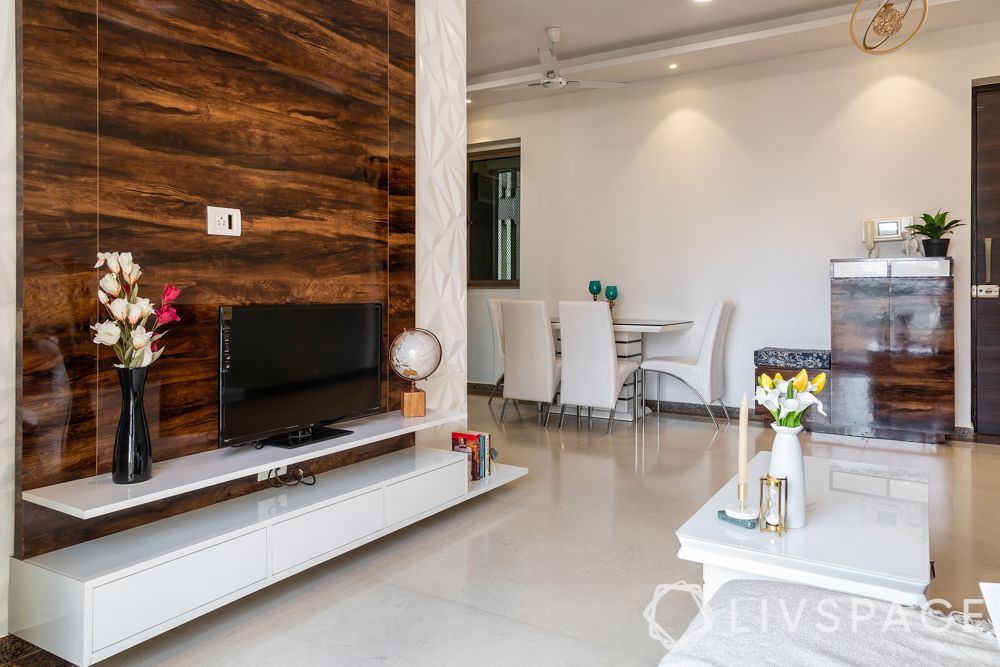 "The clients were very simple people and did not want their interior décor to be loud or bold", says designer Neha Desai. As such, Neha decided to stick to a very neutral and subtle colour theme of brown and white in the living room. The custom TV unit is the showstopper in this room. With a high-gloss laminate finish, this sleek TV unit is perfect for compact spaces. The PU painted 3D panels on the sides add to the uniqueness of this TV unit. To add some pops of colour to these 2 bhk interior designs, Neha chose a comfy royal blue sofa and sunny yellow curtains.
#2: A Smart Buffet Unit in the Dining Room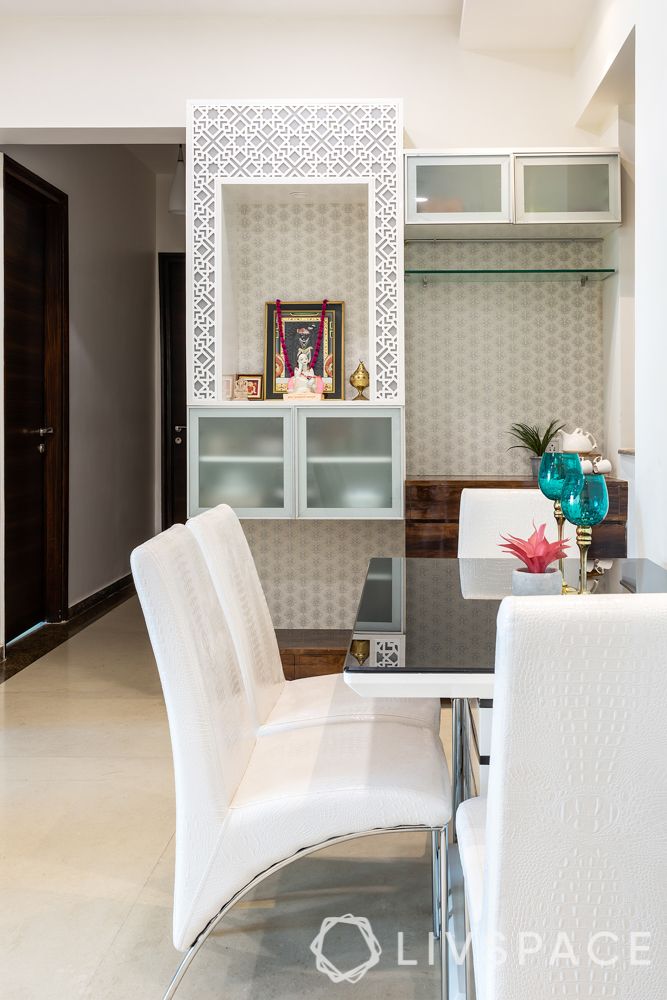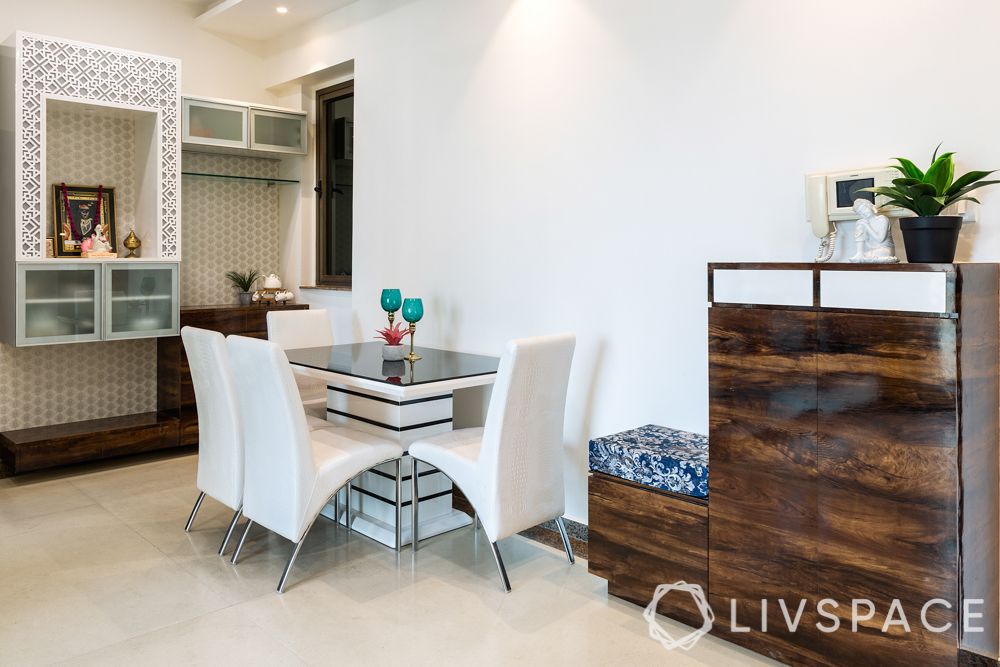 As soon as you enter the Shahs' dining area, the first thing that you will notice is the innovative buffet cum crockery cum pooja unit. The dining space was very small and having individual, bulky furniture would have just cramped up the space. This is where Neha showed her design acumen by creating this custom-made 3-in-1 unit. With a high-gloss laminate finish, the buffet unit is sleek and matches the TV unit in the living room. The wall-mounted pooja cum crockery unit is contemporary and takes up minimum space. Also, did you notice the custom-made shoe rack which comes with a comfortable matching bench?
#3: Oodles of Storage in the Master Bedroom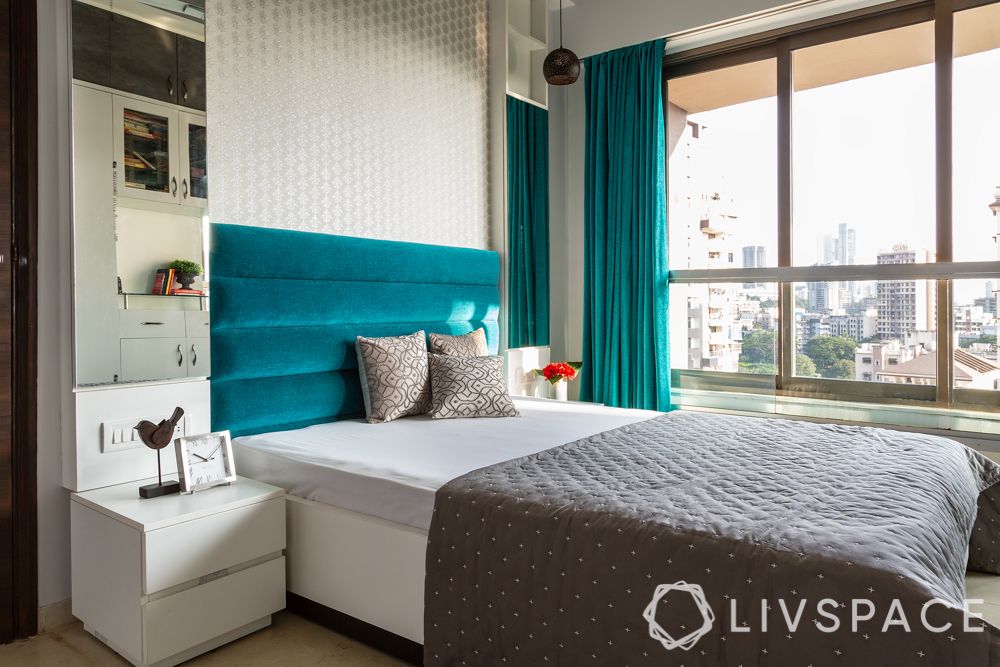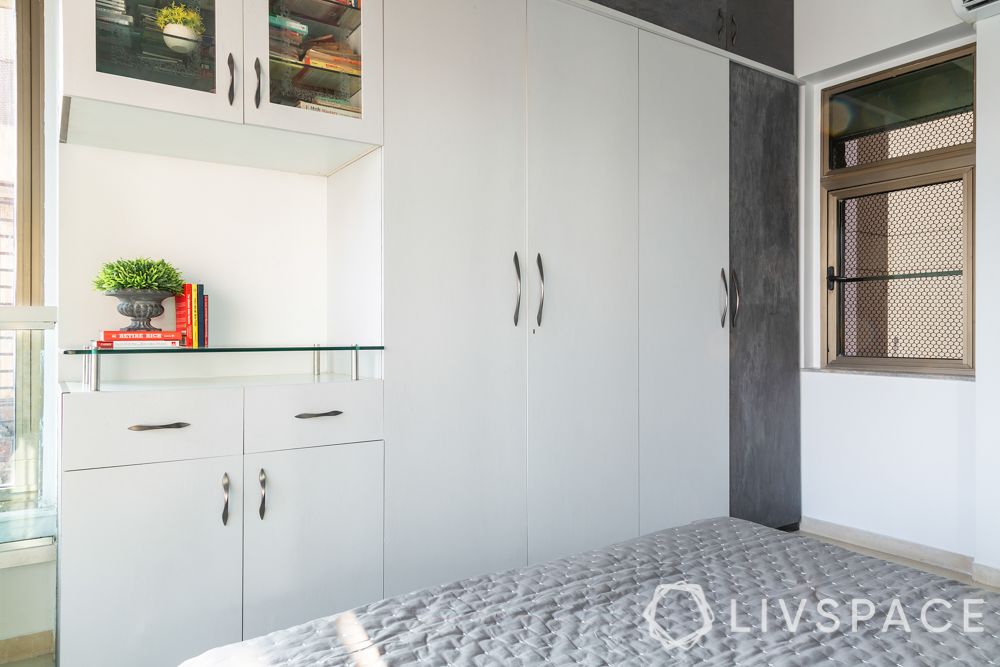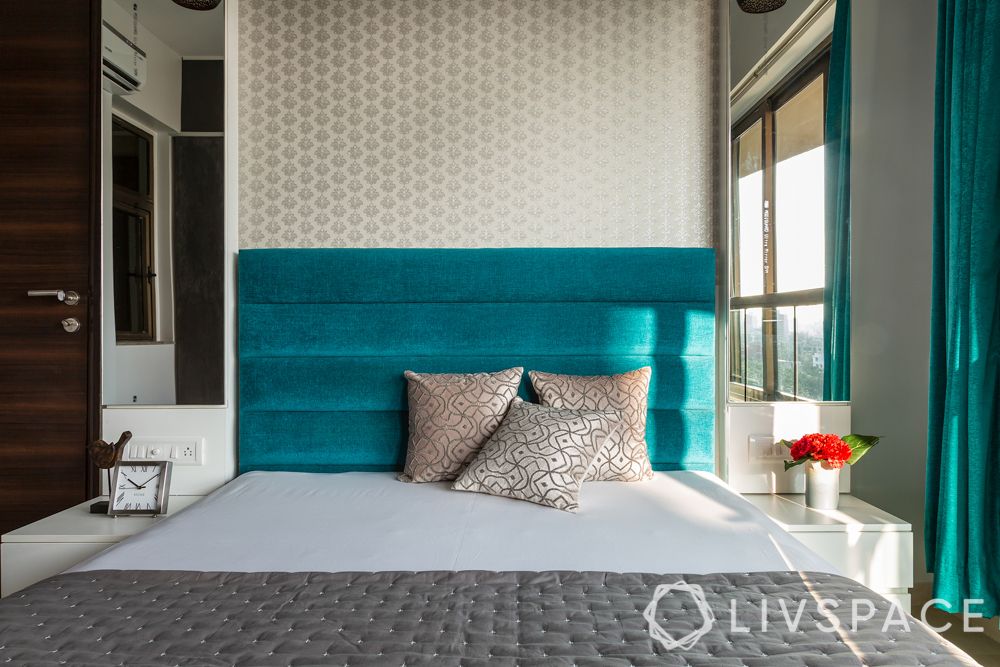 The Shahs' master bedroom is a lesson in how to fit storage into a small room. Neha went for his and her vanity units from the Livspace catalogue, which had storage on the inside. This was a smart solution as it combined storage and dressing units, thereby saving space. Coupled with the laminate finish wardrobe that Neha refurbished and the hydraulic bed, the master bedroom comes with storage galore for the couple. While the master bedroom has a neutral colour theme, the headboard from the Livspace catalogue and curtains add some stunning pops of teal.
#4: A Space-Efficient Second Bedroom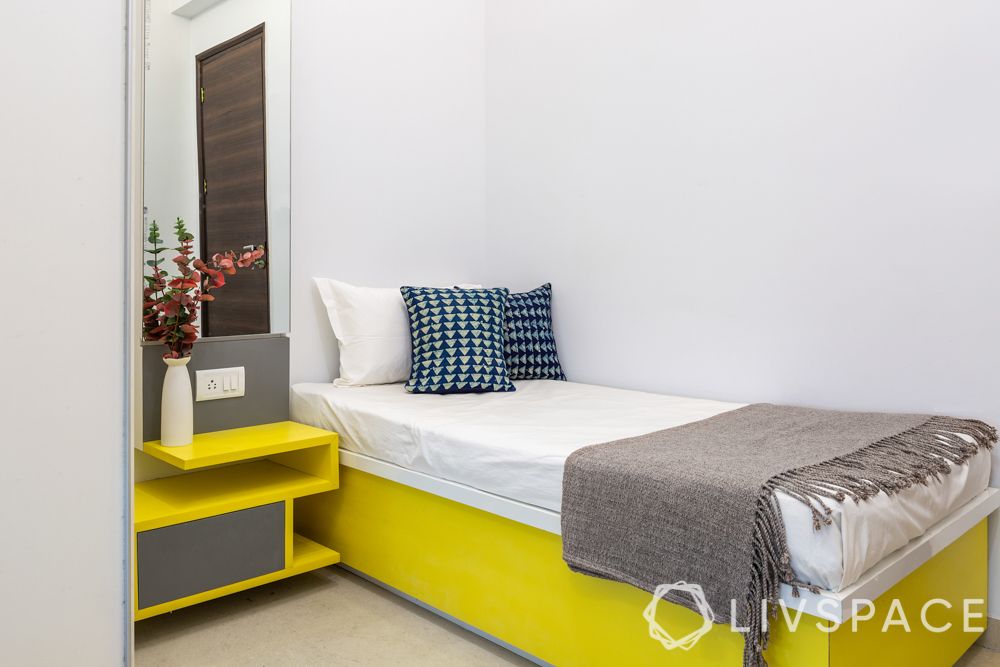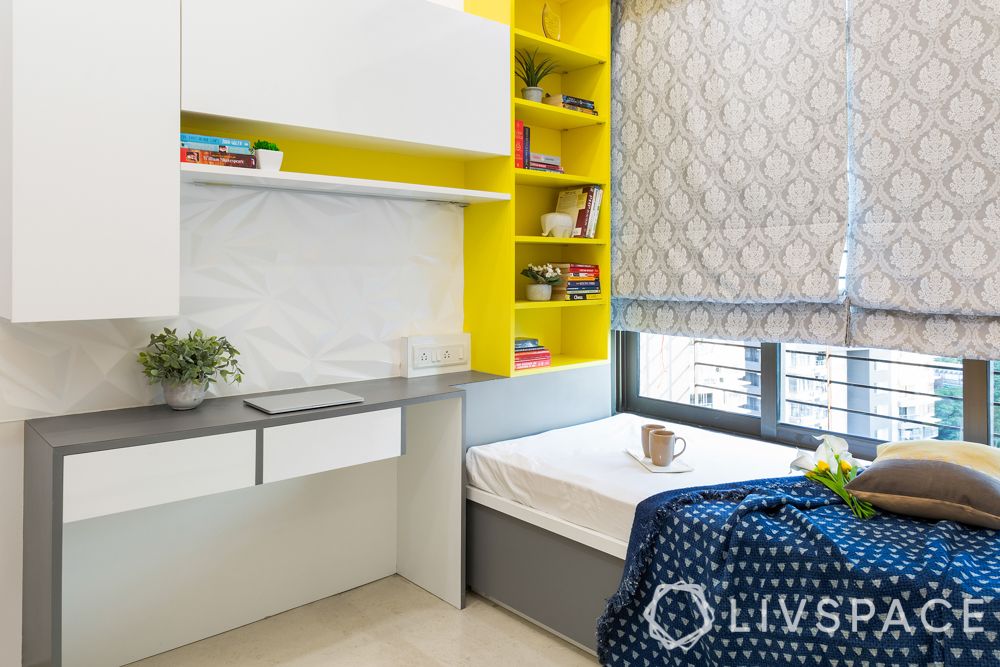 "The second bedroom was a big challenge for me as I had to accommodate two beds, a study unit, a vanity unit and a wardrobe into a compact space", says Neha. But she overcame this hurdle to design a room in these 2 bhk interior designs that the Shahs absolutely love! The vanity unit and the study unit are sleek, taking up limited space. Also, the hydraulic beds are an effective solution for added storage. As with the other rooms, Neha followed a neutral theme but added bursts of sunny yellow for a bright look.
"We are very pleased with the overall project execution. Neha has done wonders with the interior designs, giving us a splendid home to come back to everyday, while sticking with  the timeline and budget. I would highly recommend Livspace to anyone who would like to get their interior done on time and within a stipulated budget."

— Livspace Homeowner, Dipti Shah
Liked these compact 2 bhk interior designs in Mumbai? Check out how we transformed this compact Mumbai home with custom furniture.
We love hearing from you! Write to us at editor@livspace.com