Glossy finishes and metallic accents dominate this home!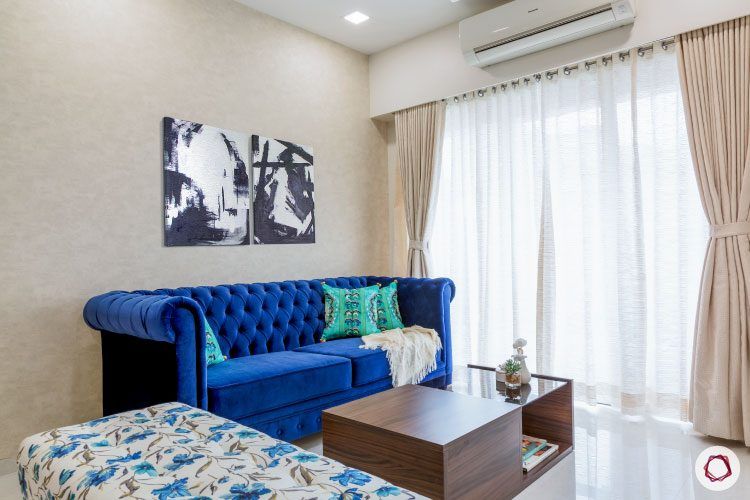 ---
Who livs here: Tushar Kawedia, his wife Neha, their 10-year-old son and his mother
Location: Gundecha Trillium, Siddharth Nagar
Size of home: 3BHK spanning 1,050 sq ft
Design team: Interior designer Vaishali Narvekar with Design Manager Vinita Bumb
Livspace service: Full home design
Budget: ₹₹₹₹₹
---
Tucked away in the bustling area of Thakur Village, stands Gundecha Trillium where Tushar and Neha Kawedia found their new home. It was a much-needed move since their last home in the same locality was a 1BHK and the family of four required more breathing space.
After a quick scroll down Livspace's Facebook page, the Kawedias got in touch with our design team. They briefed Vaishali Narvekar, our designer, that they wanted a modern home with open spaces and touches of artistic elements. They also wished each room had a touch of opulence as well. Here's a tour of their lovely home!
Gold Bliss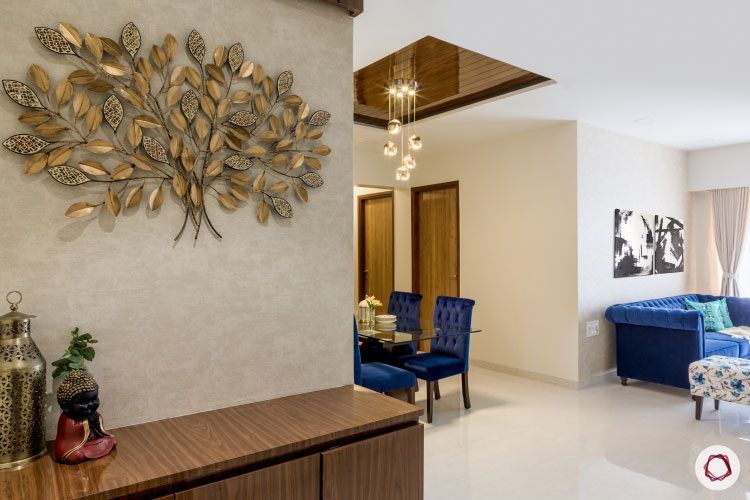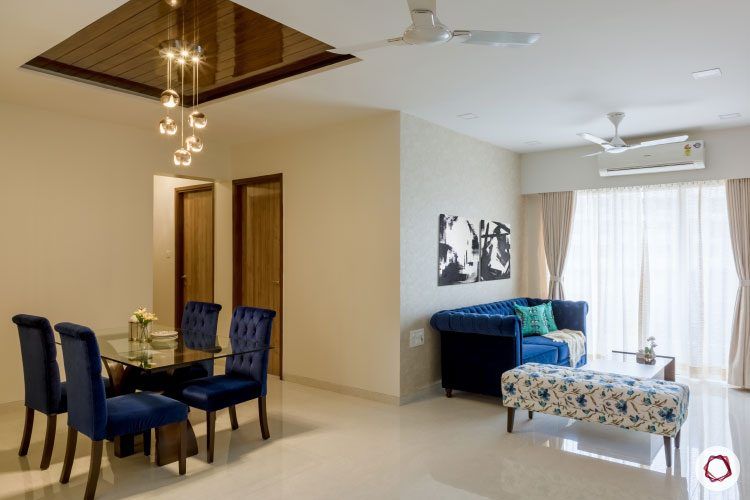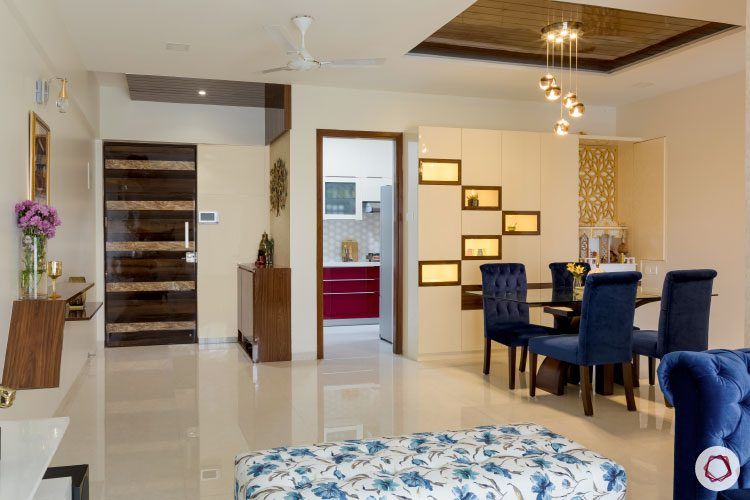 The entrance is a brilliant play of elements. With a subtle wallpaper and a beautiful tree of life metal accent, the elements instantly sets the tone of the house. Below it, sits a shoe cabinet with enough storage. A wooden panel above the metal piece extends up to the false ceiling, fitted with a spotlight at the center and adding warmth to the room. On the other side, Vaishali put up wooden ledges to display art pieces and flower arrangements. She also put in a slanting ledge to add a bit of intrigue!


Elegance Defined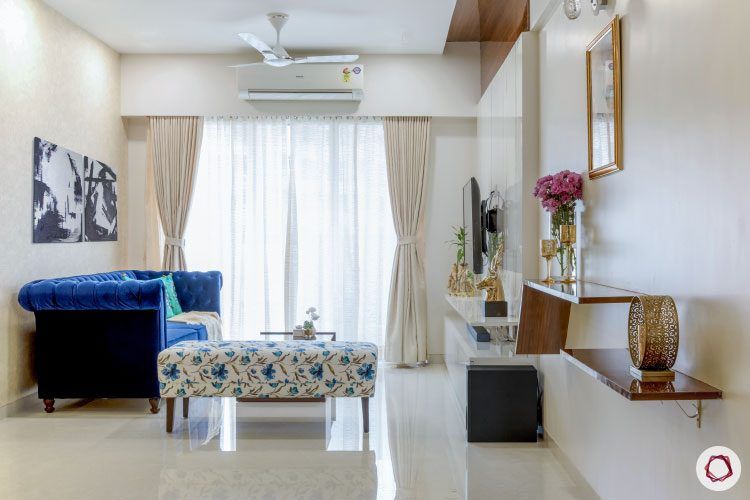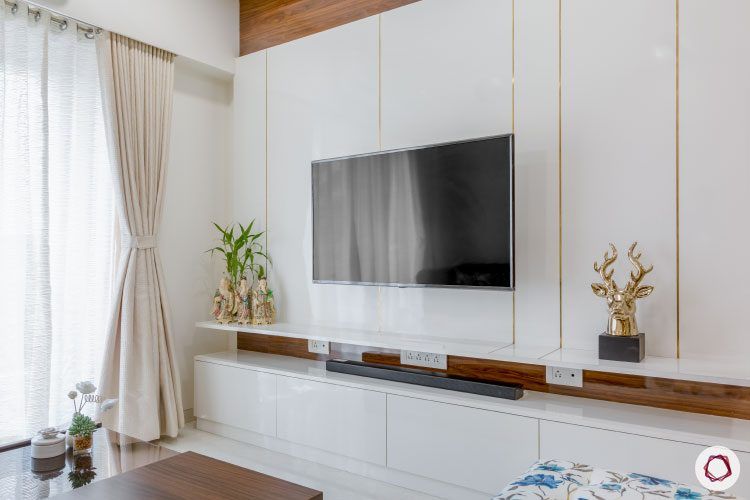 With a blue upholstered sofa and a floral sofa bench, the living room certainly looks inviting and modern! But the highlight of the room is the glossy laminate back panel with brass strips for the TV. It features a ledge as well to display accent pieces and a storage unit right below it. A wooden panel above the laminate extends to the false ceiling.
---
"We loved all the glossy laminate elements since it makes everything cleaner and smoother," says Neha. "Vaishali understood exactly what we needed and our point of view. She was with us throughout the process. We didn't have an issue anywhere!"
---
A coffee table with an open shelf to stash magazines holds the center of the room. And for a bit of personality, Neha's oil painting sits beautifully above the sofa.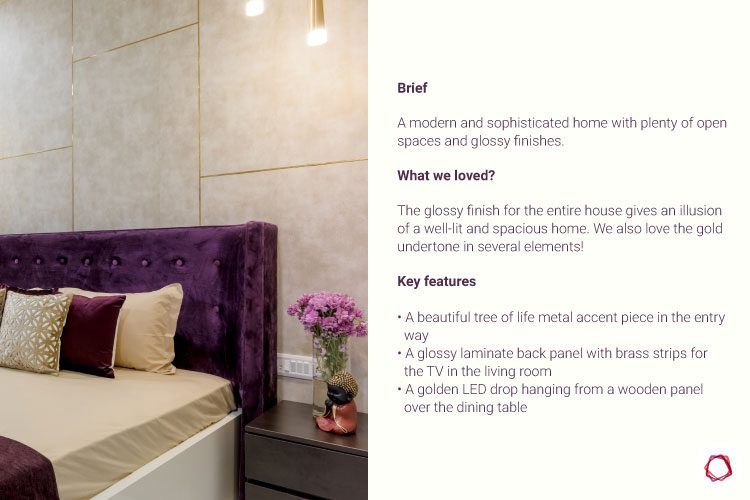 Dine in luxury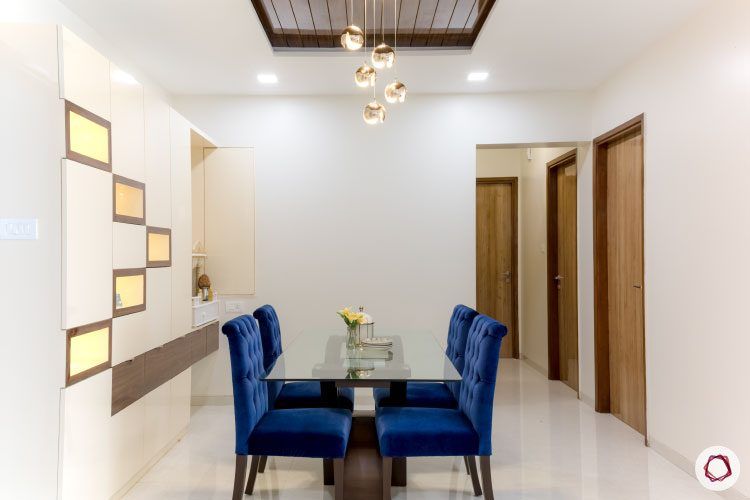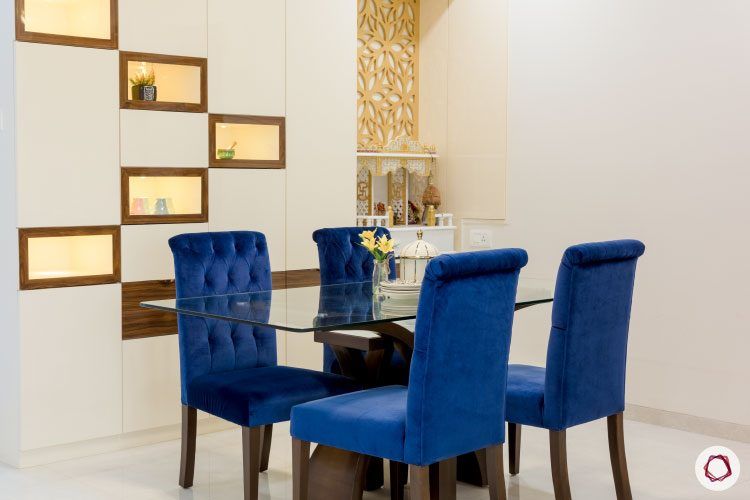 To match with the sofas in the living room, the dining room also features four blue upholstered chairs. And to take advantage of the space, Vaishali added a cabinet with open shelves and wooden outlines. Since the crockery cabinet had no handles, it gives an illusion of a wall panel. Spotlights were added in the open shelves as well to take things further up a notch.
Also, you can't miss the elegant LED drop that hangs above the dining table from a wooden panel.
Yellow Glow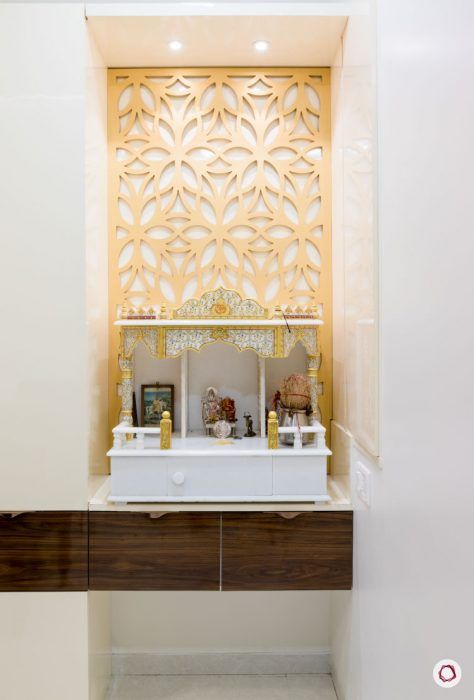 At the end of the storage unit, Vaishali crafted the perfect pooja corner. With a yellow cutwork jali, two spotlights and plenty of storage space, this is elegance and efficiency rolled into one.
No blurred lines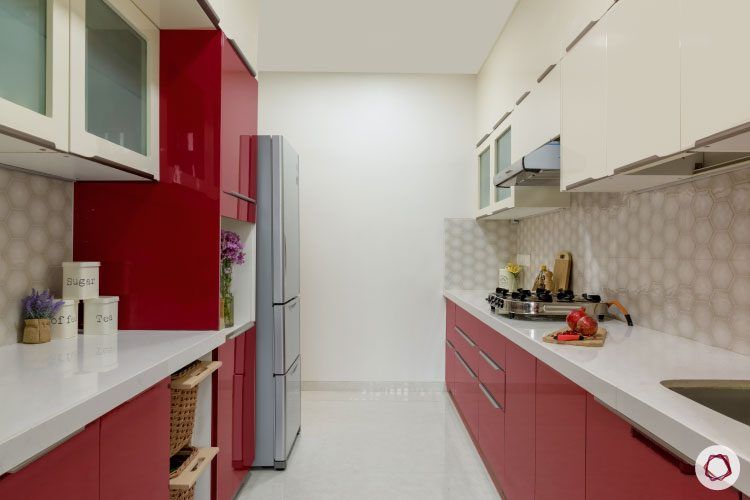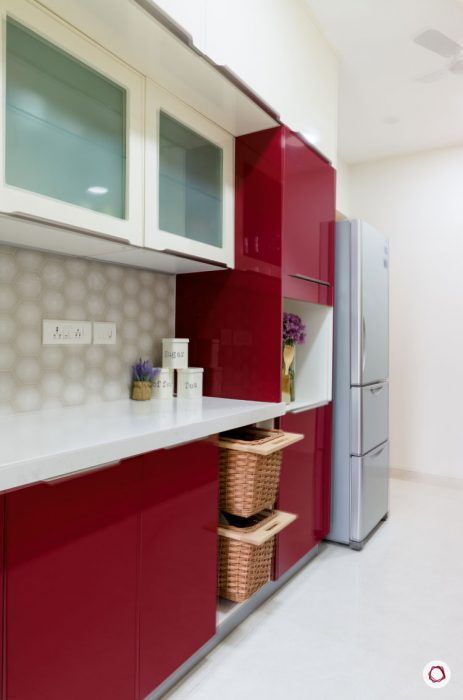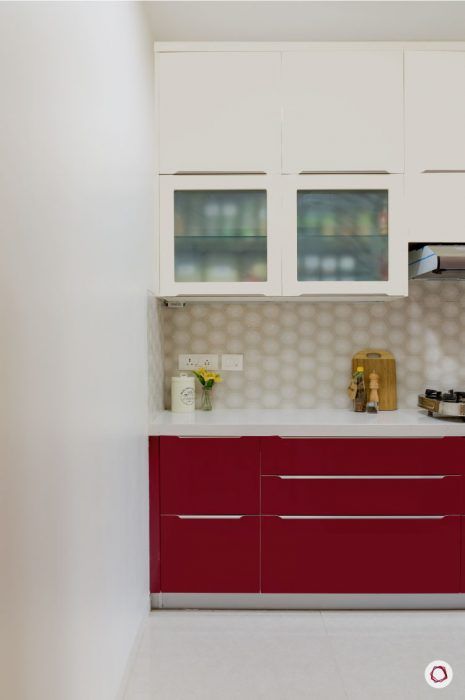 Neha and Tushar wanted a clutter-free and white based kitchen. "We didn't want anything to be in the open. It should always look crystal clean," says Neha. To achieve the look, Vaishali put in a white quartz counter and the walls were in white with a geometric design as well. She choose wine red for the upper storage units and the same glossy white finish for the lower cabinets.
As an extra bit of storage, two pull-out wicker baskets were added and another level of upper cabinets were put in as well. For the sake of smooth clean lines, none of the cabinets have handles too!
A touch of royalty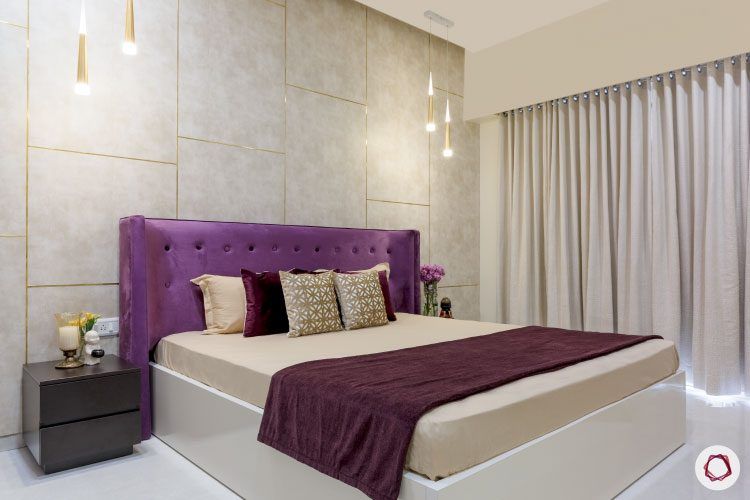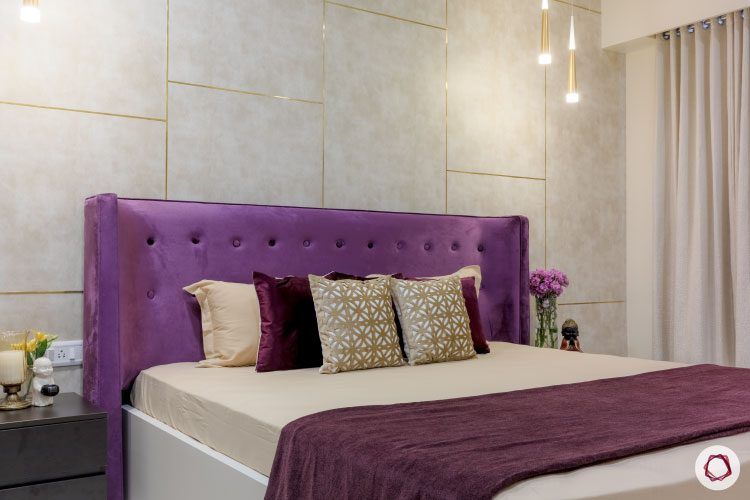 Luxury defines this regal-inspired bedroom. With a purple headboard and a matching glossy laminate wardrobe, the master bedroom makes a sleek statement. Vaishali wielded her magic with a subtle wallpaper and elegant brass strips to complete the look. The gold lighting drops above either side of the bed perfectly blends with the rich purple shade as well.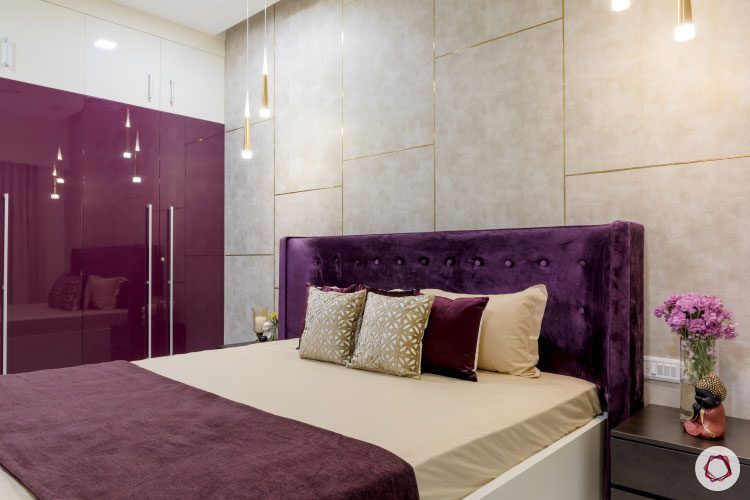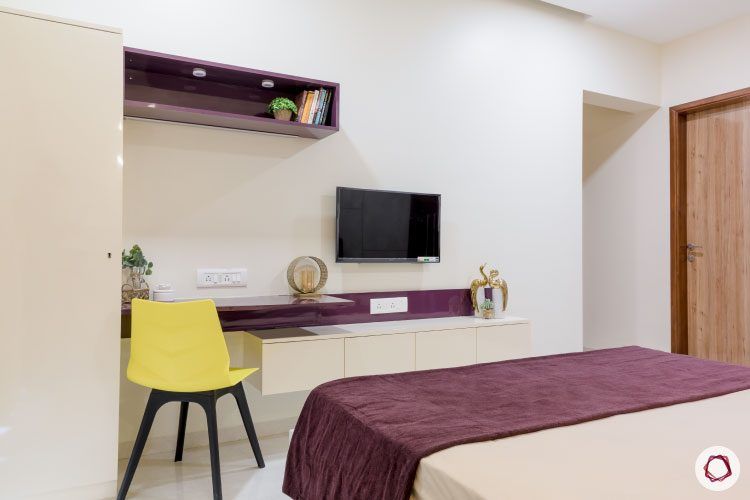 On the opposite side, she added a study table that doubles as a vanity corner. And above this, an open shelf in the same royal hue was fitted to keep their books.
Under the clouds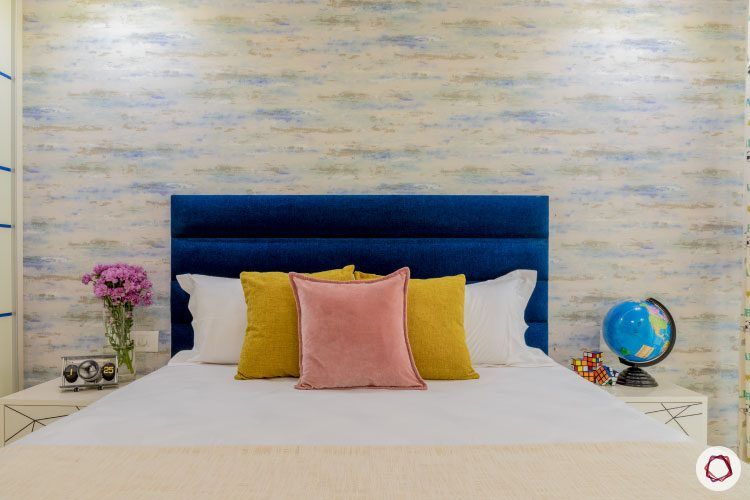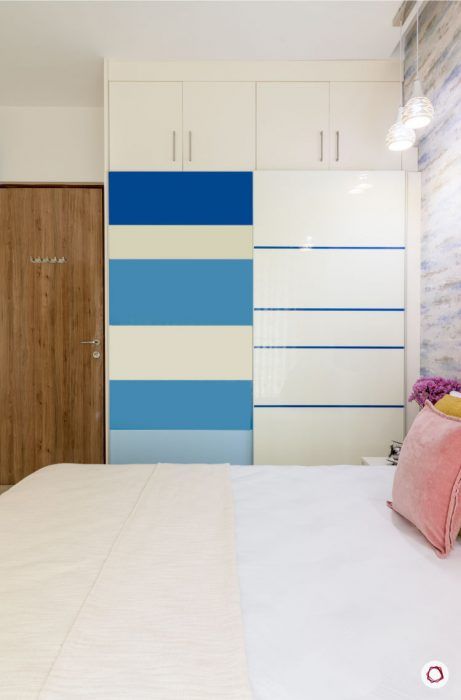 Set against a happy blue colour palette, the kids bedroom is themed around colours of the sea. The wallpaper behind the bed features blurry blue and grey clouds and the laminate wardrobes boosts of vinyl films in different hues of blue. The white bedside tables feature an intriguing geometric design that looks elegant under white lighting fixtures.
On the opposite side, Vaishali put in a study table that matches with the wardrobe and a blue chair as well. The white ledges hold toys and other must-haves for their 10-year-old son.
Subtle Serenity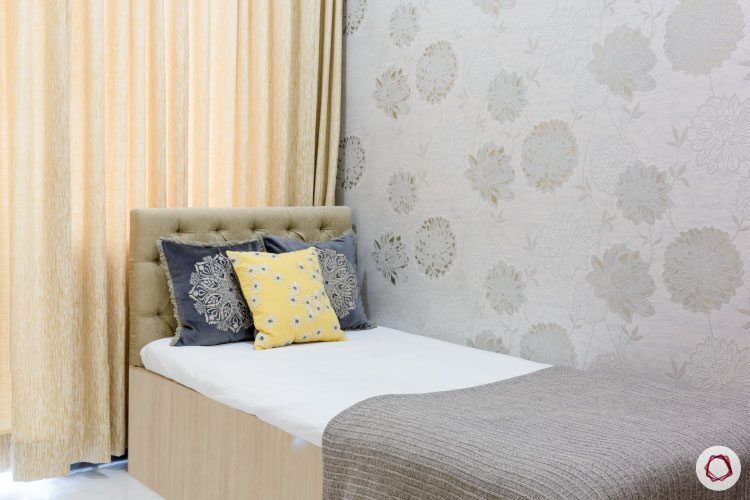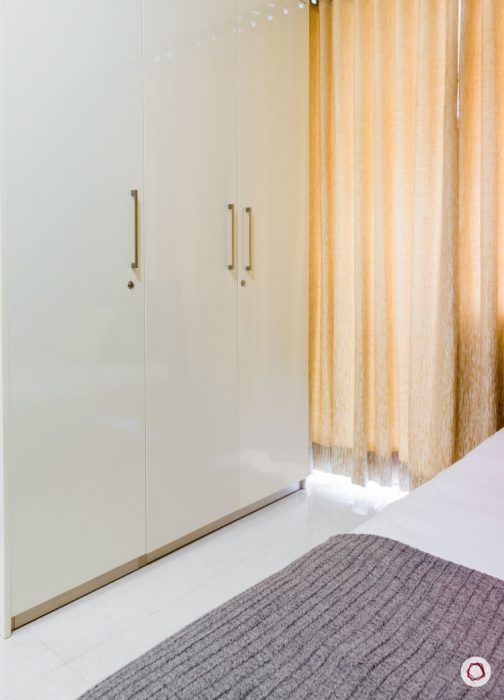 To an ordinary person's eye, the third bedroom didn't look like much could be done, since the room could fit in only essential furniture. But Vaishali enthralled Neha and Tushar's attention by putting a subtle grey floral wallpaper with a matching headboard for the bed. The wardrobes were done in a laminate finish with gold handles that reflected well with the white flooring.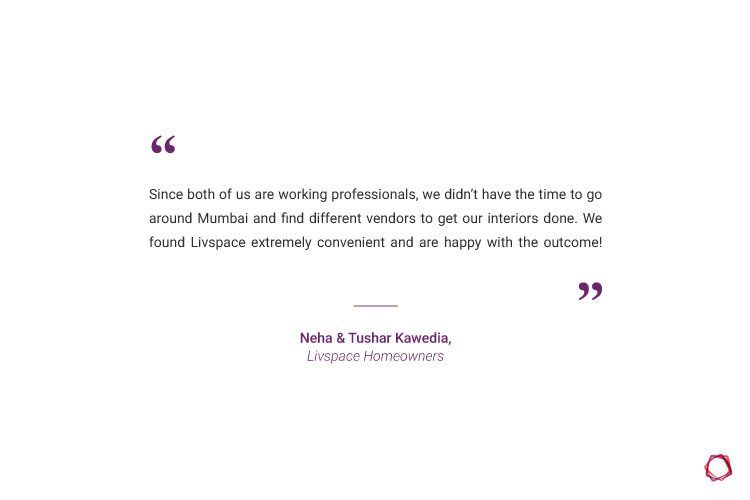 ---
"Designing Neha and Tushar's home holds a special place in my heart. They were very clear about what they wanted and it was easy for me to craft the designs. They were cooperative throughout the process. "

– Vaishali Narvekar, Interior Designer, Livspace

---
Loved this luxurious hometour? Take a look at this Bengaluru Home that Redefines Luxury as well.