This Delhi home design has been done up in a darker colour palette and it's unique!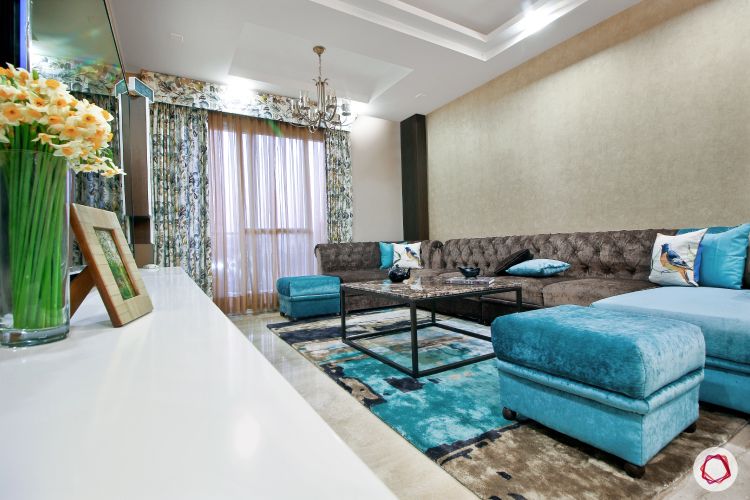 ---
Who livs here: Rohit Gupta with wife Neha and kids Kabir and Aiesha and Rohit's mother
Location: Lajpat Nagar 3, New Delhi
Home Size: 3 BHK spanning, 2,400 sq ft
Design team: Interior Designer Amar Sidhu with Quality Manager Anil Singla
Livspace service: Full home design
Budget: ₹₹₹₹₹
---
Sophistication meets grandeur in this uber stylish Delhi home design where a couple resides with their adorable kids. Lajpat Nagar, a bustling neighbourhood in South Delhi, famous for its market full of trendy clothes and accessories is home to this wonderful family of five. Hailing from Delhi and having stayed in this area for years made the couple finally buy their own home here.
Rohit Gupta, a businessman by profession, always wanted to buy his own home and get it designed. While they were looking online for the best interior designers in Delhi, Facebook suggested Livspace and Livspace suggested Amar Sidhu, to design their dreamscape. Some quick decisions and smart planning gave shape to this dapper apartment. Take a look.
A Unique Entrance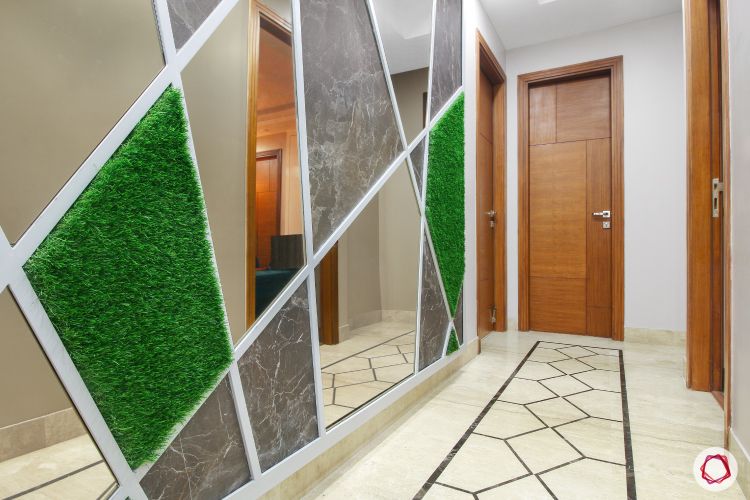 Rohit and Neha are both very fond of greenery and believe that a home should always feel fresh with flora in it. When you enter this classy address, you are greeted by a geometric wall panel that has sections of tinted mirror, artificial turf and stone. Yes, this is the perfect entrance to a chic home!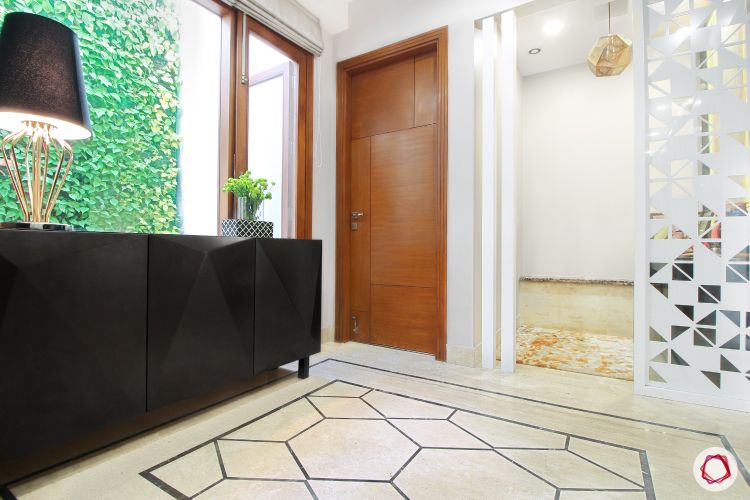 Make way for more natural greenery as you move towards the ultra matte finish console table in super black. Behind the console table is a shaft that houses a live vertical garden to satiate their love for plants. The couple can enjoy their morning cup of coffee besides a live green curtain!

Opulent Living
The large living area where the couple entertains guests very frequently has been given a lot of seating space. A rich colour combination of dark brown and teal dominates this room, with abstract floral print drapes with a matching pelmet. Spaces like this make for memorable moments with family and friends!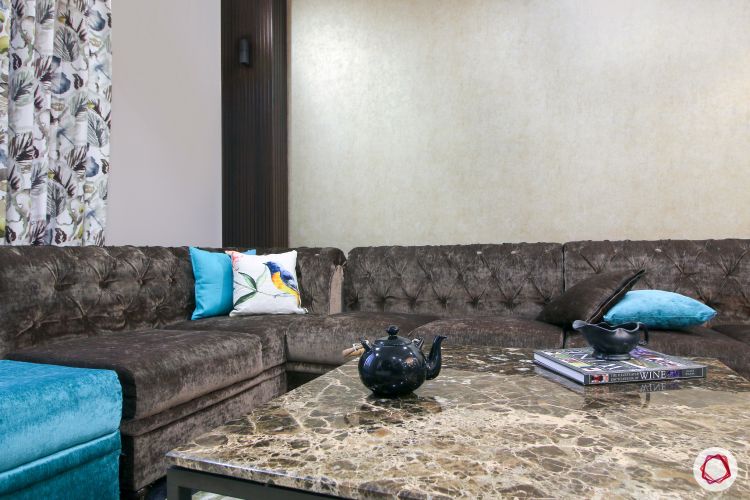 Dark brown and teal are the ruling colours in the living room, with suede chesterfield sofas filling this space with an air of elegance. The Italian marble top center table is minimalistic, yet a classy addition to this room that complements the colour scheme beautifully.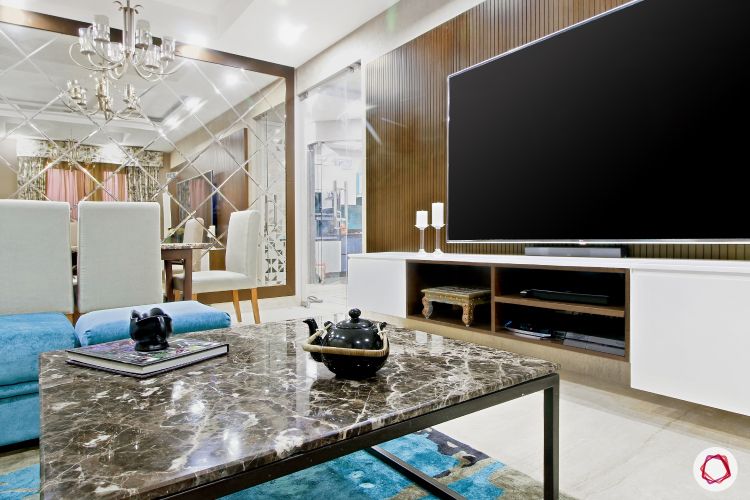 A wall-to-wall TV unit in veneer and high gloss white duco finish laminate sits amidst all the action in this living room. Since the couple enjoys watching matches and Nexflixing with friends, this home theatre system is a essential part of the home!
Dining Together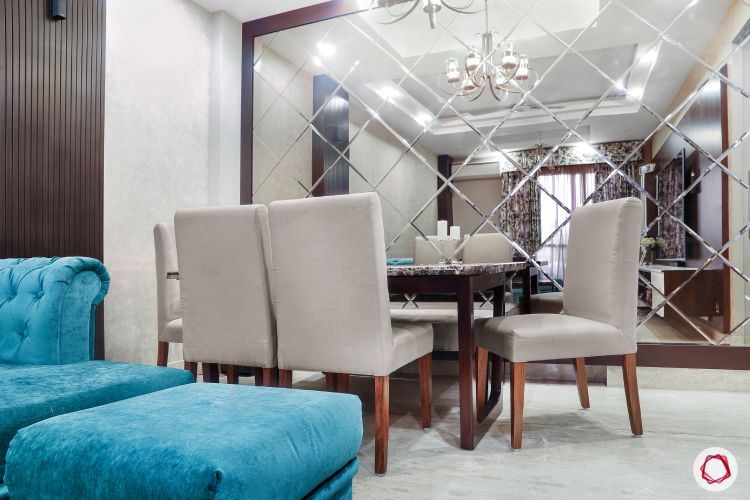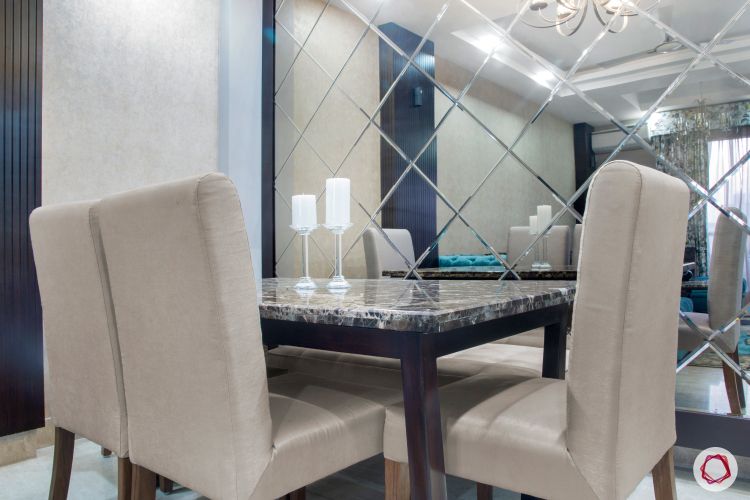 The most striking feature about this dining room is the brown tinted mirror panel, with diamond cuts that create a wonderful accent wall. The simple reason behind giving the couple this mirror wall was to create depth in the room. A brilliant idea given by Amar, we must say!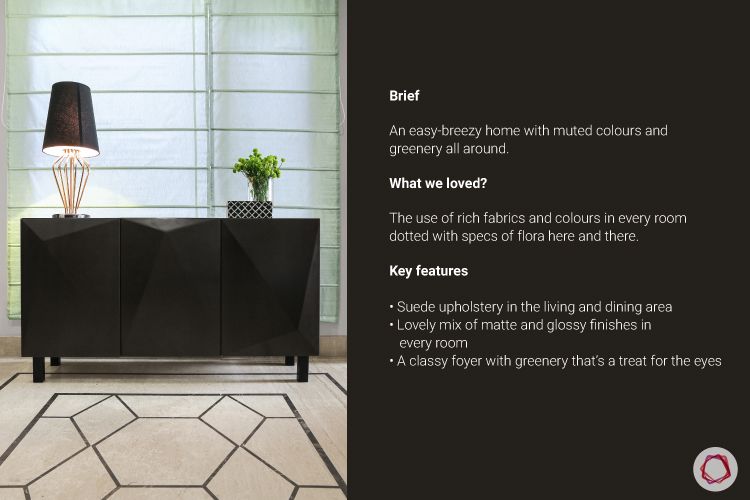 A Fun Zone for Boys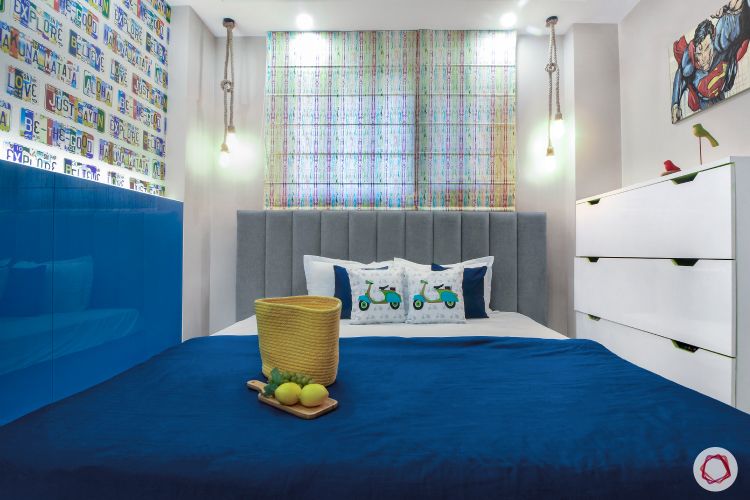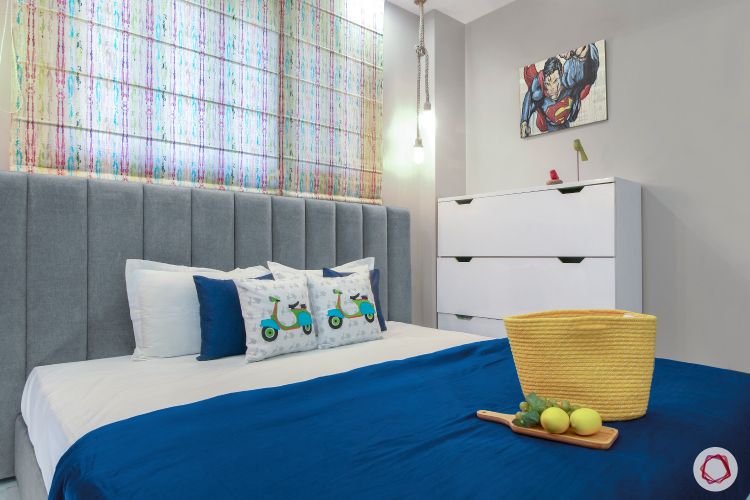 This kids' room is such an escape for the little ones with enough space to hold their world! The duco finish chest of drawers is the answer to all their toy storage woes. Given that kids are often careless, the bed is a fully upholstered one with no sharp edges. What adds to the entire theme, you ask? Well, just look at those Edison bulbs hanging on ropes. Classic!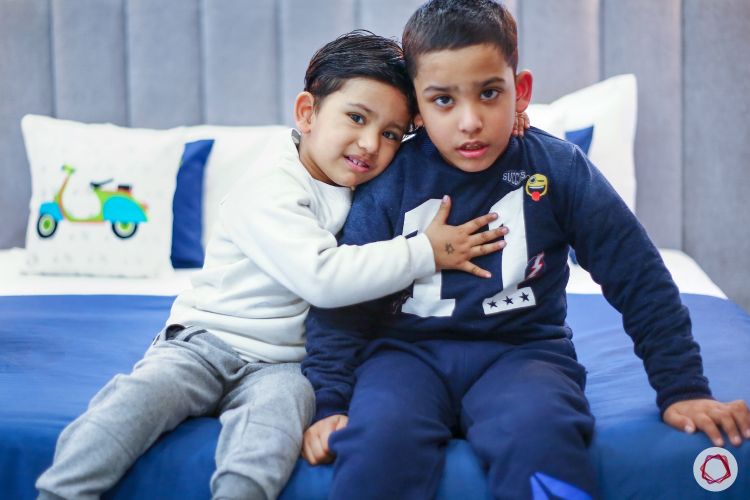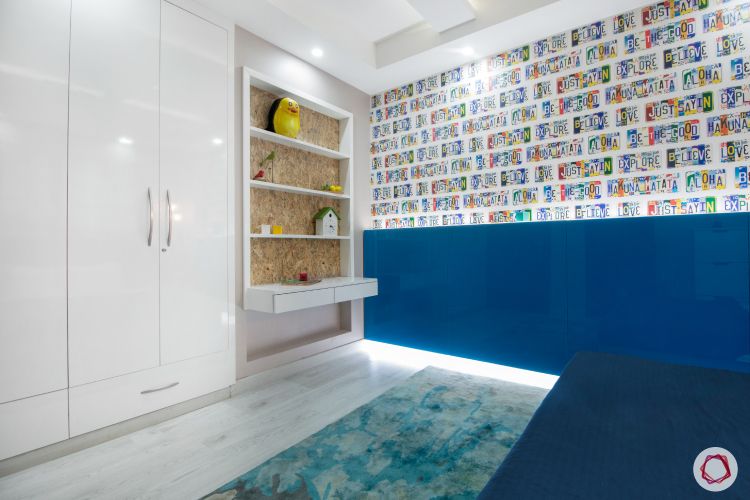 Did you look at the two innocent but extremely naughty faces? These little angels are very fond of destroying walls with their little hands. So, Amar suggested a lacquered blue glass wall, so that the kids can display all their creativity on it and maintenance is never an issue again! A busy and trendy wallpaper sits atop the glass panel and a modern study table with a classic peg board seals the deal.
A Treat for Guests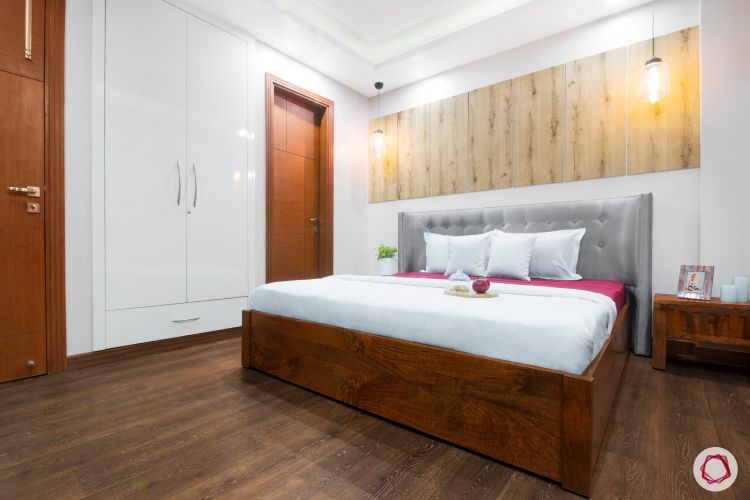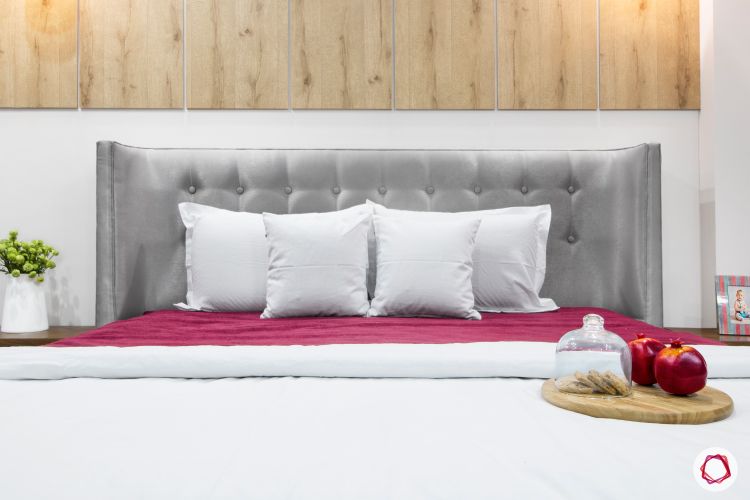 The guest bedroom, which is used by Rohit's mom, is as simple as it gets. WIth minimalist design aesthetics, this room has everything essential. A light laminate panel atop the wingback headboard sits right opposite the TV unit. Essentially elegant is what we would like to call it!
A Retreat for the Couple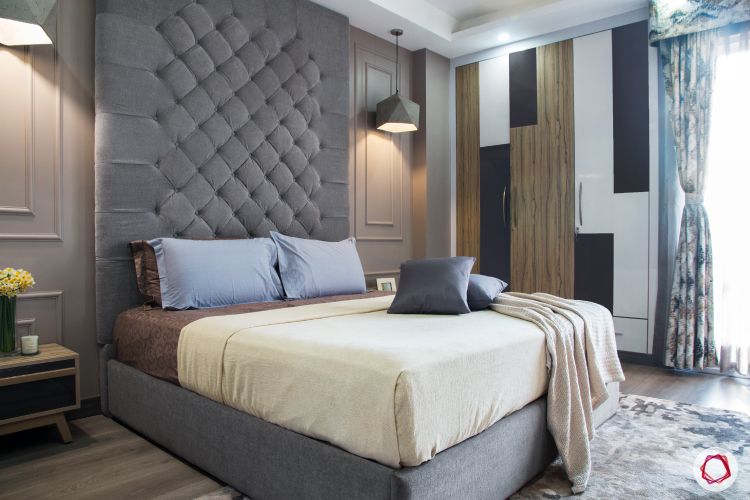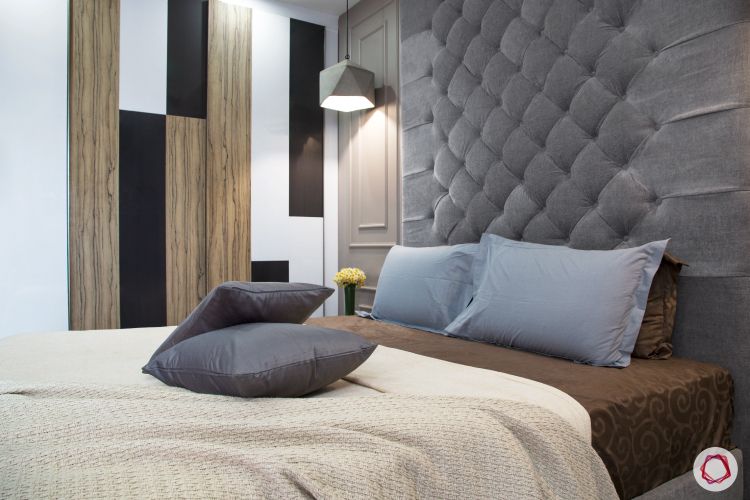 The master bedroom is so serene that we almost instantly fell in love with it. It has been done up with wooden flooring, a fully upholstered bed with button-tufted headboard that runs from ceiling to floor, and a panelled wardrobe are the highlights of this room.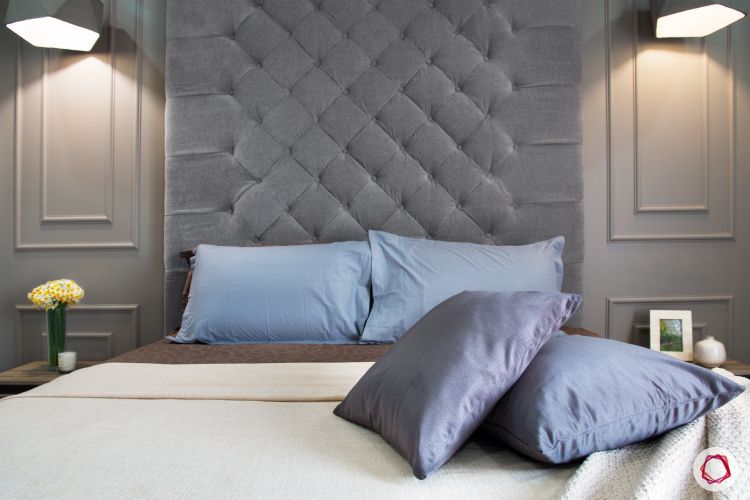 The cemented wall hung lamp shades set against the moulded wall gives this room a classy appearance while keeping it earthy and earm. The earthy grey colour blends in perfectly with the bed making this room totally insta worthy!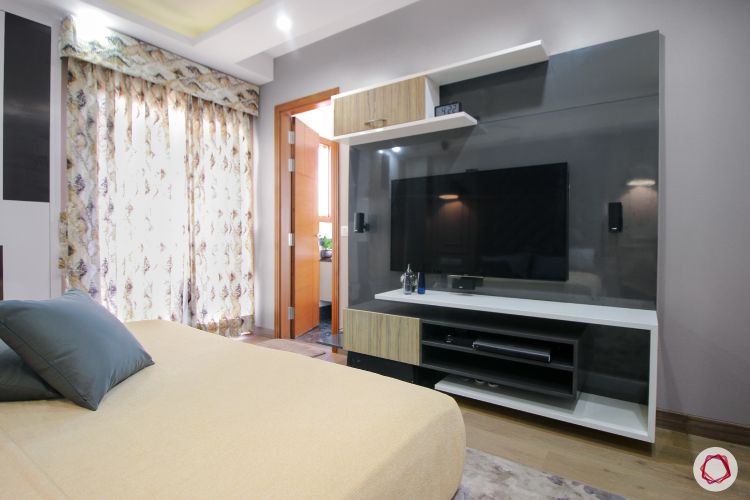 Since the couple is into gadgets and gaming, they had to have a home theatre system in their bedroom as well. We built this TV unit especially for them, replete with ample storage. It's perfect for people with a lot of gadgets. We topped off the unit in high gloss and matte finish laminates in grey and white.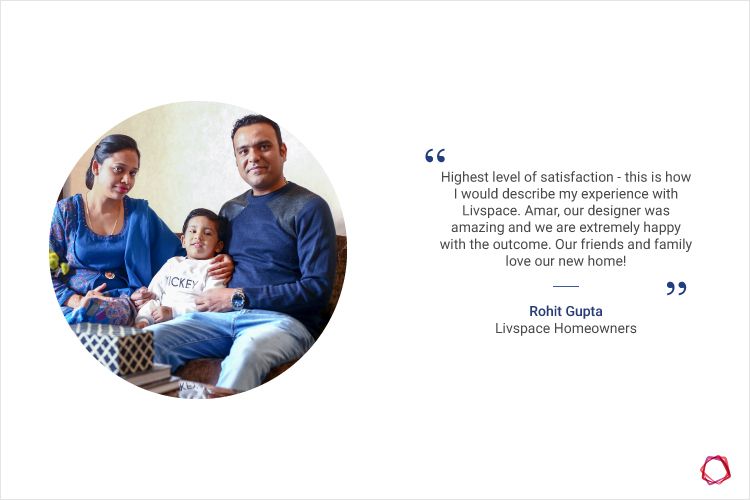 ---
"This was a great learning experience for me as a designer, since the couple instilled complete faith in me and my designs. I totally loved working on this project and this definitely adds a feather to my cap!"
– Amar Sidhu, Interior Designer, Livspace
---
Before you take off, here's another earthy home for you!
Let us know what you loved about this home!