Once called a Pensioner's Paradise and the Garden City, Bengaluru is now the beating heart of the IT sector in India and our very own Silicon Valley. Namma Bengaluru has many feathers in its cap that represent the different aspects of the city. So when it comes to interior decoration for flats in Bangalore, we see some distinctive trends.
Being in the business of making beautiful homes, we are more than interested in knowing about the trends that capture Bangalore's taste in home interiors.
5 Things we See in Interior Decoration for Flats in Bangalore
Neutral palette with a pop of colour
Functional and contemporary designs without too many frills
Easy-to-maintain interiors
Plenty of warm, wooden tones
Turnkey solutions that solve real home design problems
Now that we know what defines the homes of Bangaloreans, let's get some inspiration on our plate.
Top 5 #LivspaceHomes That Showcase Bangalore's Taste in Home Interiors
#1: Home for the busy working couple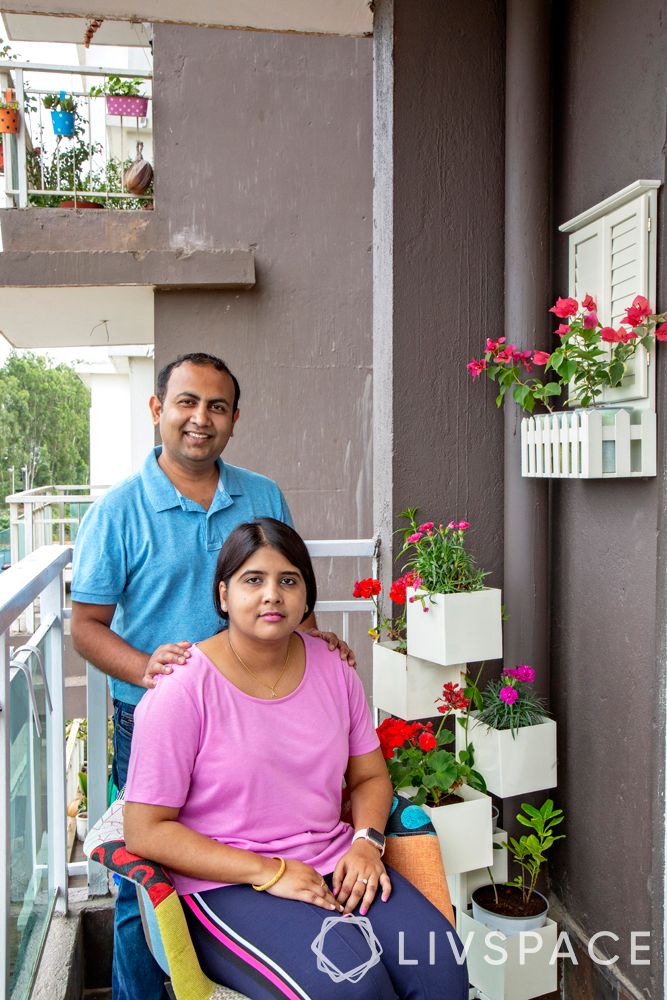 Alok and Ratika's suburban home in Bangalore is an apt example of what millennial couples want. The busy pair wanted a place to come back to after work where they could unwind and relax. To achieve this, our designer, Shafiqua S, used designs that were both breezy and functional.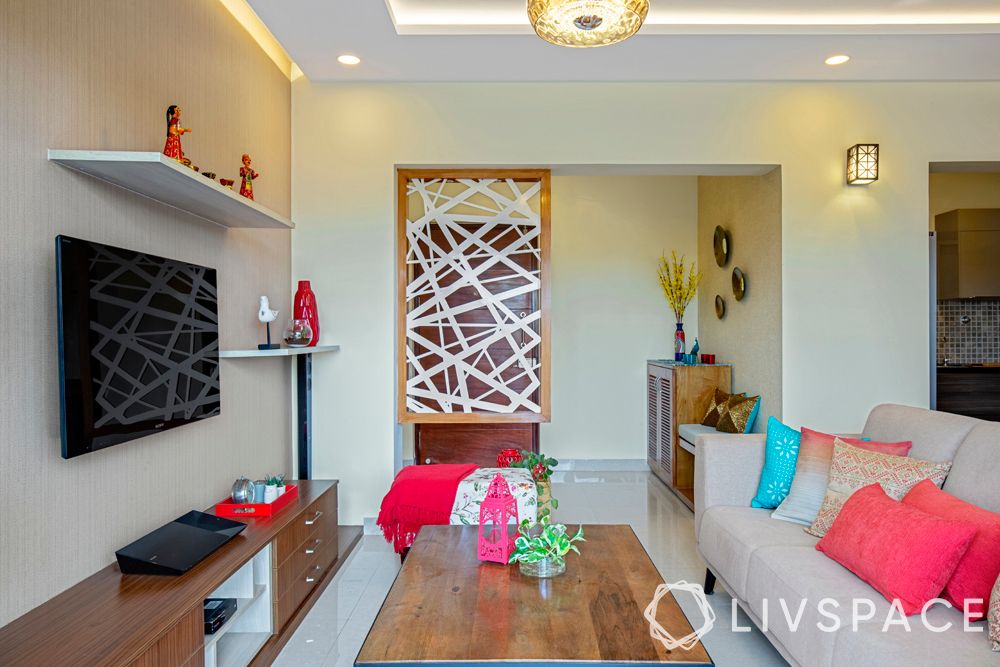 At a glance, you might feel that this home has a lot of popping colour. But look closely and you will see that the basic colour palette is neutral. The pops come from a carefully selected range of soft furnishings and accessories.
Design Takeaway #1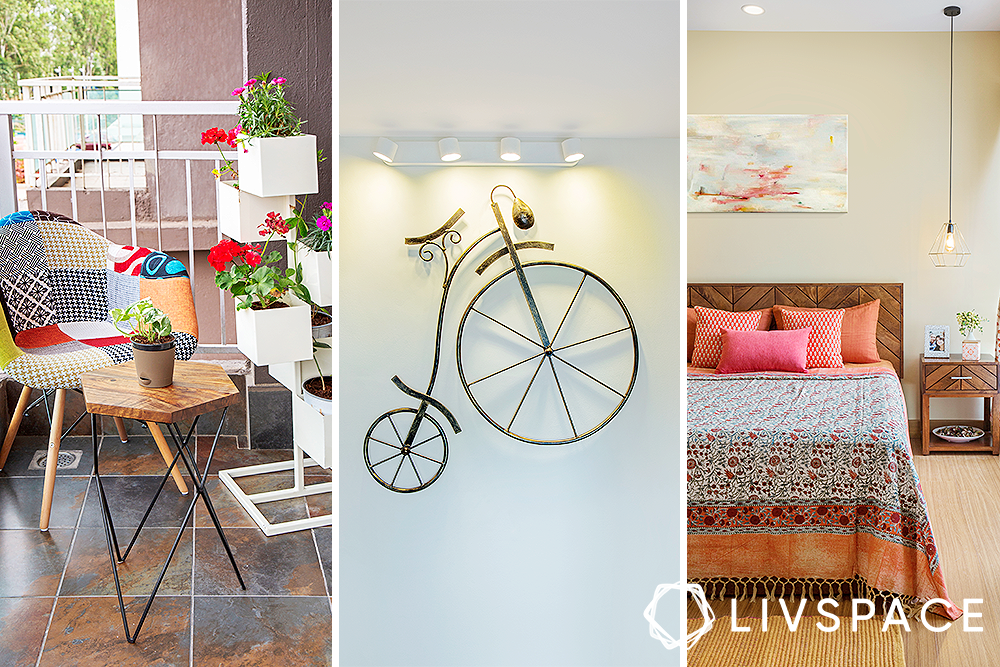 If we had to describe this 3BHK in one word, it would be youthful. So what about this home makes it look young and alive?
Designer Takeaway #2
For more images of this home, click here.
#2: Compact home for a couple with a kid
Just like our previous couple, Swati and Gaurav also come in the bracket of 30-somethings. But this young pair have a toddling munchkin, too! So our designer, Gautam Gupta, designed their home as per their family's needs.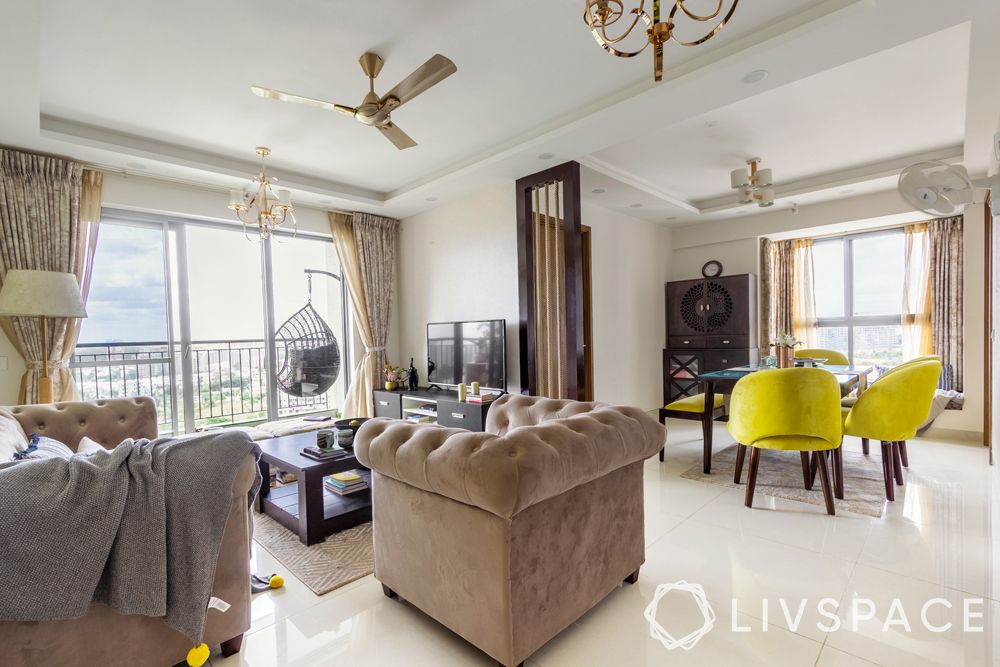 These cosy Chesterfields look good enough to sink into! And the yellow dining chairs in the corner give a sunny disposition to this home. Did you notice the rounded backs of these chairs?
Designer Takeaway #3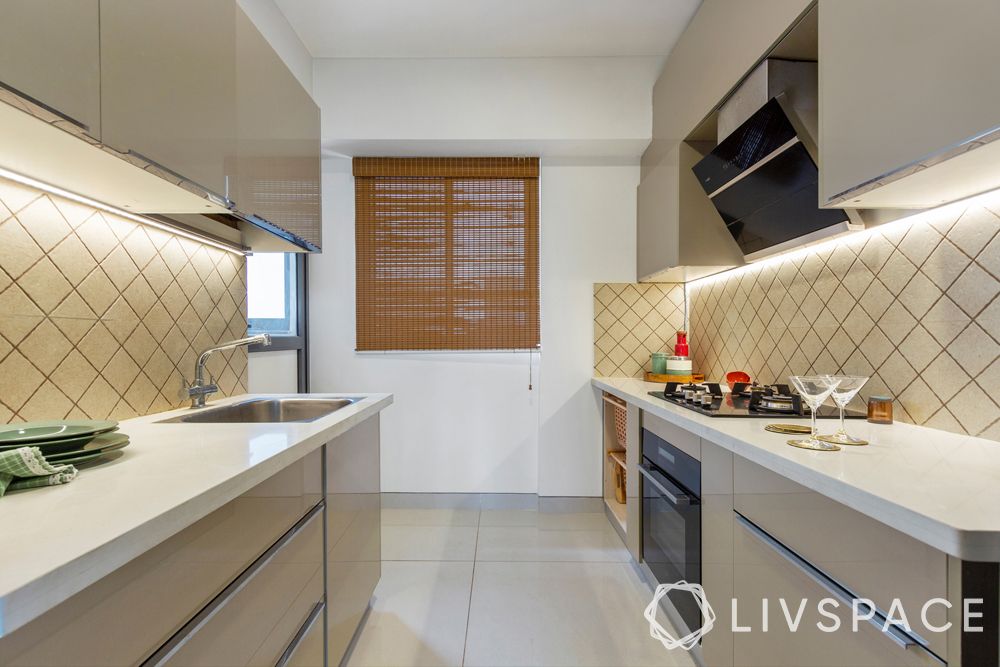 This high-end, heavily accessorised kitchen is where the couple has invested the most. It is special because it was built keeping the existing backsplash intact. Designed for efficiency, the kitchen is fitted with an oven and wicker baskets, and all the lower cabinets are drawers for easy access.
Design Takeaway #4
To see more inspiring images from this home, click here.
#3: Renovating an old kitchen in the Pensioner's Paradise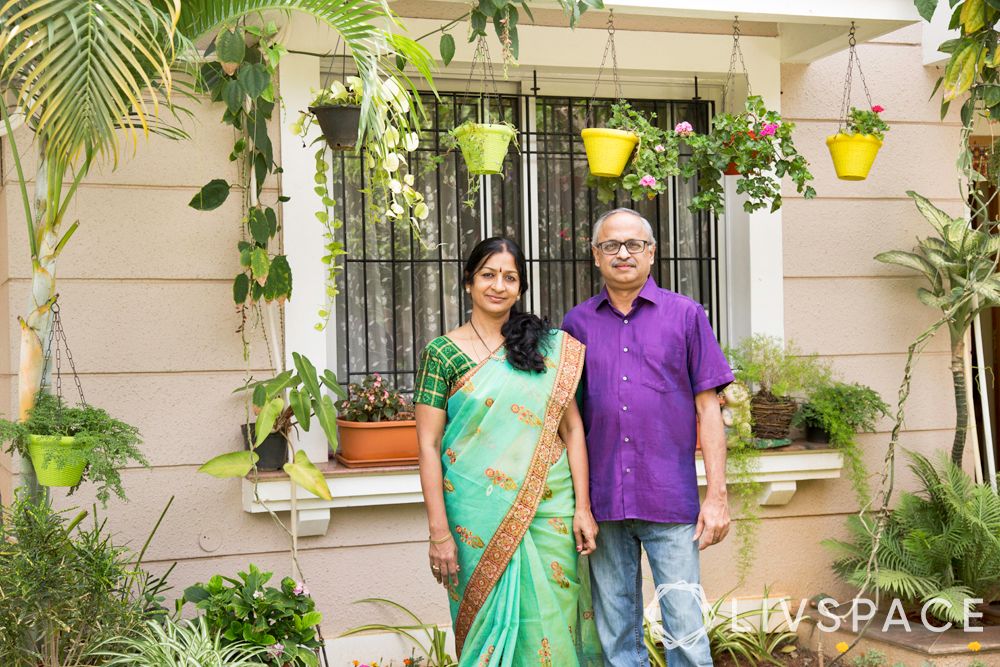 Rama and Ramesh's Jakkur villa gives us a peek into the old and peaceful Bangalore. Nestled among the greens, their home has an idyllic vibe with travel curios and framed photos of children living abroad. Their kitchen, which has walked the road from the old town to the new tech city, has a story to tell about interior decoration for flats in Bangalore.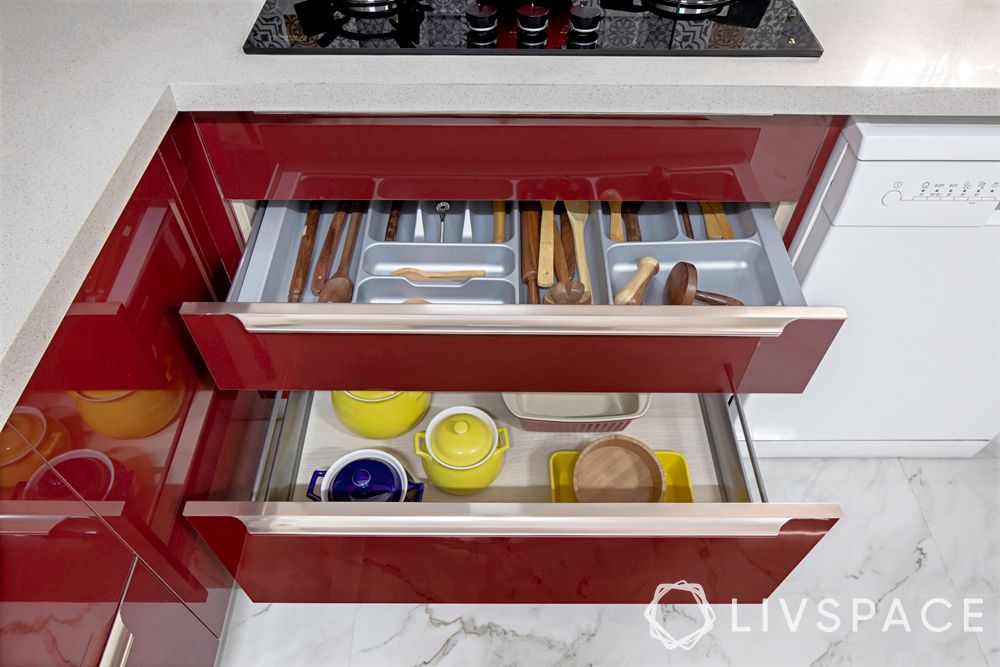 Their U-shaped kitchen was a spacious one but our designer, Smitha Mole, moved a few things around for practicality. For instance, the dishwasher was placed next to the sink, where it should typically belong. She also installed a tambour unit with a roller shutter to accommodate the smaller appliances that usually take up the counter space. Most importantly, the cabinets have tandem boxes to accommodate Rama's huge cooking vessels.

Design Takeaway #5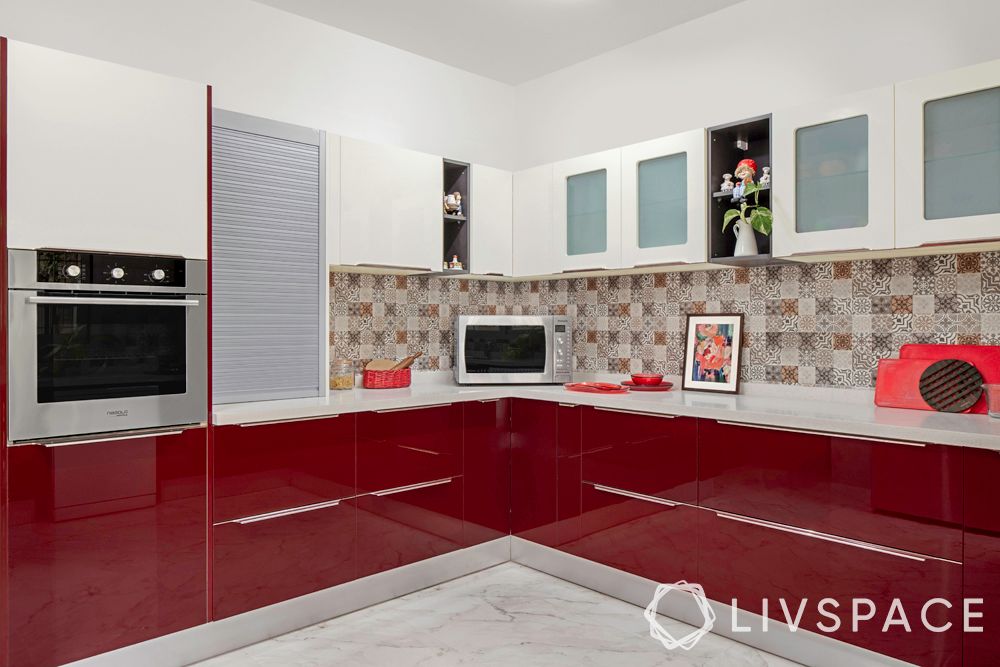 Apart from the sheer functionality of this kitchen, its vibrant wine red appeal is not lost on us. The cabinets have an acrylic finish so that cleaning is an easy chore for Rama or her household help.
Design Takeaway #6
To take a closer look at this kitchen, click here.
#4: A home celebrating singlehood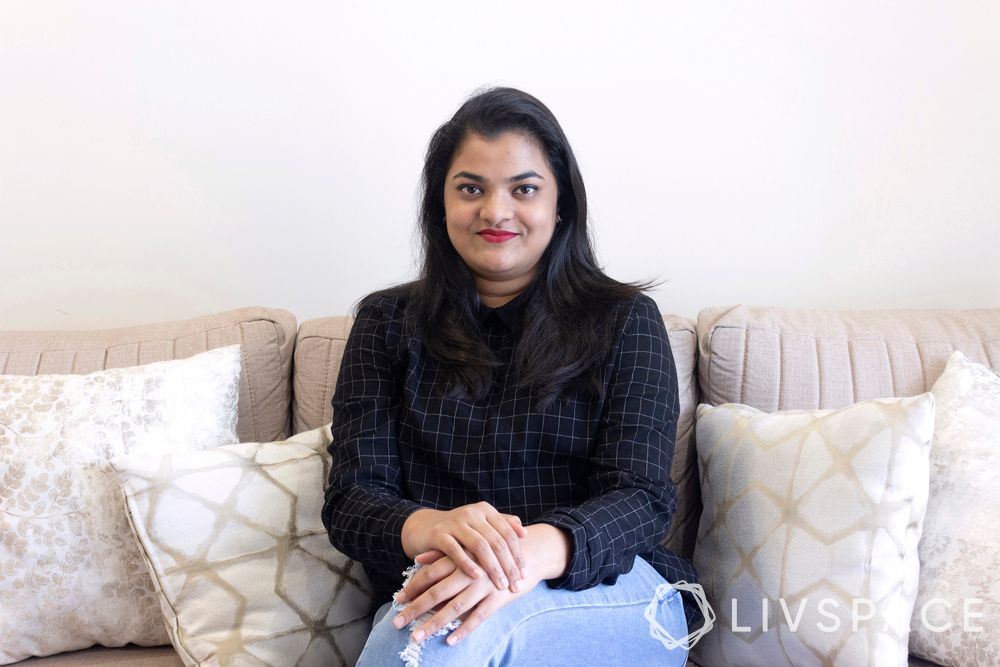 It's not every day that we come across a young and single woman like Shruthi Kolagad designing a space that is solely for herself. But thankfully, the number of singles (men and women) buying homes just for themselves is growing and designing for one person is a new kind of goal. It is a goal that our designer, Sushritha Surya, achieved by leaving an imprint of Shruthi's personality everywhere.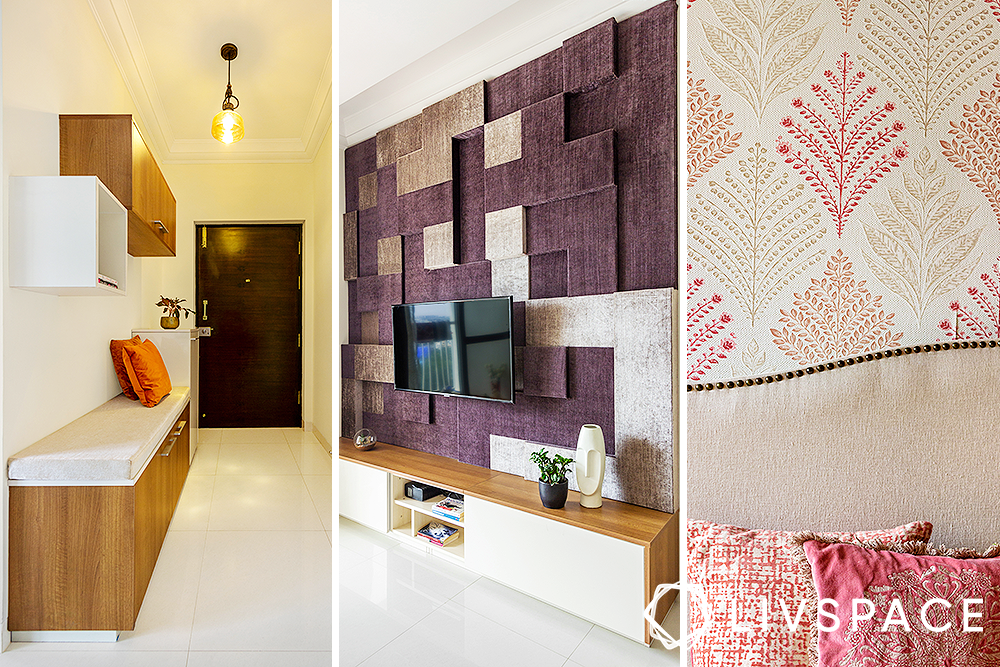 The highlight of this home is its fabric-panelled TV unit that gives a 3D effect to the wall. We love how creatively this piece comes together and also how plush it looks without being exceedingly expensive.
Design Takeaway #7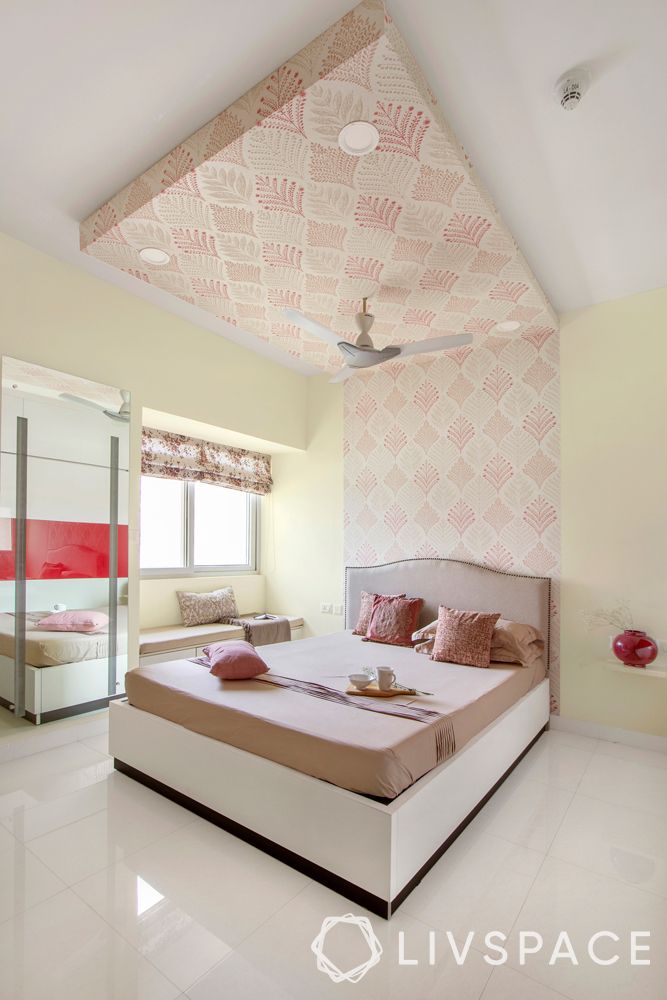 A home is all about warmth and this warmth often comes from the people who live in it. But for those that live alone, home interiors must provide this element of cosiness to make them feel at home. A classic example of this would be the canopy-like detail in Shruthi's bedroom. The designer has used a wallpaper that extends from the headboard wall to the ceiling, making a cosy sleeping space for Shruthi.
Design Takeaway #8
Cosiness is a function of design and not space. Even large spaces can be cosy.
To take a full tour of this home, click here.
#5: The classic home for NRIs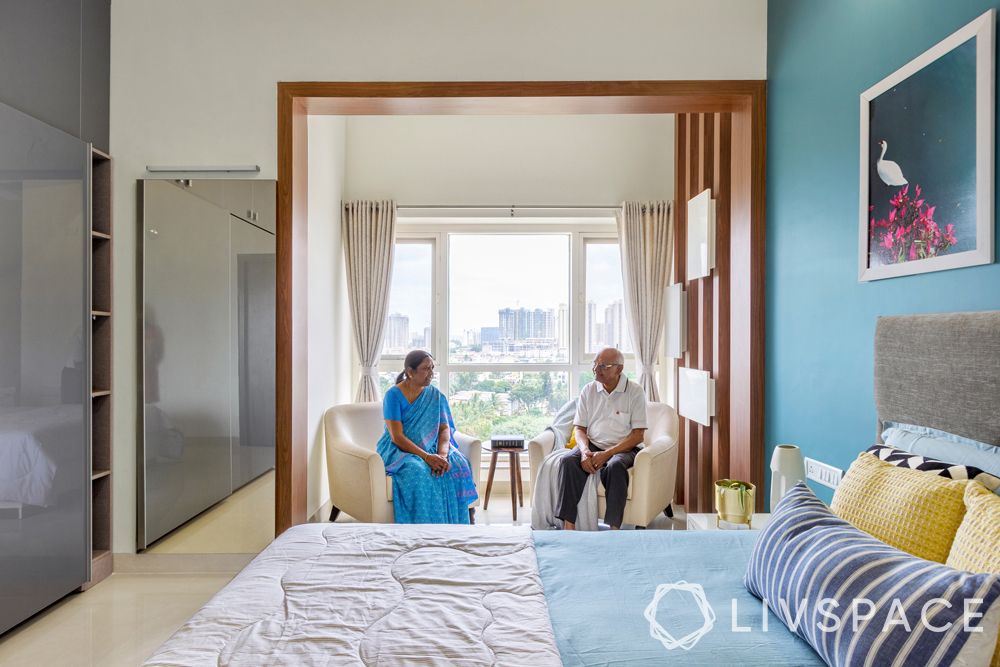 Dennis Francis and his wife have never really stayed in their Salarpuria Sattva home in one of the more posh localities of Bangalore. In fact, they were not here even when the home was being designed. It is Dennis' elderly parents who stay in this remotely designed 3BHK apartment. While this might seem strange to others, the story is quite common in Bangalore as a huge portion of the IT workforce keeps travelling overseas.
The design team made their choices accordingly to ensure that when the NRI couple return home, they find it to their liking.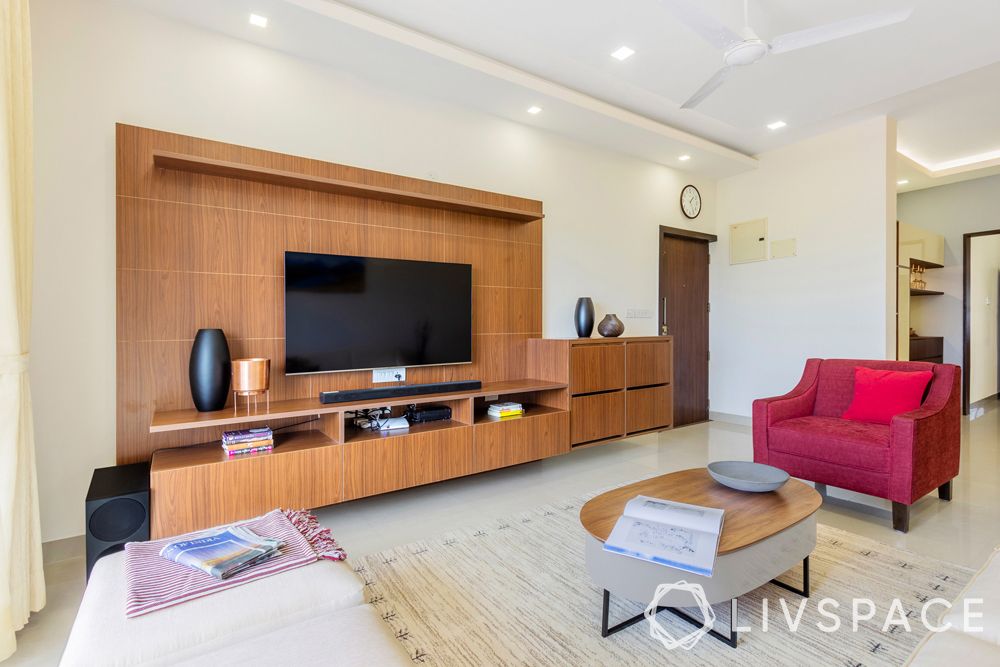 Notice how every piece of furniture in this home fits like a glove? It's because every single item is custom-made on site. This is a bit of a trend we see in NRI homes. Having travelled and lived abroad, people develop a taste for furniture that is not necessarily available from catalogues in the Indian market. So customising is a good idea.
Design Takeaway #9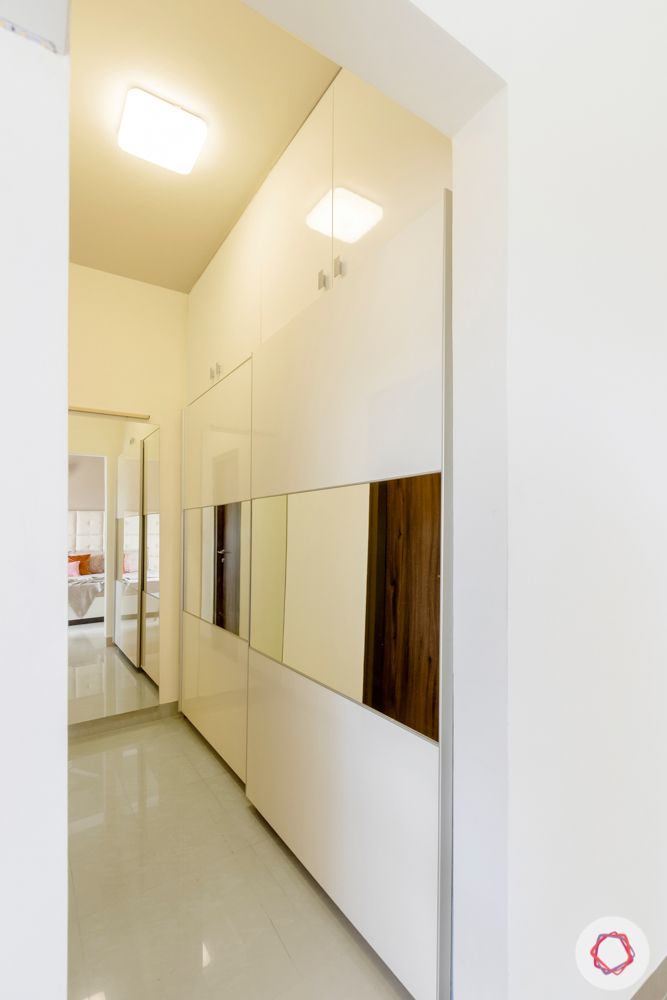 This walk-in wardrobe is a testament to the way an NRI envisions his/her home. They pick concepts and ideas from their life abroad and we Indianise them for their homes. The walk-in wardrobe, in itself, is a Western concept. However, a typical walk-in wardrobe abroad has no shutters. In India, thanks to the dust concentration in the air and security concerns, that is not an option.
Design Takeaway #10
A home is a product of its location and we must design it to fit its surroundings accordingly.
Take a full tour of this home here to learn more about interior decoration for flats in Bangalore.
Check out this minimal and luxe Bengaluru home:
We love hearing from you! Write to us with your comments and suggestions at editor@livspace.com