This 6 BHK flat in Hiranandani Bangalore has everything you could wish for.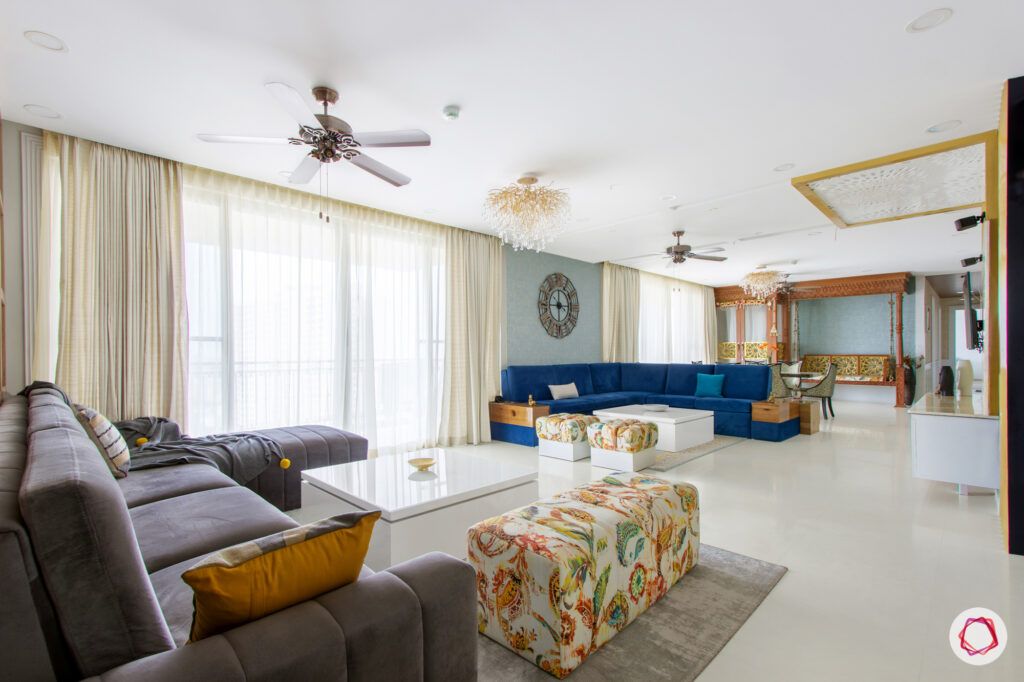 Who livs here: Sandip & Sarika with their three kids and his mother
Location: Hiranandani Hillcrest, Bannerghatta Road, Bengaluru
Size of home: 6BHK spanning 2,500 sq ft
Design team: Interior designer Srushti Angolkar & Design Manager Praneta Katariya
Livspace service: Full home (design only)
We are all perpetually fighting for space. Bigger cabins at work, bigger cars on the road and of course, bigger homes for personal space! But space is a means to an end, and not an end in itself. In other words, space is relevant only when it is used well; in terms of homes, we would say have to say, designed well. And this Hiranandani Bangalore home is a testament to lots of space being put to very good use.
Sandip and Sarika Sancheti own this 6 BHK flat that has no dearth of space. So they employed Livspace designer Srusti Angolkar to design it for them. As this was a family of six, Srushti expected a mix of opinions in terms of design ideas. But the unique aspect of this family is that they believe in respecting each other's space. So Srushti was free to personalise different rooms in the house as per the tastes of individual family members. The result is a home that has a reporterie of different styles that fit together into a seamless unit.
Let us take you through an exhilarating journey through this brilliantly designed home that has a 'wow' element in each room!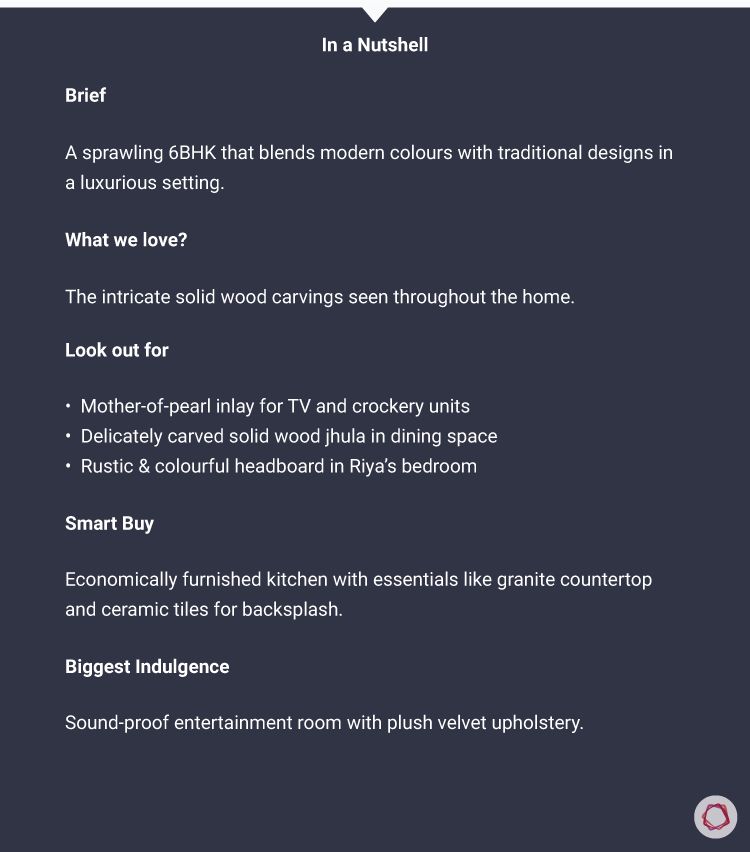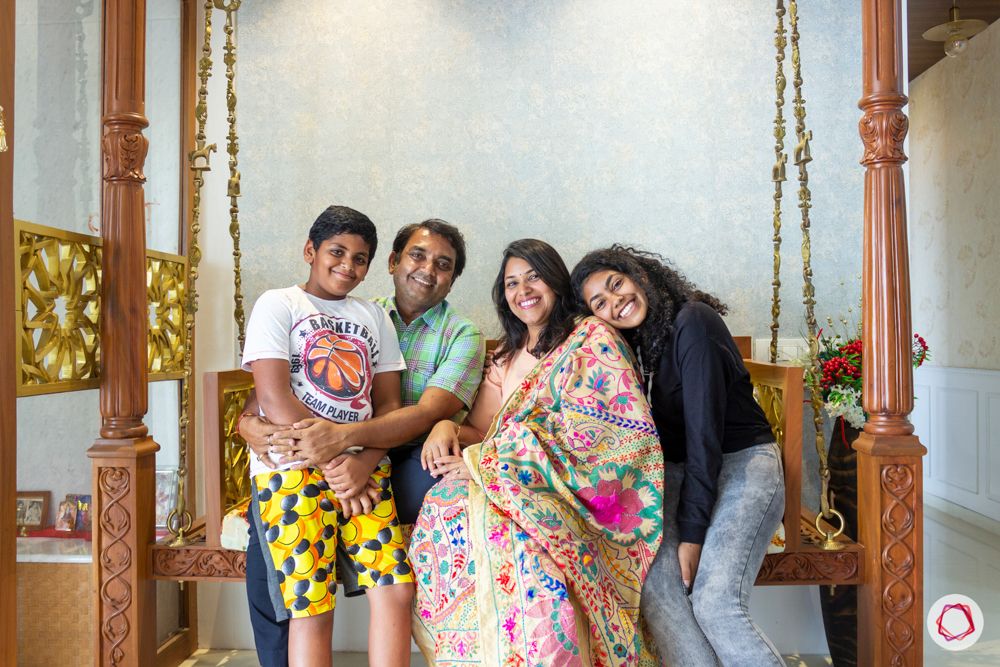 Hiranandani Bangalore Home Formal Seating Arrangement
This 6 BHK flat is a combination of two 3BHK apartments. Hence, Srushti was faced with the challenge of designing an immense hall that stretched out in one line. Thankfully, Sandip and Sarika wanted to have the living area split in two; one seating arrangement for formal gatherings and another for the family.
This area covered by the blue L-shaped sofa and printed ottomans is the formal seating area that faces the TV unit, which has onyx stones for the back panel. Full points for novelty, but our favourite part is the jaali design over the back panel that continues to form the false ceiling. Also, don't miss the mother-of-pearl inlay on the base cabinets of the TV unit!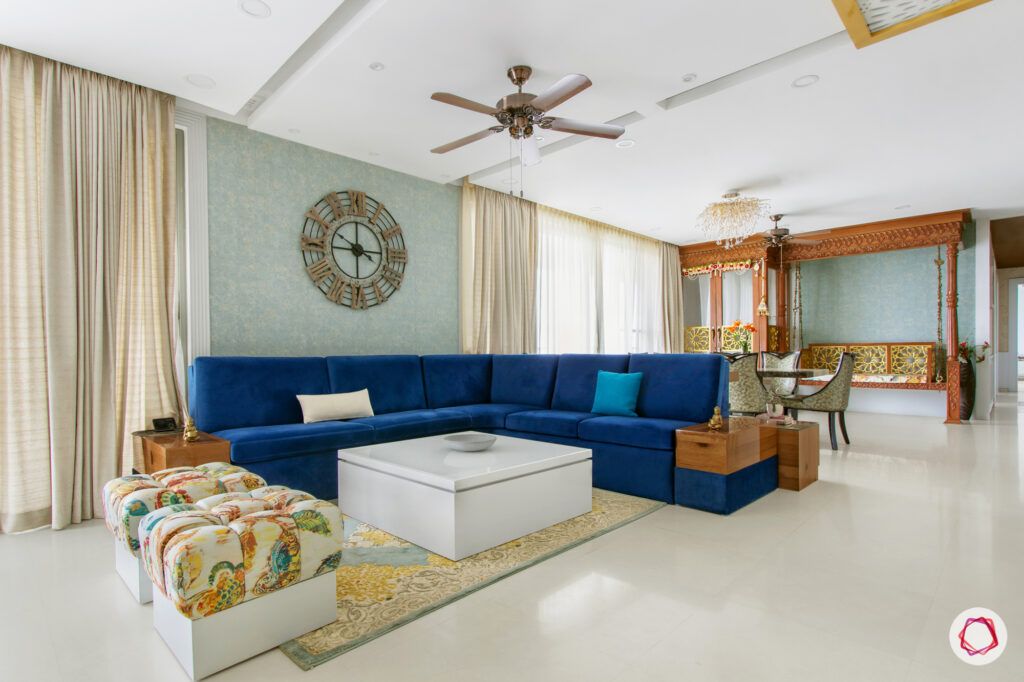 Hiranandani Bangalore Home: Informal Seating & Dining
The informal seating is at the fag end of the hall and is framed by a gallery wall full of family photos. Sarika is a gifted artist in her own right and she wanted a place to display her personal collection of vases. Thus, Srushti has designed a display unit around the gallery wall with storage beneath concealed by the grey sofa. But the main highlight of this space is the view it offers as it overlooks the balcony of this 17th floor apartment!
The dining area is a simple one with an existing dining set. It draws its traditional vibe from the glass and wooden pooja unit with exquisitely carved borders that extends into the swing. While the carvings on this ensemble provides continuity, the crockery cabinet on the other side provides functionality with storage, display and a serving counter.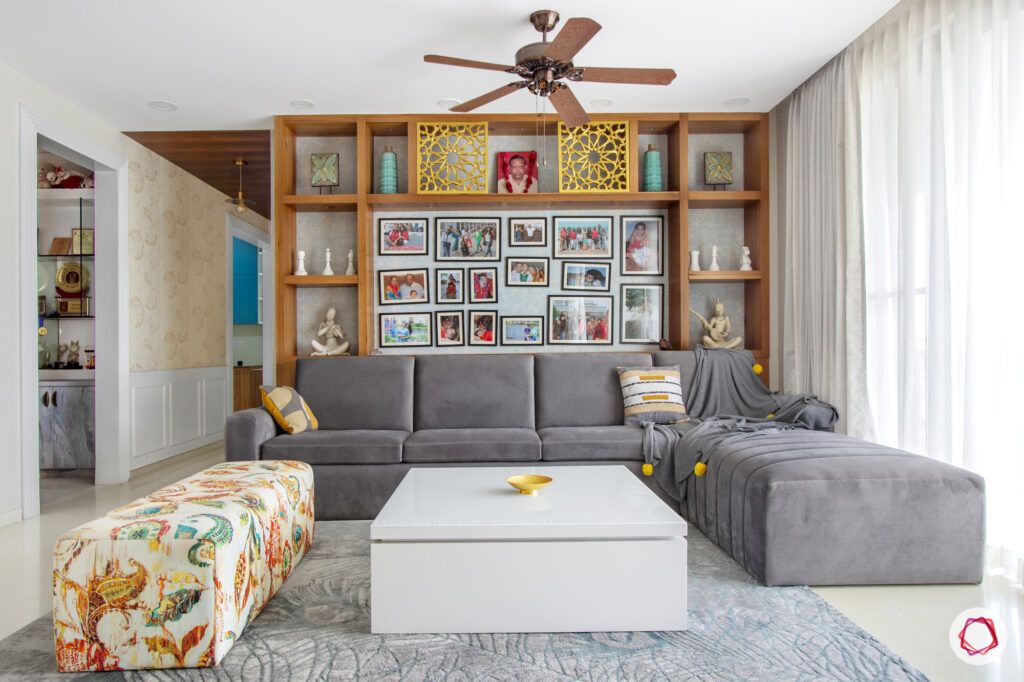 Hiranandani Bangalore Home: Cosy Kitchen
The kitchen is most budget space of this bespoke home, but it is designed quite smartly. The backsplash looks really out-of-the-box with bottle green ceramic tiles that match white granite (with hits of green) countertop. The laminate-finish cabinets have a mix of glass shutters too. We like the snug breakfast counter and the wooden ceiling details of this rather cosy kitchen.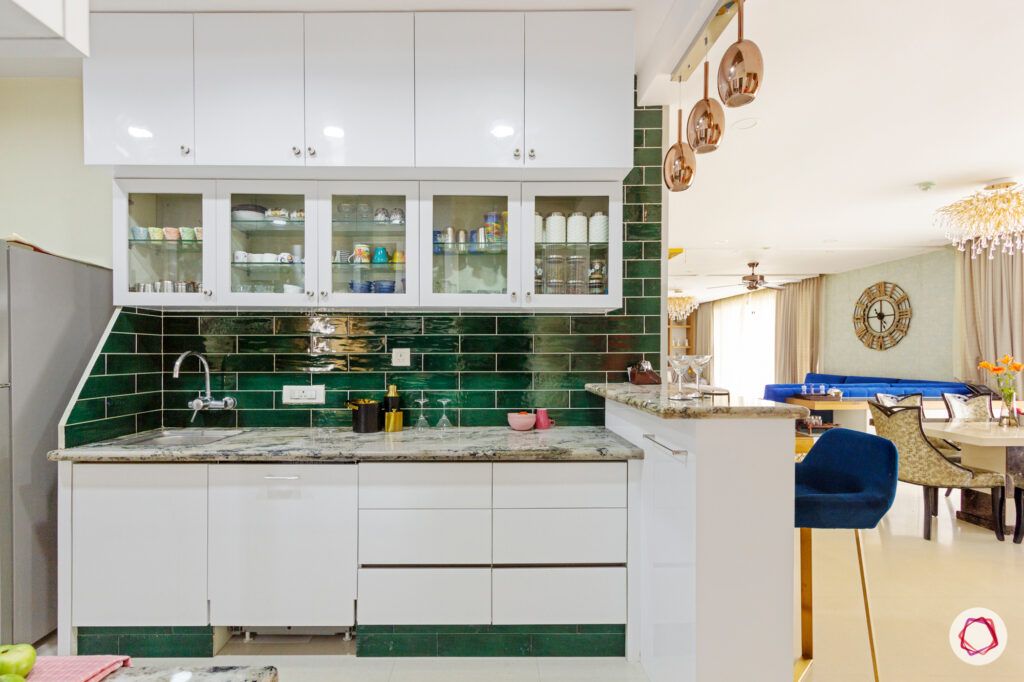 Hiranandani Bangalore Home: Blues, Whites & Ornate Golds
Sandip and Sarika wanted their bedroom to have a 'wow' element and aren't we wowed with this room! The contrast of navy blue and white gives a striking edge to the interiors. The bed is a solid wood custom piece painted white and gold. But the pathway to the dressing area decked in a CNC partition (laser cut jaali) has all our attention.
Moreover, the wardrobe with a laser-etched shutter echoes the style of this partition. The circular wooden frame on the wall is most definitely our favourite element in this decisively ornate bedroom. Srushti had initially planned to have a mirror set in this white frame, but the intricate carving was so marvelous that she decided to use it as is.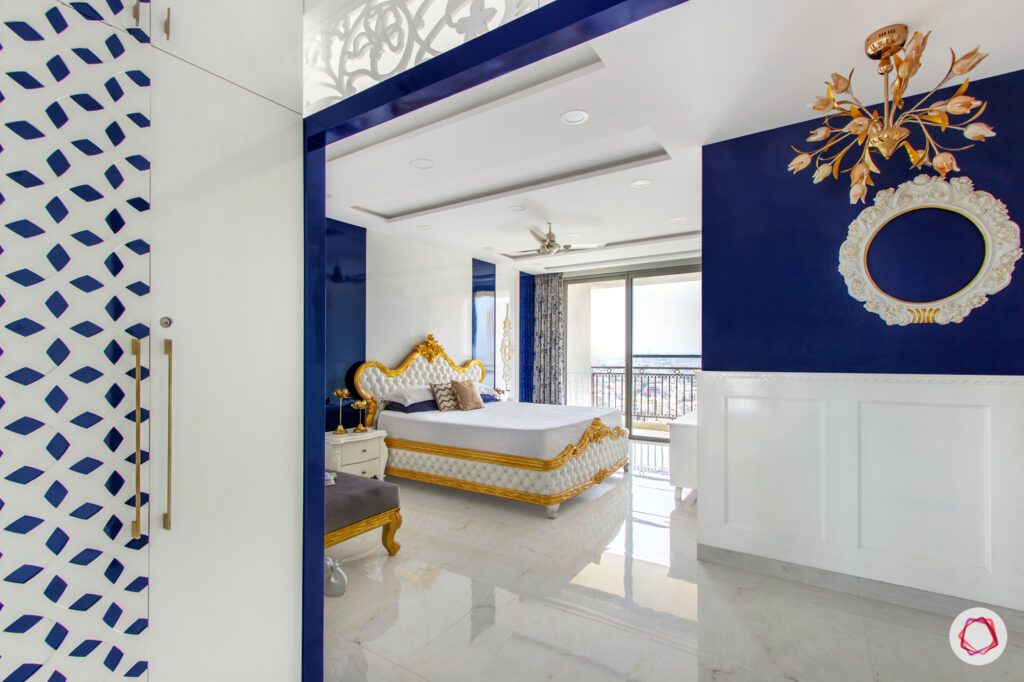 Hiranandani Bangalore Home: Carved to Perfection
Sandip and Sarika's eldest daughter, Muskaan, has a refined taste, and we say this from looking at her bedroom. The delicate carved solid wood headboard in this room is a statement piece by itself. Near the balcony, there is a seating area marked by floral wallpaper and a pastel blue couch. On the other end, we have a wardrobe with MDF shutters painted with duco paint. This white wardrobe has open boxes in pastel shades for display. The dressing area is in a niche with another set of sliding wardrobes with MDF finish.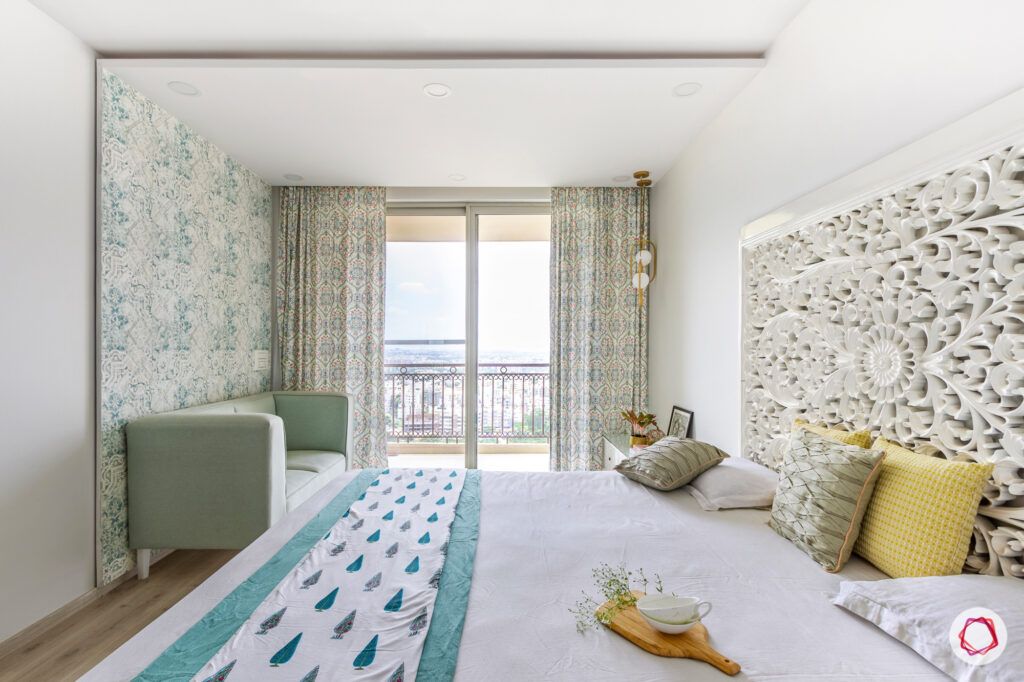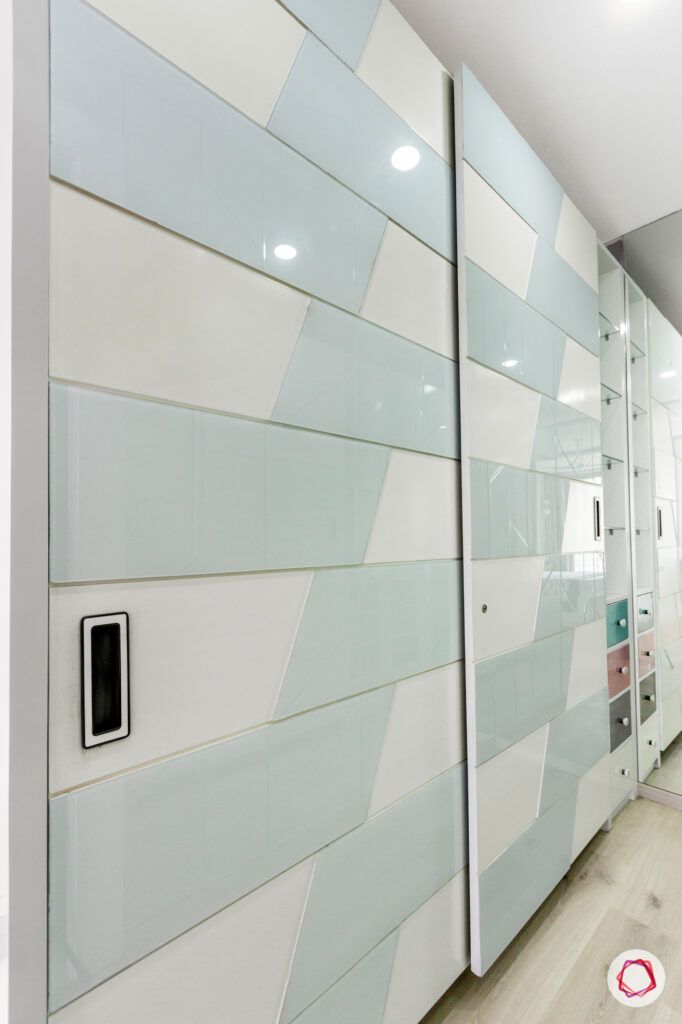 Hiranandani Bangalore Home: Radiantly Rustic
The second daughter of the couple, Riya, has a penchant for rustic finishes, which is obvious from her bedroom. Starting with classic wooden rafters for the ceiling and industrial-looking rope lights, this bedroom is menagerie of warm wooden finishes. But the distressed yet colourful headboard is the most noteworthy design element in this room. We also love the rustic corner unit and the wardrobe with an edgy blue laminate finish.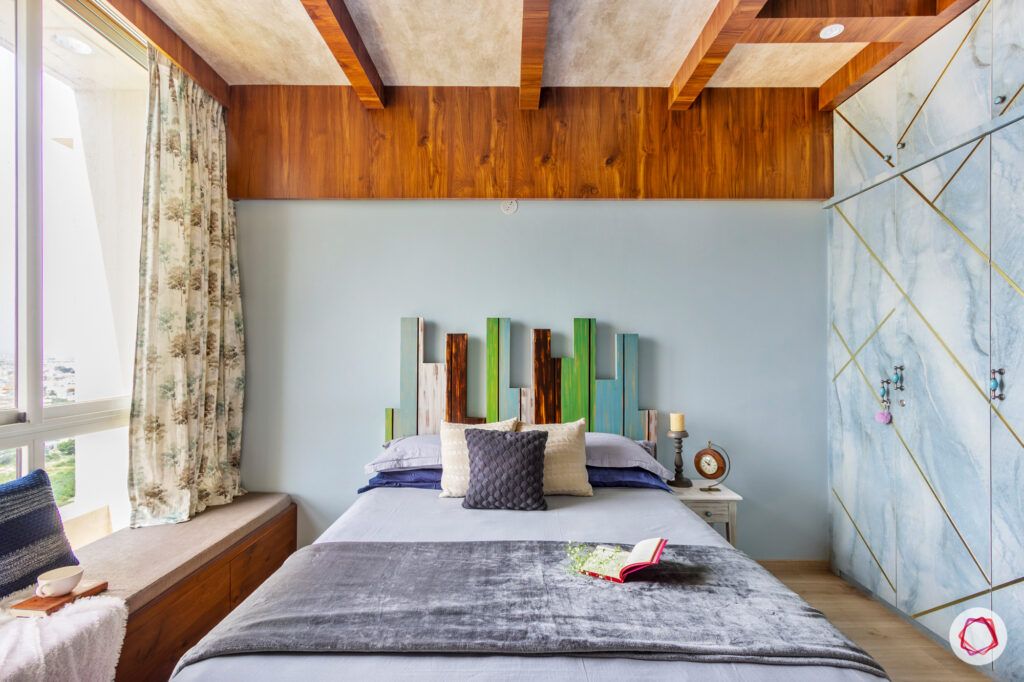 Hiranandani Bangalore Home: Cool & Sporty Vibes
The youngest of the Sancheti kids is Sparsh, and his room reflects his easy-going nature. The highlight of this relatively simple bedroom is the customised sports wallpaper. But we also loved the groovy effect of the ceiling design that seems to imitate a spacecraft!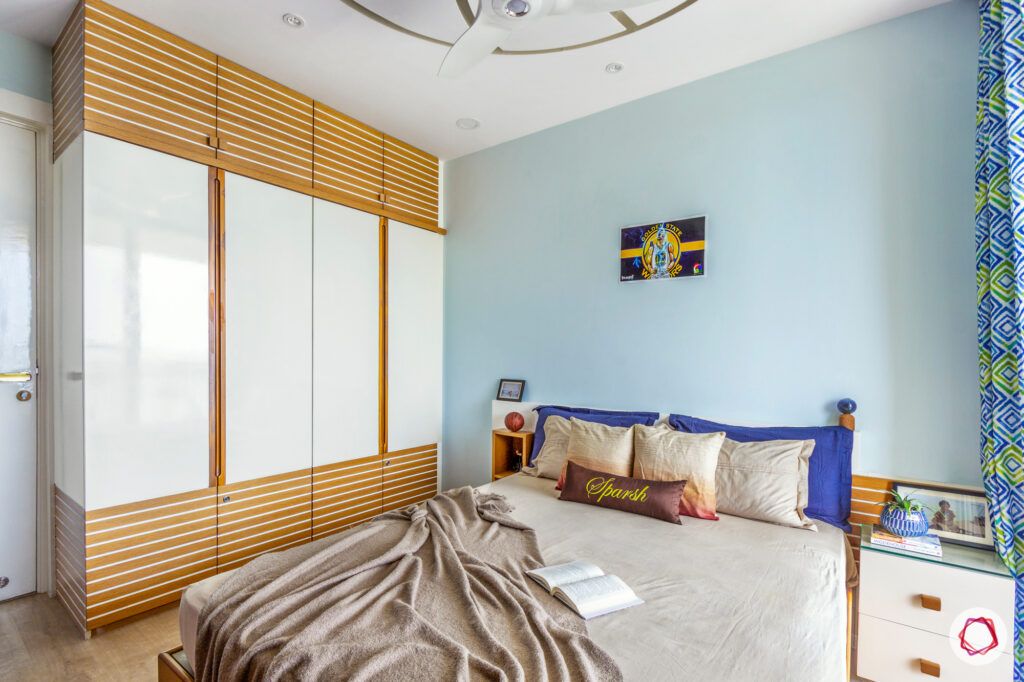 Hiranandani Bangalore Home: Beige & Beautiful
This bedroom belonging to matriarch of the family, Sandip's mother, is an excellent example of muted elegance. The wardrobe and bed are a classy beige in colour with smooth finishes. The patterned wallpaper gives some much needed texture to this space. What catches our eye instantly is the carved headboard, a piece of art by it own accord. The furniture in the room is sparse to allow easy movement, but there is a bay seating over the wall-to-wall window by the bed.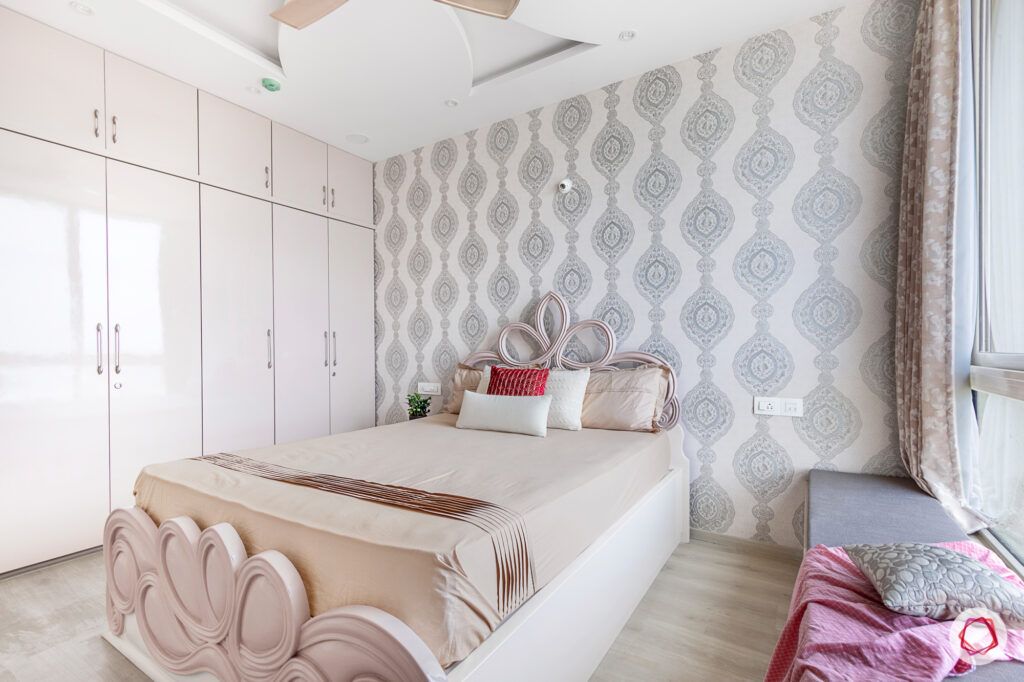 Hiranandani Bangalore Home: A Common Study
All the three children in this family have a common study room. Hence, it is large enough to accommodate all their needs. There is a wide variety of cabinets and shelves for storing books and stationery. As all the kids like the blue laminate used for the wardrobe in Riya's bedroom, Srushti suggested the same finish for this space.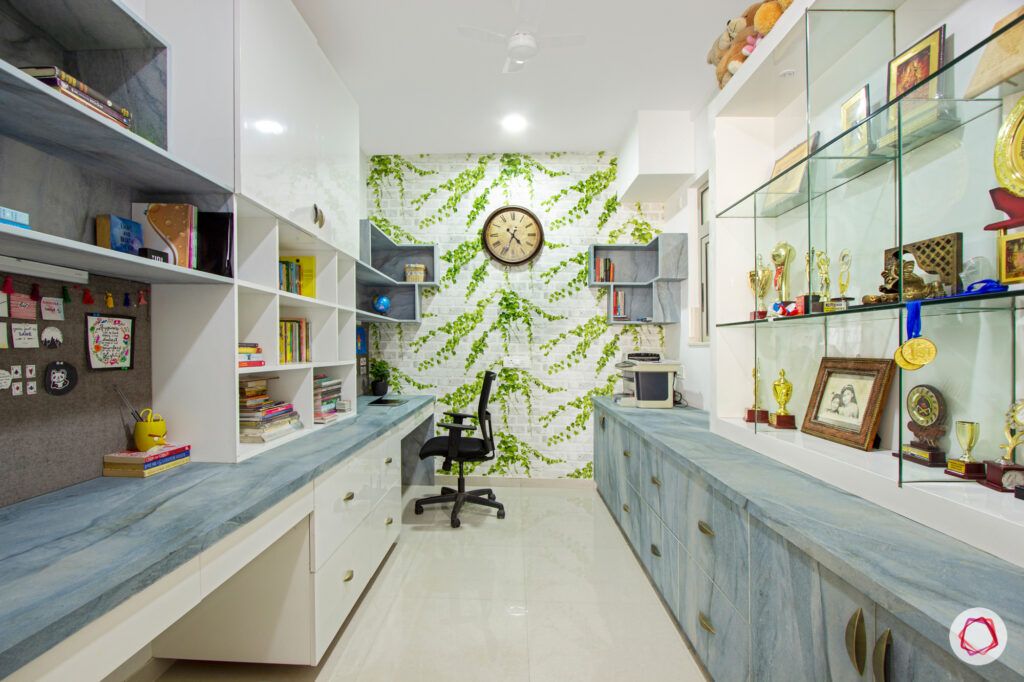 Hiranandani Bangalore Home: Paint me red!
We finally come to the last room in this massive home, and as you can guess, we have saved the best for the end! The Sanchetis have a fully equipped entertainment room in their home. It is sound-proof and upholstered in rich red velvet. There are different levels of seating to match each family member's comfort. If you have one of these at home, you would never want to step out!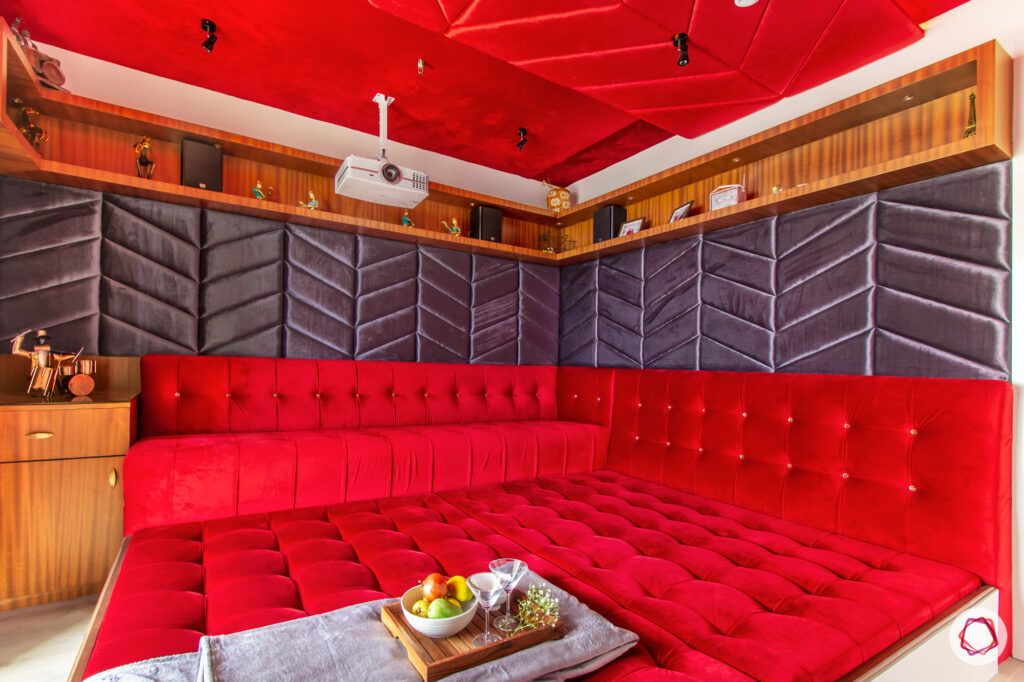 "The most amazing thing about this project was that each member of the Sancheti family had different tastes. However, they personalised their own spaces without interfering with each other's choices. This ensured that the design team was not confused and could work out the intricate details of the design in the best possible way!"
Srushti Angolkar, Interior Designer, Livspace
If you enjoyed reading about this awe-inspiring home, also explore Plush, Tasteful, Fresh, Enviable Home in Mumbai.
Send in your comments and suggestions.