Gone are the days when Indian homes were all about bright colours and over-the-top designs. The vast majority of today's millennial population prefers simple and clean home interiors. And with this trend, there has been an exponential rise in popularity of the Scandinavian design style. When Puja approached Livspace to do her home interiors, we were determined to provide her with the best 3BHK interior design in Gurgaon! Keeping in mind her wish for simple yet homely interiors, our designer Sakshi Sharma decided to go ahead with a Scandinavian theme.
---
Who livs here: Puja Bhatia and her mother
Location: Gurgaon
Size of the home: A 3BHK spanning 2,000 sq. ft.
Design team: Interior Designer Sakshi Sharma and Project Manager Sajal Jain
Livspace service: Full home design
Budget: ₹₹₹₹₹
---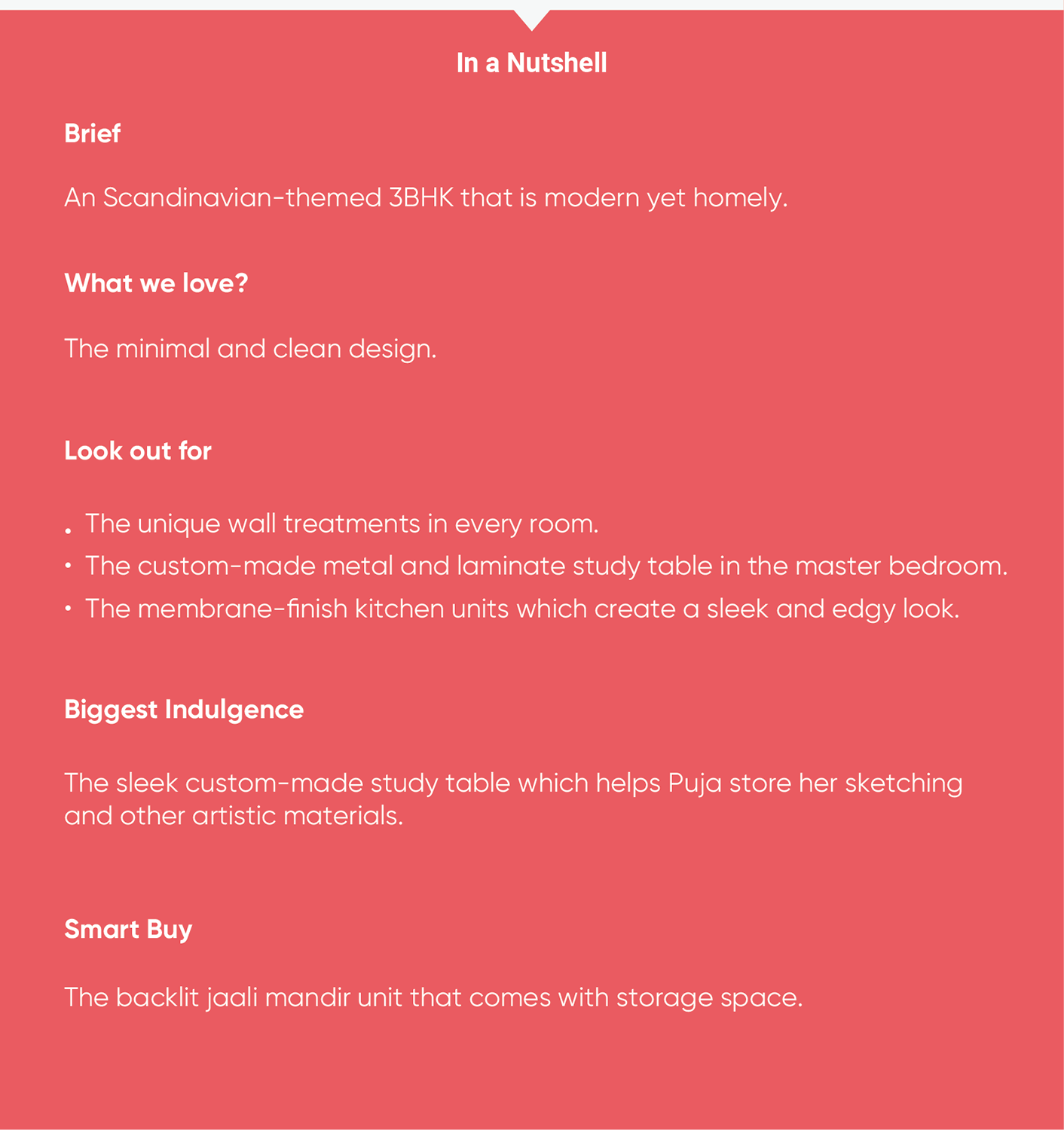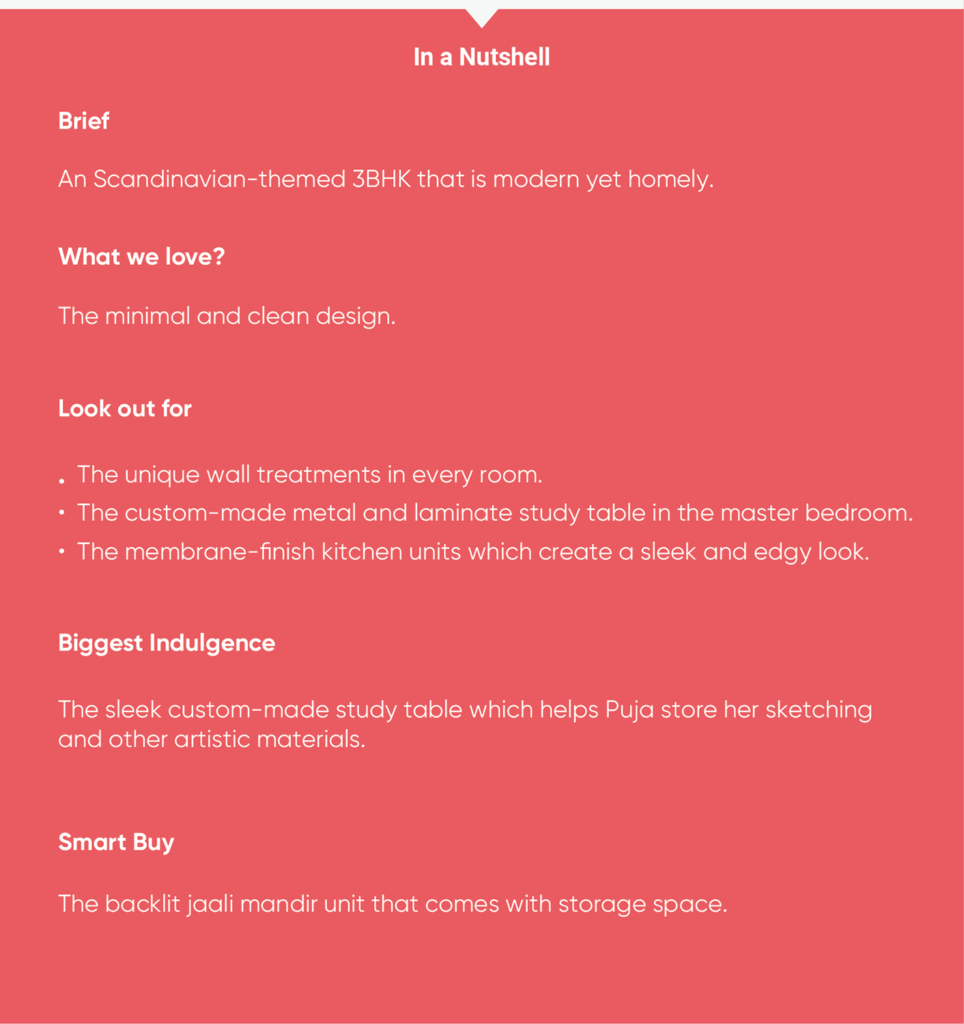 What is a Scandinavian design style? The Scandinavian style originates from Nordic influences and boasts clean lines, plain walls, functionality and minimal décor. Puja wanted a home which would be her serene retreat after a tough day in the corporate world. Having a creative side, Puja was keen on creative elements while keeping the look simple, elegant, and clutter-free. Our experienced designer Sakshi Sharma suggested a Scandinavian theme, which perfectly matched with what Puja had in mind. So, read on to know how we designed this home in a Scandinavian style.
#1: Choose Walls That Have a Neutral Palette and Natural Texture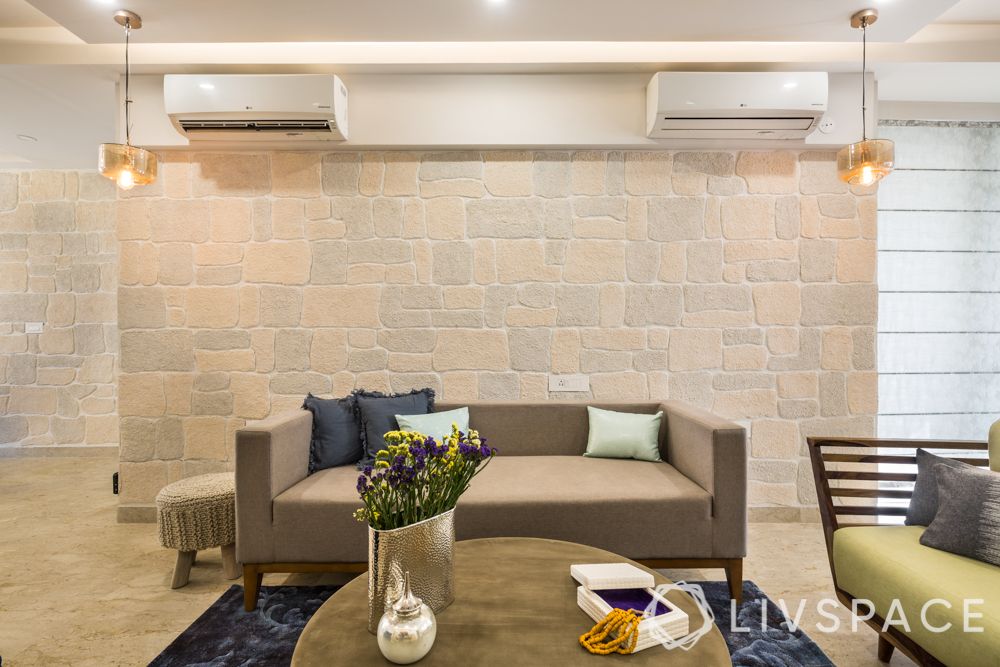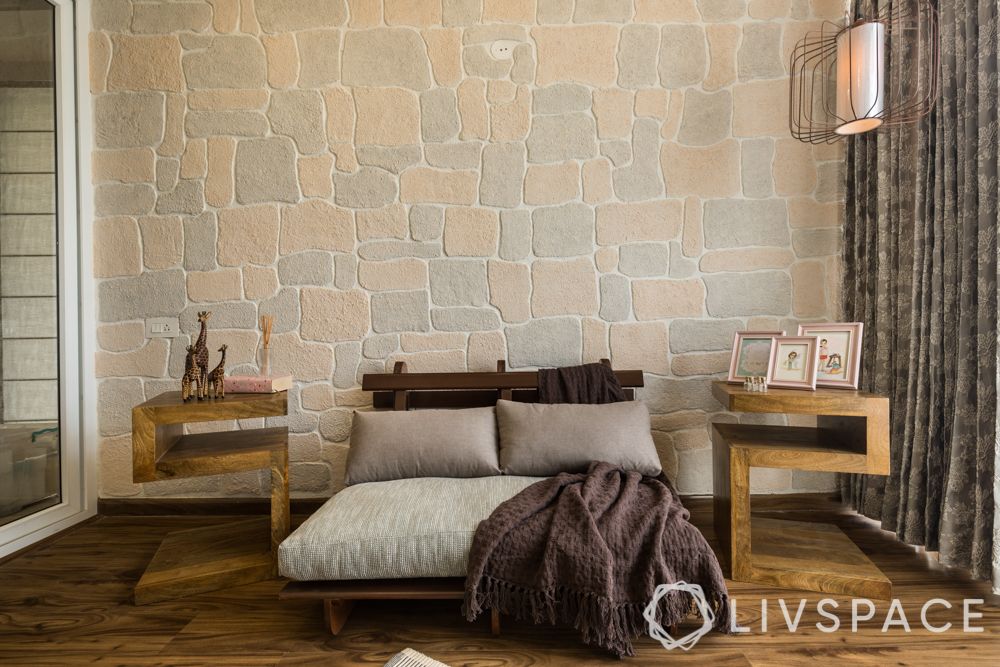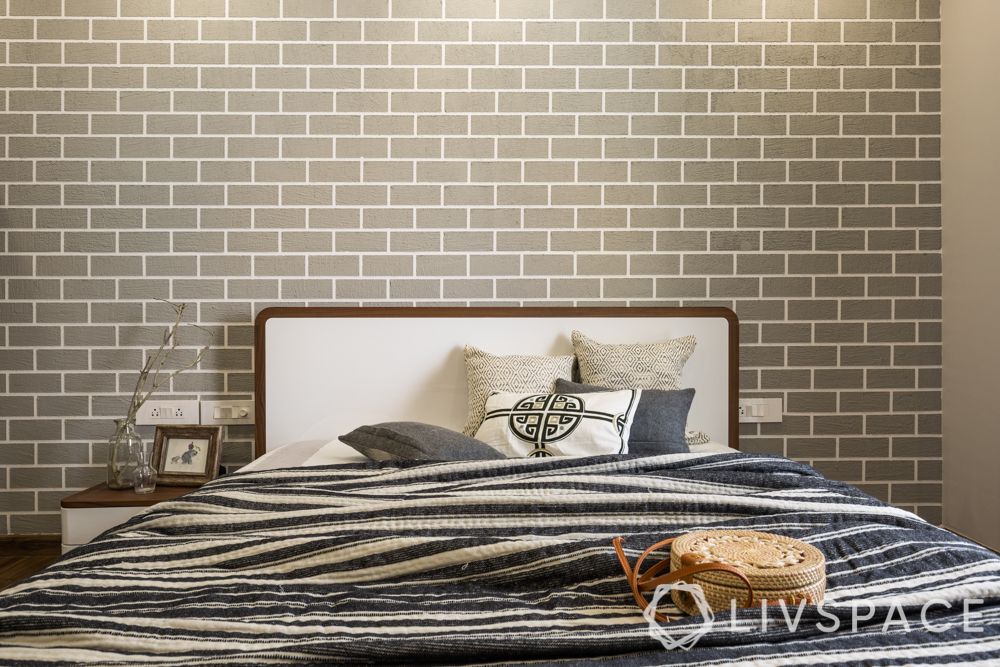 One of the key tenets of Scandinavian design is the use of neutral colours. And, another important aspect is that this design style places great importance on nature. Basically, these elements can be seen in the stunning wall décor of this home. Sakshi chose a neutral colour palette for the walls. However, she kept it interesting with unique wall patterns that gave off a natural and rustic vibe. Be it the textured brick-like wall in the master bedroom, the rustic POP wall in the study room or the stone-texture wall in the living room, every wall in this home is reminiscent of the great outdoors!
#2: Select a Combination of Wood and Metal Furniture
Traditionally, Scandinavian designs make great use of wooden furniture. However, the recent trend is to use a combination of metallic and wooden elements. So, while styling the best 3BHK interior design in Gurgaon, Sakshi opted for wood-like finishes and metal. The showstopper here is the custom-made metal and wood-like laminate study table. This sleek study table comes with ample space for Puja to store her art supplies while also looking sleek and modern.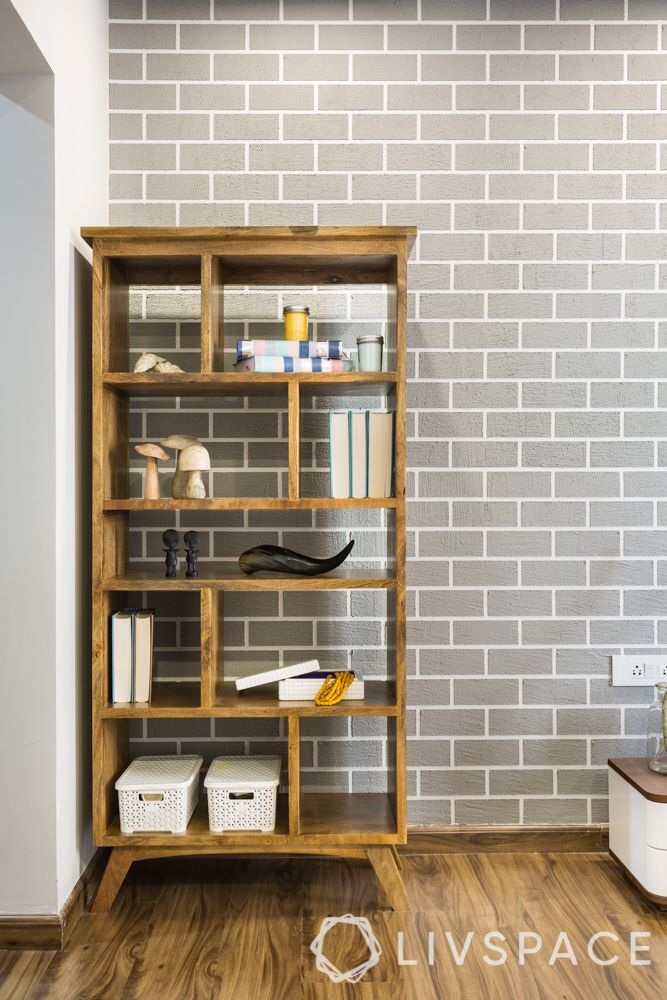 Doesn't this storage unit look amazing?! While following the Scandinavian trend, Sakshi also wanted to keep the budget from going overboard. So, she chose a wood-like laminate unit instead of a solid wood one.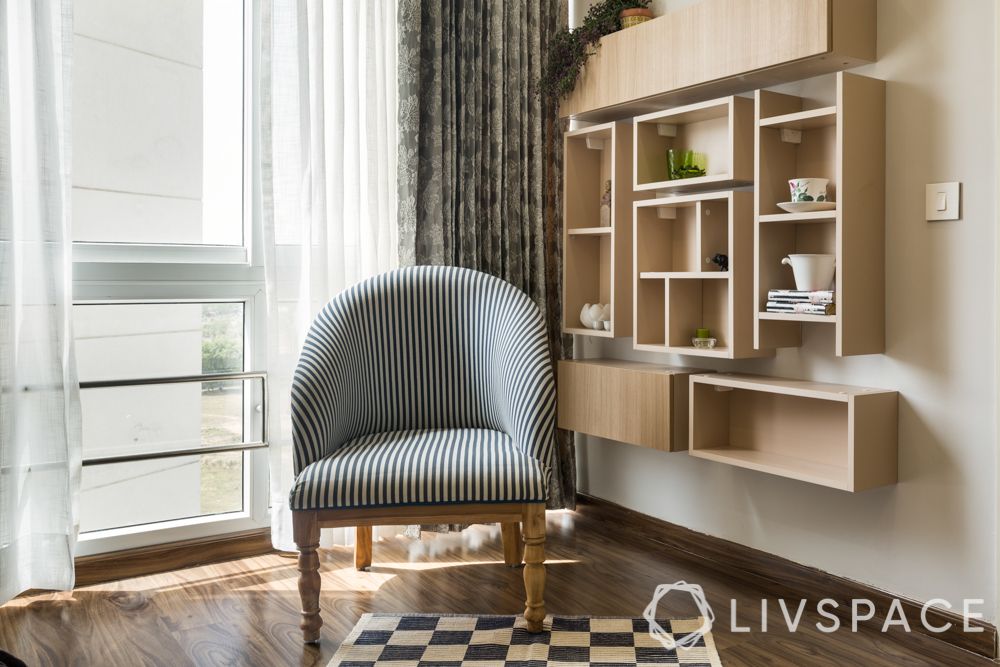 The Scandinavian design style focuses around keeping things simple and clean. This translates to a need for wall-mounted units instead of free-standing ones. This is quite clearly visible in the study room. Designer Sakshi chose this unique wood-like laminate wall-mounted storage unit from the Livspace catalogue. We love the combination of shapes and open and closed boxes in this unit.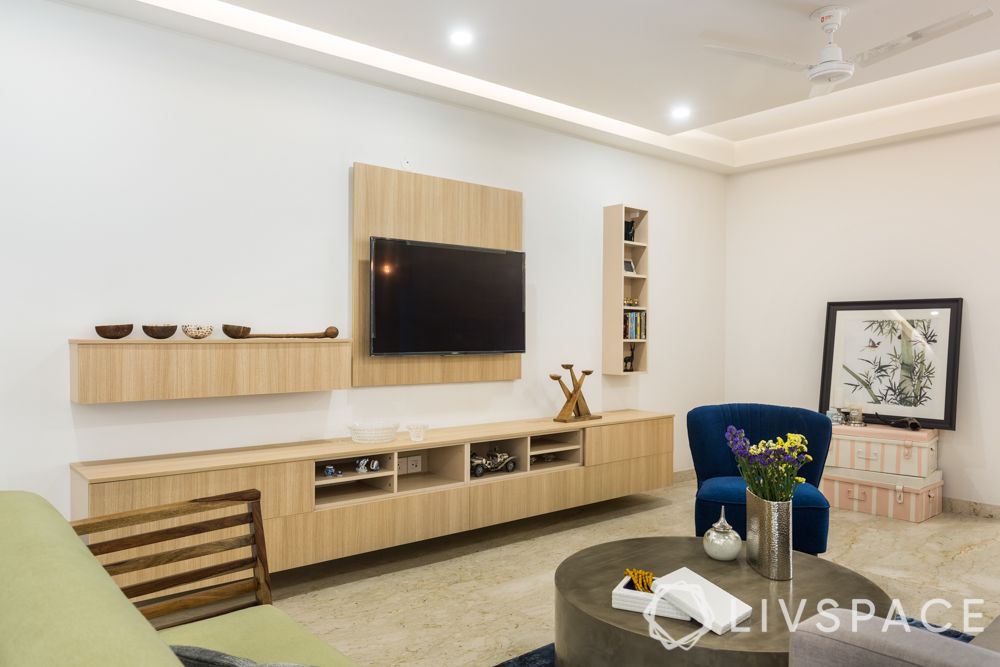 Keeping it in line with the rest of the design, Sakshi chose a modular laminate TV unit with a wood-like finish.
#3: Keep it Simple, Sleek and Clutter-Free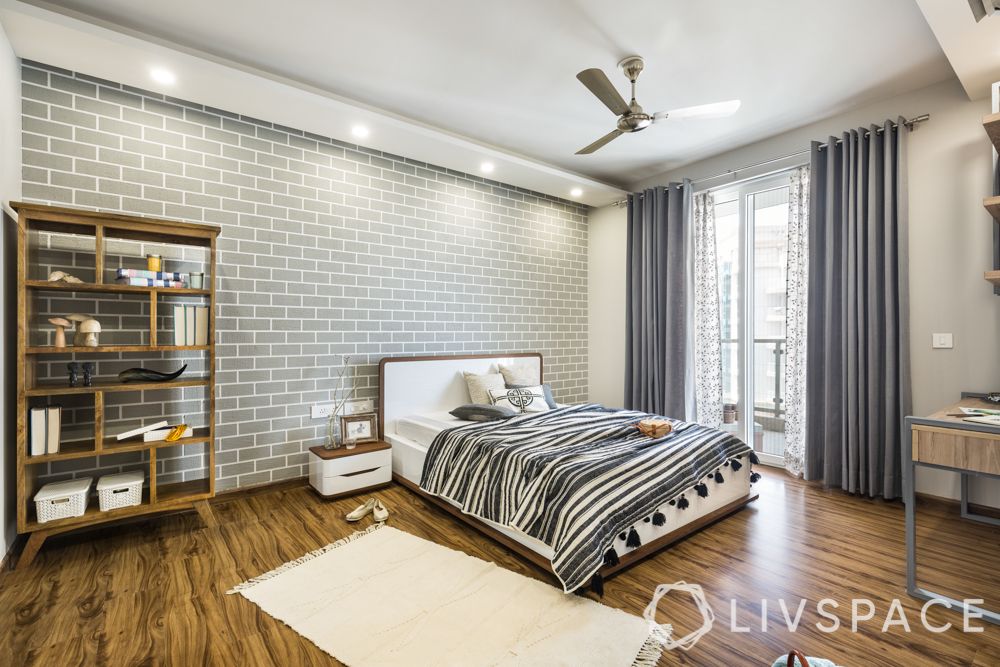 Scandinavian decor strongly relies on the mantra "less is more". Thus, one of its most important tenets is to keep the interiors simple and clutter-free. Puja's home is a true reflection of this policy. In fact, Sakshi has designed each and every room along sleek and simple lines. Moreover, there is no drama, bright colours or OTT prints in this home.
The master bedroom is a true reflection of Puja's style. At first glance, it may appear edgy and modern, but at a closer glance, you can see how Sakshi used her skills to add a sense of warmth and a personal touch to this room. However, she kept it simple by opting for only four pieces of furniture – the bed, study table, side-table and storage unit. While the unique wall décor and grey and white colour combination keeps it modern, the wooden elements add a very intimate and homely touch.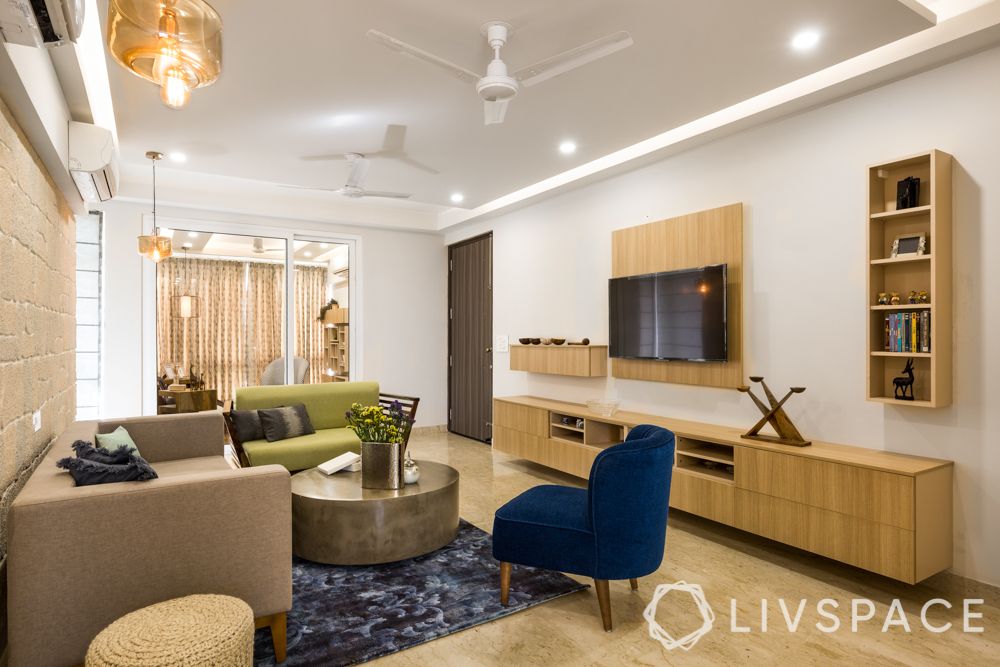 Puja's living room exudes warmth and elegance. An island false ceiling and pretty pendant lights dazzle the space while keeping it simple. The grey-blue-green sofa combination adds a splash of colour to the otherwise minimal design. The cement-finish centre table and the TV unit look stunning and match the Scandinavian style code. This room is a design lesson on how simple can be grand.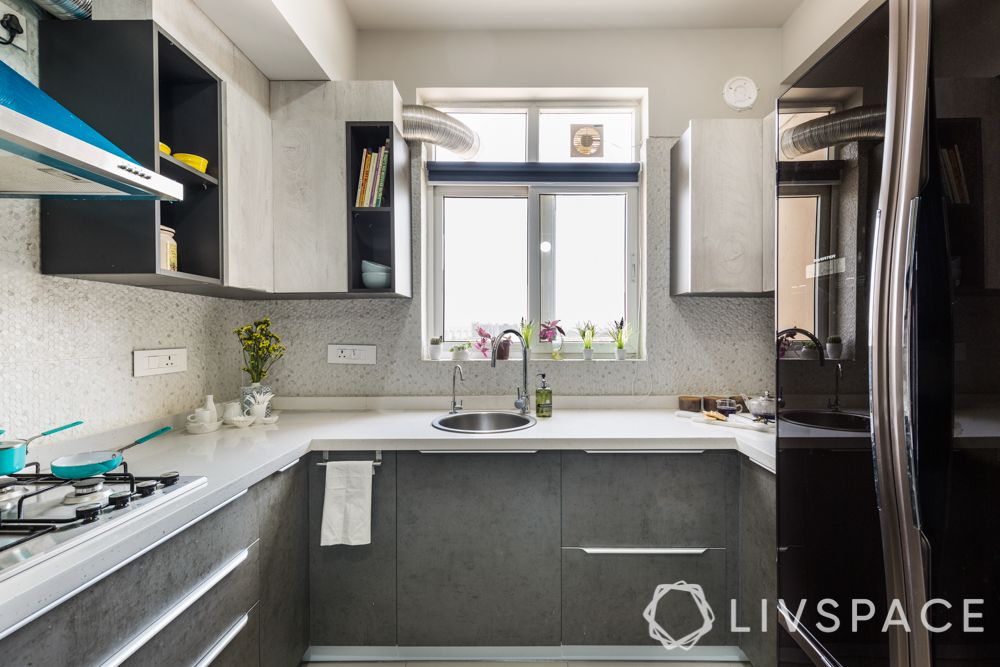 The kitchen plays an important role in every Indian household. Considering the compact size of Puja's kitchen, it would have been a challenge to design it. But Sakshi was up to the task. Following the overall Scandinavian theme, she used a grey and white colour combination. To give the area a sleek look, she chose a membrane-finish. Additionally, the profile handles in the cabinets save space and look edgy. Moreover, to ensure that the best 3BHK interior design in Gurgaon had a stunning kitchen, Sakshi used textured ceramic tiles that had tiny hexagonal patterns. As a result, the kitchen design was interesting while also matching with the modern theme.
#4: Wrap up With Warm Textiles and Clean Lines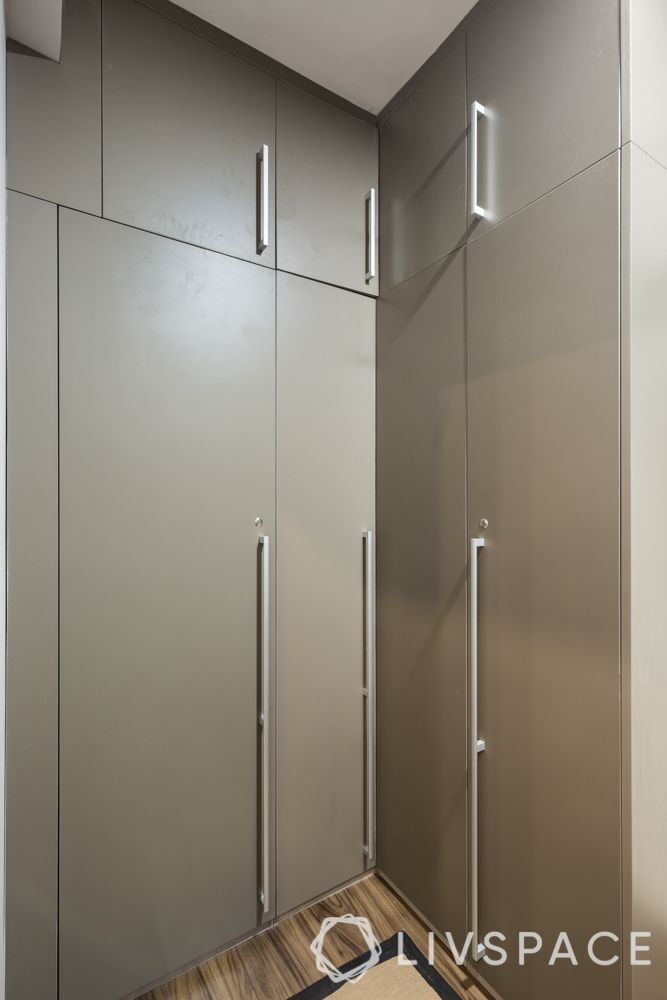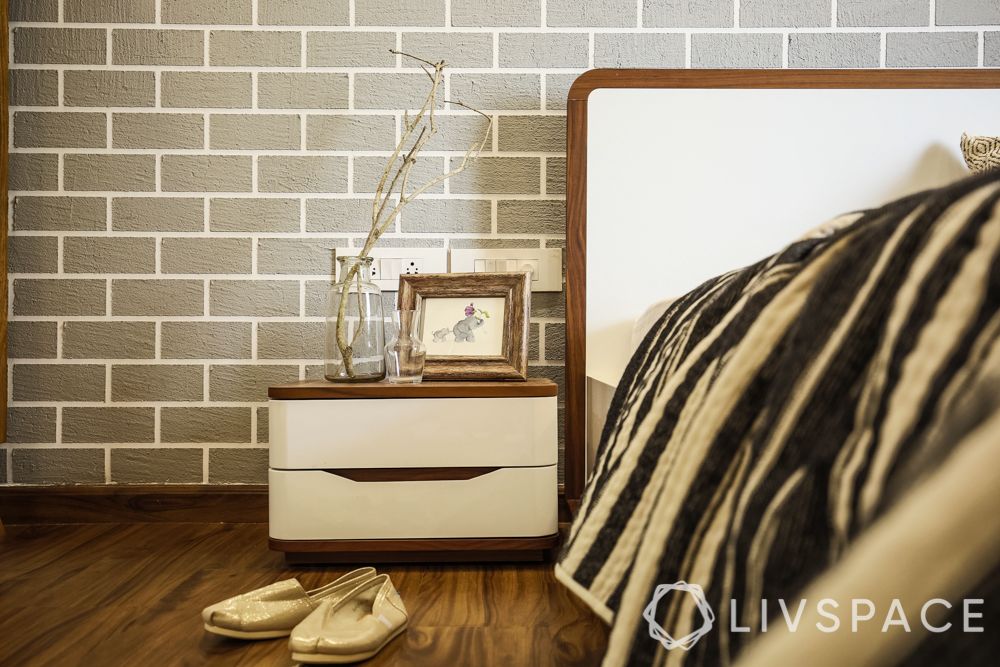 The Scandinavian design style is unique in the sense that it is edgy yet warm, as well as modern yet homely. In other words, functional furniture with clean lines is a distinctive element of this design, which is coupled with warm textiles. In fact, Puja's home is an amalgamation of sleek furniture and furnishings that exude comfort. Be it the autumn leaf laminate wardrobe in Puja's room or the soft fabric headboard in her mom's room, we love every aspect of this home design!
Bonus: What we Love
#1: The Cosy Study Room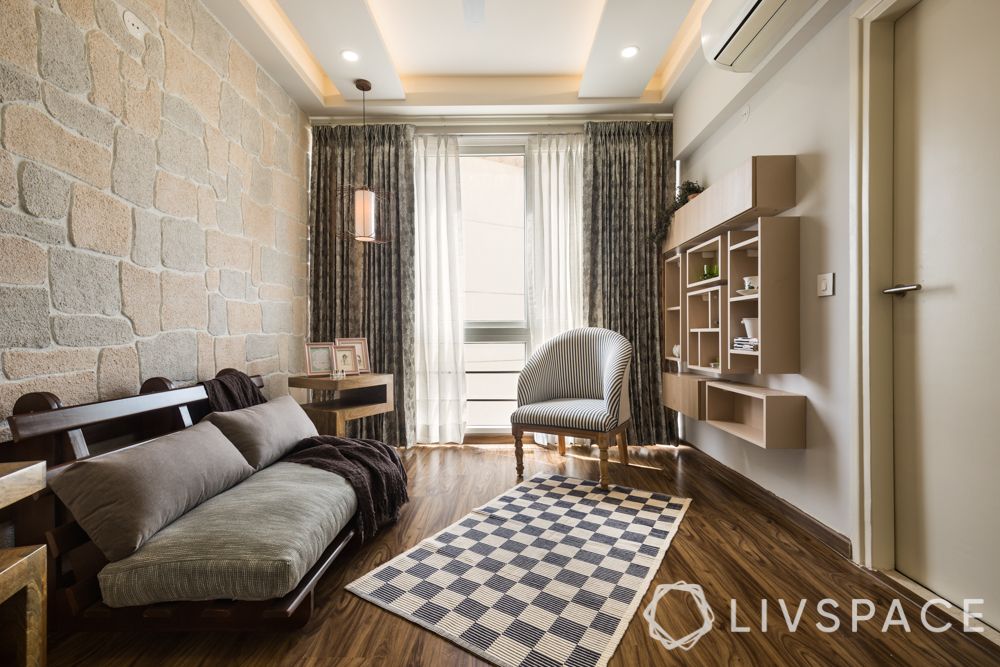 The study room is Puja's favourite room in the entire home. It's a space where she can curl up with some coffee and a book on a cold winter morning! In addition, the comfortable seating options, unique furniture, warm colour tones and statement wall décor make this small room uniquely functional.
#2: The Wall-Mounted Backlit Jaali Mandir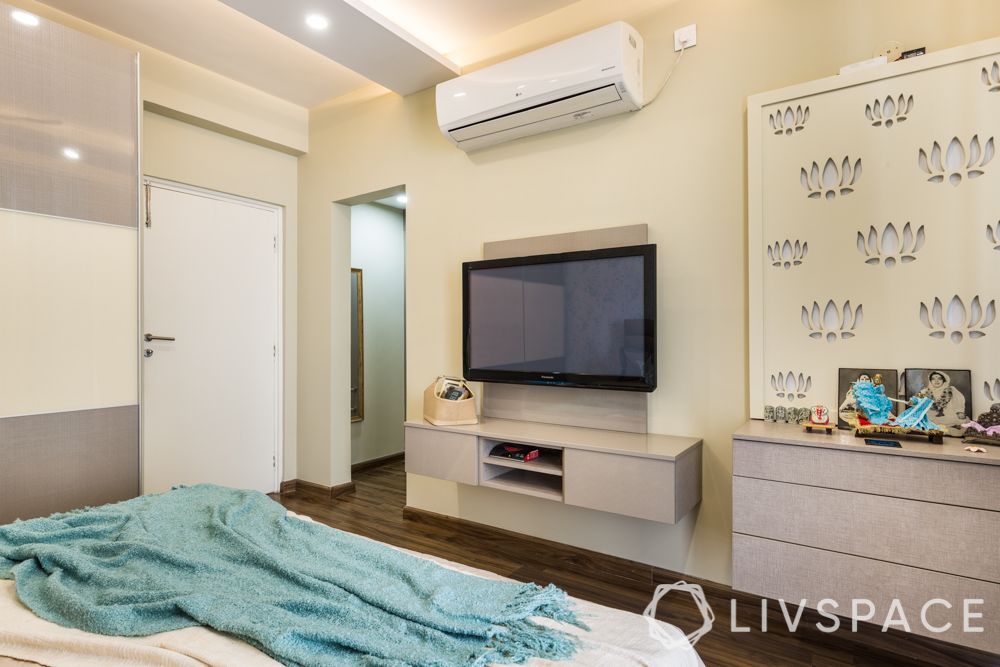 Puja's mother is a religious woman who required a space where she could offer her daily prayers. So, Sakshi designed this custom-made mandir unit for her which serves two purposes — to be a place to pray and also double as a storage space. While the backlit jaali mandir unit is custom, the laminate storage space comes from the Livspace Catalogue.
One of the best 3BHK interior design in Gurgaon, Puja's home is a masterpiece in Scandinavian style. Love this home? Then you must check out this stunning and minimal home in Bangalore for more inspiration and ideas!
We love to hear from you! Drop us your comments and suggestions at editor@livspace.com