The travel bug bit Prasun Mishra quite early in his life, and he fondly remembers being captivated by the Scandinavian and baroque architecture. Also, he has always been fond of the colour grey and prefers it to other muted colours as it's easier to maintain. So, when Prasun thought of doing the interiors for his 4BHK villa in JRC Palladio, Bengaluru, he wanted his home to replicate the beautiful European architecture he fell in love with during his many travels. So, whom did he trust to make that dream a reality without having to move countries? Livspace, of course!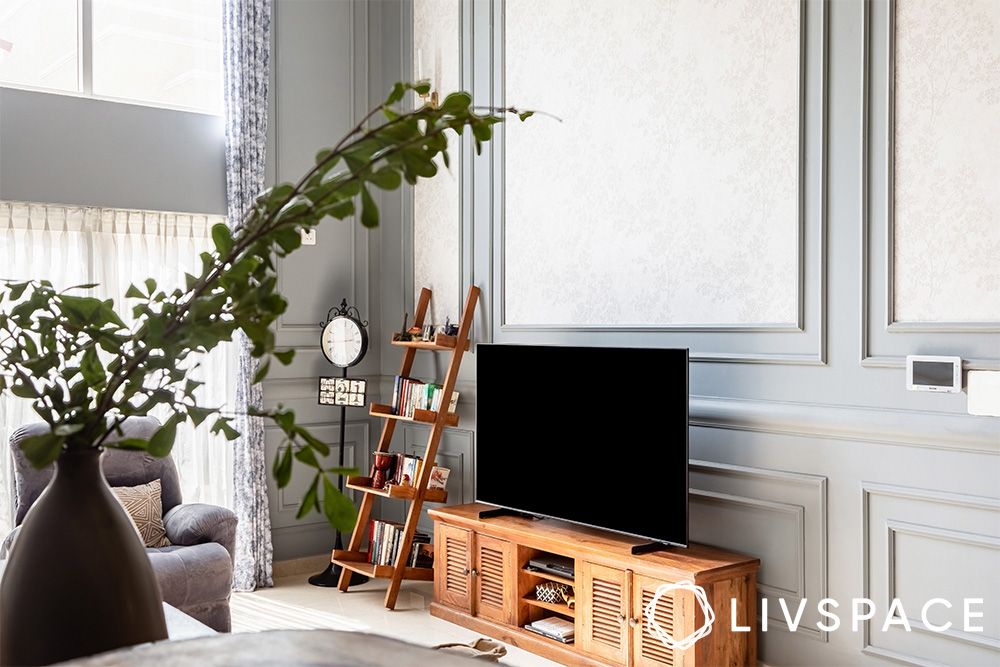 ---
Who Livs here: Prasun Mishra, his wife and their kids
Location: JRC Palladio, Sarjapur, Bengaluru
Size of home: A 4BHK villa spanning 4,000 sq. ft. approximately
Design team: Interior Designer Kalesh Moorkoth
Livspace service: Full home design
Budget: ₹₹₹₹₹
---
IN A NUTSHELL


Brief
A travel-inspired European interior design with a lot of free space for kids

What We Loved
The muted-colour theme of the entire house that not only looks bright, but also cosy

Look Out for
– The European-style wall treatments
– The accent mirrors to enhance lighting

Biggest Indulgence
The membrane-finish kitchen cabinetry with antique fittings


"We are happy that Livspace understood our requirements and did our home interior in a way that exceeded our expectations."
— Prasun Mishra, Livspace Homeowner
What Are the Key European Interior Design Elements We Used?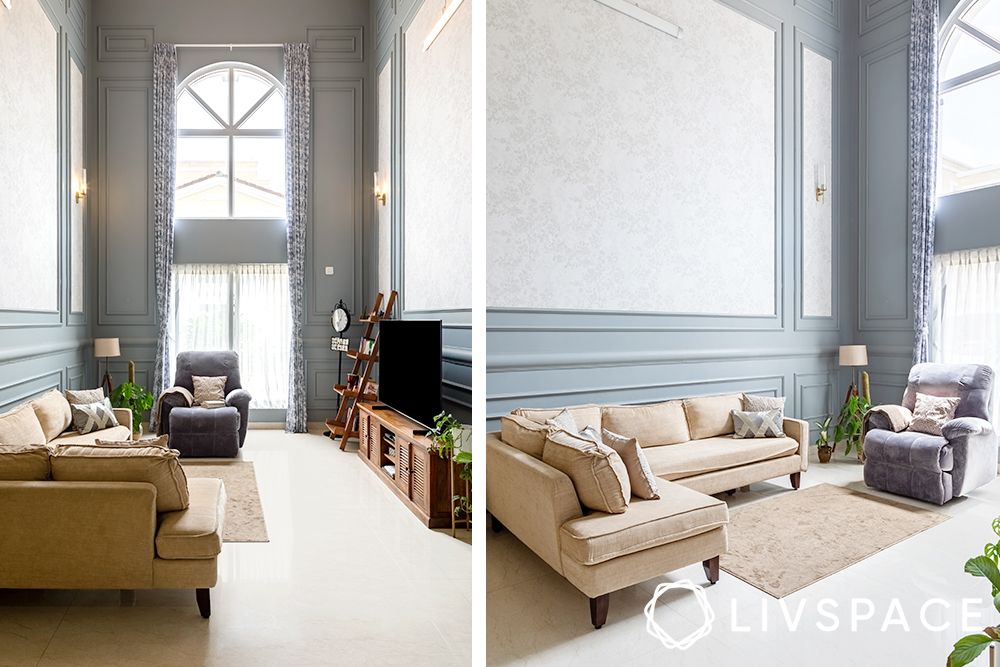 This part may not seem like a challenge, but we at Livspace are a stickler for perfection. And for our homeowners that get nostalgic about a continent-full of travel stories, we had to pick only the best elements from this continent. Hence, we chose:
High ceilings
Parisian walls
English colours
Eclectic accents
Warm wooden finishes
We also added some polished antique details to give that old-world charm, and some artsy travel-inspired decor to give it our homeowner's personality. Talk about a wholesome design! 😉
How We Used These Elements in the Interior for 4BHK Villa in JRC Palladio, Bengaluru
Here's how we used these 5 simple elements in 5 different aspects of this European-style interior design for 4BHK villa.
#1: Wall Treatments in Interior for 4BHK Villa in JRC Palladio, Bengaluru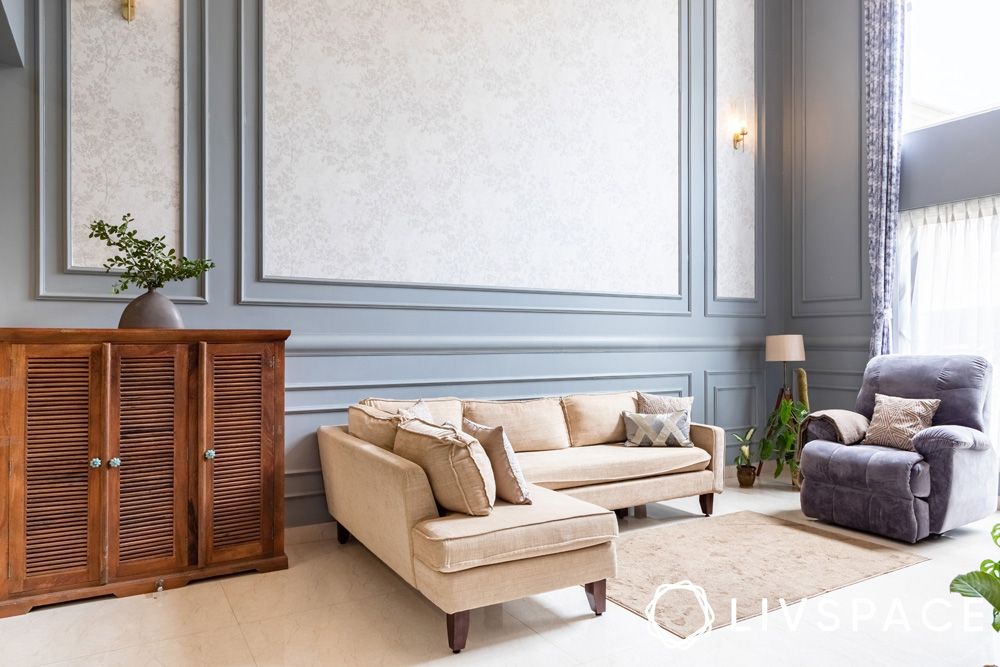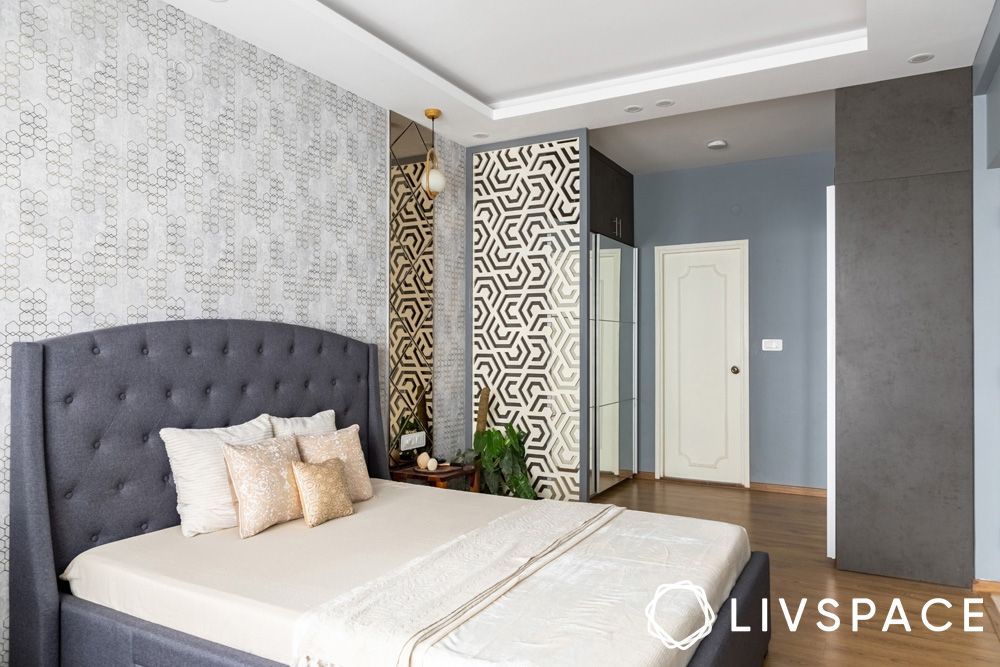 For most of the walls in this interior for 4BHK villa in JRC Palladio, Bengaluru, we used simple paint but reinforced it with matching wallpapers that provide a textured look. But what did the trick in this home, are the wooden trims that we attached to these walls. Prasun admires these painted wooden trims as they bring to mind the 17th century's raised-panel designs or Parisian walls from Europe.
What's noteworthy here, is the cost-saving route we took to deliver Prasun's favourite design element. Instead of panelling these 20ft walls, we used wooden trims which are enormously cost-effective in comparison. And as you can see, they offer the same look as Parisian raised-panel walls, without compromising on quality.
#2: A Muted Colour Palette for European-Style Interior Design for 4BHK Villa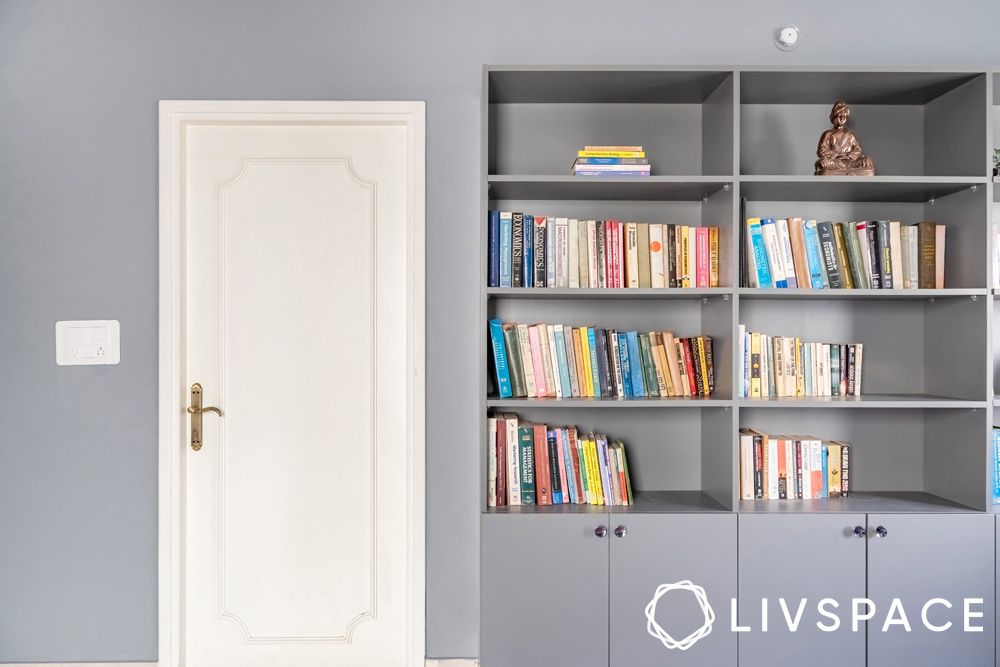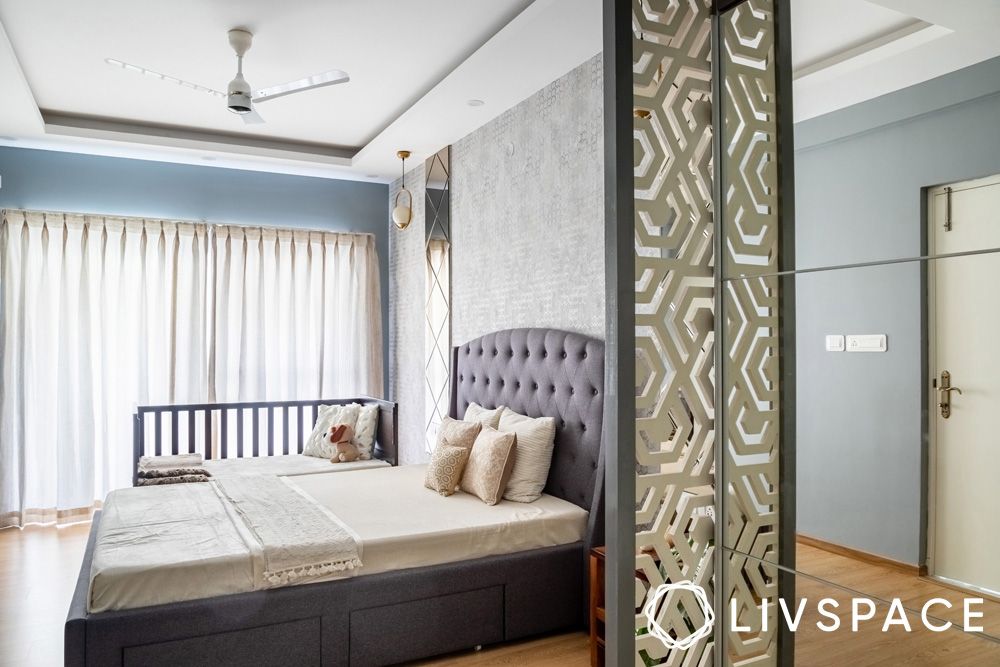 Prasun preferred shades of grey for his interior for 4BHK villa in JRC Palladio, Bengaluru. With his kids, and their go-to-town creativity, greys can be easy to maintain and clean. As a result, not even a single wall in this home is white. The challenge brought on by such a taste in colours is that, when they aren't used smartly, they can make your home look dull and boring. But we made sure that Prasun's home didn't fall victim to this effect.
We did use muted English colours like slate grey and stone blue, but we enriched their look by using plain white ceilings. This made sure enough light was getting reflected throughout the house and the usual dullness associated with these colours was avoided. That's another cost- and design-effective solution that has been used in this home.
#3: The Lighting Strategy for 4BHK Villa Interior Design in Sarjapur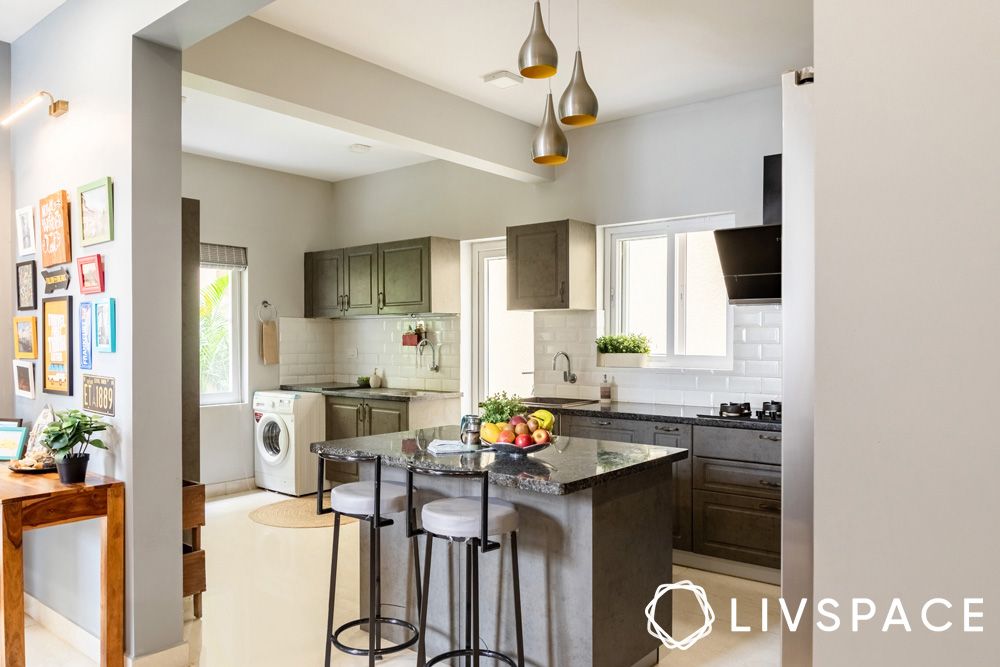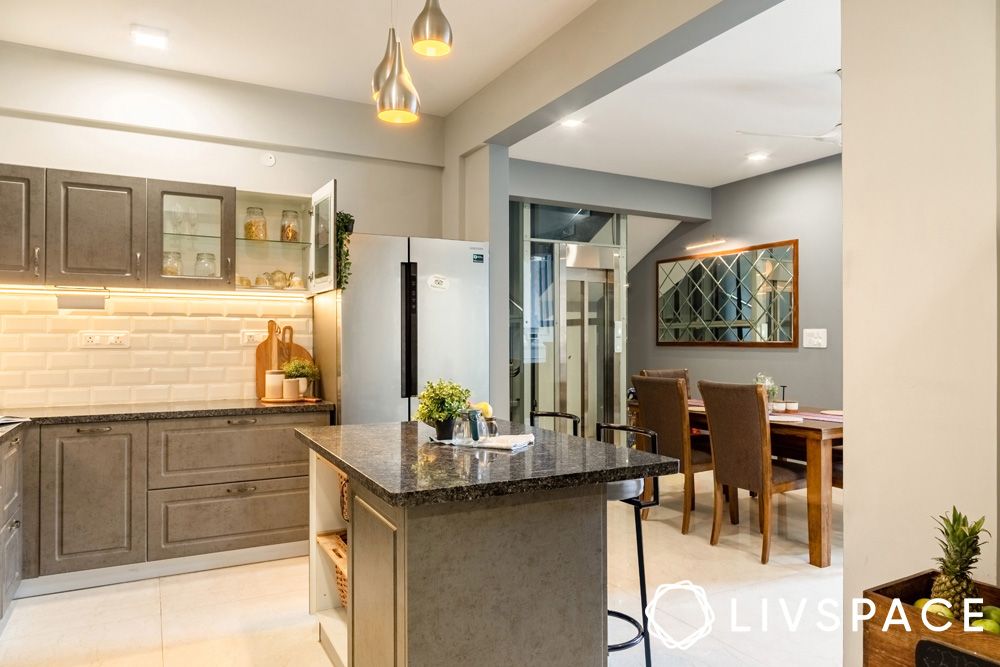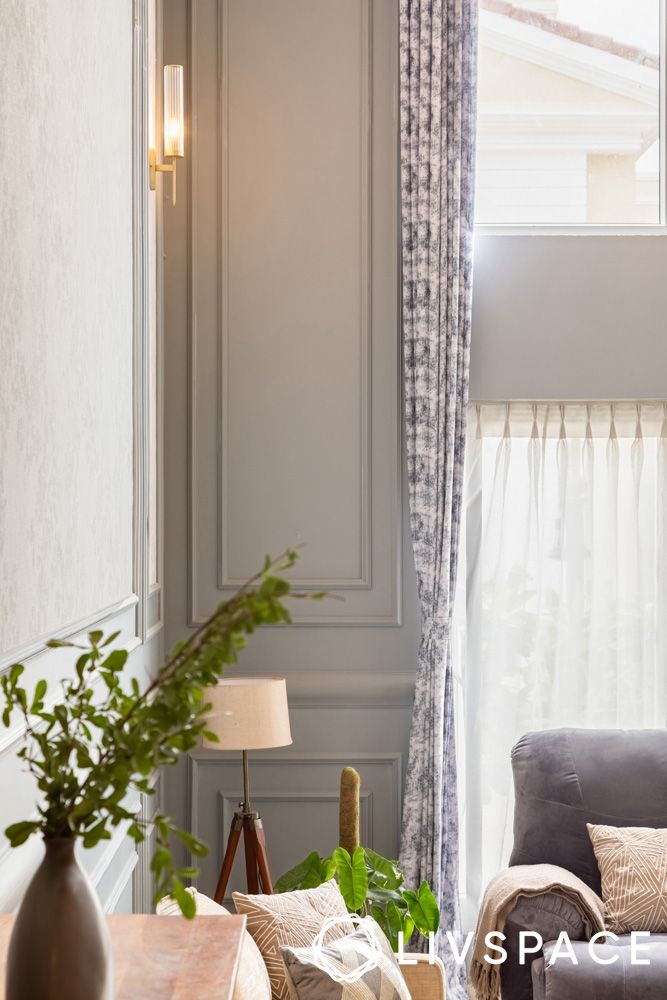 Designing European-style homes with high ceilings can be challenging in Indian homes. This is because most builders usually limit the height of their flats and villas for commercial benefits, mostly in terms of by-laws and materials. However, in Prasun's home, retaining the given height of ceilings was important for two reasons:
High ceilings could make his home look bright and airy despite the muted grey walls.
They are a distinct part of European interiors and necessary to the theme of this house.
However, the challenge here was that the natural light shining in the house could seem insufficient. The muted-coloured walls don't reflect and distribute light like white walls. This also raises the need to use a strategic layered lighting system and some reflective surfaces that make the house brighter.
Since installing a false ceiling was not an option as it reduces height, we used eclectic lighting fixtures to supplement the ambience in the house. We also used geometric mirrors to add reflective surfaces in darker corners that needed more light.
#4: Charming Finishes & Details in This Interior Design for 4BHK Villa in Bengaluru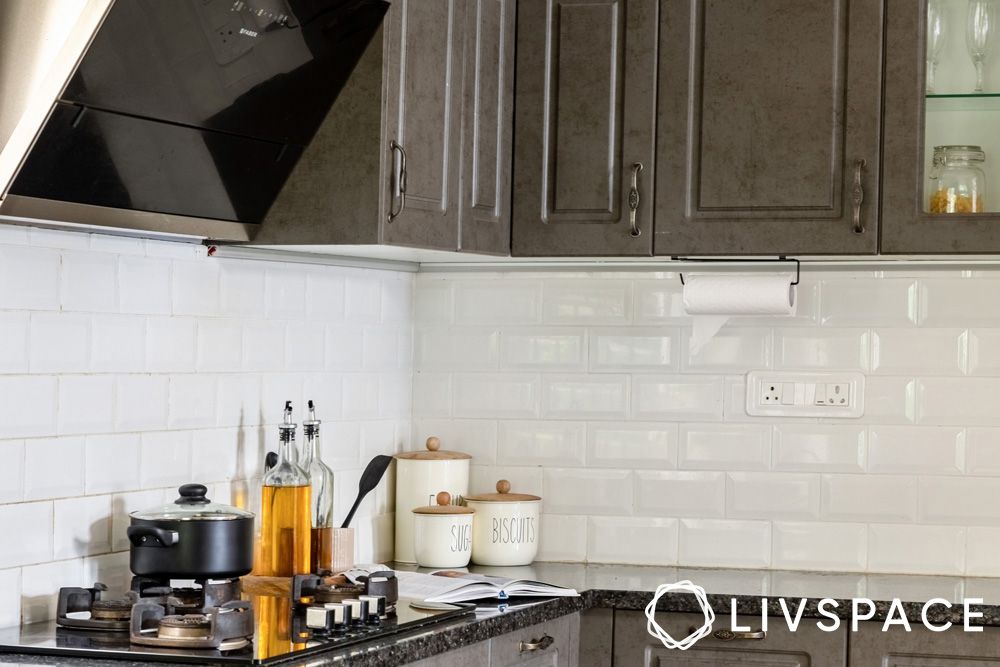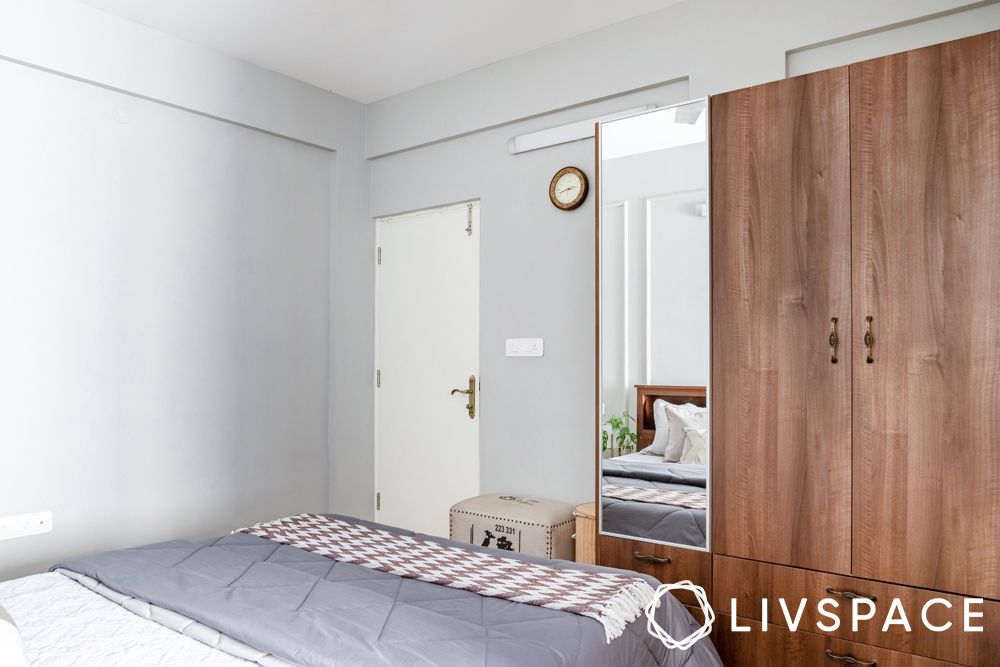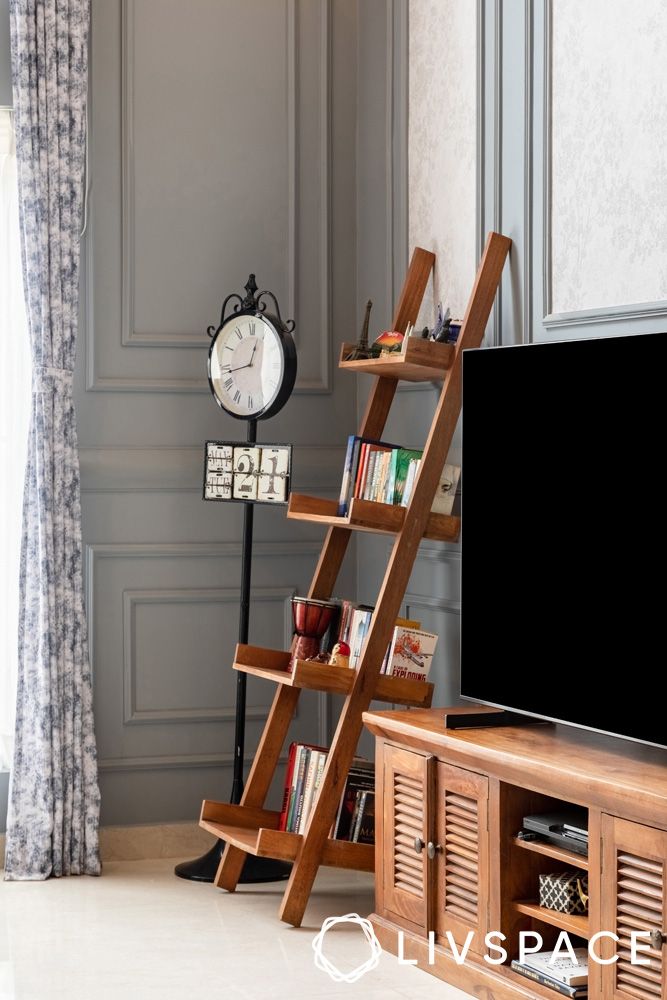 The idea of wooden furniture laid in clean lines is natively European. While some may argue that it is a primary design principle adopted by the modern design style in America, the truth is, American minimalists in the 1950s were inspired by the Scandinavian interior style. The Nordic interiors, at that time, primarily consisted of wooden furniture laid in clean straight lines, against light-coloured walls.
It was either the Scandinavian furniture or the baroque (a maximalist design style) for Prasun. But since he also wanted a lot of free space for his kids, we went with the Scandinavian idea. And with it, we finally added warmth in Prasun's European grey-toned, Parisian-wall enclosed rooms. The use of bright wooden furniture made it all come to life!
Even in the kitchen, there are these classical/grooved shutters with grunge finish and antique handles to inspire that dramatic, reclaimed-furniture feeling that we get from European homes.
#5: The Imperative Travel-Inspired Interior Design for 4BHK Villa in Bengaluru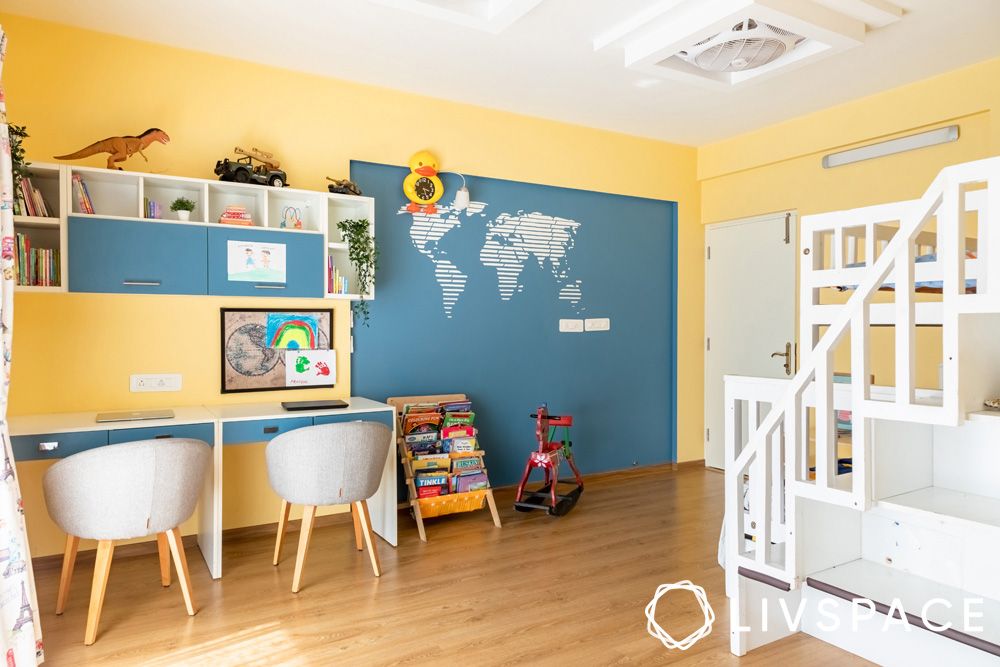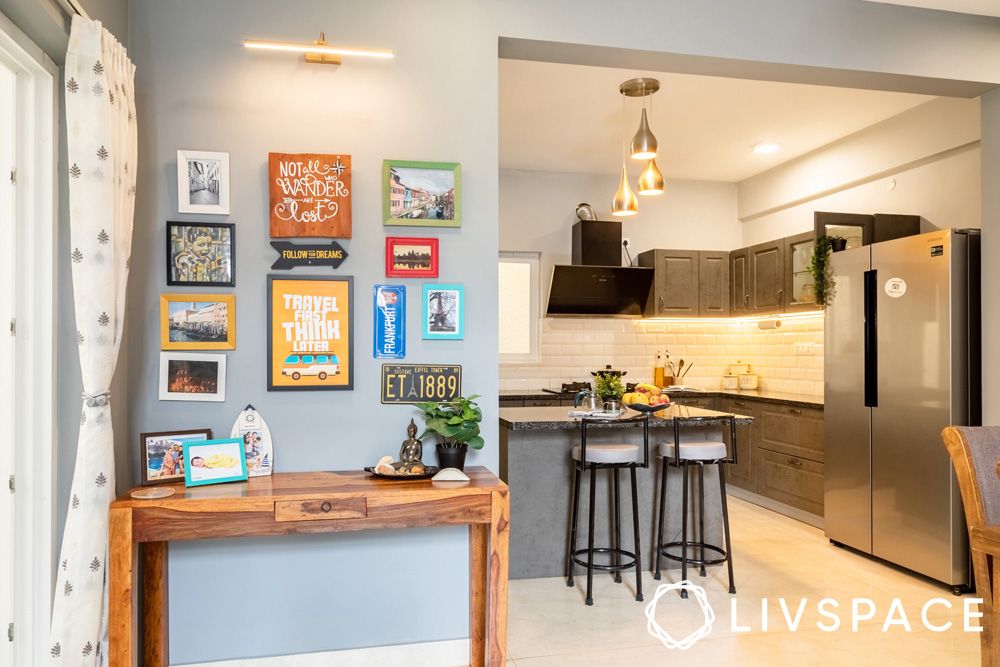 No home can fully belong to a family unless it showcases their personality. Prasun's family travels together frequently and collects souvenirs that have become a part of their life and character. Therefore, we had to find a way for this interior for 4BHK villa in JRC Palladio, Bengaluru, to reflect their values. And that's exactly what we did; with this candid display of their lifestyle and their achievements, we made the house look like a true reflection of their wanderlust spirit.

Despite the back-to-back lockdowns and strict safety-protocols that we faced in 2020, we managed to make Prasun's dreams come true. He loves his European-style home and will cherish it until…well, until he moves on to his next dream! And take our word for it, we will be here to make his next exciting dream come true as well.
If you like such personalised interiors that are also practical and affordable, you might also like to know more about this stunning contemporary renovation we did for a 4BHK in Eros Kenwood, Faridabad. Also, our modular furniture comes with a flat 10-year warranty that you shouldn't miss!
(For full scope of warranty, please visit livspace.com/in/service)
How Can Livspace Help You? 
If you want your home to be just as beautiful, then look no further. Book an online consultation with Livspace today.
We love hearing from you! Write to us with your comments and suggestions at editor@livspace.com