Clean, calm, and sophisticated are some of the most befitting words to describe this striking 3BHK villa interior design in Hyderabad. Belonging to Johnny Basha and his family, this 3BHK villa takes on a seamless approach to design, planned and conceptualised by Livspace designer Keerthi Priya. What's more, the home also follows some basic vastu principles to strengthen the overall design the Bashas were looking for!
So, what exactly does it take to design a one-storey home that's sleek, vastu-friendly, and functional? Keerthi gives us all the details that went into this white villa interior design in Nizampet, Hyderabad. Read on for some white villa decor ideas for Hyderabad homes to borrow a few pointers while designing your space.
---
Who Livs here: Johnny and Naseema Basha with their two daughters
Location: Royal Village, Rudra Constructions, Nizampet, Hyderabad
Type of home: Villa with 3 bedrooms
Design team: Interior Designer Keerthi Priya
Livspace service: Full home design
Budget: ₹₹₹
---
IN A NUTSHELL


Brief

To create a seamless and sophisticated-looking home that incorporates vastu-friendly interior design in Hyderabad

What We Loved

The pops of blue in every room of the house to contrast the all-white interiors

Look Out For

– The unique partition wall in the living room
– The toughened-glass backsplash in the kitchen
– The seamless crockery unit in the dining area that also holds a washbasin

Smart Buy

– The entire modular kitchen (including the countertop) only took up ₹4.4 lakh of the budget
– The partition wall in the living room is estimated to be around ₹65,000 to ₹70,000


#1: All-White Villa Interior Design in Nizampet, Hyderabad That Embraces an Open-Layout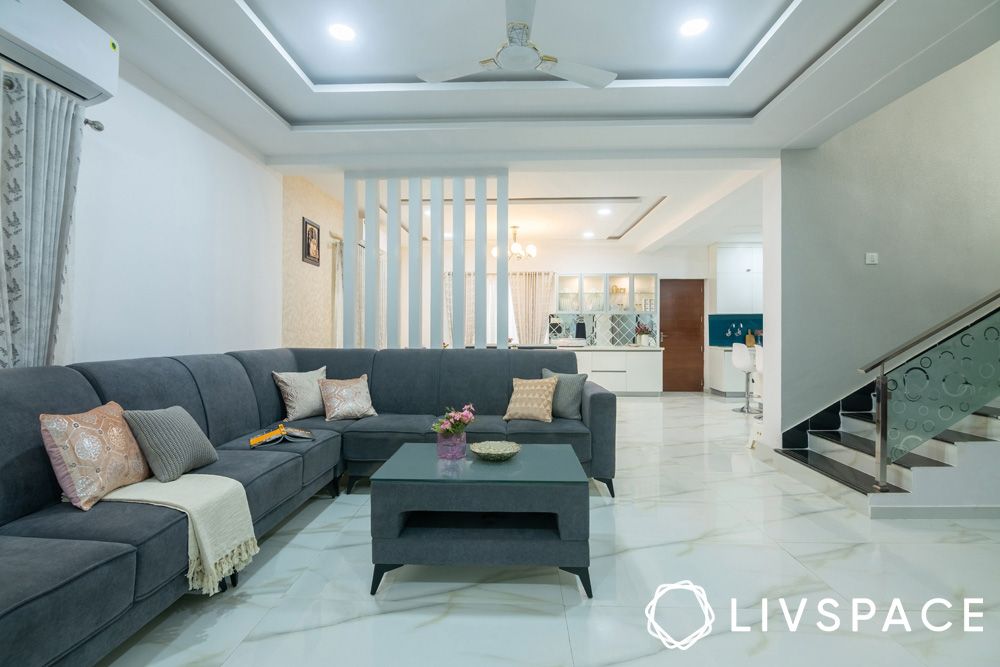 You might think that white is an unconventional colour for most Indian homes as it can be relatively high maintenance. However, when it came to selecting a theme for this 3BHK villa interior design in Hyderabad, Keerthi knew that white would be the perfect pick for the homeowners. After all, the family wanted a design that amplifies the spaciousness of the home and white is a great way to support it.
Another unique aspect of this white villa interior design in Nizampet, Hyderabad is the way the partition is set up. Instead of going for the usual placement of aligning the rafters towards the side of the wall, Keerthi opted for an off-centred placement. This helps add interest to the space in a subtle yet intentional way.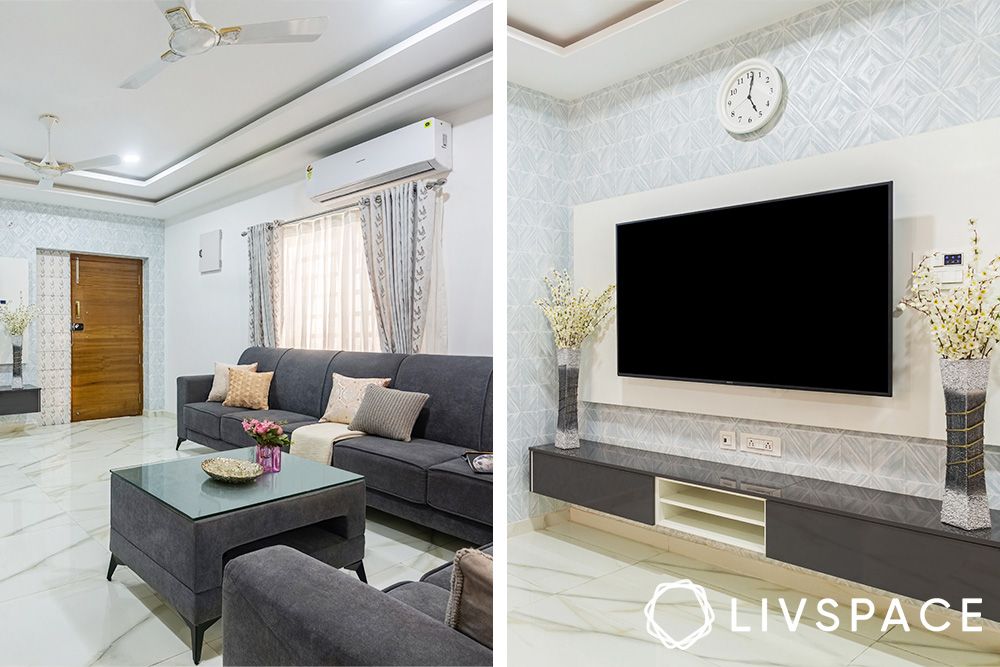 Besides the partition, Keerthi also designed the TV unit for the living room. Here, the Bashas were keen on keeping the space simple and uncluttered. In turn, Keerthi ensured that the TV unit design was kept minimalist with neutral colour palettes to fit into the rest of this 3BHK villa interior design in Hyderabad. Moreover, she also uses calming blue wallpaper as a backdrop to highlight the minimal-style TV unit, creating a cohesive look.
The TV unit and wallpaper certainly make a statement in the living area, especially since the TV unit itself spans seven feet wide. What's more, the TV unit was a relatively budget-friendly purchase estimated between ₹35,000 to ₹38,000!
#2: Unique Dining Room Furniture Complements Sleek Design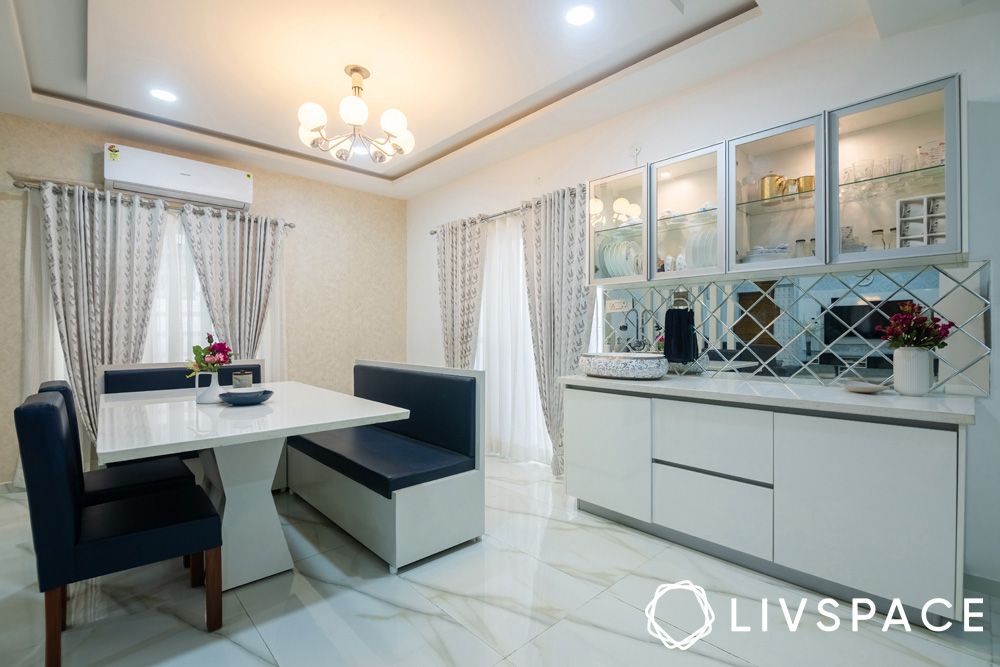 The first thing to notice when entering the dining room is the change in lighting from white to warm white. Though a subtle shift, it really helps chalk out a cosier atmosphere where families share meals and stories over a hot plate. Also, since this 3BHK villa interior design in Hyderabad follows an open-layout floor plan, Keerthi's focus on creating a seamless design was heightened.
In effect, bench-style chairs were used to tie the open spaces together in this white villa interior design in Nizampet, Hyderabad. Since the dining area has the partition wall and crockery unit on opposite sides, Keerthi had to ensure that the furniture didn't overpower the space. What's more, these types of chairs can easily be moved to the side to open up the room further.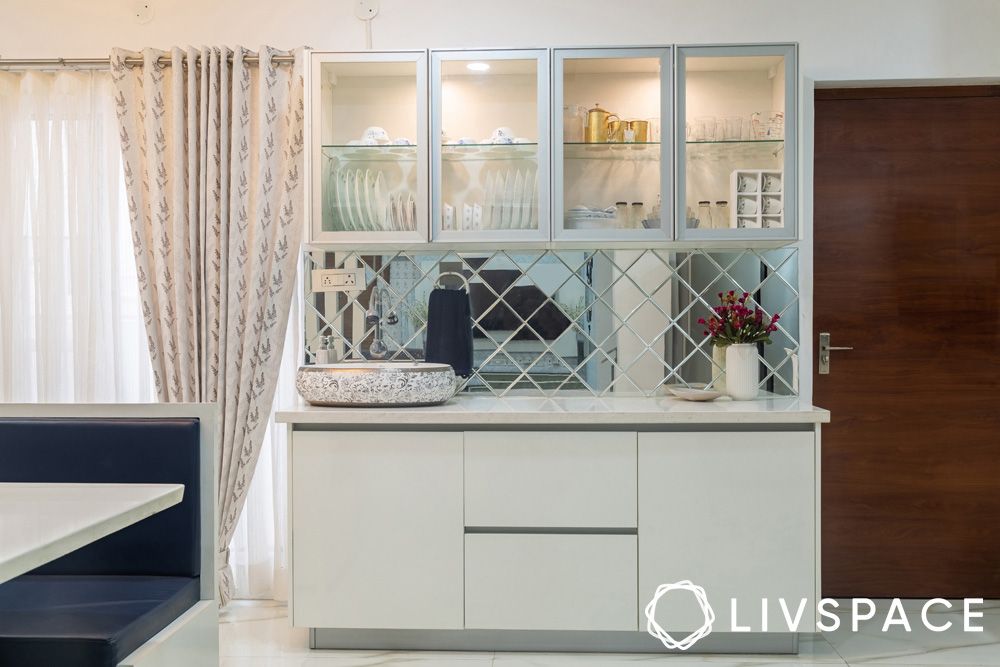 The customised crockery unit is, without a doubt, the statement piece in the entire dining room. In fact, it's in the direct line of sight as soon as guests enter the home and make their way through the living room. Since the homeowners wanted a more spacious look and feel to their 3BHK villa interior design in Hyderabad, the mirror panelling in the crockery unit was ideal.
If you look a bit closer, you'll also notice that this crockery unit has a washbasin attached to it. With this addition, the crockery unit becomes a multifunctional piece that offers both storage and a hand-washing area during mealtimes. It further adds a level of sleek sophistication to this classy white villa interior design in Nizampet, Hyderabad.
#3: Toughened Glass Makes a Statement in This Sparkling Kitchen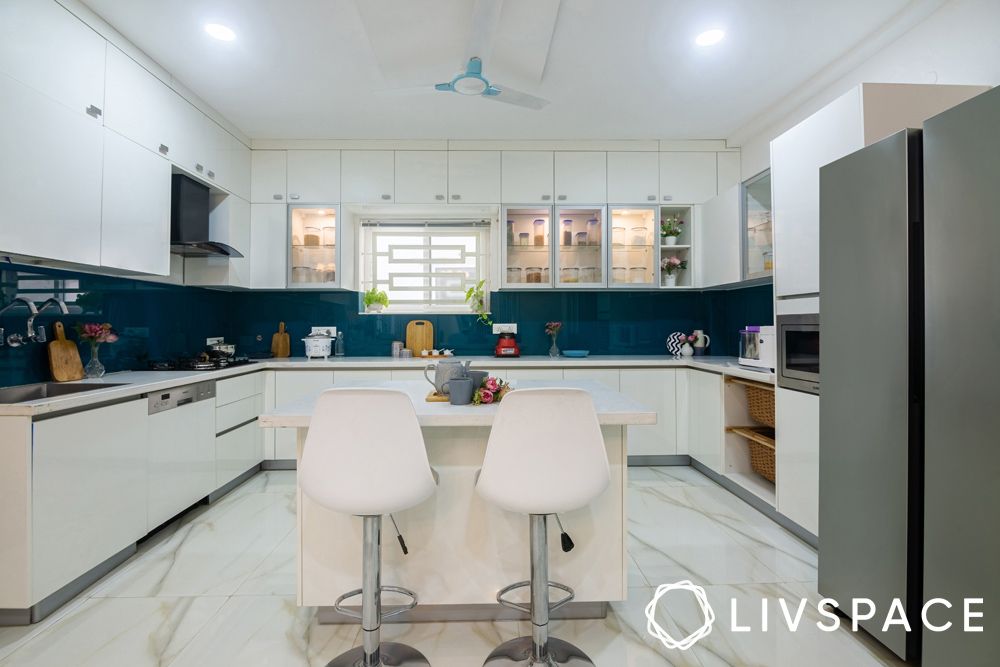 For designers like Keerthi, making a unique statement in every home she designs is a priority. So, it's only natural that she wanted to give the Bashas something unique for their 3BHK villa interior design in Hyderabad. Keerthi achieved this by using toughened glass, in a lovely shade of blue, for the backsplash! Not only does the toughened-glass backsplash add contrast against the white theme, but it's also relatively easier to clean compared to tiles.
Curious to know exactly what went into the modular kitchen of this white villa interior design in Nizampet, Hyderabad? Here's a simple breakdown of details you might find useful while designing your kitchen:
Cost of the Modular Kitchen in This 3BHK Villa Interior Design in Hyderabad
Price: ₹4.4 lakh for the modular kitchen from Livspace, including the cost of the countertop and kitchen island
Materials: Toughened glass for the backsplash and high-gloss laminates for the cabinetry
Benefits of toughened glass: It is heat-resistant and easy to maintain if you prefer a low-maintenance kitchen.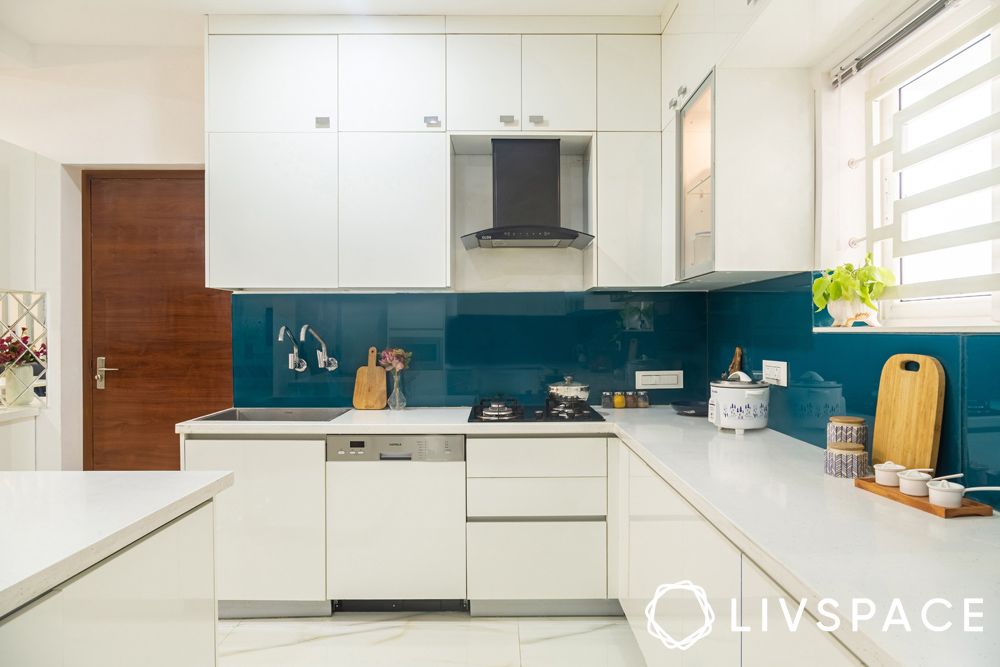 Apart from a flawless design, the kitchen in this 3BHK villa interior design in Hyderabad is also vastu-compliant. These vastu-specific inclusions are more evident in areas like the kitchen and bedrooms. For the kitchen, vastu dictates that the sink and dishwasher be placed together. The dishwasher also acts as a separator between the hob and sink to keep both fire and water separate.
Similarly, Keerthi designed the kitchen to have a bigger workspace on the right side while keeping the wet areas of the kitchen to the left. To know more about creating a vastu-friendly interior design in Hyderabad homes, check out 9 easy kitchen vastu tips to follow in 2022.
#4: A Vastu-Friendly Master Bedroom for Peaceful Nights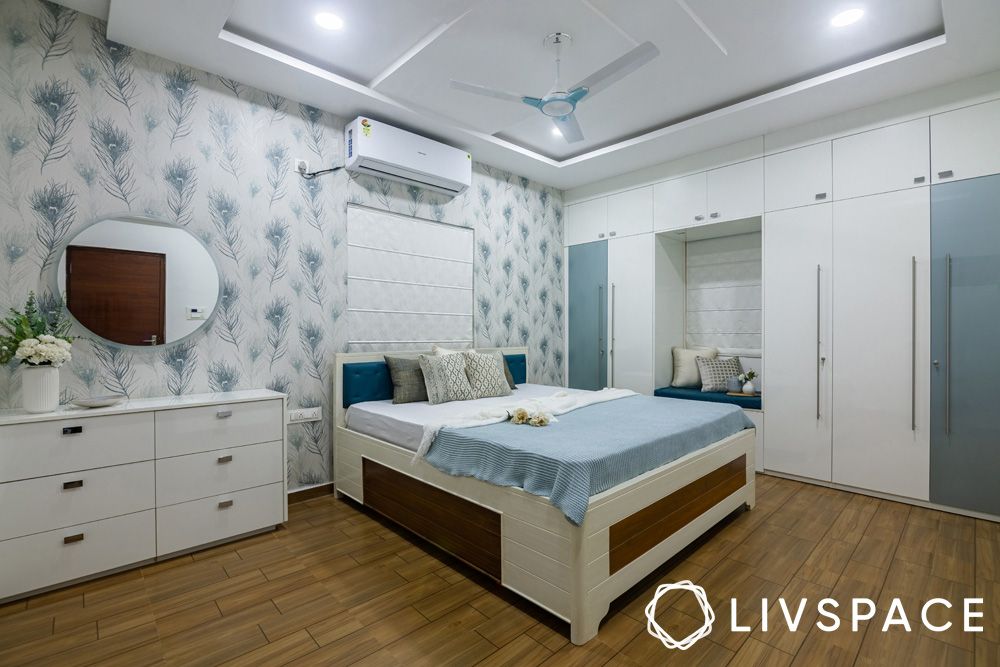 When you enter the master bedroom of this 3BHK villa interior design in Hyderabad, you will notice that the bed occupies the south direction as per vastu. Another interesting feature you'd notice in this room is the little window niche between the wardrobes. Keerthi tells us that this window nook acts as a separator between the his and hers sections of the wardrobe. Isn't that a clever way to chalk out distinct zones in a room!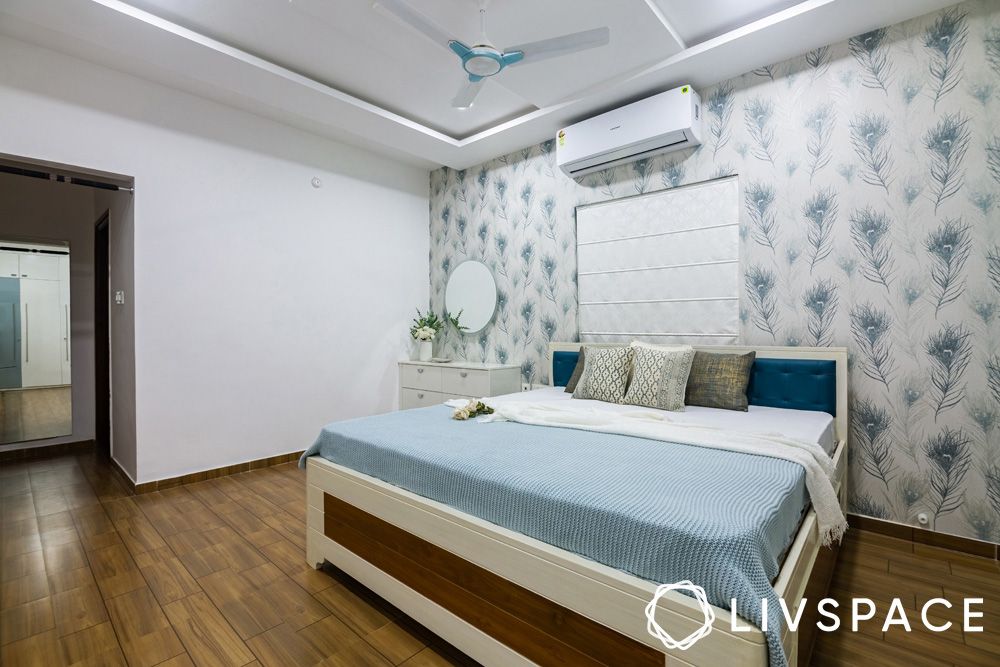 Since the entire white villa interior design in Nizampet, Hyderabad uses white palettes, Keerthi wanted the bedrooms to have a pop of colour. Here's where blue makes more of an appearance since the homeowners were keen on shades similar to sea green and sea blue. To maintain a calming vibe, Keerthi chose subtle shades of blue for the wallpaper and wardrobes to complement the other elements in the room.
#5: Functional and Pretty: The Guest Bedroom Doubles as a Home Office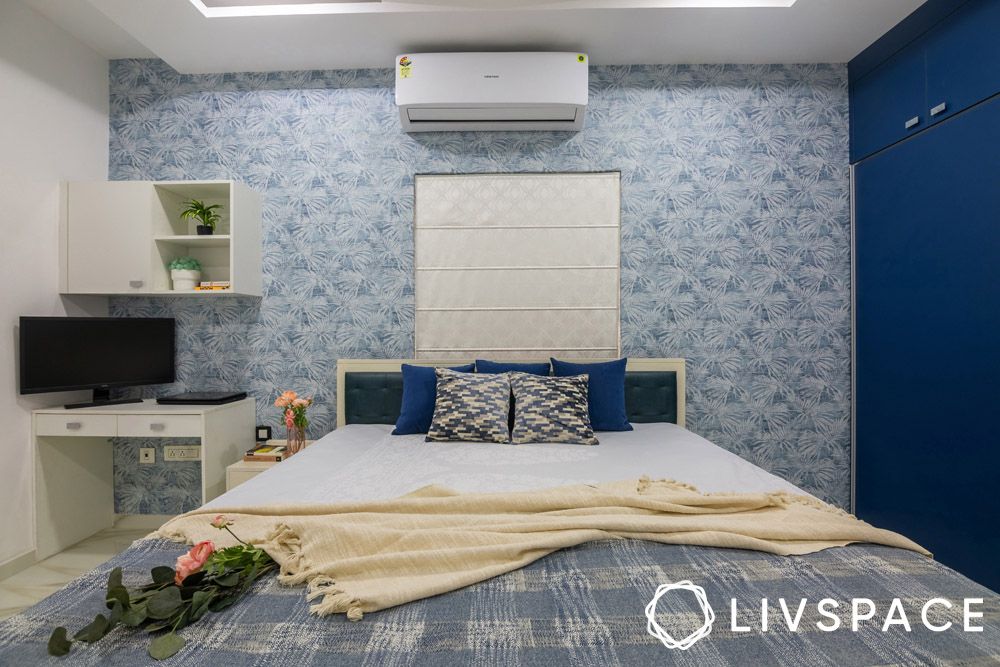 Unlike the master bedroom, the guest bedroom in this 3BHK villa interior design in Hyderabad is relatively smaller and lacks space for a dresser. To make the most of what was available in terms of space, Keerthi infuses a compact dresser area alongside the window-seating niche. Additionally, the space comes with storage, making it easy to store items while getting ready.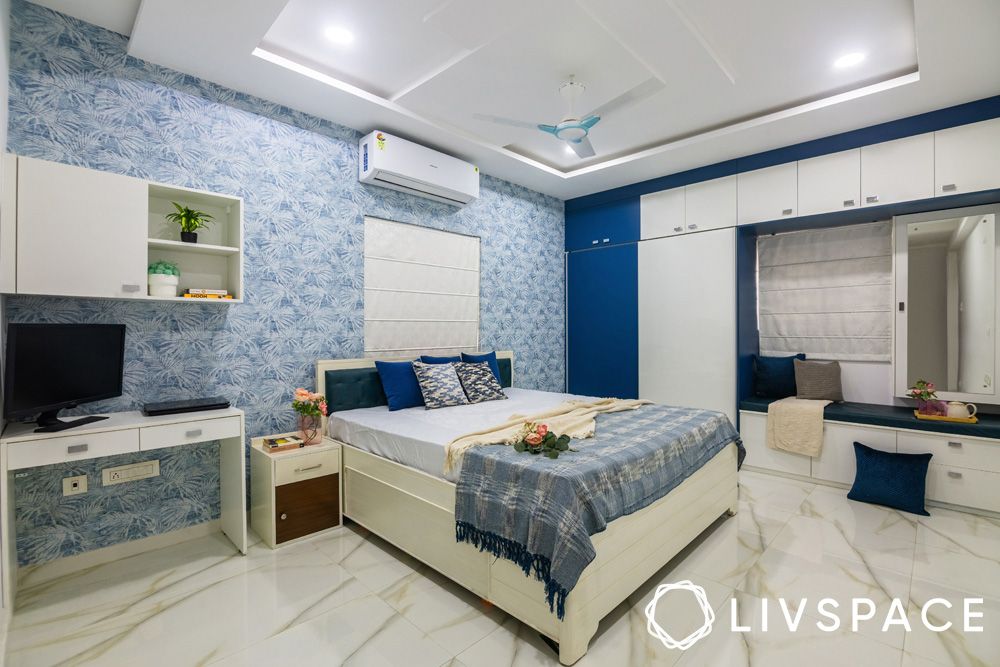 The family wanted to have their study area in the guest bedroom to keep their workspace private. This helps them keep their work and sleeping areas separate from each other in their white villa interior design in Nizampet, Hyderabad. Besides this, both rooms have a similar approach to design in terms of the window-seating area among the wardrobes.
#6: A Kids' Bedroom That's Perfect for Growing Teens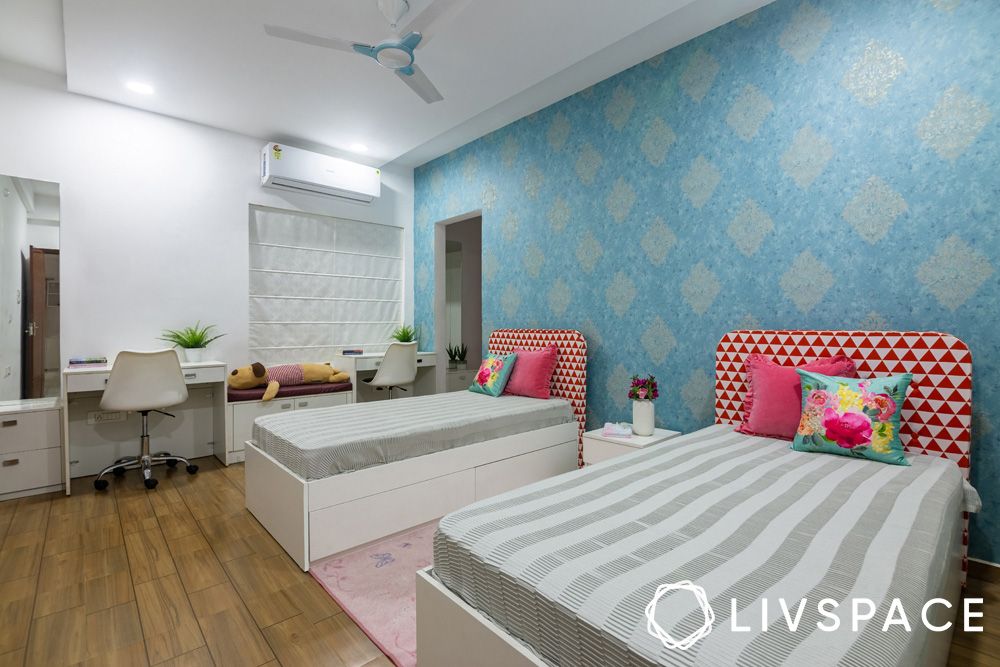 Designing a room for growing kids can be quite the task, especially when both kids share the same room. Since both the daughters were keen on having everything in their shared room kept separate, Keerthi had to get creative with the design. Compared to the other rooms in this 3BHK villa interior design in Hyderabad, the kids' room takes on a slightly different approach.
Though the room has double of everything in it – beds, study tables, and dressers – you'll notice that each unit has a separator between them. This helps give both daughters their own space even in a shared room. Similarly, the family didn't want to use shelving on the walls so Keerthi improvised with a window seat that offers storage.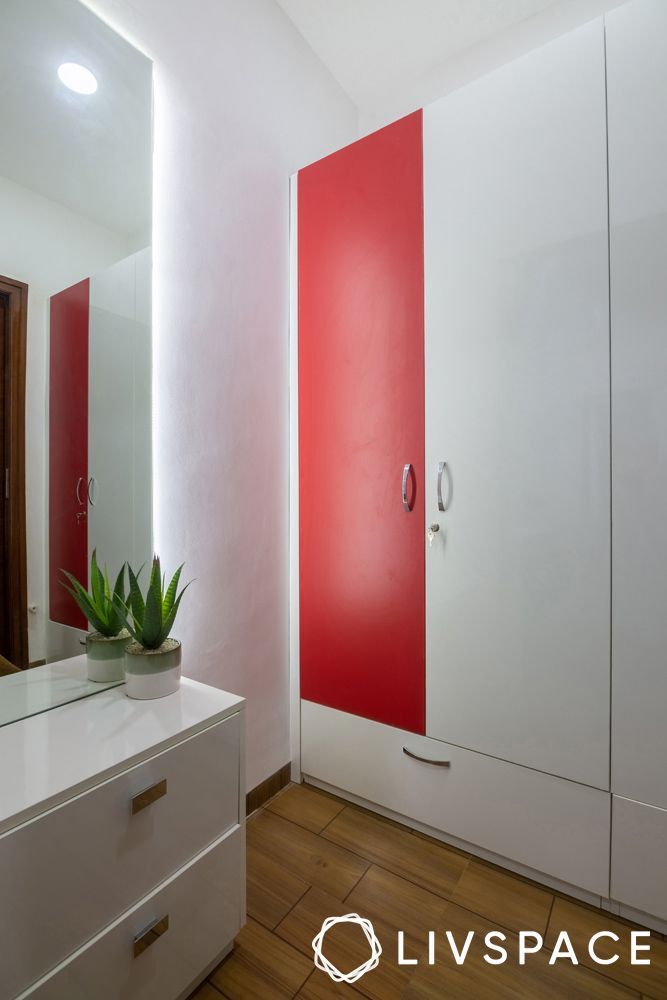 With both daughters nearing their teens, they didn't want a room that looks childish in terms of colour palettes. To accommodate this, Keerthi stuck to the blue-and-white theme presiding over the white villa interior design in Nizampet, Hyderabad. Subtle pops of red on the wardrobe and headboard complement the theme of the kids' room.
Here's What the Family and Our Designer Had to Say About This 3BHK Villa Interior Design in Hyderabad:
Based on the finishing and colour combinations we received, I think we can proudly say we made the right decision to go for Livspace. If you want a good product with good finishing, I think Livspace is the best choice.

Johnny Basha, Livspace Homeowner
They made me feel comfortable and were open to suggestions. I wanted to share as many solutions as possible until the homeowners were satisfied, but they let me decide what would be best for them. Working with the Bashas was a seamless experience and we were able to wrap up the entire project smoothly.

Keerthi Priya, Livspace Designer
How Can Livspace Help You?
We hope you enjoyed reading about these white villa decor ideas in Hyderabad! For more home tours similar to this 3BHK villa interior design in Hyderabad, check out the subtle interiors for this sprawling villa.
Similarly, if you want beautiful interiors for your home, then look no further. Book an online consultation with Livspace today. Have any thoughts or suggestions you'd like to share with us? We're all ears! Drop us a line at editor@livspace.com.