Beauty in simplicity – this Hyderabad home design is warm and welcoming.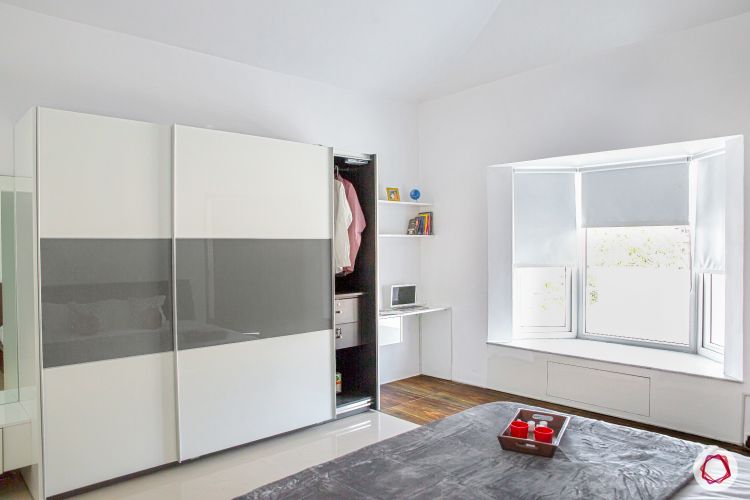 ---
Who livs here: Lohit Krishna Tripuraneni's dad TV Choudary with his wife Malti Tripuraneni
Location: Maitri Enclave, Shaili Gardens, Sainikpuri, Secunderabad
Size of home: 4 BHK spanning, 4,500 sqft approx.
Design team: Interior Designer Kalyaani with Quality Manager Murali Yarragadda
Livspace service: Kitchen design and two bedrooms
Budget: ₹₹₹₹₹
---
It's not every day, that prospective clients travel all the way from Hyderabad to Gurgaon to check out our work, based solely on their faith in us. Livspace was recommended to Lohit by a friend in Gurgaon who was getting their interiors done through us. He convinced his parents, living in Hyderabad, to visit the EC's in Gurgaon to get a first-hand feel of things.
Following a successful visit, our first project in Hyderabad was kicked off! Kalyaani was chosen to be their designer, who took it forward from there. It's been a rollercoaster ride since then, with discussions with Lohit over calls and messages. But after all the back and forth and some super quick decision making, the first #livspacehome in Hyderabad took shape. Take a tour.
Let's Kick Off with the Kitchen!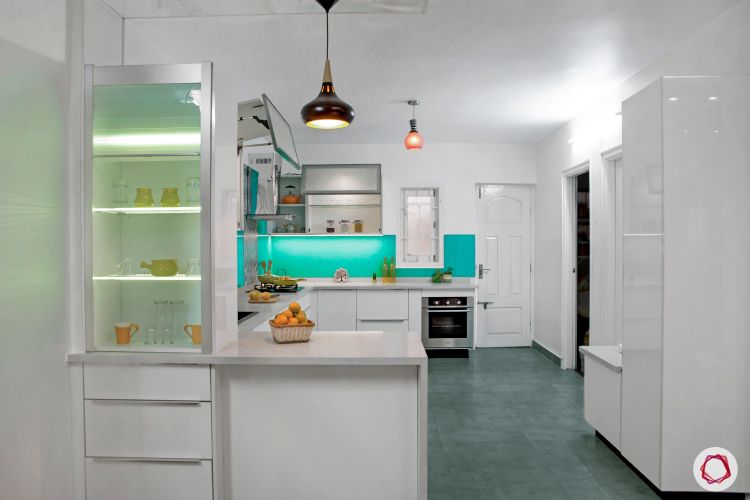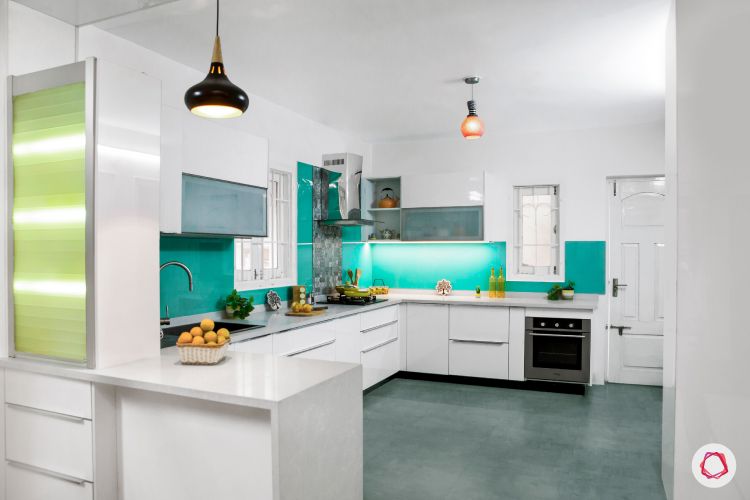 The kitchen is the most attractive space in this home, and it catches your eye as soon as you enter. When we got talking to Kalyaani, she told us that the the family was biased towards white for their kitchen. Therefore, she decided to add a splash of colour in the backsplash. "After giving them a couple of options, they zeroed in on this aquamarine back-painted glass backsplash," said Kalyaani. On the outside, you can see a glass rolling shutter cabinet which is used for crockery storage.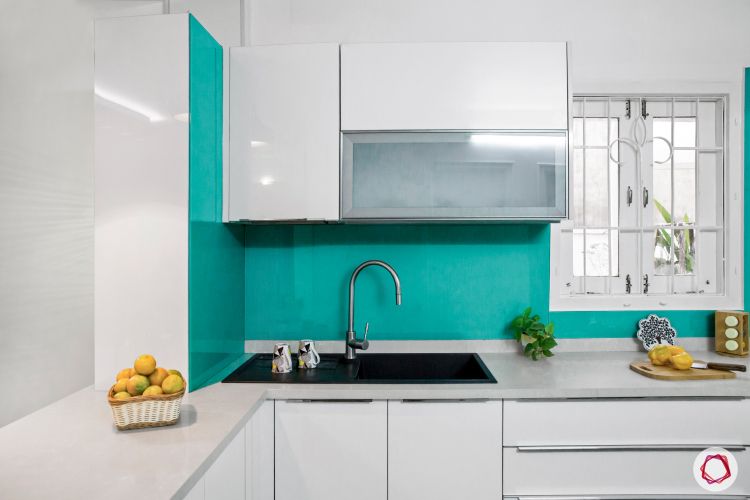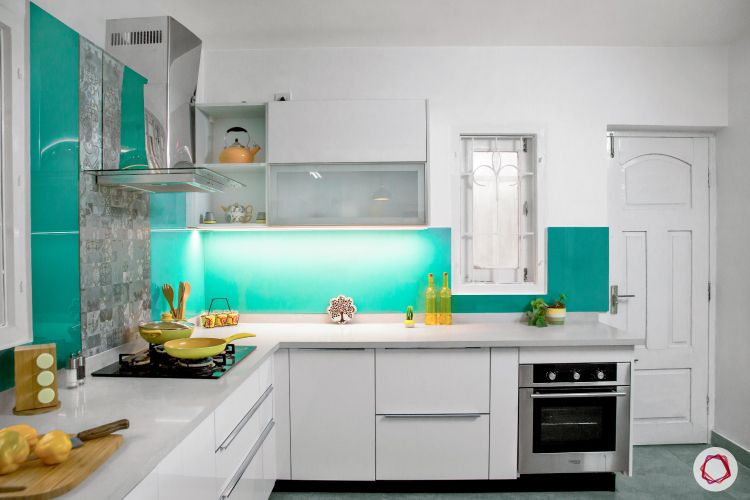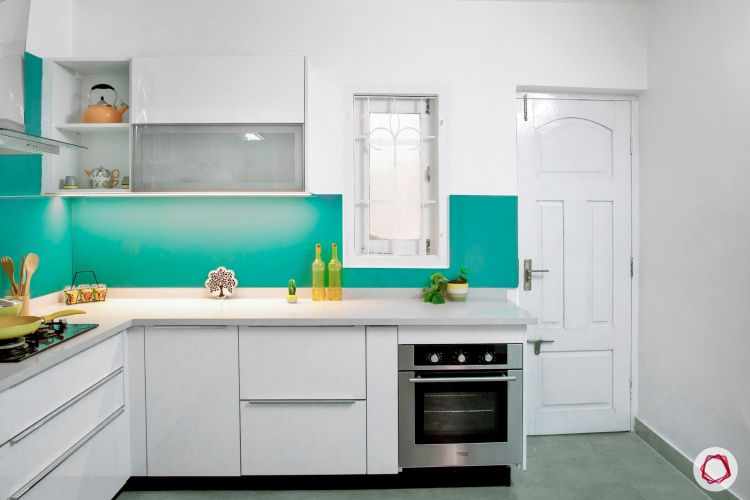 The family wanted a built-in oven in the kitchen, since Lohit's mom enjoys grilling and baking. The counter space has been left empty, so that it gives her plenty of prep space. The Aquaguard unit is given above the sink area, where the faucet has a simple pull-out mechanism.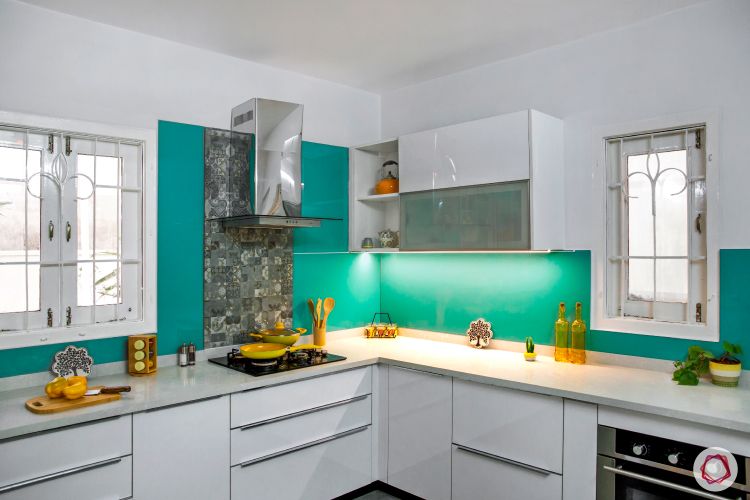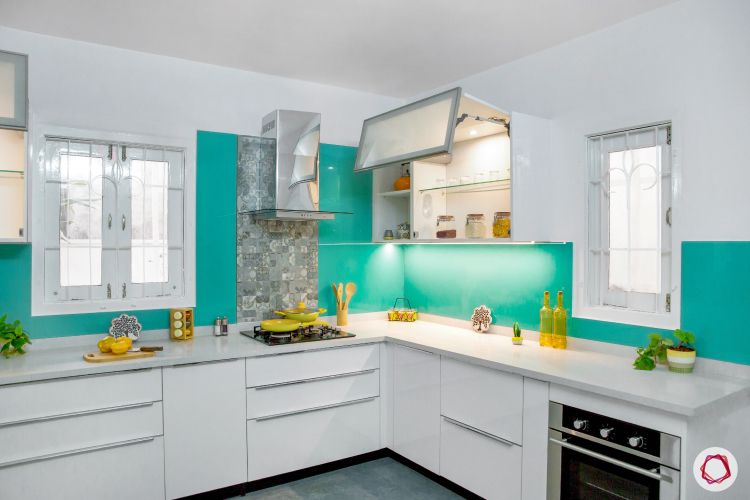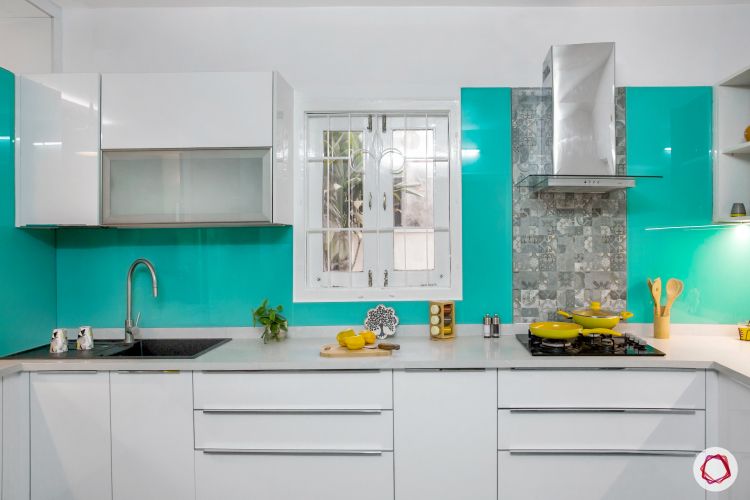 To give the aquamarine backsplash a break, Kalyaani, suggested ceramic tiles behind the hob. Task lighting under the cabinets make sure that the kitchen is never dimly lit when people are cooking. And that's not the only source of light for this kitchen. It also enjoys a lot of natural light seeping in through the windows.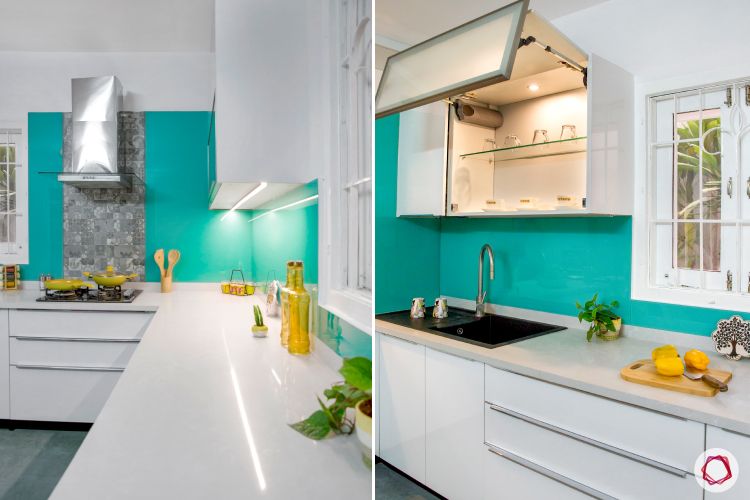 Do you want to know what's exclusive about this kitchen? We were thrilled to know that the family opted for the SERVO-DRIVE mechanism for their pull-up cabinets. In other words, this is a touch-sensored mechanism, where the user does not have to use any force to pull up or pull down the shutters. This is an ideal choice, given that Lohit's mom is not very tall.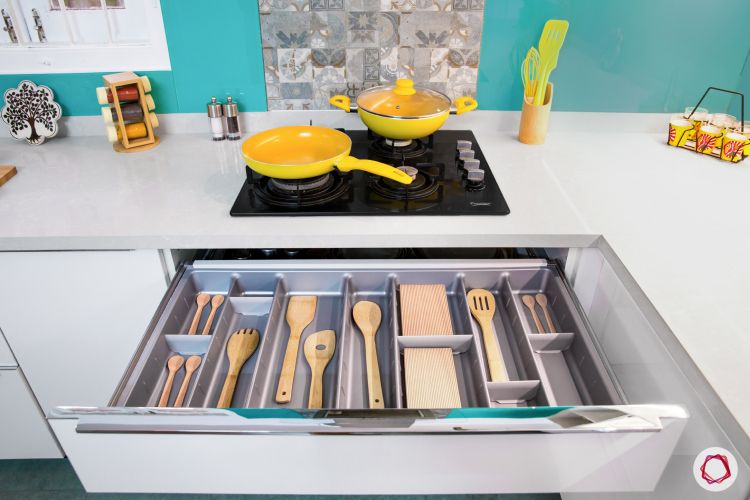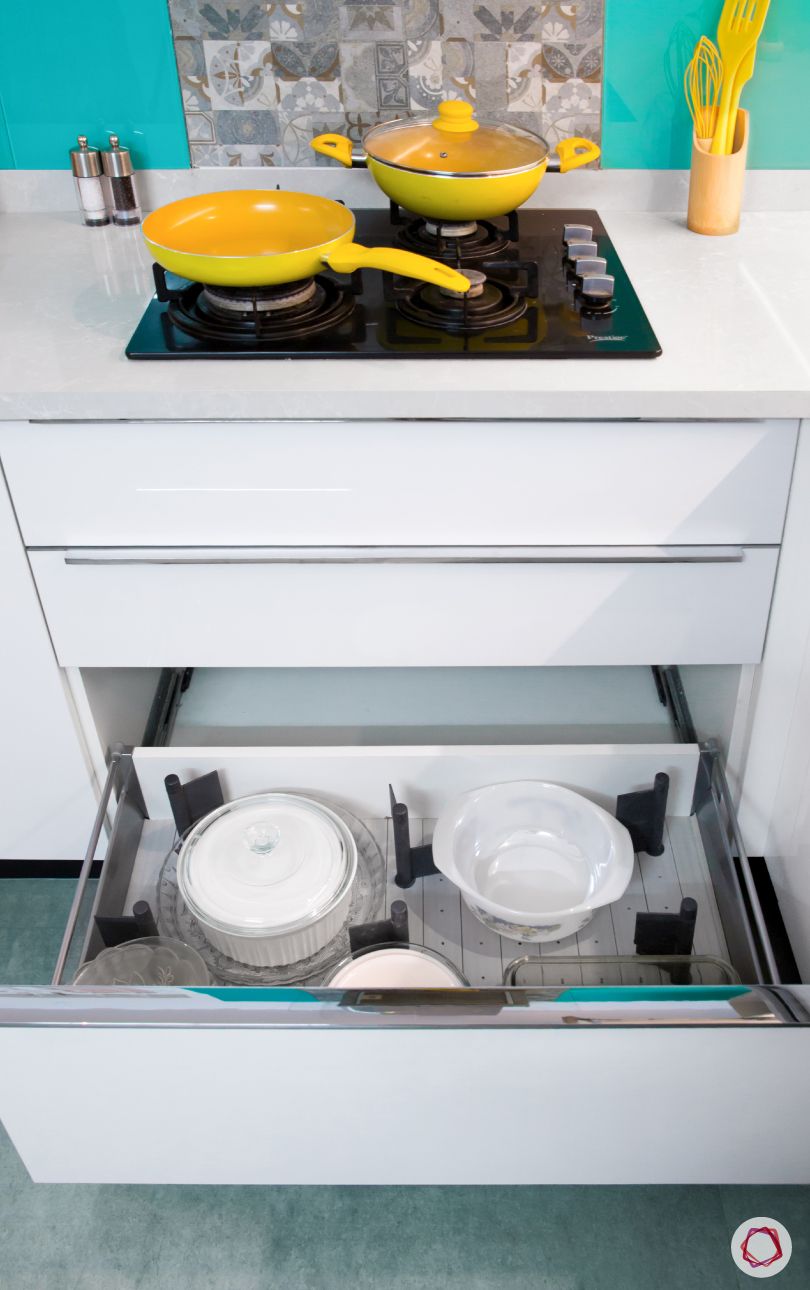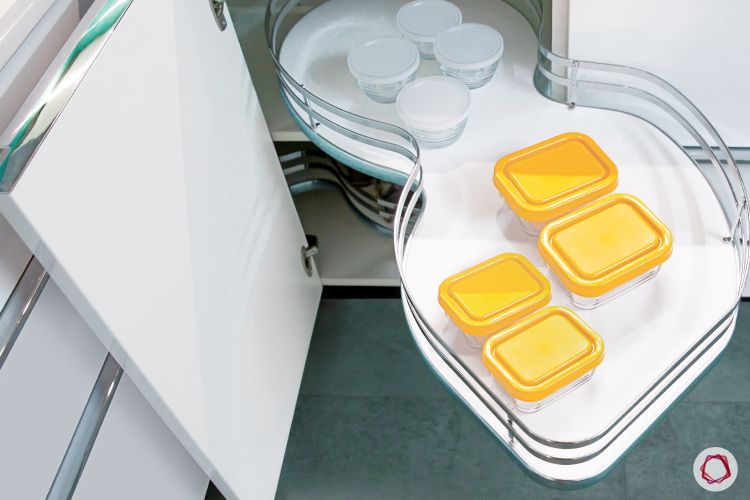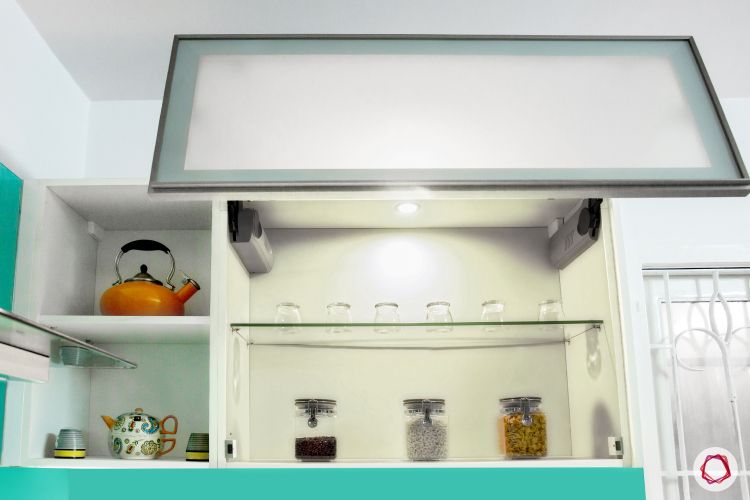 This kitchen design is replete with all necessary modules that anyone would require on a day-to-day basis. With tandem boxes, cutlery units and LeMan's corners, this kitchen makes the cooking experience stress-free.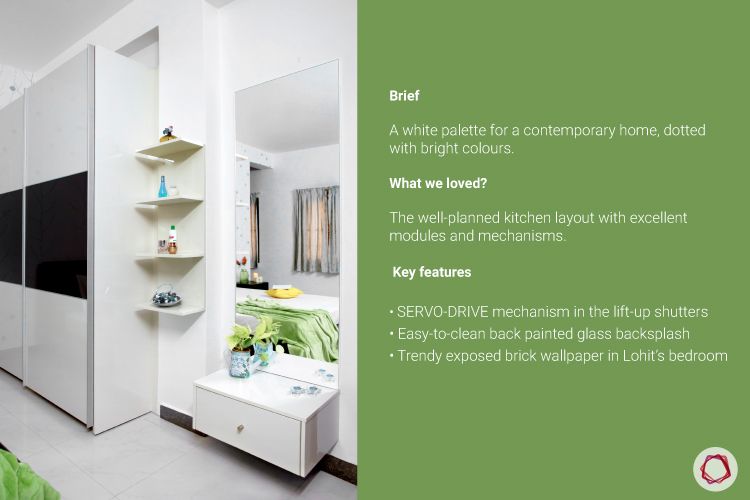 Moving on to Lohit's Bedroom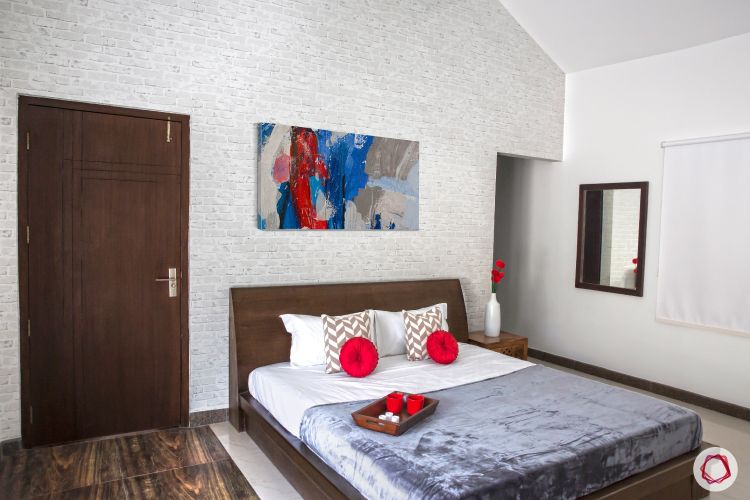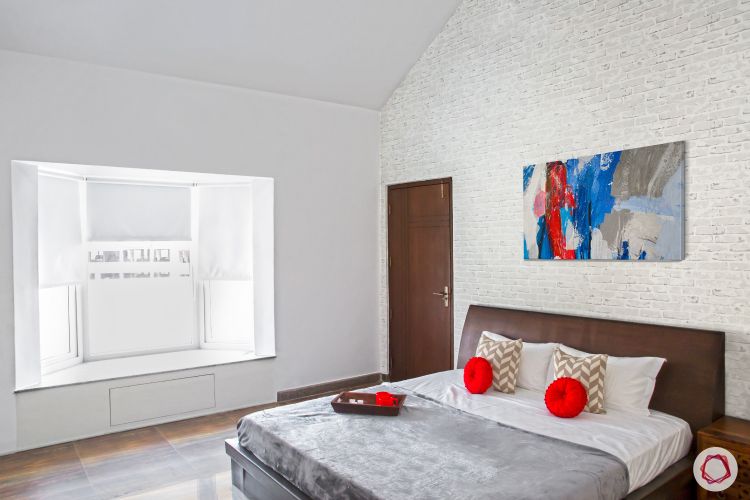 Lohit's bedroom in this sprawling villa is mostly inspired by Pinterest and the looks that he saw at our experience centre in Gurgaon. He fell in love with the exposed brick wall idea and wanted the same thing for his bedroom. Also, Kalyaani, suggested this wonderful bay window, which can be utilised as a quiet reading nook by Lohit and his wife. This room, like the rest of the home, is done up using white undertones, and looks so spacious as a result!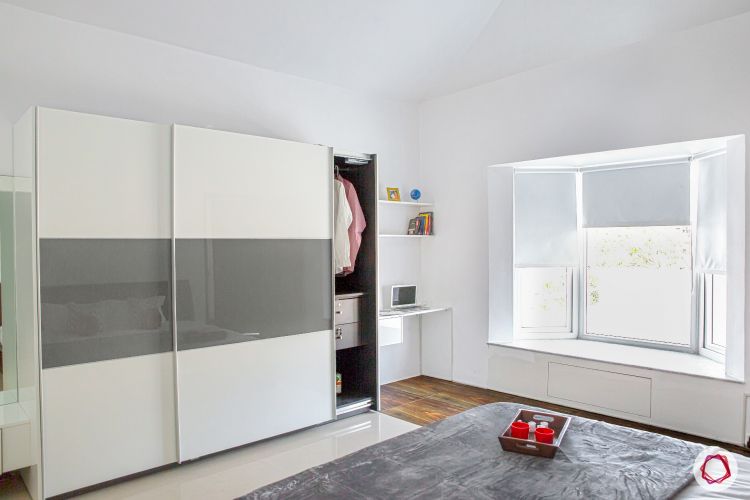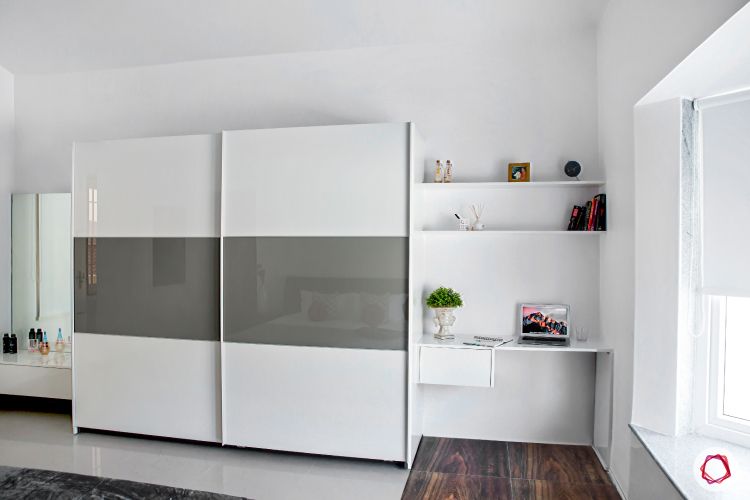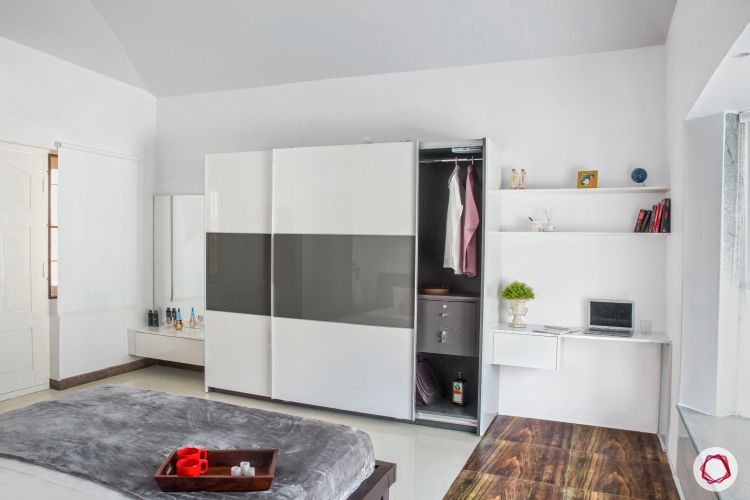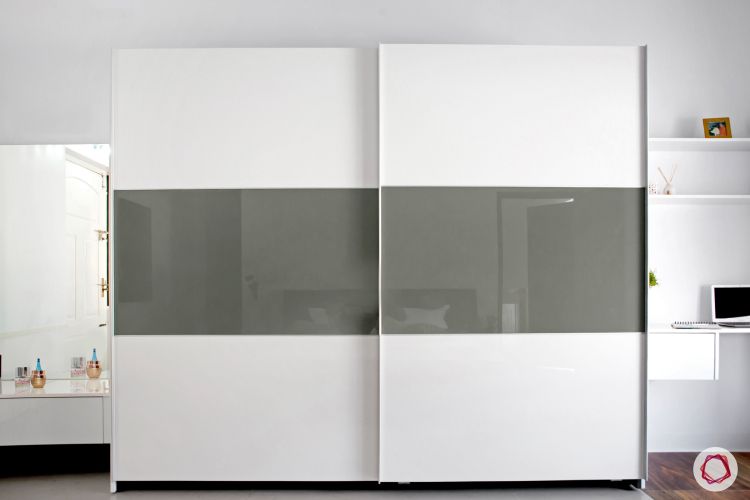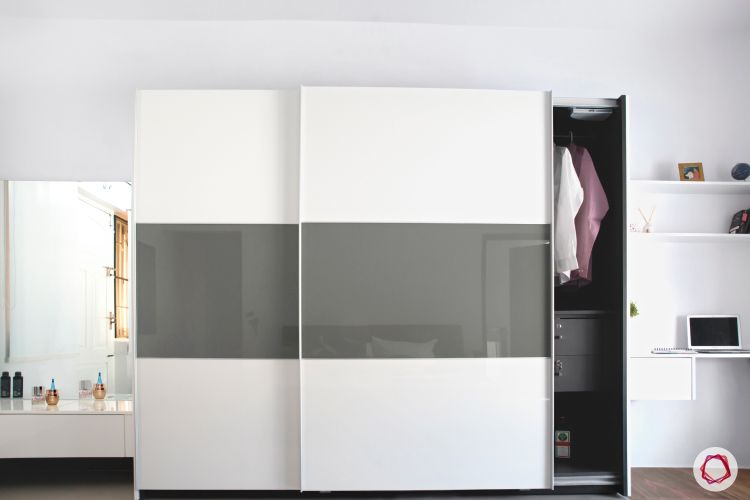 This room underwent quite a few civil changes, in terms of layout. The wardrobe was flanked by windows on either sides which was unnecessary. So, Kalyaani decided to seal it up and create more meaningful spaces for the couple. As a result, the dresser and the study corner was born, which they could use whenever they are visiting. The wardrobe is a luscious white and slate grey, sliding version, just as they wanted it to be!
A Muted Bedroom that Makes a Mark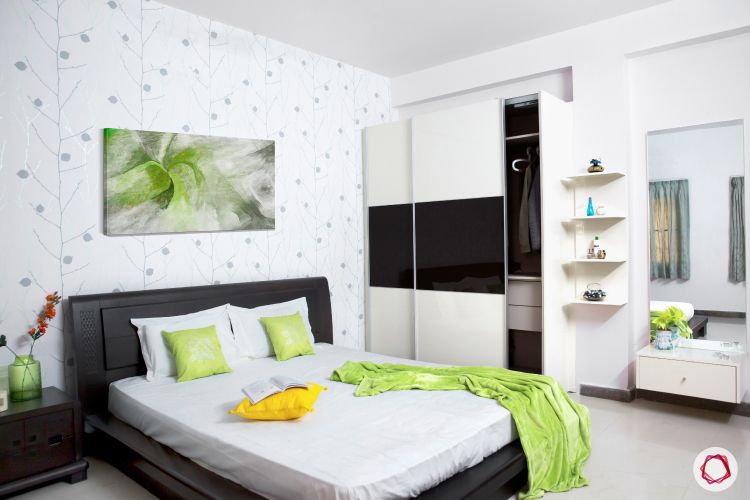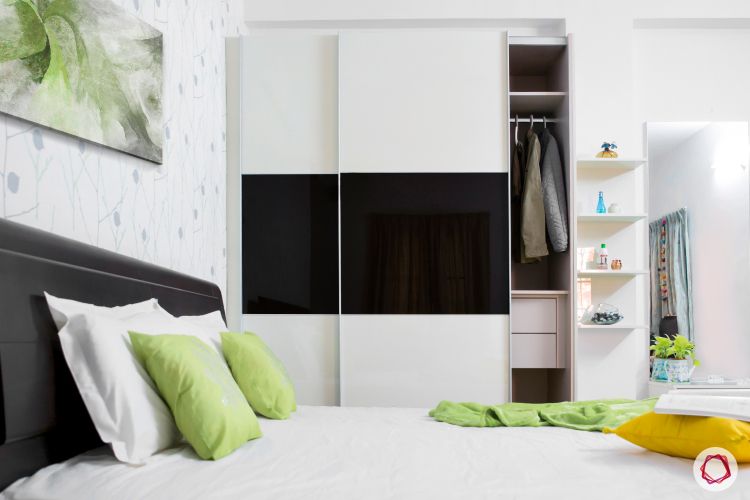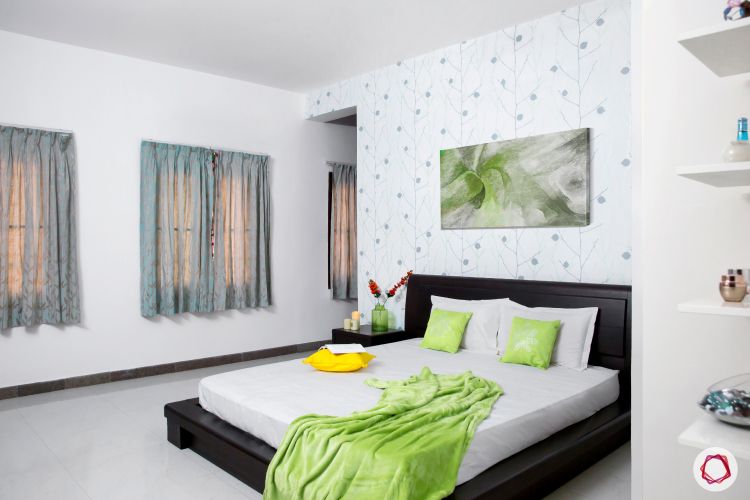 Lohit wanted to gift his sister a renovated and fresh room, and thus, this room underwent a major overhaul. Kalyaani gave her simple ledges near the dressing table, where she could store all her cosmetics. The wallpaper was carefully selected by Lohit's mom for her daughter's bedroom and it looks so pleasing. We also love the peaceful and calm aura that surrounds this room. The wardrobe is again a sliding one, in delicious choco brown, done up in anti-scratch acrylic laminate. That's some room design!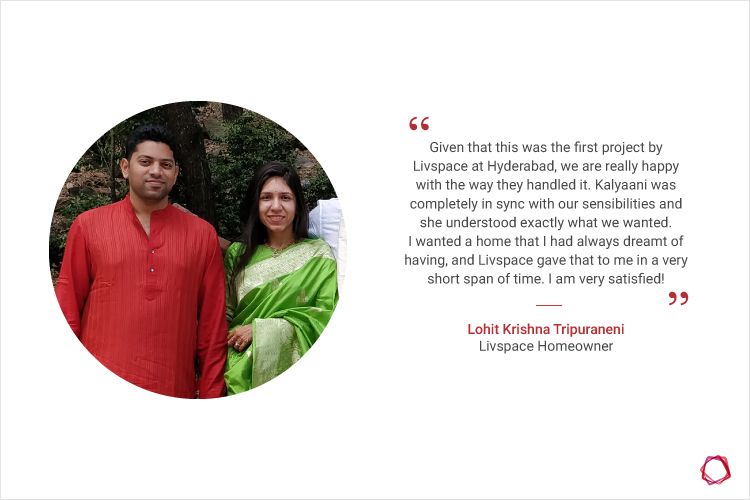 ---
"This was my first project with Livspace and the first project in Hyderabad, and I feel honoured to have worked on it. Lohit and his parents were very cooperative, and decision-making with them was a breeze. I enjoyed designing for the family!"

– Kalyaani, Interior Designer, Livspace
Love this home tour? Check out other homes around the country we have decorated with as much panache!

Tour this Hyderabad home: