This home in Hyderabad spells understated elegance.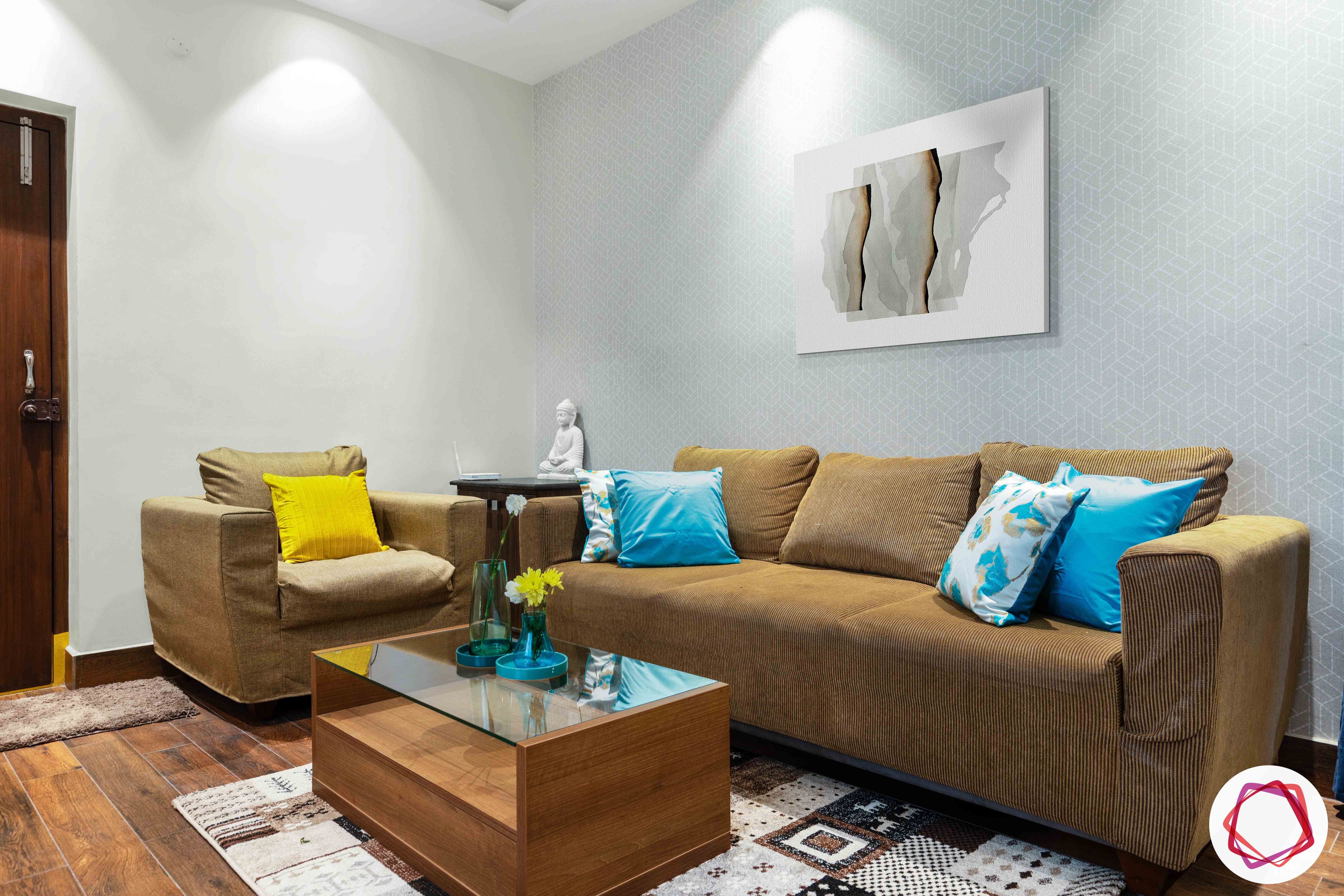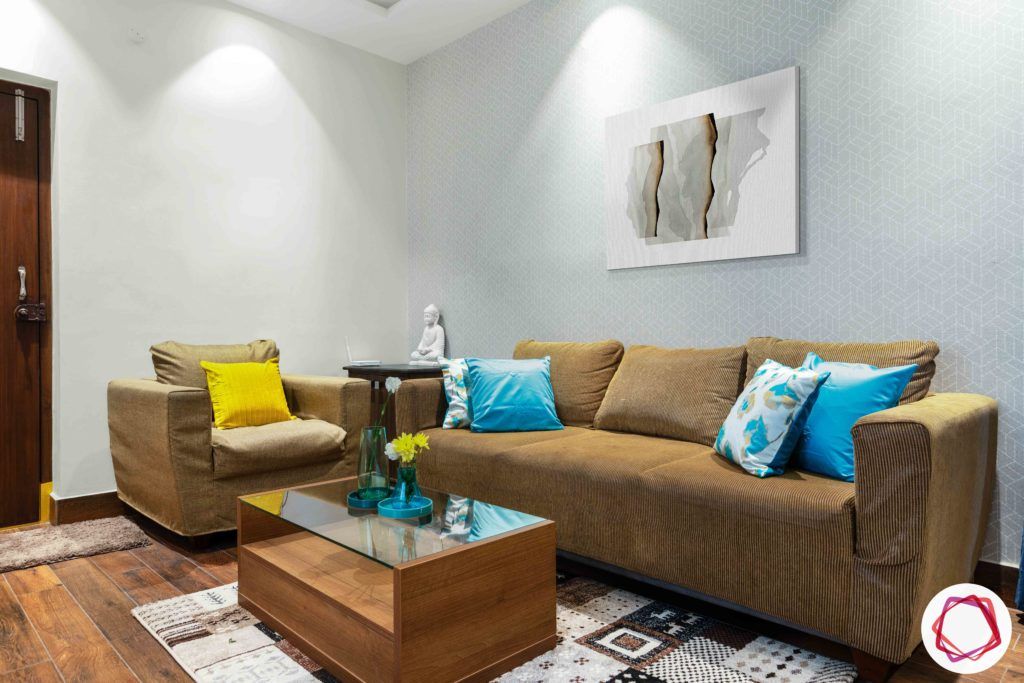 ---
Who livs here: Srikanth with his wife and two daughters
Location: Udaya Adithi Apartments, Gandhinagar, Hyderabad
Size of home: A 3BHK spanning 1,400 sq ft approx.
Design team: Interior Designer Shikha Agarwal and Project Manager Uday Kumar
Livspace service: Full home design
Budget: ₹₹₹₹₹
---
Wooden interiors have vintage value. We naturally associate wood with traditional furniture that is expensive and will last for generations. But this particular Hyderabad home decided to take it up a notch and paired wooden finishes with contemporary designs.
Srikanth and his family wanted their new 3BHK to have wooden flooring, something they always fancied. Our interior designer Shikha Agarwal took it up from there and gave them a homely and clutter-free design that is inspired by some elements of minimalism. However, she gave the home a twist by using a mix of wooden shades and textures to keep things interesting. Moreover, this Hyderabad home was designed on a tight budget, which busts the myth that wooden finishes are always expensive.
Take a tour of this home rich in warm wooden tones and be inspired.
Minimal & Graceful Home in Hyderabad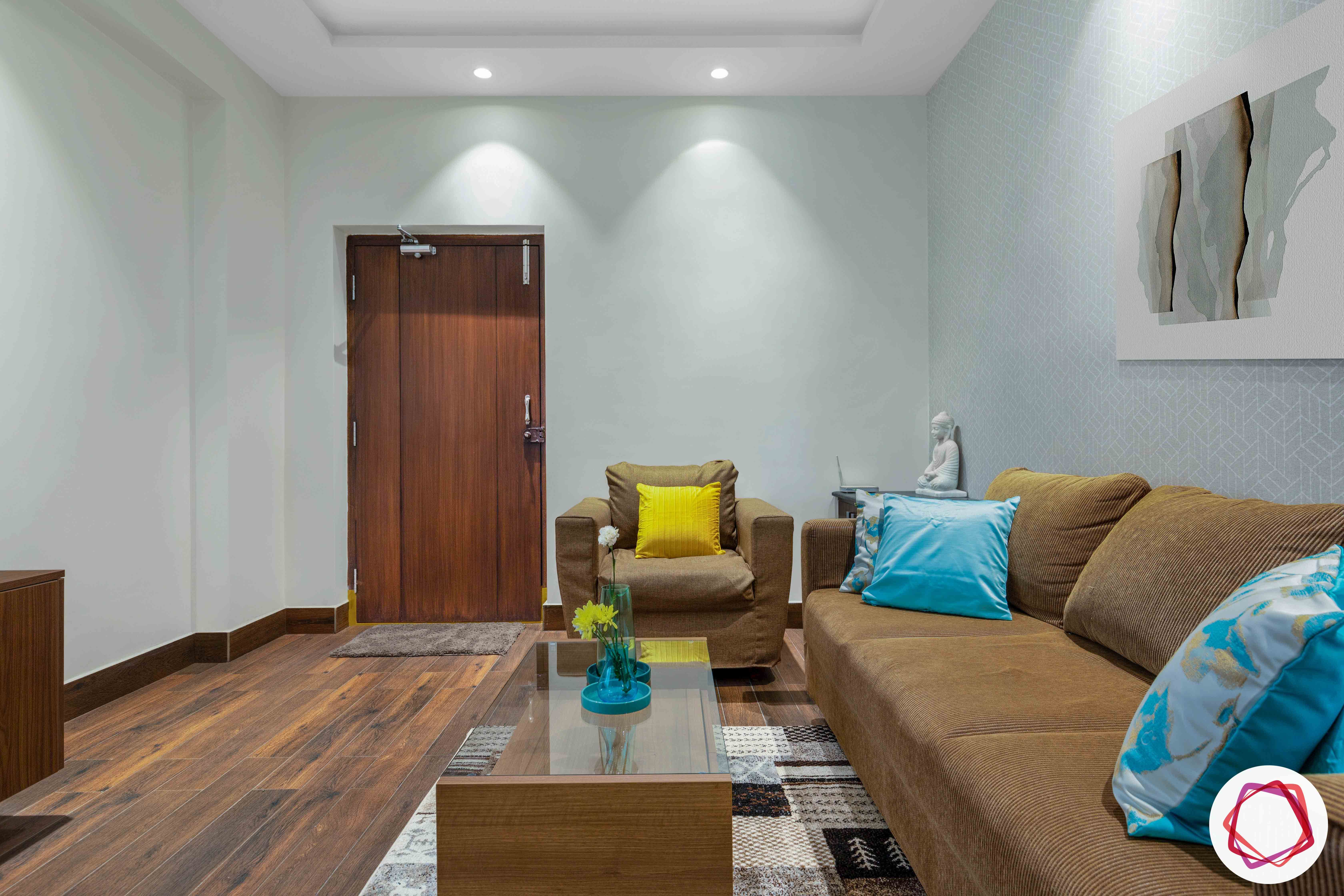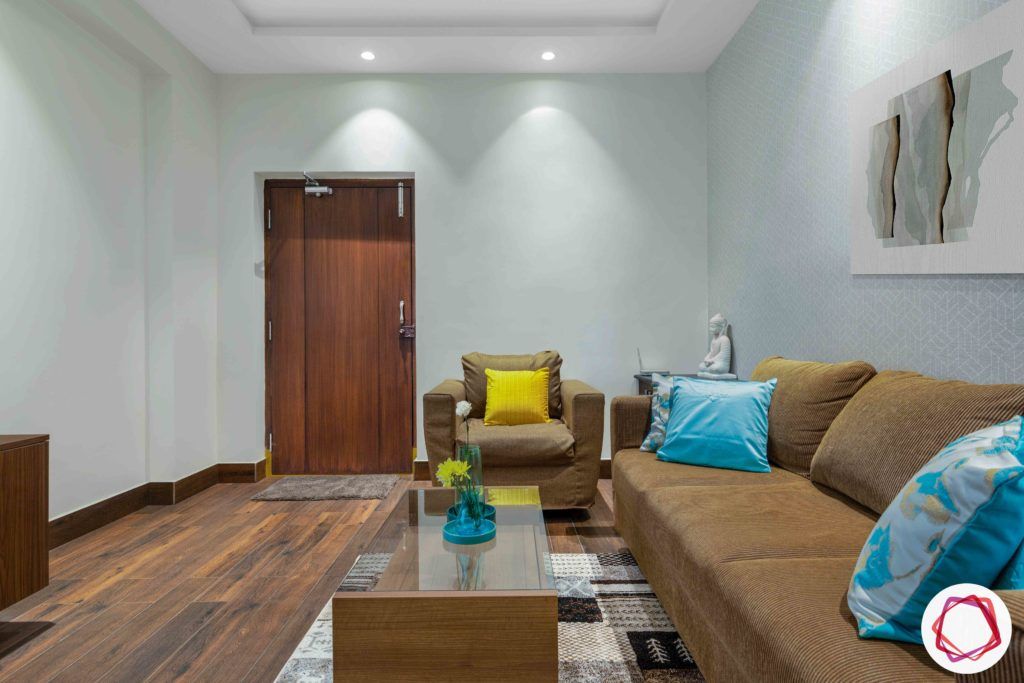 Timber, in itself, is a very heavy material that weighs down space. As the flooring of this home in Hyderabad was done completely with vitrified wood-finish tiles, the furniture had to be light. The fabric sofa set is from the Livspace catalogue and spells simplicity with grace. The centre table has a wooden base for the purpose of continuity but it also has a glass top for variety.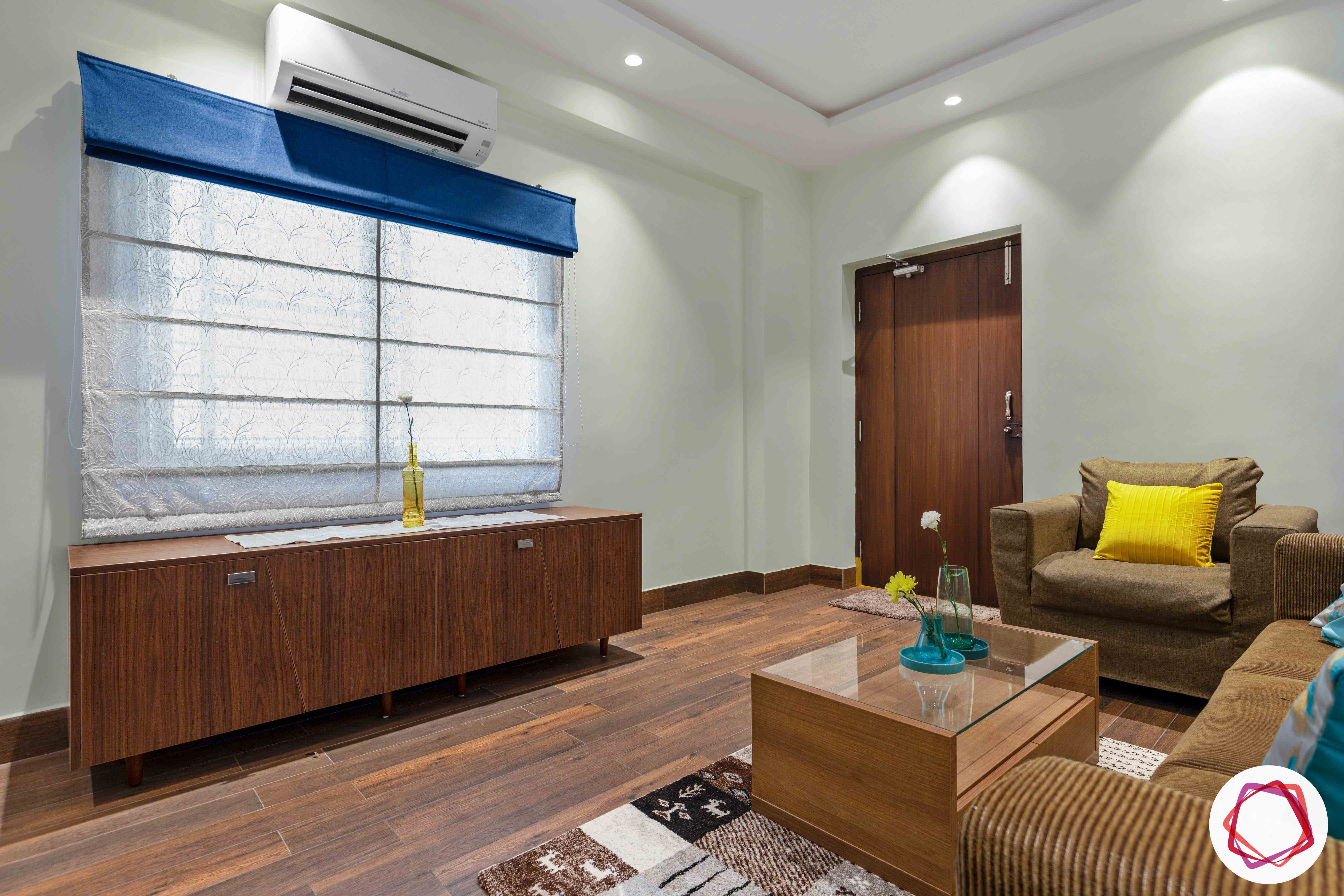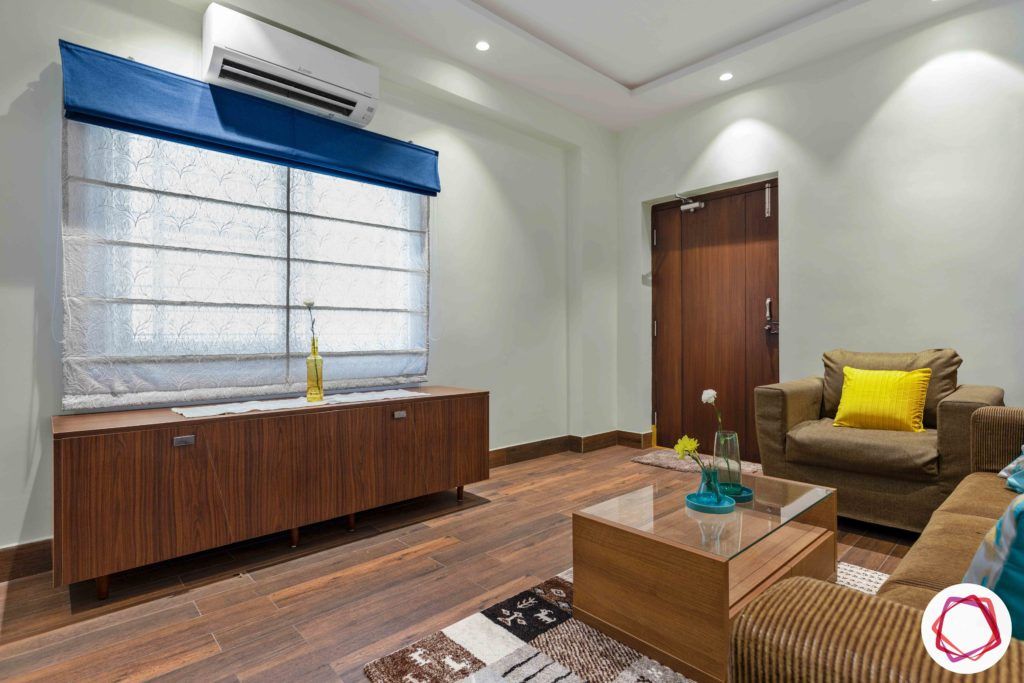 The cabinet by the window is for the family to store miscellaneous items like newspapers and magazines. Since it's low in height, it doesn't take up vertical space.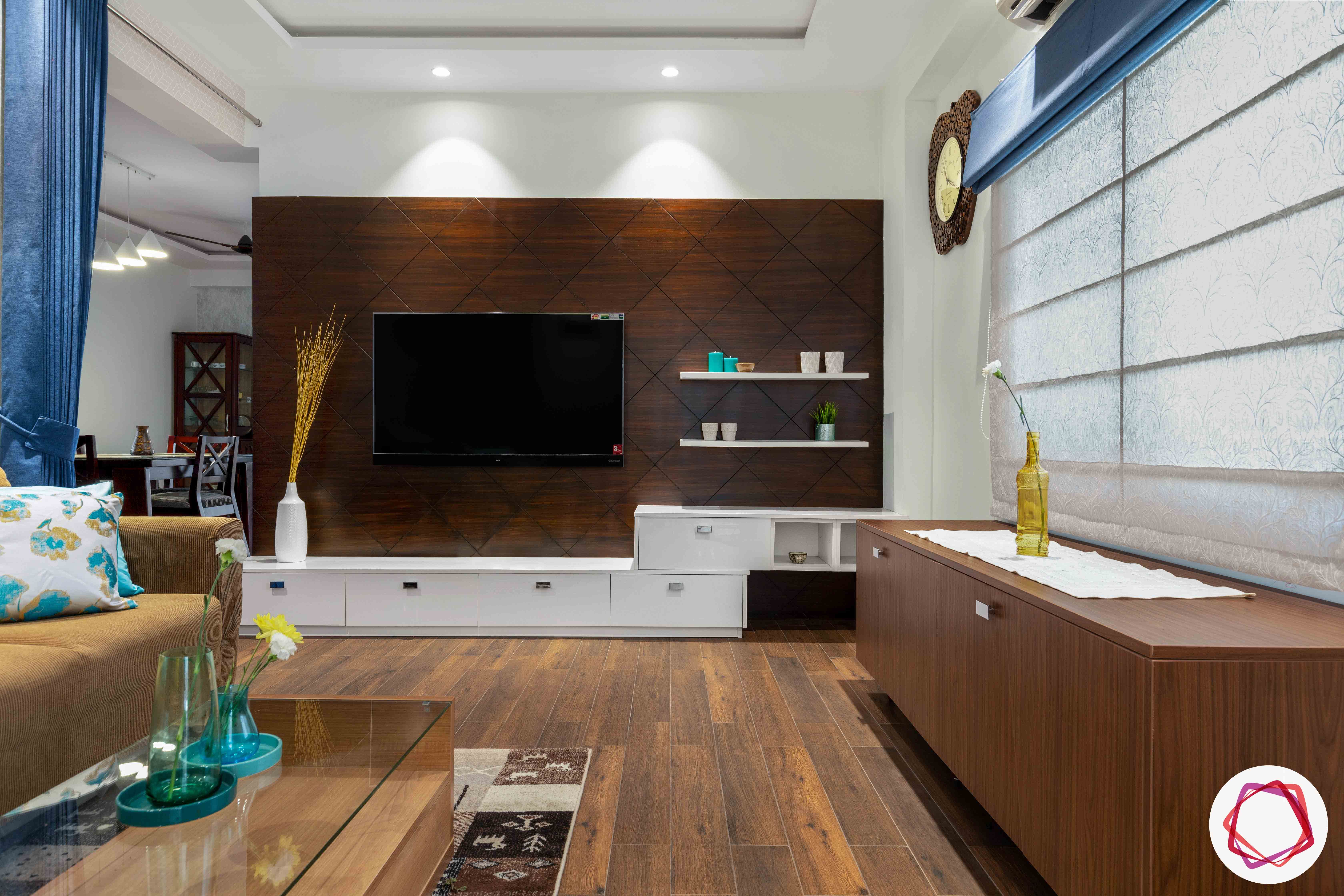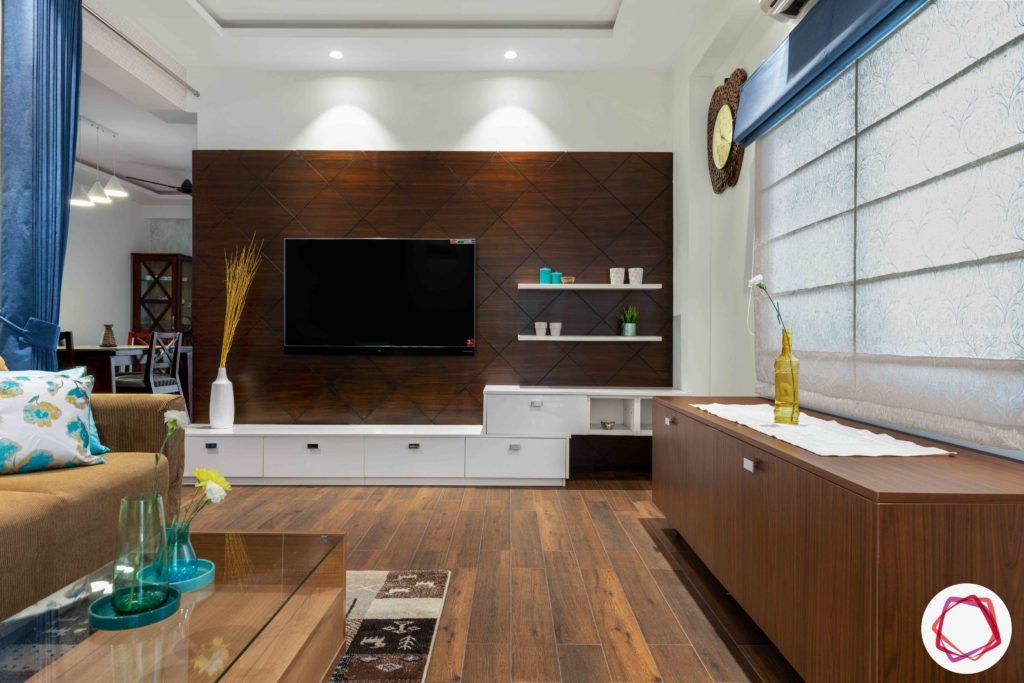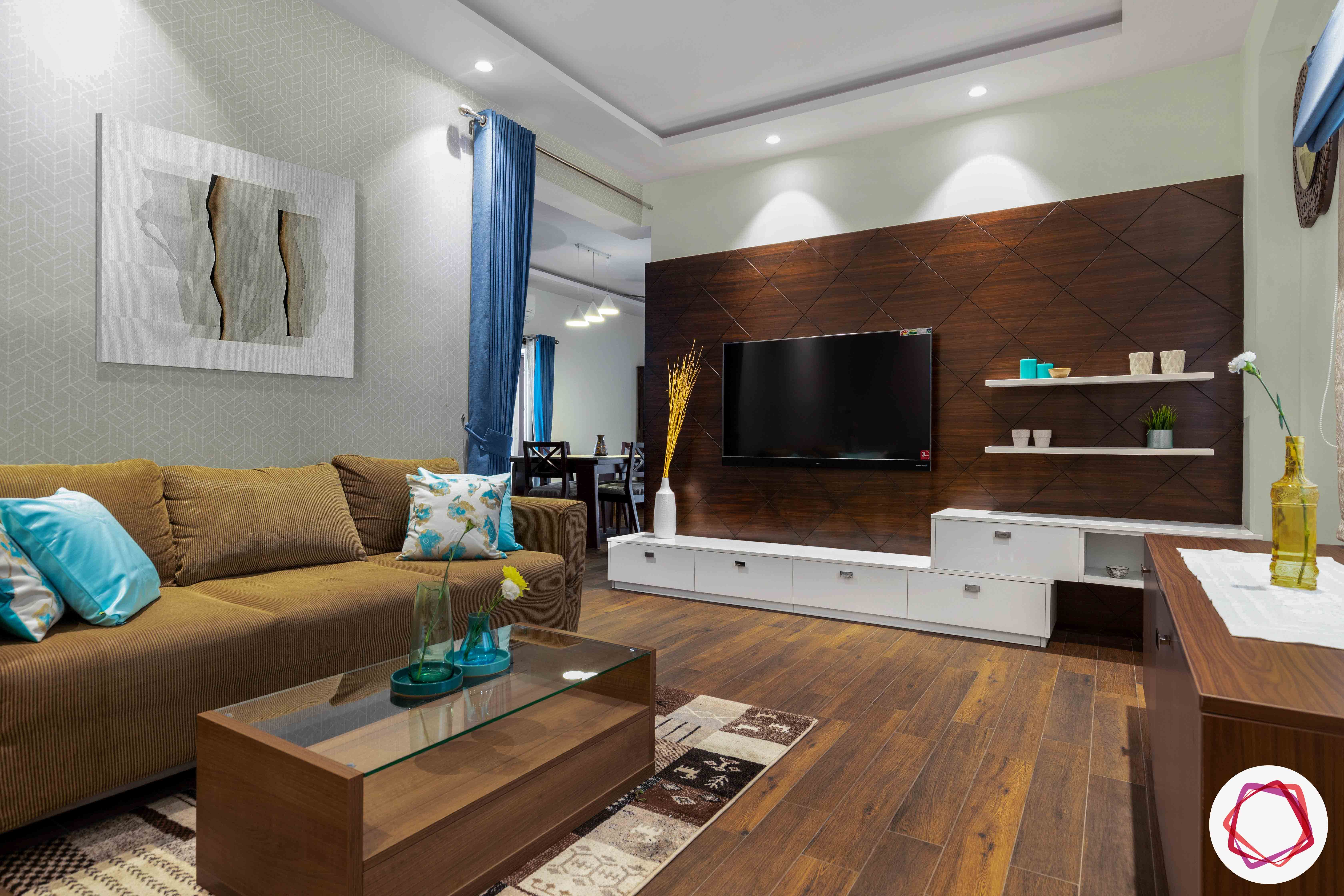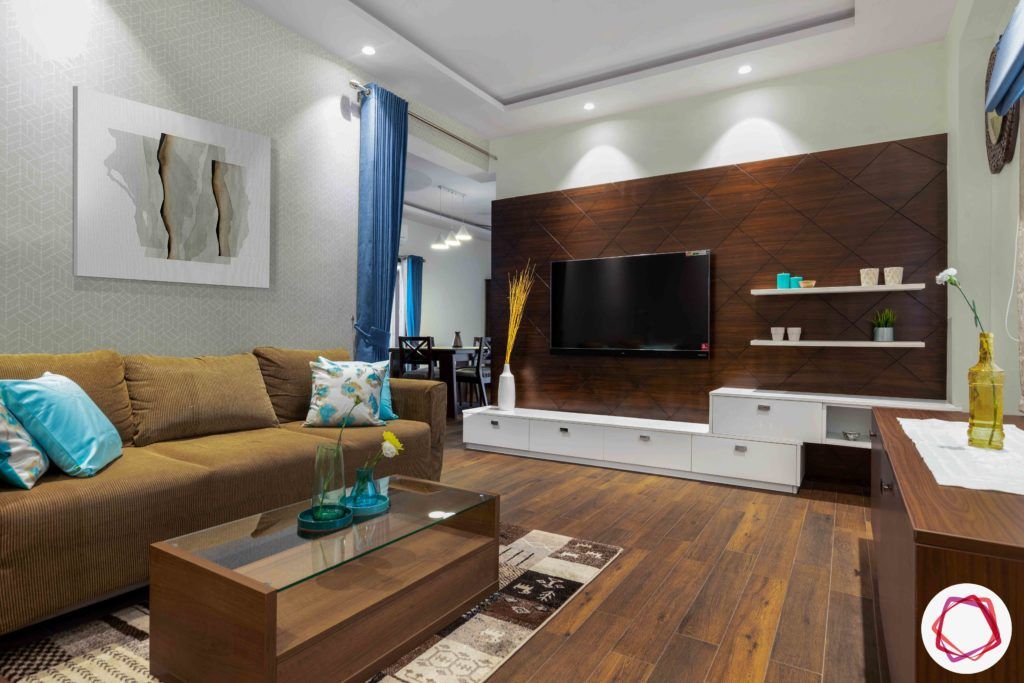 The media wall in this home in Hyderabad is clean-cut and minimal. The panel on the wall stands out for its dark veneer finish. It also has grooves for texture. Meanwhile, the base cabinets and shelves have white laminate finish to bring in the element of contrast.
Vintage Dining Space of This Home in Hyderabad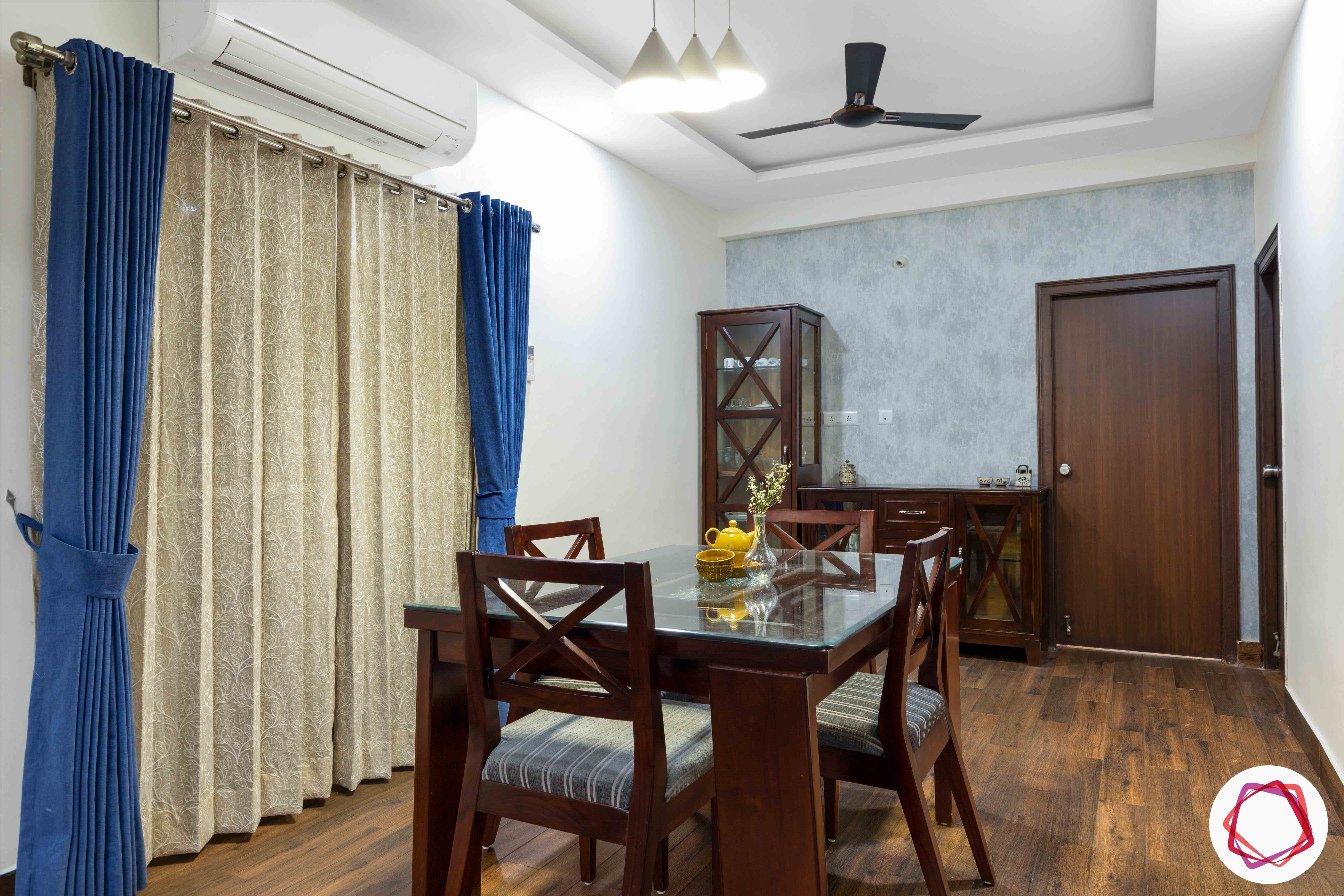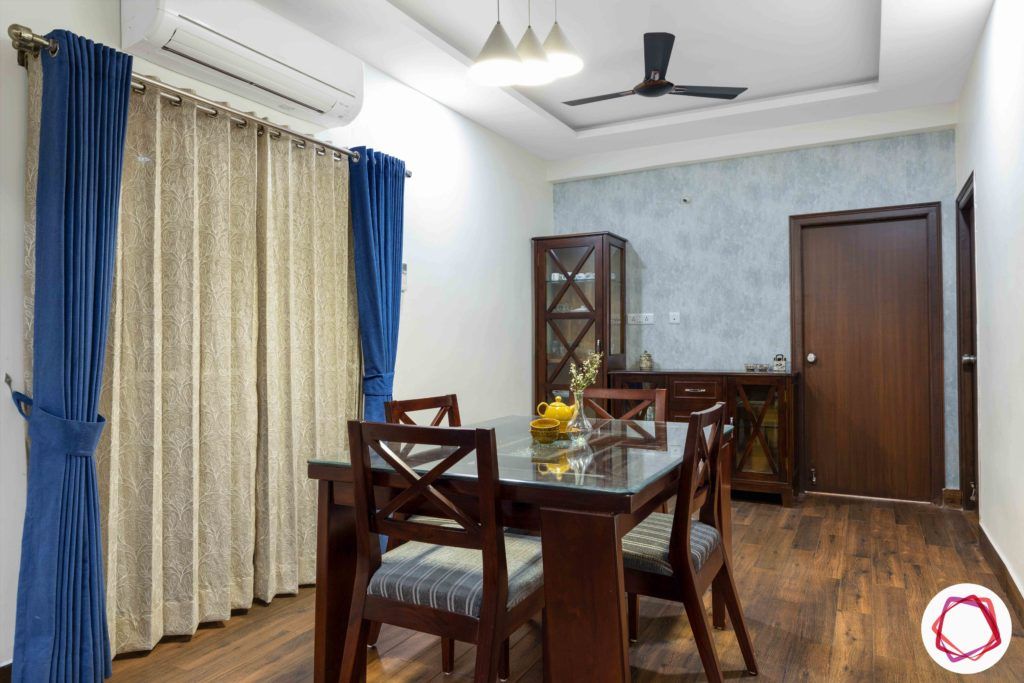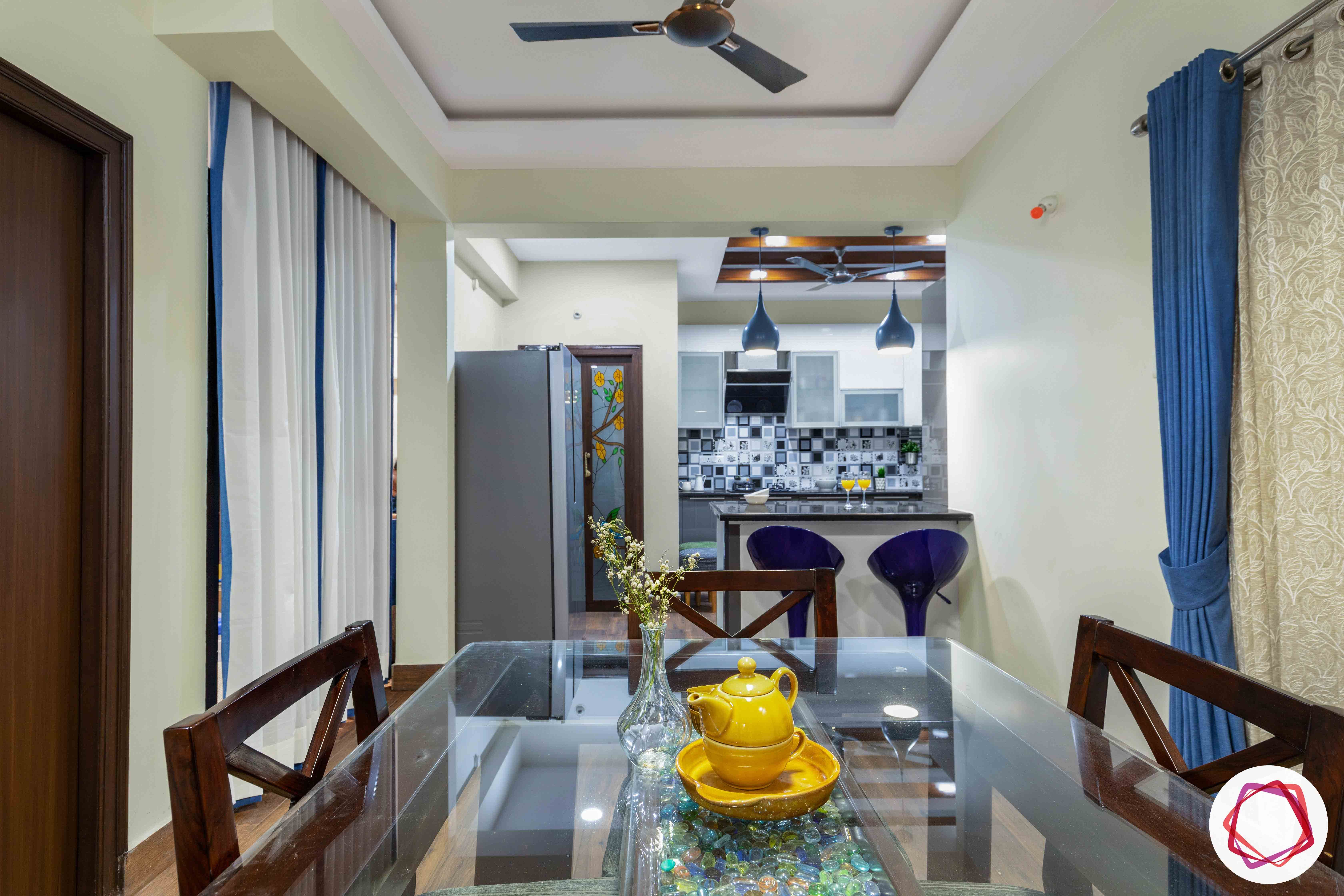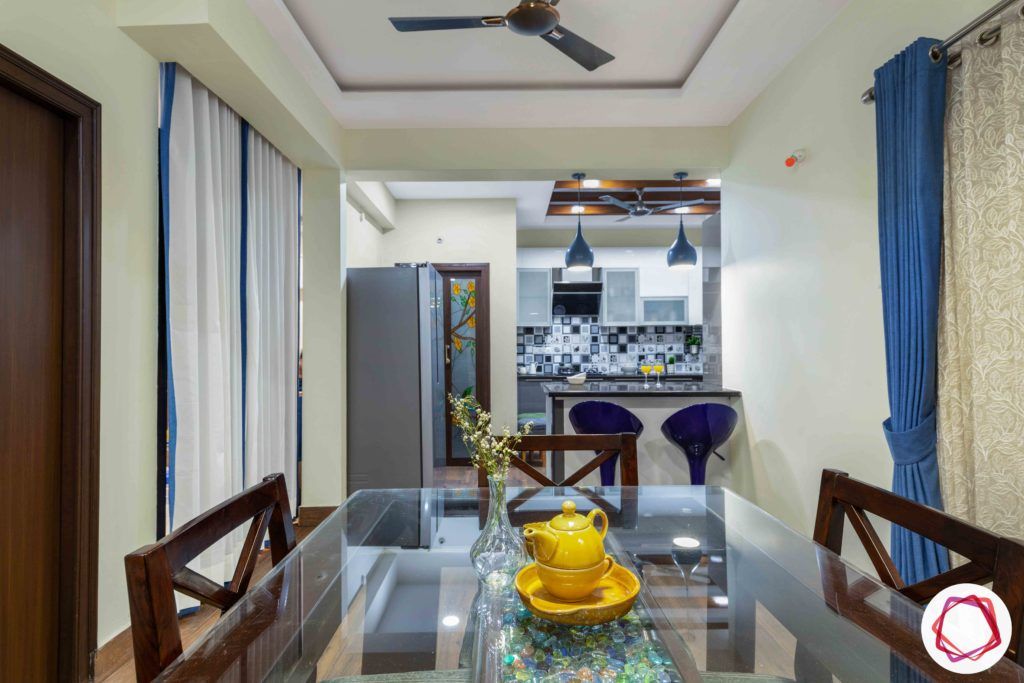 The dining space in this home in Hyderabad is compact and opens into the kitchen. The four-seater dining table has the same combination of a wooden base and glass top like the centre table. The chairs here match the custom-made tall crockery cabinet in the dining space. We love the vintage vibe in this area as the designs have an old world charm to them.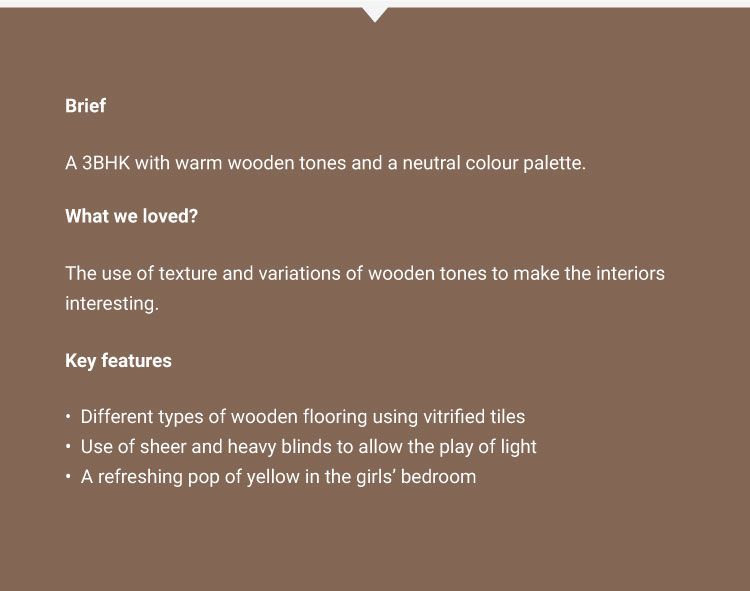 Two-Toned Kitchen at Home in Hyderabad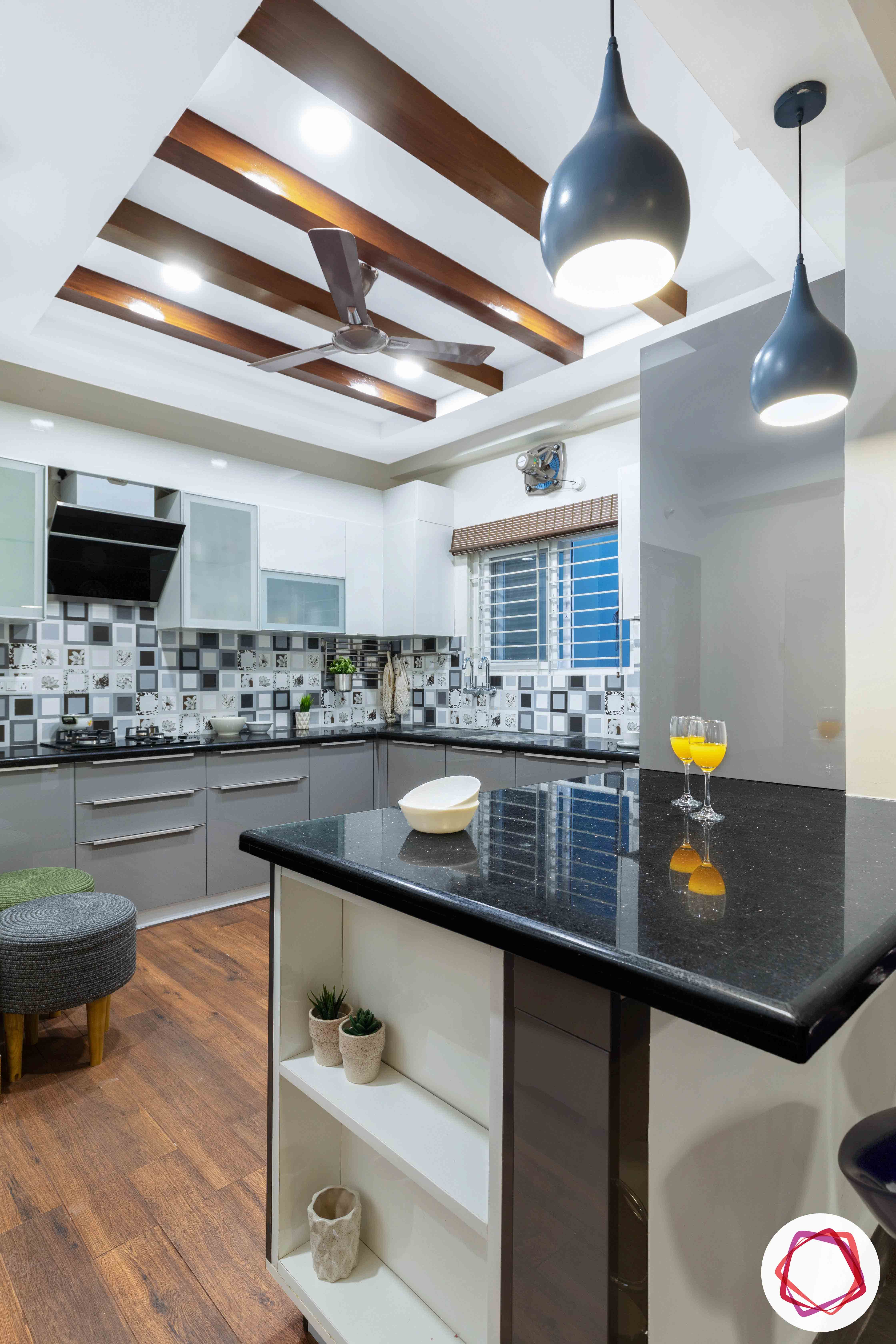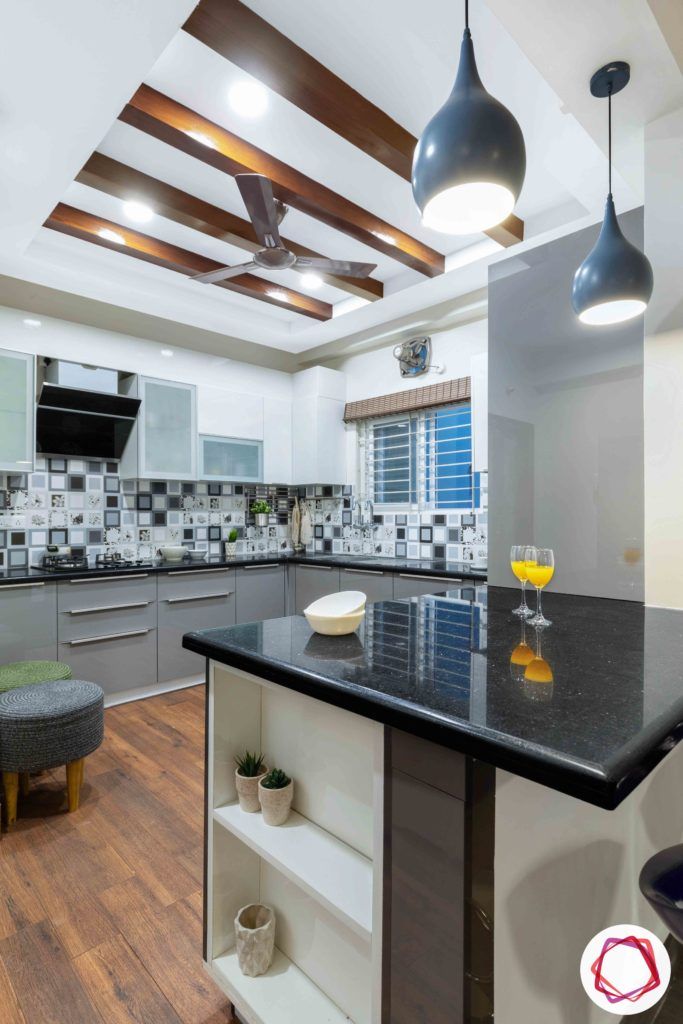 The kitchen in this 3BHK is an open one. It has a functional island counter that has a combination of open ledges and shuttered storage space. It also serves as a breakfast counter and is equipped with two stools. Did you notice the wooden rafters on the ceiling? Well, they are not made of solid wood, but have been painted to give the kitchen its share of wooden finishes. And guess what, these rafters will not burn a hole in your pocket!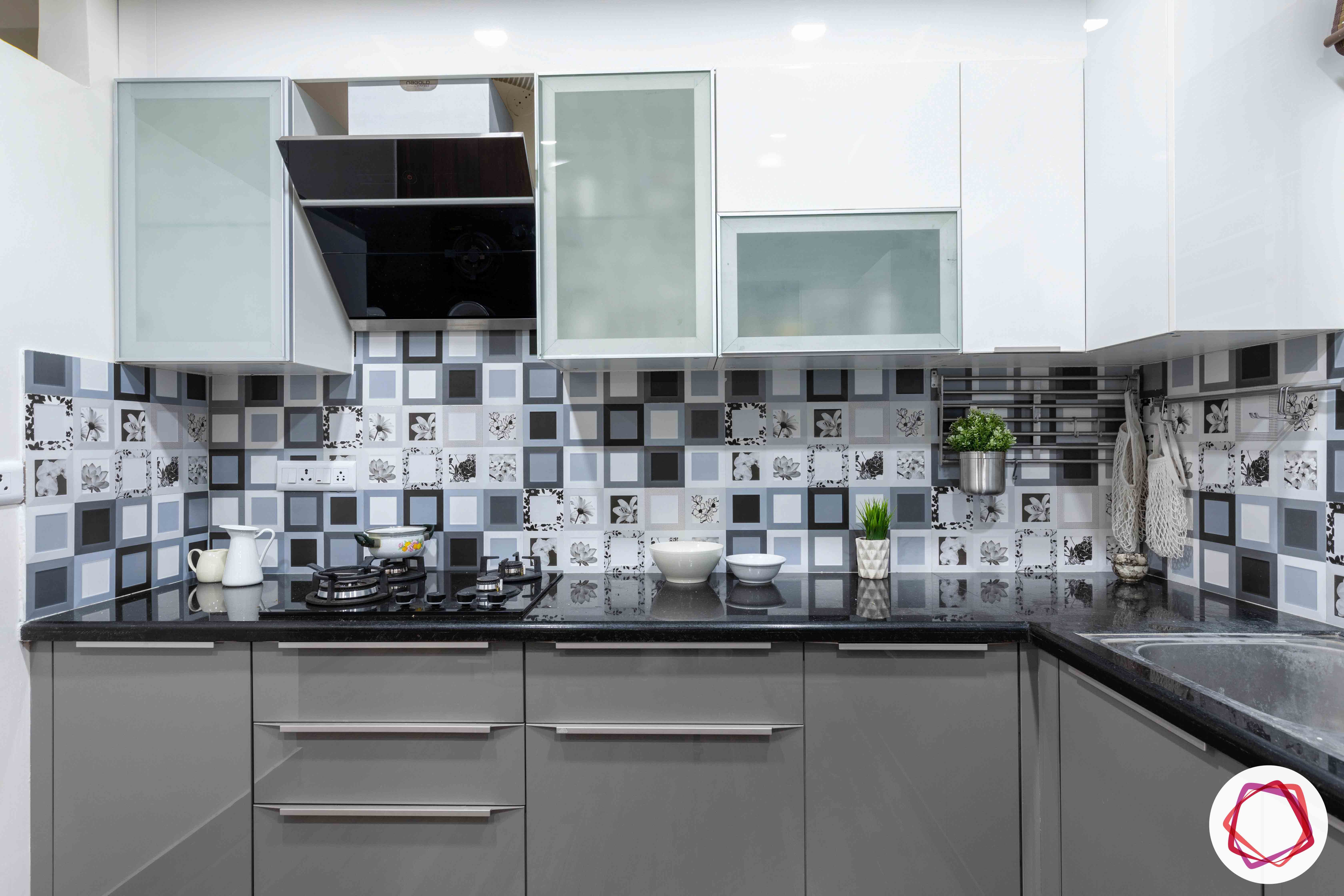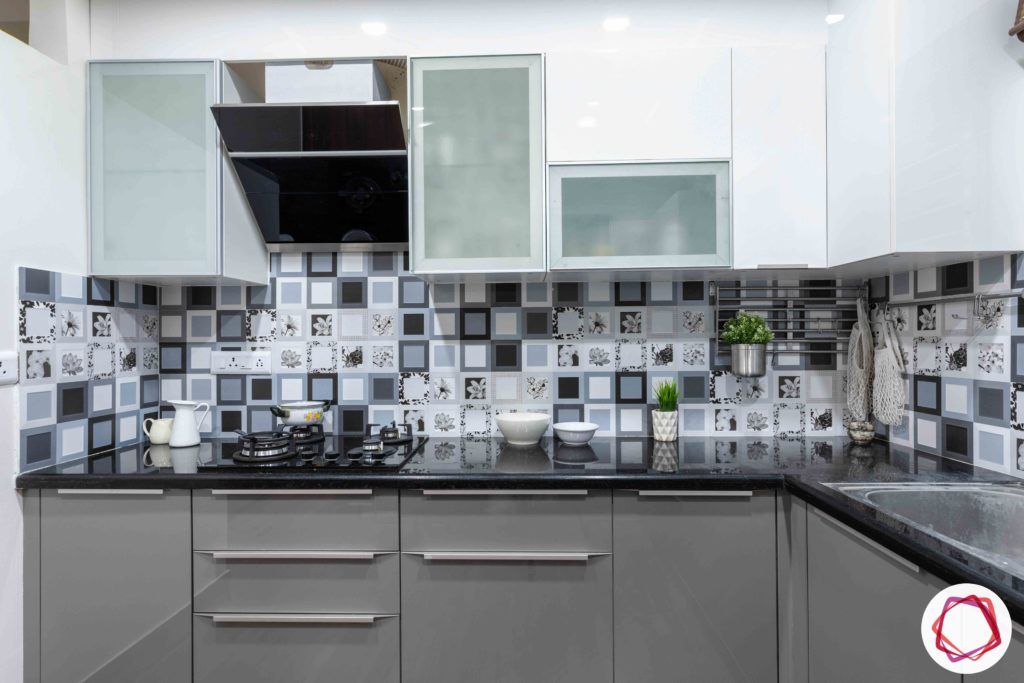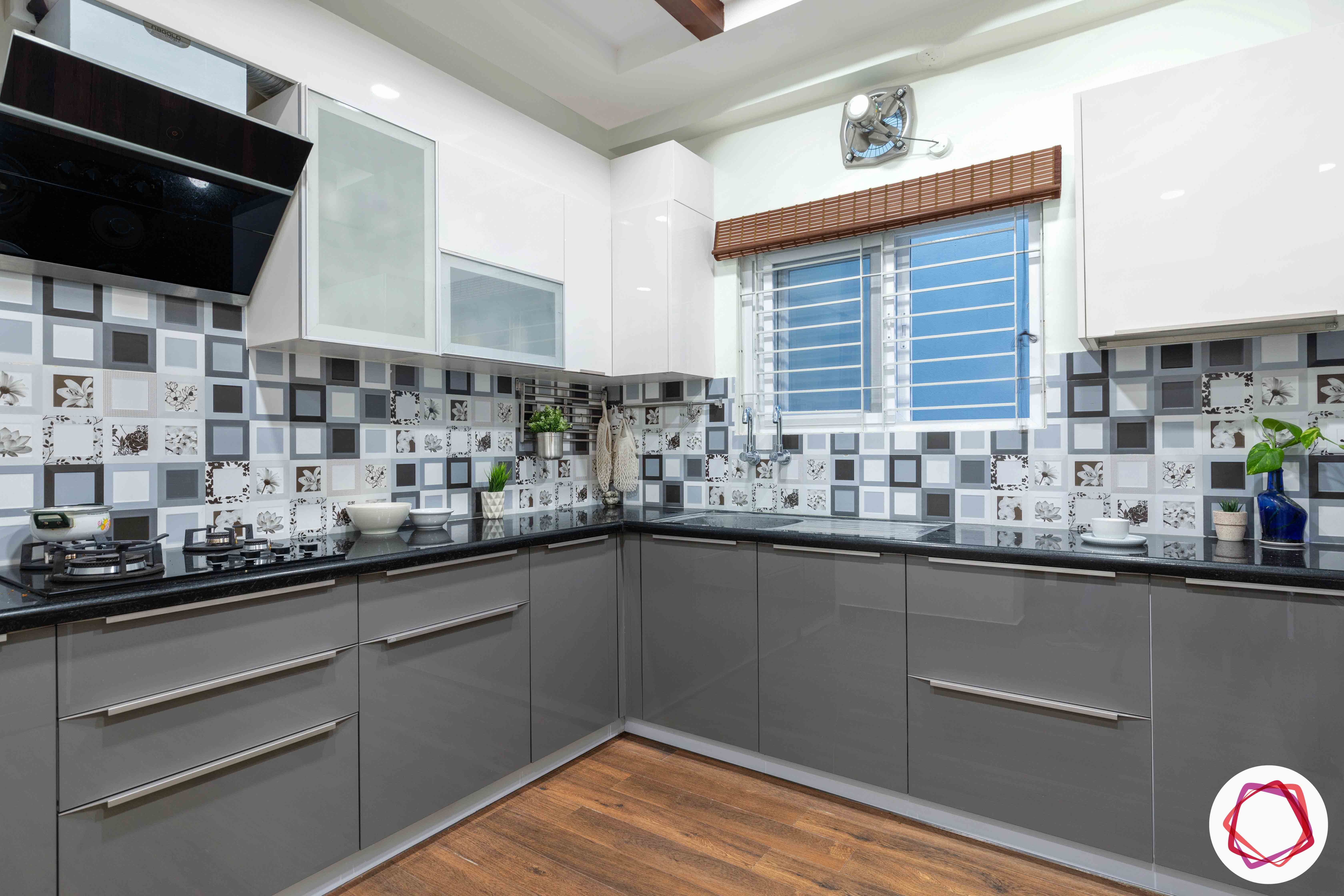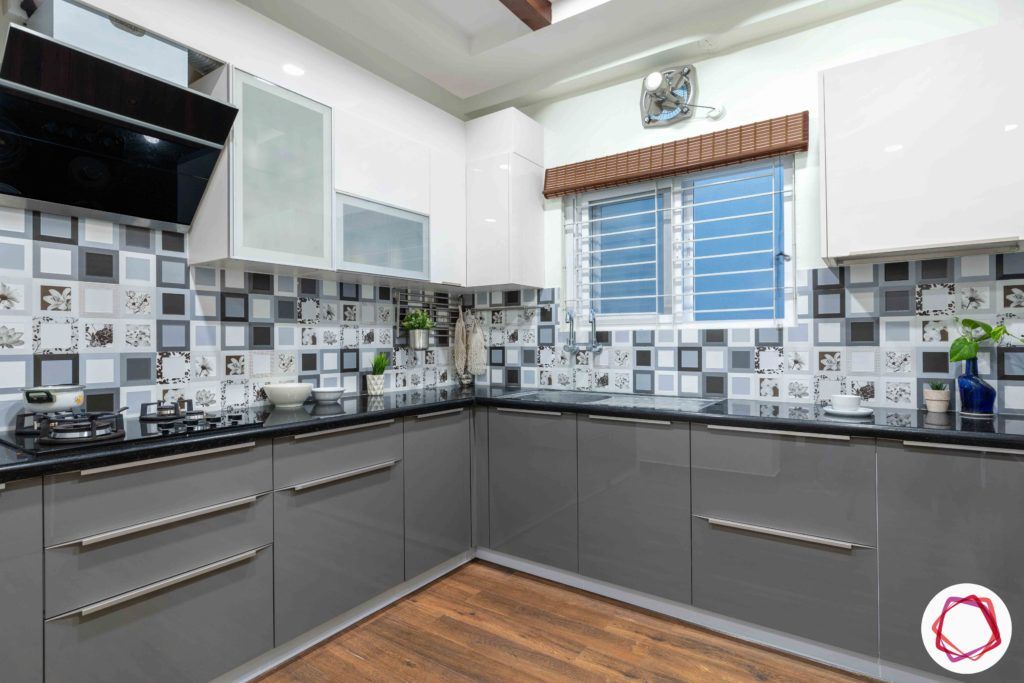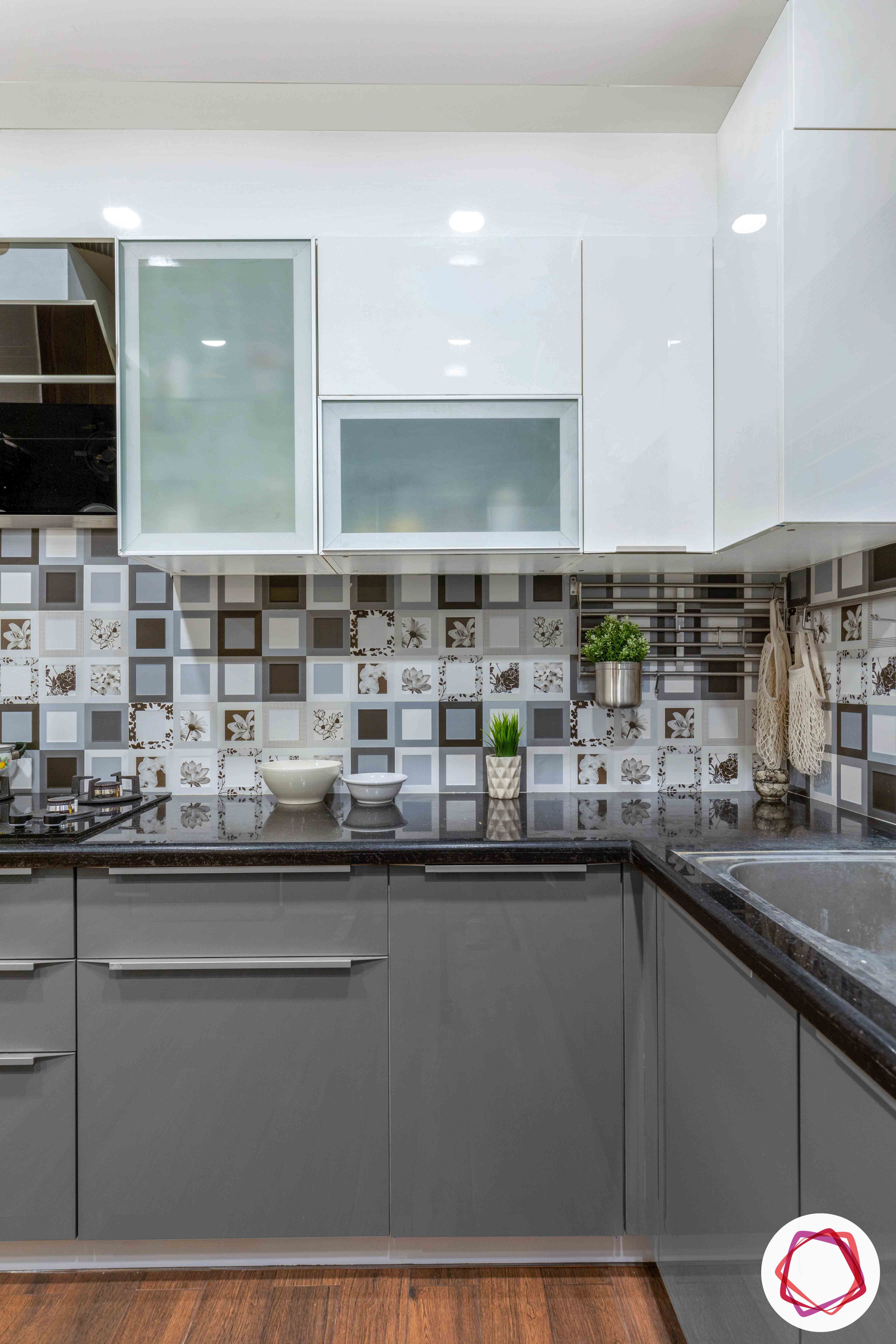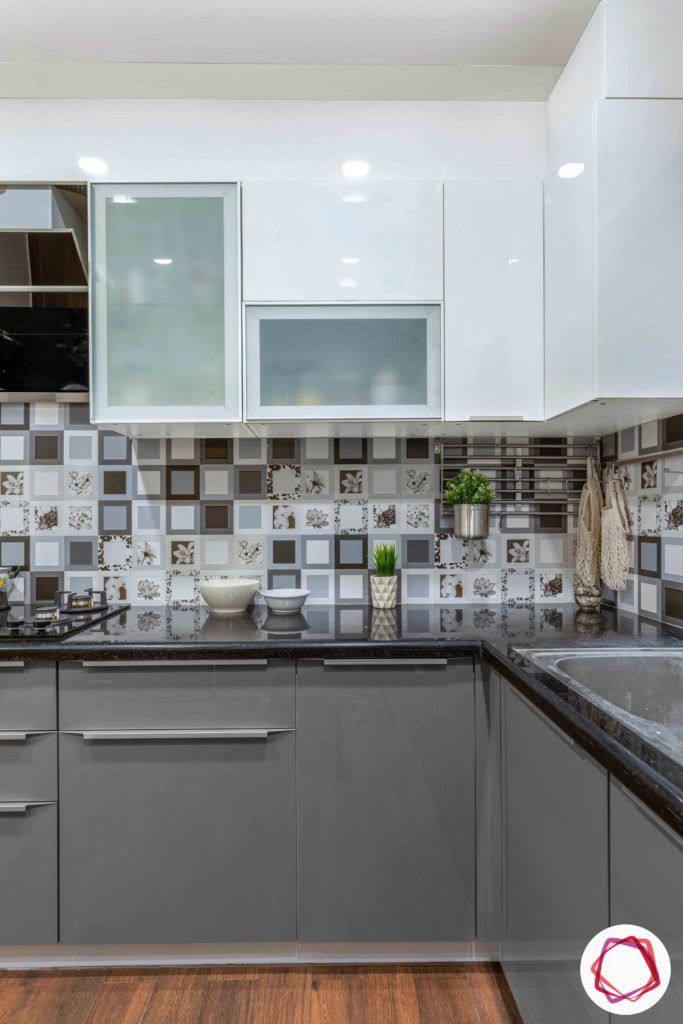 The kitchen is a compact space that follows the golden triangle rule of having the hob, basin and refrigerator in a triangular space. The base cabinets in the kitchen are grey while the wall cabinets are white. This colour scheme is rather European and has a classical contemporary effect. The tiles of the backsplash are also very contemporary with a groovy vibe.
Simplicity Defined at Home in Hyderabad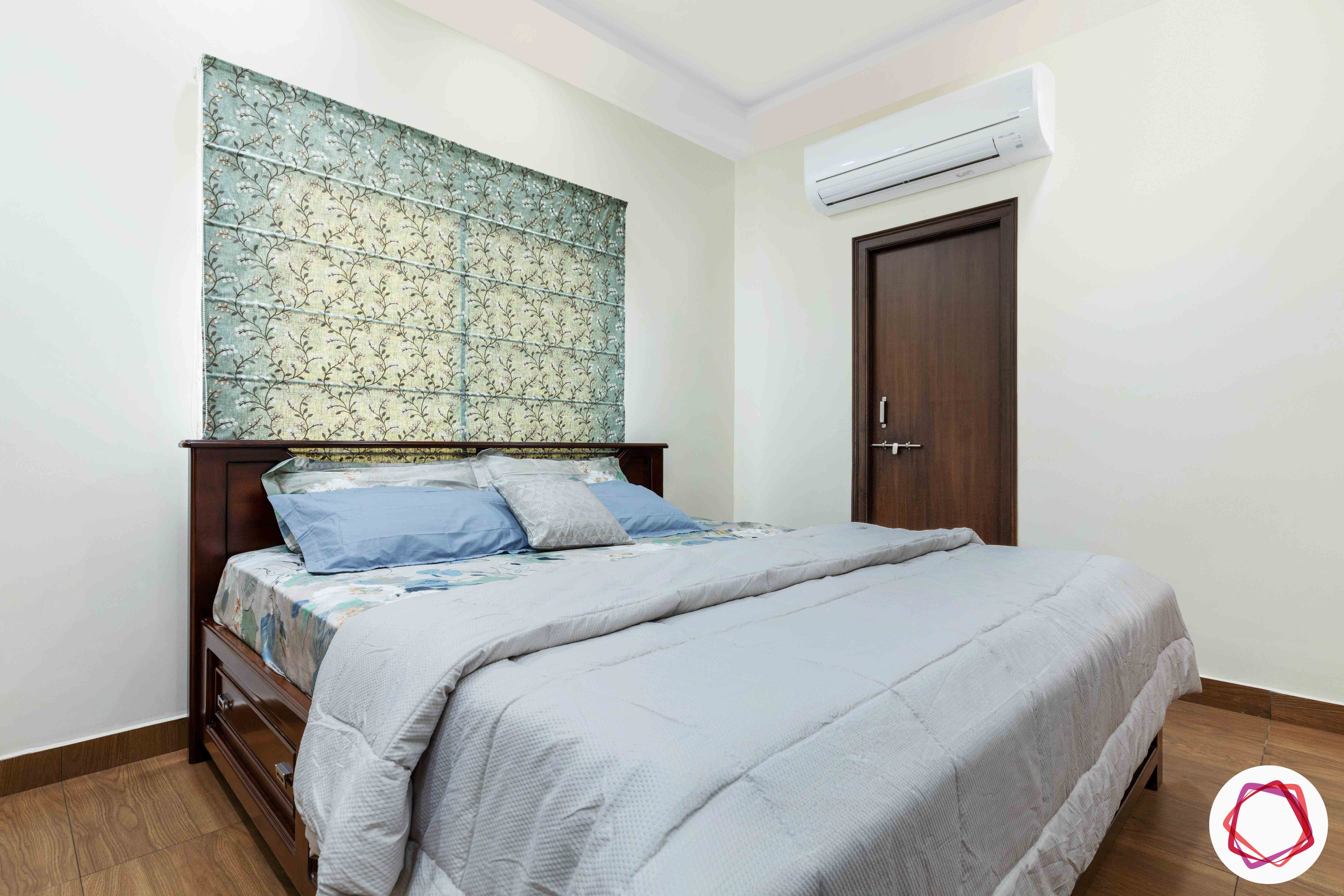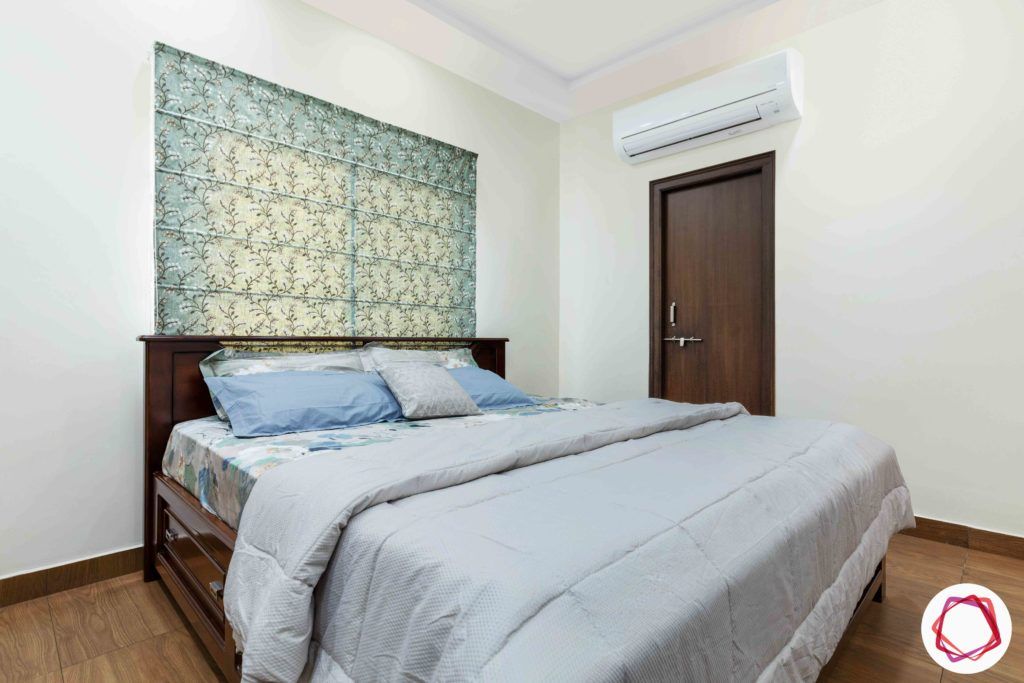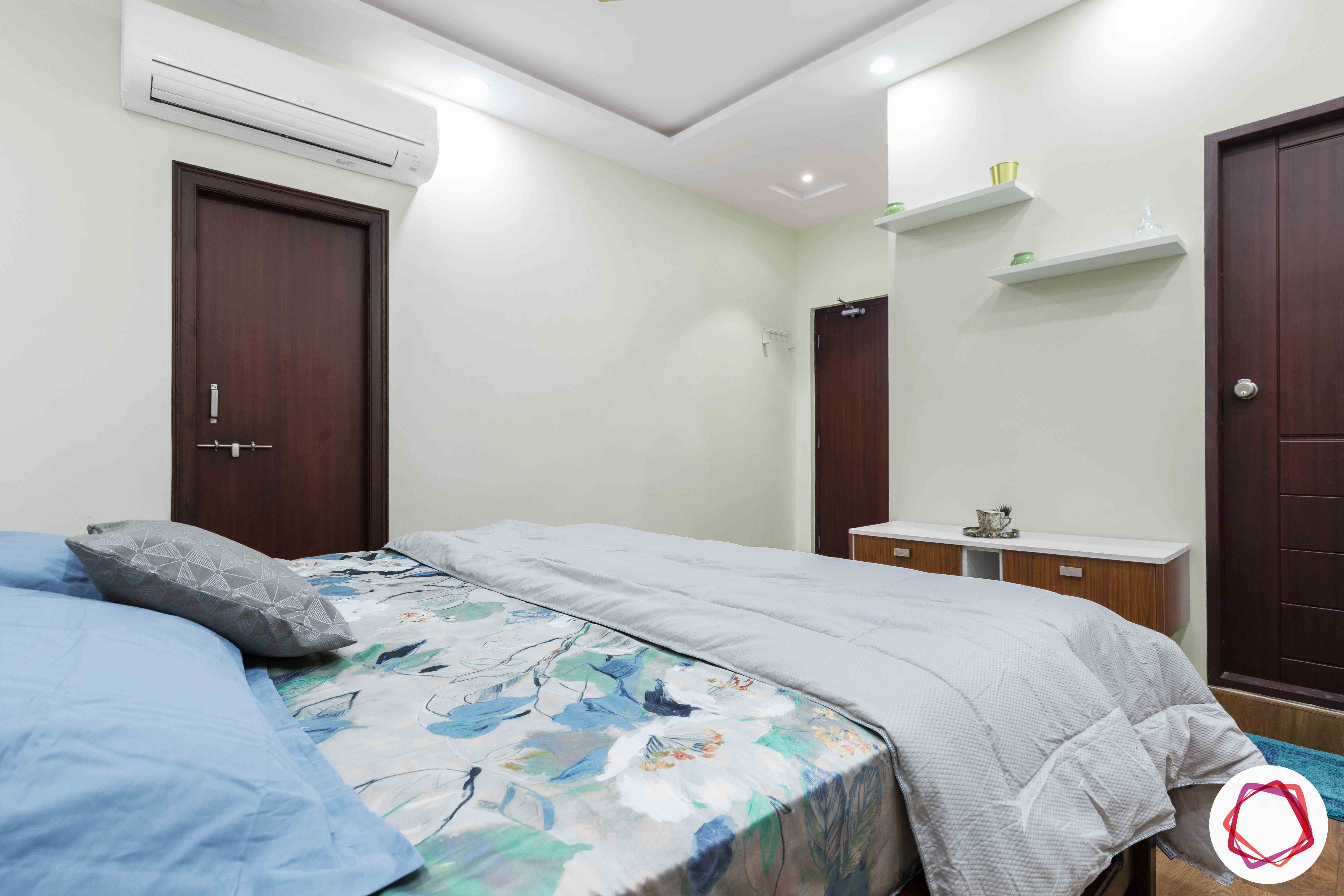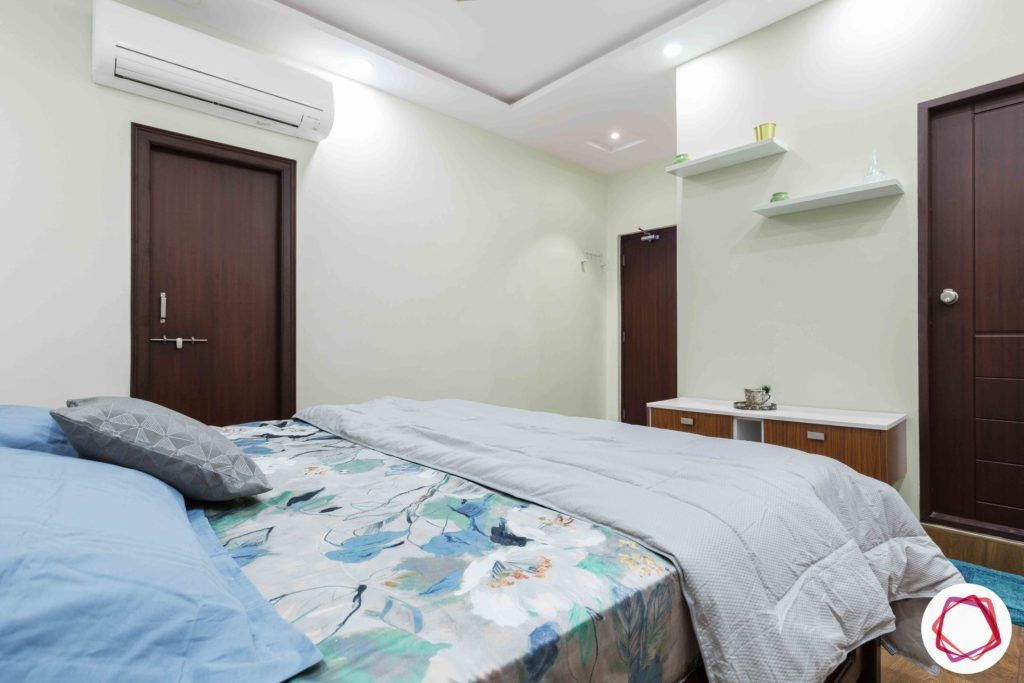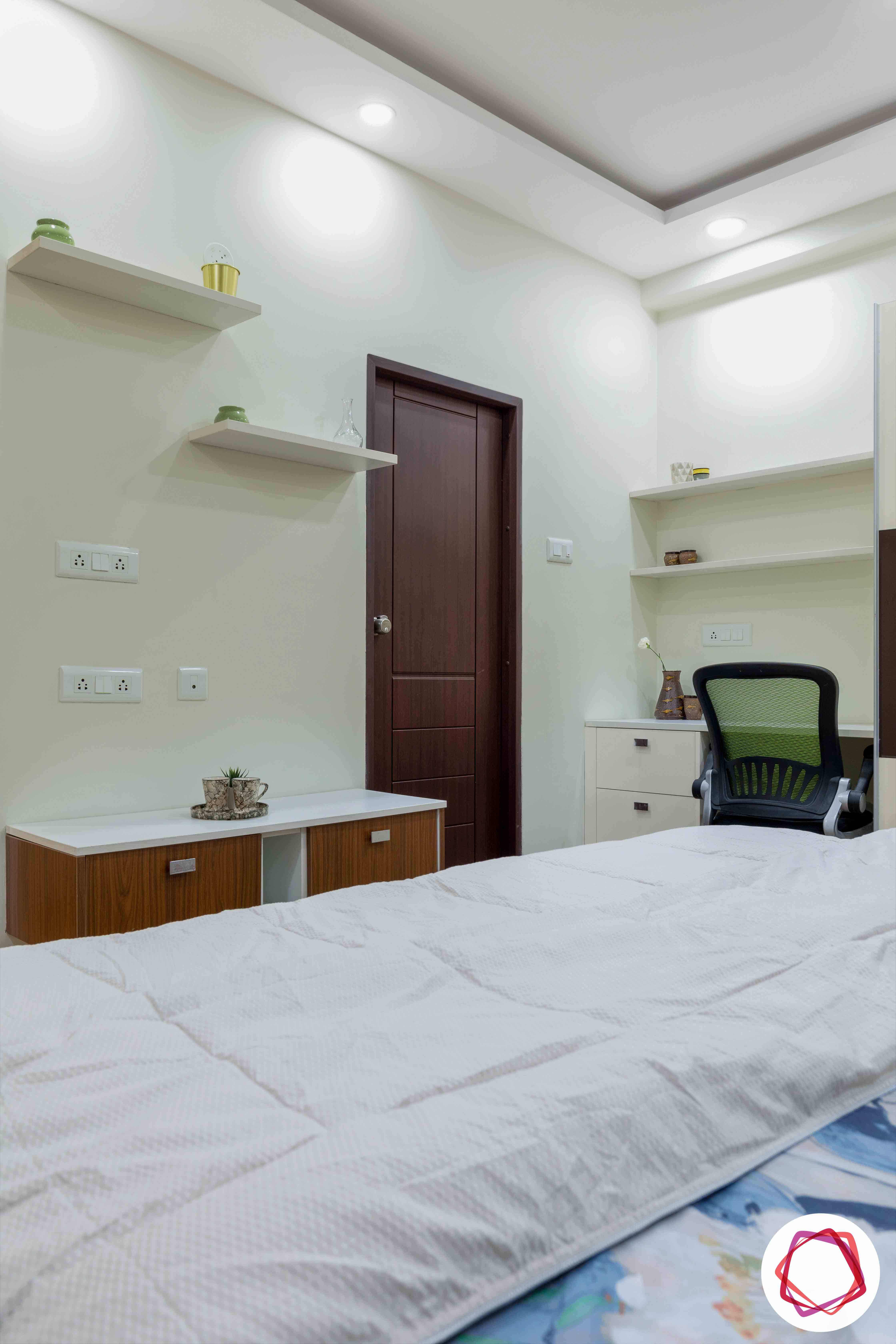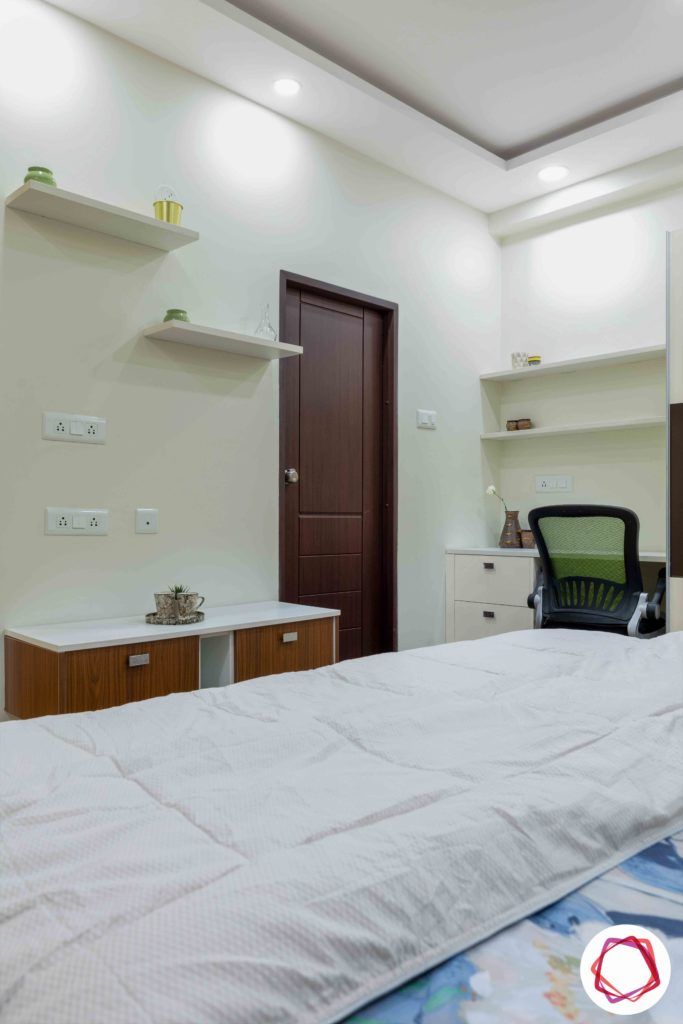 Srikanth and his wife were not too keen to experiment with colours so the master bedroom is done up in white and woody shades, with a combination of sheer and artsy floral blinds. The bed equipped with storage has a mahogany finish and the sliding wardrobe has a strip of tinted mirrors giving it a modern edge.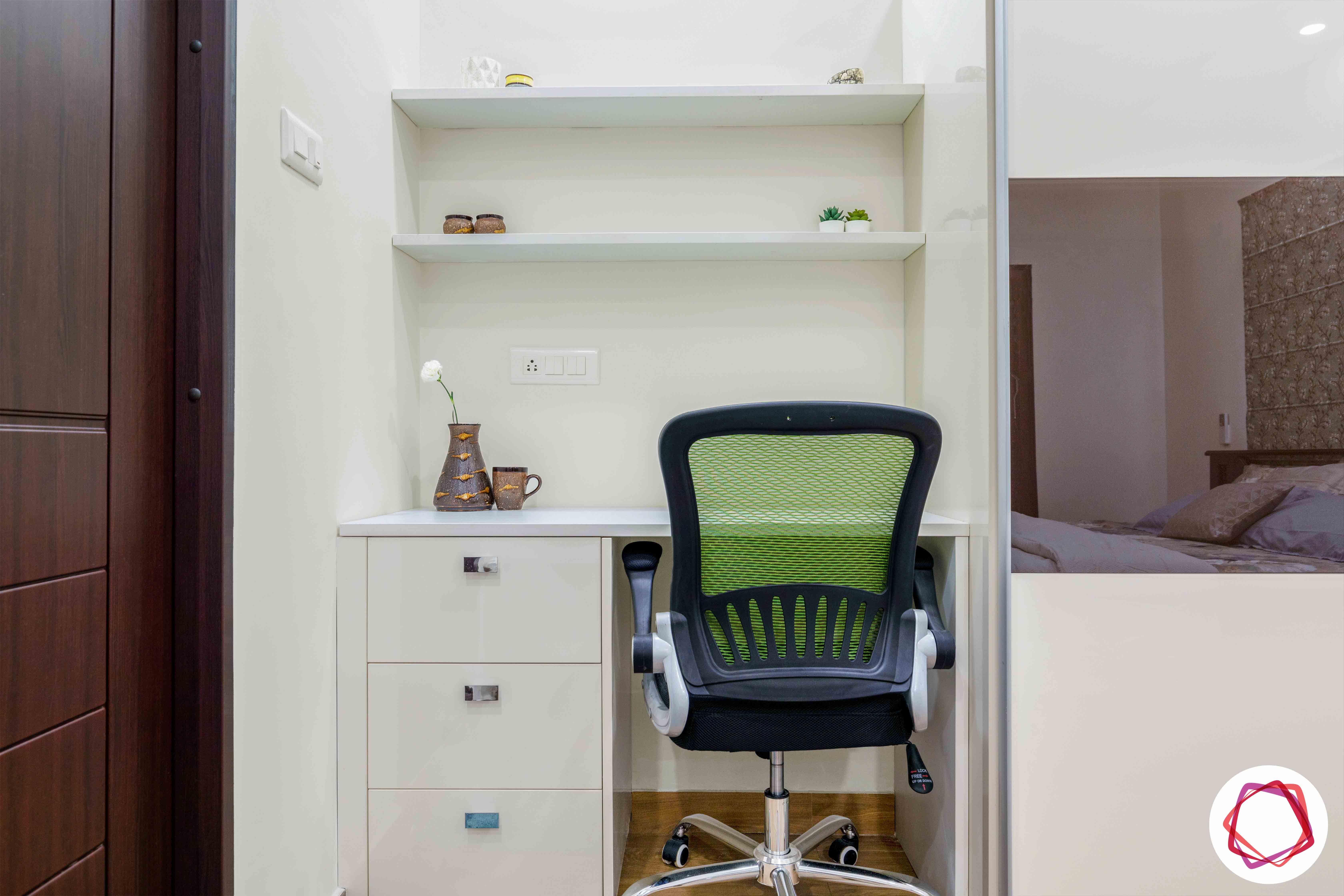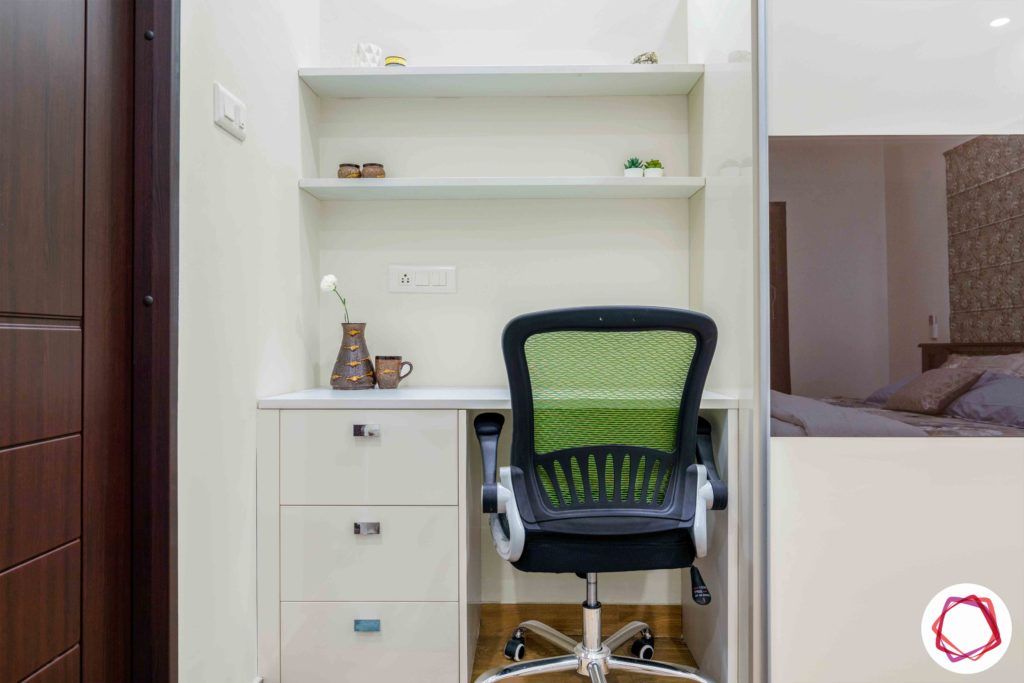 A compact study area has been carved out of the wall with white shelves and a stack of drawers. All in all, there is a monastic beauty at play in these simple settings.
A Pop of Yellow at This Home in Hyderabad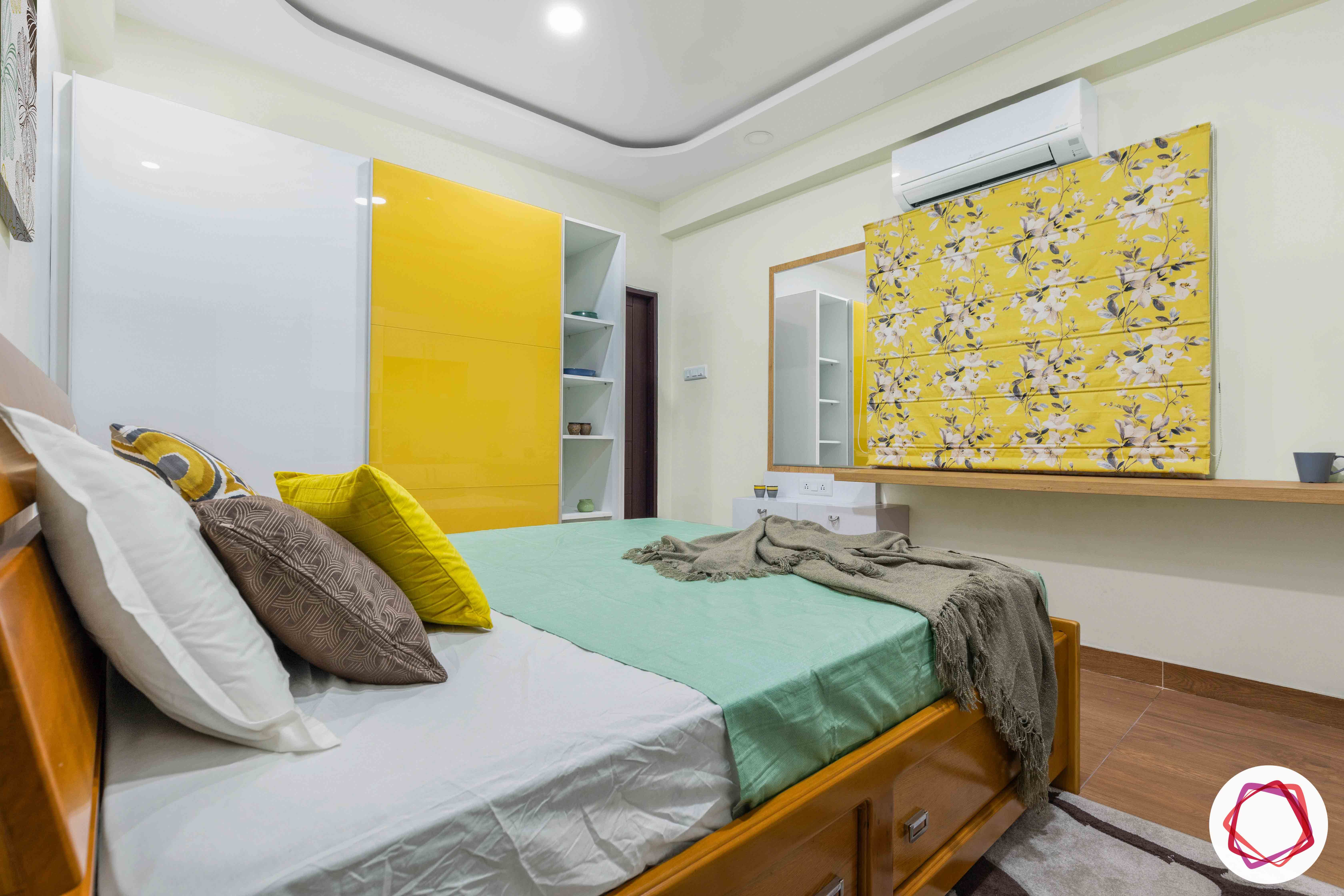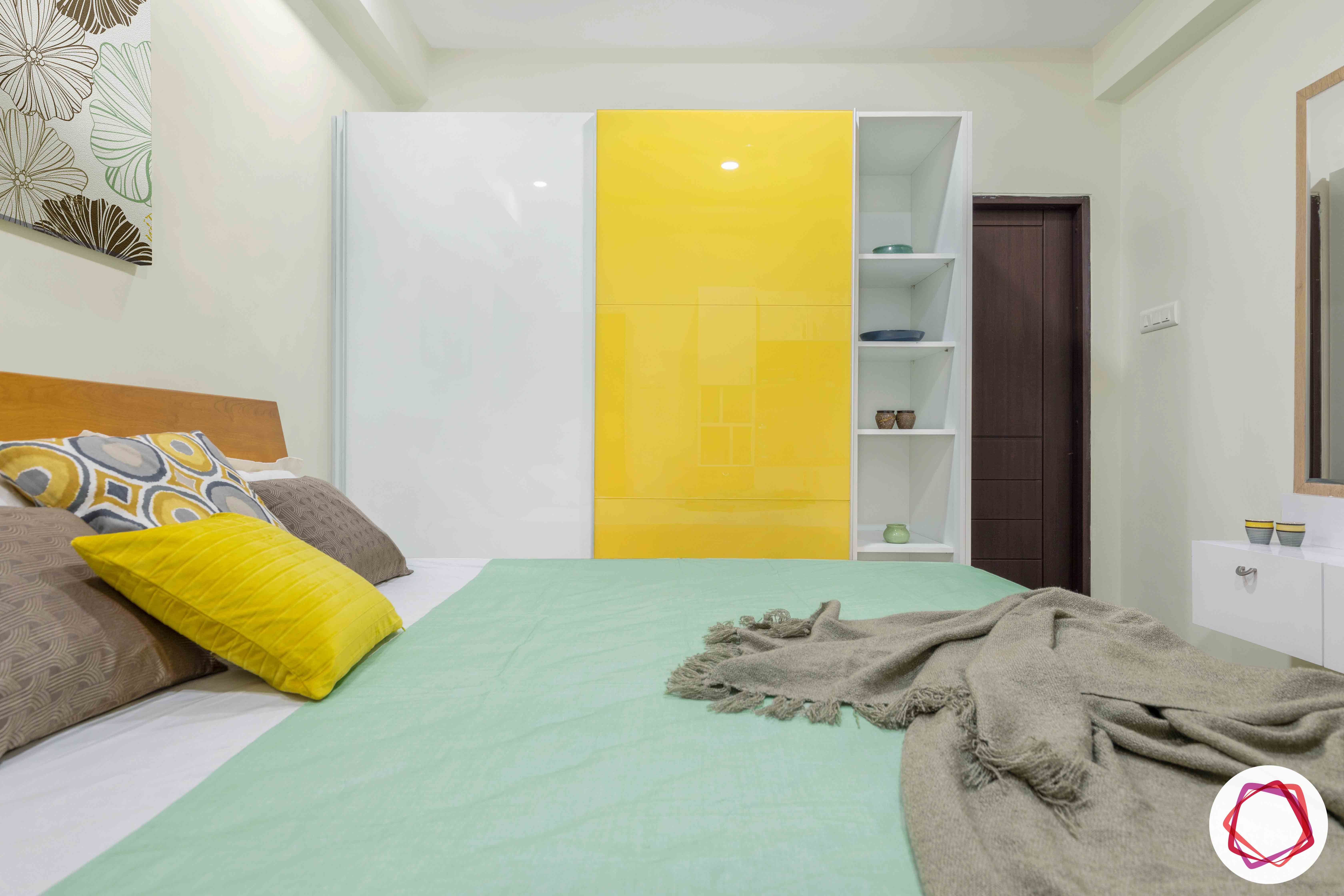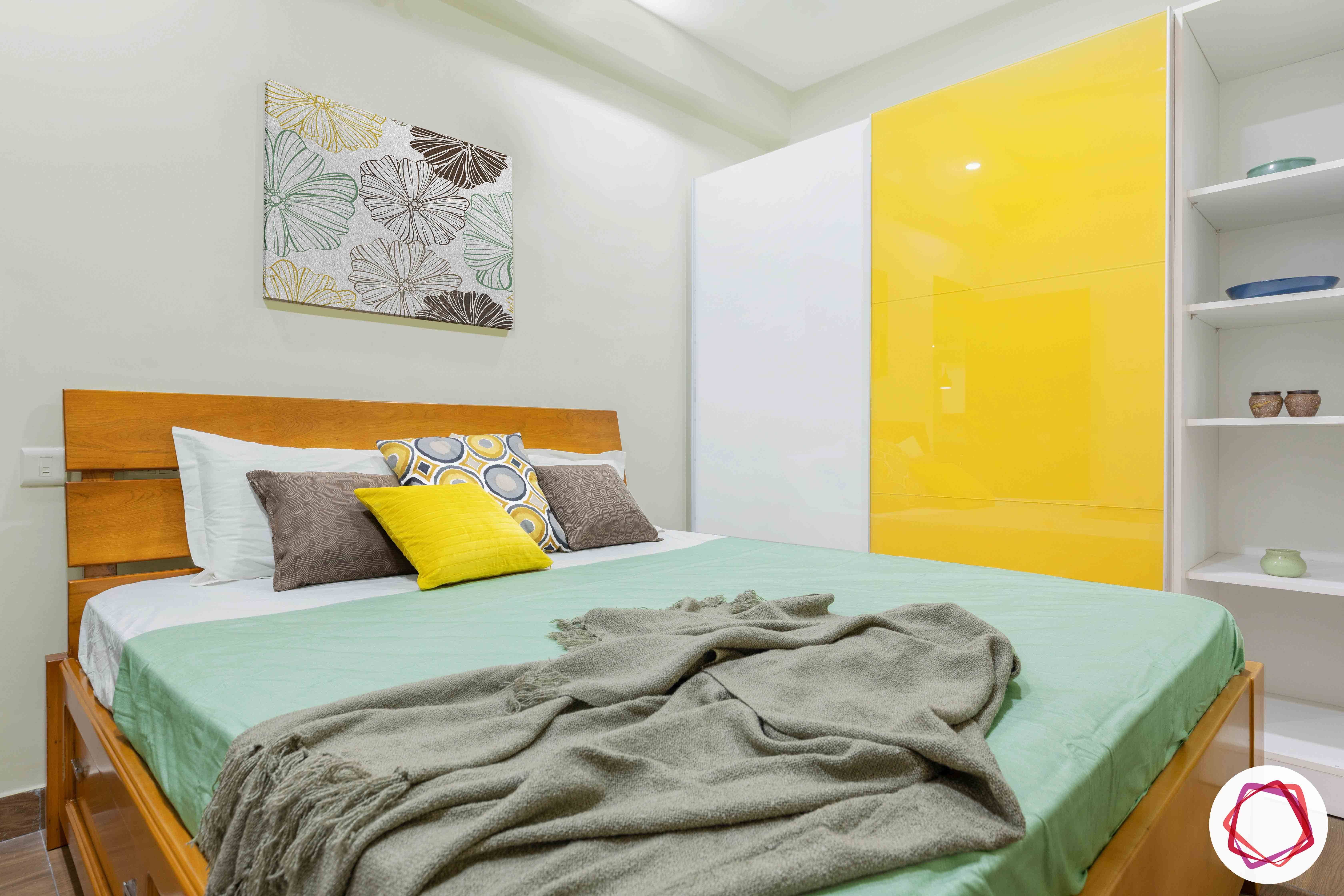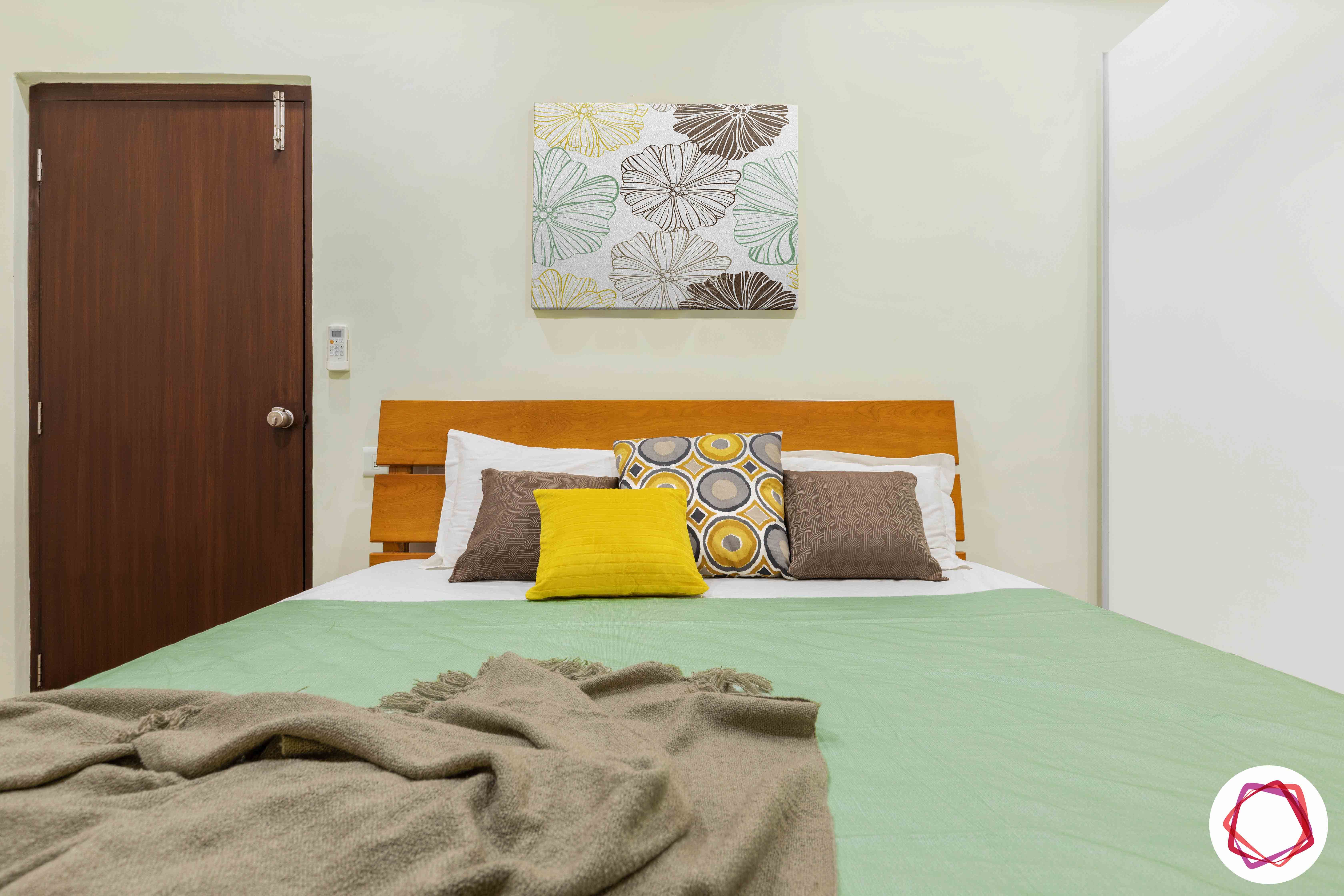 The vibrant yellow of the blinds and wardrobe in this room offer a welcome change. This is the kids' bedroom and it has been custom-made to fit into a small space. The bed and sliding wardrobe leave space for an open ledge that is used as a study table by the two girls who share this room. Interestingly, the wardrobe shutters in this room are made of lacquered glass and have a gleaming effect that is ideal for a lively setup.
Gracefully Grey Guest Bedroom at Home in Hyderabad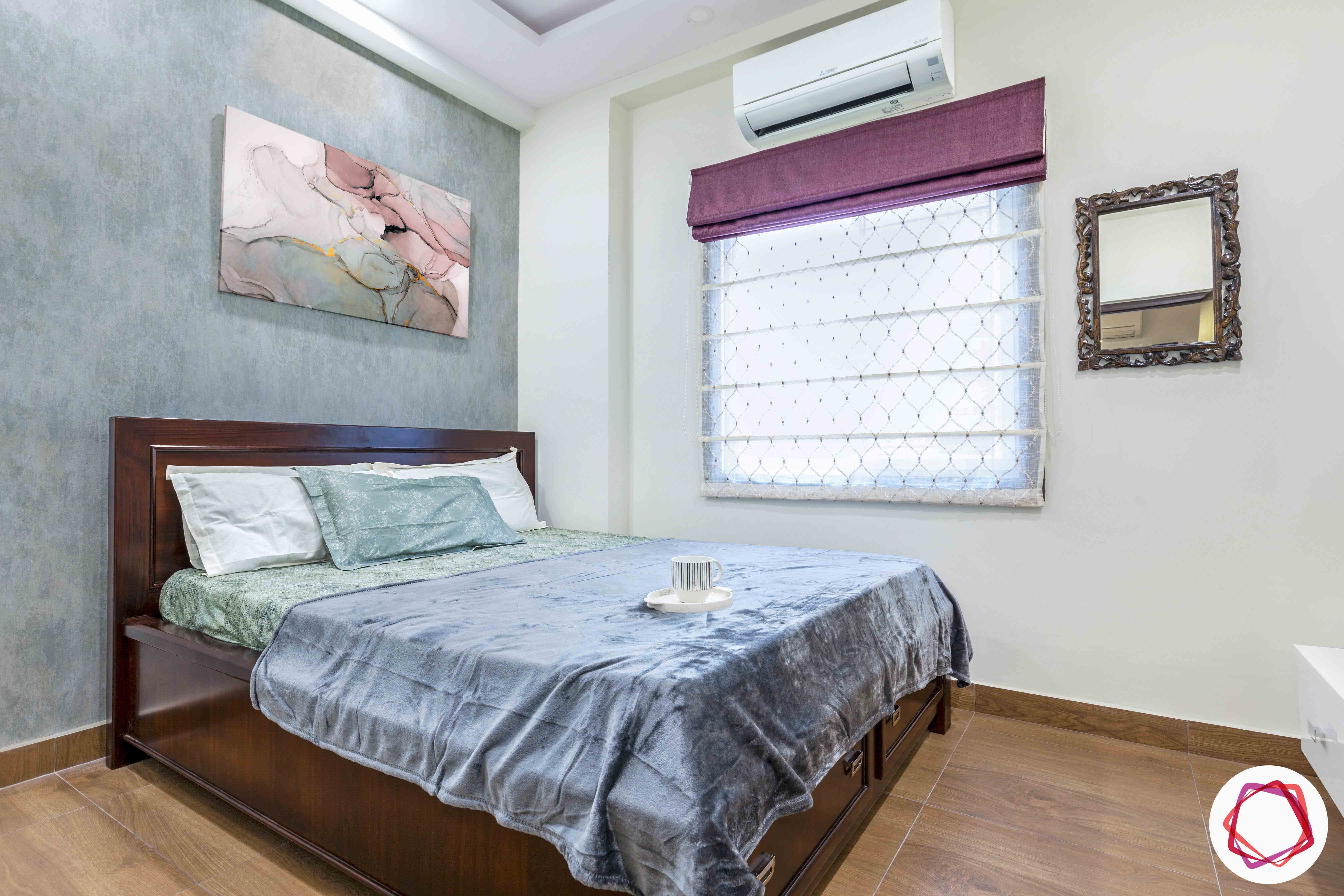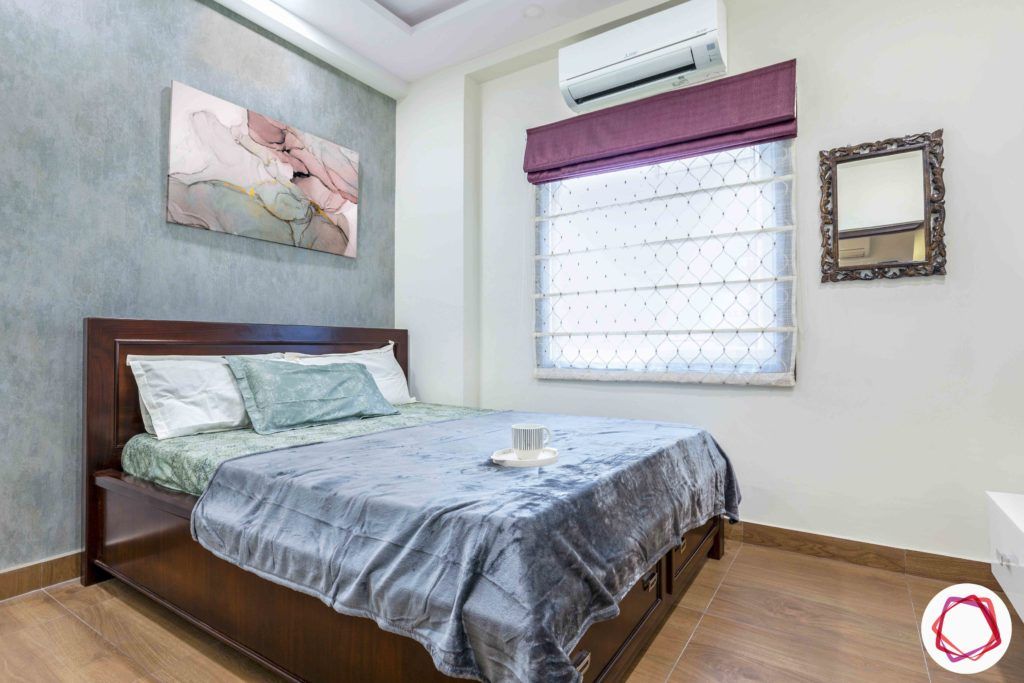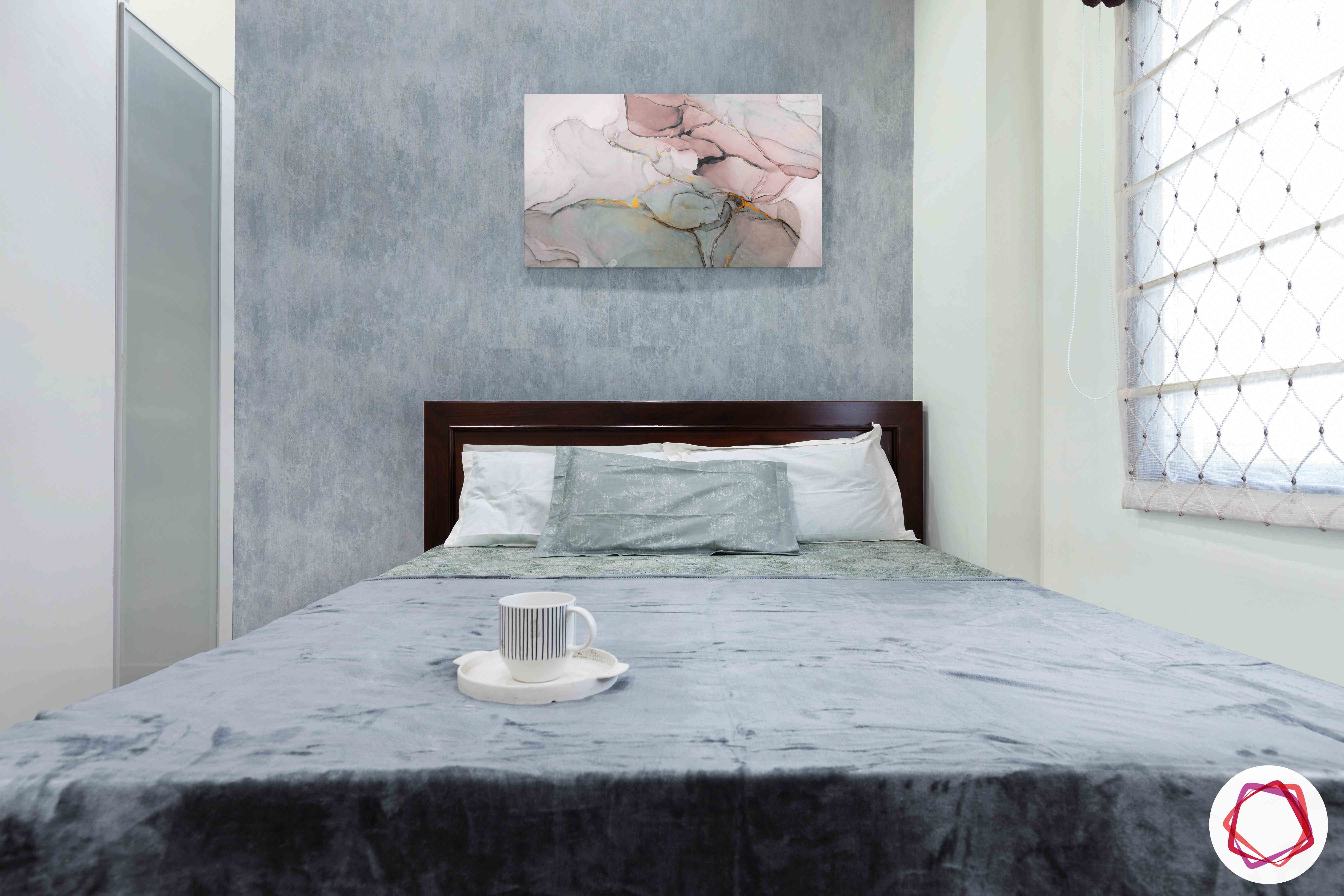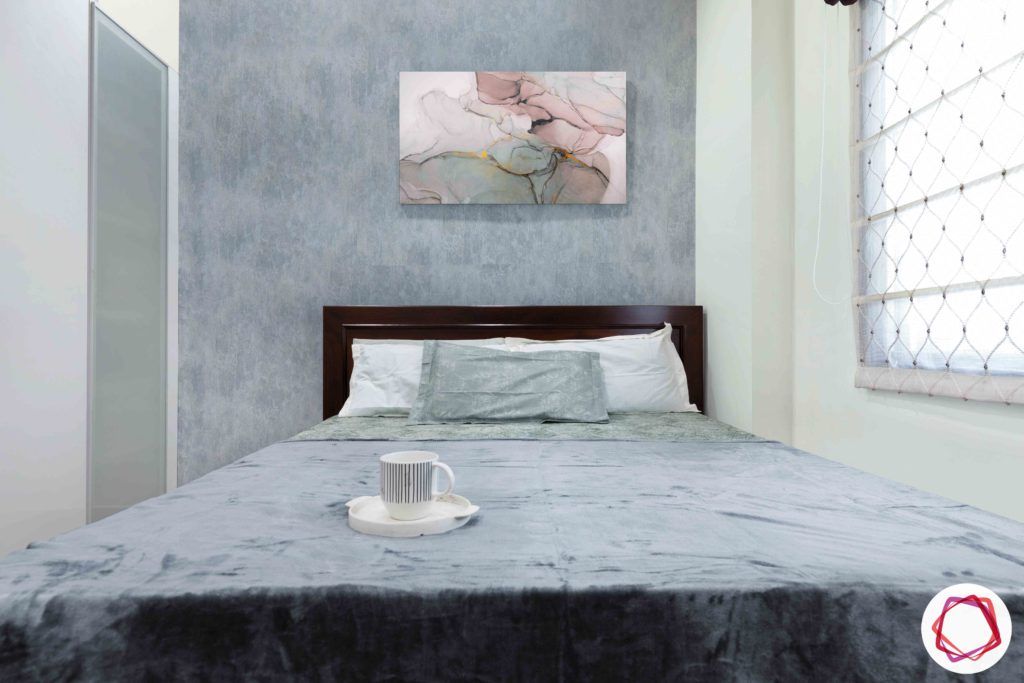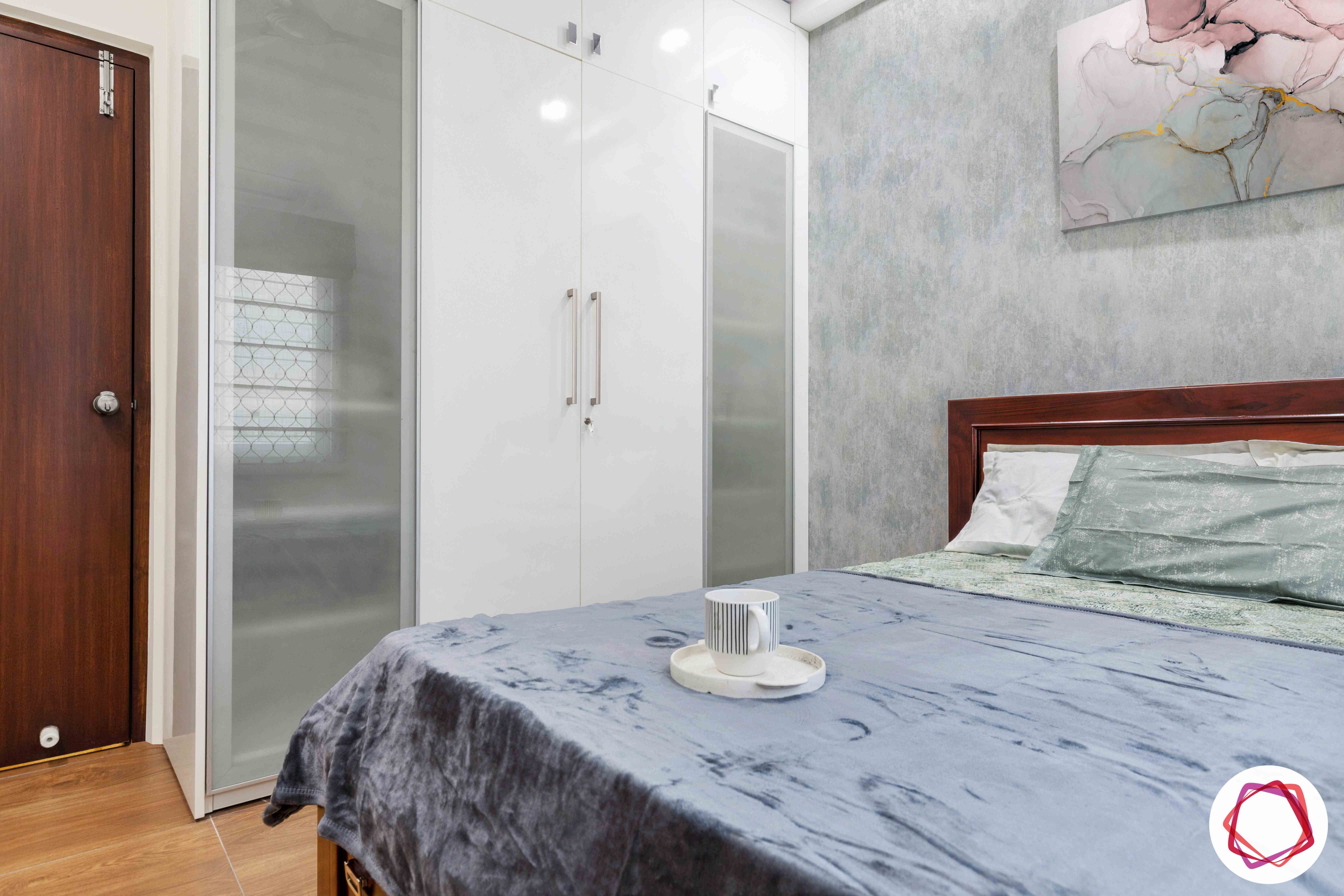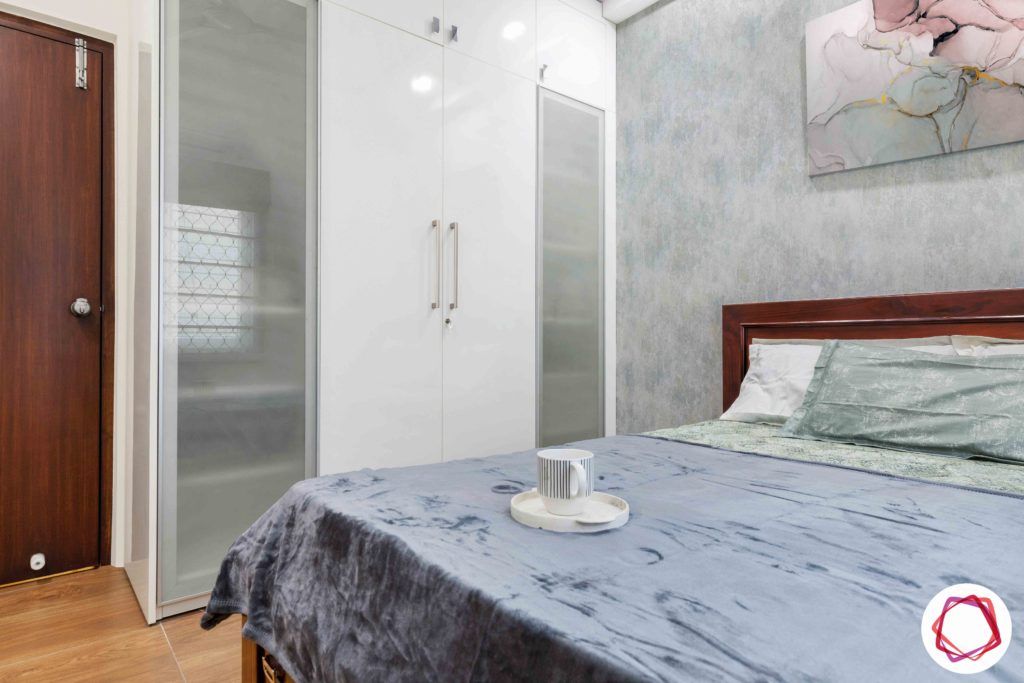 There is nothing quite as graceful as greys and the guest bedroom in this home in Hyderabad has lustrous mix of greys, whites and warm neutrals. The bed has a standard wooden headboard and the wallpaper behind it is a rustic grey. The wardrobe has a white laminate finish with contemporary looking glass shutters.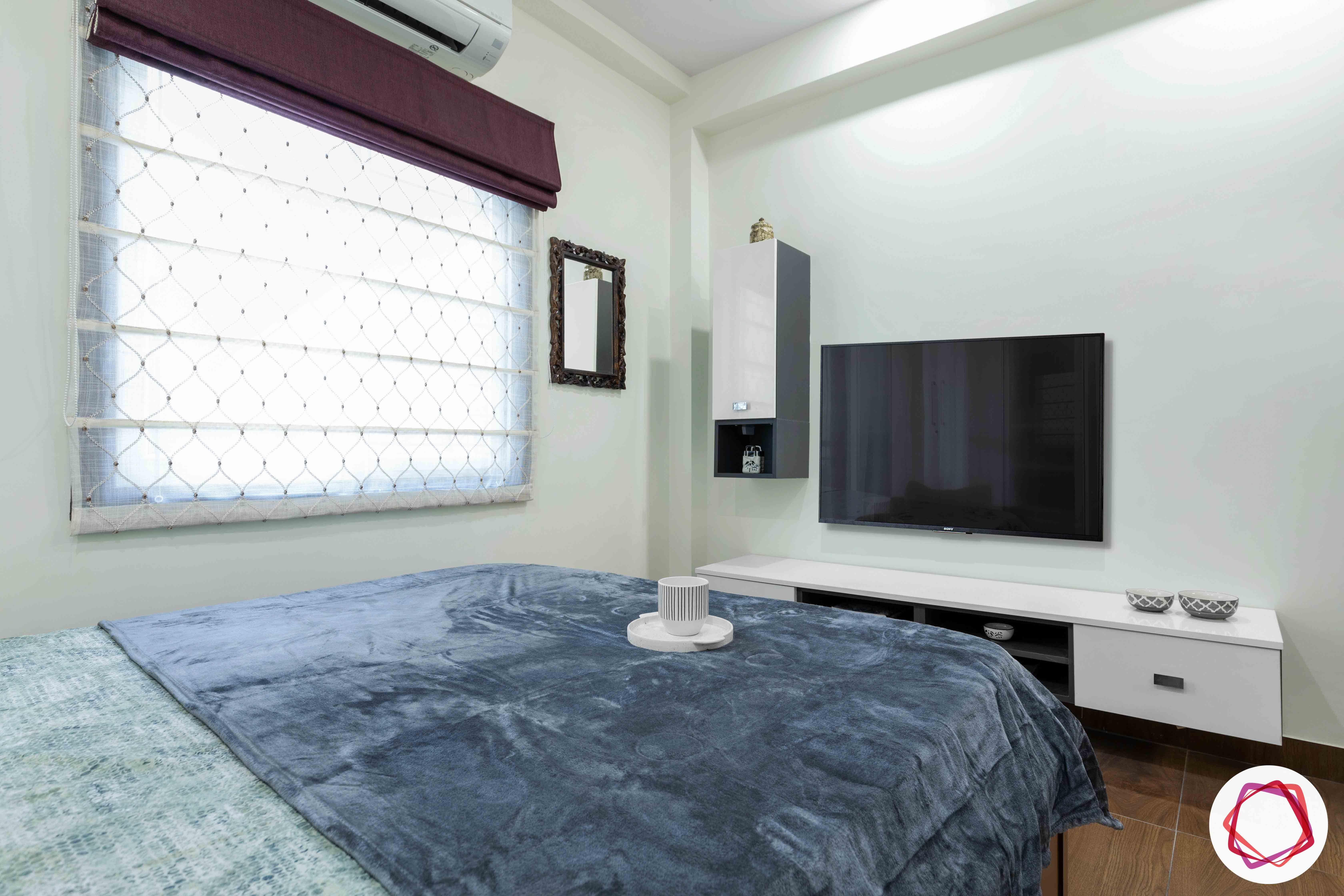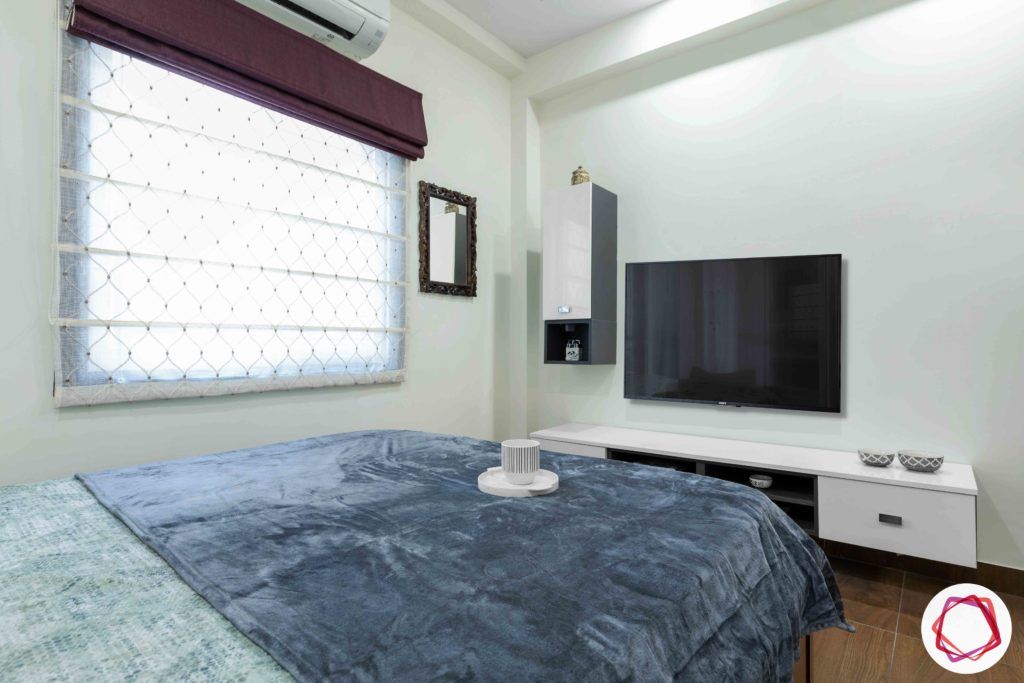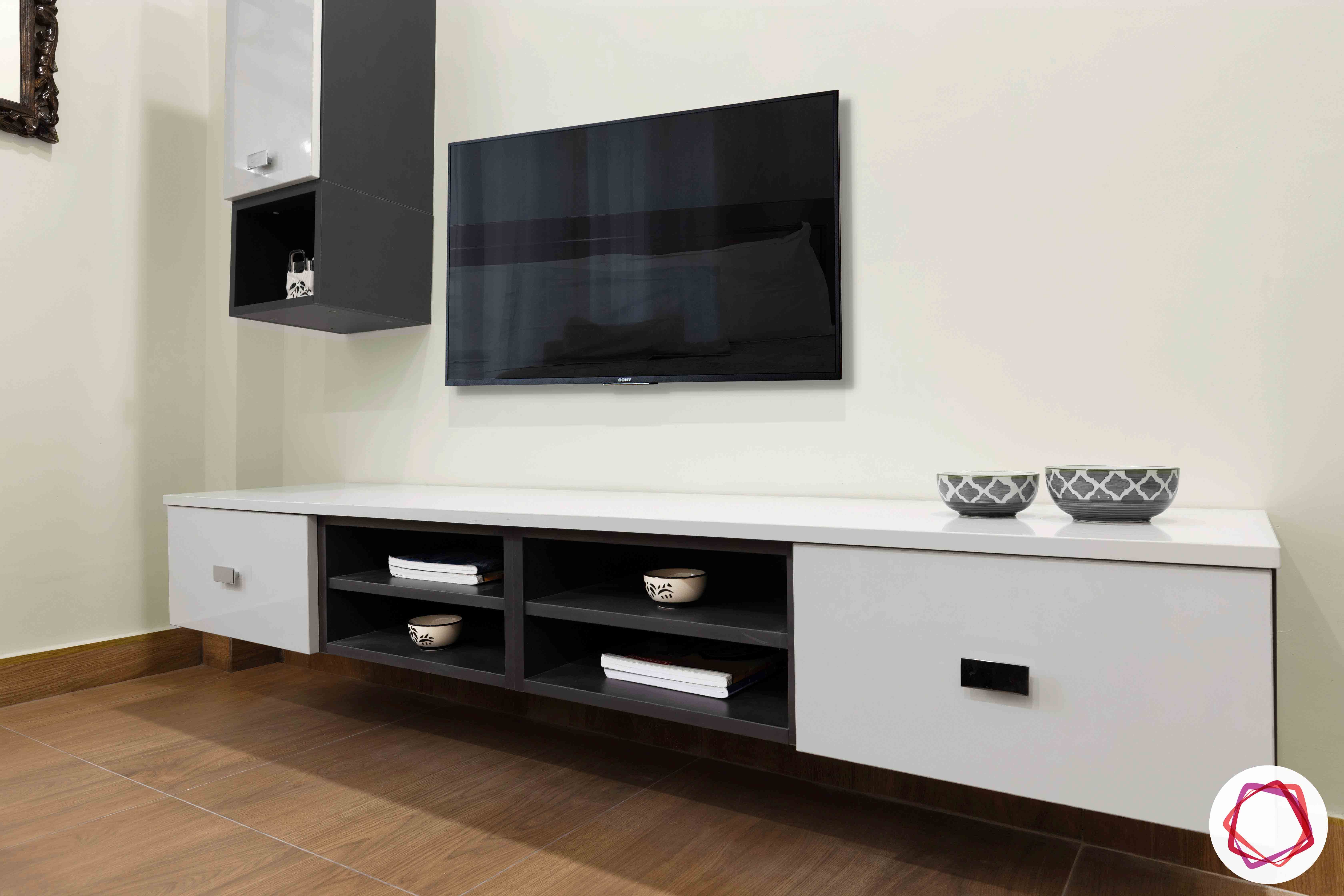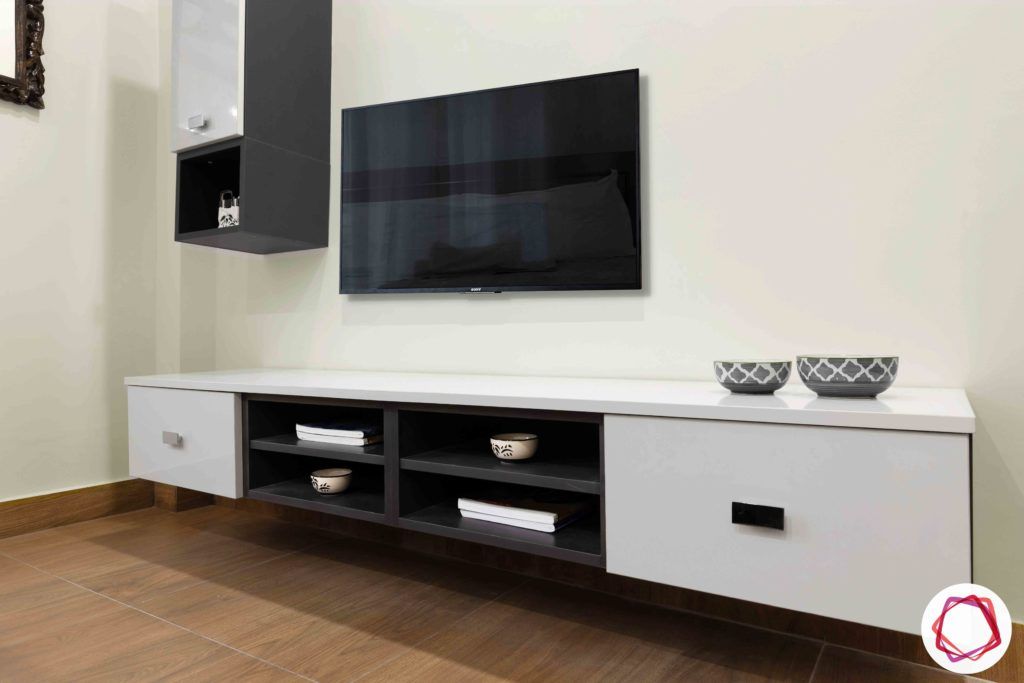 A minimal entertainment unit complements the wooden flooring with its white laminate finish. The floating base cabinet has a sleek design that doesn't consume space and has a mix of open and shuttered shelves.
"The family had very simple requirements and put a lot of faith in me to design with aesthetic clarity. They didn't want to have pop colours so I made it a point to design their home using neutrals and warm wooden finishes."
– Shikha Agarwal, Interior Designer, Livspace
If you liked this home, take a look at why We Love the Simplicity of This Spacious 3BHK as well.
Send in your comments and suggestions.