This interior design for 2BHK flat shows how to fit so many design elements with a compact space without crowding.
---
Who Livs here: Maitrayee Roy and her son Sumeet Roy
Location: Andheri, Mumbai
Size of home: 2BHK spanning 580 sq ft (approx.)
Design team: Interior designer Pooja Gurav and Design Manager Dhara Mukhi
Livspace service: Full home design (excluding kitchen and bathrooms)
Budget: ₹₹₹
---
Getting your home designed is a tedious task that gets more complicated if you are not around to supervise. That was clearly the case with Sumeet Roy who works in the merchant navy. So the end-to-end aspect of the Livspace experience is what appealed to Sumeet as he was looking to get an interior design for 2BHK flat. Our designer, Pooja Gurav, concentrated on getting the basics right for this compact home and then incorporated the preferences of Sumeet and his mother Maitrayee Roy.
To sum it up, this home packs a solid punch of wooden elements interspersed with pops of colours. So, do you want to take a closer look at the interior design for 2BHK flat spanning just about 580 sq ft? Let's take you on a tour!


Brief

A compact 2BHK with plenty of woodwork and a smattering of colours that would be ideal for hosting family and friends.

What We Love

The perfect balance struck between the elegant wooden finishes and pops of vibrant colours.

Look Out For

– Customised laminate panel with grooves for the TV unit
– Shaded sheer curtains to let in diffused sunlight
– Wardrobe and crockery unit cast into niches to save space

Biggest Indulgence

The wall treatments in two bedrooms stand out for their visual effect, which was prioritised over their obvious expense.

Smart Buy

The TV unit in the living room has nestled seating as does the centre table that will be handy when the family entertains guests.


A Strong Wooden Framework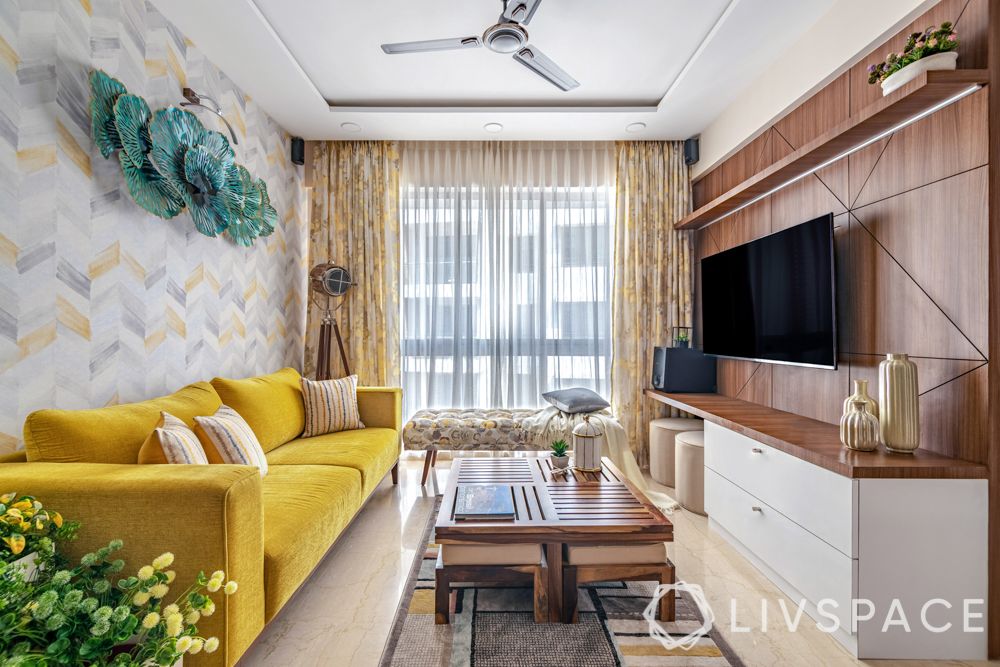 The Roys were keen on having plenty of wooden textures in the interior design for 2BHK flat. So it is no coincidence that we get a cosy and warm vibe from this home. In fact, most of the loose furniture for this compact home is wooden as are the finishes used to accentuate the walls and ceiling.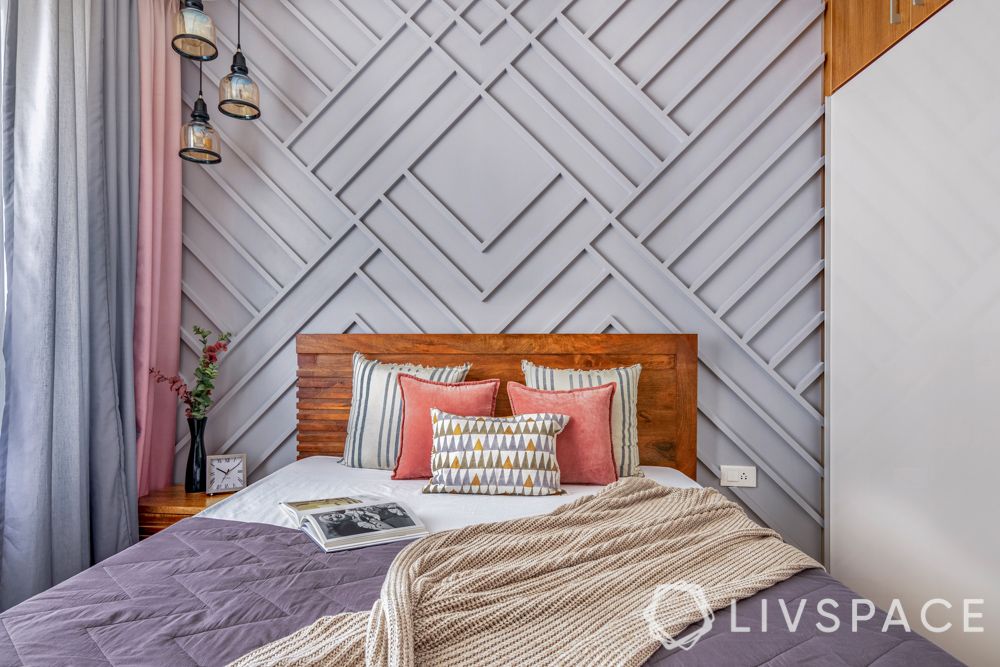 Among the budget buys are the beds in each of the bedrooms complete with matching side tables from the Livspace catalogue.
One Wall Wonders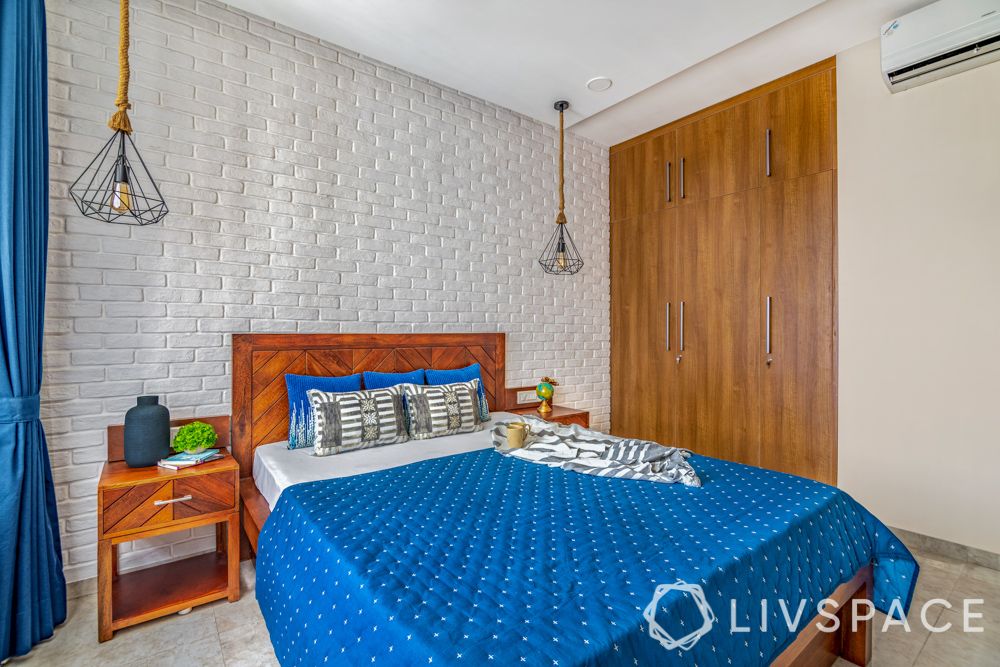 The key to creating statement walls is to ensure that there aren't too many of them. Hence, Pooja has done this task to perfection for the Roy household. Moreover, the living room sports an easy breezy look with a chevron-patterned wallpaper. The pattern complements the mid-century modern style of the drawing area.
Summet was very particular about having an exposed brick wall in his bedroom. Thus, Pooja crafted this look with authentic brick tiles. In Mrs. Roy's room, the painted MDF panel with grooves was chosen after much deliberation. The family wanted the wall treatment to be durable and have a striking visual effect. And guess what? It checked both boxes!
Space-Optimised Storage Solutions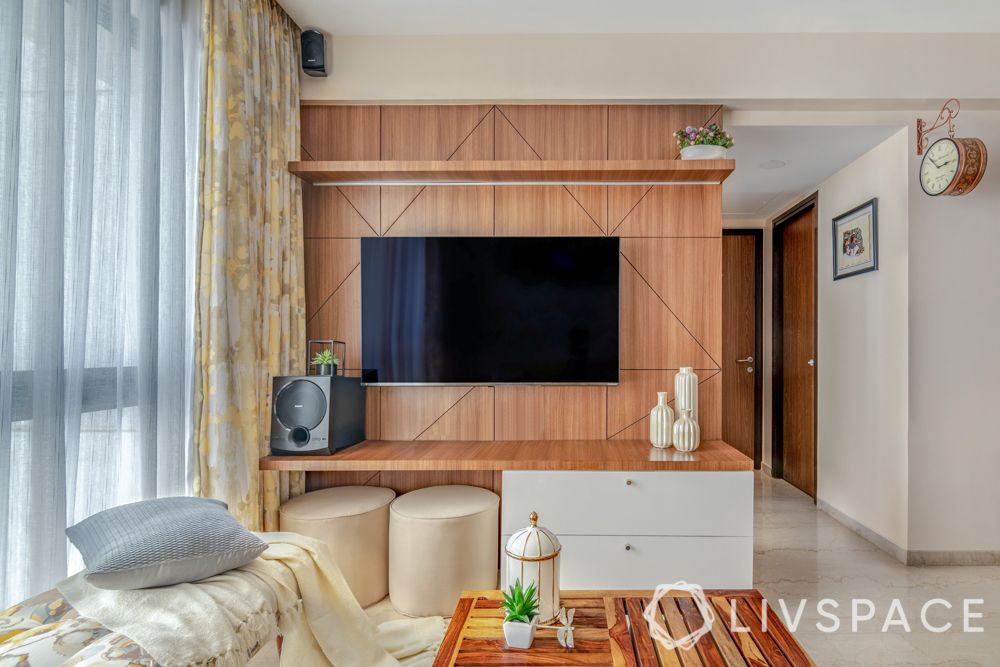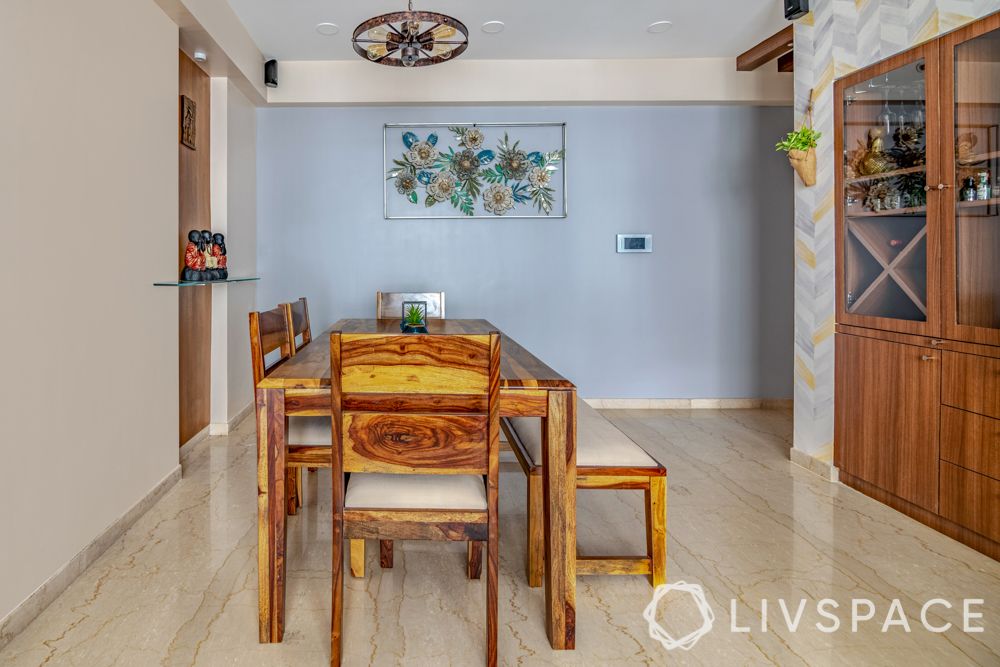 In the living area, the Roys opted for a custom TV unit with a wooden laminate panel with grooves. So, this ensured that compact space in the seating area was used to the fullest. Also, the TV unit comes with nested stools that can be brought out when they have guests. In the dining space, Pooja has saved space by casting the crockery unit cum bar into a niche. In fact, this customised bar unit comes with a pull-out tray that can be used as a counter.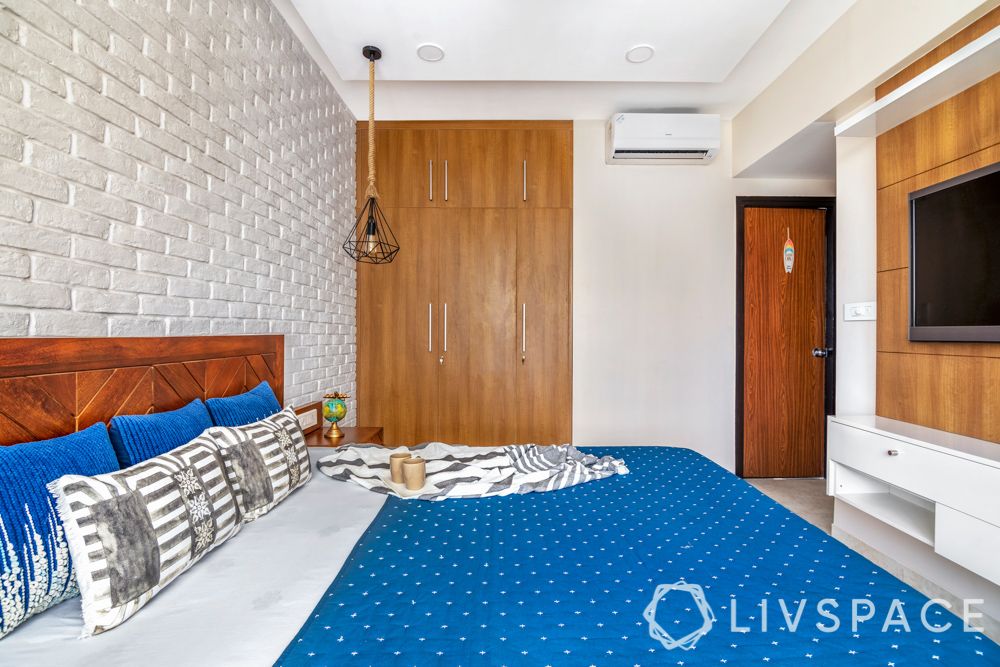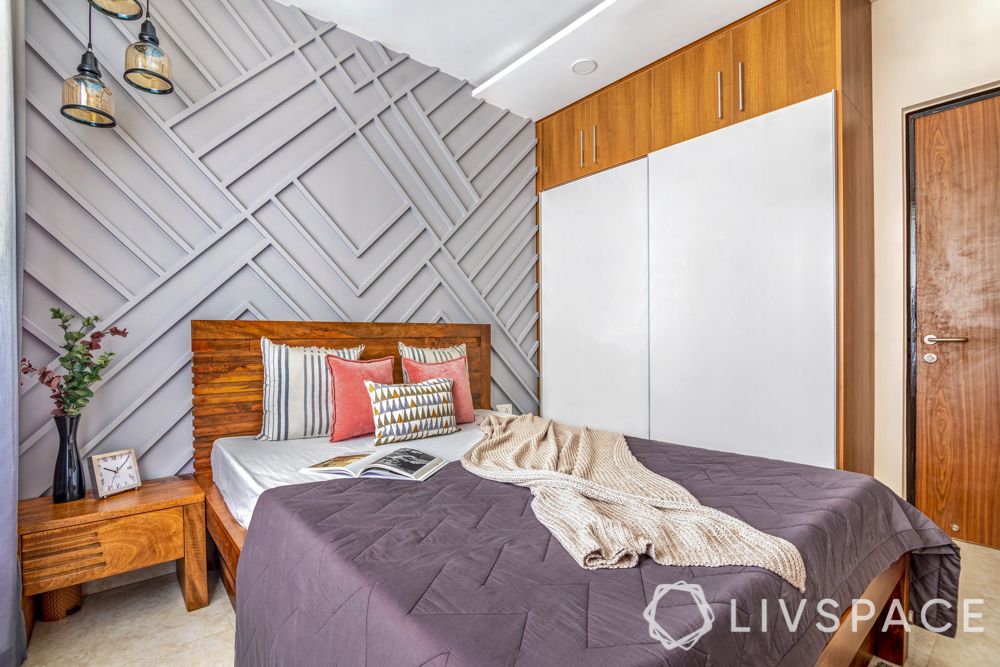 When we look at the bedrooms too, we see very judicious use of space in the interior design for 2 BHK flat that is so compact. So, in Sumeet's bedroom, the laminate finish wardrobe is cast in a niche. Also, as his mother's room is smaller, Pooja has opted for sliding doors for the wardrobe.
Getting the Ceiling Design on Point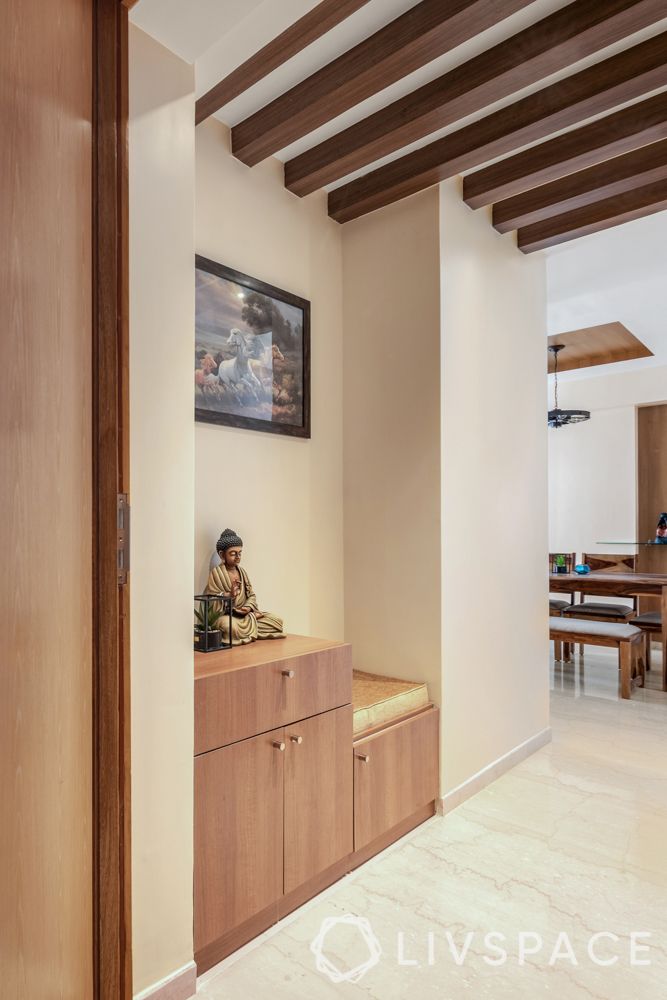 The Roys preference for wooden elements extended itself all the way to the ceiling! In fact, right at the entrance, we can see that the ceiling in the foyer is highlighted by wooden rafters. Additionally, the dining area has a scooped wall niche and Pooja has highlighted the same by installing a matching scooped ceiling with laminate details.
LIGHTS, Camera and Action!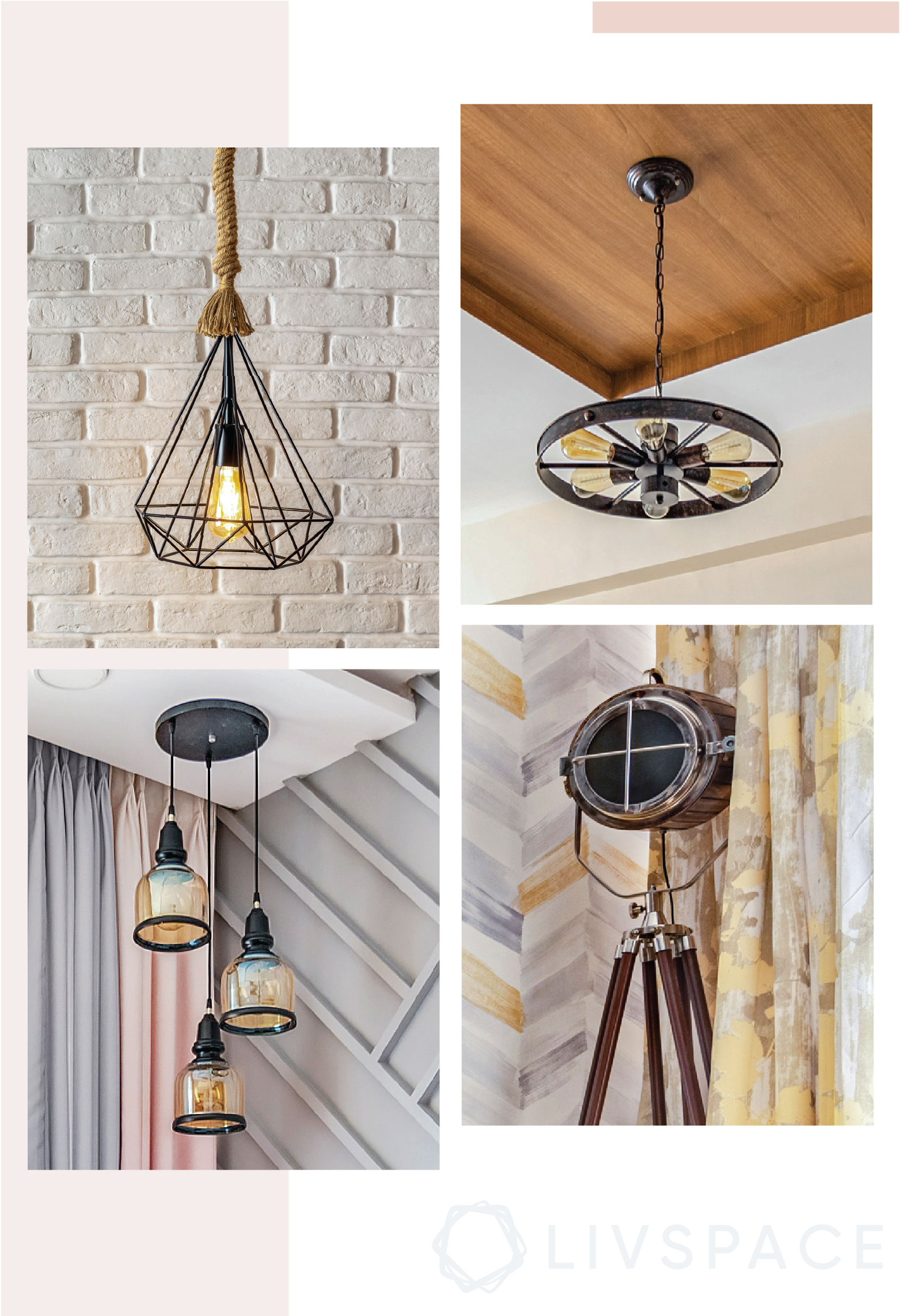 The lighting in this home has a rather style edge to it; we see the lights complementing the general style of the room in all instances. For example, Sumeet's room is designed in the industrial style, so the black metal and rope pendant lights match the same rugged vibe. In addition, the same can be said for dining space where the wagon wheel chandelier whiffs industrial design. However, in the living room, we see a very contemporary tripod floor lamp that matches the look and feel of this space. Finally, in the mother's bedroom room, the cluster of glass pendant lights is a dainty addition.
Pro Tip for Mumbaikars: Shaded Sheers Are 'IN'!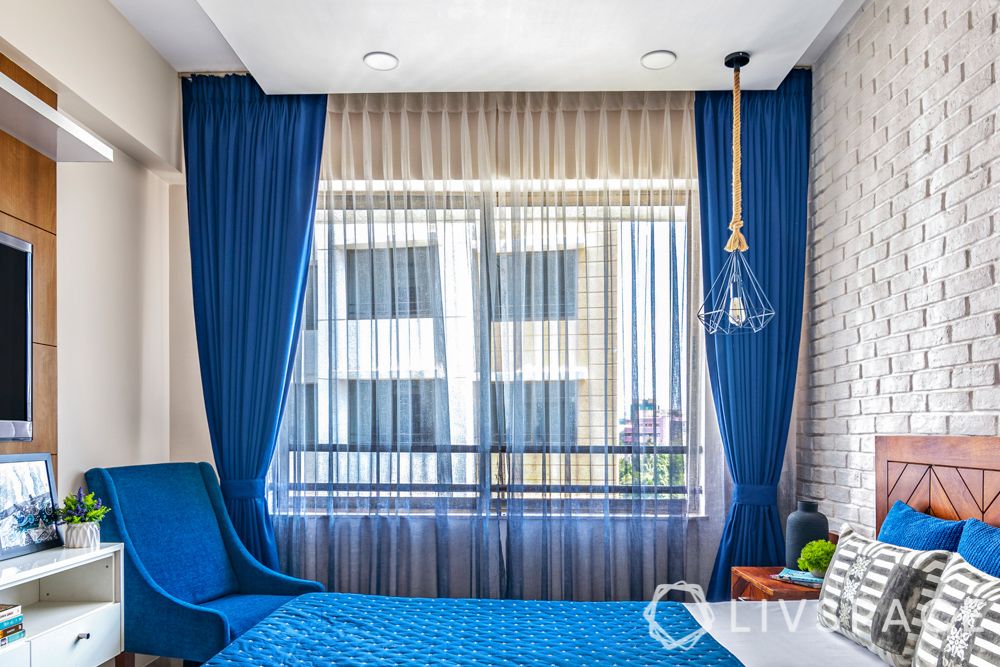 If we had to pick the most novel design element in this compact home, it would be the shaded sheer curtains in all the rooms. Xoupled with their thicker counterparts, the shaded sheers let in diffused light that gives this home a surreal touch!
Designer Speaks
"Both Sumeet and Mrs. Roy has a set of design elements that they wanted in their home. For instance, Sumeet wanted a brick wall and the tripod floor lamp for sure. It was my job to tie up these design elements into a cohesive whole, and that they left to me. It makes me very glad that we were able to give them just what they had wanted!"

– Pooja Gurav, Interior Designer, Livspace
How Can Livspace Help You?
We hope you found our ideas useful! If you want beautiful interiors for your home, book an online consultation with Livspace today. Have any thoughts or suggestions you'd like to share with us? Drop us a line at editor@livspace.com.
Visit us at our experience centre in Mumbai to get your dream home designed.