Our city flats, as expensive as they may be, are essentially economic solutions to urban population density. These are often 2 and 3 BHKs in less than 800 sqft. and can become especially challenging for large families. But these great interior design ideas for small houses can overcome all these issues and make a small, compact apartment seem large and spacious. So, where do we begin?
#1. Slim Entryway Solutions for a Small House Interior Design
Narrow entrances can be cumbersome to design but apart from the essentials, like your shoe rack and mirror, there are other details that can make these passages aesthetic. For instance, in this Mumbai home, our designer Tanvir Siddiqui framed all the elements, including the mirror, door and pictures, in the same wooden finish as the shoe rack and the main door.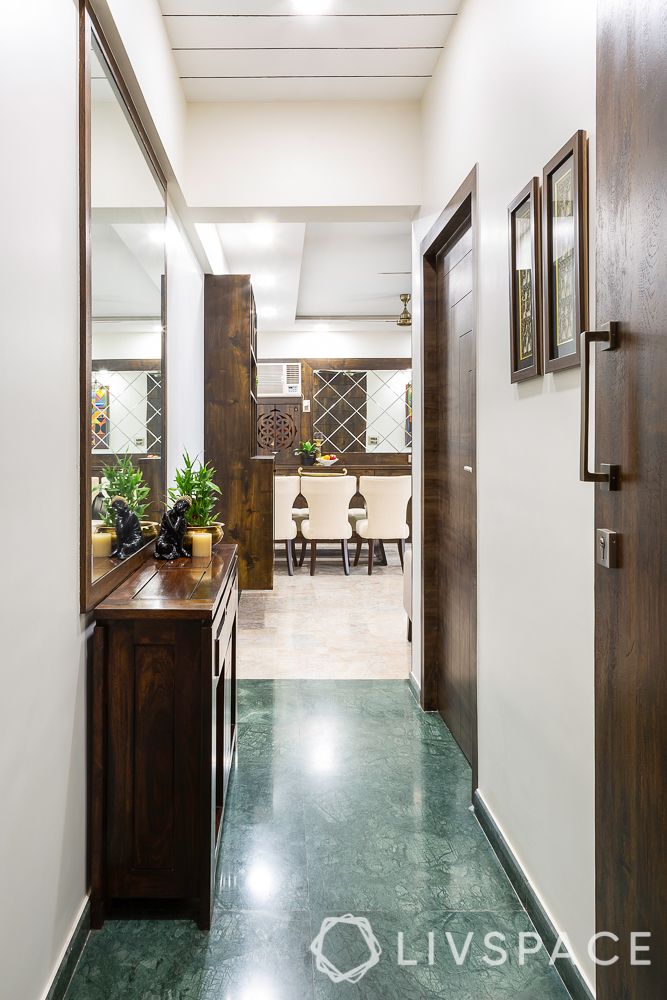 This makes the objects in the passage come together seamlessly, thus making the space seem less compact than it is. This is one of the easier-to-achieve interior design ideas for small houses on a low budget.
#2. Open Furniture Layout in a Small House Interiors
To put it simply, when it comes to small house interior design, the many obstructions your eyes can count, the smaller the space will seem. Try to push most of the furniture to the wall and design an open floor plan to make your house seem spacious.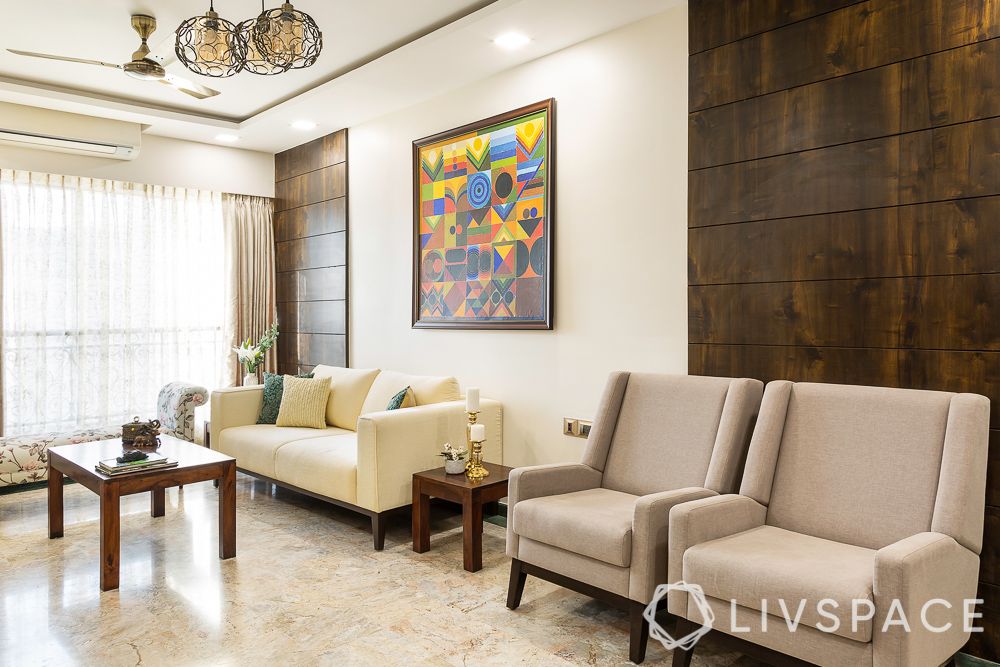 Shavika, the homeowner of this Livspace-designed home, couldn't have compromised with less seating, so the extra sofa chairs are put against the wall instead of directly in front of the coffee table. This ensured an open layout with a lot of space for free movement in her small home interior design.
#3. Interior Design Ideas for Small Houses to Add Depth
There are various silent design details that can manipulate a room frame. In this flat, for example, notice the horizontal lines running across the walls and the wooden panels and the well-placed reflective glass doors of the niche showcase at the room's end add depth to the room, making it appear larger than it is.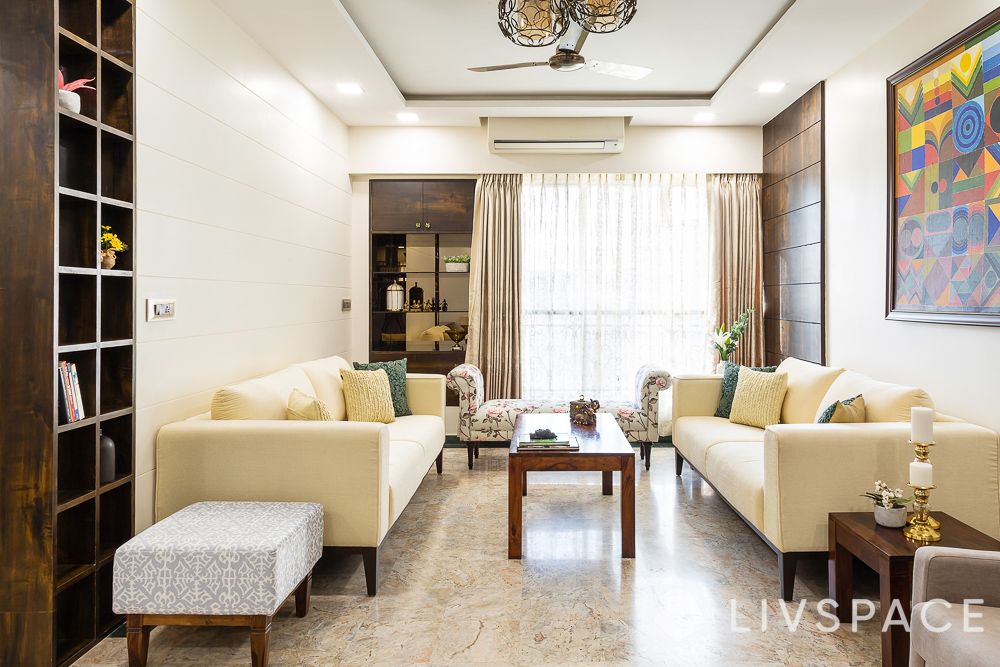 One of the easiest interior design ideas for small houses is to go very subtle on embellishments.
Light-coloured plain walls, for instance, will add volume to the room and you don't want to miss on this trick.
#4. A Homogenous Colour Scheme for a Small House Interiors
In all of the elements incorporated in this small home interior design, you will notice that Tanvir has managed to maintain colour homogeneity and balance. The dark wooden furnishings in one corner is balanced by dark furnishings in the other corners. Wall panels are among the interior design ideas for small houses that can be utilised to maximise the aesthetic value of a space. Why let any furnishing idea be vain, especially in a small home interior design.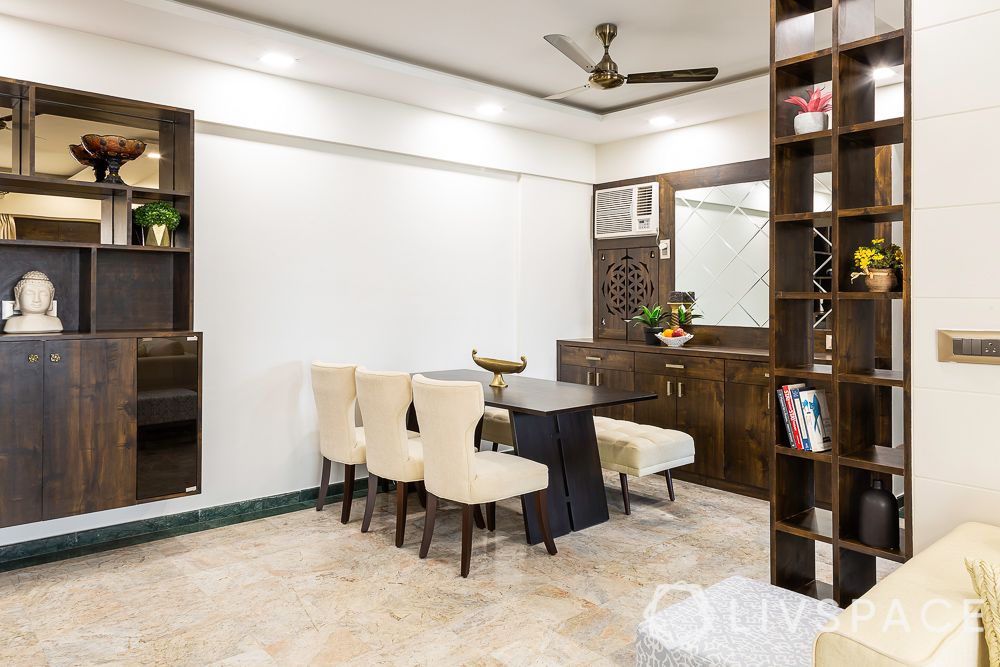 Be sure to let a lot of light reflect in your small house interiors as light colours are known to make rooms look spacious.
#5. Exploit as Many Boundaries as You Can
Add storage wherever you can as one of the biggest challenges in small house interiors is space. Tanvir has built storage on all three walls in this kitchen but avoided the loft area. Doing this has allowed the kitchen to be well lit and airy. This will ensure good hygiene and air quality in the kitchen, especially in a Mumbai home.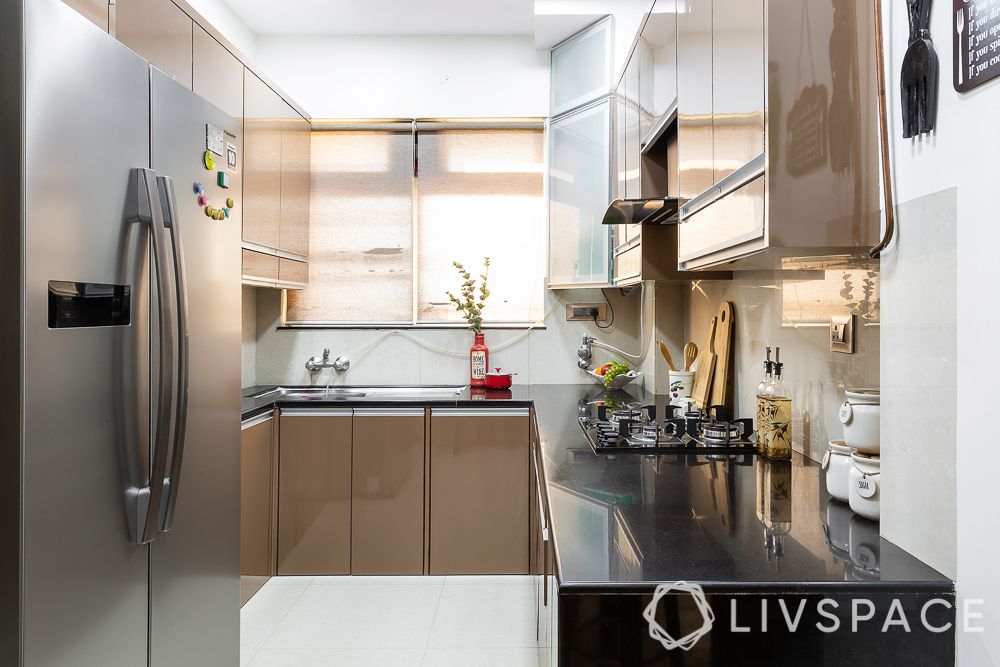 You can implement these interior design ideas for small houses by yourself but it is always recommended that you hire a professional. They can advise you for hygiene and optimum storing conditions of a kitchen and design long-lasting small house interiors.
#6. Every Corner Can be a Hangout Space
Most of us give up on breakfast counter ideas for our small house interiors as finding space for it can be truly challenging. But for this lucky home, Tanvir could reallocate storage spaces inside the kitchen and around the dining area, thus leaving room for this comfortable counter under the kitchen architrave.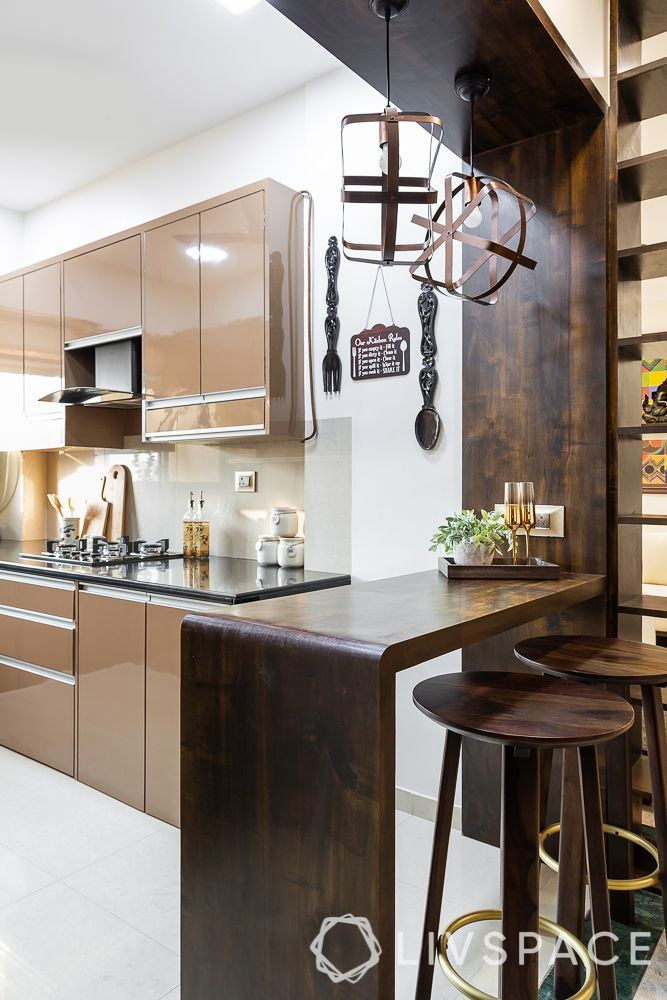 To avoid a breakfast counter from crowding the dining area, the furniture here is kept light and minimal. It matches the kitchen and the rest of the small house interior design so that it effortlessly fits into the space.
#7. Interior Design Ideas for Small Houses: Create a Flexible Bedroom
Shavika opted to use her guest room as a family room during the day, so she chose to make sure the furniture in the room was multifunctional to serve that purpose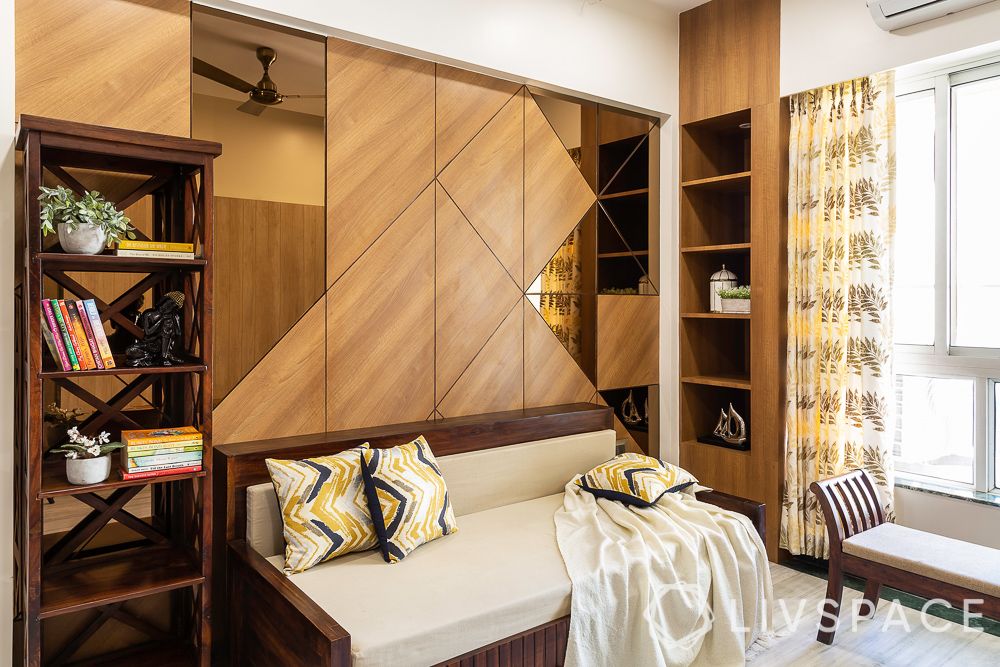 Although Tanvir used a mirror here to enhance the size of the room, he made sure to limit it to just the back panel. He did this to prevent glare and reflection on the TV screen and for a smooth entertainment experience. A lot of thought went into a small home interior design to make the space comfortable for all the members of the house.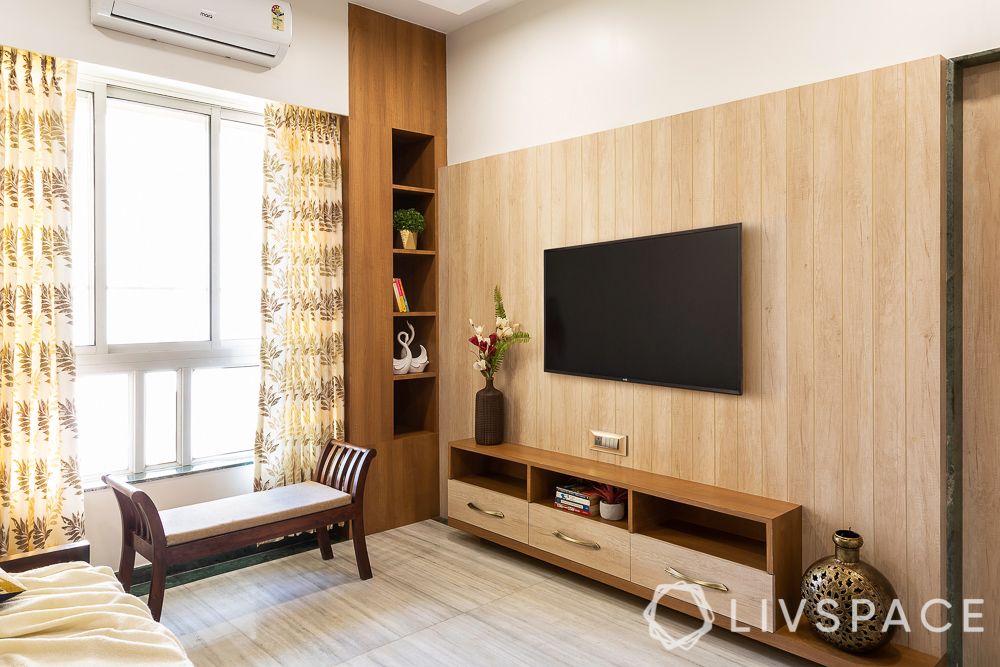 #8. A Two-Zone Bedroom for a Small House Interiors
Given the pandemic, all of us are either working or schooling from home. There is one bedroom to use and many various activities to do, all in your small home interior design. It can become difficult to concentrate in the same room you just woke up from your sleep. Tanvir's solution? A dual-toned room with calming blue colour near the bed and an electric red for the study table.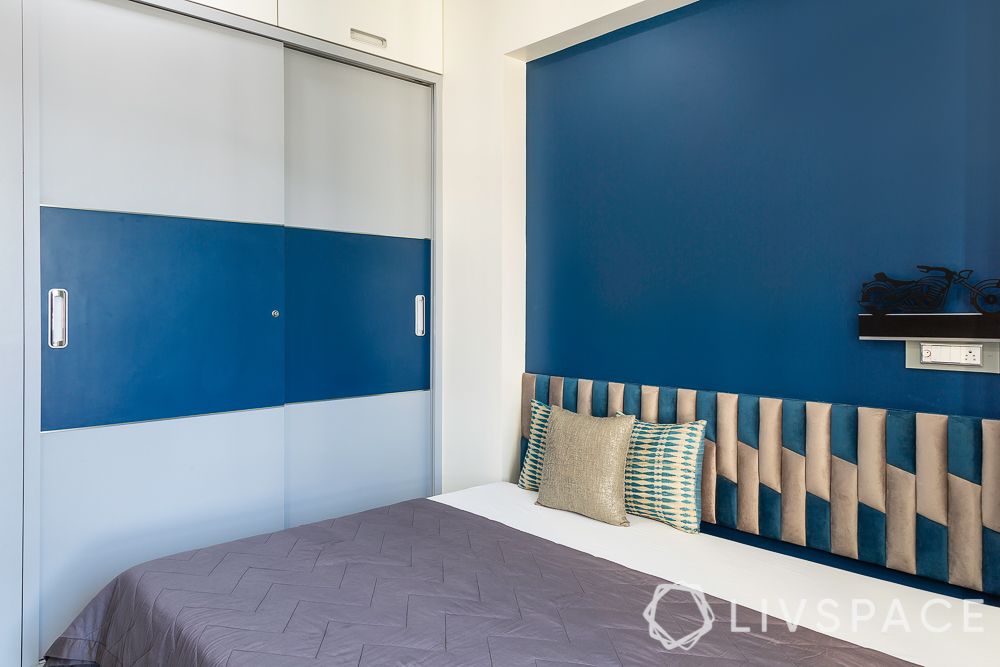 Colours can influence your mood so it's always a good idea to use them well. Red around the study desks is a bright and cheery mood-lifter. It works well with the grey soft board and the open shelving unit to create an interesting study nook. And the window next to this study area offers great natural light and fresh air.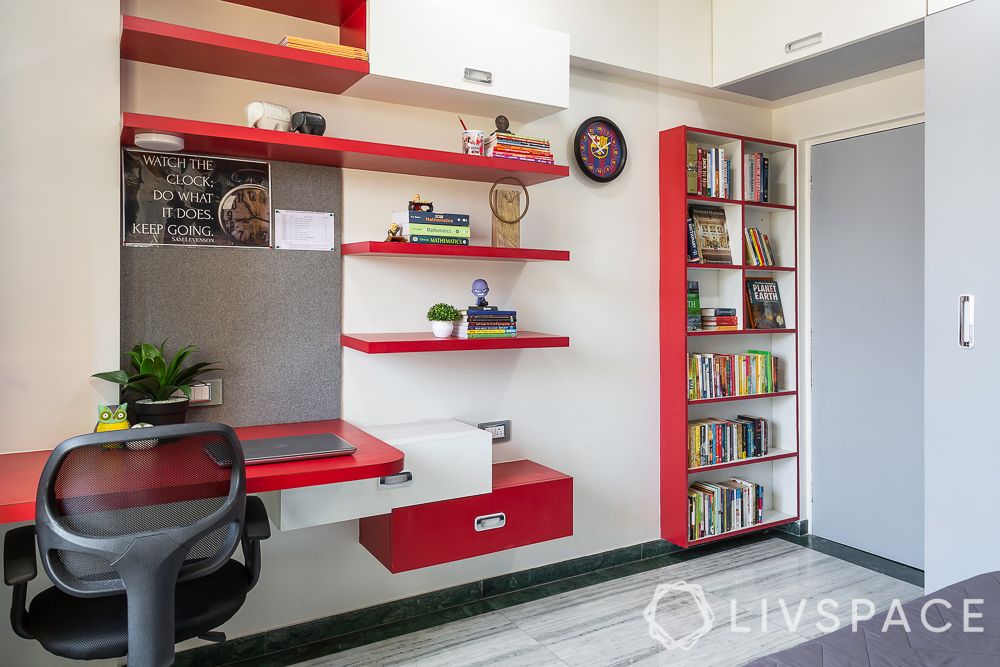 This room is a result of Tanvir's careful and clever implementation of interior design ideas for small houses. He thoroughly understood and analysed the needs of the homeowners and the 16-year-old site as well before working on this small house interior design.
#9. A Job for a Mirror in Small House Interiors
You would have seen many mirrors used very intelligently to optimise this small house interior design.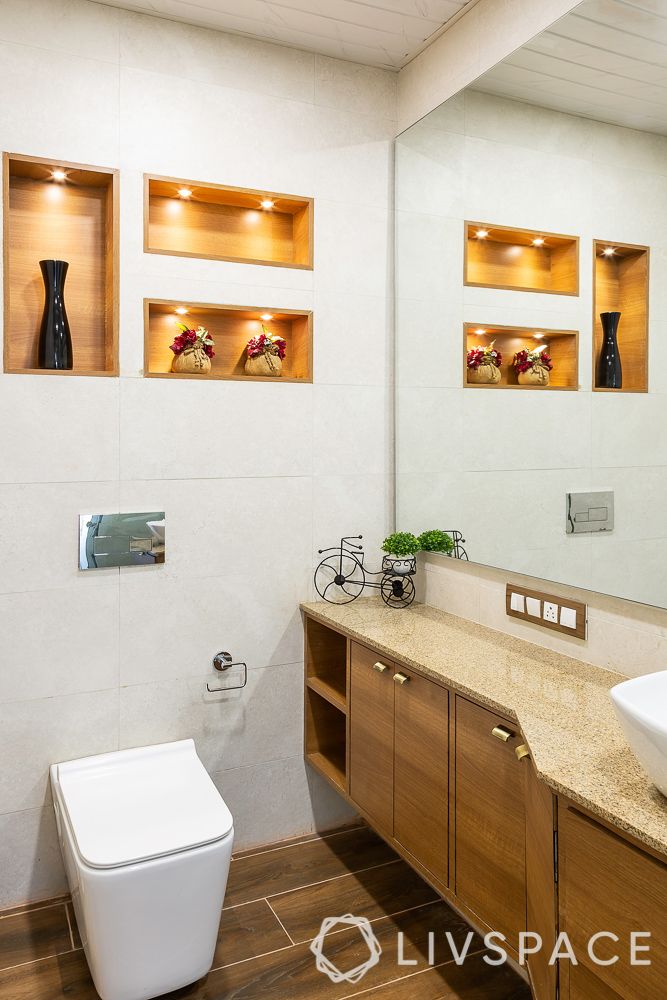 #10. Aim for Sufficiency in Your Small House Interiors
Niche storage solutions are smart and aesthetic interior design ideas for small houses. They allow undisrupted movement and offer extra storing space in compact spaces. In this bathroom, the vanity could be kept small because niche storage was utilised.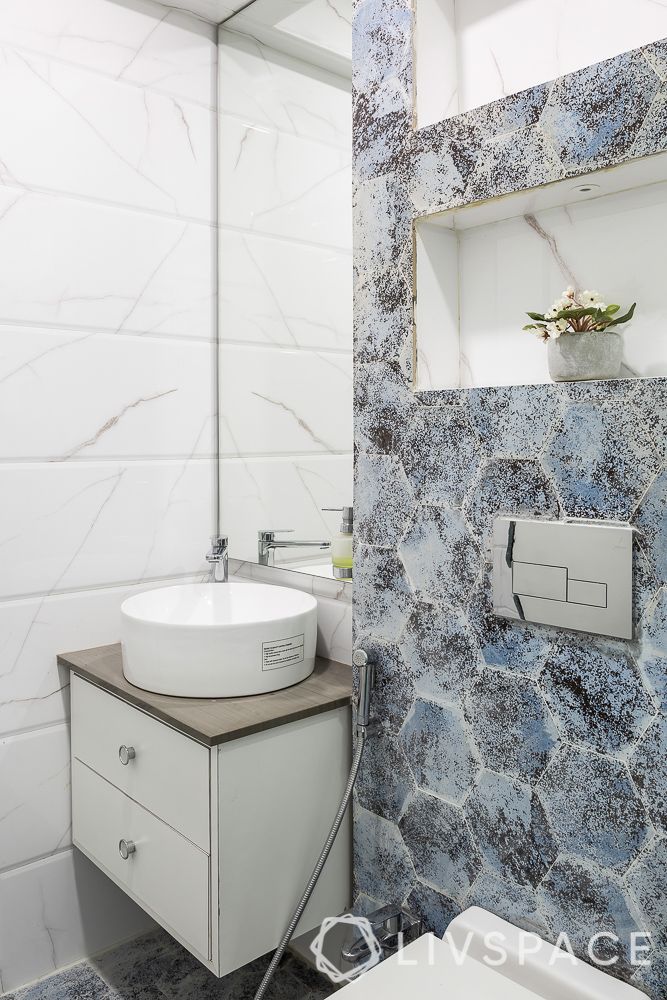 You can read a full before-after story of this 16-year-old Mumbai flat here.
We hope we have given you many interior design ideas for small houses that you use around your flat as well!
Check out this gorgeous Mumbai home we designed on a budget:
How Can Livspace Help You?
We hope you found our ideas useful! If you want beautiful interiors for your home, then look no further. Book an online consultation with Livspace today. Delivering safe home interiors has been our No. 1 priority. Click here to find out how interiors are being delivered following all safety protocols.