The pandemic has changed the way we look at home interiors forever. While most people once aspired to glamorous homes that came straight from decor magazines, there is now a definitive shift towards simpler designs. Basic can be beautiful; it took a global pandemic to drive that message home. And our home must embody that spirit of simplicity. Where better to search for such unabashed simplicity than this 2BHK flat in Hyderabad! Our team of designers worked within a tight budget to design and furnish the Anjaneyulu' 2BHK home. And this home has come to represent the nuance of beauty in simplicity characteristic of these times.
Take a closer look at this 2BHK flat in Hyderabad and you will appreciate that frugal is a positive word when it comes to home interiors.
---
Who Livs here: A family of two
Location: Hyderabad
Design team: Interior designer Aitha Sai Kumar and team
Size of Home: 2BHK
Livspace service: A basic kitchen, wardrobe and storage units
Budget: ₹₹₹₹₹
---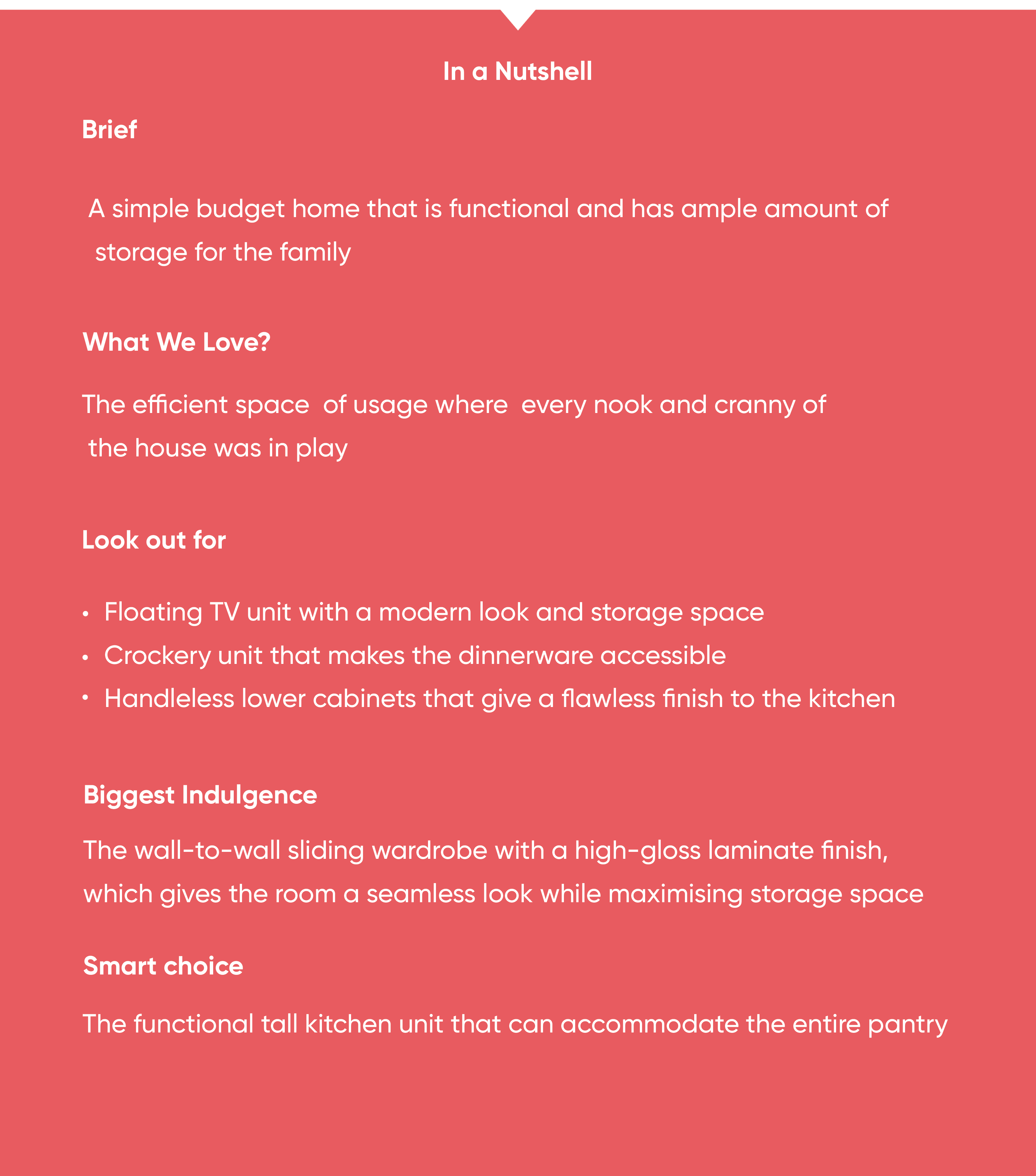 #1: A Modular Kitchen With Ample Storage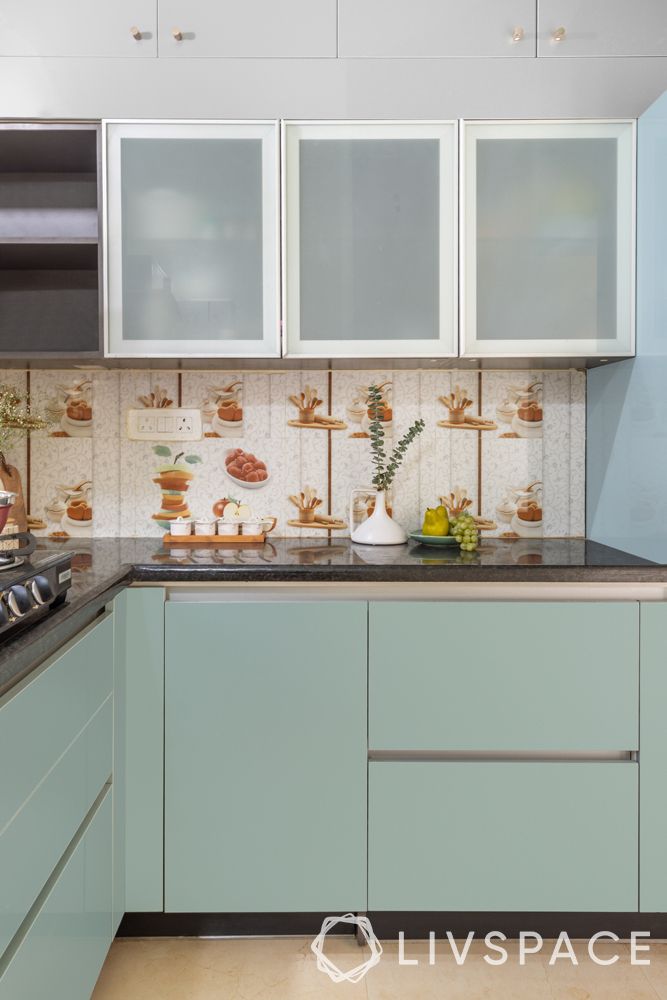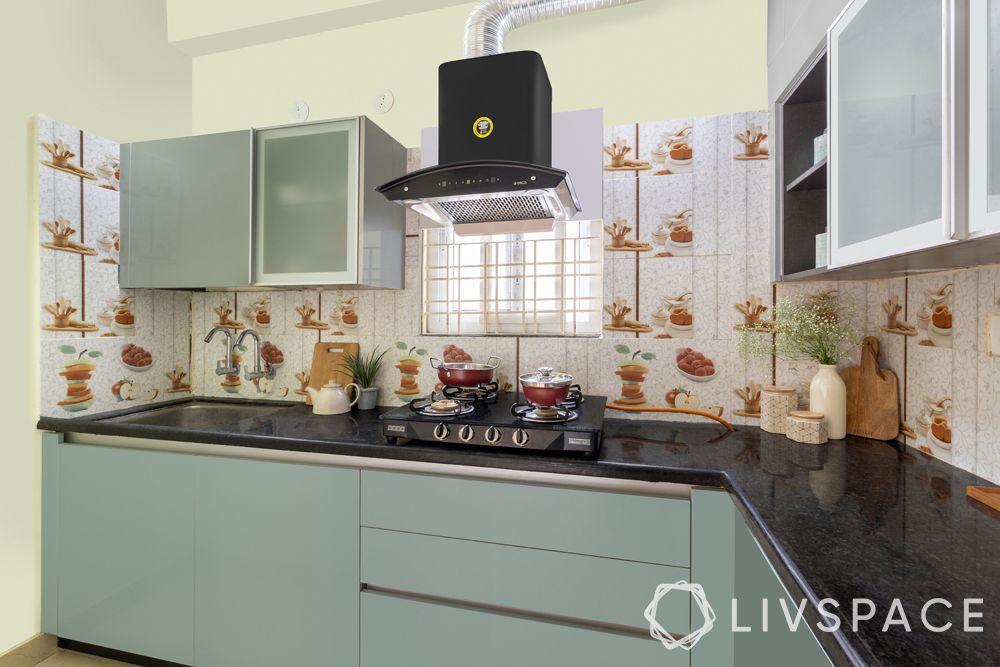 The kitchen, which got the lion's share of the budget, is the showstopper for this 2BHK flat in Hyderabad. It is fitted with handless base cabinets and a tall unit given that storage space was a priority for the homeowners. The tall unit is a great addition to this kitchen as it can house the entire pantry. With an asset like that in the kitchen, storage gets an instant boost and so does usability.
ALSO READ: Why Every Kitchen in India Needs a Tall Cabinet
The frosted glass shutter on the wall cabinets is a great addition to this kitchen. Firstly, it opens up the space. Secondly, it's translucent so it conceals the contents on the shelf while also adding an element of style to the kitchen. The muted color palette of the laminate lends a soothing vibe to the space. This kitchen is made with MDF cabinet shutters which are durable and cost-efficient.
#2: A Practical Addition: The Crockery Unit!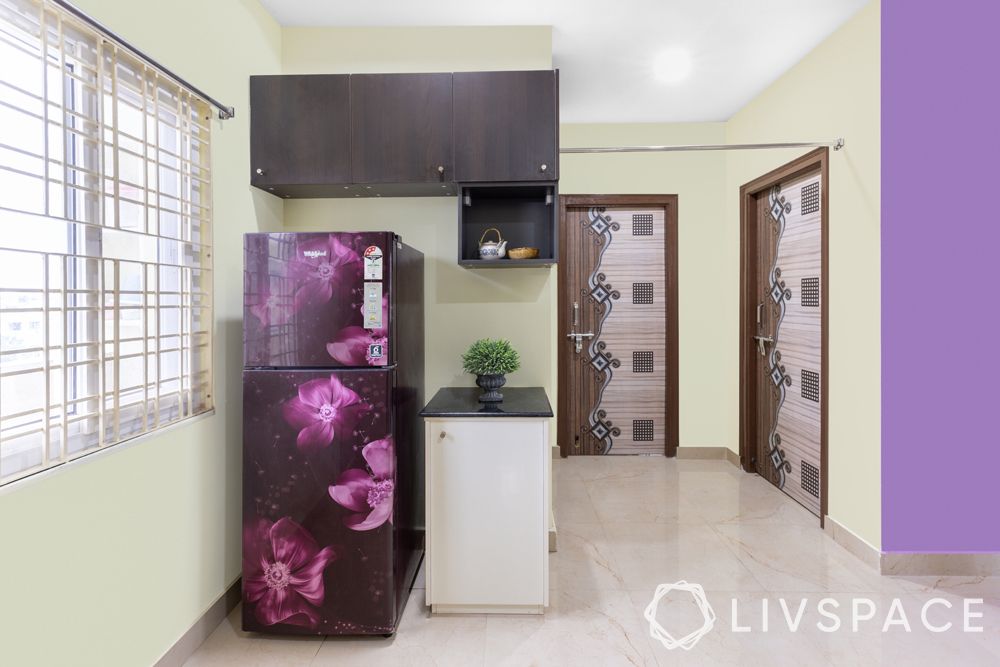 This accessible crockery unit is a unique addition to the house. With the wall-mounted shelf, a unit and the fridge in one place, it is a very practical purchase for this 2BHK flat in Hyderabad. This three-door shelf has ample storage and the granite countertop of the lower cabinet is a safe spot to keep piping hot food straight from the kitchen.
#3: Glossy Wardrobes That are Stocked With Storage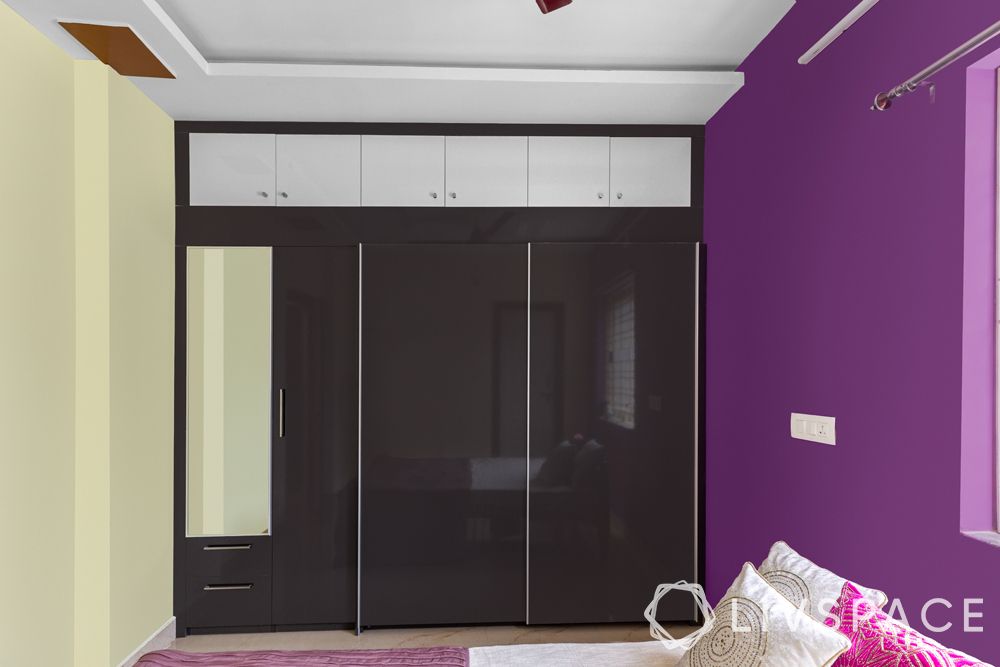 The Anjaneyulu home has a wardrobe in each of the bedrooms. The one in the master bedroom is a sliding wall-to-wall wardrobe in high-gloss laminate finish. Considering the compact size of the bedrooms, sliding doors are a great design choice. Also, high loss laminate is very easy to clean. This wardrobe also has a mirror with drawers underneath to serve as a dresser.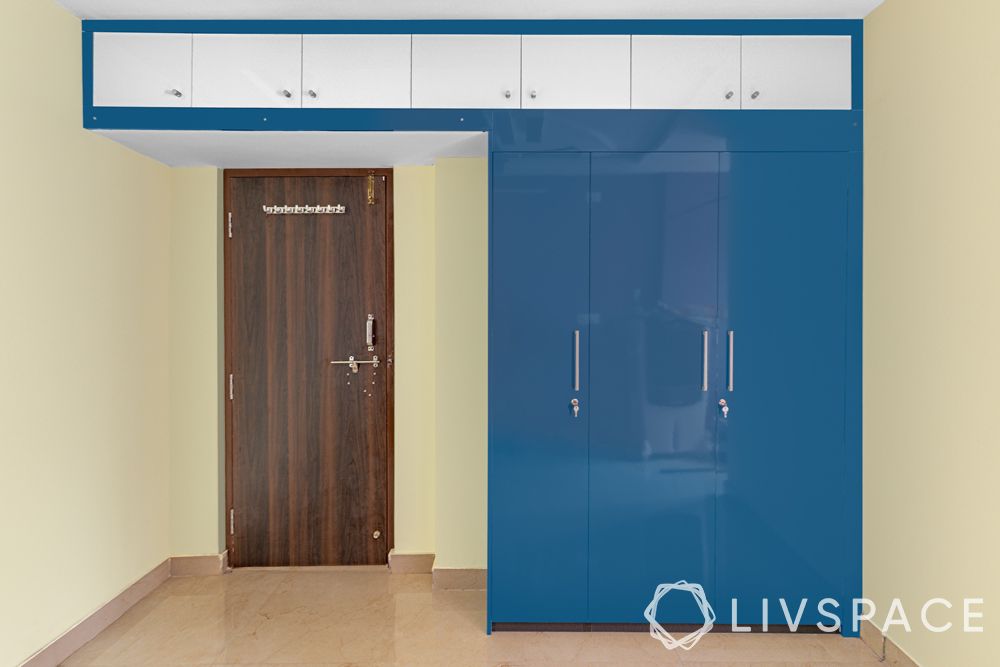 The wardrobe in the guest bedroom is fitted on the same wall as the door. So it is smaller in size than the wall-to-wall wardrobe we just laid eyes on. However, it does have running lofts over it that extends to the area above the door. So don't let the ingenuity of this design be lost on you!
Want to check out smart wardrobe designs like these? Click here.
#4: Floating Modular TV Unit that is Perfect for a Small Wall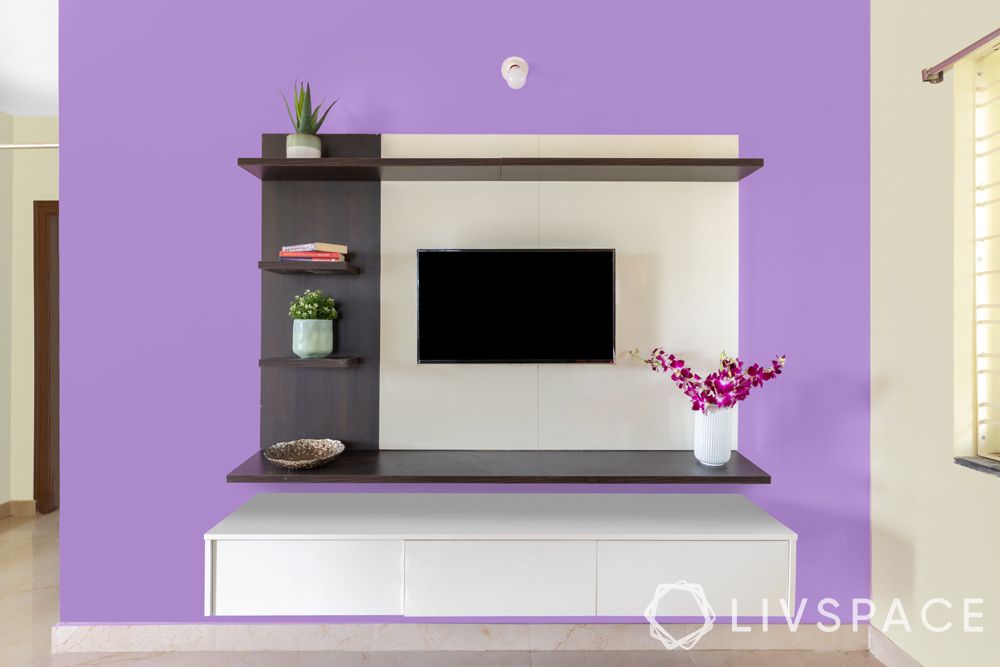 One of the challenges of designing this 2BHK flat in Hyderabad was the small size of it's living room. To be precise, the living room did not have a suitably large wall that could be converted into a TV wall. But our design team picked a compact floating modular unit from our catalogue that had storage but didn't eat up floor space. And the rest, as they say, is history.
Anjaneyulu' house proves that a house can be stylish and functional even if it is within a budget. Designed post-pandemic, this 2BHK flat in Hyderabad was completed by the design team in a way that met all the expectations of the homeowners within a small budget. This essential-only house shows us how style can be affordable. Each furniture piece of this house packs storage, space and practicality. Wondering how our customers feel about working with Livspace? You can check out the Livspace reviews here!
How Can Livspace Help You?
We hope you found our ideas useful! If you want your home to be just as beautiful, then look no further. Book an online consultation with Livspace today. Delivering safe home interiors has been our No. 1 priority. Click here to find out how interiors are being delivered following all safety protocols.