It is an unsaid fact that the kitchen is usually the most expensive component of our interiors. And you might have believed that elements like a kitchen tall unit shoot up the price of furnishing. This actually is a misnomer; tall pantry units don't cost as much as they are perceived to be expensive. And to address this myth, we caught up with some of our best interior designers.
Here is what they have to say about tall units and why they recommend them for every kitchen.
#1: Not all tall units are alike, in fact there is much variety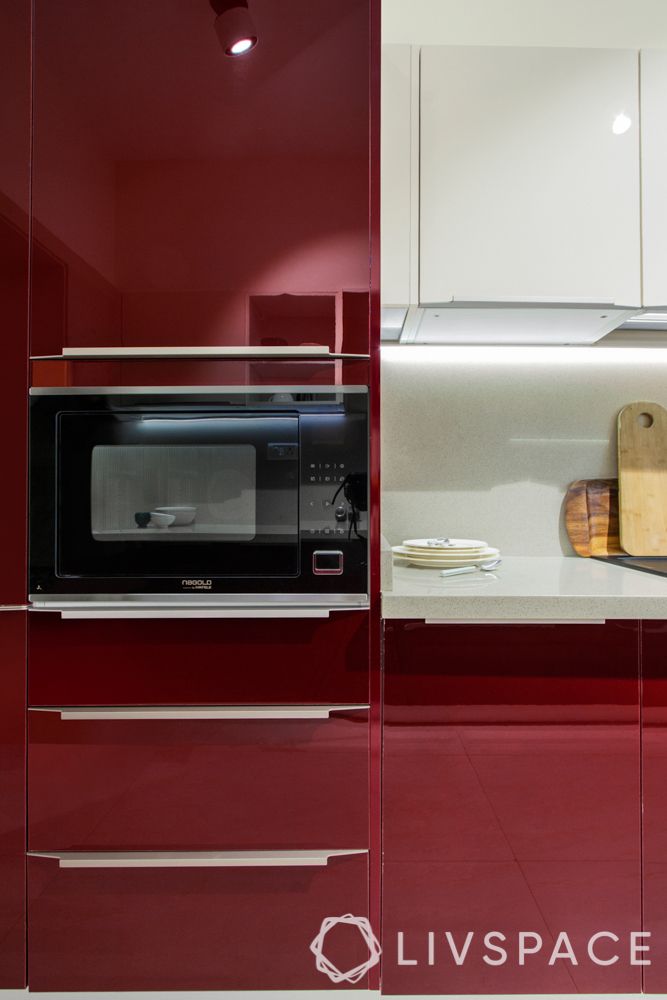 If you were under the impression that a kitchen tall unit comes only in one format, there is the root of myths about tall units. There are various types and modules that comprise the family of tall units. Firstly, there are tall units and mid-tall units. Within each of these categories, there are further sub divisional units:
Units to fit in electronic appliances
Units with shelves
Unit with fittings (these can be tall pantry unit or come with drawers)
You can actually pick and choose from these depending on your need, your budget and the space available in your kitchen.
#2: It keeps all your groceries together, frees space in other cabinets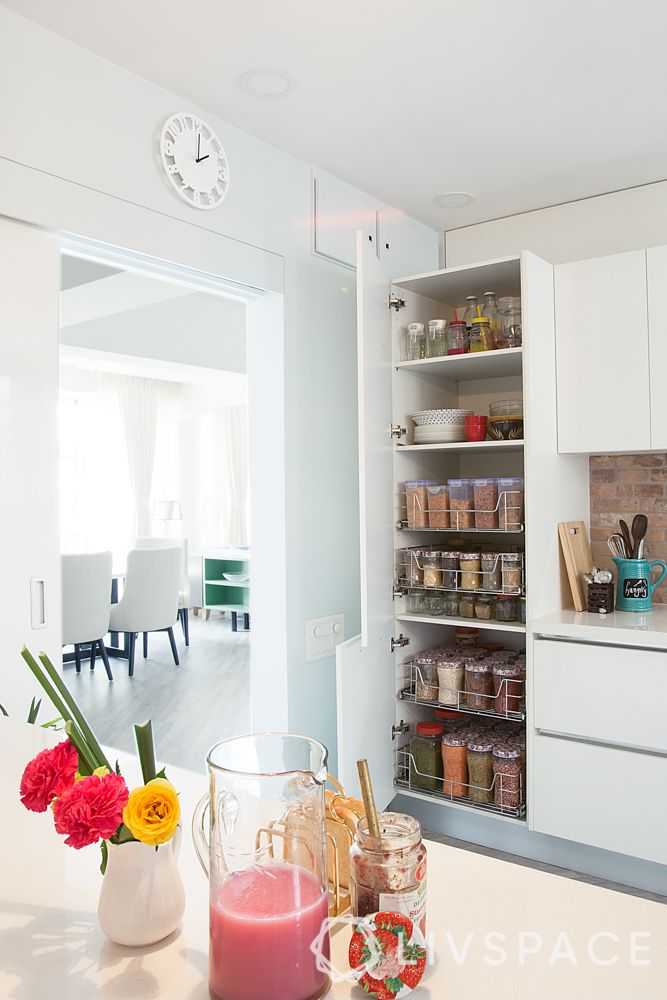 "Most homeowners feel that no matter how many cabinets they have, they are always fighting to accommodate things. In such a scenario, imagine what just one tall cabinet can do for your kitchen! It is a one-stop solution for almost all kitchen storage problems."

– Ankit Gupta, Interior Designer, Livspace
In order to assess the storage space in your kitchen, ask yourself a very basic question. What are you really storing in your cabinets, both wall and base? Most of us would say groceries. Now picture this, you have one tall pantry unit to store all your groceries. How much space does it leave you with? You can stow away all the stuff like large woks, bowls etc that were fighting for space in the cabinets. You can also fit in your vegetable basket inside a cabinet or stock up on essentials like toiletries, cleaning supplies etc.
#3: Frees up more counter space too!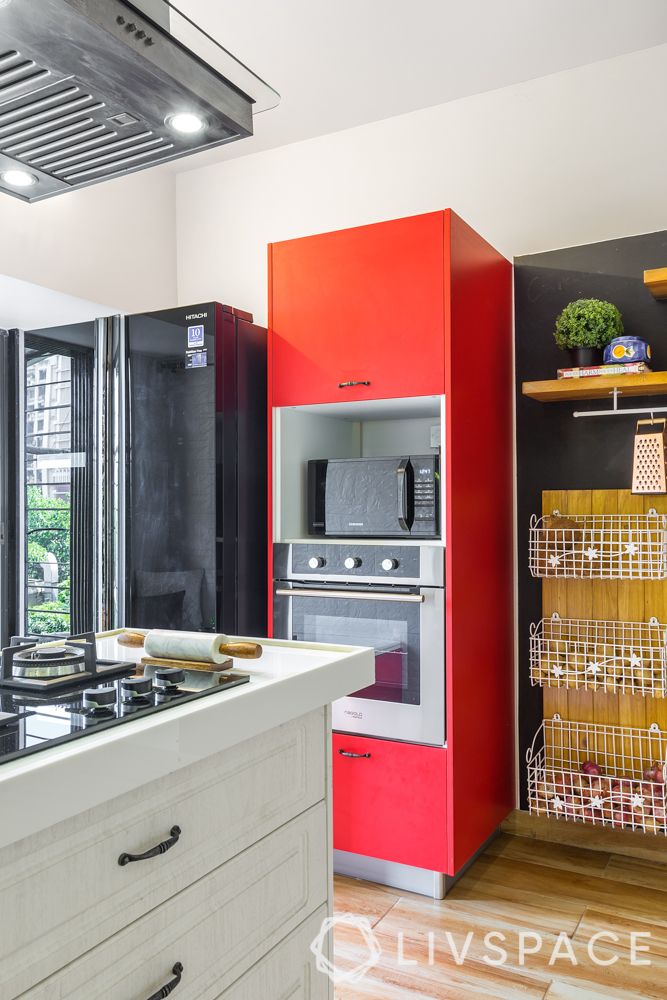 Count the number of appliances that are there on your countertop? Most answers would include a mixer-grinder, toaster and in some cases an oven. All of these essential alliances can be accommodated into a single kitchen tall unit. Now imagine how much free counter space that leaves you with. You can cook up a storm in your kitchen now!
#4: Anyone can cook in a kitchen with tall units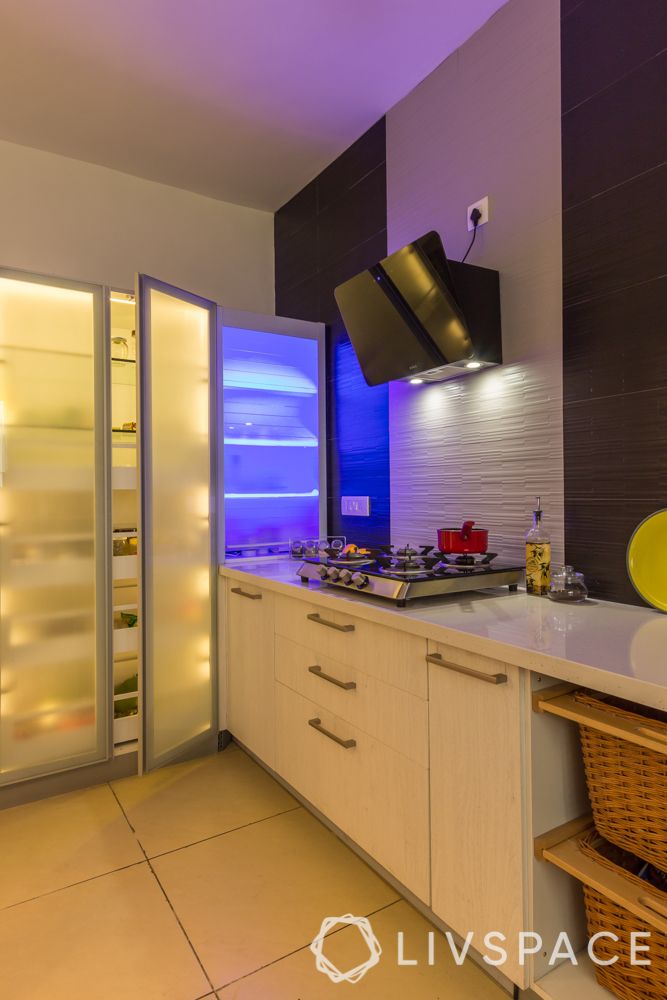 "I always advise my clients to go for a tall pantry unit because when you have all the groceries together, you don't have to waste time looking for anything. Even if the main chef of the family is not there, the others won't be stumbling around from one cabinet to another for finding ingredients while cooking."

– Akash Jindal, Interior Designer, Livspace
If you are not someone who cooks in your own kitchen very often, this will totally resonate with you. Suppose your hired cook is absent and you want to make something as simple as tea in your kitchen. First you have to look for the right vessel, then hunt for tea leaves and track down the sugar from the back of the cabinet. It's exasperating! But if you have a kitchen tall unit with a pantry pull-out, you know that there is just one place where all the ingredients you need will be. This also robs you of any excuses to cook!
#5: The non-affordable tag is a myth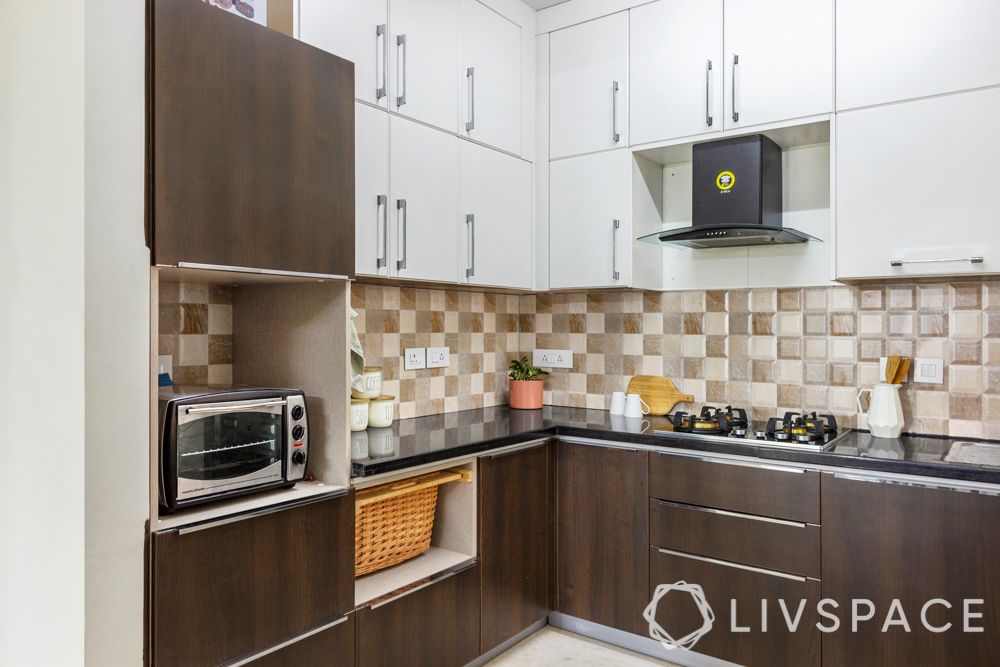 "When we suggest a tall unit in the kitchen to our clients, many of them immediately resist saying that it will cost a bomb. However, this is a myth. A tall unit with affordable finishes does not cost too much more than normal cabinets. It's the accessories that shoot up the price."

– Shirali Maher, Interior Designer, Livspace
We ain't saying that a fully loaded tall unit with pantry pull-out or inbuilt appliances doesn't cost you. But there are many budget versions of this module available. Moreover, even if you are going for a high-end version of the kitchen tall unit, it's worth its weight in gold! You can opt for an affordable tall pantry unit or pick an accessorised version; either ways it is not a bad investment.
If you found these details about kitchen tall units useful, also explore 6 Trending Techniques to Open & Close Cabinets.
Send in your comments and suggestions.