It goes without saying that the kitchen can be one of the most expensive areas to design. After all, it's a vital space in our homes, and it has to be designed with utmost functionality. When you look at all the components that go into designing a kitchen, you might think that they draw up a hefty sum. It might seem like bigger elements such as a kitchen tall unit can shoot up the price of furnishing. However, this isn't always the case.
Your kitchen tall unit design may look expensive, but its cost can fluctuate based on a variety of factors. So, if you've been considering opting for a tall unit to address storage concerns, don't let the fear of high prices hold you back. Let's hear what our Livspace designers have to say about kitchen tall units, and why they recommend them for Indian kitchens.
1. What Is a Tall Unit Kitchen Cabinet?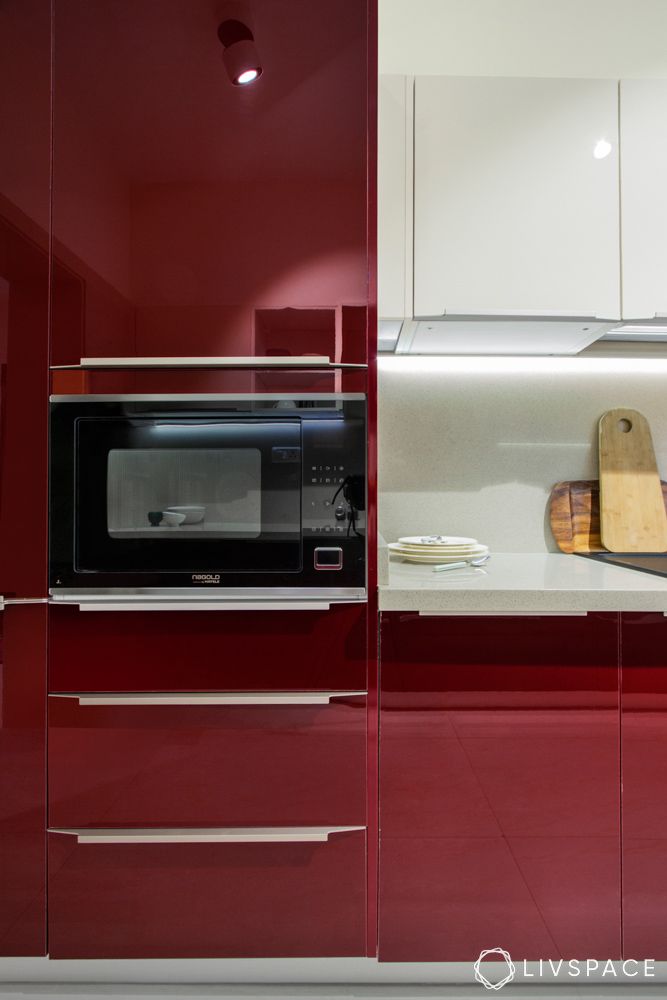 As the name suggests, a tall unit is a vertical storage unit that is typically used to store various pantry items. Be it for crockery or for groceries, you can use this space however you see fit. Your kitchen tall cabinet helps you minimise the need for additional cabinets that can make the space look cramped.
Instead of maxing out floor space, a tall unit kitchen cabinet design makes the best use of vertical wall space. What's more, they can also be used to store electronic appliances when not in use. This helps prevent visual clutter from the wires and electronics you might otherwise store on your countertop.
"When we suggest a tall unit to homeowners, many of them immediately resist, saying that it will cost a bomb. However, this is a myth. A tall unit with affordable finishes does not cost too much more than normal cabinets. It's the accessories that shoot up the price."

Shirali Maher, Livspace Designer
2. What Are the Benefits of Using a Tall Unit in a Modular Kitchen?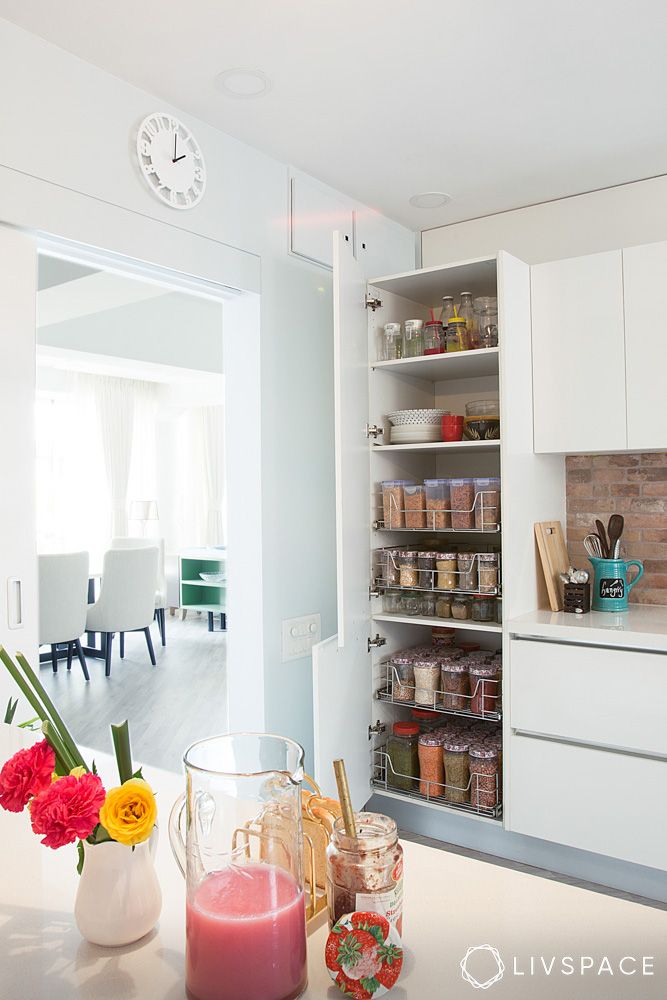 One of the most obvious benefits of a tall unit is storage. It provides you with enough vertical space to store all your odds and ends without running out of room.
Moreover, your kitchen tall unit design can be customised to perfectly fit the space and theme of your kitchen. So, if you're planning on upgrading to a modular kitchen, a tall unit can be the perfect addition.
"I always advise homeowners to go for a tall pantry unit because when you have all the groceries together, you don't have to waste time looking for anything. Even if the main chef of the family is not there, the others won't be stumbling around from one cabinet to another to find ingredients while cooking."

Akash Jindal, Livspace Designer
3. Why Do Designers Recommend a Tall Unit Design for the Kitchen?
Other than being customisable and offering ample storage, you might be wondering what else can a kitchen tall unit design offer. Here's what our Livspace designers have to say about them:
Variety: If you were under the impression that a tall unit comes only in one format, you might want to reconsider. There are various types and modules that fall under the umbrella of the tall unit family. A couple of examples are tall units and mid-tall units.
Storage Capability: With a kitchen tall unit, you can now stow away all your large woks, thalis, and bowls that otherwise fight for space in your cabinets. You can also fit your vegetable basket inside a cabinet or stock up on essentials like toiletries and cleaning supplies.
More Counter Space: All your essential appliances can be accommodated into a single kitchen tall unit. Now imagine how much free counter space that leaves you with. You can cook up a storm in your kitchen now!
Accessibility: Hate having to search for items in a multi-user kitchen? A kitchen tall unit can save you the hassle. With a pantry pull-out in your kitchen tall unit, you can use this space as a designated storage area for certain items that everyone has access to.
"Most homeowners feel that no matter how many cabinets they have, they are always fighting to accommodate things. In such a scenario, imagine what just one tall cabinet can do for your kitchen! It is a one-stop solution for almost all kitchen storage problems."

Ankit Gupta, Livspace Designer
4. What Are the Different Types of Kitchen Tall Unit Designs?
Now that we've gone through the basics, let's look at the various tall unit designs that are out there. Who knows, you might just find one you'd like to use at home!
#1: Open and Closed Kitchen Tall Unit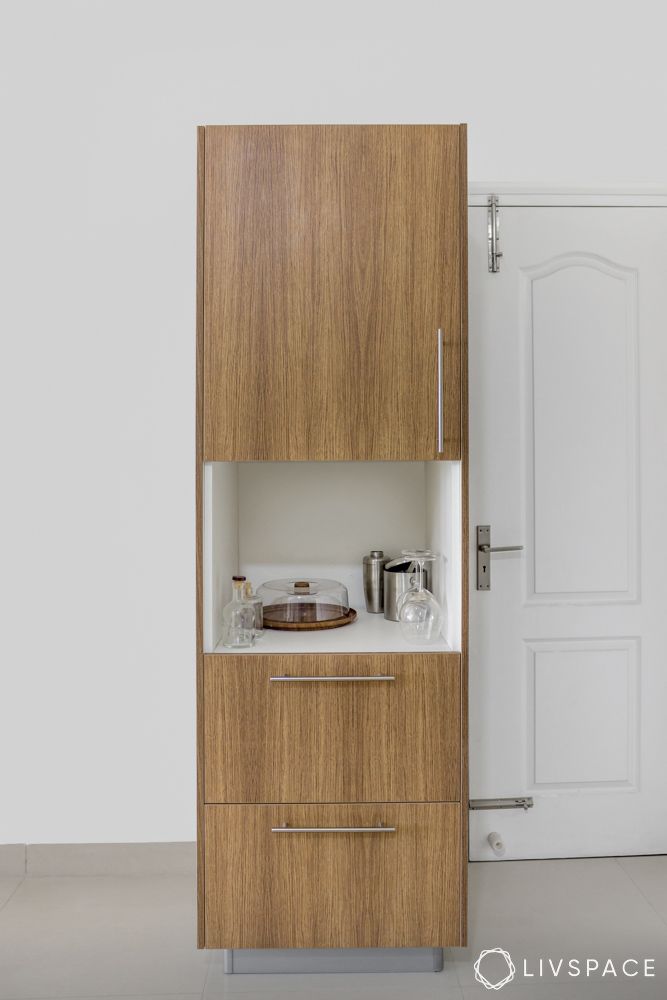 Like the idea of a display cabinet, but don't want to keep the entire unit open? No problem! Opt for an open and closed kitchen tall cabinet to store items as well as put some on display. Use a contrasting colour for the shelf's lining to make it stand out against the outer finish.
#2: Kitchen Tall Unit With Pull-Out Baskets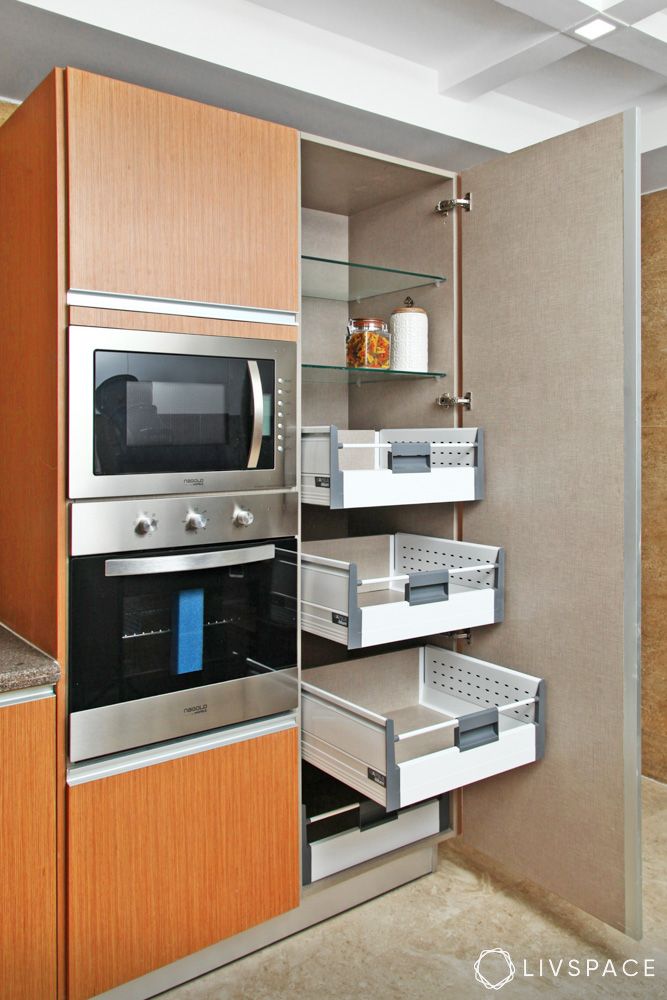 It's one thing to own a tall unit, but without customising it to be extra functional, you're missing out on some untapped potential. Kitchen tall units can be a task to reach into, given their depth. Instead, use pull-out drawers to make your pantry items easily accessible.
#3: Open Tall Unit Design for Crockery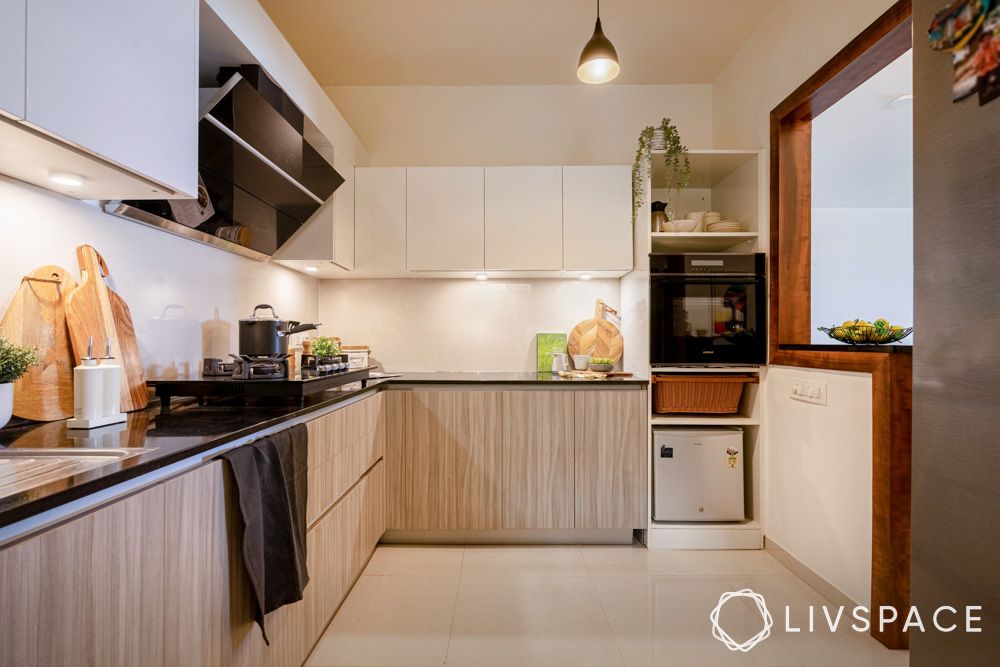 If you've got it, you certainly should flaunt it. The same goes for your crockery. It's a shame to let beautiful crockery sit behind closed cabinet doors, so how about bringing them out into the limelight? Go for a fully open kitchen tall unit design to keep your items on display 24/7!
Also Read: Traditional vs Lift Up Cabinet Systems? 4 Things to Consider for Modular Indian Kitchens
#4: Tall Unit With Glass Shutters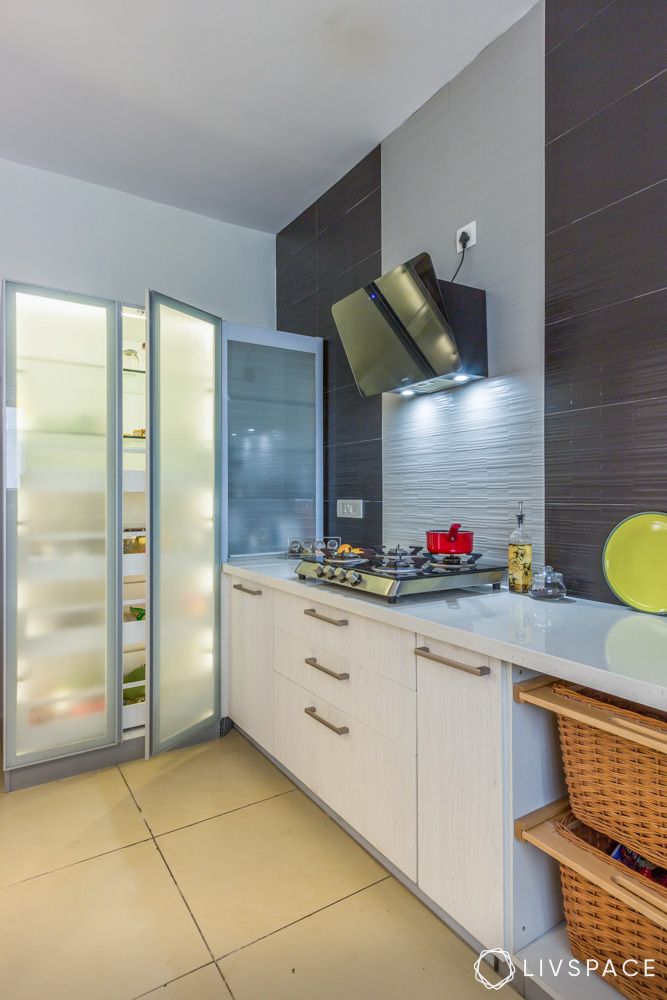 Another great way to include a display element is to use a kitchen tall unit with glass shutters. Here's where you can get extra creative too! Besides using plain glass doors, you can also experiment with frosted glass for a more minimalist look. Similarly, you can play around with different glass panel designs as per your preferences.
#5: Kitchen Tall Unit With Double Doors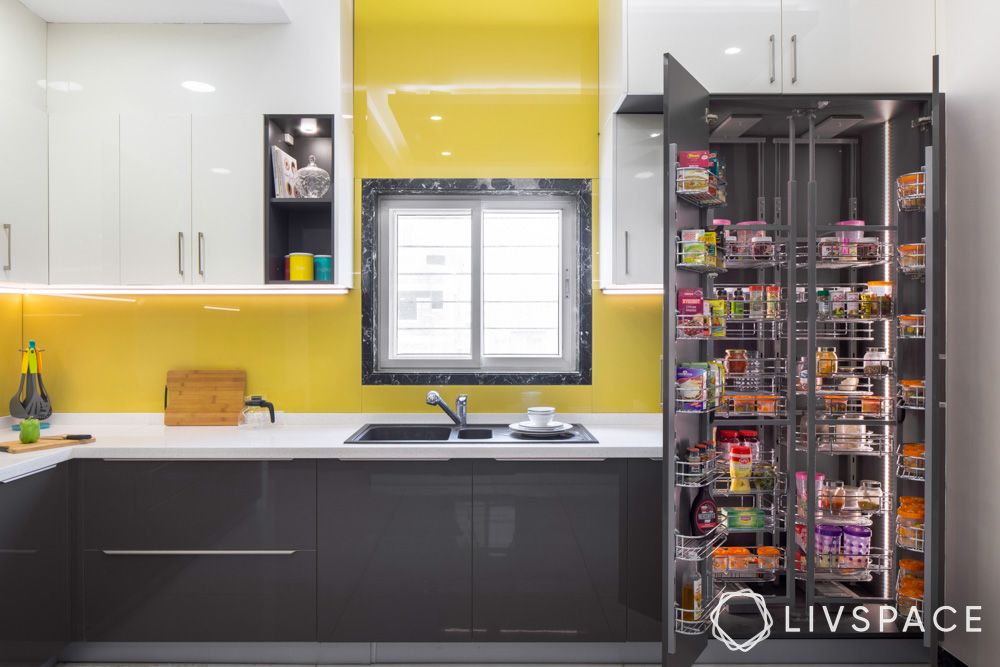 Two doors can sometimes be better than one when we're looking at accessibility. With a double-door cabinet, you can open your tall unit from either side with little hassle. In fact, you can also add some wire baskets or narrow shelves behind each door to add more storage to your double-door tall unit.
#6: Shaker Style Tall Unit Design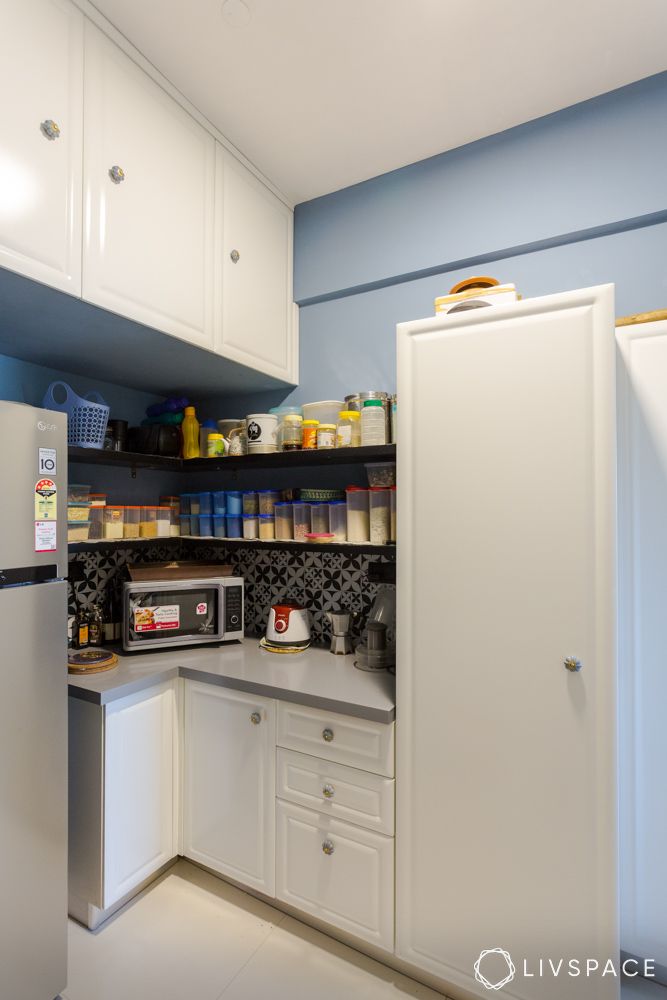 Shaker-style cabinets carry a sense of old country charm that's hard to find in our modern homes. So, if you're looking for a way to bring a touch of country style design into your kitchen, consider using a shaker-style tall unit in your kitchen.
An easy way to identify them is by their framed cabinet doors and pull handles. However, you can also customise your cabinet handles to suit your preferences.
Also Read: An Ultimate List of Materials for Your Kitchen and How to Best Use Them
#7: Kitchen Tall Unit for Crockery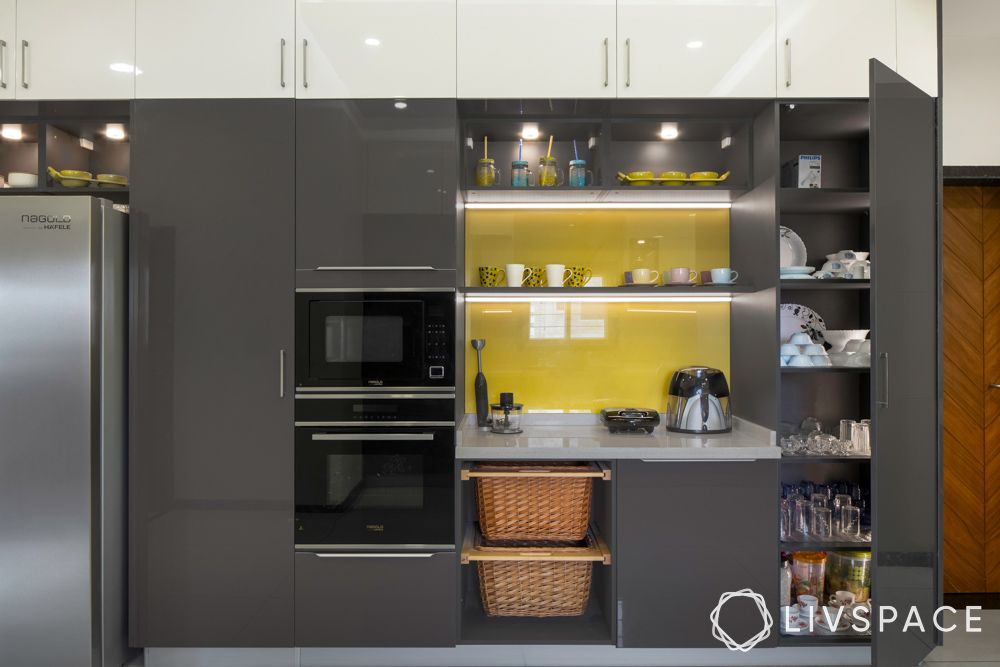 What you choose to store in your tall unit is entirely up to you. But if you're a stickler for organisation, you might prefer using the unit for one specific item. If this is the case, consider using your tall unit as a crockery cabinet.
By doing so, you can house all your fine crockery in one place for easy access. You can also opt for glass doors if you choose to put them on display while storing them.
#8: Minimalist Kitchen Tall Unit Design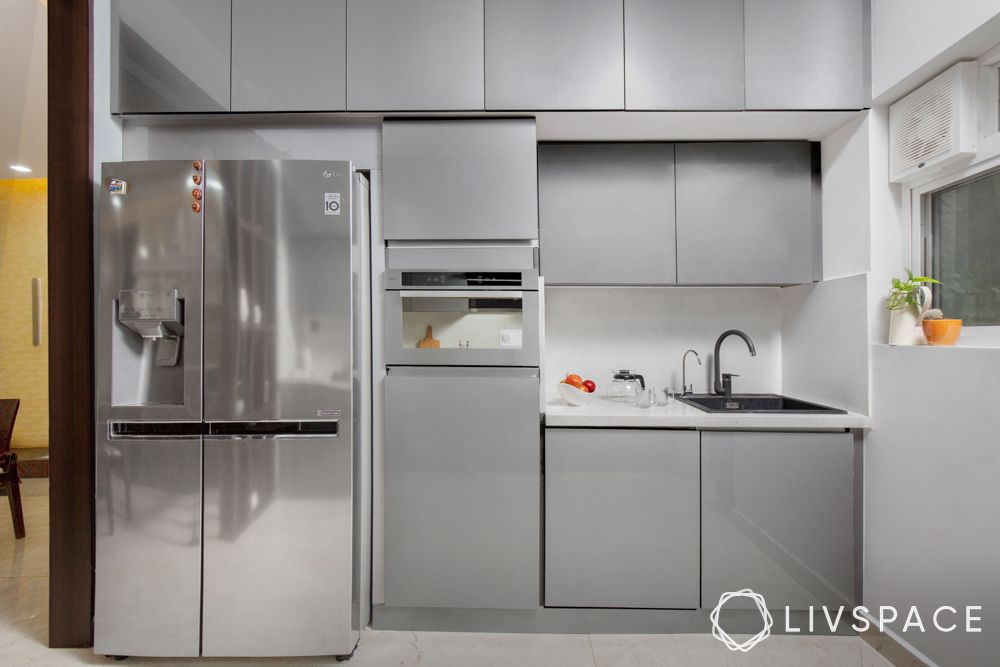 Most modern and minimalist interiors tend to take the seamless route when it comes to design. This is because seamless cabinetry (cabinets without any detailing on them) can lend a clean and unified look to the space it occupies. To get in on this trend, all you need are simple cabinet fronts without handles or framed edges.
#9: Kitchen Tall Unit With Microwave Space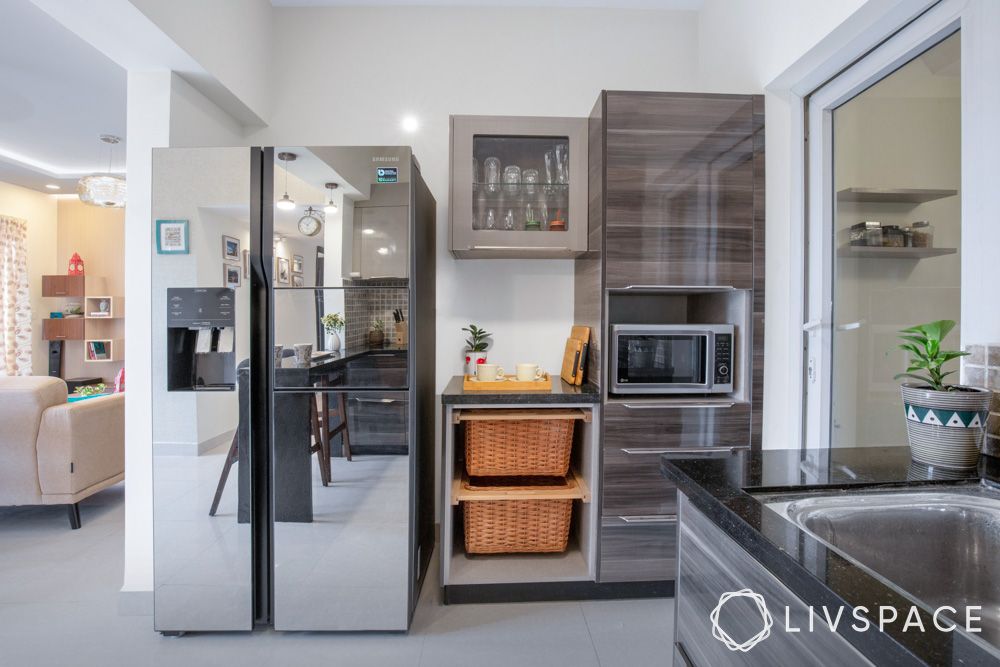 It's no surprise that a tall unit can house almost anything you wish to store, including electronic appliances. However, you might not want to dig through your tall unit to access these appliances every time you use them.
In such cases, it's best to opt for a tall unit with a display cabinet to easily store electronic appliances that you use daily, such as your microwave. You can store your microwave in the open cabinet, making it easy to access while also keeping it in your line of sight.
How Can Livspace Help You?
We hope you found these kitchen tall unit design ideas useful! If you're in search of a functional kitchen design, then look no further. Book an online consultation with Livspace today.
Have any thoughts or suggestions you'd like to share with us? We're all ears! Drop us a line at editor@livspace.com.