Indian kitchens may come in many shapes and sizes but the one thing they all have in common is their need for storage. Any well designed kitchen may fall short of cupboard storage to store all your items. Lucky for you, there are plenty of kitchen cupboard designs to choose from that are sure to suit all your needs. To get you started, we've compiled a list of Livspace kitchen cupboard storage ideas that you can use as inspiration.
Disclaimer: Please note that the costs mentioned below are subject to change based on availability and other factors. For more details, consult with our interior designers to receive revised quotes for your next dream kitchen!
Now let's get into it to figure out which kitchen cupboard storage unit is your perfect match: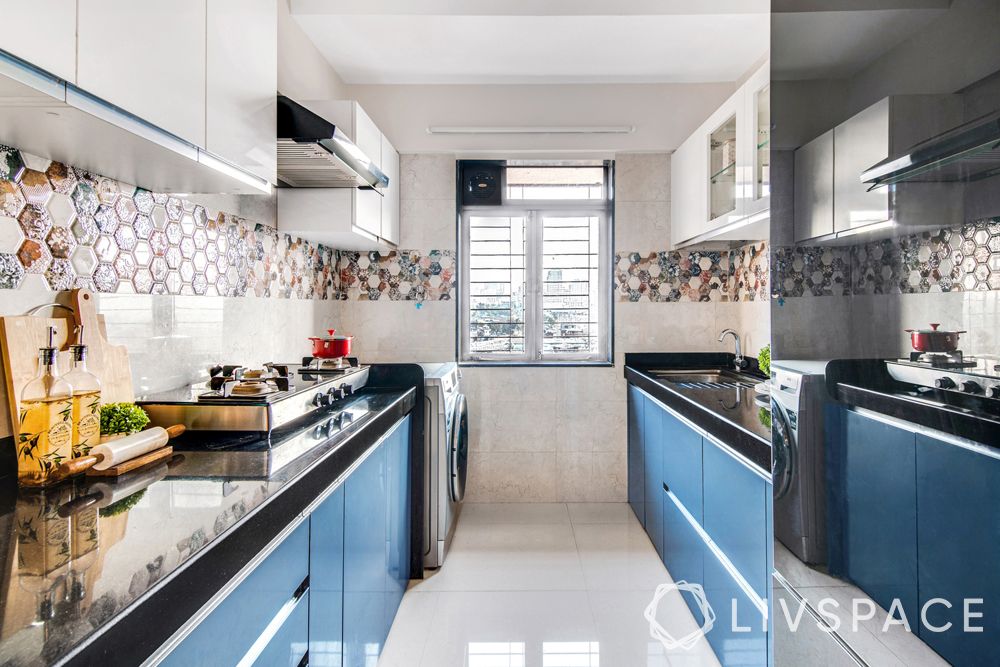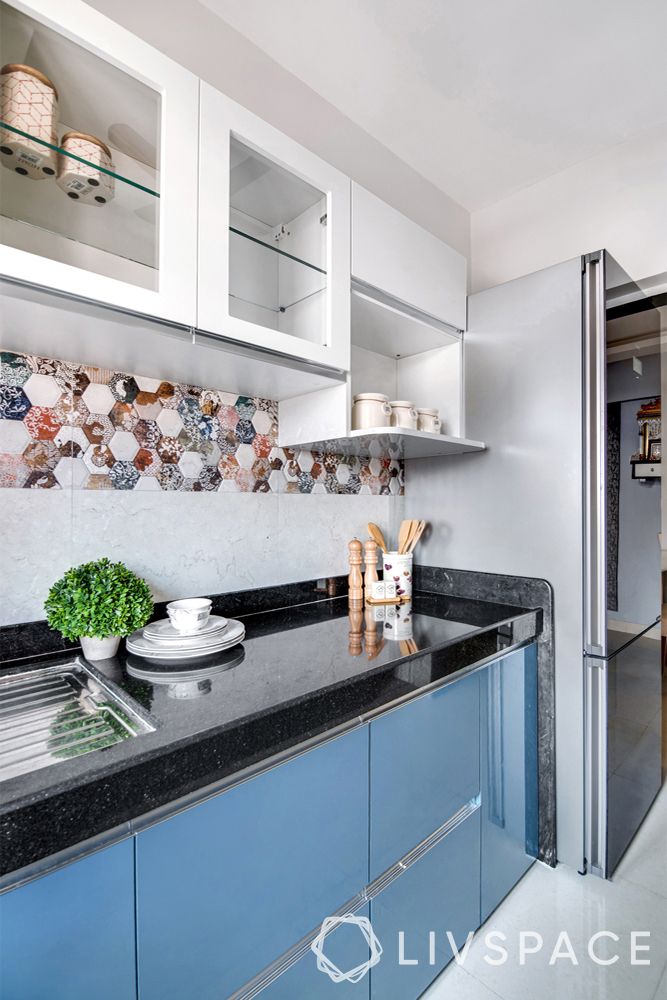 Here, our designer has made use of semi-modular units from the Livspace kitchen catalogue to avoid making civil changes to the kitchen. And if you're on a tight budget, this is a great way to reduce your costs as well.
While the materials and colour scheme used help keep the space looking large, this Livspace kitchen still remains storage-intensive with the choice of cabinets. This was largely made possible with a combination of upper and lower kitchen cupboard storage solutions.
Cost: ₹2.6 Lakh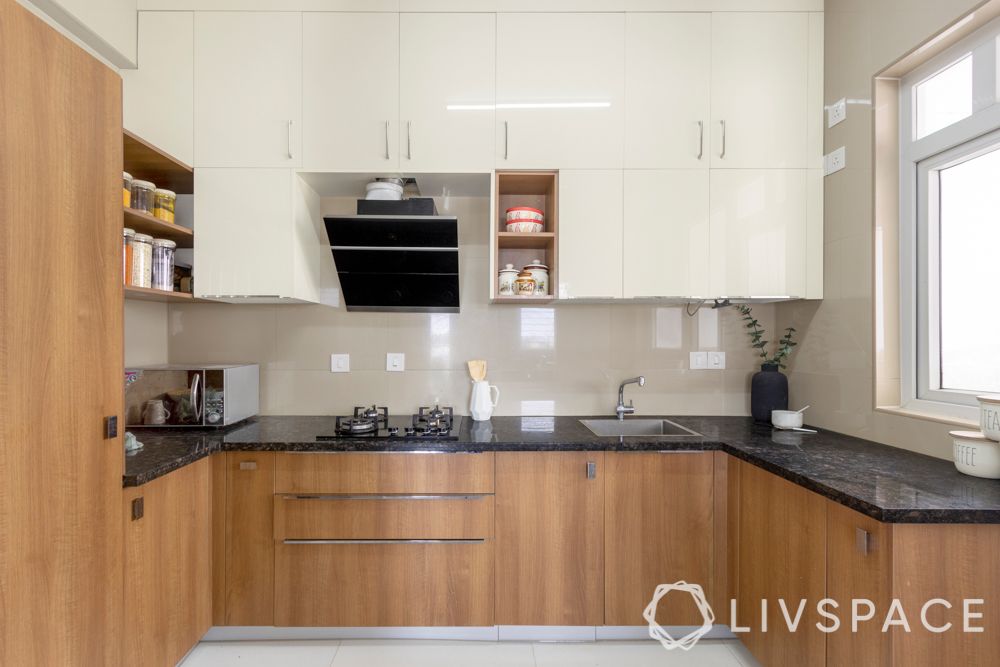 To give storage capacity an extra boost, this Livspace kitchen included a laminate-finished tall unit to store perishable items. Though the size of this layout is small, the homeowners still get the best of kitchen cupboard storage with beautiful white acrylic-finished loft cabinets.
What's more, the minimal design of this kitchen helps keep things clean and clutter-free while also being storage-intensive.
Cost: ₹2.6 Lakh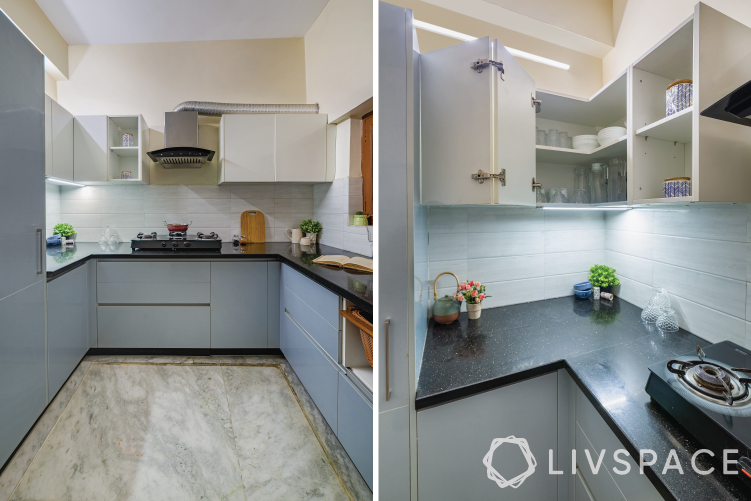 If you have a small kitchen and want a design that can still give you high levels of kitchen cupboard storage, opt for a C-shaped layout. And that's exactly what our designer did with this Livspace kitchen! The change in layout allowed the homeowners to include a tall unit to satisfy their growing storage needs.
Additionally, if budget kitchen interiors is what you seek, consider going for an MDF modular kitchen. Not only are they relatively inexpensive but based on the finish used, they are also highly water-resistant.
Cost: Under ₹3 Lakh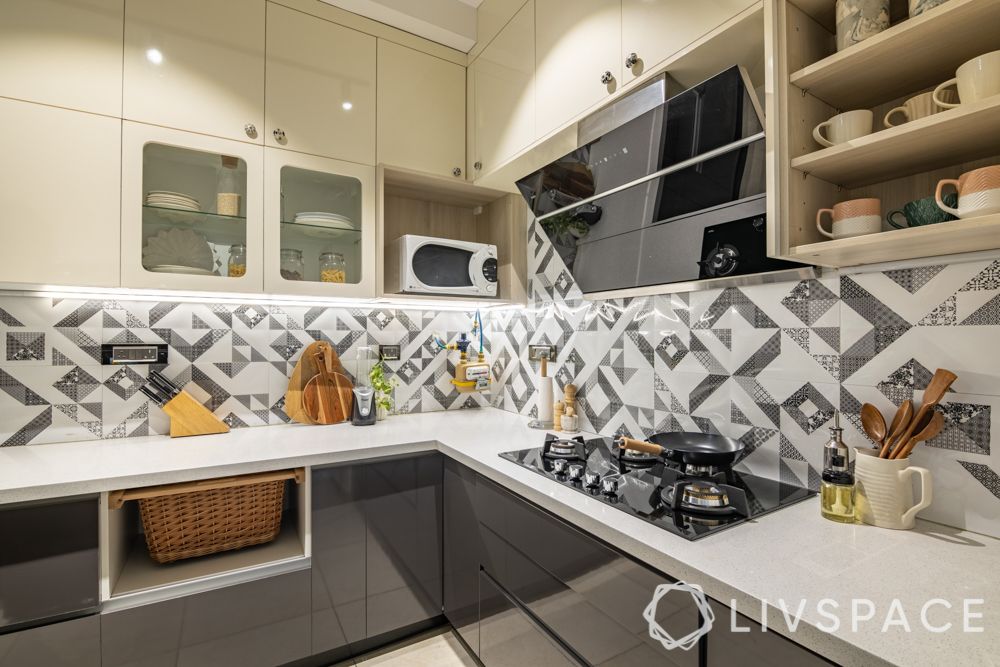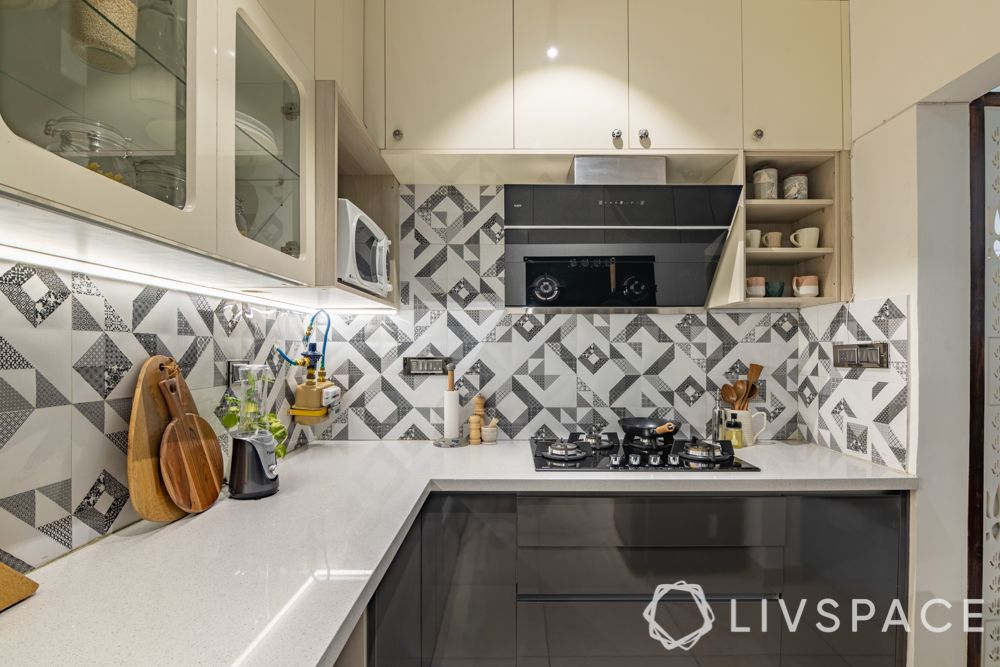 To make the most of this home's kitchen, the entire wall space was covered in kitchen cupboard storage. The cabinets featured here are high-gloss laminate and bring a subtle hint of elegance to the space. To improve the way your kitchen is organised, you can opt for a mix of open and closed cabinets, as has been done here.
Similarly, you can use open kitchen cupboard storage ideas as display units. Or you could also opt for glass-shutter cabinets if you prefer storing your crockery in closed but visible spaces.
Cost: ₹3.3 Lakh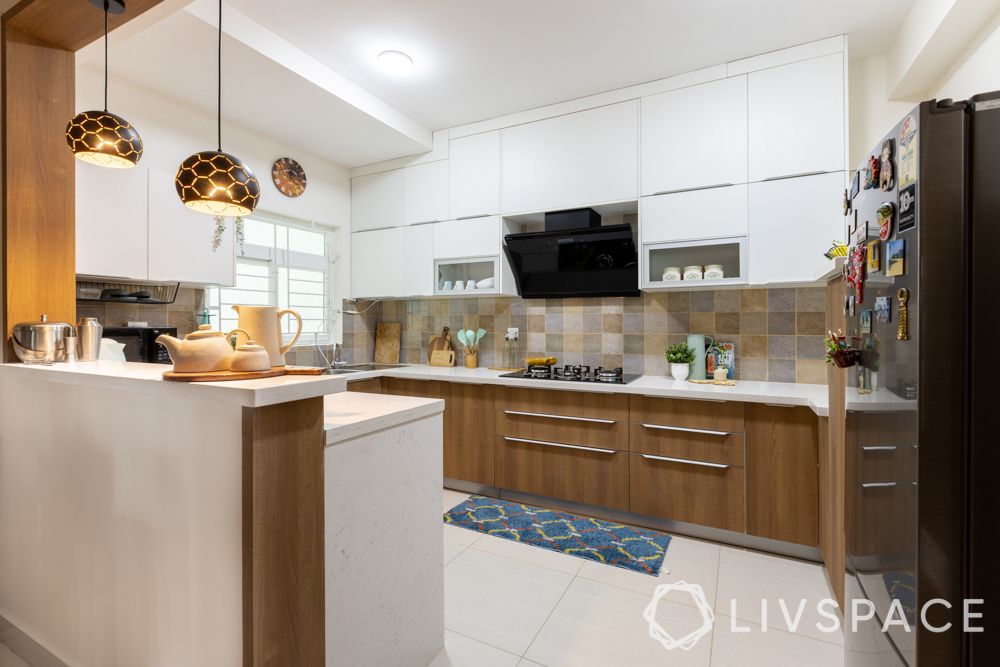 The Gade Family's kitchen follows a spacious G-shaped layout that brings in heaps of storage. Here, the lower cabinets are made of a wooden membrane finish while the upper cabinets are of a matte-finish laminate.
With a mix of base and loft cabinets, they're sure to never run out of kitchen cupboard storage. Pictured beside the fridge is a multifunctional tall unit that can be used to store groceries and other essentials.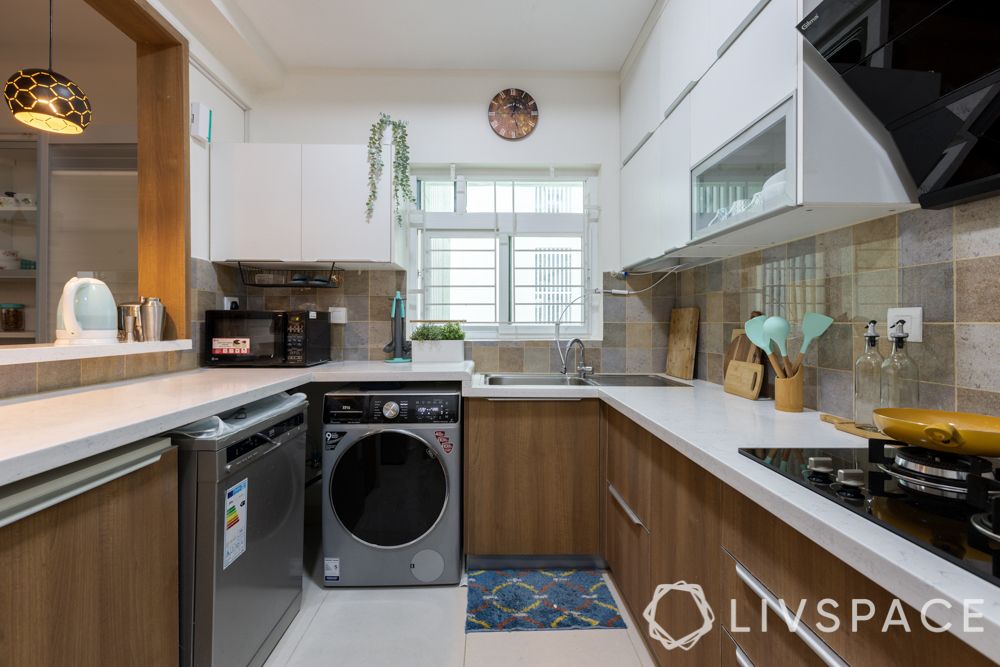 What's more, this layout also allows the inclusion of a washing machine and dishwasher. By embracing a G-shaped design, the original plumbing of the kitchen was also kept intact.
Cost: ₹3.7 Lakh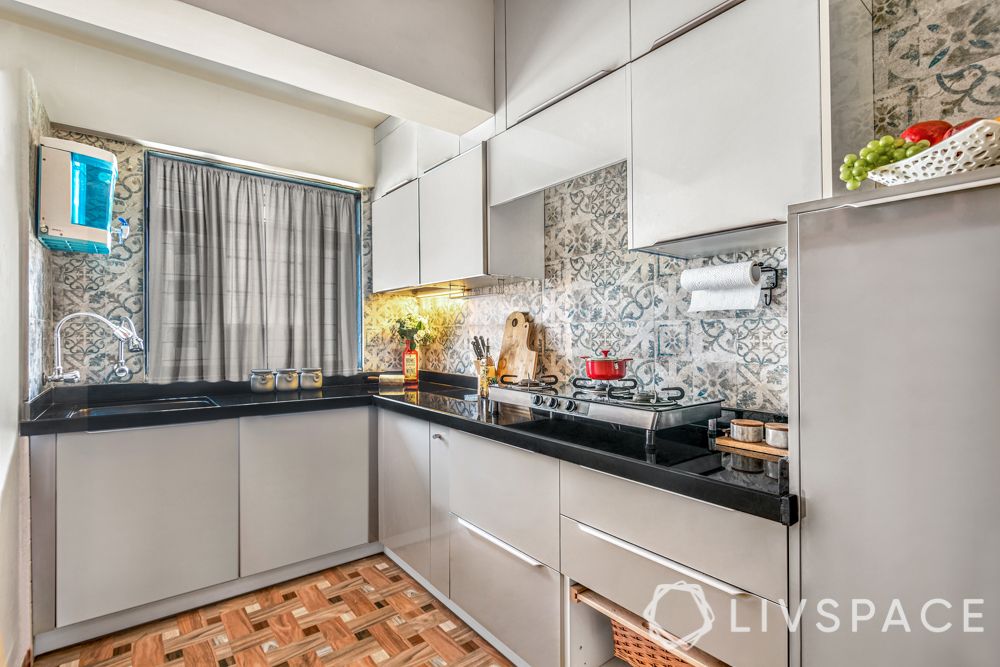 This Livspace Kitchen has several kitchen cupboard storage ideas you could steal for your kitchen. While there was a significant amount of structural change that brought this kitchen to life, the accessories used were the icing on the cake! These include a carousel unit, pull-out trays, wicker basket and a bottle pull-out.
So even if you do not have a lot of space to work with, you can still opt for smart storage solutions such as these.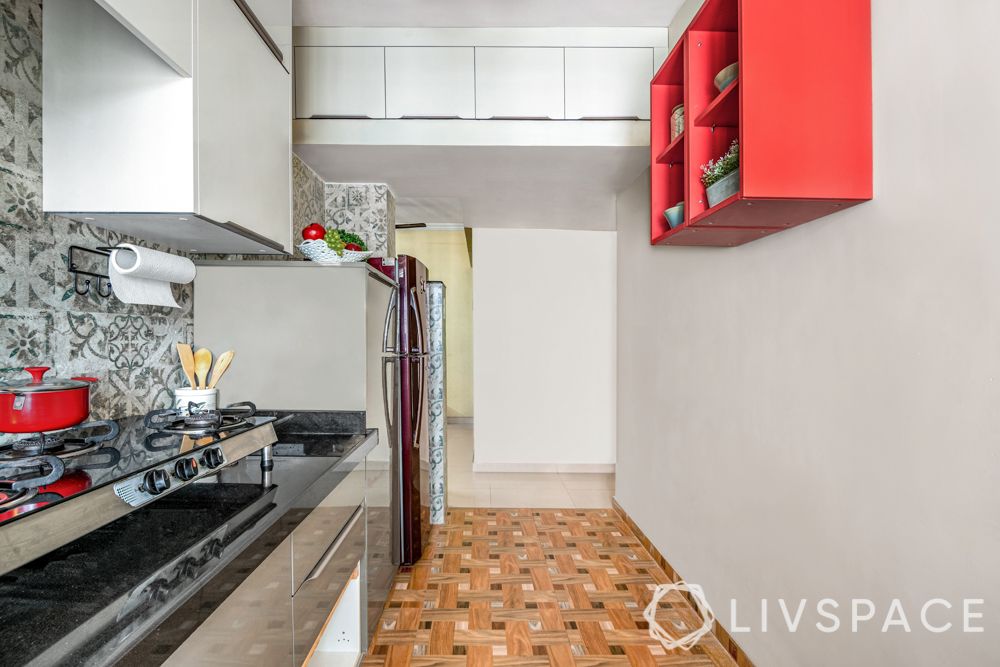 But what caught our eye here is the mid-tall unit by the fridge that can be used to store groceries or crockery. Our designer went a step further by also including overhead kitchen cupboard storage that helps keep this small kitchen storage-intensive.
Cost: Under ₹4 Lakh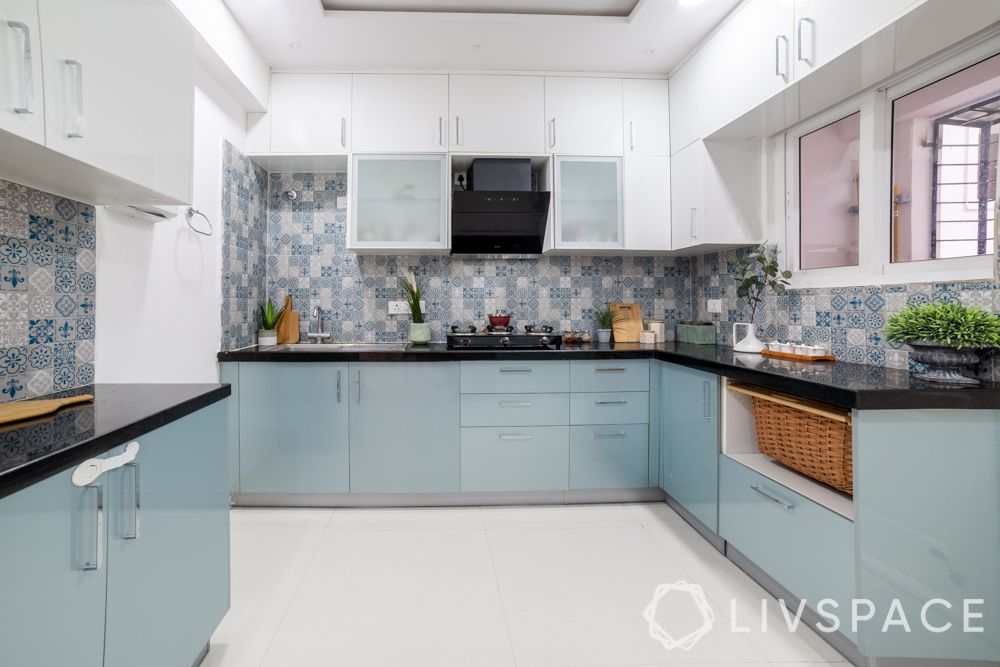 For Nazia's kitchen, the design brief was all about kitchen cupboard storage. To make this happen, our designer had to make civil changes to alter the layout of the kitchen. This helped create more space for an additional storage unit that doubles up as extra counter space. Similarly, our designer also added upper and lower cabinets, along with wicker baskets to boost storage in this Livspace kitchen.
Cost: ₹4 Lakh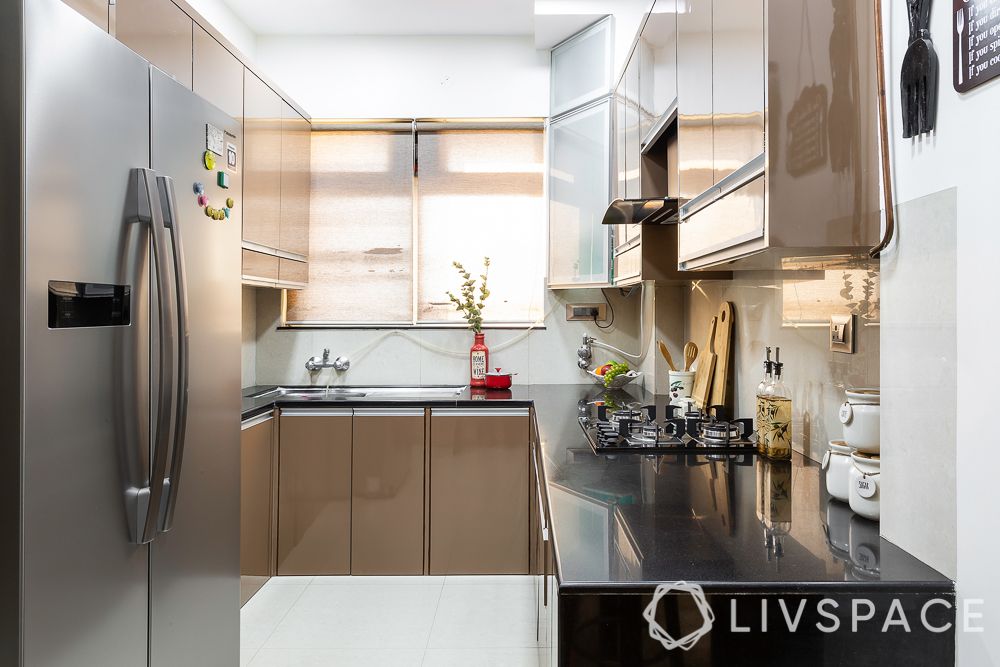 This kitchen belongs to a +16-year-old flat in Mumbai that was due for a change. However, having grown used to the layout, the homeowners didn't want too many structural changes in this space. To spruce things up, our designer instead changed the kitchen cupboard designs to match the rest of the home's theme.
The new cabinets not only got a glossy facelift but they further boosted the level of kitchen cupboard storage in this compact space.
Cost: ₹4.7 Lakh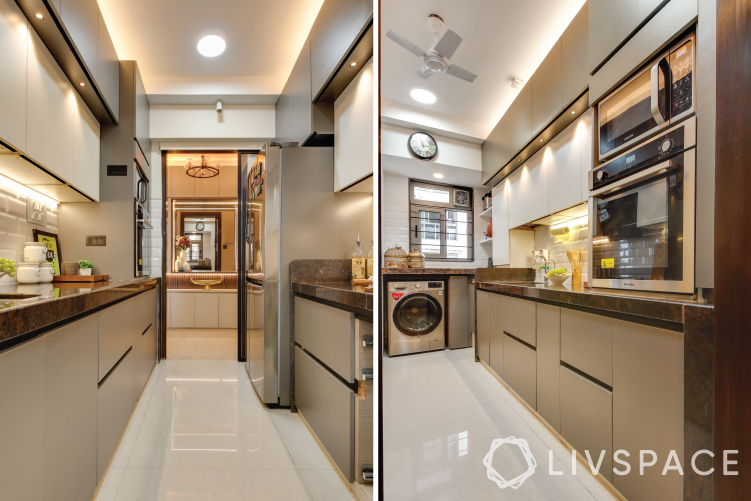 If you think narrow galley kitchens are a lost cause when it comes to storage space, you might want to think again. Take the Shahs' home for example. Their kitchen sits in a fairly tight space but doesn't fall short of kitchen cupboard storage in the slightest. This was made possible with the use of marine plywood cabinets from the Livspace kitchen catalogue.
Cost: Around ₹5 lakh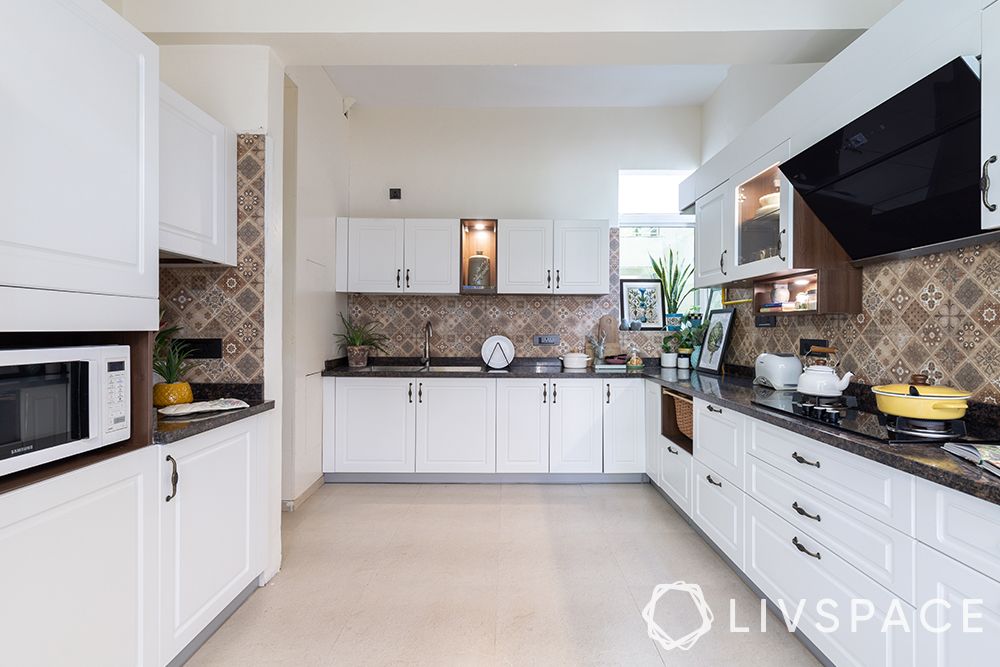 While white may not be everyone's first choice when it comes to kitchen design, it definitely offers a classic look to your kitchen space. What's more, these white kitchen cabinets offer the best of kitchen cupboard storage too! This U-shaped Livspace kitchen includes upper and base cabinets that cover the entire area with storage units from end to end.
Cost: ₹5.5 Lakh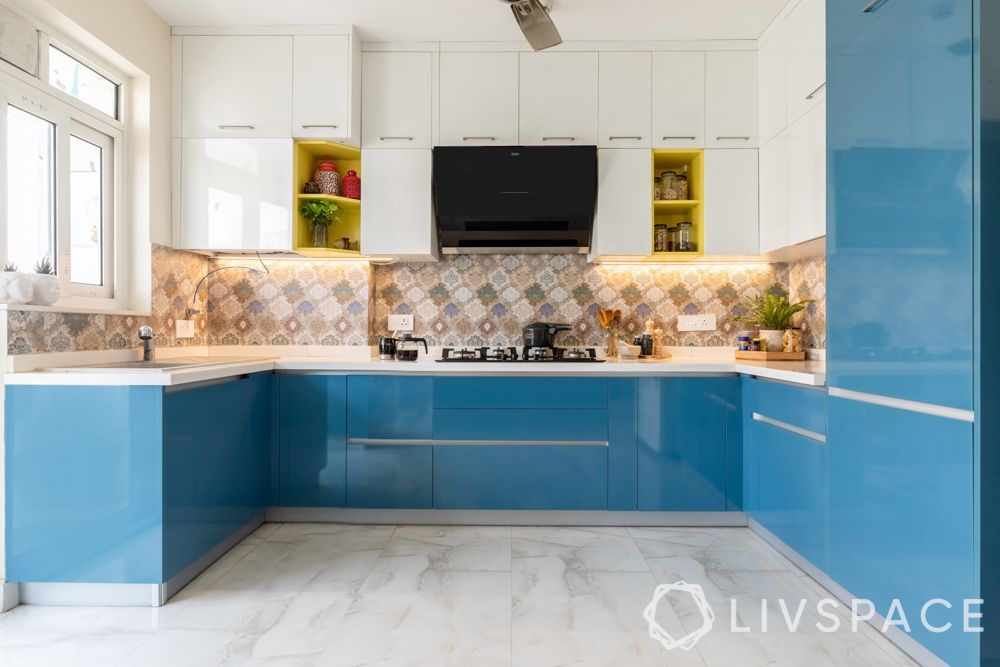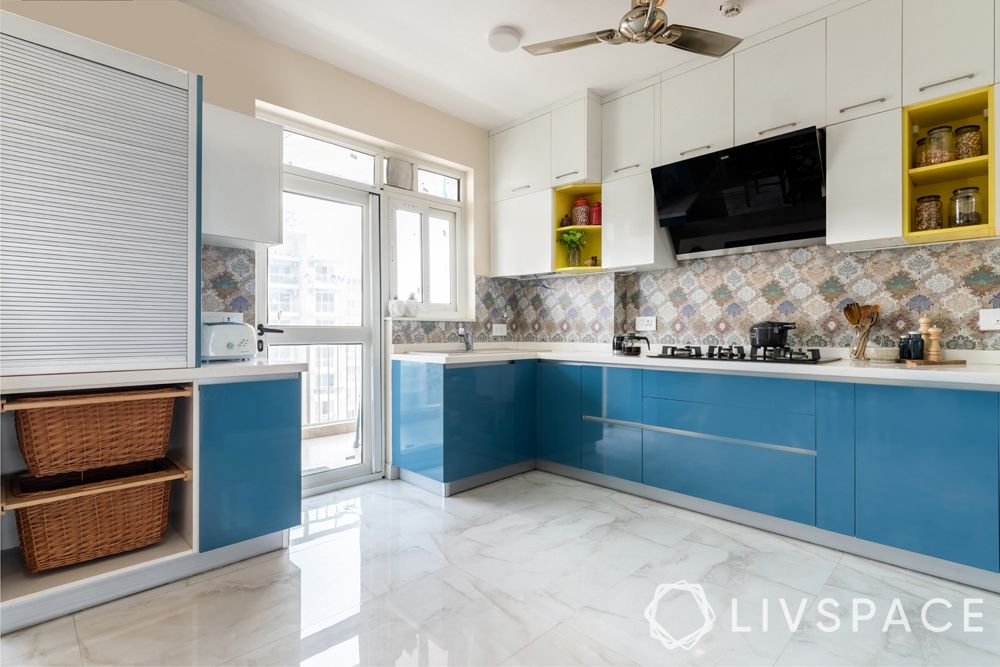 If you have an open-concept kitchen and want to keep it spacious, you can opt for a C-shaped layout like the Dembis did. The family was big on storage, especially since they use thalis for most of their meals. And what better place to store a thali than a tall unit!
Apart from the kitchen cupboard storage, our designers also included a roll-up shutter unit to help conceal kitchen appliances. Since the kitchen follows an open-floor plan, this also helps tidy up the space from the point of view of other common areas.
Cost: ₹6.7 Lakh
If you liked this collection of Livspace kitchens that are high on storage, also be sure to check out The 9 Best Kitchen Designs by Livspace Across all Budgets.
How Can Livspace Help You?
We hope you found our ideas useful! If you want beautiful interiors for your home, then look no further. Book an online consultation with Livspace today. Delivering safe home interiors has been our No. 1 priority. Click here to find out how interiors are being delivered following all safety protocols.