The Kohlis wanted their compact kitchen completely renovated to tackle the functionality and storage issues they faced. But what elements can you incorporate in a 60 sq. ft. kitchen? Everything, of course! Livspace designer Ismail Nek turned the family's cramped kitchen into a highly functional and easily accessible space — that's charming too — after kitchen remodeling.
Ismail made sure that every inch of this 10ft x 6ft kitchen is put to good use. Now, let's take a tour of this practical and pretty kitchen to see how this was done.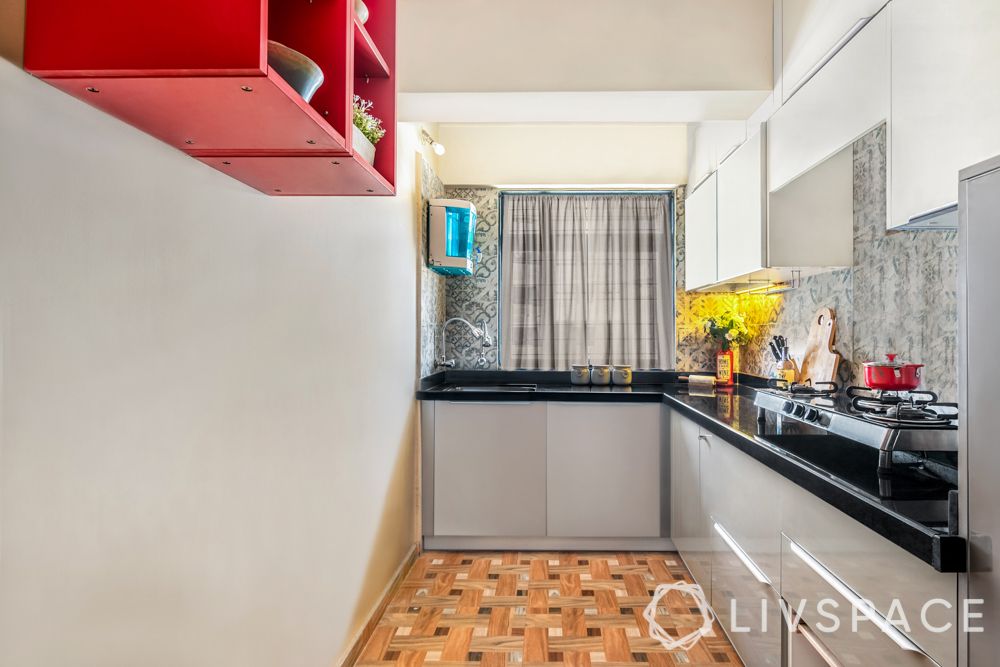 ---
Who livs here: Radhika and Vikas Kohli with their two children
Location: Mumbai
Size of kitchen: 60 sq. ft.
Designer: Ismail Nek
Livspace service: Full kitchen renovation
Budget: ₹₹₹₹₹
---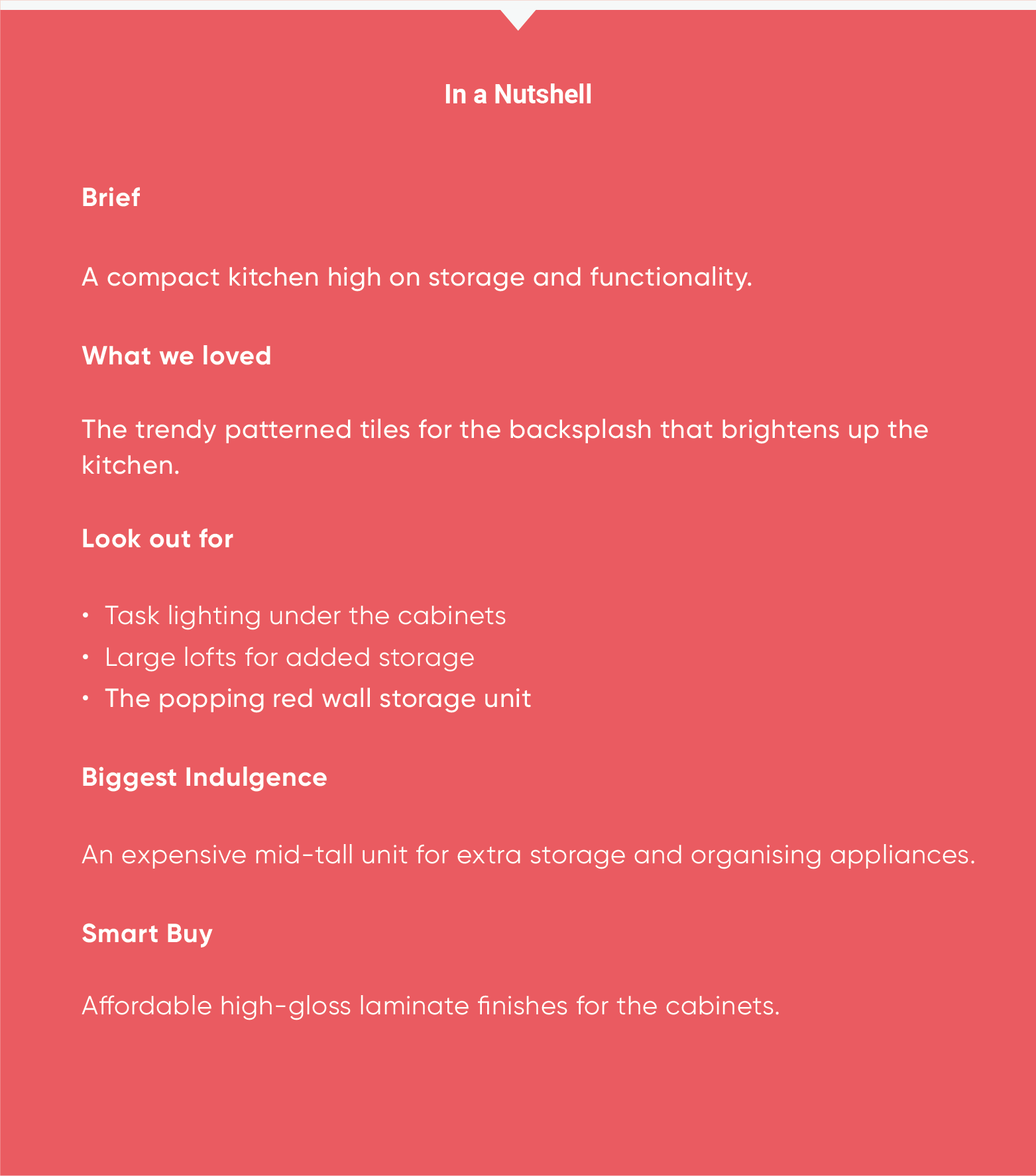 #1: Larger counter-space and many accessories for functionality after kitchen remodelling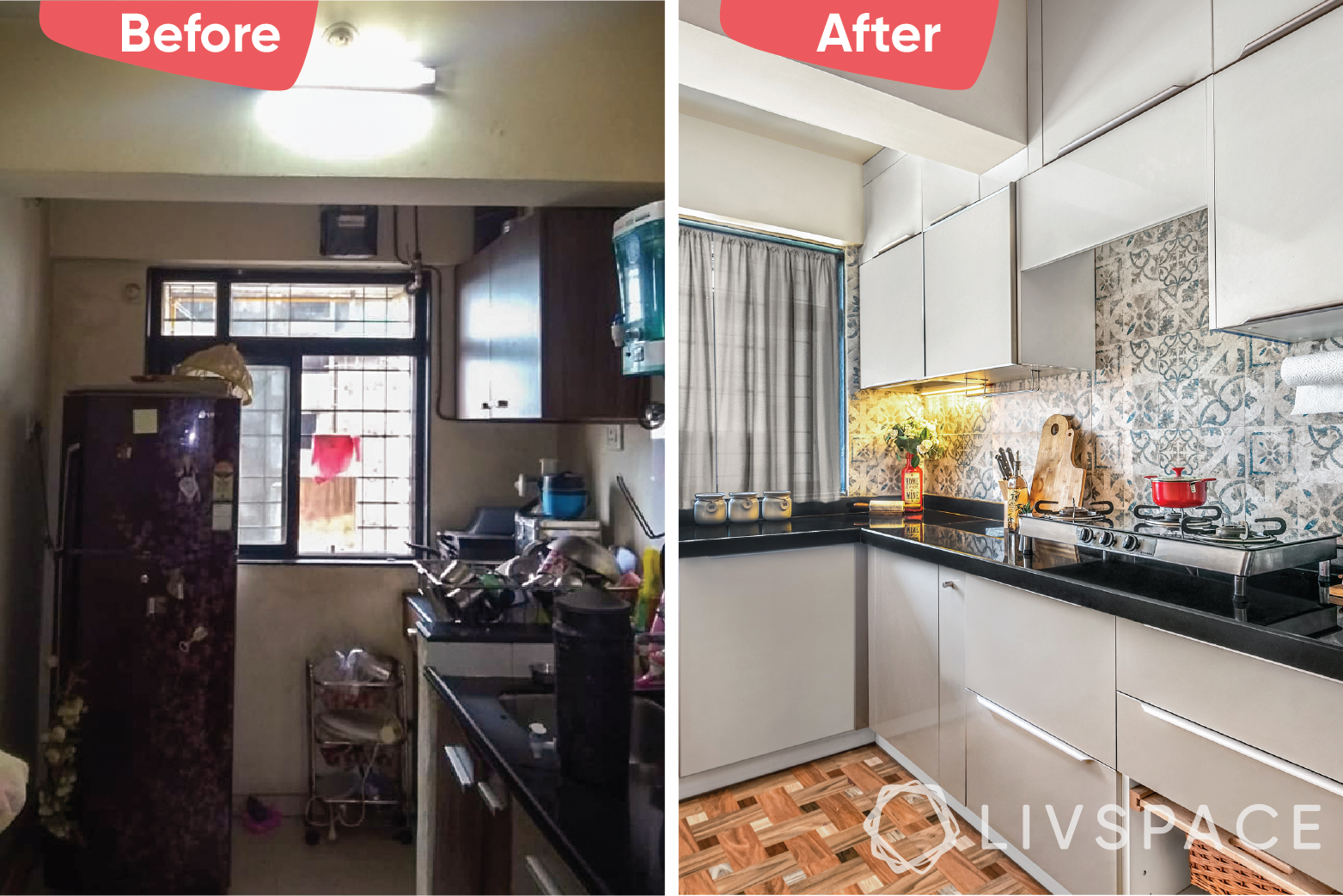 This kitchen remodeling project involved major civil changes to fit the family's needs. Primarily, Radhika wanted a bigger counter-space to work comfortably. So, Ismail turned what was a straight-line kitchen into an L-shaped one, ensuring that there is more space to prep. The sink now occupies the area where the refrigerator was previously there.
It is important that a kitchen facilitates an efficient and flexible workflow. Therefore, this kitchen is equipped with accessories such as a carousel unit, pull-out trays, wicker basket and bottle pull-out, to name a few. The Kohlis are the happiest with the carousel cabinet fit in the corner, which converts a dead space into a super-functional space.
#2: Overhead cabinets and lofts to combat storage problems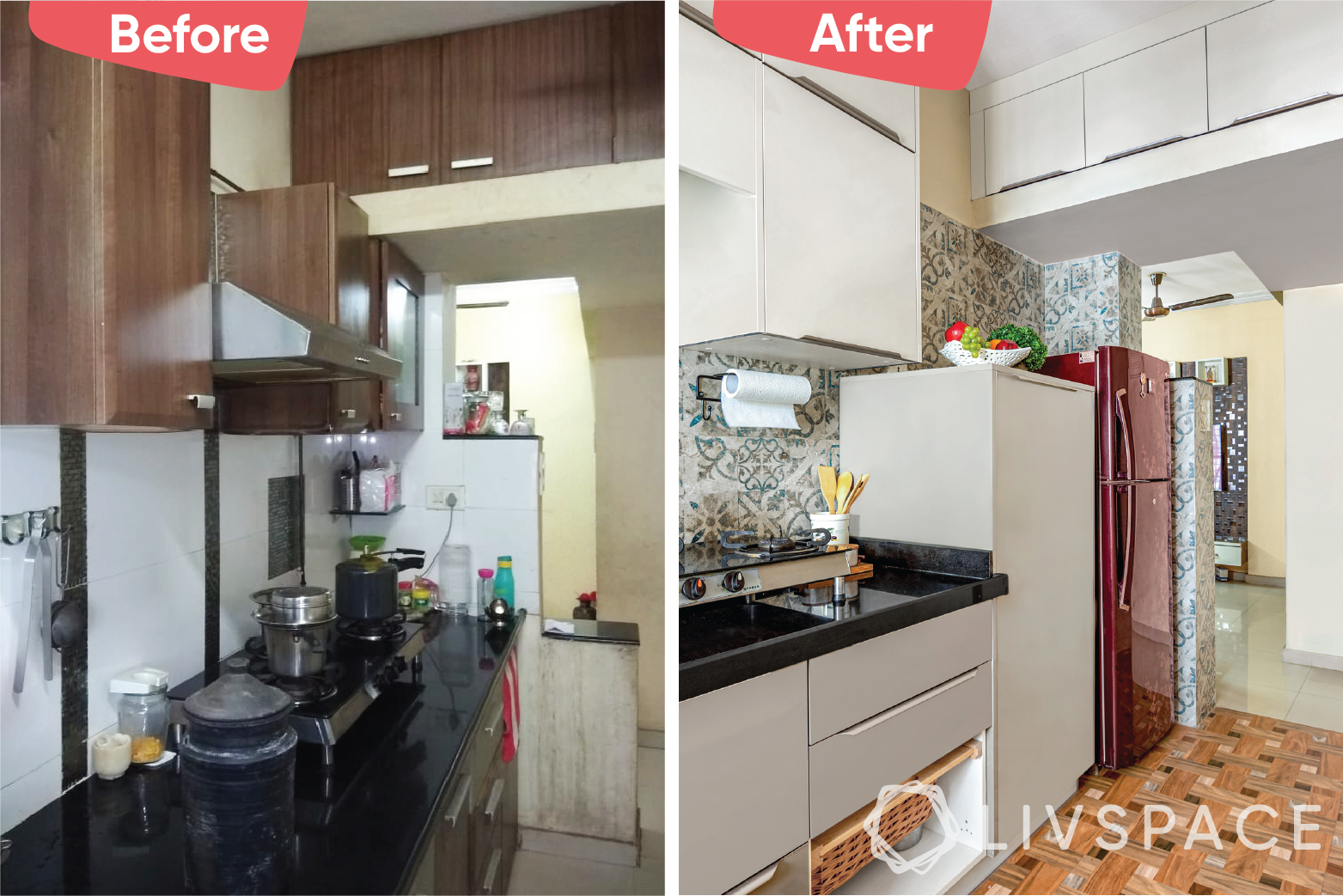 Along with a wider workstation, the Kohlis wanted more space to store their groceries and kitchen supplies neatly. So, Ismail gave them several deep overhead cabinets as well as a mid-tall unit to store their food and crockeries. The mid-tall unit by the refrigerator works for its medium height as appliances like the oven can find a place on top of it.
As it goes in a desi home, there is never enough storage space. Thus, the loft is retained with a fresher look. All the components are Livspace's standard modules used in different combinations to fit in the space and have high gloss laminate finish.
#3: Ceramic tiles for flooring mimicking that wooden effect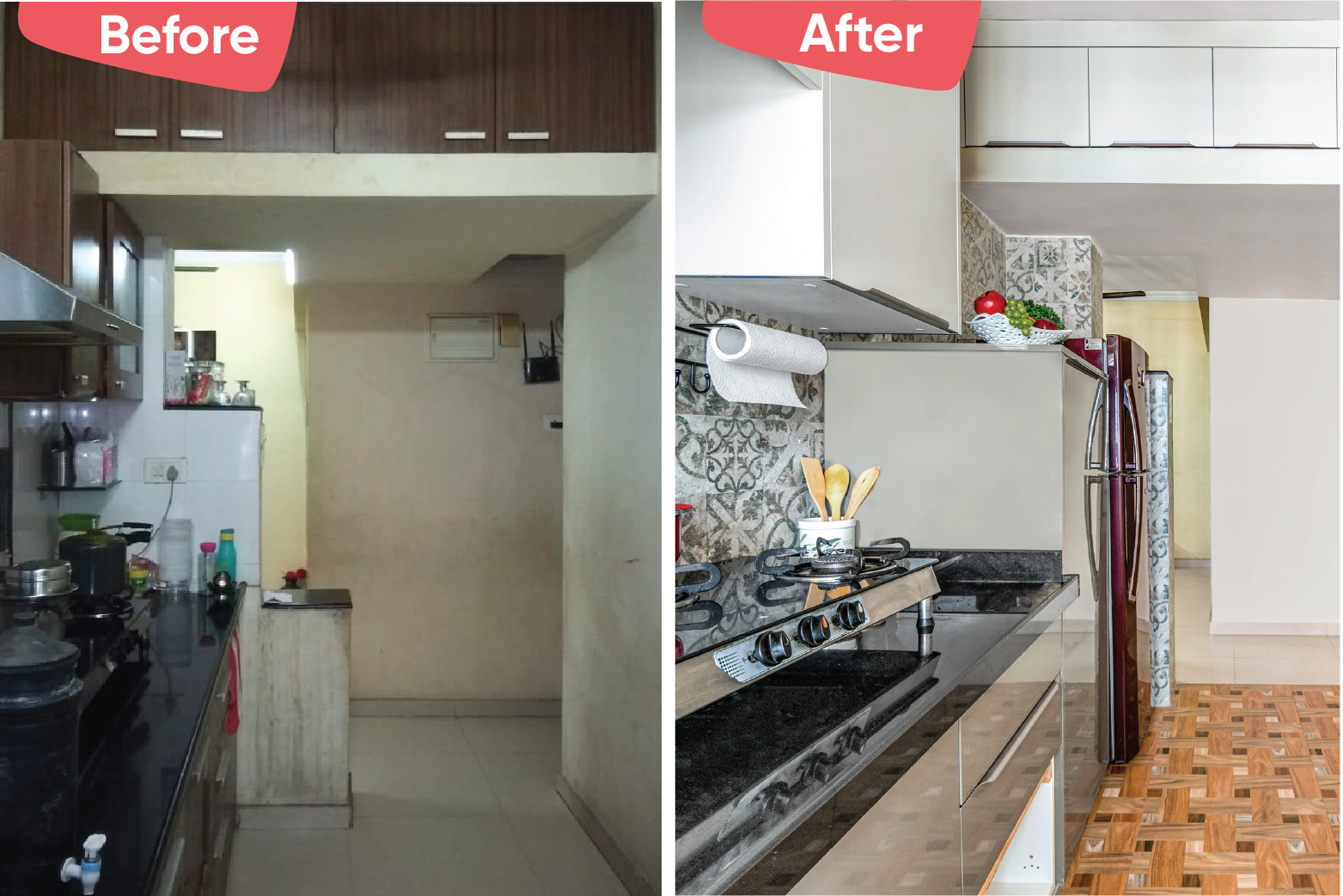 Radhika was keen on getting wooden flooring for the kitchen. However, given the fragility of wooden flooring, Ismail advised against it. Nevertheless, he met the request by providing only the 'wooden look'. What you see here are ceramic tiles whose colour and design mimics wooden flooring. An idea worth saving, isn't it?
Additionally, the entryway is widened by breaking down the protruding wall; it went from 2.5 feet to 4 feet in width!

#4: Patterned backsplash and a red cabinet for a colour pop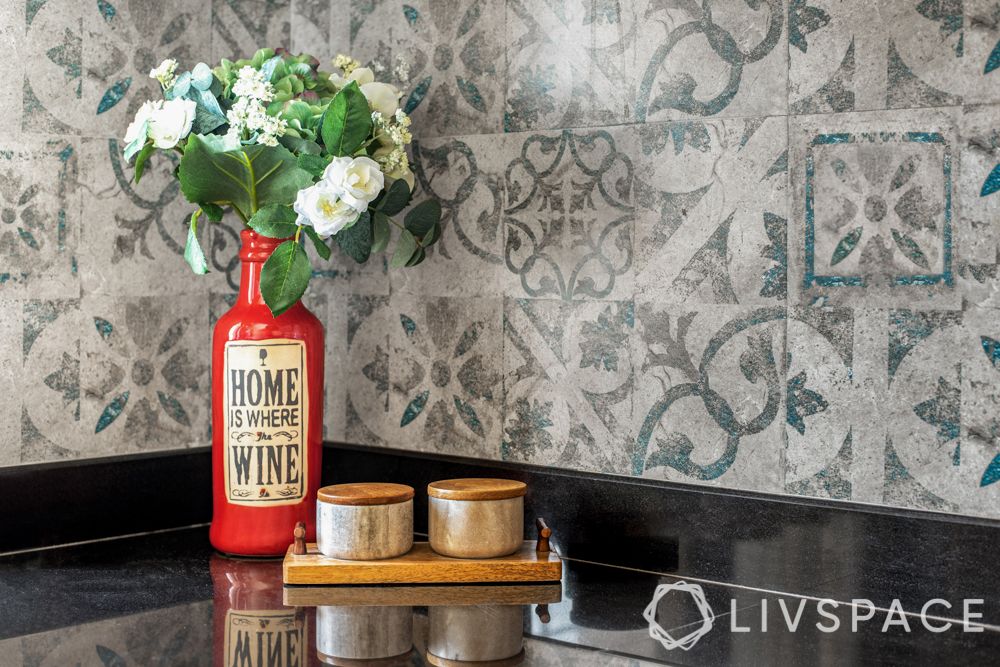 As the colours of the cabinets are neutral, highlights were much needed in this kitchen. Hence, Ismail suggested trendy patterned tiles for the backsplash to kill the monotony of the neutrals.
Furthermore, Radhika wanted a separate unit to keep her recipe books, indoor plants and other decor items. So, the designer introduced a cherry red open cabinet on the opposite wall to create visual interest.
All in all, this pretty and efficient kitchen has achieved its purpose as per the designer and here is what he has to say:

"Working with the Kohlis was fun. I was able to deliver what they want as the objective is made clear to me. They were easy-going and open to suggestions, which was important to achieve the result."
Ismail Nek, Interior Designer, Livspace
Want to see more such well-optimised kitchens? Check out 10 Small Kitchens Under 100 sq. ft. & What Makes Them Amazing.
We love hearing from you! Write to us with your comments and suggestions at editor@livspace.com