Your pooja room is not only sacred by name, but should also have a positive aura, so that you can get into a meditative state. According to vastu shastra, the pooja room plays a pivotal role in harnessing and spreading positivity throughout your home. However, not many people are well versed in vastu guidelines. So, to make it easier for you, we have collated some of the most important pooja room vastu tips for your home.
#1: Pooja Room Direction As per Vastu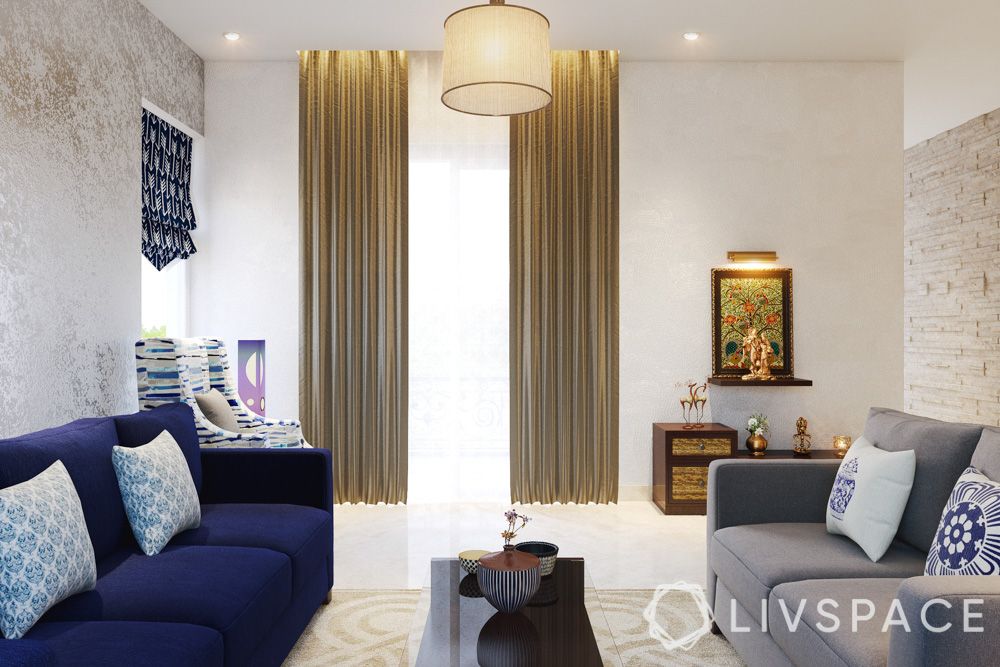 The location of the pooja room, as per vastu, is crucial in defining its auspicious aura. The northeast is an ideal direction, followed by the east and the north. If you're designing a new home and can control where your pooja room goes, then we strongly suggest avoiding the basement or higher floors of the house. It's best to place your mandir on the ground level.
Logic: Vastu shastra propagates the northeast direction so as to harness maximum energy from the sun.
#2: Pooja Room Design As per Vastu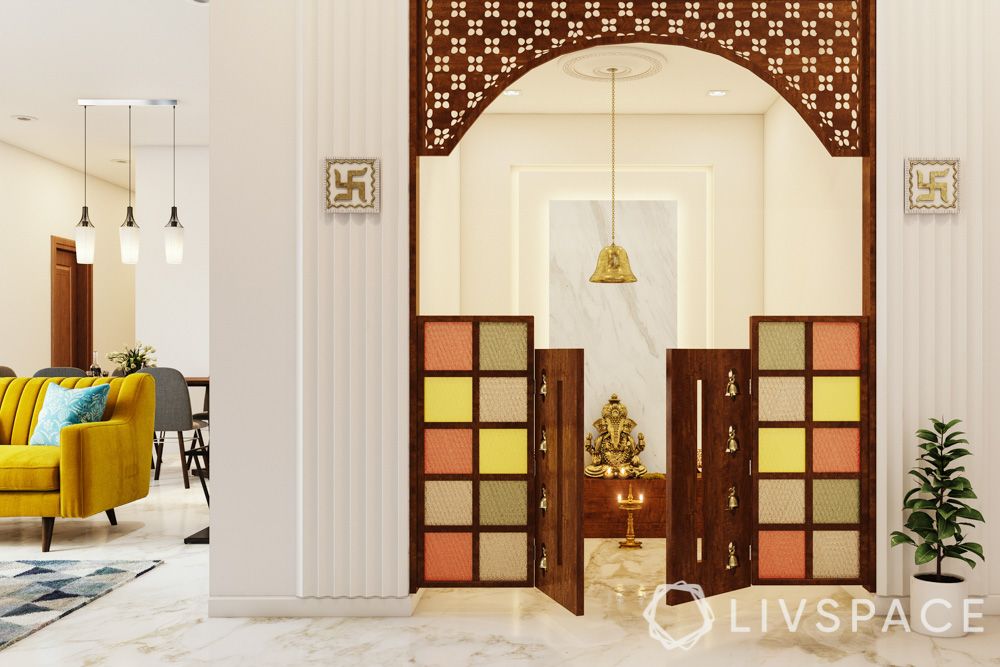 Your pooja room should have a low ceiling as per vastu. A pyramid-shaped or gopura-like top will aid in creating a positive atmosphere. Also, consider adding a threshold and two-door entry, if the space in your home allows it.
Logic: As the pooja room is small, the lower ceiling coupled with the gopura-like shape adds symmetry and would help you in slipping into a meditative state easily. A threshold is to keep ants and insects out of the sacred space.
#3: Idol Placement As per Vastu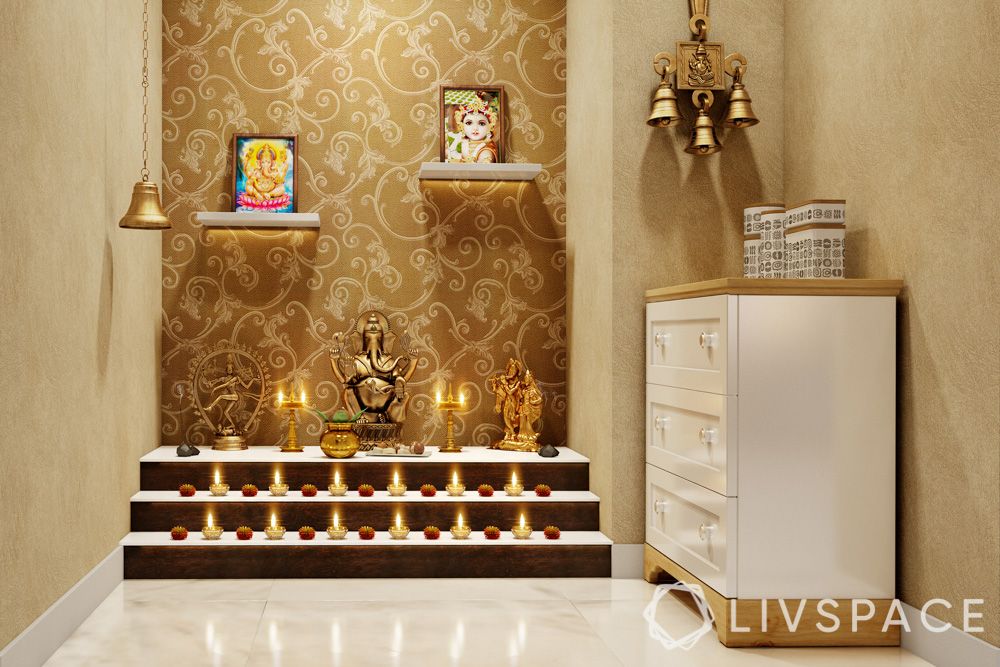 Once the layout and structure of your pooja room are ready, it's time to place your idol. The ideal placement would be a few inches away from the wall with at least six inches from the ground. Additionally, take note that portraits of the dead and paintings depicting violence do not belong in your pooja room.
Logic: The idol should be away from the wall to ensure continuous air flow around it. Additionally, this aids in enveloping the idol with the fragrance of the incense sticks.
#4: Vastu for Pooja Room Storage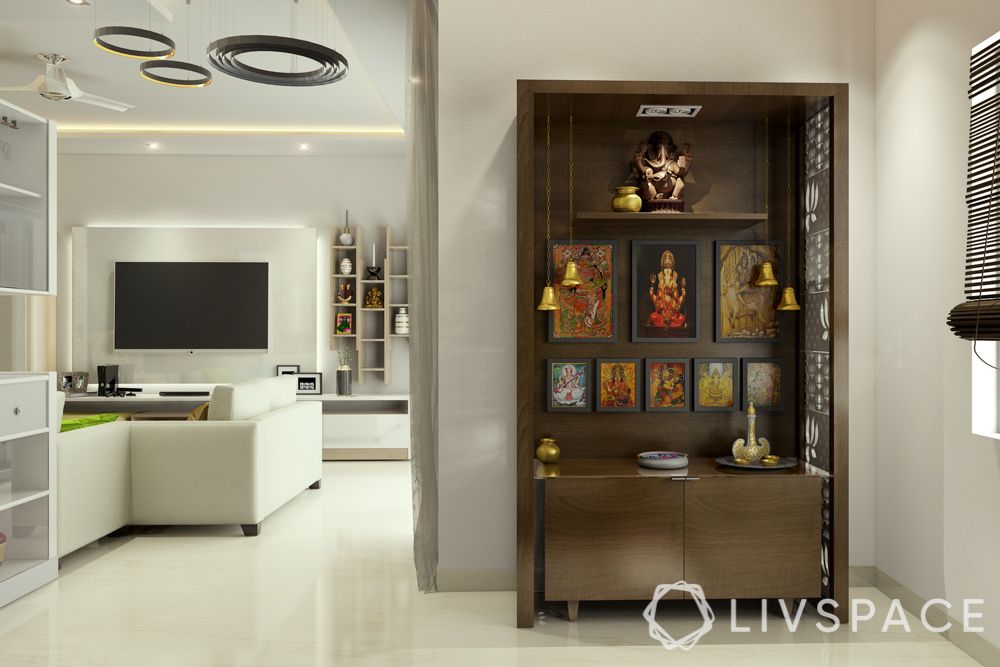 Confused where to store all your religious books, lamps and pooja-related items? Storage should always point towards the southeast and you should avoid storing anything above the idol to comply with pooja room vastu.
Logic: Storage should face the southeast to ensure there's nothing obstructing the sunlight that enters the pooja room.
Also Read: How to Fix Vastu Dosha in Your Pooja Room in 7 Simple Steps
#5: Vastu for Pooja Room Colour Palette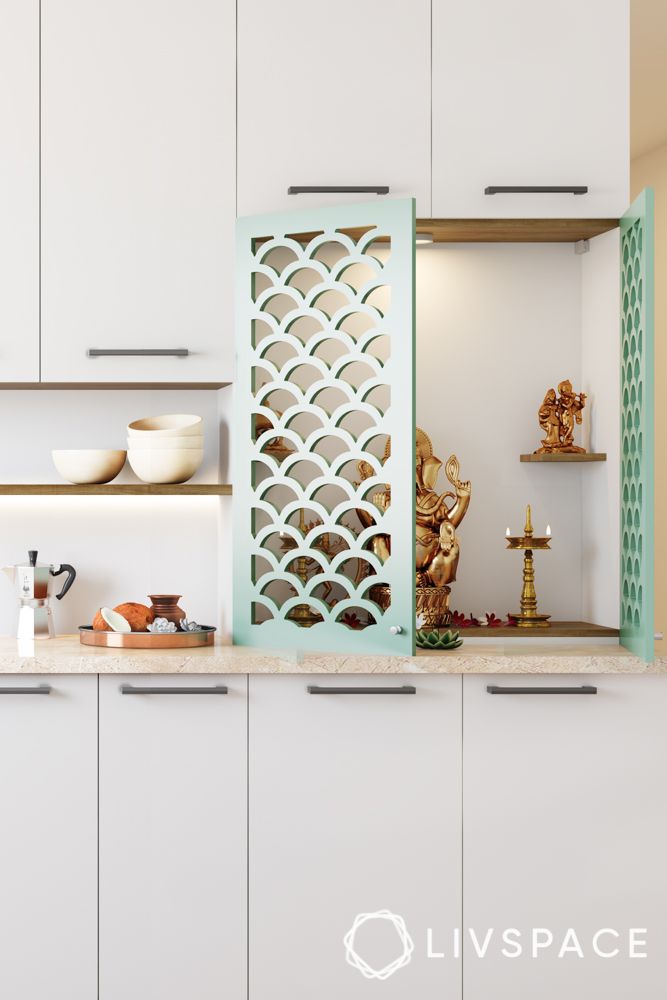 One of the most important pooja room vastu tips is the colour of the room. Create a meditative atmosphere using light colours like white, light blue or light yellow. If you opt for marble then white or pale yellow or ochre would work as well.
Logic: Light colours help keep the space bright, while dark, loud shades can be distracting when you pray.
#6: Importance of Lighting in Pooja Room Vastu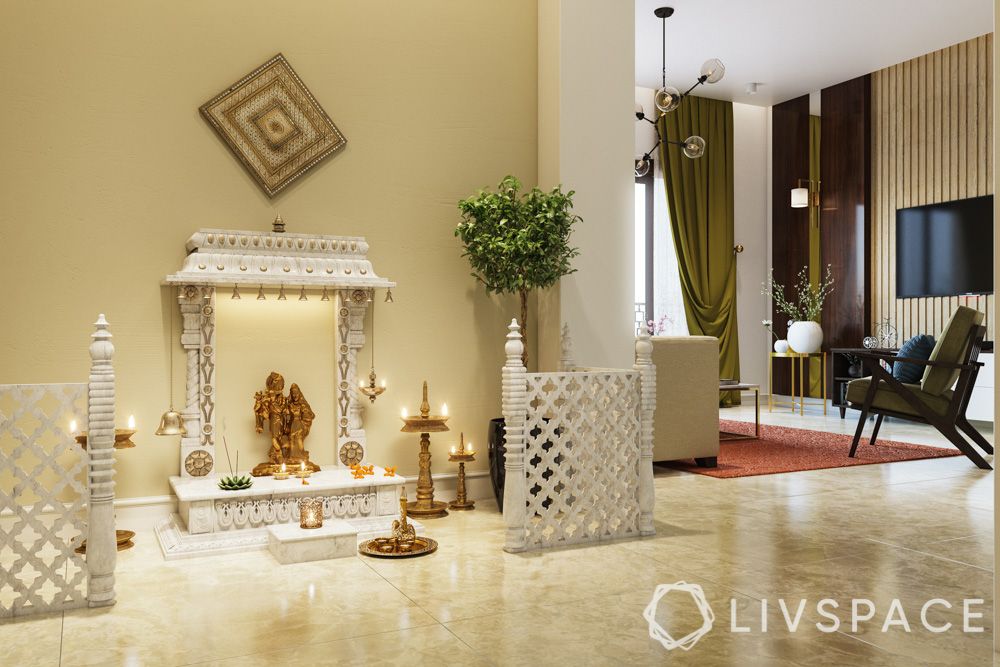 What's not to love about a bright room? And especially a bright pooja room? Since it is sometimes the smallest part of your home, you will need bright lights to illuminate it. Add on to the lights from your diyas with a window in the northeast direction. If that's not possible, use ample artificial lights as a substitution.
Logic: Not only will your pooja be bright but this would ensure that you'll enjoy lots of ventilation and can sit comfortably when you pray for long periods.
#7: Vastu for Pooja Room Doors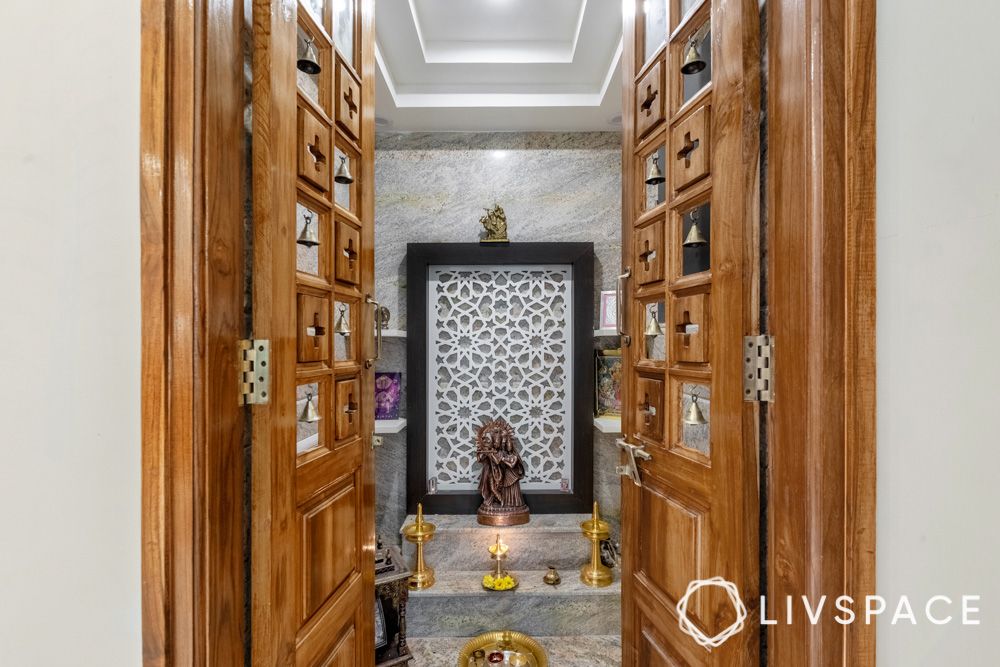 According to Hindu mythology, gods take human forms and thus, need privacy just like any of us. Hence, adding doors to your pooja room is necessary according to vastu. You should also build a threshold so that your pooja room can remain clean, free from all impurities.
Logic: Since we pray and envision gods in their human forms, it is only humane to offer privacy and cleanliness to them.
#8: Vastu for Accessories for Pooja Room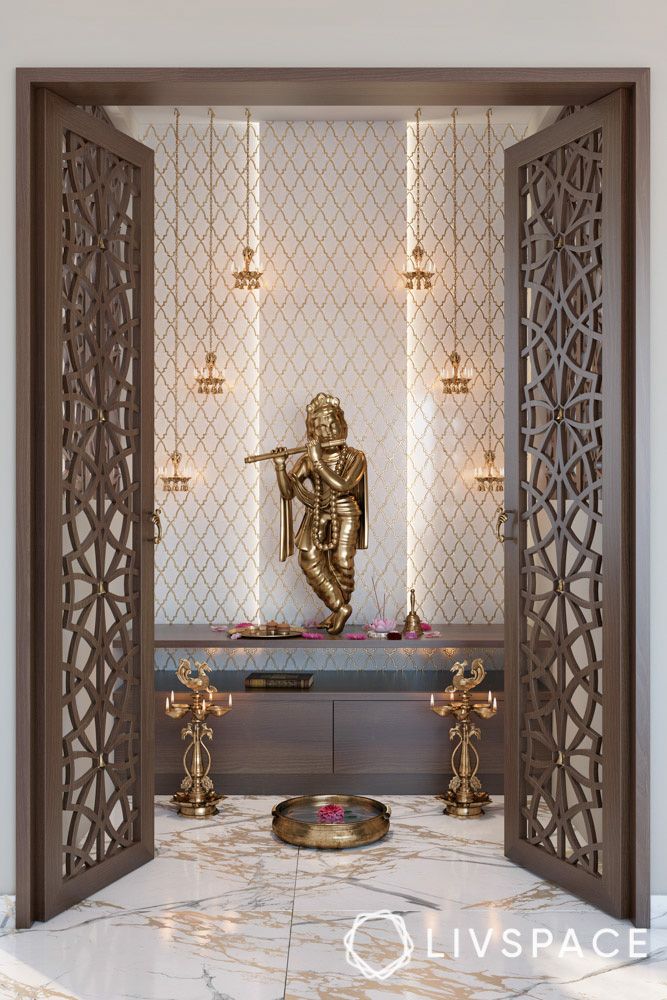 Use metallic accessories, especially brass, to decorate your pooja room as per vastu. It is also beneficial to keep a copper vessel filled with water in your pooja room to absorb negativity that lures in your home. Such mandir design ideas can help not only regulate the positive energy but also eliminate the negative one.
Logic: Metal generates a spiritual sound that helps purify the energy in your home.
#9: Best Areas to Keep Your Pooja Rooms in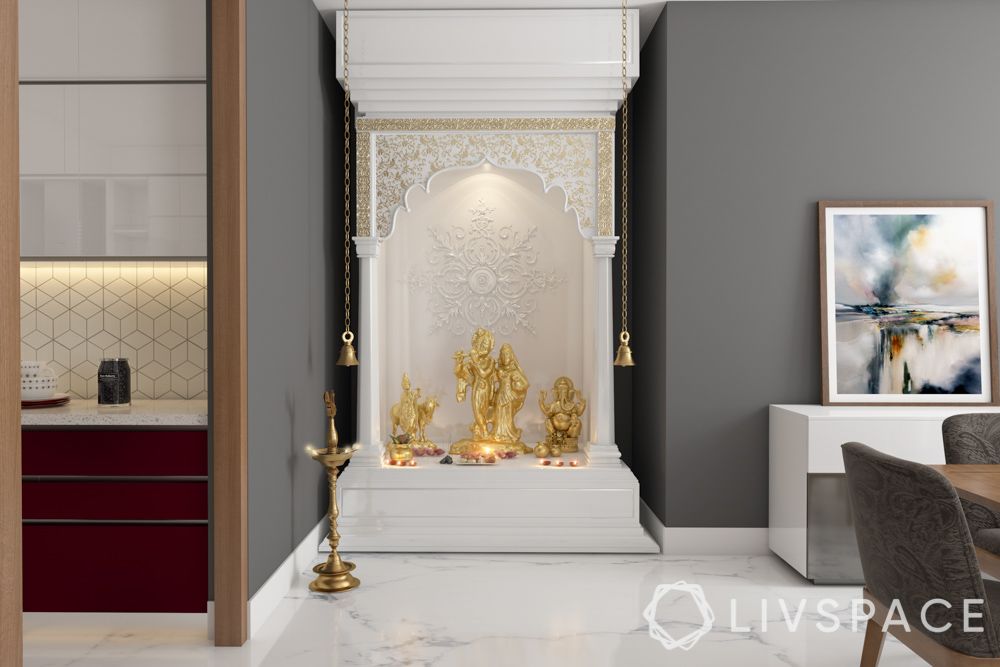 The best areas to align or keep your pooja room in are the living rooms and kitchens. Kitchens are not always regarded as the best, unless your kitchen is in the northeastern part of your home. You may also place your pooja room in your bedrooms, so long as it is in the northeastern part of it. Also remember to make sure that your feet don't face the pooja unit when you sleep.
Logic: Pooja rooms should be placed in well-lit and ventilated areas so that there is a good regulation of energy in your house.
Also Read: 5+ Vastu Expert Tips to Avoid Making These Pooja Room Design Mistakes
Now that you have an easy-to-follow pooja room vastu guide, it's time to revamp your sacred space. You can also take a look at these luxurious & intricate latticework ideas for pooja rooms for more inspiration.
Check out pooja room designs:
How Can Livspace Help You?
We hope you found our ideas useful! If you want stunning interiors then look no further. Book an online consultation with Livspace today.
Wondering how our customers feel about working with Livspace? You can check out the Livspace reviews here!
Send in your comments and suggestions at editor@livspace.com