The lack of space in our compact homes drives us to make some sacrifices. One of the essential areas that is getting more difficult to incorporate is a proper pooja room because, unlike older apartments, the new ones do not have a dedicated space to create a space of worship. But even if your apartment does not have a pooja room, worry not. We have some very practical and pretty wooden temple for home designs that require only one wall to fit in. 
An Indian home is incomplete without a mandir. So, browse our best wooden pooja mandir designs for home and pick one that you like and is apt for your home.   
Which Wood is Best for a Pooja Room?
Different materials as the choice for pooja room designs may come and go, but a wooden temple for home interiors has stood the test of time and remained a desi favourite. The main wood varieties used in a wooden mandir design are teak wood, sheesham wood and mango wood. Sheesham wood or rosewood is considered the most auspicious, according to vastu shastra.
PRO Tip
For more vastu tips for pooja rooms, click here. 
Latest Wooden Pooja Mandir Designs for Homes
#1: Wooden Temple for Home With Geometric Patterns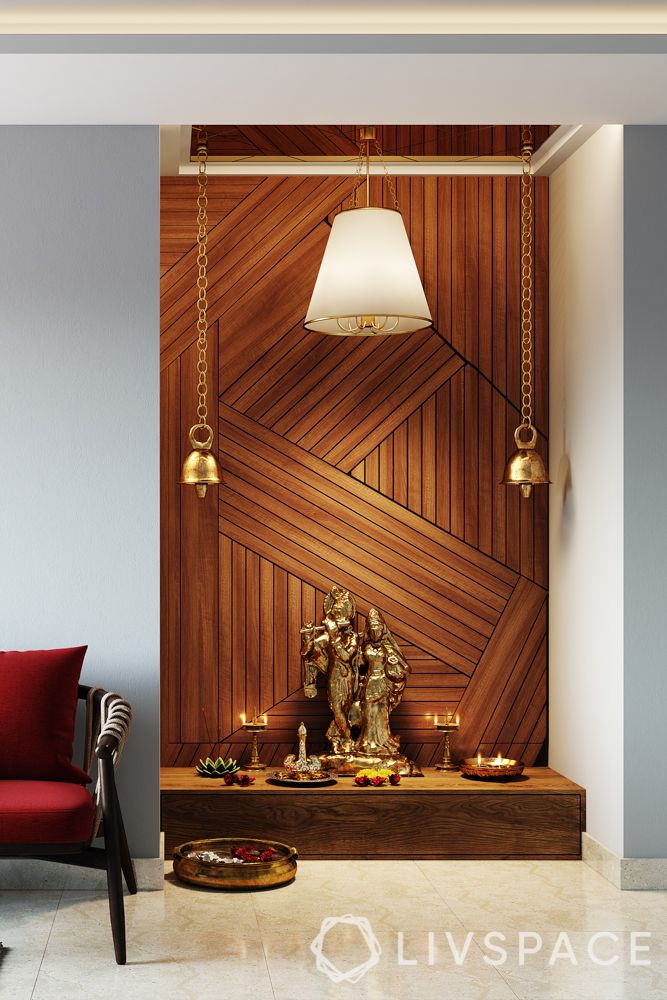 Have an empty corner in your living room? Then consider this mandir design featuring a wooden platform for the murti and a geometric-patterned back panel. The area is also amped up with temple bells and a bright pendant light. The back panel of this wooden temple for home is made of wooden pattis that give it this unique texture. 
#2: Try a Stone Wall for Your Wooden Mandir Design for Home Interiors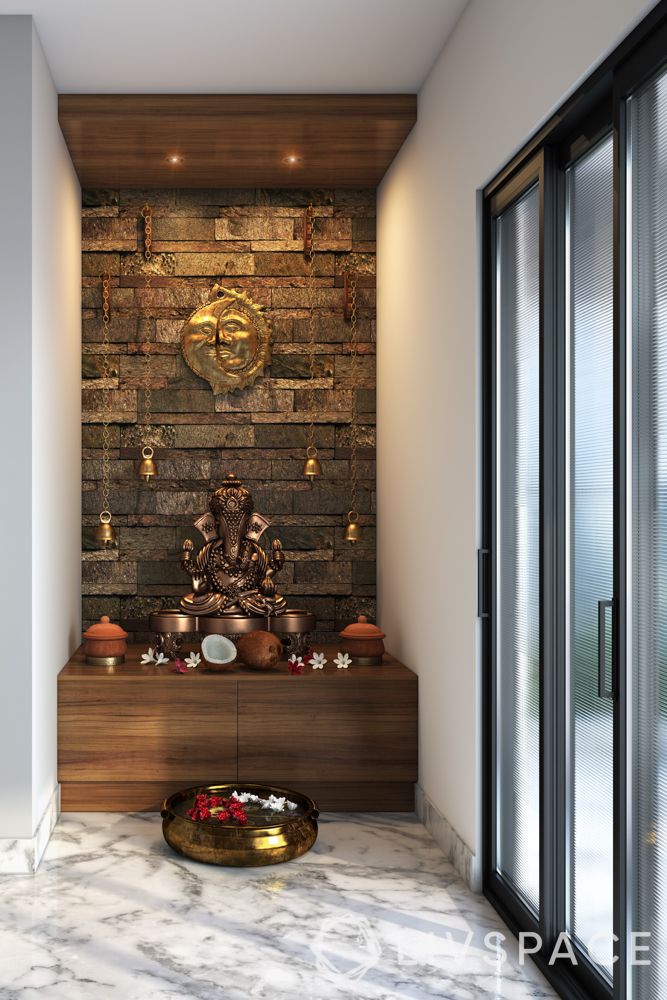 The partition wall is mighty useful to set up a mandir. What makes this wooden mandir design for home interiors stand out is the choice of design elements. The stone-clad accent wall adds visual interest to this space. The look is complete with a wooden panelling of the ceiling and a high wooden platform.  
PRO Tip 
#3: Make a Statement With Intricate Jaali on Wooden Pooja Mandir Designs for Home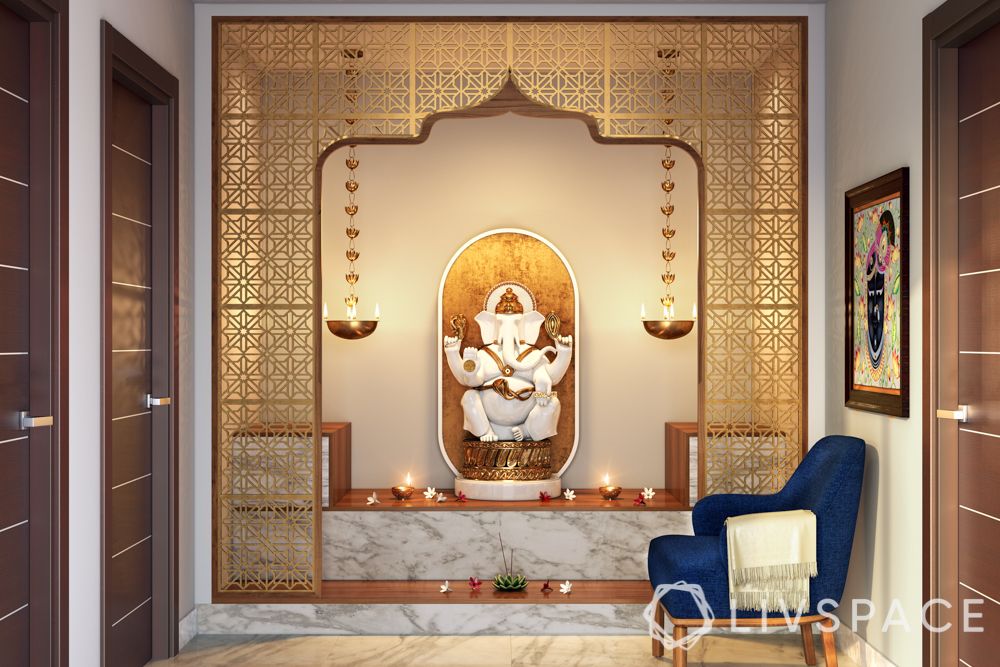 Who doesn't love the beautiful jaalis? Using these intricate patterns for your wooden pooja mandir designs for home will make for a perfect temple. Take a look at this design. The combination of white marble and light wood for this mandir is brought to life by the exquisite jaali. The best part about jaali frames is that they allow air circulation while giving you partial visibility too! 
Check out more pooja rooms with jaali designs here. 
#4: Simple Wooden Pooja Mandir Designs for Home — A Floating Unit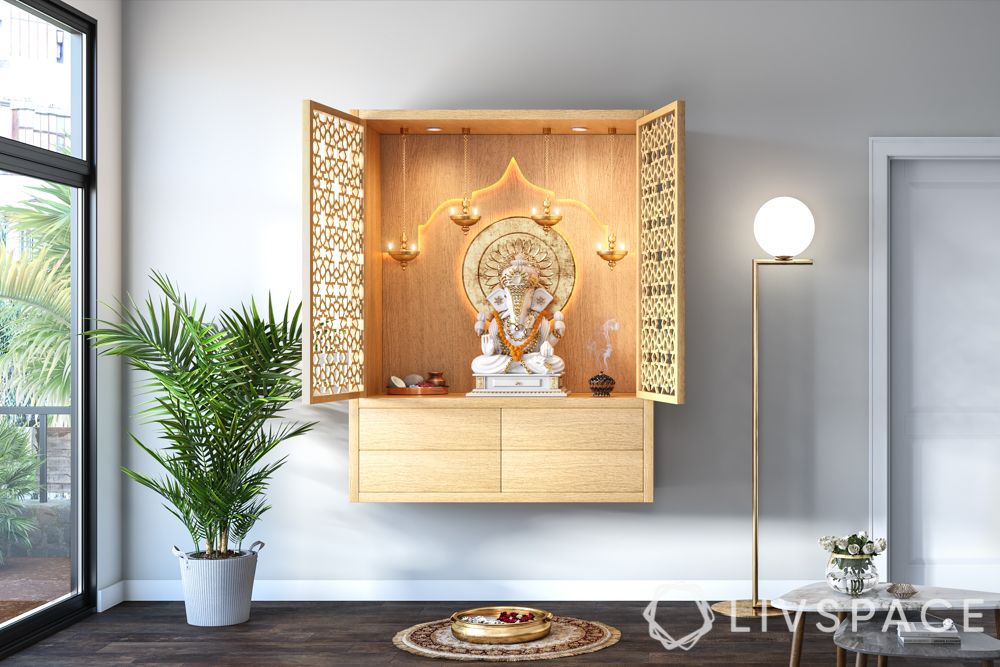 This is for those who absolutely do not have space and are looking for simple wooden pooja mandir designs for home. This light wood floating unit has a big cabinet for the murti and small drawers for storage. To add a little drama, we have opted for jaali shutters. This is also very useful because it allows you to light incense sticks and diyas without worrying about fire accidents.
PRO Tip
#5: Dark Wooden Temple for Home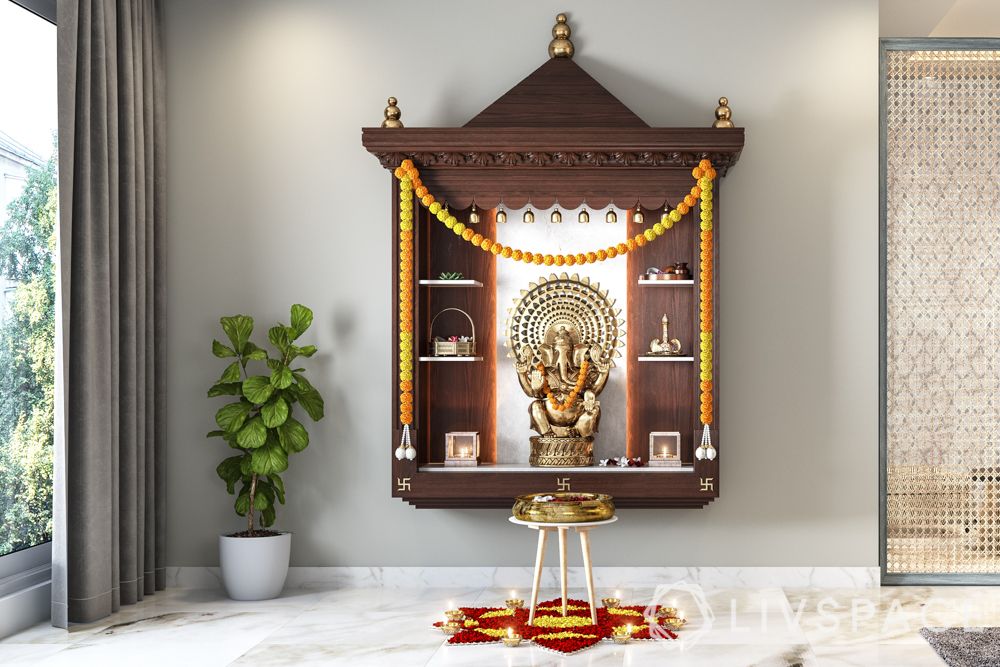 Have a compact home but don't like minimal designs? Have a look at this floating wooden temple for home. Made with dark wood, this mandir is traditional with the gopura on top. Notice that there are also small open shelves to keep the pooja room items? 
PRO Tip
#6: Wooden Mandir Design for Home Interiors Integrated With a Swing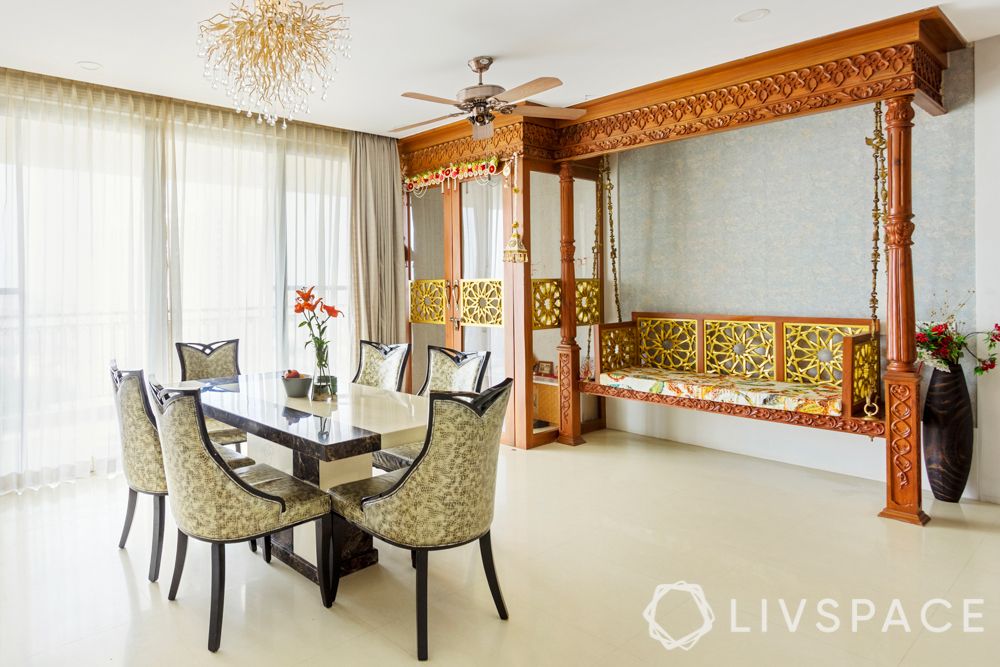 This one-wall wooden mandir design for home integrated with a swing is the most unique one in our collection. The polished solid wood beams with intricate jaali details extend to the swing, showing off the craftsmanship. Glass panes are used for the shutters and on the side of the pooja room to create an illusion of space. Don't miss the design continuity here that extends to the swing as well. 
#7: Simple Wooden Pooja Mandir Designs for Home With Rafters & Lighting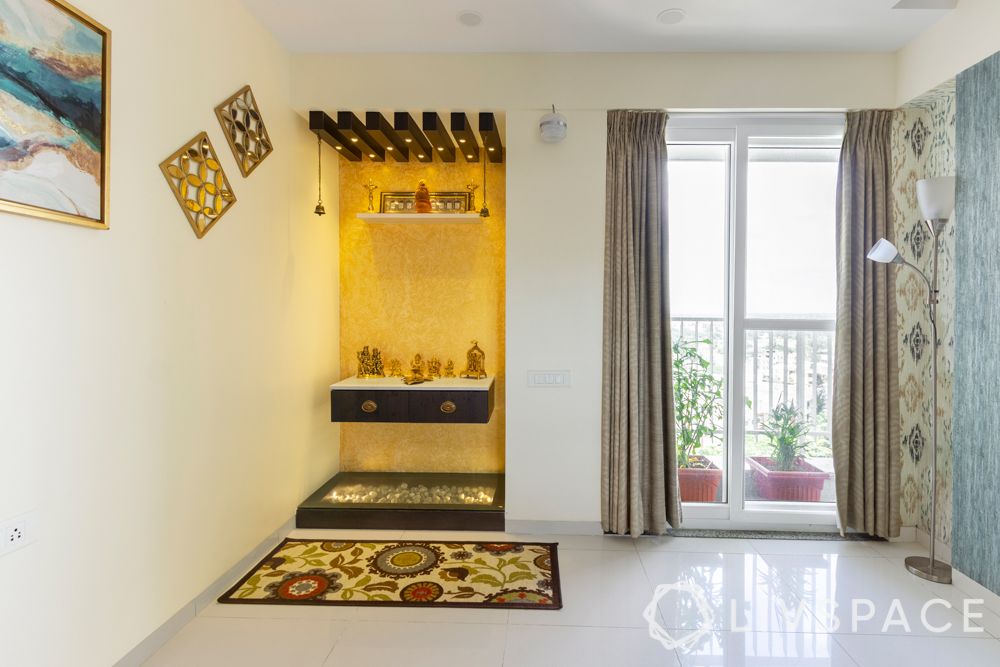 Lighting plays an important role in glamming up simple wooden pooja mandir designs for home. This wooden temple for home is brightly lit with recessed lights in the wooden rafters. Additionally, the shimmering gold wallpaper accentuates this simple design, while being reasonably affordable. This pooja corner shows us that you don't need a fat budget for home interiors if you have imagination! 
#8: Elaborate Wooden Carvings in Pristine White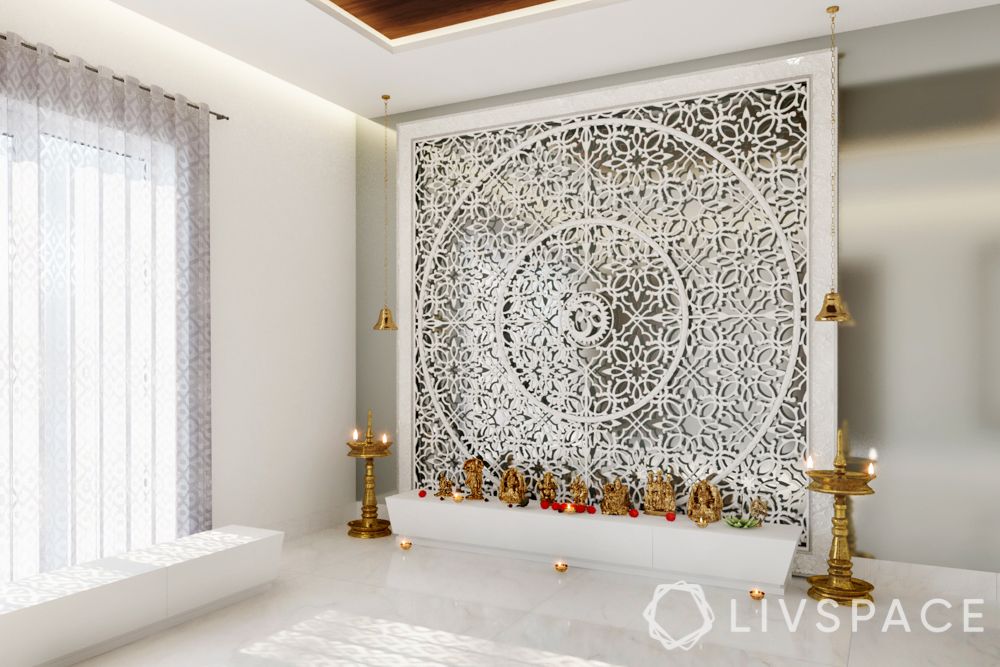 Looking for a wooden temple design for a larger apartment? Then this should be it. The wooden platform with a white laminate finish is for the murtis. The star of this one-wall mandir is the wooden jaali with evocative traditional carvings. The temple-style brass lamps and bells do the trick to break the monotony of white.    
#9: A Simple Wooden Shelf Mounted on an Accent Wall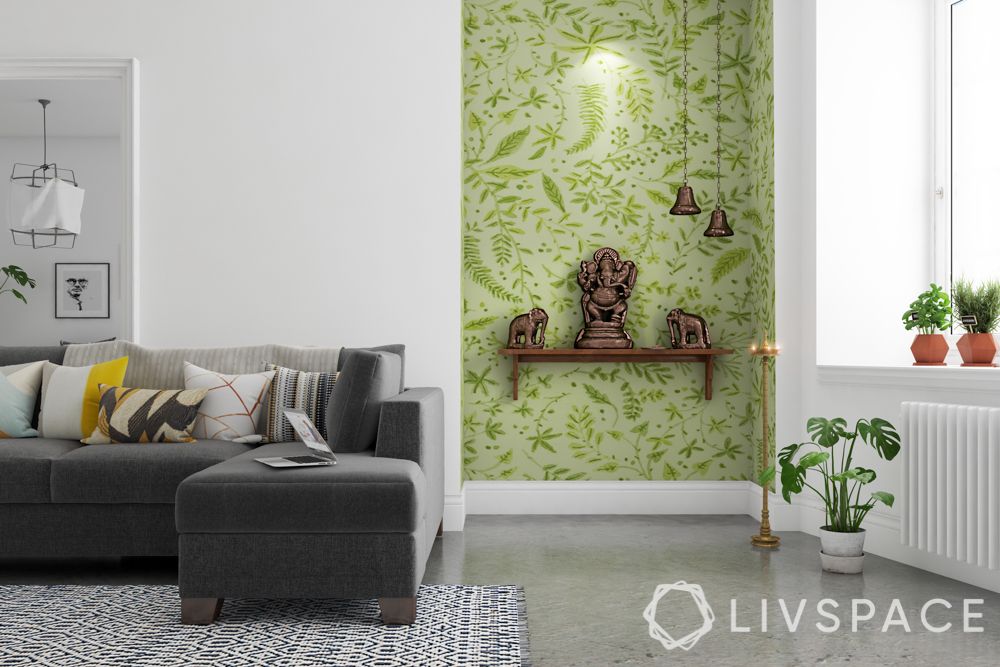 If you are not into a big and bold wooden mandir design for home, then this simple pooja corner may work for you. Installed into a wall niche, it features only a wooden shelf, bells and lamps. The green wallpaper with plant motifs breathes life into the space and evoking a sense of calm. Isn't green an apt colour for a mandir?  
#10: Wooden Mandir Design for Home With Ample Storage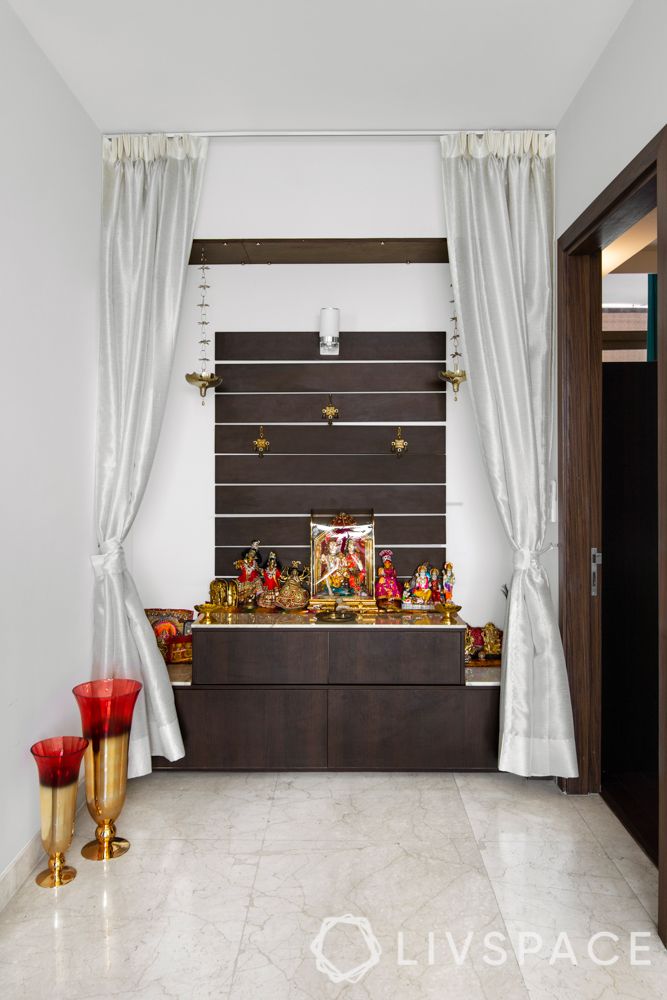 The dead space in the passageway of this home is cleverly converted into a mandir. The high wooden platform with a white top for the murtis has cabinets for storage too. This wooden mandir design for home also features a simple wooden panel in the centre. Instead of doors, we have plush white curtains to close the pooja corner from view.
#11: Liven It Up With a Contrasting Colour Palette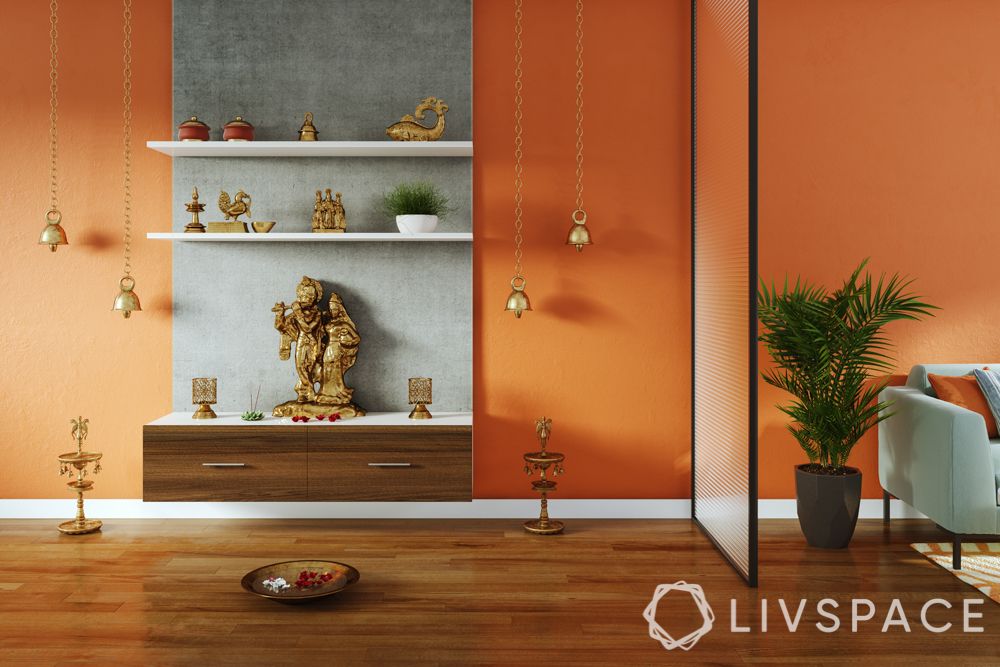 If you already have a pop-coloured wall in your home, you can convert it into a mandir, like this one. The wooden floating unit with a grey back panel complements the vastu-compliant orange beautifully. There are also open shelves and drawers for storage. If you'd like, you can also add temple bells to add an extra dose of divinity.    
For more pooja rooms colours for good luck, click here.
#12: Simple Wooden Pooja Mandir Designs for Home With Partition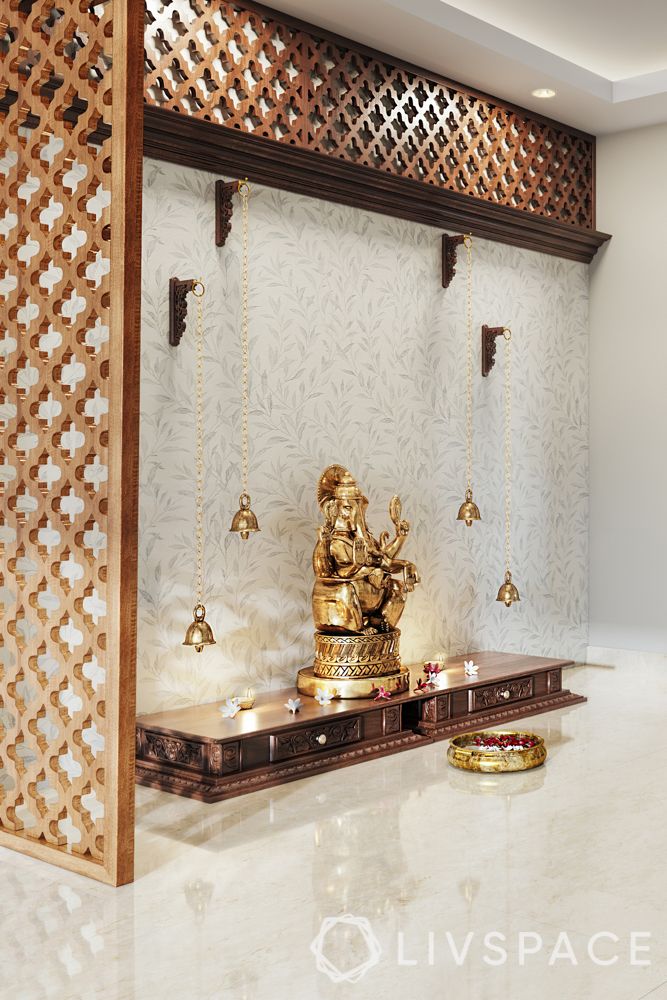 This wooden temple design is for those who like to separate the place for worship from the hustle bustle of the home. A wooden jaali is used as a partition; the jaali work continues to a ceiling ledge too. The murti is placed on a wooden stage with gold detailing. The entire look of the room is complete with temple bells.  
#13: Compact and Minimal Floating Wooden Temple for Home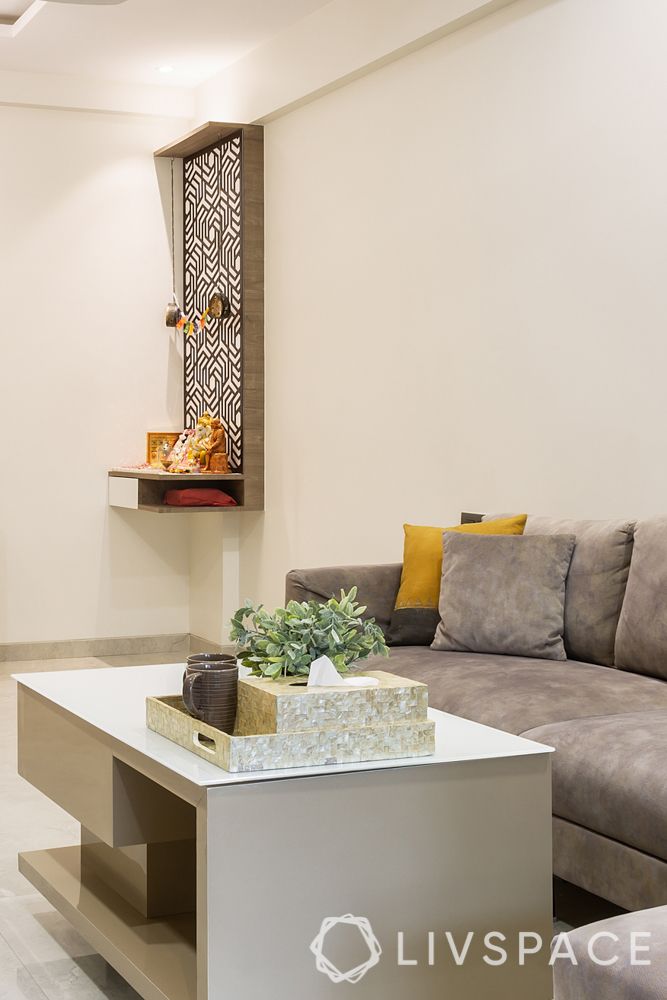 Save space with svelte and simple wooden pooja mandir designs for home. Featuring open and closed shelves, the upper area is where you place the murti. Dab with pretty patterns to make it stand out.
#14: Floating Wooden Temple for Home in an Empty Corner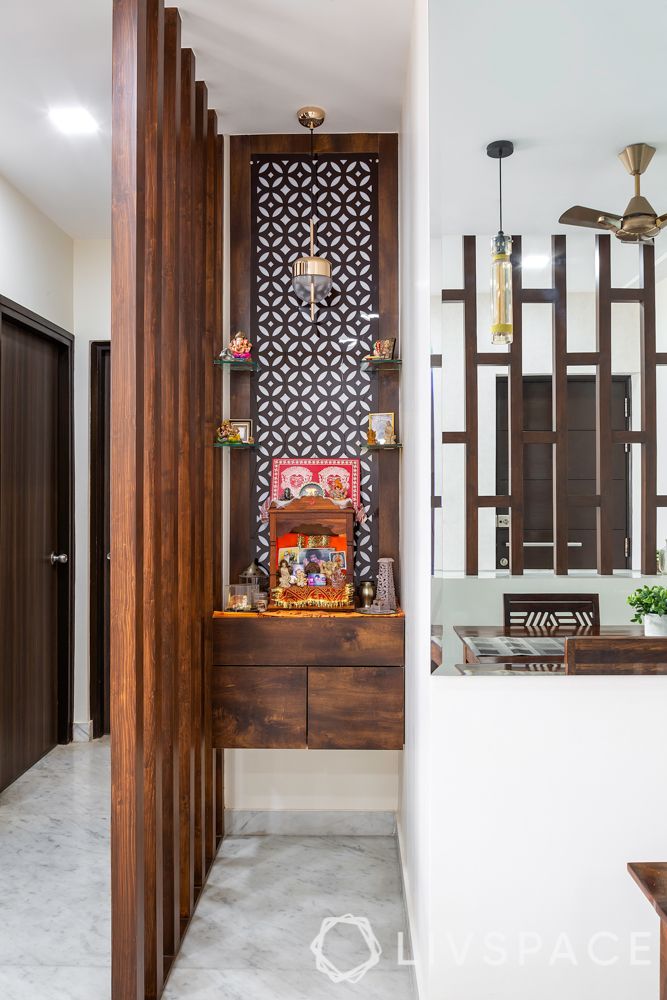 The customised partition in this home has a veneer finish for a seamless look. This partition segregates the living and dining areas, creating a wall niche that houses the mandir. Incredibly space efficient, it has a jaali back panel and a floating console to place the murtis.
#15: A Stylish Grey Wall Backdrop for a Simple Wooden Mandir Design for Home Interiors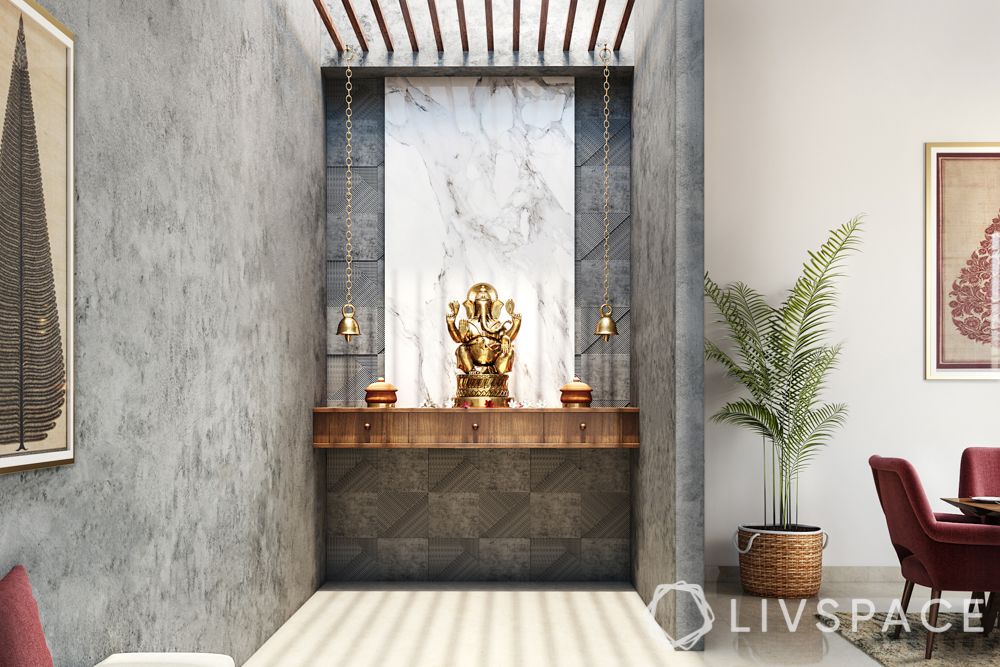 If you prefer urbane and chic interiors, consider this wooden temple for home interiors. The stone wall with a dash of marble in the centre takes the aesthetic up a notch. The floating console unit takes care of storage.  
#16: Traditional Wooden Temple With Bells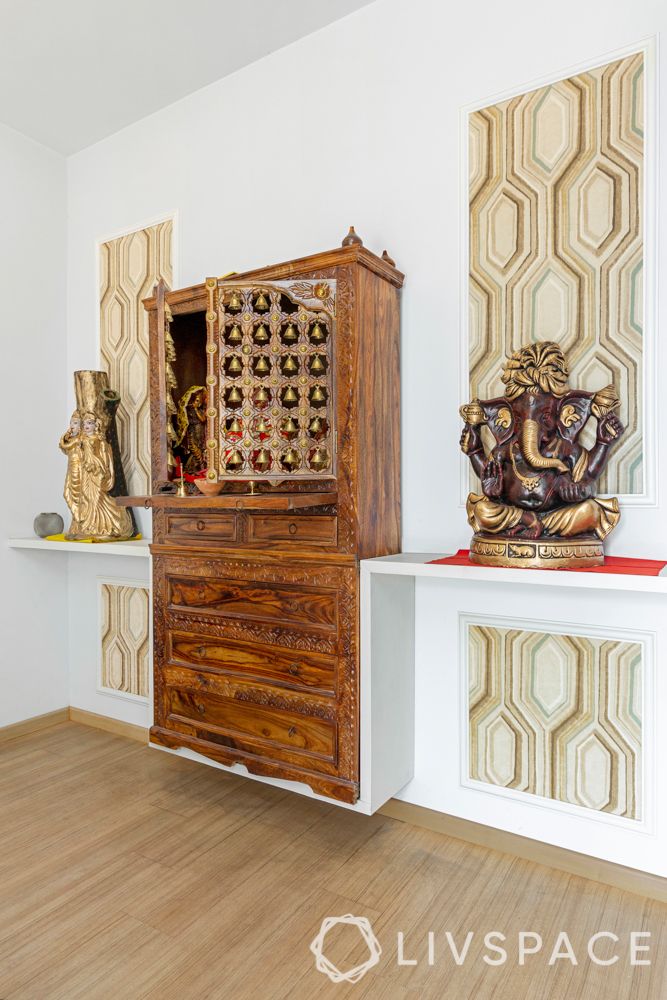 A pooja room implies traditional designs for some. If you are one of them, then pick this solid wooden mandir design for home interiors that simply oozes Indian-ness. The bells fixed to the shutters are reminiscent of temples. The bottom half of the unit allows for ample storage space. 
#17: Wooden Platform With an Etched-Glass Back Panel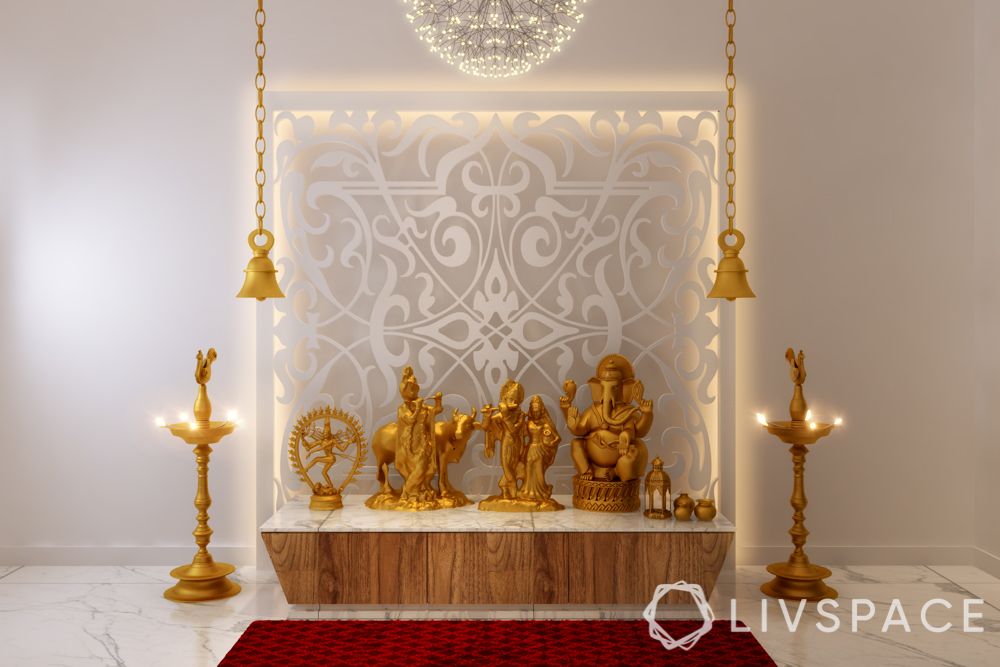 This pooja room design has a wooden platform with a white marble top and a glass back panel. The back panel is etched with traditional motifs, setting just the right ambience for the place. Along with the brass bells and diyas, a stylish pendant light adds to the look of the wooden mandir design. 
How Can Livspace Help You?
We bet you liked our designs for a wooden temple for home designs. If you want to get a beautiful mandir for your home too, then look no further. Consult Livspace's designers for quality and safe interiors.
Have any doubts about setting up a pooja room? Livspace Designers Answer All Your Questions on Setting Up a Mandir at Home.
Wondering how our customers feel about working with Livspace? You can check out the Livspace reviews here!
We love hearing from you! Write to us with your comments and suggestions at editor@livspace.com