Be it the elegant Taj Mahal in Agra or the grand Pattadakal Temple in Karnataka, the history of the jali design goes way back! In modern times, this style is often seen in pooja rooms at urban homes. Due to the sheer elegance of jali, Indian families are opting for mandir units that are heavily influenced by this style. While jali offers aesthetic simplicity, MDF provides durability. An MDF jali design for mandir is a holistic combination of beauty and functionality, perfect for your pooja room. Here are some pooja room jali designs that are sure to enhance the spirituality of your abode.
#1: An Elegant Back Panel for a Slim Corner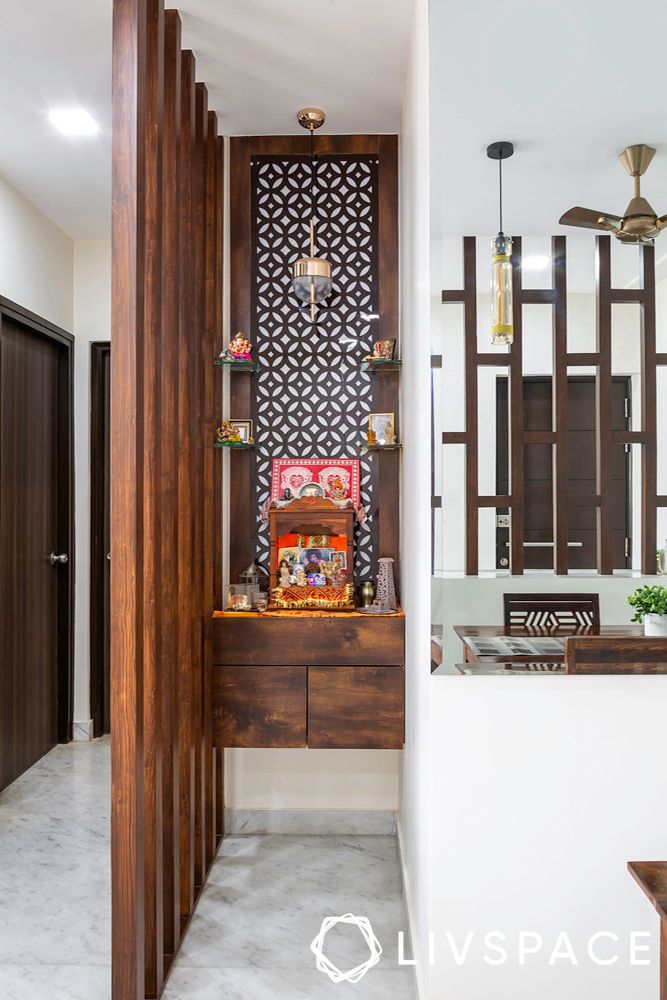 A wall niche can be turned into a pooja room using room dividers, or wooden slats, that demarcate the space. Give it some personality with a back panel that mirrors the colour, pattern, and texture of the divider. In this home, the carved MDF jali design for mandir adds an artistic appeal to the pooja room, and unifies it with the overall design theme.
#2: A See-Through Panel for a Glass Pooja Room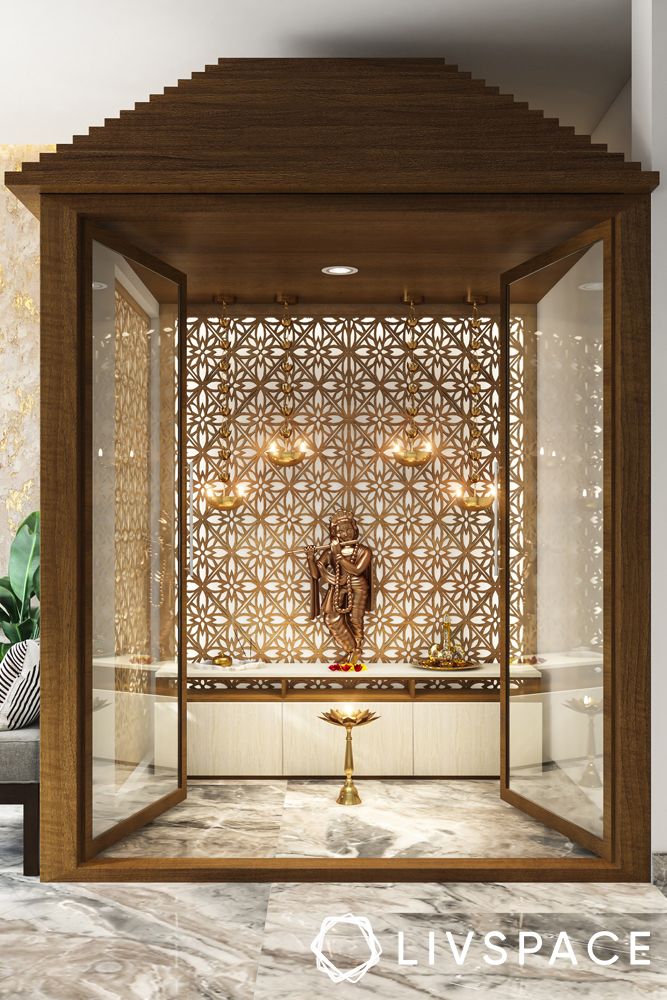 This pooja room with elegant jali walls and a glass door is a sight for sore eyes! If you are someone who requires peace and privacy while praying, opt for an enclosed mandir with a door. Dark, wooden panelling and hanging diyas provide a graceful look to this unit. Also, a sloping roof ensures that your pooja room is a hub of sacred and cosmic energies.
#3: A Unit Within the Wardrobe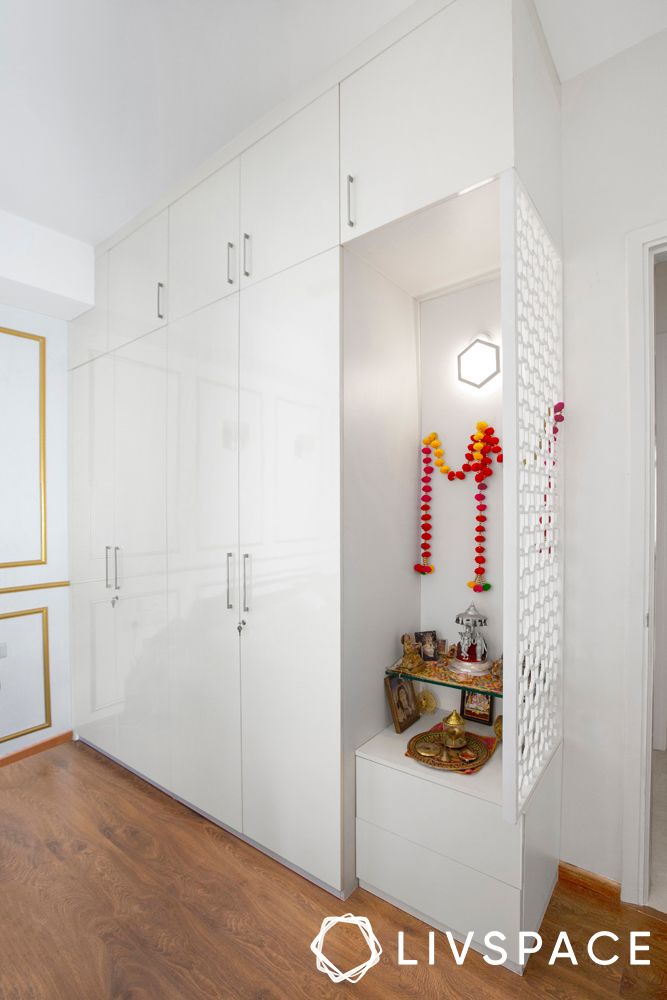 Make the most of extra wall space with a cabinet for storage purposes, and place your pooja paraphernalia atop. Enclose the space with an MDF jali divider of the same color and finish. Choose beautiful patterns and pair it with statement lighting to highlight the space.
#4: The Door With a View
Jali doors are a great way to introduce an element of privacy if your pooja room is centrally located. Jali doors come in traditional patterns with fittings such as bells and divine figurines that enhance the decor quotient of the space. They not only make way for the light and the soothing aroma that emanate from the pooja room, but also inspire intrigue with aesthetics.
#5: Etched in Wood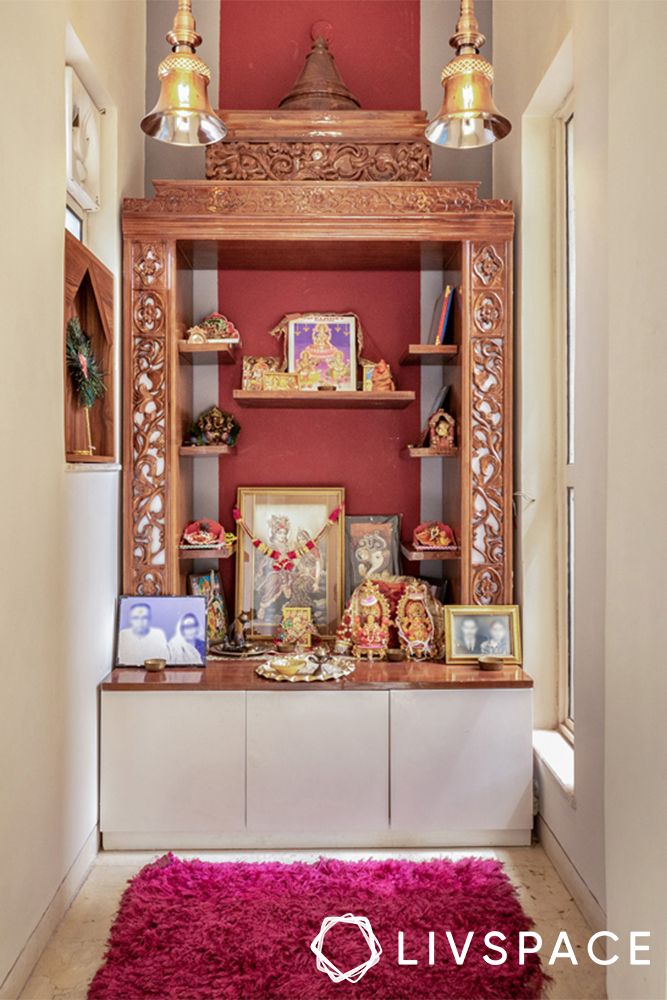 There is nothing as opulent and elegant as a Kashmiri jali motif. This MDF jali home mandir boasts a delicate Kashmir-inspired jali work on the sides. The simple pattern adds to the beauty of this pooja unit. Additionally, the hanging bells and pyramid-shaped roof help in creating a pious aura.
#6: Carving Out Your Own Niche
Jali sides are one of the more simple yet ingenious pooja room jali designs. If your pooja unit has a solid back panel, complement it with jali sides for a lighter look and feel. Traditional mahogany and white are a great combination to make the pooja room stand out, but also afford a sense of solemnity. Jali sides serve to keep the space open and accessible, yet distinct from other areas.
#7: For the Love of Trims & Frills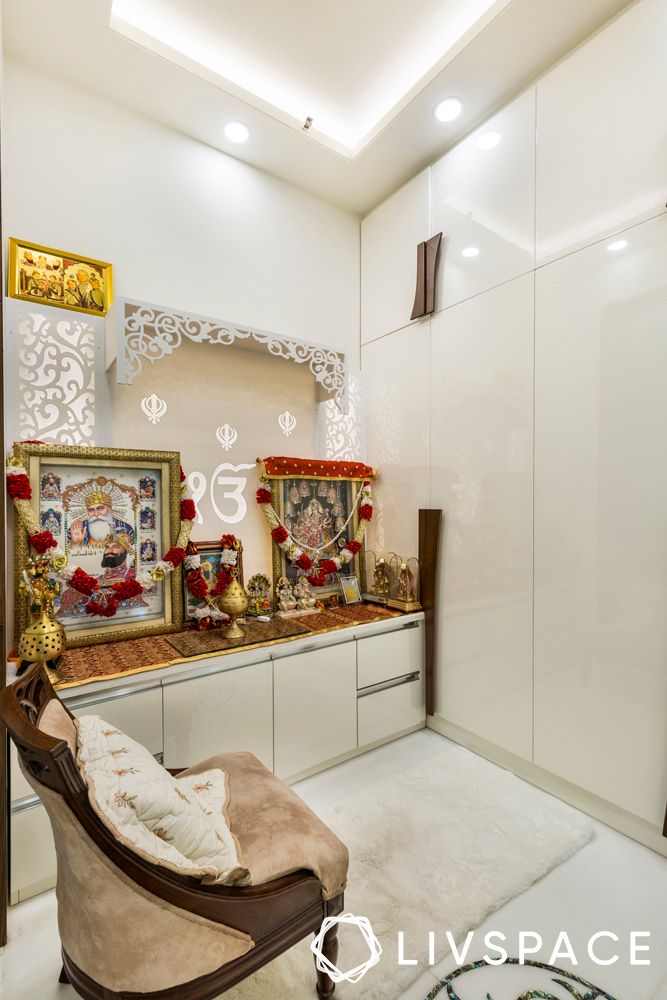 This is one of the pooja room jali designs that is used for purely aesthetic purposes. Jali frills can be used to decorate the bounding frames of the pooja unit. In flowing floral and regal patterns, they add character to an otherwise empty backdrop or wall space.
Therefore, any of these designs for mandir can be implemented in a number of creative ways that improve the functionality and ambience of a pooja room. MDF's versatility makes it a good choice for decorative pooja room projects. We hope these pooja room jali designs help you along in your home design.
If you found this article inspiring, take a look at: Unique Prayer Room Door Options.
Send in your comments and suggestions at editor@livspace.com