According to vastu experts, having an open pooja room can weaken the auspicious vibes in your house. Thus, it is recommended that your pooja room is fully or partially covered. This gives you the chance to experiment with trendy and interesting ideas for your pooja room double door design. Here are some of our best pooja double door design to draw inspiration from for your own home.
#1: Evoke Divine Vibes with Semi-Open Pooja Room Double Door Design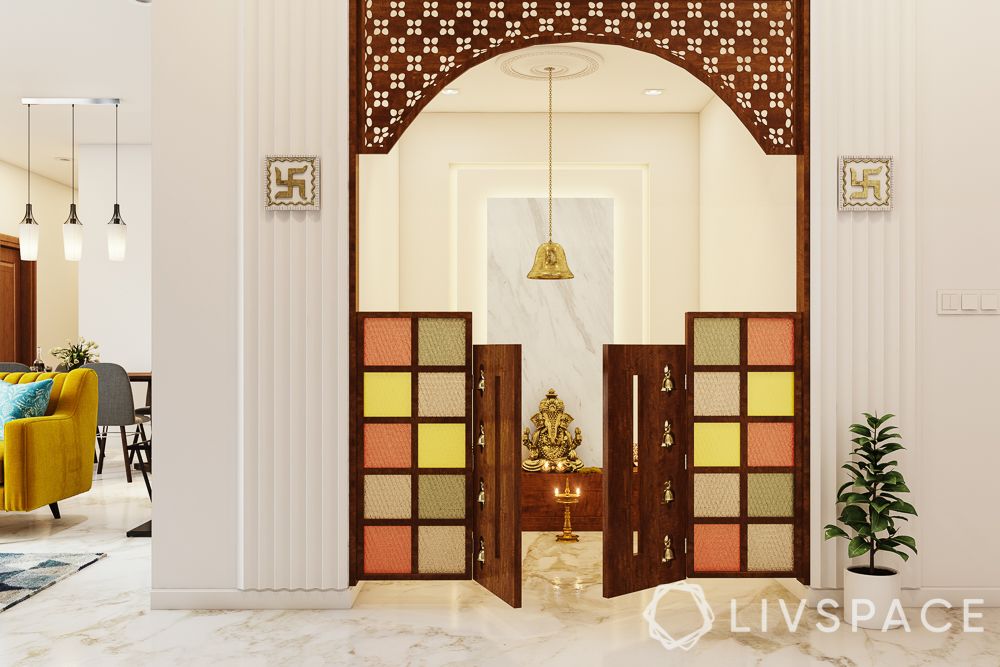 This semi-open door is trendy as well as unique. Also, the plywood frame and arch give it a durable structure as well. We also love the multicoloured opaque shutters that add to the quirkiness of this pooja room design.
#2: A Floating and Compact Pooja Room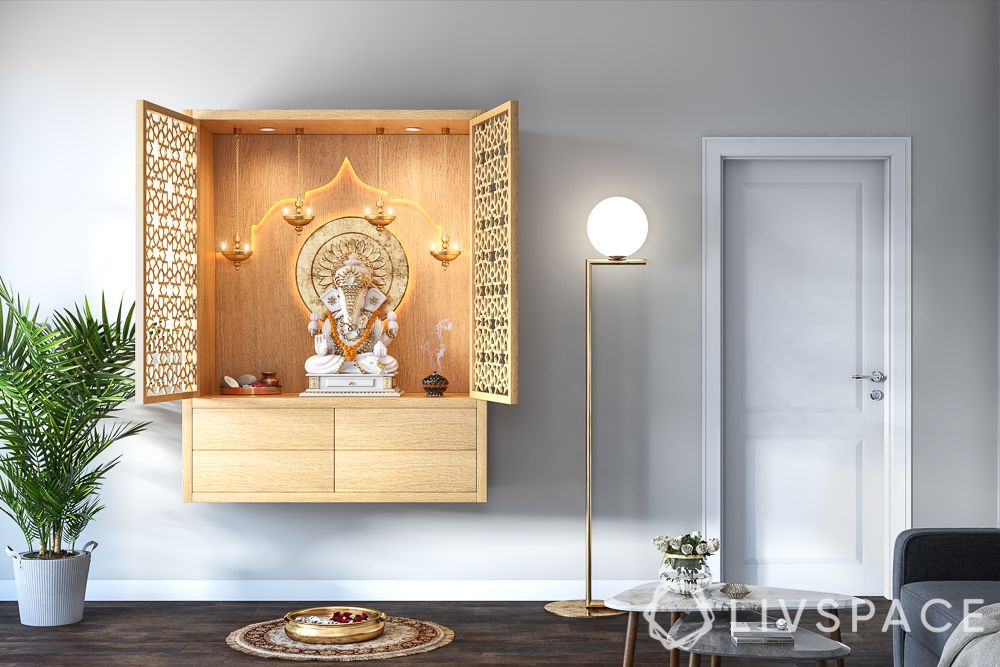 Have a shortage of space? This pooja double door design will fit in any sleek corner. Additionally, this modern hanging pooja room is all about intricate jali designs done to perfection. Here are more compact pooja units for you!
#3: Introduce Glass Doors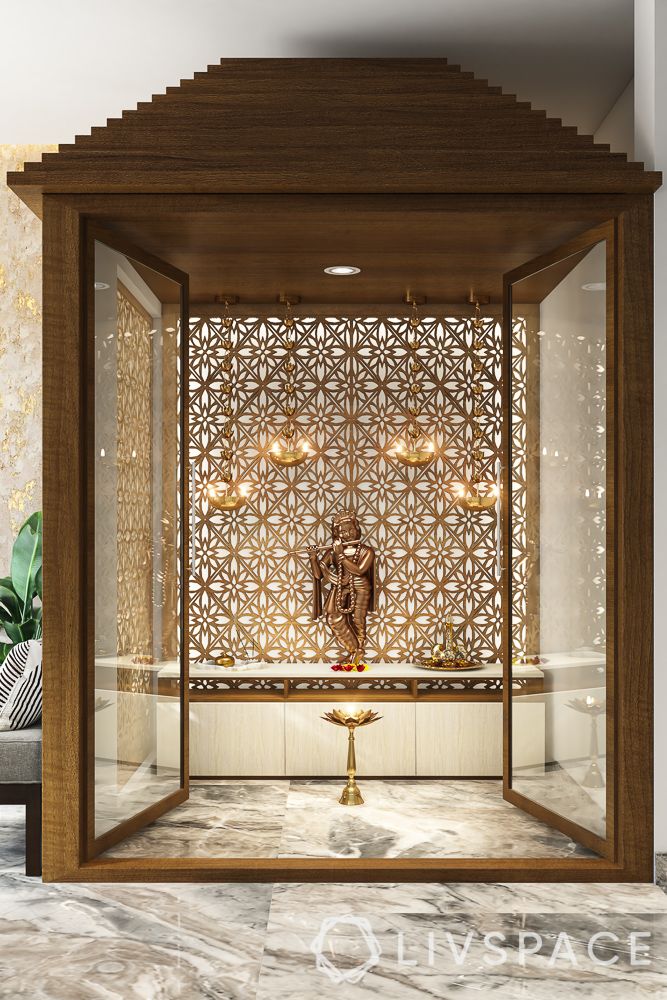 Mix modern and traditional with this glass double door pooja room design carved in wood and glass. Wood mandir designs are considered a traditional choice. However, adding transparent glass brings in the modern element to this beautiful mandir. The jali work in the background and pyramid is the epitome of serenity!
Also Read: Top 10+ Pooja Room Glass Door Design Ideas to Choose From For Your Home
#4: Incorporate Bells and Jali in Your Pooja Double Door Design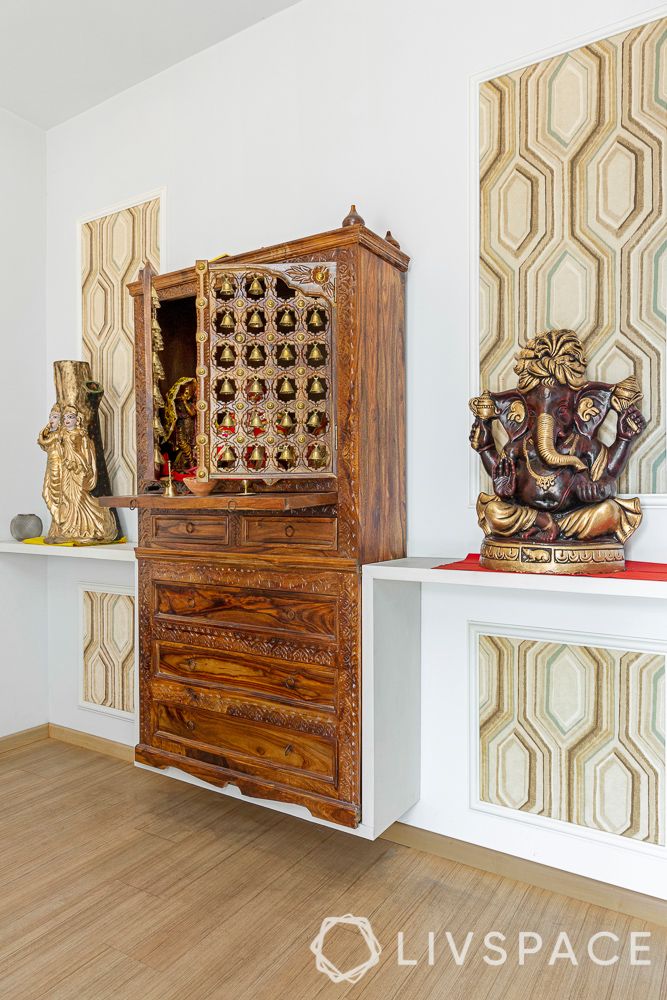 What we love about this pooja room is the unique door pattern made with bells and jali work. There are also lower cabinets to store your pooja essentials.
#5: Make a Sturdy Pooja Double Door Design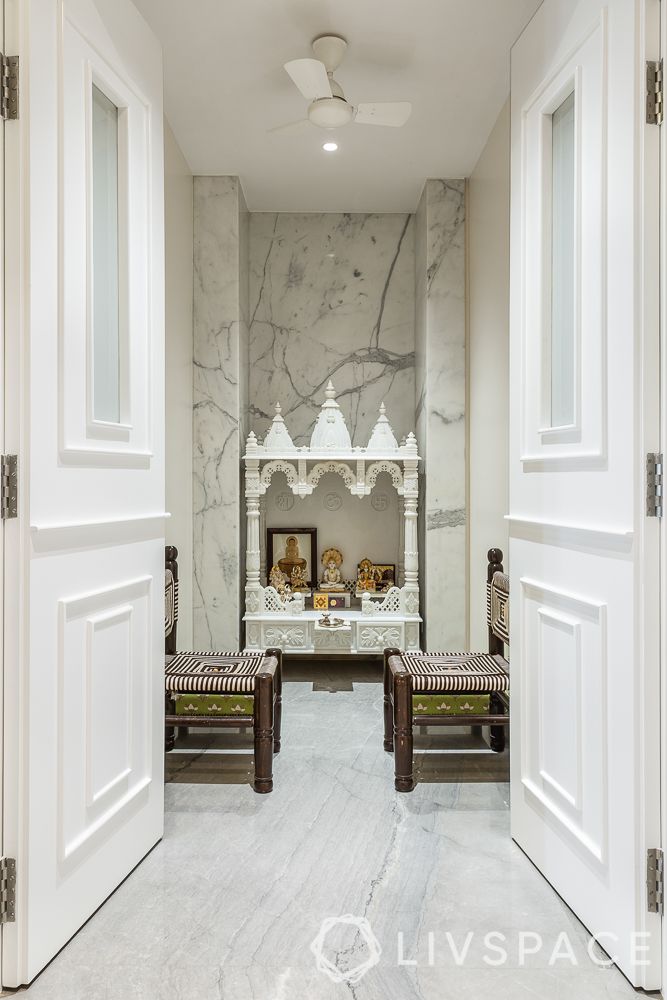 If you like to dedicate a separate private spot to your mandir, a pooja room double door design is an option you can go for. These sturdy white doors open into a divine spot and ensure privacy.  
#6: Enjoy this Minimal Glam Double Door Pooja Room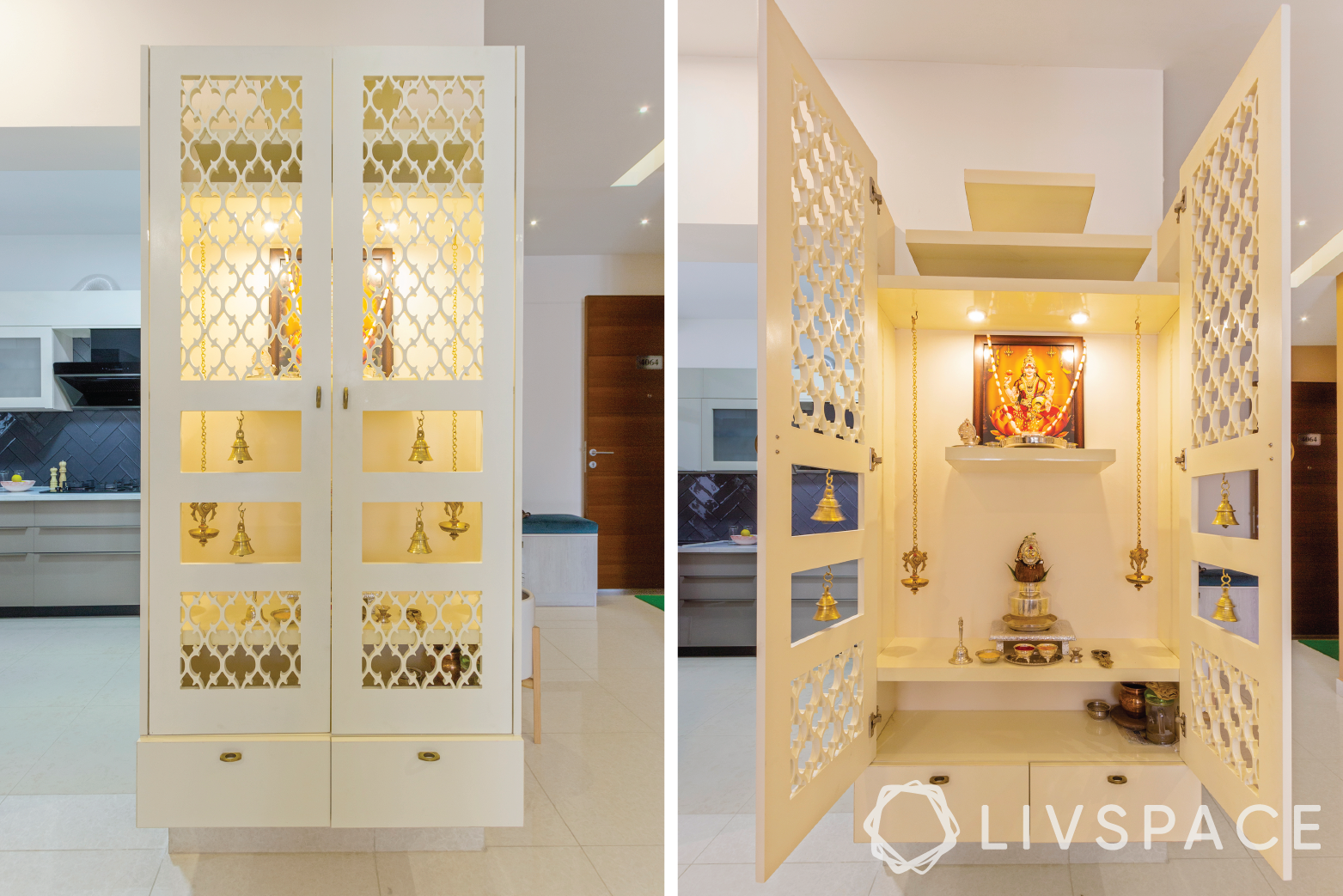 How serene is this white double door design with jali work! This is a timeless combination that has proved to be a classic over and over again.
#7: Weave Magic with This Latticework Pooja Double Door Design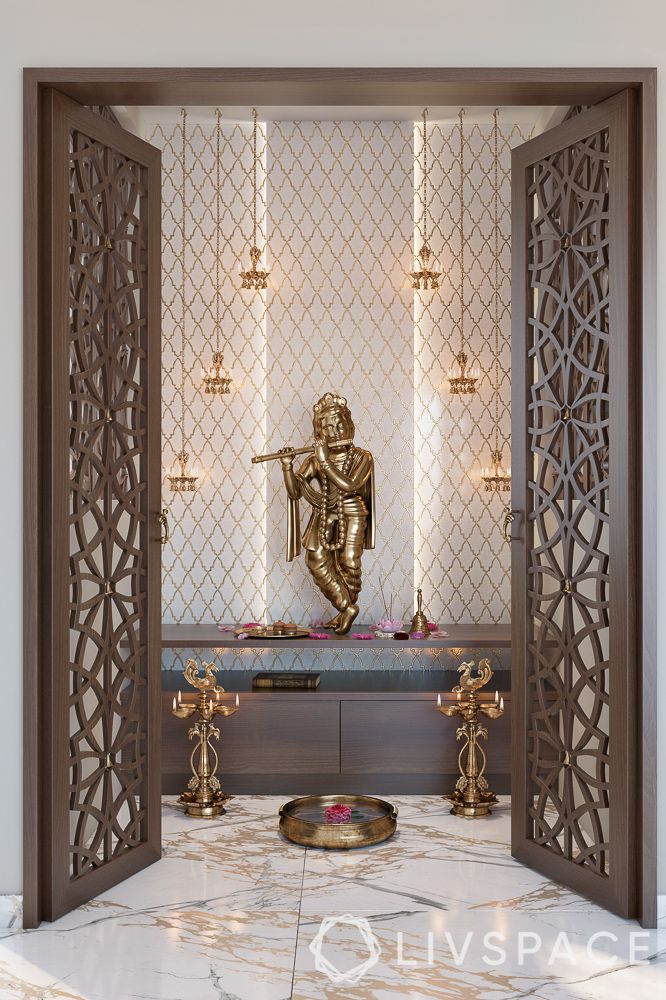 The best thing about this pooja room double door design is that it gives you unique latticework in wood. It complements the white panelling backdrop too.
#8: Go All Traditional with This Double Door Design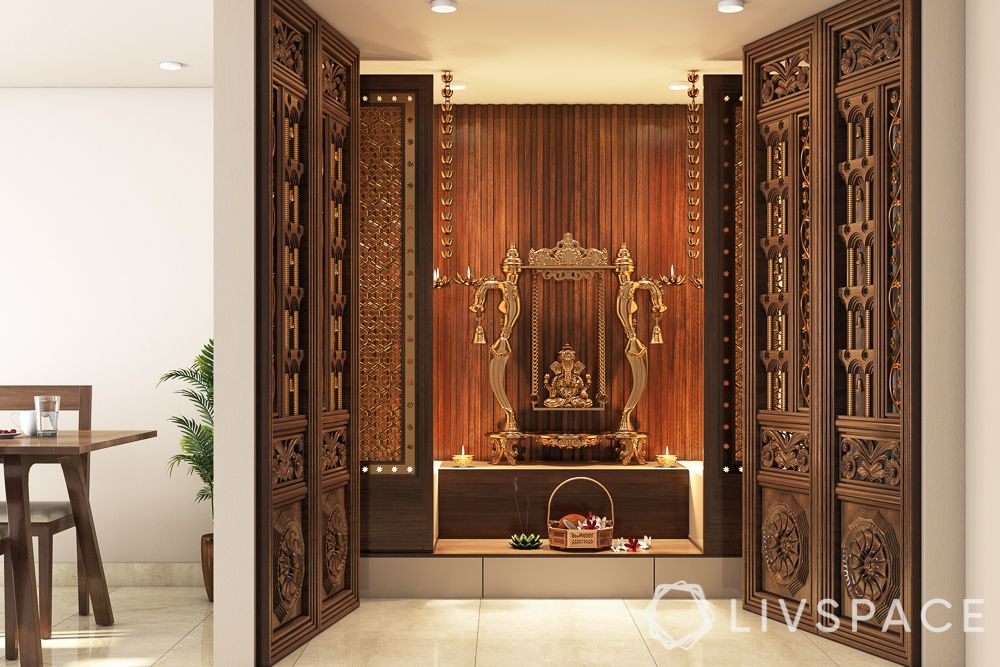 This absolutely stunning pooja double door design will satisfy your craving for a traditional pooja room. This grand door is a show-stopper in itself!
Also Read: 7 Traditional Pooja Mandir Designs That are Perfect for Indian Homes
#9: Opt for a Reeded-Glass Pooja Room Double Door Design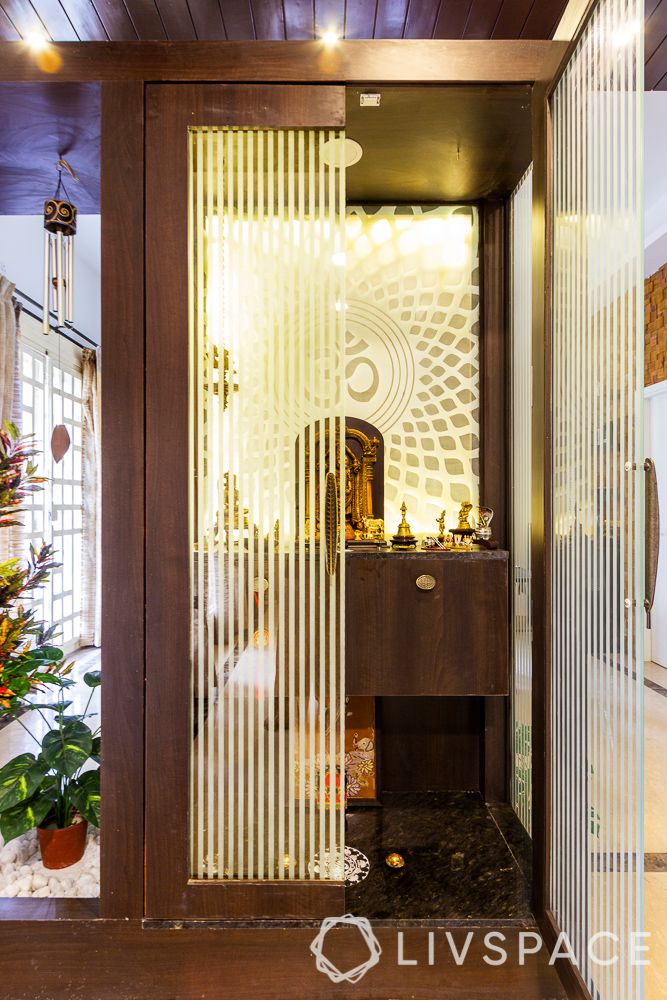 Reeded glass for pooja room design is chic and trendy. Instead of the normal glass variety, upgrade to designs like this one to add an element of privacy to your mandir.   
#10: Customise Your Double Door Pooja Room Design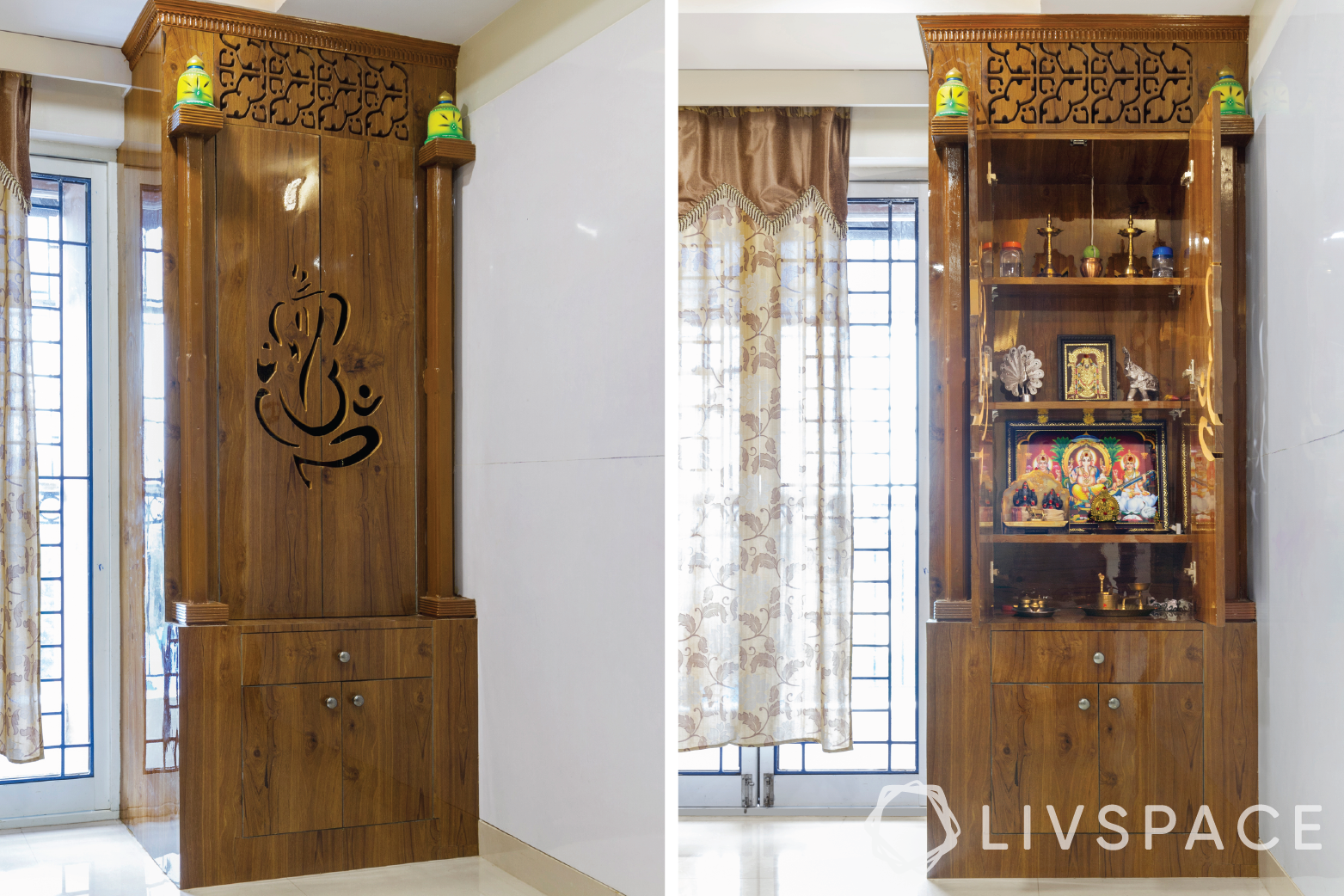 Get a custom pooja room door design to fit your needs. The design of this door  certainly radiates divine vibes, we say!
#11: Cut Detailing in CNC Plywood as Pooja Double Door Design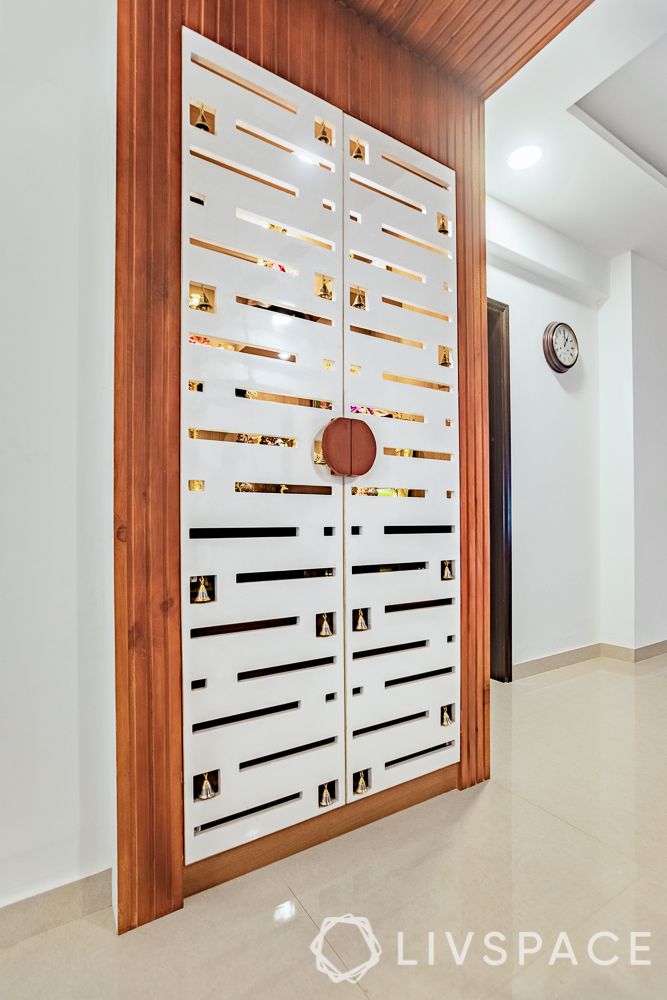 This CNC plywood with cut detailing in the door is all about modernity. It also has tiny bells to maintain a vastu-friendly look. 
We hope you were inspired by this article. If you want more guidance for your mandir  read You'll Wish You Knew All This Before Choosing Your Home Temple Design.
How Can Livspace Help You?
We hope you found our ideas useful! If you want your home to be just as beautiful, then look no further. Book an online consultation with Livspace today. Delivering safe home interiors has been our No. 1 priority. Click here to find out how interiors are being delivered following all safety protocols.