Most of us have several fond memories from visiting our grandmothers' homes in our childhood — be it gorging on scrumptious snacks or playing with our cousins. But apart from these facets of going to your grandma's, you must also remember the grand pooja room with all its samagri. In our modern apartments, there is absolutely no space for a big and separate pooja room. As such, most homeowners now opt for a compact pooja unit design that they can fit in their living room or bedroom. In one of our previous articles, we showed you 25+ mandir designs that will look amazing in your living room. Today, we are here with pooja unit designs that will be the perfect fit for your bedroom.
#1: Carved Wooden Design With Storage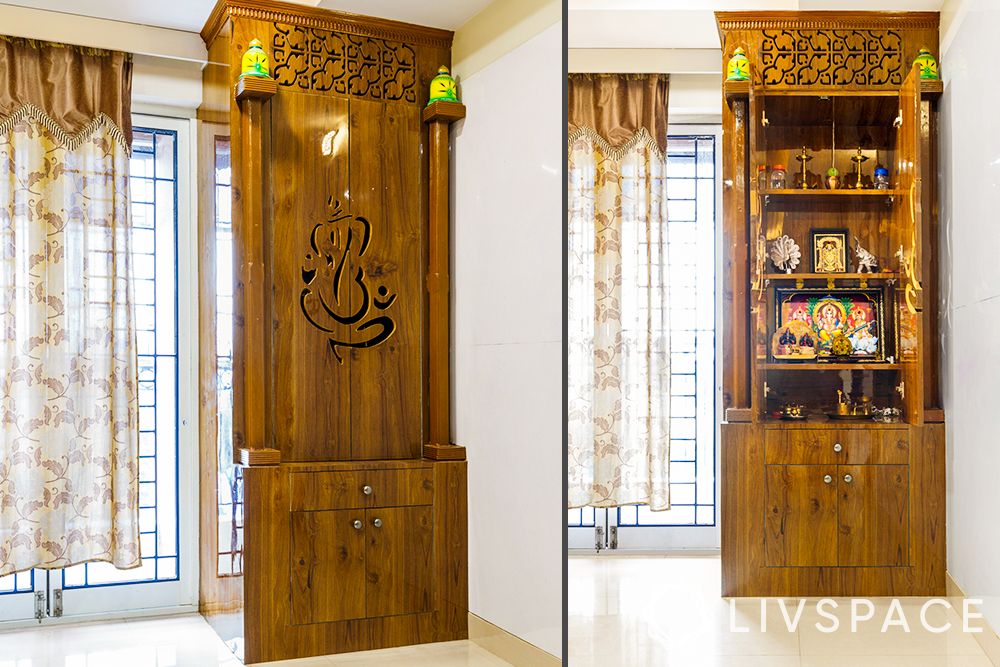 If you do not have the time to clean every day, consider opting for a modular pooja unit design with doors. This will keep the inside clean from dust. This mandir stands out for the Ganesha carving on the doors, which gives it a unique look.
#2: One That Fits Into a Niche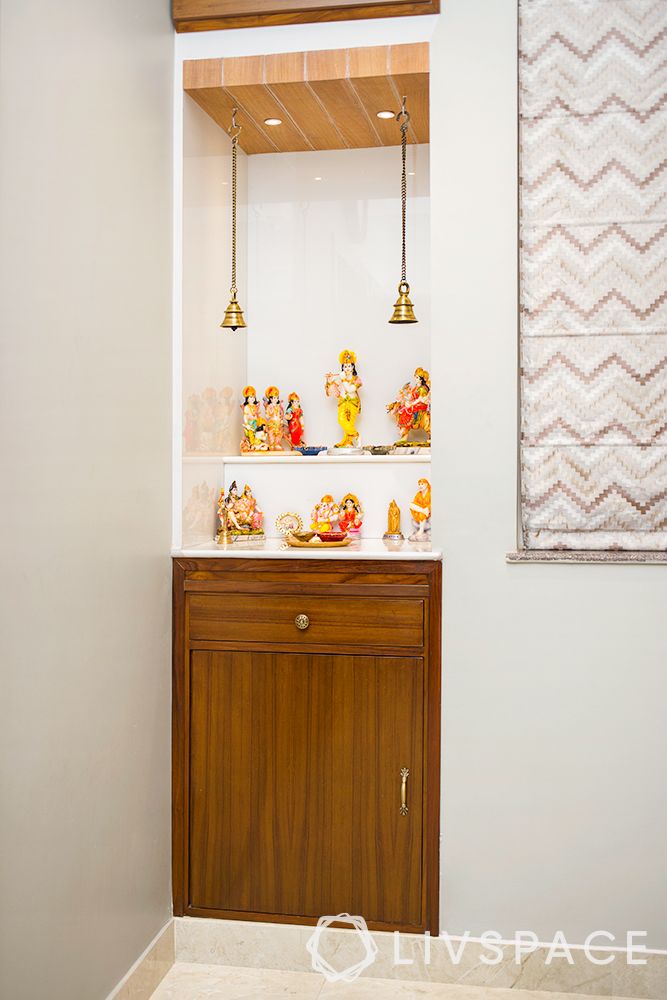 Space constraints can steal the joy out of decorating your home! If you have a niche in your bedroom (or you can ask your designer to create one by doing some civil changes), use that space to fit in a small and simple pooja unit design.
#3: A Multifunctional Pooja Unit Design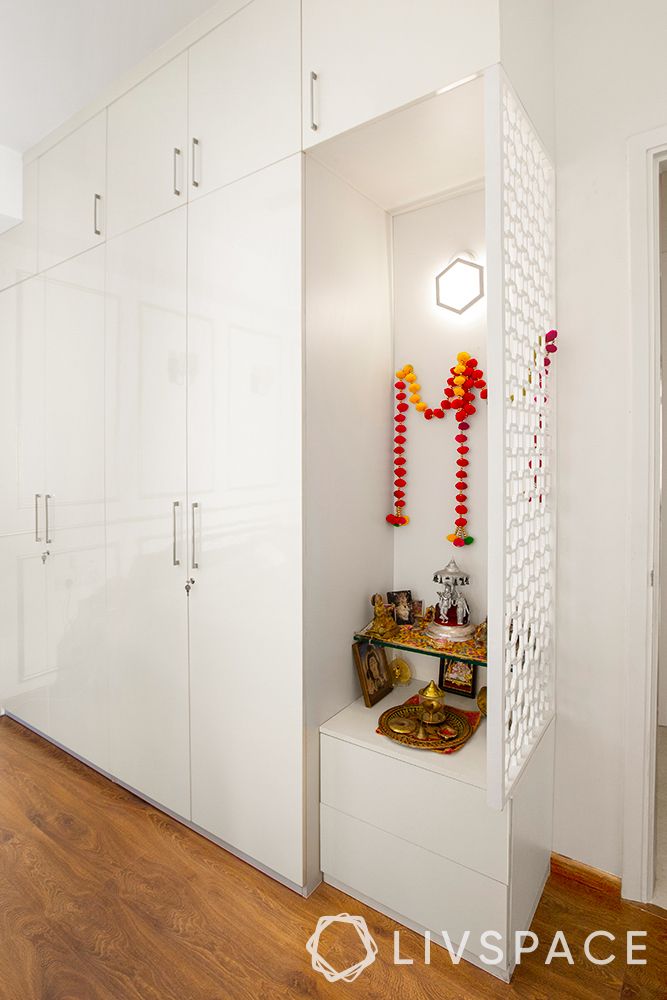 It's not necessary that you need to buy a separate mandir for your bedroom. You can use your existing furniture to save space. For instance, in this home, our designer used the third section of this 3-door wardrobe as a pooja unit.
#4: Curved Arches for Divine Intervention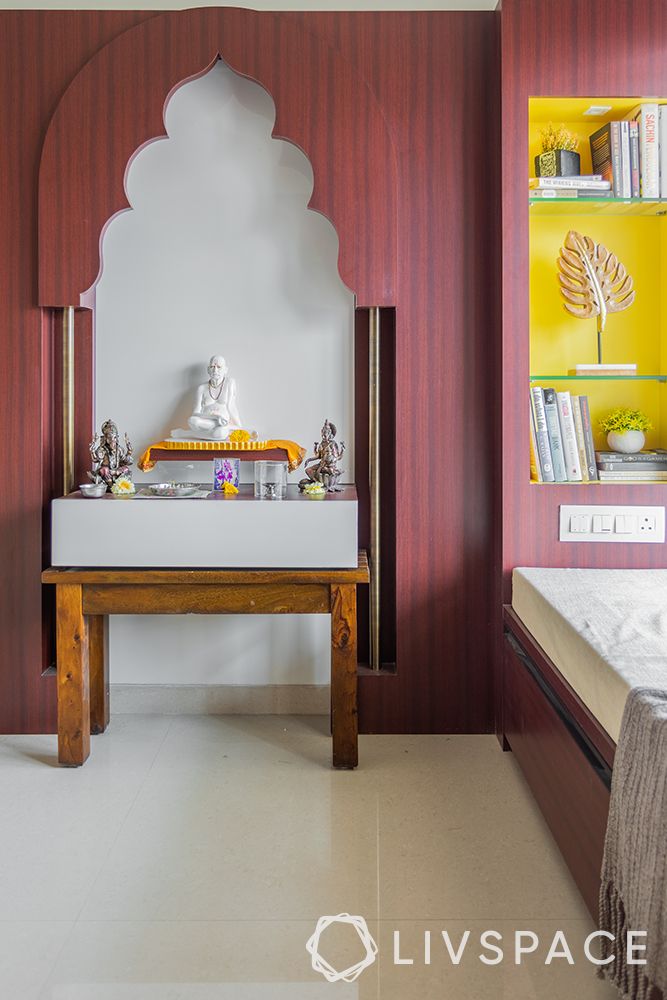 If you look at the temples in India, almost all have gopura-shaped roofs, as these are said to harness positive energies. In a compact apartment, when there is no space for an individual gopura-shaped mandir, the next best alternative is to create arches that resemble gopuras in the wall behind your pooja unit design. This will keep the look minimal while also being vastu-approved.
#5: A Simple Pooja Unit Design in White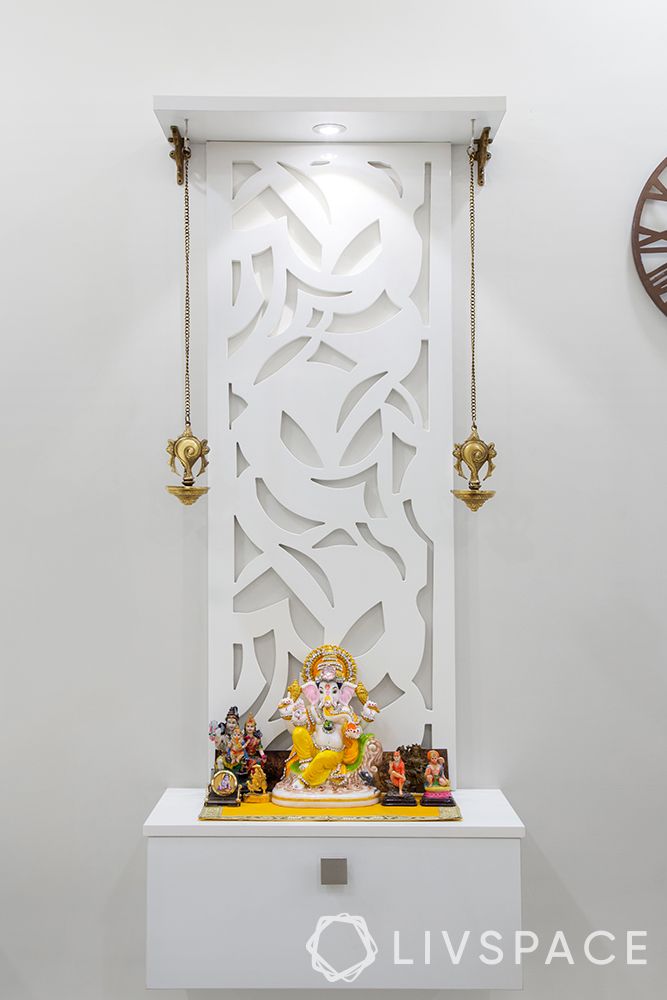 White is the colour of positivity and purity. Modern pooja unit designs in white not only look pristine and beautiful but also blend in with the interiors of your home, irrespective of colour theme or design style. If you are opting for a white mandir unit, add metal bells and lamps to elevate the look.
#6: When Space is a Constraint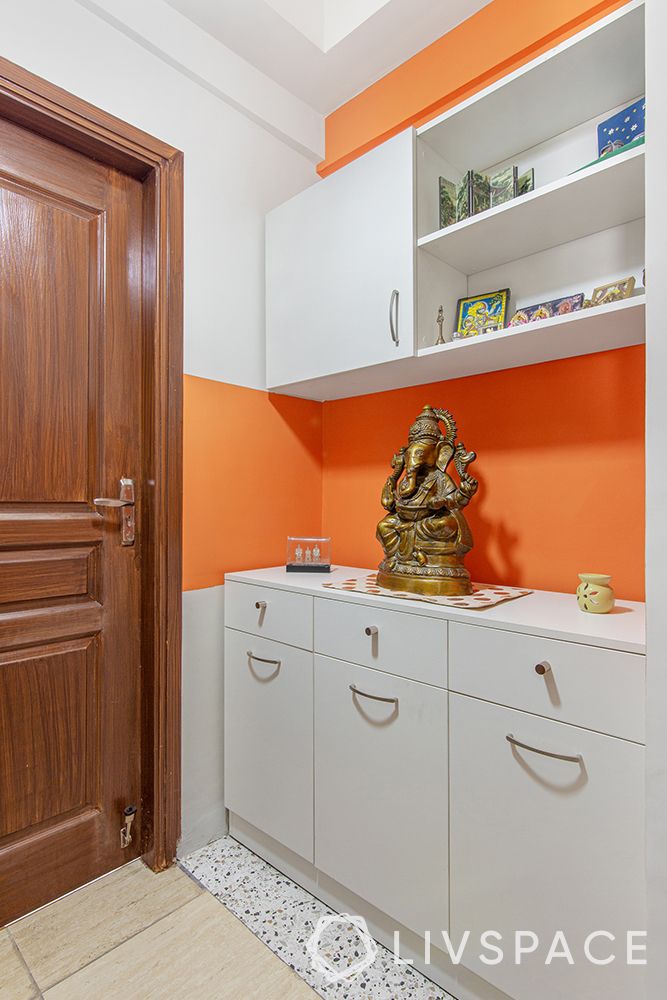 Space, or the lack of it, is the main problem that most homeowners living in urban cities face. If you have a large piece of furniture in your bedroom, like a study or TV unit, clear out some space on the unit to keep your idols and other pooja samagri.
#7: A Jaali Adds a Magical Touch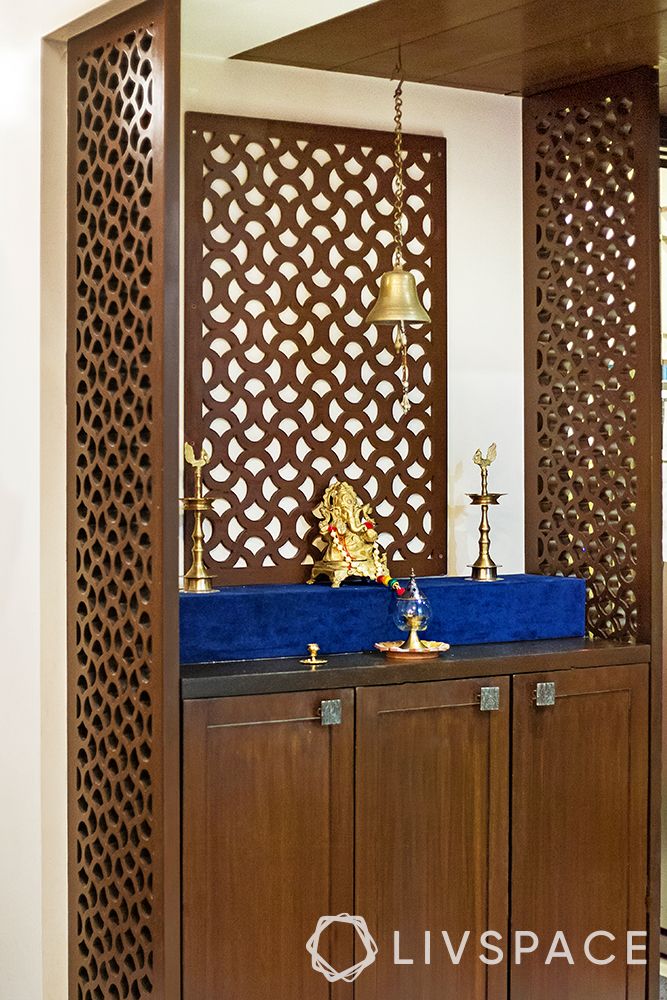 A jaali provides that quintessential ethnic look that is so popular in simple pooja unit designs. Moreover, jaali panels are quite cost-effective. So, if you want a stunning mandir unit with your bedroom that does not take up too much space and is low-cost, opt for some jaali panels.
#8: A Mandir That Boasts a Smart Design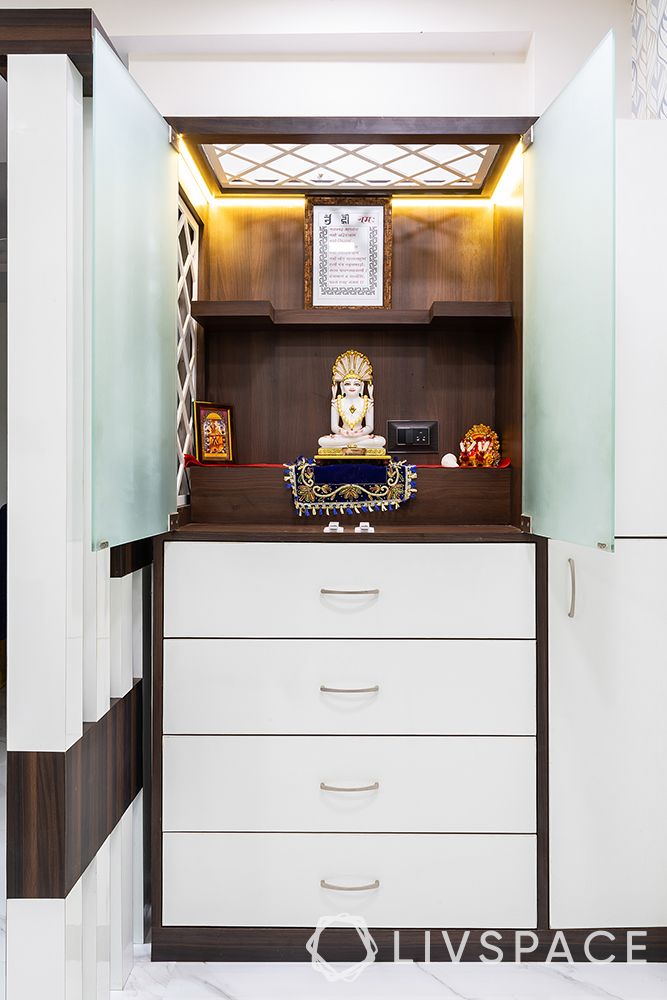 At first glance, this pooja unit design looks like every other mandir at home. However, the genius of this unit lies in the jaali on the sides and top, which allows the fumes of the akhandjyoth to escape and not get trapped in the interiors.
#9: A Bold Wall-mounted Pooja Unit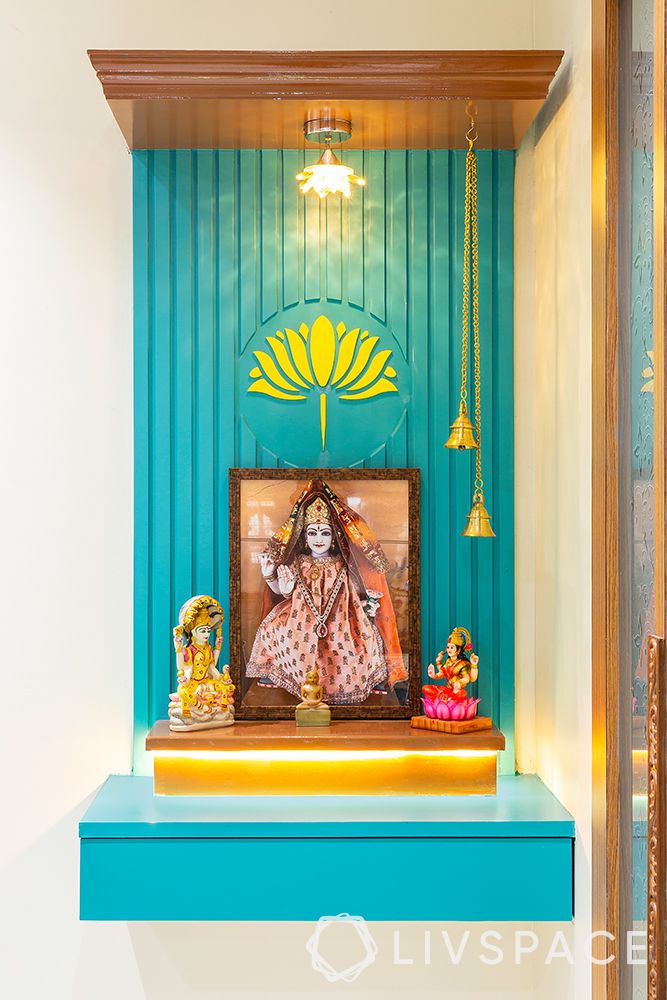 Who doesn't love a pop of colour in their space? The bright turquoise blue of this pooja unit makes it stand out. If your bedroom is done up in neutral shades, you can choose a mandir in a bright colour like this one to amp up the look of the room.
#10: Stunning Backlighting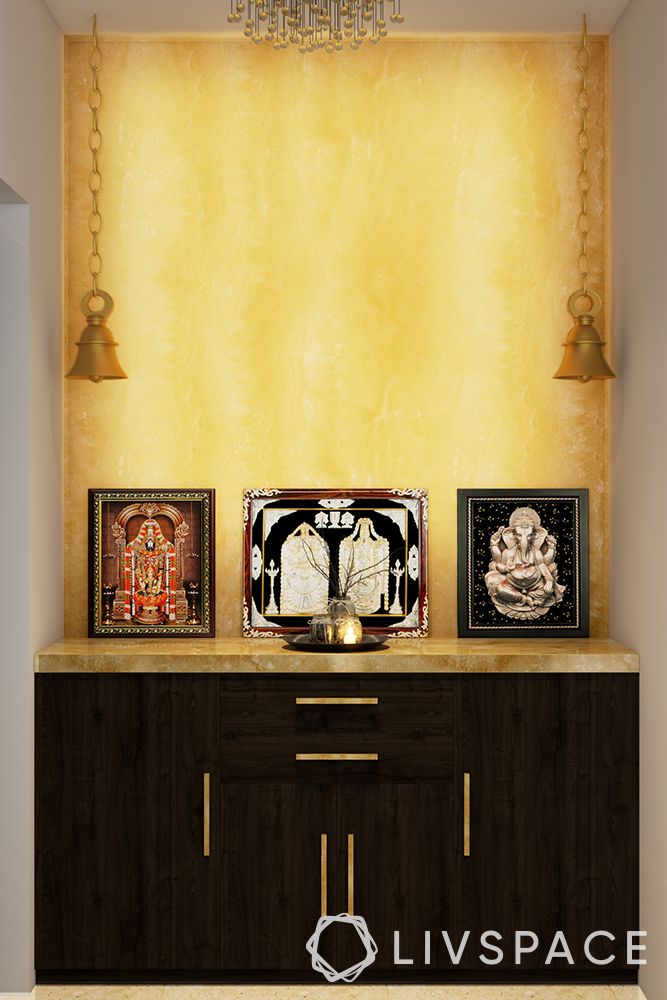 If you're someone with a penchant for more understated aesthetics, you can opt for a simple pooja unit design with backlighting. This allows a glamorous look without going overboard. To further enhance the design, get a small but stunning chandelier above the mandir unit.
#11: The Quintessential Wooden Mandir Unit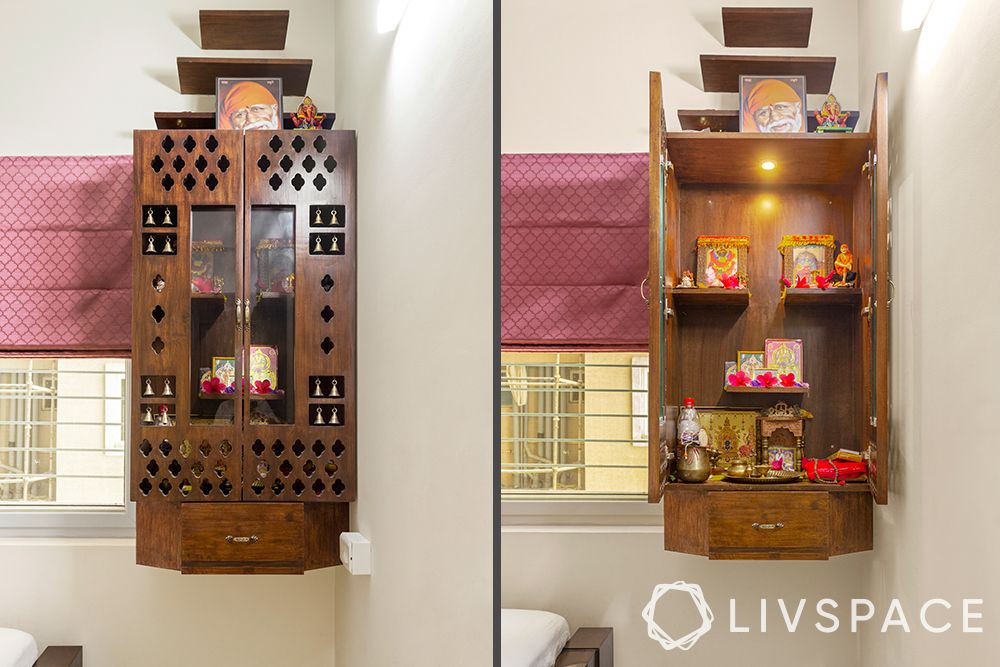 You can never go wrong with wood! Wooden pooja unit designs, despite being traditional, are still quite popular amongst homeowners. We love the peekaboo design of this mandir unit, which does not reveal everything inside. If space is a concern, choose a wall-mounted wooden mandir design.
#12: A Peppy Laser-cut Back Panel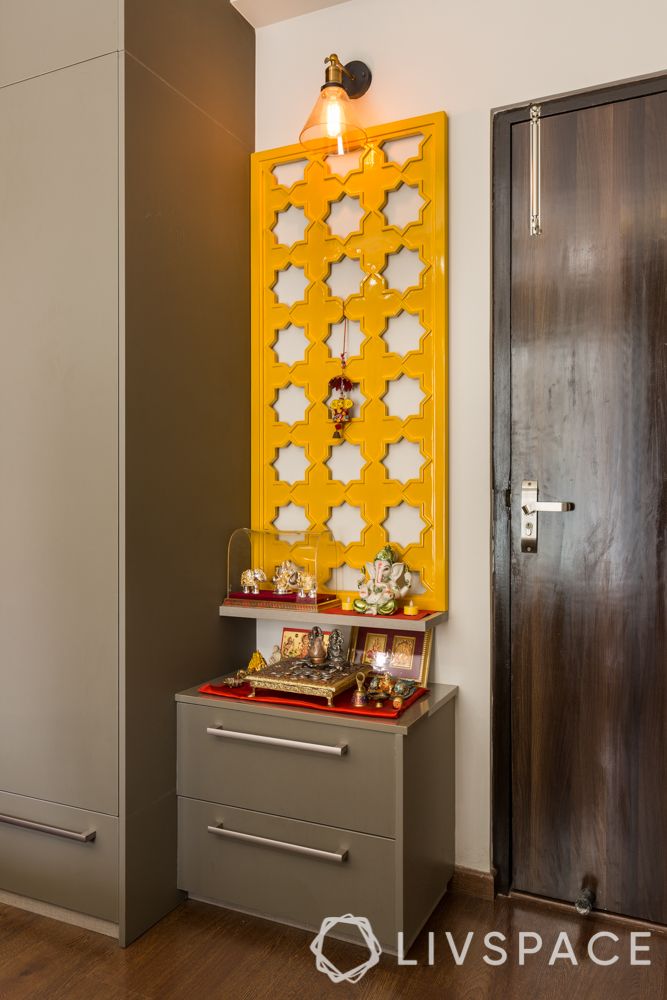 A smart way to have a mandir without taking up extra space is to use any small storage unit/table that is already there in your bedroom. While you can always keep it simple, adding a laser-cut panel in a colour of your choice will only make the pooja unit look so much better! Don't forget to add some lights!
#13: A Modern Design With a Unique Door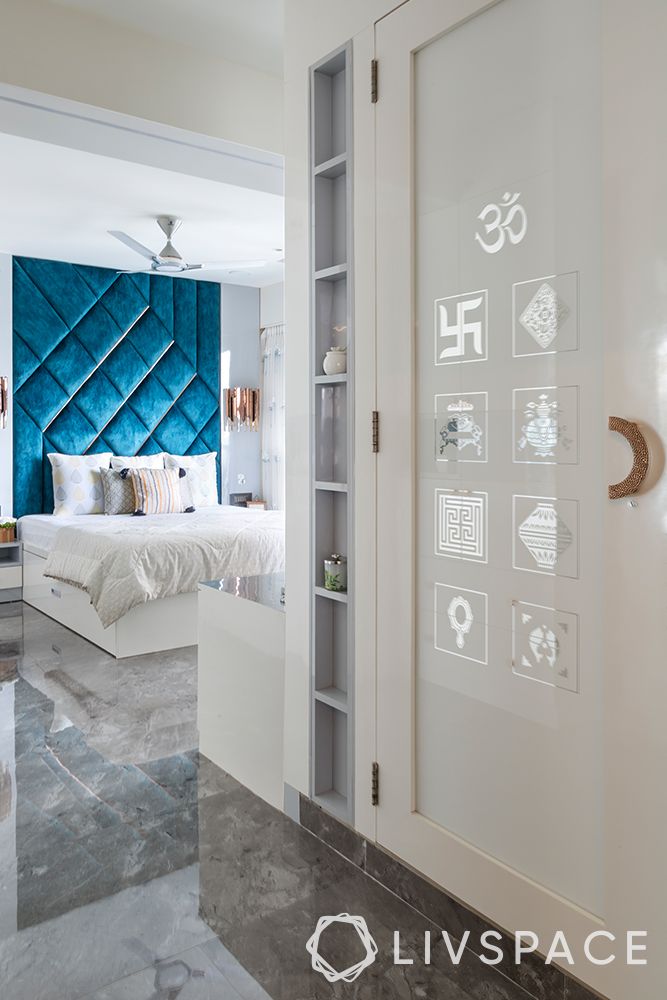 Even today, most simple pooja unit designs look quite traditional. This creates a problem when homeowners want a unit that matches the contemporary decor of their modern apartments. The solution is a hidden pooja unit design like this one. In this unit, the door with the unique backlighting is the highlight.
#14: When There is no Space Inside the Bedroom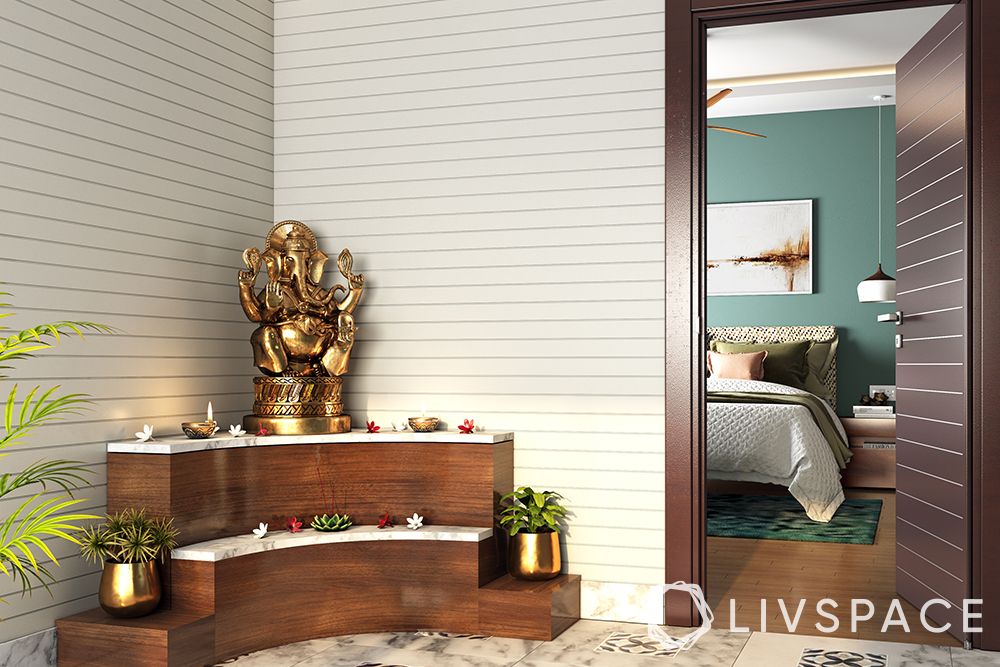 We know we said that this article is about pooja unit designs for your bedroom. But not all of us have any space left in our bedroom for another piece of furniture. In such a case, use the dead space outside your bedroom door for a mandir unit. Whether you want a small unit or a big and grand one will depend upon the amount of space available and your budget.
#15: For the Minimalists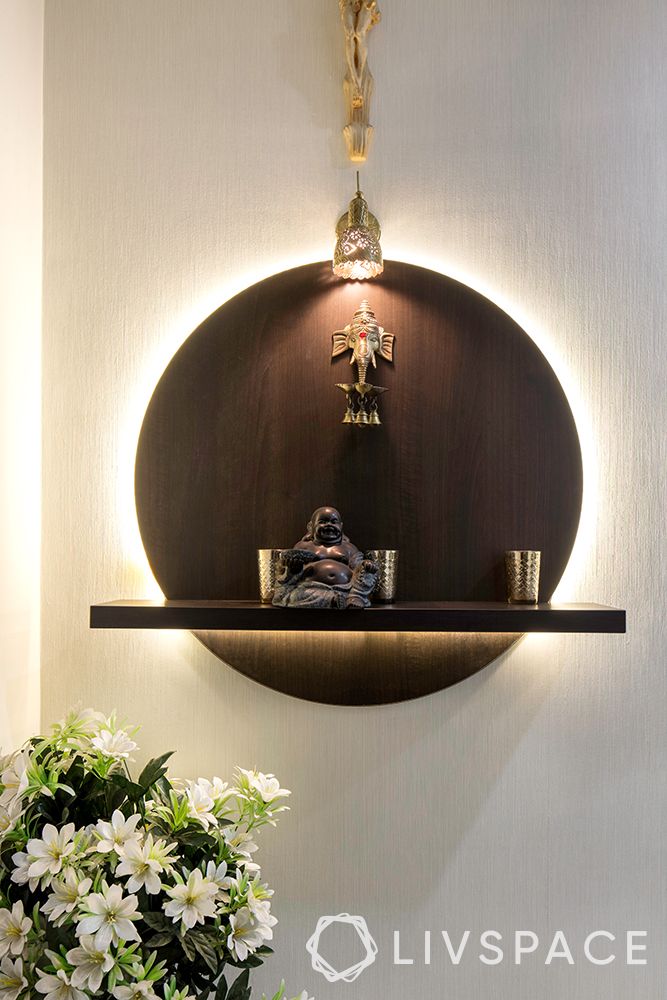 Minimalism is the design style that will be trending in 2022. So, your pooja unit design should also follow minimalist aesthetics. All you need for a minimal mandir is a sleek shelf, some statement lights and a simple back panel to tie up the look.
We hope these simple pooja unit designs for your bedroom have inspired you. If you want to look at more pooja rooms, here are the best designs from 2021.
Check out pooja unit designs:
How Can Livspace Help You?
We hope you found our ideas useful! If you want beautiful interiors for your home, then look no further. Book an online consultation with Livspace today. Delivering safe home interiors has been our No. 1 priority. Click here to find out how interiors are being delivered following all safety protocols.
Wondering how our customers feel about working with Livspace? You can check out the Livspace reviews here!
We love hearing from you! Write to us with your comments and suggestions at editor@livspace.com