When you think about your dream pooja room, what do you see? Do you immediately picture intricately carved mandir doors and a stream of incense wafting through a wooden jali? Or do you see modern pooja room door designs with glass? However you picture it, we've got a wide range of options to help you pick your favourite. We've put together a list of beautiful pooja room glass door design styles that are perfect for your Indian home.
Read on to know which glass door for pooja rooms might work best for your interiors.
Pooja Room Glass Door Design Ideas to Elevate Your Home
Whether you live in a compact or spacious home, you shouldn't have to compromise on your pooja room design. Here are a few great examples of pooja room designs you can use in your home:
#1: Enclosed Glass Doors for the Pooja Room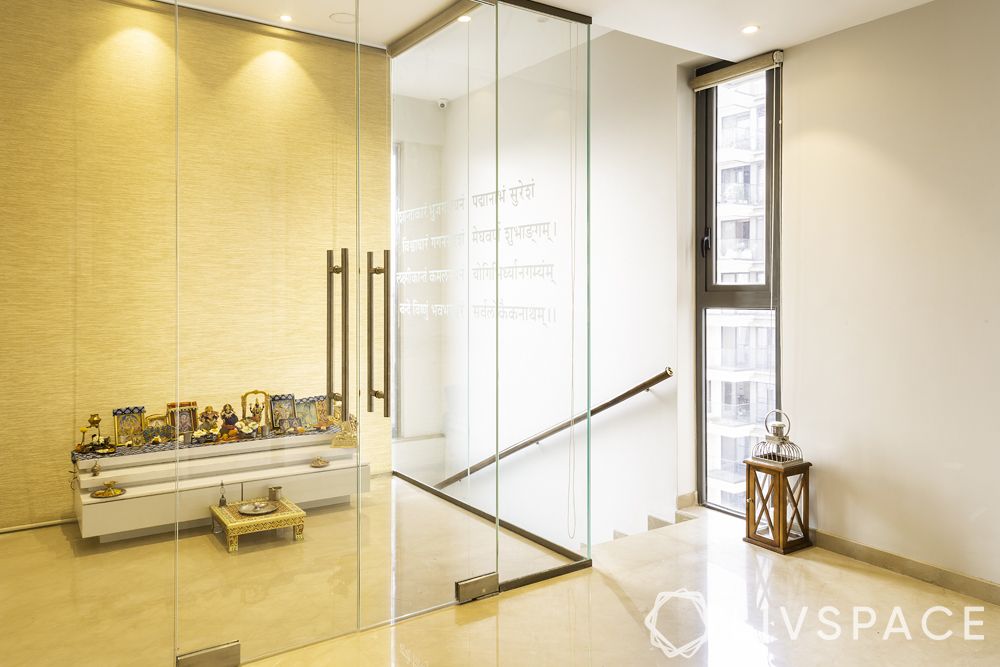 A simple way to design your pooja room is to go for a full glass door. With this design, you have a full view of your altar while also giving it an area of its own. It also gives you sufficient space to pray and meditate privately or as a family. This pooja room glass door design works great for homes that like to keep things simple.
#2: Compact Glass Door Designs for the Pooja Room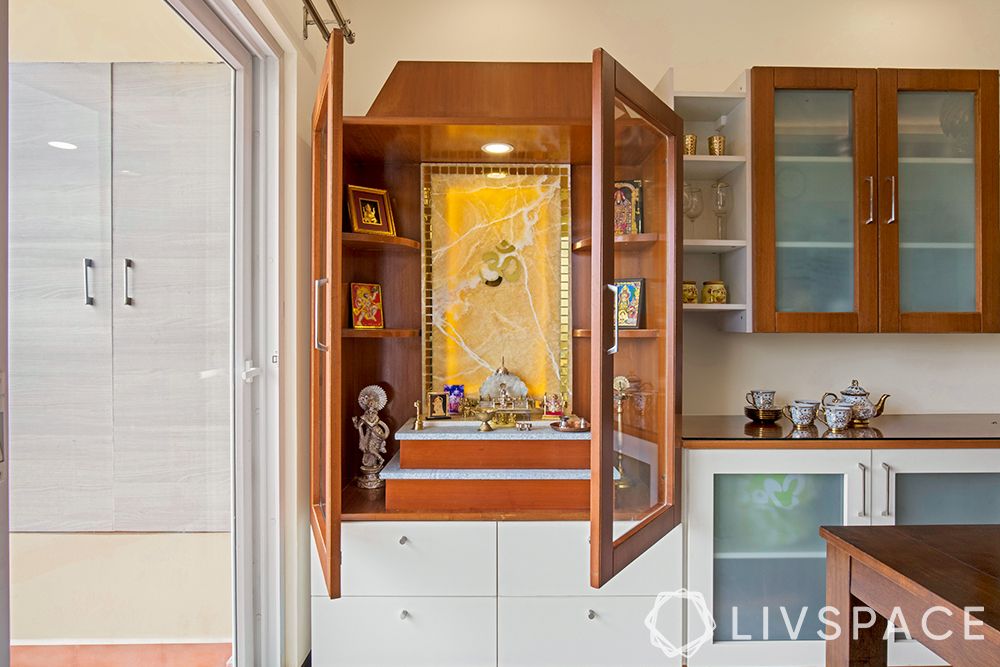 Not every pooja room needs to be spacious or grand. If you have a compact home with no dedicated space for a mandir, you can still work with whatever space you have. Go for a simple pooja room glass door design with wooden frames for a minimal look. The pairing of wood and glass blends beautifully with the rest of the room, doubling up as a divine showcase.
#3: Custom-Print Glass Door Design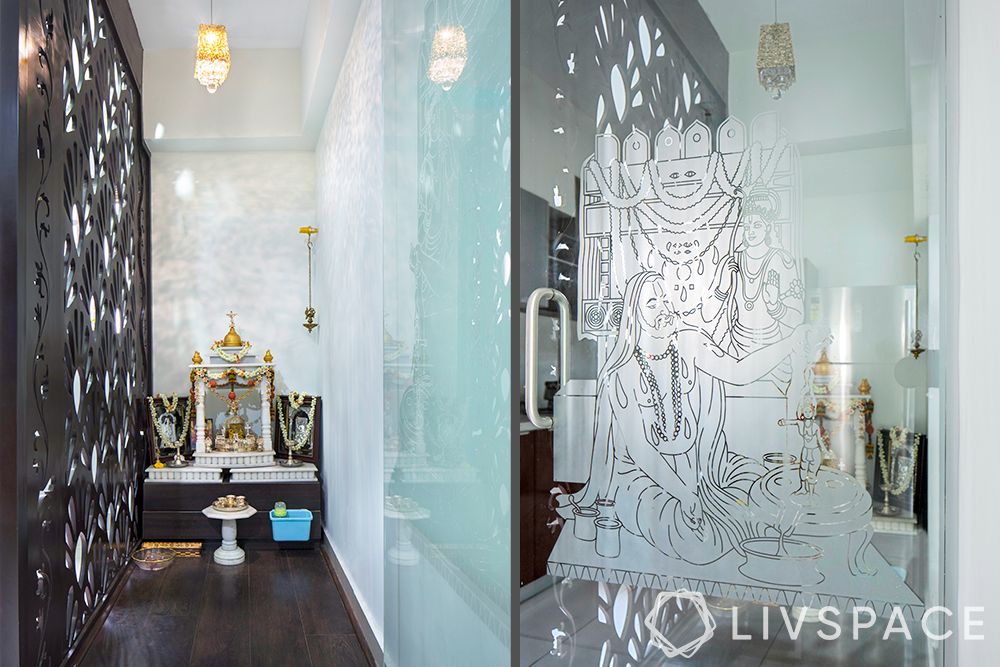 The beauty of using a glass door for your pooja room is that you have the freedom to customise it. Add a personal touch to your pooja room with a custom print of your preferred deity. This single glass door paired with a decorative wooden jali is a great mix of modern and contemporary design.
#4: Pooja Room Door Designs with Glass and Wood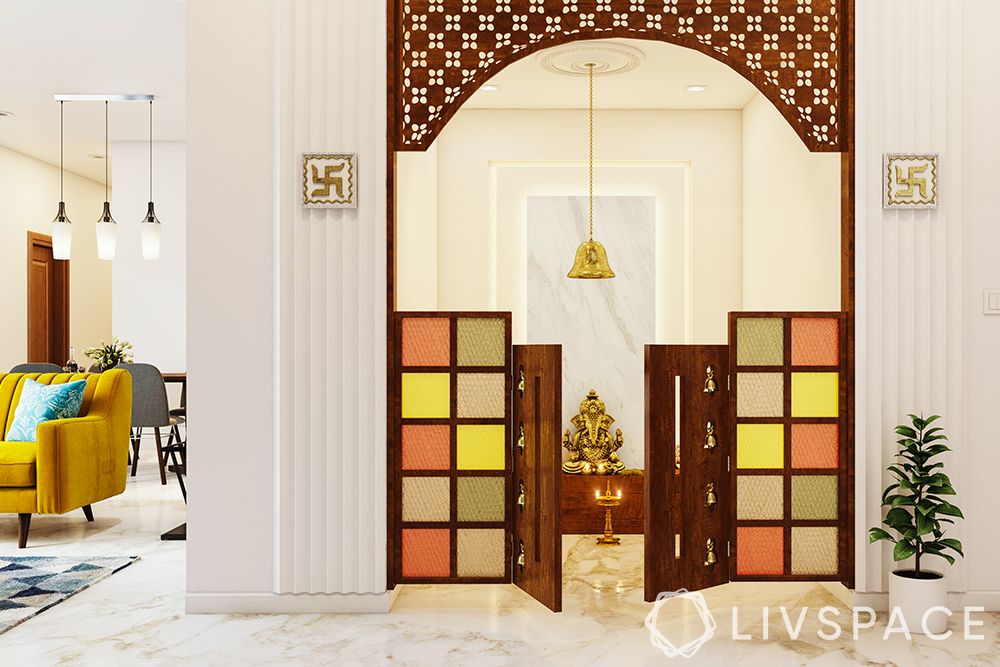 While glass is a great way to bring an element of modernity to your pooja room, you can still do it traditionally. A great example of this is by including stained-glass panels in your mandir door frame. These colourful panels will add some subtle pops of colour to your pooja room!
#5: A Collapsible Glass Door for Private Mandirs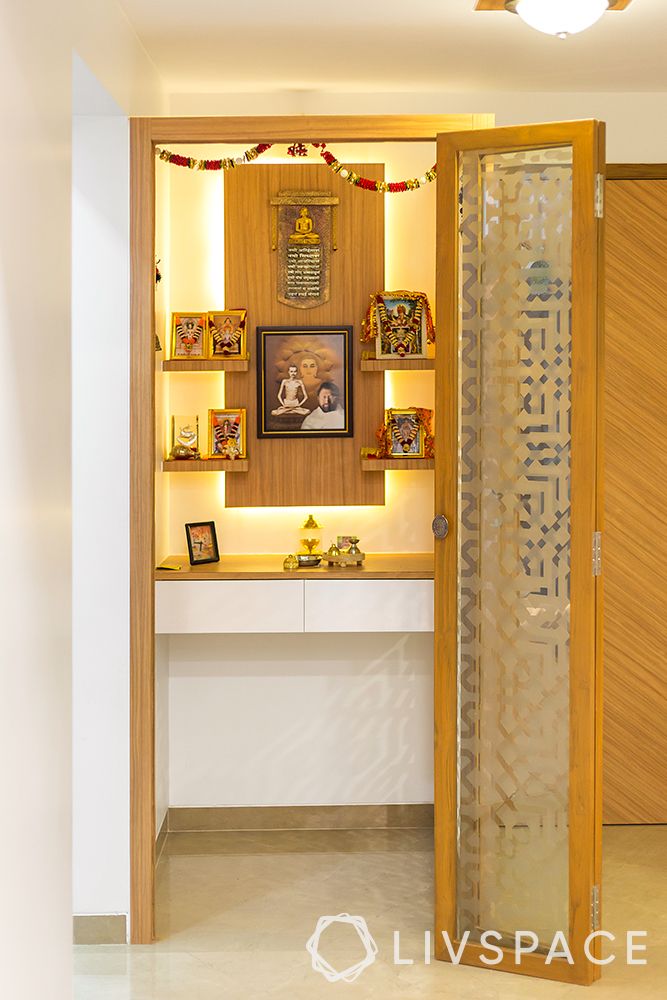 For homes with small and narrow pooja rooms, a collapsible glass door might work best. A simple pooja room glass door design with patterns etched into the glass can help highlight this area. When closed, the design on these panels helps decorate your wall while also concealing the pooja unit behind it. This can help keep it clean and free from dust when the room is not in use.
#6: A Spacious Pooja Room with a Glass Door Design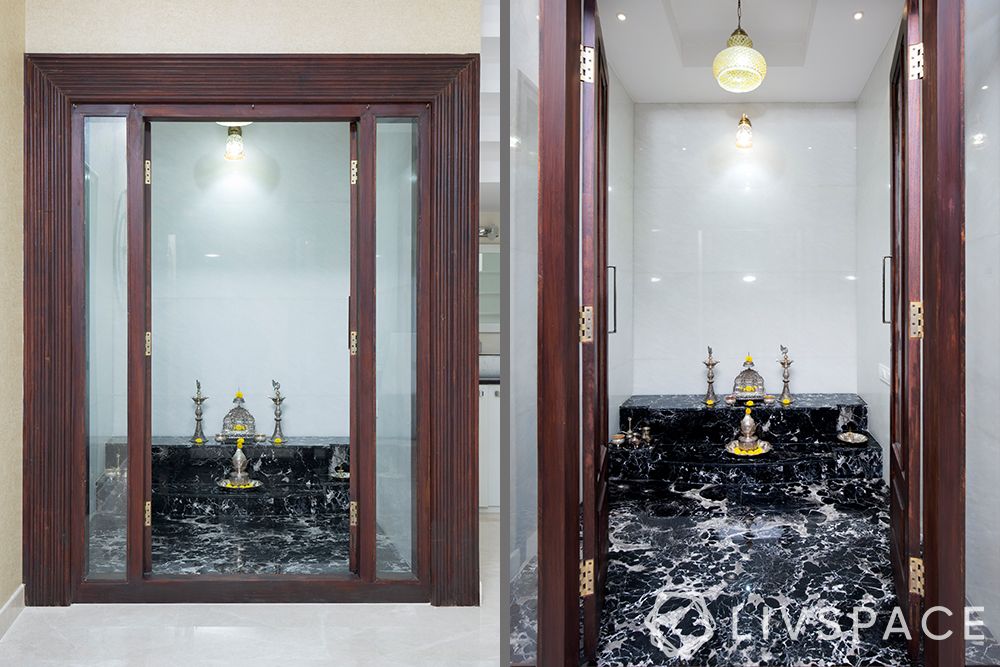 This spacious home features a very simple yet luxurious pooja room. The elegant combination of dark wooden frames with glass panels melds beautifully with the marble flooring here. Shades of white, brown and black topped with silver ornaments on the altar add to the modern aesthetic of this pooja room.
#7: A Custom Opaque Glass Door for Pooja Room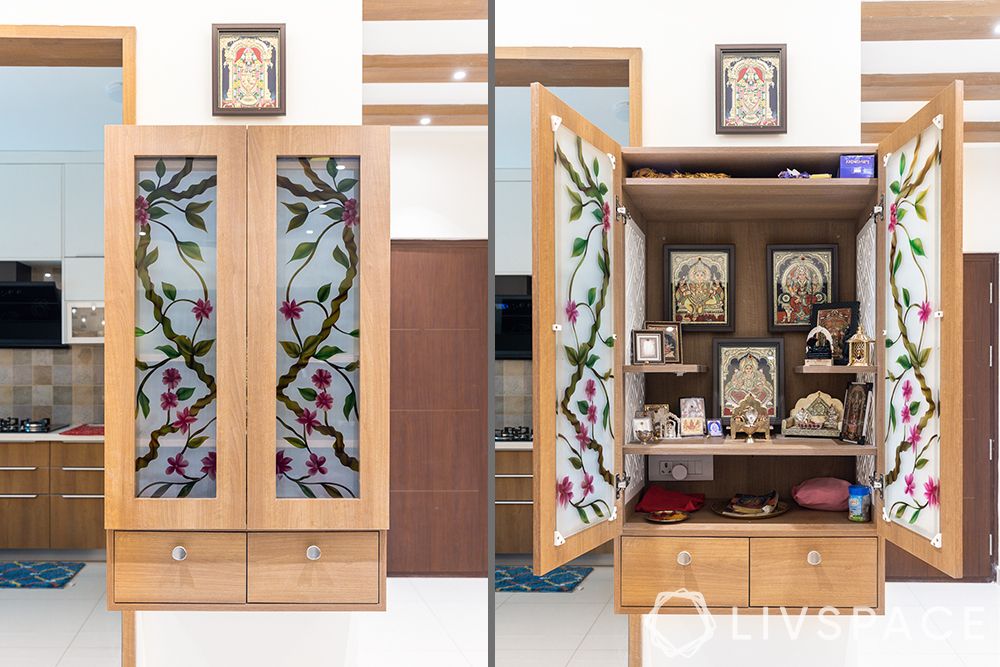 Looking for a pooja room glass door design that doubles as a decorative cabinet? Look no further because this design is for you. Opaque glass panels are a great way to keep your pooja room private. What's more, you can go in for a custom design to add a personal touch to them. The flowering vines on these glass panels are a great option if you prefer a less traditional pooja unit.
#8: Modern Pooja Room Door Designs with Glass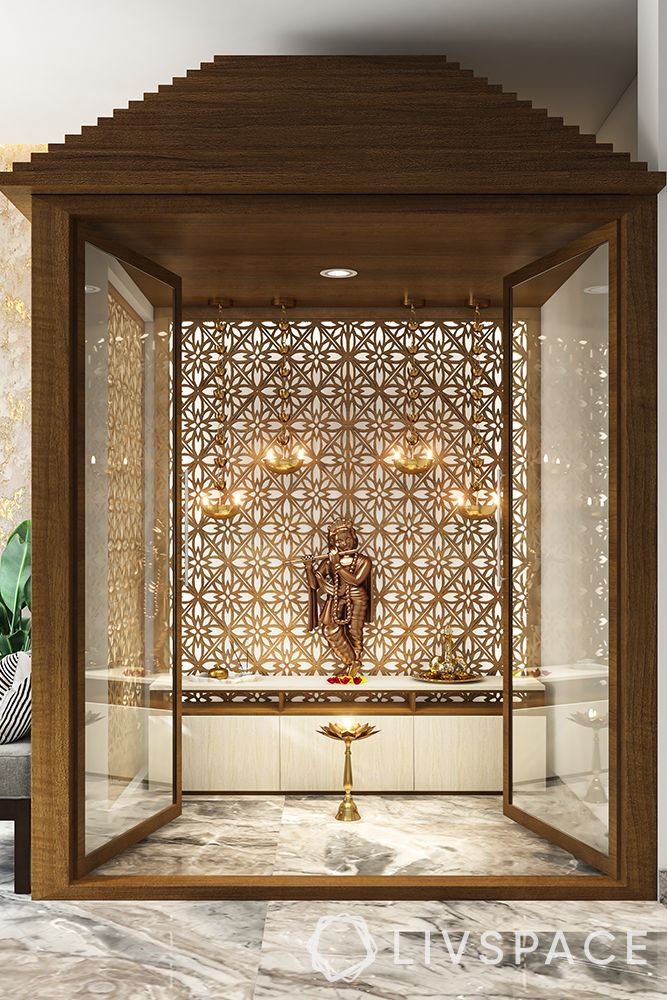 Did you know that pooja rooms with a pyramid-shaped roof are actually better for vastu? Bring positive energy into your home with a pooja room glass door design that features this roof. The mix of intricately patterned jali, wood and glass makes this design a great option for modern interiors.
Also read: Expert Tips to Avoid Making Pooja Room Design Mistakes
#9: A Reeded Glass Door for the Pooja Room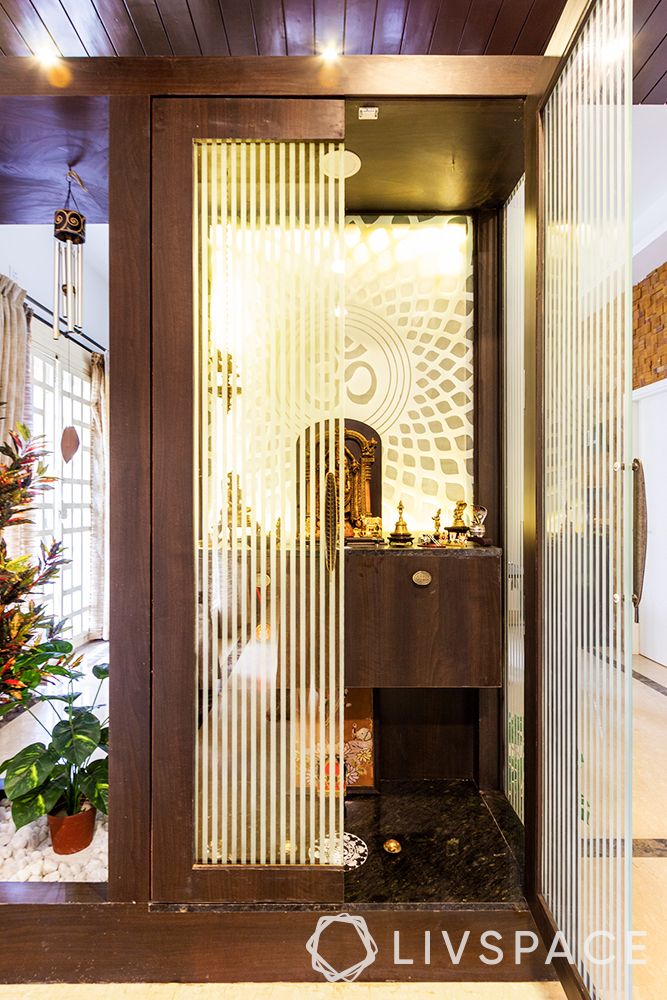 Another helpful option for private pooja rooms is a reeded pooja room glass door design. Since this design helps conceal your altar, it is best suited for common areas. If your pooja room is situated in your living room, this design is ideal if you want to keep the area private and hidden away.
#10: A Pooja Room with Carved Wood and Glass Design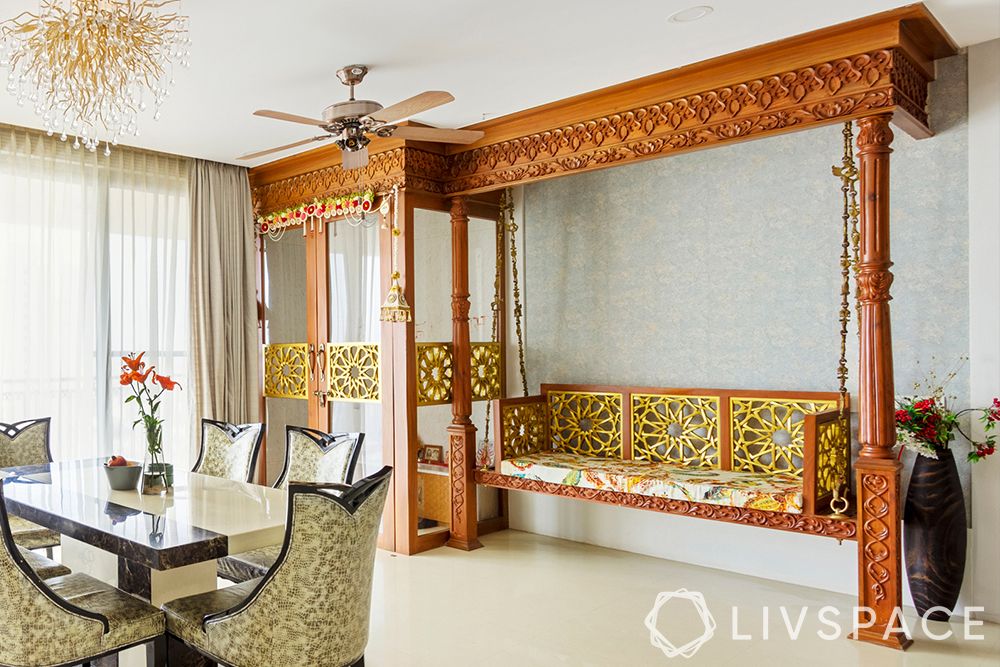 Nothing says traditional design like carved wood furniture! Add a little glass to the mix and you can create something contemporary. Here, this pooja room is encased in a booth made of carved wood and fitted with glass panels. The subtle balance between glass and wood enmeshes traditional and modern design in the best way. This pooja room glass door design is surely fit for modern royalty.
#11: Frosted-Glass Doors for Concealed Pooja Rooms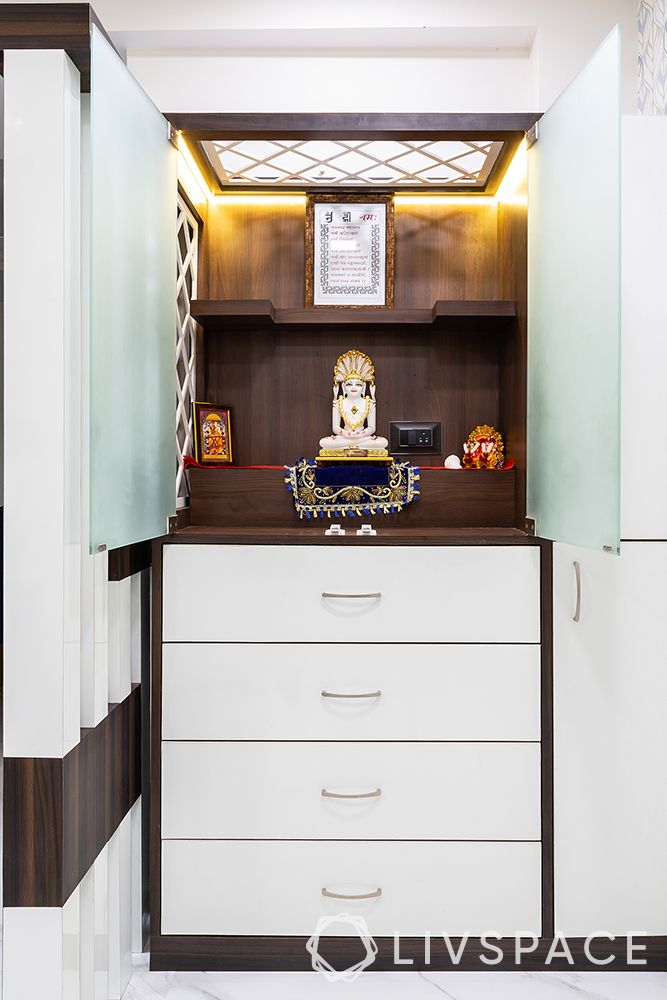 Compact spaces might benefit the most from frosted-glass pooja room doors. If your pooja unit is placed in a common area, frosted glass is a great alternative to wooden doors. This helps conceal your pooja unit while also bringing an element of contemporary design to your space. These doors offer a versatility in design that is especially great for modern homes!
#12: Contemporary Open-Door Pooja Room Design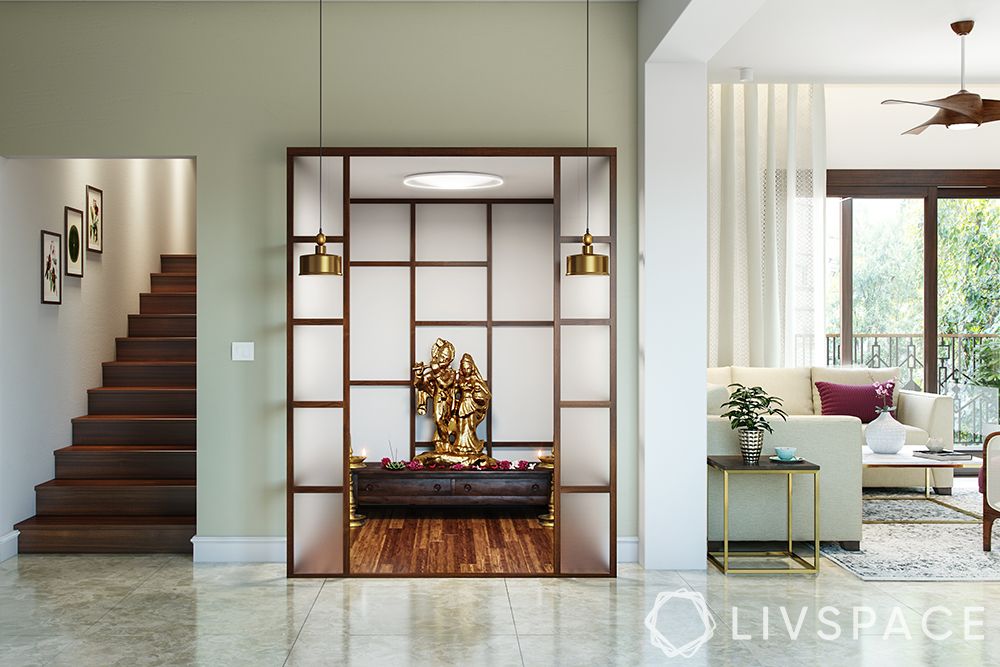 Pooja rooms don't always have to be a private space in our homes; sometimes they can even be visual art. To do this, you can bring your pooja room into a common area and use it as a modern design statement. This open-concept pooja room glass door design pairs frosted-glass panels with a wooden grid, lending a contemporary look to the space.
#13: A Wood-and-Glass Partition for Open-Concept Pooja Rooms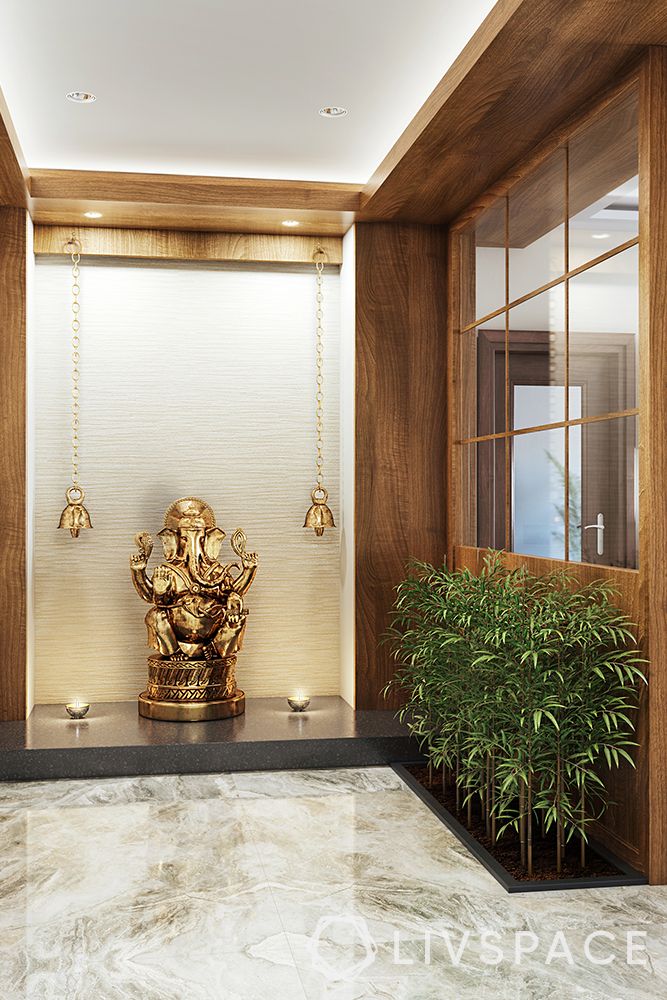 Want a pooja room but don't have a designated space for it? Not to worry; just add a partition wall to any segment of your living room and make one! An open-concept pooja room can be a great addition to your interiors regardless of your design style. By including a simple wooden partition wall with glass panels, you can create a cosy nook for your prayers.
Also read: No Dedicated Pooja Room? Here Are Expert Solutions
Check out pooja room designs:
How Can Livspace Help You?
We hope you found our ideas useful! If you want beautiful interiors for your home, then look no further. Book an online consultation with Livspace today. Delivering safe home interiors has been our No. 1 priority. Click here to find out how interiors are being delivered following all safety protocols.