When drawing up a list of materials to design or renovate a pooja room, chances are that glass doesn't show up too high on the list. However, the transparent material (or opaque counterparts) is quite versatile when used to decorate or entirely construct pooja room door designs with glass. It lets in sunlight and creates a secluded space without using opaque materials. It's also workable with stained glass designs that add a bit more colour to the pooja room. Here are some ways to use glass in pooja rooms:
Glass Pooja Rooms Idea #1: Pooja Room Door Designs with Glass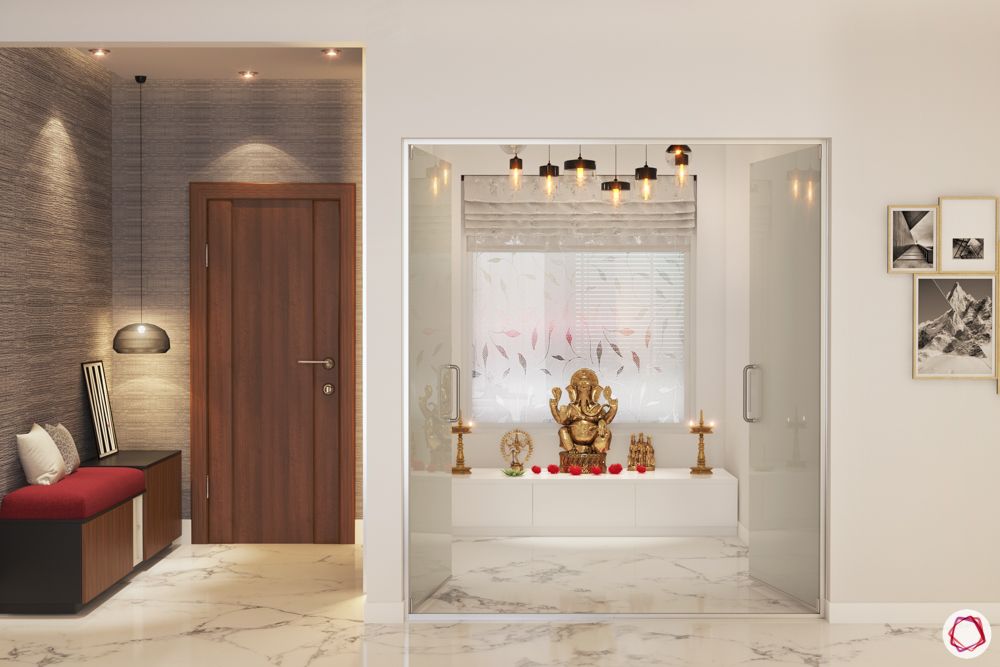 Pooja rooms are essentially private spaces meant for meditation, reflection and time spent in prayer. Therefore, privacy is important, but shouldn't be at the risk of compromising ambient sunlight or turning it into a cloistered space. Pooja room door designs with glass effectively nix this problem– they let in ambient sunlight (or artificial light from surrounding areas) while also functioning as a task-oriented space.
Glass Pooja Rooms Idea #2: Glass as Partition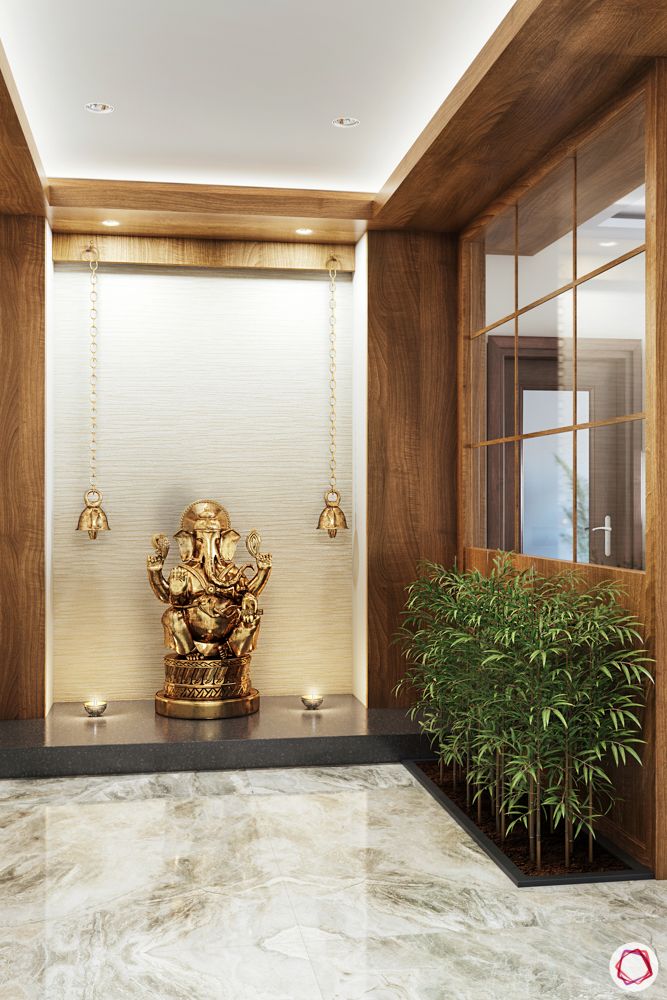 Home-owners may not want complete pooja room door designs with glass in homes. However, there's a way around that– using glass partitions to create the illusion of a separate space without actually cutting it off from the rest of the living or dining space. Ideally, you can fold some partitions away in case of larger family gatherings but, even when closed, show off the pooja room interiors quite nicely.
Glass Pooja Rooms Idea #3: A Glass Backdrop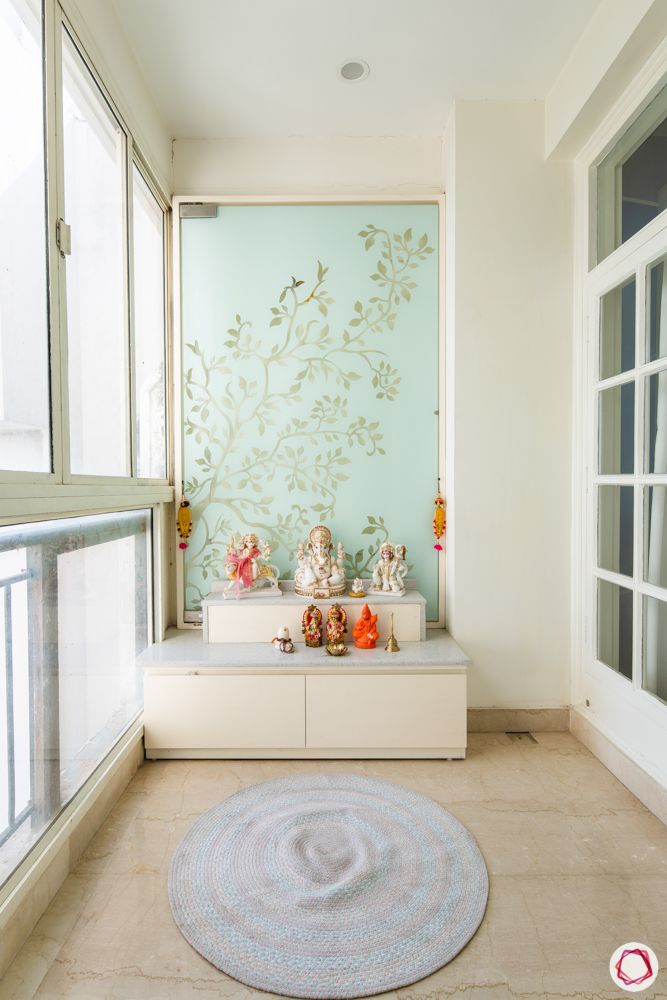 Glass also makes great enclosures that effectively divide space while also keeping your well-designed pooja room on display. But, if you are sceptical about that, then you can opt for a lovely cut-glass panel as a background. The benefit of using glass panels on the background is that it makes this space stand-out. This is something pooja room door designs with glass can't boast of. It's also a clever idea for everyone who wants to use glass in their pooja rooms but not go overboard with it.
Glass Pooja Rooms Idea #4: Frosted Glass Panels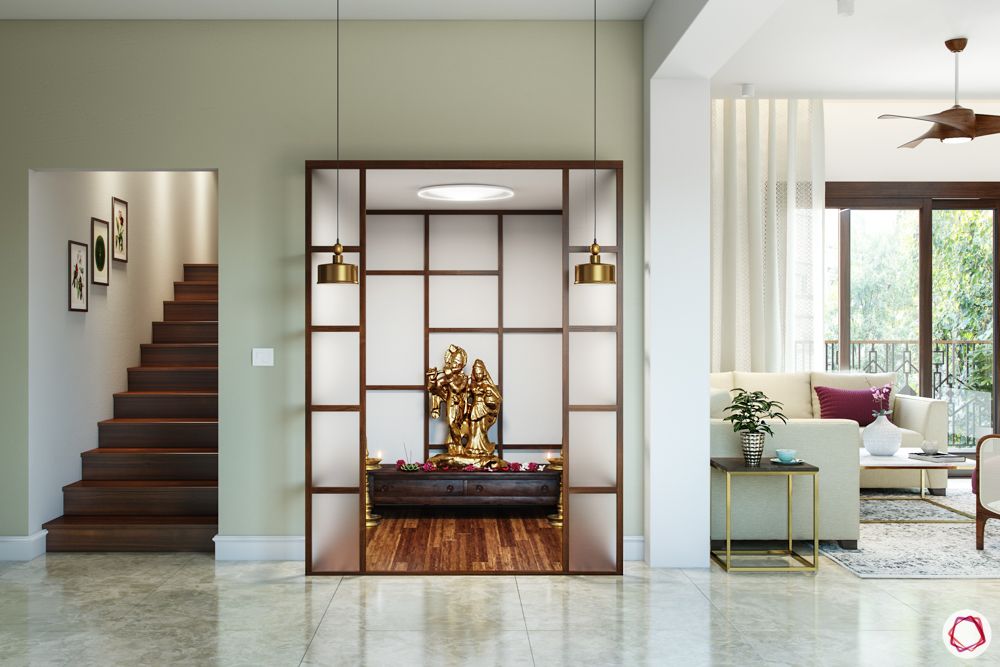 Frosted glass panels are quite often used in areas of a house that warrant privacy, and this can be extended to the pooja room as well. By using frosted glass in pooja room door designs with glass, or using it as a partition or a wall, you can effectively segregate space without compromising on light or creating a cave-like niche with opaque materials. If frosted glass is right up your alley, then you can incorporate it into the back panels of the pooja room for an interesting finish.
Glass Pooja Rooms Idea #5: Coloured Glass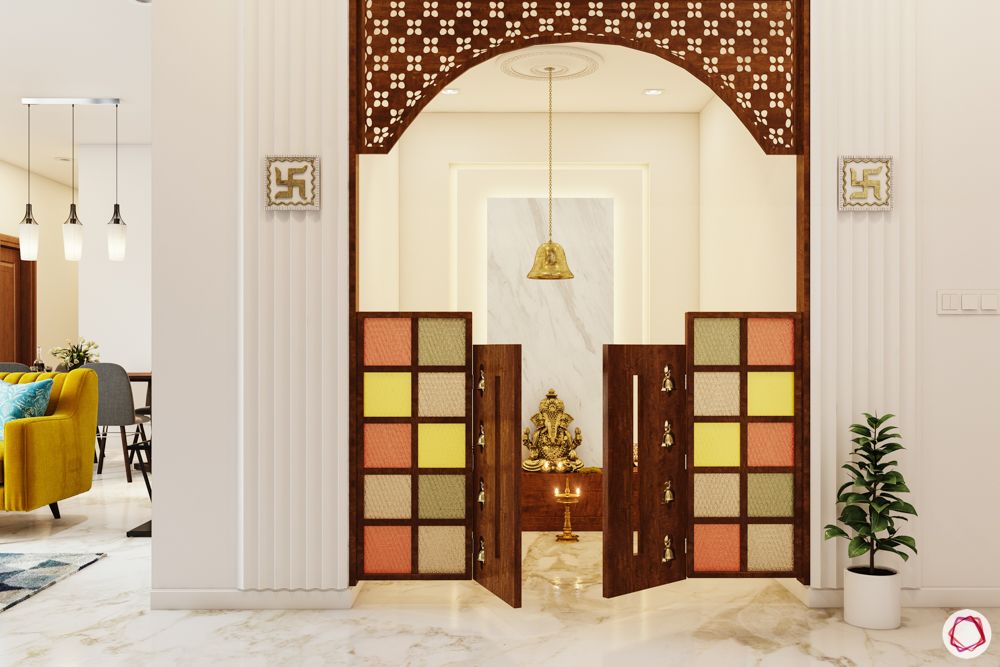 For ones wanting a bit more flair in their pooja room design, colourful glass might just be the way to go. Crafted decorative glass, whether patterned or plain, can add an interesting touch to a pooja room space without the need for additional fixtures. It also performs aesthetic duties, as coloured glass can make a space look more welcoming or luxurious, depending on the pattern and style you prefer.
Glass pooja room door designs with glass, or the general use of glass in pooja room interior designs, can go a long way in defining the room while demarcating it from adjoining living and dining spaces.
Interested in wooden pooja rooms? Take a look at this: 5 Soothing Wooden Pooja Room Designs.
Check out pooja room designs:
Send in your comments and suggestions.