Need ideas for a trendy pooja room but stuck for inspiration? It can be tricky to find a design that fits right into a modern home. The idea is to add unique and distinct elements and maybe even play with lightning. These pooja mandir designs fashion are trendy and easy to achieve.
Pooja Mandir Designs Fashion #1: Marble Inlay and Laser Cutwork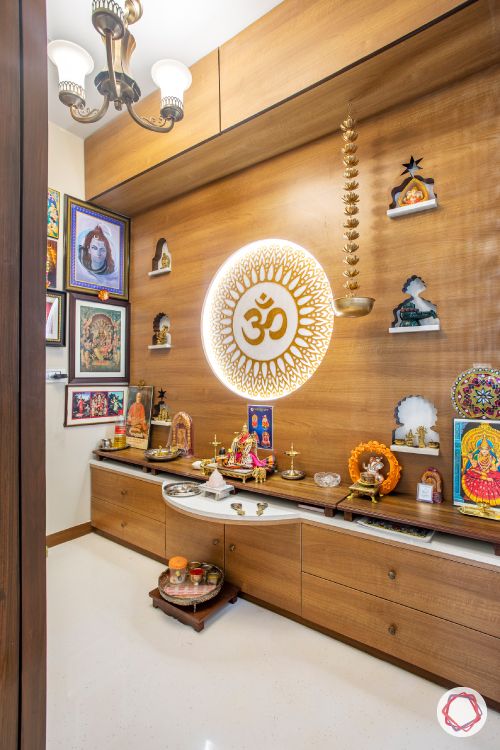 While wood dominates in this pooja room, the marble inlay and laser cutwork definitely take centre stage in terms of focus. Cut-out niches provide more room for display while also drawing eyes to the central design. Inlaid marble adds a touch of luxury without taking away from the warmth of the surrounding wood.
Pooja Mandir Designs Fashion #2: Etched Glass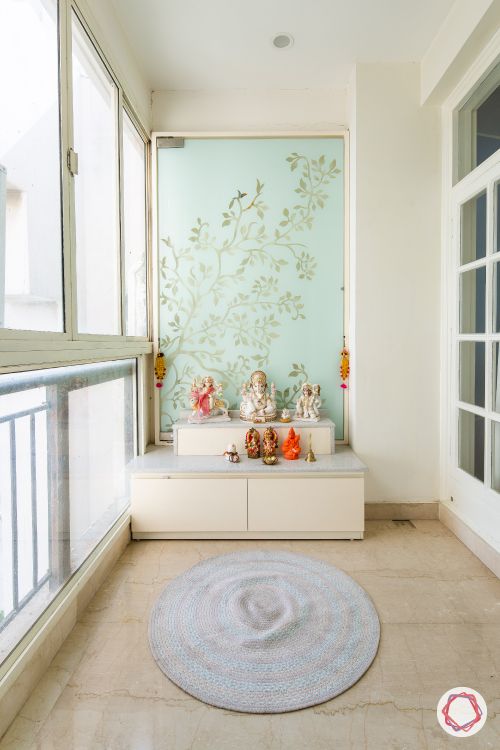 A creative way to set a pooja room apart without using heavy material is to use etched glass. This form of glass ensures privacy and a screened-off space without cutting off all ambient light and sounds. This way, the pooja room is its own space but is also very much a part of the larger room. In this pooja room, etched frosted glass adds a touch of drama to the otherwise minimal space.
Pooja Mandir Designs Fashion #3: Wallpaper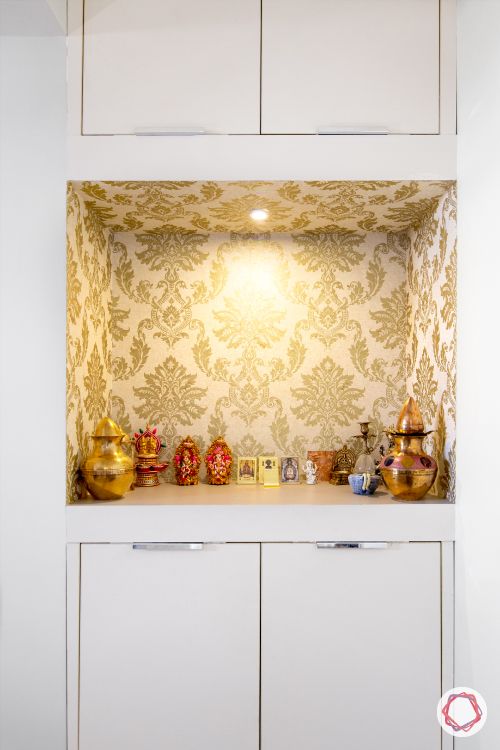 Need to create a pooja room but don't have a dedicated space? Pooja room niches are the next best thing if we do say so ourselves. In this pooja niche, white cabinets draw complete focus to the wallpapered setup. The wallpaper adds depth and drama to the space, making it seem bigger despite its compact size. A singular spotlight highlights the design while also serving as task lighting.
Pooja Mandir Designs Fashion #4: Folding Doors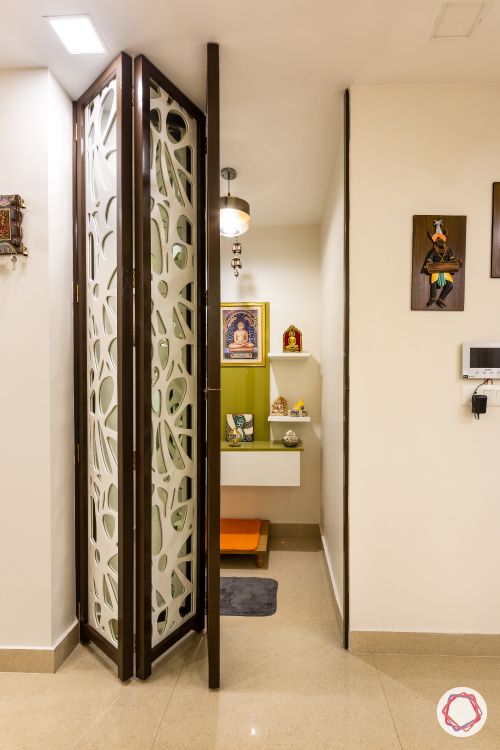 If you want to screen off your pooja room without committing to a door, folding screens are your best bet. These create a private space without blocking off light and sounds, and can easily be moved and removed as the whim strikes. The patterns on this folding door ensure that the setup is aesthetically pleasing even when the screen is closed.
Pooja Mandir Designs Fashion #5: Backlit & Cast Into a Wardrobe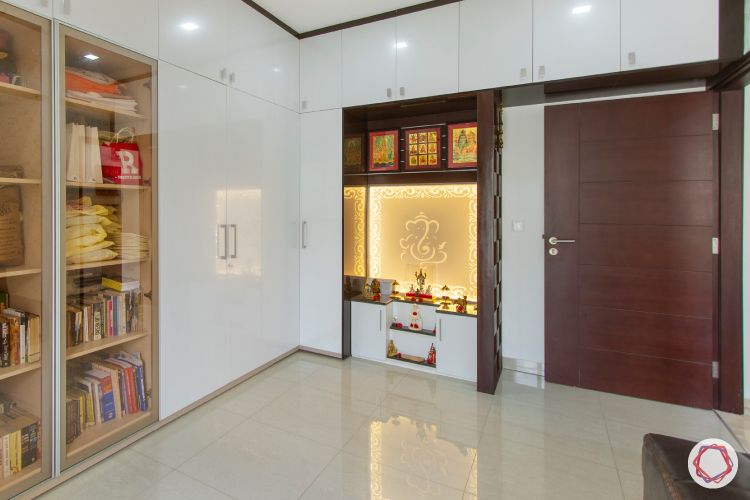 This is an excellent method of making use of available space to create a pooja room. The niche has been set back into a wardrobe, creating the illusion of a separate space while very much being a part of the main frame. Backlit patterned glass creates drama and reduces the need for other light sources. Layered platforms and a lofty shelf capitalises on vertical space to create a sense of height, while wood and white tones tie in with the rest of the space.
Pooja Mandir Designs Fashion #6: With Wooden Rafters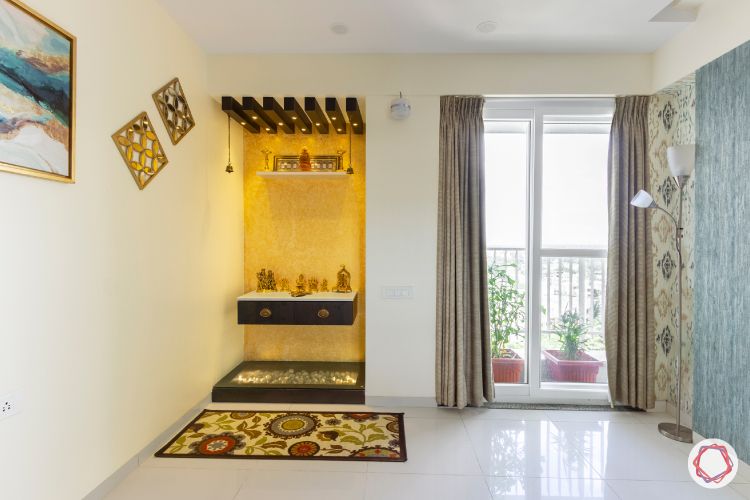 A creative way to create a niche where there isn't one, or enhance the visual appeal of an existing niche, is to use wooden rafters. This pooja room exemplifies the latter– the rafters also act as spotlight holders which provide both task and mood lighting. A floating shelf looks minimal yet practical against the yellow wall and a glass-covered pebble installation adds an offbeat visual element.
There you have it! Six bang-on-trend pooja mandir designs fashion that'll serve as ready inspiration for your next grand interior design plan. And if you enjoyed browsing through these, also explore Made of Wood: Inspiring Pooja Rooms for Your Home.
Send us your comments and suggestions.