It is a well-known fact that almost all Indian homes have a space for worship. The pooja room is a quintessential element of desi homes. But before we start giving you inspiring pooja room door designs with glass and wood, let's pose a question.
Why do Pooja Rooms Need Doors?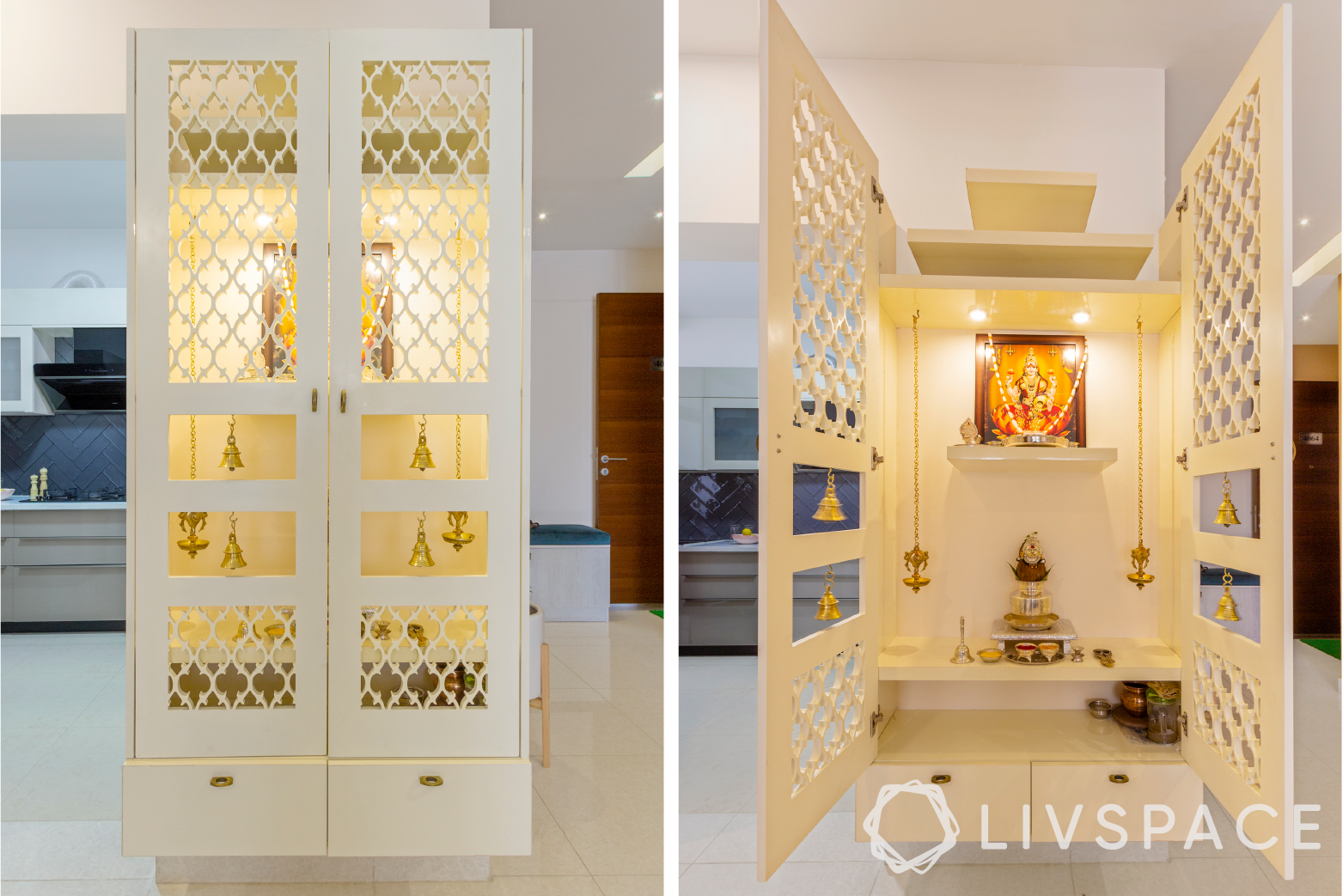 Historically, pooja rooms have had doors as do temples. While we have dispensed with the doors in contemporary pooja units, it still remains a requisite for many. There are two ways to answer the question of mandir door designs. 
As per vastu, pooja rooms need doors as well as a threshold. This is to ensure that insects or any other impurities can be kept out of the sacred space.
As per the moraes of Hindu mythology, gods take on human forms. Hence, they, too,  require privacy. You will see this typically in temples where the deity is served food and then the doors to the inner sanctum are closed for some time. And when the gods have 'eaten' symbolically, that food becomes the prasad. 
In summary, doors are culturally an important element of pooja spaces. And getting a nice pair might change the entire look and feel of the pooja room in your home. So, browse through these novel pooja room door designs curated from the best of #LivspaceHomes.
#1: Pooja Room Door Design in Wood
A wooden pooja door design is preferred due to many reasons. Wood, being a vastu-compliant material for building, is the first and most important one. Also, anything wooden is assumed to be steeped in the tradition in India. Structurally, solid wood can be carved into intricate shapes and that goes well with the concept of a mandir door design.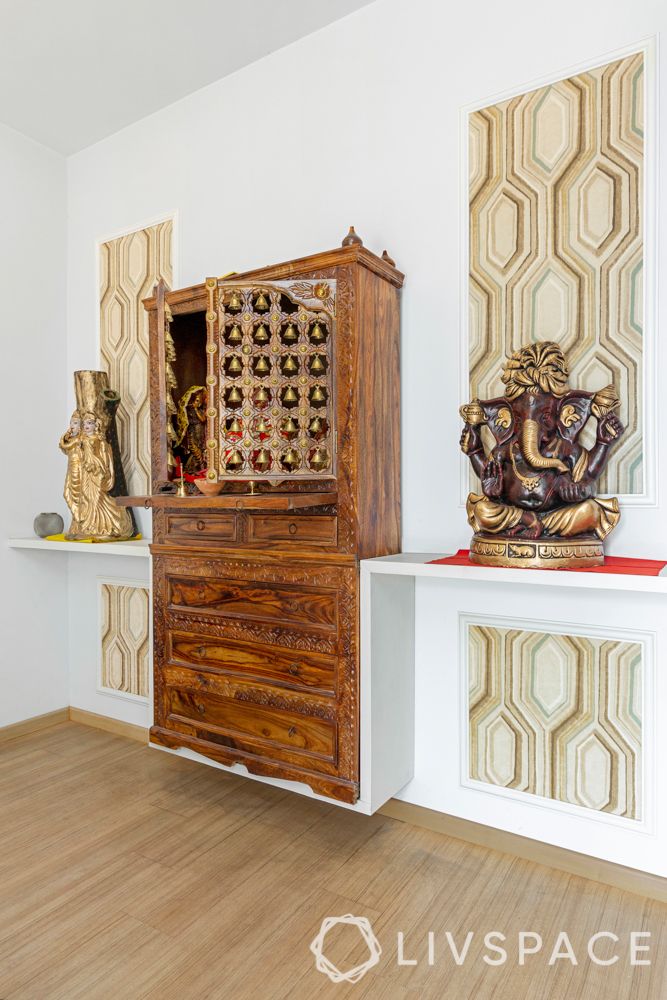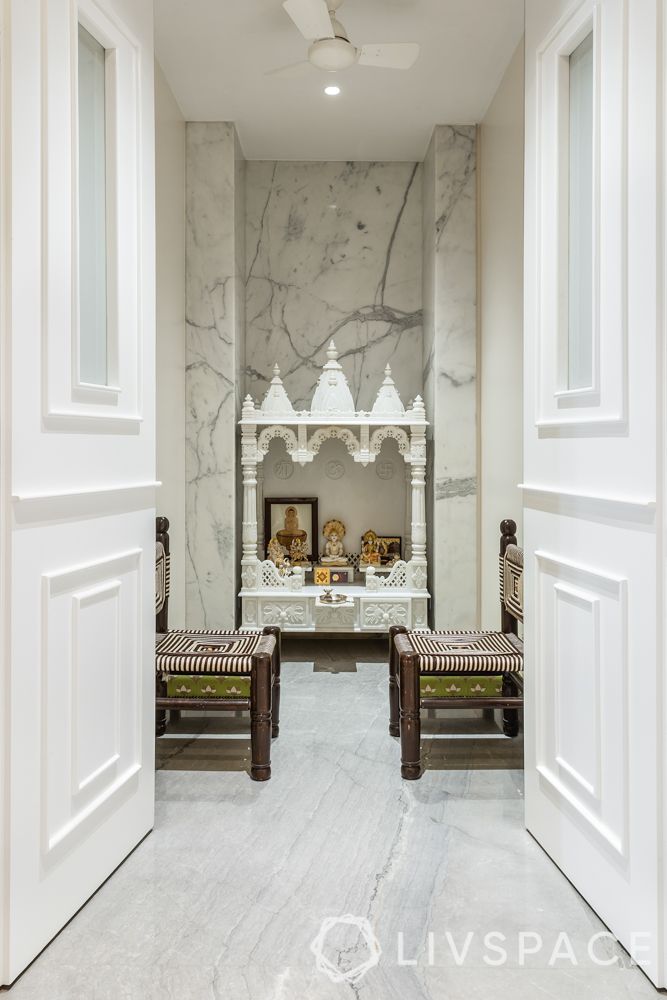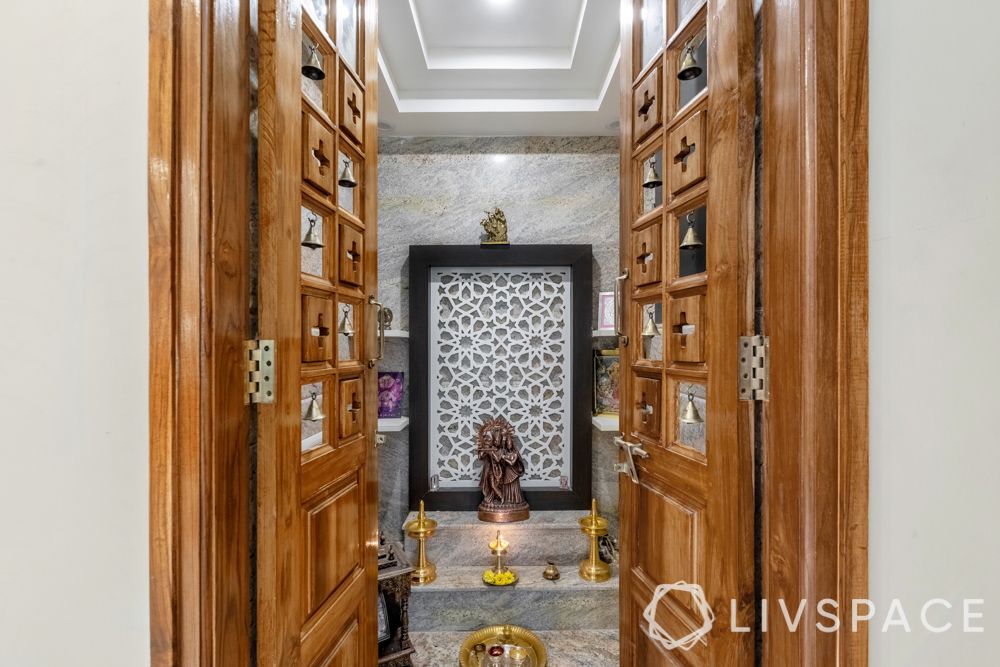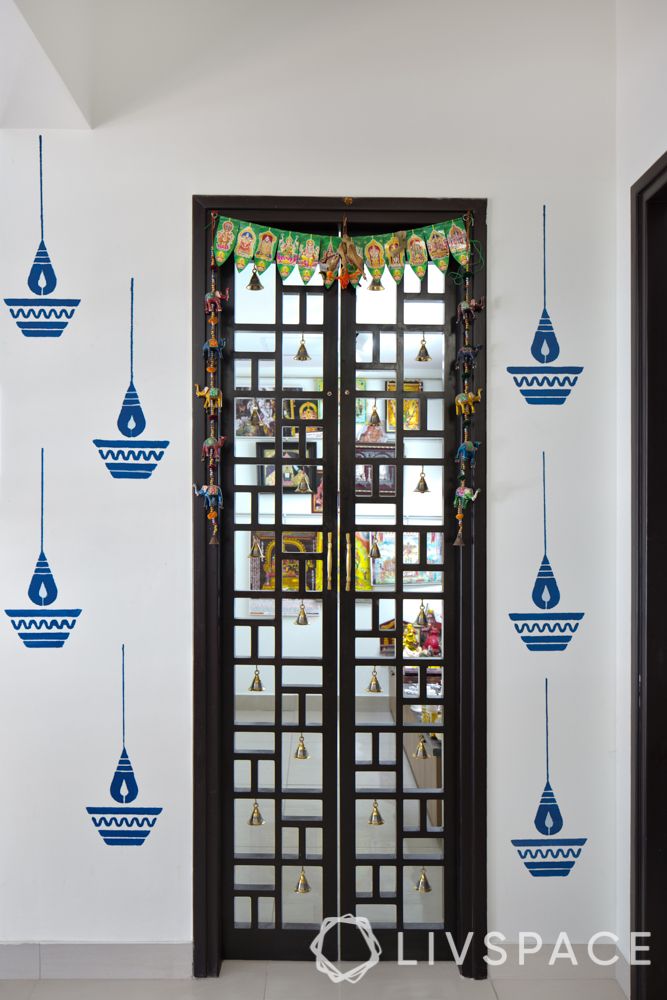 #2:  Pooja Door Design in Plywood
Despite all its unique qualities, solid wood is expensive and not affordable for everyone. Additionally, it also requires plenty of maintenance that people with busy lifestyles probably won't have time to carry out. Hence, the next best thing is plywood. It's cheap, easy to build with and very easily replaceable. Plywood does not require much maintenance as we do not expect it to last forever. Naturally, this contemporary replacement for wood is the second most popular material for the pooja door design.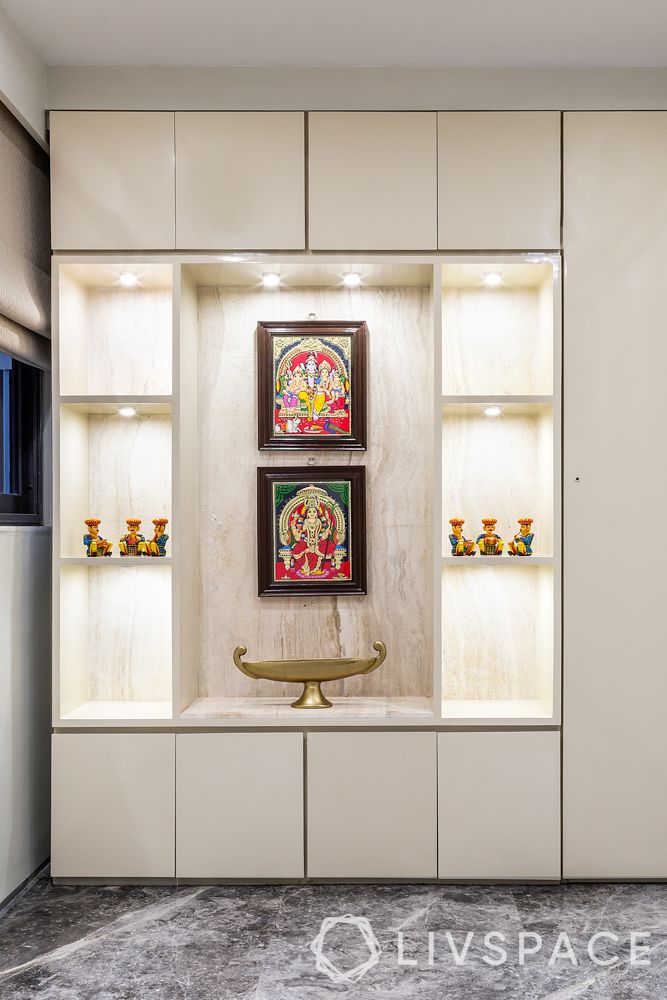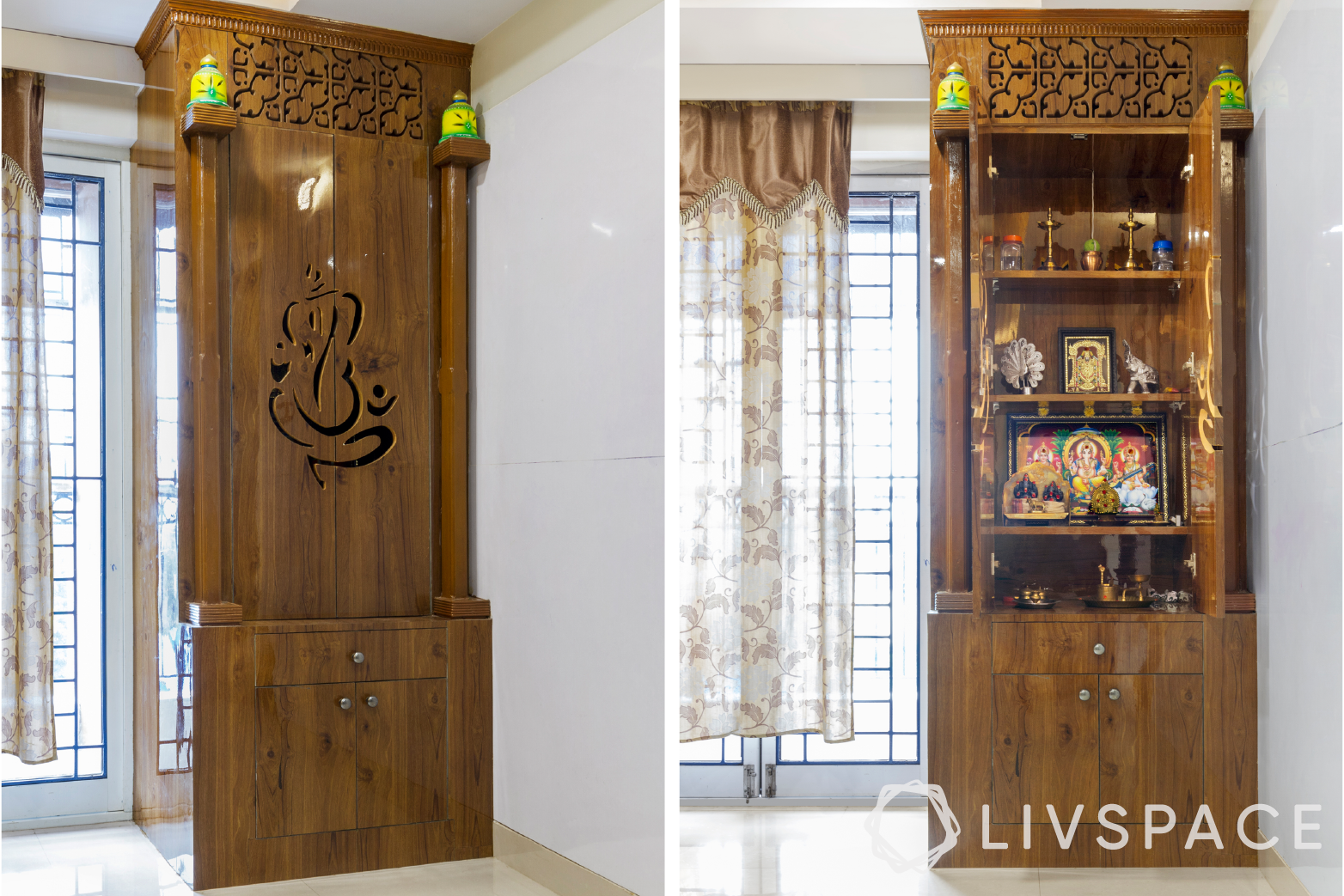 #3:  Pooja Room Door Design in Jaali
We could write an entire page just discussing the aesthetic history of jaalis (and we have, so you can read: All You Need to Know About Jaalis). But when it comes to pooja rooms, they take on a special significance. Firstly, jaalis will never go out of fashion. Secondly, different versions of a jaali are made with different materials (wood, acrylic CNC laser cuts etc.) so there is always one to fit your budget. The most useful feature of the jaali  is that it offers partial visibility and allows ventilation. You could leave a diya burning in your pooja room and check on it even if the door is closed. You needn't worry about the house burning down!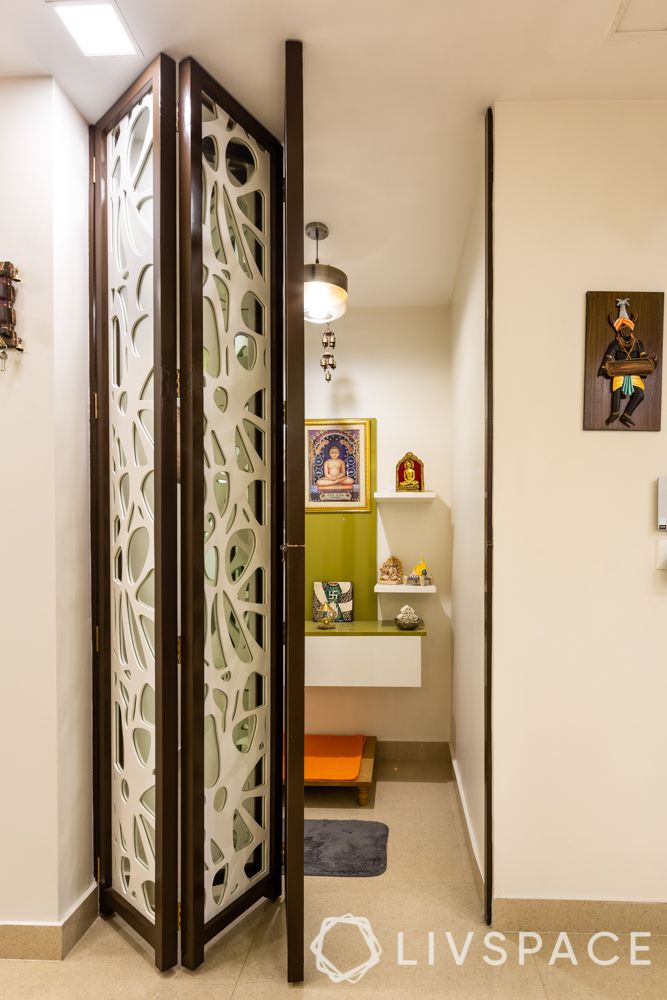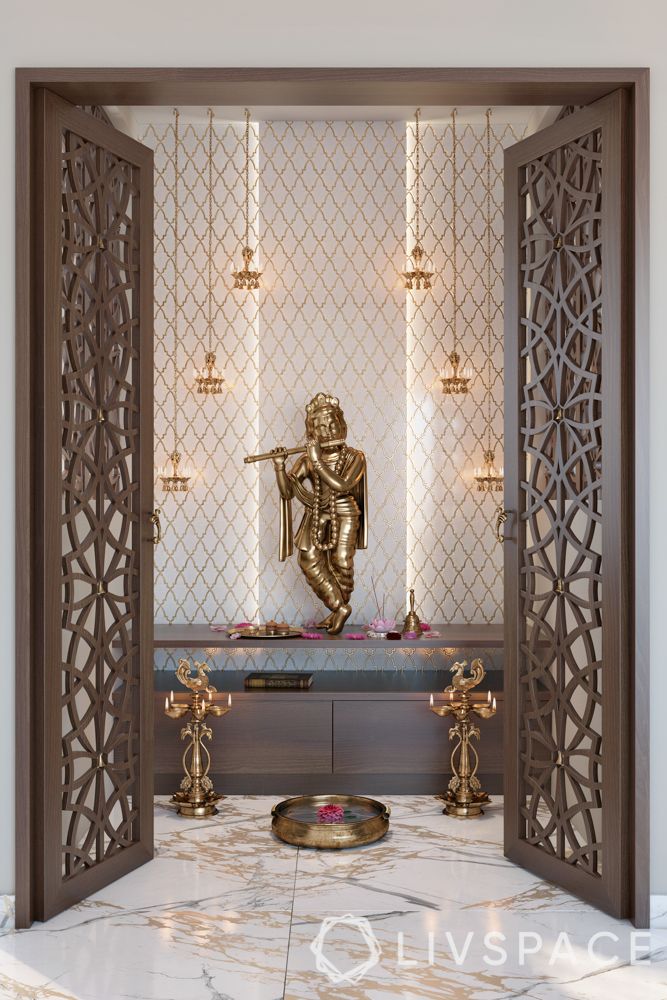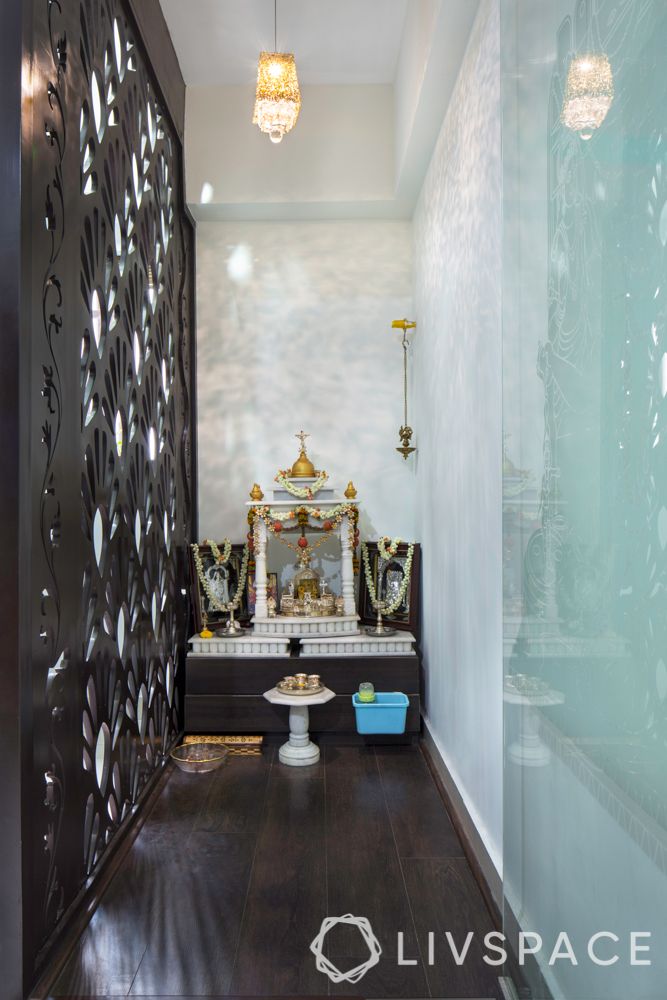 #4:  Pooja Room Glass Door Design
Unlike the other options here, glass is an outright modern material to build pooja room doors. This modernity itself is the biggest USP of glass. It allows you to have a pooja room that fits into the style of a contemporary home. There is no dearth of variety when it comes to glass as well. Plain glass will offer you complete visibility. Reeded or frosted glass is not see-through at all. Etched glass, on the other hand, offers partial visibility. You can also opt for more colourful versions of stained or back-painted pooja room glass door design.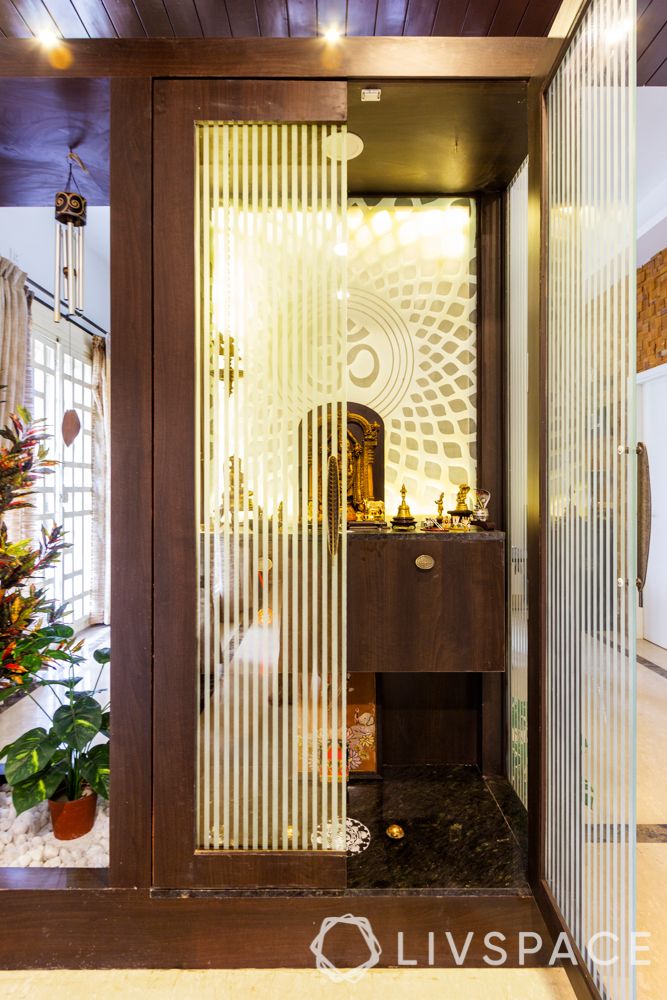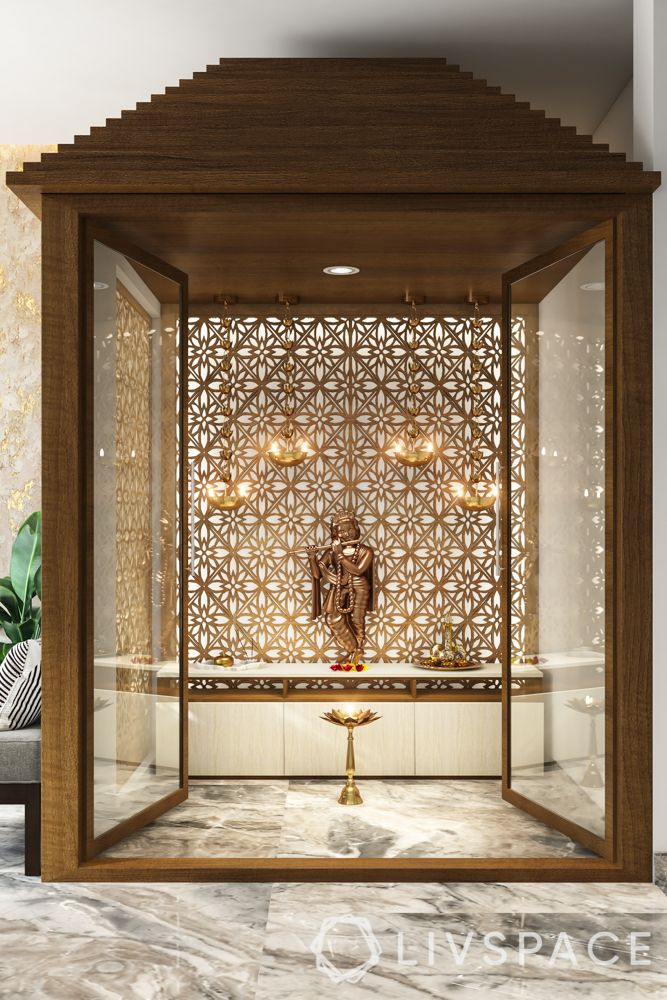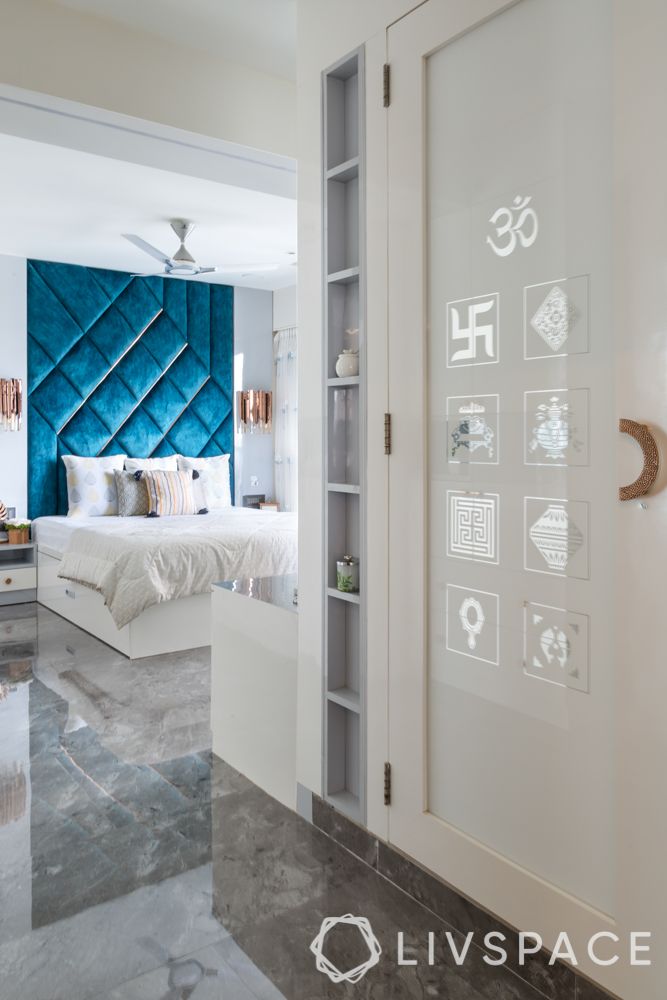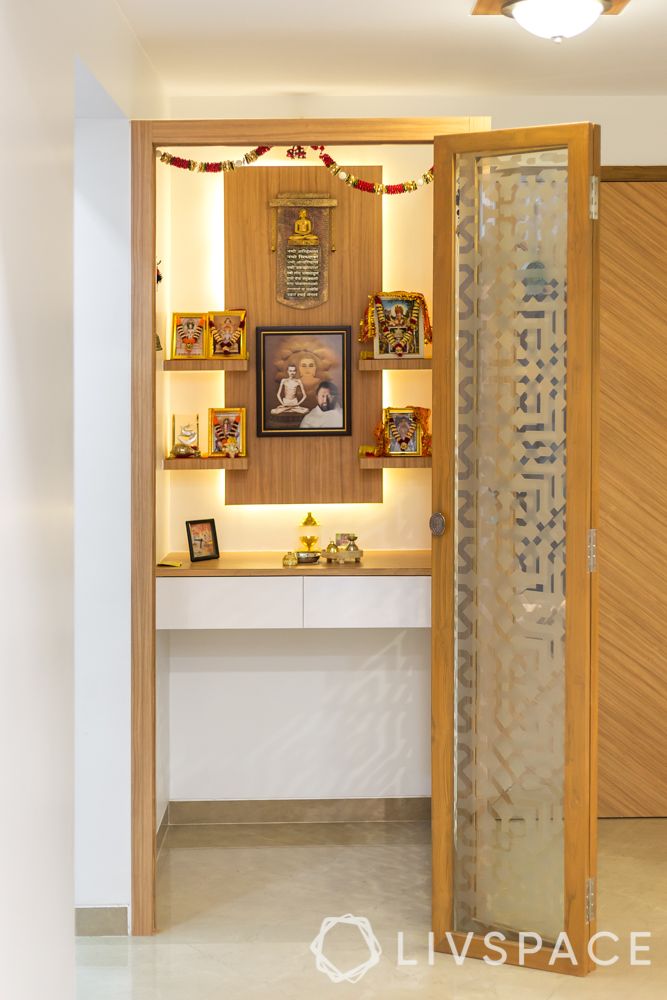 #5: Mixed Pooja Room Door Design
There is no hard and fast rule that dictates you to stick to just one material for your pooja room door design. In fact, the best designs come from mixing up the materials.
See this door made of glass set into a beautifully carved solid wood frame? There is also some jaali around the centre, so it blends two design elements perfectly!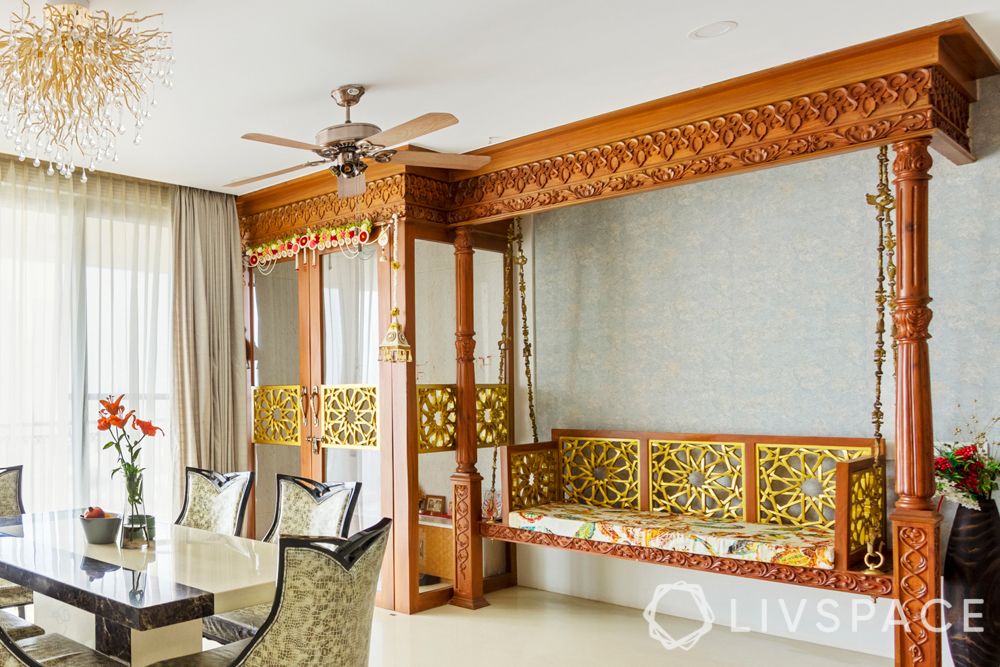 Similarly, this door has a hollow arch followed by stained glass set into a plywood frame. It would be fair to say that this pooja room door design with glass and wood is a work of art!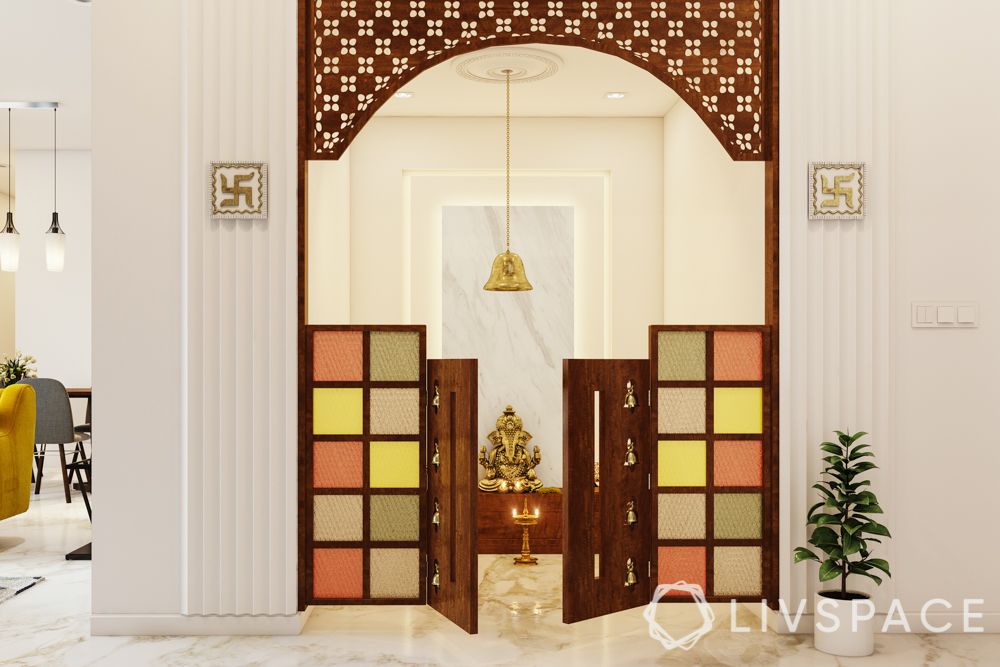 If you found your inspiration among these pooja room door designs for Indian homes, you might want to explore some mandir designs for the style conscious.
How Can Livspace Help You?
We hope you found our ideas useful! If you want beautiful interiors for your home, then look no further. Book an online consultation with Livspace today. 
Send in your comments and suggestions to editor@livspace.com