No desi home is complete without a gorgeous pooja room that gives you a serene break from the humdrum monotony of your daily life. And what feature best accompanies a classic pooja room? The door that preserves it, of course! A pooja room door design can instantly change the appearance of your pooja room, while also keeping it clean. So, what are some ideal pooja room door designs for Indian homes, you may ask? This list will give you the lowdown on the different types of temple door designs you can consider for your divine space.
1. But First, Why Does Your Pooja Room Need Doors?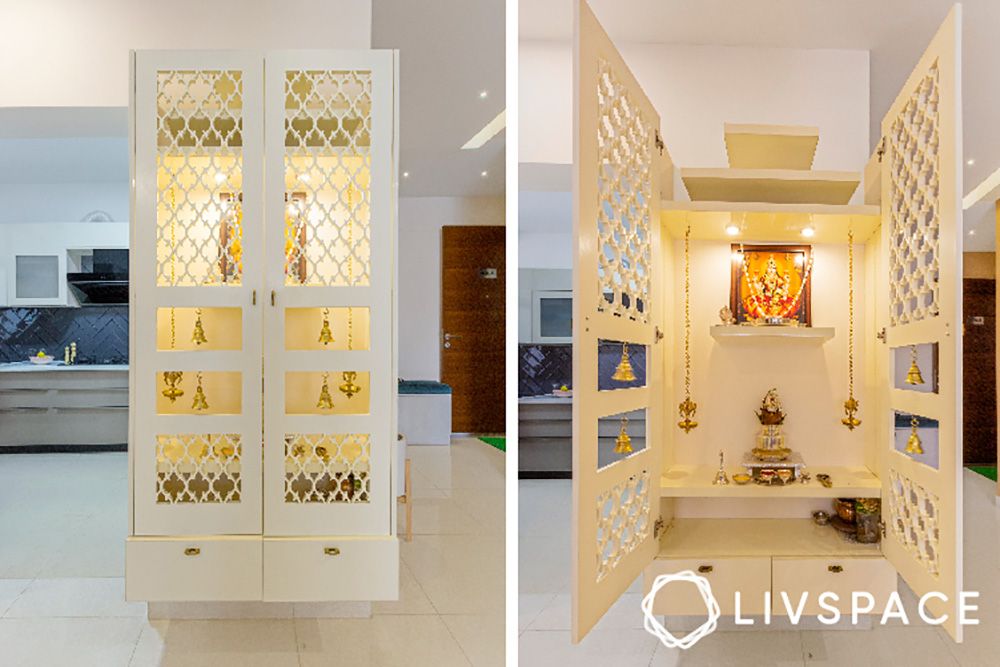 There are two ways to answer this question. As per the principles of pooja room vastu, pooja rooms need doors as well as a threshold. This is to ensure that insects and other impurities are kept out of the sacred space.
Similarly, Hindu mythology states that gods take on human forms. Hence, they, too, require privacy. This is typically seen in temples, where the deity is served food, following which the pooja doors to the inner sanctum are closed for some time. And when the gods have 'eaten' (symbolically, of course), that food becomes the prasad.
Given these factors, pooja room doors are culturally important elements of mandirs. Moreover, a nice pooja room door design can also help change the entire look and feel of your space. So, join us as we browse through these smart pooja room door designs that are both functional and aesthetic.
2. The Best of Pooja Room Door Designs for Indian Homes
#1: A Classic Pooja Room Door Design in Wood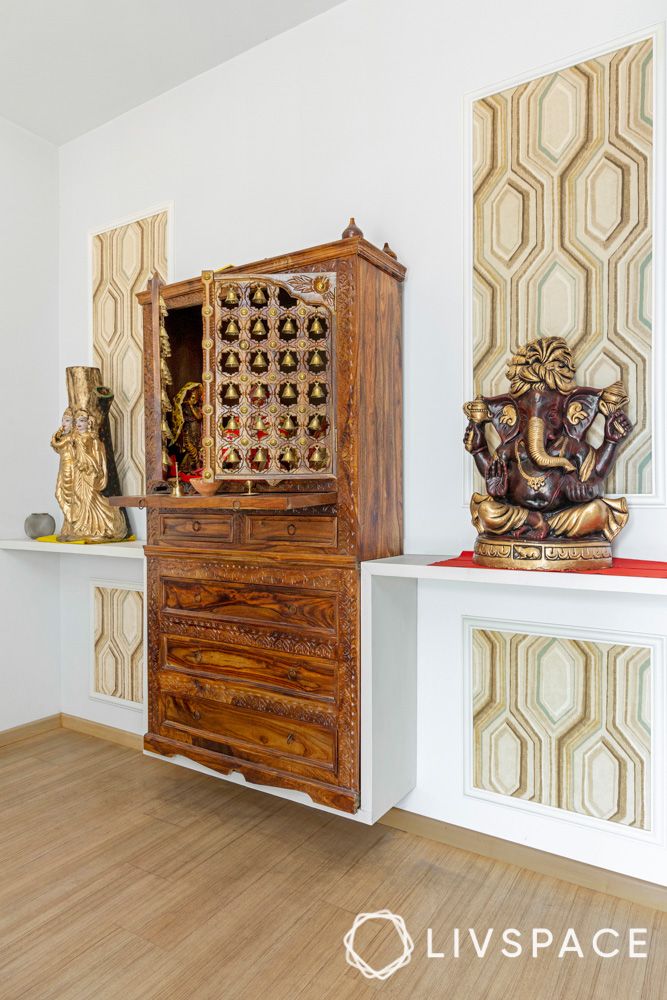 What's the first thing you picture when you think of a pooja unit? Your answer most likely had something to do with wood. This is because most mandirs are designed in wood, owing to its traditional look.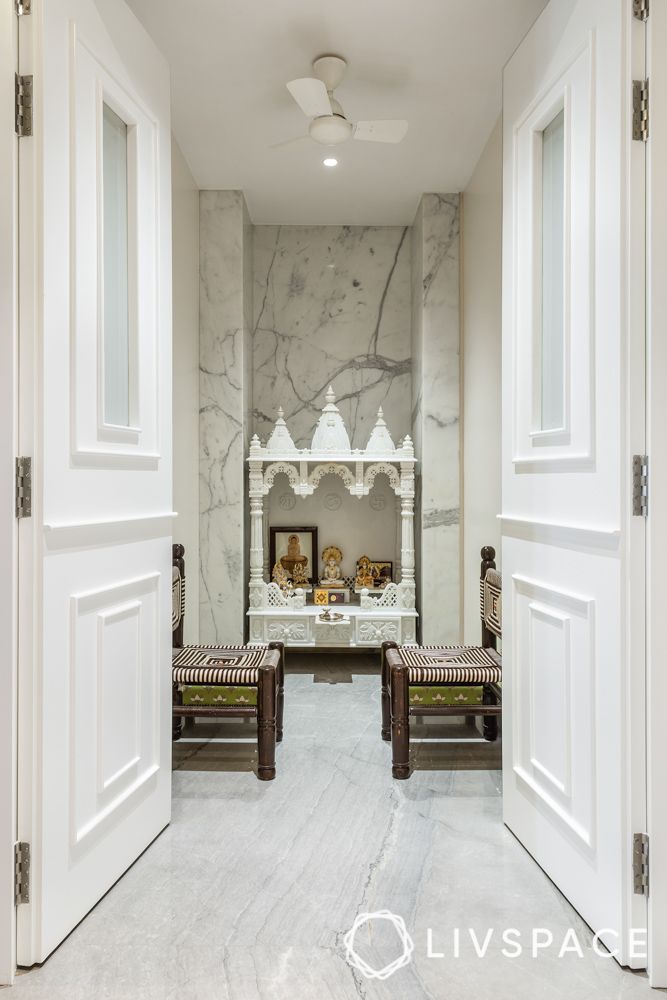 Similarly, a wooden pooja room door design is preferred by many for various reasons. The first and the most important one is that wood is a vastu-compliant material.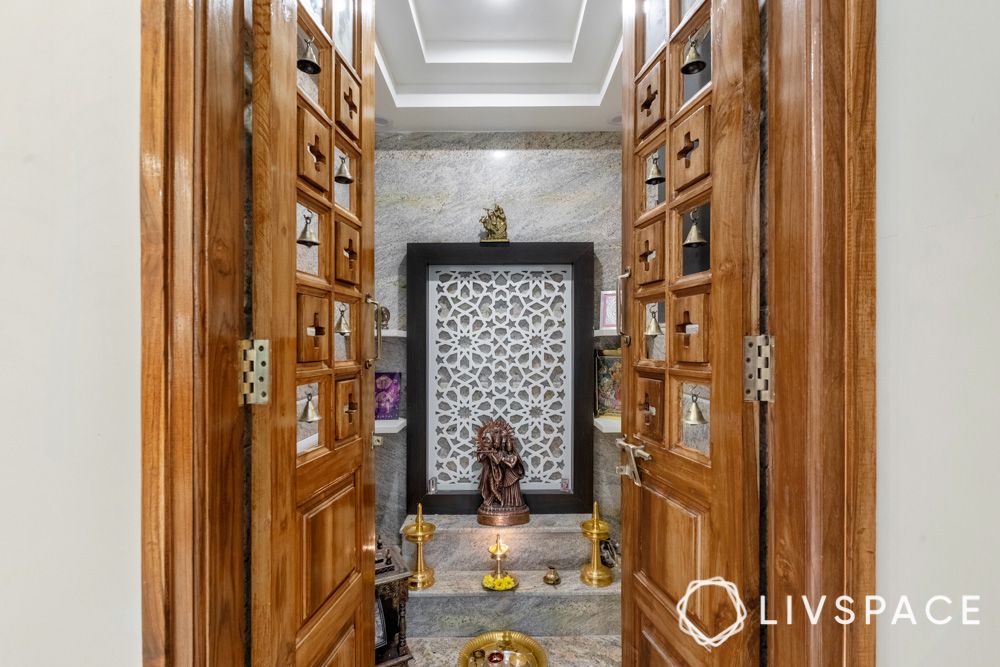 Additionally, anything carved in wood often resembles traditional Indian design. Structurally, solid wood can be carved into intricate shapes that pair well with a traditional pooja room door.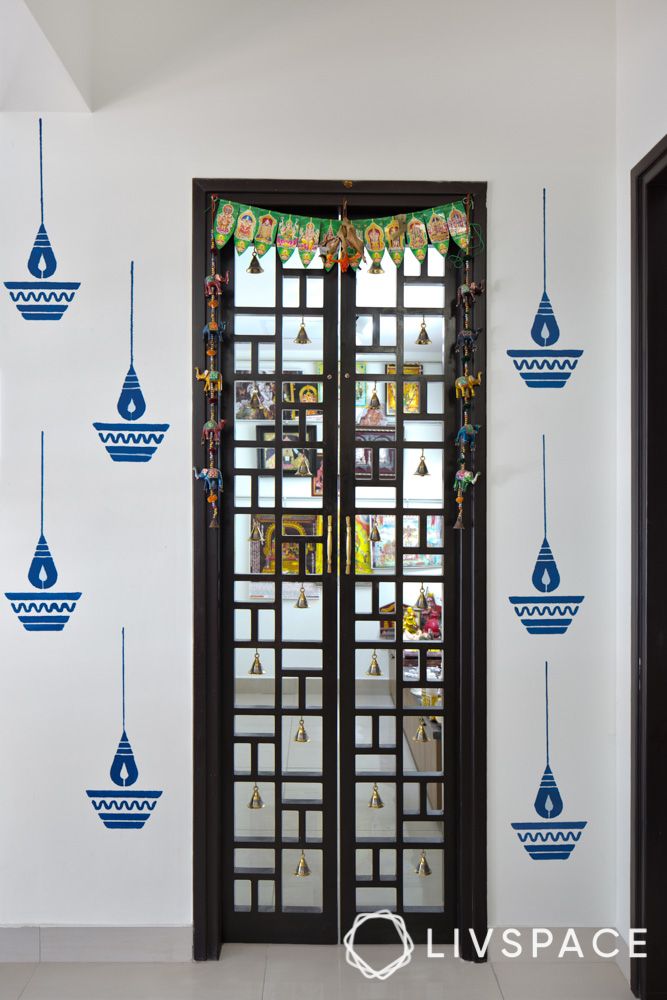 If you'd like to further accessorise your wooden pooja room doors, consider using some brass bells as decoration. You can also use a toran to add some vibrancy to your door frame.
#2: Pooja Room Door Designs Made of Plywood or MDF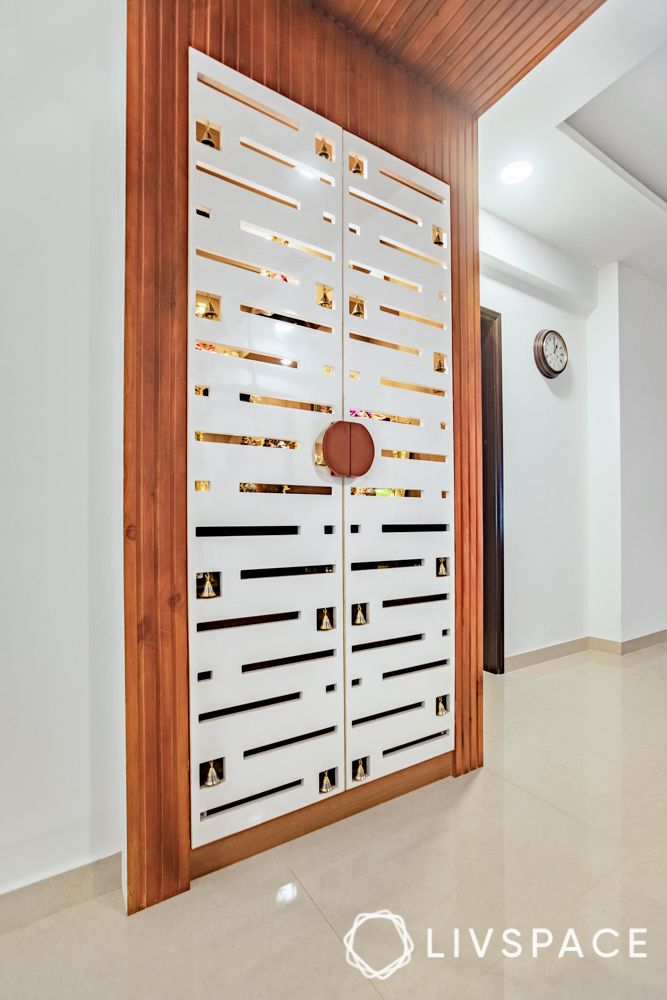 Despite its unique qualities, solid wood is relatively more expensive and may not be a cost-effective option for everyone. Moreover, it can also require regular maintenance that's impractical for people with busy lifestyles.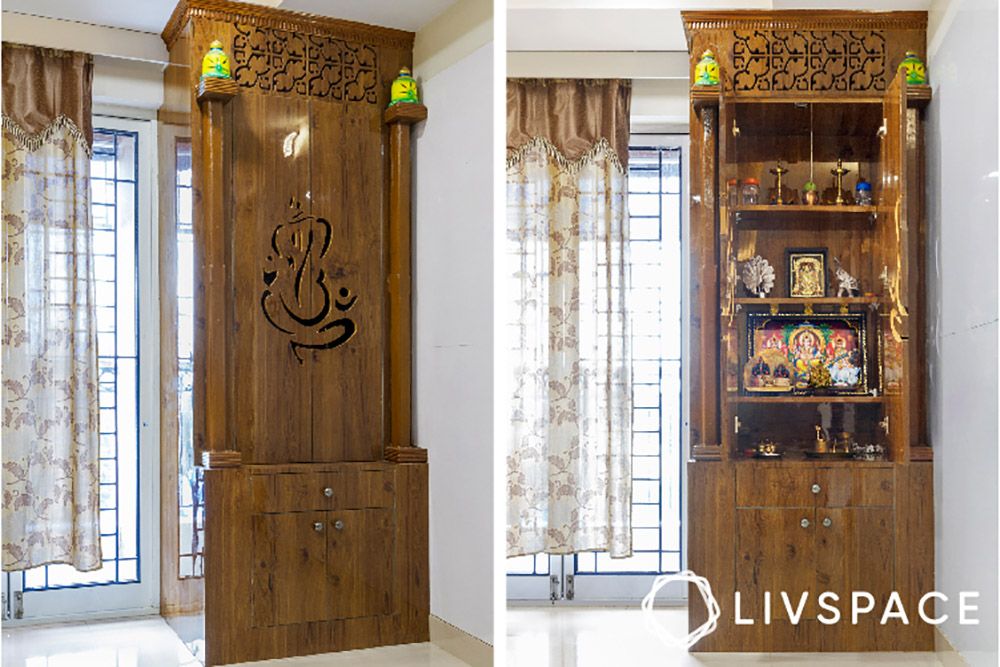 This, in turn, begs the question: what's a good alternative material to wood? Besides wood, the next best thing to consider is plywood or MDF. Not only are these options comparatively cheaper, but they're also easy to build with and replace.
Both plywood and MDF are low-maintenance materials that allow you to get away with just the occasional cleaning. So, if you don't have the necessary budget for wood, you can still create a stunning pooja room door design using MDF or plywood.
#3: Unique Pooja Room Door Designs With Jaali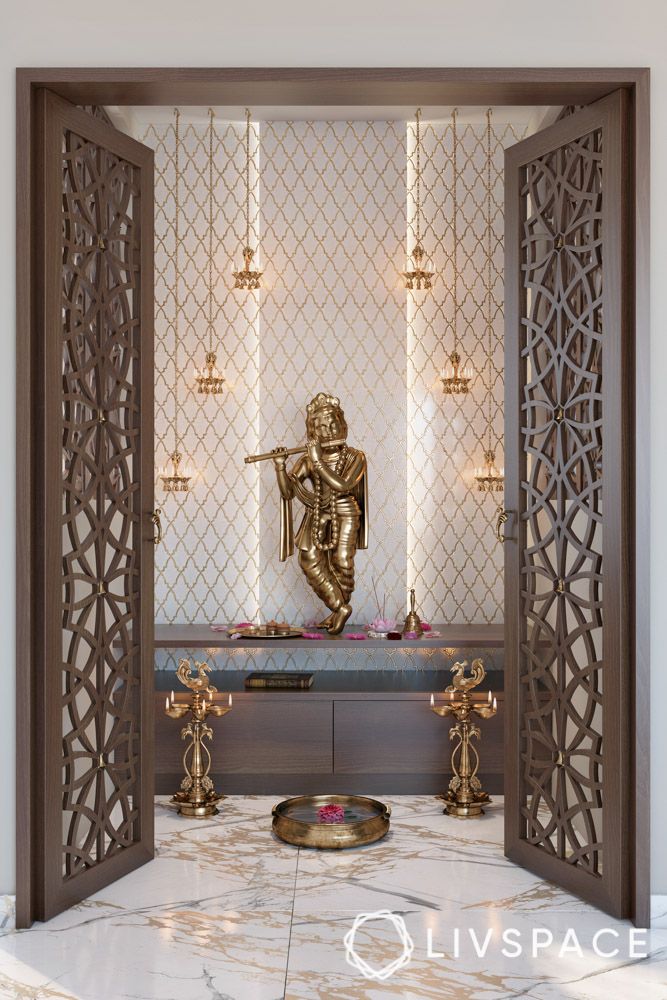 We could write an entire page just discussing the aesthetic history of jaalis. But when it comes to the mandir door design for your home, they take on a special significance.
Firstly, jaalis lend a traditional touch to the space and have a timeless appeal. Secondly, a jaali can be made with different materials such as wood, acrylic, CNC, or laser-cut MDF, ensuring that there's always one that can suit your budget.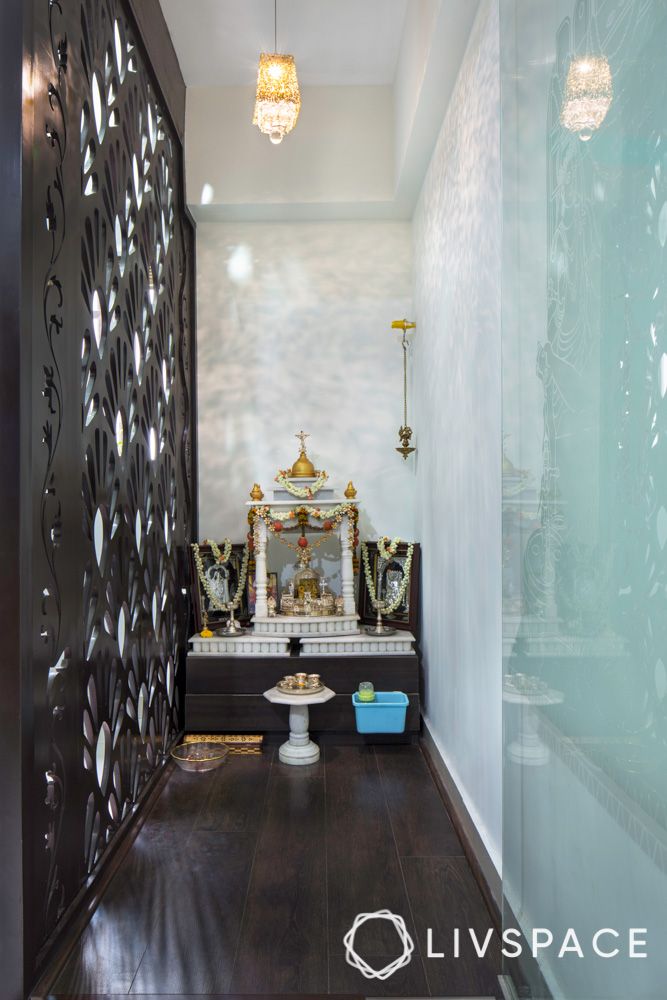 Alternatively, the most useful feature of a jaali is that it offers partial visibility into your pooja room and allows ventilation. You could leave a diya burning in your pooja room and check on it even if the door is closed. With this nifty addition to your pooja room door design, you needn't worry about the house burning down!
#4: New-Age Pooja Room Glass Door Designs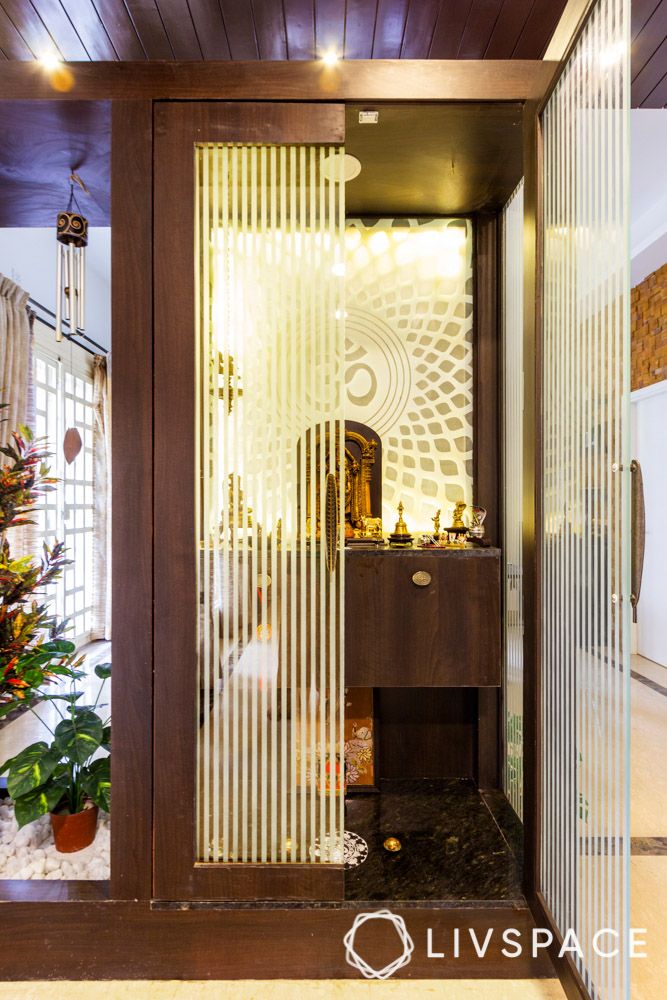 Compared to the other materials we discussed, glass is a relatively modern choice for pooja room door designs. Due to its novelty, glass has become a fairly popular option for most modern pooja room door designs.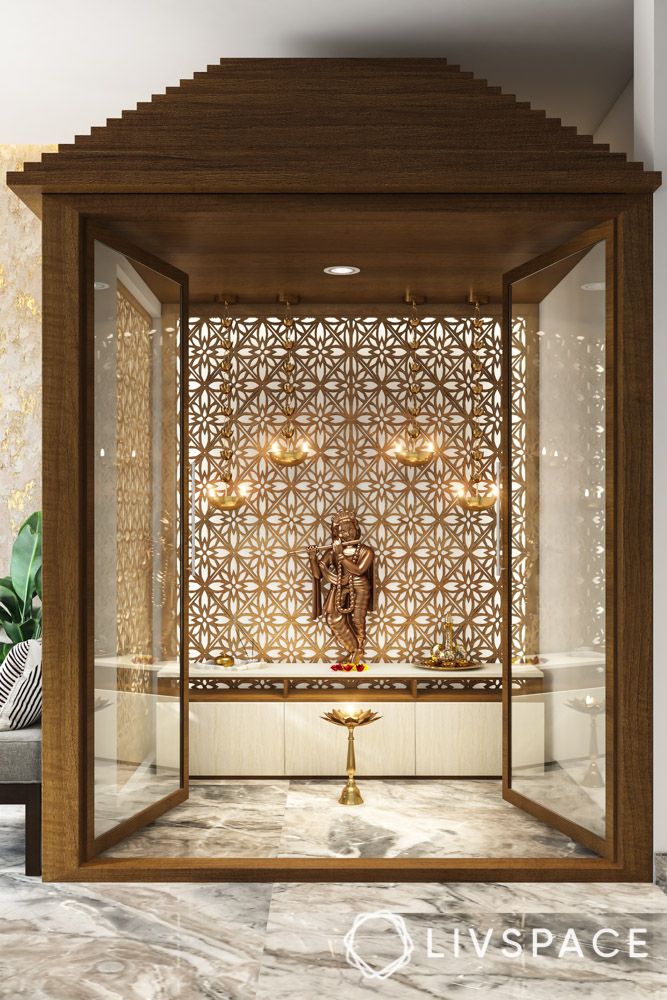 Just like the jaali allows you a peek into your pooja room, glass can offer the same benefit. Moreover, you can even opt for a mix of glass and wood to create a unique pooja room door design.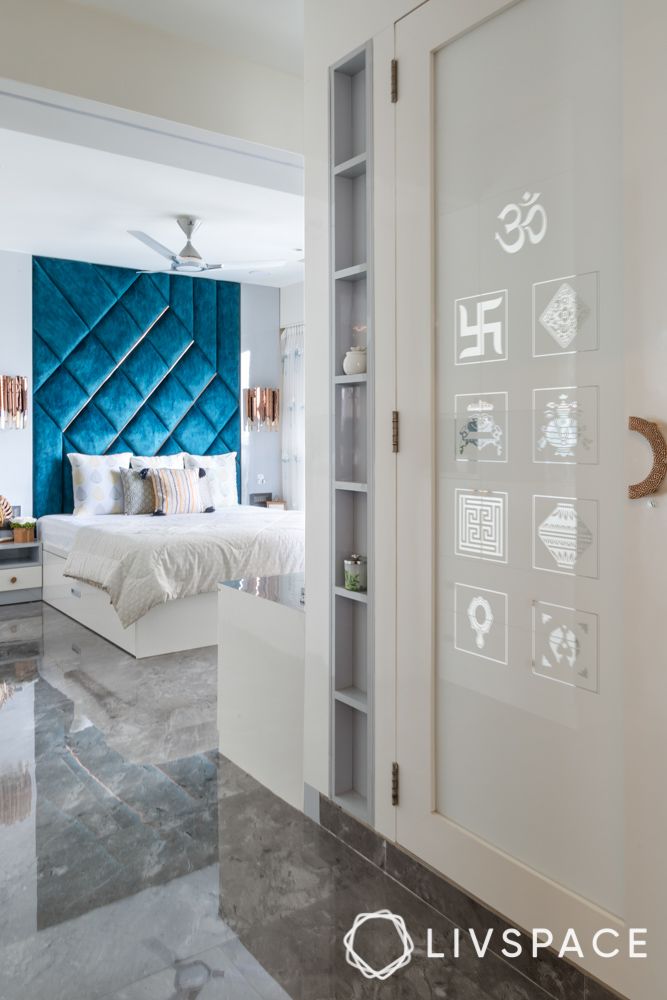 There are multiple varieties of glass to choose from as well. Plain glass will offer you complete visibility into your mandir. However, if you choose to keep your pooja room private, reeded, fluted, or frosted glass can be more opaque.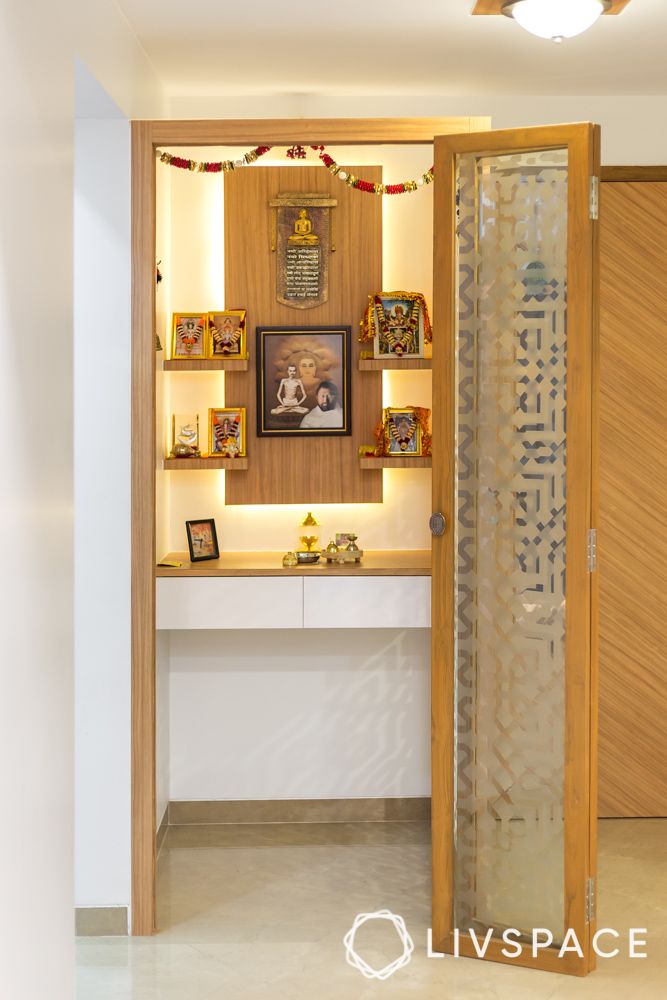 On the other hand, etched glass offers partial visibility. You can also opt for more colourful versions of stained or back-painted glass for your pooja room door designs.
Also Read: 10+ Modern Pooja Room Door Designs That Are Trendy and Stunning
#5: Mixed Pooja Room Door Designs You Can Get Creative With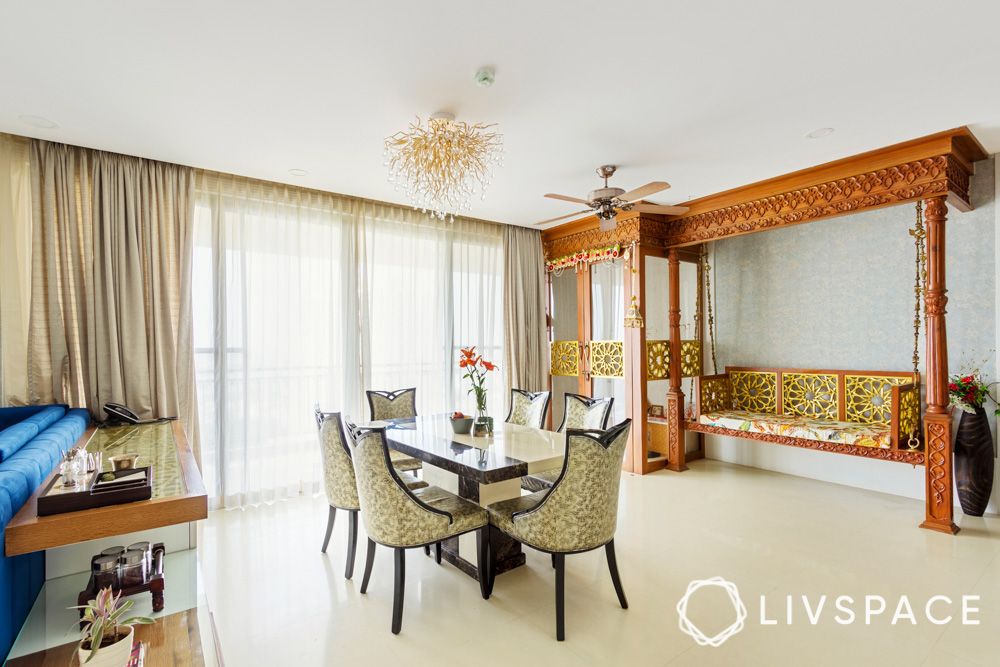 There is no hard and fast rule that dictates that you stick to just one material for your pooja room door design. In fact, the best and most unique designs come from using a combination of different materials.
Take this glass pooja room door design set into a beautifully carved solid wood frame, for example. This design uses a mix of wood, jaali, and glass to create a neo-traditional pooja room.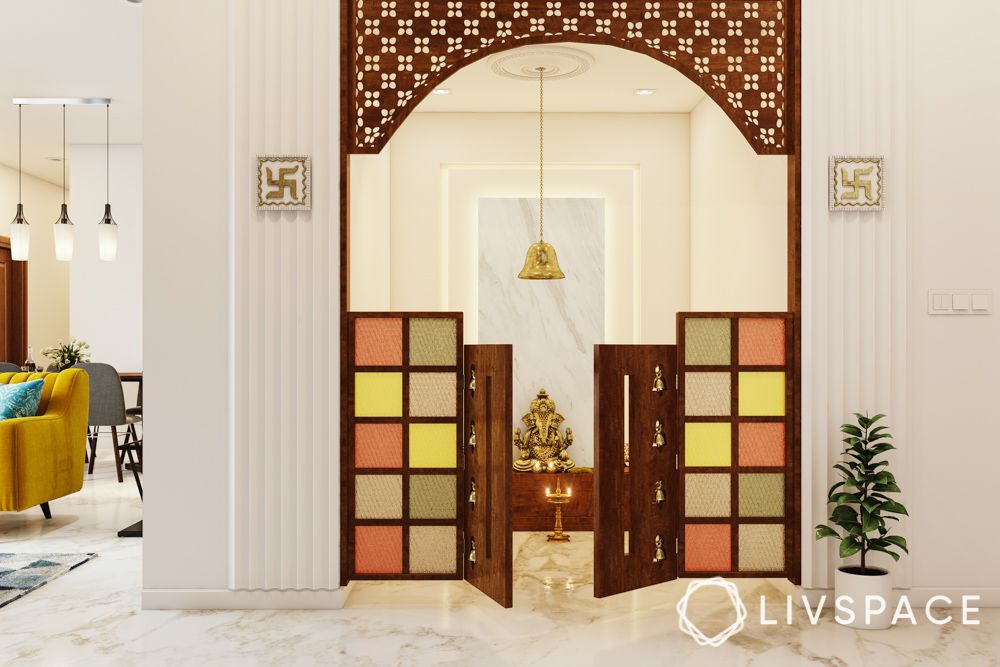 Similarly, the above pooja room door design has a hollow arch paired with stained-glass set into a plywood frame. Given its versatility, it's fair to say that such pooja room door designs with glass and wood are a true work of art!
Also Read: 7 Gorgeous Door Ideas for Your Pooja Rooms
#6. Simple Pooja Room Door Designs for Home Interiors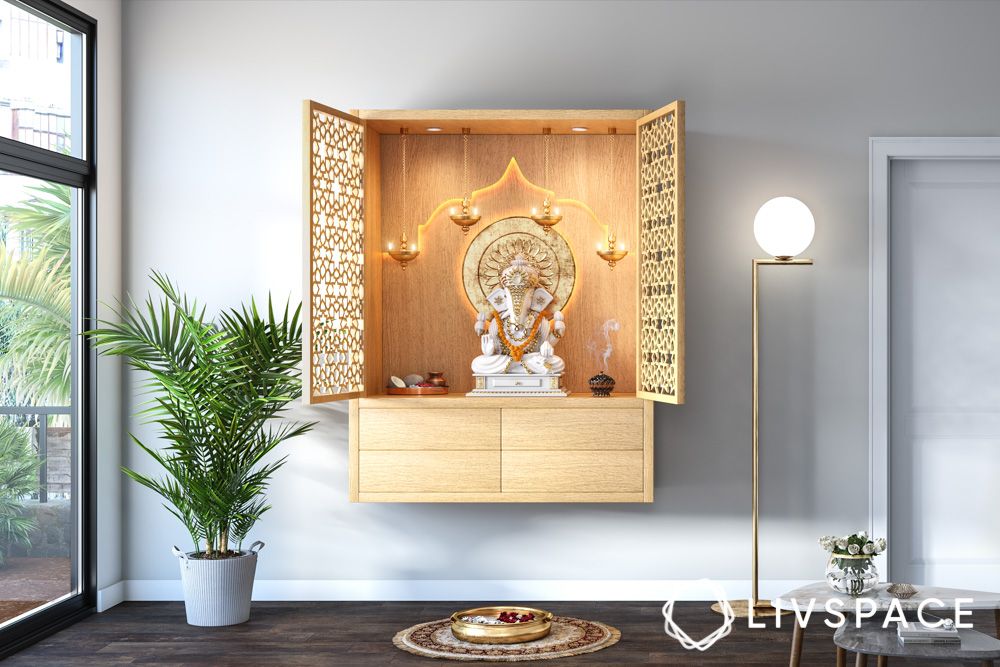 While ornate pooja rooms have their own special charm, they might not be the perfect fit for all interior design styles. If you live in a minimalist home, you might want something a little less obvious. Here's where a simple, small pooja room door design might work best.
If the storage drawers of your pooja unit are plain, you can opt for jaali doors to add some interest to the design. Consider going for a wall-mounted mandir if you'd like to keep your floors free from clutter.
#7. Bi-Fold and Sliding Door Designs for Space-Saving Pooja Rooms
Are you facing a space crunch at home that's limiting your pooja room design options? Not to worry; as we have a few pooja room door design ideas to save the day! If you don't have enough space for a pair of intricately carved pooja room doors, you can go for bi-fold doors instead.
These collapsible doors stack together upon being closed instead of opening outwards. This helps save space while also simultaneously acting as a clever room divider.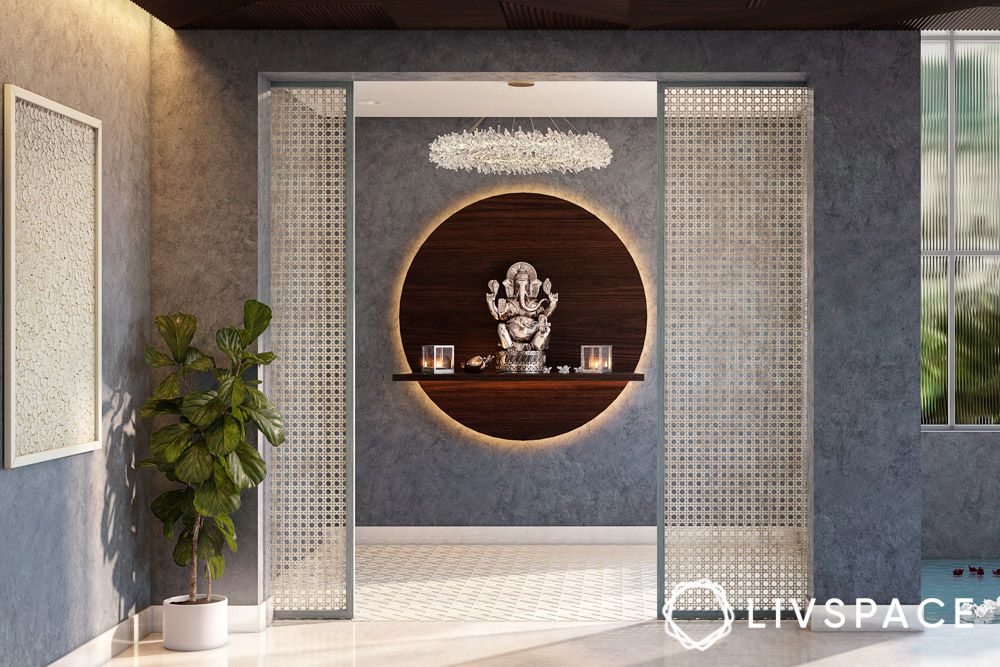 Apart from bi-fold doors, sliding pooja room door designs are another neat contender when it comes to space-saving design. You can either go for regular sliding doors, or you can explore pocket doors that can be tucked into the side of the unit, making them entirely invisible when open.
#8. Double the Prosperity With a Double Door Design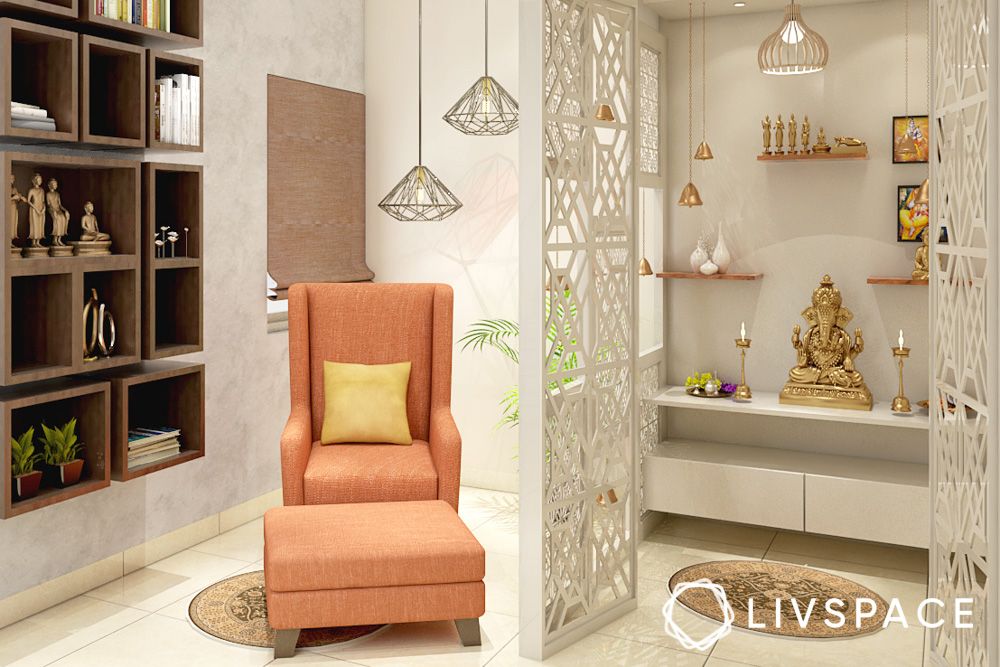 If you're blessed with more space in your home, you may opt for a sizeable pooja room instead of a small mandir. While this can be a great space to meditate in, you might be wondering how best to maintain and conceal it.
Here's where a double door pooja room design can be most convenient, as they're perfect for partitioning large spaces. You can either use glass or a jaali for your double doors, if you'd like to give the space an open and airy feel.
#9. Traditional Pooja Room Door Designs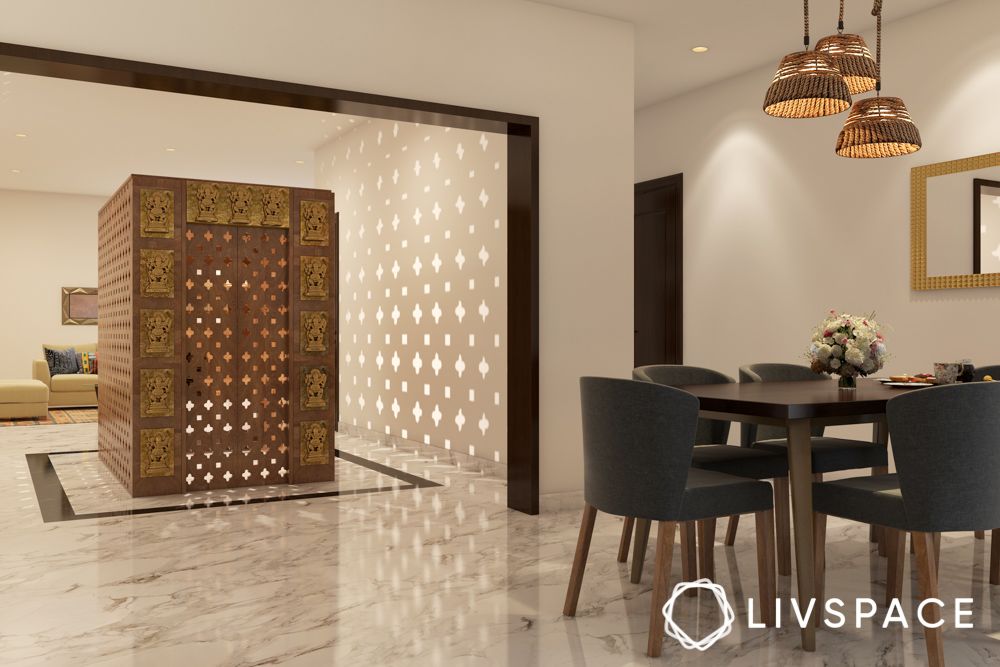 Though wood is the material that gives most pooja rooms that traditional touch, it's not the only element responsible for the look. Typically, traditional pooja room door designs have some sort of carving or woodwork on them.
In most cases, the carvings also include imagery of gods in various designs and motifs. You can get the look with ornate carved wooden doors, or with jaali panelling that has traditional-style motifs on it.
#10. Seamless and Modern Pooja Room Door Designs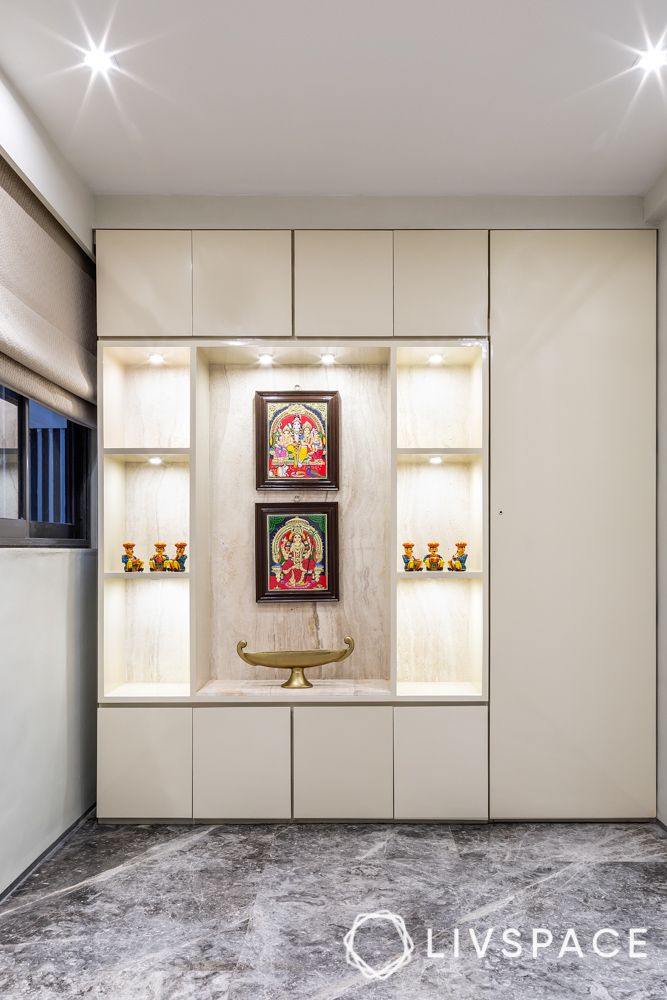 If you think about it, the image above is the exact opposite of what traditional pooja room doors look like. The sleek appearance is thanks to the seamless cabinet profiles that easily conceal the other parts of the mandir.
This is an ideal modern pooja room door design to embrace if you want a chic and multifunctional space. The combination of open and closed storage helps give the space a display element while simultaneously concealing unwanted items.
#11. Pooja Room Door Designs in Different Wood Varieties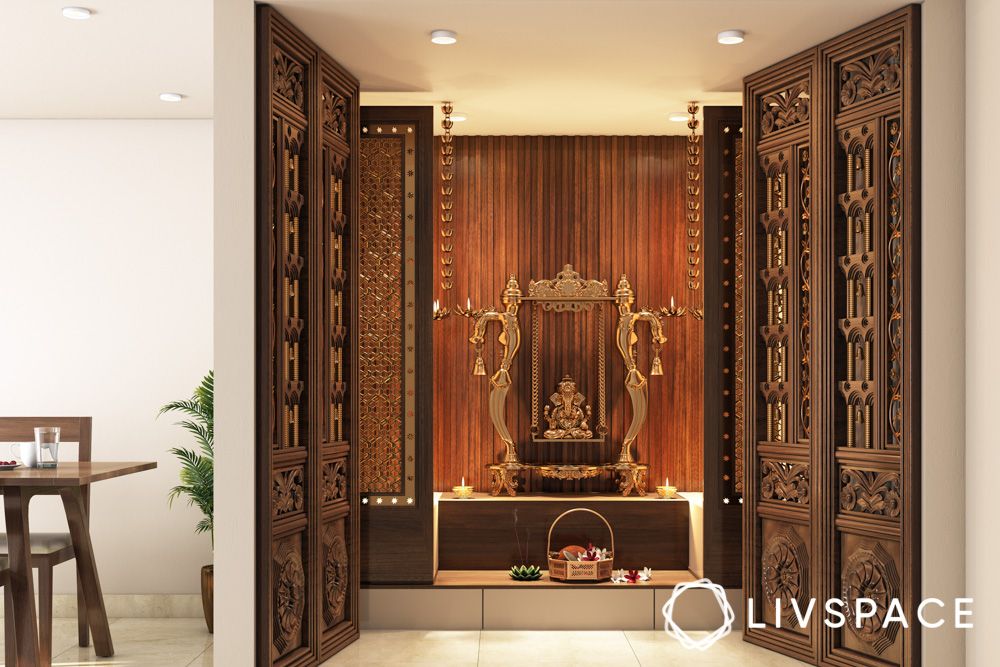 Teak is one of the most preferred varieties of wood, besides Sheesham, when it comes to pooja room door design. Some of the benefits of this material include resistance to pests, heat, and light, making it a durable option for your mandir.
#12. Brass Pooja Room Door Designs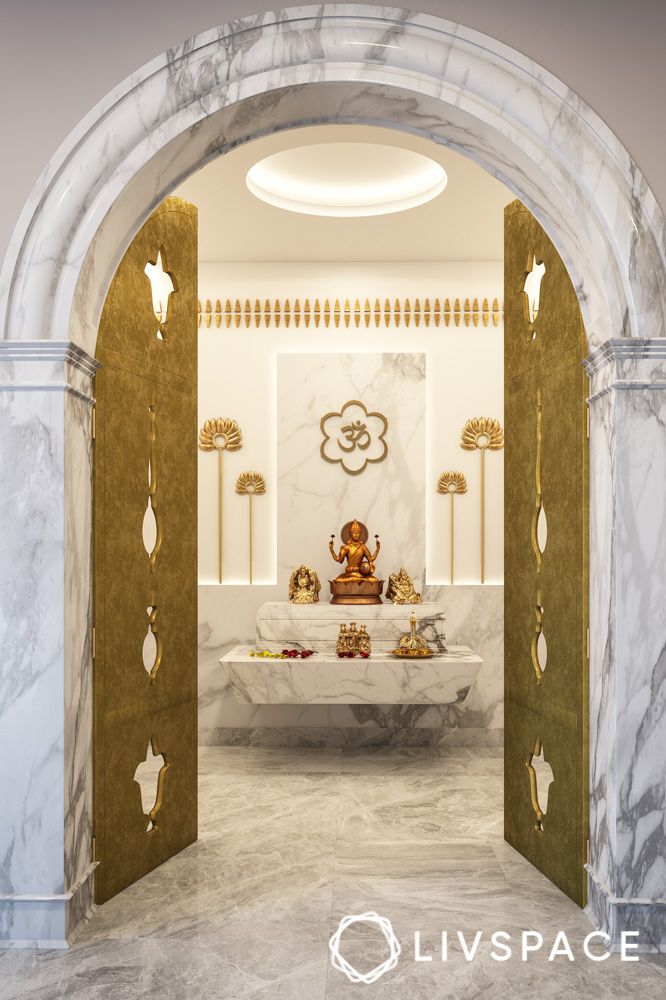 It doesn't hurt to try something different every once in a while. This is especially true if you'd like to break away from the norm while designing your pooja room. So, how about straying away from the usual suspects like wood, glass, and engineered wood and going the antique route with brass?
This pooja room door design is made entirely of brass with a few motifs cut out of it. The warm sheen of the brass lends a soft touch to the marble components of the pooja room, creating a serene space.
3. Tips for Choosing the Perfect Pooja Door Design
Here are some tips that you can use to choose the perfect pooja room door design for your home:
Assess the width of your pooja unit and use it to decide which material to use. For narrow widths, glass is the best option. However, for wider pooja rooms, use carved or CNC-cut wood, plywood, MDF, or jaali doors
Let your pooja room blend into your existing interior style with the help of similar materials and finishes. For example, you can use MDF doors with matching laminates to match the pooja room with the rest of your interiors
Wood, ply, or MDF doors are ideal for pooja rooms that are used regularly as they don't break easily and don't require daily maintenance
Avoid using glass or jaali pooja room doors in homes with kids and pets, as they may run the risk of breaking easily
Check out pooja room designs:
How Can Livspace Help You?
We hope you found these pooja room door design ideas useful! If you want beautiful interiors for your home, then look no further. Book an online consultation with Livspace today.
Have any thoughts or suggestions you'd like to share with us? We're all ears! Drop us a line at editor@livspace.com.
Disclaimer: All contents of the story are specific to the time of publication. Mentions of costs, budget, materials, finishes, and products from the Livspace catalogue can vary with reference to current rates. Talk to our designer for more details on pricing and availability.