We understand that not everyone has an extra room at home that they can convert into a pooja room. But, you still want a dedicated space for your pooja unit, don't you? Opting for some mandir design in wall ideas would be the ideal solution for you. 
Ready to start designing your very own holy corner? All you need is some free wall space and you're set! Take a look at these beautiful space-saving and simple pooja mandir designs for wall that can be accommodated in the most compact of homes.
Mandir Design in Wall #1: Wrapped in Wallpaper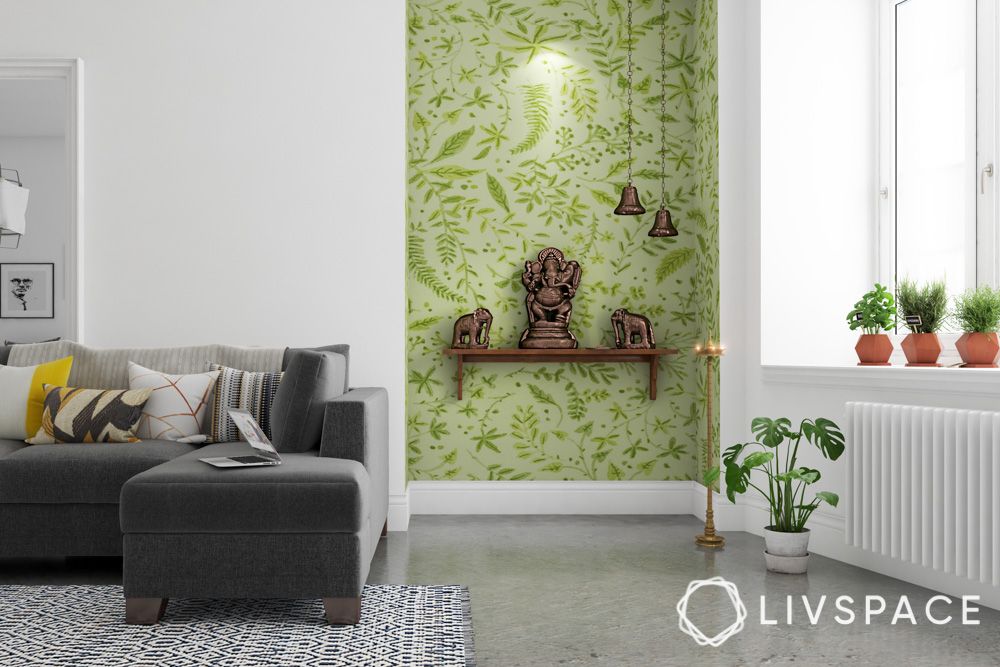 Let your wall do the talking with this subtle and serene wallpaper on your wall mandir design. If you are someone who loves plants and greenery, then you will love this pretty idea for your wall-mounted pooja unit. Just add some bells and mount your deities on a wooden ledge to create your very own temple design on a wall.
Also Read: 4 Materials That Are Ideal for Your Pooja Room
Simple Pooja Mandir Designs for Wall #2: Versatile Unit for Any Room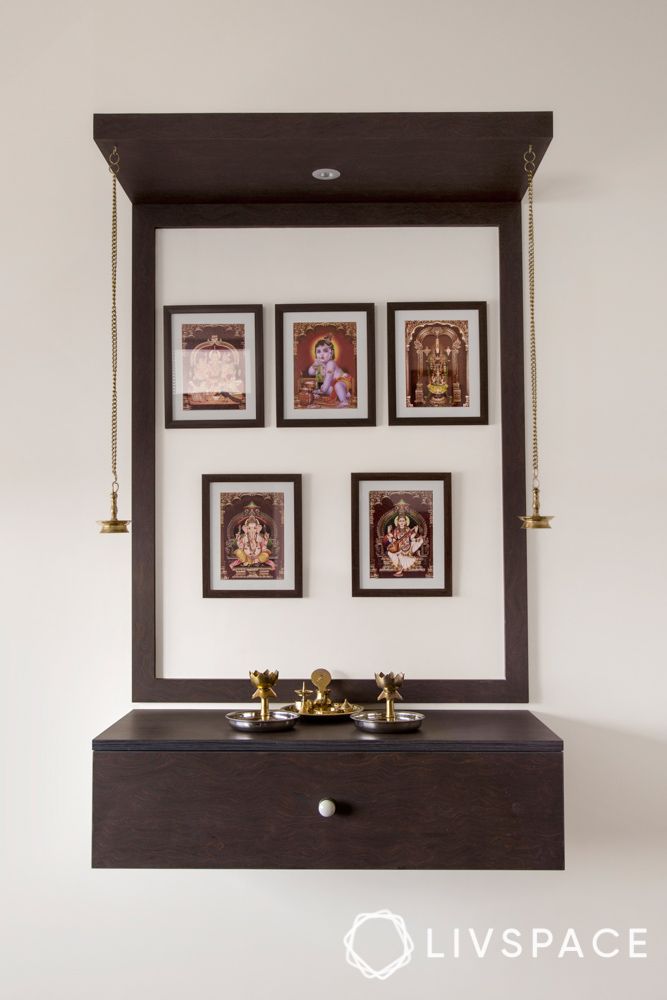 When it comes to your mandir design in wall, literally any style of interiors will work. A minimalist wall-mounted wooden mandir design for home with a spot light on top and a drawer attached to it (for your pooja samagri), should be sufficient. You will be left with free floor space and a lot of wall space to hang frames and photos of the gods and goddesses you revere.
Mandir Design for Home Wall #3: Jaali Panel for a Touch of Class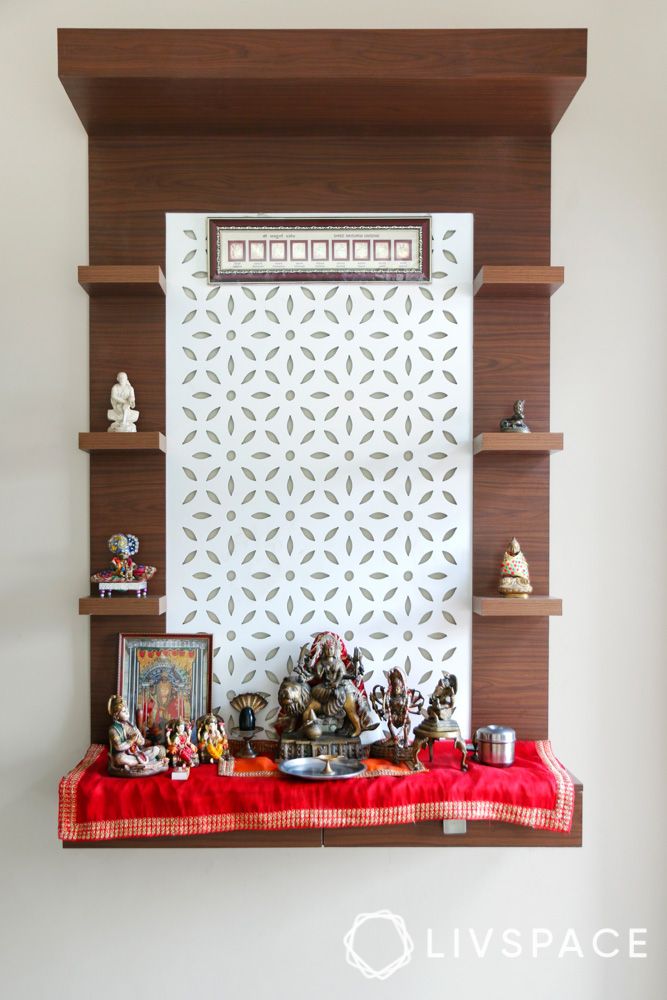 Who says your wall-mounted mandir design for home wall needs to be dull and boring? While wood is the best choice for your wall hung unit, you can install a jaali panel at the back, to give it a designer twist. For additional space, you can have tiny shelves on either side of your modern mandir design on a wall and place small idols on them.
Wall-Mounted Mandir Designs #4: Elegant Design for the Beam Wall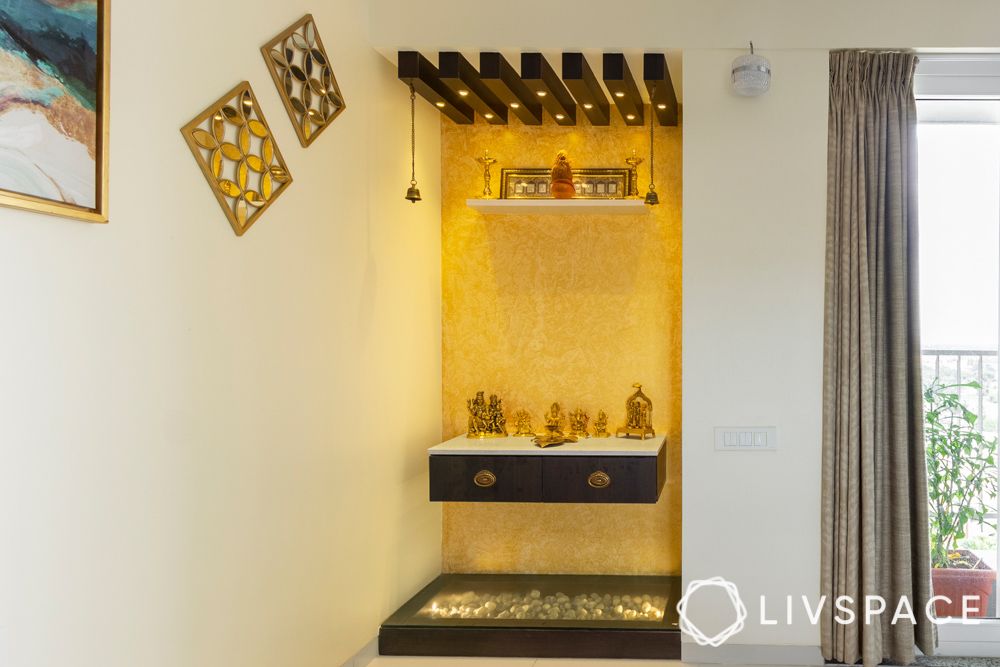 Personally our favourite idea for a mandir design in wall, this one is a sure winner! This home mandir design in a wall comes with wooden rafters on the ceiling and a base with drawers that takes care of storage. Two lovely brass bells that complement the wood, and your wall-mounted mandir design for home is complete!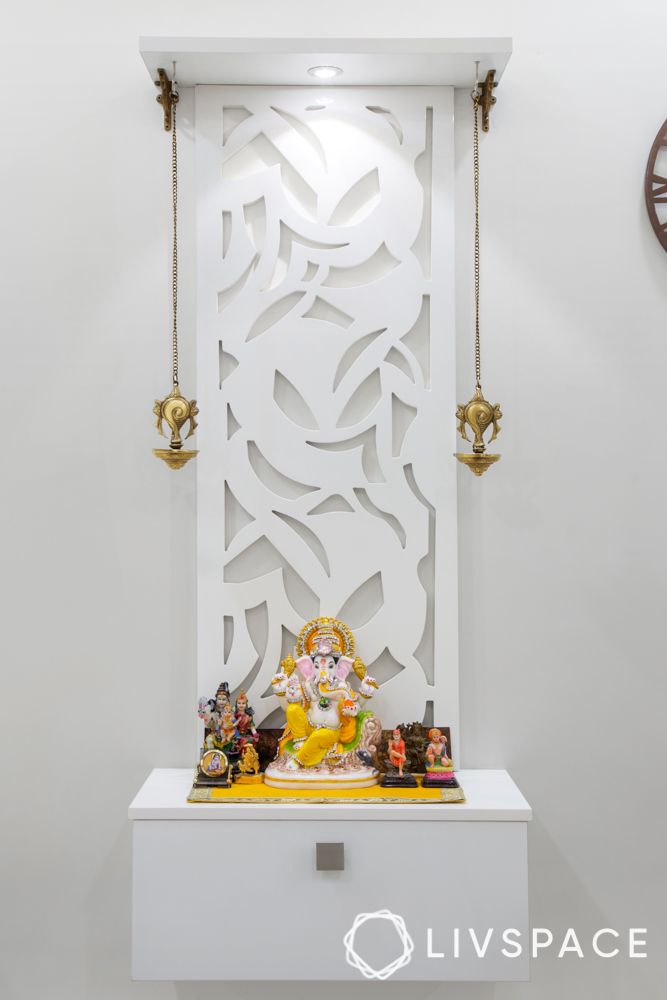 When you have a Scandinavian theme going around your home, your wall mandir design should be in line. A traditional mandir design in wall with a jaali backpanel, sitting atop a wall-mounted base unit will work just fine. This mandir wall design can find a place in any corner at home.
Wall Mandir Design for Home #6:  A Cosy Corner for Your Deities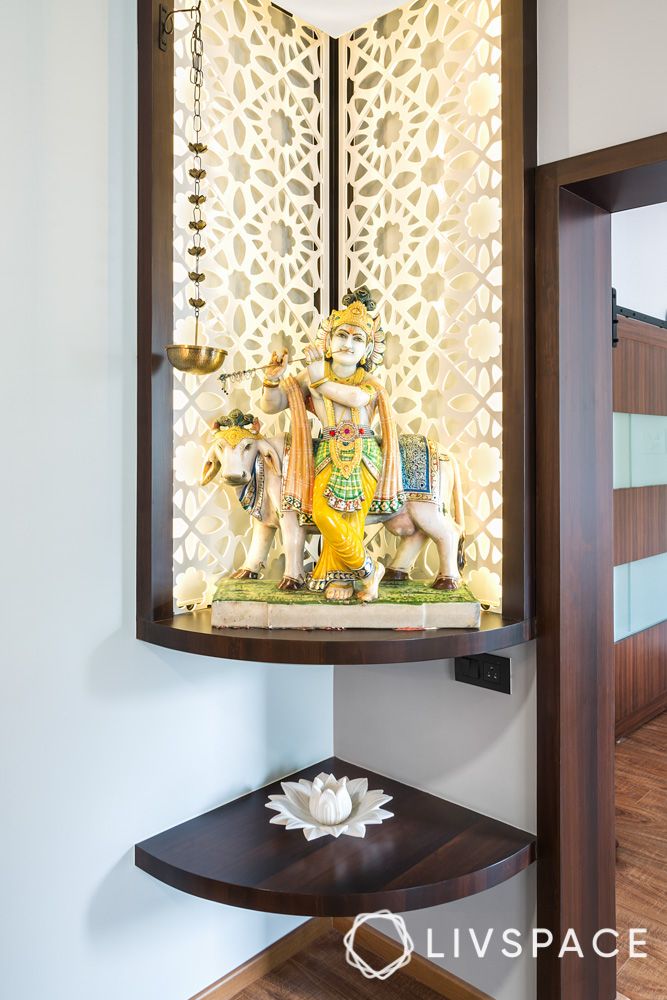 An intricate jaali panel behind the idol exudes a pure divine vibe like no other in this wall-mounted temple design for home. And if the panel is back-lit, then it's a bonus! One wooden shelf underneath and your mandir wall design is ready.
Wall-Mounted Pooja Unit Designs #7: For Less Is More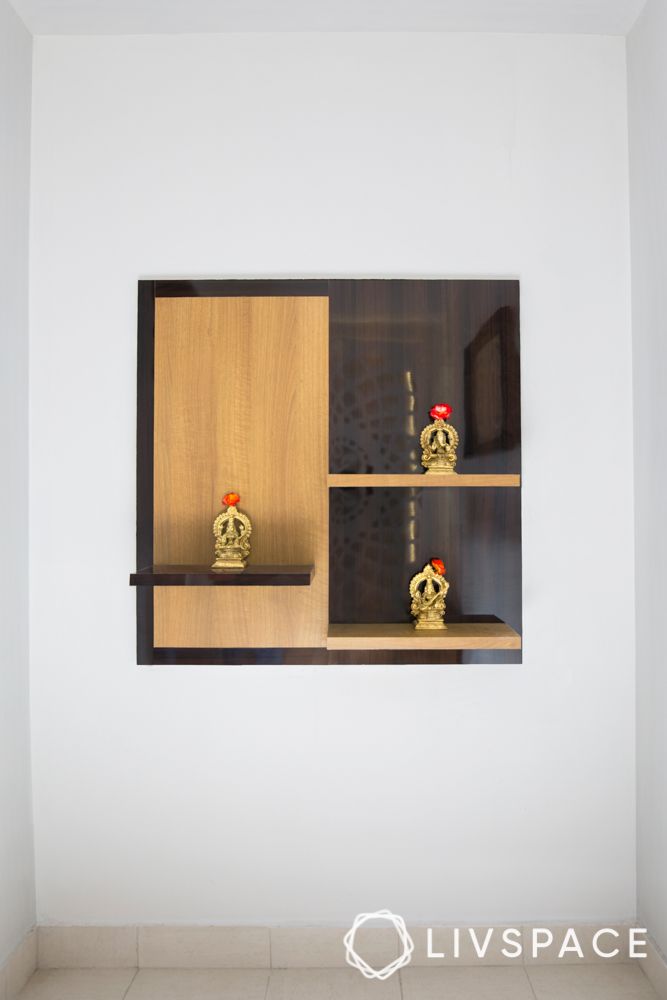 Can a temple design on a wall get any simpler and minimalistic than this one? This mandir design in wall is ideal for your foyer or the gallery at home. Decorate it the way you want to, or keep it simple with just idols and basic samagri.
Mandir Design in Wall #8: Colour Blocked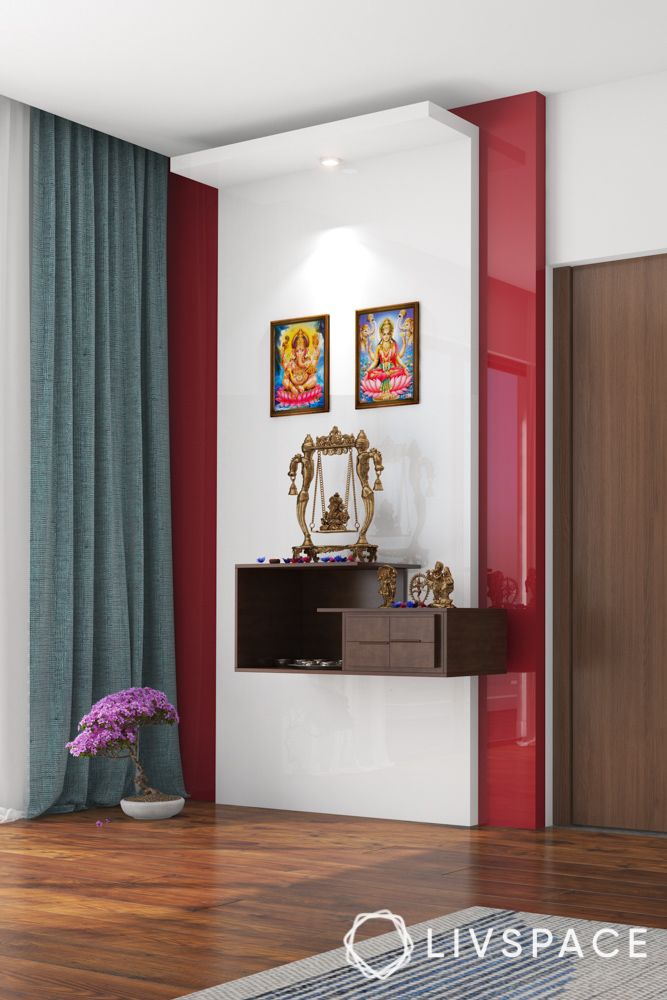 You can go a little elaborate, even with a mandir design in wall. Use the wall as an accent wall and create a wonderful wall temple design around it. Red or yellow are good colours to be used for a wall like this. Install a basic unit with open and closed storage to keep things organised.
Wall Temple for Home #9: That Goes Neatly Into a Niche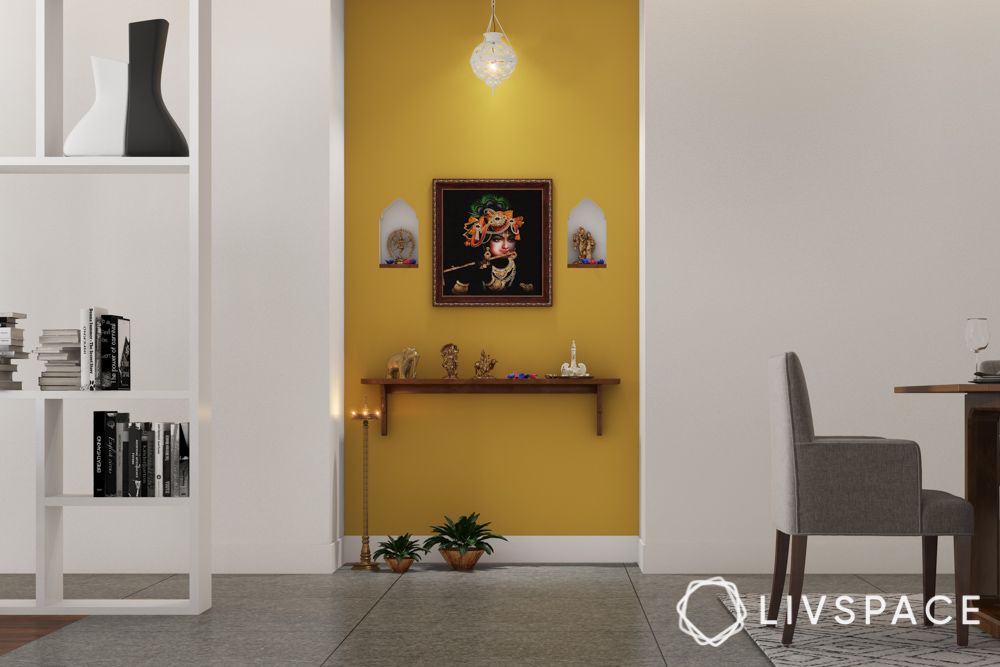 Do you have a wall niche in any of the rooms at home? Do not treat it as wasted space. You can create a wonderful wall-mounted pooja unit in this niche. All you need to do is paint the wall in a bright colour and install a simple ledge. Hang a pretty pendant light and see your pooja corner glow!
Modern Mandir Design #10: Go Vertical to Maximise Space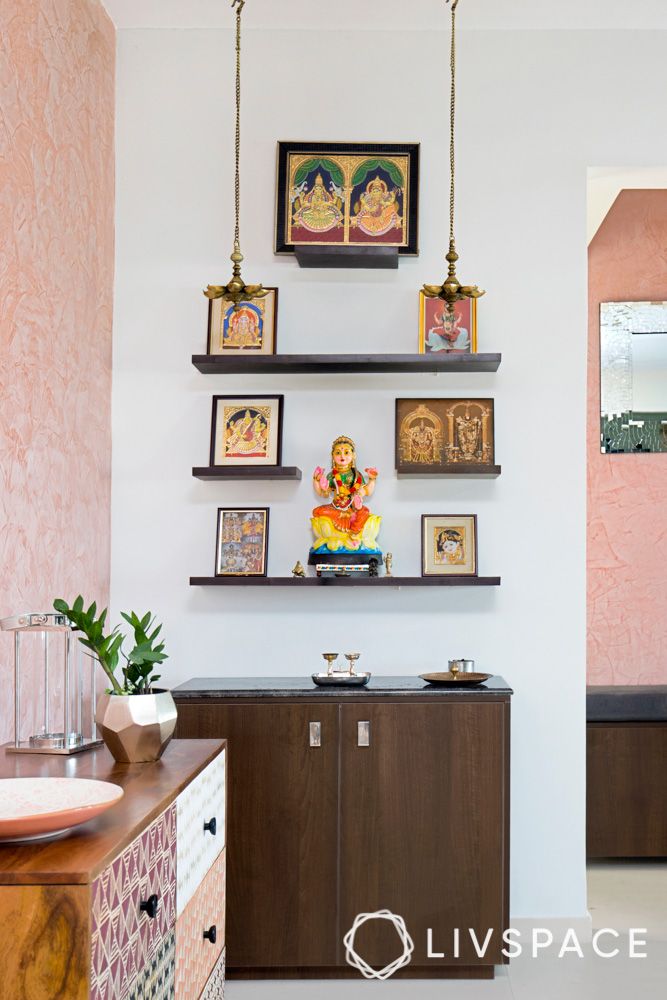 Why waste the space above your crockery unit when you can put it to good use? You can easily utilise that wall space to make a compact and modern mandir design in wall, complete with wall-mounted shelves and bells for effect!
Mandir Design #11: Contemporary Coin Shaped for a Modern Home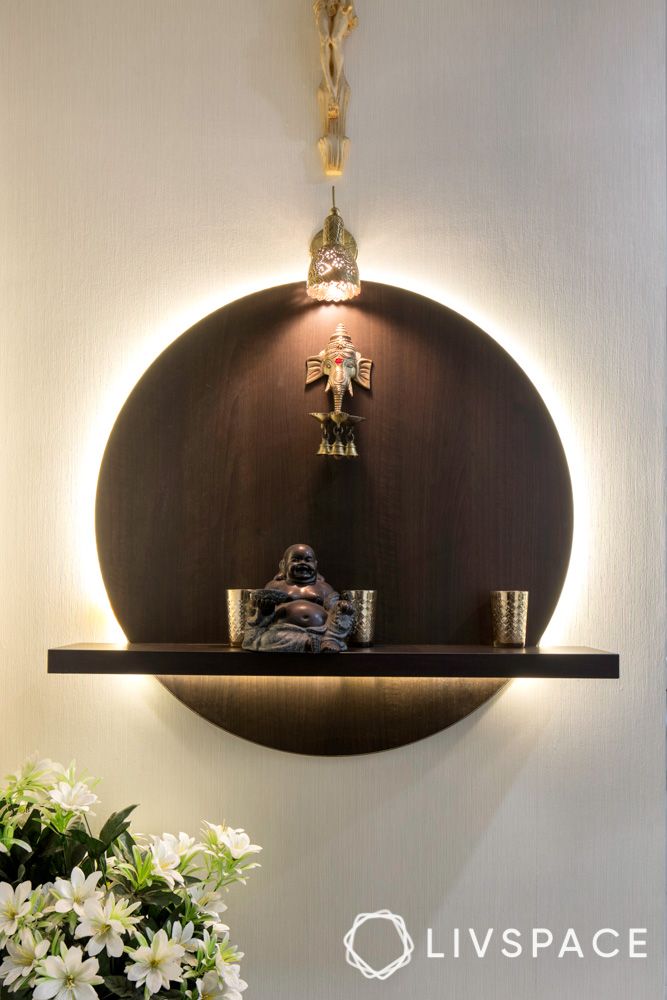 Another great idea for the foyer, this halo-like pooja unit will instantly win you brownie points from your guests. It's a great way to give them a warm welcome. This is surely one of the most stylish pooja units out there!
Mandir Design for Home #12: Box-Shaped and Compact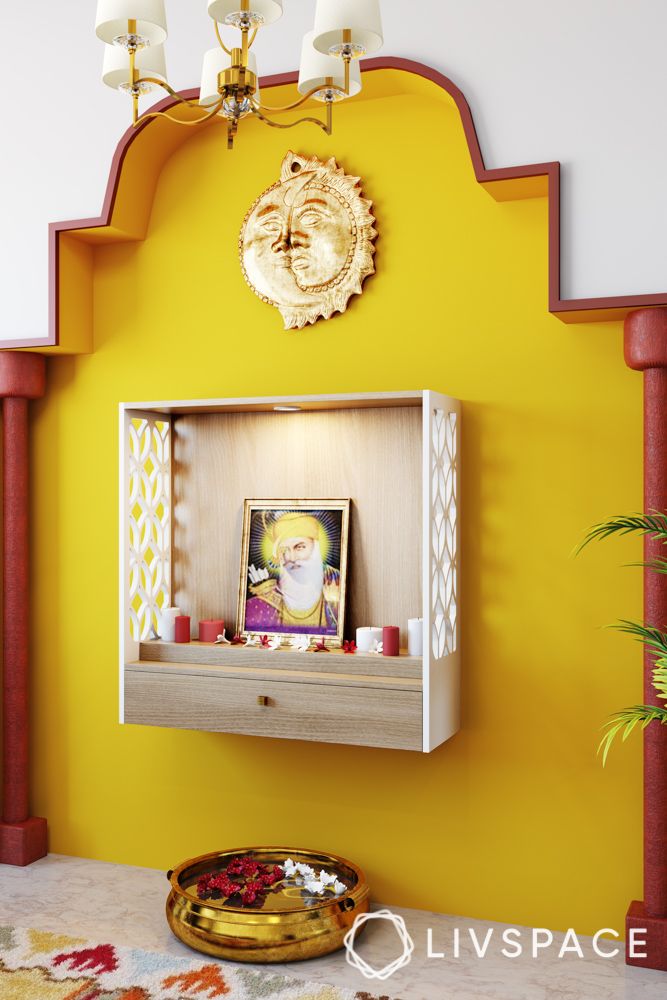 If you want something compact yet contemporary, a box-shaped wall temple design is a great option. To further elevate the look, paint the background wall in a vivid, vastu-friendly colour like yellow and add an arch, if possible.
Wall Temple Design #13: One With an Arched Top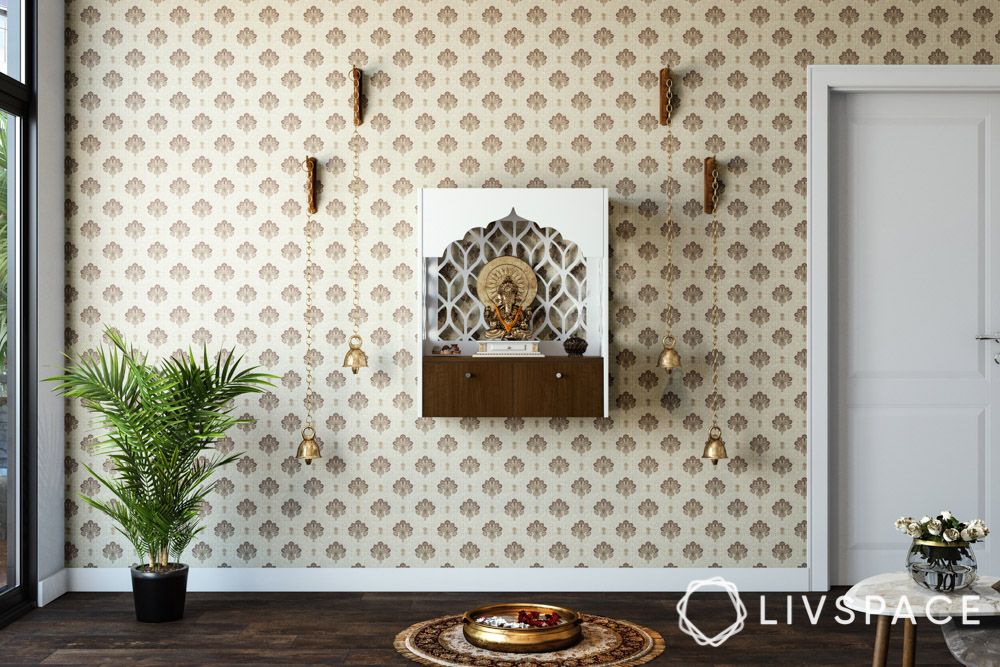 This type of mandir design in wall is perfect for compact homes as it takes up minimal space. To create a divine aura, select a traditional wallpaper for your mandir wall and hang some bells.
Pooja Temple Design #14: Pristine in White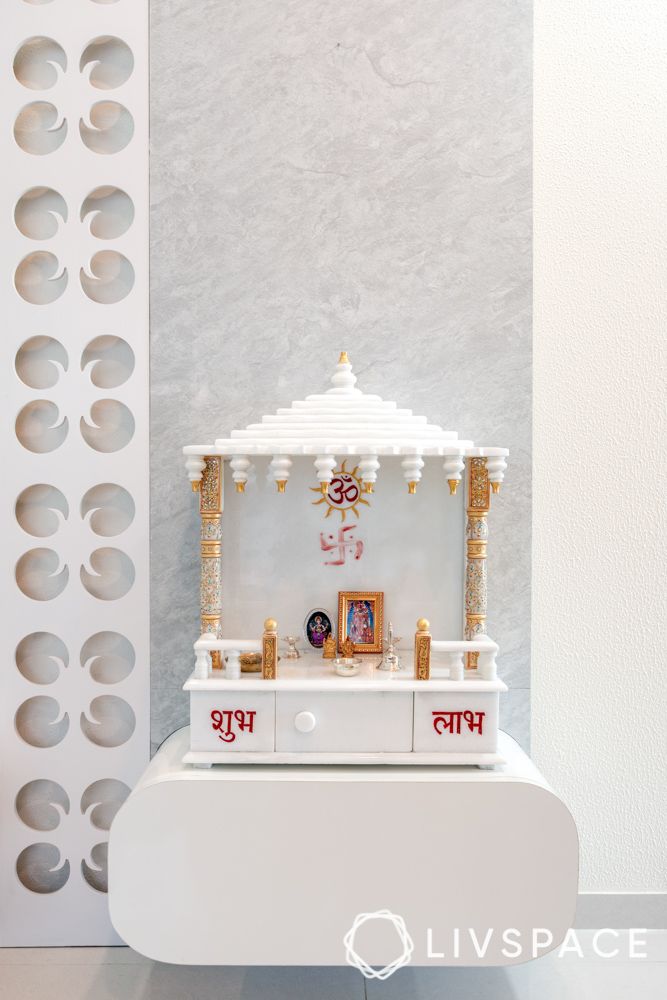 Your pooja room is the centre of the energies flowing throughout your home. As such, it is best to follow vastu principles while setting it up. A complete white pooja unit is not only approved by vastu, but also looks stunning and divine.
Wall Temple for Home #15: A Simple Design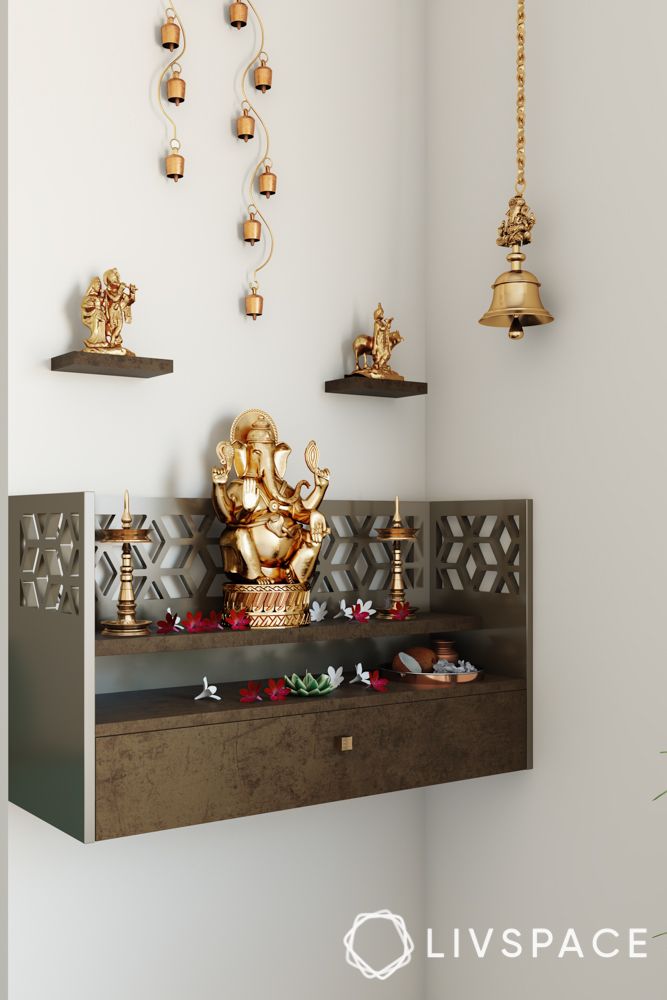 If space is scarce, opt for a pooja shelf instead of a complete unit. In addition to the main pooja shelf, you can also install smaller shelves for all your deities. Hang some bells and place some diyas to create a positive space.
So, now that you have gone through this list of wall-mounted pooja units, you know how to save up on floor space. Everyone can have a dedicated "pooja zone" at home now!
Also, take a look at this collection of wooden pooja units. You will love it!
Also Read: These Gorgeous Jaali Designs Are Perfect for Your Mandir at Home
How Can Livspace Help You? 
We hope you found our stairway ideas useful! If you want beautiful interiors for your home, then look no further. Book an online consultation with Livspace today.
FAQs
1. Which Type of Mandir Is Good for Home?
Pooja units made of sheesham wood, white marble or granite are good for your home.
2. Is It Good To Hang Mandir on Wall?
If you have a compact home, opting for a wall-mounted mandir is the best option for you.
If you have any thoughts and suggestions you'd like to share with us, we're all ears! Drop us a line at editor@livspace.com.