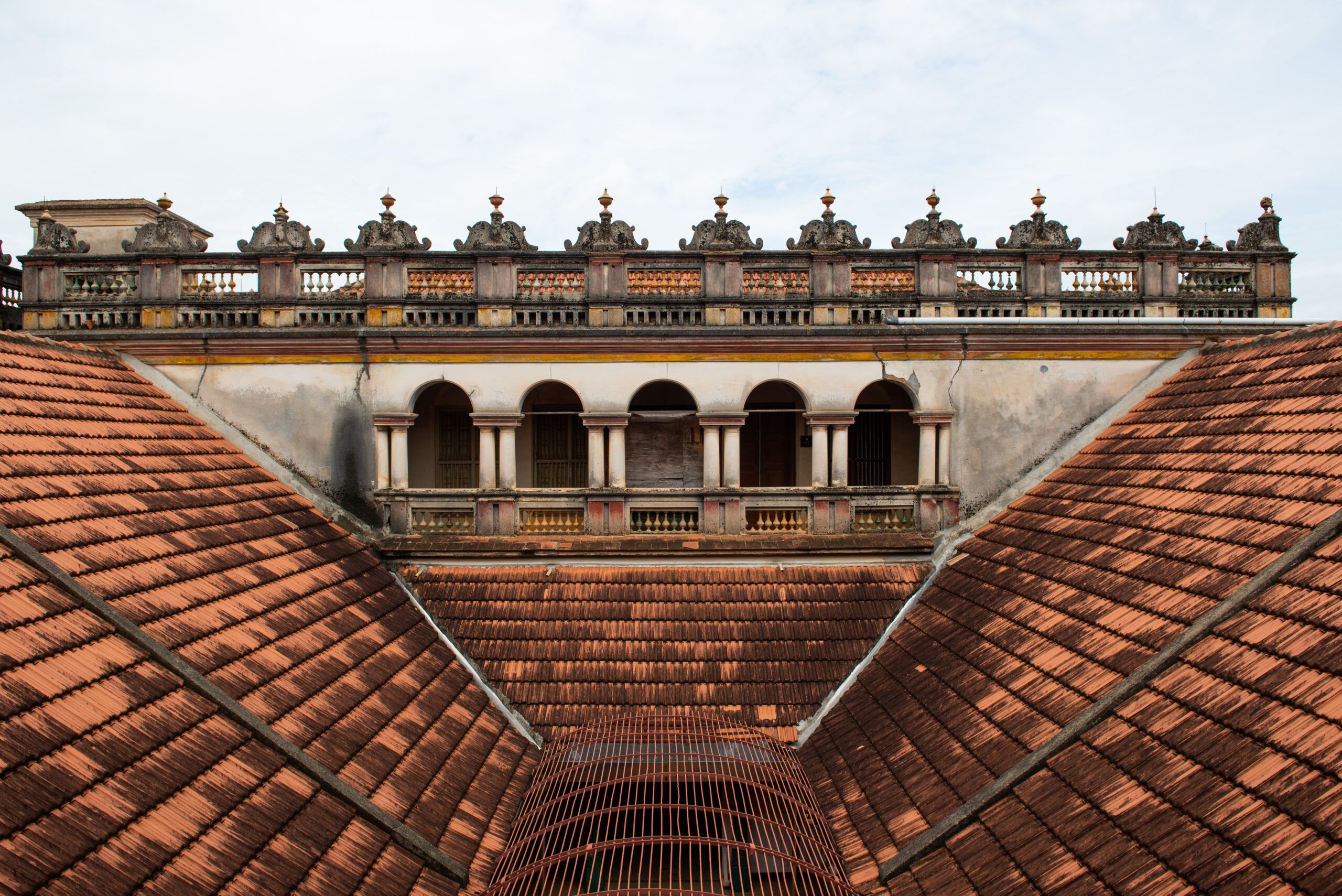 A walk down memory lane
For most south Indians, the idea of spending summers at their ancestral homes brings back memories of childhood. Running around barefoot on cool red oxide floors, climbing the mango trees surrounding the grand home, running our hands over the heavy doors and pillars while playing hide-and-seek and getting an oil bath in the courtyard – has nostalgia struck yet? Homes like this are soaked in old world charm and unbeknownst to most, rich in craftsmanship and built with care to battle the heat and humidity of the tropical south. Let's go back in time to explore the beauty and thought that went into crafting a Chettinad house, which can still serve as lessons in designing homes for India.
Where is Chettinad?
At a distance of 90kms from Madurai, in the Sivaganga district of Tamil Nadu, Chettinad is home to the Nattukottai Chettiars (Nagarathar). They belong to a high-ranking banking and businessmen community. An amalgamation of traditional Indian architecture and a touch of European influence resulted in Chettinad house interiors, which we are huge admirers of. However, the thought behind the design of 19th century interiors runs deeper than that.
Built to ensure ventilation, these exotic homes use a variety of materials that guarantee durability. The elaborate architecture promotes natural sunlight and ventilation, great for the health of its inhabitants. The decor infuses culture and plenty of colour with brassware and Tanjore paintings. Therefore, these homes are known for their single-storey palatial mansions with spacious courtyards, Athangudi tiles, rooms embellished with marble and teak wood and traditional artefacts.
Designed for the hot and humid climate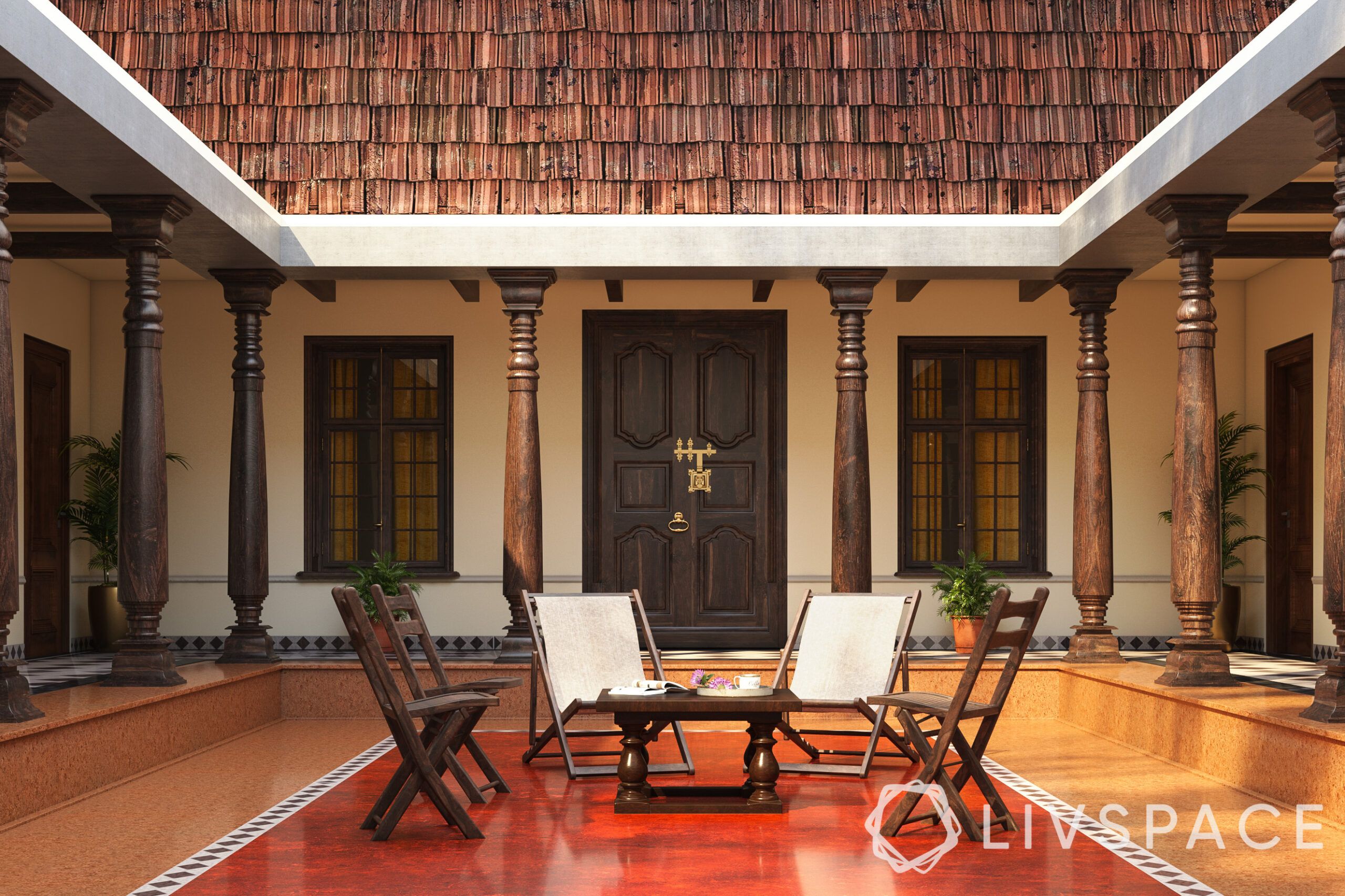 These mansions are characterised by their rectangular plots accompanied by a simple floor plan with wide spaces, well-ventilated courtyards or thinnais and spacious rooms. These open-air courtyards illuminate the home interiors with ample sunlight. During the day, these central spaces can heat up rapidly. Therefore, red oxide was a popular flooring option to keep the floors cool. Finely ground mixture of powdered shell, lime and gallnut called chunnam was used to plaster the wall. These two design elements last a lifetime and reflect heat.
Moreover, the double-roof system made of baked clay tiles has an extension called chajjas. They act as sunlight breakers. Baluster railings added so that the lightest breeze can be caught. These courtyards make the most of the sun and are used to dry a variety of condiments. Furthermore, it brings people together in the evenings to discuss the day's events and building camaraderie.
Supporting local craftsmanship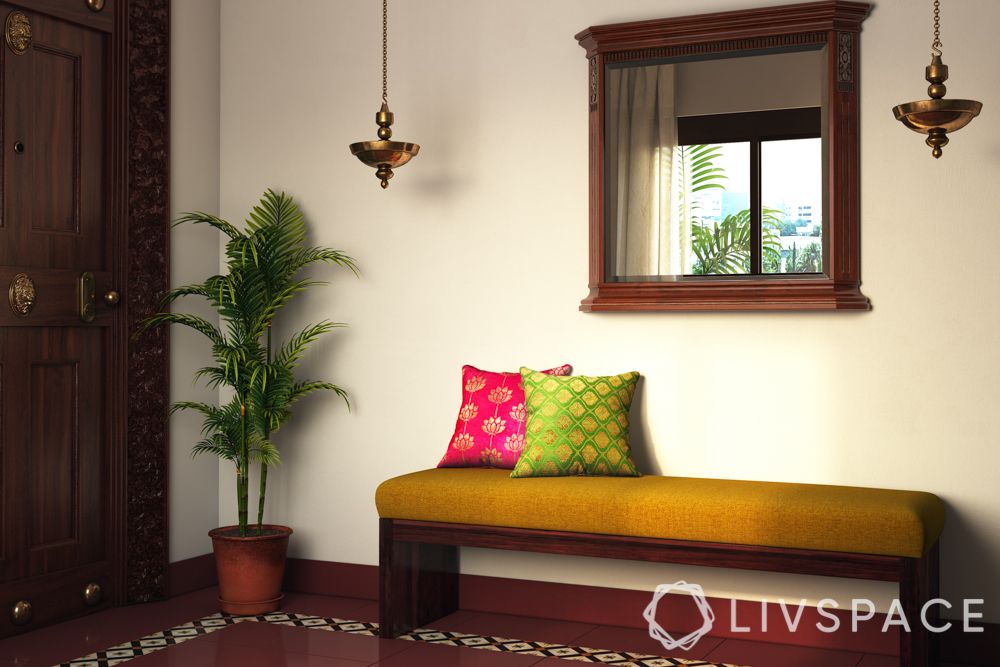 One of the most understated elements of Chettinad architecture is its base. The materials used here are unlike any other. Locally manufactured or sourced from all around the world, all materials ensure superior quality and durability. The foundation consists of a combination of mud, stone and mortar. The walls are made of baked bricks, bonded by fibre roots and coated with egg shells and egg whites. This gives it a silky smooth finish that's washable.
In addition, elements of a Chettinad house are characterised by beautifully carved Burmese teak, marble or granite pillars. A fine display of their status, these pillars use used in the main courtyard. Assigned to each room, this columns come in an array of designs. However, if you have the space you can also opt for rosewood or cement pillars for your home. Or you can restore old pillars.
The flooring steals the spotlight in this design. When they weren't using red oxide, local artisans stepped in to add a dramatic flair with the renowned Athangudi tiles. These are handmade and locally manufactured by skilled artisans. They come in a wide variety of patterns and colours, the most popular design being the chessboard pattern. The most traditional designs are in yellow or red with typical floral and diamond borders. That dash of luxury comes from the materials sourced from all over the world, such as Burma teak, Italian marble, Belgian glass and so on.
Check out this video on the fascinating process of making Athangudi tiles:
Source: Running Studios
The layout and space utilisation in a Chettinad house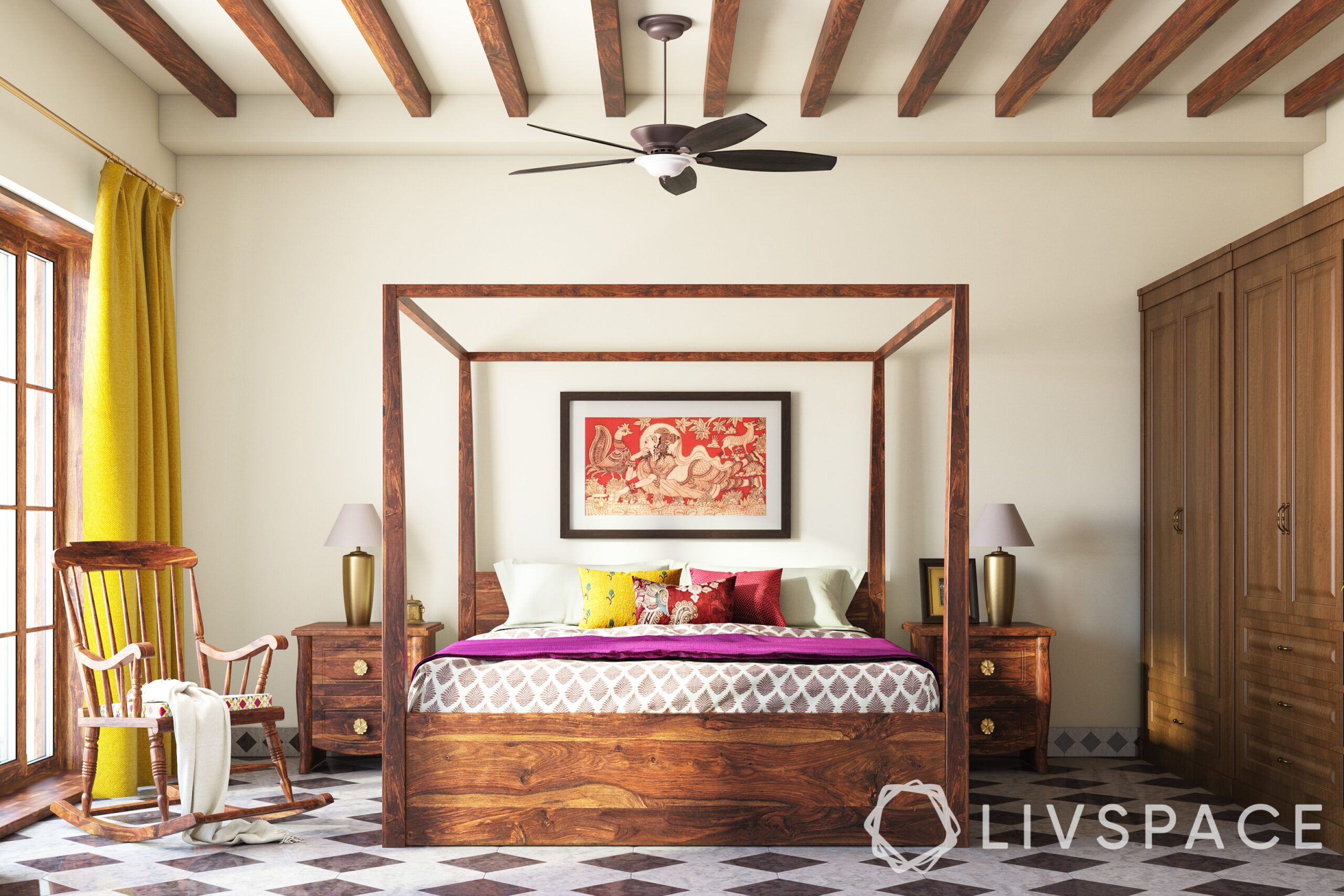 Every Chettinad house is a masterpiece – designed keeping a purpose in mind and with great attention to detail. While the exterior of the house is designed with a raised platform called thinnai to receive visitors, the interiors are designed for confidential meetings, storage, personal use and ceremonies.
These properties, following vastu shastra principles, had their entrances facing the east. Since the Chettiars were in banking and trade businesses, they used rooms called ullarai (inner rooms) and veliarai (outer rooms) for storing items. A large teak wood door opens up into the main courtyard of the structure which is bordered by pillars and rooms with tall windows inhabited by members of the family. Other courtyards lead to the dining room or kitchen. This concept promotes ventilation and dismisses the use of fans, keeping the homes cool on most days.

Restore and reuse furniture to recreate the look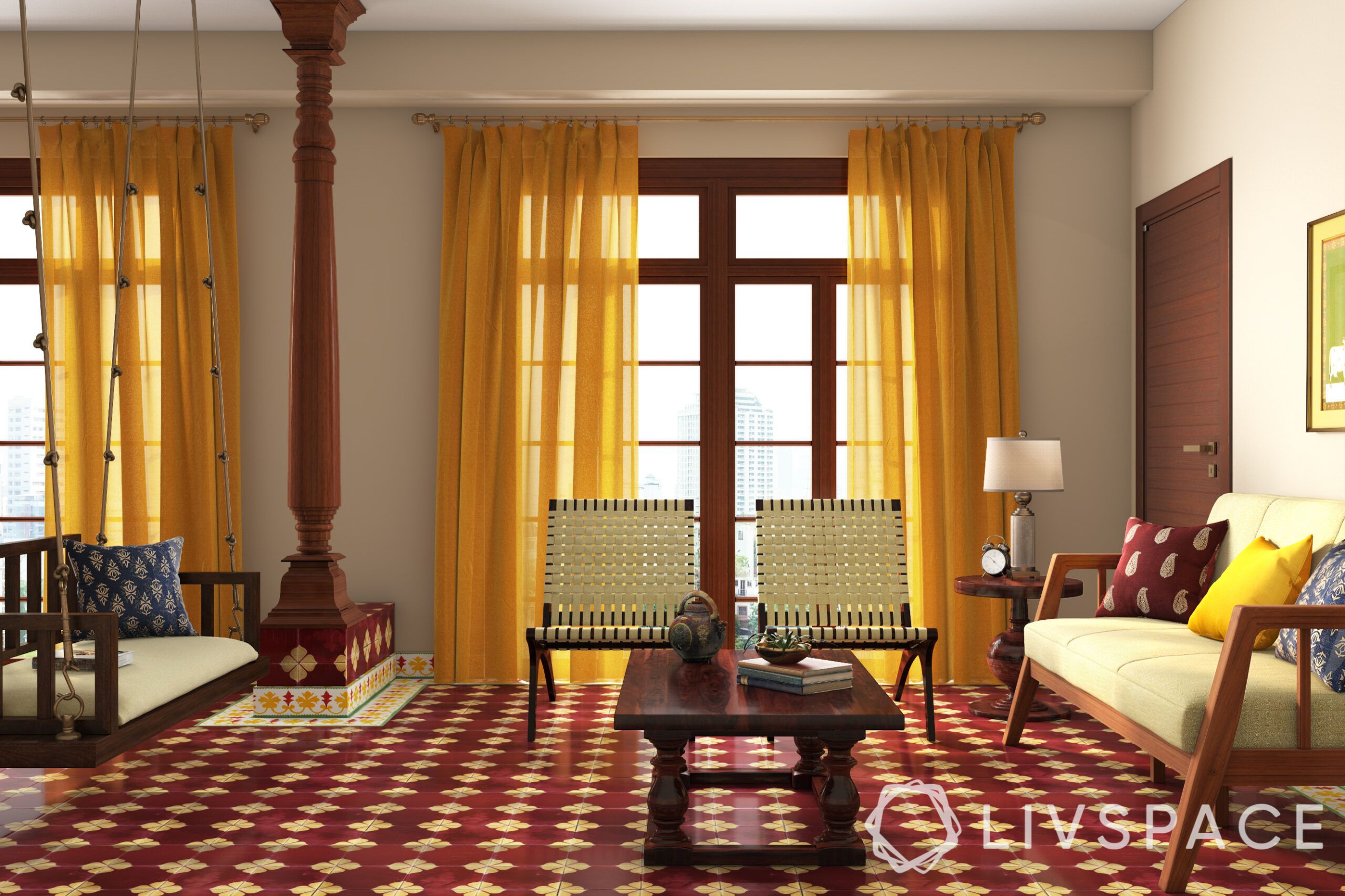 What adds the essence of Chettinad is the gorgeous heavy furniture, brass and copper fixtures and Tanjore paintings. Burma teak wood woven with cane is what the furniture was traditionally made of. Predominantly known for its high quality and durability, teak wood is a popular choice. Since teak wood takes approximately 80 years to harvest, oftentimes old teak furniture is reclaimed from Chettinad homes that are slated to be torn down and given new life as furniture.
However, solid wood furniture is not the only option if you choose to adopt this style for your home. You can choose to refurbish old furniture with woven cane or even suspend a sofa-cum-swing in the living room. Rocking chairs, wooden coffee tables and chest of drawers can be thrifted. This is one way to cut cost while incorporating a Chettinad feel.
You can also add some brass embellishments around the home in the form of lamps, bells, shells and statues.
Durability, sustainability & maintenance of a Chettinad house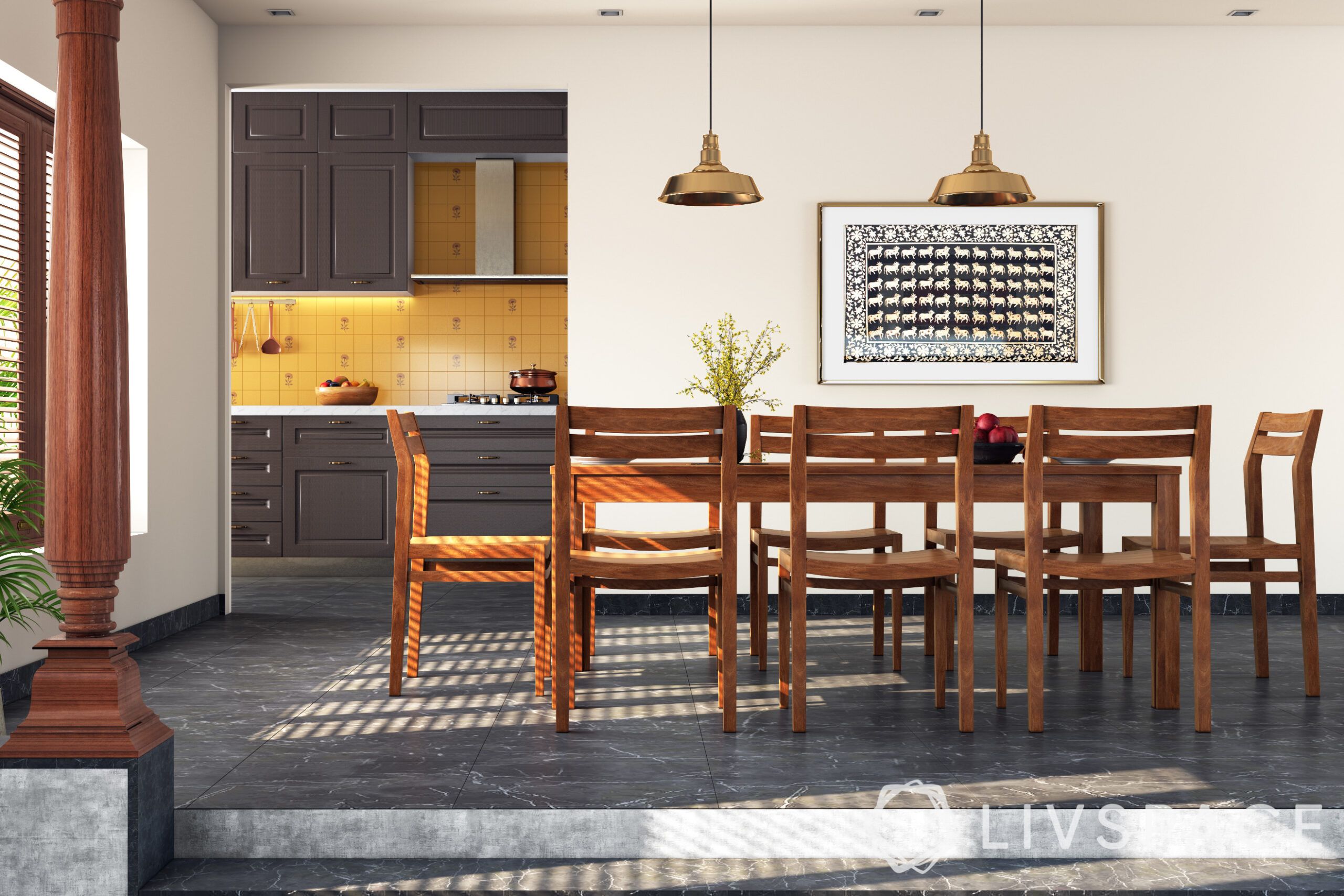 Chettinad home structures are made of materials that are high in quality and can last a lifetime. Handmade tiles and bricks crafted by skilled artisans ensure sustainable use of materials while supporting local craftsmen. Superior quality glass, marble and wood are purchased for their durability.
However, the complex and detailed work that goes into it makes it an arduous task to restore and maintain. Constantly exposed to air and dust, the courtyards require regular cleaning. Brassware can get tarnished and is subject to oxidisation. These properties may be subject to termites and dust mites due to the abundance of wood, making maintenance absolutely essential. Remember to monitor and treat your wood from time to time to ensure it stays solid.
Chettinad design for modern homes
While this style of architecture is sustainable and stunning, it can come at a high cost. More so if you choose to stick to the original design that is rapidly disappearing. However, understanding Chettinad interior design and its sustainable principles can help create durable and long lasting designs for modern homes. A touch of Chettinad style is probably what we all need to relive our childhood and salivate at the thought of the mango oorga pickled by our grandmothers.
Tell us what Chettinad elements you've incorporated in your home by writing to editor@livspace.com!