Indian interior design—like everything else that is Indian, is steeped in a rich potpourri of culture. It is a style that comes down to us from our history with mixed influences. Be it temple motif architecture from down south or the intricate carvings seen on Mughal monuments, Indian interior design draws heavily from all these sources. In the end, what we have is a style that is just as composite as our culture!
But don't let the complexity and evolution of the Indian interior design style overwhelm you. As implementing these is simpler than you think. All you need are some pro tips that will add a desi vibe to your home.
Before you dive into the tips, you may want to explore these 5 design styles we recreated from 5 different Indian states.
#1: Be Generous With Vibrant Colours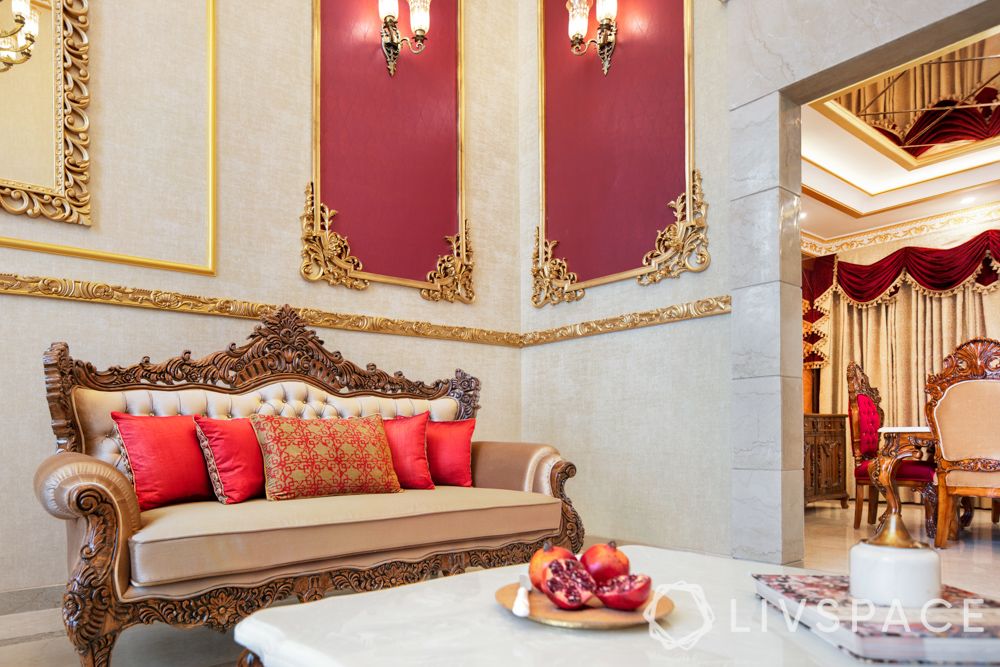 Bright and varied colours are the hallmark of Indian interior design. While it's hugely tempting to go crazy with such a vast palette, too much colour can create visual chaos. Opt for earthy tones – ochre yellows, rich browns and burnt oranges for your walls and floors. Yellows and pinks on the fluorescent side of the spectrum and startling blues and greens can be used for smaller elements such as pillowcases or chairs.
You can also opt for a safe, bicolour theme – using a neutral shade as a base colour and bursts of peppy primary colours for accents.
#2: Nothing Matches The Elegance Of Solid Wood Furniture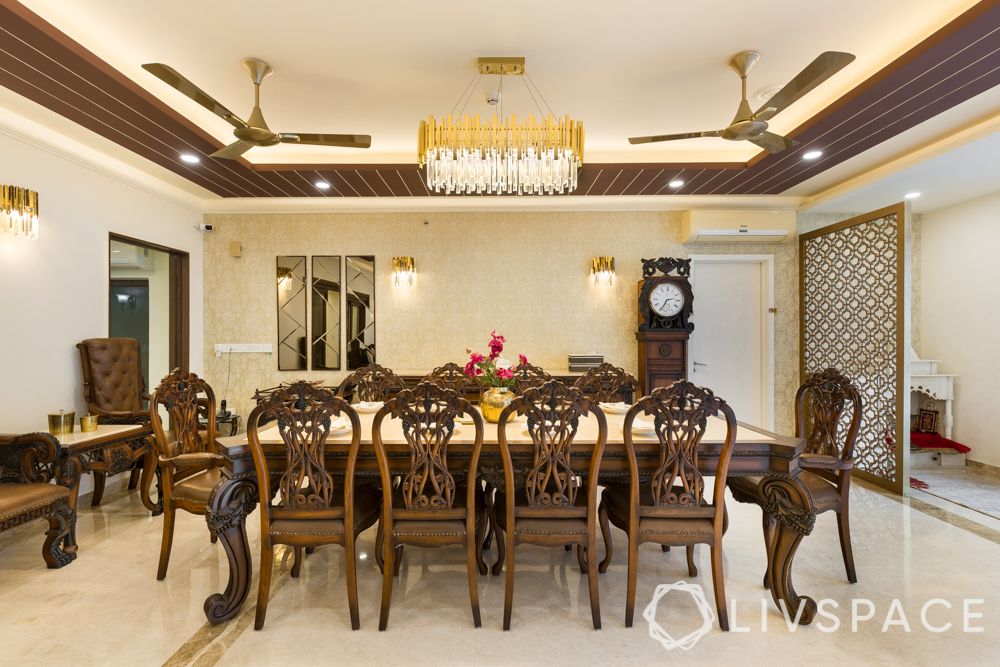 Solid wood furniture is an important element in Indian interior design that reflects our colonial nostalgia. For an authentic look, make the most of stunning Indian craftsmanship and choose traditional pieces with curved armrests and legs, carvings and inlay work in metal or ivory.
Get some ornate centrepieces and complement them with other more understated furniture. There's a vast variety of distinctively Indian pieces to choose from such as wooden chests, footstools, jharokhas and birdcages.
Everything really comes down to the quality of the wood, so make sure you know about these 6 popular types of wood and where to use them.
#3: Think Inlays And Carvings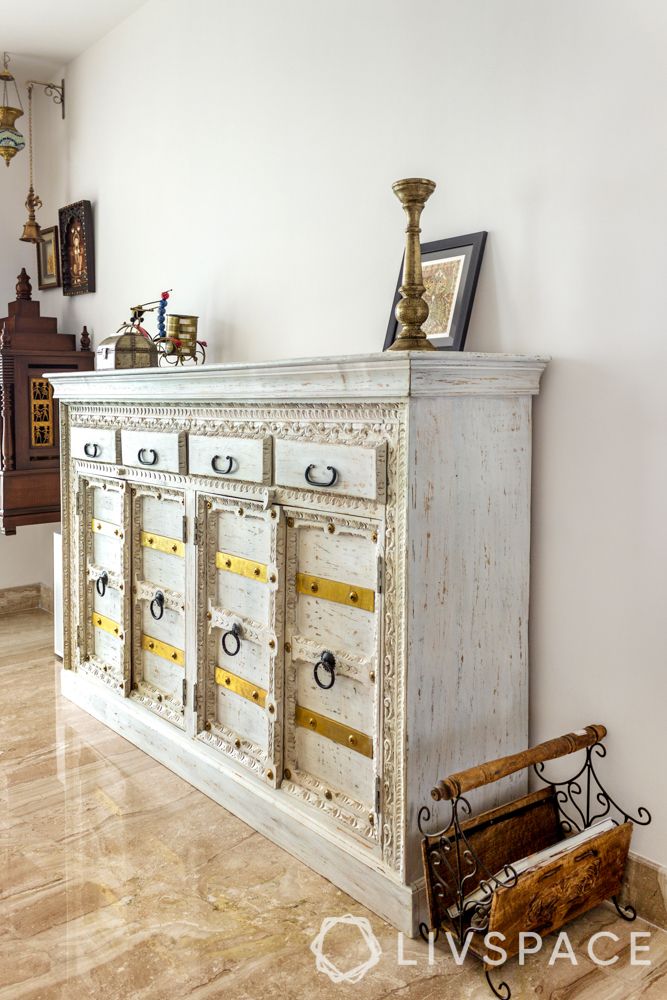 Traditional Indian cabinets are a great combination of functionality and aesthetics. Brightly painted and embellished with inlay work using mirrors, stones, ivory, or metal, they can serve as storage units too. Use them as accents alongside solid wood pieces to lighten the mood of your spaces. If you have heirloom furniture pieces, hold on to them and put them to good use.
Our interior designer Ashmita Banerjee says, "The entire world is in a transitional phase and so is the design industry. Infusing Indian heritage, art pieces, sculptures, yarns, have been the most observed across the world. Incorporating an Indian element or material in design makes the space intriguing and beautiful both."
#4: Homes Must Have Informal Spaces For Family Gatherings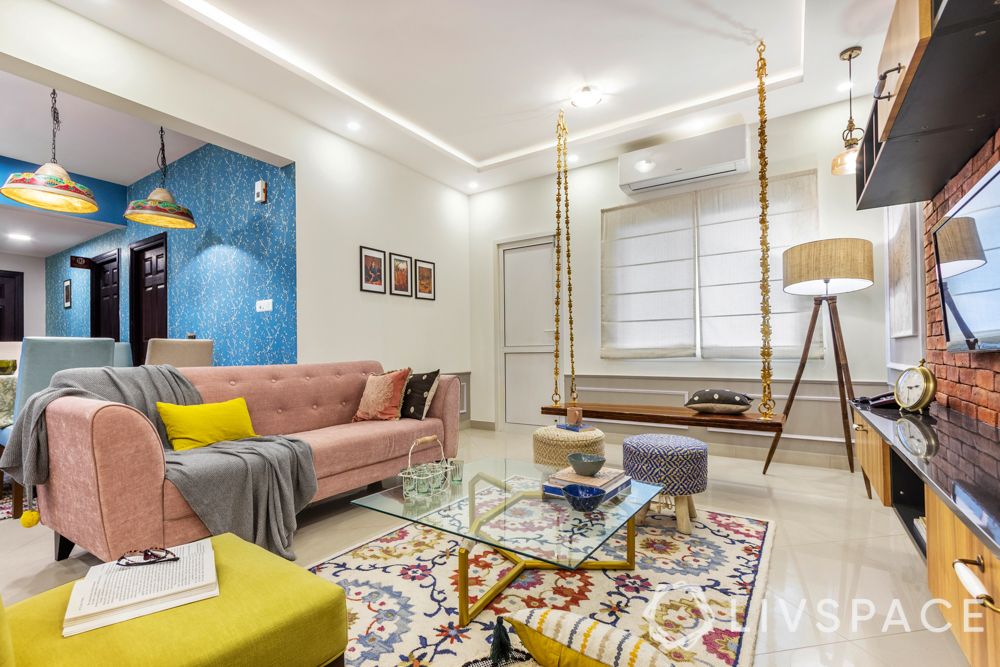 Indian homes also include versatile, informal spaces that allow relaxed interaction. Create different levels of seating using high chairs, sofas, diwans and footstools.
Rugs and floor cushions lend warmth and comfort to decor and can be used liberally. Traditional Indian pieces such as the swing, or jhoola, can bring a playful vibe to these spaces that allow families to come together. You can actually swing it in style with one of our swing designs!
#5: Fill Up Nooks And Niches With Curios And Knick-knacks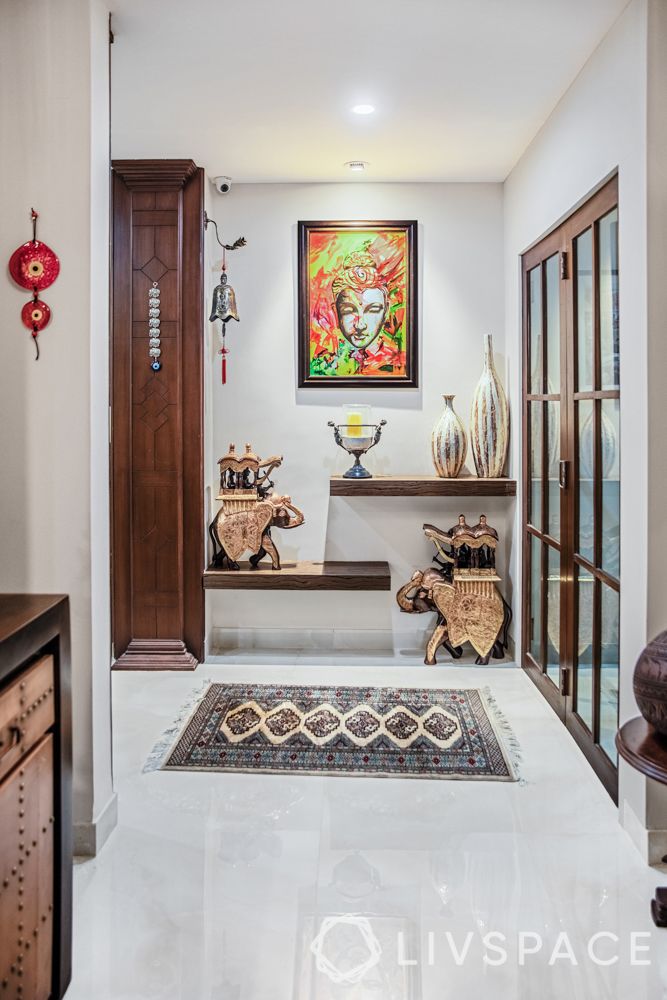 Since India has a large and exciting variety of handicrafts, there are a ton of artifacts to choose from to decorate your home.
Popular choices include masks, clay pottery, diyas, leather puppets, crockery, decorative boxes in sandalwood, metal or marble. You can also use brass lamps and pots as functional metallic accents. Let's hear what our designers have to say about adding desi accents to your home.
#6: Use Fabrics With Desi Prints And Patterns For Soft Furnishings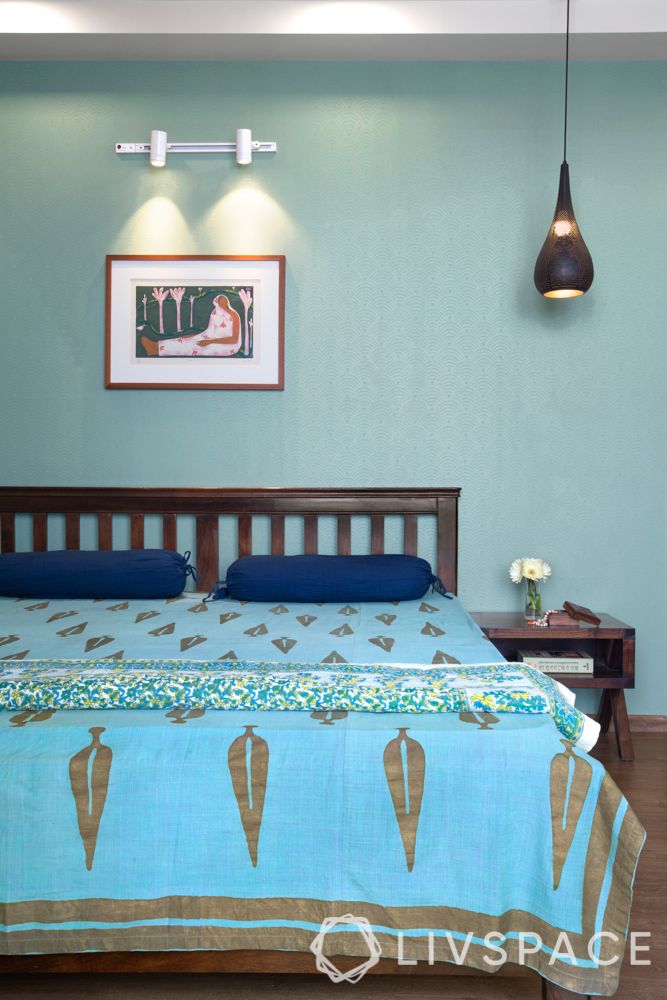 India is historically famous for its beautifully made fabrics. Moreover, these fabrics can be used in a number of creative ways in our homes – long, flowing drapes for windows, simple sheets thrown over a divan, to carpets and dhurries.
As a part of using Indian interior design, use fine fabrics with dabu or ikat prints for upholstering your centrepieces or for your cushions. Cotton and khadi can be used for side chairs while simpler fabrics like jute can be used for smaller foot stools.
Take a look at all the desi prints that you can flaunt.
According to our in-house Interior Designer, Payal Bagzai:
"Adding Indian cultural elements to your home is sure to amp up your aesthetics. Each region of India has its own special culture to offer; the design language of Gujarat is vastly different from that of Kerala. Don't be afraid to splash out India's vibrant colours as this is unique to the Indian heritage and you won't find this anywhere else. Unity in diversity; that's India and that's Indian design."
#7: The Quintessential Pooja Room Must Have Place Of Honour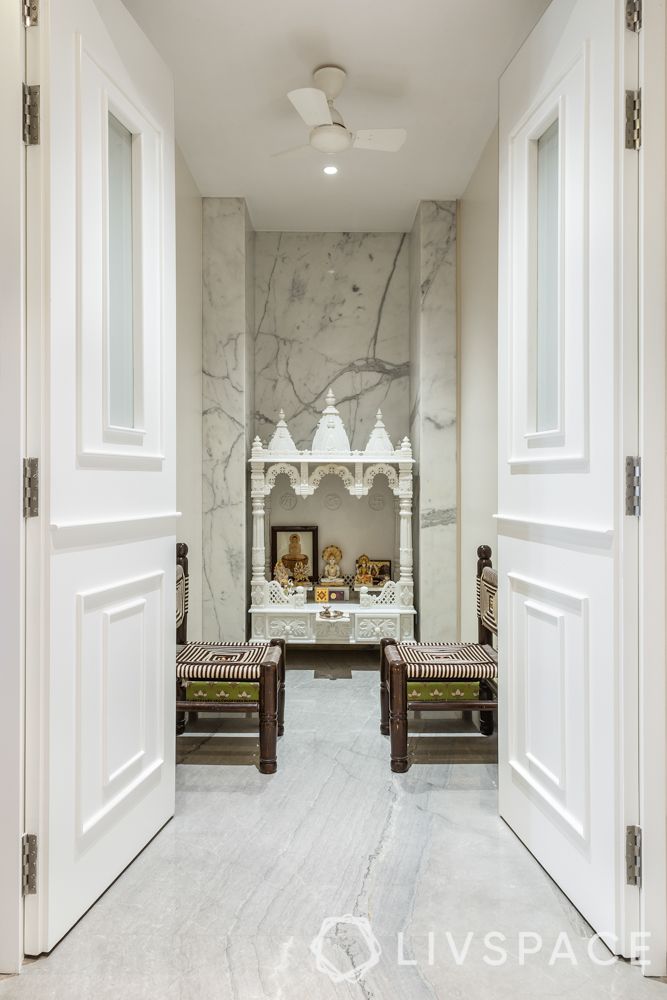 A place of worship within the house is a typical feature of Indian interior design. We usually do this in the form of altars or pooja rooms. It is advisable to keep pooja room designs as traditional as possible so use either stone (marble or granite) or wood.
For inspiration, check out our best pooja room designs that will inspire you.
#8: Fill Up The Walls With Folk Art Forms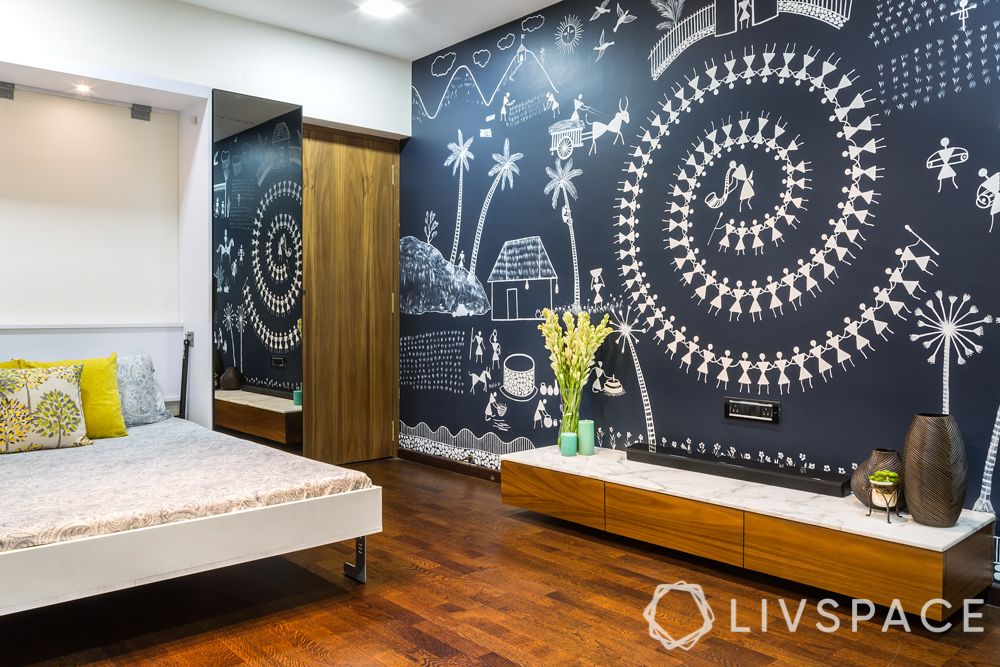 They say that the flavour of food changes every 50 km in India. And the rule applies to local art as well. Whether it is the Warli paintings from Maharashtra or Madhubani art from Bihar, there is no end to the options you have. When we have such a wealth of traditional art forms, why not put them to good use while doing home interiors. You can support local artists by having a statement wall painted by them or pick a wallpaper with these desi motifs.
Can't get desi enough? Get some desi decor tips from our experts here.
#10: Perfect outdoor spaces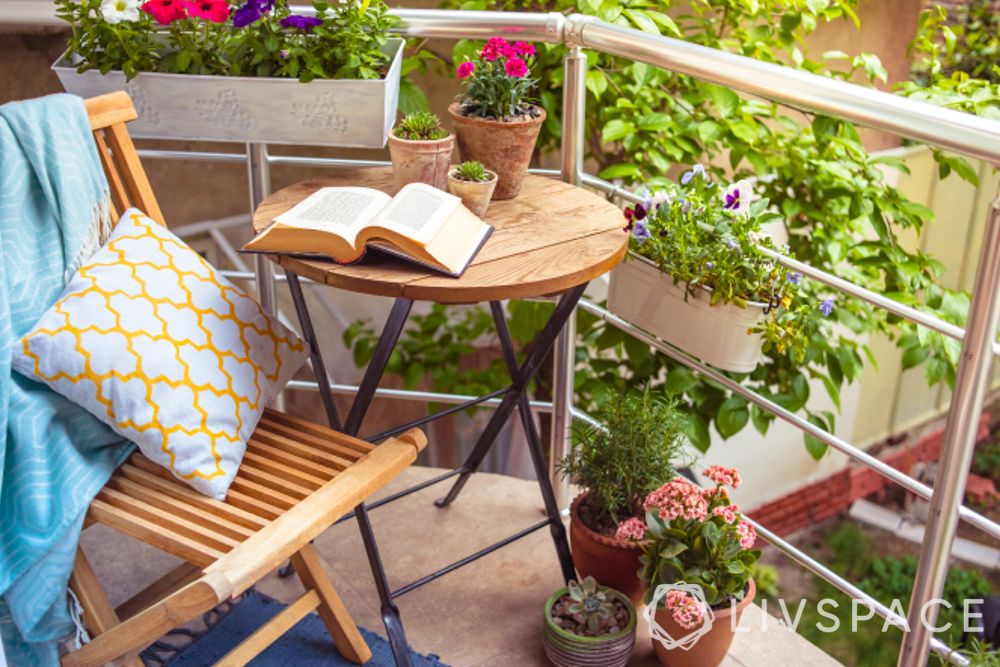 Fancy curling up with your favourite book in peace and tranquility? Well, let's do it the Desi way, shall we? A common myth is that larger spaces can be designed and decorated well, but that is not the case. Small spaces that can create wonders, too! Just add some greens and browns; and no, we don't mean trees. Go for some rustic patio furniture with pops of colour. You can also use wicker chairs instead of foldable wooden chairs depending on what fits best. Throw in some printed cushions, a classic Indian throw, a few potted plants.and voila! Your personal chill zone is ready.
#11: Kids room with a desi touch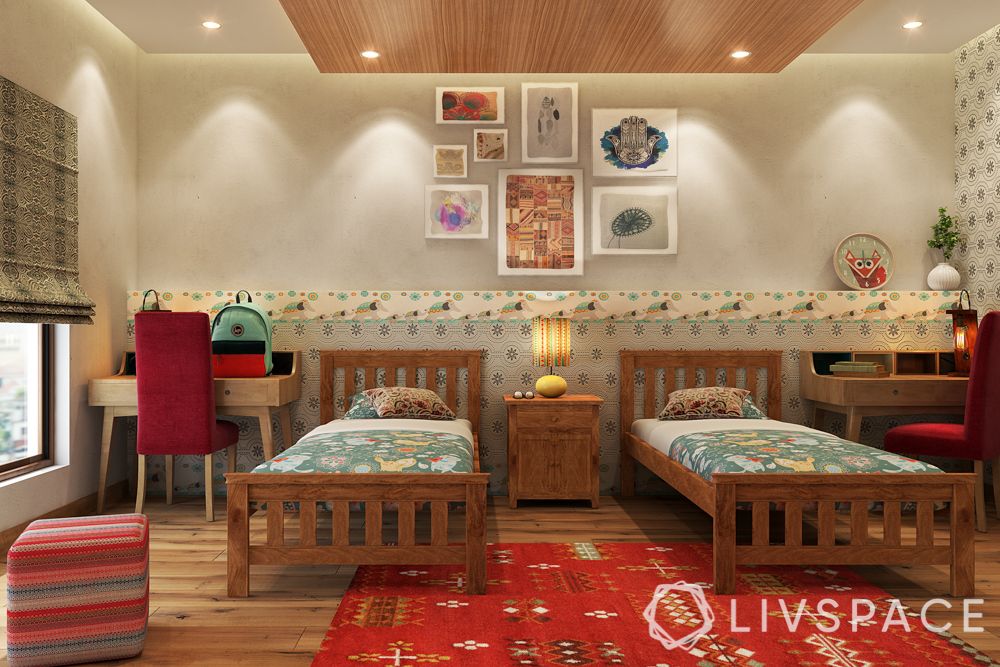 Children are lively, happy and vivacious little humans. So, colour is definitely an attractive quality for them. Splash out all the colours, prints and fabrics you can get your hands on. And since kids grow out of styles with age, we recommend you stick to easily replaceable items in the room. This can be anything from an Aztec handicraft printed rug, to jute blinds, or block printed curtains. You can even change the sheets periodically with Jaipur prints or have paisley wallpaper.
#12: Add some desi glamour to your bath space
Surprised? Go desi for the bathroom design with some Indian printed tiles. Mixing and matching different patterns and shapes of tiles is also a good idea. To provide a good contrast, pick one bold tone and make sure the other is a relatively muted tile colour. Hand painted tiles are also easily available in the market. Additionally, you can add a traditional wooden vanity with cabriole legs to store your bath essentials.
#13: Authentic and colourful patchwork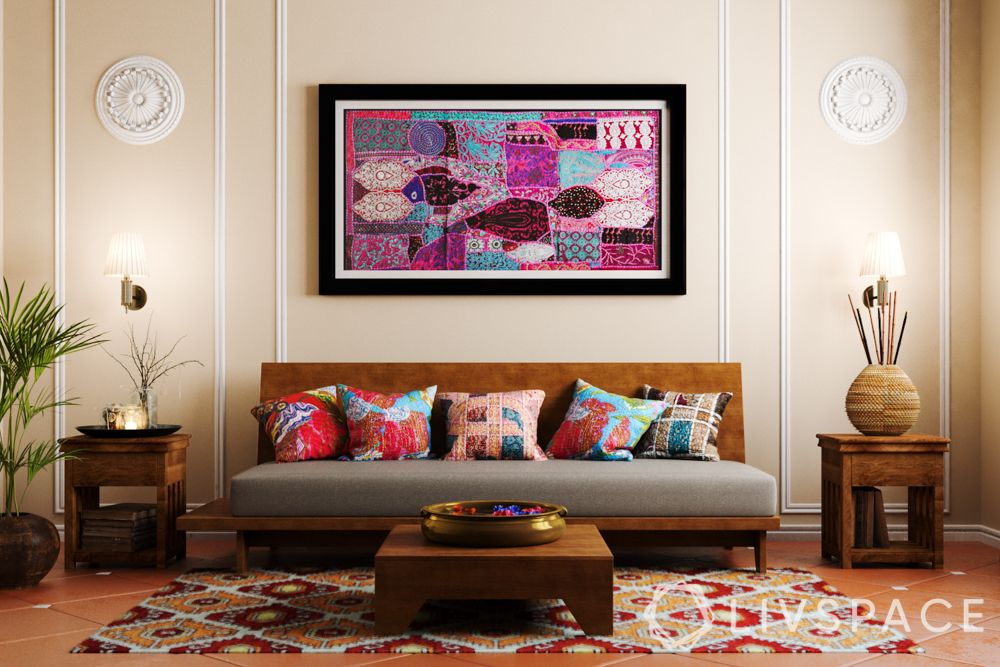 If you want to add that extra zing to your home interiors, patchwork is the way to go. These soft furnishings come in a wide range of colours and when stitched together, form unique and trendy designs. Patchwork is popularly used for soft furnishings like carpets, cushion covers and tapestry. Just frame a patchwork fabric and ta-da, you have your statement wall ready.
"Traditional Indian Ornamental pieces can be used to accentuate spaces. Indian interior design is a vast arena to explore. Adding Indian motifs to bedding or curtains and traditional cut-work for mandir designs, everything is authentic to India and its cultural background."
#14: Reuse some traditional Chettinad furniture
Savour in the earthy richness of this Chettinad home. Originally, Chettinad furniture is made of teak and the chairs are intricately woven with cane. Teak wood has high durability and is ideal for humid climatic conditions. For this reason, teak wood is reused from old mansions as furniture. What accentuates this furniture even more is the addition of brass accents such as the handles of the swing, brass floor lamps and hanging lamps.
#15. Sacred plants to keep your home blessed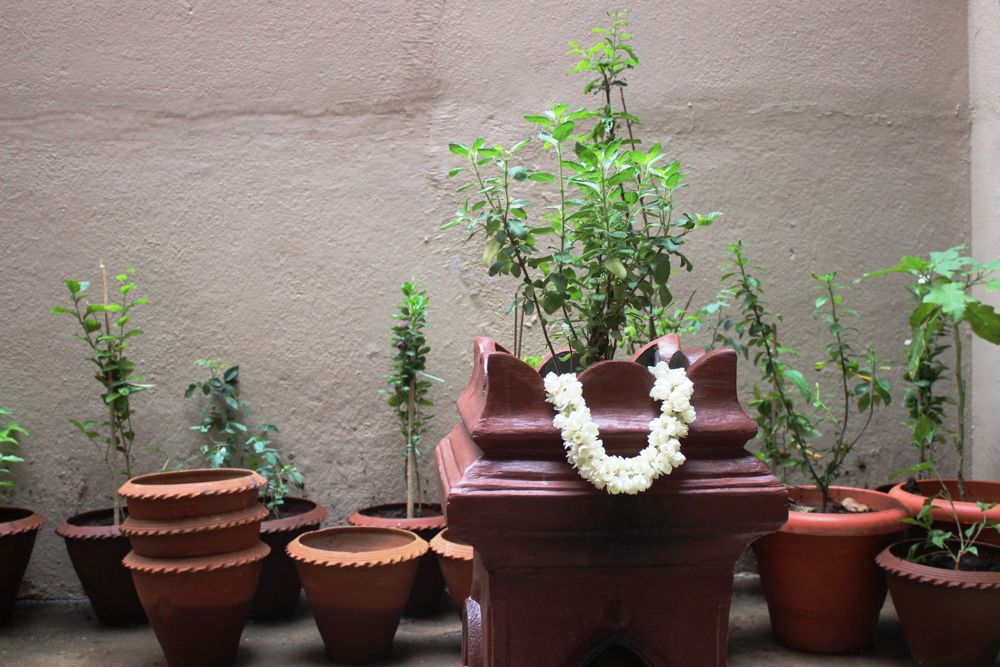 Like a room isn't complete without a book, a home isn't complete without a plant. It's always beneficial to have varieties of plants in your home,be it indoor or outdoor plants. Having a tree in your home might not always be feasible, but you can keep a small tulsi plant or some lotus plants instead to bring a positive flow of energy into your home.
If you have space issues, read up about some space saving tips from our designers.
PRO TIP: Jazzing It Up With Jaalis!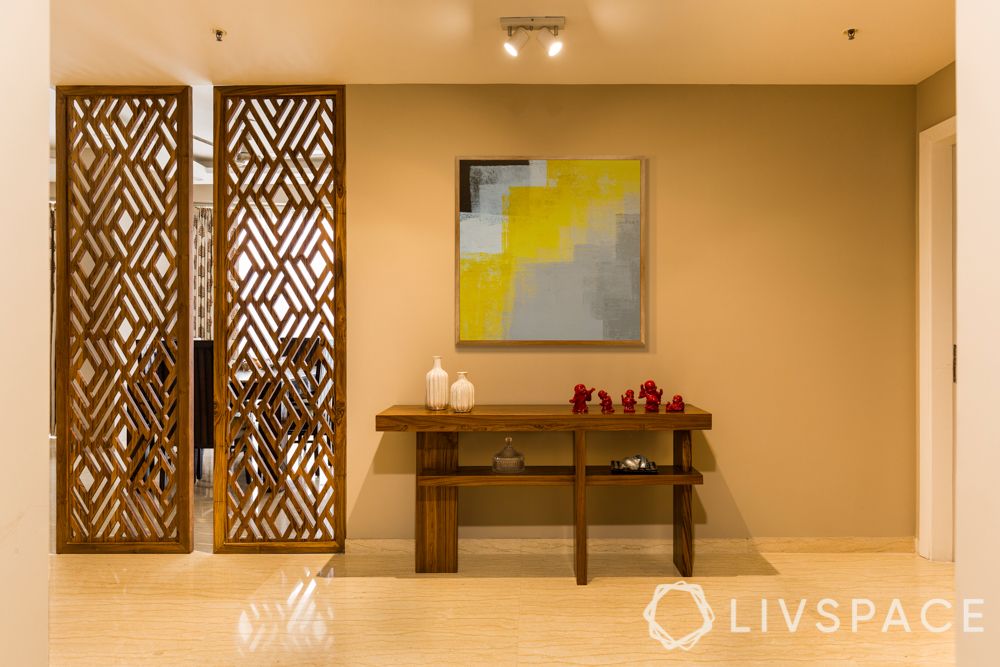 The quintessential jaali pattern is more than just a passing trend. Infact, it has survived and evolved over centuries because it is a great combination of form and function. You can use jaalis in your home as partitions, doors, wall panels, in pooja rooms, furniture and ceiling designs. Do not miss exploring the complete style evolution of jaalis.
Send your comments and feedback.