Thinking about spiffing up your home, desi style? We've got you covered. Whether you're going for a complete traditional revamp, or just want to warm up some corners in your contemporary home, traditional Indian home decor can help you achieve the perfect balance while sticking to ethnic roots.
Tip #1: Play with prints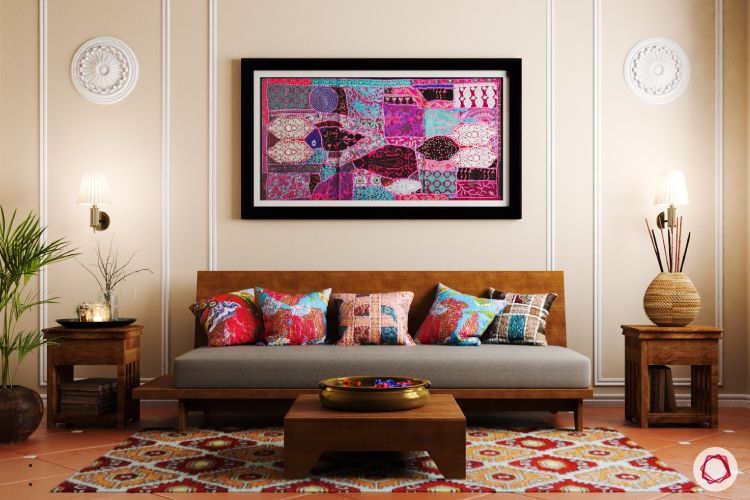 Indian fabrics have an inherent charm and a riot of colours that can really spruce up any space, no matter how drab or sterile it is. Therefore, to pack a punch, choose fabrics that have traditional motifs and patterns — think Worli prints, bandhni and chikan work.
Your safest bet would be to imbibe these in the form of pillows, cushions, carpets or throws. But to go the whole hog, consider re-upholstering an entire sofa in this pattern or hang up a jazzy tapestry to draw the eye upwards.
Tip #2: Add ornate mirrors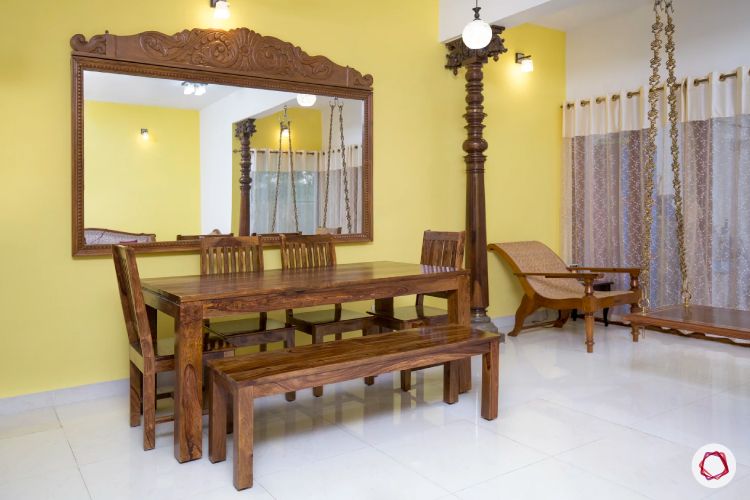 There's nothing like mirrors to reflect light and make a space airier than it is. Therefore, to mimic the old palaces and their display of ornate gilded mirrors, consider adding similar statement pieces to your home. Depending on the overall decor plan, you could pick a single ornate mirror or make a wall collage of smaller mirrors, even antique ones. If driving nails into the wall is not an option, consider adding mirrors in the form of mirror work fabrics and reflective surfaces.
Tip #3: Use classic wooden furniture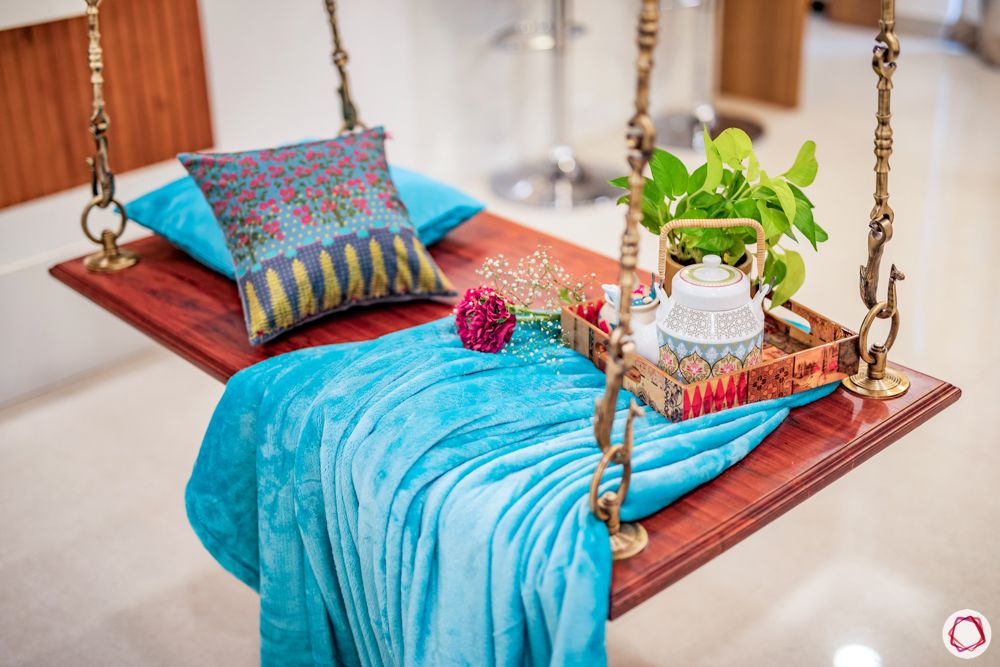 Think olden-day homes with raffia chairs and ornate wood seating — that's typical ethnic furniture in a nutshell. Consider bringing similar pieces into your home for an ethnic flair that's also functional. A complete sofa set is ideal to start off with a bang. But if you prefer something low-key, consider bringing in embellished chests of drawers, rocking chairs or settees in Rajasthani or colonial designs. In place of a sofa-cum-bed, a charpai is a creative way to make decor ethnic without losing out on functionality.
Enjoying this article? You'll also love Decor Essentials for Indian Homes
Tip #4: Display an assortment of knick-knacks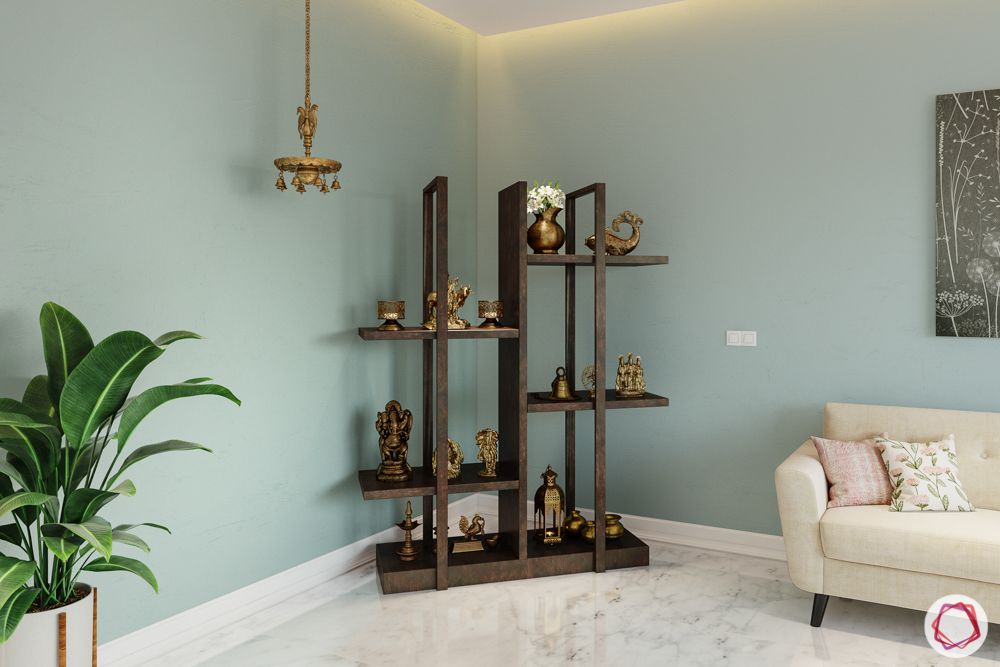 For a fully authentic home that oozes ethnic charm, go all out on the decor. This is a playground for playing with prints, patterns, fabrics, statues, even lighting. Handicrafts and wood-carved statues go a long way in Indian-inspired decor, as do embossed knick-knacks. Whip out the motifs in the form of art prints and murals and tie it all together by way of an ornate area rug.
Tip #4: Add brass accents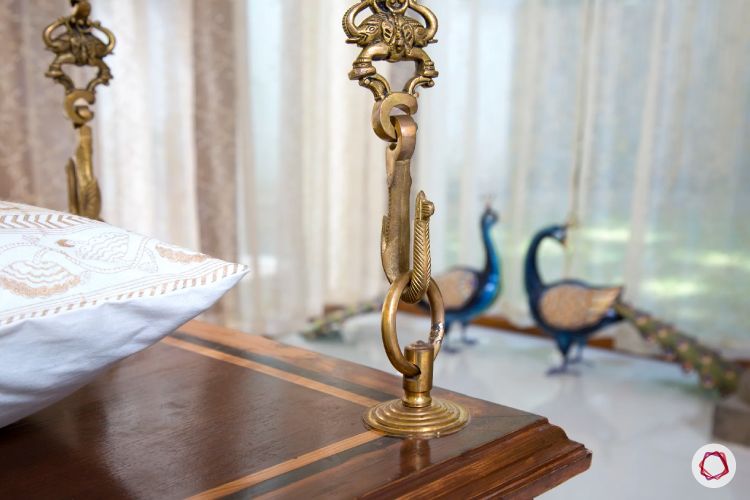 Olden-day homes often used brass and copper for their fixtures — emulate the same in your home for that yesteryears' charm. So, add brass statues and idols to display shelves, or use brass tableware to juxtapose the old and the new. Switch out boring doorknobs and cabinet handles for intricate brass ones. To integrate the use of brass seamlessly across a space, consider swapping out light fixtures or introducing statement lamps and lights.
Have fun using these traditional Indian home decor tips to imbibe old-world aesthetics and Indian charm into your home! Check this out for more inspiration: Add Some Desi Charm to Your Home.
Send in your comments and suggestions.